Keep It Together: 40 Easy Hacks For Using Binder Clips Around The House
By Navkiran K December 16, 2021
---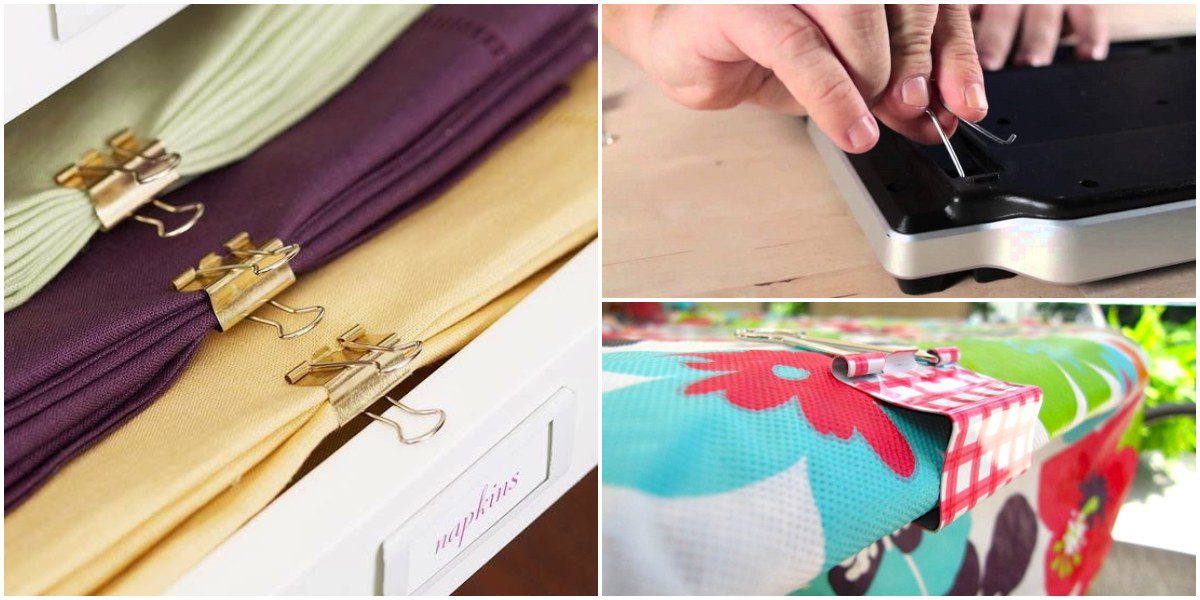 The binder clip has been around for decades, and it's still one of the most versatile of all office supplies. It can be used in many ways to hold items together — whether you're trying to organize your desk or just need a temporary fix while working on another project at home! These handy doodads are your little friends who help you stay neat and organized. Whether your desk or your kitchen, binder clips can make life easier. And we don't mean keeping your recipes tidy and easy to find. They are capable of so much more than holding papers together! Thankfully we've got 40 clever ways to put this little gem to use and make your life easier in all sorts of creative ways.
1. Easy ironing hack
Don't worry; you're not going crazy. Wrinkles add character to an article of clothing and make it that much more interesting! But when ironing your favorite suit or dress pants, it helps to have something to hold them in place.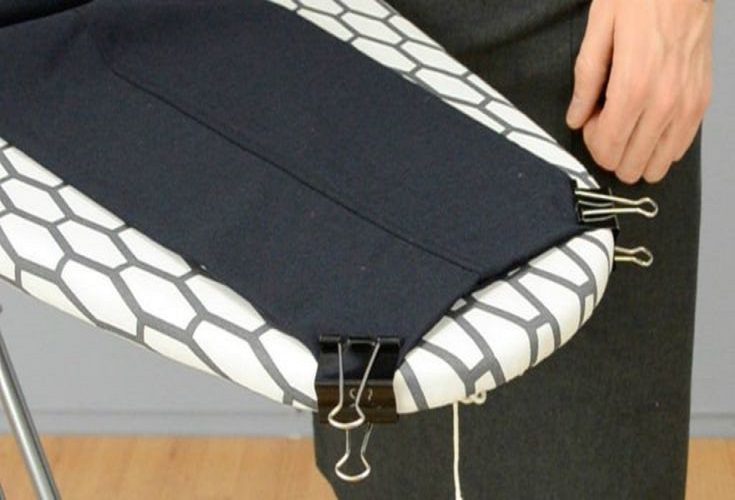 Use binder clips, so your clothes stay in place without any strain or missed spots on your part. Just clip those babies to the board at both ends before you start. Voila! No more creases anywhere — perfection guaranteed!
2. Never lose your socks again
How many times have you roamed around your house, looking for that elusive lost sock? They just disappear into thin air after washing. But not anymore – we can now all keep track of our socks with this genius idea.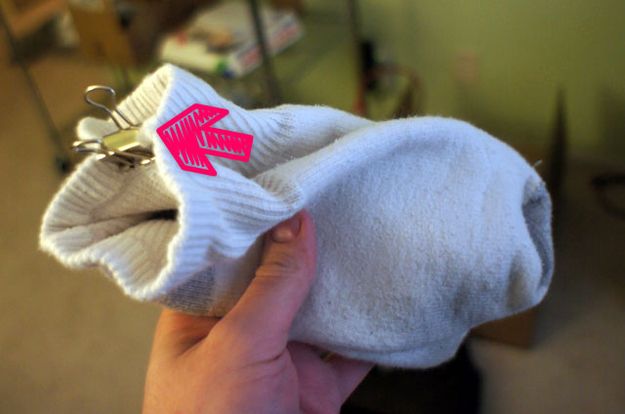 Hook your socks together with this nifty clip, and you'll never have to worry about losing half of the pair! They will be sure not to wander off on their own ever again. You'll always have a fresh pair of socks without playing hide and seek.
3. Fun hair clip
Sometimes, even the most beautiful and organized woman has a bad day at home or work. When this happens, there is nothing better than reaching for something that can help you fix your hair without spending too much time on it.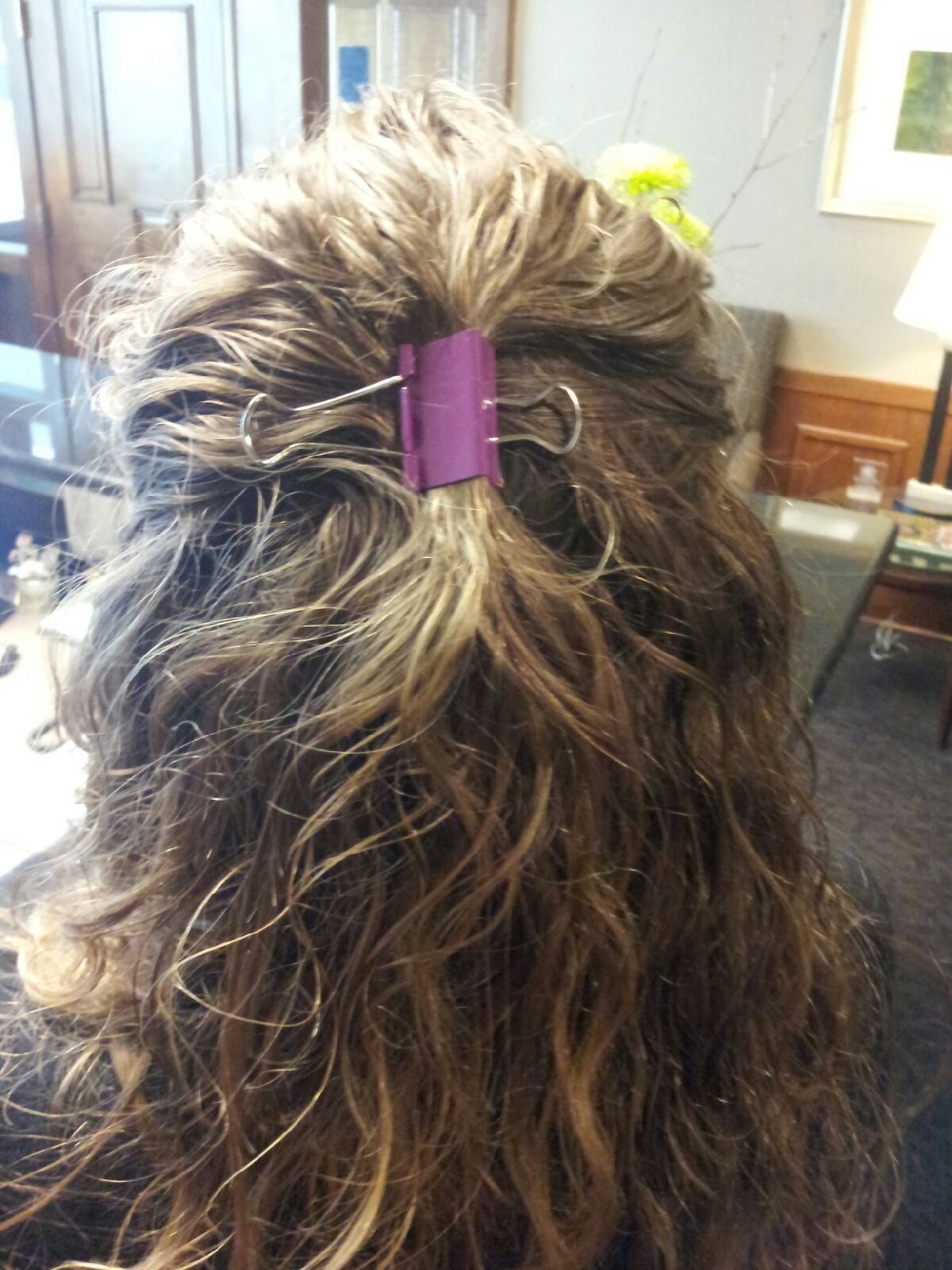 A binder clip will hold any style in place while also giving it an extra boost of volume, which makes all of us feel like princesses. You can style your hair in a half tie or create a bun using these clips – get as creative as you want!
4. Fix a missing button
Not having the button just where you need it? No problem! Consider using a binder clip to hold your clothes together. They are helpful when there is one missing button on an outfit or shirt, and you need a quick fix.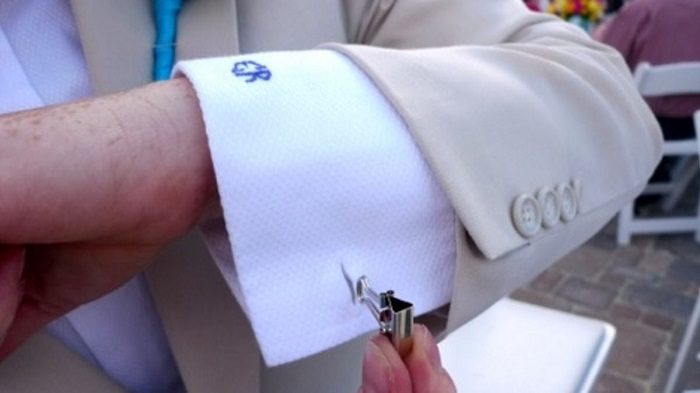 Also, they come in handy when you are in a hurry to reach the office in the morning. You do not need to change your shirt or stitch the button back when in a hurry. Cover the binder clip by wearing a jacket or coat.
5. Small toys storage
Every parent knows the struggle of finding enough room in their house for all those toys. It's even worse when you want a clean space but can't seem to create order in the home because there are just so many small items!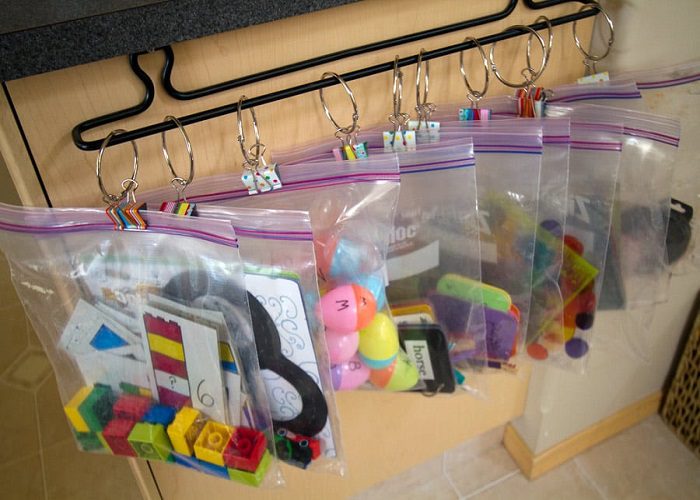 Well, we've got great news. With this easy trick, it'll be like they never existed at all. With a few plastic bags and binder clips, you can store small toys, clothes, or anything else you need to keep out of sight.
6. Use toothpaste till the last drop
This is a great way to get every last drop out of your toothpaste tube, and it's easy too! Just gather up all the paste to the top with your hand. As you start to use up the contents, use a binder clip to squeeze any leftovers.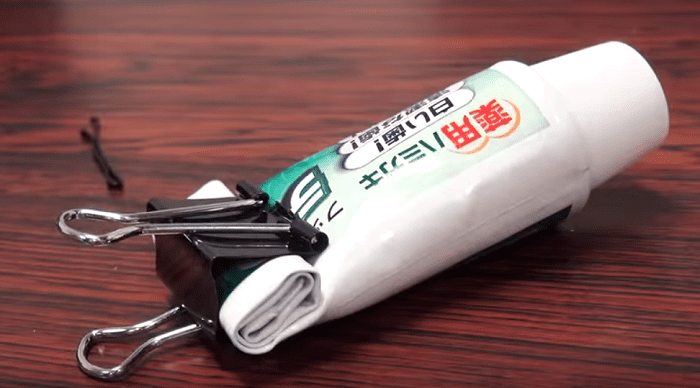 Then slowly roll the end into itself until there are no more wrinkles or air bubbles that you can feel. Clasp your handy clip securely but not too tight as this may cause leaks or breakage later down the line!
7. Hanging client folders
Do you know what's worse than a messy desk? A lost project. Luckily, these binder clips will help you find your way through the sea of papers with ease! The binder clips are a simple and effective way to organize your files.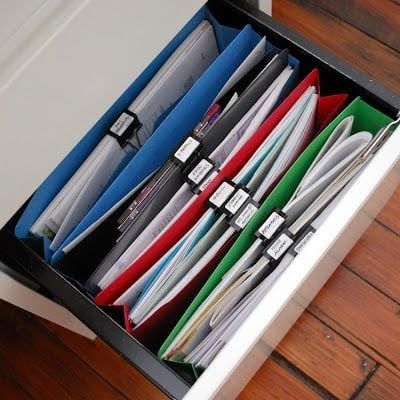 They can be used as temporary holding devices, or they're great for permanently keeping things in place when you need them! This is a super-convenient way to keep client files or projects easy to identify. Now, you can easily find what you need.
8. Razorblades cover
Razors are always a danger, but never more so than when they're uncapped in your backpack. Make sure you cover them with a binder clip like this big one to make them travel-friendly. You can also do this if you've simply lost the cap.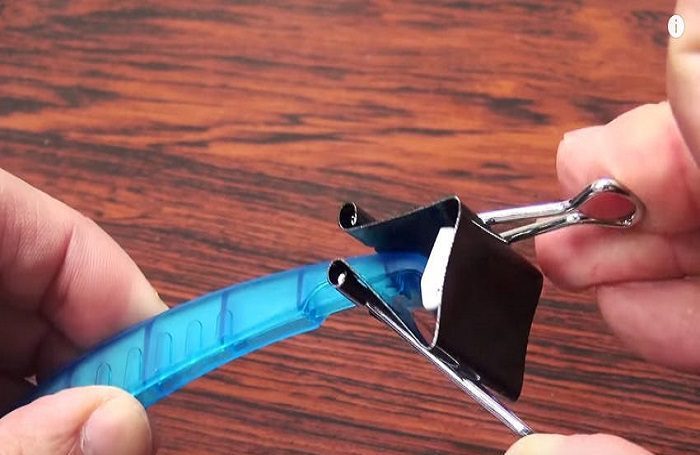 This is a handy trick that can be used no matter where you keep your razors or what kind you use. Our only caution is to make sure that the size of the clip you use is big enough for the entire length of the blade.
9. Tech cords organization
Do you need even more organization for your random cables? Try using binder clips to keep them from getting tangled on the desk. You'll be surprised at how neat and tidy everything will look in almost no time. This is a game-changer.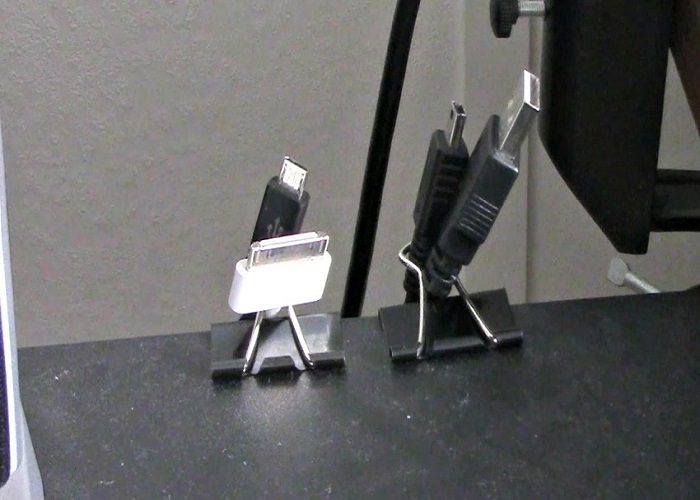 Just install a binder clip on each side of your desk. Not only is it neat, but you'll also be able to find what goes where much easier. Plus, these little guys won't damage the wires as other storage solutions might.
10. Innovative cell phone car mount
With so many hands-free options for your phone, you might find it a bit annoying if you can't find the perfect car mount for it. But you can have peace of mind and security in every aspect by using one of these innovative car mounts that clip anywhere.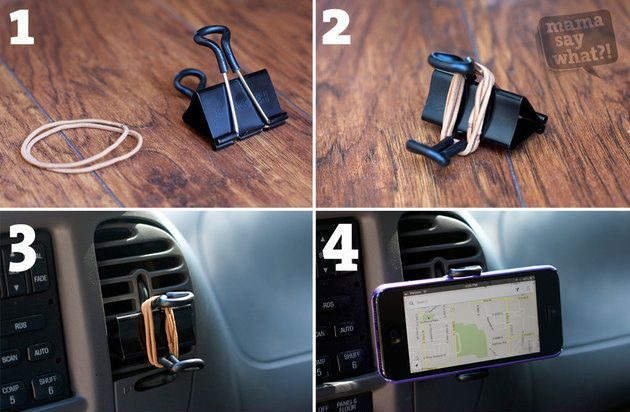 Keep your phone in a safe place with this DIY hands-free cell mount. With binder clips, you can easily attach it and drive safely without being distracted by readjusting it or, if you're holding it, accidentally leaving the maps app. (Just stop the car when you have to use the phone.)
11. No more tangled earbuds
Don't get caught struggling with your earbuds again! It's a common problem that wired headphones are constantly getting tangled. If you see yourself in need of an easy solution, try using binder clips to clasp them and keep your long wires neat!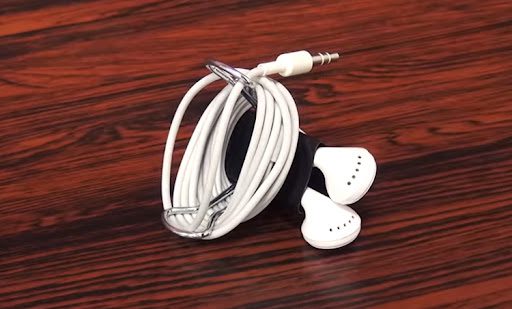 Your earbuds will be ready to use with this simple hack. Just wrap your earbuds and stay stress-free. The binder clip holds the two pieces in place perfectly. This makes sure that it's always there and untangled when you need them!
12. Frameless photo decor
Do you know those pictures where you cannot see the frame? We mean the ones that have a white border around them and are very expensive. If you want a similar way to display your pictures that are simple and quick, here's a hack.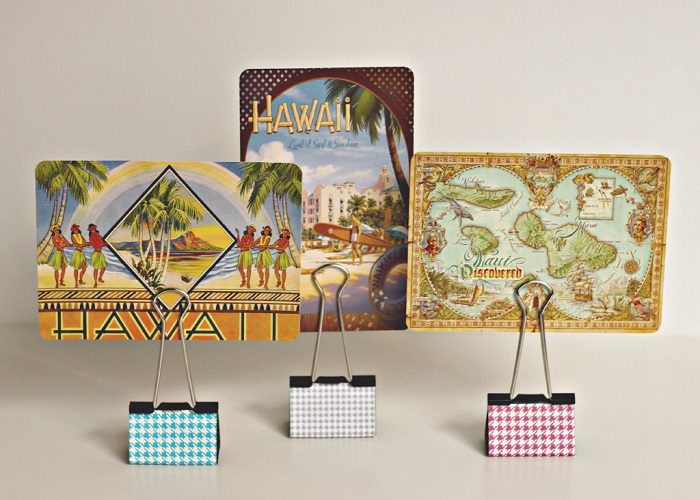 Binder clips are perfect for this! They can be reused over again, plus they're cheap, so you won't mind making extra copies of the same photo in case one gets broken or lost. It's not only eco-friendly but also wallet-friendly.
13. DIY keychain
Repurpose a binder clip as the perfect gift for your significant other, best friend, or sisters. This is one of those easy DIY projects that will make them smile and give them something to show off to everyone. They're much cuter than we would have pictured!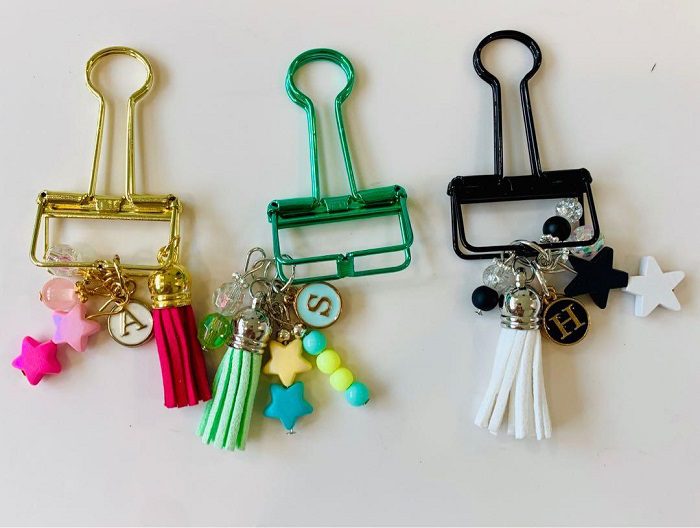 Instead of having a boring tourist-y keychain, repurpose a binder clip and add some personality to it. This fun project would transform any binder clip into an adorable little friend that you and your friends can take anywhere with you!
14. Dry sponges after cleaning
Cleaning the house can be messy, but luckily there's one sure-fire way to keep your sponges lasting longer! And there's nothing more frustrating than getting all of your hard work down the drain because you realize too late your sponge got wet and moldy.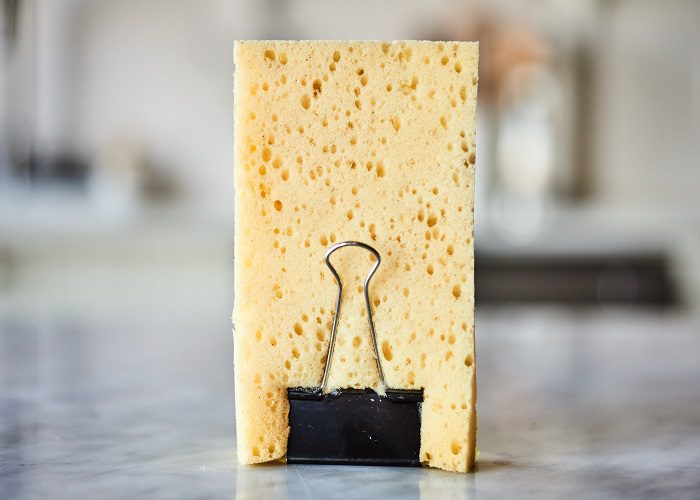 To keep your cleaning helpers dry, use binder clips to hold them upright on countertops, so they stay safe from dirt! Place it in an upright position with a binder clip. This will help your sponges dry and keep them sanitary.
15. More desk space for productivity
Do you have a cluttered desk? Do not worry; we've got the perfect solution to help make it look like you're the next Marie Kondo! Place binder clips on hooks in your office and watch as extra space appears before your eyes.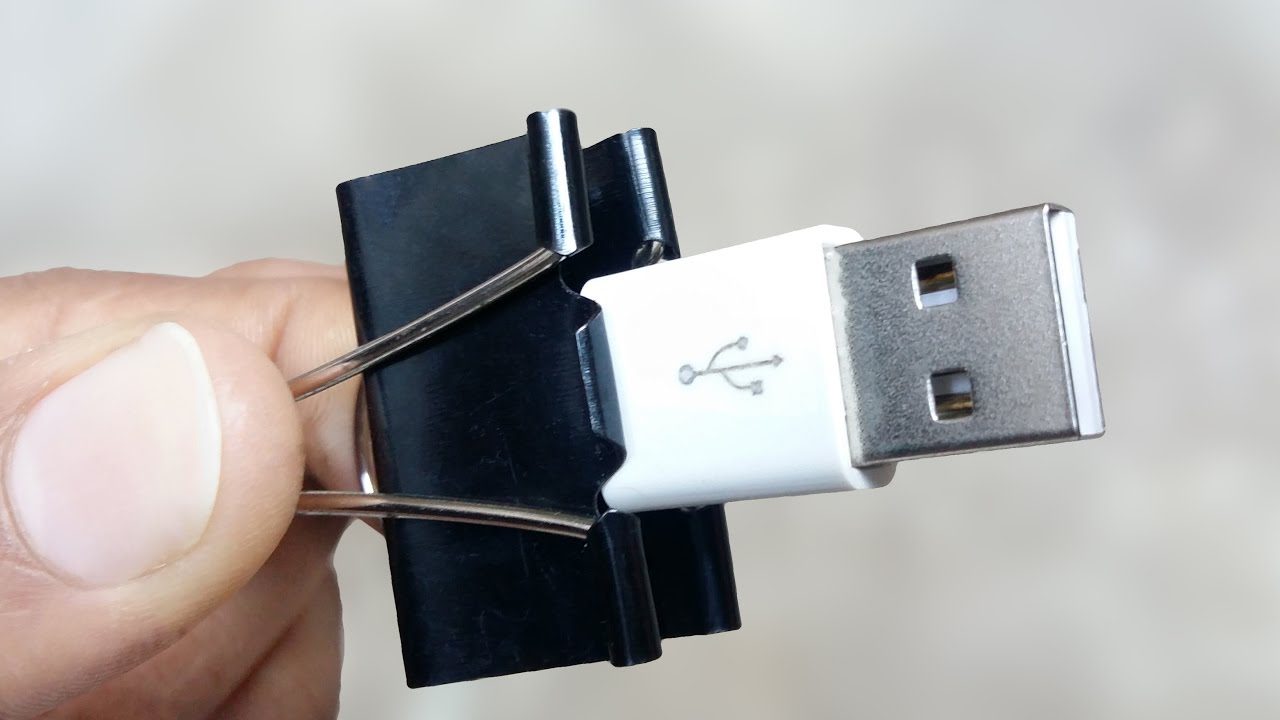 Now you can easily modernize your office with binder clips of every size. You can keep your files, important papers, and even your USBs stowed away, which will give you more room to work, create, or game at your desk!
16. Keep food thermometer over the pot
You can't rush good food. The right temperature is key in making sure all foods are fully cooked without drying them out. Don't worry about coming back every half a minute to check if that chicken is ready or not!
Use this binder clip and keep your food thermometer in place while attending other parts of dinner prep. Get the maximum out of your cooking sessions while staying stress-free if you are hosting a large group of guests for dinner.
17. Fresh chips every day
Do you often open large bags of chips while snacking but are unable to finish them? If you just crumple the top down, the chips will get stale and not something you want to snack on. Now, you can keep them fresh for much longer.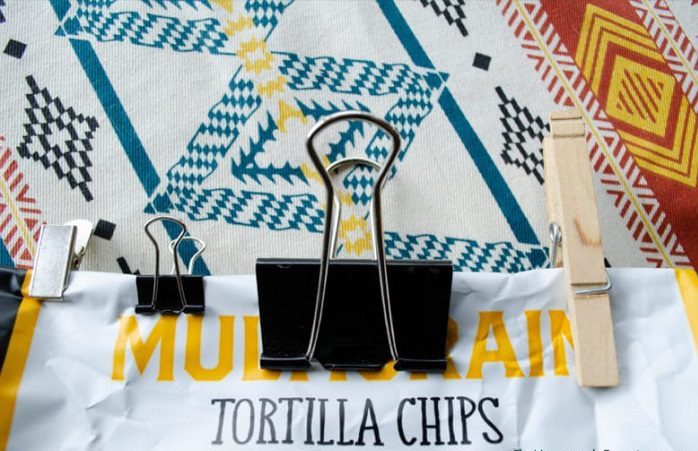 This is one of the best ways to keep your chips fresh. Use a binder clip! This is perfect for summertime barbecues and will ensure that you don't get soggy chips from being left in an open bag all day long.
18. Easy holiday lights
The holidays can be a lot to handle – and that's before adding all the decorating work! Make your life easier this season by using binder clips, so you don't have to worry about screws or hot glue guns when decking your home out for the festivities.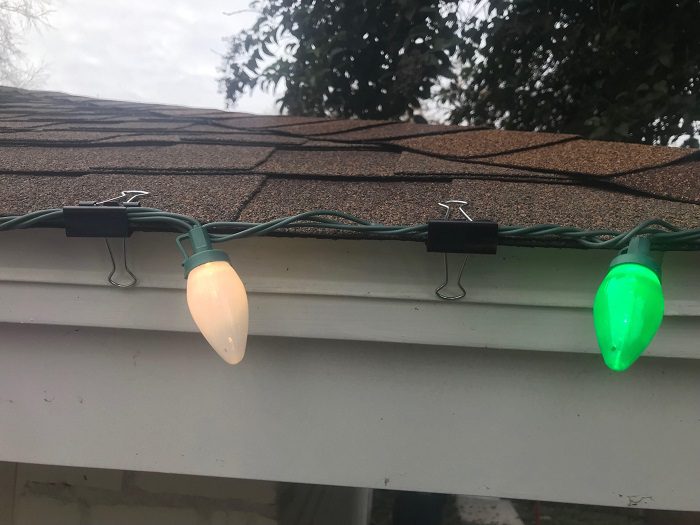 When decorating, you will just need a little time out of your day to toss those lights up using binder clips. They will help make cleanup a breeze too! These clips will not damage the strings and keep them in good condition.
19. No more flying tablecloths when picknickng
The party will go on, but with a little help from those binder clips, it will be more chilled out. As you know, the tablecloth is no match for the strong winds that blow all summer long; you will need to keep it tied down.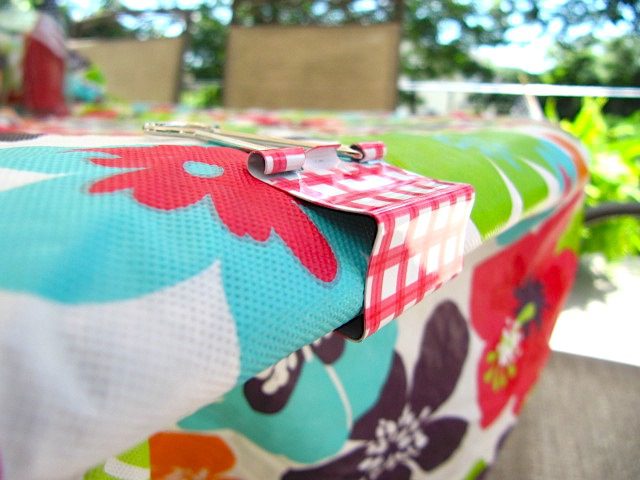 To keep it steady, use binder clips on all four sides to hold down your cloth and stop any movement of its corners when attacked by high-powered gusts! This will keep your table looking nice, and your food in place, throughout the party.
20. Clean napkins storage
One way to keep your napkins organized is by using binder clips. You can place them in rows and with just one quick glance at the clip, you can grab the entire set of napkins you need. There won't be any need to search.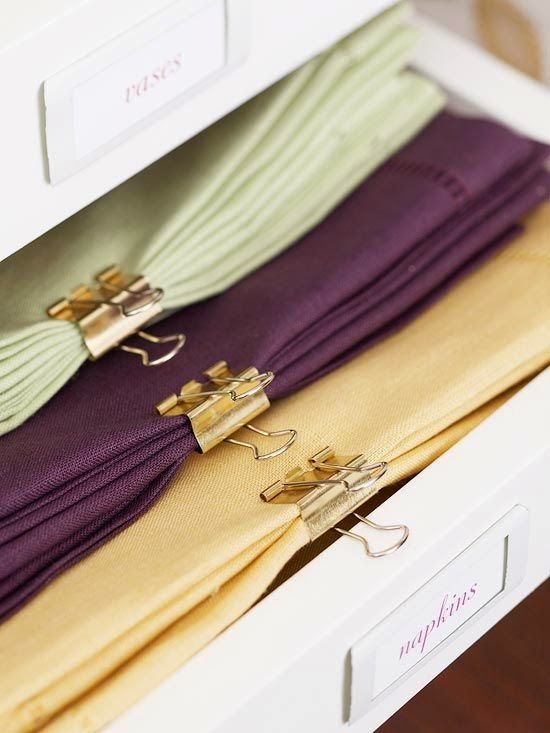 It is a great hack to store every day, party, Christmas, and fancy napkins in place and will help keep your kitchen organized. You can apply this same idea to anything in your home you like to keep together as a set.
21. DIY teabag holder
It's tough to beat a steaming cup of tea. It will have you feeling alert and energized, or relaxed and at ease, depending. And nothing comes close to that first sip from your favorite mug. Ensure your caffeine fix is in place with this handy binder clip!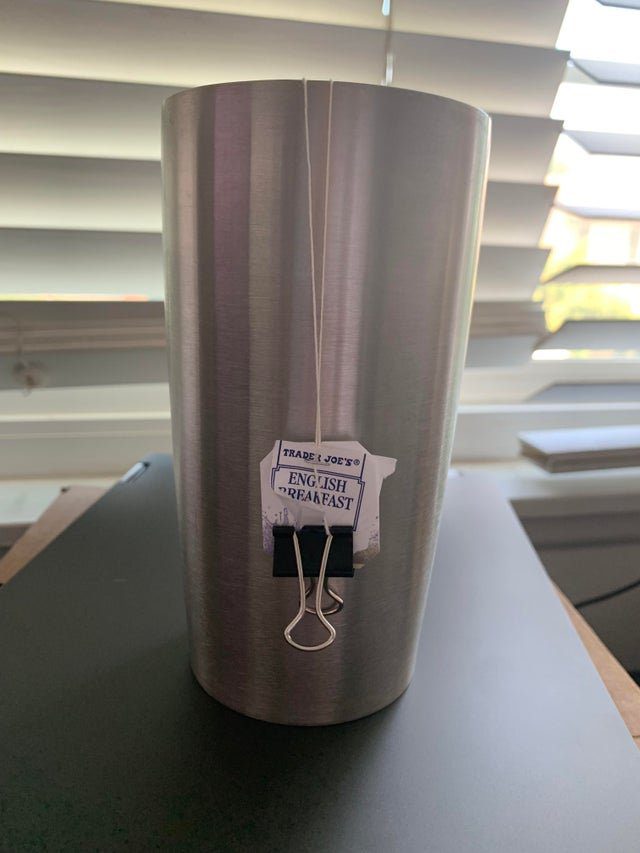 With our favorite clips, you can hold onto those tea bags with ease and enjoy sipping away in style! This means that pesky little bit of paper won't end up in your tea. We don't know about you, but that irritates us to no end.
22. Custom storage space
Moving out soon? Think of all the storage areas you will need. But what if all you have are little boxes and you're on a tight budget? We have a hack for you. You can build your own quirky shelving system.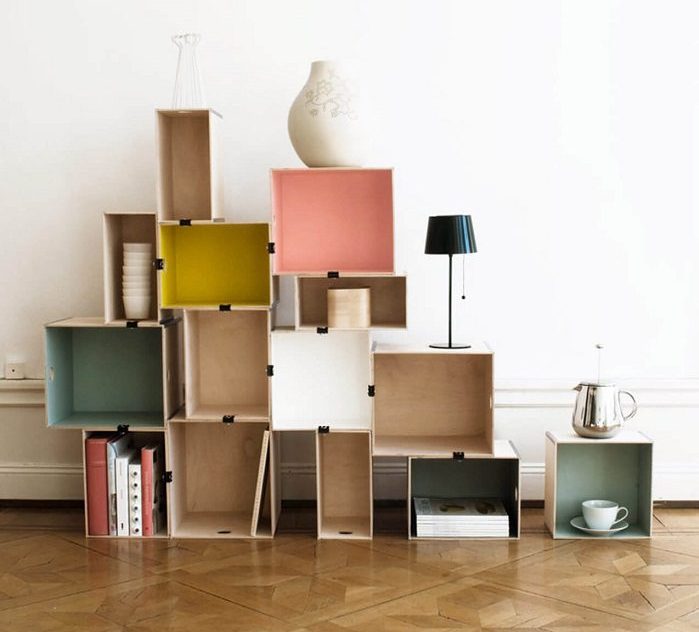 You can keep all of the boxes together with binder clips. Plus, you can easily add more as they come along! This will make your big move to your dorm room or first apartment a lot easier and much less stressful.
23. Organize money with a binder clip
Why stop at taking just one card or cash when you can have it all? You don't have to carry a bulky wallet with you anymore! With this clever little, your belongings are safe in an ultra-slim binder clip.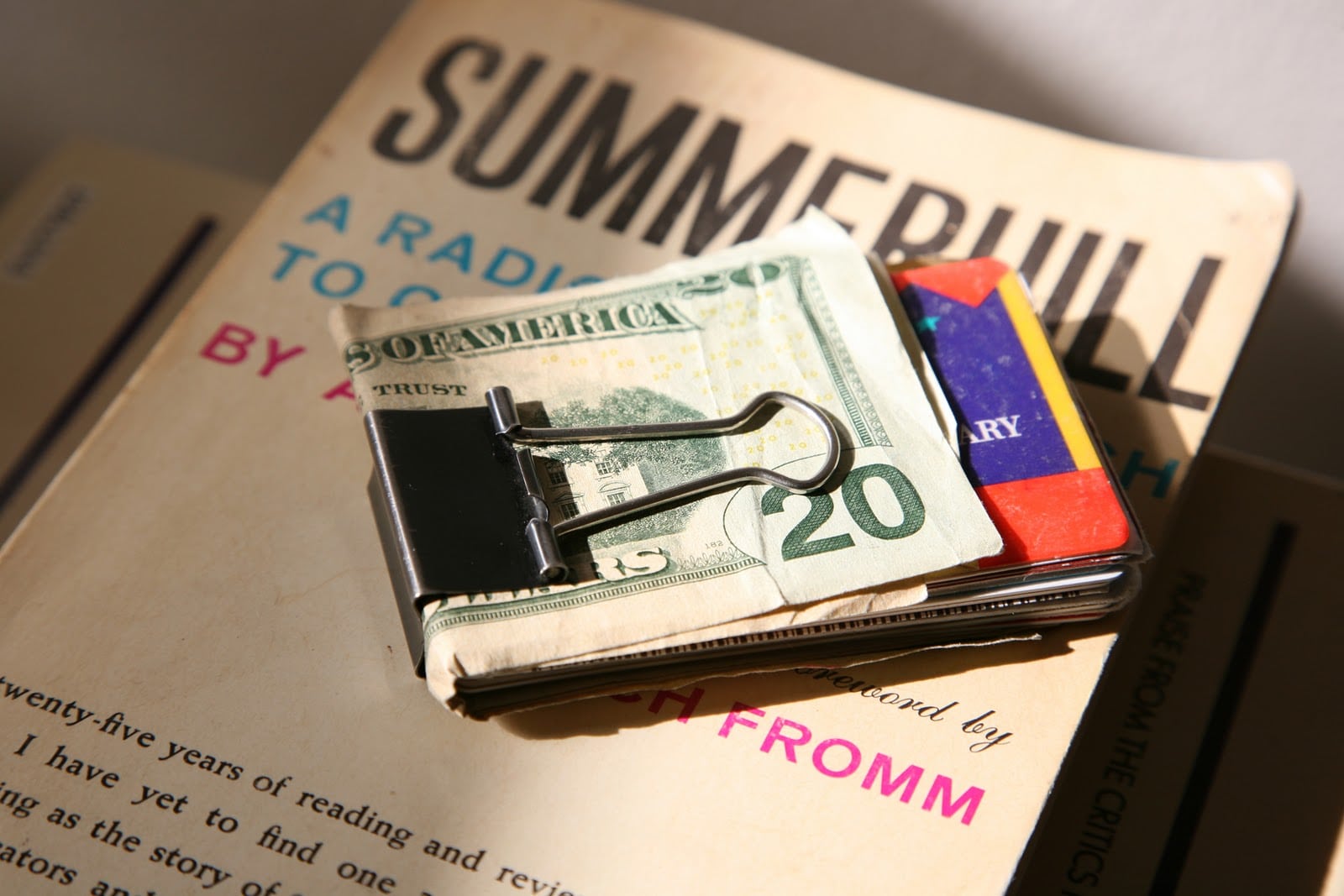 Use this binder clip and slip it into your pocket. Its sleek, slim design makes for easy carrying around – plus the cash stays put, so there's no stress of losing your money at crowded places or gas stations.
24. Gift a personalized nameplate
Hosting the annual Christmas dinner? Use personalized nameplates for your guests! The coolest part is that they can then take it home. What better memento to give them than this one-of-a-kind binder clip art? Or if you'd prefer, keep them for the next shindig!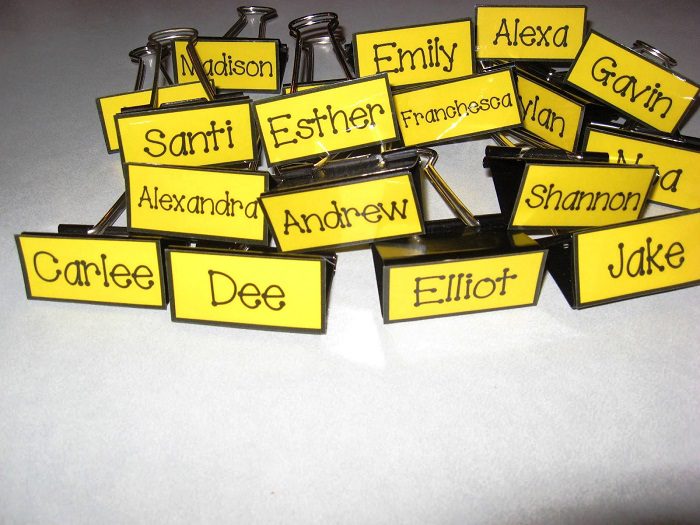 Personalized nameplates are a thoughtful and economical gift to give someone. You can decorate it however you like! Moreover, you can do this easy DIY project for your family and friends, and would make a first-day-of-school project for the teachers out there!
25. Store bottles safely in the refrigerator
To prevent your bottles of water or soda from rolling around, get yourself a binder clip for this task! No need to worry about your precious champagne bottles getting all shaken up in the fridge. And yes, this works for glass as well as plastic.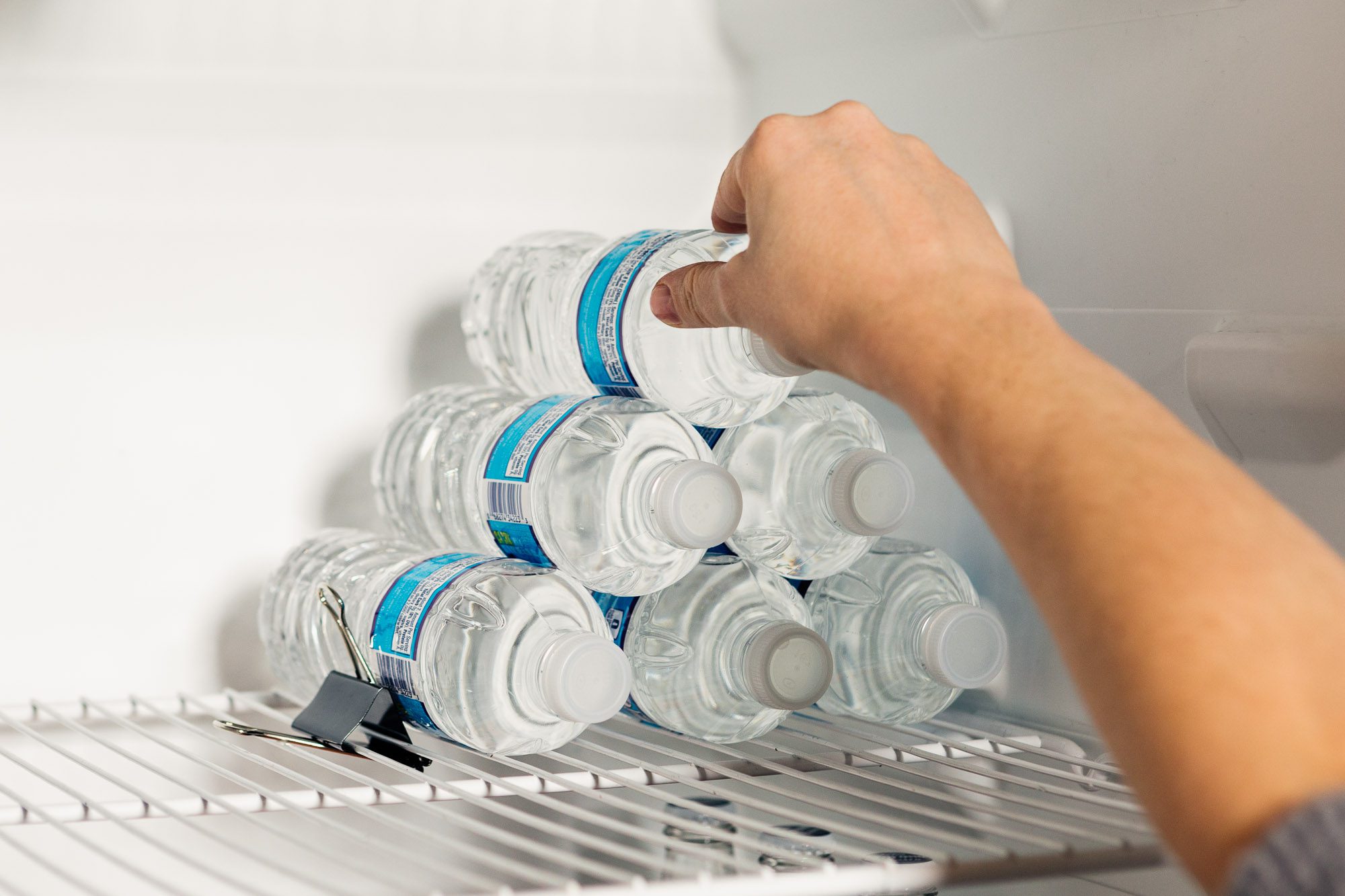 Now you can easily stack these bottles one over another and maximize the space in the refrigerator. Moreover, you will be able to take them out without disturbing the other ones or causing them to roll out, which is something we all dread.
26. Create more space in the freezer
The freezer is always running out of space. Fortunately, you can maximize your cold storage with just a few simple steps! First, put binder clips inside the door or on shelves to hang up frozen foods packages – it's neat and efficient.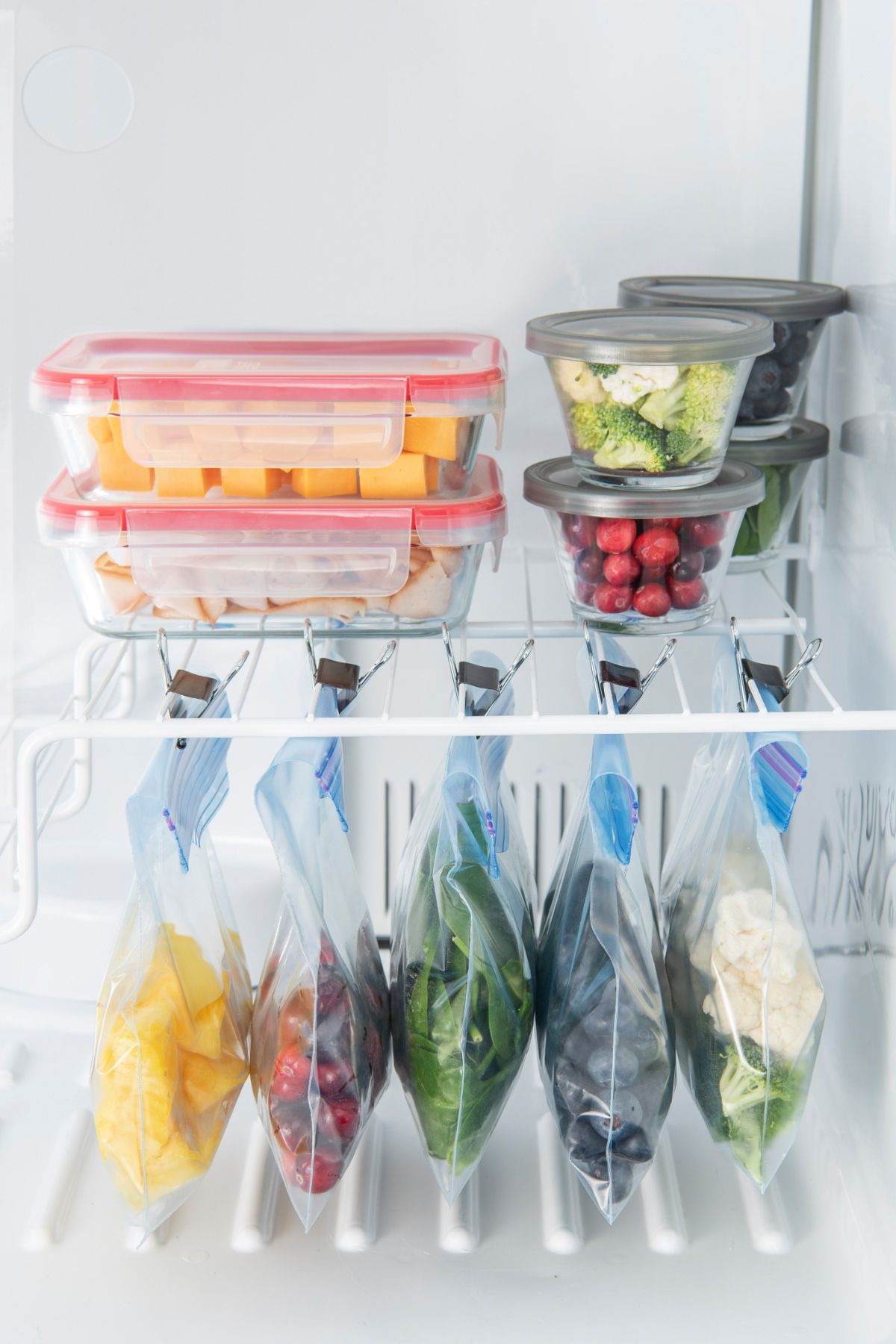 You'll be amazed how much food you will be able to store in a small space. Now you'll not have to worry about it getting cluttered or wasting any potential meat! Your frozen food items will stay fresh because you won't forget about them.
27. Strong bookmark for reading
Are your bookmarks always falling out, either because they are flimsy or maybe have too many charms on them? All you need is some binder clips and the creativity of any crafty person! You can use these DIY bookmarks to mark your favorite pages, and they're so simple.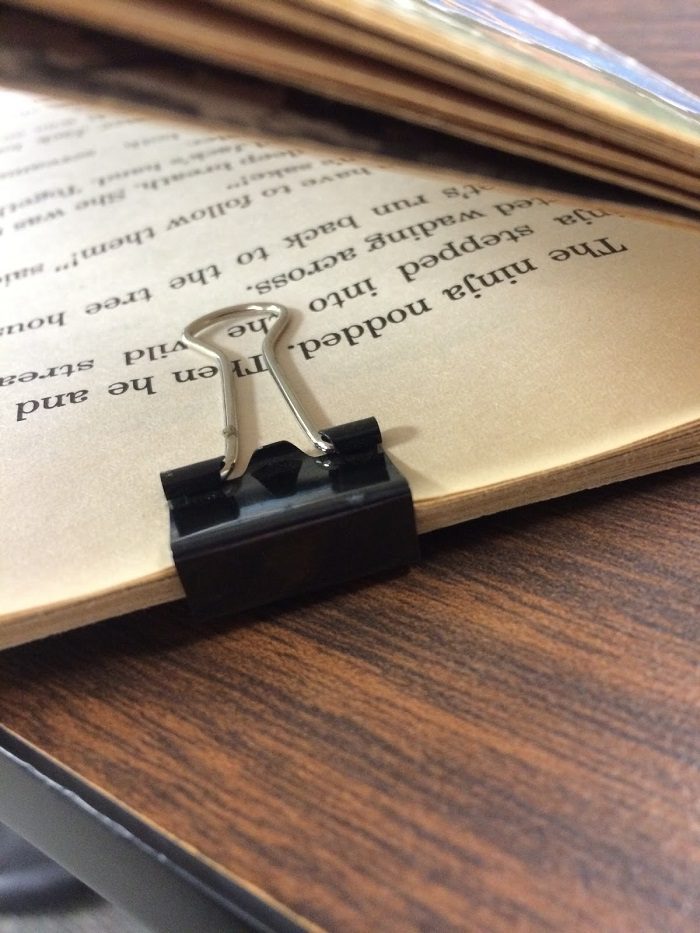 They're made by just clipping a binder to the page you left off on. You can leave them plain as you see in the photo or jazz them up a bit with some less-than-five-minute crafting! You can use Sharpies or colorful tape, just as a couple of examples.
28. Stress-free gift wrapping
Do you often get overwhelmed while wrapping gifts in bulk? You can prevent wrapping paper from unraveling by clasping the end with a binder clip. It is an easy fix that'll save you hours of frustration during the holidays or when planning birthdays.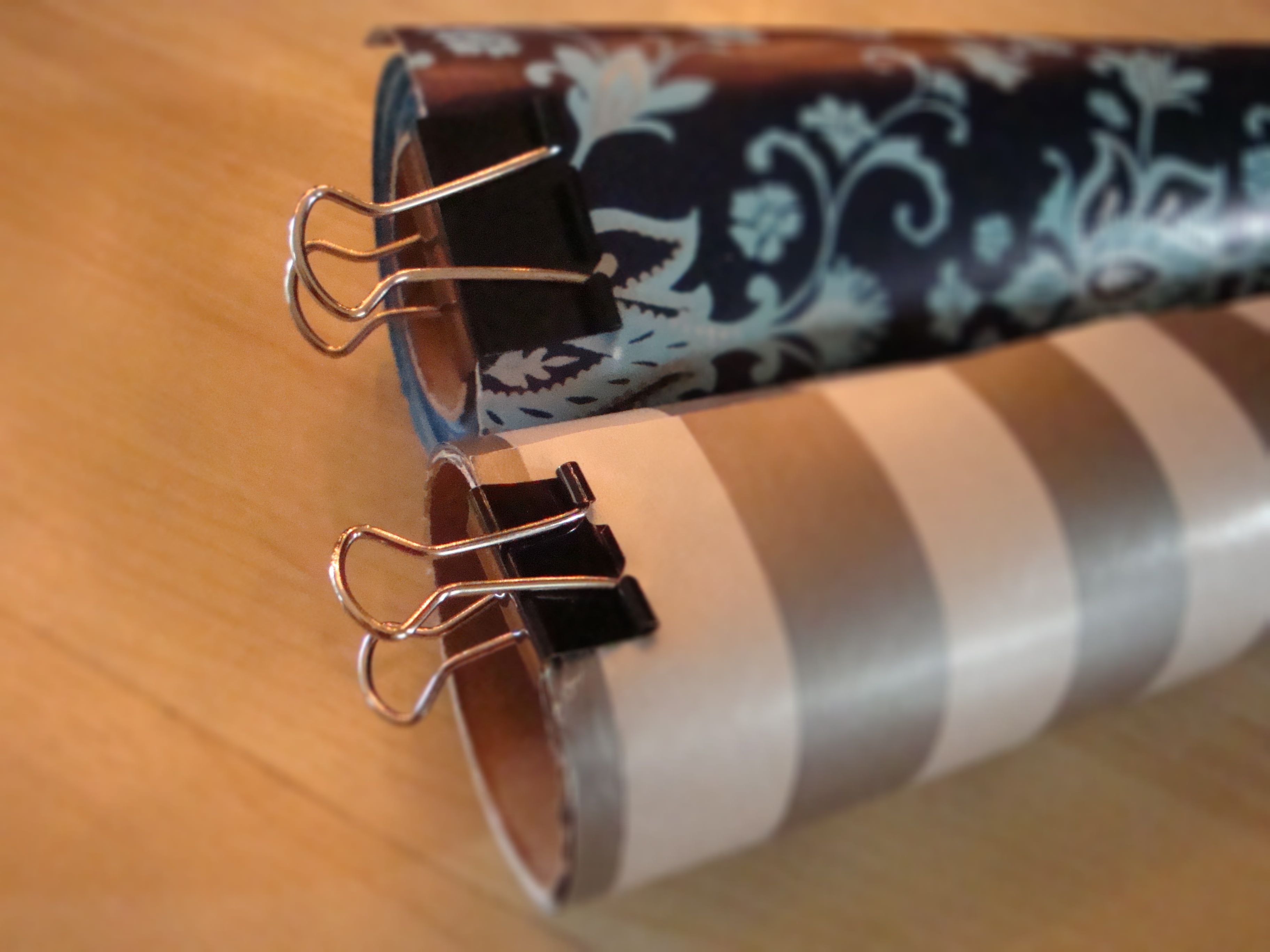 Forget sticky tape and prevent wrapping paper from looking crushed or out of shape once you store it away. Also, this is safer than using staples, which can cause injury or damage to your item if handled incorrectly! This hack is a must.
29. Emergency cufflink for your outfit
If you lose a cufflink in the middle of an important meeting or dinner date, don't panic; we've got your back. Just grab some binder clips and use them as cufflinks! It's never a silly idea to grab an emergency cufflink from your office supplies.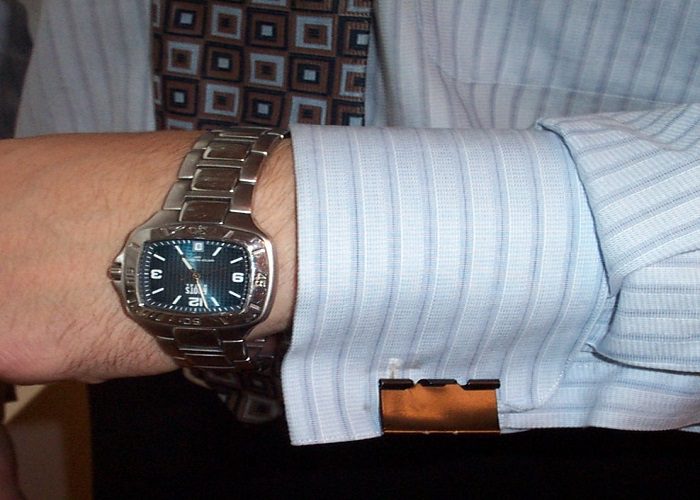 Just make sure it doesn't show up too many pictures because it may look out of place. Other than that, this hack works great whenever you start worrying about not looking presentable at work or dinner. Keep your jacket on and no one will even notice!
30. DIY trash bag storage
Binder clips are an essential component in any household with children or pets. Why, you ask? These clips are the best way to keep your trash bags in place. They work surprisingly well, and they're easy enough that you will do it every time!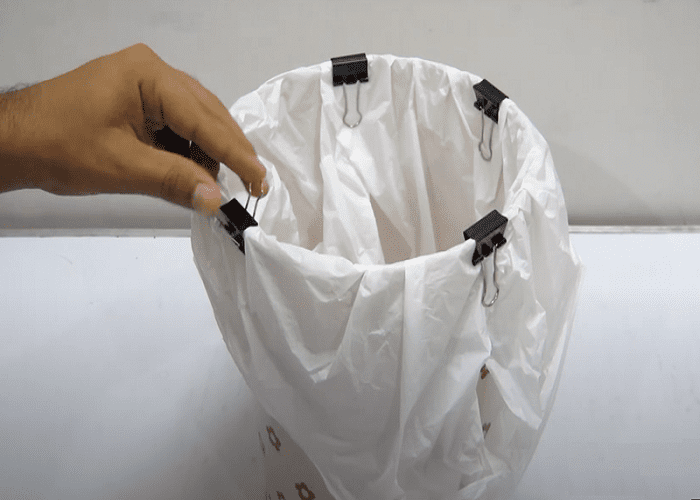 You will be able to keep things a little cleaner since you won't have food and other gross things slipping under the bag. This handy little hack is also perfect for cleaning up the yard, especially on those windy days!
31. Fun party charms
Some people like to make a big deal about their milestones, whether birthday or baby shower. If you're hosting a shindig for someone who expects perfection, try using binder clips as accessories. This is more of a DIY than a hack, but it's a lot cheaper than special party favors from the shop.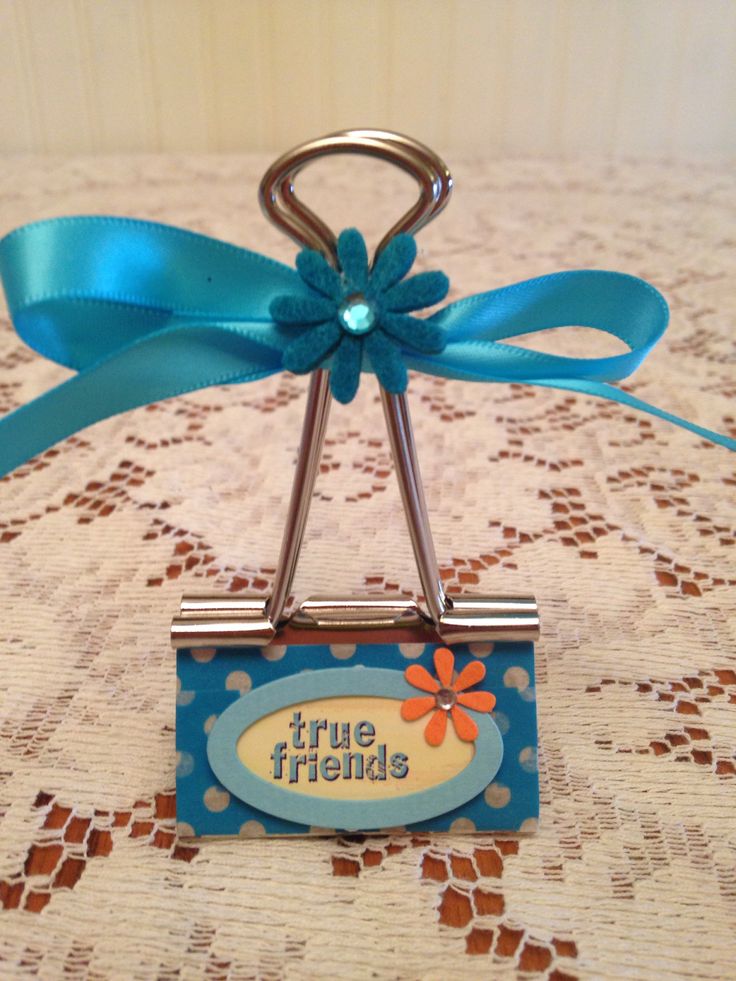 You can use them for a variety of purposes, from personalized drink labels to adorable decorations, and food labels. Also, use them to hang up your banners and streamers for an extra touch. You can get super creative with this one!
32. Make a keyboard stand
Tired of pain in your wrists from typing? Make sure you are comfortable while working by propping up the computer keyboard with binder clips. This will help keep your wrists and fingers in a better position, so they don't fatigue as easily!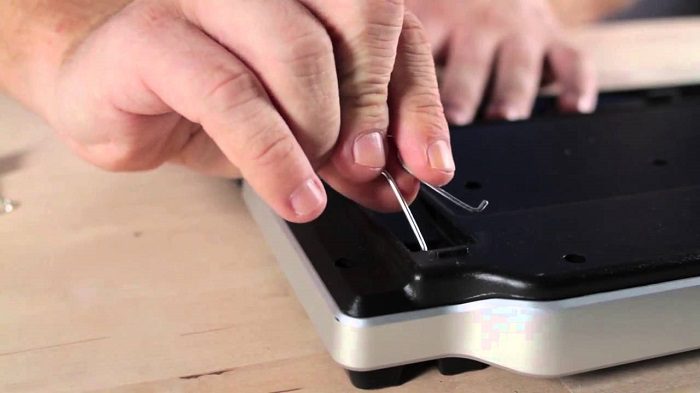 The binder clips are an excellent way to keep the computer keyboard at a height while you're working. This is a great hack to avoid finger and hand cramps while working for long hours. Moreover, your neck will not bend as much to look at the keys.
33. Yarn bowl for quick knitting
Knitting is fun and therapeutic. However, the yarn can get tangled and dirty at times. Knitters rejoice! You can now knit your way to happiness with this cleverly – but simply – designed yarn bowl. You may share this hack with your fellow enthusiasts.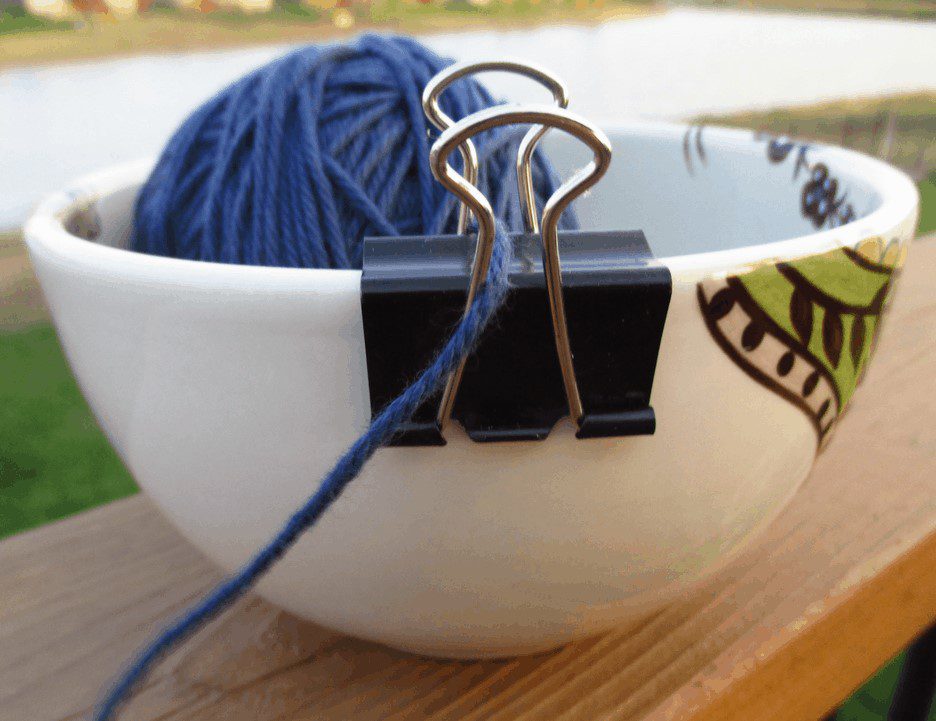 They will learn an awesome use of binder clips, just as you have. Place the binder clip on top of a bowl, feed some colorful strands through its loop. This is how simple it is to make your own yarn bowl. Seriously, that's it!
34. Easy dishwashing gloves storage
Dishwashing gloves are a necessary and frequently used tool in any kitchen. They come with multiple uses, and they can go anywhere from your dish draining rack to over the sink faucet after you finish washing dishes. But it would be nice to have a designated spot, right?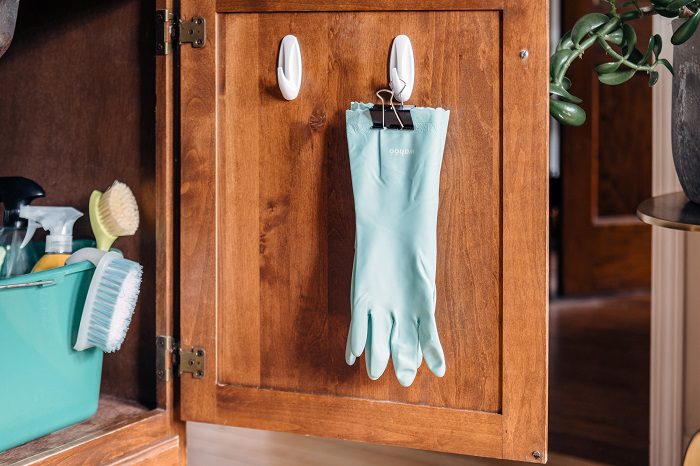 But where do we store them when it's time for their next use? Well, there's an answer- hang them under the sink using one of those fancy binder clips that seem perfect just hanging on by its plastic hooks alone.
35. Make a convenient headphone holder
Headphones are always a pain. Here's a fun hack for you to store your headphones. The good ones can be massive and take up too much space, so this is an easy way of keeping them out of the way!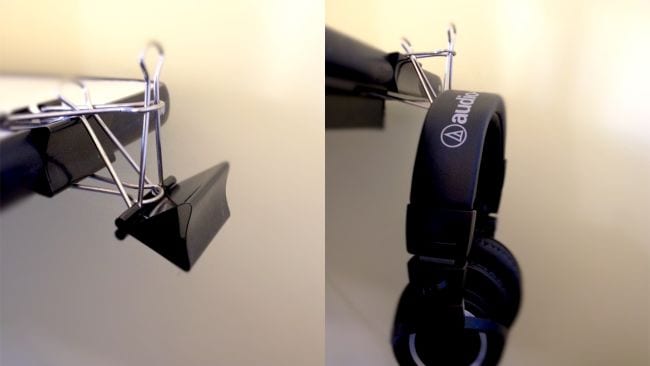 All it takes are some binder clips stuck onto one side with hot glue around where they'll attach themselves onto whatever surface that suits best – whether it's inside or outside their coverings. You may also use more binder clips and elastic bands.
36. Prevent pants from falling from hangers
The hanger is the enemy. It's a war between your pants and that fiend, who always trying to get rid of them as soon as they're on the rod! One way we've found success? Binder clips have helped us win this fight for our clothing items.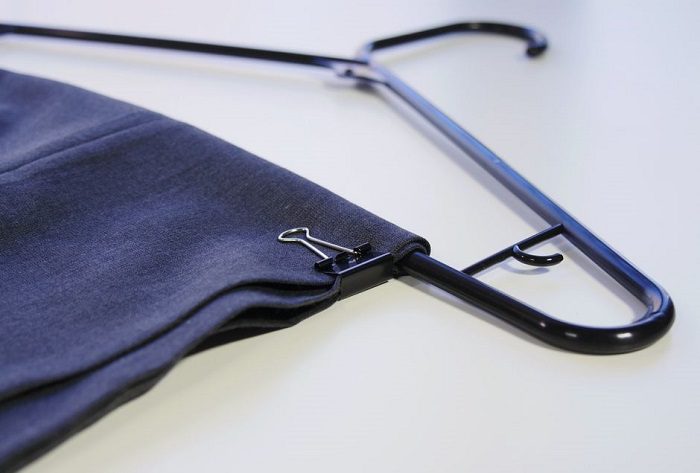 These handy little tools will keep every article securely in place, so there isn't any chance that you will c=find piles of fallen jeans inside your closet. Your pants will stay crisp and not fall off unless you remove these clips yourself.
37. Keep luggage organized when traveling
Packing for your next adventure is easier than ever with binder clips! These flexible metal fasteners can be used to securely close up all of those loose papers in a jiffy, so you won't have any worries on the plane or train.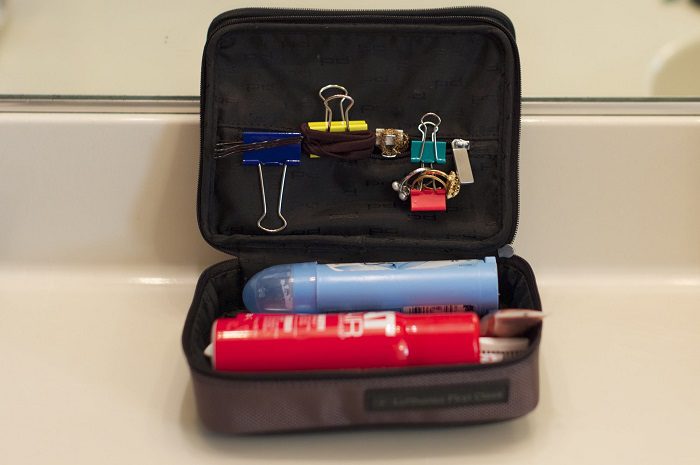 They're also perfect if there are some things that shouldn't come apart, like an ID cardholder (which we know doesn't look good). No more worrying about lost items or misplaced paperwork because they are all right where you kept them.
38. Keep shirt's sleeves rolled up
You know how big of an annoyance it is when your sleeves won't stay up. Who says you can't wear your favorite shirts while doing the dishes? Keep them in place by using this clever hack and keep those cuffs dry.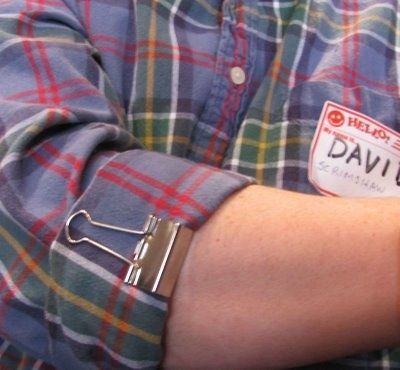 Don't fear trying this hack as it is not for the conventional fashionistas. The binder clips will serve the purpose and also add some unique style. This may even become a new fashion trend soon if more people start to incorporate it into their wardrobe.
39. Organize using tags and labels professionally
When it comes time to organize your home and office space, there are a lot of steps we need to take. Tag and label like the pro with binder clips! Want an even smoother ride? You may segregate the items and add colors.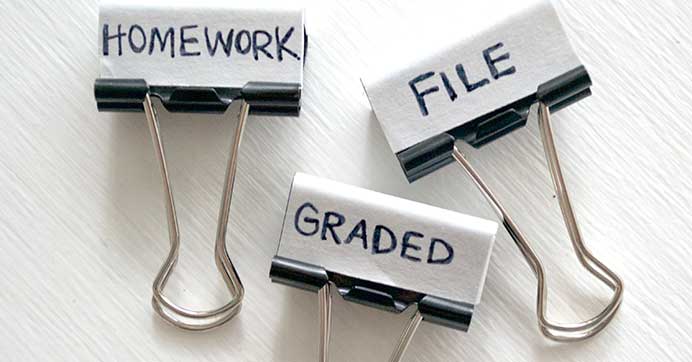 Color-code them so you can find what's perfect for each room quickly without wasting any more precious brainpower than necessary. There is no one-size-fits-all solution for how to get your life organized, but this is great for everyone, no matter their profession.
40. Phone stand for binge-watching
These days we all use phones for reading, watching shows, and online shopping. There are many ways to use a phone without holding it. The easiest way to watch something on your phone is by making use of the binder clips.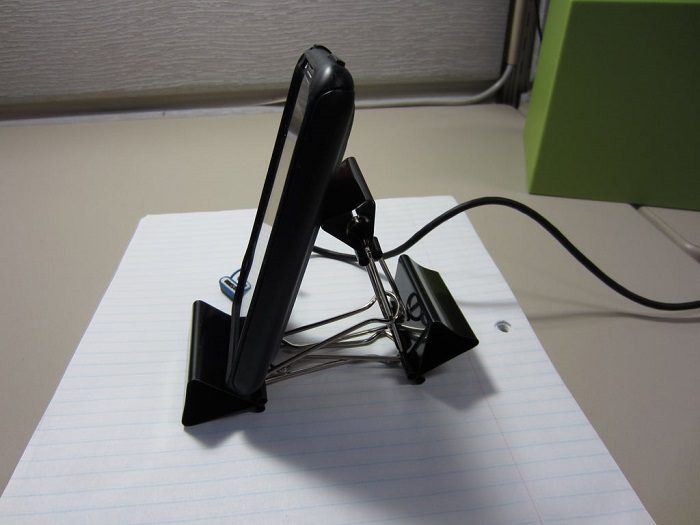 All it takes are two simple pieces, which you can construct quickly and easily into anything that will hold up whatever device needs viewing! This may be great for people who have weak hands or just want an easier option.