Rustic Revival: 40+ Simple And Stunning DIY Hacks For Burlap Crafts
By Joyce S June 8, 2023
---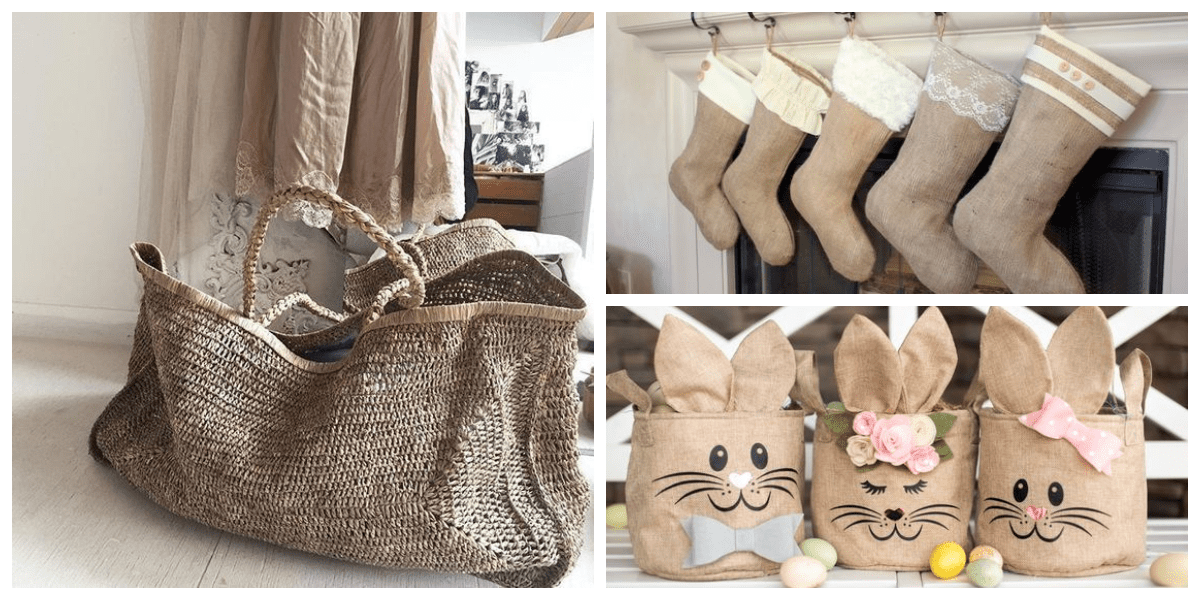 Have you ever thought about using burlap in your home decor? It may not be the first thing that comes to mind when you think of trendy design, but it can add a stylish touch to any room with a bit of creativity. If you still believe it is only meant for potato sacks and old farm stuff, think again! We'll show you how to transform this humble material into something beautiful and modern.
Burlap details are popping up in even the most sophisticated interiors, adding a touch of cozy charm to any space. Whether using trimmings or creating upholstery covers, every area in your home can benefit from a little bit of country splendor. This natural fabric is a fantastic choice for all sorts of DIY endeavors.
Try crafting some garlands and furniture implements using burlap; this sturdy fabric is durable and adds a rustic touch to any decor. Plus, you'll be able to enjoy your creations for years to come! So grab your burlap and get to work.
Lampshades
You're going to love making this beautiful ruffled lampshade. All you need is one meter of burlap, and you'll have a beautiful addition to any room in your home. If you're looking for an affordable option, consider using an old lamp base that you already have or finding one at a thrift store.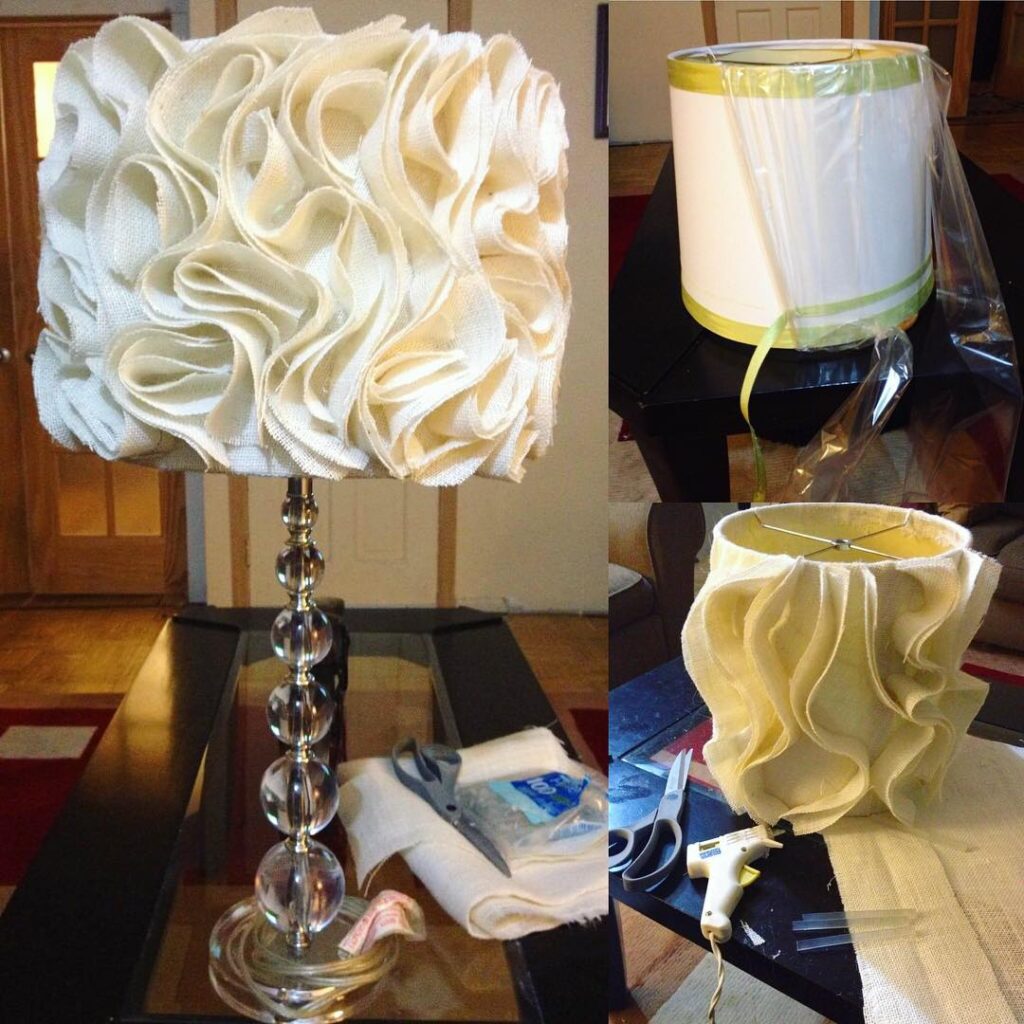 This lampshade does not require any sewing, so don't fret if you don't have any skills. Using good fabric glue to keep your ruffles together is vital. This wavy style is a fantastic option for making your project easy and beautiful.
Table Runners
Transforming a dull table into gorgeous decor has never been easier. Look at this lovely lace and burlap table runner! Not only is it a breeze to create, but it's sure to add a touch of rustic charm to any table setting.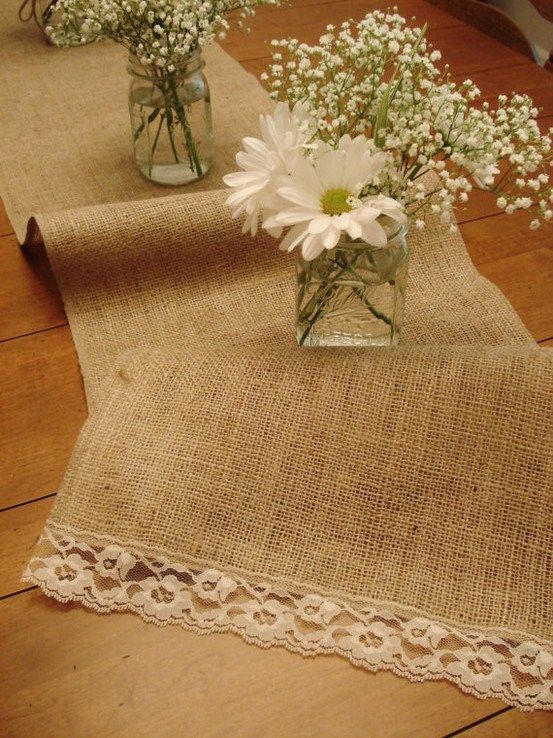 This versatile piece is a must-have for any home decorator, especially during the autumnal months. It's perfect for adding a touch of warmth and coziness to your dinner parties and family celebrations. Another plus is that this cute burlap-and-lace table runner suits all home designs.
Window Shades
Picture the charming rustic aesthetic you can achieve in your home with these delightful burlap shades you can make pretty easily. It's an excellent alternative to spruce up your home decor without breaking the bank or spending hours and a lot of effort.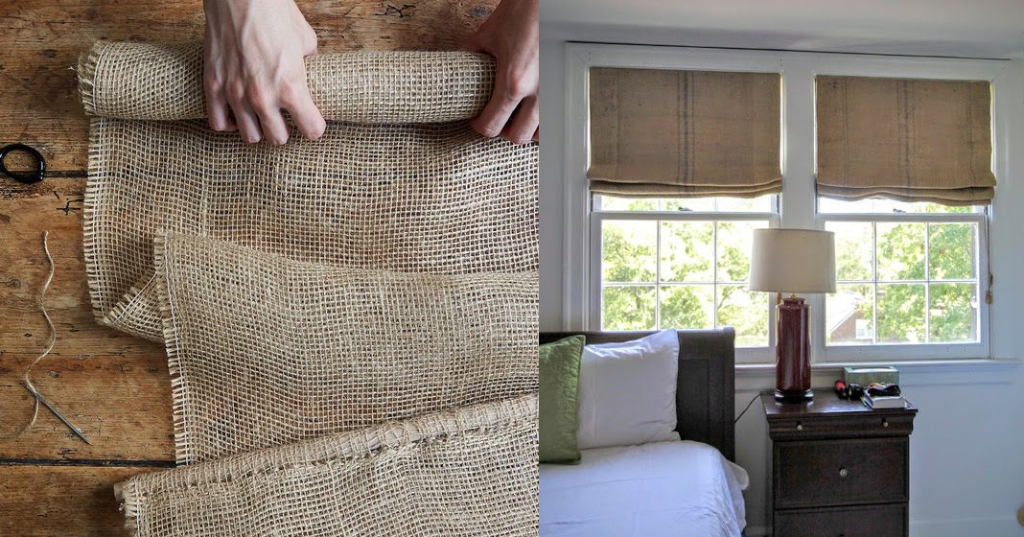 These projects will do the trick and add a touch of charm to your bedroom, living room, or even your dining area. If you feel super creative, you can quickly improve these shades with various decorative elements. They also look incredible in their natural state without any additions.
Kitchen Valance
Despite its high-end appearance, this valance takes only about an hour to produce and doesn't cost much. Sizing up the window, cutting the burlap to size, and then hanging it up are the only steps involved in the project.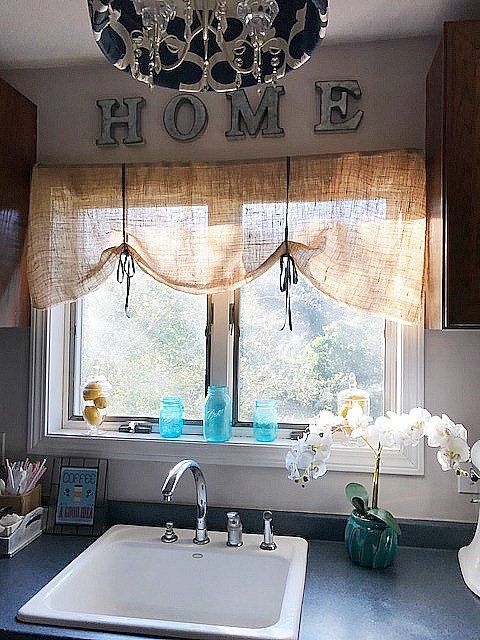 You can get them fastened in place using thumbtacks, which will go unnoticed thanks to the burlap covering. The valance's ragged edges look excellent at the bottom, and you can elevate it to any desired length by simply positioning ties where you'd like them.
Lovely Wreath
Looking for a versatile wreath that can be used all year round? This charming burlap wreath is for you. Crafting a beautiful wreath doesn't have to be an intimidating undertaking. With just a few simple supplies and a little time, you can create a stunning wreath that will add style to your place.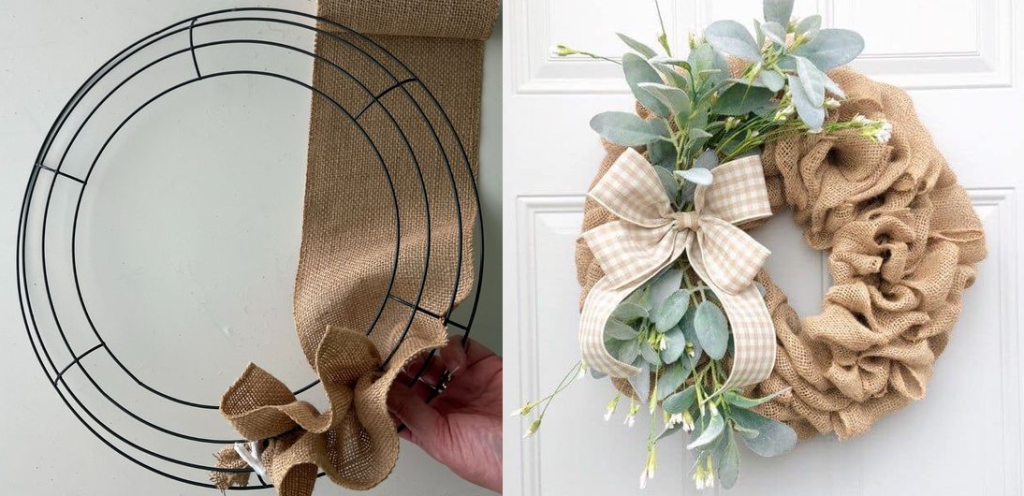 Why not add a personal touch to your decor by customizing it with seasonal ornaments and photos? It's a simple and fun DIY project that makes any area feel welcoming and cozy. Make simple changes in decoration, and you can easily update it to match the changing seasons or events.
Planters
Display your beautiful spring blooms in style with these simple pots. To achieve this lovely result, plant your flowers in coco fiber liner, and then wrap the whole thing up with burlap and finish it off with a bow. Use stencils to give it more color.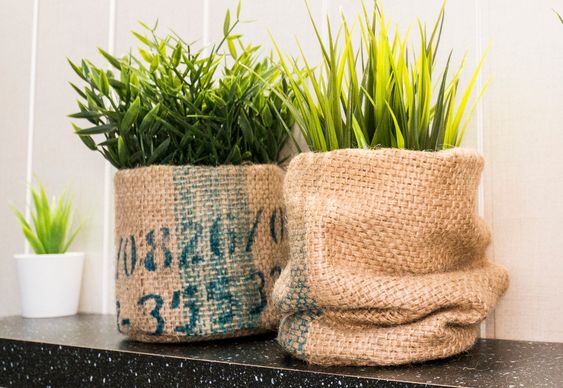 If you want to add something to your curb appeal, you may put them on the ground or leave them on the porch. Giving them their own floating shelves in the garden is a terrific move, too. They are simple to create and enhance any setting when done in bulk.
Rugs and Mats
Any room, inside or out, may benefit from a burlap rug's natural and welcoming vibe. A burlap rug's distinctive weave makes it feel cool underfoot in the summer and cozy in the winter. If you love texture and warmth, a carpet or mat like this is the go-to piece.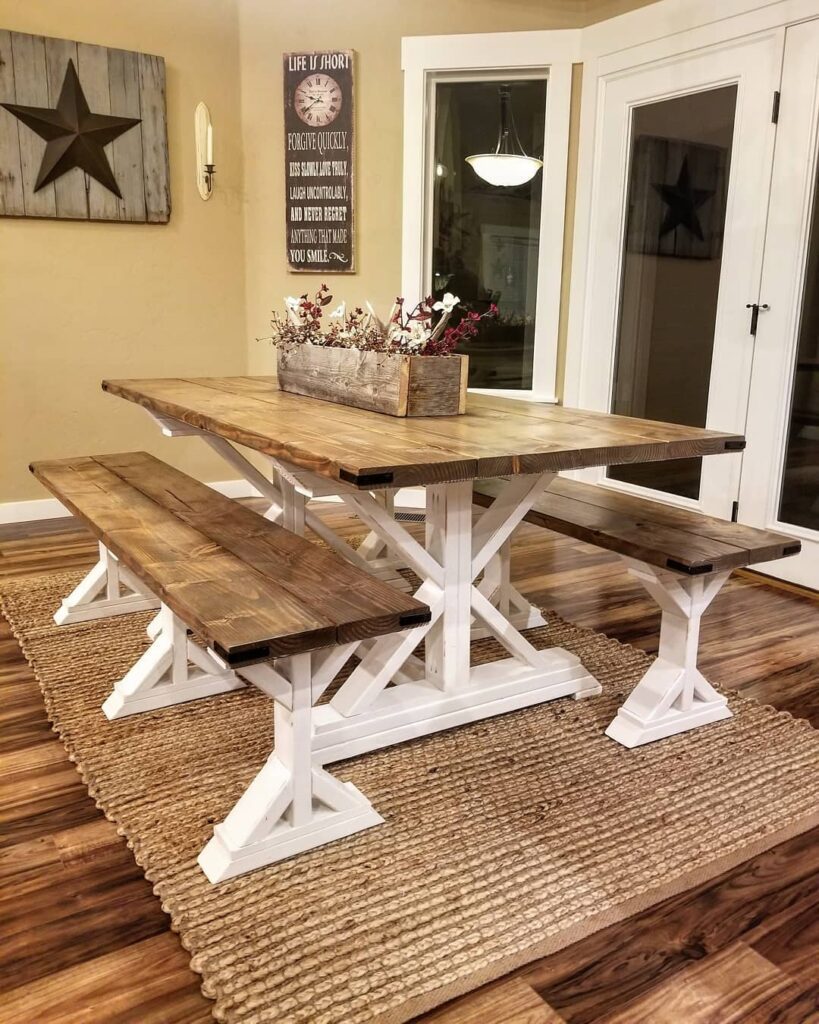 Like this natural-fiber rug, burlap rugs can shred and tear over time, requiring a lot of upkeep. Whether it's your bedroom or your patio, a machine-washable, soft-to-the-touch, and durable rug can do wonders for any interior design and is the perfect accent piece.
French-Style Pillow
Some people enjoy it. Some despise it. Only a few don't have an opinion about this rustic material. We have strong feelings regarding the advantages of burlap. In our humble view, burlap is here to stay. It's the new classic, so embrace it lovingly and utilize it to decorate our houses.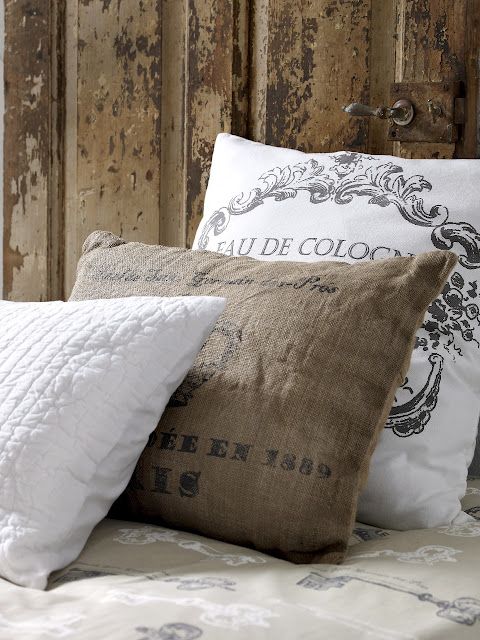 Burlap pillows may be a terrific stylish addition to our home. Hurry up and put burlap pillows at the top of your list. Yes, they might be a little rough, but they go with practically any design and soften up over time.
A Fluffy Flower Cushion
This cushion is attractive and easy to assemble, on the couch or as a stylish bed pillow. The most challenging step is the felt flower, but the process is simple. All you need is enough burlap to make the cushion and, of course, filling.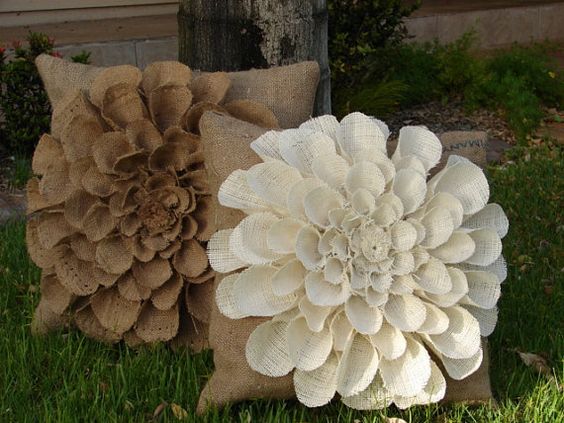 You can combine many of these to line your couch or vary the size of each cushion to match your needs. Some great options to alter the decor are stencils and colorful applications. There are endless possibilities when decorating your home beautifully with burlap cushions.
Ottomans & Footstools
What better material than burlap to reupholster an old ottoman? This project is as easy as 1-2-3 and looks excellent in just about any living space. All you need to do is follow some simple steps to cover the ottoman with burlap.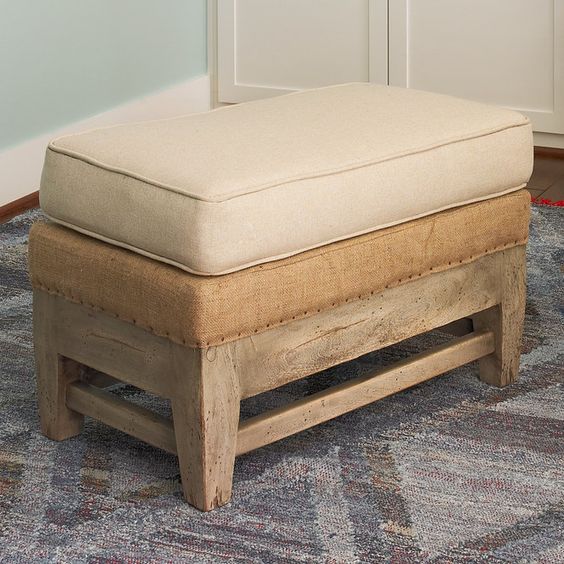 Just replace the existing fabric with a length that covers the ottoman and a few inches to tack down the edges. If you don't have an old ottoman or footstool, look around your neighborhood and pick one up at a garage sale or secondhand store. They're usually cheap.
Organize Earrings
This burlap and picture-frame earring holder is lovely. It's cheap and easy to build, costing only the price of the image frames you use. The matting and the structure may be painted with your favorite color after stapling on the burlap.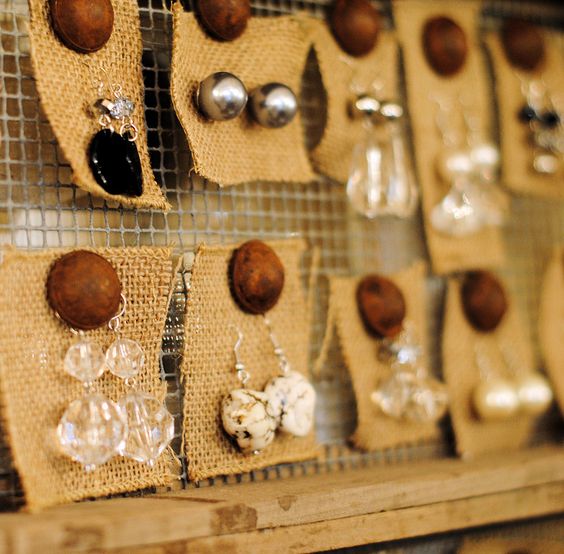 The burlap is a perfect fit for earrings with fishhook backs, but you may also use it for other earring closures. If you spend a little time making it unique, it would be an excellent present for someone with too many earrings.
Easy Bulletin Board
Making this exciting burlap bulletin board is a breeze. A cork board, which costs next to nothing at your neighborhood charity store, together with a staple gun, some upholstery tacks, and a yard of burlap, are all you need to get started.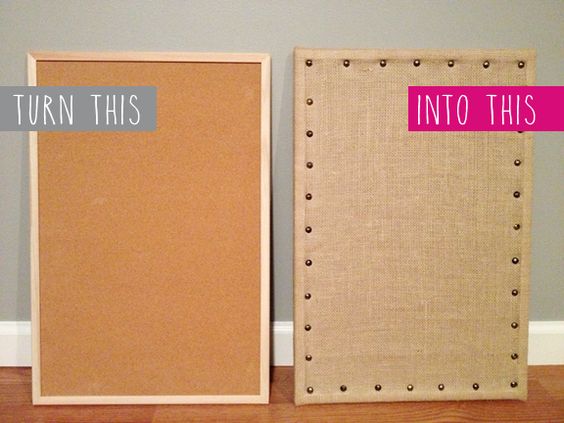 A standard corkboard may be dressed in burlap covering and upholstery tacks. It's perfect for kitchens and requires almost little time to assemble. Pin up your grocery lists, to-do lists, and other reminders to stay on track and remember everything.
Cute Signs Easy To Make
You won't find a more manageable do-it-yourself plan than this one (well, you probably will because our list is huge). But, in all honesty, it's among the prettiest. Begin with an empty frame, then measure and cut a piece of burlap to fit before stapling it to the back.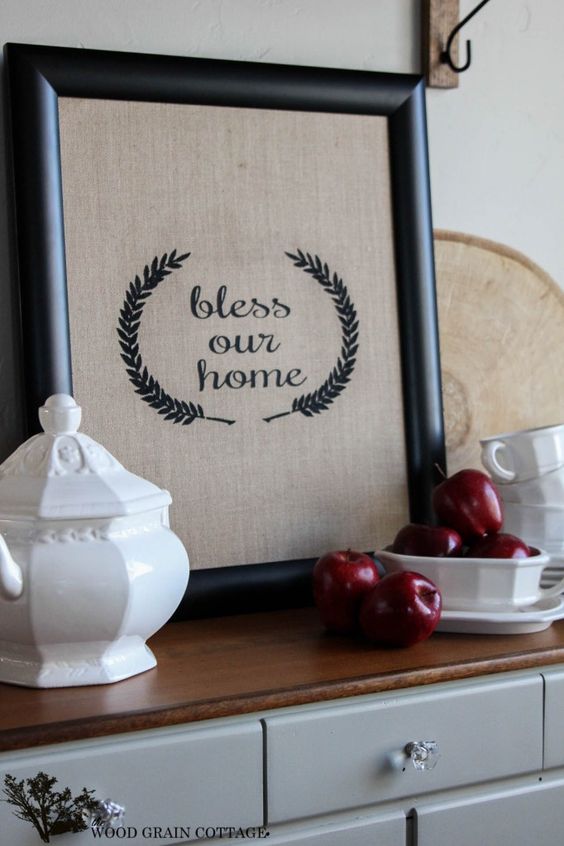 Burlap may be purchased from the fabric area of most arts and crafts stores. It may be used for a wide variety of purposes. Using foam letter stamps is a fun and easy way to personalize your sign. The last step is to arrange the alphabet into a custom word.
Chic Tote Bags
This beautiful and stylish tote bag can be handmade entirely of burlap, proving there's no such thing as having too many totes. This bag is versatile enough to be used everywhere, but it stands out when packing for a vacation to the beach or a weekend getaway.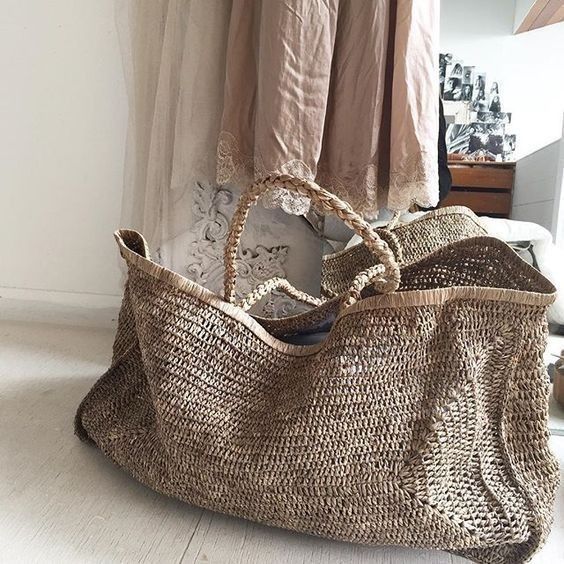 Remember that unless you want it made entirely of burlap, you'll need fabric to cover the interior. There is also some sewing involved, but even if you've never done it before, this is a terrific, manageable project that will reward you with a lovely bag perfect for summertime by the sea.
Bed Skirt
If you want to give your bedroom a rustic look and feel, a bed skirt made of burlap is the way to go. The skirt is less complicated to sew than it appears, and following the directions, you can create one in king or queen size.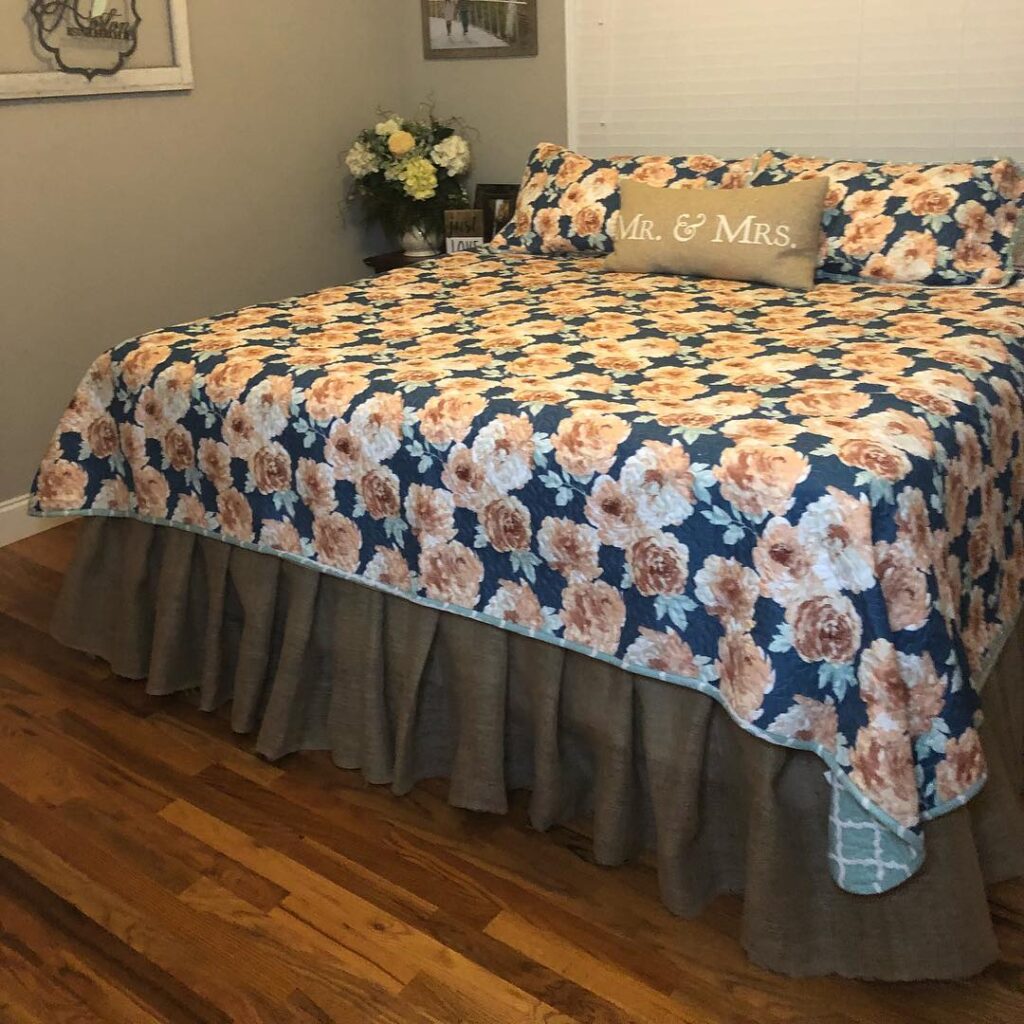 If you only require a bed skirt to fit a full or twin bed, you can trim it down. Just picture it on your bed with a few burlap accent pillows and some bows in each corner. Delightful, isn't it?
Burlap Coasters
Burlap coasters are versatile and may be used indoors or out. These are perfect for sprucing up your outdoor summer dinner parties or for use indoors to prevent liquids from damaging your oak tabletop. The best thing is that they are simple to prepare.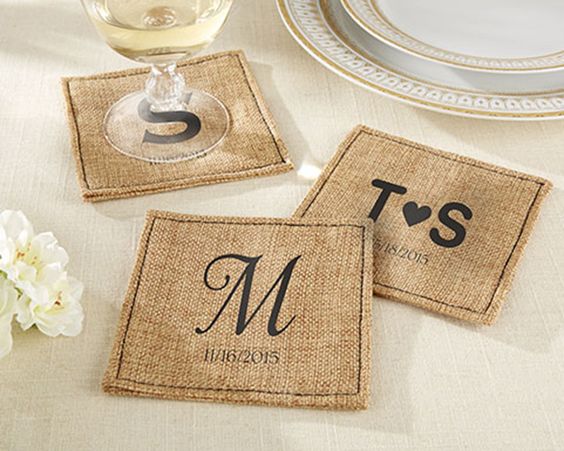 These coasters may be made for next to nothing if you already have some burlap cloth on hand. The base for the coasters needs to be squares of fabric; from there, you can easily add the burlap and embellish them as desired.
Delicate Napkin Rings
These stylish napkin rings are incredibly classy, making them ideal for weddings, special meals, or any other occasion when you want to impress guests. Napkin rings may be made with burlap in a handful of different methods, and each is simple enough for a beginner.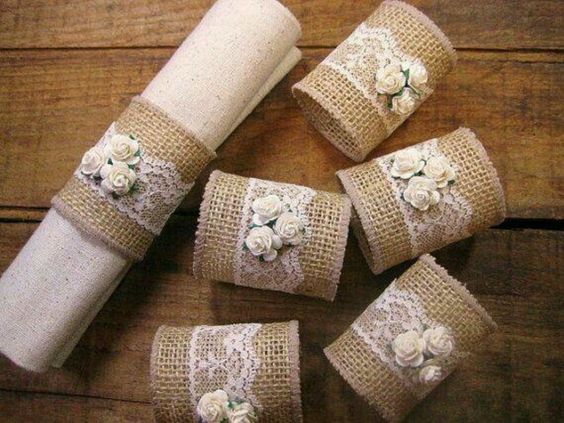 Cut the burlap to size, glue on the little flowers, then stitch both ends together to make the ring if you like the flowery look. Although fabric glue can be an option, sewing this project by hand will yield superior results.
Tableware Holders
These adorable tableware holders is the perfect finishing touch to your holiday season. Of course, you don't have to save them for Christmas or Thanksgiving if you don't want to; they work just as well for barbecues in the summer.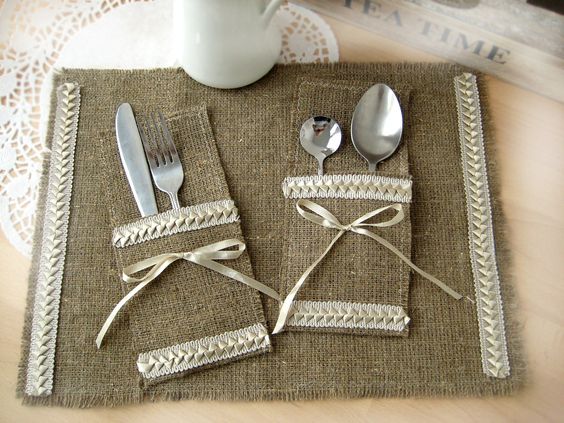 You won't need a sewing machine to whip one of these up. Use a hot glue gun to assemble the pieces, and then personalize them any way you choose. A bit of twine is all you need to add names or a personal message to each place setting at the dinner table.
Erasable Board
It's not easy to keep the family routine in order. These burlap bulletin boards complement any household's system of keeping track of daily activities and responsibilities. Hang some burlap in a picture frame. It's simple to jot down reminders of things you need to do and wipe away afterward.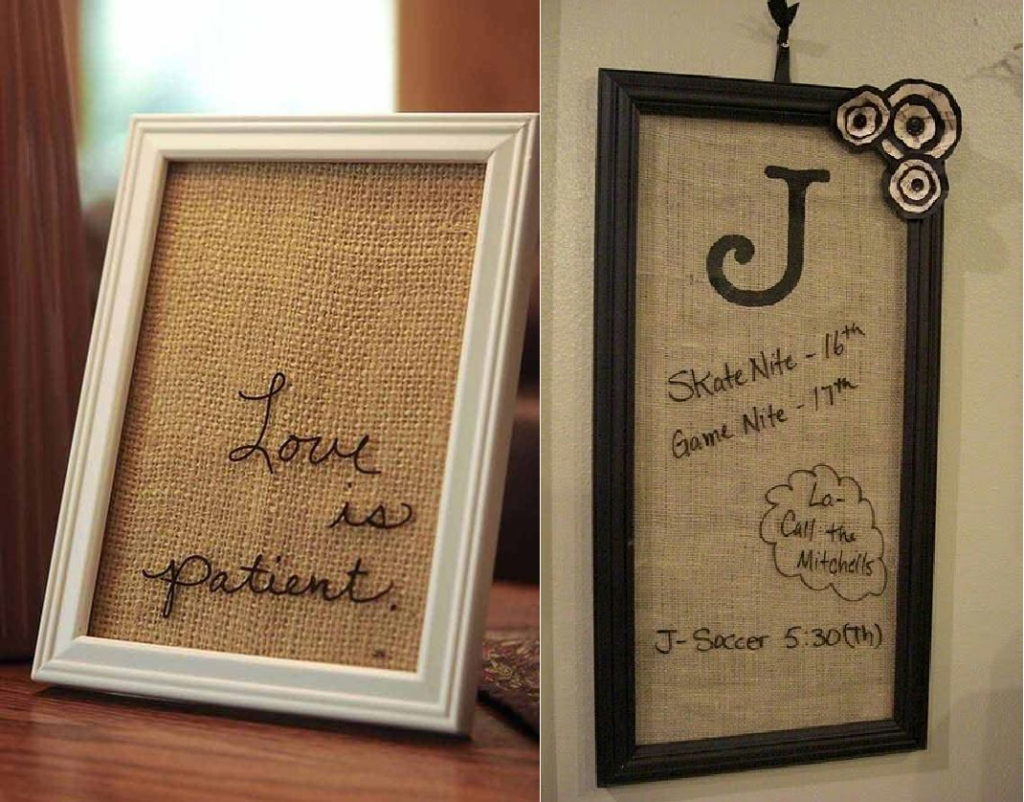 You can write whatever you need on the glass using a dry-erase pen, and easily wipe it clean. You have a lot of freedom to express your playful side by selecting frames of any color and even embellishing them further.
Christmas Stockings
We know it's still too early to start discussing Christmas crafts, but we might as well be ready for the upcoming festivities. These burlap Christmas stockings are ideal if you want a more country and cozy feel for the holiday season.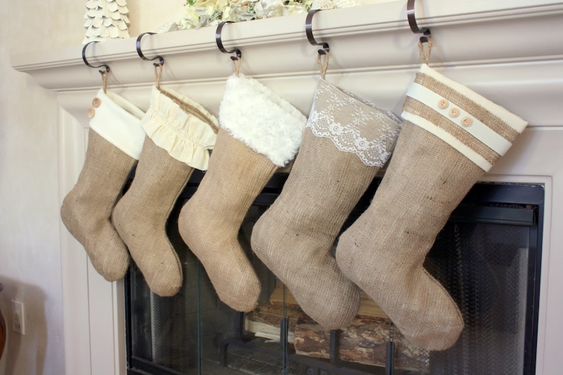 You may add flair by simply measuring, cutting, and sewing. These are really cute, and we love the unfinished aspect of the ruffles. It's incredibly
Hurricane Lanterns For Your Garden
These lanterns are simple and perfect for sprucing up your outside space. You can make a few of these this summer and truly impress your guests when hosting them on the deck, and the best part is you need only a few materials.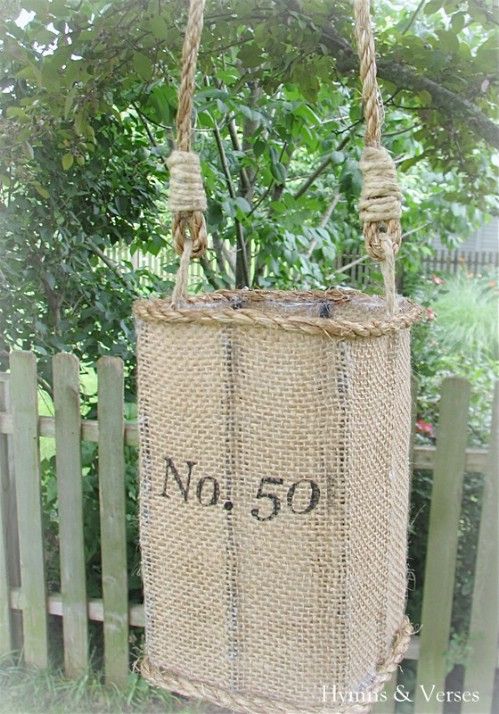 Some burlap, garden twine, jute rope, and stringy things to construct this fantastic imitation hurricane light. If you already have the other materials on hand, this won't cost you a dime since you can use a recycled iced tea gallon to make the mold.
Burlap Comfy Chairs
A simple burlap covering may completely transform a piece of worn-out patio furniture. This is a simple job that can be completed even by someone with little experience in reupholstering. You'll also need two sturdy wooden sticks and some basic sewing tools.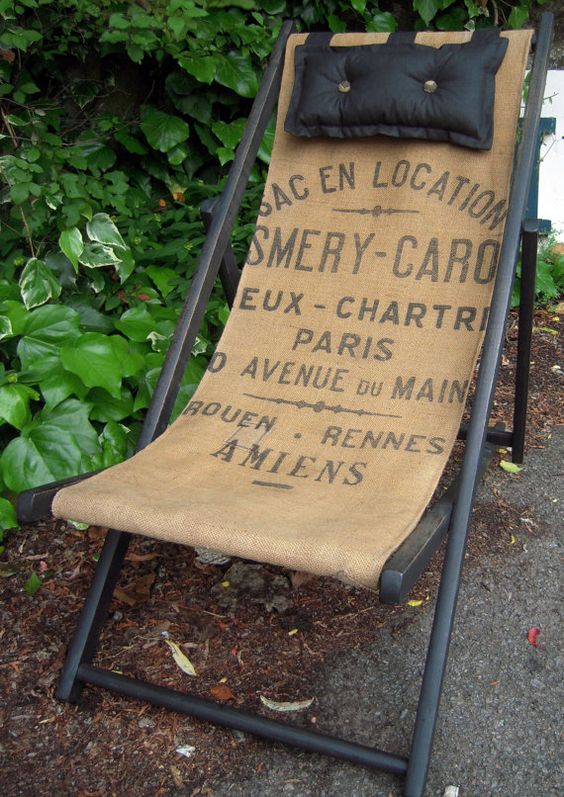 Remember to measure the burlap before cutting because it must suit the frame. This is a terrific weekend project If you're considering restoring your patio or garden chairs in burlap. It should take a maximum of a few hours to make a chair.
Ornaments and Mobile
Making these cute burlap rural mobile decorations with your kids is a fun family project. Just picture these beautiful works of art all around your children's bedrooms. You can create quite a few of these out of only a few yards of burlap.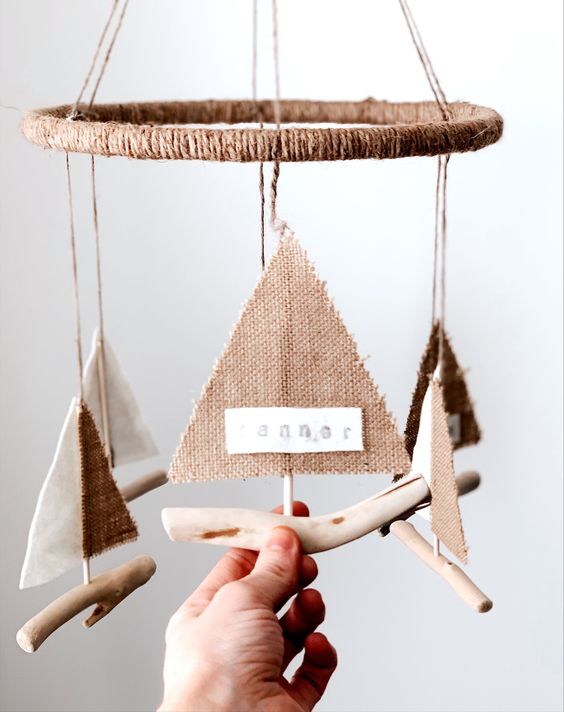 You can personalize them with glitter, stencils, and whatever else tickles your creative juices, or you can leave them as is. You can achieve this stunning result without sewing by using fabric adhesive and adhering a string (ribbon, twine, etc.) with glue.
Garden and Backyard Bunting
Putting up a banner is a simple and enjoyable way to decorate your house for the holidays. What's more in vogue than a burlap banner these days? Add them to your existing seasonal décor or use them to highlight a special occasion like a birthday.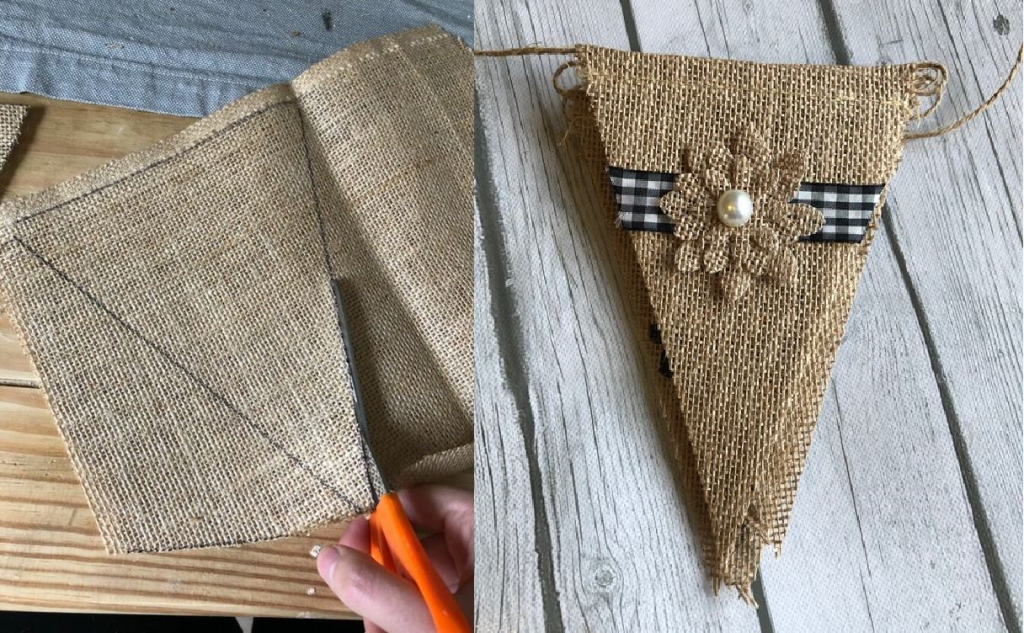 This is a terrific way to get creative with a delicate and simple burlap project if you have limited time. Think outside the box and explore the possibilities of adorning your home or favorite nook with a cute banner like this one.
Easter Bunnies
These adorable bunnies would be perfect in Easter baskets or as a lovely accent anyplace in the house. This simple burlap rabbit craft is ideal whether you want to make something special for Easter or have a love for bunnies.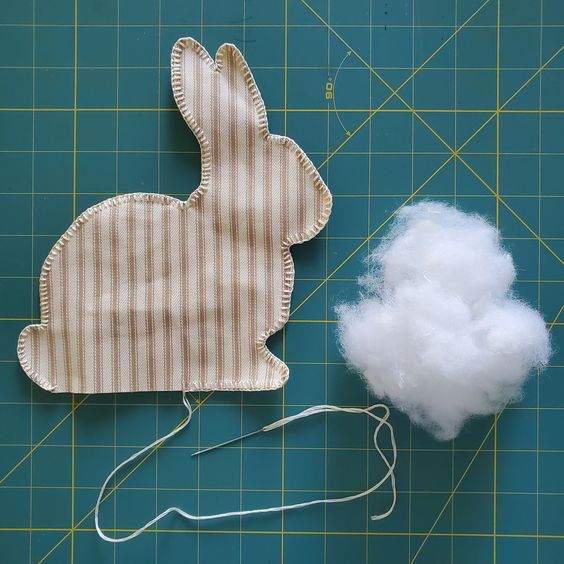 Keep in mind that white is not a requirement. You may use whatever color you choose, including natural burlap or any other color you like. To make a burlap rabbit, cut out the shape, fill it, and hand-sew the opening shut.
Easter Baskets
The highlight of the year will be spent with the kids as you weave together a handmade Easter basket to hold candy, eggs you've painted, and other goodies. These Easter baskets will surely please anyone you're giving them to this year.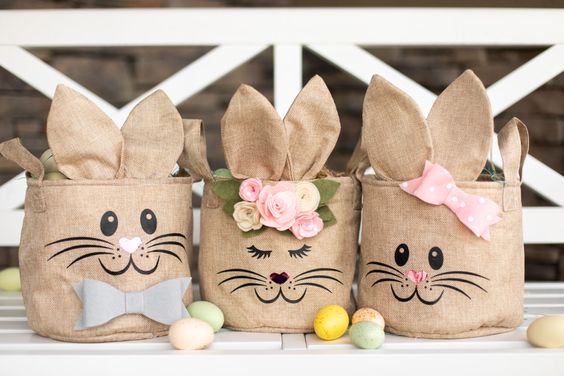 Whether they're close relatives, friends, or coworkers, and in whatever theme you're going for, we're sure you'll have a great time crafting these baskets. If you think your basket is too lovely to give away, you may always use it to decorate your table or mantel for Easter.
Topiaries For Indoor And Outdoor Decoration
These charming burlap topiaries may be made in various sizes, making them versatile enough to be used indoors and outdoors. Create a few giant ones to stand sentinel at your front entrance, or construct a collection of smaller ones for a stunning table arrangement.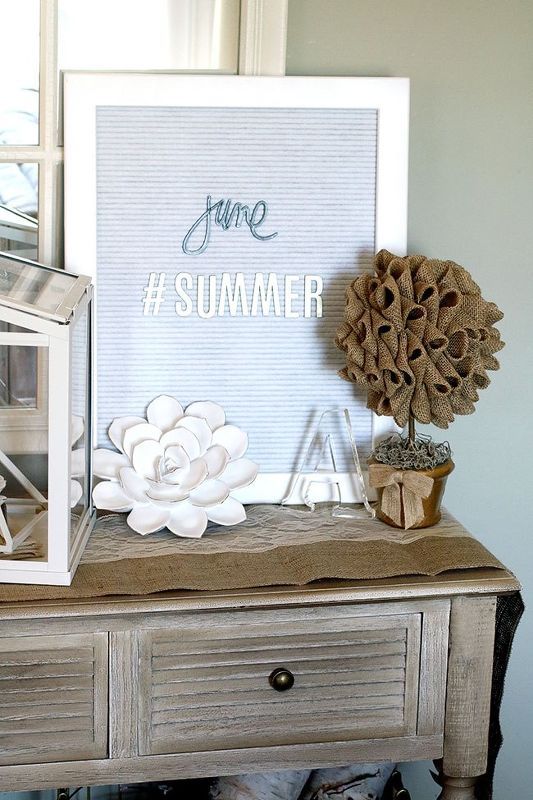 You may use them in a springtime display by placing them in a planter with bright flowers, or you can use them in wintertime and in the fall by placing them in a white planter. An adorable topiary is simple to create and offers many potential design applications.
Farmhouse Shower Curtain
A fantastic way to update the look of your bathroom without going crazy on furniture stores is to use burlap. All you need to do is measure your bathroom to determine the amount of burlap you need for the project.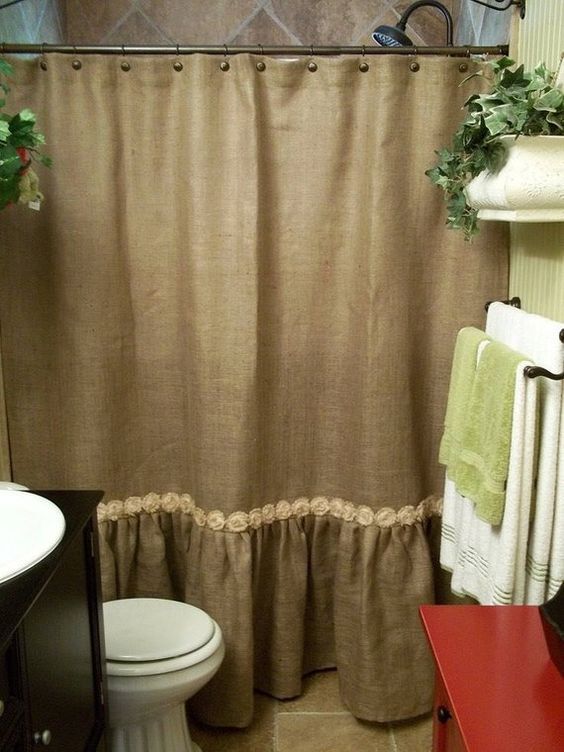 There's no need to sew a single thread; you can make a shower curtain with cute matching hangers. You'll need fabric glue and iron to secure the pieces for this quick craft. Having clothespins in between the curtain hooks gives the whole bathroom a more country feel.
Versatile Storage Boxes
Is there anyone who doesn't adore stackable containers? They're wonderful for maintaining order, and when crafted from burlap, they're as lovely as useful. You'll need a couple of boxes for covering purposes, and you can use old boxes from a grocery shop or anything else that's the right size.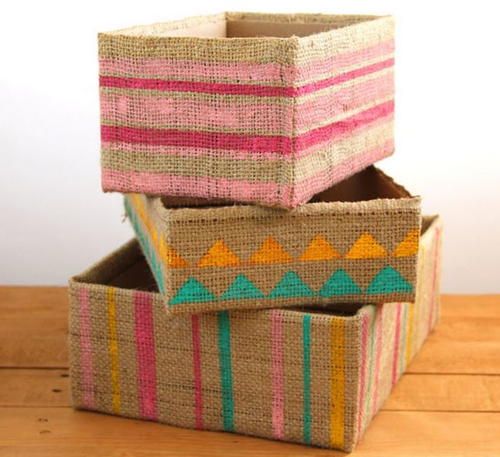 Since they will be entirely covered in burlap, the boxes' appearance is of little consequence. When you're done, you can use them in any part of the house for storage. They are perfect for reducing clutter and making things more manageable.
Keeping Magazines Tidy
This magazine rack is essential if you habitually scatter your magazines (maybe in the restroom). It requires minimal effort and can be prepared in about an hour. The burlap is folded, making it easy to wrap up the magazines and put them in.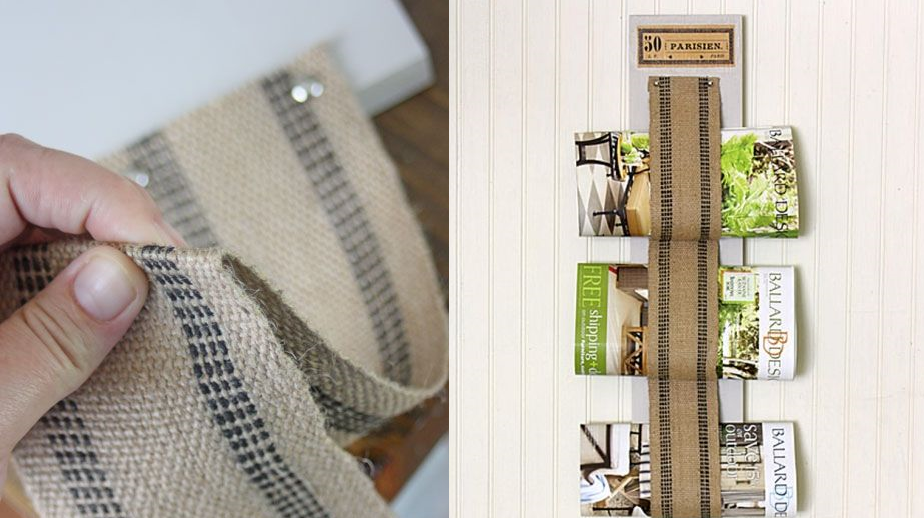 You may decorate it as you like, but it would look great with a French theme. Since it's so simple, you could make one for each of your bathrooms or even use it to store your cookbooks and culinary periodicals in the kitchen.
Adorable Pumpkins
These cute burlap pumpkins can be made in a wide range of sizes, so there's no need to wait until autumn to get started. You may use them indoors or out for a touch of autumnal charm. They need some stitching but don't worry.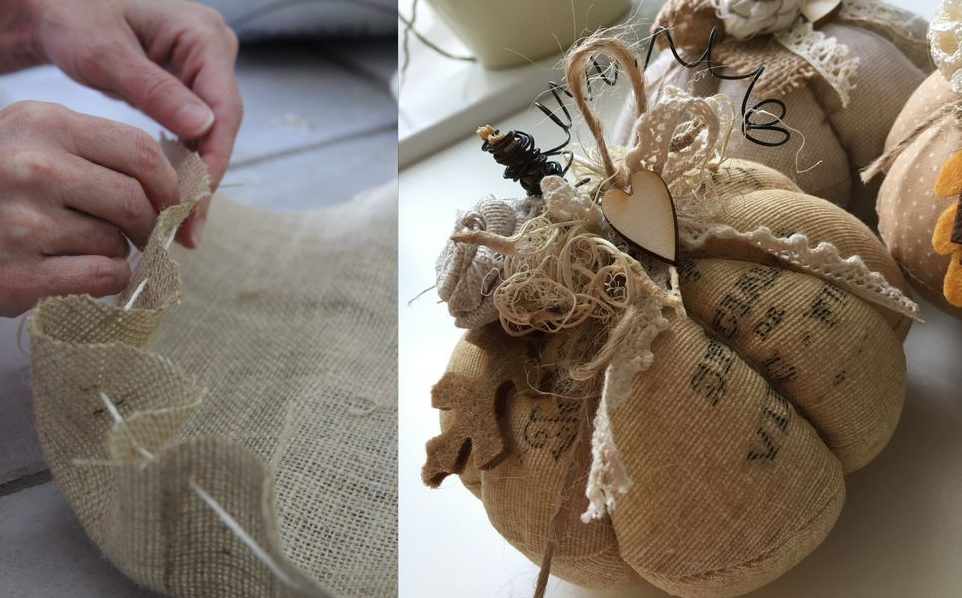 They are considerably simpler to construct than they appear and can be made in various hues for a strikingly eye-catching presentation. Before turning them into pumpkins, add some flair by decorating the burlap with markers for a one-of-a-kind centerpiece.
Organize Your DIY Tools
A fantastic DIY burlap bucket is the perfect spot for keeping your creative materials organized and within easy reach. The entire process will take up to a day, and when you're done, you'll have a great new storage solution for everything.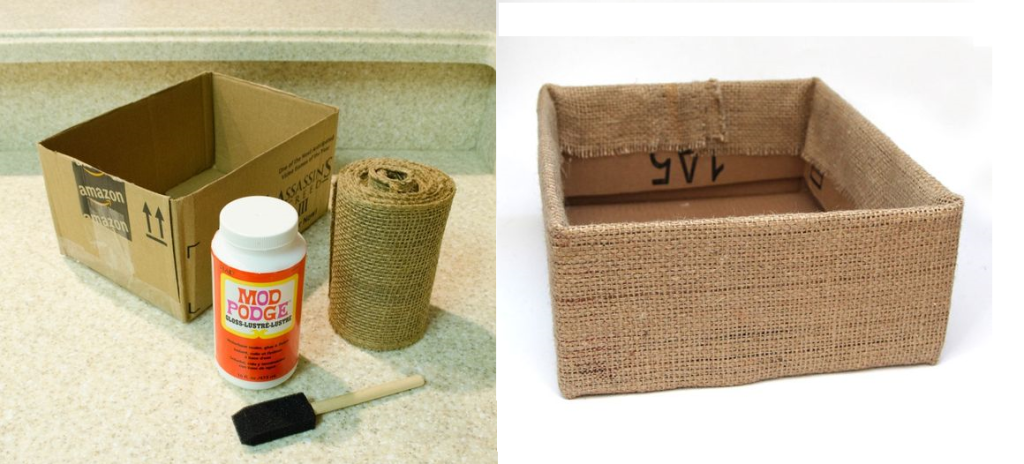 Some burlap, some upholstery tacks, and some small wooden containers (like the kind fruits and vegetables come in) are all you need to make a pretty bin suitable for storage and organizing purposes. No need to spend your money on storage baskets.
Quick Shade Chandelier Project
The chandelier itself might be beyond your skill set, but the shade, shaped like a barrel, is something you can easily tackle. The burlap material used to cover the shade gives it a sophisticated yet homey appearance. If you think burlap can't look dashing, you're wrong.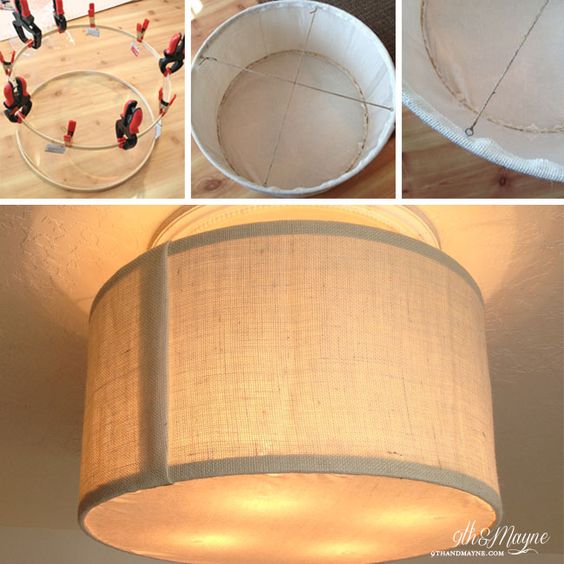 This sophisticated look can be achieved with surprising ease and would be an excellent choice for a foyer, a dining room, or brightening your reading corner. This gorgeous chandelier shade design can be done in about an hour, and you won't need to spend a lot.
Stunning Flower Pot
Tiny apartment owners, cheer up! If you don't have a yard or garden to plant in this spring, a burlap flower pot like the one you see here is an excellent alternative. Its versatility goes beyond housing cute flowers since you can grow veggies and herbs.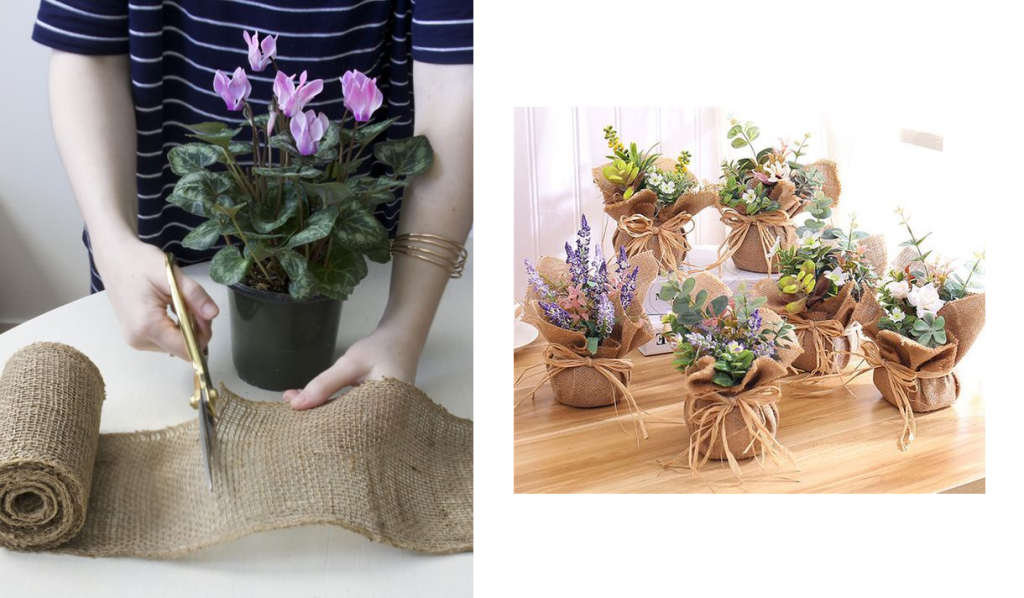 Wrapping a five-gallon bucket with burlap, securing it, and then labeling the pots as you see fit is all there is. Twine wrapped around the bucket will keep the label in place, ensuring you'll always know which plants are whose, even before they sprout.
Fireplace Garland
Only a wire, some pieces of burlap, nails, thread, and scissors are required to make a beautiful burlap garland. You'll need something to weave the ribbon through the burlap, and a bobby pin or safety pin will do the trick.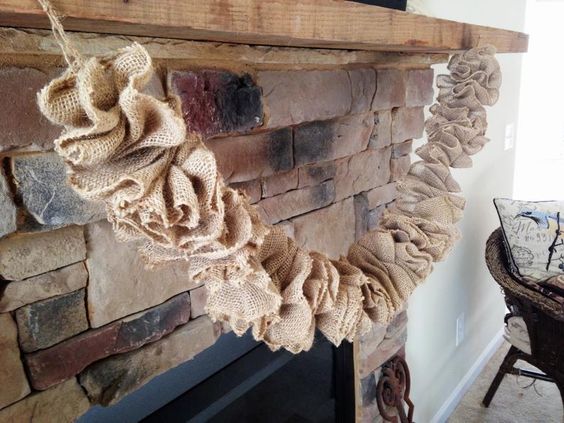 Then, scrunch up the burlap until you get the desired pouf, and secure it with a bow or ribbon. You may put it on the fireplace during the holidays or keep it there year-round as an ornamental accent. Either way, it looks fantastic.
Adaptable Apron
This apron design is excellent for the baker in your life or as a Father's Day present for the special father figure in your life. Artsy people can also benefit greatly from shielding their clothes from the mess that comes with crafting artwork.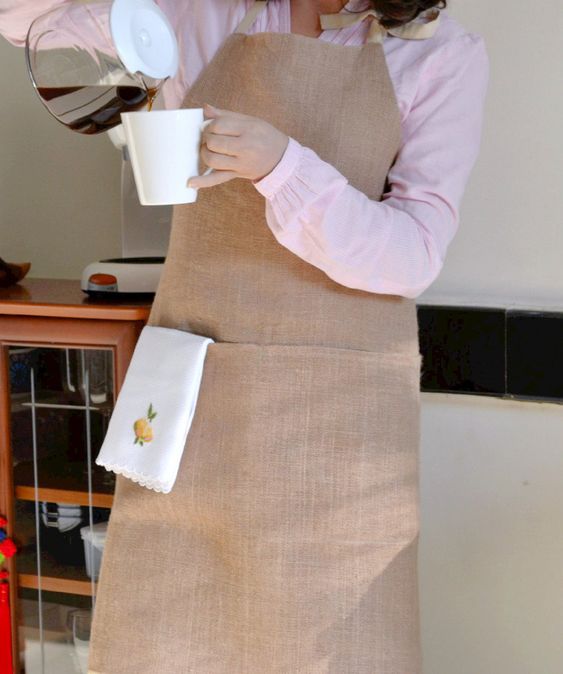 This fantastic baker's apron requires zero stitching on your part. The process involves cutting the burlap and drawing in the armholes before cutting them. After that, you only need to cut the apron shape and sew the black seam with quality fabric glue.
Giving Candles A New Look
The scented candle fever is everywhere these days. We come across dozens of small businesses and large ones selling the most beautiful candles and candle holders; as a matter of fact, Instagram is packed with these profiles. But sometimes we can't find what we're looking for. That's when burlap magic comes in.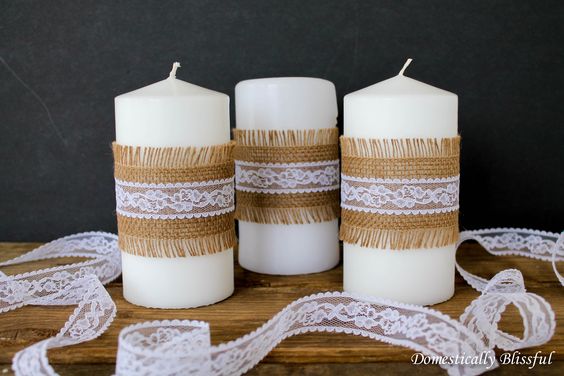 All you need is a candle and some burlap to make it happen. The burlap is secured with mod podge, and after it's in place, a coat of paint gives the project the look of an expensive Instagram post made by a famous influencer. Get ready for fame!
Vintage Inspired Feedbag Pillows
Pillows that look like old feedbags are easy to come by; you don't need to track any down. You may sew them yourself for a fantastic DIY rustic bed set. Burlap looks wonderful with painted lines that mimic the look of old feedbags.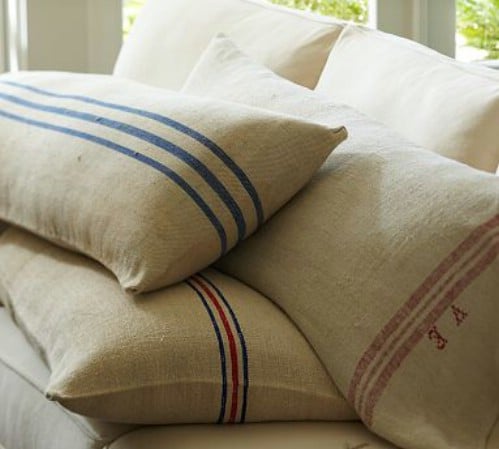 Once you have decided what you want in your pillows, you can stitch the openings shut and fill them to have a fluffy and comfy feel. The pillows will look even more genuine if you use stencils to make cutesy or retro sayings.
Reupholstered Chair
What about reupholstering that worn-out chair in burlap instead of dumping it out? Another excellent suggestion is to pick up a used chair at a garage sale or flea market for cheap if you don't already have one lying around.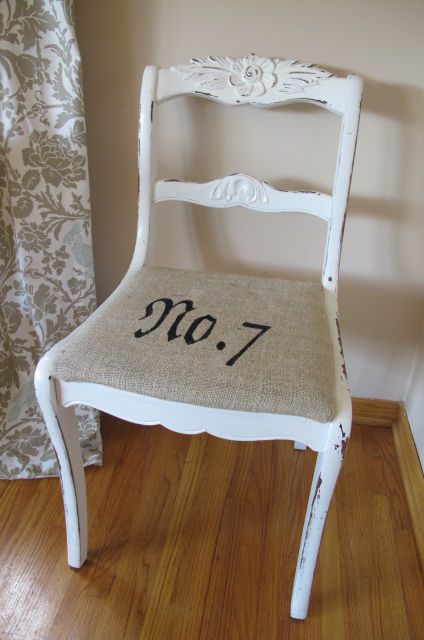 It's simpler and much nicer than you might think to reupholster a chair, and the result is an adorable piece of furniture that will look wonderful in any setting. And what's even better: you will have the sweet feeling of telling your friends and family that you made it.
Jewelry Box
You couldn't find a better present for someone who appreciates unusual items than this one. This cute jewelry box is made from a recycled wooden cigar box and some burlap, and it's excellent for storing your rings and other little accessories.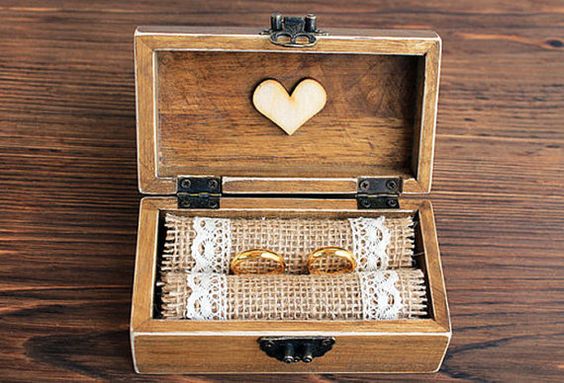 Grab a cigar box and give it a good treatment to eliminate that strong cigar scent. To store jewelry and other gems in a stylish revamped cigar box, you'll cut a strip of burlap to the exact size of the box and then long enough to wrap up and fit inside the box.
Boot Stuffers
Although this isn't really a decoration project, it is pretty useful in helping footwear retain its shape. These burlap boot stuffers are fantastic because they prevent your boots from sagging, can be made quickly, and will cost you almost nothing.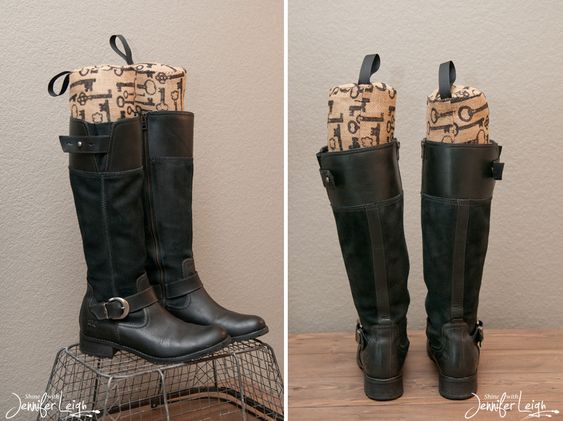 Making two boot stuffers requires only a yard of burlap, so if you have more than one pair of boots, you can easily whip up a few of them. There's minimal stitching involved, so they are perfect for giving as presents.
Blissful Door Hangers
You can create wonderful door hangers that suit seasonal celebrations or give your front door that unique touch of bliss. This overwhelmingly cute burlap door hanger is easy to make and can be totally personalized to fit your home design.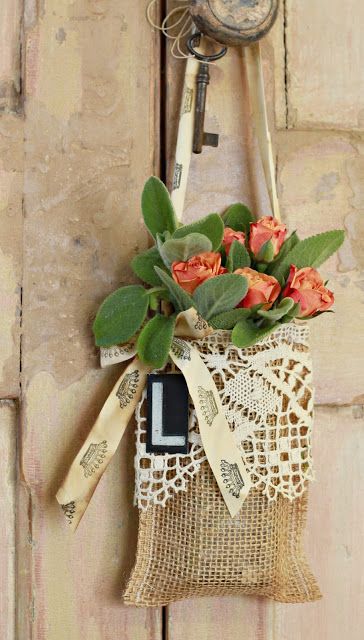 For those of you who live where you get to see the seasons come and go, it'll feel great to welcome springtime or the autumn leaves with a theme door hanger. Cut the burlap and assemble the pieces like a little pouch to receive the colorful flowers and decor trinkets you love.
Burlap Christmas Trees
These burlap Christmas trees are lovely and exceptionally affordable. You should give these a little character by changing the burlap and canvas or using contrasting colors. Depending on the size of the cones you choose, you may make them relatively short or tall.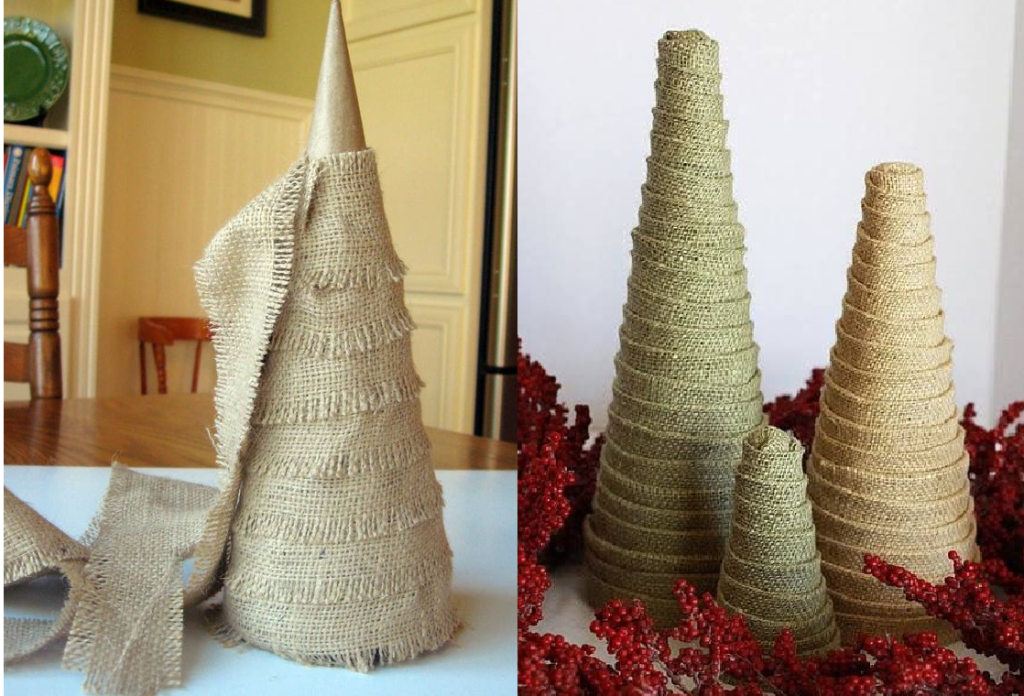 Also, you can make them broader by using more fabric. Then, decorate them with your favorite ornaments or leave them as is. Because stitching is unnecessary, this is a great family activity, and the youngsters will enjoy pitching in.
Burlap Table Bouquet
Love is in the air, my friends. These little bouquets of flowers are ideal for use as table centerpieces during a wedding reception with a burlap theme. Even if you don't have any upcoming events, you may still make them and use them as home décor.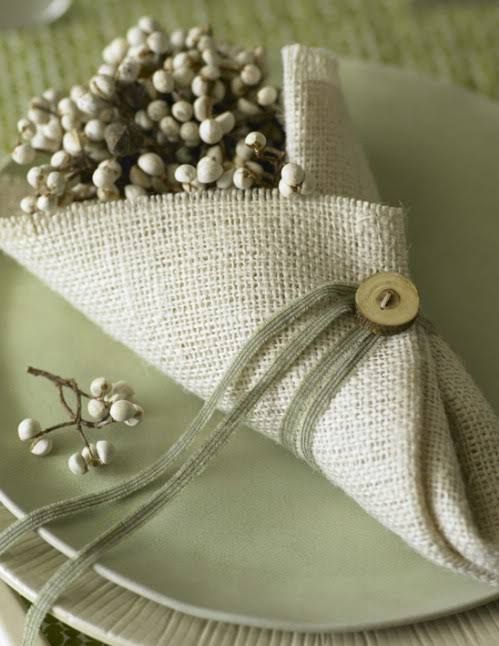 They are made of folded burlap secured with ribbon and packed with beautiful blooms. Feel free to use your imagination and use whichever flowers you like. Making one of them takes no more than 10 minutes, making them ideal for last-minute wedding table decorations.