45 Super-Simple Decor Ideas To Welcome The Easter Bunny
By Jana I February 21, 2022
---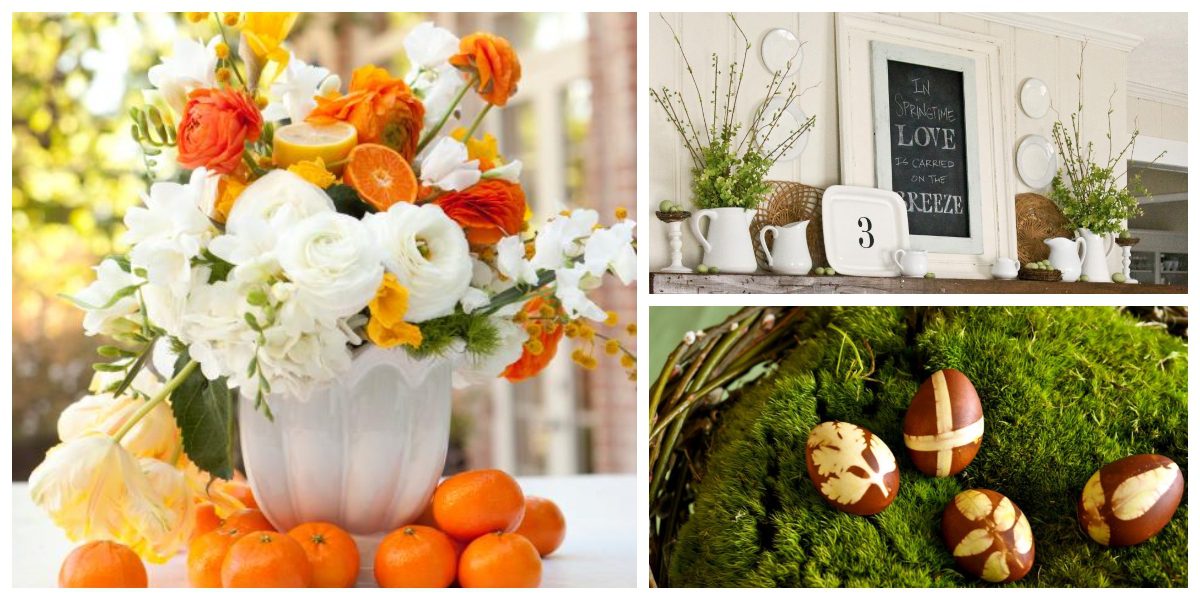 Decorating for Easter should be easy, fun, and something for all ages to look forward to. We celebrate Easter during the springtime when the weather is warm and cheerful, the trees are blossoming, and the meadows are gleaming. After a long dreary winter, it is time to bring in some refreshing flowers and bright spring colors to brighten up your home decor. In this article, we've gathered easy and cost-effective creative decoration ideas to spruce up your home for the Easter festivities with family and friends. You'll see many pictures, from new eco-friendly ways to color your eggs to how to make the best floral wreath. If you are curious to find easy, quick, and affordable tips to enlighten your surroundings, keep reading!
Forget the Pastels
Although pastels are a staple during the Easter holiday (more on that later), why go the conventional route when you can be bold and different? Ditch the pastels and go for a more unconventional option with brighter and more vibrant colors!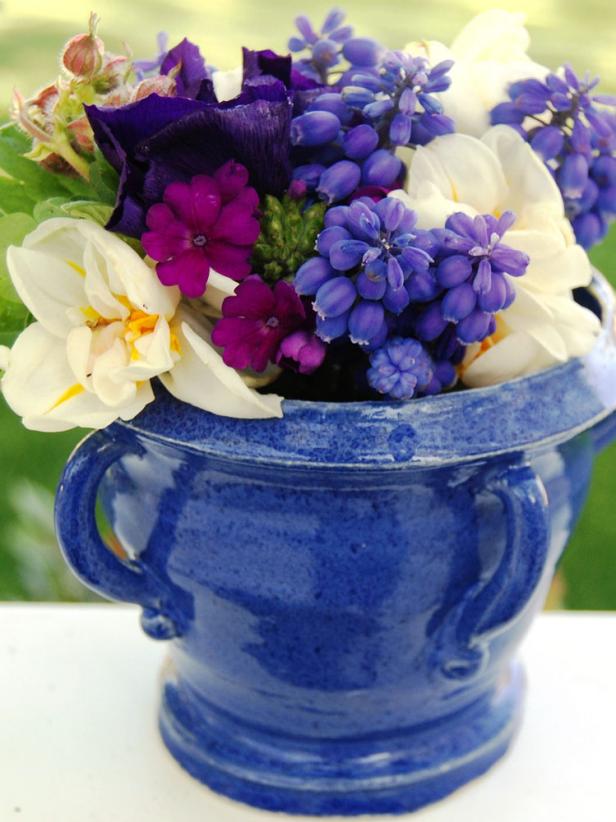 Take a look at this picture as an example! The vase is royal blue, and its flowers are popping with color. Flowers such as grape hyacinth, tulips, and fuchsia phlox can make a fantastic bouquet that would make any table or counter a sight for sore eyes. Don't fear color, fear inauthenticity!
Make Your Porch a Place to Be
Do you know what flower we love? Tulips! Tulips are one of the prettiest yet simplest flowers out there. They are subtle, not sophisticated like roses, or excessive like hydrangeas. Usually, tulips bloom in March and April, making them a perfect decorative asset for Easter.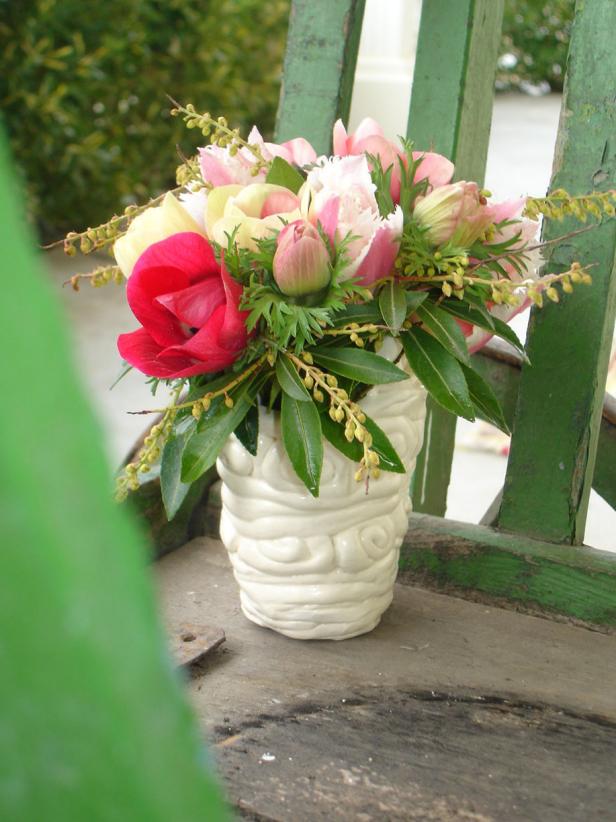 To refresh your porch, you could use a homemade ceramic pot and place freshly cut tulips inside, as the picture suggests. You could add extra details here and there, but a handful of tulips will be just as effective. To make sure your flowers look plump and fresh, cut them a day before guests arrive.
Unexpected Centerpiece
Wildflowers have their charm. You can pluck them out of your unkempt backyard or while hiking in the woods, but they are gorgeous when appropriately arranged. For this, you'll just need a little bit of patience. Pick a color scheme and run with it!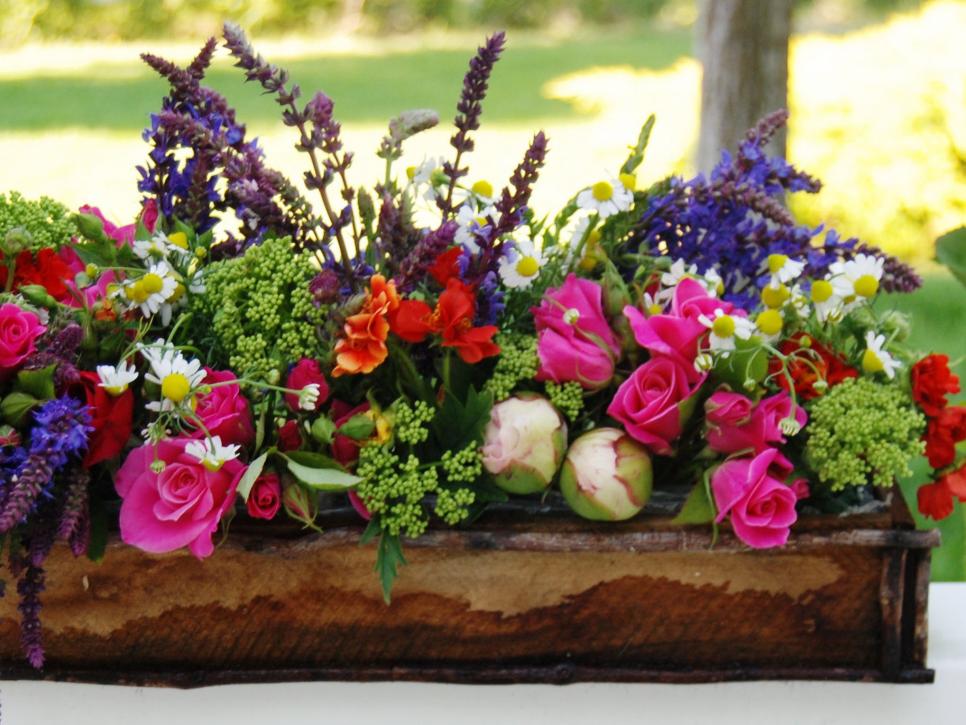 Make a fantastic combination, like purple, white, and yellow with a pop of pink, and you've got yourself an arrangement! Daisies, dandelion, chamomile, poppy, cornflower, dame's rocket – those are just some you can easily find around to make a wonderful color palette. Place them in a rustic wooden box or a log at the center of your table, and you'll be the talk of the town!
Pop of Life
If you have a contemporary decorated house, especially the living room or dining room, this might be a perfect one for you! Combining modern details with rustic decoration is stylish as of late, and we will give you an idea of how to follow the trend.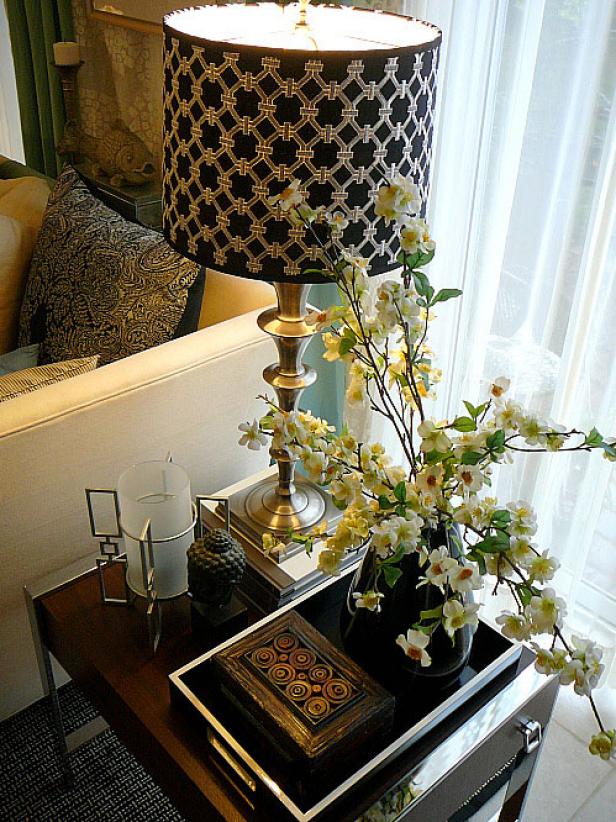 Pick up a simple vase, preferably dark-hued glass and transparent, and plop in a handful of dogwood branches. All you need to do is put them in water, and they should last you weeks, similarly to cherry or forsythia. They adapt well indoors and will serve as a beautiful piece of decor.
Easter Tree
We always talk about Christmas trees, but what about Easter trees? Why can't we take an excellent fir tree and place it in our house for Easter? No one says we can't, so we are doing it! The tree doesn't have to be big or extravagant; it can be relatively subtle and straightforward.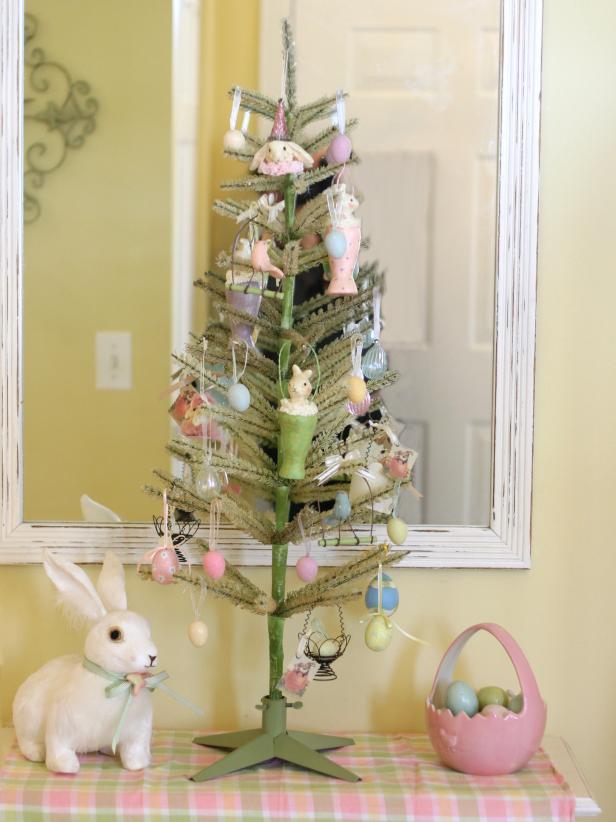 This person has taken a thin, fake evergreen tree and decorated it with Easter goodies, like bunnies, eggs, and fabulous flowery lanterns. They placed a white rabbit and a pastel pink basket on the sides filled with what we assume to be chocolate eggs. A pastel dream for every household!
Bathroom Deserves Love Too
How often have you decorated your whole house from floor to ceiling and realized you forgot to give your bathroom some love too? Bathrooms are often omitted from decorating, and we are not sure why. Our mission today is to provide you with an idea of how to give it a spark.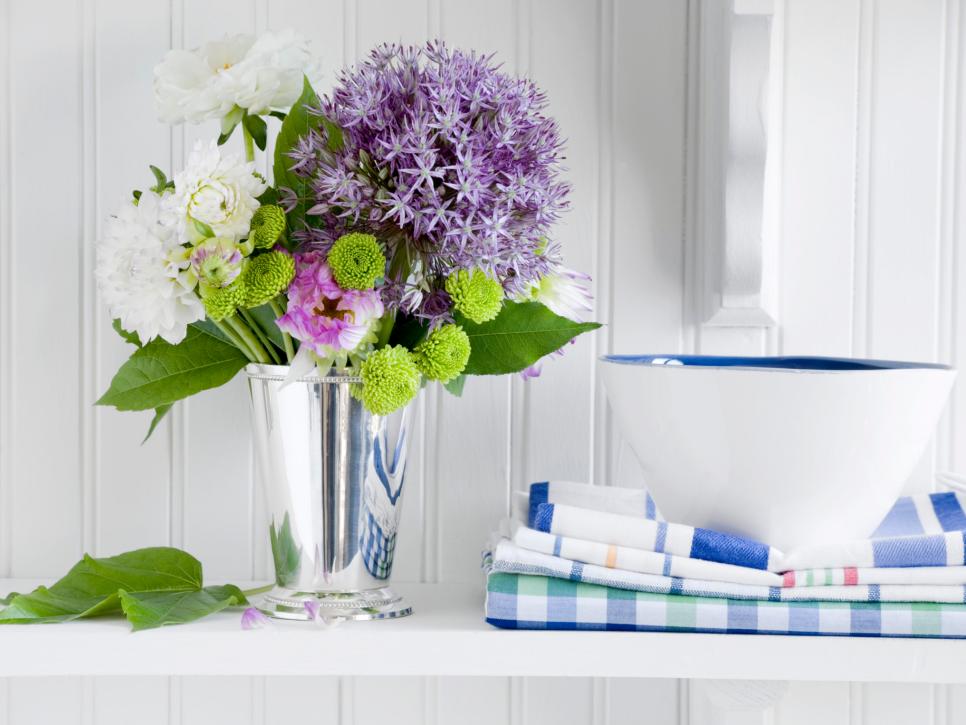 Keeping a vase full of fresh flowers in the bathroom would make any Easter guest beam with joy. We imagine the vase is made of some kind of metal, it's rustic or vibrant, and the flowers fill up the room with a fresh scent.
Chick Wreath
Yes, holidays can be stressful. There are numerous expenses, especially if you're having a family gathering or hosting a dinner party. If you're on a budget, then we've found a perfect solution for you. You could make this wreath for cheap!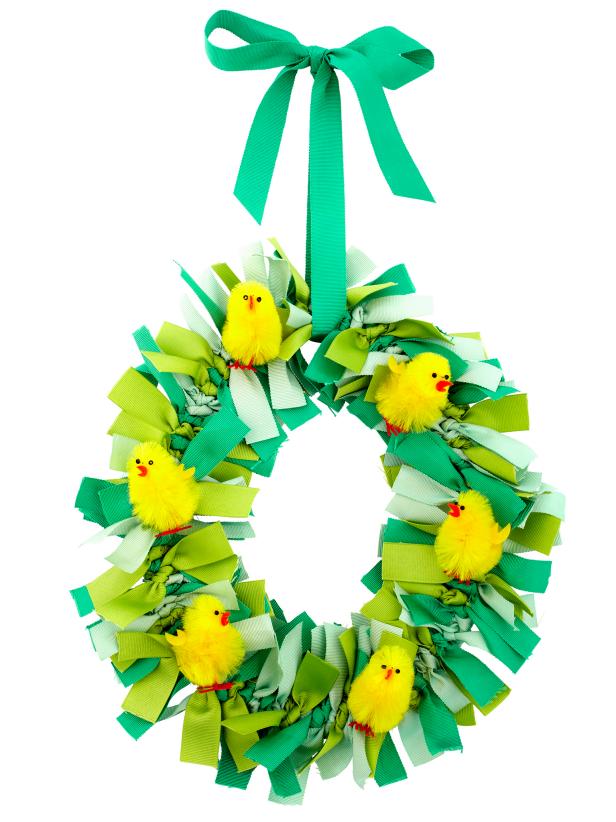 To make this wreath, all you need to do is to tie 8-inch pieces of grosgrain ribbon around a wire wreath form until it looks filled and luscious. Afterward, glue a number of these yellow chicks on. If you're feeling extra creative, you could replace the chicks with bunnies or flowers.
Eggs and Nests Combo
If the hack with a log and wildflowers was too much for you, we have another brilliant idea for an iconic centerpiece that could blow your guests' minds! It includes eggs, nests, and fun decorative flowers and branches. Take a look!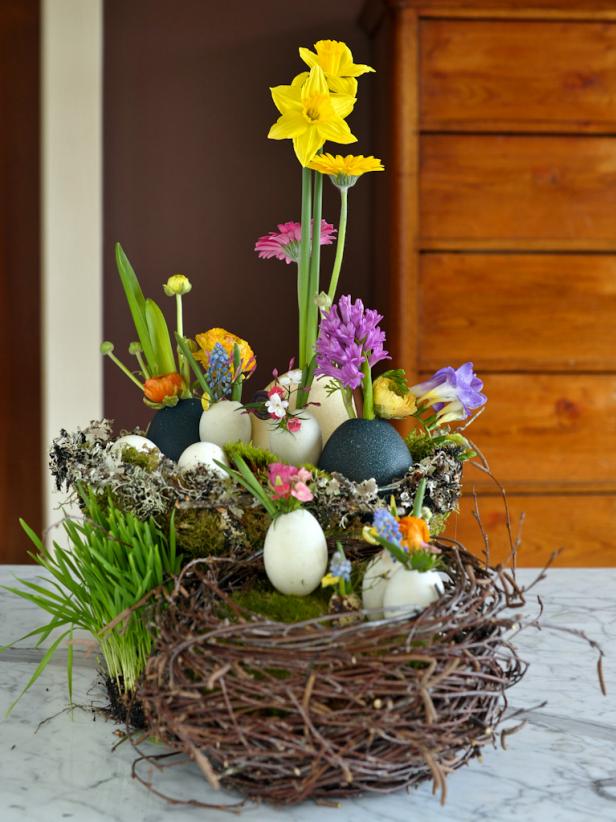 This centerpiece has a lot of details, and yours doesn't have to. You can make it as minimalist or as maximalist as you want. Take a couple of fake nests and arrange some colored eggs inside, along with some grass, flowers, and petals.
Eco-Friendly Project
If you've decided to go green this year, there is an idea for you too. To avoid using artificial dyes for coloring your Easter eggs, you can use things you already have in your house, things that are natural, inexpensive, and non-artificial.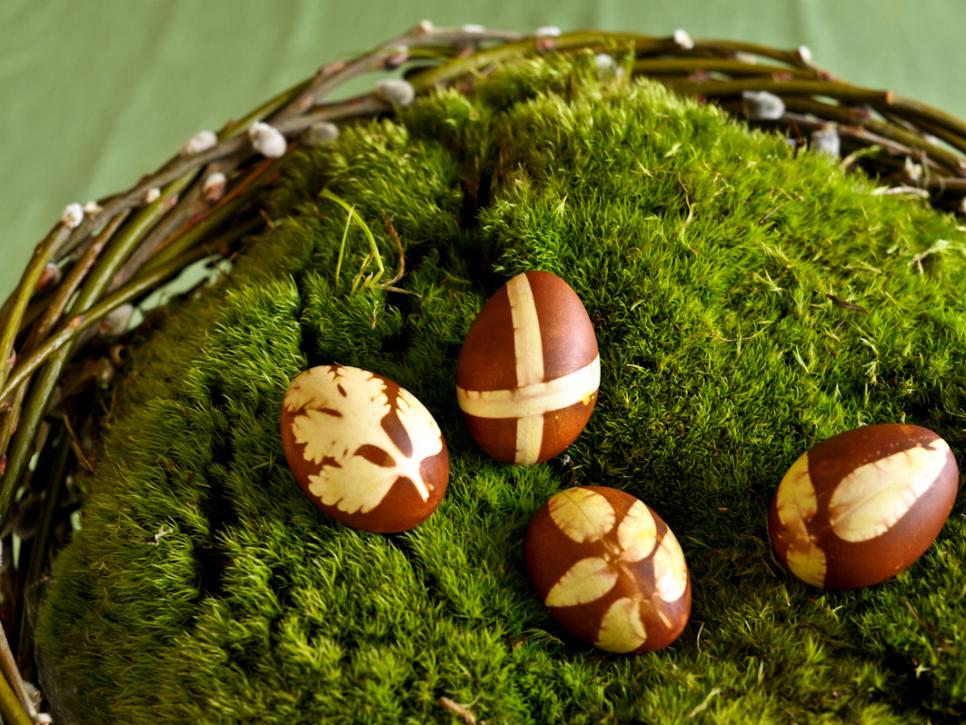 All you need to achieve this color dye is yellow onions, beets, and turmeric that make a perfect hue. If you'd like to have shapes on them, too, make sure to get herbs like cilantro, parsley, bamboo, geranium, Japanese maple, and dill. Have fun!
Egg Carton, But Make It Fancy
This one is almost free, although it requires effort, patience, and a delicate hand. At first, all you'll need for this is an egg carton full of eggs. What you want to do is poke a small hole at the top of a raw egg with a needle and gently widen that hole.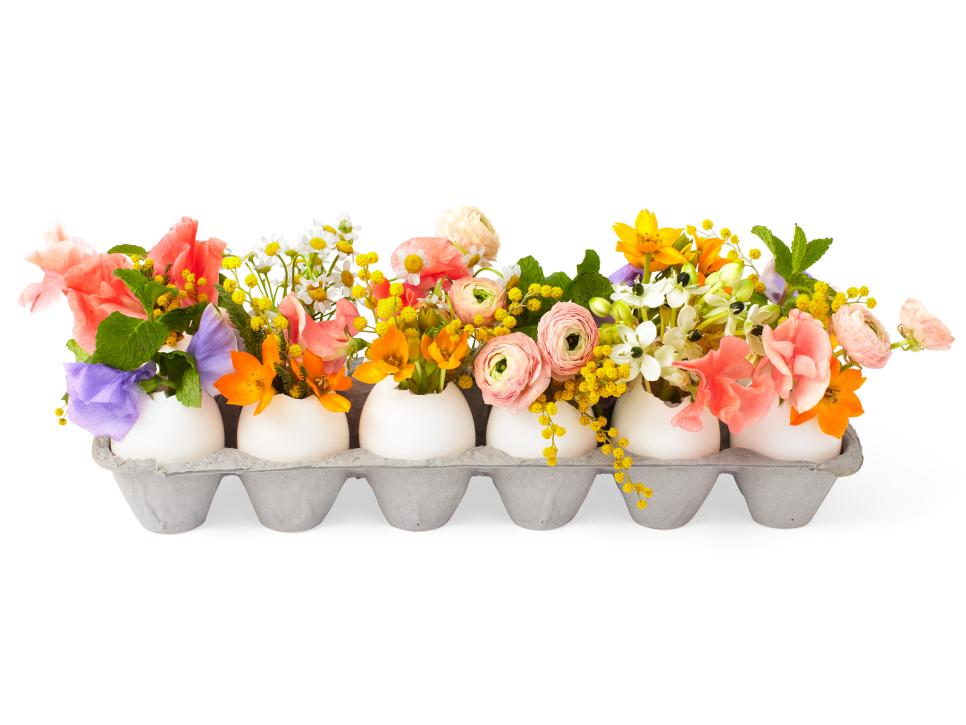 Take the egg white and yolk out and rinse the residue with water. Do that for all the eggs. Once you're done, it's time to have some fun. Pick out any wildflowers you might stumble upon in your yard and decorate the inside of the eggs with them, as shown in the picture. This will also work with fake flowers. It's adorable!
Personalized Egg
If you want your friends, family members, or guests to feel special for Easter, you might want to try out this clever idea. This time, you won't need real eggs, but plastic ones, a spraypaint in the color of your choosing, letter stickers, and some delicious chocolate.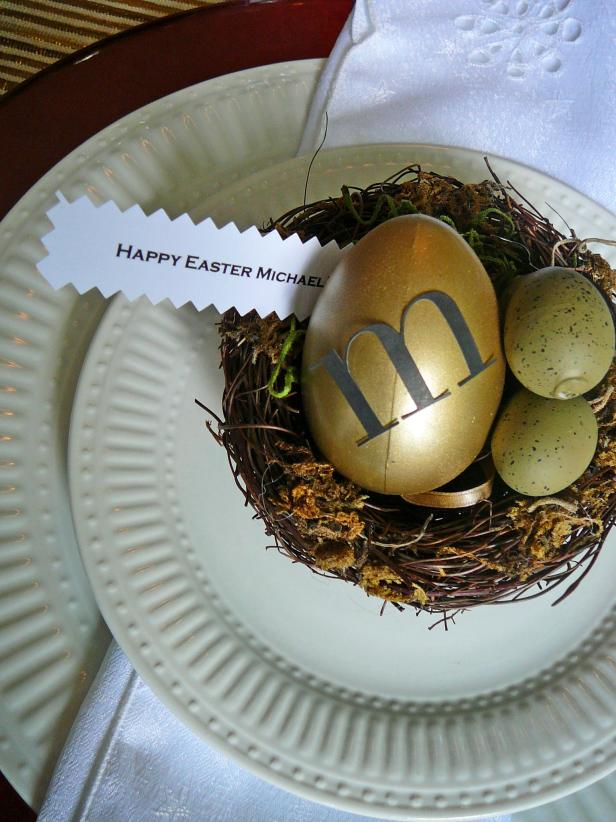 Open up the plastic egg and place some candy or chocolates inside. Spray paint the egg and stick the initials of the person you are dedicating it to on the egg. You can add a universal or personalized message with each egg. Carefully place them on the plates and voila! A beautiful surprise.
Revive the Old
If you aspire to achieve farmhouse aesthetics and vibes, this option might be perfect for you during the Easter holiday. In case you don't have a garden, and therefore no old garden tools and watering cans, ring your grandma or grandpa, they must have one somewhere.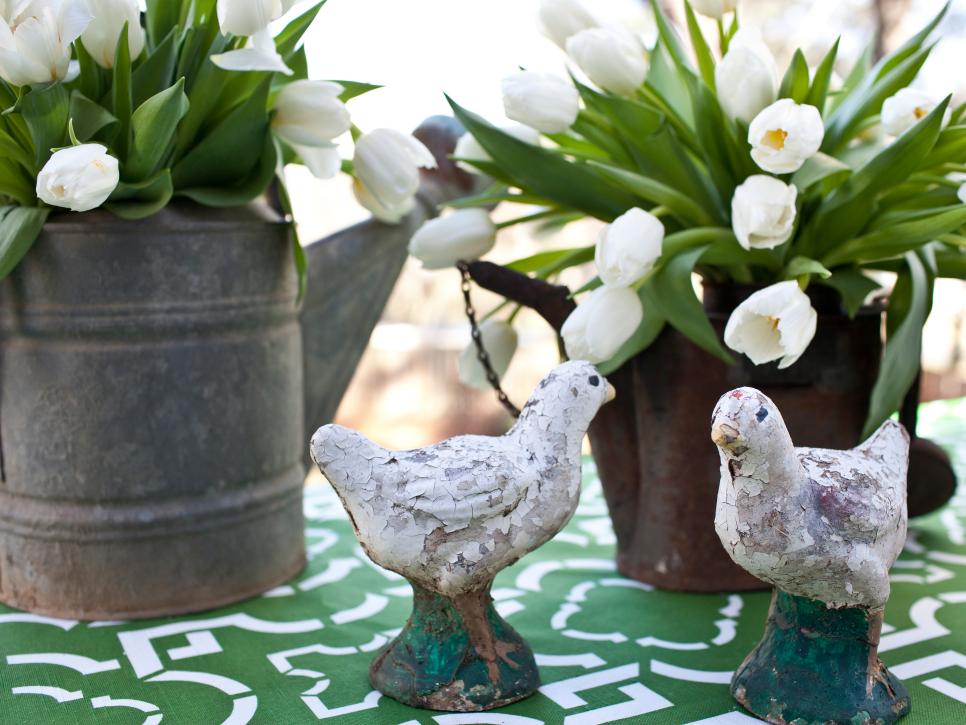 The whole point here is to have a worn-down watering can you could put fresh flowers into, as well as some old garden decoration pieces you could arrange as a centerpiece on your dining room table. It has farmhouse vibes for sure, and it's ultimately cute.
Spring-ify Your Mantel
Mantels are an amazing place for decoration. If you have a fireplace in the living room or any other visible space guests walkthrough, it's even better! You can always display your best decor and flaunt your arranging skills over a nice brunch with the girls, or boys!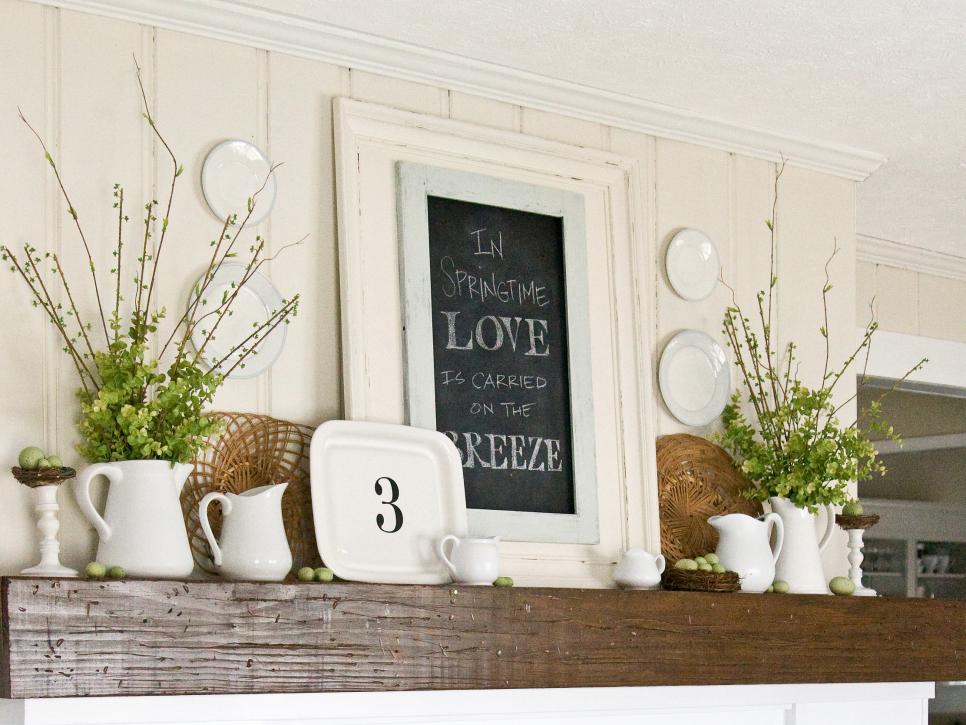 Although some consider mantels to be a waste of space, you can use them to your advantage. Spring-ify your mantel with various decor pieces, like fresh wildflowers, green branches, and woody tones. Stick to a color palette you will enjoy looking at your ledge whenever you pass by it.
Add a Little Bit of Spice
A famous sound on Tik Tok goes, "add a little bit of – spice," and it's all that keeps repeating in our heads when we see this picture. Its mesmerizing manzanita branches create an almost fantasy-like appearance to the table.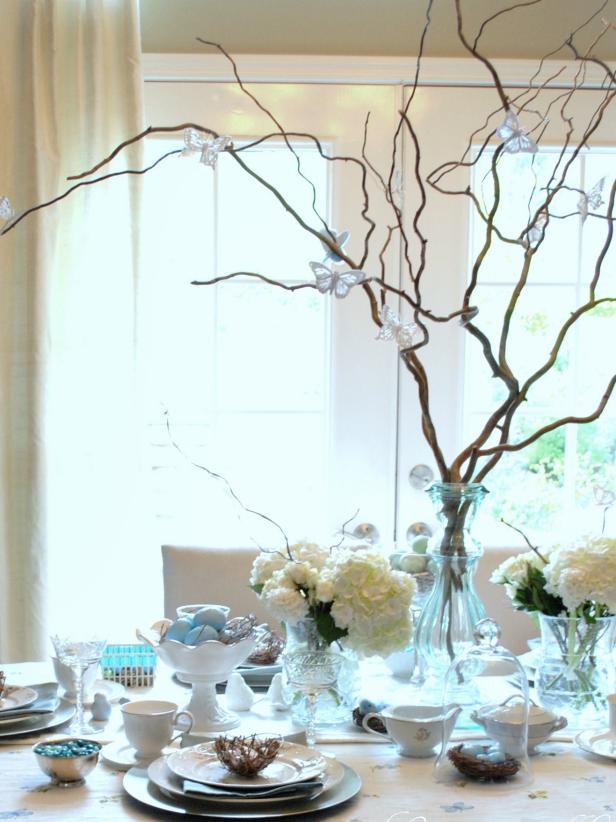 The whole decor looks like we've stumbled upon a frozen, yet delicate forest with white hydrangeas, pastel blue eggs, and a vase, with silver details on the plates and butterflies in the branches. It all has a very appealing effect on the eyes.
Zesty Feeling
If you are not a fan of cooler colors, try out some warmer tones like orange, yellow and red. If you need help finding decor to fit your needs, you can always try out some fresh mandarins, oranges, lemons, or grapefruits.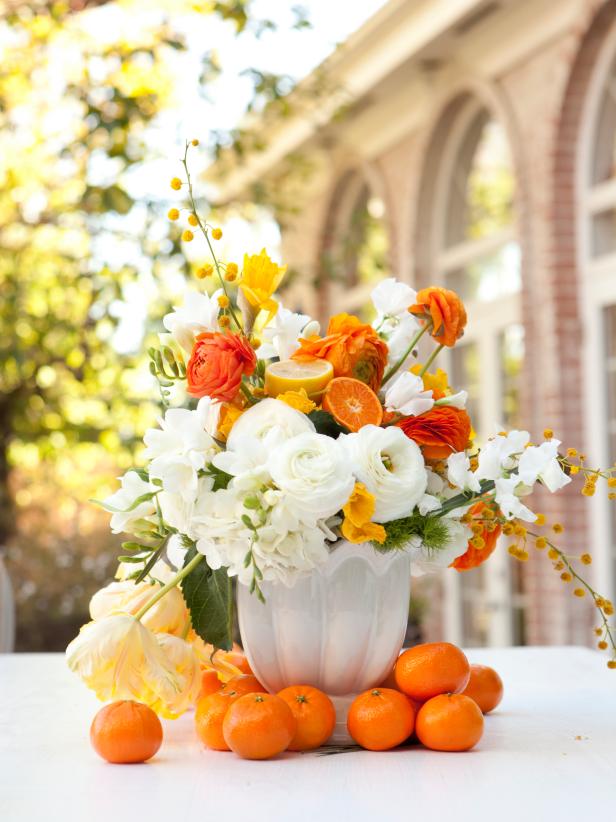 Find a simple, white ceramic vase, add real or fake white flowers, and then add yellow and orange roses and tulips. To add some vitamin c to your table, cut up some mandarins and lemons and place them in the bouquet. This will freshen up the room and add a specific, zesty smell we all love.
Moss Monogram
If you want to surprise your children or make an Easter gift for that special someone, making a monogram of the first letter of their name would be a perfect gift. All you need is a wooden letter of your choosing, some glue, and moss.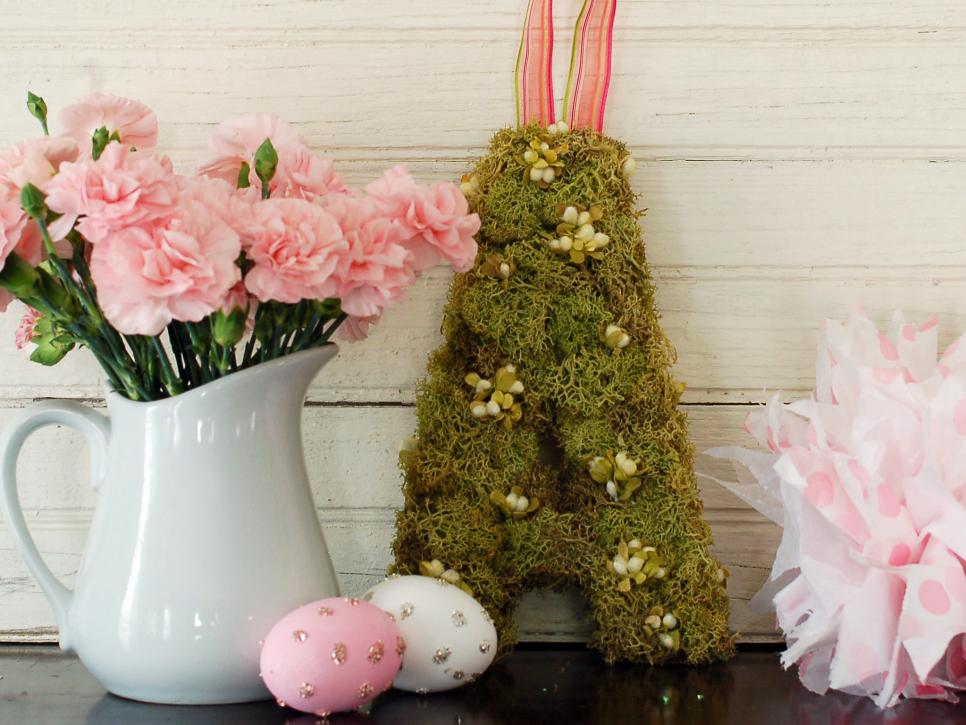 Pour some glue, lightly on the wooden surface, and cover it with moss. Make sure to cover the whole letter. Now, you can get creative. Add flowers or flower buds to spice it up a bit. You can place some vases, colorful eggs, and wreaths next to it. What a wonderful fairytale-like surprise!
Make an Egg Garland
Christmas and New Year garlands are extremely popular. They make the room look fuller and more festive. What about Easter garlands, and what do we make them out of? We have an idea that might seem tedious, but it's worth it!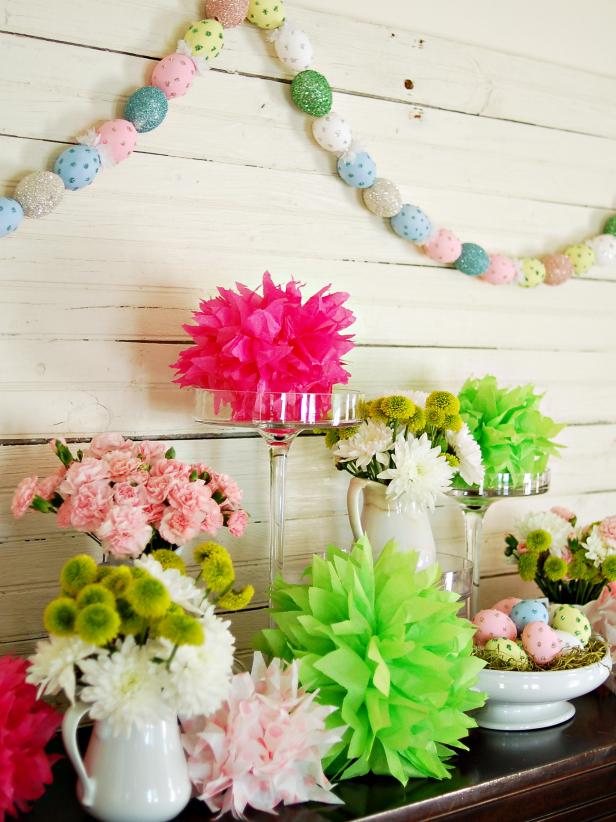 You'll need lots of white, chicken eggs, patience to empty them all through tiny holes, creativity to color them in coordinated hues, and skills to get a string through them and stack them next to each other. Yes, it's hard work, yes it means you'll be eating a lot of eggs, but oh boy does it look fantastic!
Little Gift Basket
In case you have some leftover moss from your monogram or one of the centerpieces, you can use it to make small, personable gifts for your guests or family members. Fill out tiny baskets with moss and add a few eggs.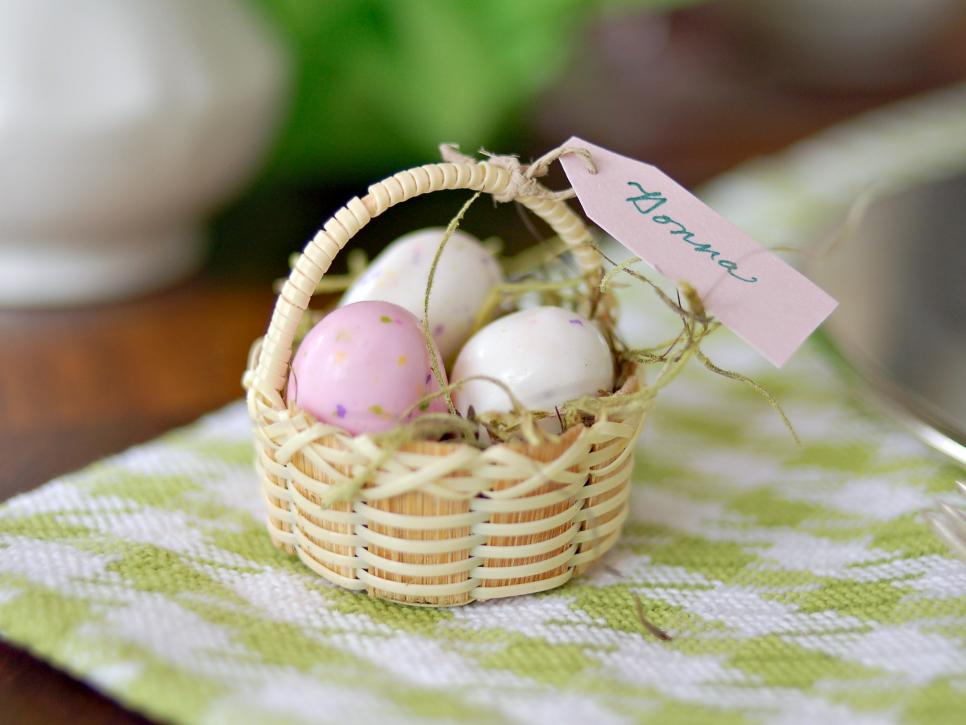 You could try and sprinkle these eggs a bit more, to create the candy effect, as demonstrated in the picture. You could also take special spray paint and make them gold, rose gold, silver, or copper. Neatly place them in a cozy basket and add a name tag. Inexpensive, yet so cute.
Outdoors is the New Indoors
Why waste a wonderful spring afternoon loitering inside the house, when you can simply exit the room you're cooped up in and enjoy the fresh air filled with cherry tree scents and freshly cut grass. Here is an idea to make this outdoor retreat ever so slightly prettier!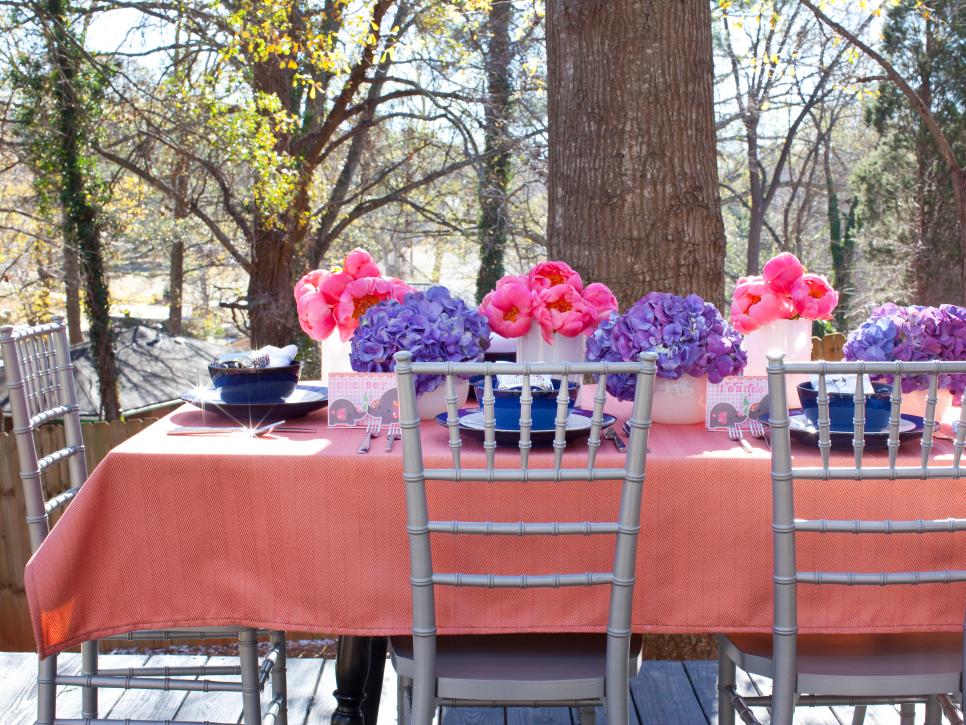 Pick a nice, monochromatic table cloth and place it on your table on the patio. Pair it up with some plates and bowls in a contrasting color. Decorate the rest of the table with some flowers that go well with both the cloth and the dishes. Thank us later!
Fancy, Yet Affordable
You know how they say – when in doubt, add glass pedestals to make it fancy! Well, they don't exactly say that, but it should be a saying, no doubt! In case you are wondering how to make your dining table look fancy yet still be inexpensive, we got you!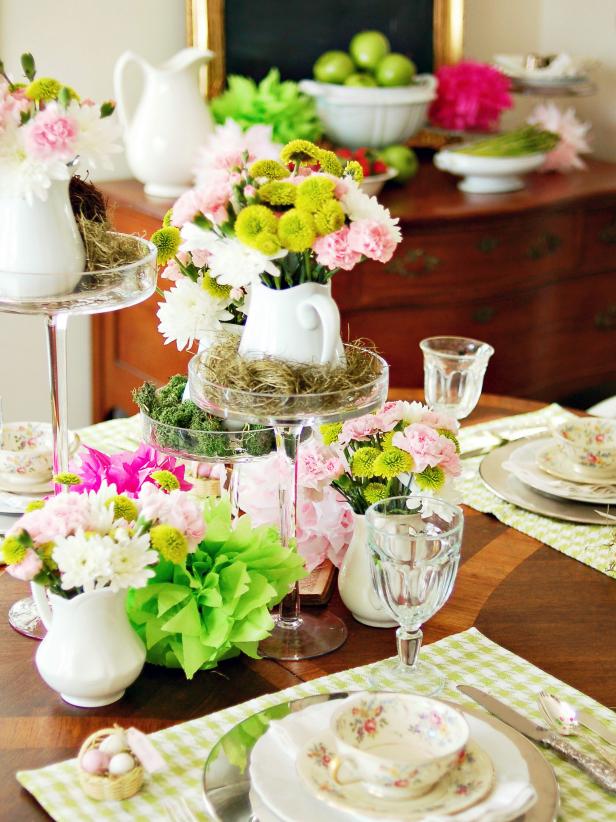 Find some glass cake pedestals in your local antique store or secondhand shop and place some moss in them. On top of the moss put ceramic or iron-made pitchers filled with green, pink, and white flowers for a pinch of life. And voila! Cheap and yet so appealing.
Tissue Paper Pom-Poms
Pom-Poms can be a crucial missing piece of the puzzle you need to make your home festive and spring-like. All you'll need for this kind of project is tissue paper, florist wire, scissors, and some colorful ribbons. Here is an image as an example: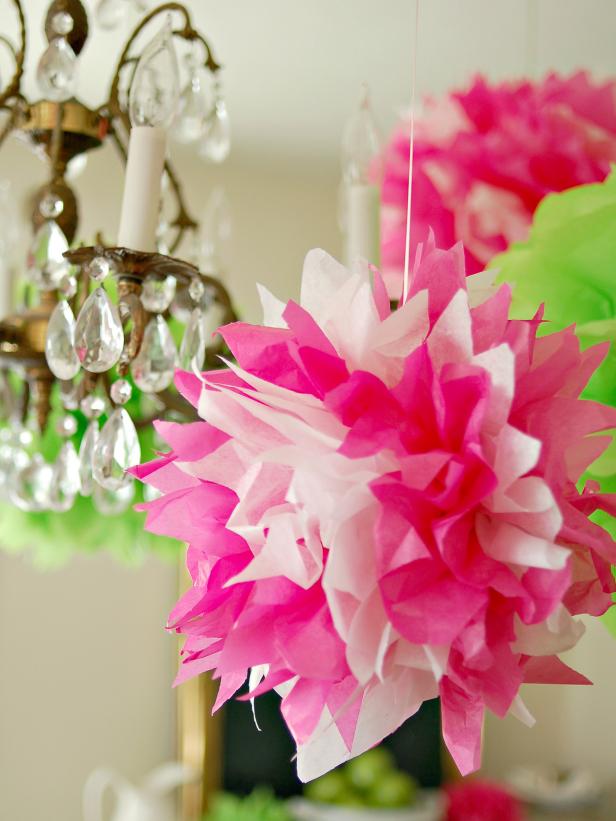 Here is how it goes: place multiple tissue papers on top of each other and fold them width-wise in an accordion-fold pattern. Cut the ends off to make a sharp point. Tie it in the middle with a florist wire, and gently pull the tissue paper to create a flowery shape.
Chalkboard Pots
This is a perfect solution for a boring foyer or hallway. If you have an empty hallway table sitting in your house or apartment then you must try out this new idea we've found. First, make sure you've got some terracotta pots, chalkboard spray paint, and chalk.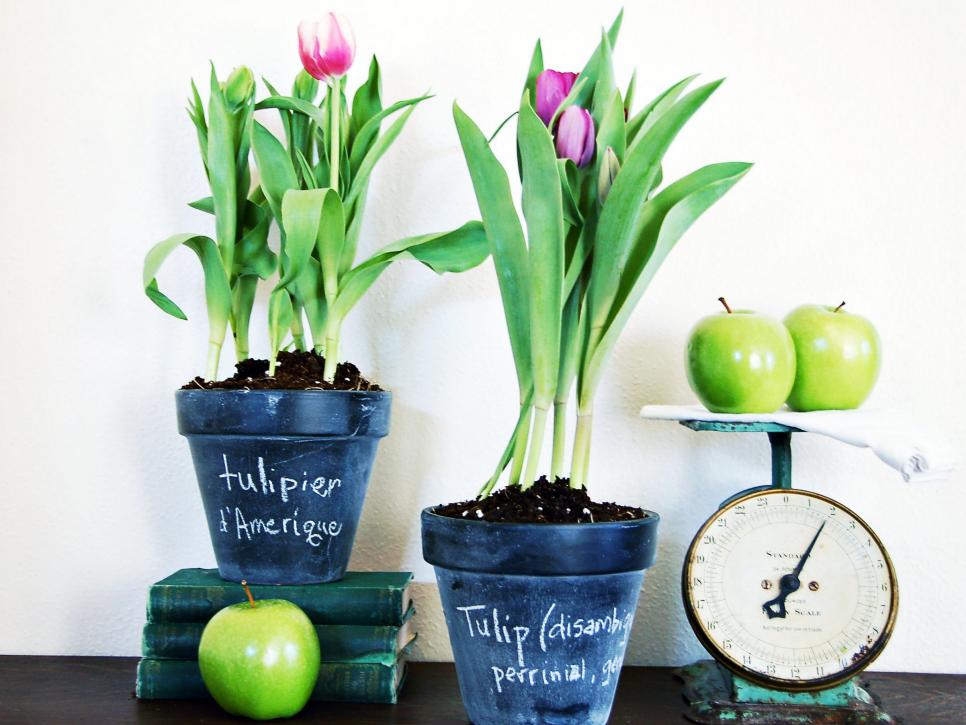 First, you'll want to spray paint your terracotta pots in chalkboard spray. Once dry, add some soil and fresh flowers plucked from the garden. Be careful not to harm any roots! Lastly, write something cute or informative on the pots and there you go! Your foyer just got much more fun.
Glitter it Up!
Pastels and glitter are always the correct routes to embark on, especially for the Easter holidays! Even though it's a cliche, it's still a classic too. Let's be honest, who doesn't like a pastel dream in their living room or kitchen?!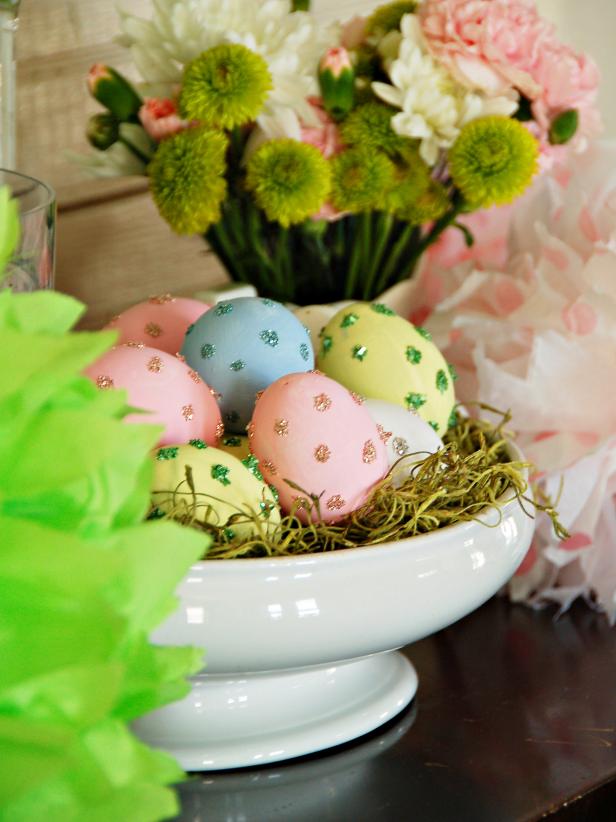 All you need is some moss, pastel paint, diamonds, and glitter to achieve this look. First, paint your eggs in different pastel hues, like pink, blue, yellow, lilac, and green. Use glue to press on tiny diamonds and afterward, sprinkle them with glitter. Place moss in a bowl and serve your eggs. Voila!
Nest and Eggs – Who Would've Thought
Would you believe us if we told you to make a faux bird's nest, all you'll need are aluminum foil, Spanish moss, tree bark, and sphagnum moss? Well, let us guide you! Step one, make a shape of a nest with aluminum foil by placing it over the bowl turned upside down.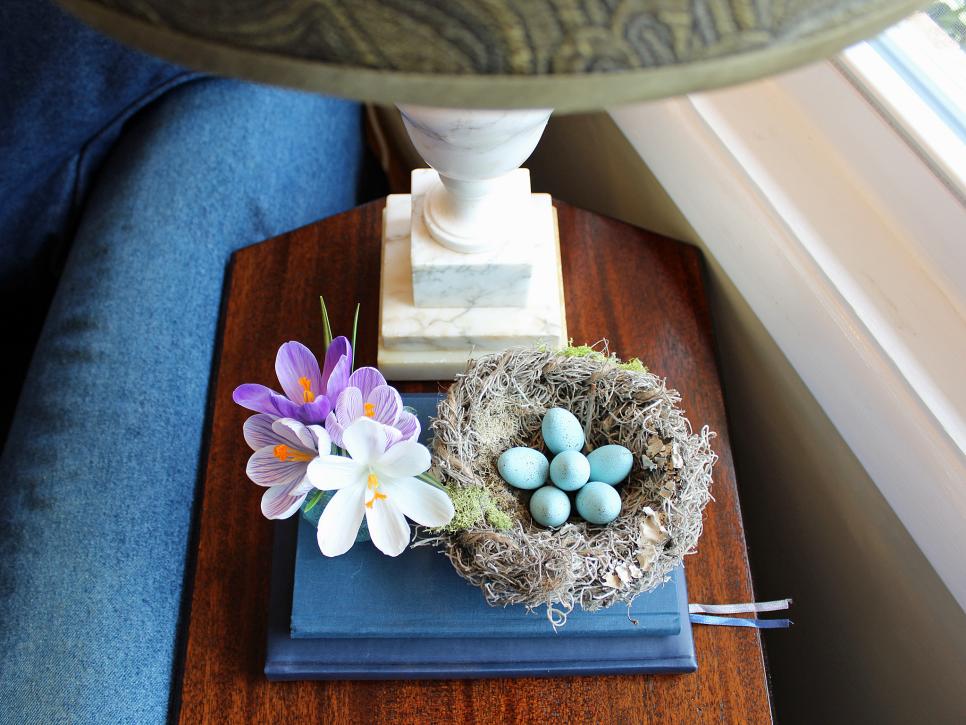 Pull a decent amount of Spanish moss and form it into a long rope-like shape. Wrap lengths of natural jute twine around the twisted moss. Use glue to cover the foil with the moss you've just created. Add more moss and tree bark once the foil is covered. You've got yourself a faux nest. Now add some eggs and you're done.
Patterns Are Your Best Friend
Don't fear a good pattern, it will make your home a place to die for, trust us! When you overcome your fear of some cute polka dots, fun stripes, and floral designs, try mixing and matching them together. What do you think?!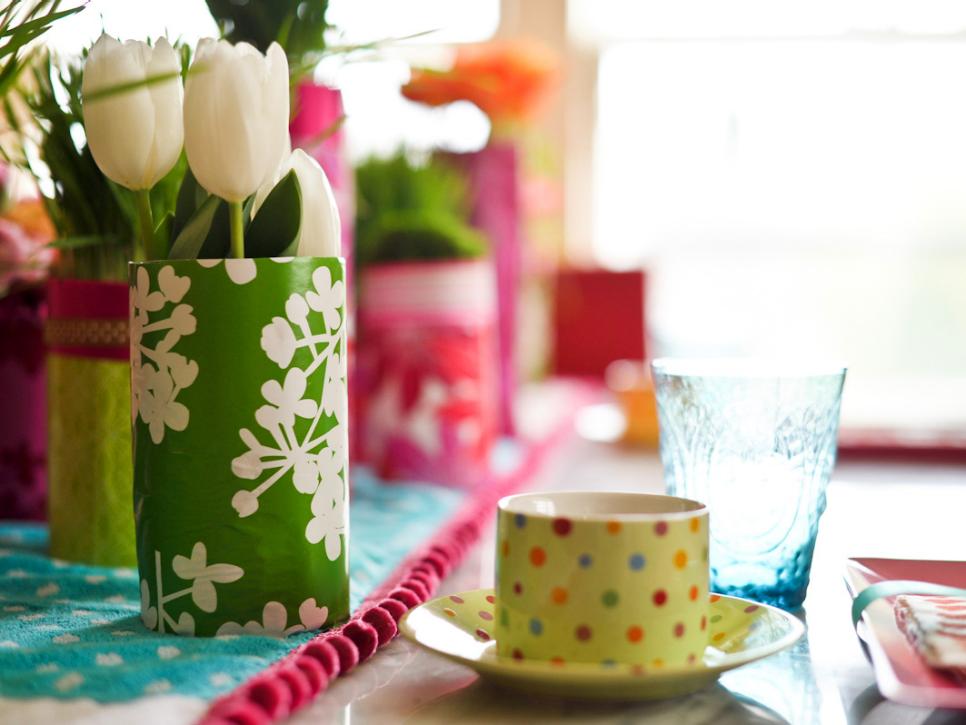 Take inspiration from this photo! They were not fearful of combining a beautiful polka dot teacup and saucer with a polka dot cloth and floral vases. Not only did they mix some patterns, but they also mixed colors and hues. We love it. What about you?!
Chalkboard Coming in Hot, Again!
If you find yourself stuck in a rut and unable to creatively express yourself, trust us when we say you just need a good chalkboard and some chalk. A chalkboard is very easy to make, just go to your local convenience store, get some chalkboard paint and have fun!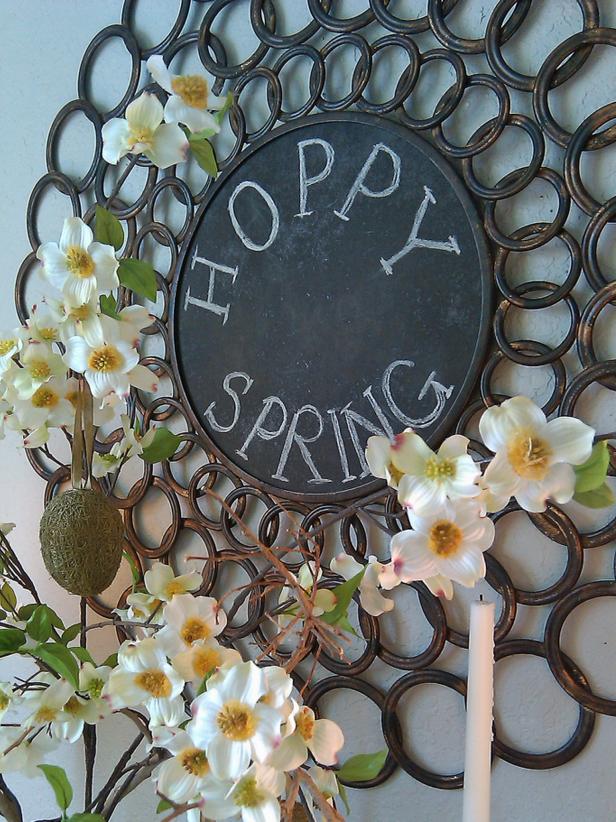 The fun thing about chalkboards is they are reusable! You can just erase what you once wrote or drew and create something new and original each season, or each day if that's what you like! Here we have a Hoppy Spring, but it can be anything! Have fun with it!
Don't Judge By the Size
Big bouquets, nests, and extravagant decor and not always needed. Sometimes you can create the same, if not better effect using only small, dainty things you've found in your kitchen and front lawn. We will first show you an example picture.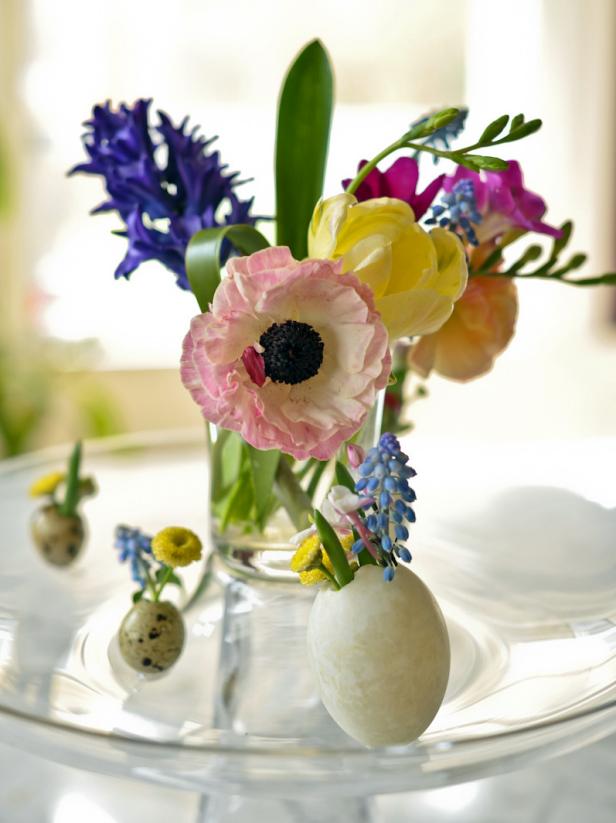 All you'll need for this tiny project are some eggs that you will poke a hole through and let the insides out. Fill them with water and insert little pieces of grass or flowers in the gaps. Add a glass vase with similar, minimalistic flowers and you've got yourself a simple and subtle decoration for Easter.
DIY a Better Vase
Honestly, sometimes all you need to do is spice things up just a tiny bit. You don't need expensive or ground-breaking changes to welcome spring into your home. Simply changing up your vases and pots could be enough.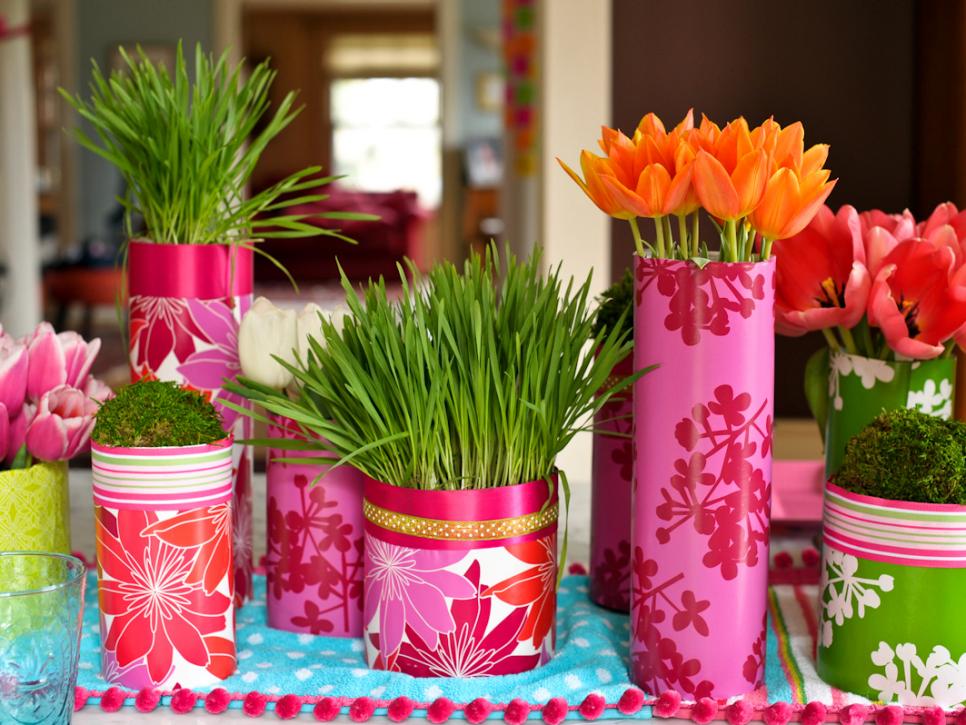 Wrap your old, broken, or stained vases and pots with some colorful and vibrant wrapping paper. You should've gotten used to combining patterns and clashing nuances, so get bold, and let your imagination run wild with this one! Who says pink and red don't go well?!
Easter Themed Place Settings
Putting in thought and extra care into mundane and simple life things can make a huge difference. For example, instead of using a tedious name tag for place settings, try to make an interesting, themed design that your guests will love!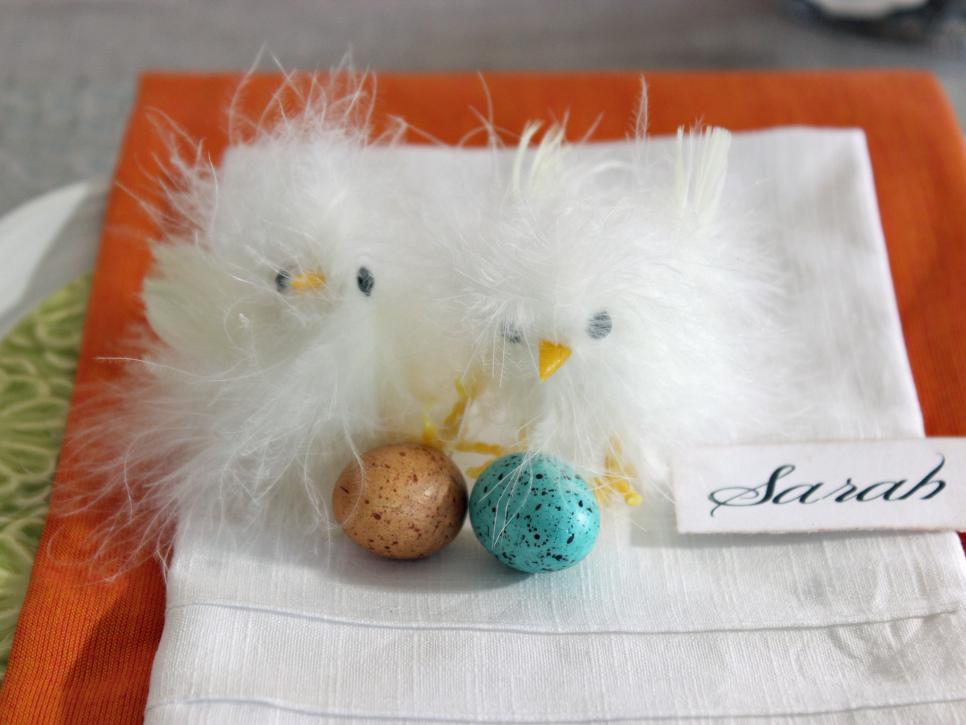 Placing an intricately designed name tag next to some fluffy chicks and a couple of eggs with a fun design could make anyone's day a tad brighter. Instead of chicks, bunnies or ducklings would also do the trick. As long as it's fluffy and cute, it'll melt the coldest of hearts!
Front Porch Refreshener
This idea can be used all year round! Decorate your porch with some fairy lights, pots filled with seasonal plants or flowers, and lanterns which will make the path to your front door a magical experience. Don't believe us? See for yourself.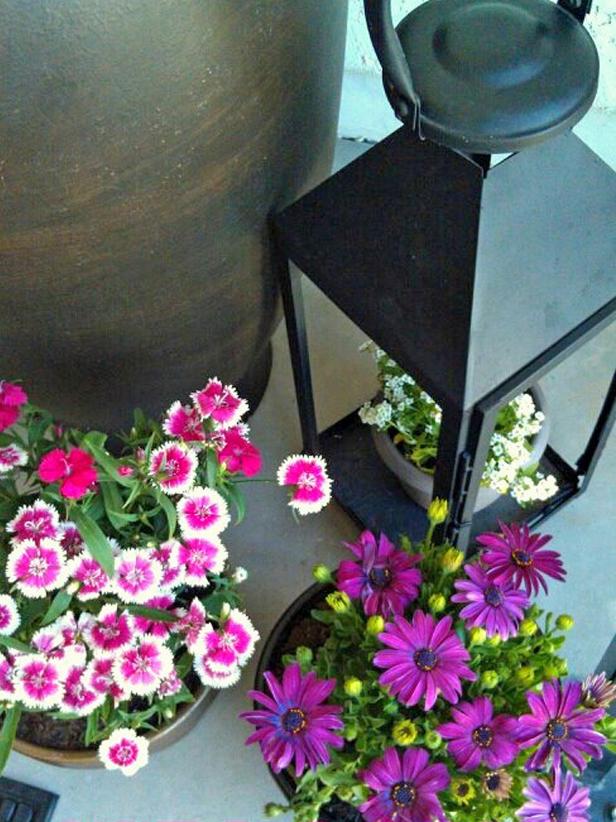 This serves as just an example of how to decorate your porch, you could freely use different color schemes, and if you're anything like us, you'll include more cremes, whites, and brighter hues overall. If your aesthetic is darker and more dramatic, this black lantern and dark flower pots are a great way to embellish your home!
Mother Nature is the Greatest Designer of All
People can only go so far until nature forces them to halt. Sometimes, what people aim to do can't be measured with what nature can do on its own. Find a perfect spot in your backyard, or plan out a trip to your favorite garden or park and watch it bloom in spring.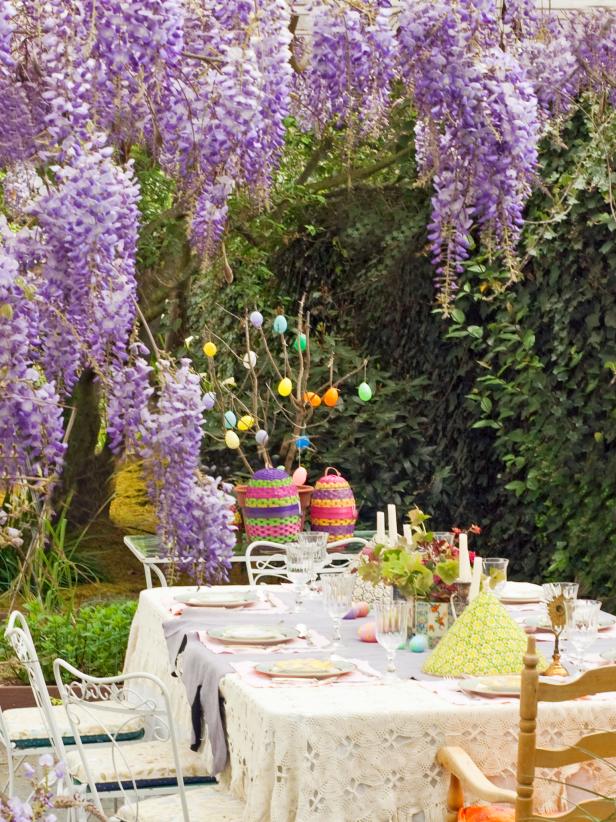 In this picture, you can see a wisteria-covered lilac lattice. This detail, along with the beautiful metal and wooden chairs, wonderful table cloth, and an effective centerpiece at the table creates an ethereal atmosphere. You'll feel as if you wandered into a fairyland.
Make Your Front Door a Statement Piece
Let us show you how to make a nice, spring wreath for your front door. When entering someone's house, the first thing you'll notice is their porch and their door, therefore, let's try to make it as fun as possible. You'll only need a few things.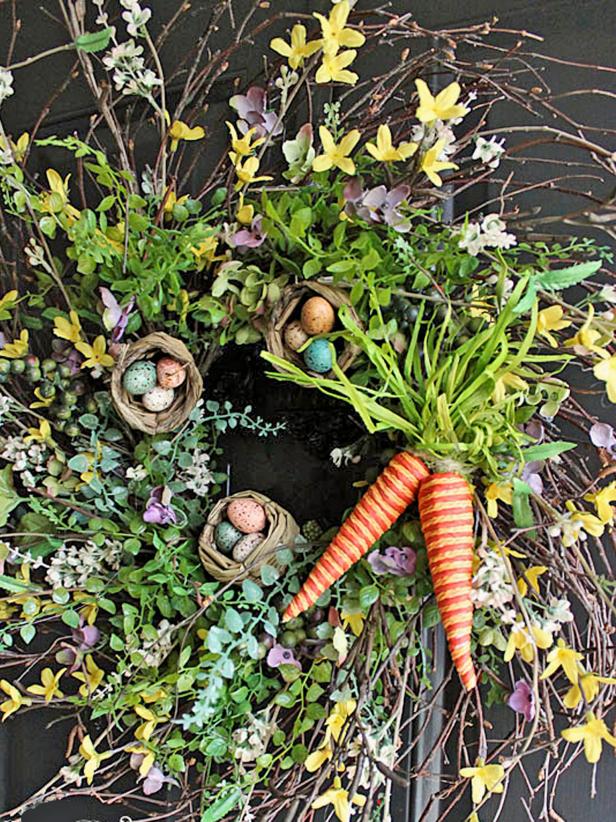 To achieve this look, all you'll need is glue, faux spring branches, pussywillow wreath form, twine-and-raffia carrots, and mini egg-filled nests. Decorate as you wish with all the products we've listed. You could even add some dried wildflowers into the mix.
Bunny Tablescape
Sometimes it's good to simply stick to the basics! You don't need fancy flowers or expensive baskets filled with golden and silver chocolate eggs. It's fine if all you bring to the table (pun intended) is a ceramic bunny, some grass, vases, and colored eggs.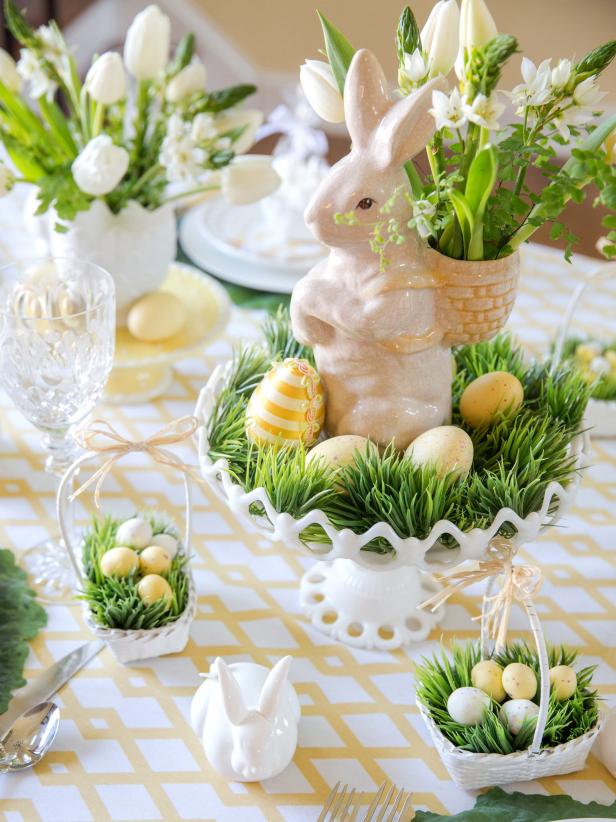 All you should do is make sure your colors are nicely coordinated. Stick to a few, like green, yellow and white, to make the combination cohesive and cheerful, yet simple and subtle. We love how they put the grass and white tulips into the baskets, vases, and pedestals.
Small Details
It's all in the tiniest details. We have an awesome idea on how to make small nests you can hang on your doorknobs, drawers knobs, and wall hooks. You should run to the nearest convenience store and grab some evergreen twine or some vines to create the base.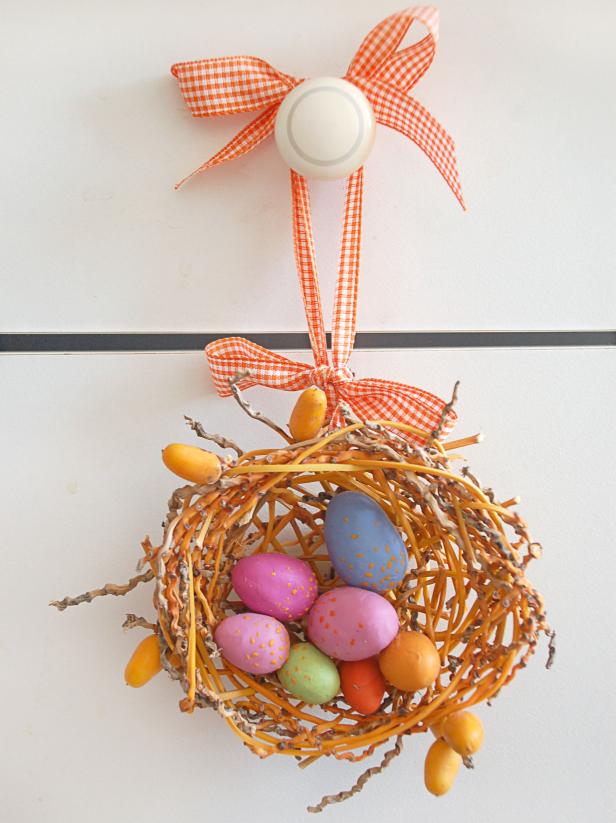 Don't forget to add decorative pieces, like ribbons, hollow, colored eggs, wildflowers, moss, dried flowers, and grasses. You can hang the nest with a ribbon, string, or twine wherever you deem them necessary and/or cute. Enjoy your tiny heaven!
Antiques Are Back In Style
It's time to take out those outdated tchotchkes you've been collecting as a child and proudly put them on display! Tchotchkes are back in style this past year or so, and you can beautifully pair them with other antique pieces.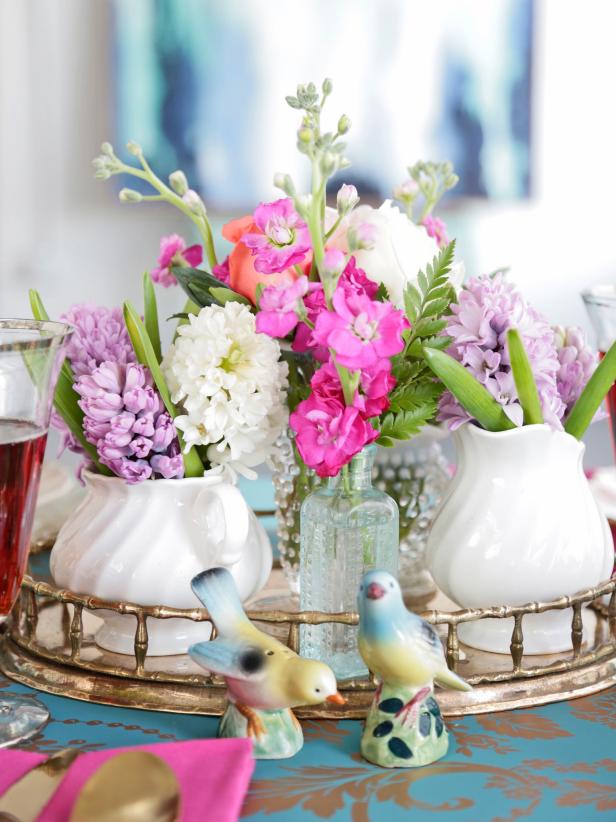 Look how this person pairs the bird figurines with simple, white vases and colorful spring flowers. It's to die for! The flowers and napkins match, as well as the cutlery, the tray, and the table cloth designs. You can not go wrong with the blue-pink-gold combination for spring.
Hardware Replacement
Is your child a fan of Peter Rabbit? If yes, this just might be your next step when it comes to decorating for Easter. Your kid will adore you if you did this. It's a small detail, but it does matter in the grand scheme of things.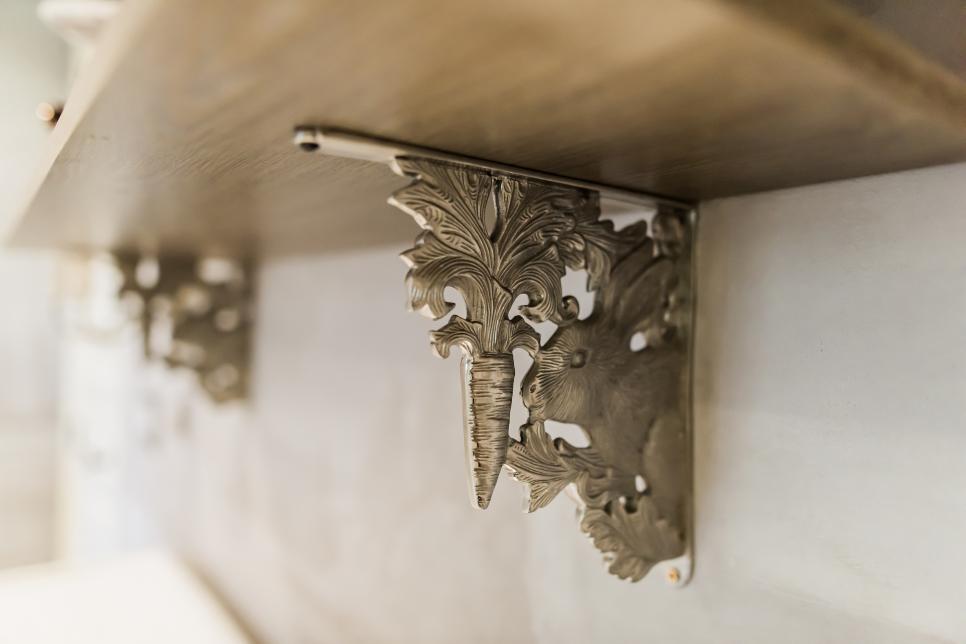 Hardware replacement seems like a tiny, unnoticeable change, however, don't get discouraged. It's all about the details this season! If you are not a fan of bunnies though, you could always choose some chicks, butterflies, or other Easter-y themed designs.
Bunny Vase for the Win
Consider using these little details if you are still aspiring to get that farmhouse vibe and transform your house into a little spring heaven. Combine some beautifully-covered books with this fantastic white bunny vase for a whimsical look!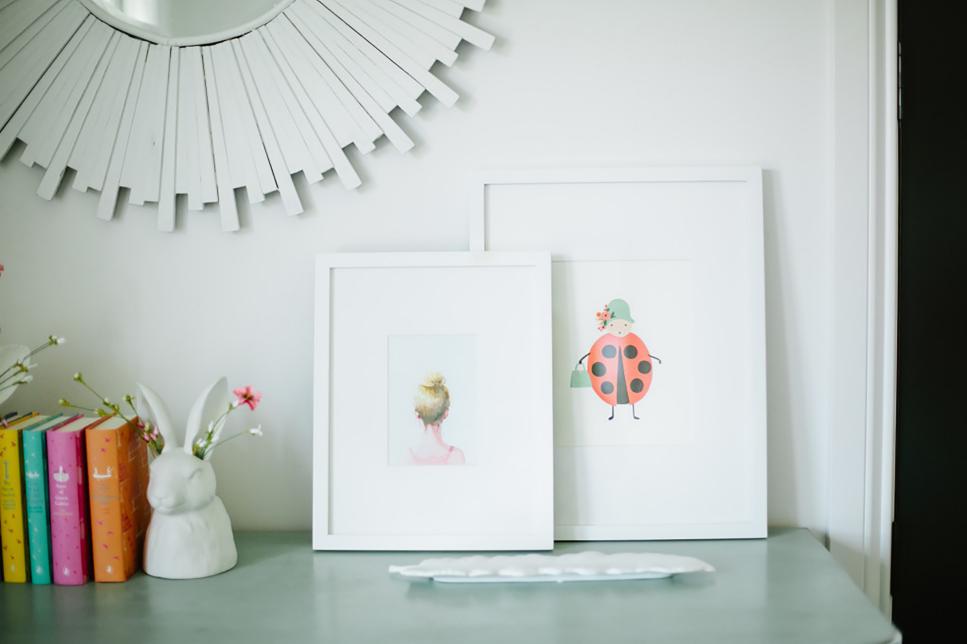 These simple white frames and cute designs, alongside that mirror and a leafy plate, create a magnificent yet childish note that goes hand in hand with the Easter egg hunt and childhood wonder. These are also great transitional decorations, from spring to summer.
Whimsical Decor
Rustic is back in style y'all and in case you are wondering what to use to spice up your coffee table or kitchen counter, consider buying a rustic wire basket and filling it up with colored eggs and some color-coordinated bouquets.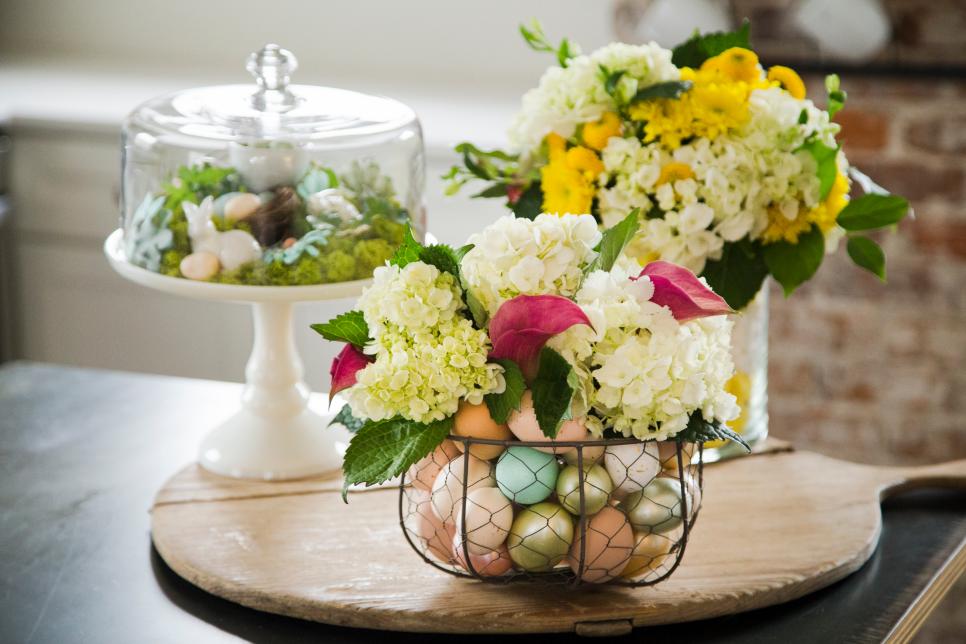 Take a look at this inspiration photo! It's whimsical and so nostalgic. However, if it was us we would make it even more rustic with the choice of flowers. Instead of yellow flowers and a pink leaf here and there, we would stick to whites and add a few lilacs. What about you?
Kitchen Deserves Some Love Too
We don't know about you, but a beautifully decorated kitchen is one of our favorite parts of interior design and decorating for the spring season! There is something super appealing about open shelving overflowing with flowers in the kitchen.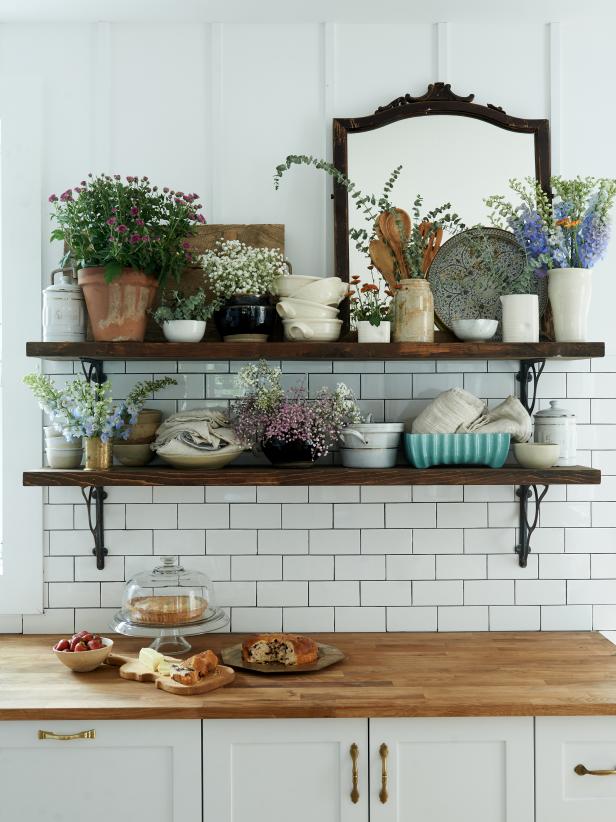 This messy, yet chic and rustic look is not for everybody. Some will hate it, but some will love it to bits. We fall under the second category. Flowers, pots, jars filled with sugar, jam, and other delicious treats – make us feel all kinds of cozy and nostalgic.
Little Bun Bun
In case you want your front door to stand out more than they usually do, what you can do is create an adorable and easy, cotton-bottomed door hanger, as shown in the picture below. It is eye-catching yet not too obnoxious!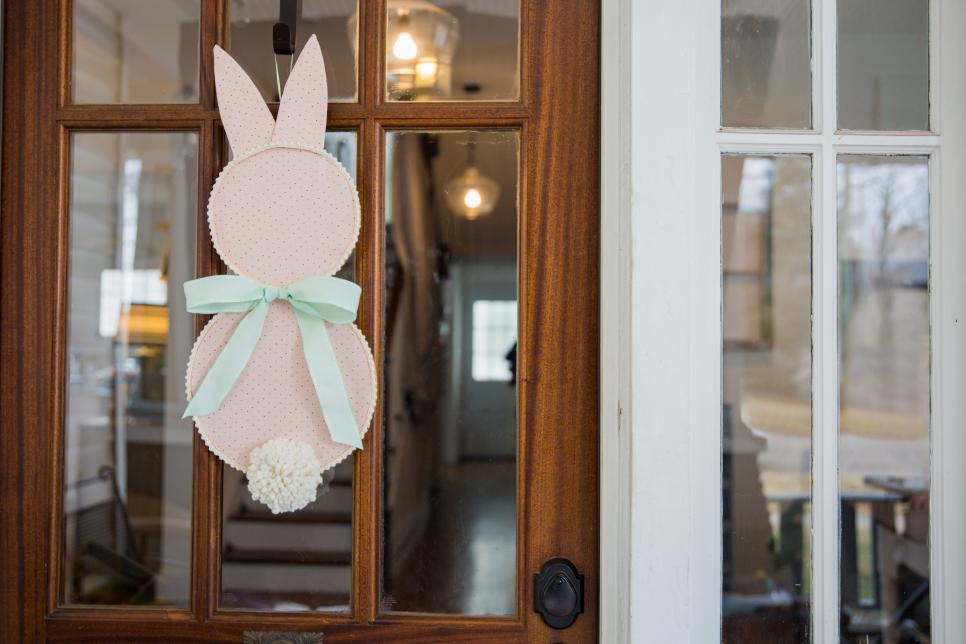 All you'll need for this are two embroidery hoops, fabric, and ribbon, as well as some finishing touches of faux pearl embellishments. You can make a cute pastel bunny, an adorable yellow chick, or any other adorable animal of your choosing, as long as it reminds you of springtime!
Bouquet and Salad
It's known that spring brings growth. Everything is blooming, nature is waking up from a long wintery nap, frost is thawing, and buds are forming on trees. Everything has a unique, light smell of fresh goodness. Both flowers and vegetables.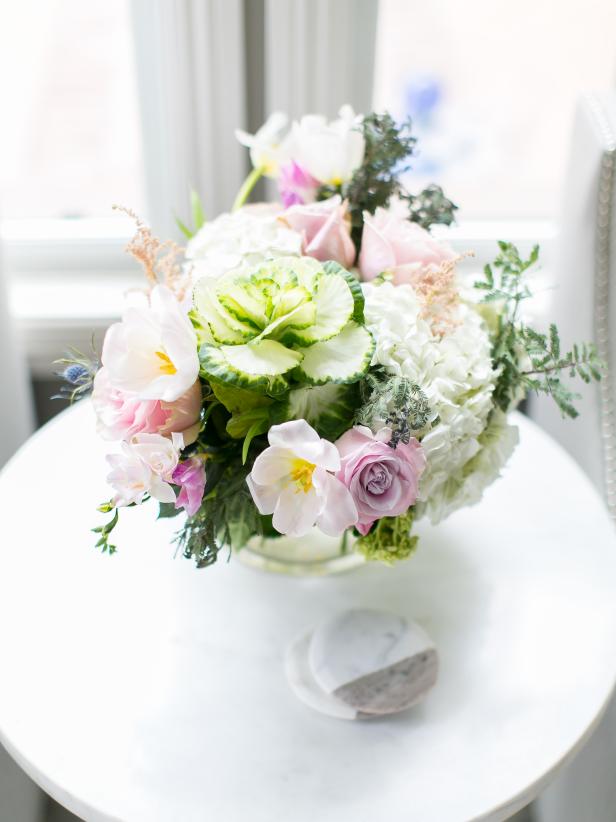 That's why we had a sudden idea! Why not create a wonderful bouquet that includes both peonies, tulips, and roses, as well as cabbage and lettuce here and there. Spring is, after all, about growth and health. And bunnies naturally. And what do bunnies eat? Veggies of course!
Deserted Easter
Although the Easter season is all about flowers and plants in bloom, we don't object to different ideas as well. If you're a fan of spikey cacti and a more muted color palette, or if you're drawn to the desert and that sepia aesthetics, there is still a way to enjoy the Easter holiday!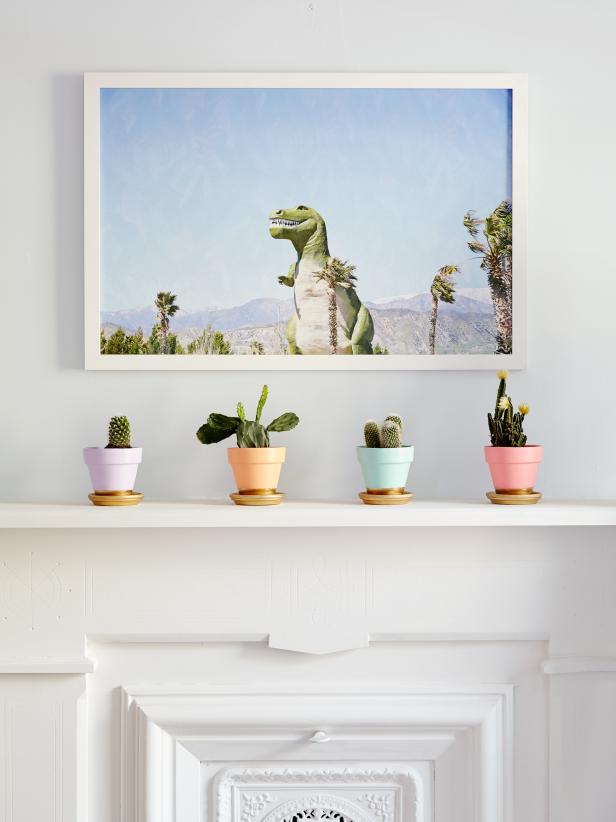 Look how this person managed to combine bloomy spring vibes with desert and heatwaves. Just revamping and painting over your worn-out terracotta pots in some pastel hues can make a huge difference. Presenting them on a side table or mantel is a plus!
Bedside Table
It's the season of renewal and resurrection, well, quite literally! Take this as an opportunity to cleanse both yourself, your energy, and your bedroom. How long has your bedside table been collecting dust and holding only your phone and charger? It's time for a change!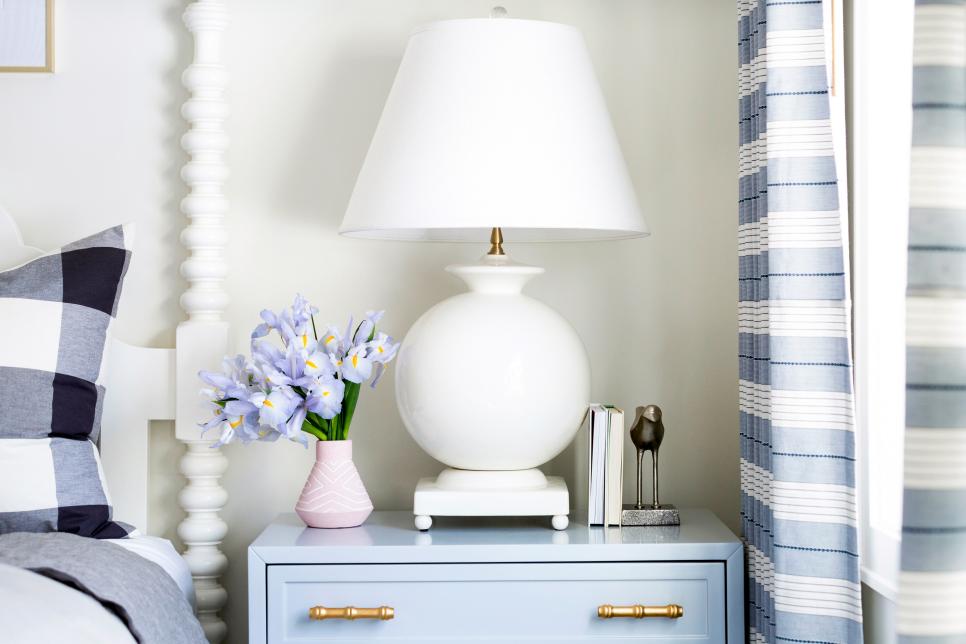 Get rid of any dark and blocky things you piled on your nightstand and decorate with brighter colors. Put a small vase with irises or pastel-colored wildflowers, add a chic lamp and a candle. We promise you, it will make your life so much better. It will smell nice as well.
Pastel Heaven
Layering pastels and preppy prints are always appealing any time March rolls around. Combining whites, creams, pastel blues, and pinks is one of our favorite interior design moments! Good pattern and gauzy fabrics combos go a long way in our book.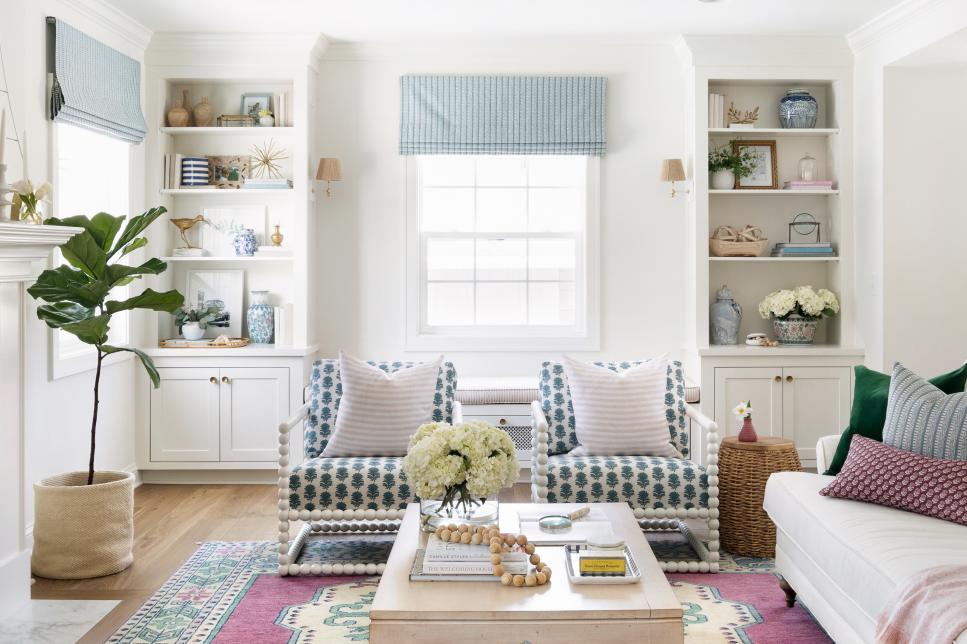 We are absolutely in love with this living room. Look at it! It has just enough light, lots of colorful, soft pillows, and the colors are very well mixed together. There is no harshness of shapes or colors, just coziness and overall peace of mind. What heaven!
It's the Egg Countdown!
Do you buy those Christmas advent calenders? Basically, it's like opening small gifts or eating one candy a day for 25 days up until Christmas arrives. Now, since we are fighting for Easter justice and appreciation in this article, we thought of a similar idea!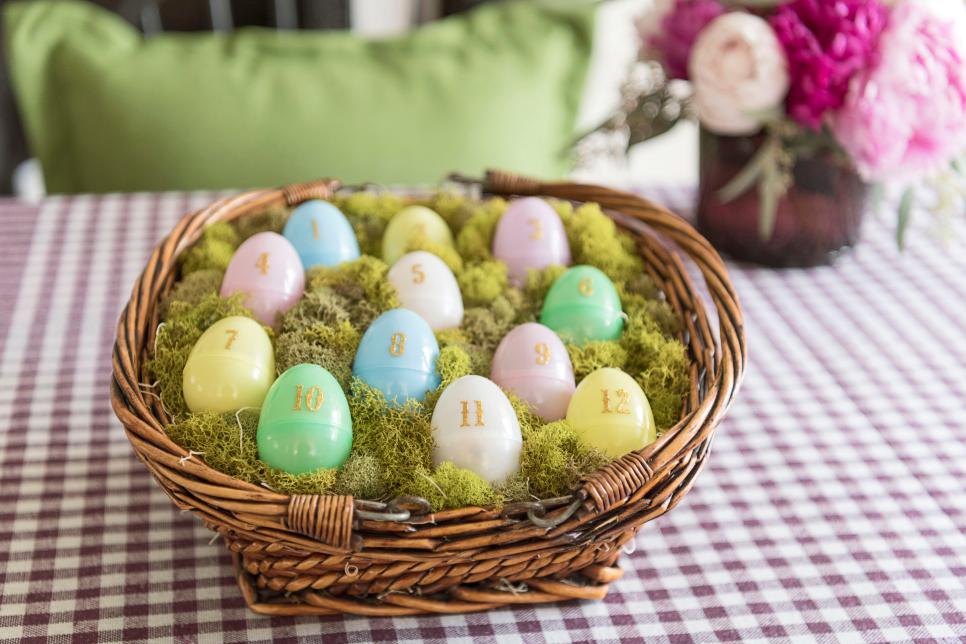 Take 12 plastic eggs and fill them in with some candy, chocolates or tiny milestone presents for yourself, your children, or your loved one. Open each egg starting with the 12th day before Easter. This way the anticipation for the holiday will grow, and along with it, your love for it.