40+ Clever Decoration Hacks For A Fun And Festive Holiday
By Harpreet K September 11, 2022
---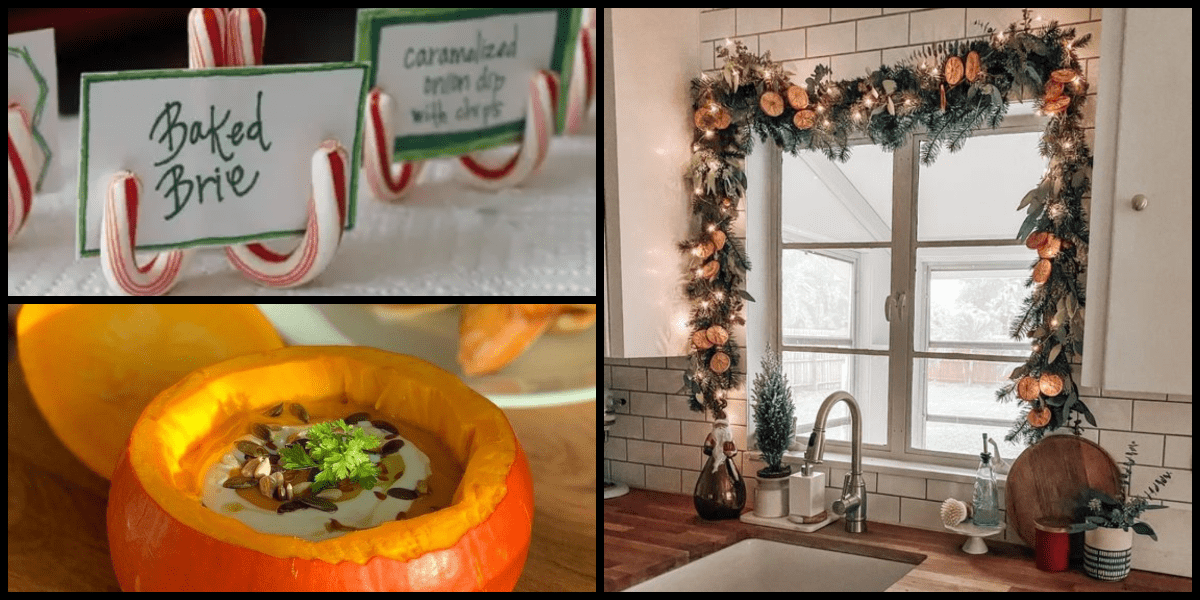 Christmas is a time for spending fun time with family, friends, and loved ones. For many of us, it's also a time for decorating our homes and getting into the festive spirit! However, decorating your home for Christmas can easily turn into a disaster if you're not careful.
From trying to untangle strings of lights to wrestling with stubborn tape that just won't stick, there are plenty of ways that things can go wrong. On top of that, many go overboard while getting new decorations that may go out of style next season.
If you're not even sure where to start, don't worry, we've got you covered. We put together some clever holiday hacks for decorations. We'll share our top tips for having a jolly time this Christmas. Keep reading and make notes.
1. Get a smaller tree
To celebrate Christmas in style, you should consider getting a smaller tree. While some people might say that bigger is better with Christmas trees, a smaller tree can be just as festive and fun. Plus, it will save you space if you have a small living area!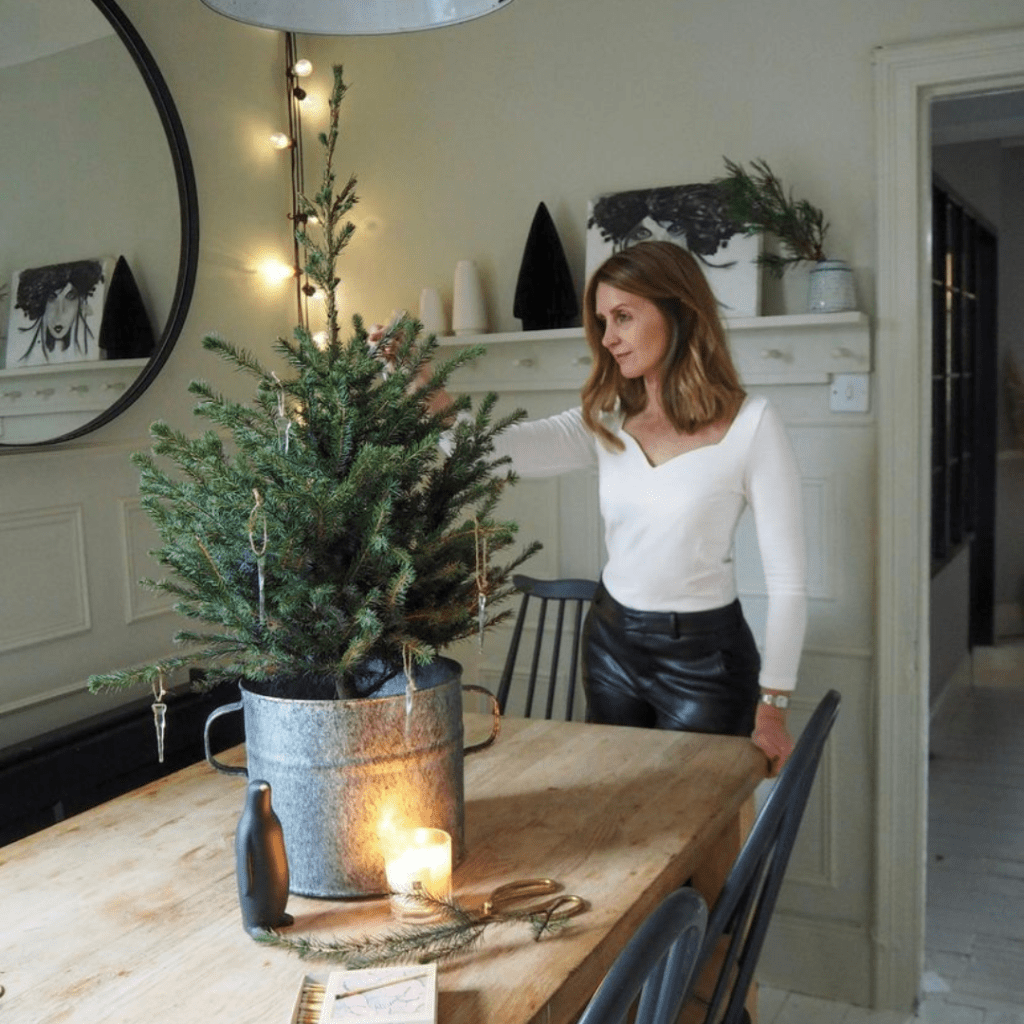 A small- or medium-sized tree is ideal if you have limited space in your house. There's no stress or pressure when it comes time to set it up. A smaller tree can easily fit into any room while still leaving space for other decorations.
2. Save the wrapping paper
You can save Christmas wrapping paper for DIY decorations! Most wrapping paper is quite festive and would look great as part of a garland or wreath. Use rolled-up wrapping paper as candles in an Advent wreath. Cut large pieces of wrapping paper into strips to make a colorful banner or garland.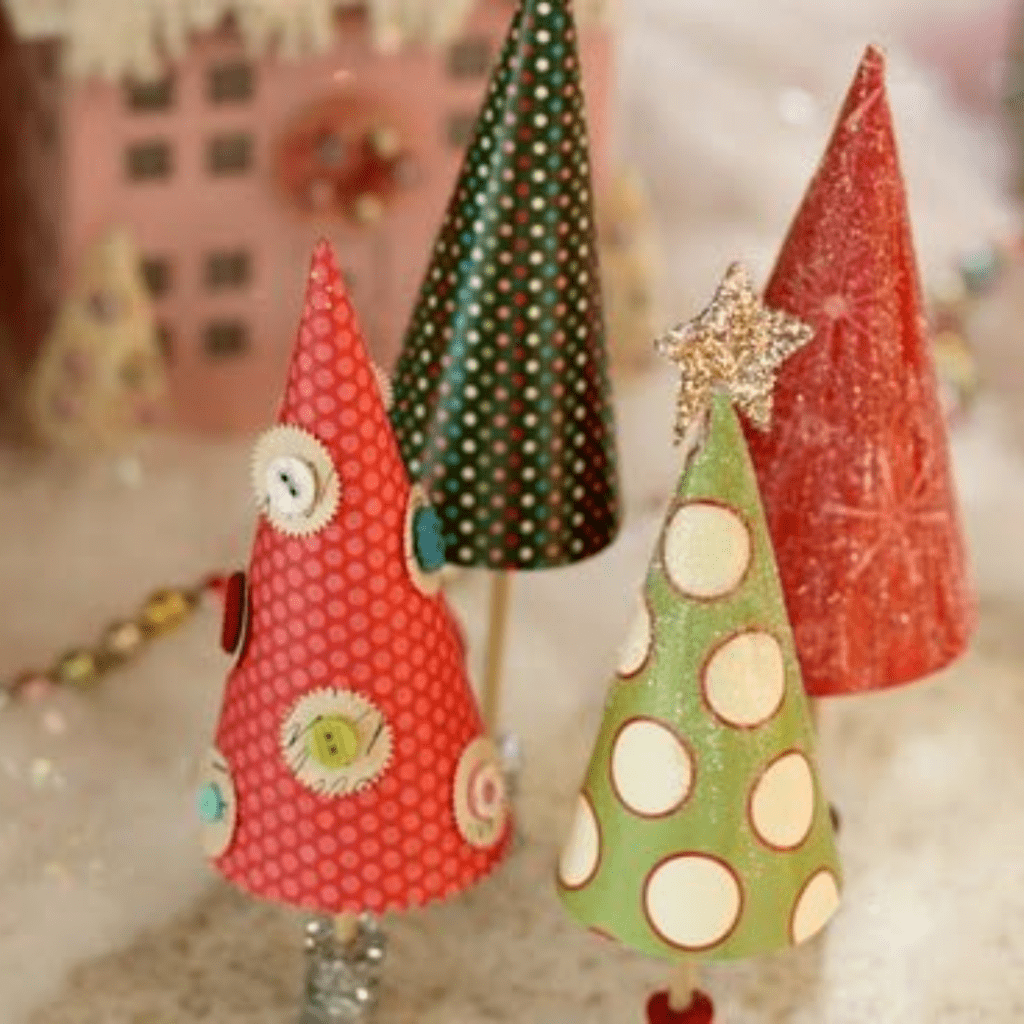 Make a simple wreath out of wire and clothespins, and use snippets of wrapping paper to cover the pins. Wrap Christmas presents in leftover wrapping paper, and use the scraps to decorate the gift tags. Drape strips of wrapping paper over doorways, mantles, or staircases to add holiday cheer.
3. Have a spending budget
This Christmas season, don't go overboard with your spending budget. Instead, stick to a few key rules. First, don't be afraid to give yourself a limit. Whether it's $50 or $500, a budget will help you keep your spending under control. Avoid impulse purchases by planning what you'll buy.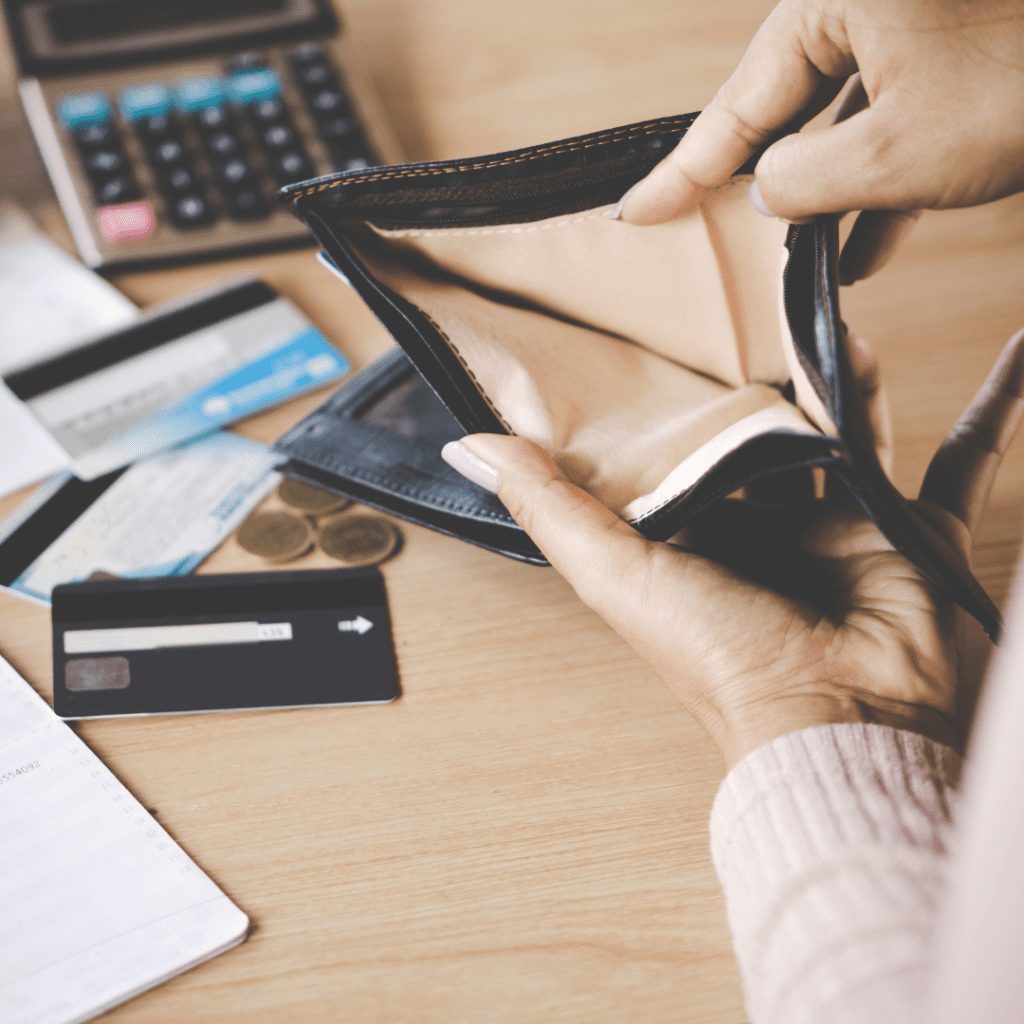 Write a list of what you might want or need, and then stick to it when shopping. Don't forget that quantity is not as worthwhile as quality. It's better to spend less on a few high-quality items than blow your budget on cheap presents that get regifted.
4. Artsy sharpie decorations
Why not get creative this Christmas and use sharpies to decorate your glassware? It's a fun, easy way to add some flair to your decorations. Start by sketching your Christmas design on paper before transferring it to the glass. Use various colors and shades to create a colorful, festive look.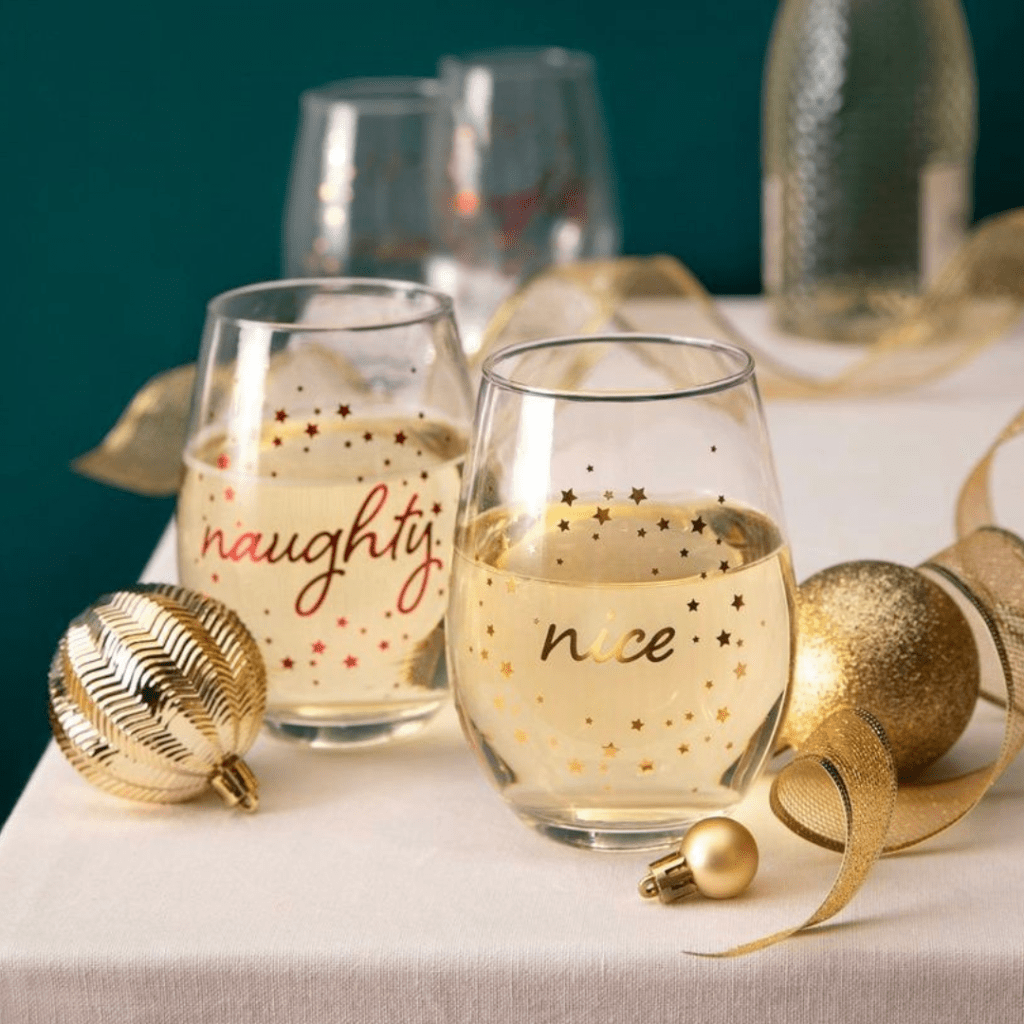 Be careful not to press hard when drawing on the glass, or the ink may smudge. If that happens, or you make a mistake, fixing it is easy. Use a cloth/sponge to wipe it off and start over. Plus, you can alter the designs each year.
5. Smart additions to the existing decor
There are some simple things you can do to add some Christmas cheer to your home without going overboard. First, try adding a festive wreath to your front door. You can make one yourself using some greenery from the yard, or you can pick one up at the store.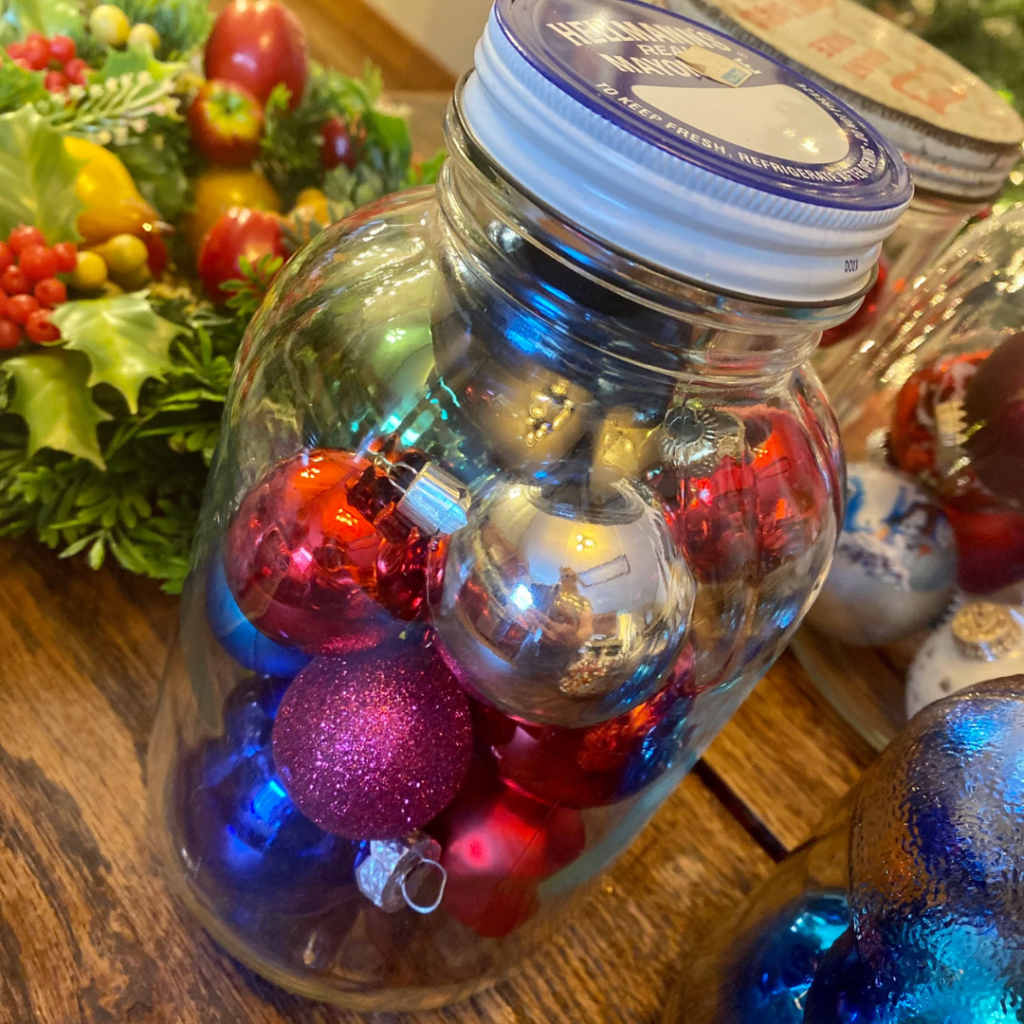 Another easy way to spread holiday cheer is by hanging stockings from the fireplace mantle or staircase lights. Fill glass jars with Christmas baubles. You can either use leftover ones that didn't make it onto the tree this year, or cheap store-bought ones.
6. Skip the Christmas skirt
Ditch using a Christmas skirt this season. Just take an old cardboard box and decorate it with wrapping paper, bows, ornaments, and anything else that strikes your fancy. You could put a little fake tree inside the box to spruce things up.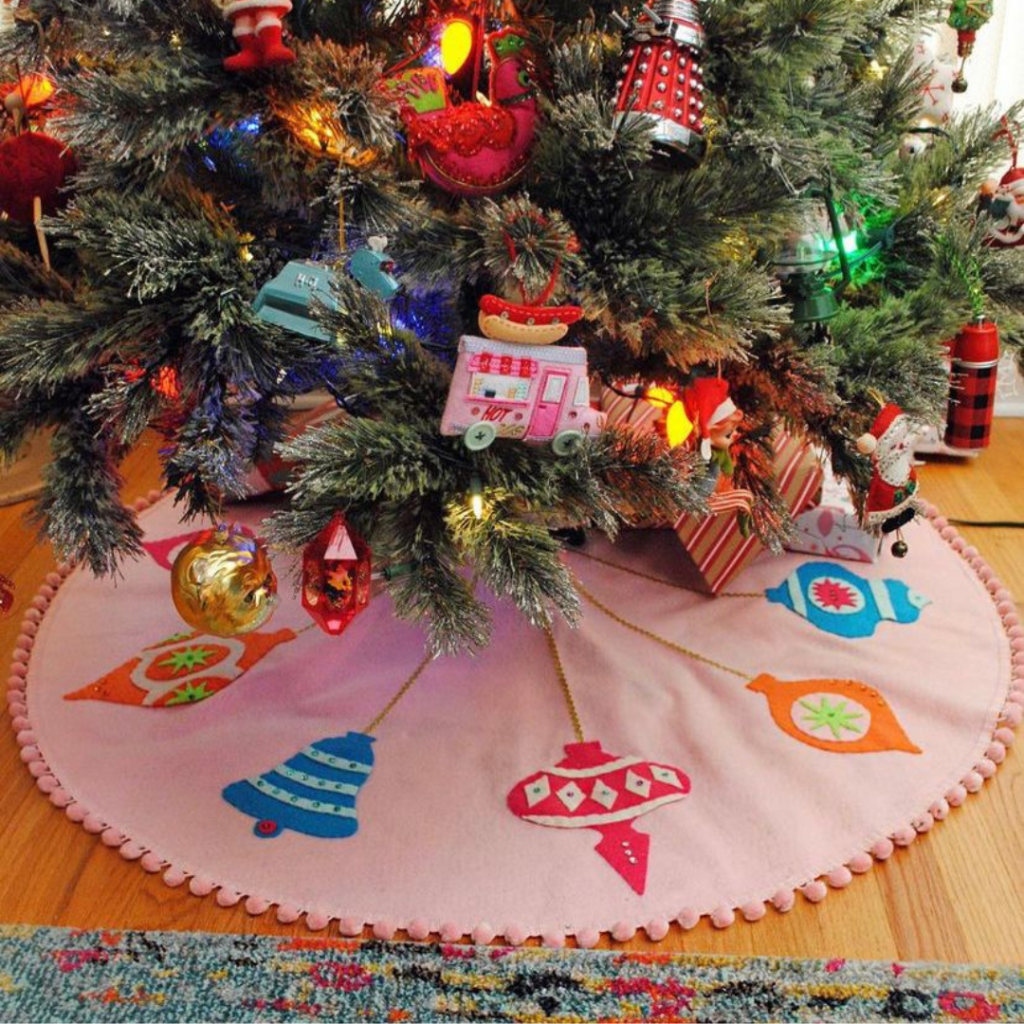 Or, you can make a patchwork piece out of scrap fabric. Fabric glue will do the trick if you don't have the time or patience to sew it. It's just as festive, and you'll save yourself the hassle of buying a fancy fabric skirt.
7. Regular paper wrapping
Why not break out of the mold this year and try something new? Instead of using gift wrap, use regular paper! It'll save you money, and it's more eco-friendly. Plus, it'll be a unique way to surprise your loved ones. They might actually like it better than a traditional wrap.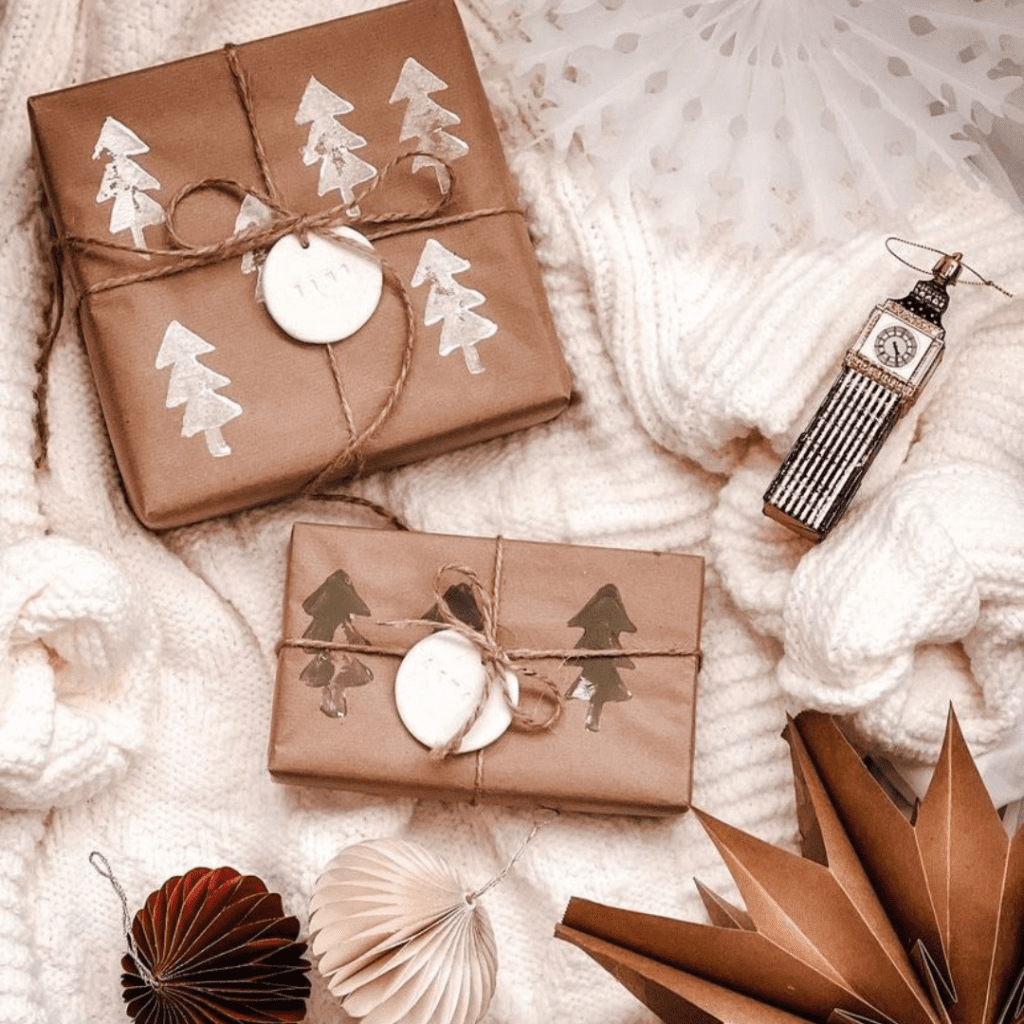 There's something about receiving a Christmas gift in regular paper wrapping that just feels special. It's like getting a present that's been hand-picked just for you, and it makes the whole experience feel more intimate. So don't be afraid to use regular paper wrapping this season – your loved ones will appreciate it.
8. Eco-Friendly bows
Making eco-friendly bows out of burlap is a great way to add some rustic charm to your Christmas decor. Cut a piece of burlap about 10 inches wide and 12 inches long. Fold the burlap in half, then in half again, so you have a square.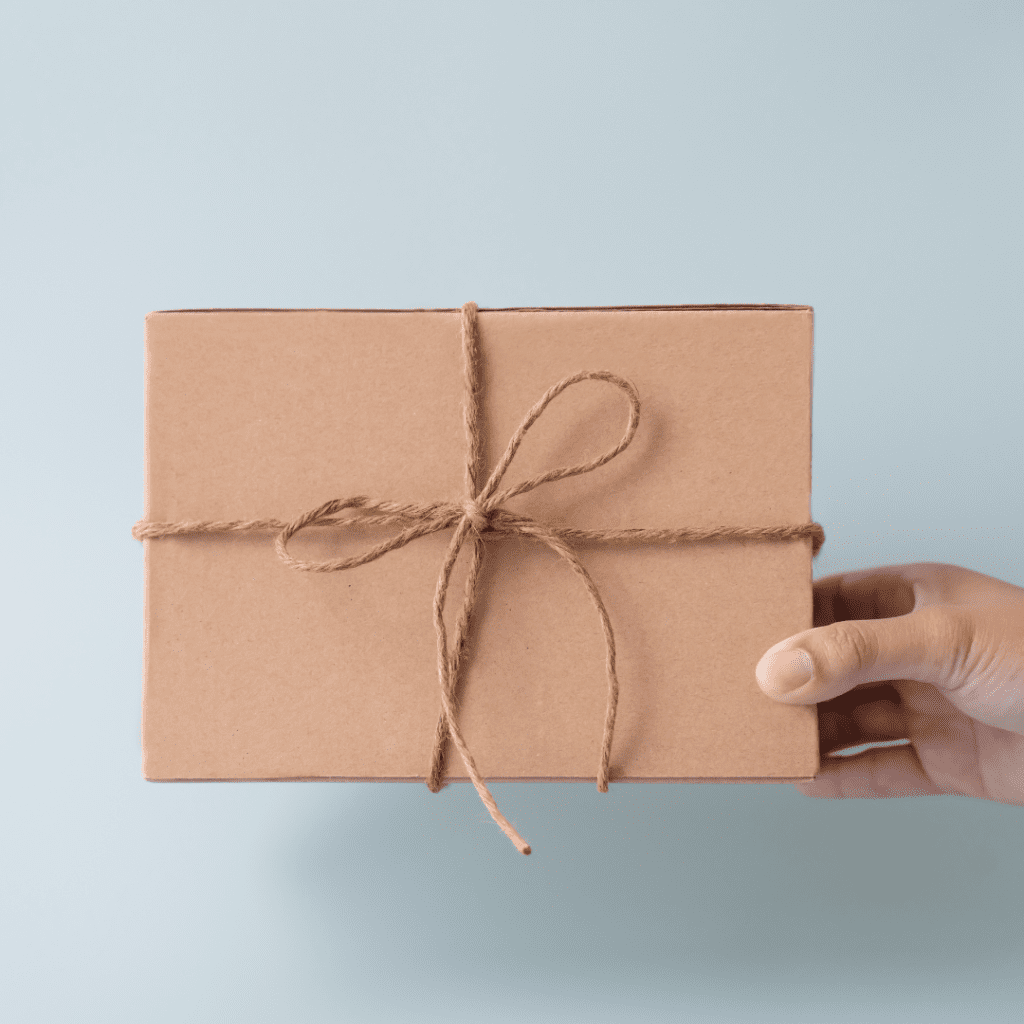 Cut 8 strips that are each 1 inch wide. Tie each strip into a knot around the middle of the folded square. Leave about 1/2 inch of excess at the end of the strip. Twist the burlap to look like a bow, and tie it with another piece of burlap.
9. Tiny helping hands
Baking cookies together is a fantastic way to make memories with your kids during the holiday season. Not only will you get to spend some quality time with them, but you'll also get to indulge in some delicious treats! Another fun idea is to decorate your house together for Christmas.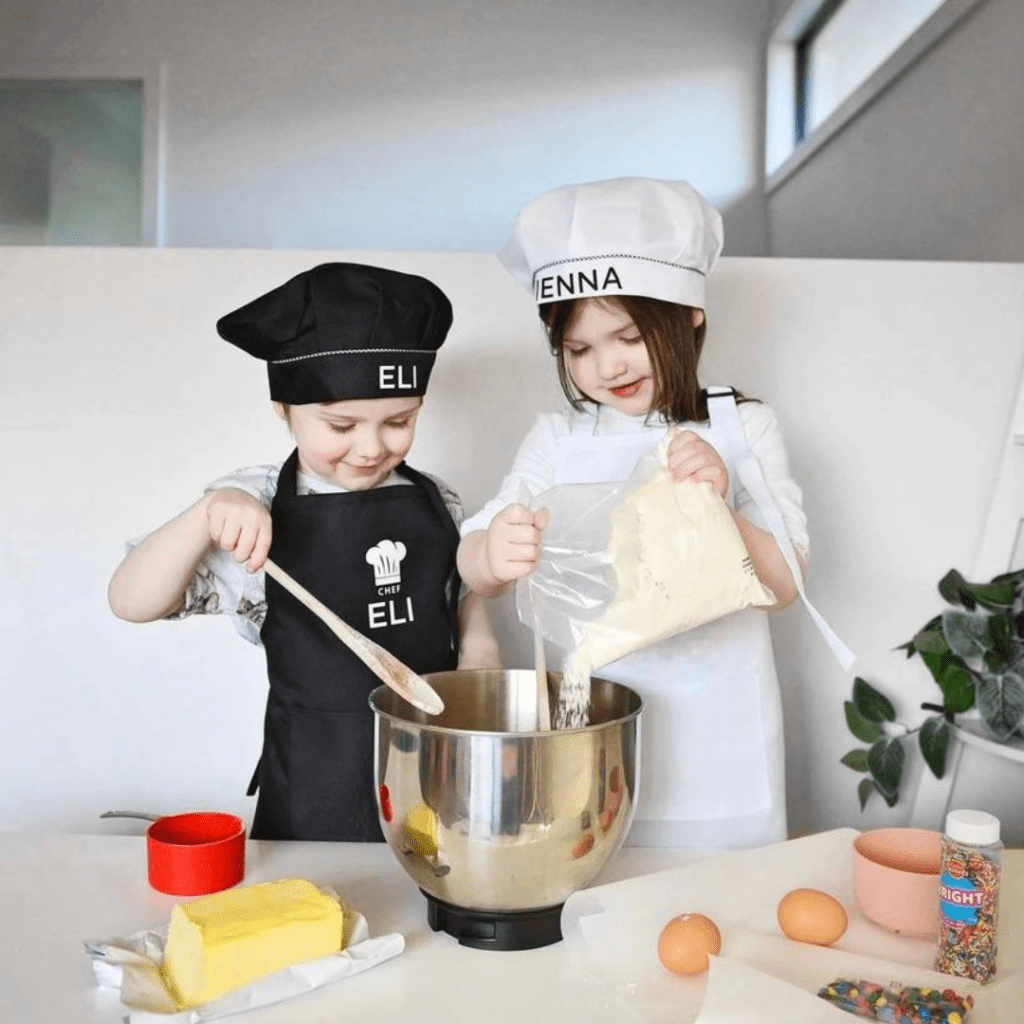 You can buy a few decorations or make your own and spend an afternoon or evening hanging them up. Your home will be decorated just in time for the holidays, and you'll all have a lot of fun doing it! Some other activities are cookie decorations and making a gingerbread house.
10. Glue Decoration
Colored glue is the perfect way to make festive snowflakes for Christmas decorations. Simply squeeze some glue into a bowl and add a few drops of food coloring. Stir until the desired color is reached. Then use a fork to swirl the colored glue around in the bowl.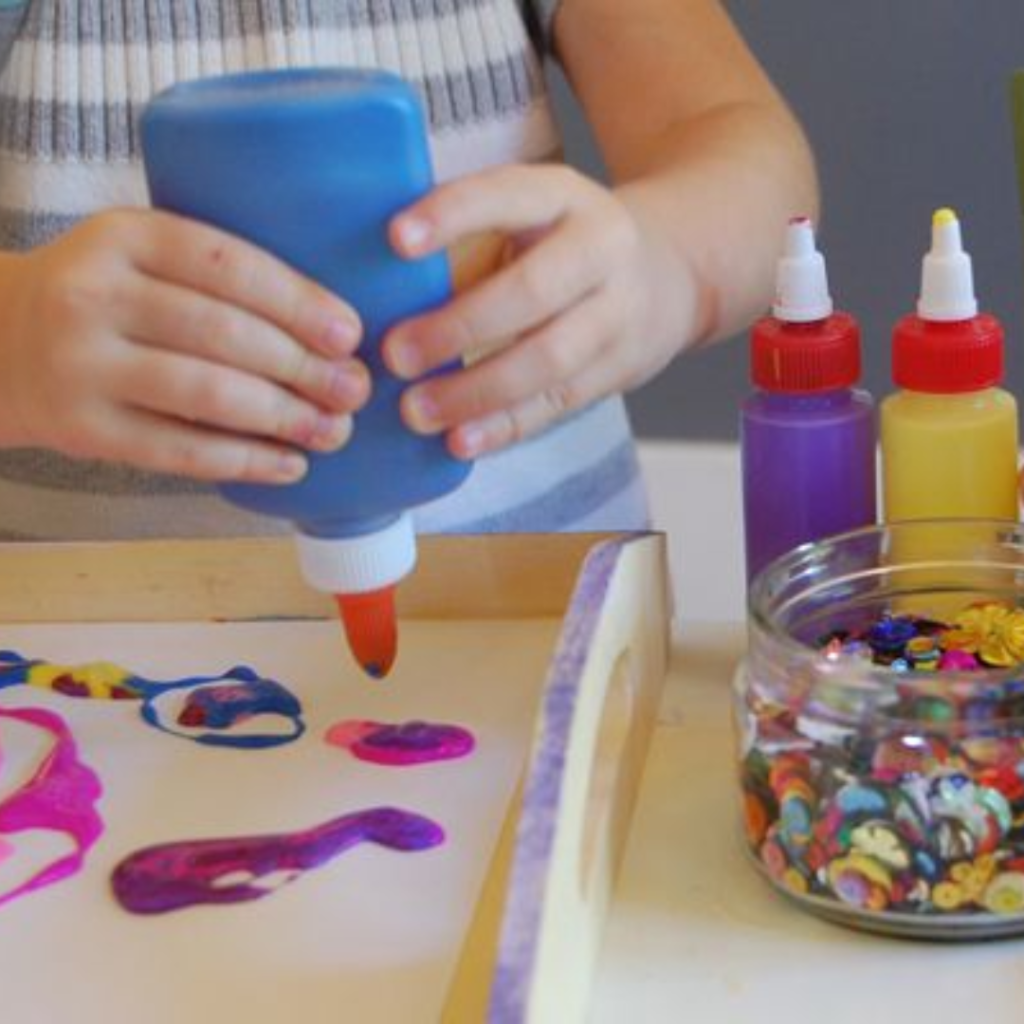 This will create a marbled effect. Next, use a spoon to scoop out some of the glued-up snowflake mixtures and drop them onto wax paper. Shape it into a snowflake using your hands or wooden dowel, then leave it to dry. Your home will look Christmas-y in no time with these easy-to-make decorations!
11. Hook for hanging wreaths
There's no need to waste hours trying to figure out how to hang your Christmas wreath when you can use a simple hook! With this easy solution, you can have your wreath up in no time and avoid the hassle of having to use nails or screws.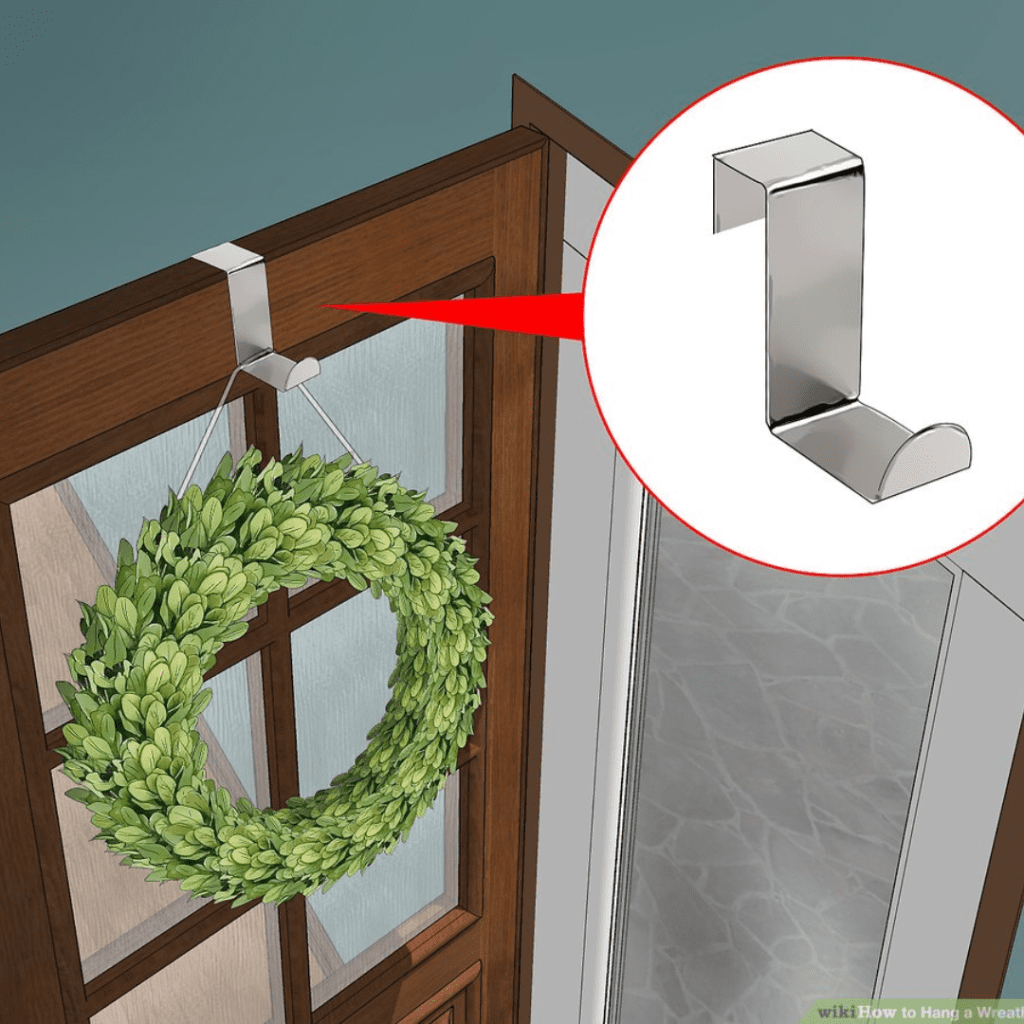 Simply find an over-the-door hanging bracket that fits snugly over your door. If you're using this for your front door, make sure you can still close it and keep out the cold. Then, attach a string to the wreath, hang it up, and you're good to go!
12. Pumpkin bowl
Why settle for a boring old bowl when you can have a festive pumpkin bowl for your next dinner party? Carving out a pumpkin as a bowl is easy and makes for a unique serving dish choice that will impress your guests. Plus, what could be more autumnal than pumpkins?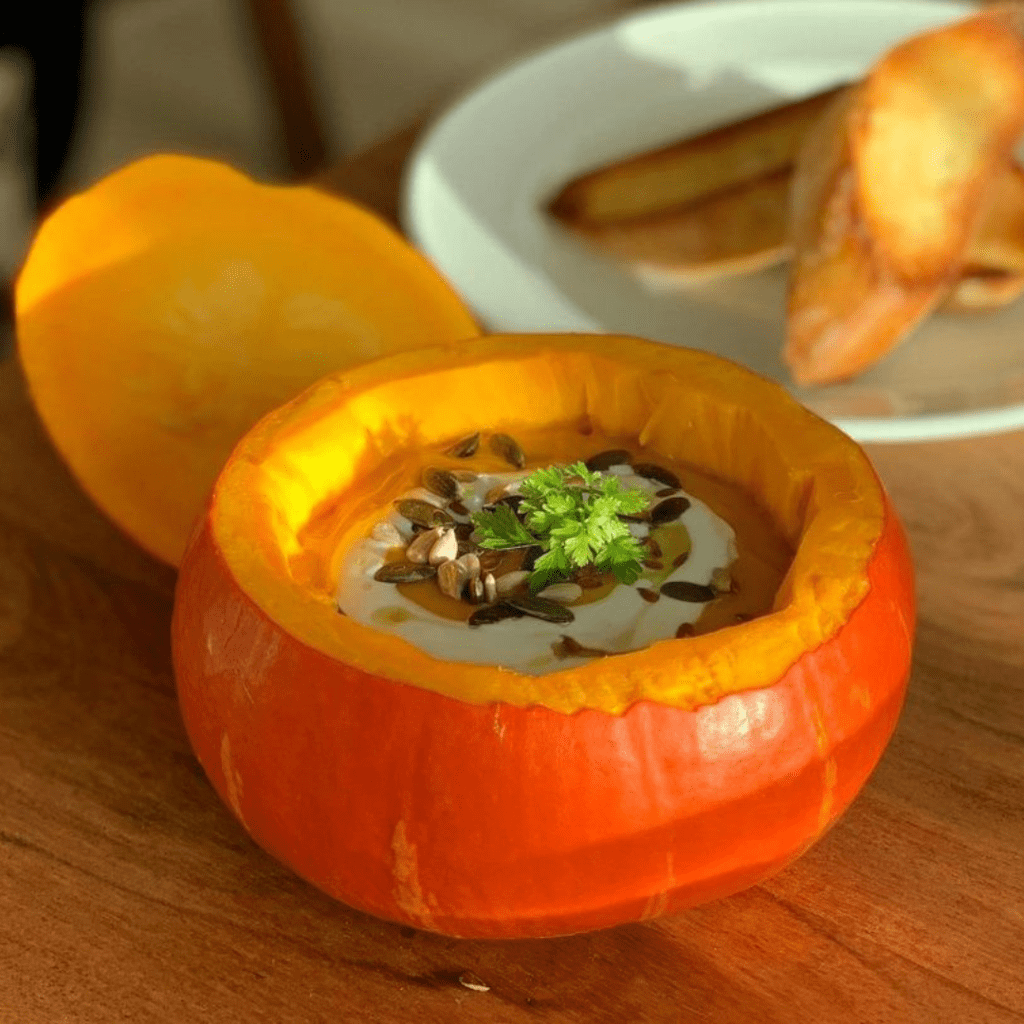 First, pick the perfect pumpkin. You'll want one in the right size (not too big or small) and shape (wide and flat bottomed) for serving bowls. Look for pumpkins that are free of blemishes and have firm, evenly-colored skin. Slice off the top and scoop out the innards, then fill it with your meal of choice.
13. Mix and match sizes
The idea of using different size light bulbs for your Christmas tree decorations maybe unconventional, but it's actually rather excellent! It'll add variety and interest to your tree, but it also allows you to mix and match any miscellaneous bulbs to create unique arrangements.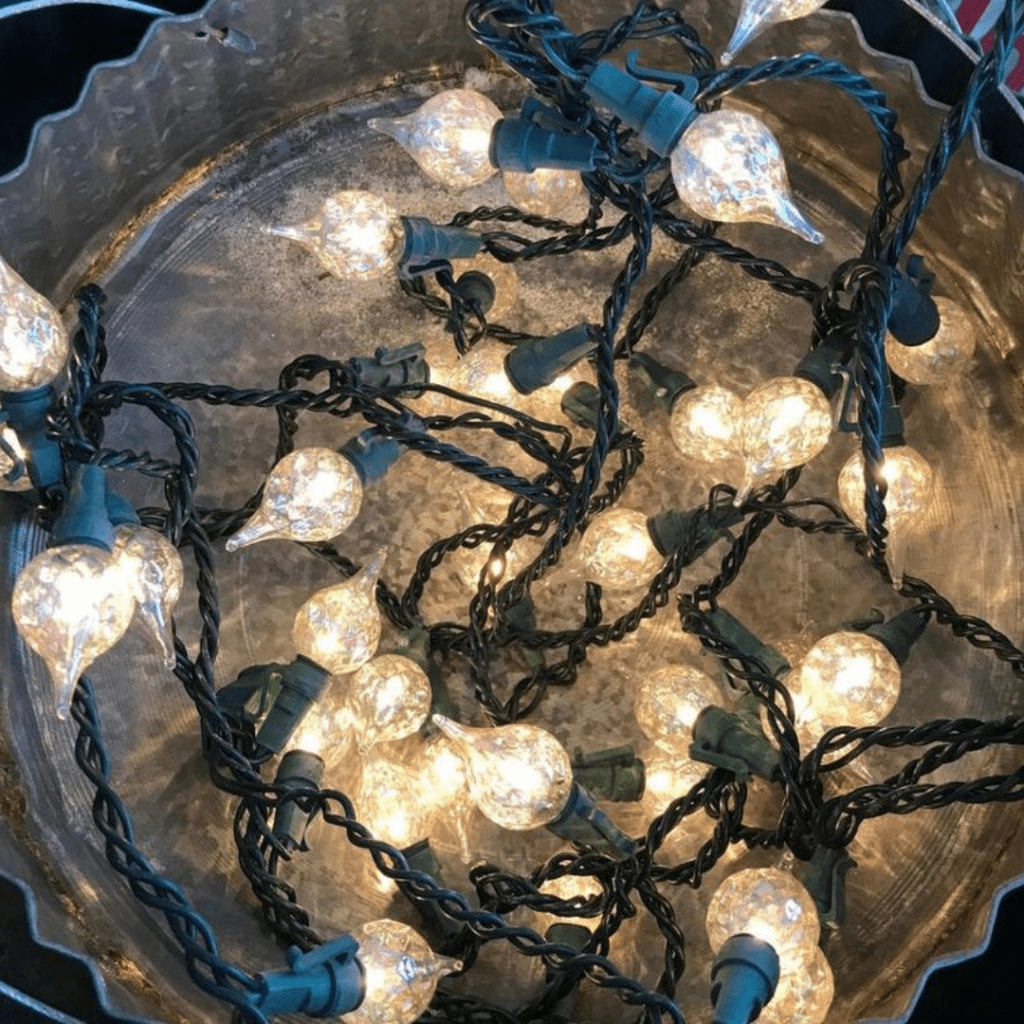 And, of course, using different bulbs will create different light patterns on your tree — which can be quite beautiful! Start by hanging the larger bulbs in the bottom branch rows of your trees. As you move up the branches, use progressively smaller bulbs. This will give your tree a delightful look.
14. Voluminous trees
Wreaths are the perfect way to add some extra volume to your Christmas tree this year! Adding a few strategically placed wreaths around your tree can create the illusion of a fuller, more voluminous tree. Plus, wreaths make great decorations all on their own.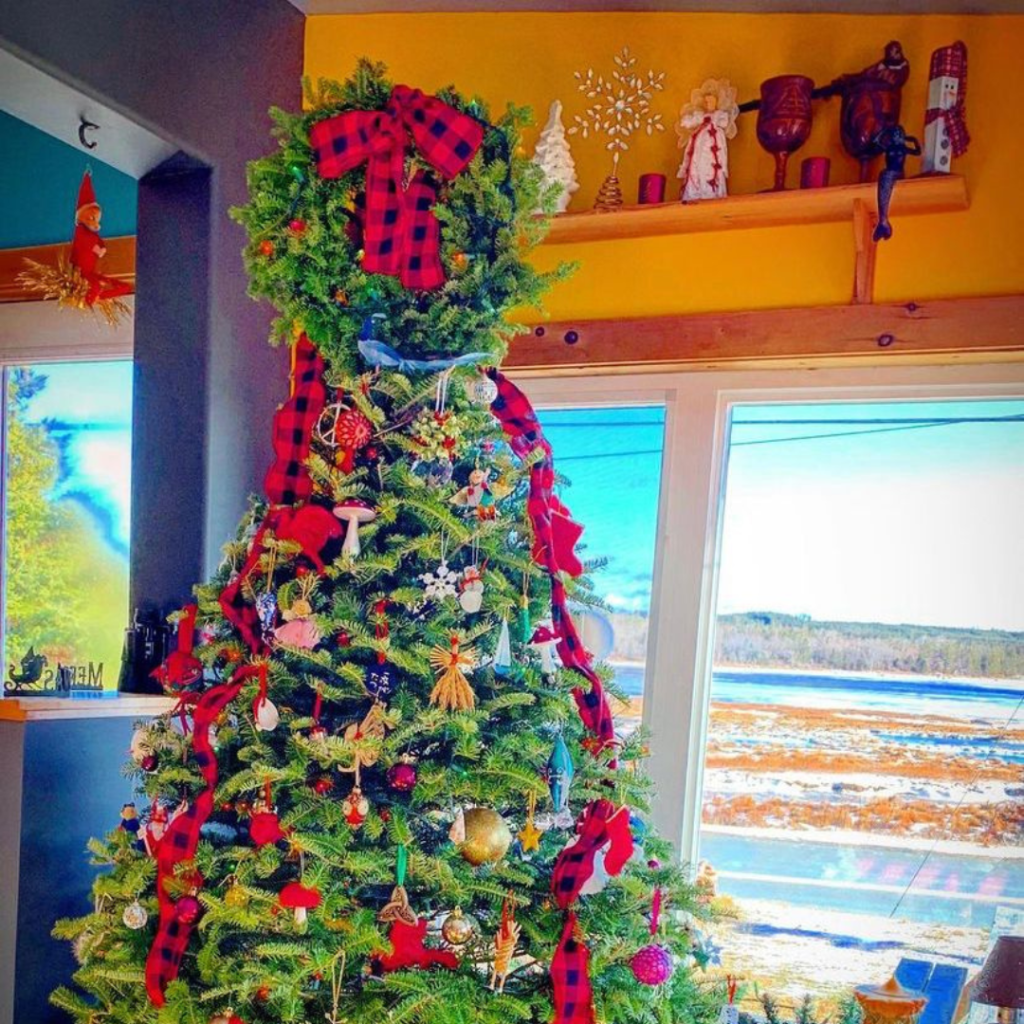 They're available in all sizes, so you're sure to find one that suits your needs. So you can go ahead and add some wreaths to your Christmas decor this year — your trees will thank you! You can also mix in some ornaments to create a more blended look.
15. Spray-painted lights
This year, ditch the store-bought holiday decorations and make your own! It's easy to create beautiful and unique lights using nothing more than spray paint and some old light bulbs. You'll need clear or white lights, heat-safe spray paint in festive colors, painter's tape, and a piece of cardboard or newspaper.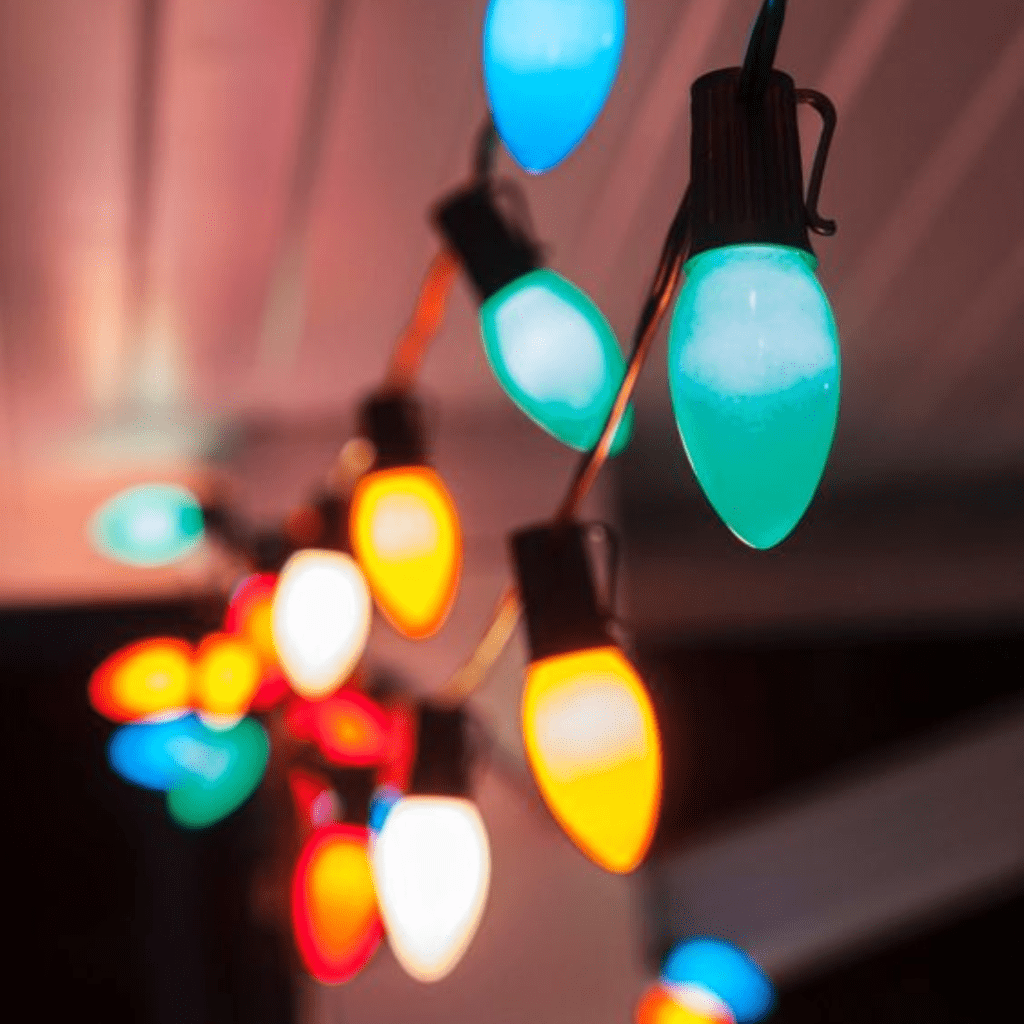 To start, clean the lights with a little soap and water to remove any dirt or grease. Dry them completely. Now it's time to start painting! Place the lights on the cardboard or newspaper. Then use the painter's tape to create a design on the bulb. When the design is ready, spray paint it!
16. Keep candles in jars
Candles in jars make great Christmas decorations! The exciting and warm glow is sure to set the mood. Plus, they smell amazing! You may arrange them with ornaments as a centerpiece. Ornaments are also a great way to decorate for Christmas.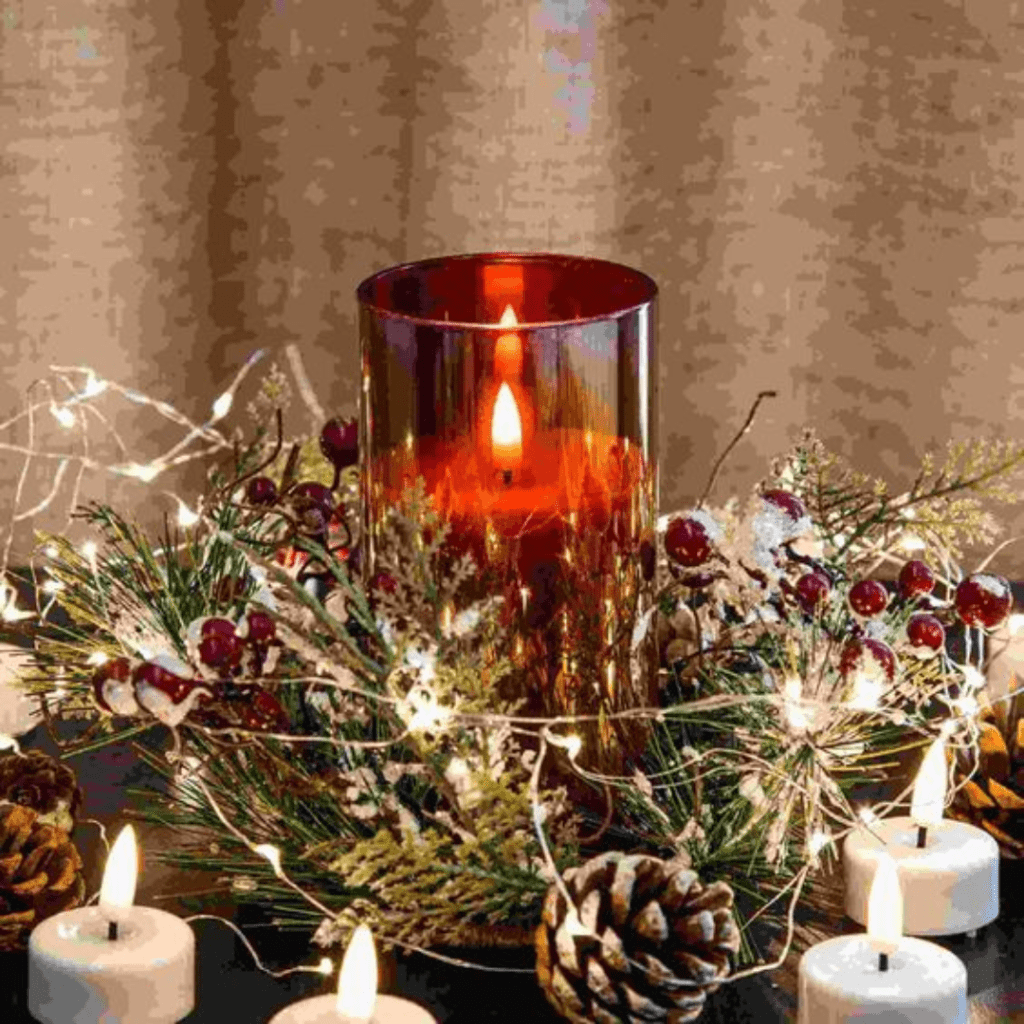 They add a touch of festivity and warmth. And they're a simple way to keep kids away from open flames. These decorations last long as they can be stored in jars year-round, so it's a great way to keep your Christmas decorations organized and easy to access.
17. Cute adorable cookie holders
This easy DIY project will turn an ordinary can of Pringles into a festive and unique Christmas cookie holder. Get a can of Pringles, some holiday wrapping paper, and a few embellishments. Simply wrap the can in the paper, and use glue or tape to keep it in place.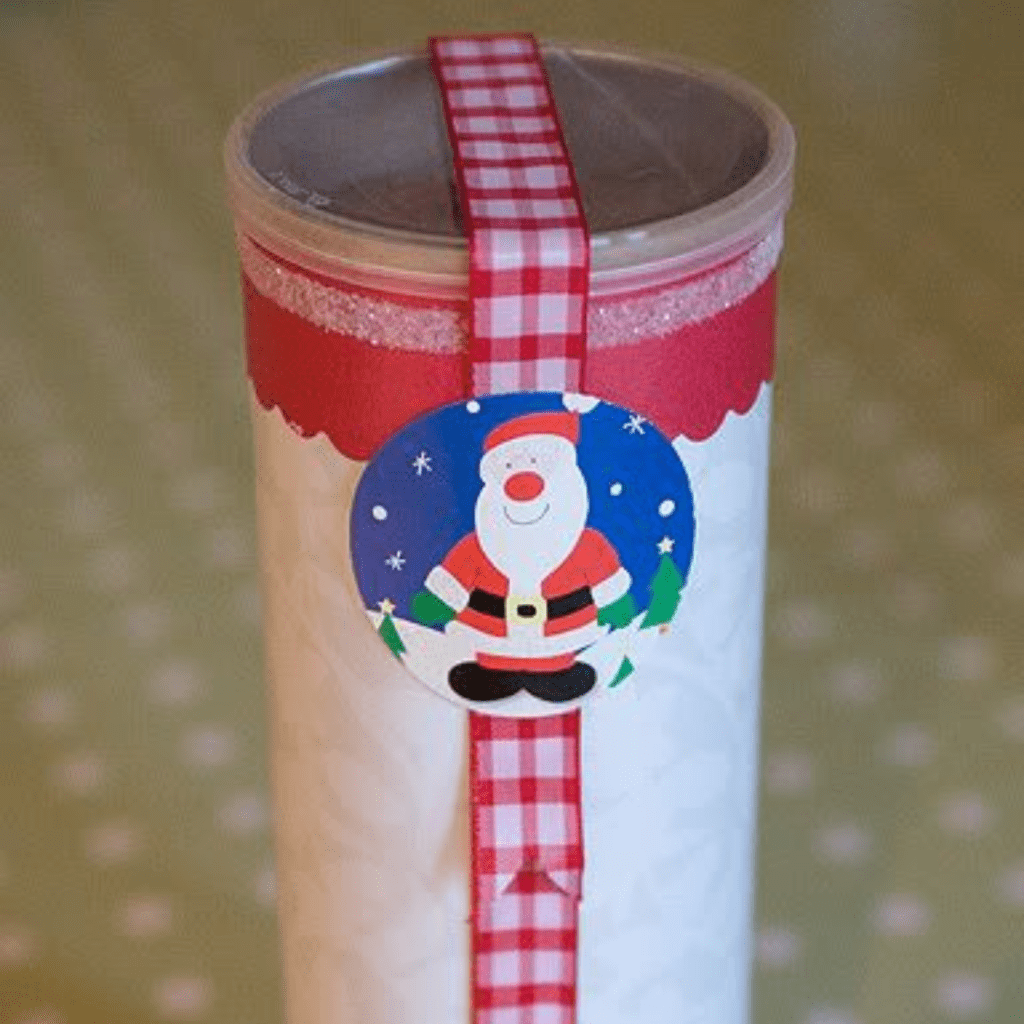 Then, decorate it with ribbons, bows, or whatever else you like. Fill the can with cookies on plastic wrap or wax paper, and you're all set! Add a ribbon or bow to seal the deal. Everyone is sure to love these festive cookie holders.
18. Easy clean table setup
One of the best things about disposable tablecloths is that they make cleanup easy. No more scrubbing at stubborn stains — just rip off the tablecloth and be done with it. Also, you may not have to worry about ruining a nice tablecloth if there's an accident.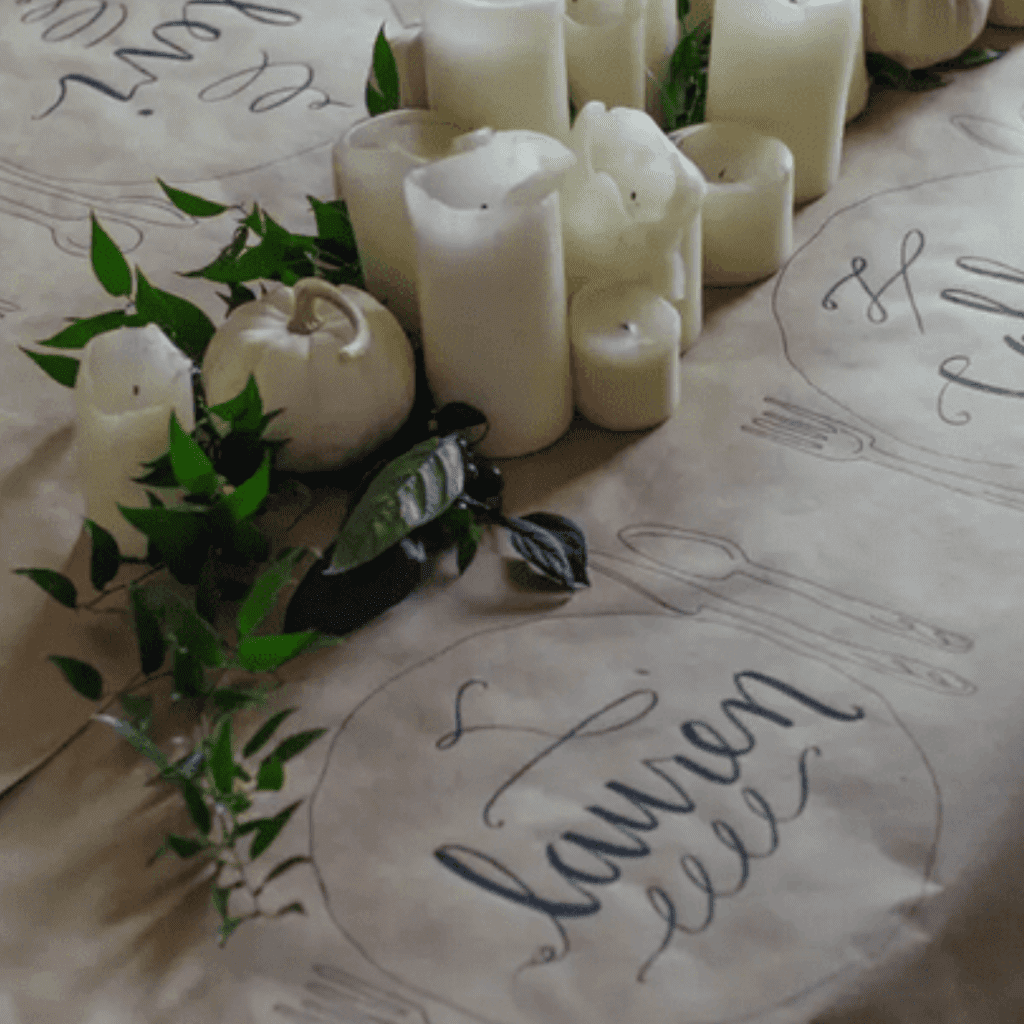 Setting the table with a disposable tablecloth is a smart move if you're having people over for Christmas dinner. It'll save you time and effort when cleaning up, but it also protects your nice tables from spills. You can have fun without thinking of ruining the expensive cloth.
19. Salt dough ornaments
Making your ornaments is a great way to add a personal touch to your Christmas tree. And the salt dough is a simple and inexpensive project that even kids can do! Here's what you'll need: 1 cup of all-purpose flour, 1/4 teaspoon of salt, 1/2 cup of water, and 1 tablespoon of oil.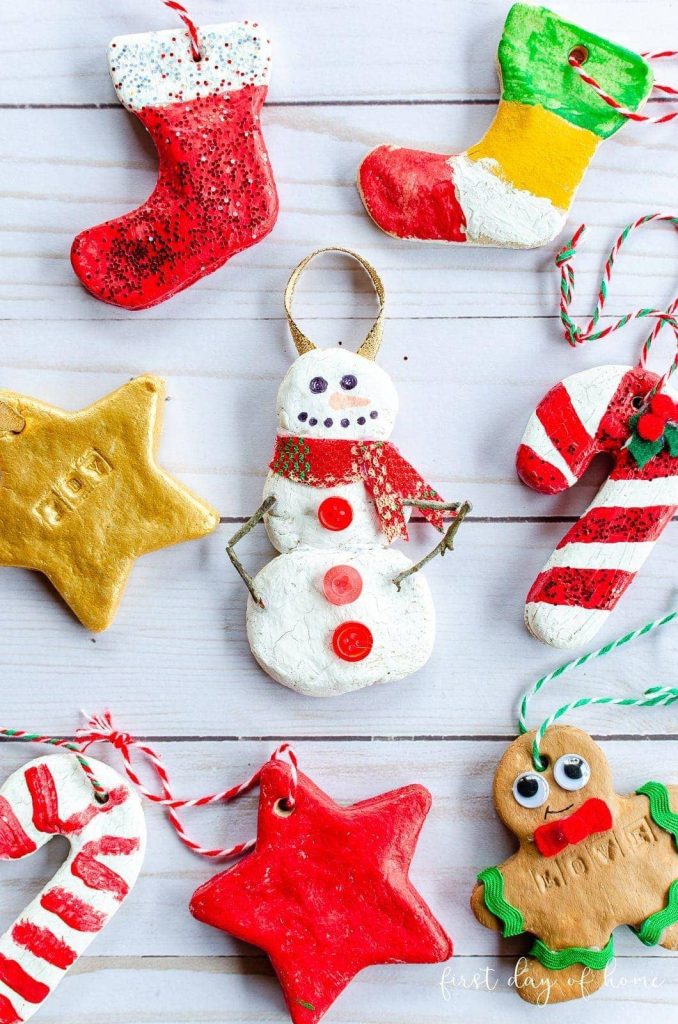 Combine the flour and salt in a bowl, then slowly add the water until the dough forms a ball. Knead the dough for about five-ten minutes, then form it into desired shapes. Place the ornaments on a lightly floured surface and let them dry for 24 hours. You may also bake them until they're hard.
20. DIY cage topiaries
If you live in a colder country, your tomato plants have died off by Christmas. But those tomato cages still have some use! Tomato cages make great DIY cage topiaries for Christmas. Add some evergreen sprigs, red berries, and voila — instant Christmas cheer.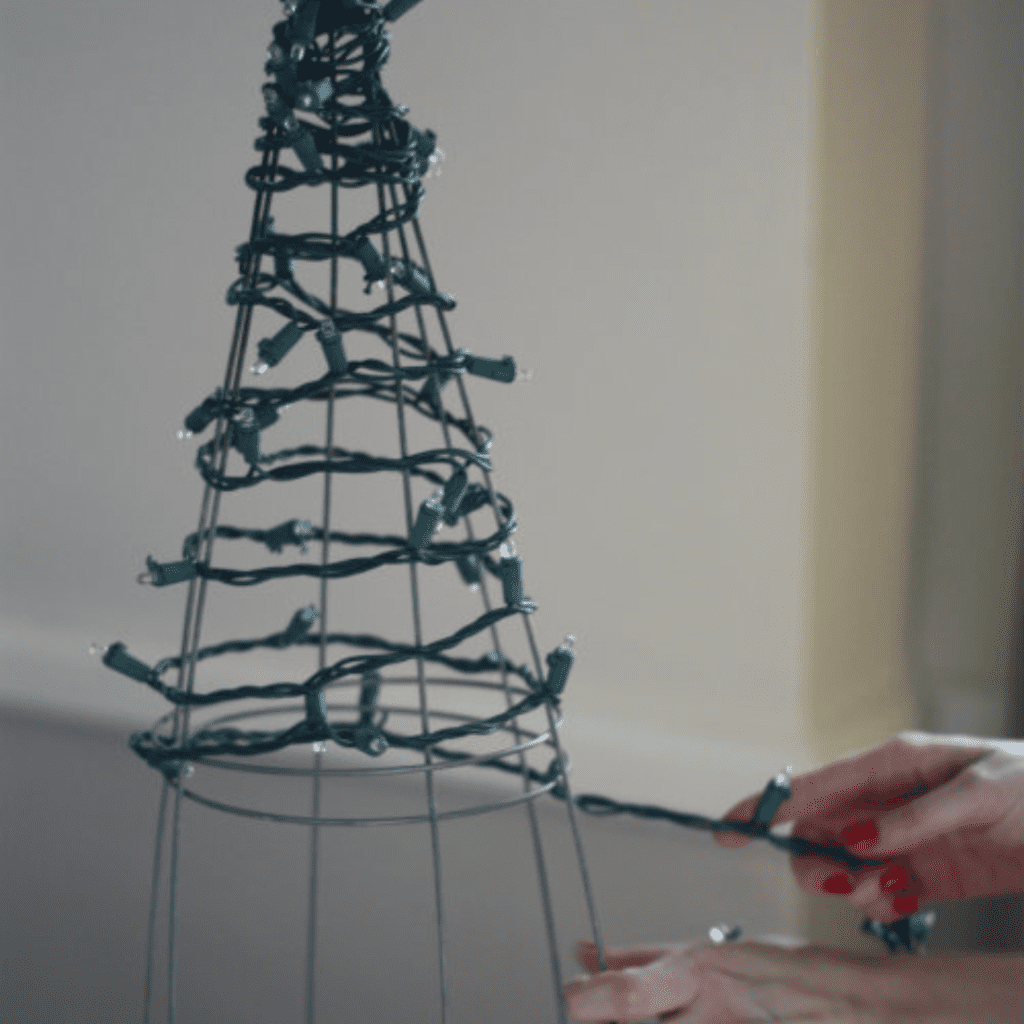 Bonus points if you can find cages that are already red or green. Not only do they look festive, but they're also super easy to make. And since they're made from upcycled tomato cages, they won't cost you a dime.
21. Add glass decorations
It's not just about adding glass and mirror decorations to the Christmas tree to make it look bigger. You need to add them the correct way. For example, adding a few mirrors to the back of the tree will reflect more light and make the tree appear brighter and fuller.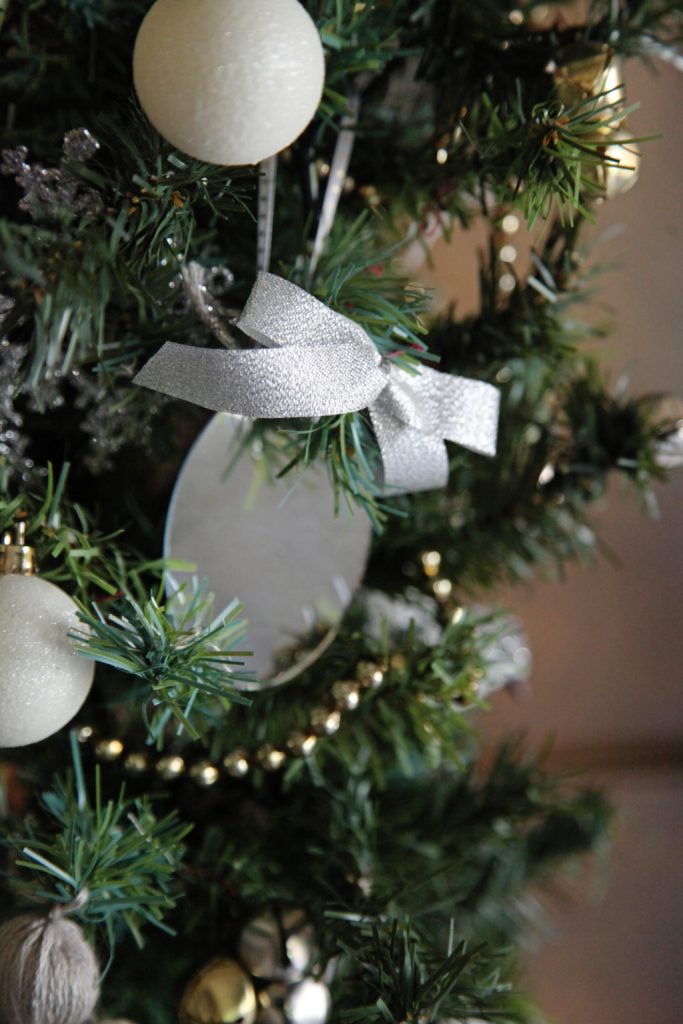 Placing them strategically around the tree's perimeter can give the illusion of a larger space. And if you hang them at different depths, they'll create an interesting visual effect that will make your tree stand out. So go ahead and try out this new idea this holiday season.
22. Fun holiday cards display
Why not get into the Christmas vibe and deck your halls with a fun holiday card display? It's a great way to show your friends and family how much you appreciate them, adding some excitement to your home during the holiday season. Choose a festive location in your home for card display.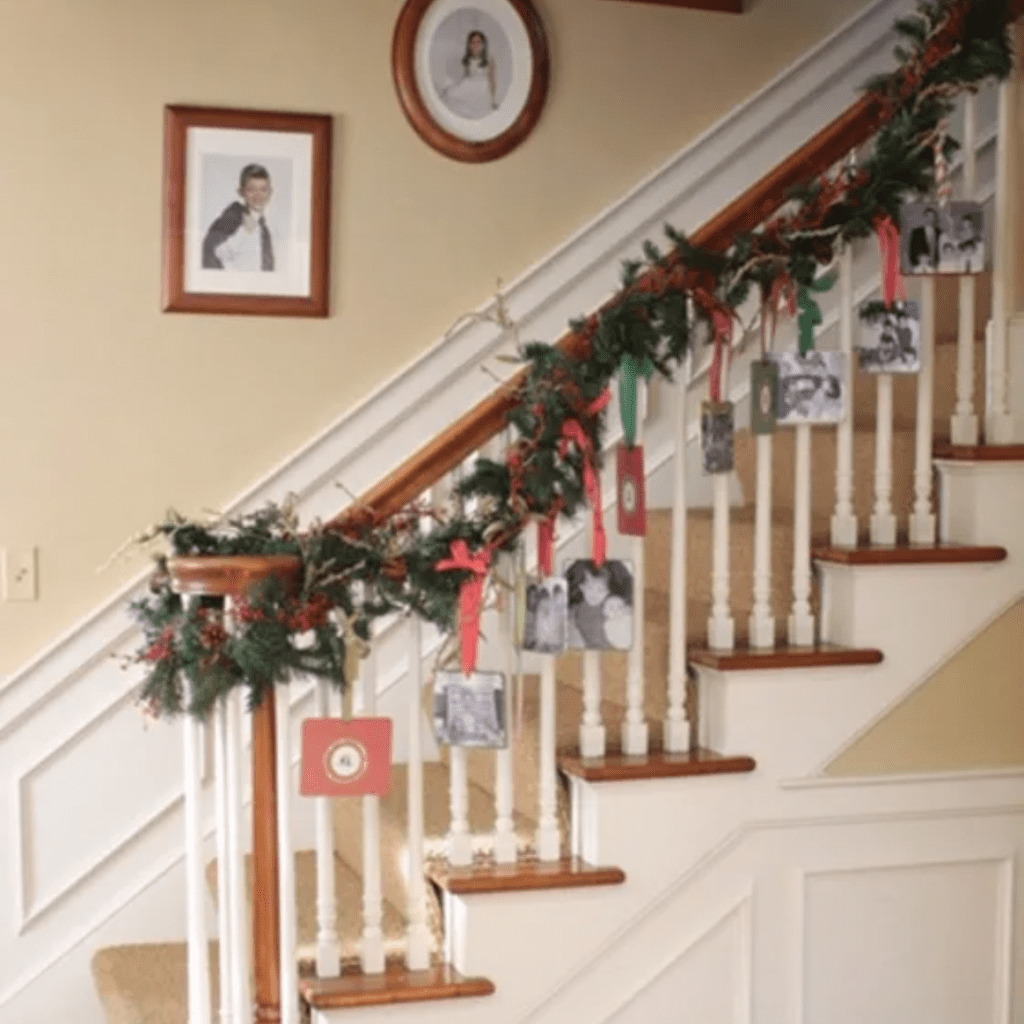 Maybe a corner near your tree or by the front door? Collect plenty of festive Christmas cards from loved ones. You can even make your own! Create an interesting arrangement for your cards using different sizes and shapes. You could try clustering them or spacing them evenly across the wall.
23. Smart organization
Like most, you probably have a bin full of random holiday-related decorations that come out once a year. Then you put everything in different boxes and forget where you stored it until Christmas Eve when you're frantically searching for the tree topper.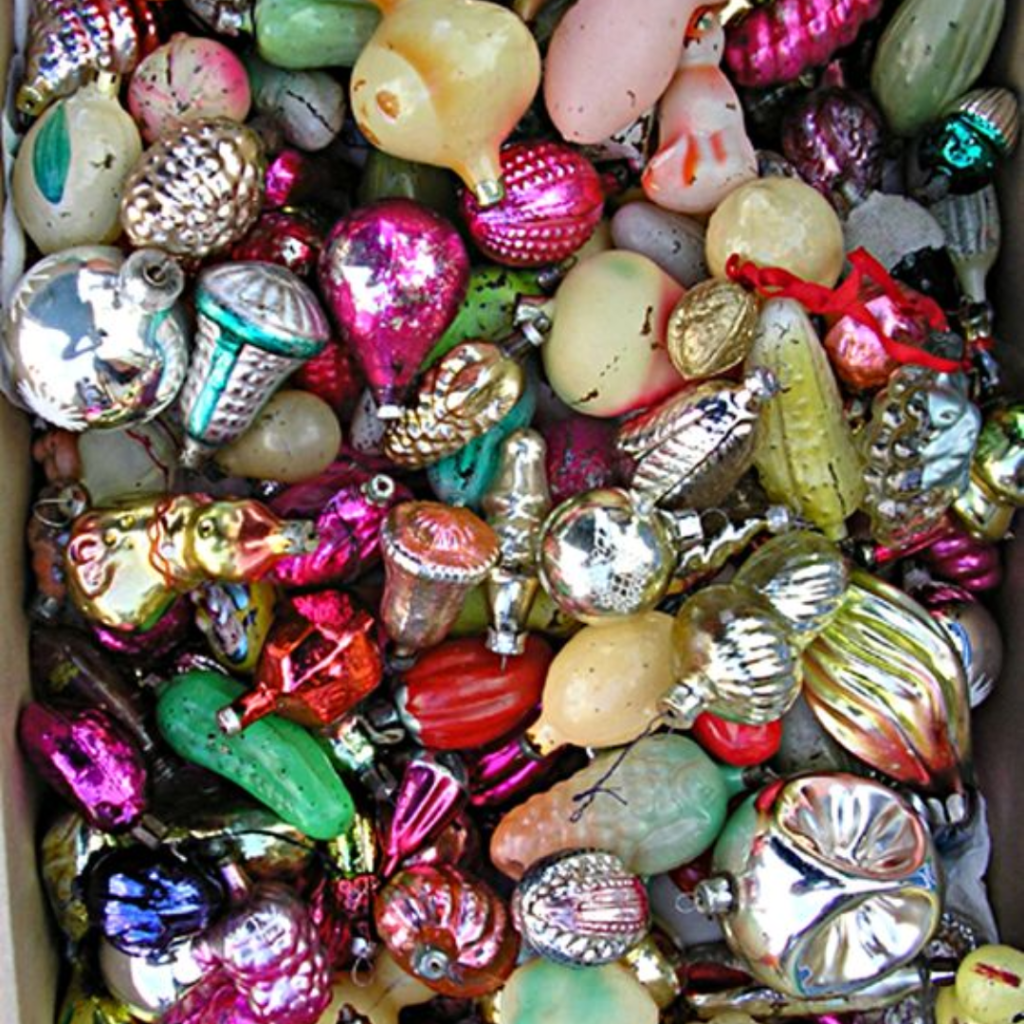 This year, try something different: take all your holiday decor down the day after Christmas. That's right, take down the tree on December 26th and box everything up. Store it away in the attic area or basement until next year. No more rummaging through storage bins and looking for the decorations next year.
24. Glass in a glass vase
There are a few fun ways to do this, but the most common way is to take a glass jar slightly larger in diameter than the other glass jar. Place the smaller glass jar inside the bigger one and fill the space between them with small decorations or candy.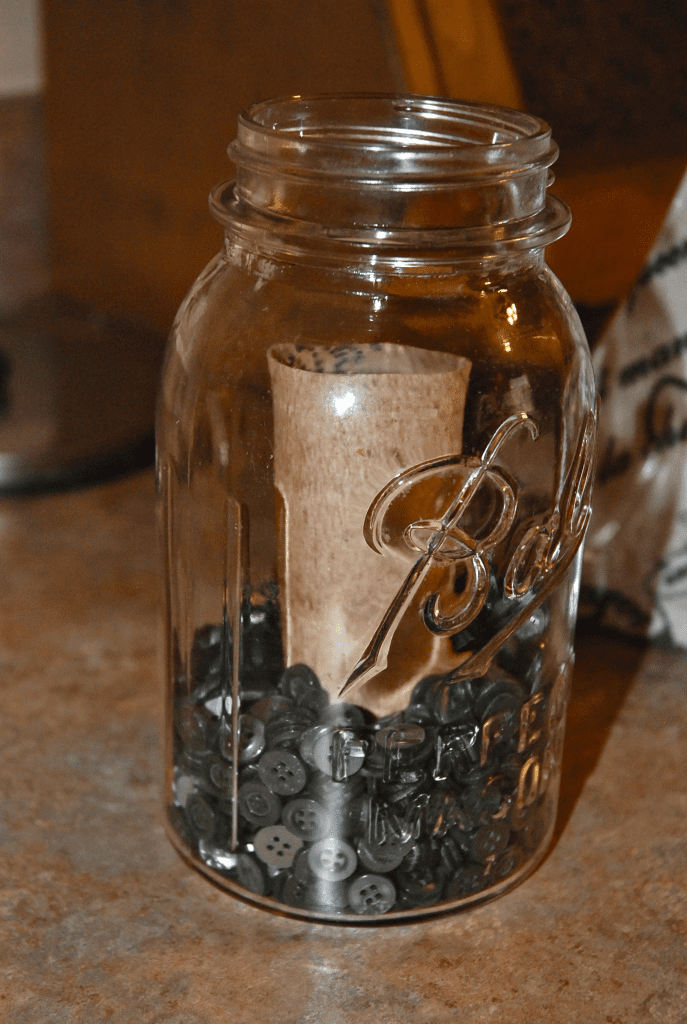 This makes for quirky decor placed on tables or entryways. Or, you can add flowers to the inner glass jar and colored water in the outer. Moreover, add some fake snow and some small Christmas balls or other decorations. Experiment with different materials as per your theme.
25. Ditch the tree
You can still have a festive appeal without a tree. If you want something traditional and classic, go for the real tree. If you're on the quest for a unique thing, why not ditch the tree and switch to a photo tree or tapestry?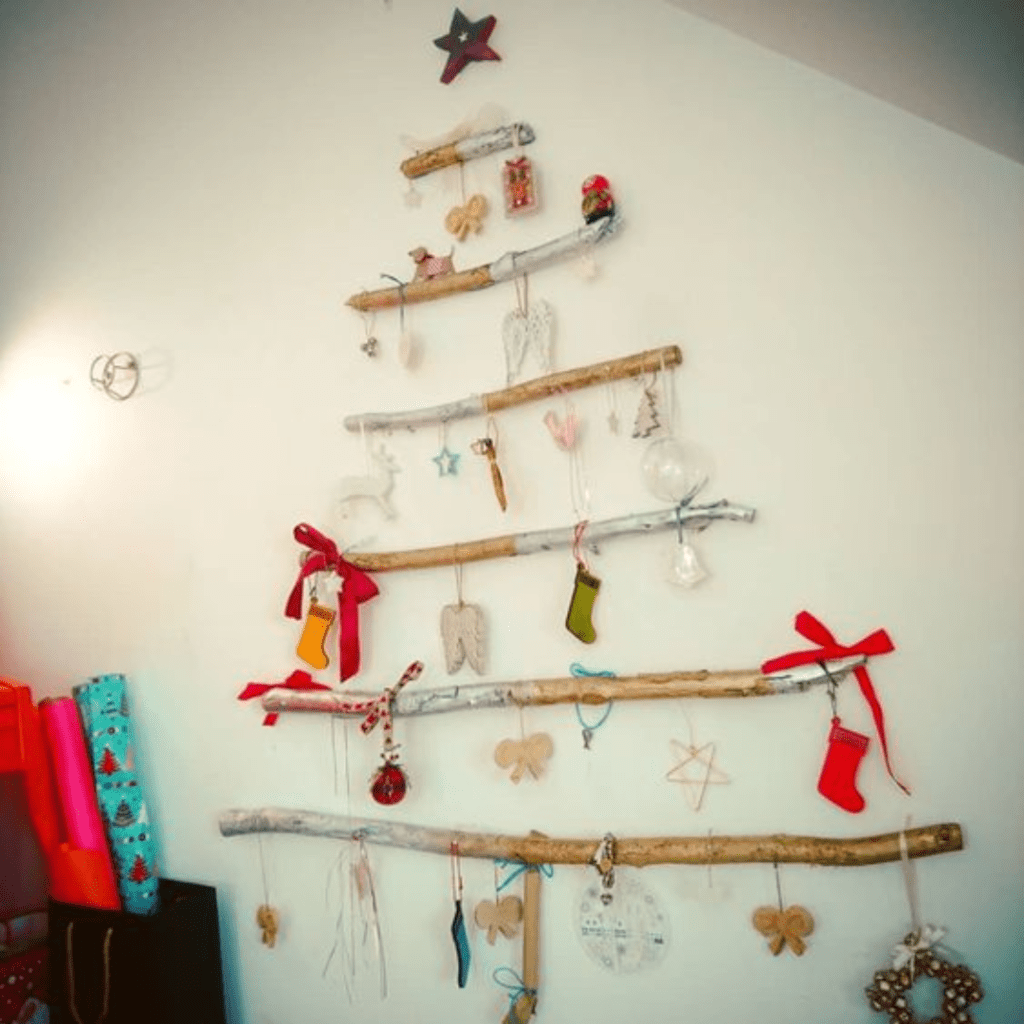 There are several upsides to switching to a photo or tapestry. For starters, there's no watering or cleaning up dropped pine needles. Plus, it's much cheaper than buying a real tree. With a tapestry, you may find some really beautiful and festive ones that will add to your Christmas decor.
26. Fun tree toppers
One of the best ways to add some extra personality to your Christmas tree is by topping it with a fun tree topper. Words or wings are great ways to do this; they can help set your tree apart from the rest.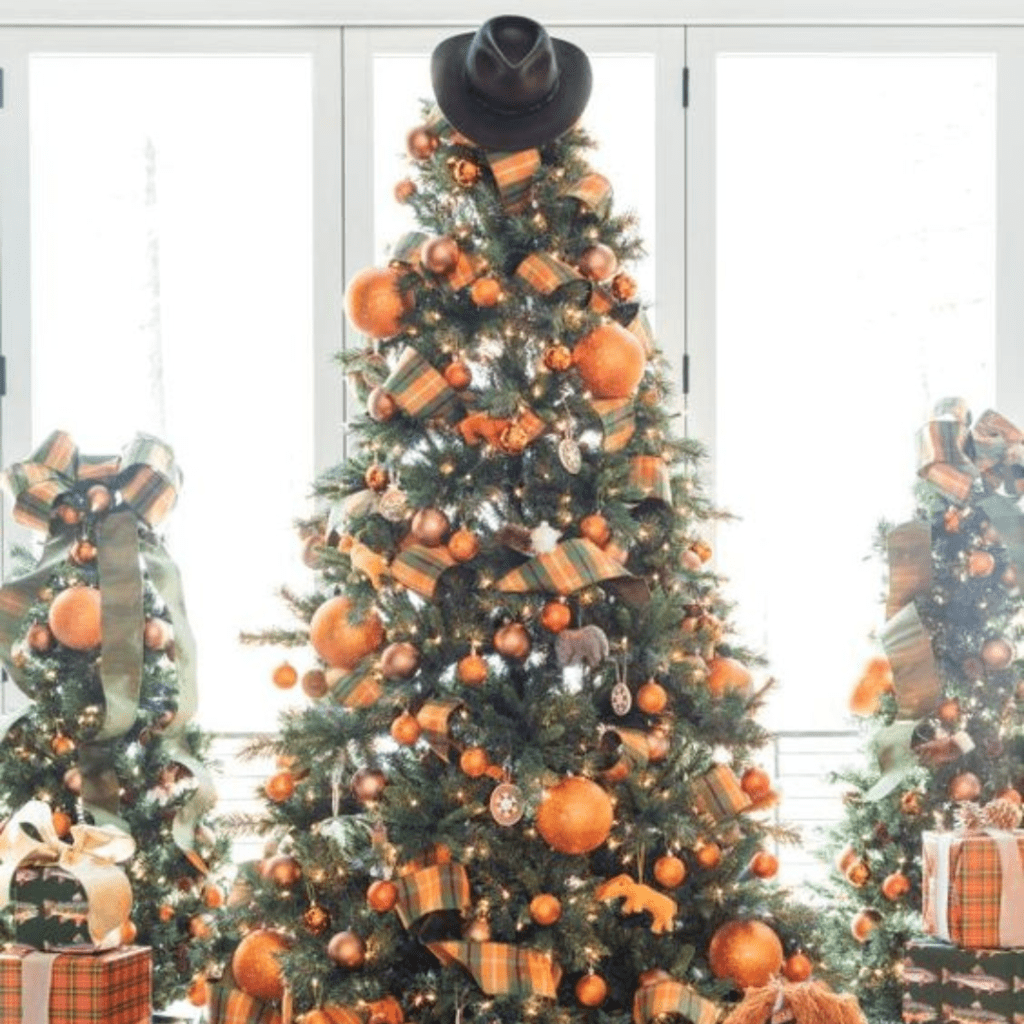 Tree toppers are a fantastic way to show off your style, and swapping out a traditional angel for something a little more fun can be a great way to put your spin on things. Witty word toppers are a crowd-pleaser.
27. Unique tabletop tree
No two Christmas trees are alike, and that's what makes them so special. With so many designs available, there's sure to be one that fits your style. Whether you want a classic evergreen tree or something more unique and festive, there's an option for you.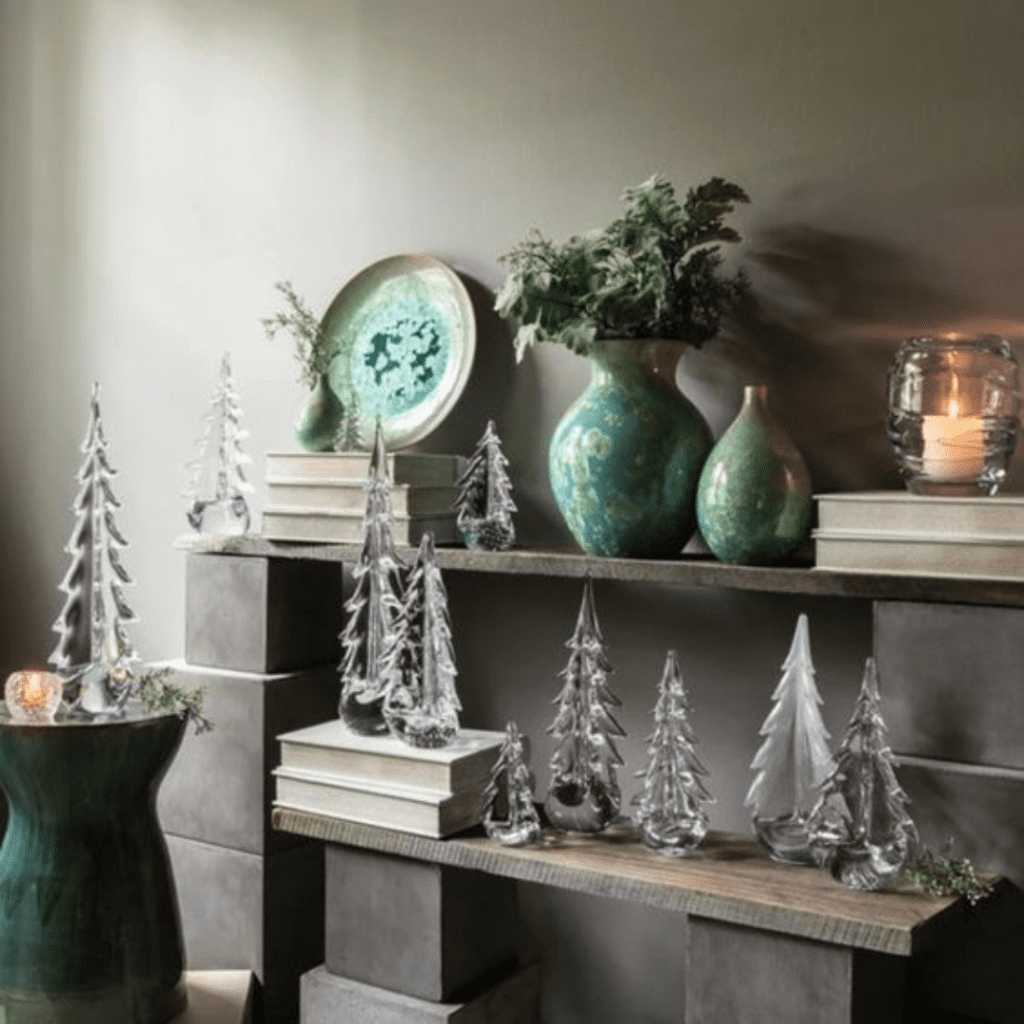 Some people prefer real trees because they're more natural and have a pleasant scent. However, artificial tabletop trees are becoming increasingly popular because they're easier to care for and don't require as much work. Many of them come with pre-lit lights, which saves you even more time and effort.
28. Log base for the tree
Why not do something extra this year and make a log base for your Christmas tree? It's easy to do, giving your tree a spooky, rustic look that is perfect for the holiday season. Start by finding a suitable log. It should be bigger than the diameter of the trunk of your Christmas tree.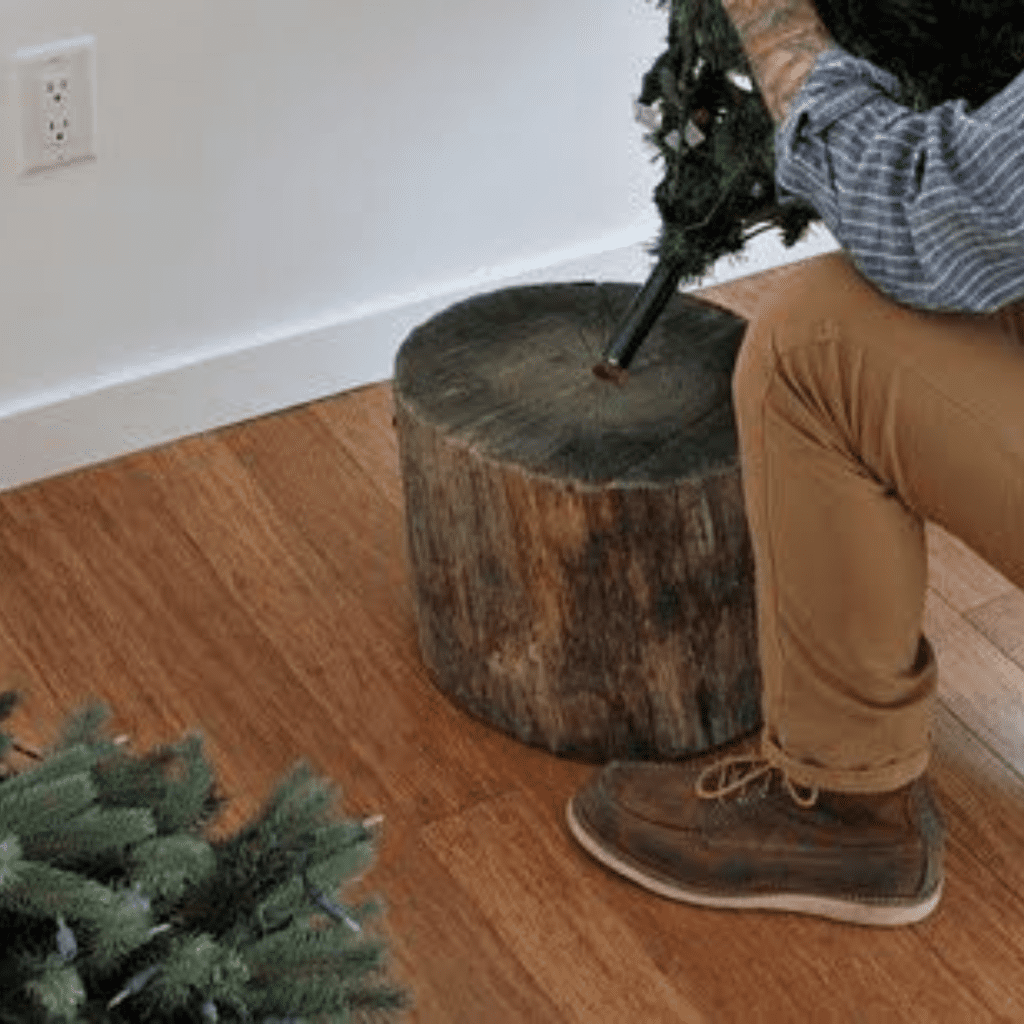 If you can't find an appropriate-sized log, don't worry, you can always cut one to size. Once you have your log, use sandpaper to smoothen it and make a stable base for the tree. Create a hole in the center of the log to fit your Christmas tree.
29. Paper snowflakes
It's never too soon to bring on the Christmas vibe! Start making paper snowflakes to use as decoration. Don't worry; you don't need to be a crafty pro to make paper snowflakes. With a few simple steps, you'll have a winter wonderland. Grab some paper, scissors, a pencil, and a ruler.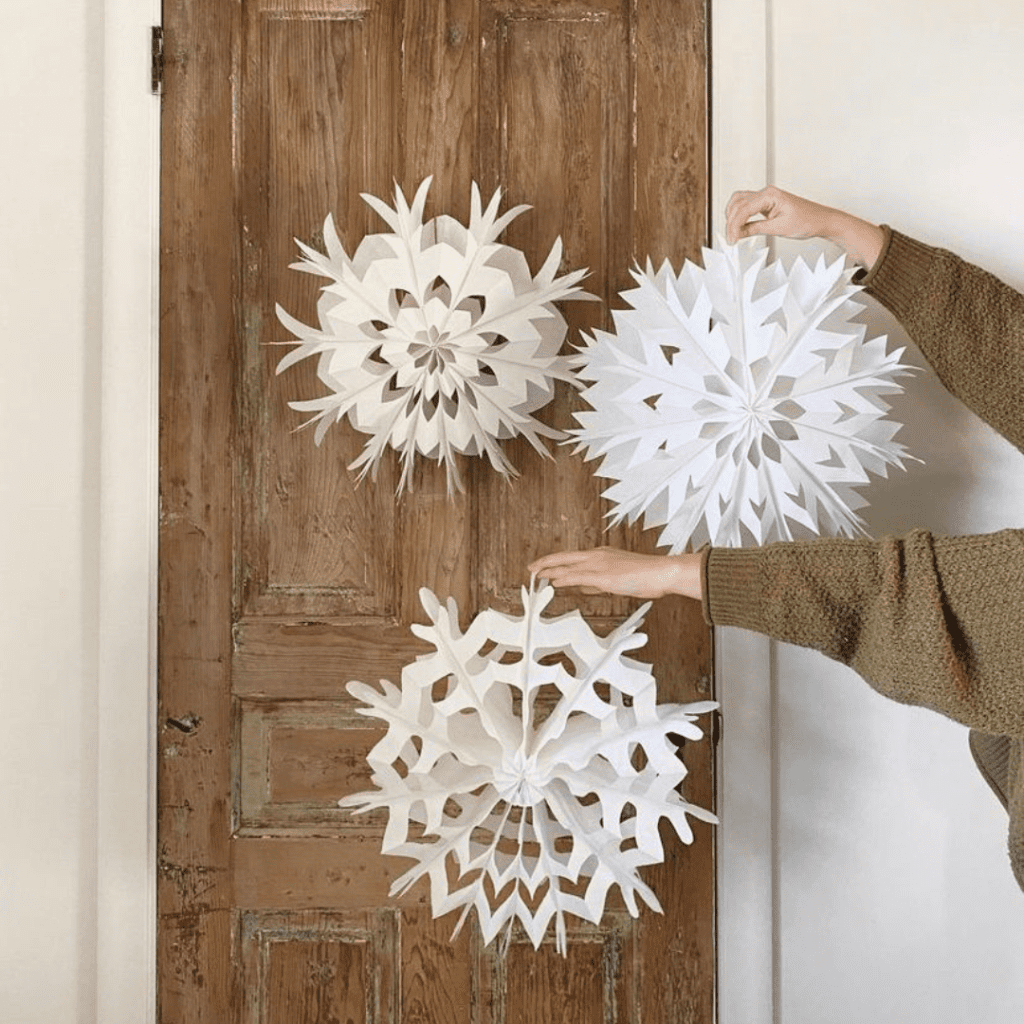 Cut the paper to make a square or rectangle. If you want perfectly symmetrical snowflakes, use a ruler to draw equally spaced lines on the paper and cut along the lines. Fold the paper halfway through the diagonal, and then unfold it. This will create a triangle shape. Then, cut out the design and unfold it!
30. Bows and crystals for curtains
You've got the banister, kitchen table, and Christmas tree decorated. But what about your windows? Don't forget to add a little holiday cheer to them by decorating with bows. Making your bows for curtains is a great way to add a personal touch to your holiday decor.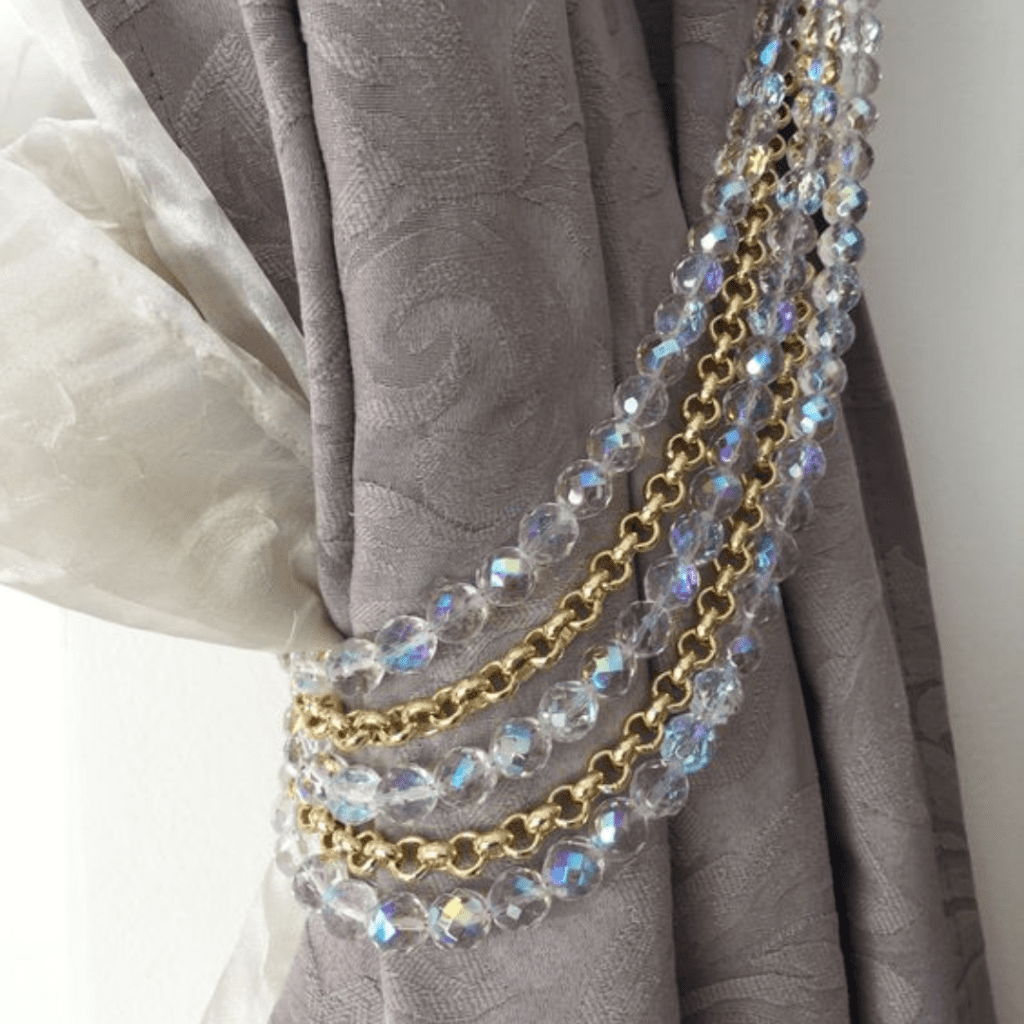 And it isn't as tricky as you might think. With a few supplies and steps, you can create beautiful bows that will make your windows look merry and bright. Start with a length of ribbon depending on the size of your window curtain. Cut the ribbon and fold it in half to make a bow.
31. Candies on the tree
Why not add sweetness to your Christmas tree this year with some candy decorations? Candy canes are always popular, but you could also try stringing together some colorful hard candies or marshmallows. If you wish for something extra unique, you could make your candy ornaments.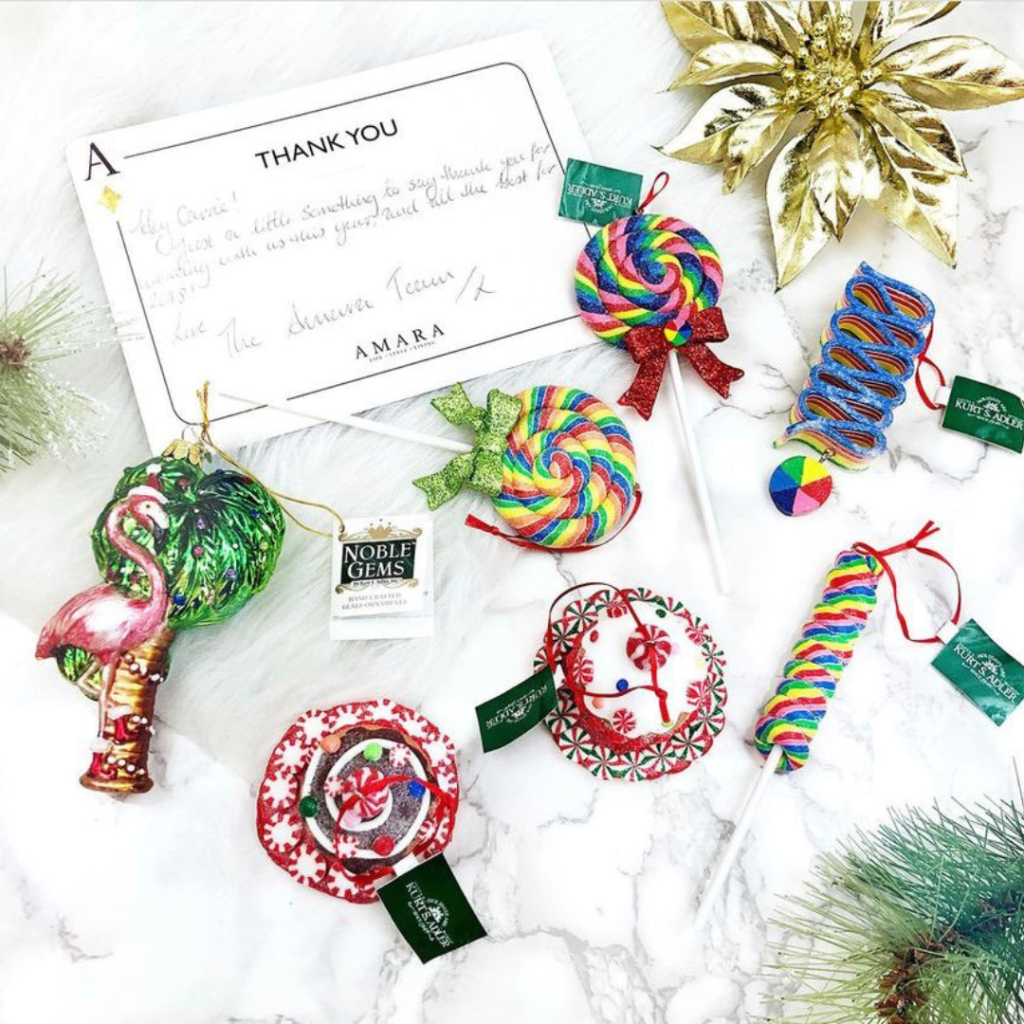 Mix different colored candies for added interest. Some include peppermints, wrapped chocolates, and gummy bears. If you have young ones, they will probably love helping you decorate the tree with candy. Whatever you choose, your tree will look more delicious and unique than anyone else's.
32. Switch tape with hot glue
Here's a surefire way to make sure your Christmas lights stay put. Consider using hot glue instead of tape. Hot glue will provide a stronger grip than tape, and it's also easy to remove if you need to rearrange your lights later on. Just be careful not to get any glue on your fingers!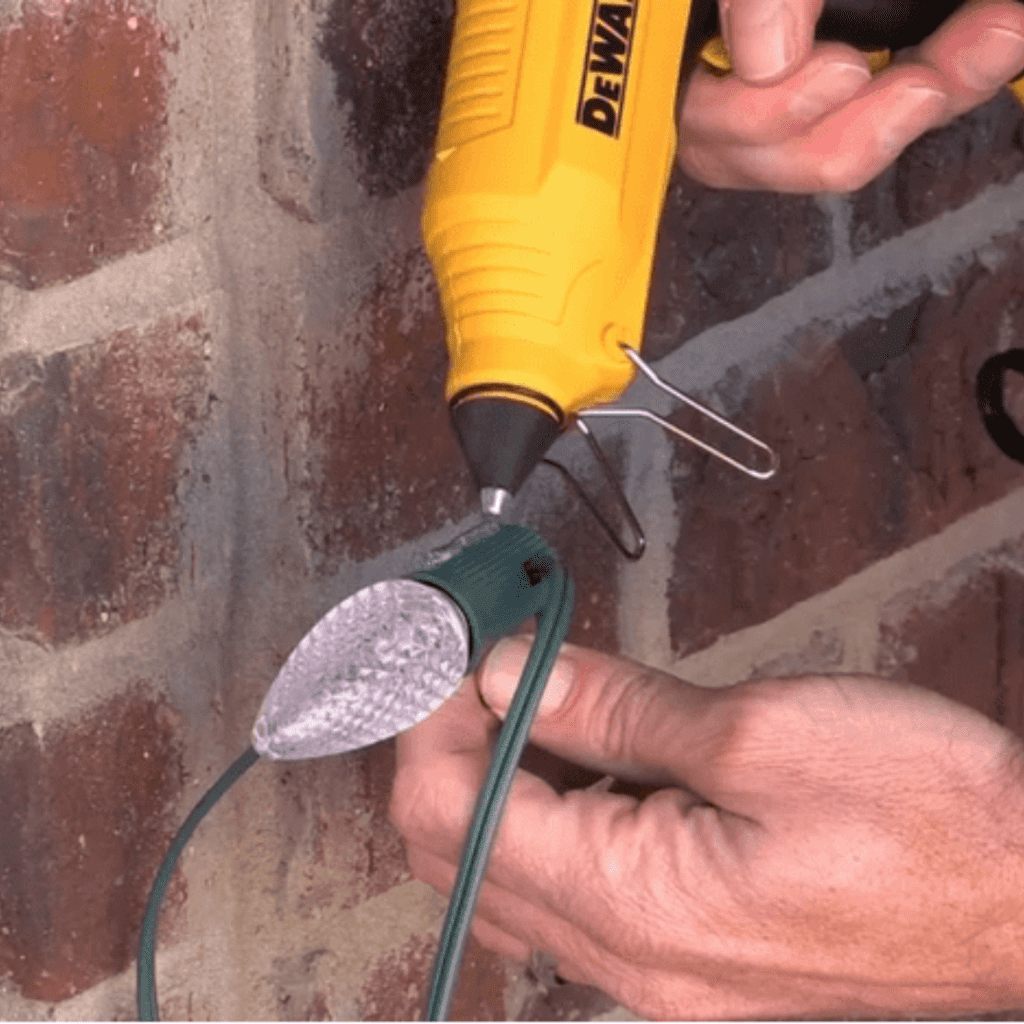 Also, use non-toxic glue so that there's no risk of fumes or poisoning. Place the hot glue on a few areas of the bulbs and wires, and they'll not fall from the wall. Another idea is to use glue stickers that are also easy to remove.
33. Upgrade the garland
If you want to upgrade your Christmas garland this year, why not add more leaves and berries? This will give it a fuller, richer look that will impress your guests. Plus, it's a simple way to add an extra festive flair to your home. Start by fluffing up your garland.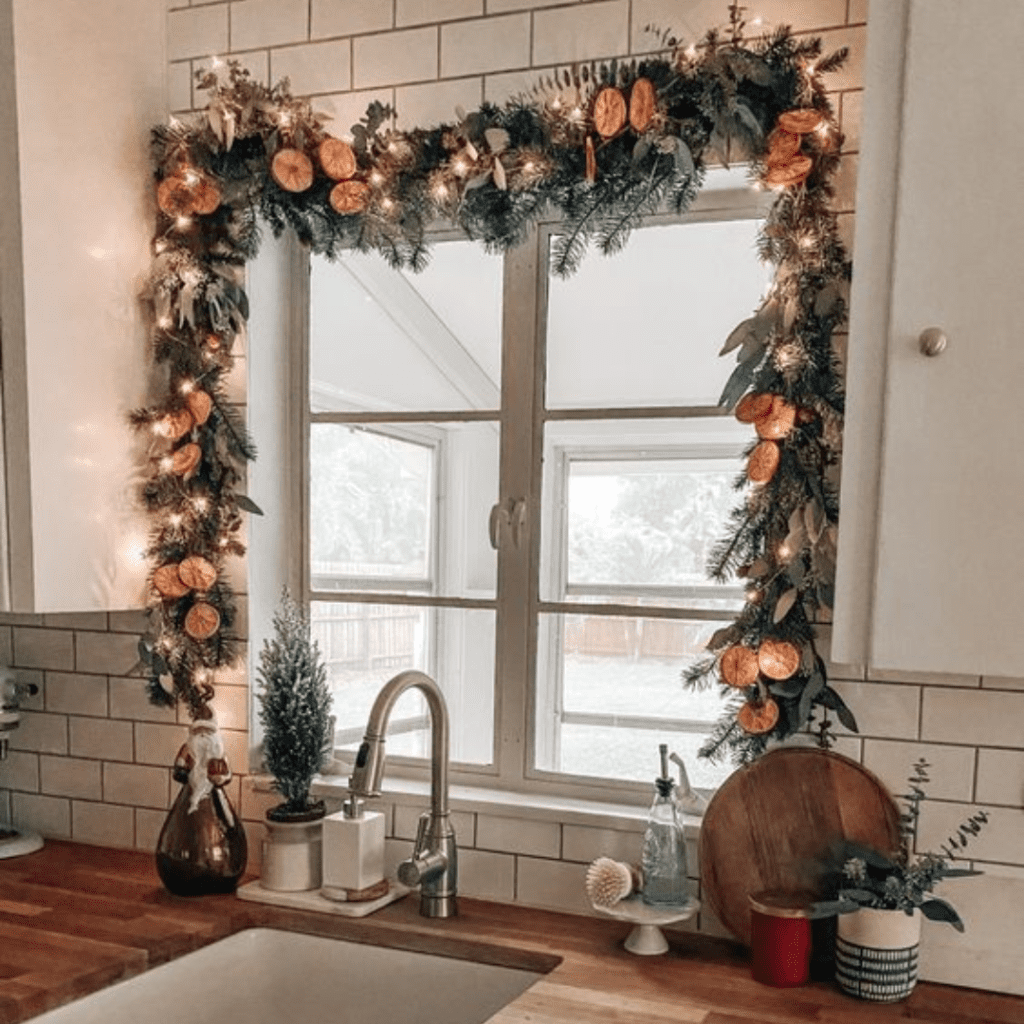 This will help the leaves and berries stand out more. Next, add some extra leaves. You can use real leaves or fake ones — whatever you have on hand. If you're using fake leaves, consider spray-painting them green for an even more realistic look. Once you've added the leaves, it's time to add red berries.
34. Don't skip the small details
This year, have a little fun with your Christmas party decorations by styling your tables, chairs, and cups with festive flair! For your tables, try layering red and green tablecloths for a classic look, or go for something more whimsical by using plaid or striped fabric as runners.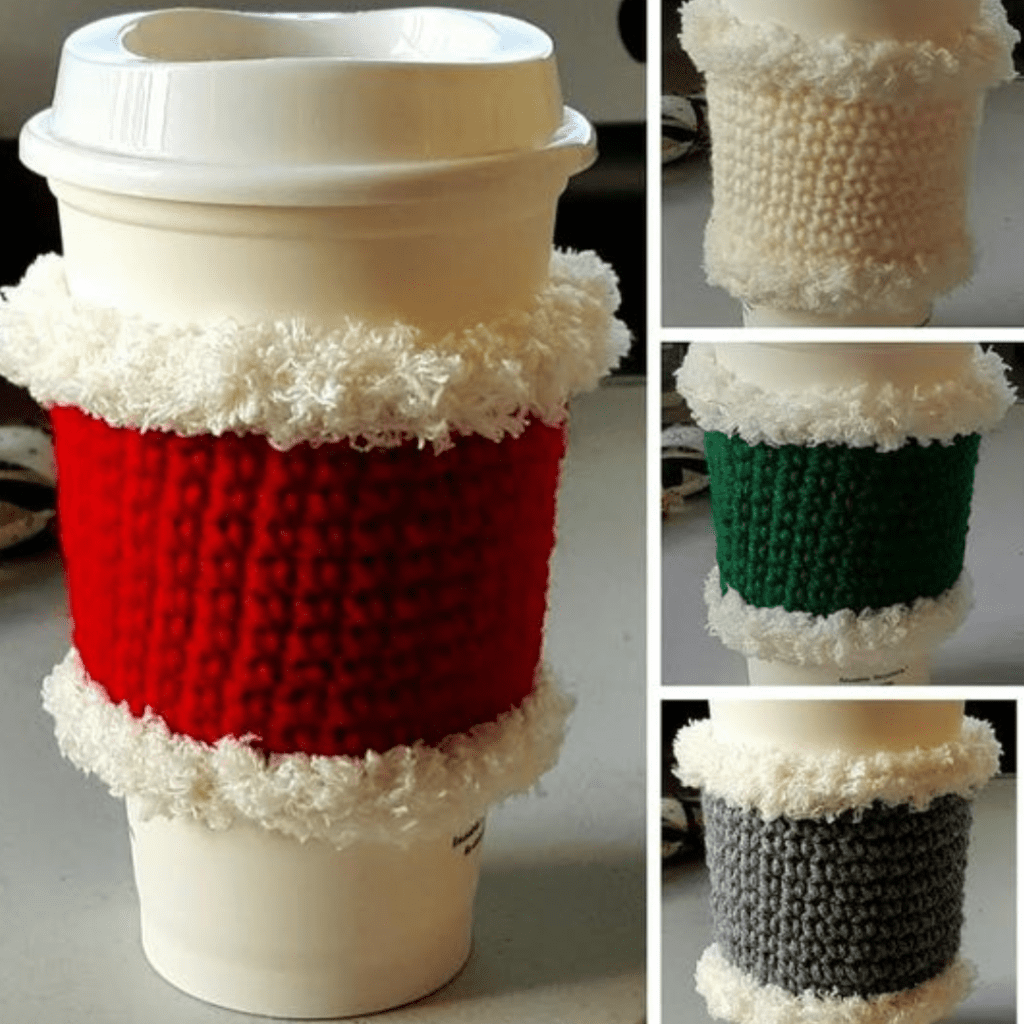 You can also add visual interest by hanging oversized ornaments from the ceiling, draping garlands around the table's edge, or placing candles in tall glass cylinders. Ribbons and bows on the backs of chairs are simple, and colored cup cozies will entertain all of your guests.
35. Removable wallpaper decor
Looking for an easy, festive way to spruce your home for the holidays? Consider using removable wallpaper! It's a quick and easy way to add some holiday cheer to any room, and you can easily take it down after the holidays.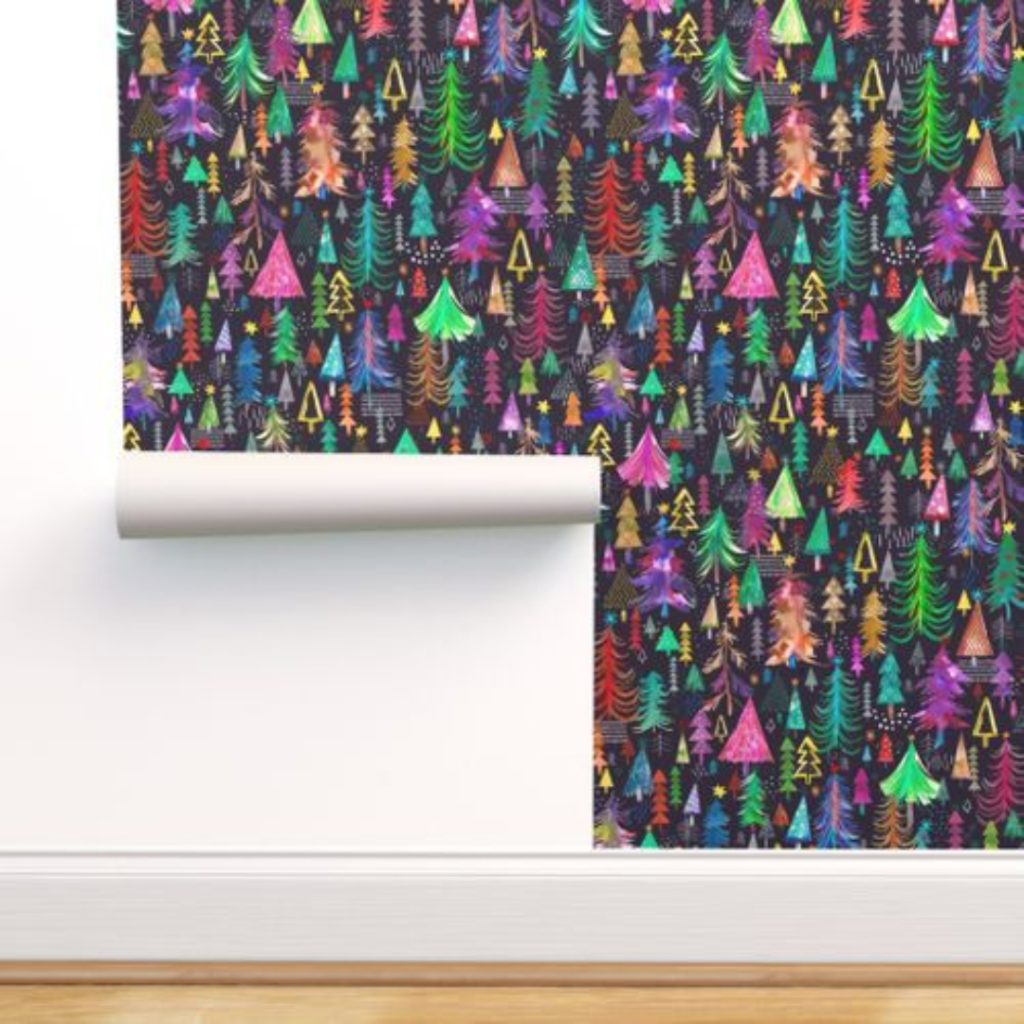 Plus, there are many fun and festive holiday prints that you can choose from these days. You may choose a red and green plaid design for a traditional Christmas look. There are even some that are fun and quirky, like this one with presents all over it.
36. Make a burlap garland
Recycle old lights and create festive Christmas decorations at the same time! Cut lengths of burlap fabric about 2 feet long. Wrap a light around each piece of burlap, and tie a knot in the fabric to secure it in place. You may also alternate burlap ribbons and lights to create a unique design.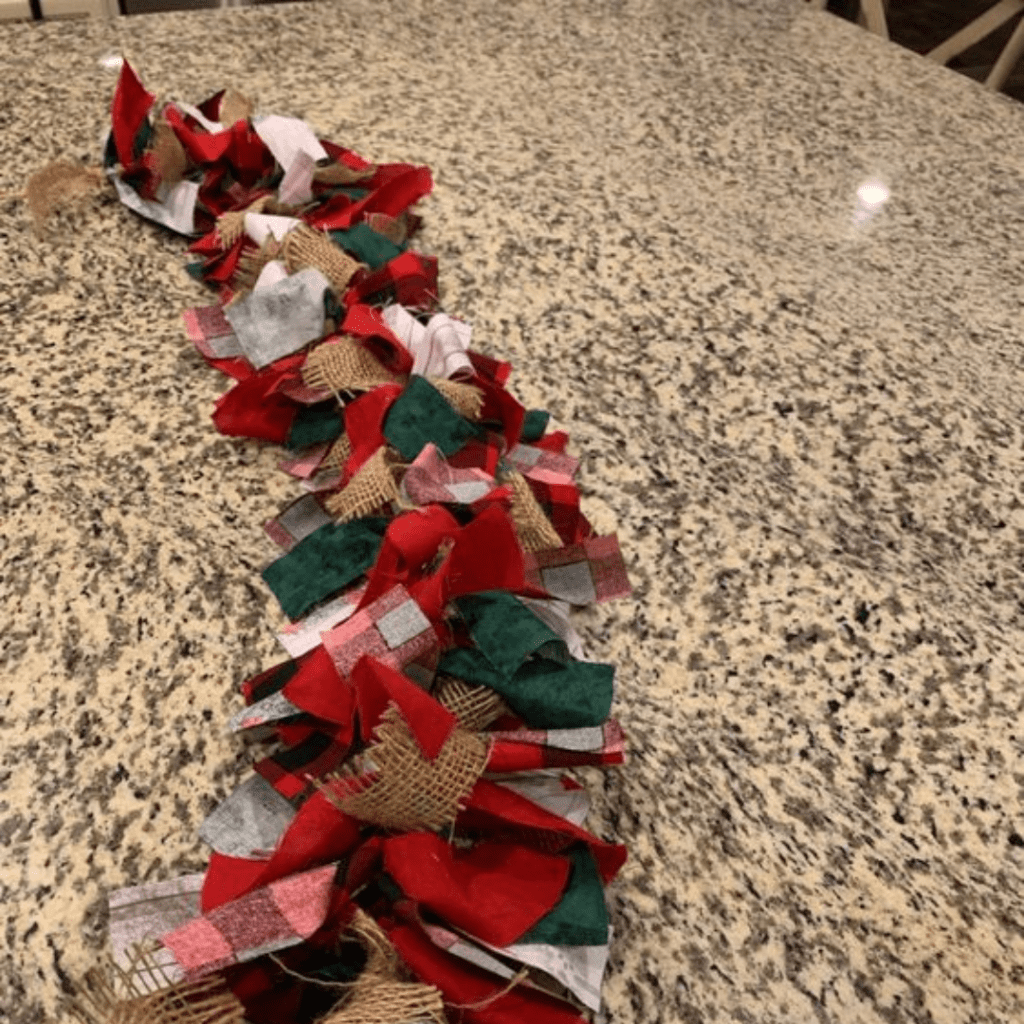 Hang your garland from the ceiling or mantelpiece for your handcrafted holiday decorations! Make different garlands to hang around the house. Keep the garlands small in size for doorways and windows. With just a few available materials, you can create a beautiful holiday decoration that will brighten your home.
37. Hang the ornaments
No need to get all messed up in Christmas lights this year — colorful ornaments hung from your chandelier make for a festive and elegant decoration. Start by choosing your favorite ornaments — you'll want a mix of shapes and sizes for a really pretty effect. Once you have your ornament selection, it's time to start hanging!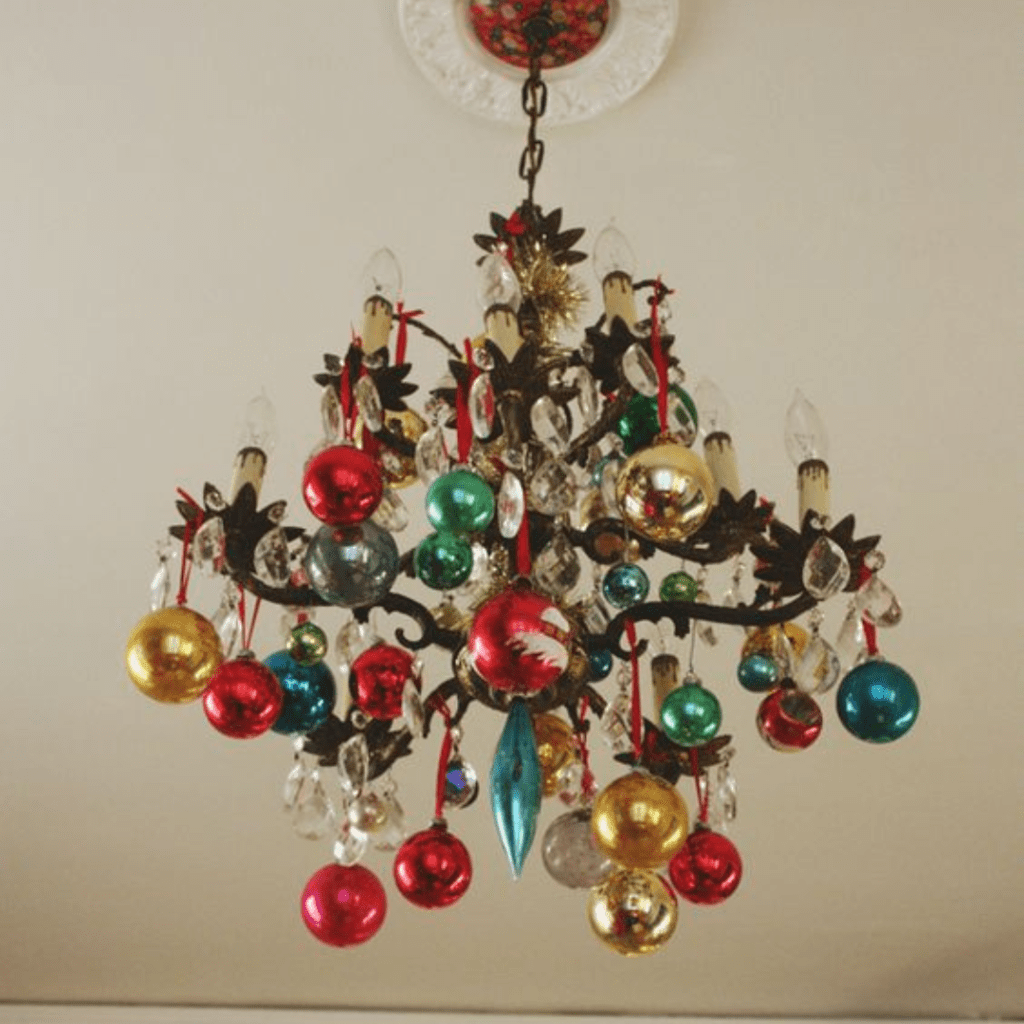 You'll need some clear fishing line (it'll be invisible once it's in place) and a ladder. If you have someone to help, that's awesome, but it's unnecessary. Starting at the top of the chandelier, carefully tie a piece of fishing line around the ornament hook. Then, gently lower the ornaments.
38. Wrapped front door
You can save money on your Christmas decorations by wrapping your front door with bows and ribbons. However, you'll have to be careful about the type of ribbon you use. It might not be able to withstand harsh weather if made of synthetic material. Try using a natural fiber like cotton or silk instead.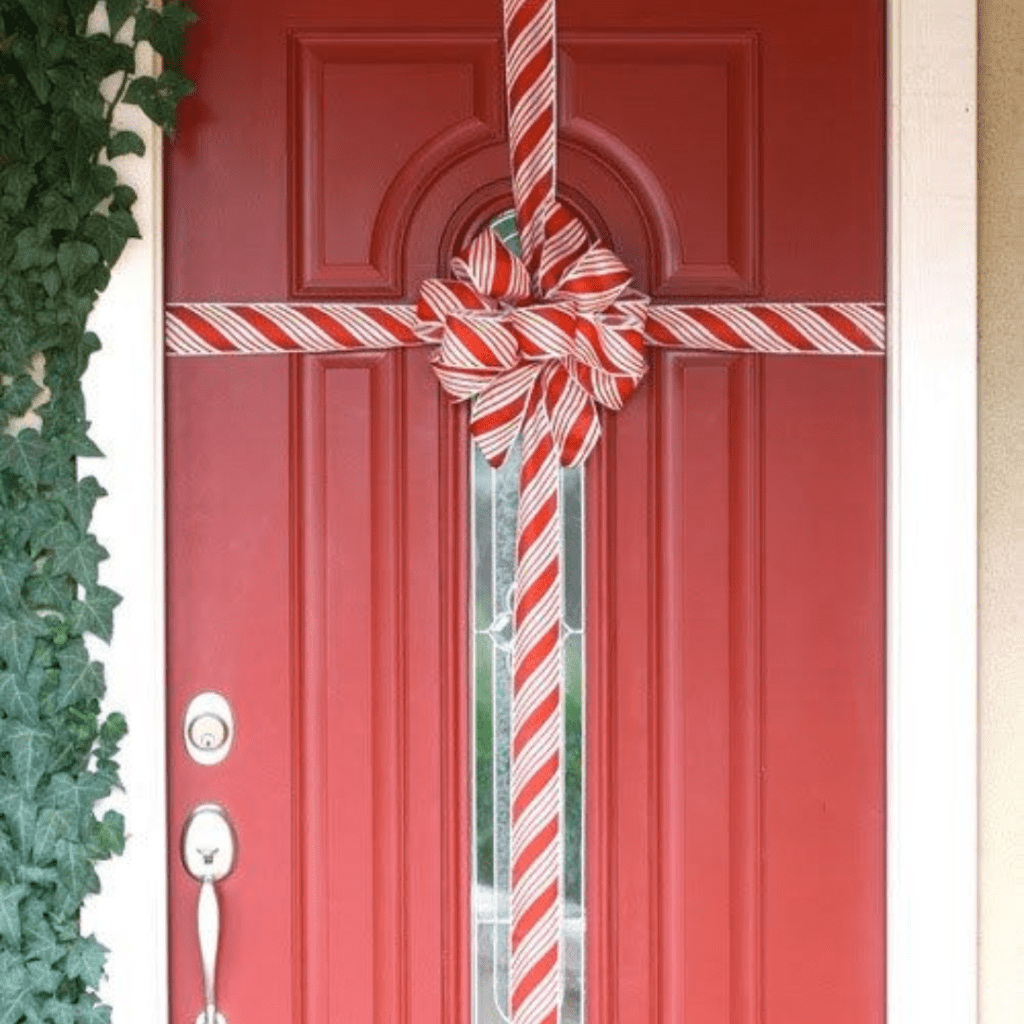 Make a giant bow and ribbon for the door to make it look like a present. Your guest will fill up with joy when they reach your home. This decor is easy on the pocket and won't take too much effort to put together. Plus, it's easy to remove after the holiday season.
39. Wax melting instead of scraping
This is a fantastic way to clean your menorah without scraping it! All you need is your oven. Preheat your oven to 220-250 degrees F. Place the menorah in the oven and let the wax melt for about 10 minutes. Make sure you keep something under the menorah to catch the wax.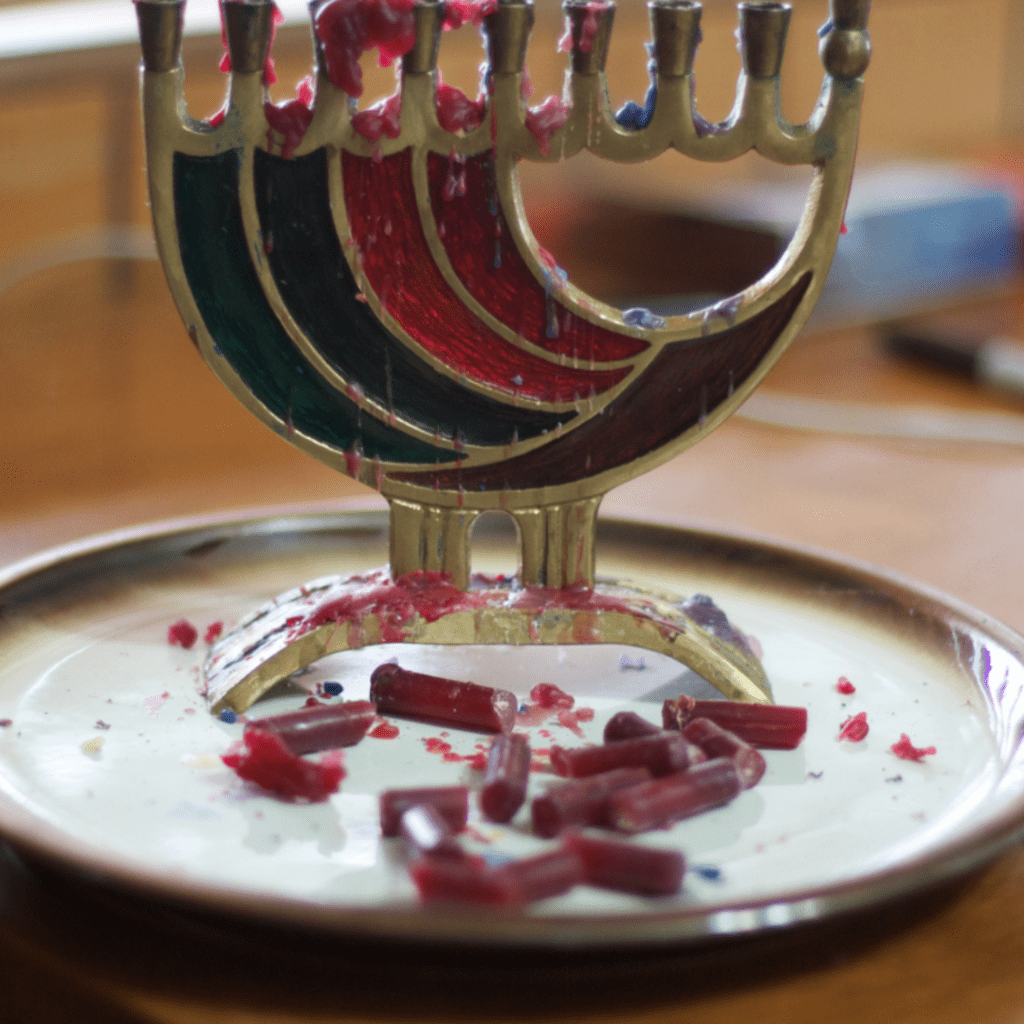 Use a spatula to remove the melted wax from the menorah and wipe it clean with a cloth or paper towel. If you still see wax, pop the menorah in the oven for another ten minutes. Let the menorah cool down before using it again. Your menorah will look good as new every Hanukkah.
40. Glassware cookie decoration
There's no need to be limited to traditional cookie cutters when decorating cookies — glassware can make some interesting patterns, too! All you need is a sturdy drinking glass and some creativity. To start, simply roll out your cookie dough on a flat surface.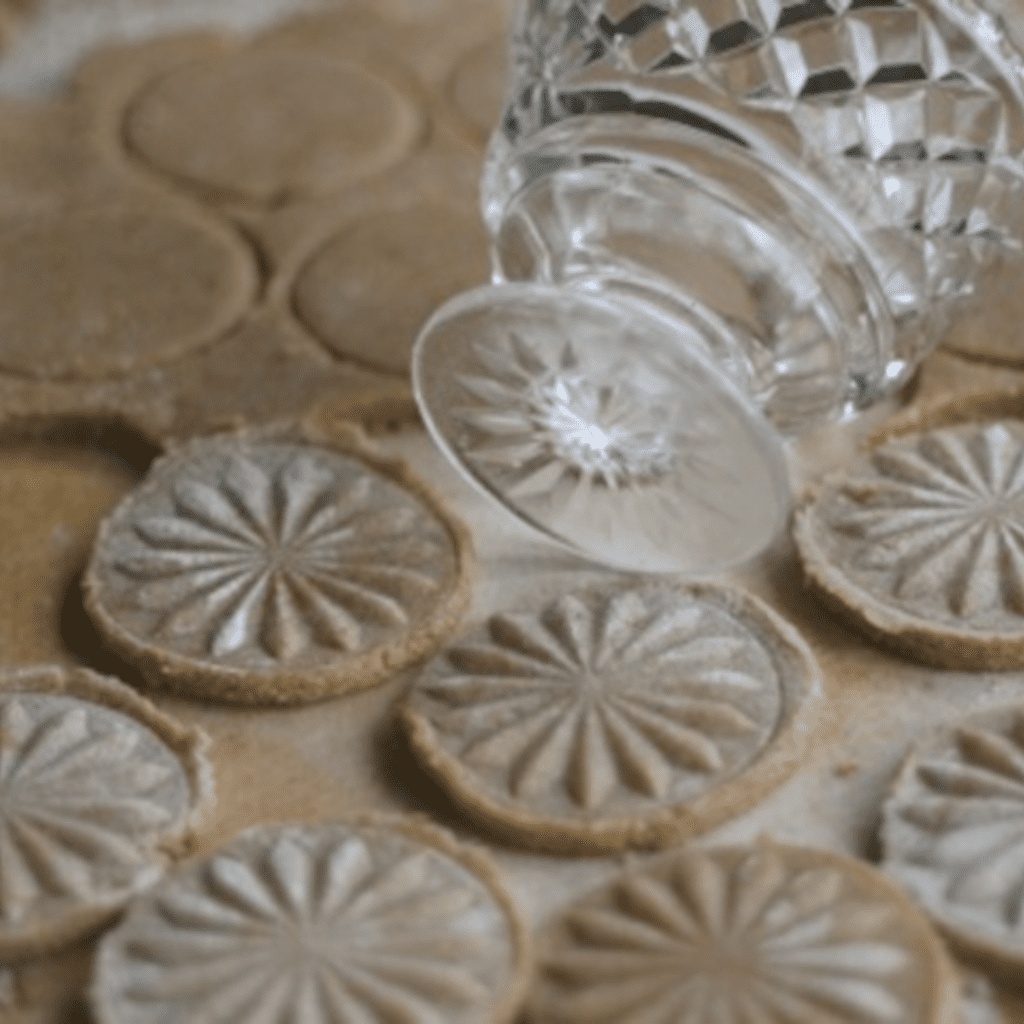 Then, using the bottom of the glass as a guide, cut out circles from the dough. Once your circles are cut, use glassware with designs for decorating cooking. Bake the designer cookies and let them cool down. Then, add icing or sprinkles to them.
41. Cardboard gingerbread house
This DIY project is quite easy, and it's a lot of fun too. Plus, it's a great way to recycle those cardboard boxes you have. Collect some medium-sized cardboard boxes. You'll need enough to make the walls and roof of your gingerbread house.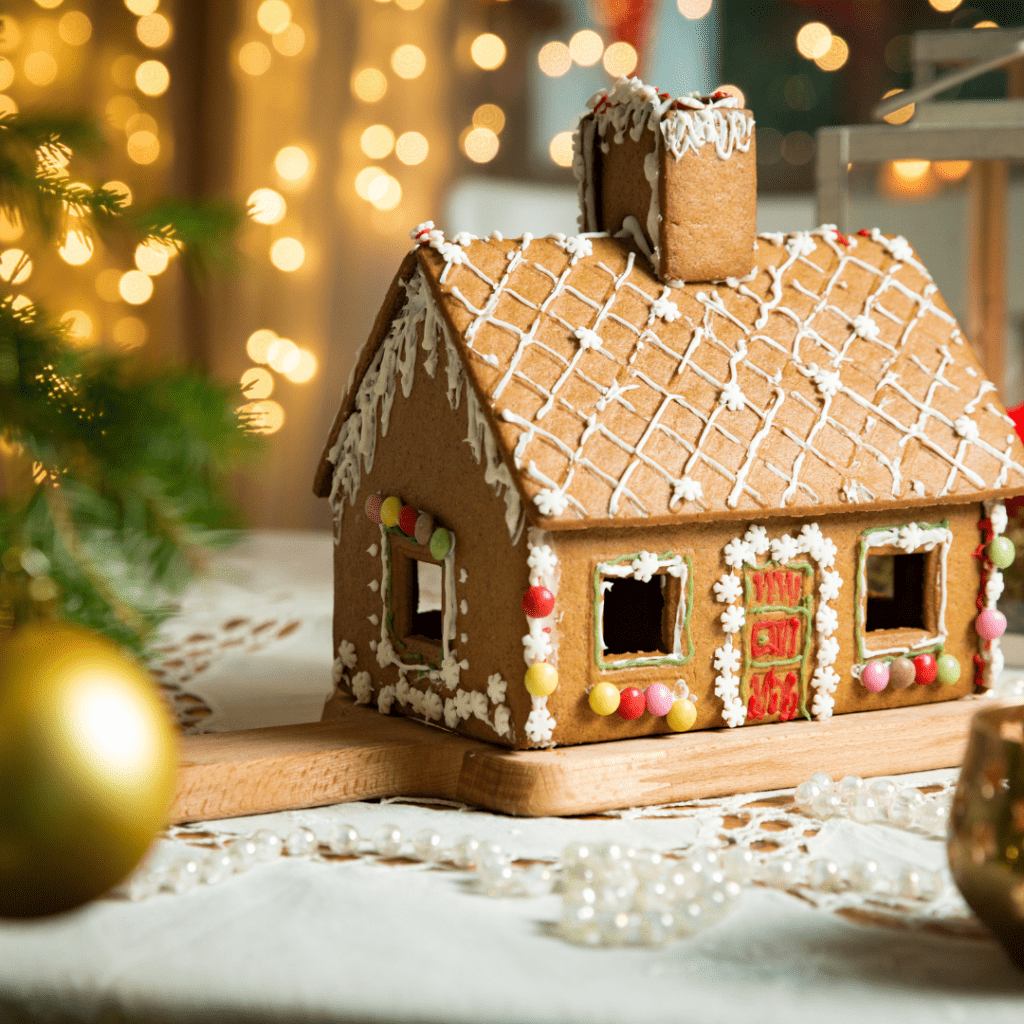 If you don't have any big enough boxes lying around, you can always ask your local grocery store or department store for some. They're usually happy to give them away. Cut the cardboard into shapes that resemble the shape of a house. Use glue to stick the pieces together. Apply embellishments, candies, and paint.
42. Candy cane name tags
Have a fun table display for your Christmas family dinner with candy cane name tags. You may also use them as recipe tags for your dinner guests. This will make it easier to identify all the dishes for everyone at the party.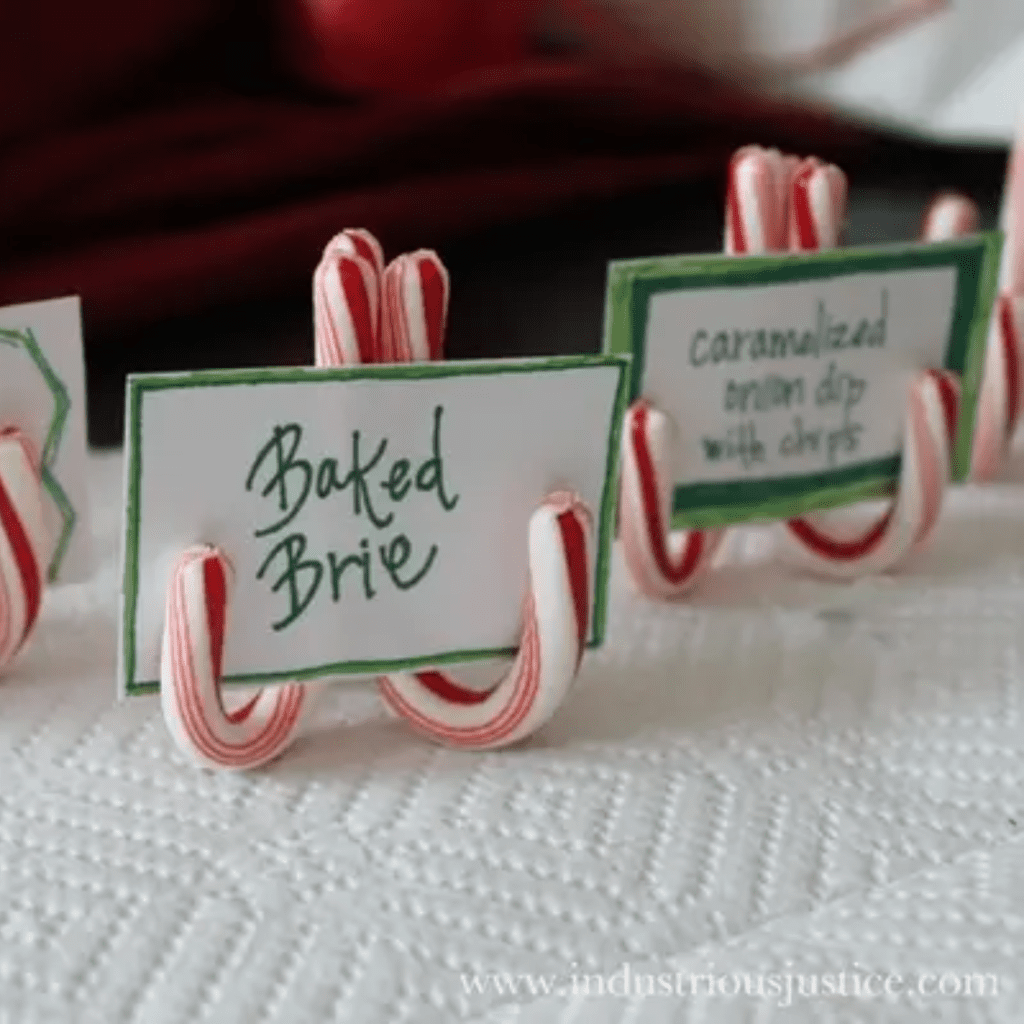 Moreover, they add a festive touch to the table and make it easy for your guests to find their seats. Print out the names or write them down, cut them out, and attach them to candy canes with a bit of tape. You may also add glitter to the cards.
43. Protect the walls
If you're trying to find a hassle-free way to hang your Christmas decorations, then wall-friendly tape is the way to go. This tape is made to be used on walls without damaging the paint, so you can rest assured that your holiday decor will stay put.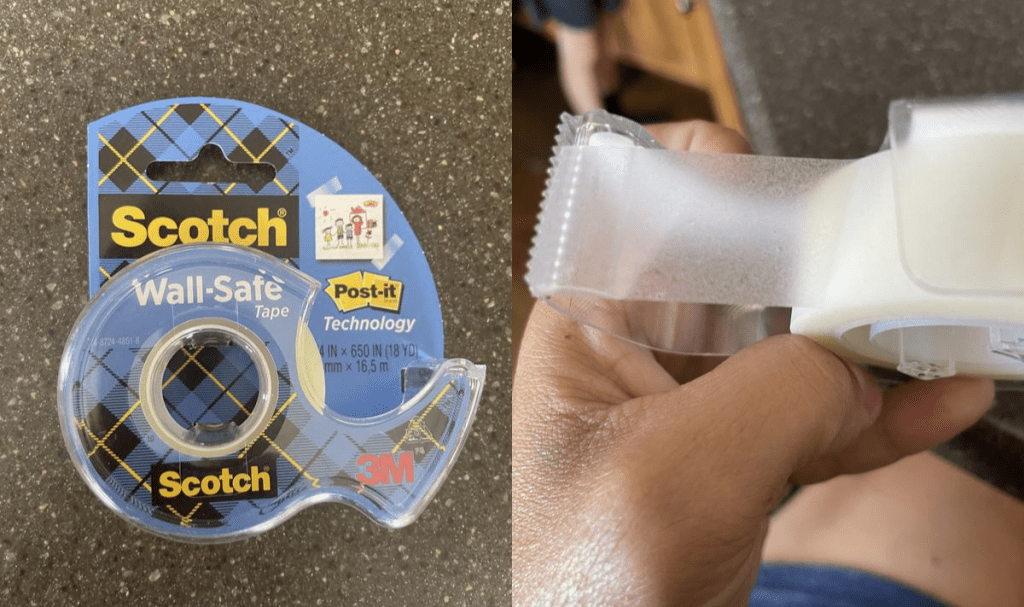 The tape is perfect for use in homes with delicate surfaces. Plus, it's much easier to use than nails or other hooks, so you'll be able to get your Christmas decorations up in no time. Once Christmas is over, you can just peel off the tape without any wall damage.
44. Invest in reusable decorations
If you're trying to find ways to save money and be more sustainable this Christmas, invest in some reusable decorations! That way, you can use them for years to come. Plus, it'll help reduce your carbon footprint. For instance, LED lights last much longer.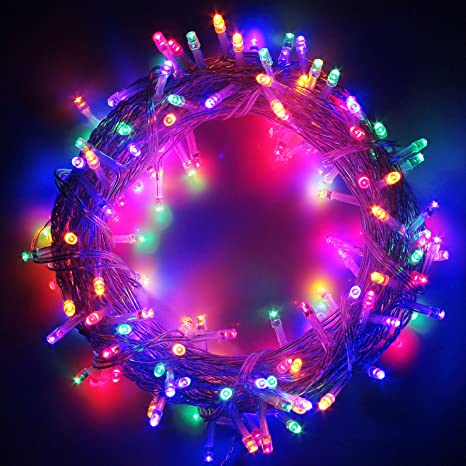 So you may not have to replace them as often. Plus, they use less energy, which benefits your wallet and the environment. Get some decor pieces and wreaths. These may be used year after year simply by changing out the ribbon. You may also get Chritsmas displays made of glass or wood.
45. Repurpose the decorations
One of the best things about fall/winter holidays (Halloween, Thanksgiving, Christmas) is that they are all celebrated with decorations. If you get creative, you can easily repurpose your Halloween decorations for Christmas. If you have any pumpkin-themed decor, simply swap the pumpkins for Santa Claus figurines.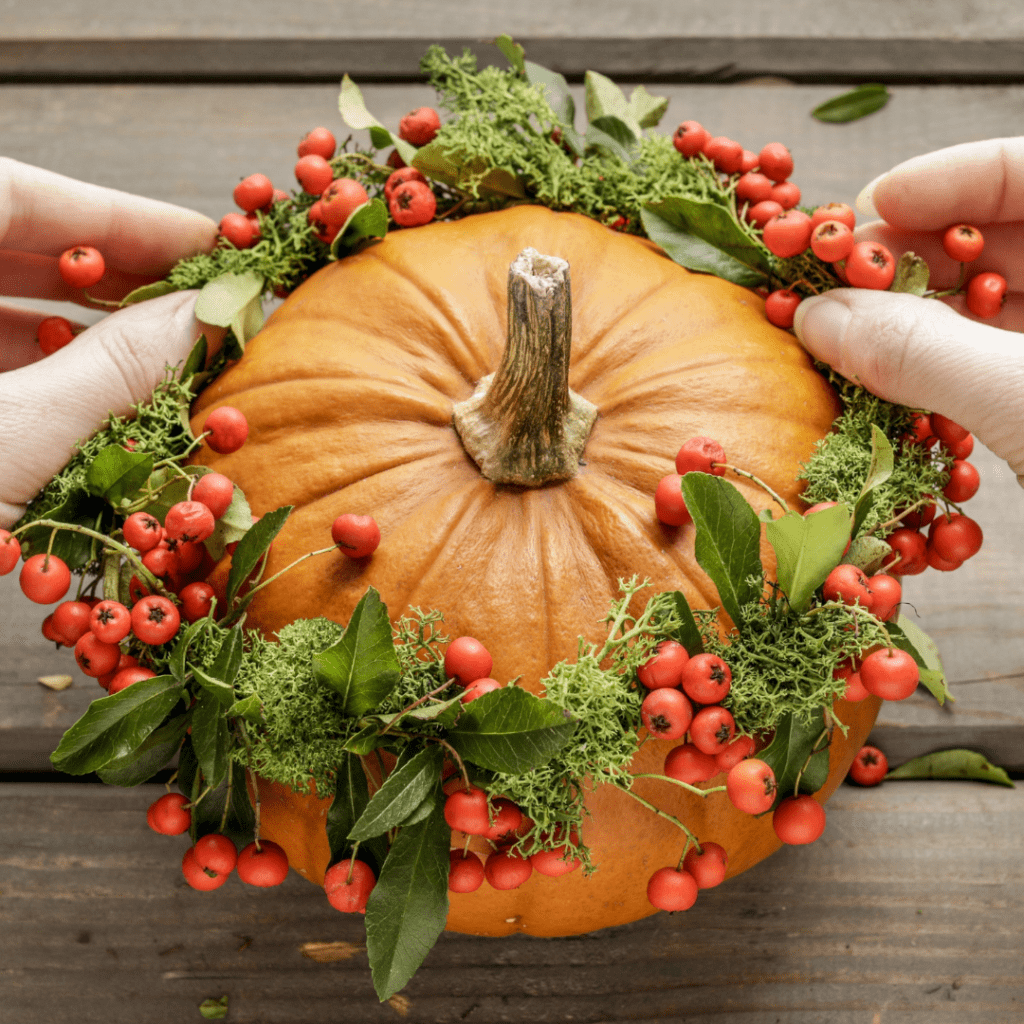 You could add some evergreen branches to give it a more Christmassy feel. Turn your zombie or skeleton decorations into reindeer by adding antlers and red-nose elements. You could even put them in sleighs! Make spooky ghost lights by stringing up white Christmas lights inside old mason jars.
46. Pictures to locate stuff
Like most people, you probably may have a bunch of Christmas decorations stored in a closet or garage. And if you're like most, you probably can't find half of those decorations when it's time to put them up each year. But there's a solution to this problem.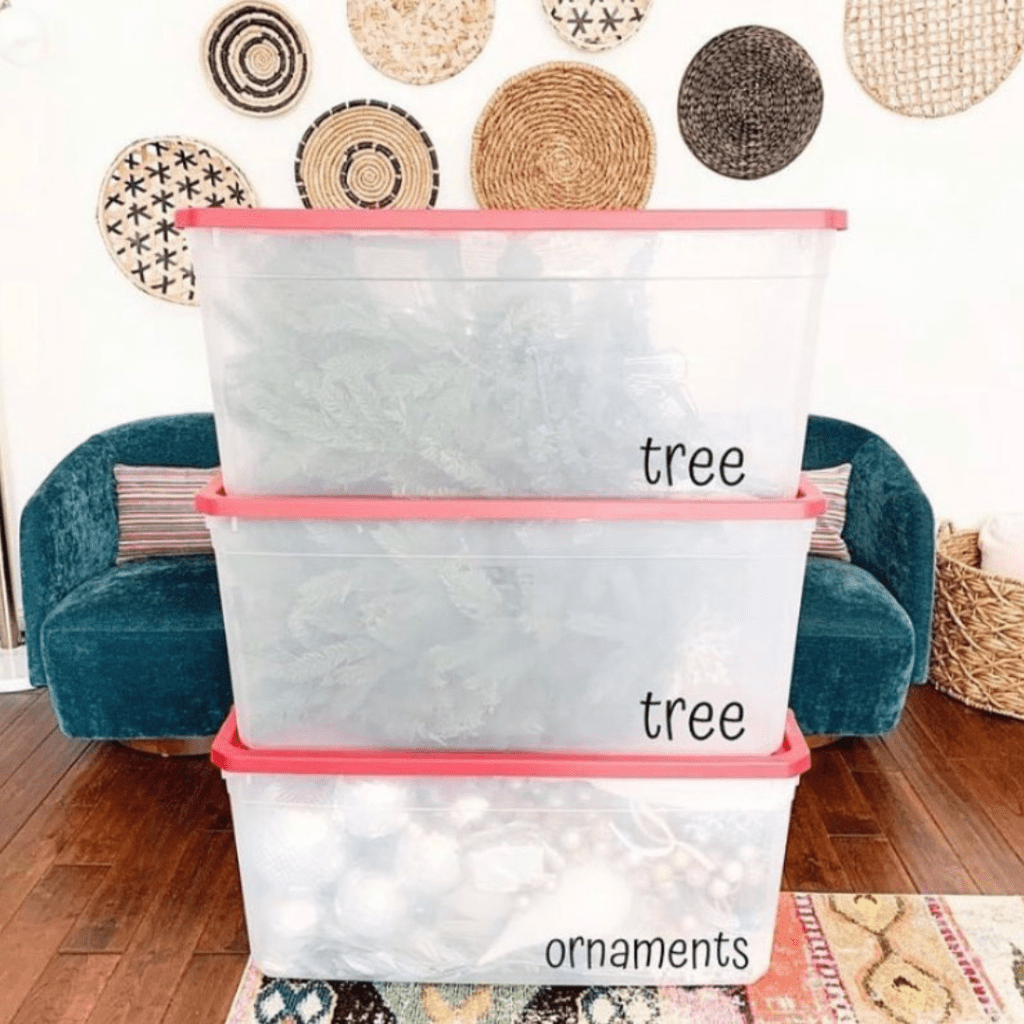 Take pictures of your decorations before putting them away! This may seem like a lot of effort, but it'll be worth it next year. Trust us; you'll no longer spend hours trying to find all the holiday decor every year. By taking pictures of everything, it'll be a breeze.