40 Incredible And Inexpensive Hacks To Help Make Full Use Of Garage Space
By Harpreet K December 12, 2022
---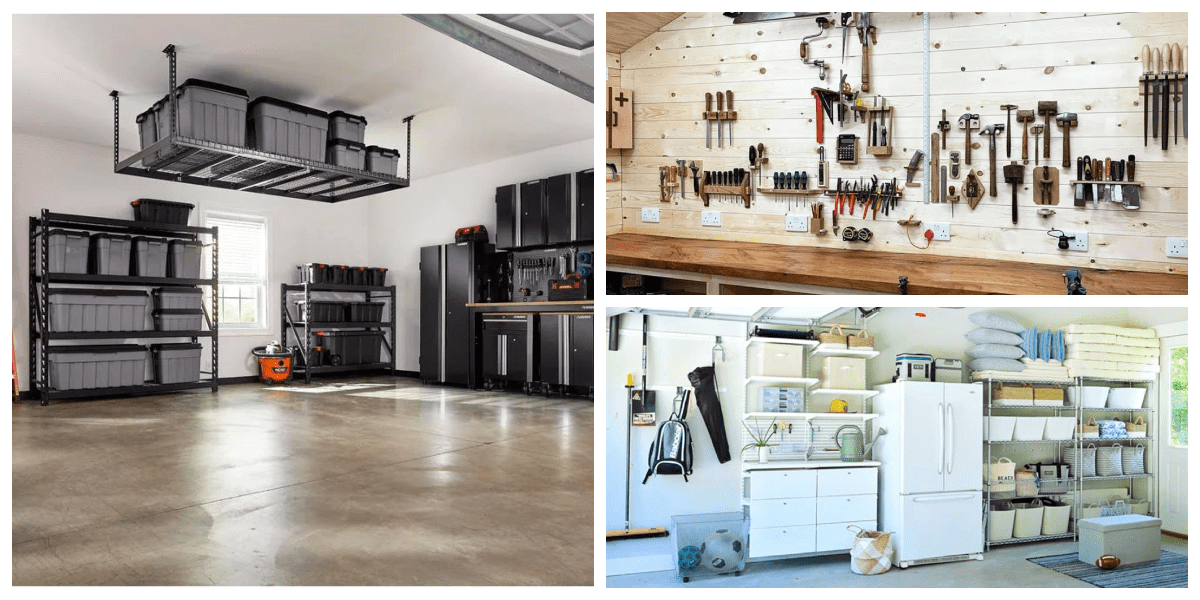 Let's be honest: the garage is usually the place that is primarily neglected in a house. We all do it! It's where we store everything we don't want in the house, and it's more often than not a mess. However, we have learned amazing ways of using your garage, which will no longer be a messy place after you read these tips!
With a little effort, your garage can be a functional and organized space. So, here we are, introducing our favorite garage hacks that are simply genius. You can transform your garage into a well-oiled machine in no time using the simple tips and tricks we're going to show here.
This blog post will share 40 garage hacks that are borderline genius. From organizing your tools to storing your holiday decorations, these tips will help you say goodbye forever to a messy garage!
Use shelves in every possible way
A number of simple hacks can help you use the extra space in your garage in a creative way. Installing the shelves on the walls is one of them. Moreover, you can even double the shelf space to make it more spacious.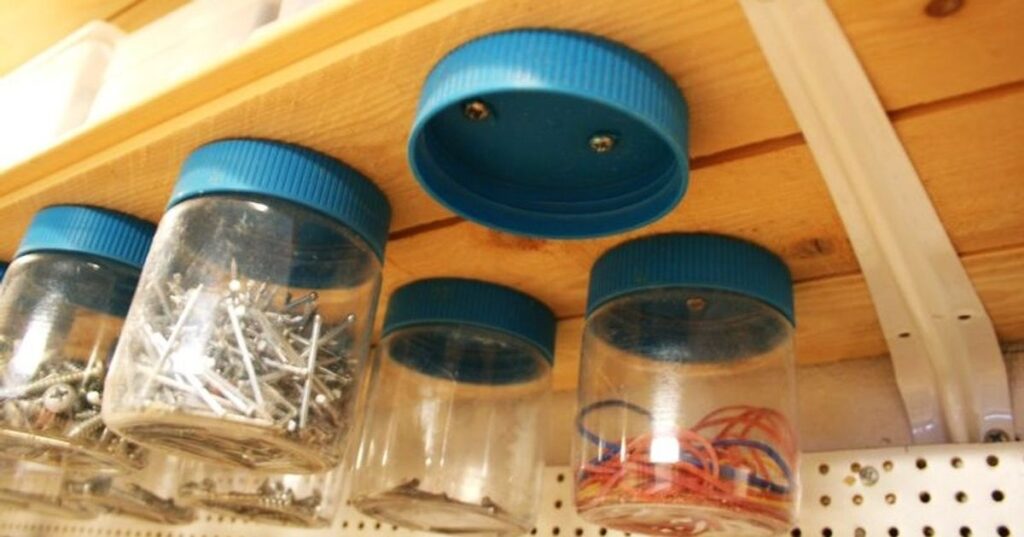 We usually keep stuff over the shelves, but the best hack is hanging the things at the bottom of the shelf. To do so, screw the lids of plastic boxes or jars to the underside of the shelf. Now you can keep the stuff in the pots and hand it below the shelf.
Fix wall track rails on the walls
If you are tired of your garage being cluttered, it's now time to organize the space using some top-rated garage hacks. For this, you can install track rails on the walls of your garage and hang most of the stuff there.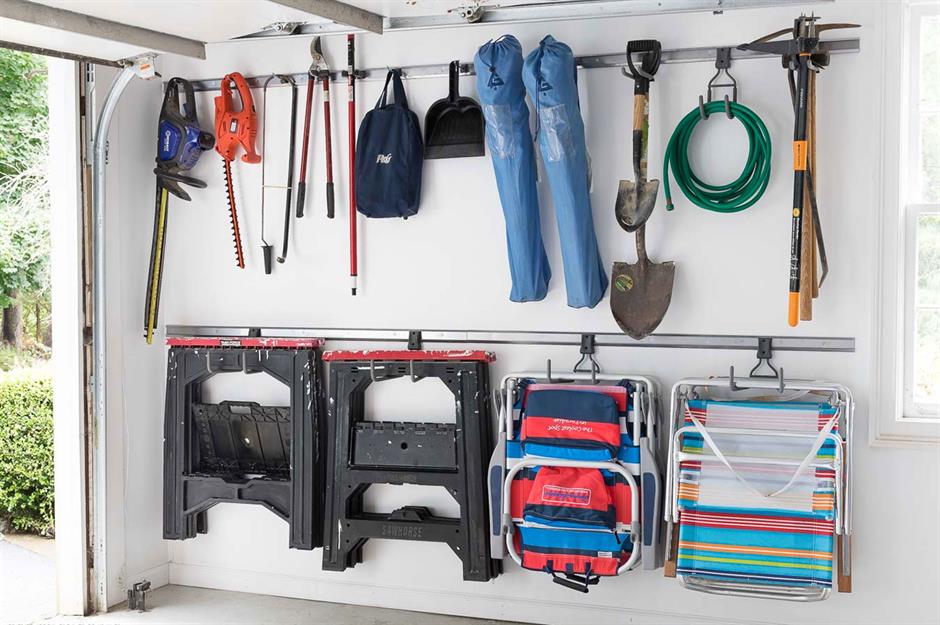 Doing this will allow you to hang up bikes, shovels, and other tools so they're off the ground and out of the way. Moreover, installing track rails is relatively easy and only takes a few minutes. So, get the material required from the store and start it today.
PVC pipe tool storage
PVC pipe is an inexpensive and versatile material that you can use for various purposes around the home, including for storage. This helpful idea uses PVC pipe to create a tool storage solution that is space-saving as well as easily accessible.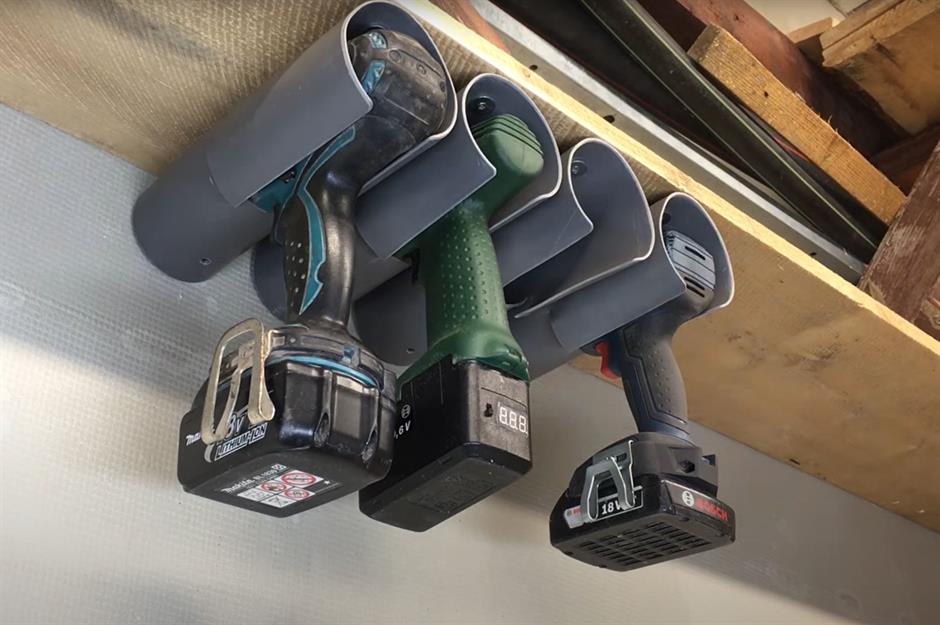 Gather some PVC pipe and fittings from a hardware store to get started. Then, cut the pipe to the desired length and assemble it using the fittings. Once you have your PVC pipe tool storage, you can begin organizing your tools.
Mount your bike on the wall
One easy way to free up floor space in your garage is to mount your bike on the wall. You can purchase a unique bike rack for this purpose or get creative and make your own. Hang the rack on the wall but be careful.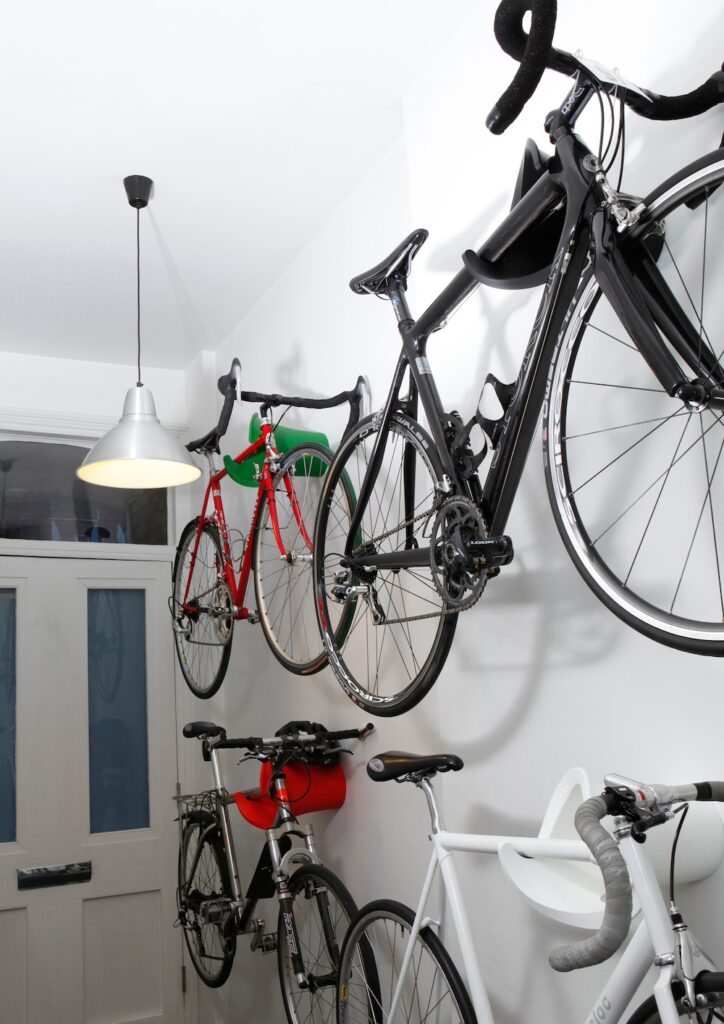 Be sure you use sturdy hooks or brackets to avoid damaging your walls. Mounting your bike on the wall will save valuable floor space and keep your bike out of the way. So, do try this cool hack and make it worth your while.
Make use of old cabinets
You can use an old cabinet to store your tools in the garage. Undoubtedly, this is a great way to keep your tools organized. In addition, you don't have to spend extra on buying a storage container for your stuff.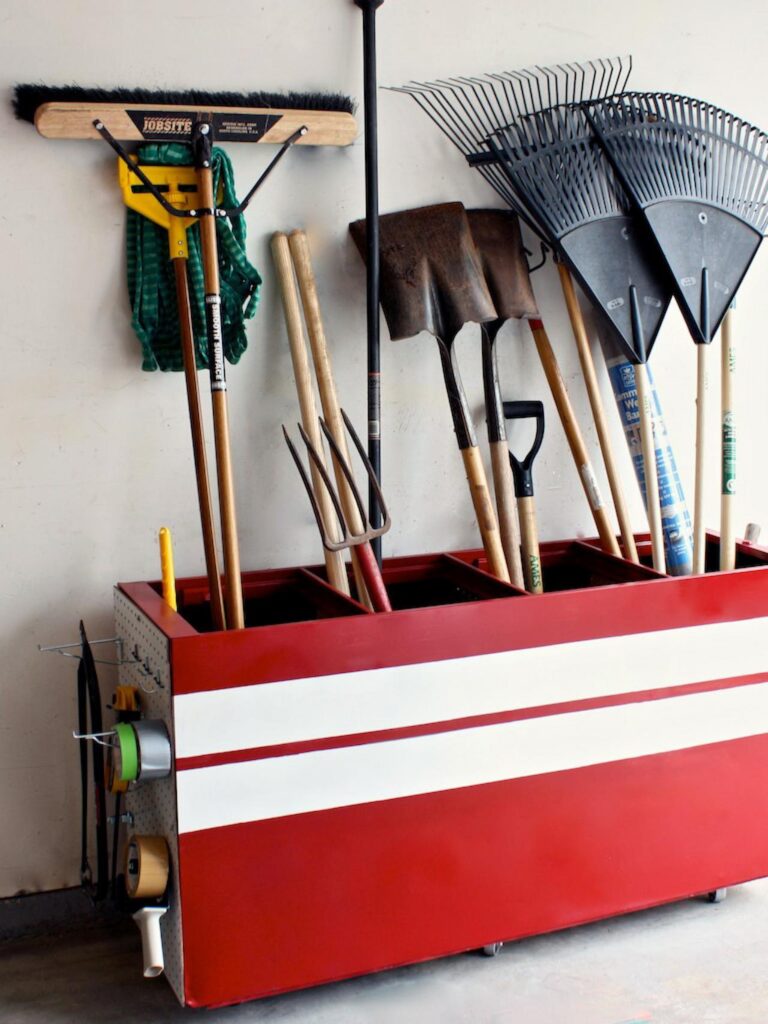 You can measure the inside of your cabinet and find some handy storage bins that will fit. Then, label each container with the type of tool it will hold. For example, one compartment could hold screwdrivers, and another could have wrenches, and so on.
Make a gardening zone
If you're an avid gardener, you might know how important it is to have the right tools that can help in making all the difference. But if your garage is overflowing with gear, it can take a while before you figure out where the things have been kept.
Most of the time, an organized garage has a lot of extra space. So, there is nothing better than using that space as a gardening zone. In this curated zone, you can keep all the essentials you make use of while gardening.
Keep your paints and sprays organized
Spray paint cans and other liquids can easily get lost in a garage. However, you can keep them organized by using this simple hack. Install a hanging shoe caddy on the back of your garage door, or hang it on the wall.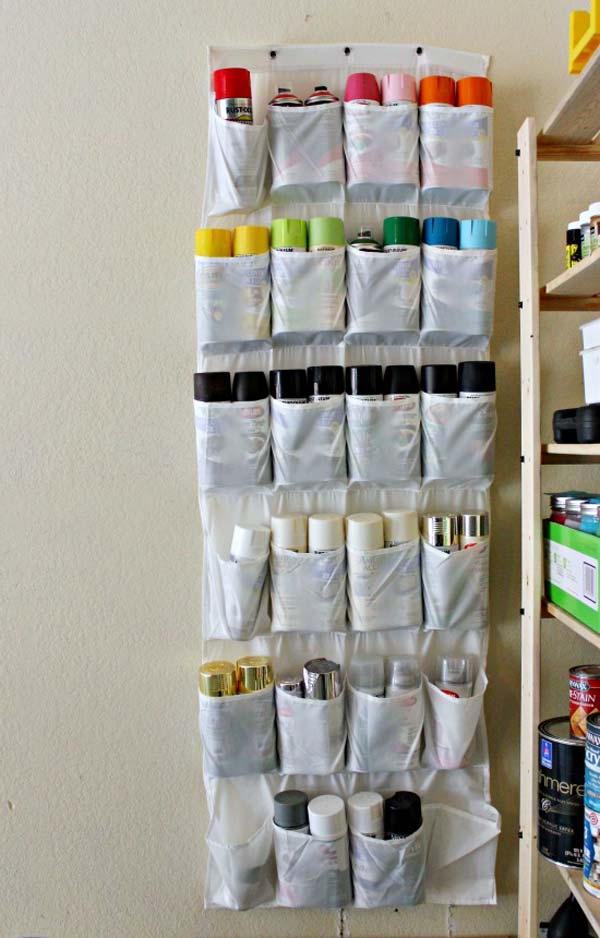 Having all your paints and sprays in one place will help you find them whenever you need them. Moreover, it'll be easier for you to know what you already have in store and what you need to buy. So, go and get your shoe caddy.
Repurpose wooden pallets
You can use a pallet to make a workbench or shelving unit. For that, all you have to do is screw the pallet into the wall, and voila! You've got a sturdy and stylish piece of furniture that is perfect for any garage.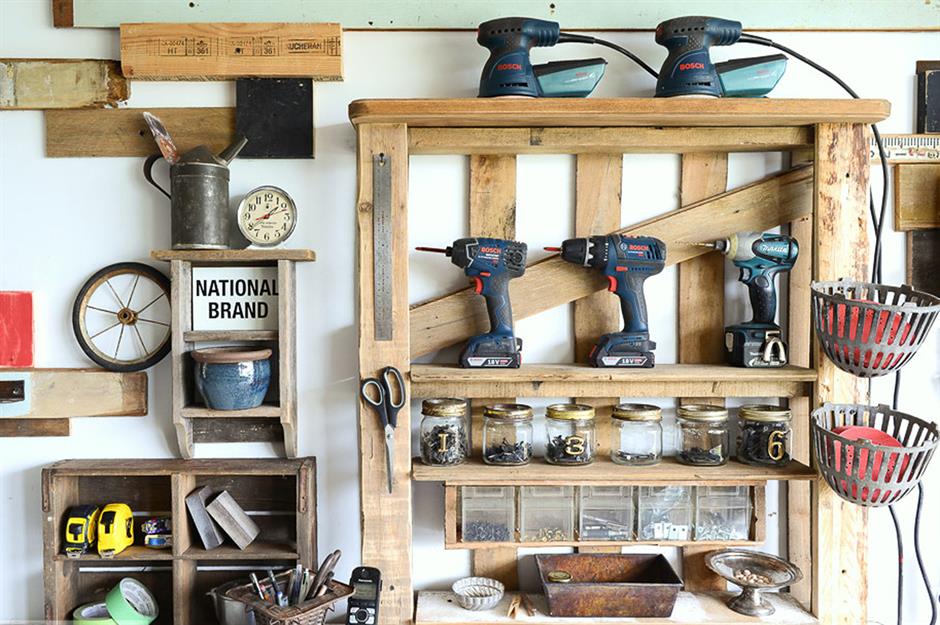 Apart from this, you could even use a pallet to build an entire garage storage system. By nailing or screwing various boards and shelves onto the pallet, you can create customized storage that will help keep your garage organized and tidy.
Keep your fishing rods organized
If you are a fishing person, you must know that it is important to have a reliable and sturdy fishing rod. But if you don't have enough space in your garage, you should know how and where to store your fishing rod.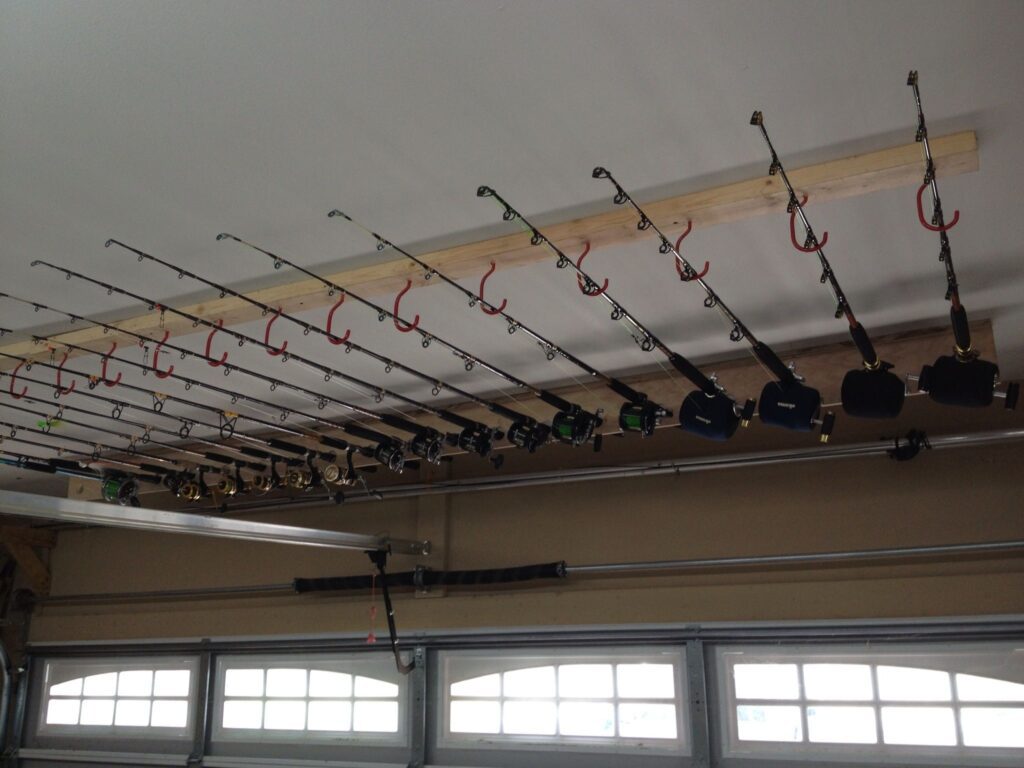 You can organize and keep your fishing rods up high out of the way with this DIY storage idea. There are numerous ways you can hang your rods, either on the walls or the ceiling. Refer to the picture above to take some ideas.
Reuse your old kitchen cabinets
If you've been meaning to do some garage organization but keep putting it off, we have the perfect solution for you! Reusing your old kitchen cabinets is a great way to get the job done without spending a lot of money.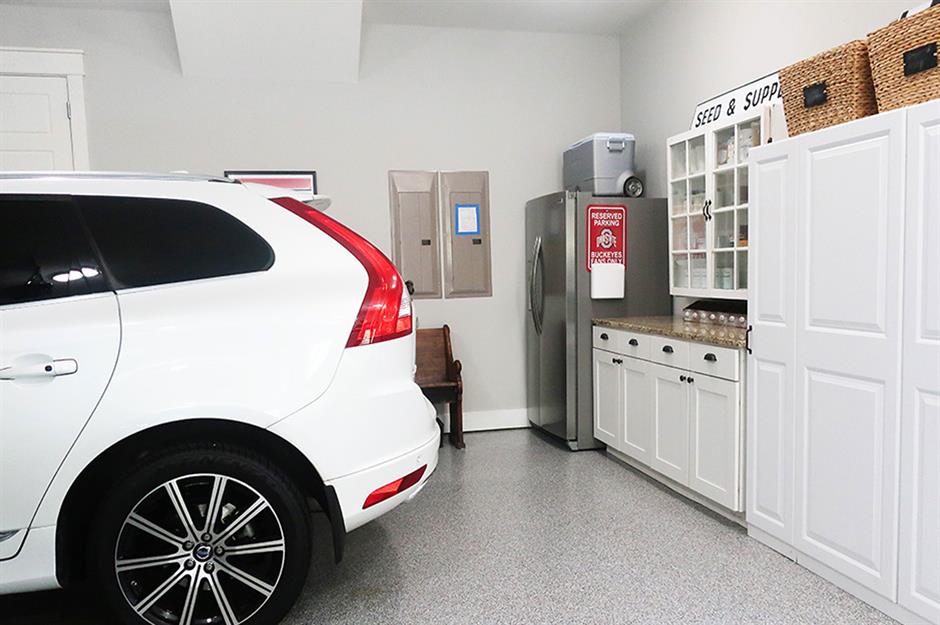 One of the best things about using kitchen cabinets in the garage is that they're already built to withstand heavy use. They're also relatively easy to install, so you won't have to spend hours working on making organizers for your things in the garage.
Make space for a mudroom
For those who aren't aware, a mudroom is a side space in a house where people take off their soiled shoes, outdoor clothing, or store equipment. So, one great way to make use of your garage space is to create a mudroom.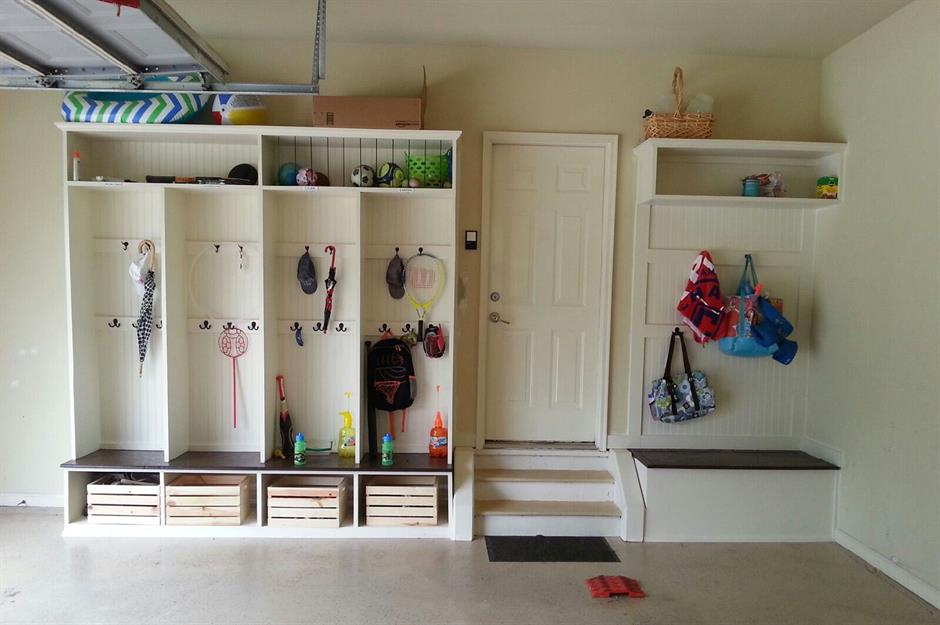 You must first install some shelves or storage units along one wall. Doing this will give you a place where you can store your outdoor gear, like boots, coats, and hats. Also, add a few hooks for hanging towels or leashes.
Use the inner side of the garage door for storage
If you want clever garage hacks to help you organize and maximize your space, look no further than the inside of your garage door. By utilizing the inner surface of your garage door, you can create additional storage for items.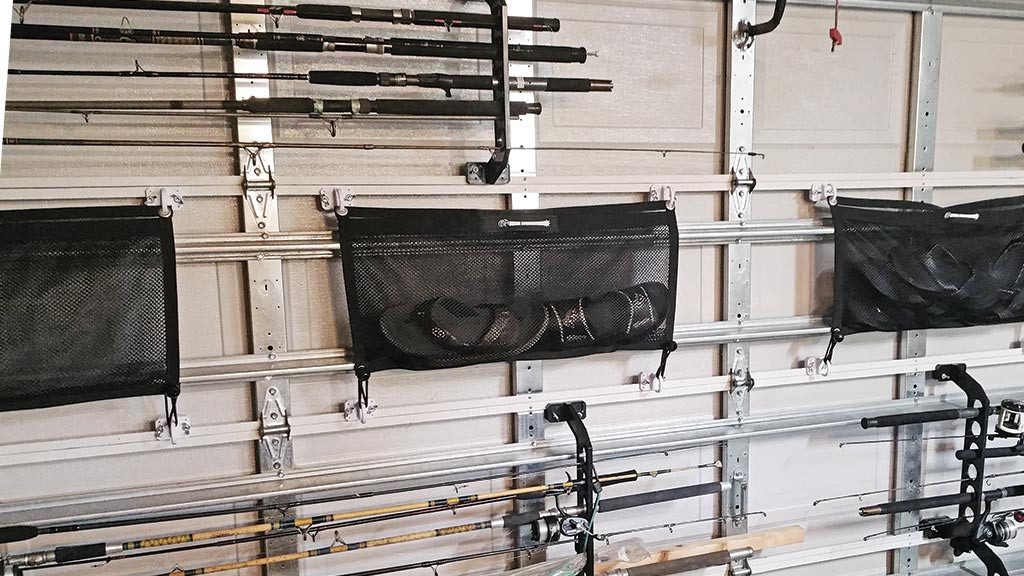 Attach hooks or shelves to the door with screws or adhesive strips, and voila – you have instant storage that's out of the way and off the floor. You can even paint the door surface to match your garage décor or add a fun pop of color.
Place a folding bench
You must consider adding a folding bench if you wish to make your space more organized and efficient. Placing this kind of bench in the garage is the best way to make extra storage space without taking up too much space.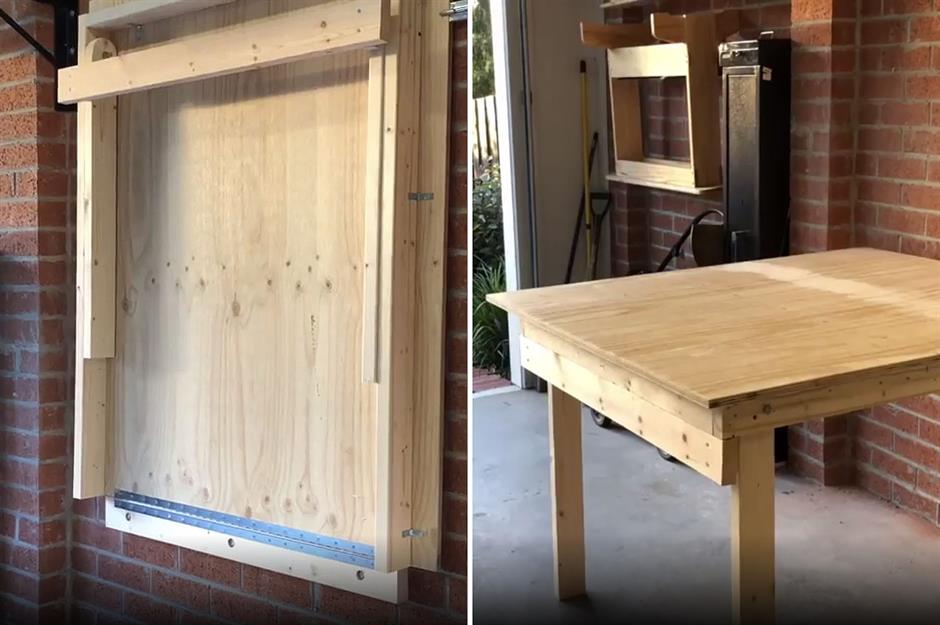 But you need to take care of a few things and remember them when choosing a folding bench for your garage. Make sure to measure the space you have to know what size will fit best. You'll also want to consider how you plan to use the bench.
Use castor wheels
Adding castor wheels will make it a breeze if you have a piece of furniture that's difficult to move. You'll be able to easily roll it around, which means you won't have to use as much effort to move it.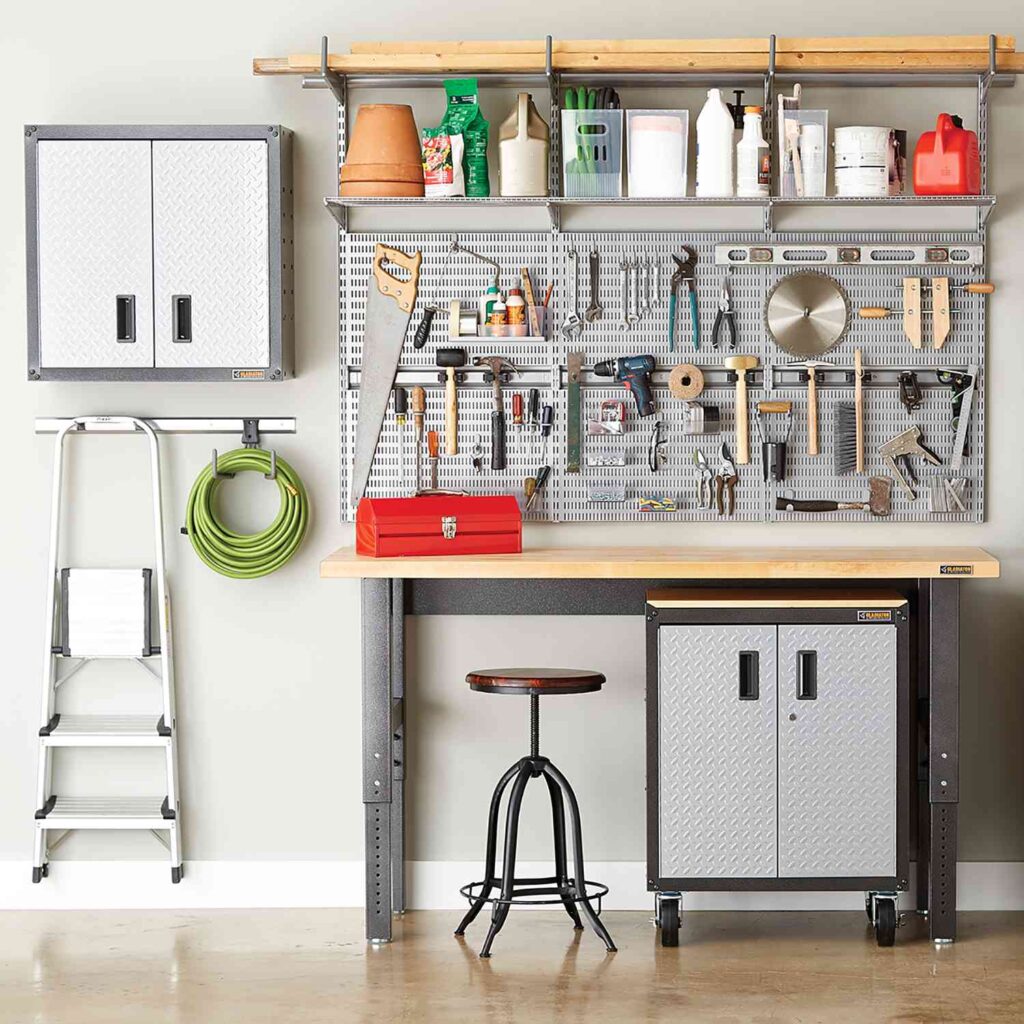 Another great thing about castor wheels is that they can help protect your floor from scratches and damage. If you have hardwood floors in your garage, you know how easy it is to scratch them when moving heavy furniture around.
Choose metal shelves for the garage
Metal shelving is perfect for storing heavy items and is also very durable. Moreover, it's easy to install and can be customized to fit your space perfectly. However, you must take care of a few things when adding open metal shelving to your garage.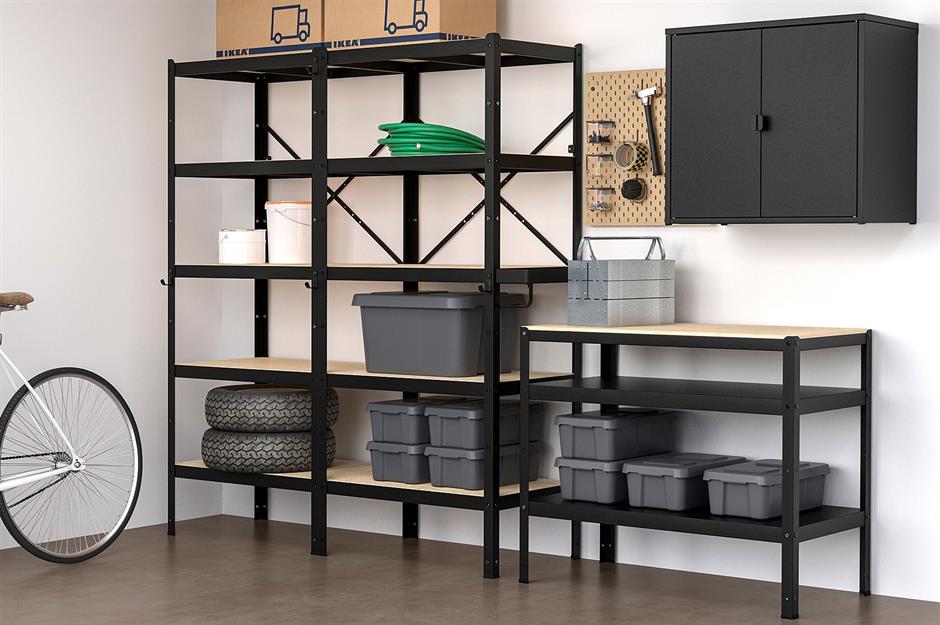 First, make sure that the shelves are securely anchored to the wall so they are able to control the weight of your items. Second, if you're storing any chemicals or flammable materials on the shelves, label them clearly, so everyone knows what they are.
Use chalkboard paint for labeling
Chalkboard paint is easy to apply and can be found in most hardware stores. All you need to do is decide what colors to use and how to arrange your shelving. Once the paint is dry, you can use chalk to label everything from tools to sports equipment.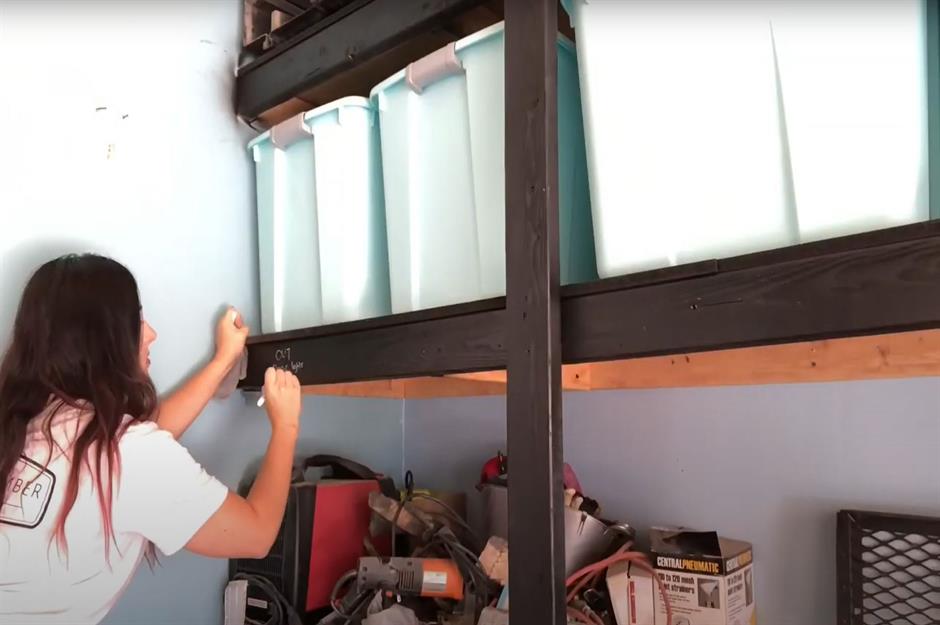 If you have kids, chalkboard paint can be used to make a safe play area in the garage. Ensure the shelves are securely attached to the wall so they can't be pulled down. You can use paint to create games, puzzles, and other stuff to keep your kids entertained for hours.
Place same color storage bins
By having all of your bins of the same color, you can quickly tell which ones belong together and which don't. Doing this can also help you to complete the task without frustration when it comes to organizing your garage.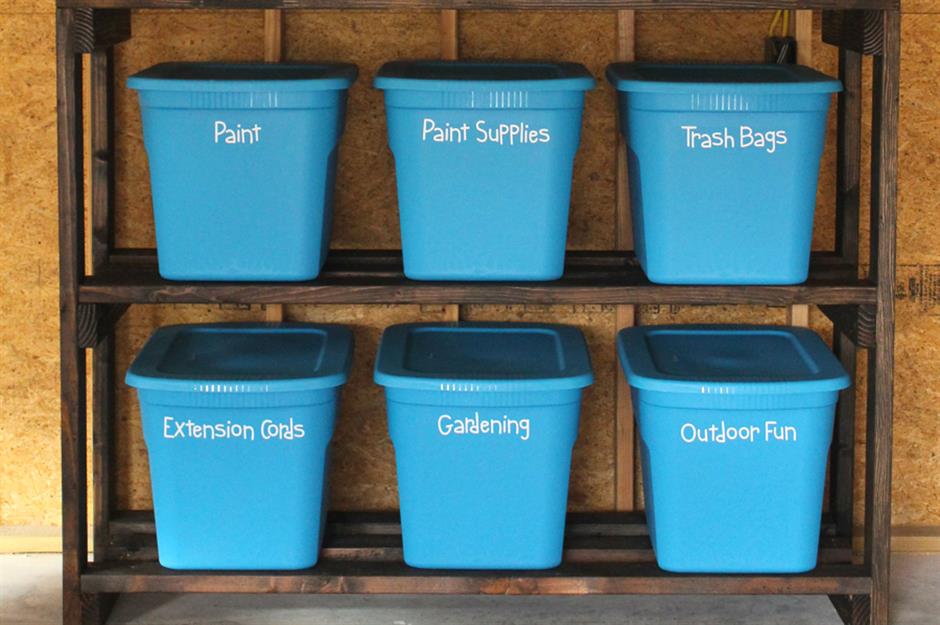 Not only will using the same color storage bins make your life easier, but it will also help to keep your garage looking neater and more organized. When everything has its place and is easy to find, it just makes the space that much more enjoyable to be in.
Don't keep balls on the floor
One of the best garage hacks is storing balls using bungee rope. The hack is a simple and easy way to store balls and keep them neatly organized. You can find bungee rope at your local hardware store, and it's inexpensive.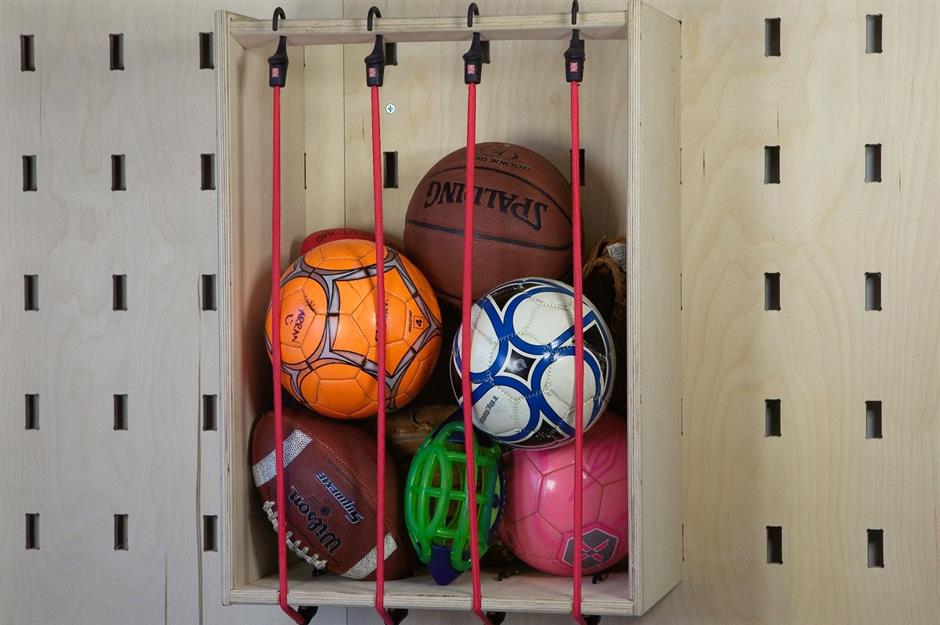 But first, you need to get an old open cabinet, a wooden box, and bungee ropes. Place the cabinet on the wall and start vertically tying strings one by one at a distance of 3-4 inches. Now you have a place to store all the balls lying on the floor!
Stick sponge on garage walls
You can do so much to keep your car safe in the garage. One way is to use a stick sponge to apply pressure to the wall. Doing this will help protect your car from scratches and dings in the wall.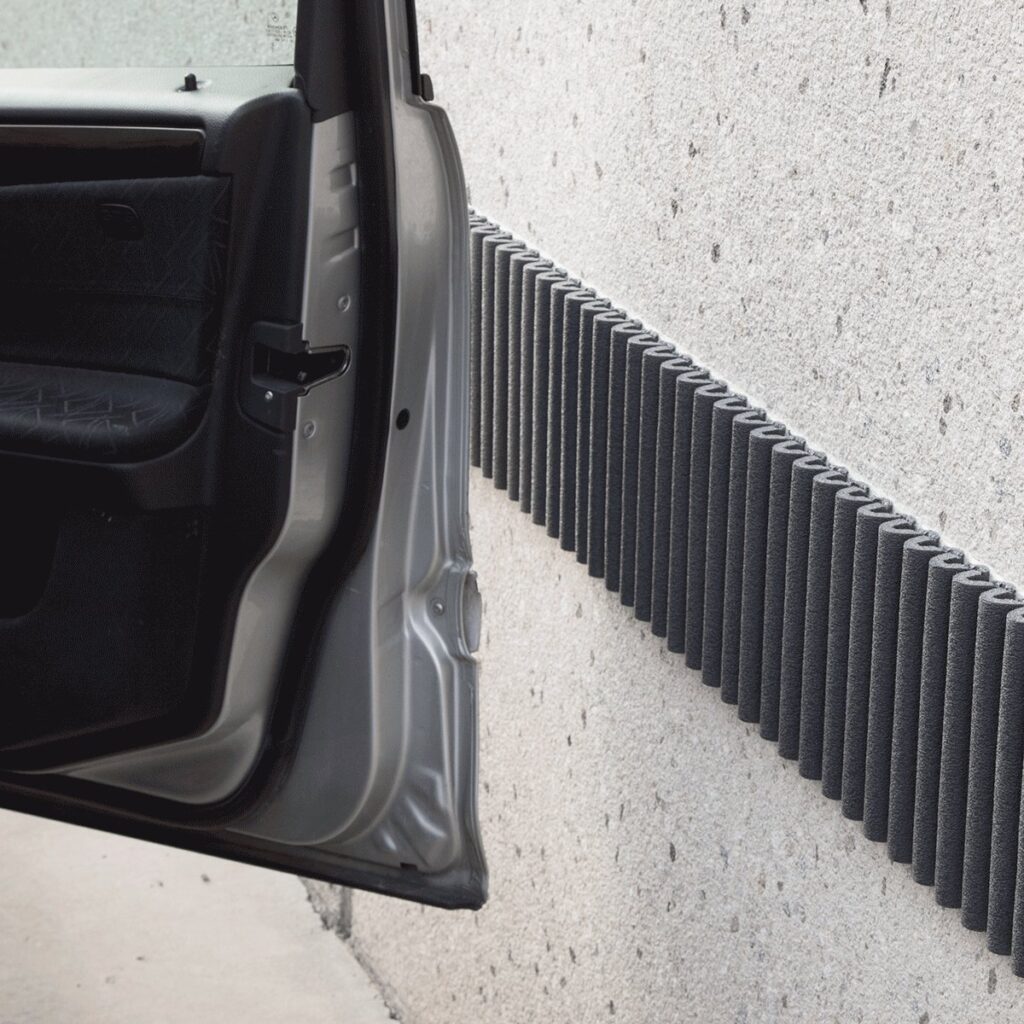 Be sure that you get a sponge that is tailored for garage use. The sponge should be large enough that it covers the entire surface of the wall but not so large that it overlaps or hangs off the edge of the wall.
Buy safe storage & safety equipment
You don't have to be a pro at garage hacks to know that keeping your tools and supplies safe is essential. A garage hack can easily damage something valuable if it falls victim to a mistake, so keeping your stash secure is critical.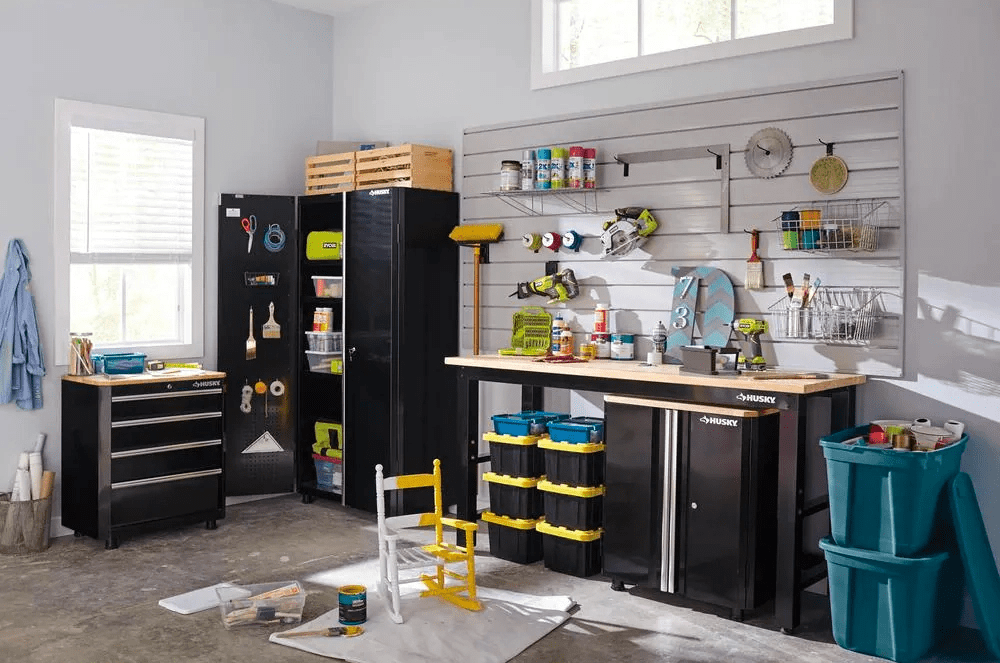 There are different ways of keeping your items safe and sound, but one of the best is by investing in a quality safe. Doing this will not only safeguard your belongings, but it'll also add an extra layer of security against thieves or vandalism.
Make your garage stylish
One of the most used ways to add brightness and style to your garage is with some new furniture. There are various affordable options available at Ikea and other retailers, including corner benches, stools, and coffee tables. You can also choose pieces that will go well with your other home decor.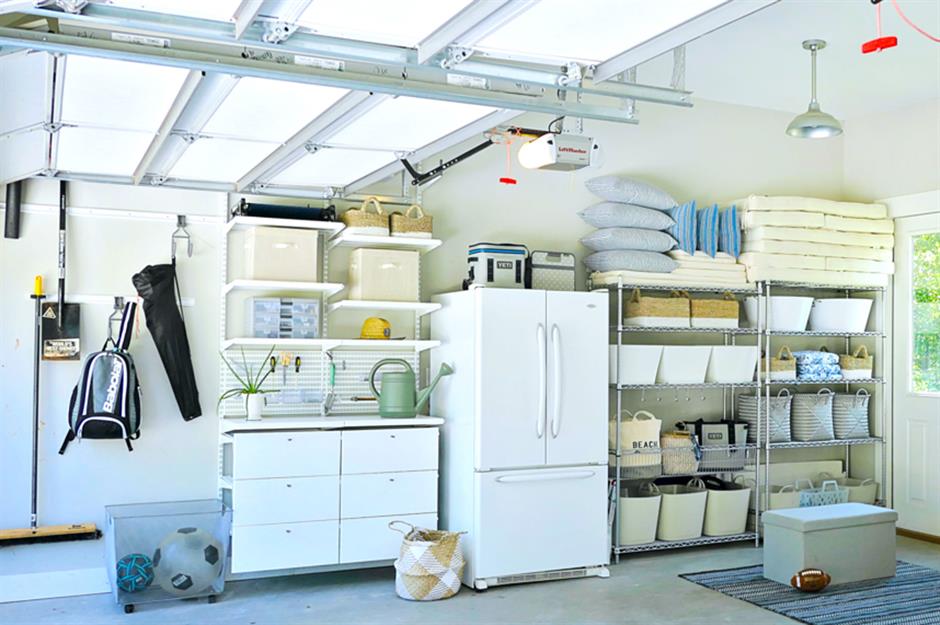 You can also update your storage solutions by grabbing new bins and racks. Also, if you need more room to store your items on one level, consider installing raised shelving or storage cubes. This will give you extra storage areas without breaking out the ladder.
Go for excellent lighting
Lights are crucial in every part of your house, including the garage. If you have a large garage, try installing recessed lights in the ceiling. This will create a more spacious feel and reduce shadows, making it easier to work in the garage.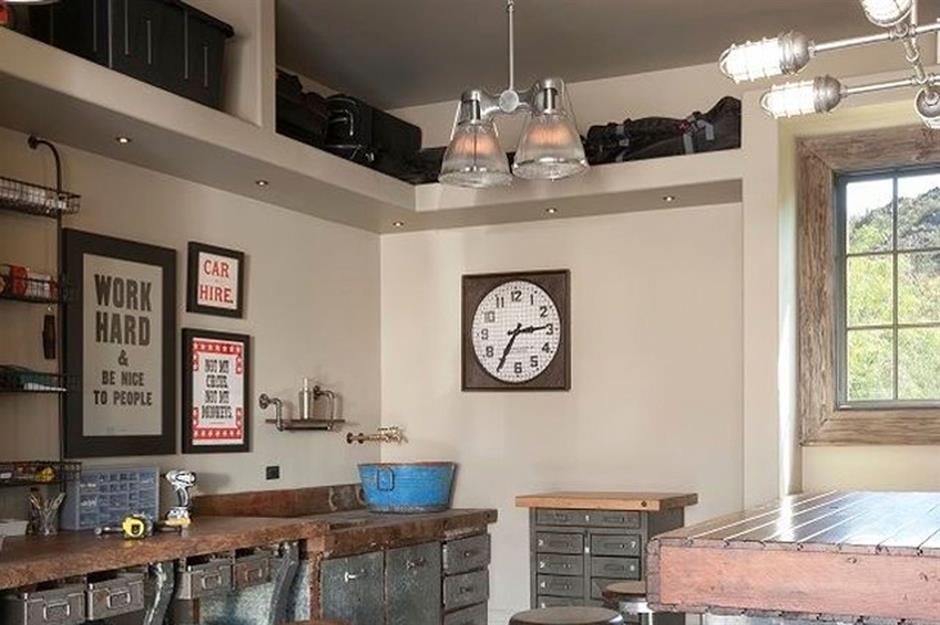 Ensure to consider installing floor lamps instead of overhead fixtures if you have a much smaller room. Floor lamps can be orientated so that they throw light downward, which is perfect for working on car engines or tools in the garage.
Use mount wood to hang items
Garage walls are the best option for hanging items as they're high off the ground and can hold heavier objects without tipping over. In order to do this, you need to mount wood that you can find at almost every hardware store.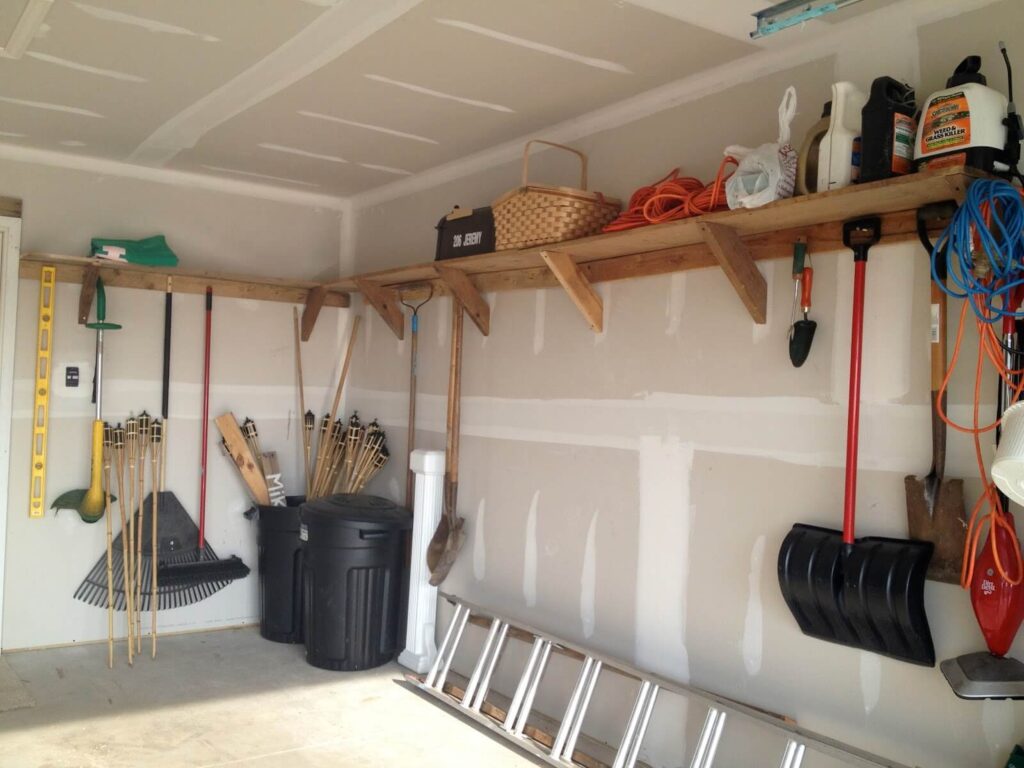 First, think about what you want to hang. If it's something minor, like a toolbox or bike rack, you can use a nail or screw to secure it. If the item is more significant, like a coat or basket, you'll need to use straps or brackets.
Use a tennis ball as a parking aid
Parking aids are expensive, which is why not everyone can get them. But there's a cheaper alternative you can use as a parking aid. The option is a tennis ball. Yes, a tennis ball can help you park your car safely.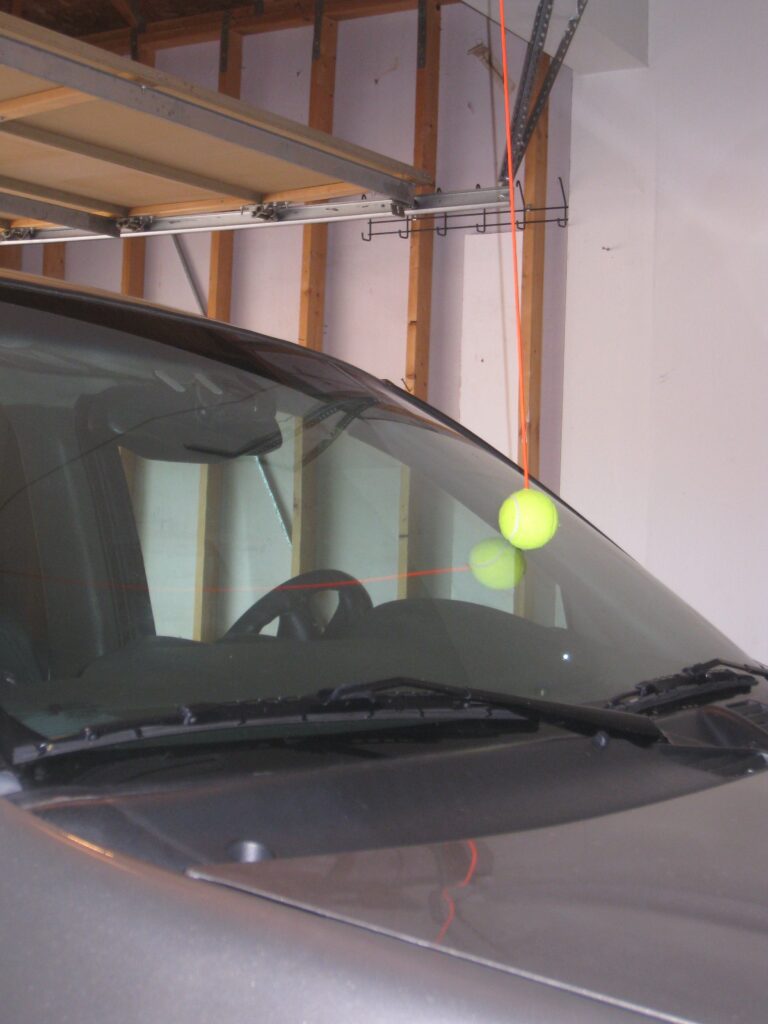 One way you can use the ball is by placing it on top of a ladder to make it easier to spot and pull up the car from the bottom. Another way is to put a tennis ball at each end of the driveway so the driver knows where to stop.
Categorize your items
When it comes to garage hacks, organizing your items is vital. Not only will this make your workspace more manageable, but it can also help you save time when looking for something specific. Whether you're looking for a tool or equipment, grouping related items together will make it easier to find.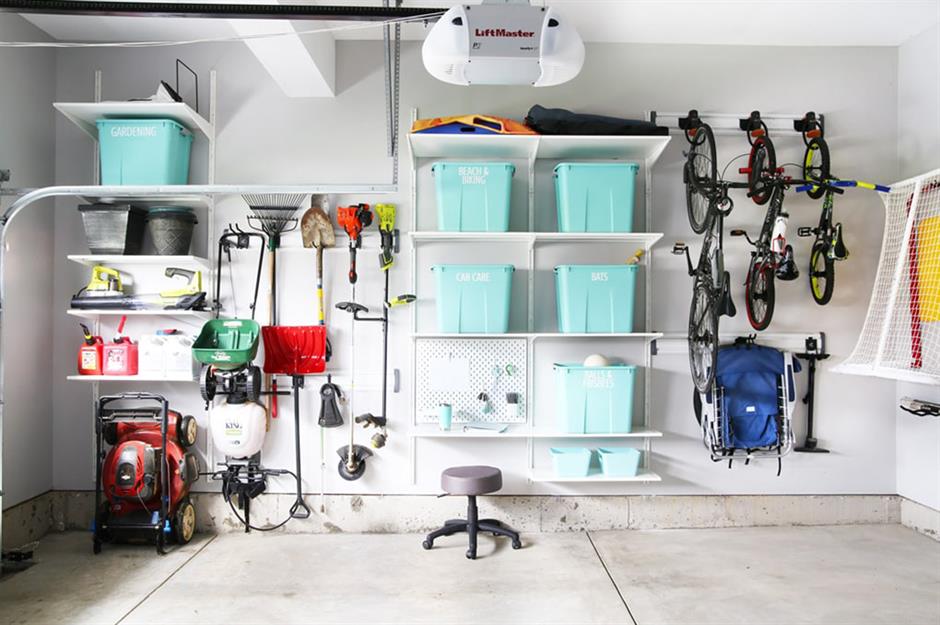 One way to organize your garage is to create categories based on function. For example, you could have one category for tools and another for hardware. You could subdivide the items further based on use or specific purposes within each category. This way, everything is organized in an easy-to-access manner.
DIY wheel stopper
Do you have a car permanently parked in your garage and dread having to move it every time you need to leave? Here's a solution to that worry. You can stop that from happening with a simple DIY wheel stopper.
We already discussed the tennis ball parking hack above. Now, here's another way you can park your car safely. You can use wooden planks for the same, which are easy to find. So, now you can do your best with your vehicles in a budget-friendly way.
Use curtains to hide equipment
With only a few simple things, you can make your garage more functional and less cluttered. Among all the other ways, the most basic thing you can do is to use curtains to hide any outdoor equipment you don't want visible.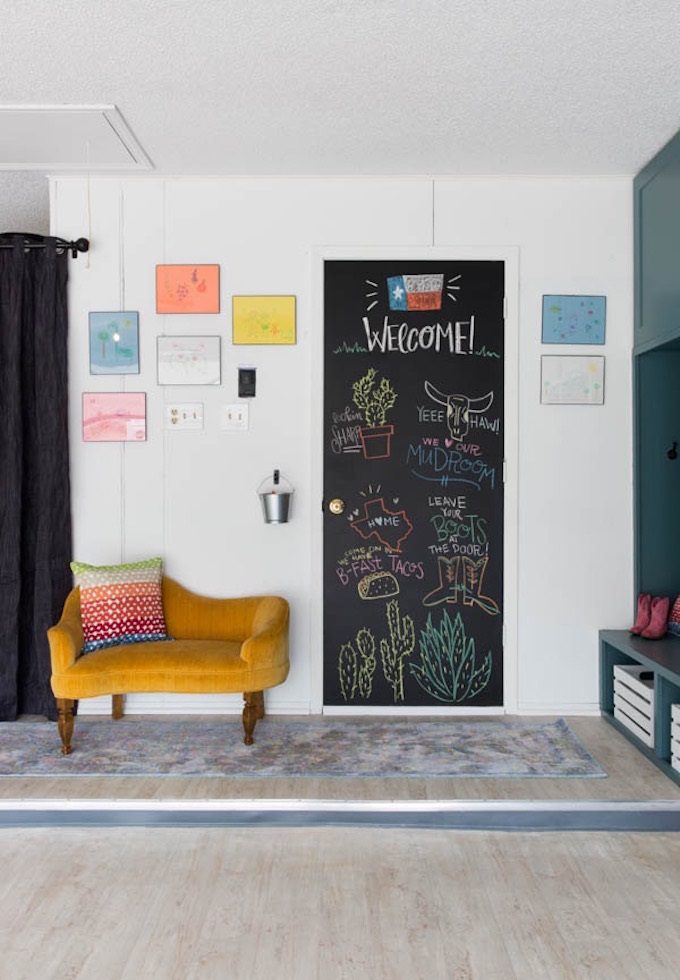 You can also use curtain rods to hang different curtains to create different zones within your garage. This will make it simple for you to get what you're looking for easily and quickly. Additionally, curtain rods can help prevent hotspots on paint or other items that may be stored in the garage.
Install festoon lights in the garage
If you want to completely change the look of your garage without breaking the bank, you can use festoon lights. These lights are affordable and easy to install, which makes these lights a great and best option for decorating your garage.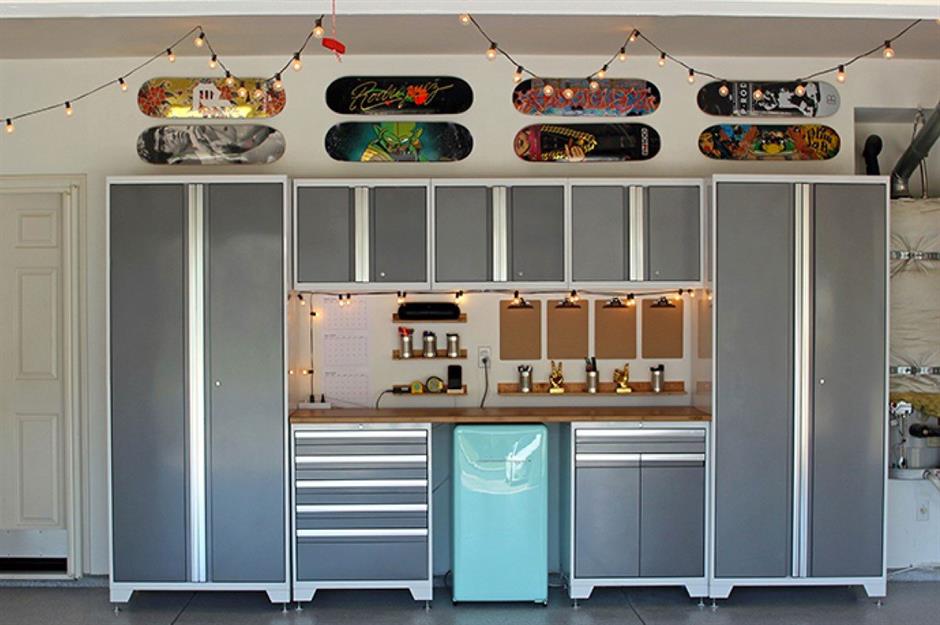 Festoon light kits have all the necessary hardware, so installation is quick and easy. You can choose various colors and styles, making your garage look unique and contemporary. So if you're looking for ways to update your garage without spending much, consider using festoon lights.
Buy or make a pegboard
A pegboard can be an excellent solution for storing garage items safely and quickly. You can buy a pre-made pegboard or build one. Building your pegboard will help you customize it to fit your garage's layout and the items you want to store on it.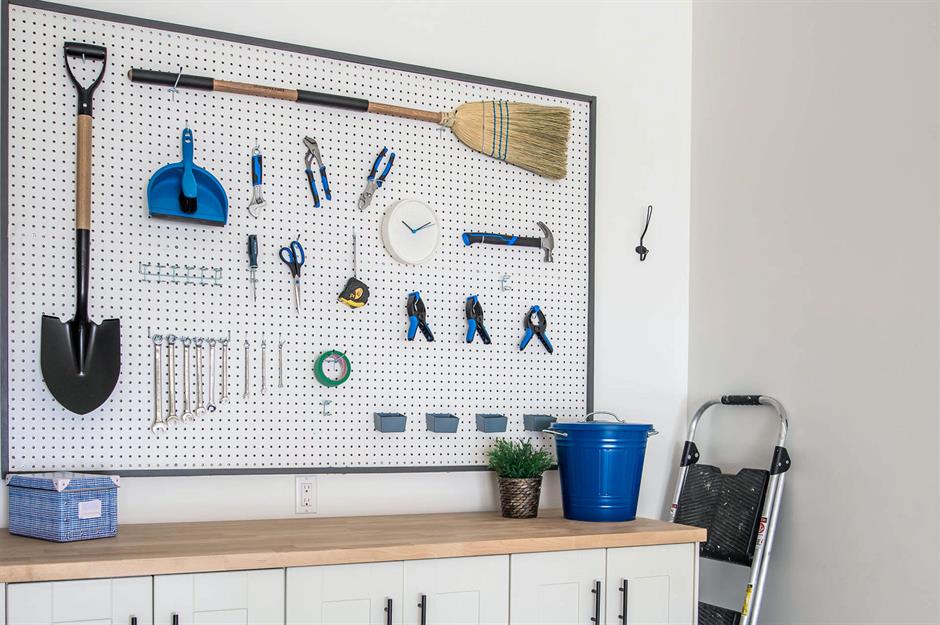 It's easy to make a pegboard yourself. There are numerous ways to build a pegboard that you can use. Ensure you choose the one that works best for you. To make it, you can use wooden boards, laminated boards, or metal hooks and rails altogether.
Add colors to the garage
If you're tired of your plain garage looking lifeless and uninteresting, here are some ideas for making it look colorful and fun. But, for that, you might need colors, chat papers, and all the stuff you can use to make your space more colorful.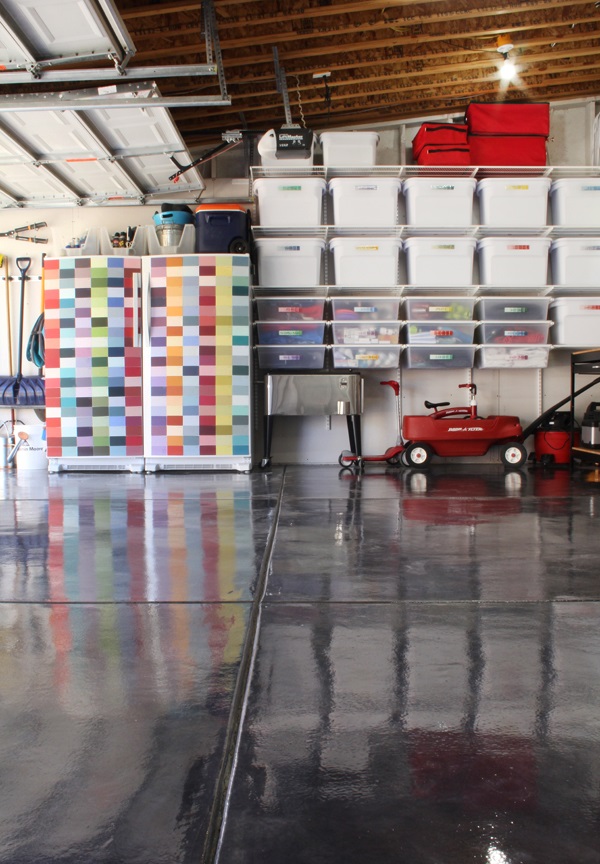 Apart from using the material mentioned above, you can add some plants, hang some curtains or drapes, add a few pieces of artwork, or even mix some furniture to brighten up the space. So, don't let your garage look dull anymore, and work on it.
Make use of the garage for evening coffee
You can use your garage in a more aesthetically pleasing way. So, why not turn it into your relaxation spot? First and foremost, think about how you can maximize the space you have. Group similar items or stack them on tall shelves to create more floor space.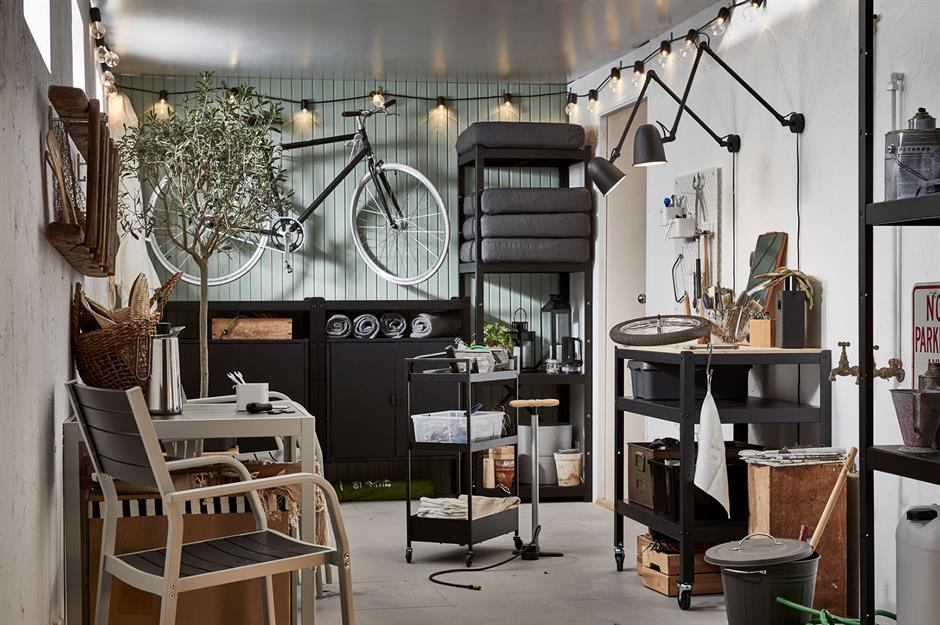 If there's a lot of wasted space on one wall, consider turning it into a built-in bar with shelves and Counters. If you need more storage space, consider using objects as furniture. Interestingly, you can do much more with your garage area than you can expect, so whatever you do, do your best.
Keep items handy in the garage
Keeping your things handy in your garage can make organizing and storing your belongings much more accessible. You may use magnets to hold tools and other small items near the door. This will make it easy to grab what you need.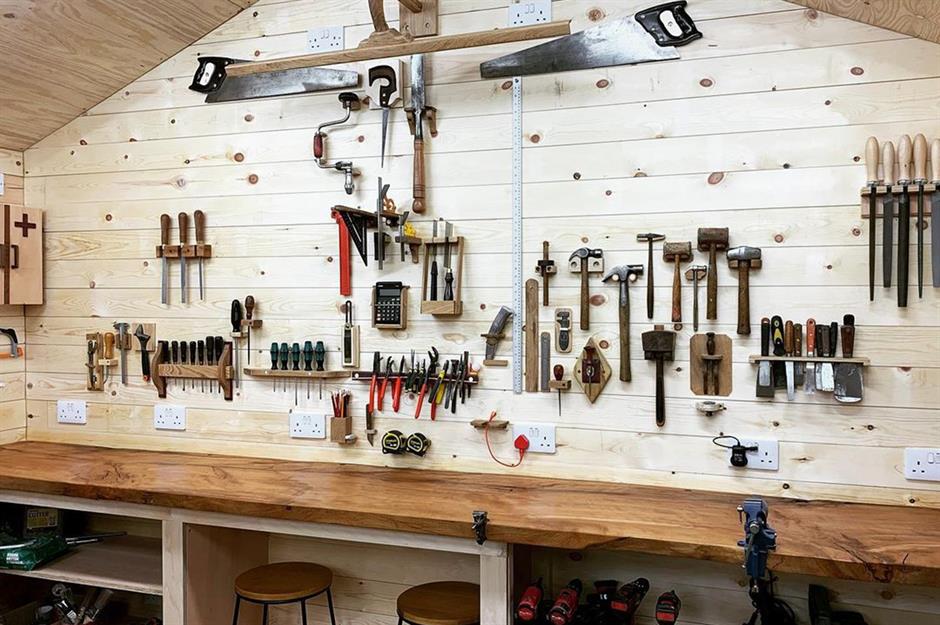 Another thing you can do is keep your storage containers organized by using dividers or racks. This will categorize your belongings so they're easier to access. Moreover, it will make it easier for you to clean the space when needed.
Invest in a custom-built cabinet
There are small items like bolts and screws that can easily be misplaced in a garage. And it's not easy to find them as well. So, if you don't want to face this situation, get yourself a custom-built storage cabinet.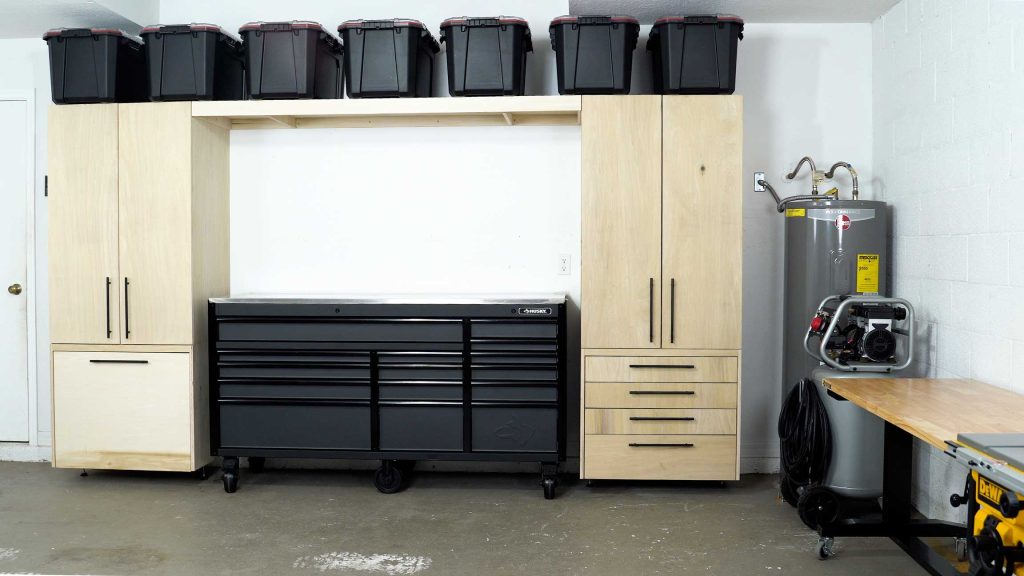 When choosing where to store your mini-tools, consider where you can easily access them. Keep items near the door or other entrances so you can get them quickly when needed. Refer to the picture above for an idea about the cabinet you can use.
Place your bikes on walls
If you're looking for ways to maximize the space in your garage, you should think about installing bike racks on the walls. Not only will this hack add some much-needed storage capacity, but it can also double as a handy piece of exercise equipment.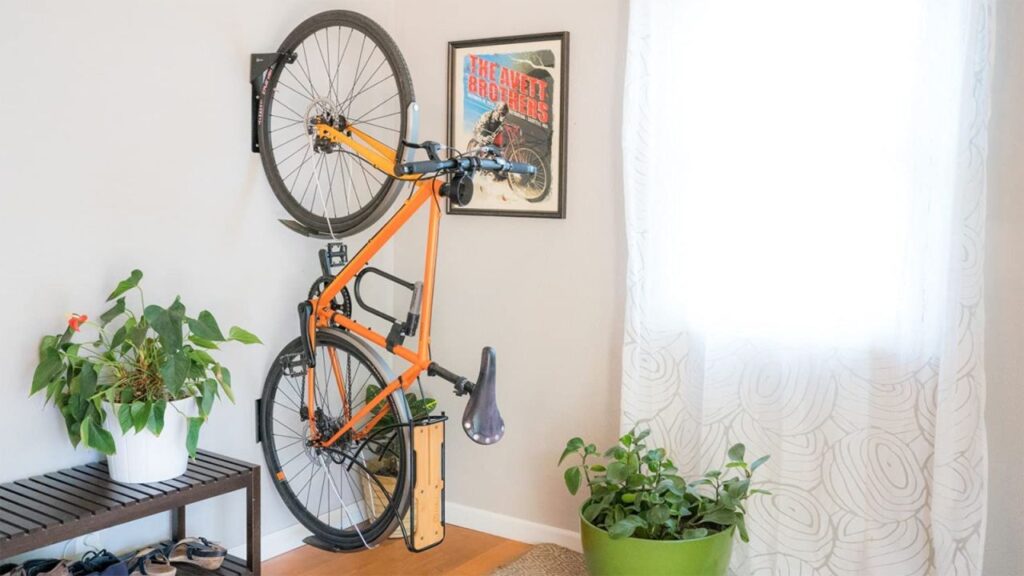 There are a few unique ways to install bike racks on the walls of your garage. You could use pre-made kits or go the DIY route and build them yourself. Whichever way you choose, make sure that the racks are big enough to fit all of your bikes comfortably.
Use the garage as a laundry room
If you have a garage, there are a few things that you can do with it that will make your day-to-day activity a bit easier. However, the best you can do with your area is to use it as a laundry room.
There are several benefits of having a laundry room in a garage. One, you don't have to go through all the hassle of going to the laundromat every time you need to do your laundry. Second, you can save yourself some money in the process.
Make space for a sports kit
If you have got a small garage and limited storage space, you know that storing sports equipment and gear can be challenging. But there is a solution: you can make space for your sports kit by creatively using empty spaces in your garage.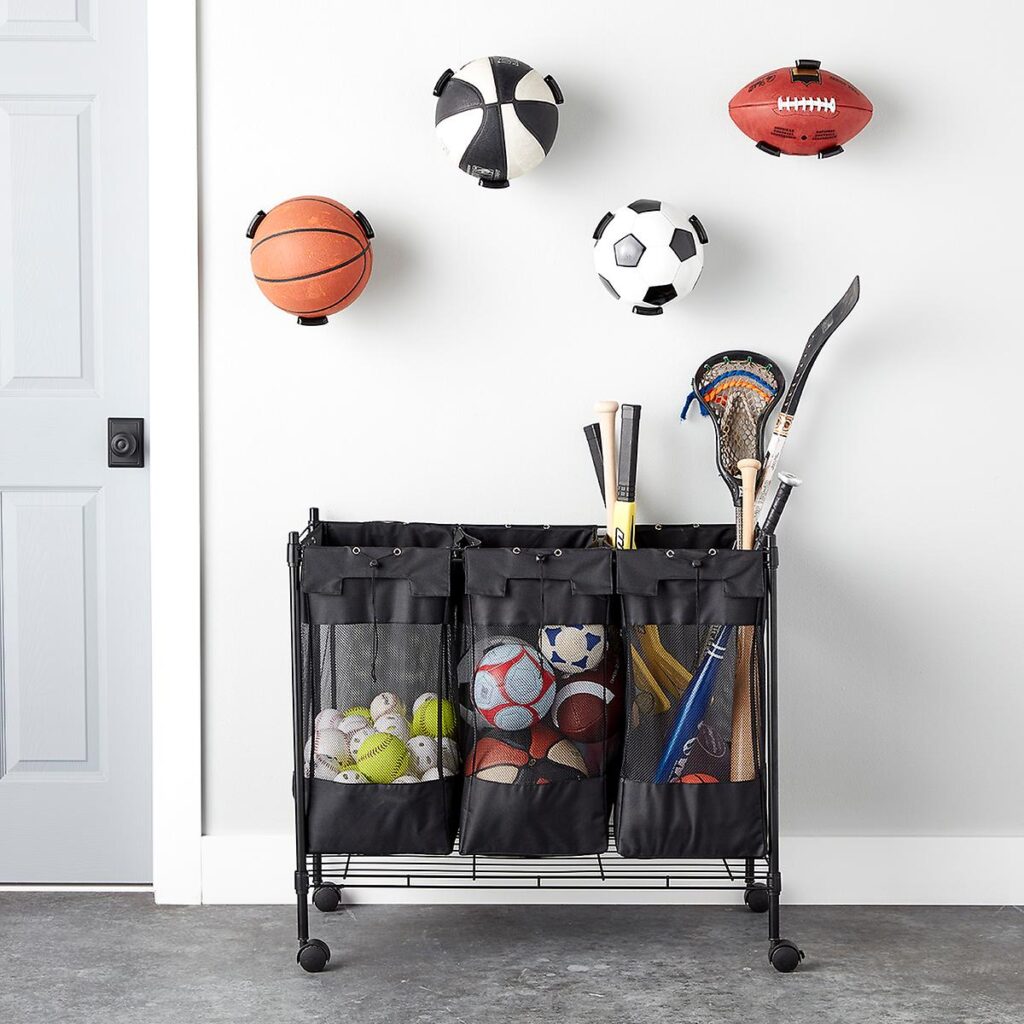 You can create a dedicated sports area by installing a sturdy mat or carpet and hanging up brightly colored soccer nets or basketball hoops. This will give your gear the extra storage it needs and create an attractive focal point in your garage.
Go for drop-down shelving
There's no need to crane your neck when looking for things in your garage – go for drop-down shelving and store everything conveniently in one place. If you don't have enough room to keep everything on your shelves, consider buying this shelving.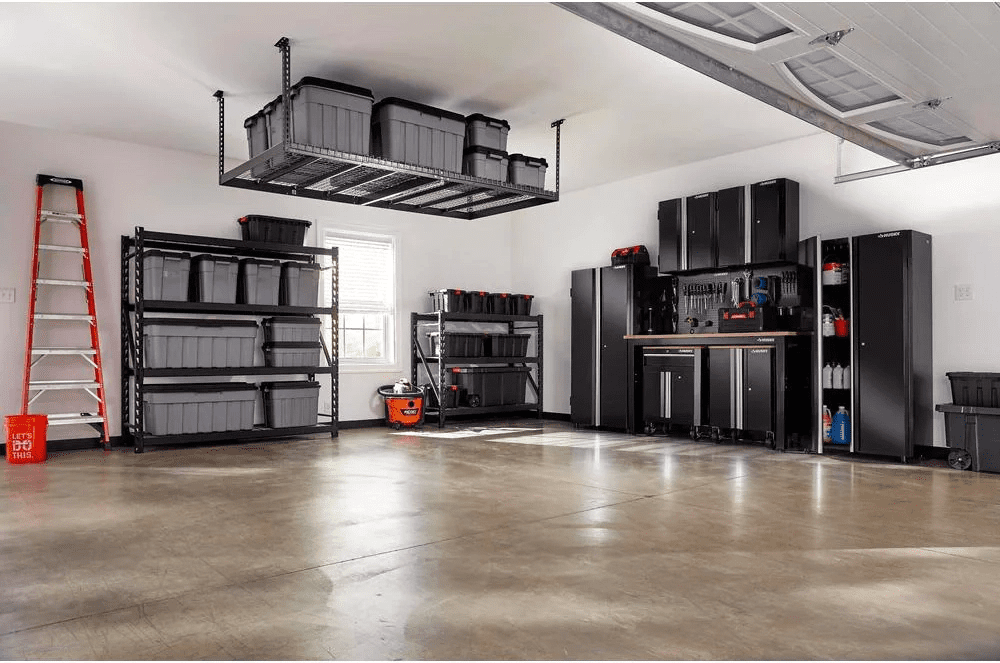 The shelving is easy to install, and it comes in many different sizes. You can find shelves as small as a foot wide and as large as two feet wide. If you have a large garage, you can buy multiple shelves to store all of your items.
Get a bike lift for the garage
You can find a bike lift using a number of ways for your garage. One option is to find a used one online or at a garage sale. Another option is to build your bike lift. This tool can help you efficiently access your bikes, which can come in handy.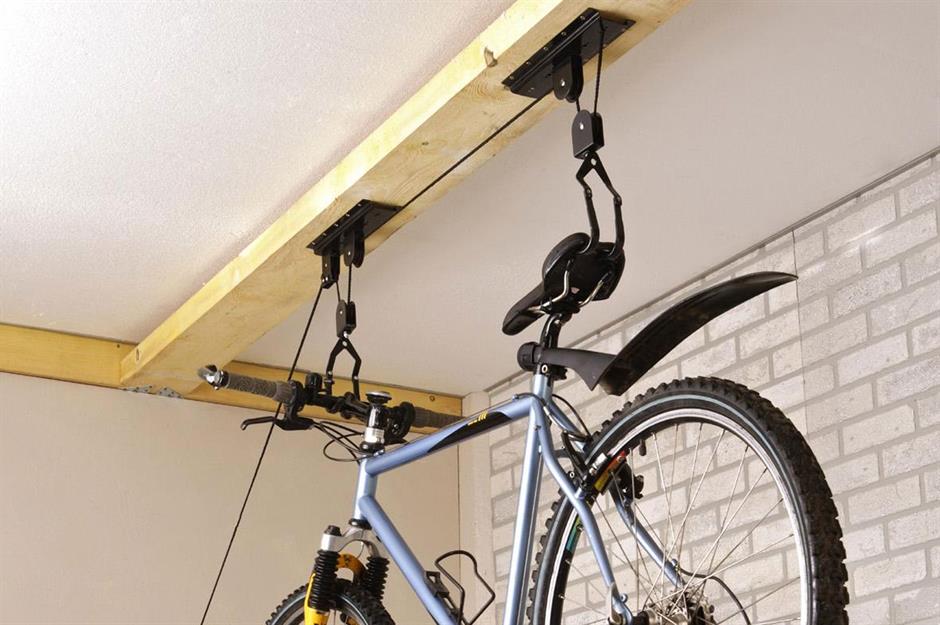 There are many types of bike lifts, so you must choose the one best suited to your needs. You can find lifts that hold multiple bikes, lifts that only hold single bikes, and lifts that allow for adjusting the height of the bikes.
Keep an extra fridge in the garage
Keeping your extra fridge in the garage is an excellent hack to save on grocery bills and have more food available when you need it. You can store condiments and snacks in the fridge to quickly access them when you're cooking.
You can keep things like chicken tenders, pizza slices, and burritos cold without any fuss by packing them in containers and freezing them overnight. So this way, you can keep an extra fridge to store food without worrying about space.
Use bright floor wallpapers
Well, it's time to change things up by adding some bright and cheerful floor and wallpapers! You can find various options online or at your local arts and crafts store. They're not very expensive, and they'll add some much-needed life to your tired garage space.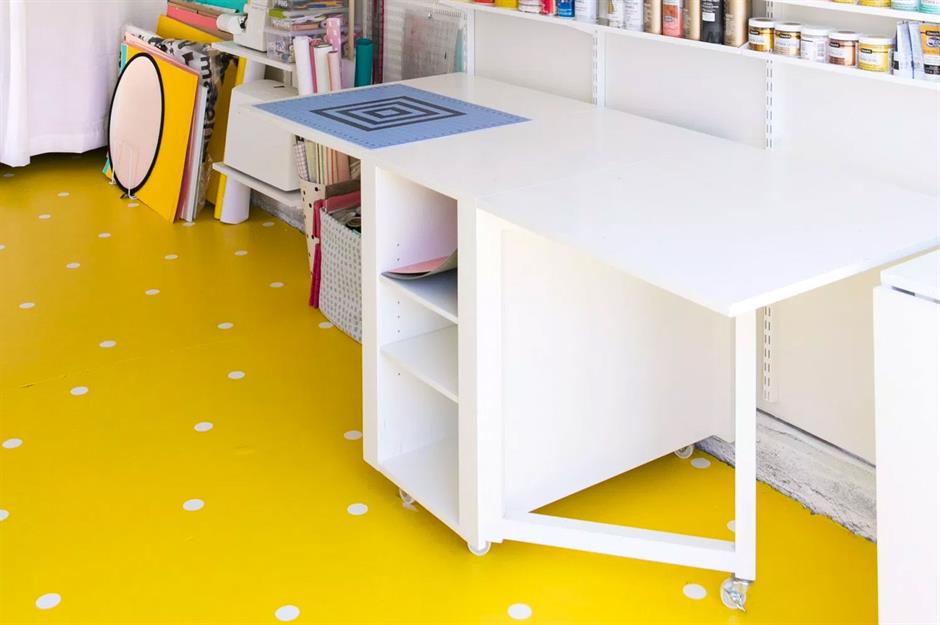 Remember that these wallpapers should be used in moderation – too many and the space will start to feel overwhelming. But if used correctly, these simple upgrades can brighten up your day-to-day routine. So go ahead – give your garage a makeover.