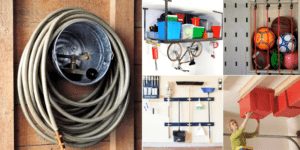 Every Garage Needs These Genius Organizational Hacks
By Hailey B.
---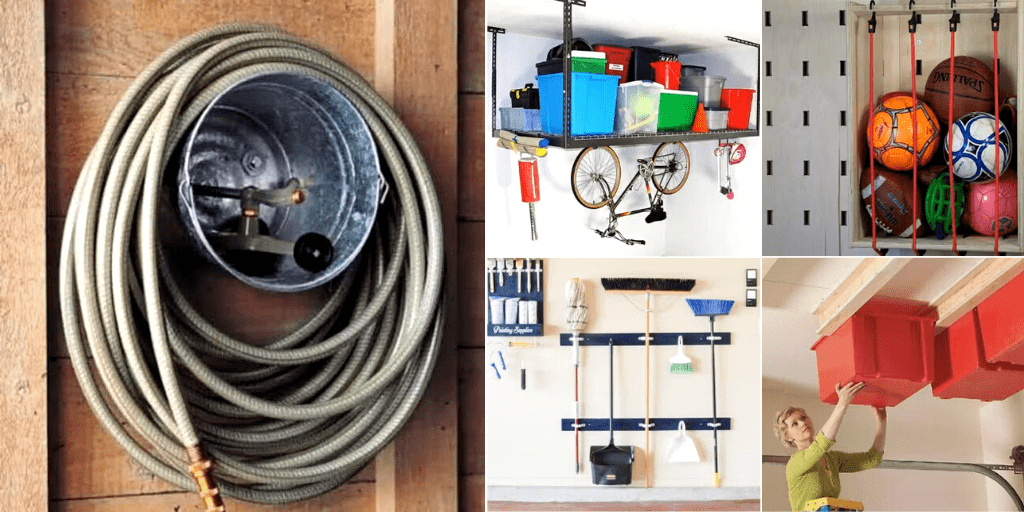 Is your garage messy, dirty, or disorganized? Do you ever wonder how to organize the essentials? We've been there, too. The current state of your garage might be a little embarrassing. It's easy to neglect this room of the house, folks. But now, it's time for that to change. Don't freak out — it's not as tricky as you think to build a garage that is functional and beautiful. Things can be clean and clutter-free in no time. You don't have to reinvent the wheel: The internet has plenty of tips and tricks to upgrade the space. Get your bikes, gardening tools, and chemicals in order. Some hacks are actually quite brilliant! Read on, and pick the ones that suit you.
Overhead Garage Racks
We tend to waste too much time trying to organize things on the floor. That's a shame, when there is so much room available on the ceiling. Under furniture or under shelves isn't always the best place to store seasonal items, especially. You rarely use them!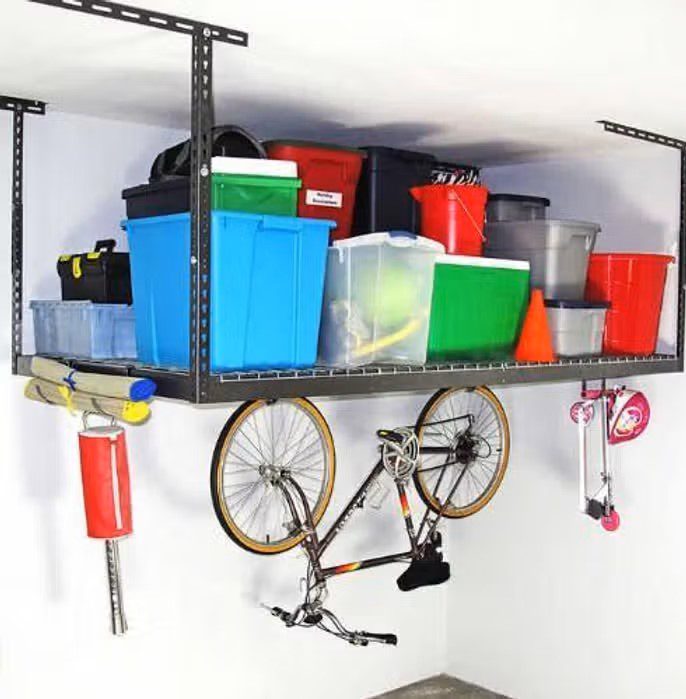 You can store items such as Christmas decorations or pool supplies up high with racks. If you add clamps and hooks to an overhead rack, you can store your fragile prized possessions, such as your bikes, out of the way during winter.
Hooks for Every Nook
Organizing with hooks is one of the most underestimated hacks. Most people opt for more extensive garage organization, ignoring simple hooks. One of the greatest advantages of hooks is their flexibility. They can be attached to the wall or used for various DIY projects. New hanging space can be made very cheaply.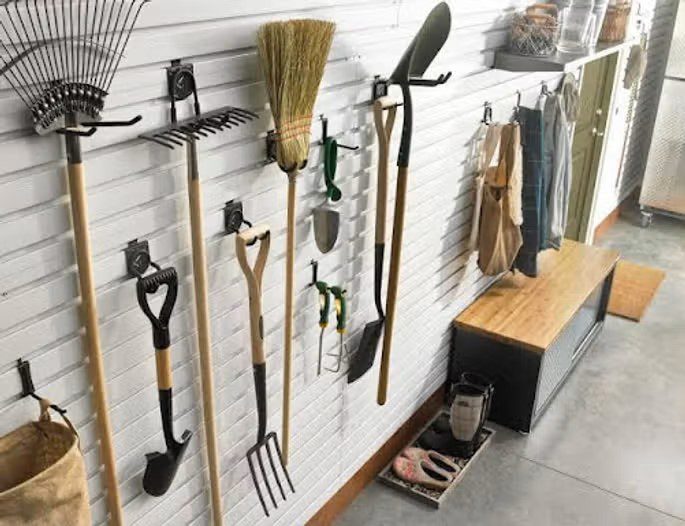 The wall hooks can be used for many things. You can hang all the folding chairs in your garage on hooks instead of leaving them lying around dangerously. Hang gardening tools, work boots, and other items that take up space as well.
Label Plastic Containers
Another simple idea that gets overlooked is to store your supplies and small work items in plastic containers. Keep cleaning supplies, sports equipment, and gardening tools in heavy-duty plastic containers in your garage. Don't leave them lying around ever again.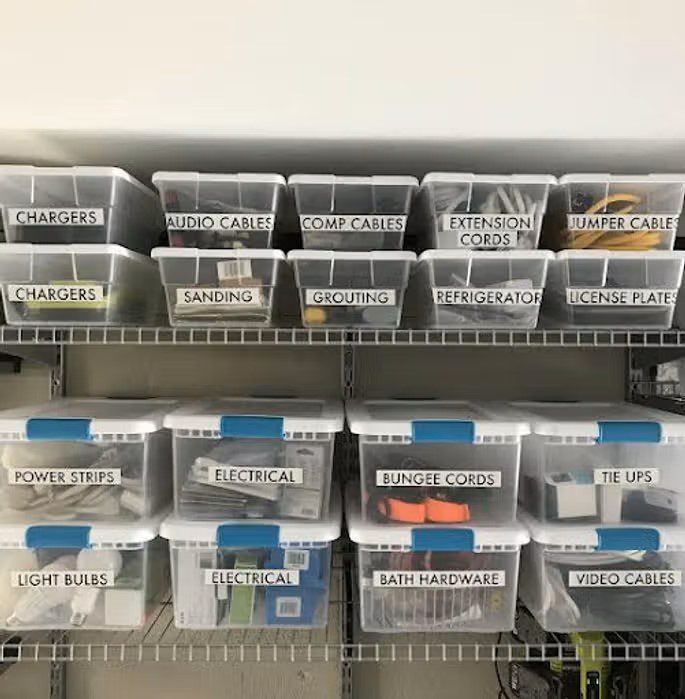 Use clear bins can help you see what you're looking for and label the plastic containers. Yes, we know it doesn't sound like groundbreaking science, but it will prove invaluable. You will keep track of your items while keeping things tidier, once and for all.
Neatly Store Your Balls
It is common for your kids to leave balls carelessly on the garage floor. These balls can be harmless, but one misstep and you find yourself tripping on a ball, landing painfully on your face. The result can be a hospital stay that costs thousands of dollars in medical bills.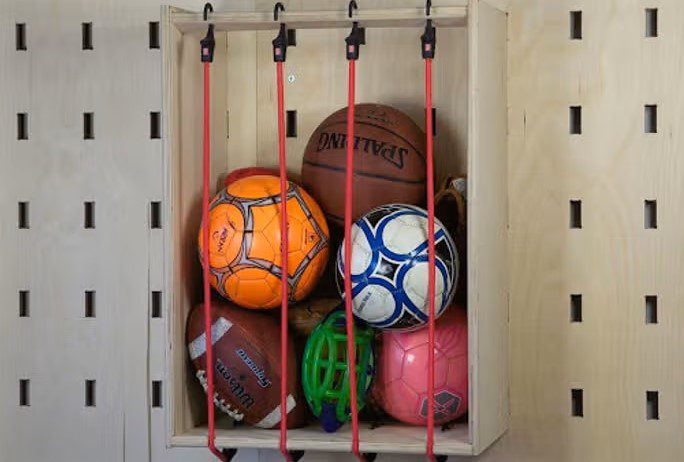 Creating a dedicated ball storage area for your kids can prevent the scenario painted in the first place. You can create the area using bungee ropes. It's easy and it will ensure that those balls are safely stored. No brainer, right?
Designer Laundry Nook
No laundry room in your home? You're not alone. To fix this, you can easily convert a small section of your garage into a utility room. And just because it is in the garage does not mean it has to be dark and dingy.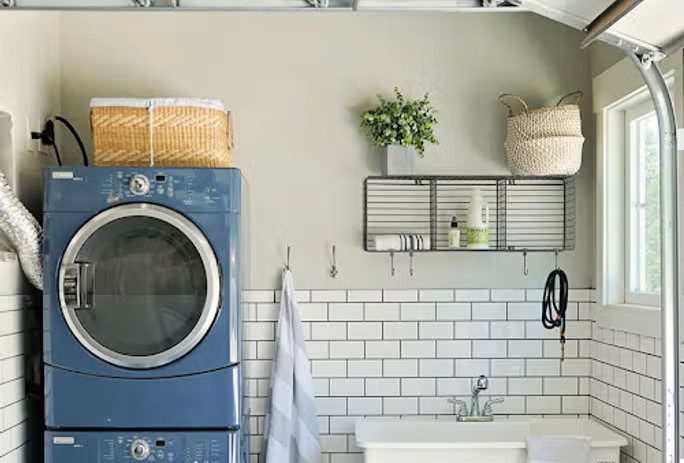 Stack a washer and dryer in your garage if you have proper ventilation and paint and tile around the sink to create a fully functional wet area. Looking at this photo, you'd neve guess this was in the garage. But indeed, it is!
Plastic Bottle Storage
What if you wanted to organize your garage without polluting the environment? Plastic bottles are a great option. Instead of throwing them away, you can reuse them for organizing small items in your garage. Nails and wood plugs can be stored in these plastic bottles quickly and cheaply.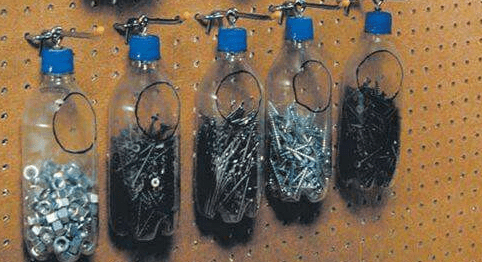 For this project, insert eye bolts into the cap of the bottle, and fix each eye bolt with two nuts. Place one nut above the lid, and the other below. Next, drill a hole in the shoulder. Bolt to a board. Cut a circle on the side for easy access.
Add Rolling Metal Shelves
A cheap set of metal shelves can transform your garage. Whether you're storing garden supplies or winter gear, these shelves can transform it into an organized space. You don't need any assembling tools to set up the basic shelving units, which sit on the floor.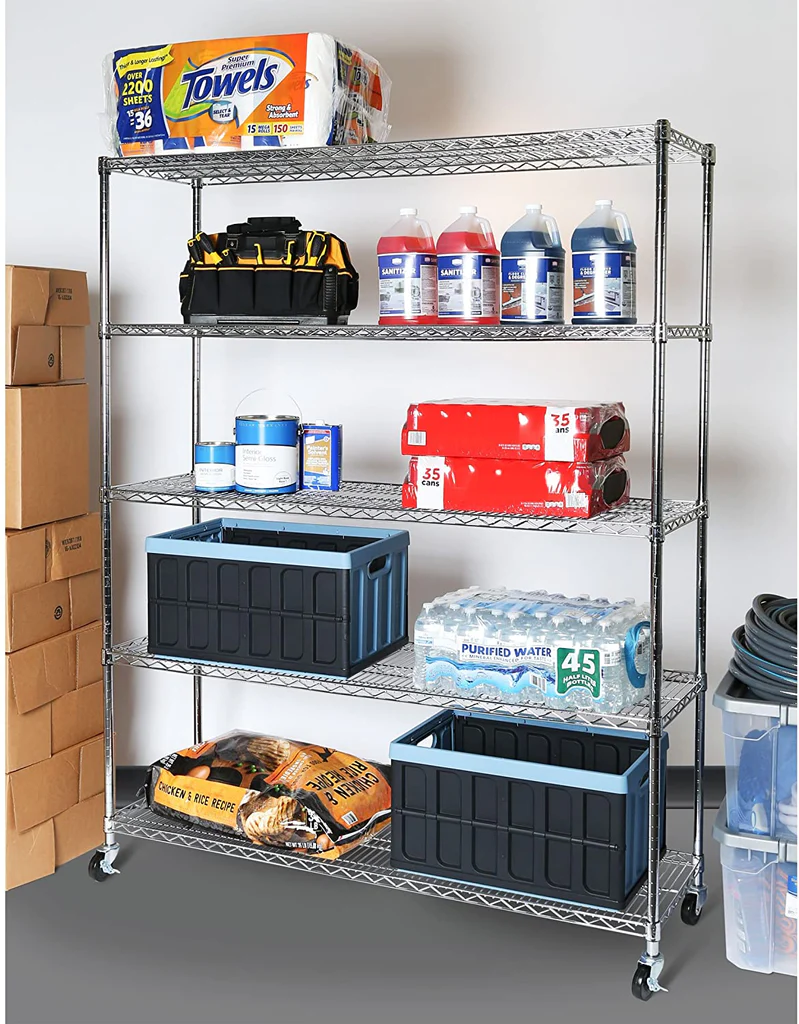 In addition to their affordability, these shelves are a great way to store your excess stuff in your garage. If you move, you can take them apart and transport them to your new home. Some units come with wheels. So, line your garage wall with these shelves, and you'd have space for almost anything.
Create a Flow Wall
You can create a customized storage space using flow walls. Organize your belongings and eliminate clutter from the floor. A flow wall comes with movable hooks that can be pushed and slid to change places. Whenever you need a change in your garage, this is simple.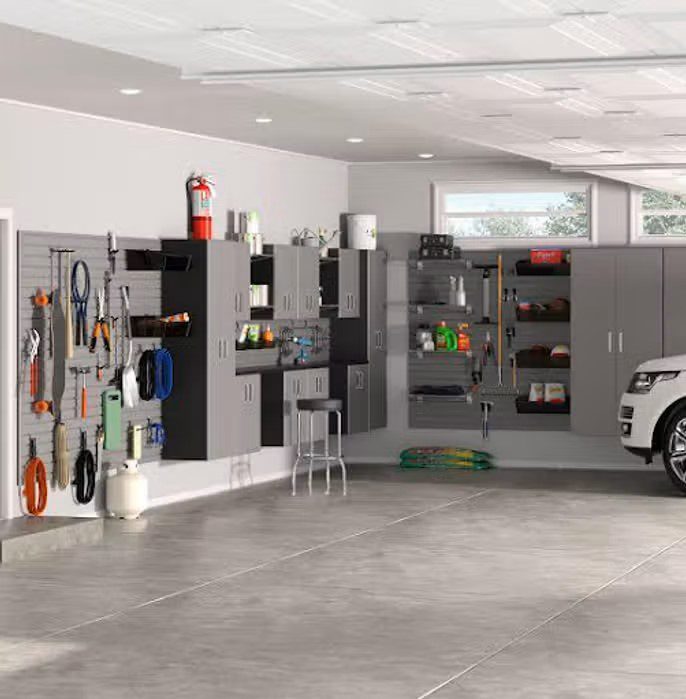 Flow walls truly allow ease of use when searching for important items. Rather than digging through piles of items, you can simply check the flow wall. They're easy to install, too. You can change your organizing game with this simple installation.
Pegboard Tool Holder
Garage hacks with pegboards are very popular. They offer excellent organizational flexibility and make your garage more spacious. Imagine what your garage would be like if you had this installed right now. In addition to less clutter, you will have more storage options.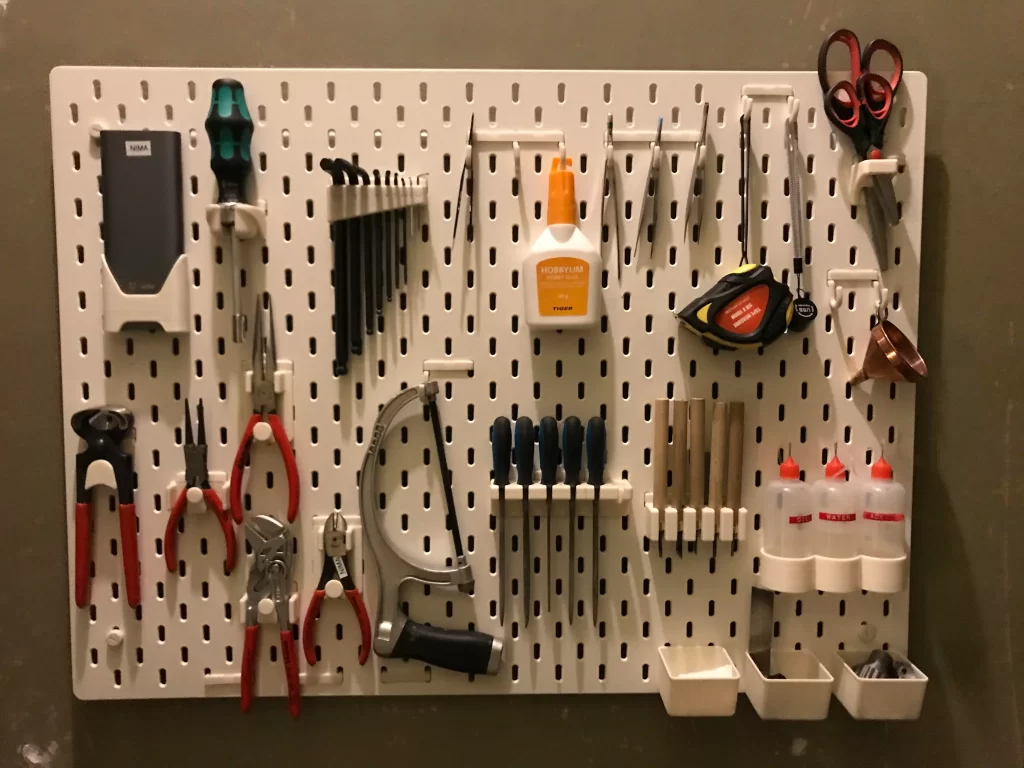 As an enhancement to the pegboard, you can install shelves, storage bins, hooks, and baskets. These bins and hooks can be used to hold paint rollers and screws. This solution is inexpensive, and there's nothing stopping you from trying it out.
Pallet Garden Storage
The garden requires so many tools. If you don't have enough hooks for hanging, this DIY trick is your best option. You can use an old pallet as a hook. We have good news: It will cost zero dollars to set up.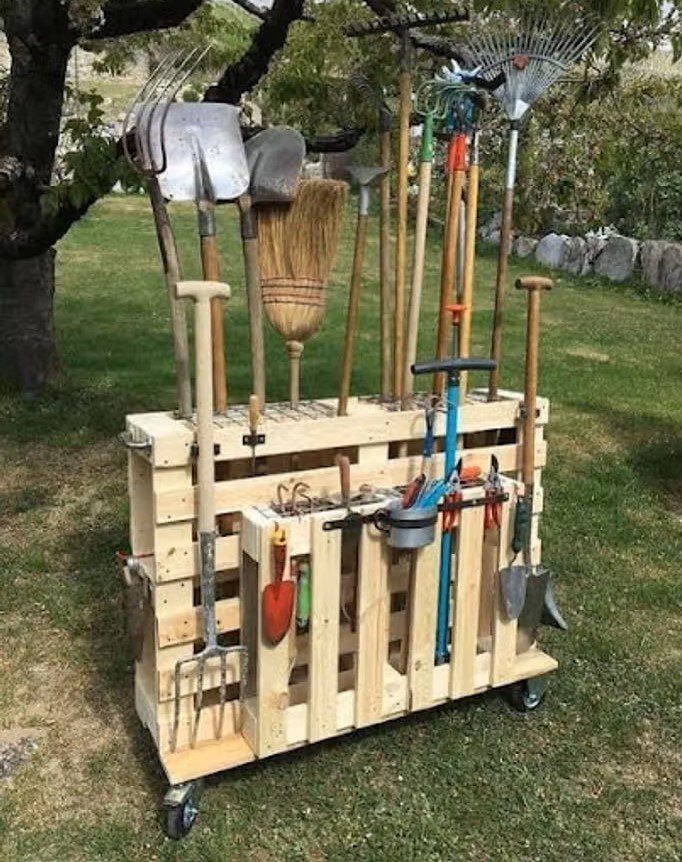 Basically, you just need to find an old wooden pallet. Put it on wheels or hoist it on the wall to prevent it from toppling over. Next, you can begin storing your tools. The slots can be used to store items like brooms and shovels. The top can be wired so the items stay in place.
DIY Paint Rack
Ready for a trickier challenge? This idea is a bit trickier than the previous projects. But it's not really so hard, if you've got a crafty side. Got too much spray paint? This wood shop spray paint rack will provide an attractive storage solution.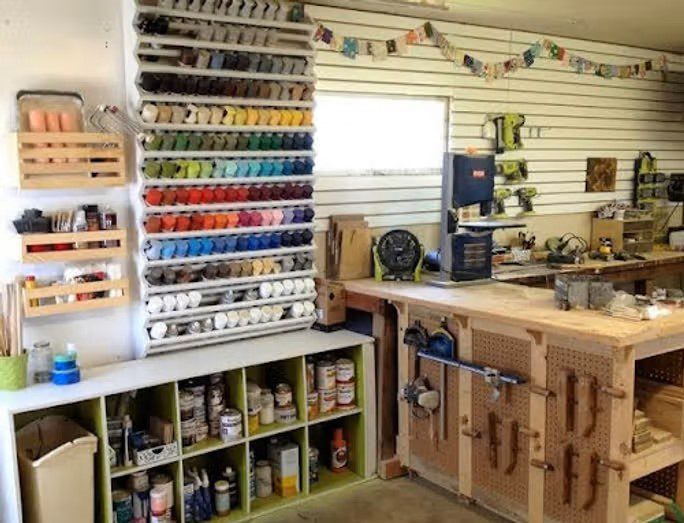 As you can see, everything is nice and orderly. No more cans rolling around, thankfully. You can also use the additional space to organize other materials and tools. To upgrade it, the slat wall can be used to hang hooks.
Decorative Wire Baskets
If you have workout gear, hats, and gloves in your garage, you can use these baskets to keep them organized. Decorative wire baskets are often neglected. But this simple trick can prove to be a great way to keep things organized.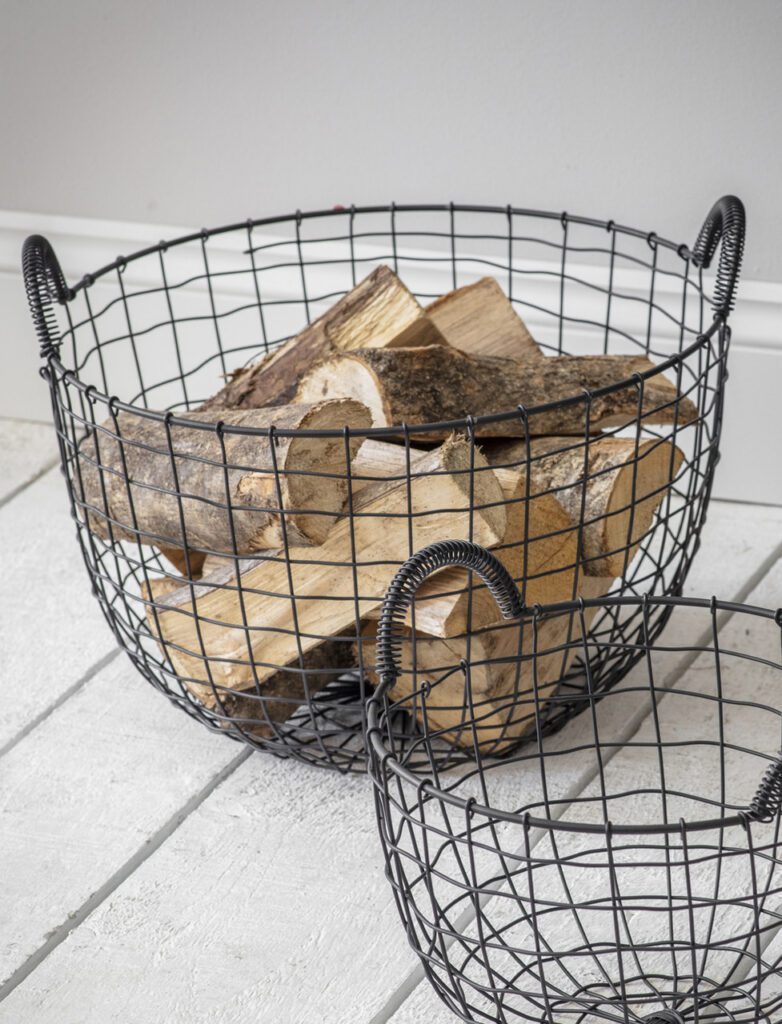 A wire basket can be used for kids' toys as well. They are affordable, so you can buy as many as you need. Place them beside the wall to get your garage under control. Yes, it sounds simple. But sometimes, that's all you really need.
Sliding Ceiling System
Our garages would look much better if we utilized the space above and below us. Wy don't we do that? No one can say for sure. It's time to try. For more storage space, construct a sliding garage system on the ceiling.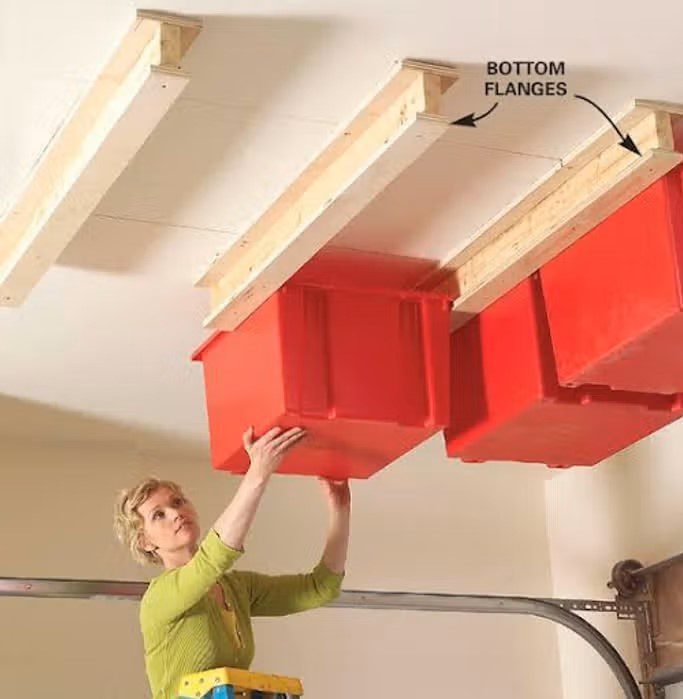 In order to install your sliding garage system, you need to measure the length of the carriages and cut lumber. A plywood flange holds heavy-duty storage bins. Install your storage by fastening it to ceiling jolts. Now, you've transformed the room.
Magazine Sandpaper Holders
When you see a way to store things in a creative way for free, you feel fulfilled. Today is one of those days. You can use an old magazine hanger to store sandpaper! Some of these ideas are borderline genius, as we told you.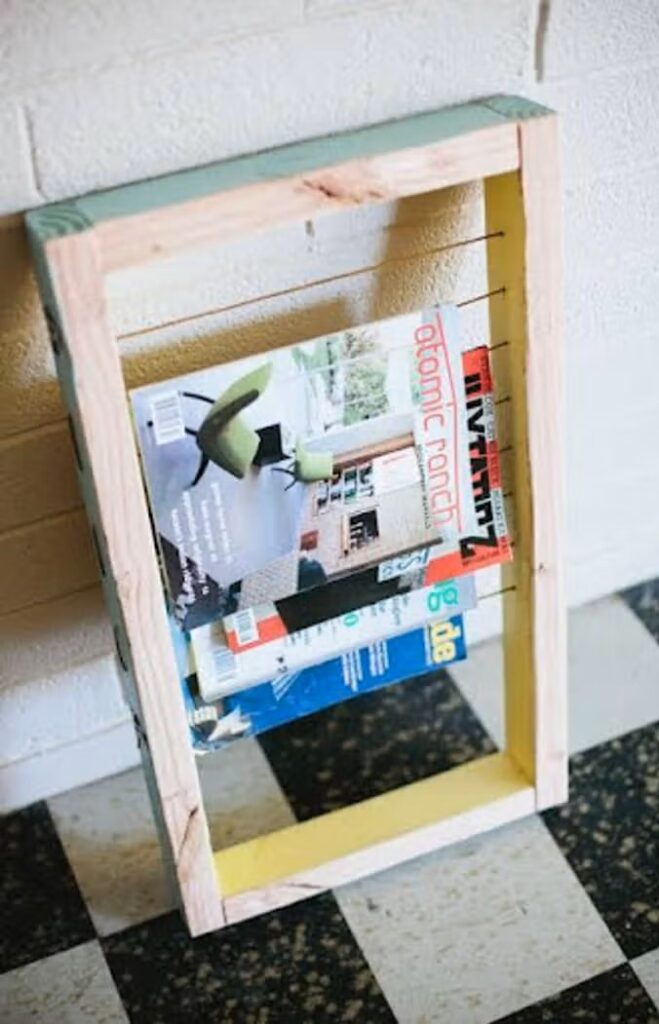 It's better to store your sandpaper this way, rather than letting it lying around carelessly. Never again will you be searching for spare pieces. They are all organized in plain view. Get ready to sand! Your garage is better than ever.
Easy Fishing Rod Holder
The DIY fishing rod holder is great if you're a fishing enthusiast. If you reach for your fishing rod and discover that your lines have tangled, you'll find it very frustrating and time-consuming to untangle them. Fortunately, this easy holder can help.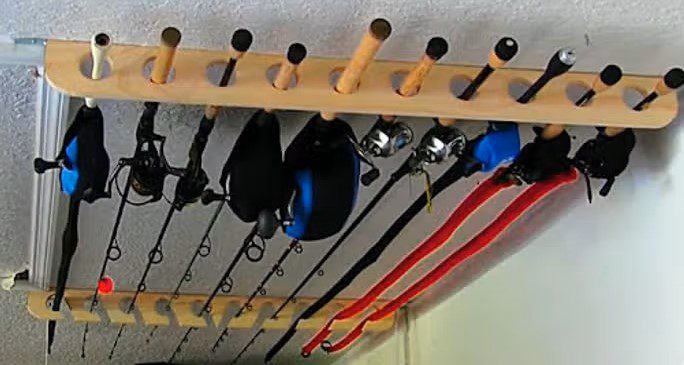 Whether your fishing rod holder is on the wall or even on the ceiling, it changes the whole game. There are many storage ideas you can try. But this one can be done easily and affordably. Get ready for your next trip wth no worries, even last minute.
Store Nails in Mason Jars
When you step into a disorganized garage, the first thing you want to do is check for nails and screws littered around. A mason jar can be an easy way to avoid unnecessary damage while maintaining a clean garage. Many injuries occur when people step on these small but dangerous parts.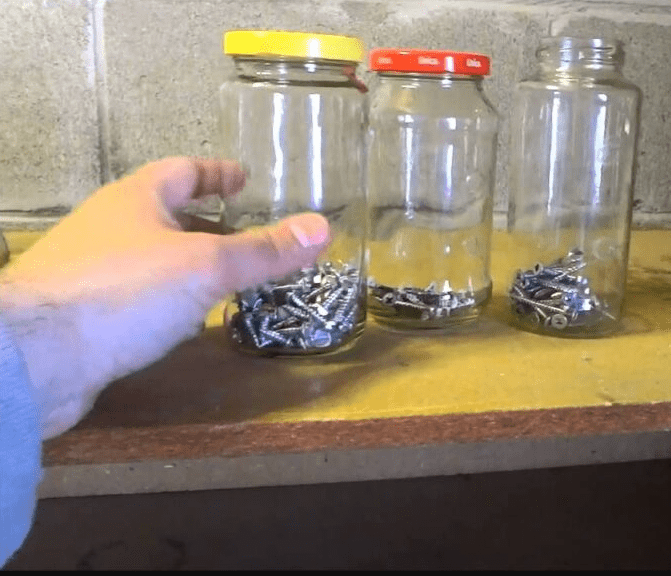 If you have plenty of empty jars that you are no longer using, it is time to pull them out. Screw their lids into a wooden shelf and fill the jars with small items you need to store. It is so easy to use this garage organizing tip, we wonder why more people don't use it.
Tower Tool Rack
Your long hand-held cleaning items can be stored in the corner of your garage by using a tool tower rack. Using this tool tower rack, you can store scrubbers, brushes, and brooms. In addition to rakes, shovels, and other gardening tools, they can be used to store gardening tools.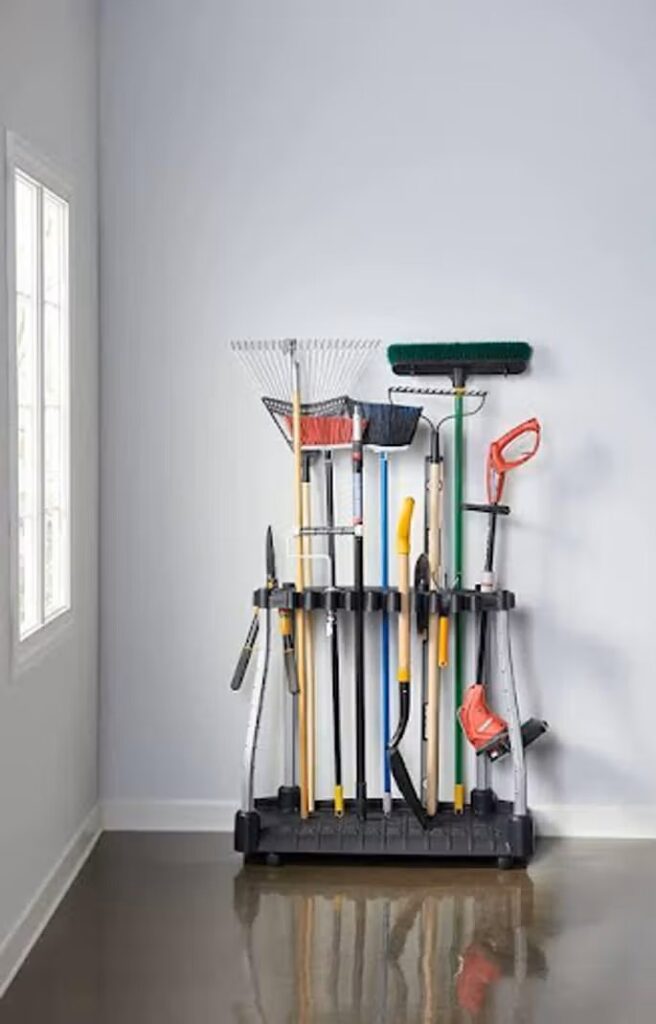 There are wheeled tower racks for storing your items in any part of your garage. They come in stationary models as well, if you need one that is more permanent. Try this solution. If it doesn't work, we've got plenty more tips, next!
Hanging Recycle Bin
Think about how messy it would be if you had four or five recycling bins lying around your garage. That's just inviting chaos into your space. You can solve this simple problem by hanging your recycling bins on the wall. We bet you didn't think it would be possible.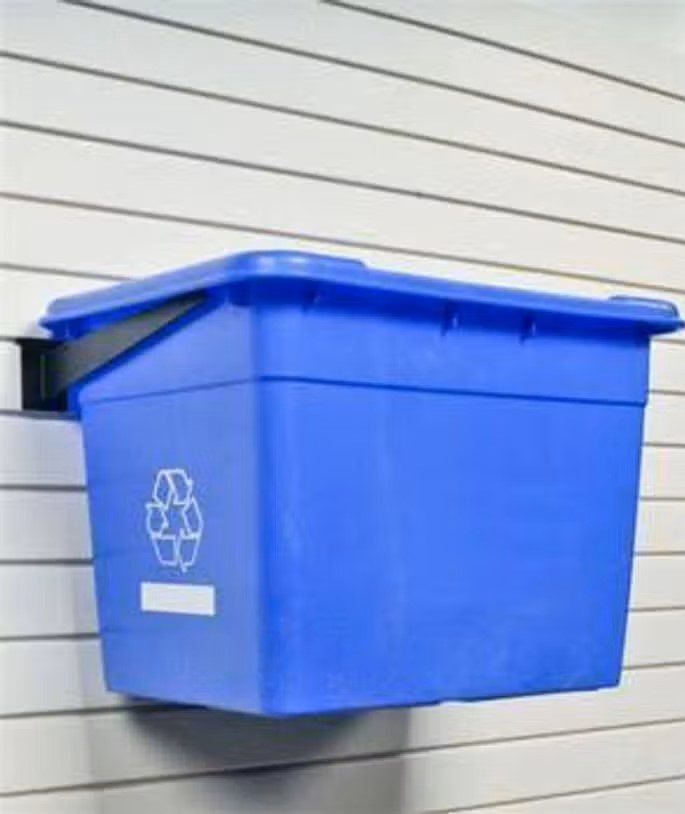 A DIY recycle bin hanger only takes a short amount of time and costs almost nothing. All you need is some holders bolted to the wall and a few simple tools. Have your recycling bins hanging and they will look fantastic.
Wall-Mounted Shelves
In a garage, there's so much space to store things on the wall. It's wonderful if you have a big open wall because you have a great storage space that can be used. Did you know that the average garage shelf can hold 100-400 pounds of weight?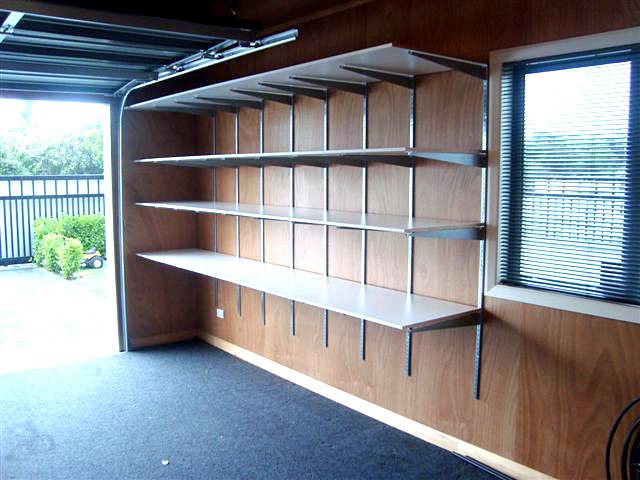 Surprisingly, this is true. Your garage will look very organized if you cover the walls with these shelves and store fragile items like Christmas decorations. They're perfect for storing bags of garden soil and snow tires. Try it, right now!
Make a Screwdriver Rack
When you lose your screwdrivers constantly, it's frustrating. We don't know how or why it occurs. No matter how many you buy, they always seem to find a way to escape. So, how do you keep them from disappearing? Create a screwdriver rack.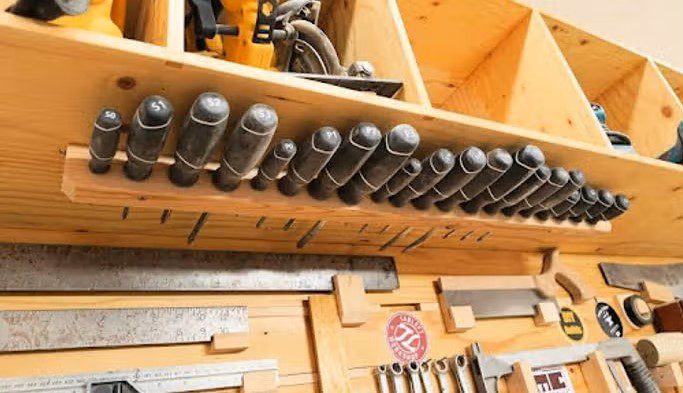 The best way to do this is to find a scrap of softwood long enough to store all your screwdrivers, no matter how long they are. You can then mount the rack on the wall so you can use it, reach it, and return it. No muss, no fuss!
Try Rolling Shelves
You can keep your garage organized without rocket science, folks. It's just a matter of dedication and thought. For example, you need more storage space. A rolling storage shelf is better than a typical storage shelf. Have you ever thought about that?
You will need to precut some plywood at the hardware store before you begin building these DIY rolling shelving units. Their value is that they come at a lower cost. More than likely, these simple shelving units will suit your needs perfectly.
Coffee Rope Dispenser
In large quantities, ropes can quickly become an eye-sore. They can also become a hazard if you are not careful. When ropes are laid out on the garage floor, you will be shocked at the mess they can create. Well, here is a simple solution: A coffee can rope dispenser.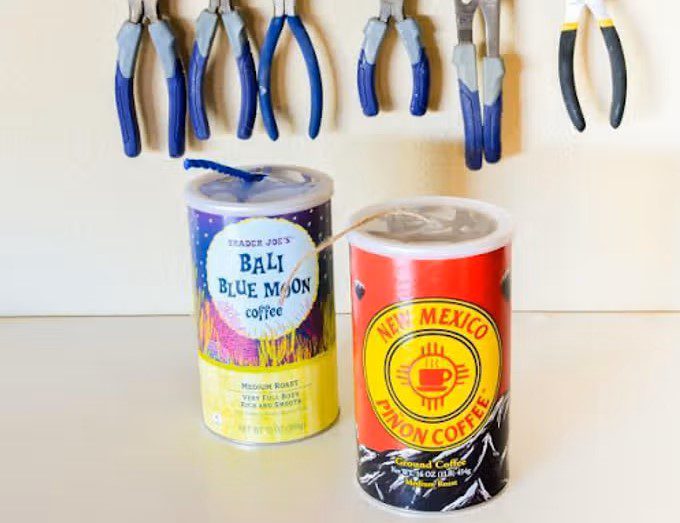 Instead of dealing with tangled rope and twine, place them inside a coffee can. Cut a slit at the top and put your string inside. Dispense your string easily by pulling the end through the top. We think this is genius, don't you?
Old Filing Cabinet Idea
So you bought a replacement file cabinet because your old filing cabinet isn't good enough. You're wondering what to do with that old filing cabinet. Hold on! Don't discard it right away. What if we told you that you could upcycle that old filing cabinet and store your gardening tools in it?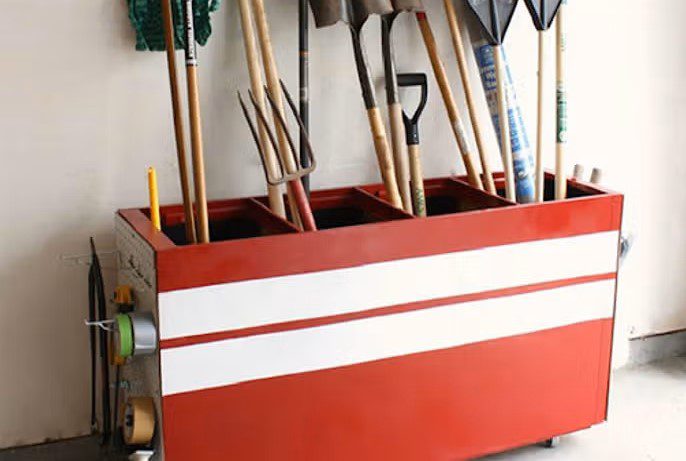 Well, you certainly can. The process is simple. You simply take your file cabinet down to your garage, remove the drawers, turn it over, and put your gardening equipment inside. This solution even looks attractive because the cabinet probably had a design.
PVC Pipe Drill Holders
These cordless drill holders can be made with PVC pipes. You can cut them using a bandsaw or rotary tool. A heat gun can be used to soften the pipe, which will allow the device's body to fit perfectly inside the pipe.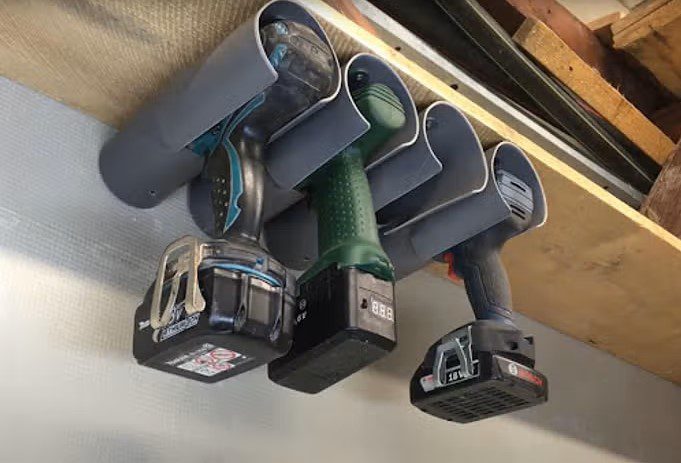 The three holes you drill at the top of the PVC pipe will guide you to insert screws and washers, which will attach to the shelf. Now you can easily access your drills without making a mess. We say this is a brilliant way to organize cordless drills and keep them safe.
Wall Mounted Bicycles
Bikes can quickly become an eyesore in our garages when they take up all the space. You can't get any work done without stepping over one. If you trip over one, you might get hurt. Also, if the bikes topple over, you might end up with even more mess.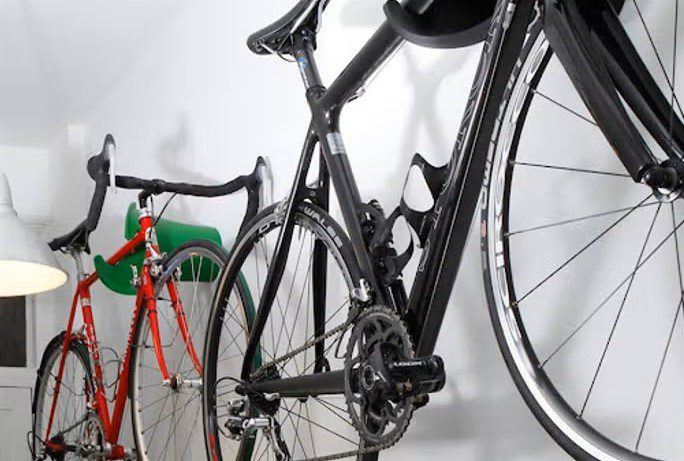 Here is a solution. You can use cyclic brackets to hang bikes horizontally or vertically so that they are clean and dry. Your local hardware store should have some. By storing bikes off the floor, you are providing much-needed space in your home.
Broom and Mop Rack
Garages are a convenient place to store cleaning tools. But we all know they can quickly become a mess. When you work in your garage, you may stumble over these tools. Who needs that kind of risk in their own home?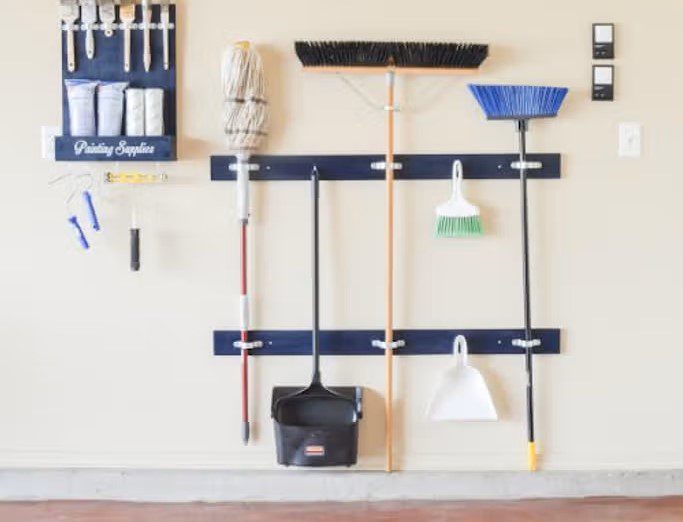 Making this handy cleaning tool holder from scrap wood and pipes is a no-brainer. It is simple and takes up less space than a traditional storage bin. When hung on the wall, yo will be amazed by all the extra foot room.
Cabinets for Clutter
Not many people like their garages cluttered. Even messy people hate their own mess. It is inevitable that there will be clutter, if you don't have a system set up. A hiding cabinet is one of the simple DIY hacks you can use.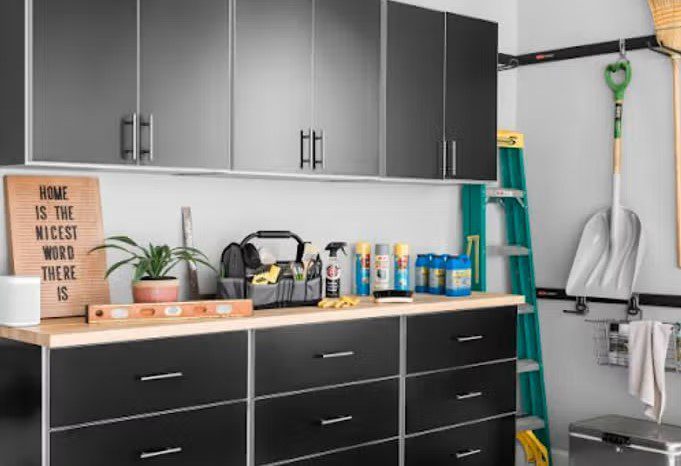 As they say, if it's out of sight it is out of mind. Using hiding cabinets in your garage workspace can increase your efficiency and keep the mess out of sight. It will also help you keep supplies and tools handy.
Simple Hose Holder
Garden hoses can quickly become a big mess in a garage because of their length. Garden hoses can really make workspaces uncomfortable. They can take up much of the space and cause trips and falls. When kids or grandparents trip on hoses, they can really become dangerous.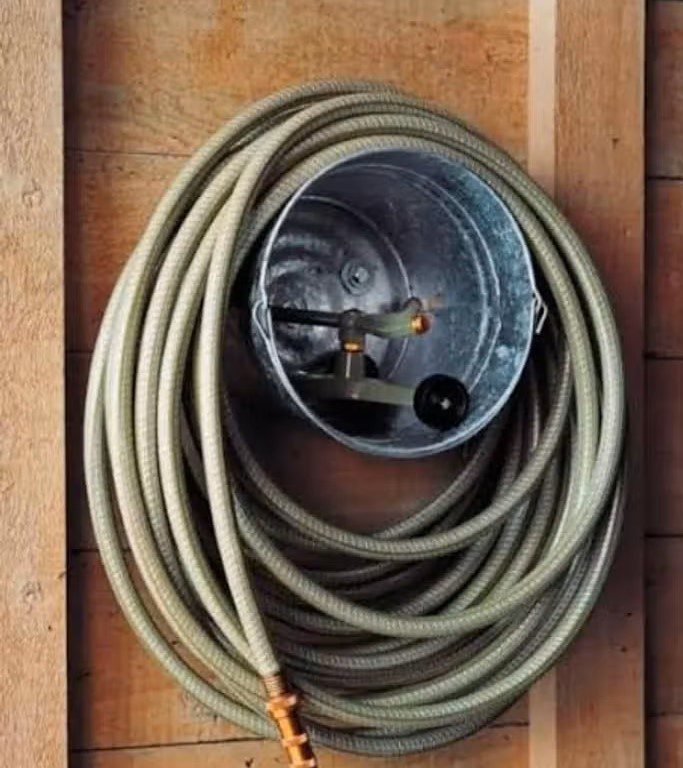 it's easy to avoid a tragedy. Make a garden hose holder, like this one. All you need is a tub and some tools. Wrap it around the tub and screw that to the wall. This is an easy, effective, and attractive solution.
Door Rack Storage
We know how frustrating it can be when you walk into your garage and find a mess of supplies littering the floor. We understand how frustrating this can be. Why live in discomfort any longer? Get door racks for storage.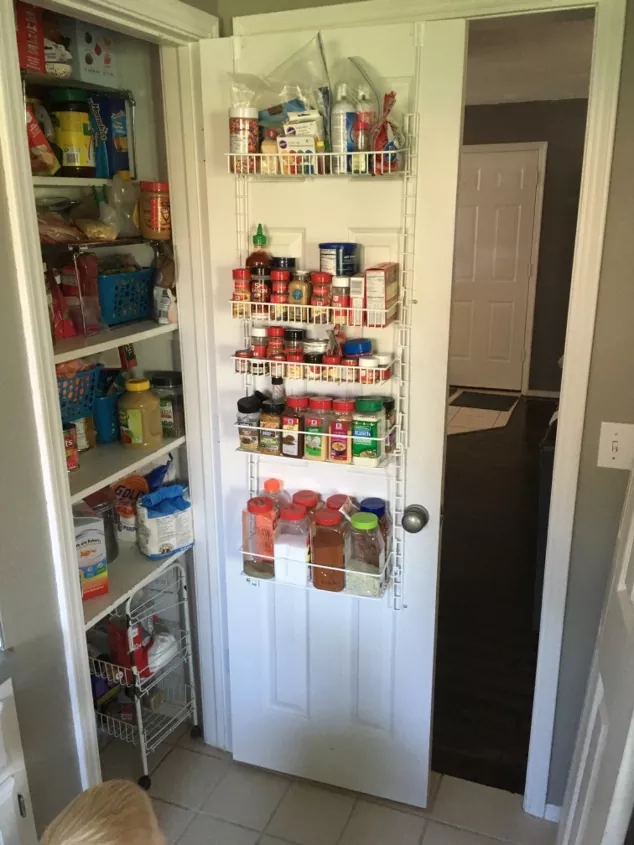 Kitchen closets have them. There is no reason the method can't be used in the garage, too. If you do not want to purchase an expensive storage unit, this is an easy DIY project that will cost you only $20.
Wire Basket Shelves
Metal wire baskets make beautiful storage bins, and you can hang them directly on the wall using metal picture hooks. You can create a storage cabinet using these wire baskets easily. The question is, where can you find these near you?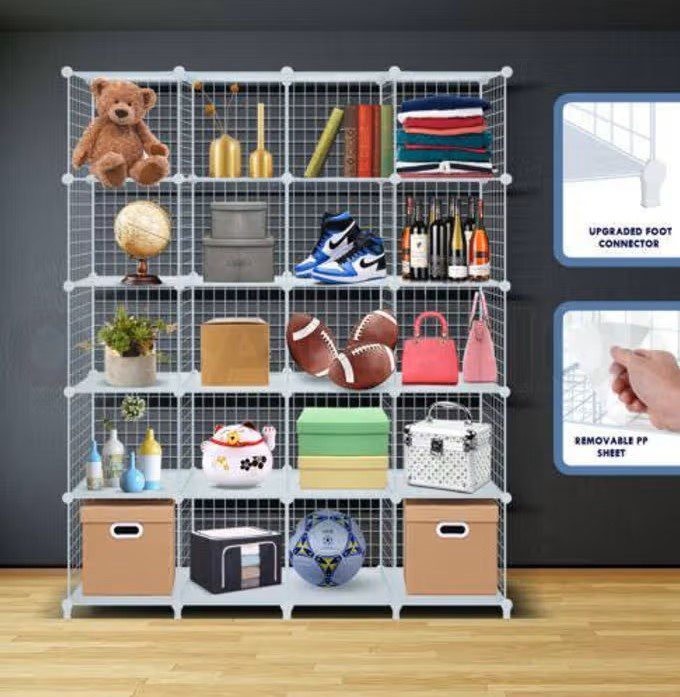 The answer is any home improvement store. Whether you're storing toys, basketballs, or boxes, you'll find the whiteboards in the racks and shelving section. The wire baskets are quick and easy to assemble. In our opinion, they are chic, too.