From Basic To Beautiful: 40+ IKEA Furniture Transformations
By Jhoana C February 2, 2023
---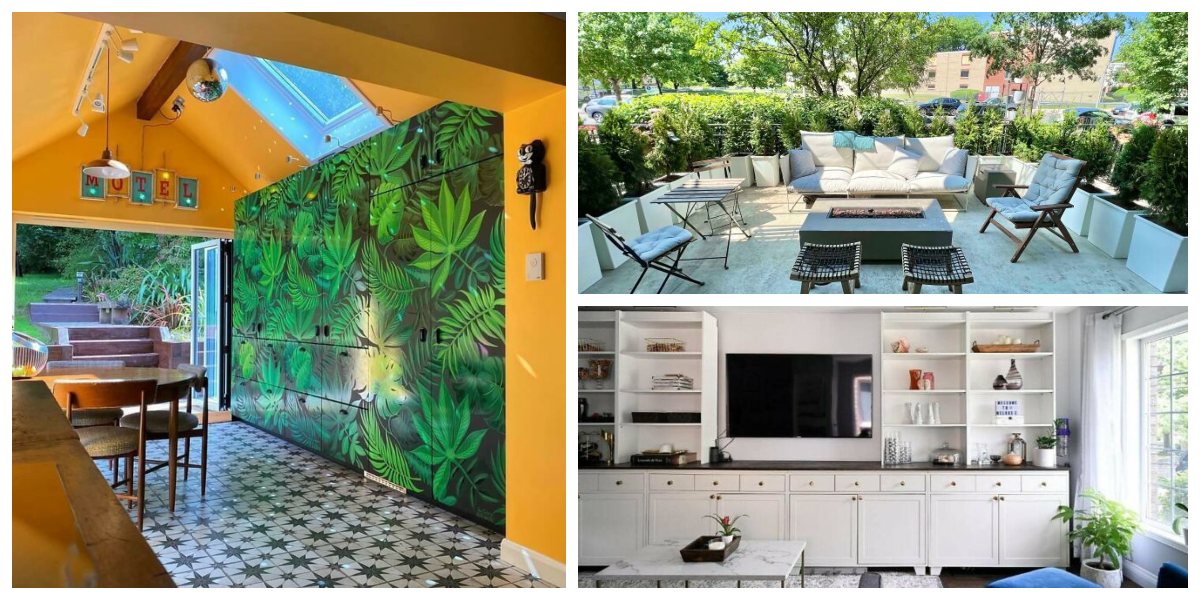 Named after the initials of its founder, the farm where the founder grew up, and the nearby village, IKEA has become a giant when it comes to furniture and household items. Established in 1943, the company now reaches millions of homes all over the world. Once a tiny business in the small Swedish countryside, IKEA now has over 400 stores in more than 50 countries.
The affordability of IKEA products has inspired innovative DIYers from all over the world to transform them into so much more, and there is now a dedicated community on the 'net where you can get inspiration and ideas for your next home projects. Stick around and see some of the most beautiful and clever IKEA furniture transformations that will spark joy in your heart.
#1 New IKEA designs to look out for
For the longest time, IKEA decided to stick with what works, and those are clean lines with solid colors. White is a predominant IKEA color, and if you look at all the furniture they have made since they started, you'll see that most of them are in plain white or brown.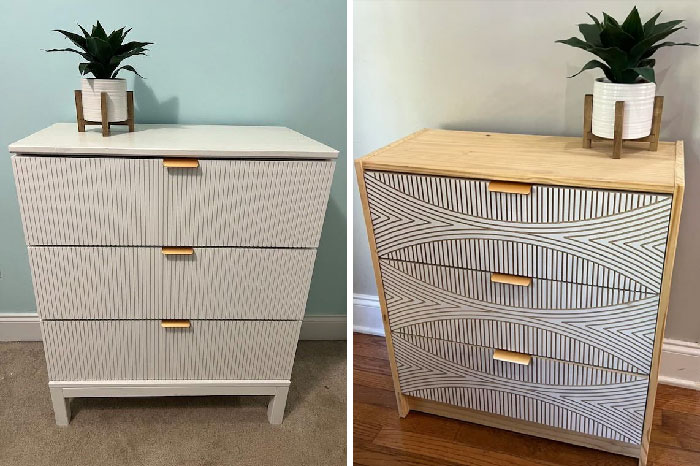 If what you see above is how the IKEA furniture of the future looks like, you can count as in. Patterns make things interesting, or if you are artistic and have the time and patience, you can perhaps make your current furniture look like this.
#2 Now, this is a headboard we want
Headboards have been around for a long time; even the pharaohs of Egypt had them. Headboards used to be a sign of social status, and having them is a sure sign of having made it in life. It was the Greeks who updated the headboards from the pharaoh's time.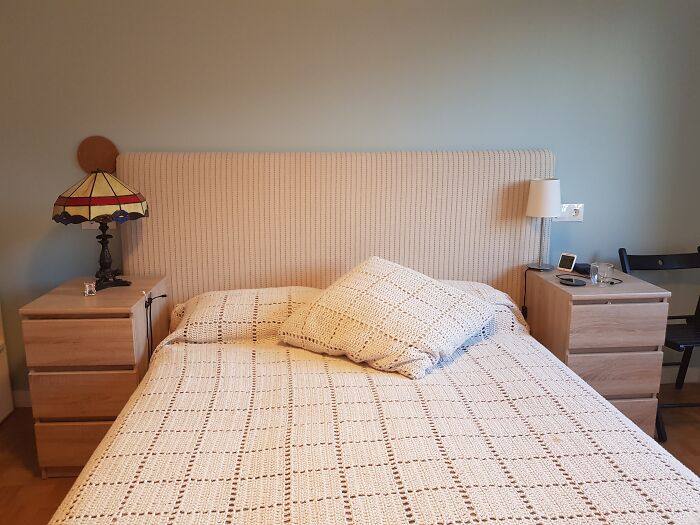 The headboard we know today is thanks to the Greeks, but we do like this modern take using the IKEA Starreklinte carpet. A carpet is not the first thing that comes to mind when talking about headboards, but this one is making us want to go to sleep.
#3 Updating the Tarva
The Tarva is another favorite storage solution of many all over the world, but you have to admit if you see the same furniture time and again, it can easily get boring. So what do you do? Make updates, of course.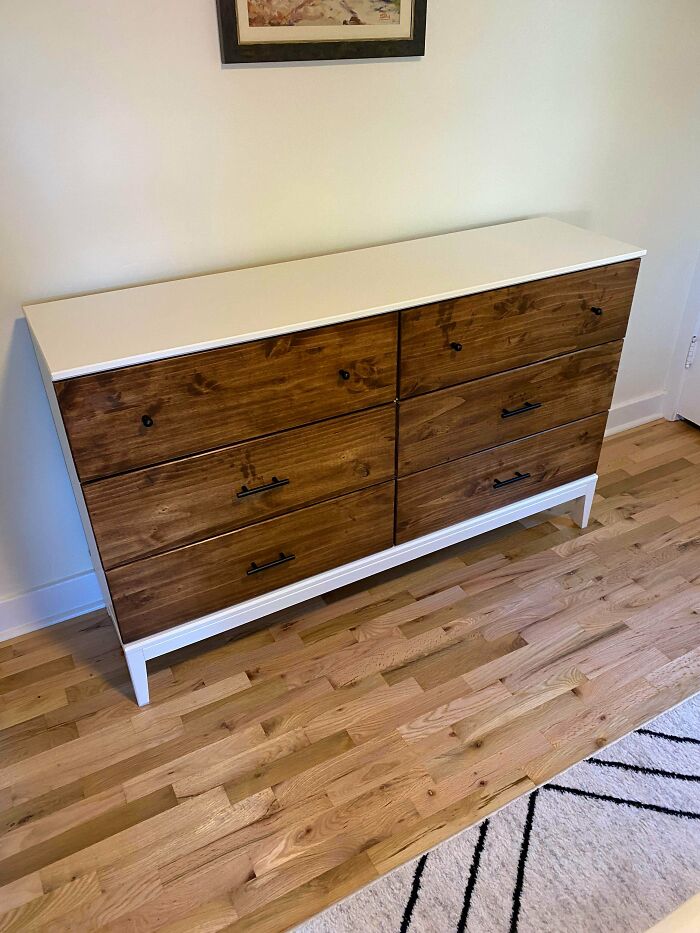 Here's a modern take on the Tarva, and we can say with 100% conviction that we love it. Don't you? These are two separate pieces, and the OP used a brush to apply the ScruffX stain. He left it on for 20 seconds and used a rag to wipe it off.
#4 The desk of our dreams
Now, this floating desk looks like it came straight out of a dream. Who wouldn't want to work in a calm sanctuary just like this? We could spend hours on end here and not even notice. Can you guess what IKEA product this desk was made of?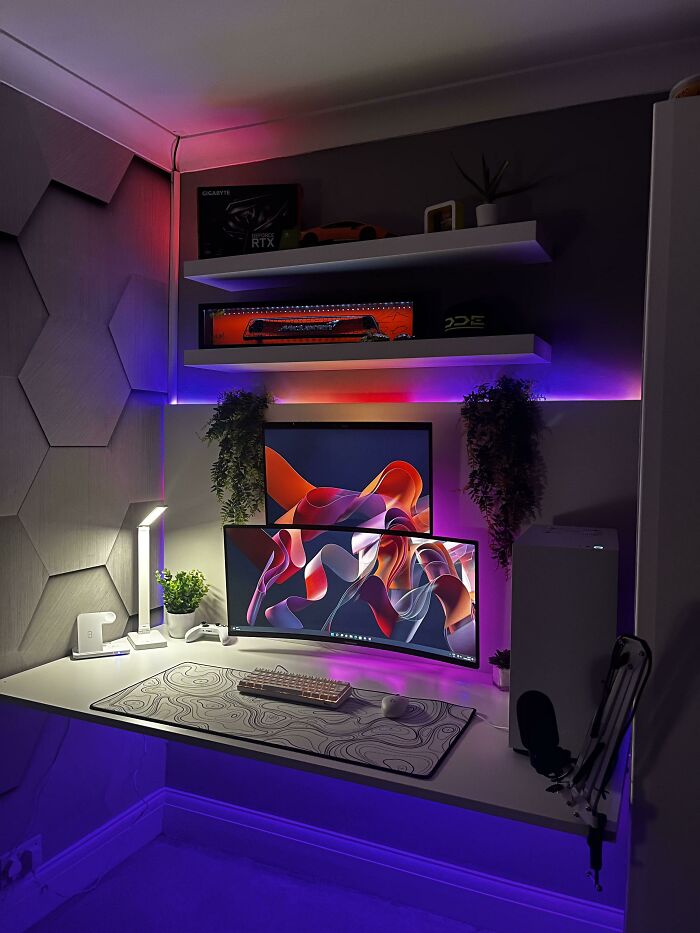 The OP wanted to inspire others out there who want something just like what you see in the photo, and he was more than happy to share that the desk is made from 2 IKEA Trotten. The more pressing question, however, is how it was attached, so OP, please spill the beans.
#5 Easy shelf with no wall damage
Shelving is one of those things you have to be careful about. You want a place where you can display things, but you also want to do it with minimal wall damage. Whenever possible, refrain from drilling on your walls.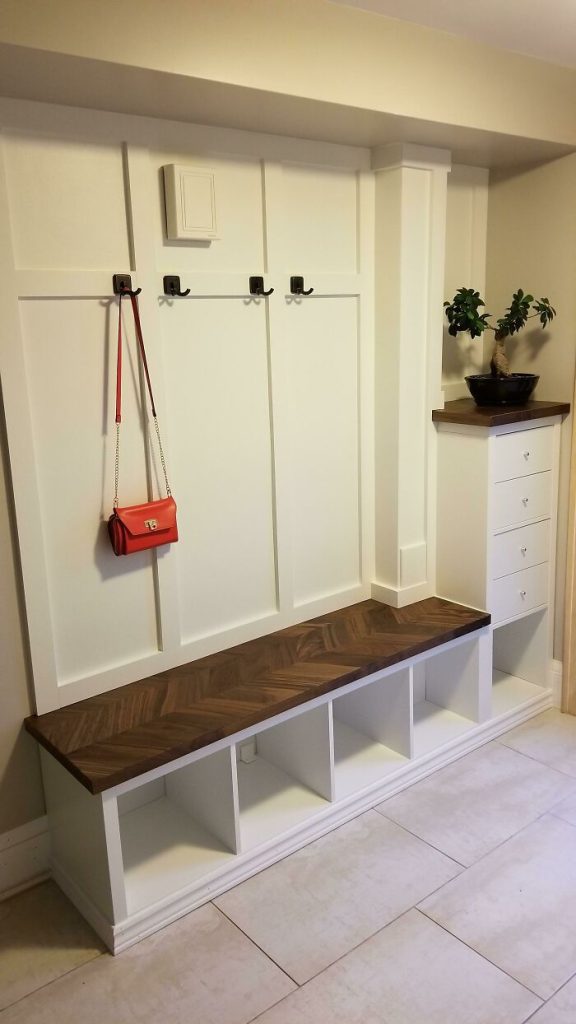 We never thought that radiator shelf brackets and IKEA Maleras go together, but here's proof that both are a perfect combination. This is one great way of making a boring hallway more interesting and injecting more character into an otherwise bland space.
#6 Making use of wasted space
While radiators are incredibly useful, they can sometimes take away from the decor of the room. They are not very nice to look at, and it is difficult to think of safe ways to spruce them up a bit. This person has cracked the code.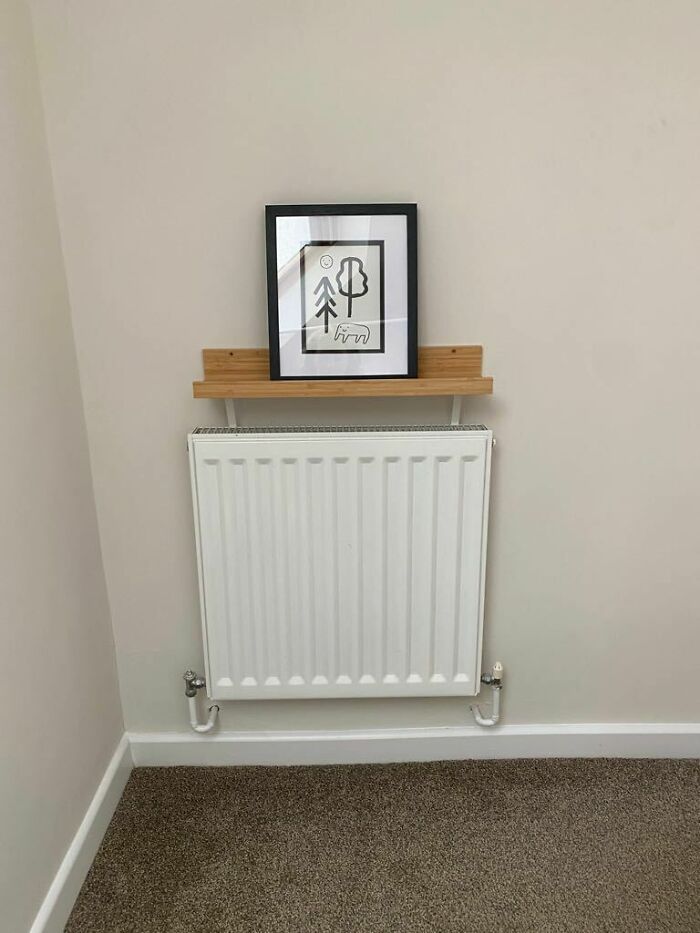 By using a simple singular floating shelf, they have utilized the space above a radiator that often goes to waste. The artwork they have placed on the shelf is lovely, but you can also store some plants or other decorative pieces there.
#7 What a cozy reading nook
This is in the running for the library of our dreams. Every bookworm will think that they have died and gone to heaven if the people in their lives surprised them with such a cozy library and reading nook, and they might not just leave home anymore.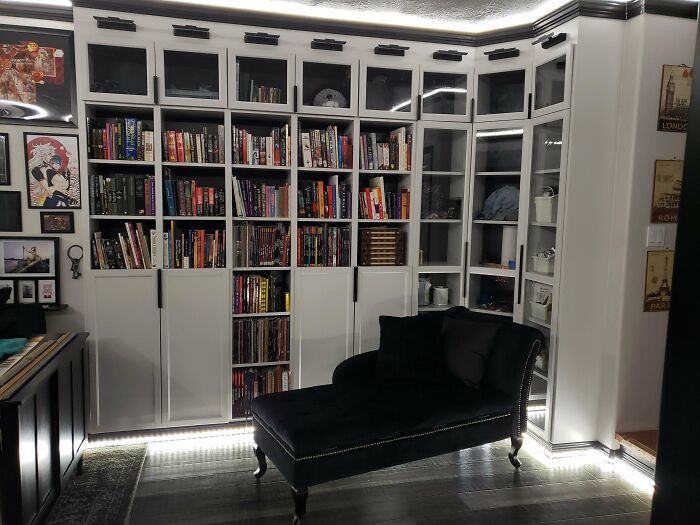 Of course, the Billy bookcase is the star of the show, but you can hardly tell that this is ready-made because of the alterations and improvements made. A hack that you need to keep in mind when building a library or office is to get the Billy bookcase. You can never go wrong with it.
#8 Leg hack to keep your table standing for years
The Lövbacken table is a popular item at IKEA. The table has three legs with brass-colored feet with a height of at least 30 inches. It's stylish and quite a piece, but what do you do if your couch or chair is a little lower and you want the table to be of the same height?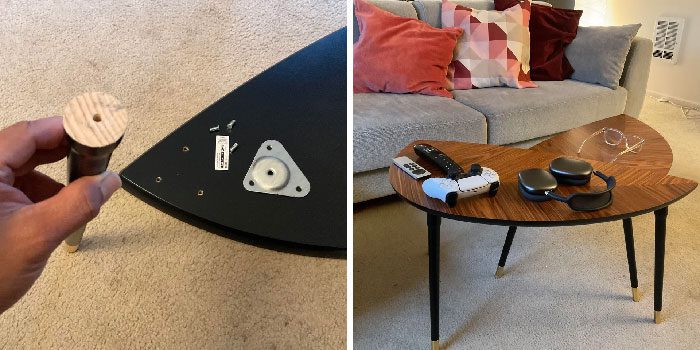 This guy has shared his hack to make life easier for everyone. Instead of sawing the bottom of the legs to make the table shorter, he cuts the top of the legs after removing the mounting plates. Now that's one brilliant idea.
#9 No built-in? No problem
Sometimes due to financial constraints, we can't have the cabinet of our dreams or the walk-in closet of our dreams, but this shouldn't stop you from trying, experimenting, and checking hacks on the 'net. Who knows, one of them might just be perfect for you.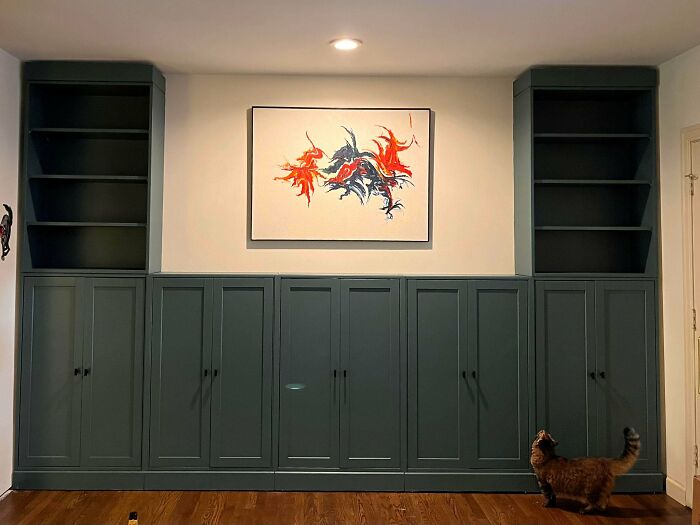 This couple didn't have built-ins, but that was quickly solved by using seven Havsta cabinets. They primed, painted, added new knobs, and trimmed the seams. Look at the result; nobody will even notice they are Havtas. They did a brilliant job.
#10 What a stunning piece
Besta is one of IKEA's most popular storage solutions and can be used in any part of the house. This fellow bought himself a Vesta but didn't stop there. He made it unique and completely his own with a design we can only dream of.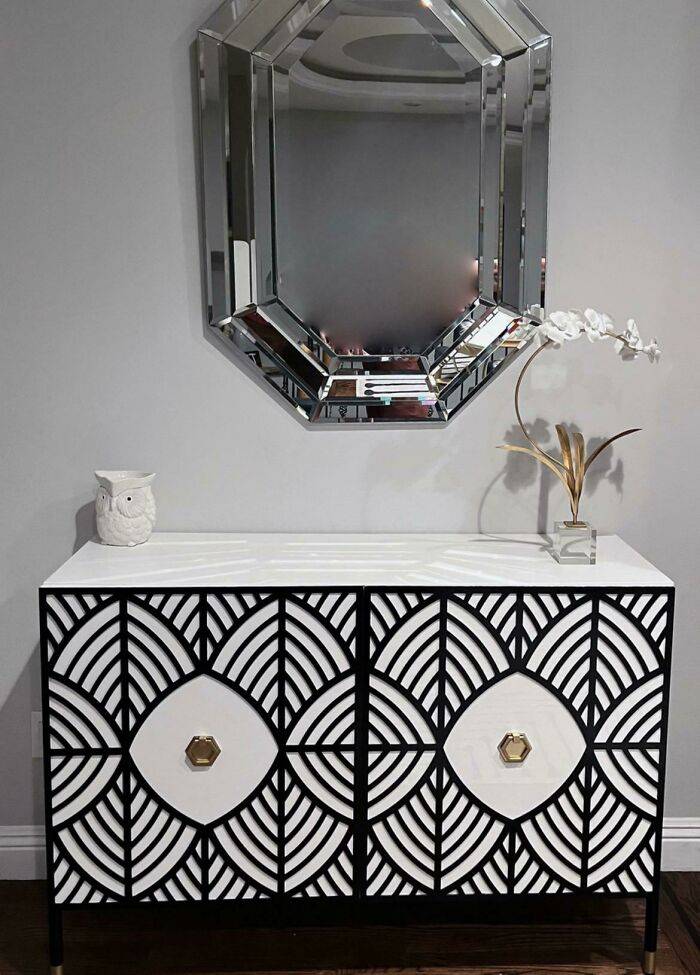 This would make a great addition to any house, and with all the overlays and cutouts, no one would have thought that this was a ready-made product from IKEA. This man ought to start a business; people will be rushing to buy his designs.
#11 That's one cool chest of drawers
If you've ever wondered where the best place to store your chargers, cables, USB sticks, and other small electronic devices is, chances are you may have already gone on IKEA's website to check what options are available. Perhaps something that is better than the quintessential junk drawer.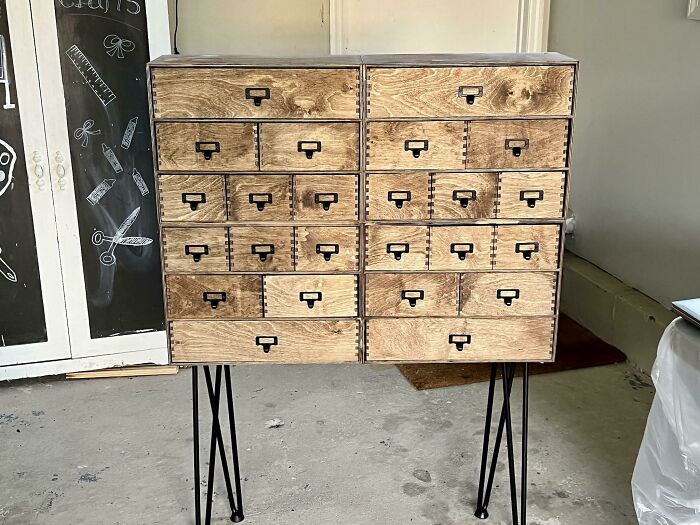 The Moppe chest of drawers is perfect because it's small enough to sit on your table but roomy enough for all your small things. This guy brought his Moppe to another level by flipping the drawers to hide the notches and adding legs to it.
#12 Channeling mi-century vibes
Lighting, when done right, can add another dimension to a space, creates height and depth, and draws attention to the most beautiful areas. Furthermore, lighting can have a huge effect on the room's mood, so make sure you do it right.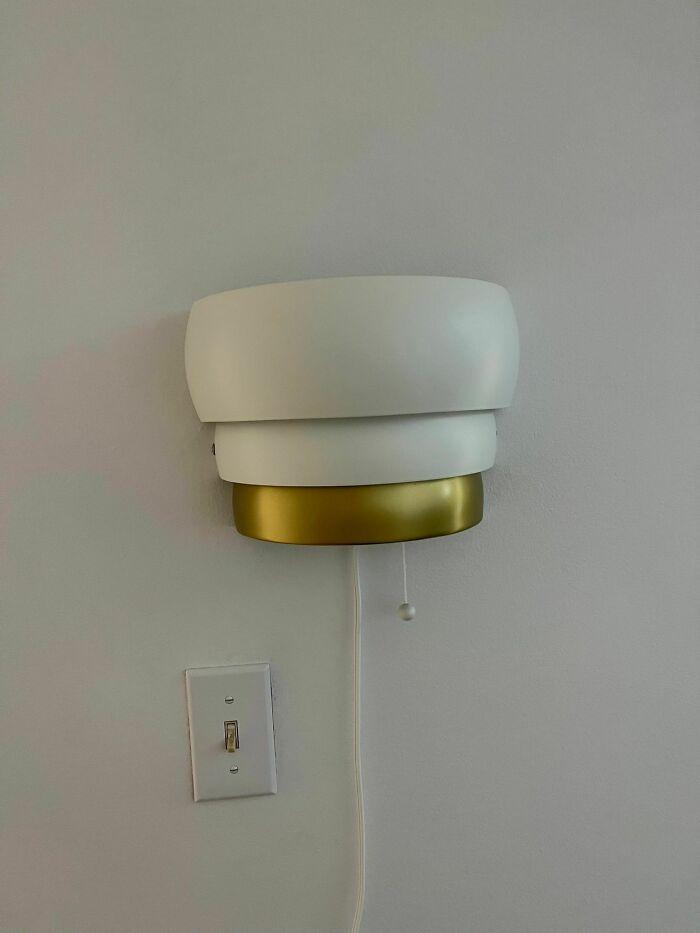 Sometimes no matter how hard you look, stores don't carry the design you like, so what this man did was transform the IKEA GRÖNPLYM sconce by spray painting the bottom part with a gold color and look how it turned out!
#13 A patio we can hang out in
No money for large planters? Don't worry because IKEA has come to your rescue with the Filir trash cans. All you need are just hedges, and you can now have your very own private patio where you can relax without being visible to everyone on the street.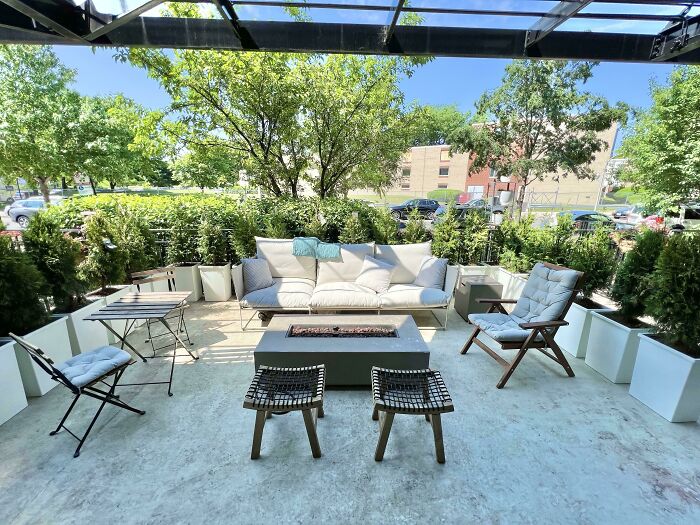 Neat, right? However, a few people on the 'net are concerned that the fact that Filir cans are made of plastic means they won't last long outside due to weather changes. So, if you do want to replicate this idea, you might want to stick to similar cans to Filir that are made for outside use.
#14 Stylish shoe storage
Just because shoes are worn on the feet doesn't mean they deserve less stylish storage compared to your clothes, right? Your shoes deserve as much love and care as other articles of clothing. After all, they carry you all day.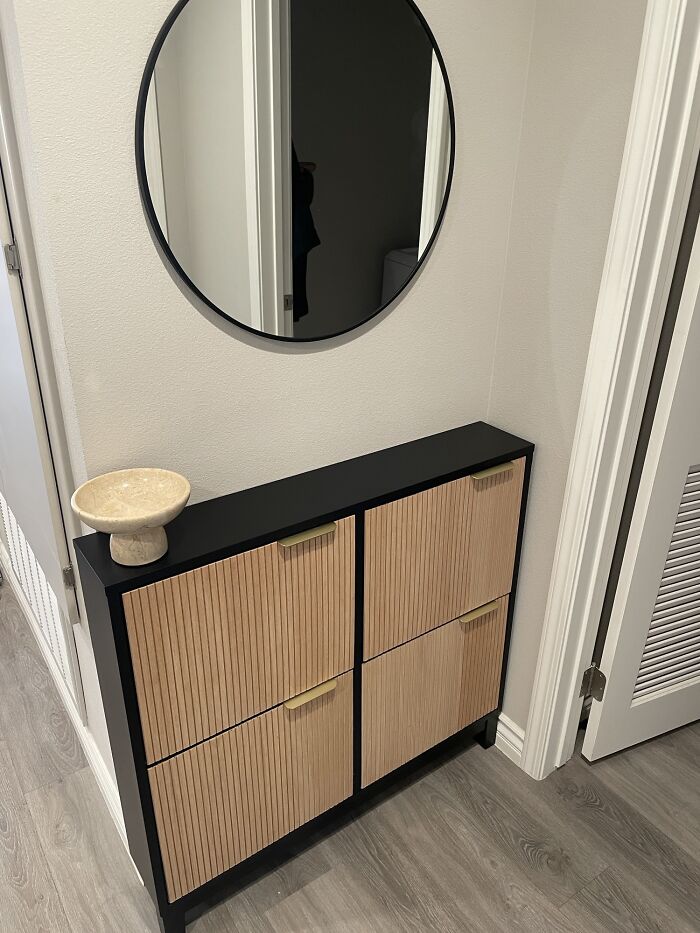 The Ställ may be basic, but this guy has elevated it and made it a stylish piece that footwear of all kinds will be glad to be stored in. Sometimes you just marvel at all the beautiful things people come up with.  
#15 Custom-made work desk
Although there are countless desks that can be purchased both off and online, sometimes you just don't get the size or style you want. Most people are left with no other choice but to make their own desk, something that they are guaranteed to like.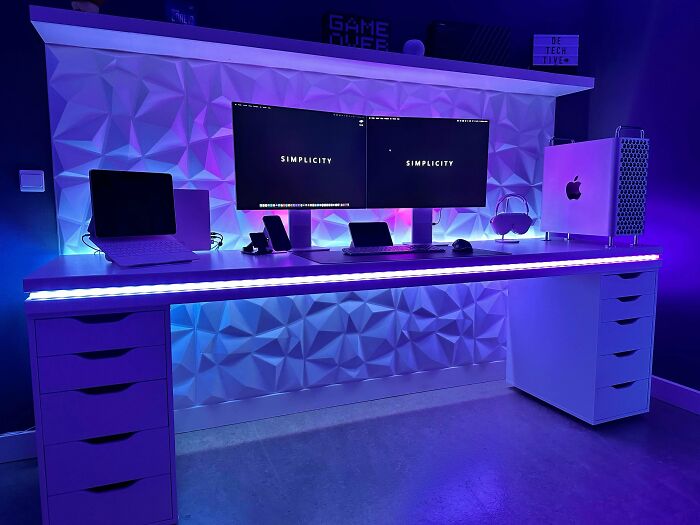 This guy was in the same boat, so he went to IKEA and got himself the Alex drawers and 2 Säljan countertop desks. A few LED lights, and what he got, in the end, is what you see in the photo above. Super cool.
#16 From boring to mind-blowing
Lampshades don't need to be boring. Just because they are not the highlight of the home doesn't mean they should be neglected. They need attention and love, too, and if you have a chance to make them stylish, do so.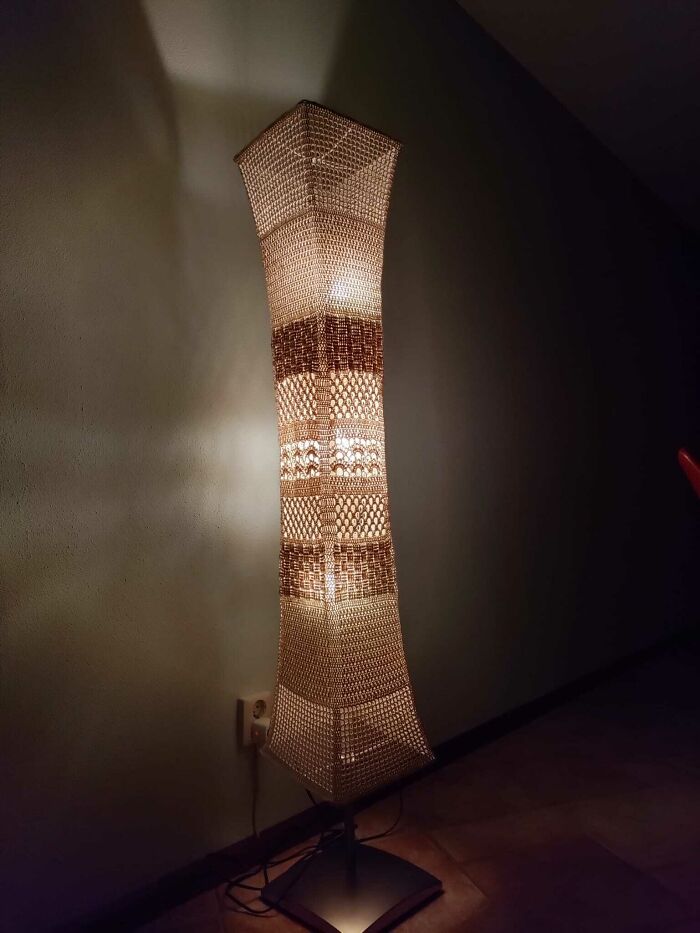 Here is an excellent example of a boring lamp transformed into a conversation piece. Granted, the OP has talents in crocheting, but it doesn't always have to be crochet. There are a million ways to add zest to your lampshades.
#17 Putting the Billy bookcase to good use
If you're someone who's into reading and have scoured the net for a good bookcase where you can put your books, it's most probable that you've come across the Billy. It's one of IKEA's most popular bookcases, and there's a big chance that even if you don't recognize it, you've already seen it.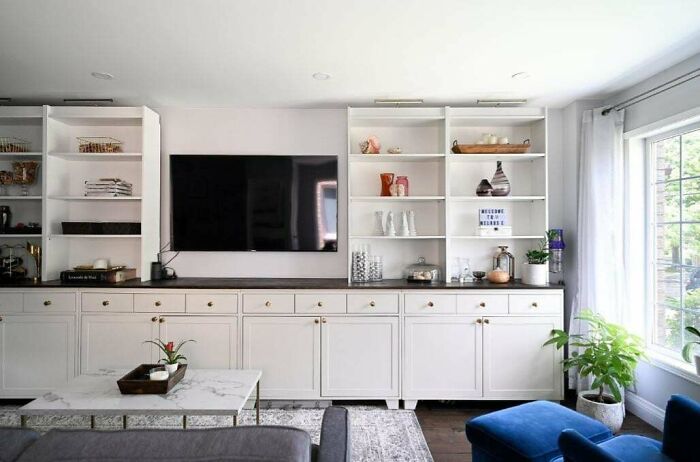 What you see above is the transformation of the Billy from a simple bookcase to beautiful DIY cabinets that will make anyone say 'Wow'! This lovely project is something that people on the 'net are already itching to try on their own.
#18 Another beautiful library
This is another beautiful library slash entertainment center where bookworms would just love to put their feet up and drift away between the pages of novels. The only thing missing here is an oversized stuffed chair with plenty of fluffy pillows.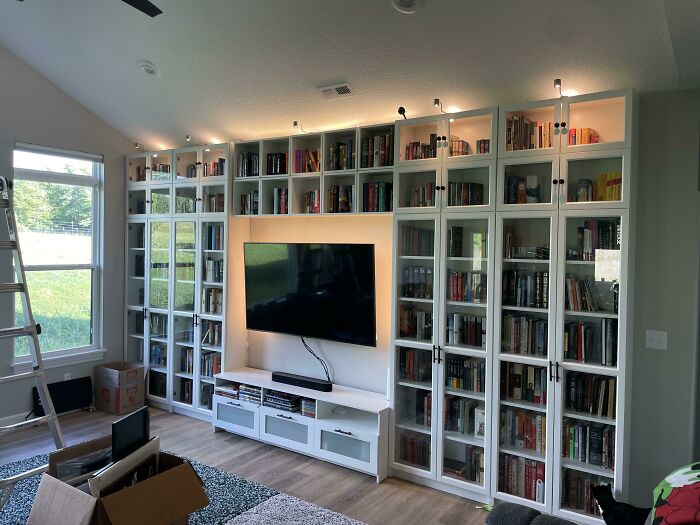 Again the Billy bookcases take center stage and have all the attention here. We hope they stocked it with all the most popular modern titles and classics. We're curious about where the OP is located because we'd like to pay a visit soon.
#19 Kallax hack to keep in mind
Now, this is a subtle but beautiful transformation of IKEA's Kallax shelving unit. The OP transformed it into a bedside table, and if you have this kind of table on both sides, there's no reason to wake up on the wrong side of the bed.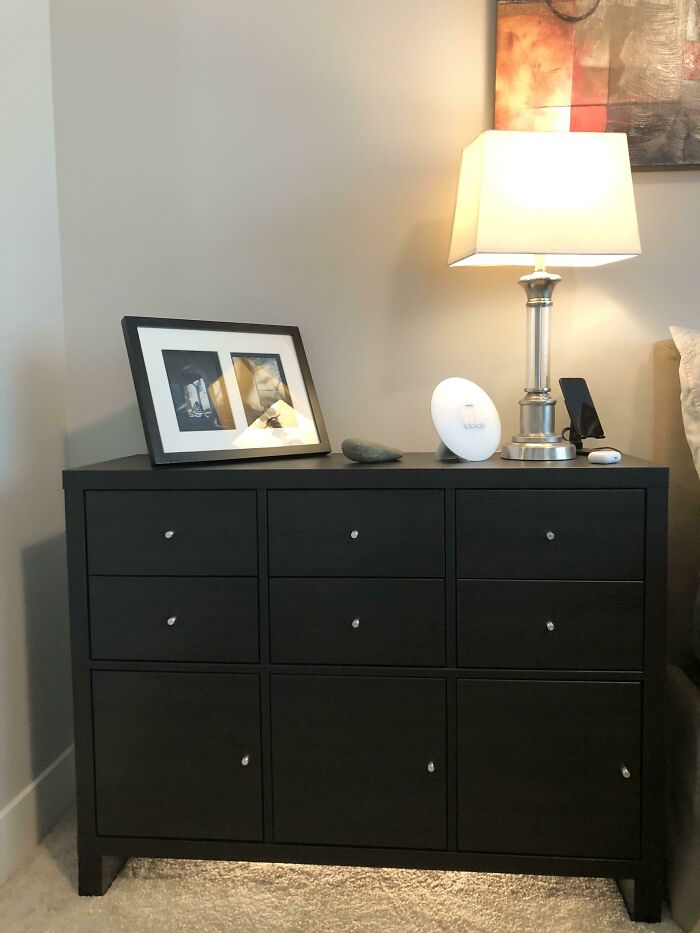 The OP added legs by cutting chunks off an old Expedit unit, added drawers and cabinet doors, and instilled some light underneath. It might look like a bedside dresser because of its size, but it works as a table too.
#20 Some wallpaper and you have a work of art
If you're tired of seeing the Billy bookcase, we have some news for you. You can do more than just change the paint color. You can give it personality and character with the use of wallpapers. You have to make sure that you pick a wallpaper with an interesting pattern, though.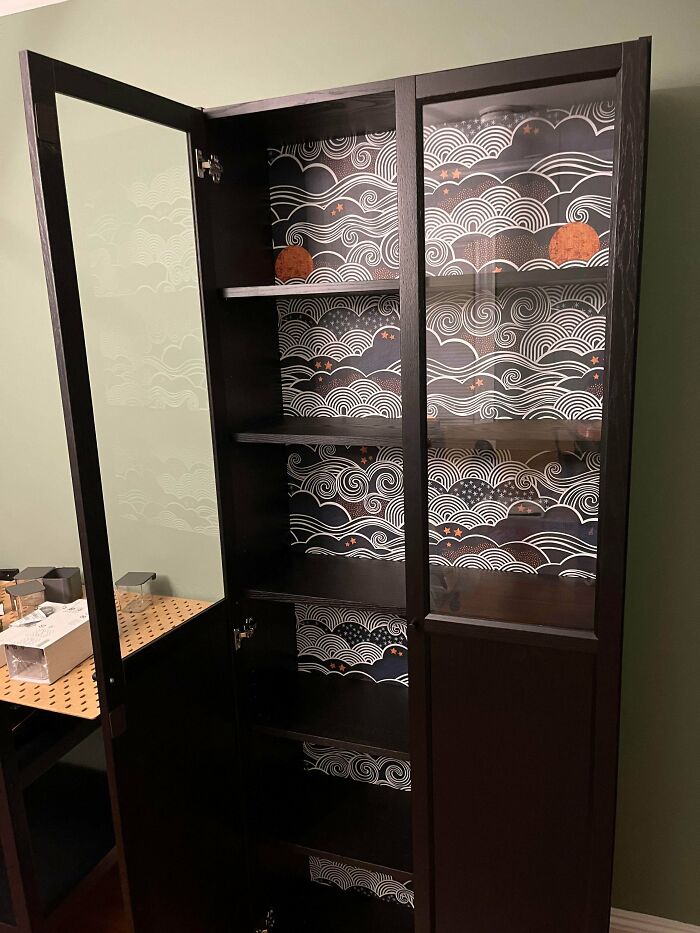 Look at this beauty! We love the dark color of the bookcase and the wallpaper with Japanese or Asian design and if you're curious where the OP got it, it's from Spoonflower. This is a project you can easily do on the weekend.
#21 Who wouldn't love this pantry?
The pantry may be something that's hidden away from guests, but it's an integral part of the house. You'd want enough space so you can store food items in an orderly fashion. This way, when you need to grab something while cooking, you know exactly where to get them.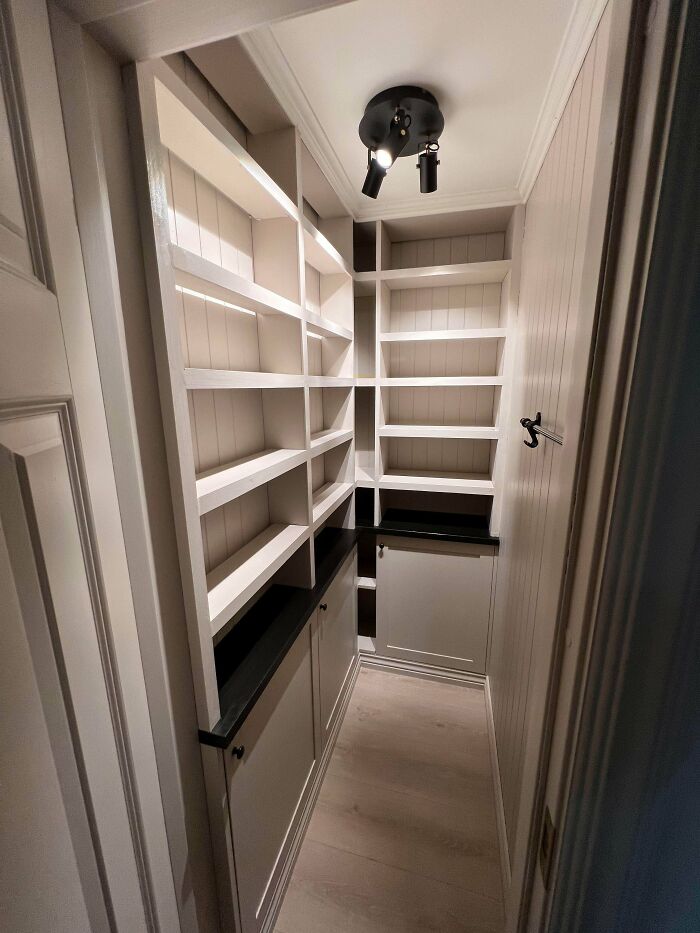 This person must love cooking very much that he or she built a pantry with more than enough storage, and we can't wait for the shelves and cupboards to be full and lined with canned goods, nuts, and other delicious items.
#22 Loving the legs on this
This may not be as much of a hack as the other things on this list, but it still deserves to be mentioned because a little paint goes a long way, especially when it comes to furniture. This is the Äpplaryd with the legs painted white, and we love it.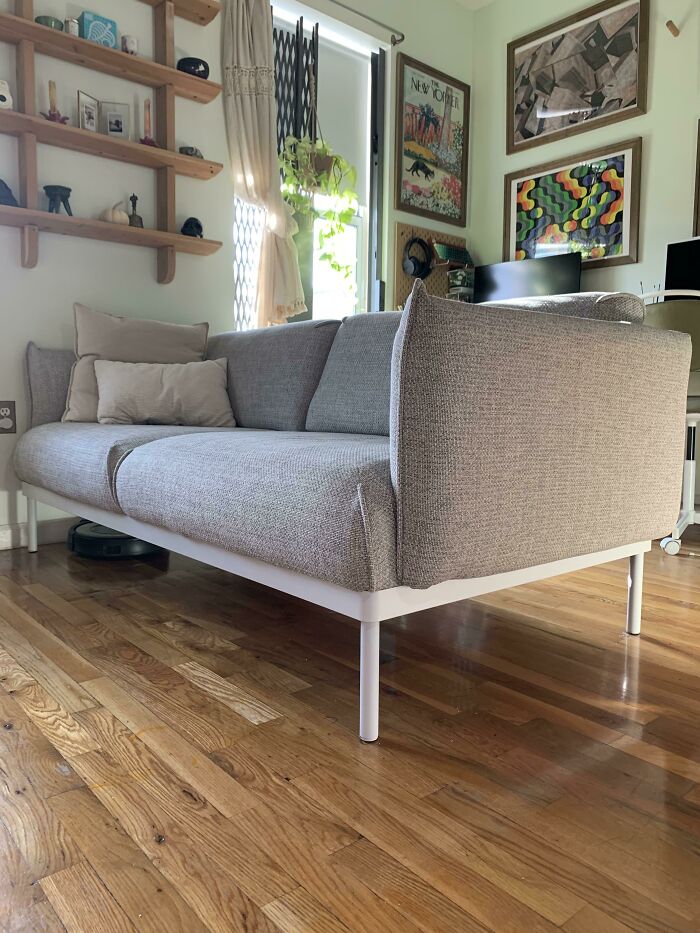 Sometimes painting furniture is a good idea, but there are times when it isn't, so go with your judgment and what you feel about this one. To each his own, but what matters most is that you are happy with your DIYed piece of furniture.
#23 The coolest guinea pig cage
This person is just one of the millions of people around the world who keep guinea pigs as pets, but his pets have a distinct advantage over others because they have one of the coolest cages in the whole world.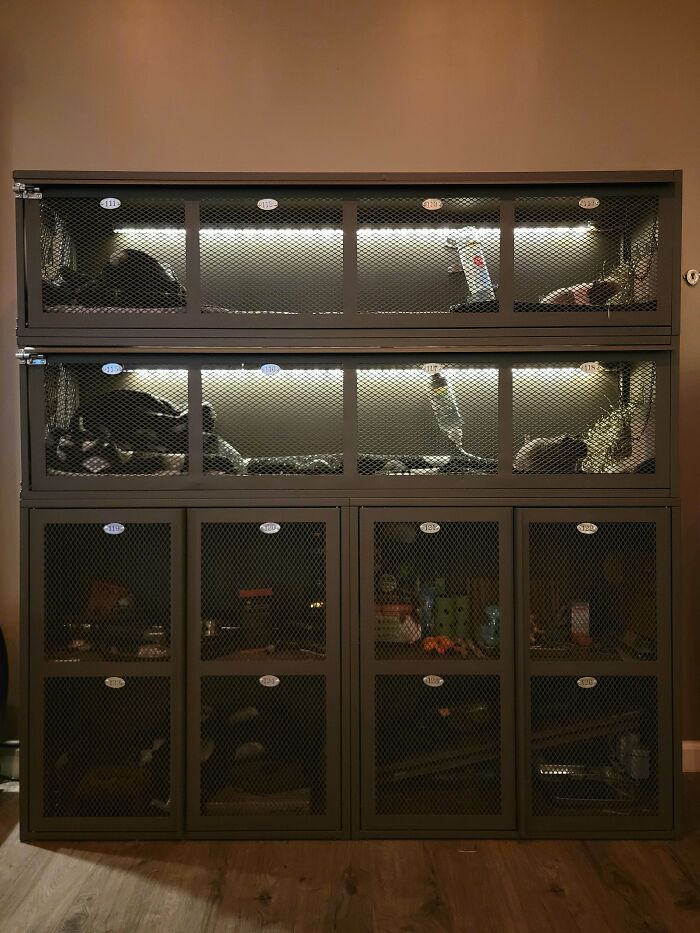 This guinea pig cage was built using Ivar cabinets from IKEA, and this picture was taken a couple of years after the build, which proves that IKEA furniture is sturdy. We can only wish to be as spoiled as these two.
#24 Bold kitchen units
Most of the time, people prefer to stay away from bold and bright prints for fear that it might make the space look smaller and make the room look crowded. There's also something to be said about the challenge of pairing bold colors with decors.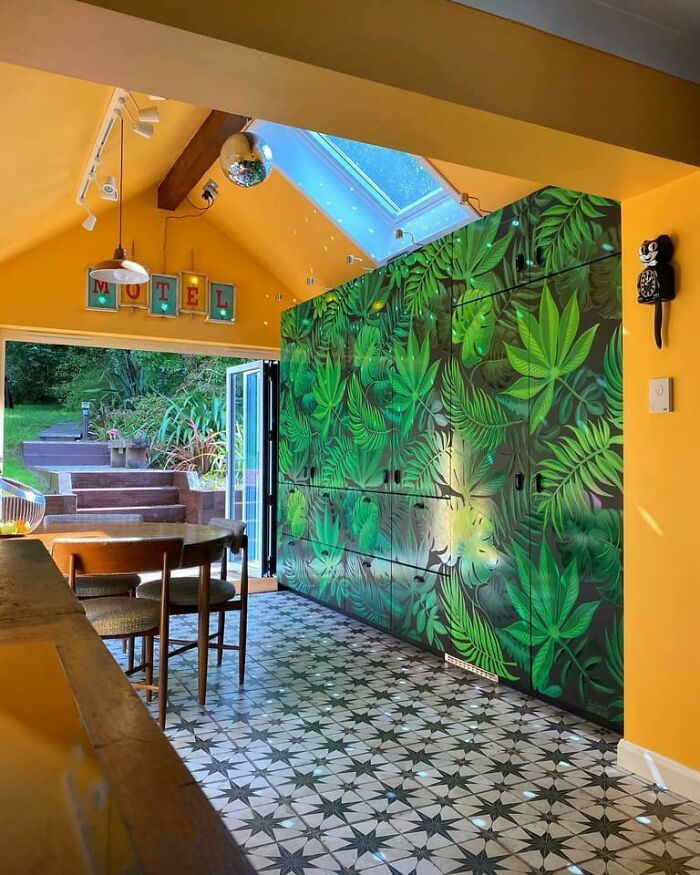 This man, however, has done it right, and we love the bold statement of the kitchen units, which he happened to install himself. The units go wonderfully with the wall color. We can only wish we had as much creative flair as this guy does.
#25 Luftmassa and Blanda hybrid
This is one brilliant take on merging the Luftmassa and Blanda. People on the 'net might jokingly say that this is a surefire way to make sure that your light fixture doesn't run away again; we think it's a clever design idea.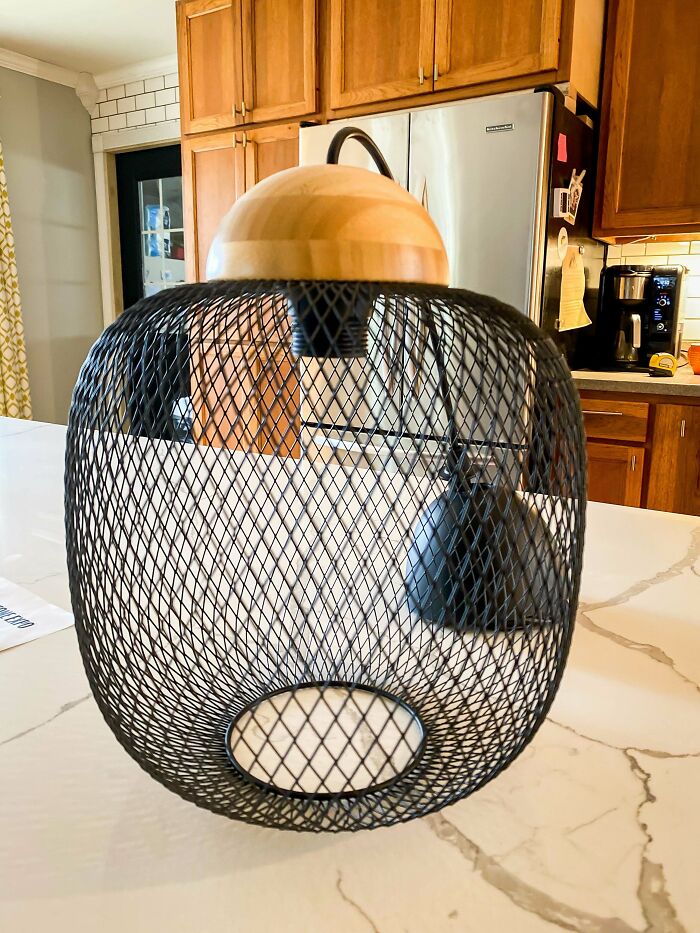 This would make an interesting and beautiful light fixture over the dining table or the living room, don't you think? This just goes to show that with creativity and effort; you can make many wonderful things with your existing IKEA purchases.
#26 From bookcase to a headboard
If you think that the Billy is only good for books and can only be used vertically, you're mistaken. It's versatile and can be transformed into other things; all you need is creativity and out-of-the-box thinking, things that this guy had.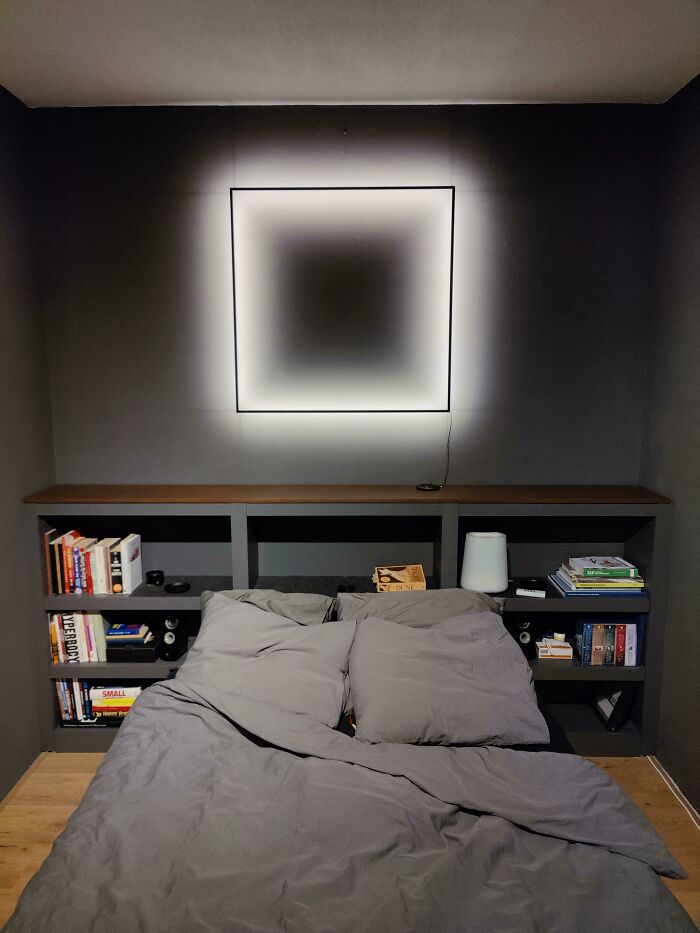 Here you see the Billy bookcase transformed from a bookcase to a headboard. We are 100% behind this idea because not only does it look solid enough, you get shelving at the same time too. Oh, we'd like to mention the lighting too, it's superb.
#27 Doggy likes its baby bed turned puppy crate
In this world, you have to be open to everything, including using baby beds as puppy crates. After all, both babies and puppies are small, and they need comfort and care, and they also need to be safe. This is the best way of using the baby bed after your children outgrow it.
Just make sure you have plenty of chewing toys so your little puppy doesn't end up chewing through the wooden bars. Not only is this an excellent furniture hack, but it's also a good way of upcycling too and saving a bit of money.
#28 Wallpaper works its magic
The earliest wallpapers originated from the 26th century, and they were used to decorate little rooms in the house of common folks. Nowadays, you see wallpaper everywhere, from the homes of rich folks to those who work 9 to 5 jobs.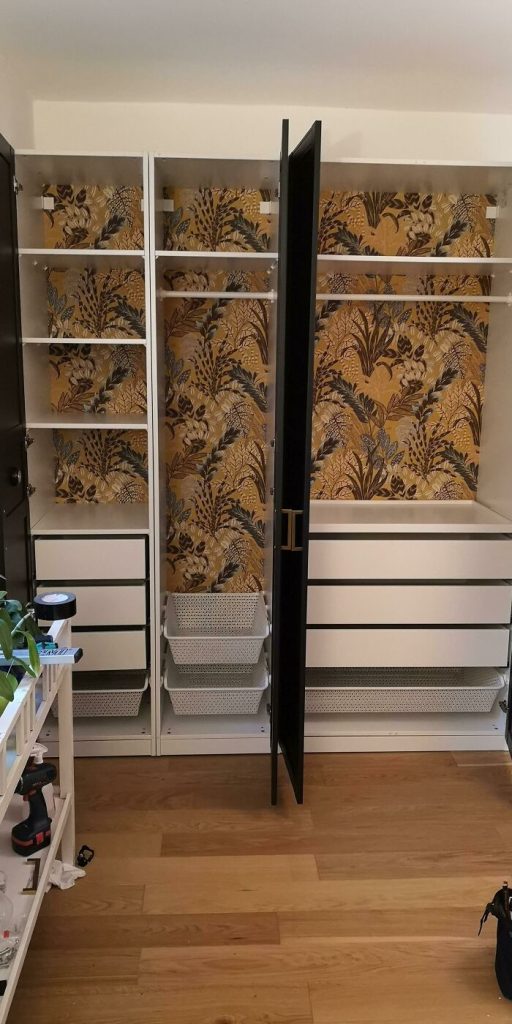 Wallpapers can be used to hide a few flaws. This OP's Pax wardrobe has a damaged back, but instead of throwing it away, he bought wallpaper to cover the flaws. This goes to show that not everything broken has to be thrown away.
#29 An apartment for cats to love
Why spend money on an expensive cat home when your unused Kallax shelves can do an even better job? If it's just sitting there and not being used optimally, you can turn it into a hanging cat apartment just like this.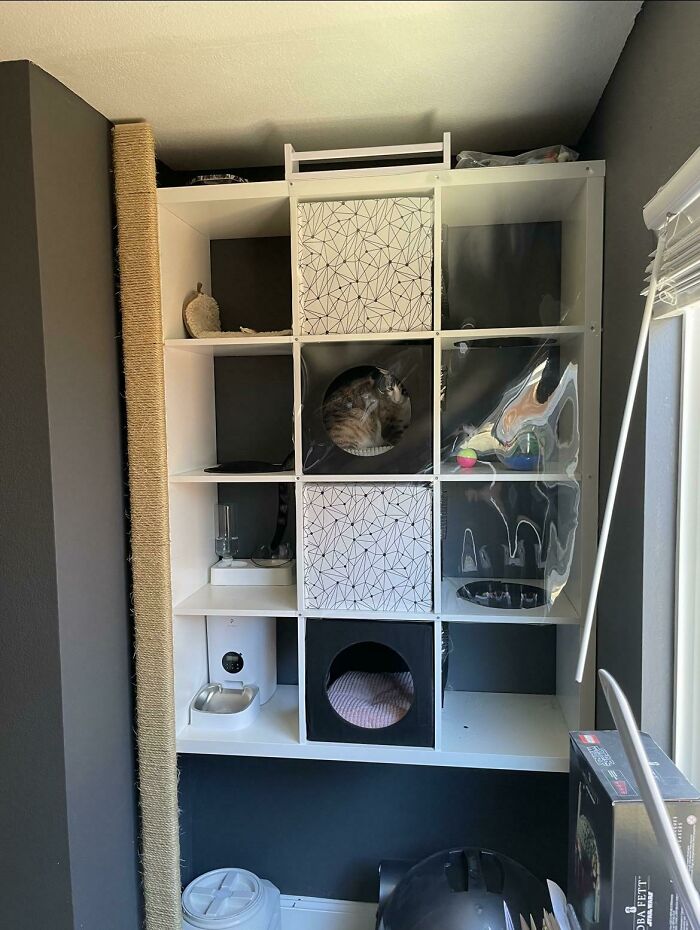 We can only wonder how many hours this little kitty spends playing in its lovely and spacious apartment. There's no reason to get bored or be upset if you have a home that looks like this. Plus, there's no way that dogs can bother the little kitty now.
#30 Christmas tree with shelving
When the words "Christmas Tree" are mentioned, we usually think of a tree complete with all the trimmings, but you don't have to subscribe to everyone's idea of a Christmas tree. You can be original, and that's exactly what this person is.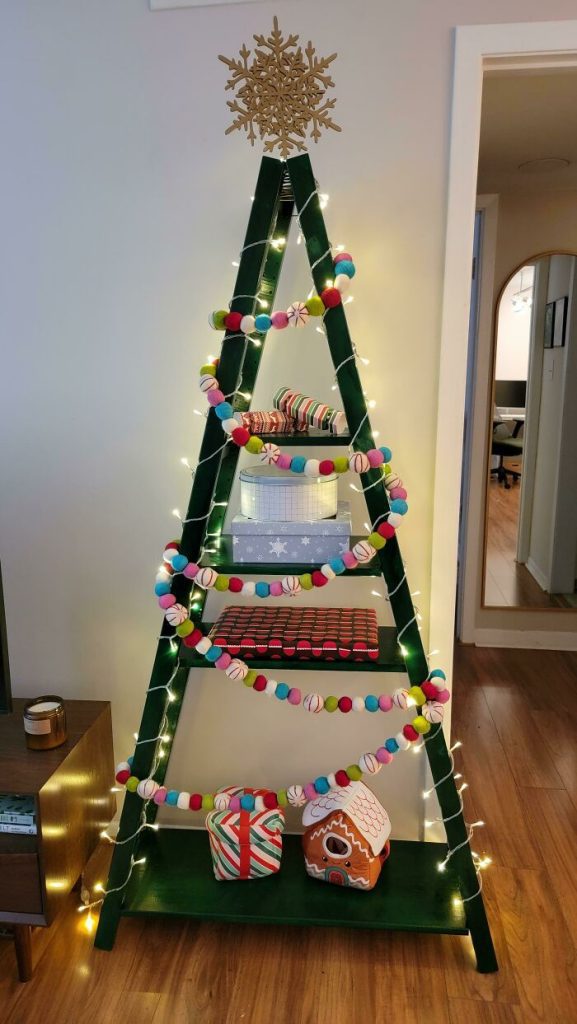 Instead of getting a real or plastic tree, he turned two of his Ivar side unit into a makeshift Christmas tree with the use of a few shelves from the bottom all the way up. Not only do you get to join the festive season with this hack, but you also get additional shelving.
#31 A walk-in closet that will make you happy
Any woman would be delighted to have a walk-in closet that looks like this. There's more than enough room for all the coats, shirts, pants, bags, accessories, and whatnot, and this is going to make dressing every day an easier and better experience.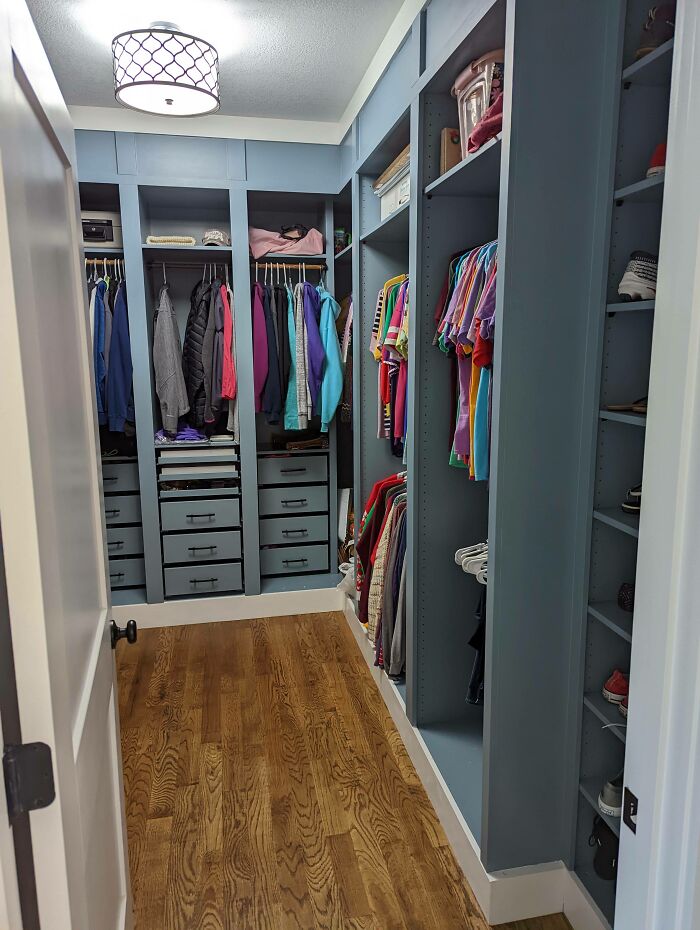 For this project, the OP framed Pax units from IKEA, and it cost him less than paying someone to create a custom walk-in closet for him. The OP isn't a professional, and he assures everyone that it's a job doable by someone who has woodworking experience.
#32 You won't even think this is IKEA Platsa
Aside from the amazing skylight in this bedroom, another thing that got our attention is the Platsa. At first glance, you'd think that it was designed specifically for the place, but thanks to lists such as this, we can see IKEA products can be transformed and upgraded to make them bespoke.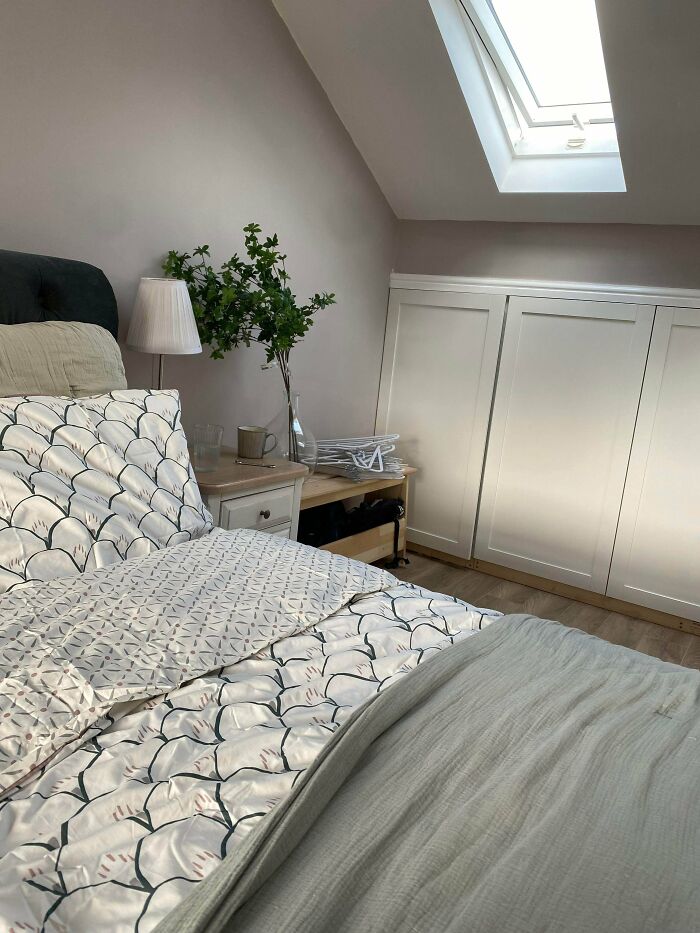 Now, the OP has a stylish bedroom where he can doze off to dreamland and have an amazing amount of storage space at the same time. Don't we all want that in life? Now if only we had the same amount of effort, time, and patience for projects such as this.
#33 Anyone would love cooking in this kitchen
The kitchen of our dreams has ample cabinet space, double islands, and a giant fridge that can accommodate all the good things we plan to put in there, including tubs of our favorite ice cream. In reality, though, we can't all have the kitchen of our dreams.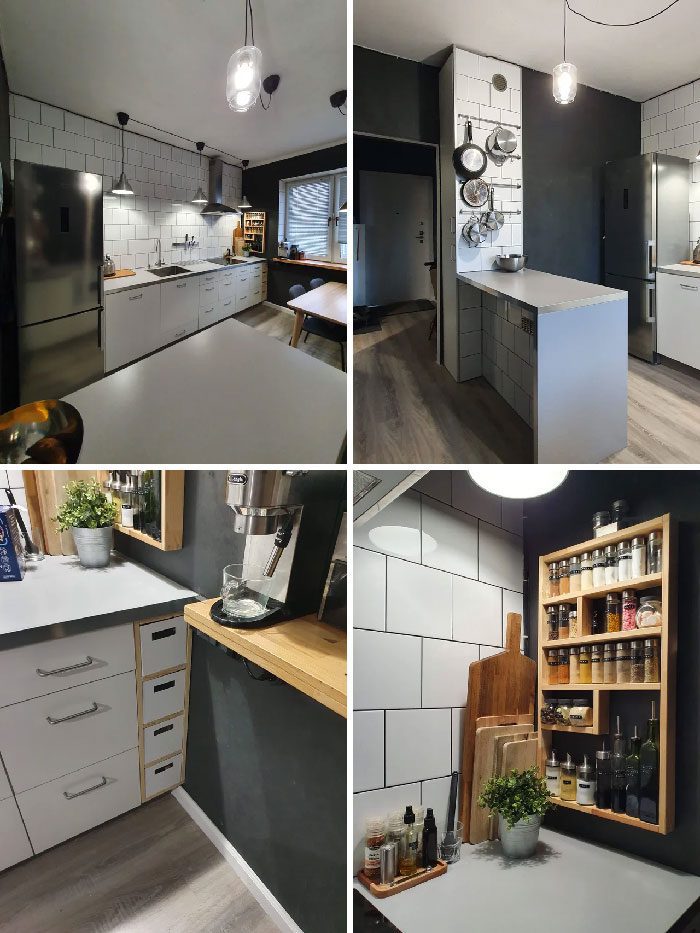 Thankfully, you can always turn to IKEA to help you create a kitchen that is near enough to your dream one. For this project, the OP used the Knoxhult as well as other products such as Platsa and Metod. Yup, what you see here are countless hacks.
#34 From drawer chest to a nightstand
Another staple in most households today is the Rast chest of drawers. They're great for storing small articles of clothing such as underwear and socks, but they can also be used for other things, and this man is proof of that.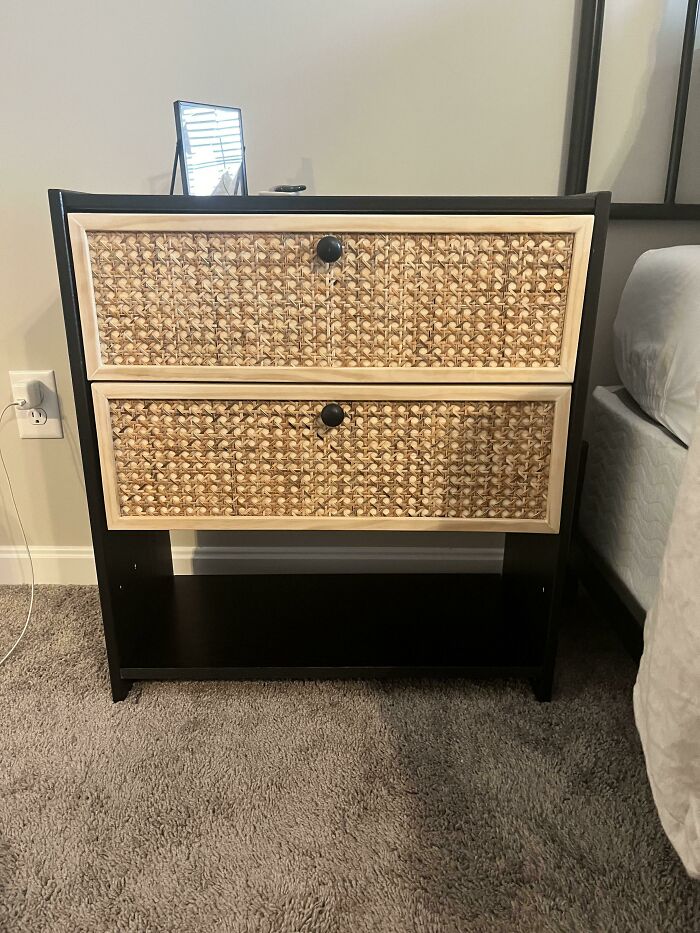 He went with a black and cane combo which looks sharp to match his black bedframe, and he refaced the drawers by adding wood trim and applying a webbing or cane material. Additionally, he painted the wood knobs black too.
#35 From utility cart to bunk bed
Thanks to people posting smart IKEA hacks on the Internet, the rest of us common folk now have plenty of marvelous things to look forward to doing during the weekends. With easy-to-follow instructions, even novice DIYers won't have a hard time recreating them.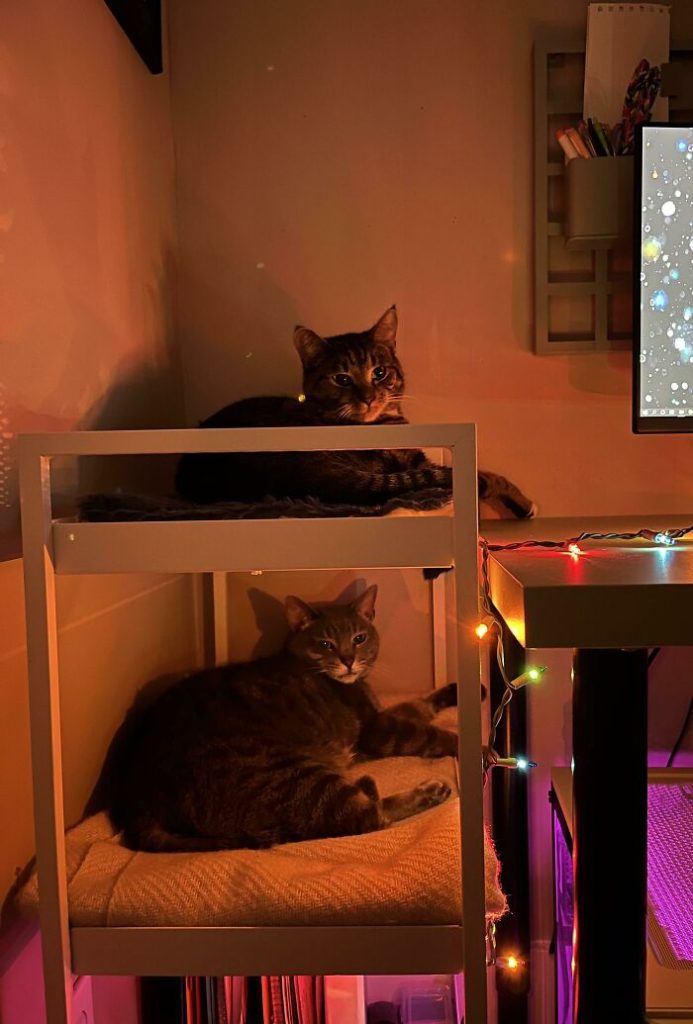 This is a project that anyone can do on their own. Here you see the Nissafor utility cart transformed into a cat bunk bed, a great idea for pet parents who have kitties in their homes. This will keep them away from your workspace.
#36 Now we're fans of the Besta
A lot of people are not fans of the Besta from IKEA, but with all the clever hacks we've seen here, we are officially considering ourselves converts. It seems that it can be made into just about anything with a little patience and elbow grease.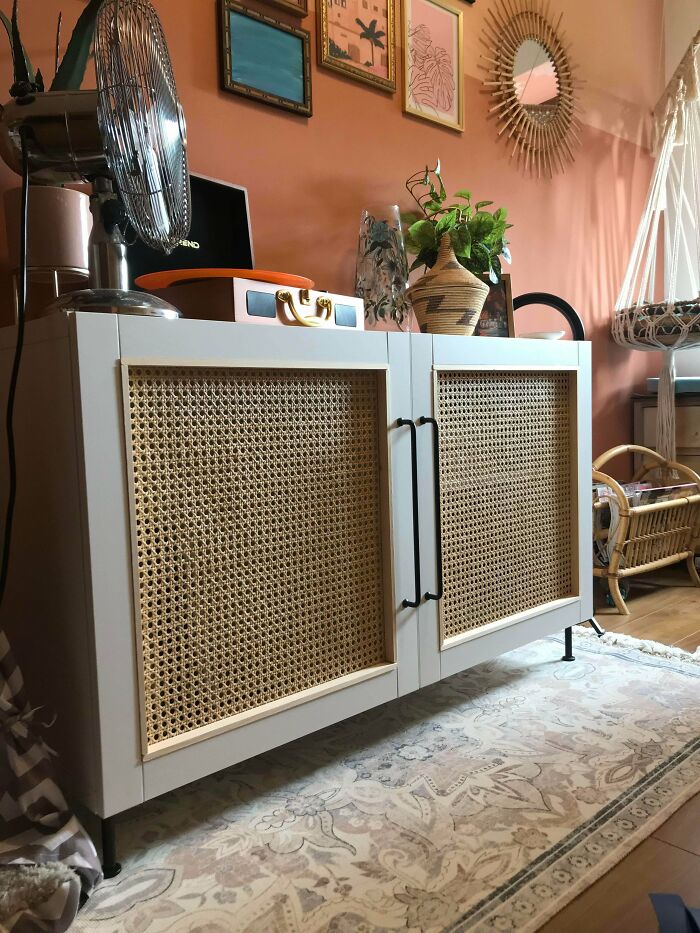 What you see in the photo above is the Besta with Hanviken doors. The OP used a staple gun to put the canes on the inside and added a 1 cm wood to frame the edges. Can we hire this guy to do this to our Besta?
#37 The joys of upcycling
Upcycling is defined as the reusing of discarded materials in a way that creates a product of even better quality than the original. Upcycling is all the rage these days, and why wouldn't it be when it helps you save money and the environment at the same time?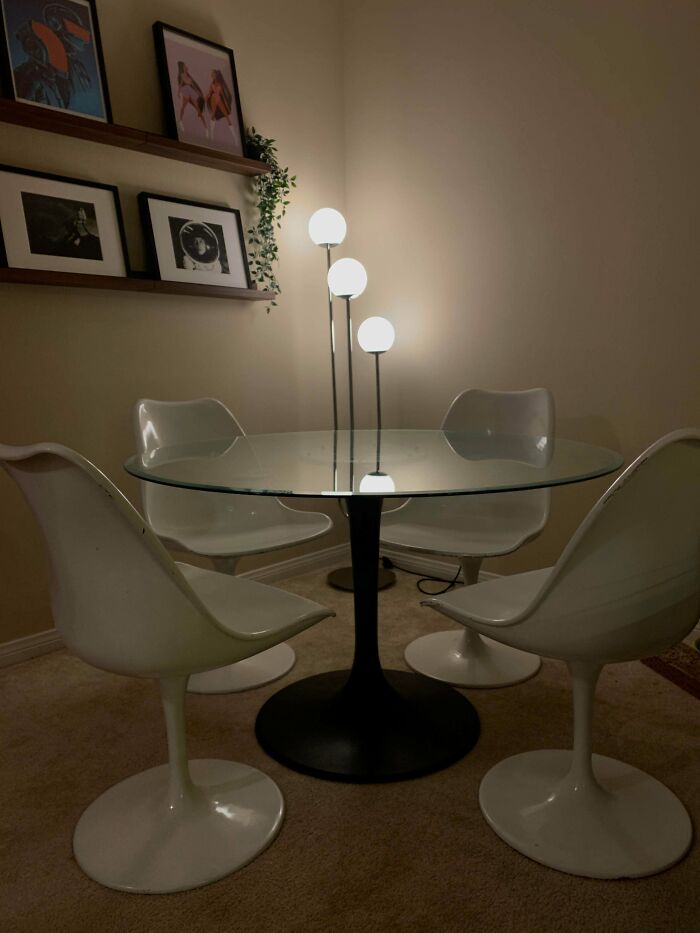 This person decided to upcycle his Docksta. It might have taken a lot of trial and error, but the result is worth it. Initially, there were problems with the table's stability, but after a few tries, he got it to work.
#38 Excellent use of narrow space
Space is a precious commodity nowadays, and unless you have millions sitting in the bank, chances are you have to sacrifice a bit of space to save thousands of dollars. Don't worry, though, as a variety of hacks are available for narrow and small spaces, such as this one.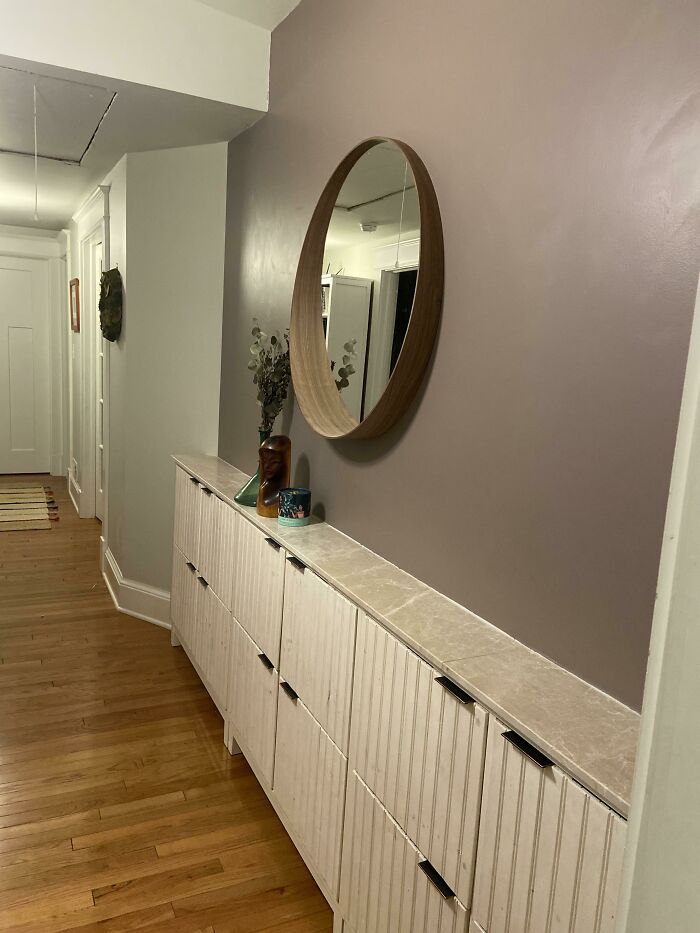 Here you see three Stall units transformed with the help of custom fronts and handles. A salvaged marble tile also made a great addition to the tops of the Stall units. Now there's more storage space that can accommodate different items.
#39 Clips are not only for food
When you talk about food bag clips, folks naturally think that they are used to keep different kinds of food fresh and to prevent chips from becoming stale or limp. Well, it turns out they can be used for other things too.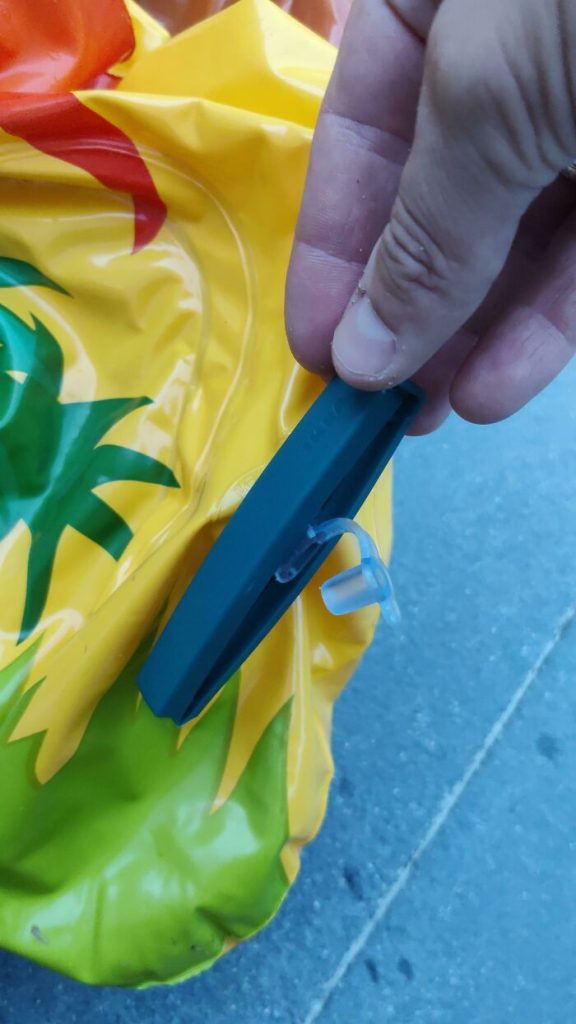 If you need to drain a kiddie pool, you can use IKEA Bevara sealing clips to keep the air in. You might need to use a few of them, but it saves you the time of having to inflate the whole kiddie pool again.
#40 Two become one comfortable bed
We love our kitties, they are as much a part of the family as the children and the parents, and the least we can do for them is make sure they have a comfortable place to sleep in. Nobody likes tossing and turning in bed, cats included.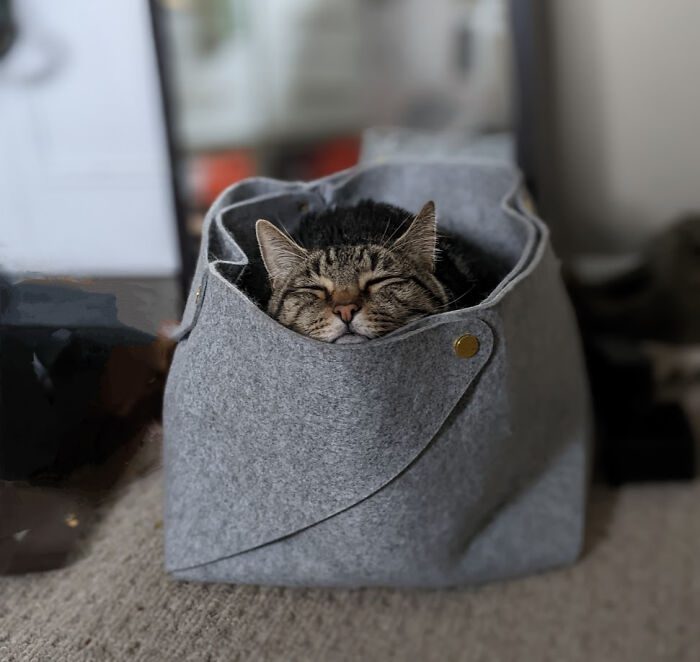 This hack doesn't involve any carpentry or painting. All you have to do is purchase the Pudda basket and the Gerdie cushion from IKEA, and you're good to go. Look at that feline sleeping soundly and living its best life.
#41 From a cabinet to a greenhouse
Who knew that a simple cabinet could be transformed into an awesome greenhouse? We have never thought of this, and we are glad that somebody out there had the brains to transform such simple furniture into something that supports plants.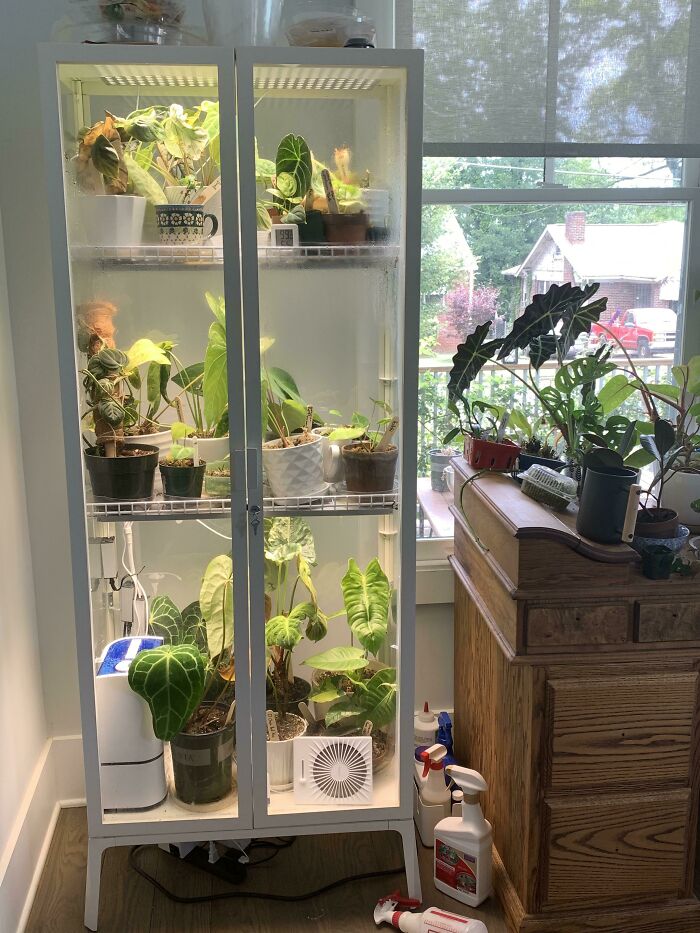 This proves that there is no need to purchase super expensive greenhouses or materials because you can easily do it with something as accessible and as affordable as products from IKEA. All you need is a nice humidifier and some lights, and voila.
#42 Another greenhouse using IKEA products
This project is something that green thumbs of all ages would very much like. We couldn't keep plants alive even if our lives depended on it, but we like this. The OP used IKEA Rudsta cabinets, and this picture was taken after three months.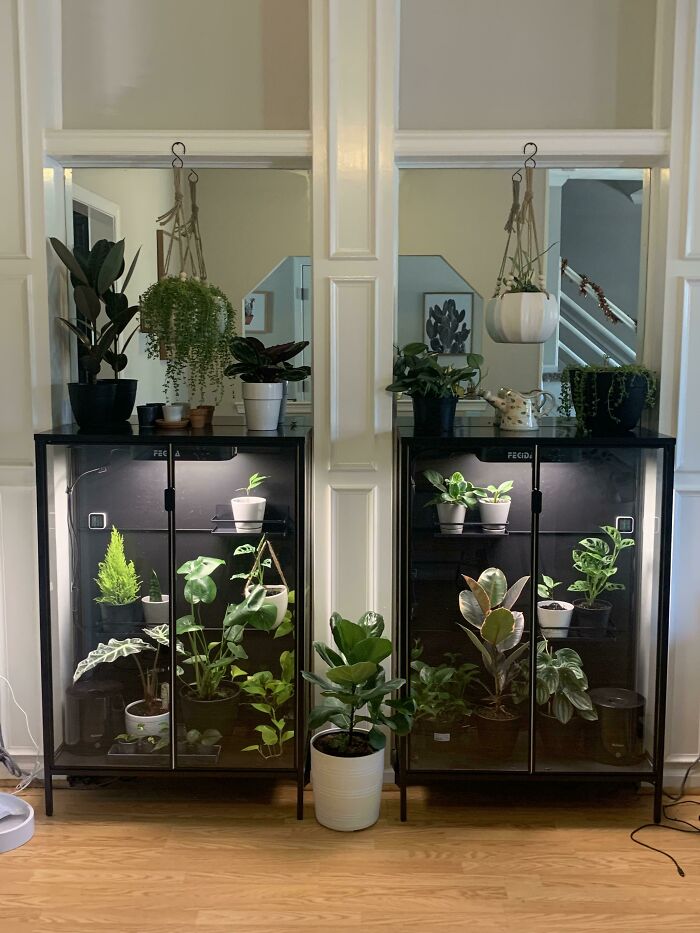 The Rudsta is holding up well, and some of the plants they initially put in their little greenhouse have outgrown it and have been placed in other areas of the house. The best part about the greenhouse is that it's very easy to clean.
#43 Before and after
These before and after photos show you just how gorgeous IKEA furniture can be when you make them your own by adding a few designs and using a few hacks. The Besta on the left before it was altered looked basic, but the one on the right is stunning.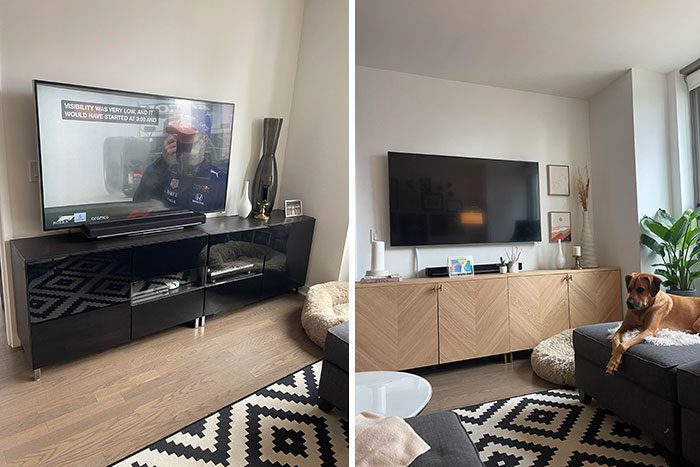 From dated looking, the Besta became boho chic, and we are all for it. Who wouldn't want that beauty sitting in their living room? We'd pay good money for it! Aside from the Besta, the OP also used Hedeviken doors, Osarp legs, some drawer pulls from Amazon, and oak contact paper for the side panels.
#44 Another beautiful transformation
Who would have thought that the IKEA Kallax would make a good dresser? Although what you see in the photo below is not yet complete, it's still a transformation worthy of being mentioned. We're only jealous that we didn't think of this first.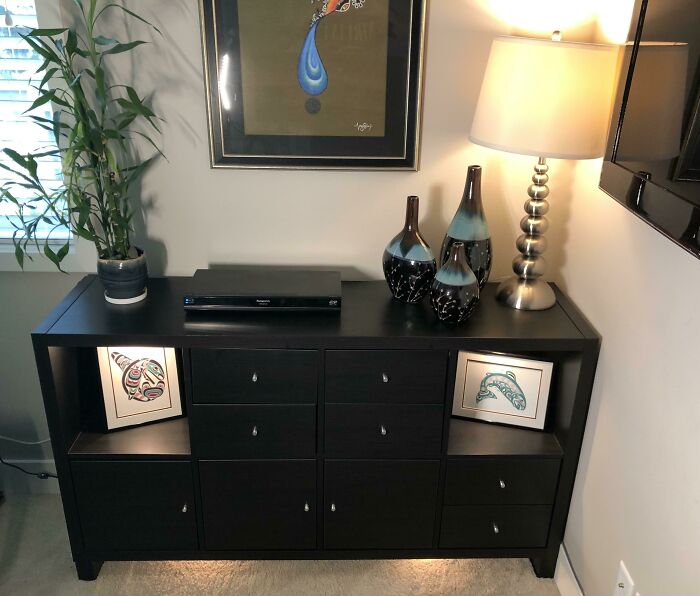 The OP added top and bottom drawers, attached legs, and put in some lights. Those things might not be that great of a transformation, but they did wonders for the Kallax. Excuse us as we go to our workshop and try doing this to our Kallax too.
#45 Another Billy transformation
The Billy is so popular that you have seen it featured on this list a few times, and here we are adding another Billy hack. From the photo, you'll think that this is built-in, but this is the Billy painted and transformed.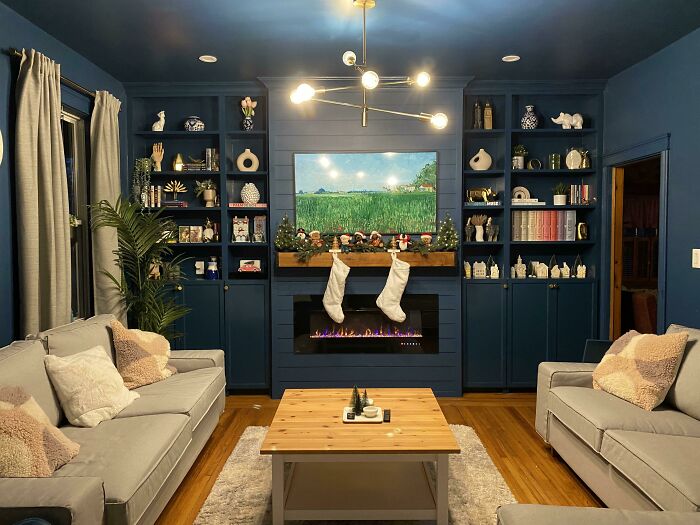 We love the color; it's something that you don't see every day. The OP used a bin primer and used sandpaper to scuff the cabinets. Of course, he also had to fill in the holes with dap filler and, to top it all off, three coats of blue paint.