35 Hacks To Help Keep Small Kitchen Spaces Clutter-Free
By Navkiran K September 26, 2021
---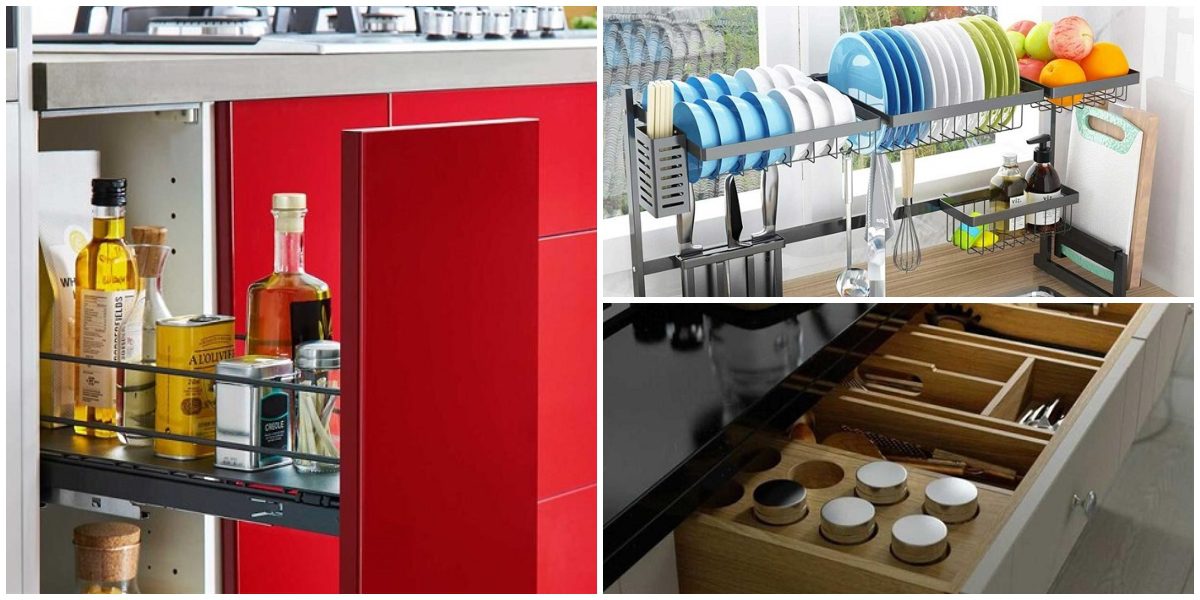 Ever feel like your kitchen is becoming a cluttered mess? What about those pesky items that keep piling up, no matter how many times you clean? Well, we're here to help. In this post, we'll share 34 creative kitchen space-saving hacks. From clever storage solutions to easy organizational tricks, these handy tips and gadgets will have your kitchen looking as neat as can be in no time. In addition, with these clever storage solutions, you can save time by freeing up more countertops or cabinets and freeing your space in the house without spending a lot on organizing products. You will be astonished at how straightforward it is when we take care of our kitchens like this. So, scroll down to see some great ideas that will work well with any home's décor style.
Get Separate Spice Racks For Your Kitchen
No more nose-diving into piles of spice or sorting through books to find a particular one you need. With this hack, all your spices are conveniently stored in one place and can be easily seen without having them jumbled together like before.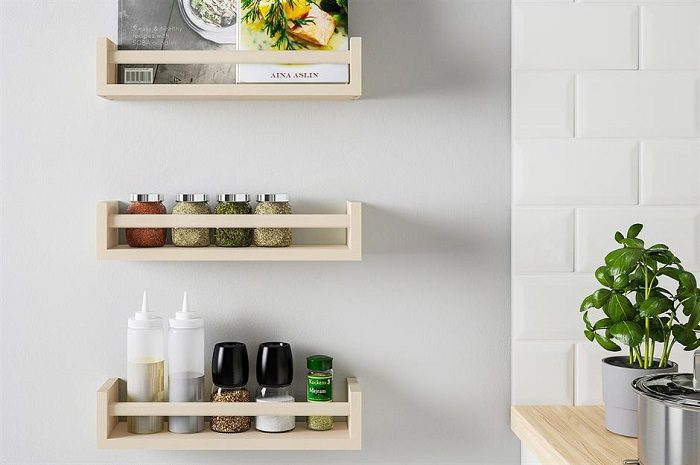 This spice rack is the ideal solution for all your smaller items. It has plenty of space inside to store cooking books as well. Besides, it is made out of beautiful wood that will look great on any kitchen wall. 
Keep Your Cleaning Products Well-organized
If you love a well-organized and clean home, don't stack your cleaning products on top of one another. Otherwise, you risk them falling when trying to get something from the back. Instead, get buckets and fill them up with cleaning items.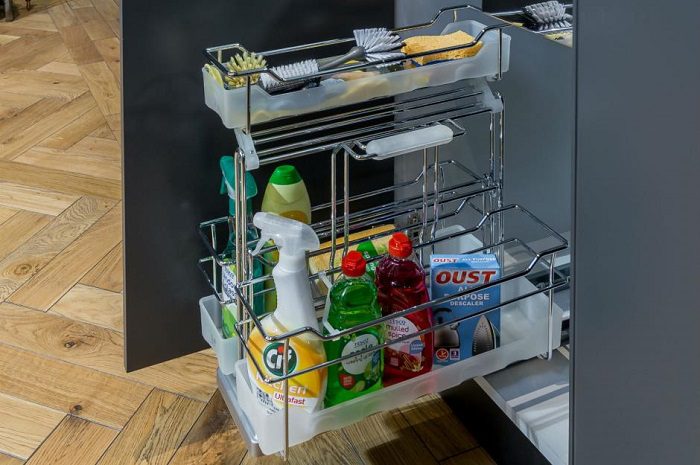 Aside from this, if you are looking for something more sophisticated and in style, you must try a pull-out basket that goes under the sink that will keep everything clean and neat. Also, it has plenty of storage without the risk of items collapsing.
Adhere Packet Holders On Doors
Adhere a packet holder to the inside of your cupboard doors so that you can store food packets without worrying about them getting lost or dealing with them spilling. This hack is an ingenious way to utilize your kitchen cupboard doors.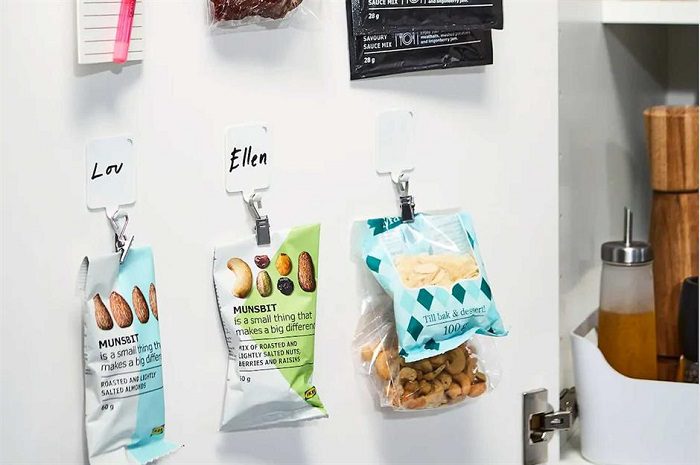 Tear and share food packets that are still good for consumption will stay fresh with this fantastic idea. Plus, these versions have wipeable labels, so you can quickly write the owner's name on them, making it easier than ever before.
Mount Cabinets Above The Door
If you're searching for more storage in your small kitchen, try thinking up high. Perhaps the space over a door is large enough to fit an extra cupboard. Use it as a secondary pantry and store less used items like delicate party tableware.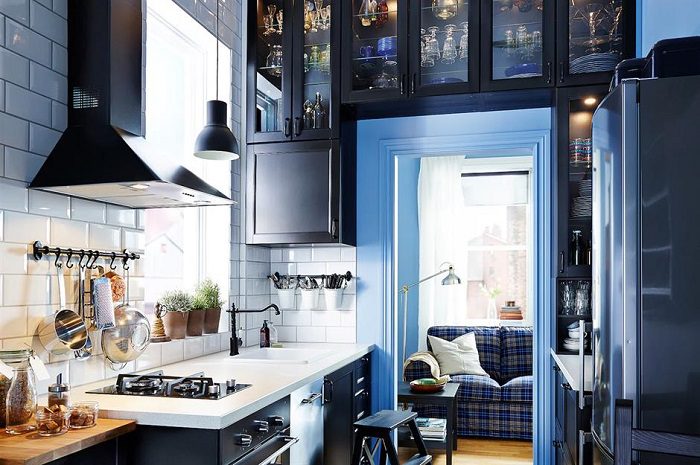 A sturdy and well-made wall is one of the most important aspects of a successful cupboard mounting. Make sure you have measured correctly before committing to any work, or else your shelves could come crashing down around you at any time.
Use A Miniature Table
A kitchen table is your perfect place to enjoy a home-cooked meal with your family. If you can't fit an island or large dining room in the space, look out for tiny tables and expanding versions of them that will not take excess space.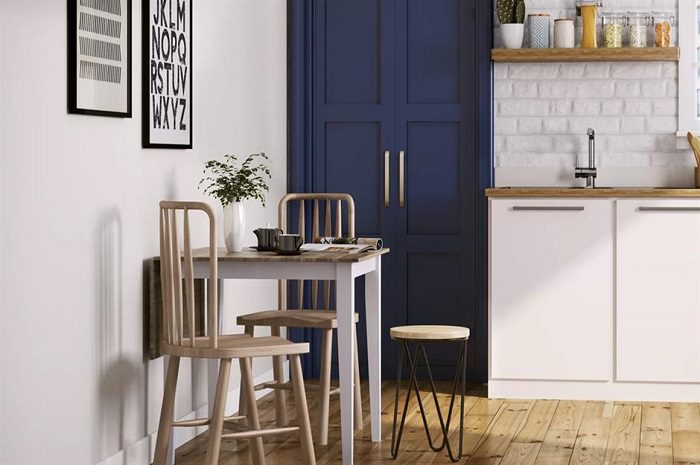 Better yet is to install fold-down tables and desks that can be used when cooking. If hidden storage of spices like salt & pepper is necessary, opt with built-in ones as these cabinets will provide ample hiding spots for your kitchen essentials.
Add Baskets On Top Of The Cupboards
Storage is an easy way to make the most of your cabinetry. You can keep spare kitchen gadgets, the extra bits to your food processor, cookbooks, boxes, or even soft drinks up high on top where it's all out of reach but still usable space.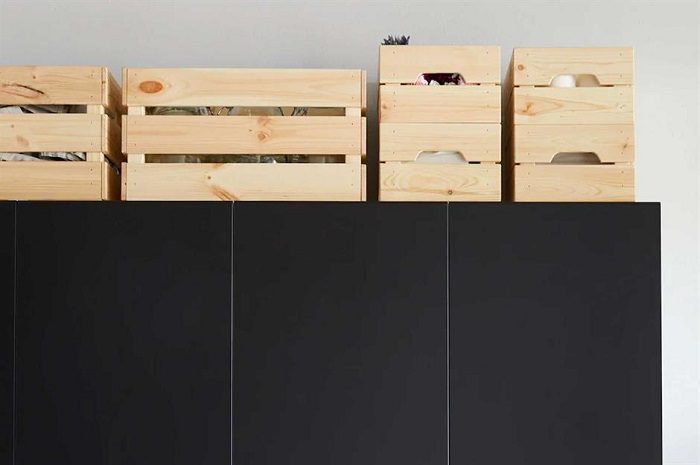 Invest in baskets for neat-looking stacking. These pretty ones would look great with any design aesthetic you might have going on at home. A hidden benefit? Storage will free up more room underneath counters and keep everything you used most within arm's reach. 
Color-code Your Fridge Drawers
If you're struggling to find space in your fridge, consider using one of these cute little cubbies. These pastel sliders are an adorable way of adding more room while giving an extra layer that can be hidden when not in use. 
They are great for storing more petite and delicate food items such as eggs or soft cheeses. So if there are any leftovers, then they won't get wasted either. Plus, they add some color on top; what could be better?
Install A Rail On The Kitchen Wall
Stuck for something to hang in your kitchen? Don't worry; we've got you covered. You can buy yourself an attractive and stylish kitchen rail that will have everyone green with envy. With this simple purchase comes so much space-saving potential.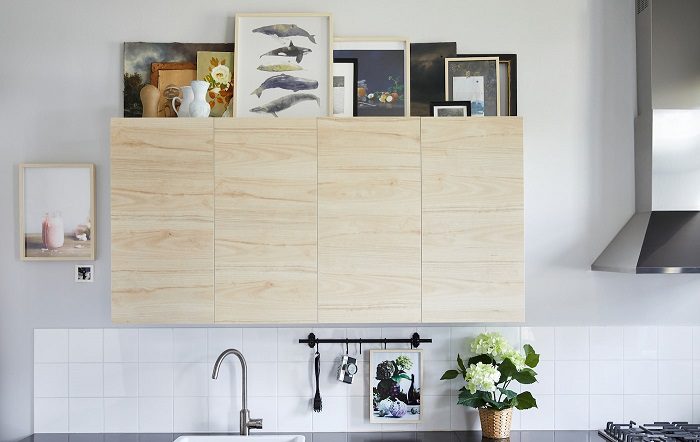 Plants, utensils galore, and tea towel storage are all at hand while also providing easy access when you hang a rod in your kitchen. Plus, its simple installation makes this super versatile wall mount the hassle-free kitchen necessity you will find.
Think About A Pull-out Larder
You can get a decent amount of extra kitchen pantry space with the pull-out solutions. There's no need for you to install cabinets or make any other kind of modifications if your home doesn't have enough room. This solution is easy!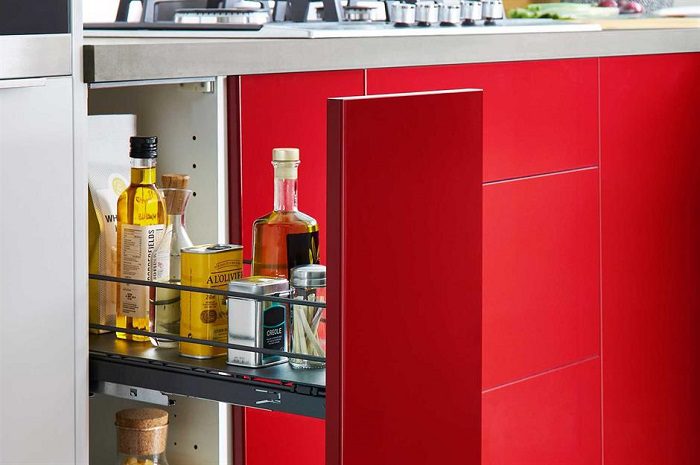 All it needs is some horizontal room at an angle where everything gets maximized. This means more storage than ever before since there will be plenty more things accessible than cramped at the back where they will get forgotten until they go bad.
Inside Cabinet Door Storage
For some homeowners, the idea of creating a door-mounted storage rack may seem like an elaborate project. But it doesn't have to be. All you'll need is basic skills and hand tools for this task that will bring order to your lid collection.
The door-mounted rack is a perfect way to make the most of your cupboard doors by adding another storage level. This will allow you to keep more items, like saucepan lids and chopping boards, correctly stored without sacrificing shelf space.
Insert A Peg Rail In The Kitchen
The shaker peg rail is a simple yet stylish design that can be used in any kitchen. This handy hook lets you hang many utensils while still keeping them within easy reach of your hands when you're busy whipping up your favorite meal.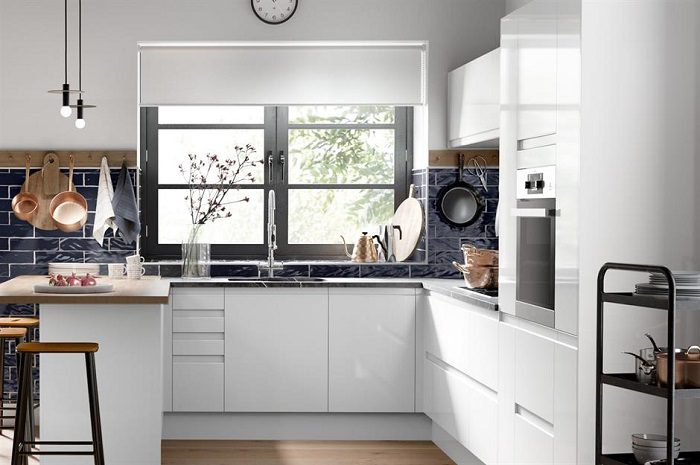 Besides, it also has an added benefit; these hooks are a great frame for splashback. You can add an exciting color scheme. The elongating line running through it will give you the illusion that there's more than meets the eye about these humble wooden pegs. 
Build A Low-cost Washing Up Station
The ultimate in space-saving convenience is now at your fingertips. This drying rack takes up no room on the countertop and can help you avoid cleaning up water spots that traditional drying racks leave on your counter. No more worrying about messes or wasted space.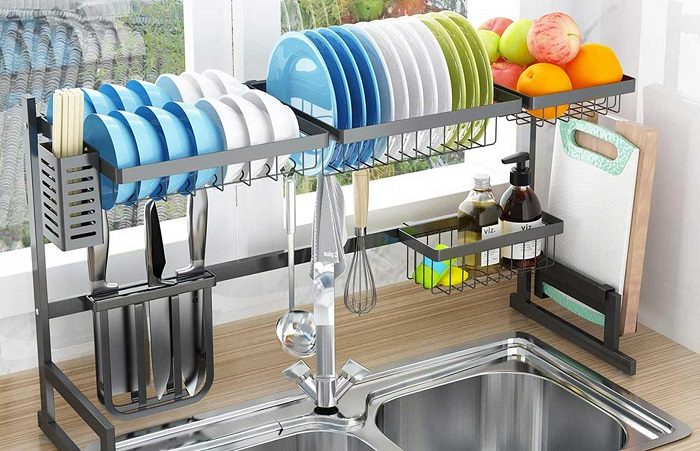 This ingenious design is perfect in every way, from being sleek looking with its stainless steel construction to having a spot for everything. Additionally, this material does not rust quickly and can give you tons of storage space because of the thin base. 
Pile Chic Dinnerware
Don't let your cupboard space limitations stop you from showing off dinnerware sets. If there is no room on the shelves or table, leave them out and stack them together in one neat pile, using patterns and shapes that match.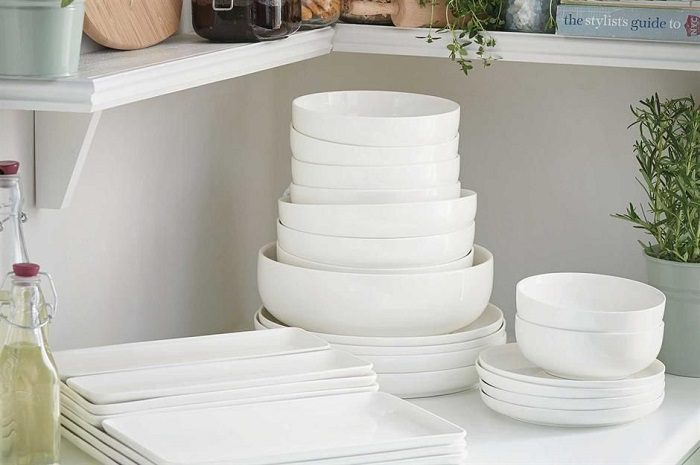 You may not think mismatched dish sets look good but don't be afraid to mix things up for some variety with different colors. It'll make storage easier. Just try not to knock anything over so as not to destroy other dishes. 
Maximize Your Kitchen Corner Cabinet
You may have a corner of your kitchen that you never use. These empty spaces can be the perfect location for storage with some creative thinking and an eye for design. Place larger appliances like blenders or slow cookers in these cabinets.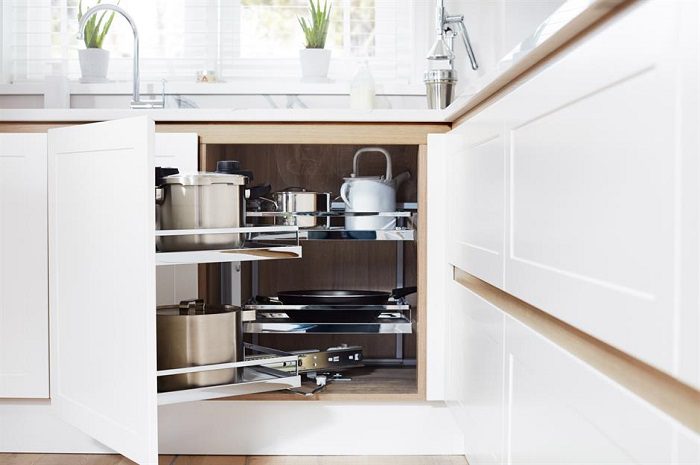 They are easily accessible when needed. Corner cabinets are not just for storage; they're also a fantastic spot to install some pull-out shelves and organizers. Fill them with food tins; you can even use them as a place for rarely-used items.
Get Over-door Hooks For Storage
This over-the-door storage is handy in small kitchens in rental properties, where hooks cannot be installed on walls without ruining them. These candy-colored plastic tea towel holders are bright and cheerful with vibrant colors that will match any kitchen decor.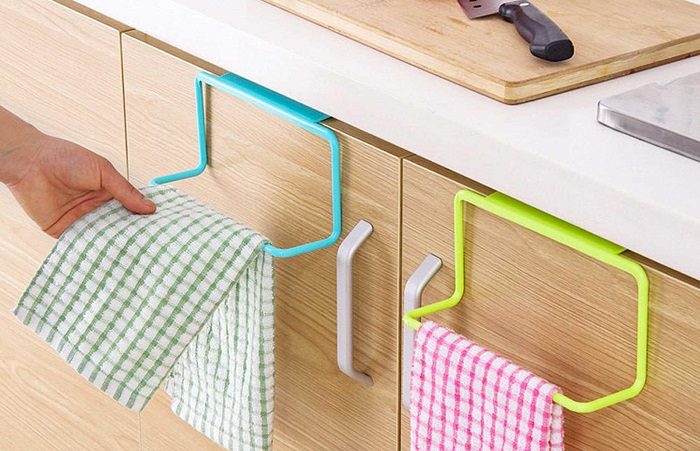 They're perfect for oven gloves or pot lids and dishcloths. No matter how many dishes you have hanging around your sink, these handy hangers can always hold more than one wet soapy cloth and keep them from tumbling to the floor. 
Utilize A Tiered Rolling Cart
If your cupboard space is tight, a tiered cart can come in handy. You'll be able to fit just as much on them as on traditional shelves in your kitchen, whether it's plates and glasses or jugs. This is great for serving at a dinner party too.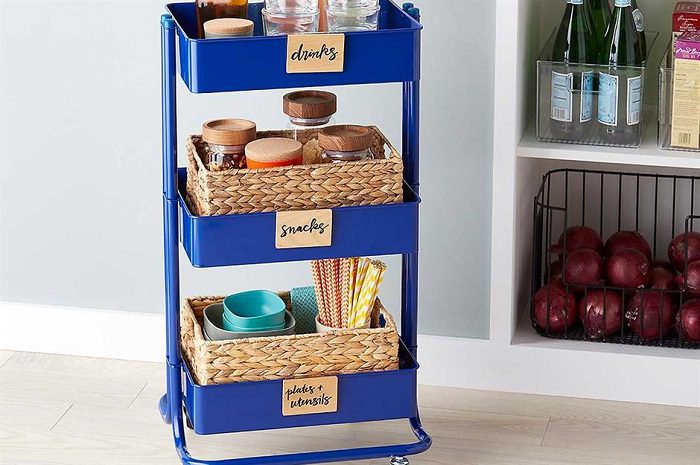 They're more versatile because they come with wheels. So, you can move them around when needed and put them where they fit best at that moment. Maybe you will use it for the utensils and ingredients you need at that moment.
Make Use Of Ceiling
If you want to free up some cupboard space in your kitchen, consider installing a ceiling-mounted rack. This will free up some cupboard space while also adding an interesting design feature in the form of hanging utensils, or even plants and decorations.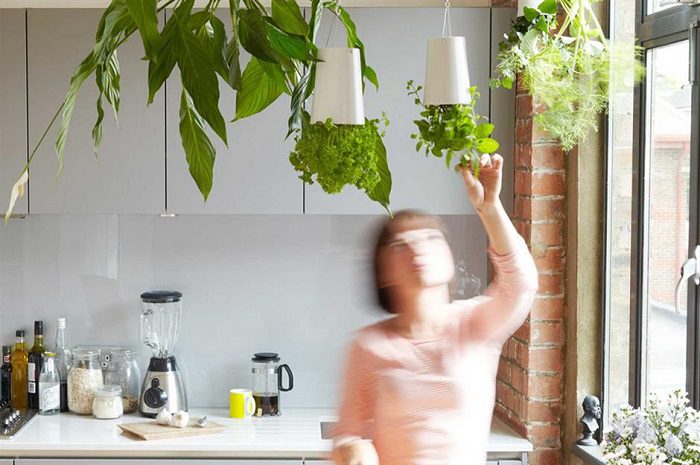 If you're feeling creative, consider growing your herbs instead of buying them. Just line the shelves with ceramic planters fitted at enough height not to break anything while watering. Also, make sure not to fill them too much to avoid water leakage. 
Fill Up The Window Shelf
Deep kitchen window sills make a valuable extra surface space, primarily if they're used to house and display anything that feeds off sunlight. A herb garden or spring bulbs will grow in the well-lit room as long as they are appropriately hydrated with water.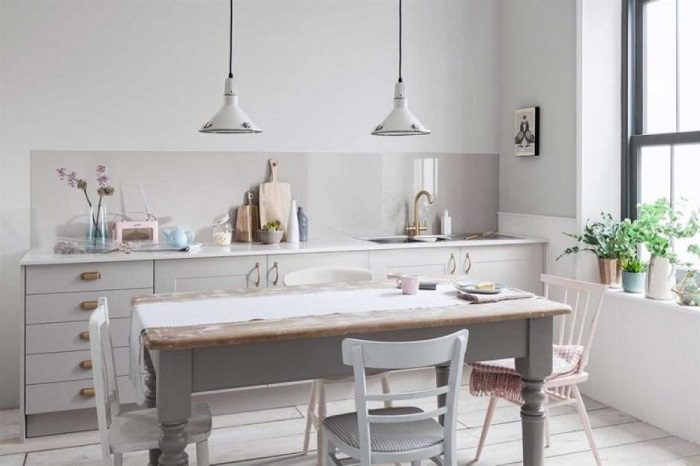 Besides, the greenery looks pristine and refreshing when reflected by this splashback's reflective finish. So, what else could be more delightful than an indoor pared-back small day loom? You can also grow fresh flowers without sacrificing your countertop.
Fix Inside Drawers
The most clever storage solutions are found in your cupboard. Why do we always have so many things crammed into the smallest spaces of our homes? Install narrow shelving units on inner doors for those tinier items, like spices and sauces.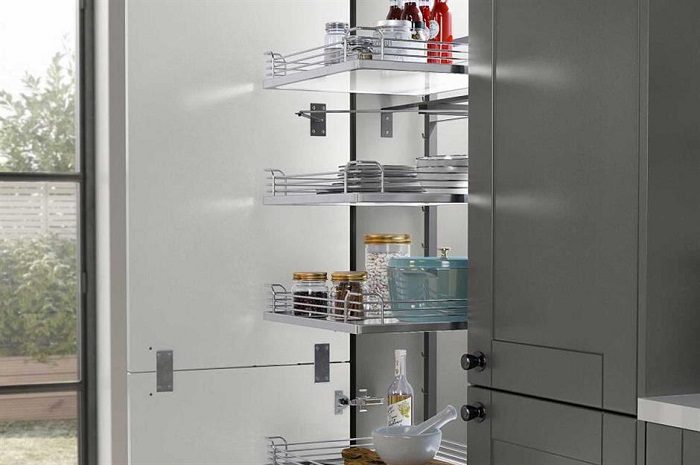 They are an easy and effective way to store your items. They take up less space than deep cupboards, and you can install them at the space intervals you need. Just make sure you leave a shelf or two with adequate space for things like tall olive oil bottles.
Narrow Cubby Holes And Shelves For Added Storage
The best way to make use of your storage space is by using its hidden nooks and crannies using narrow shelves. These small cubby holes can hold coffee cups, spices, egg holders (for easy handling at breakfast), bottles, anything you need.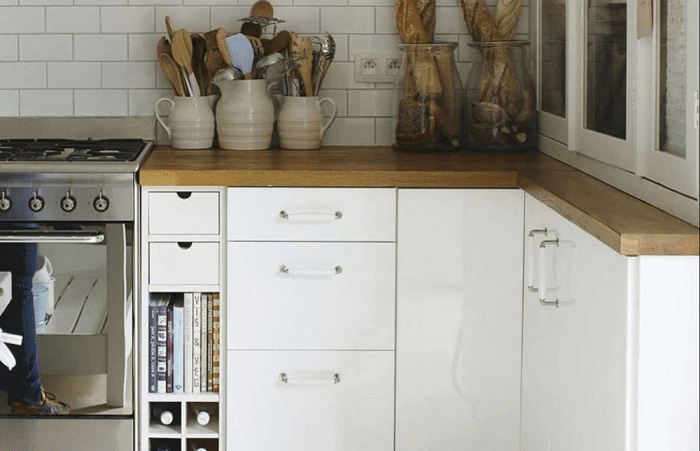 Moreover, if we're talking about practicality, this space-saving hack has got it all over other solutions because it will be functional and attractive. What could be better than having valuable items neatly lined up on display? It's so pleasing to the eye.
Assemble Your Drawers Smartly
Organization is vital when it comes to the kitchen. A well-organized kitchen is a happy one. When you're constantly fighting to find space for everything and get rid of anything that doesn't have its place, it's no wonder your cooking suffers.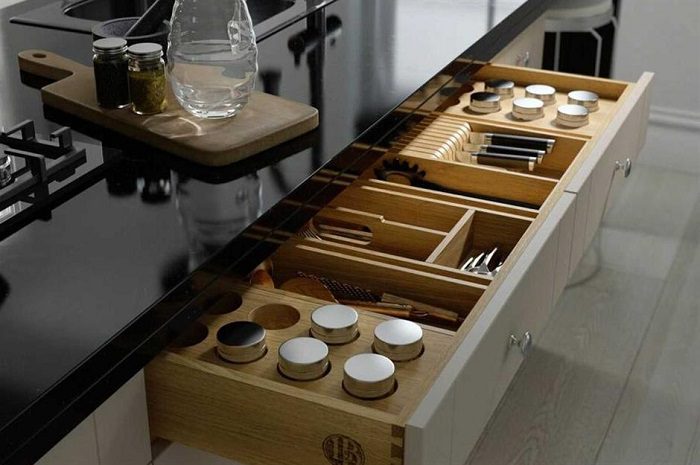 Fit in some storage organizers or cutlery trays across the board to declutter drawers monthly, so they stay clear; this will free up more room inside them, which can be used by storing even more essentials like pots & pans.
Use Heat-resistant Chopping Boards
The most important thing to spend when you're short on counter space is heat-resistant chopping boards. These are the best way of cooking food over the stove when switched off without causing damage or harm to your chopping board or stove.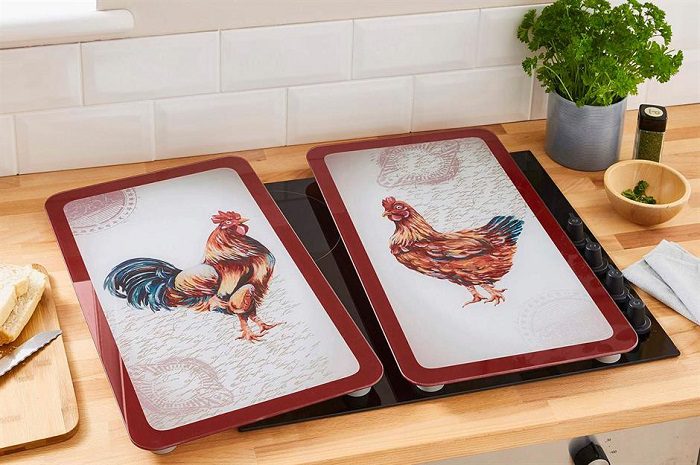 In addition, a patterned style heat-resistant chopping board will add some flair to your kitchen. Not only does it protect the stove, but it will also give you something more stylish and exciting instead of a dull black ceramic top.
Add Interior Drawers For Kitchen Necessities
The best way to design your kitchen is with an open shelving system. Many people think they need deep drawers and cupboards, but you can only stack dishes so high before it becomes difficult to reach for what you want.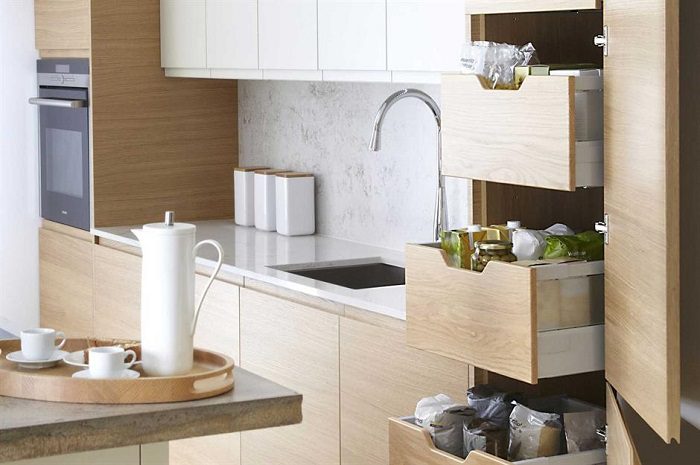 Instead, consider installing internal storage units. These handy little cubbies will hold all the things from cutlery to coffee mugs to packages in an organized and visible way. Keeping the drawers more shallow and short will help keep things accessible.
Place The Dry Fruit In Jars
Organizing your food storage by storing them in jars is an easy, creative way to keep things arranged. For the space-saving convenience and a rustic look, hand label clear containers and leave them next to each other for a colorful display.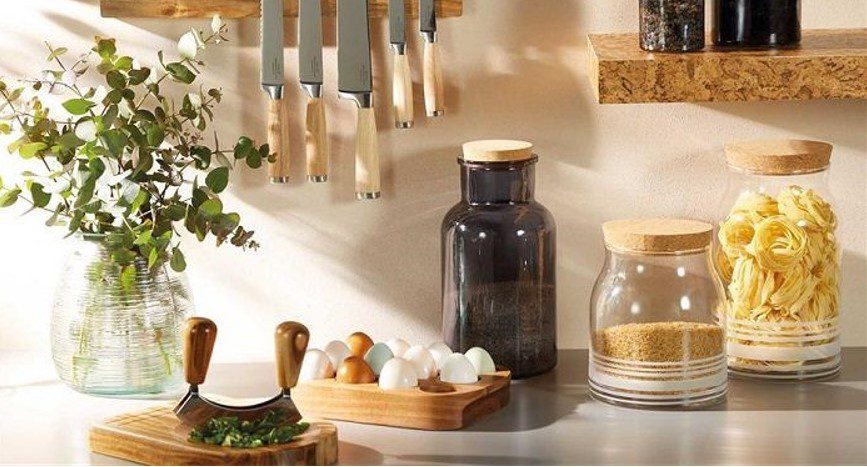 Not only will you have uniformity of pantry storage this way. But when it comes time to grab what we need, there's no longer any guessing where our lentils or spices are because this will also give you an instant overview.
Concertina storage
Installing these in the highest cabinets in your kitchen can help you reach them more accessible. You pull them down and grab what you need. They are designed to return to position slowly, so you don't risk breaking anything or making a loud banging noise.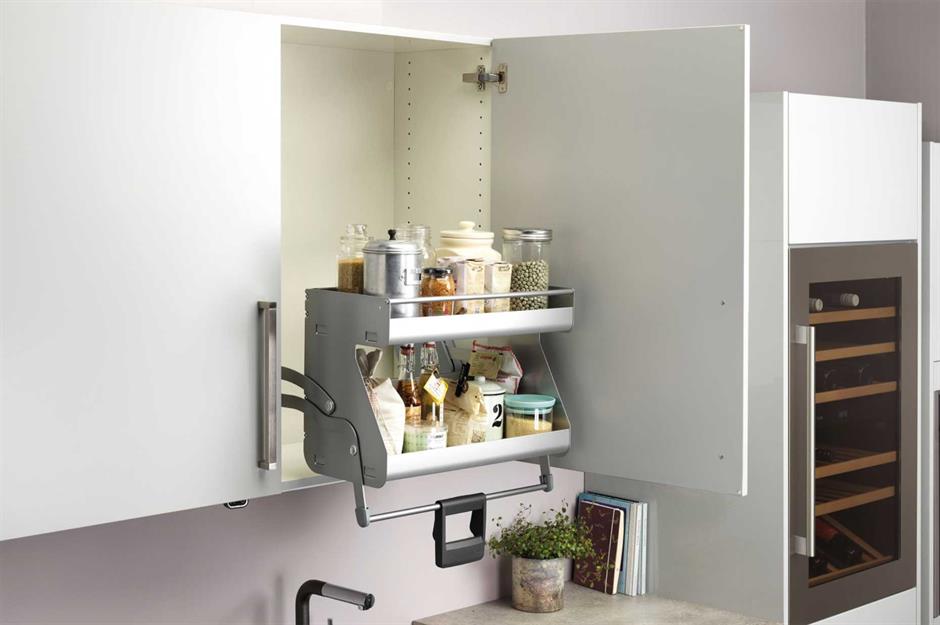 For those on the shorter side – vertically challenged, if you will – this is the ideal solution, especially if you don't want to redo your kitchen adjusted to your height or if you realize you absolutely need that high-up storage space.
Purchase A Butcher's Block
A butcher's block table is a handy addition to small kitchens. It usually comes on wheels and has a square shape to fit in tight spaces or at ends of islands, breakfast bars, etc., making extra workspace for you.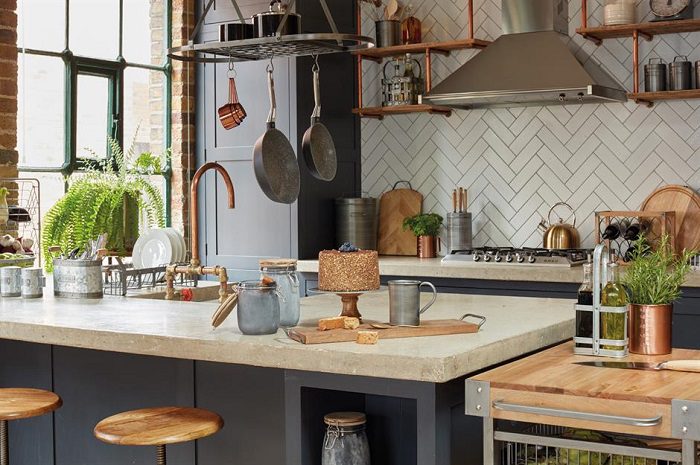 This table is the perfect place to create your morning brew. This hardwood surface has ample room for hosting a nice brunch. Imagine spreading bread and jams out for a designated toast station in a nice layout of everyone's favorite brunch staples.
Keep Your Cookware Orderly
Do you have a problem with your pots and pans cluttering up your cupboard? Have no fear; the solution is here. The pan stacker will keep them neat. You'll never have to worry about forgetting an essential pan again with a tool like this.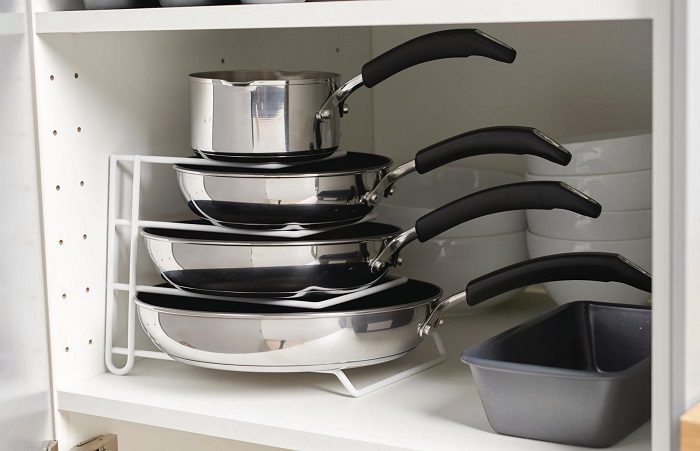 The metal or plastic frame fits inside any standard-size cupboard and keeps them from piling up on top of each other. It's also great for protecting non-stick surfaces since it keeps them from bumping each other and causing scratches on expensive and beloved cooking ware.
Magnetic Knife Space Saving Hack
Save drawer space by making a magnetic knife rack that hangs on your kitchen wall. All you need is wood and magnet strips for this simple but clever idea, which will keep all knives easily accessible no matter where they're stored.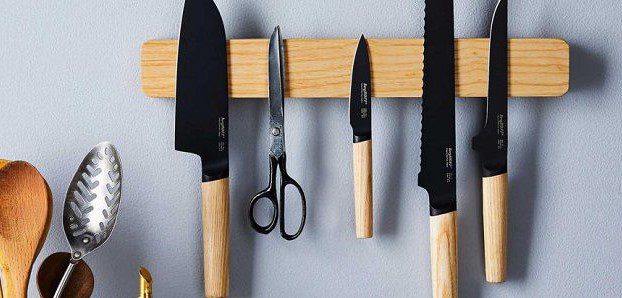 In addition, with easy-to-follow instructions to install one right into a bit of unused wall (saves lots of room in any cooking area), it's even easier than before and so much better looking too. Doesn't it sound perfect for the cooking area?
Place Vertical Racks
The best way to maximize your cupboard space is by installing vertical shelves. Not only will you be using more of it, but the items on those shelves can also stay cleaner and safer with less risk of toppling over.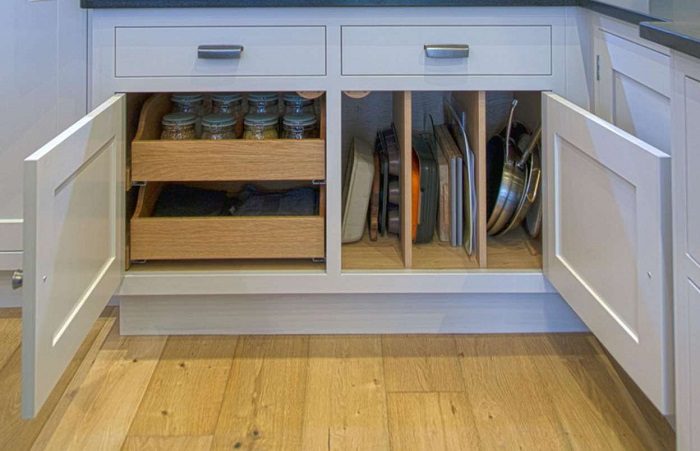 It is easy enough to stack dishes or saucepans next to one another in an open shelf arrangement. However, when stacked horizontally without any dividers between them, your pans and cutting boards could easily slide off if you open the door too quickly. 
Stack Bins For Storage
With a trace of creativity and some imagination, you can easily find space for your kitchen trash in the limited area that's available. Using stacking bins instead of large ones will be more efficient and allow easy access through folding lids.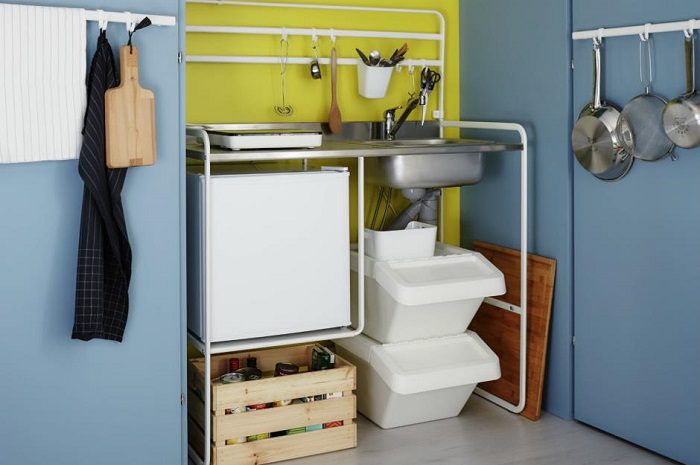 In addition, you will have an easier time sorting out different types of waste such as paper, glass, metal, plastic, or food residue without blocking other vital areas around the kitchen, like the entrance. It will also save you the messes that can result from having a large trash can under the counter.
Use Cabinet Shelf Risers 
Ever feel like your cabinets are running out of space? Then store more with shelf risers that can save all your dishes in one place. It's hard enough to find room on the shelves for cooking pots, pans, baking sheets in a small space.
But now, there will be even less of an issue. Risers can be used to store more utensils without sacrificing any precious space by stacking them on top of each other. Or pushing them into corners where there isn't room for anything else.
Put Plates On Racks
Do you have a dirty dish pile in your sink and no way to put it away? Here introducing the rack. Plate racks are a fantastic way to stash dishes in cabinets and on open shelves above sinks for those who don't have a window in from of their sink.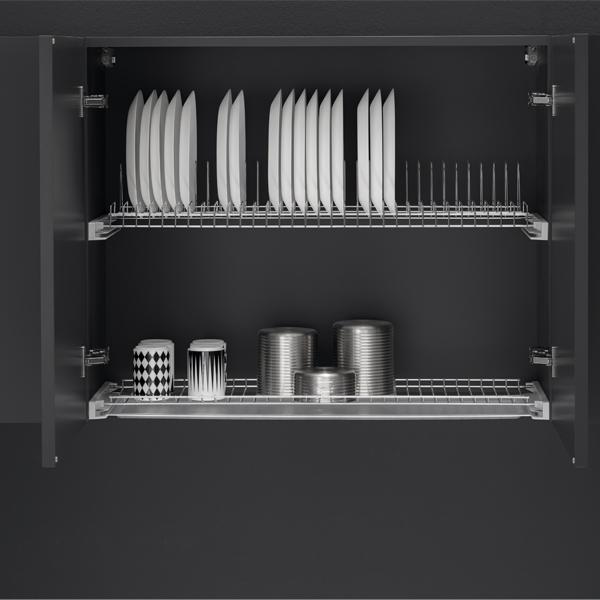 Additionally, there is no need to let your plates pile up and interfere with dish duty. Being able to store them away behind a cabinet door while they dry will (hopefully) encourage those in your home to do the dishes more often.
Utilize Wall Holders And Hook
A well-designed kitchen is more than just worktops, and it should be designed with the needs of your family too. To keep things organized, try adding hooks on walls for baskets or tea towels. You can also hang plants alongside utensils.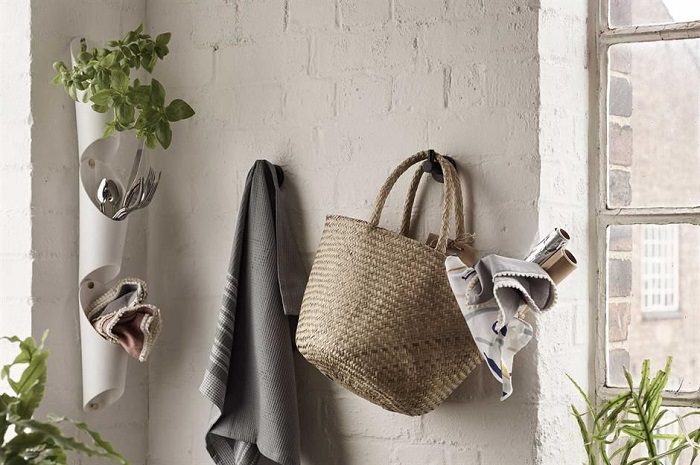 This is a distinctive way to organize your home, whether you place the design up high on one wall or two. It's also flexible enough to fit in any small and tight space, like an apartment hallway or large living room.
Invest In Over-the-sink Chopping Board
The most versatile tool in your kitchen is the sink, but it takes up some valuable real estate. Make use of all that wasted area and buy an over-the-sink chopping board, which will let you free up more room on the worktop for other things.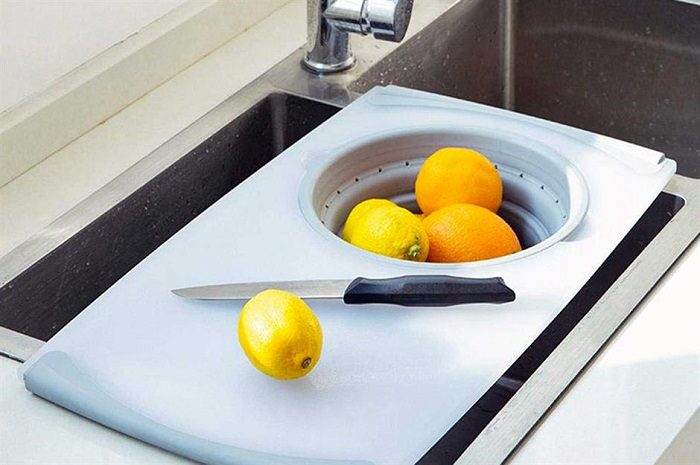 You can use the sink when it's not being used as a regular prep area, which is perfect because many ways will save countertop space. Plus, after using it, just put it away behind the tap for easy access later down the line.
Get the most out of it!
The most important thing is to arrange your kitchen space in a way that allows you to move around comfortably. Even without all the extra gadgets, if you have your cabinets situated properly, this can go a long way towards making your kitchen your favorite place to be.
You can find pre-made cabinets that perfectly fit your space, no matter how small. It doesn't even matter if the space is awkward, because if you are choosing your cabinets, then you can customize them to be installed with the space-saving gadgets you want.