35 Affordable Kid-Centric DIY Projects Using Generic Big-Box Store Items
By Ziyee N April 17, 2022
---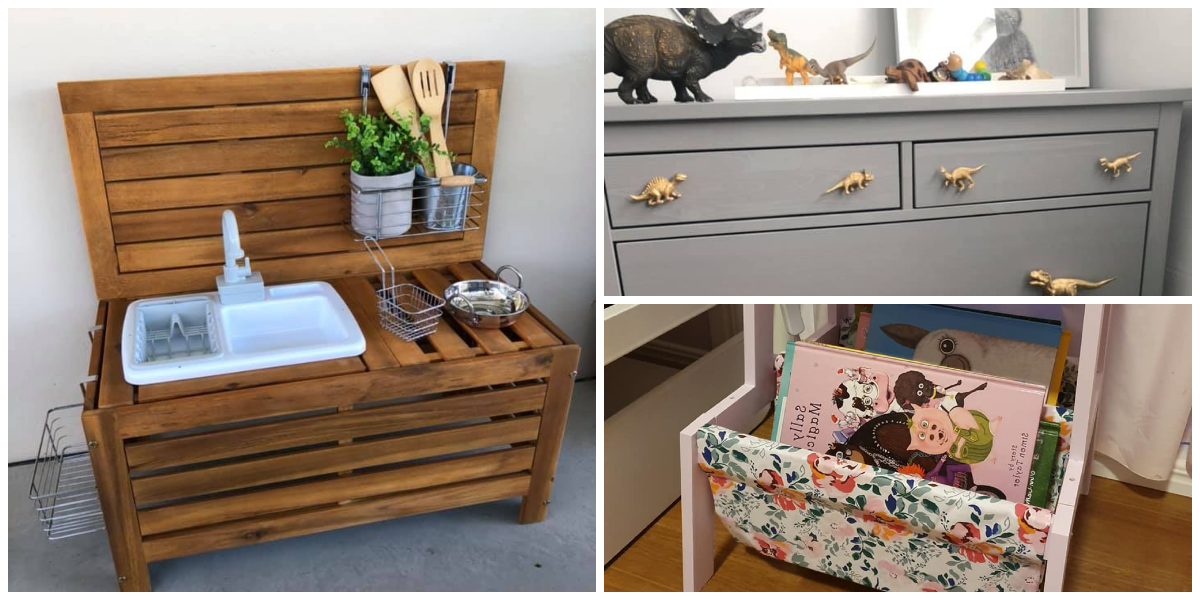 If you're a parent scratching your head for ideas on how to style a gorgeous, fun, and personalized nursery, playroom, or bedroom for your precious children, you've clicked on the right article because we have 35 big-box department store hacks specifically for kids.
We absolutely understand how expensive room decorating can get and how difficult it is to come up with creative ideas for a unique and fun children's room; that's why we've come up with these creative and cost-efficient hacks to help you with decorating your children's room. Kmart is an American chain that sells products such as electronics, toys, clothing, bedding, and furniture, all at relatively affordable prices, making it the perfect resource for DIY project materials.
From places to store their books to personalized dollhouses, this article really has it all!
1. Personalized Name Signs
Your children will absolutely love to have a personalized name sign hung on their bedroom door. Typically, custom-made or store-bought ones can cost you quite a bit, but luckily with department stores, you can easily DIY one at a low price. You'll need a wooden placemat, wooden alphabet letters, and a hot glue gun.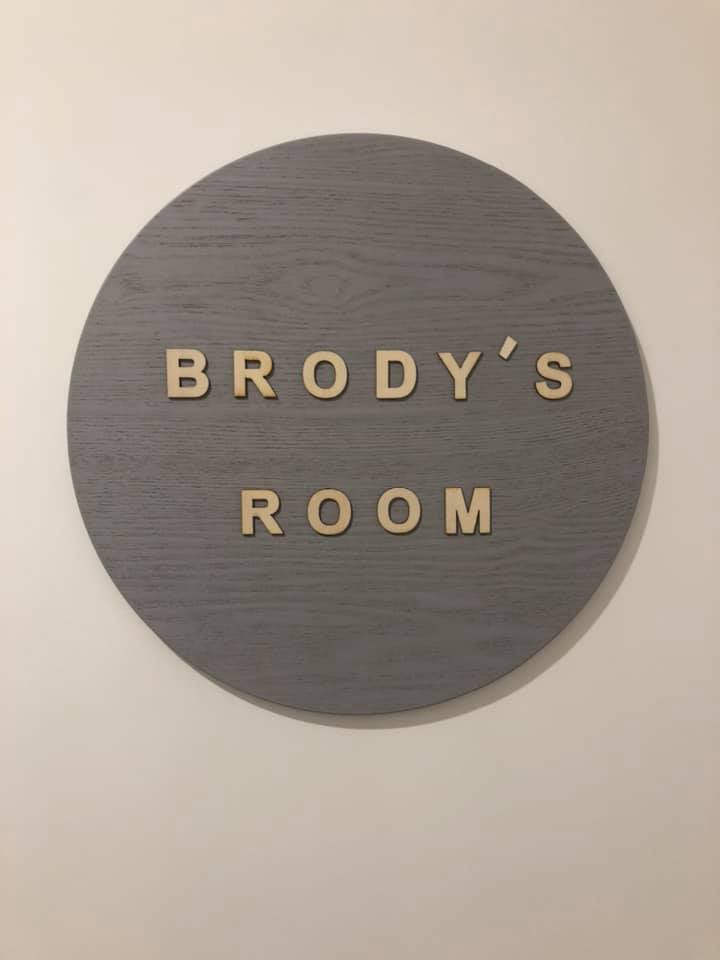 We strongly suggested laying out everything before gluing it down to get the best results. Feel free to be creative! Go to the dollar section and get some flowers or dinosaurs to glue on. Don't stop there; some paint would take this to the next level. The sky is the limit!
2. Floral Canopy Bed
When you walk into any bedroom, the first thing you see is the bed. So, it makes sense that it is the first thing on your makeover list. This floral canopy hung on top of the bed is one great option that stands out.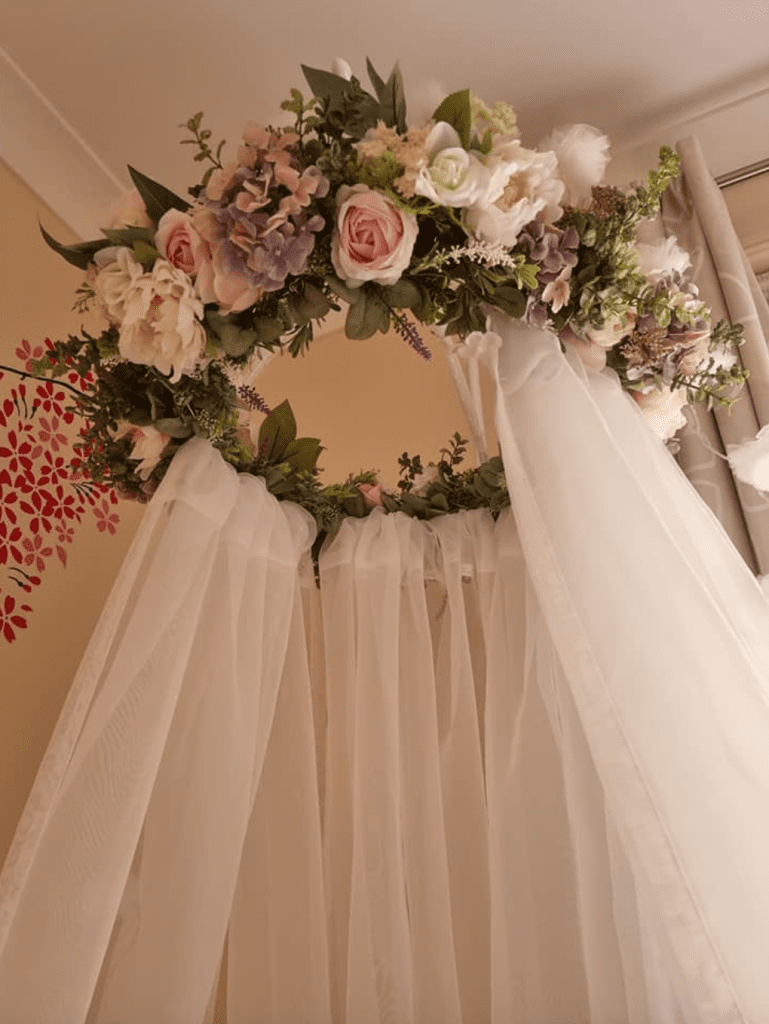 This stunning floral bed canopy can be DIY-ed at a low price. This crafter made it from faux flowers, a hula hoop, and a sheer curtain from Kmart. String the curtain around the hula hoop and then weave the flowers around to get this desired look.
3. Dainty Canopy Bed
Canopy beds are trending in nurseries because they keep mosquitoes and other bugs away from the bed area. This allows your baby to have a good night's sleep without being disturbed. Also it creates a very relaxing aesthetic.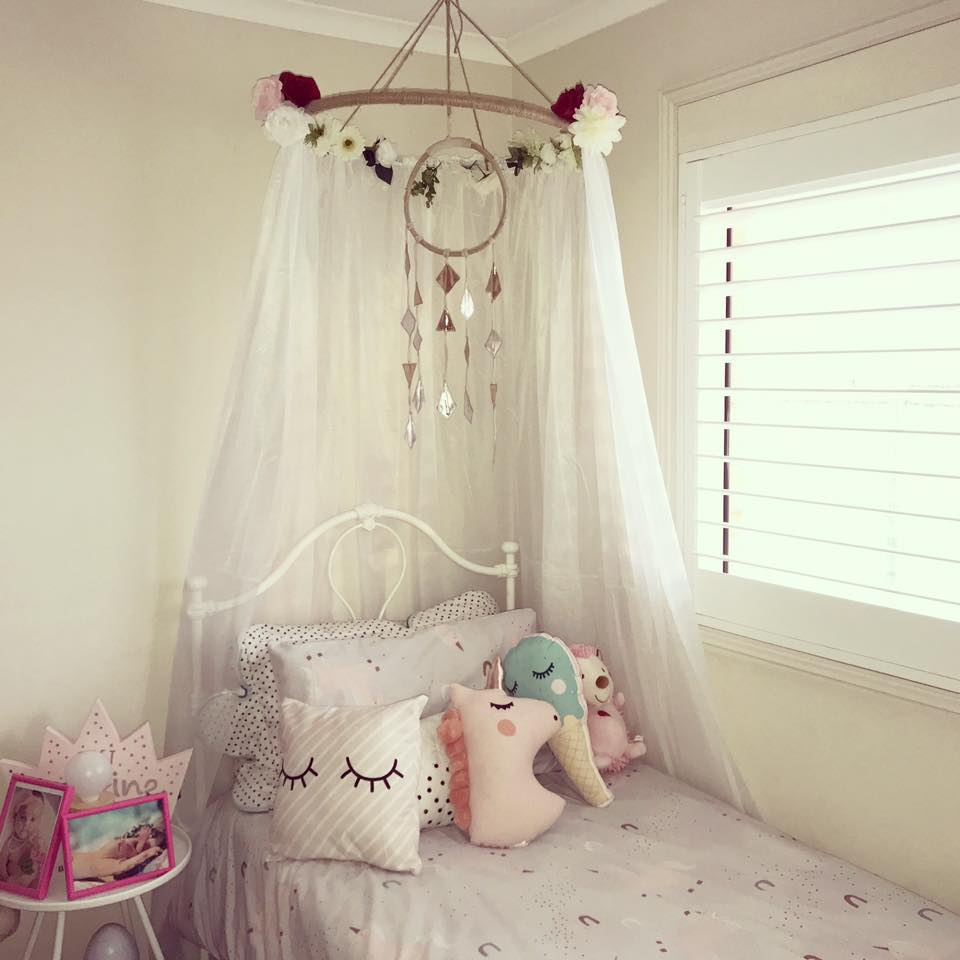 To make this particular canopy, they wrapped the hula hoop in jute. To add to the decor, they added some flowers and a beautiful dream catcher. This would be great to help children feel calmer and protected during the night.
4. Funky Floor Rug
Another thing that most bedrooms have is floor rugs because they have the function of trapping warmth in the room and making it cozier; do try out this easy DIY of a funky stamped floor rug made out of a faux cowhide from a cheap shop.
After purchasing a faux cowhide from the shop, go ahead and flip it over and hand stamp it in your favorite acrylic paint color; you can use potatoes or cardboard to make different designs. This final product is filled with zigzags and dot prints that look tribal.
5. T-Rex Lamp
Lamps are another staple addition to bedrooms, however, most of them are rather plain and ordinary; some children may dislike them because they find them too boring, so go ahead and spice it up by painting their favorite cartoons onto the lampshade.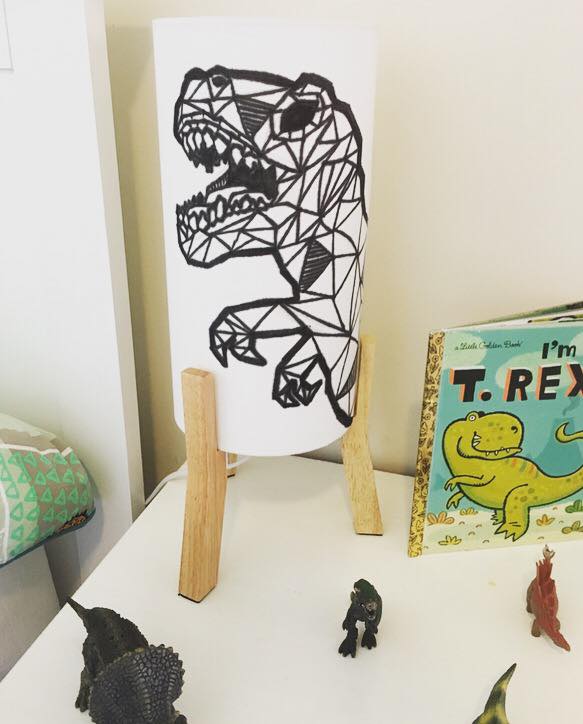 Here, this mom painted a T-rex onto a dull white lamp from Kmart; the design was inspired by a drawing on her child's t-shirt. Of course, you can use any design you think your kid would like; there are thousands of ways to decorate plain lamps.
6. Bedside Table with Booksling
Other than a cool lamp, your child will need a bedside table to place the fantastic t-rex lamp you spent hours making for them. Well, you can easily repurpose a step stool from a department store into a stunning bedside table for your kid.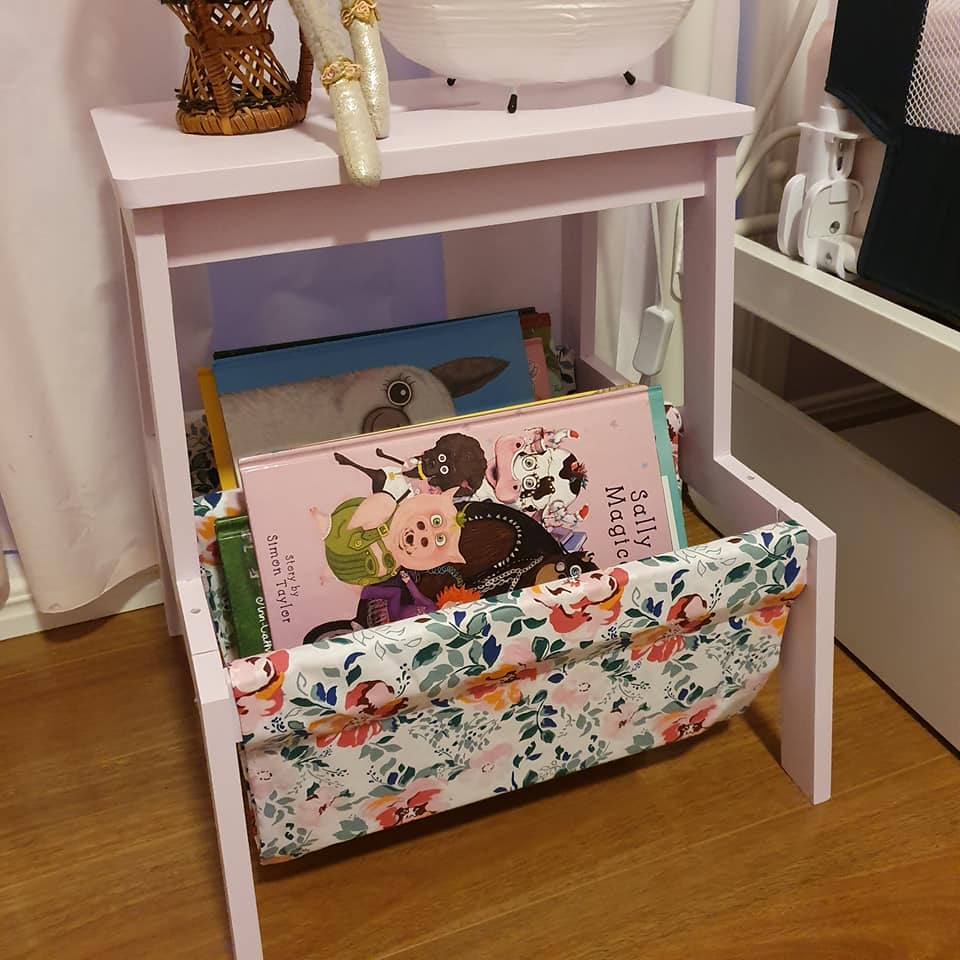 You can even use a Kmart tea towel to create a book sling so that your children can store their favorite bedtime stories close to them. With this DIY, you can easily reach for your child's favorite storybook and read it to them before bedtime.
7. Flower Decor
Now that you've added some furniture to the room, you'll want to add some decorations; the first place to decorate is the empty walls in the room. They're like blank canvases waiting for you to unleash your inner artist.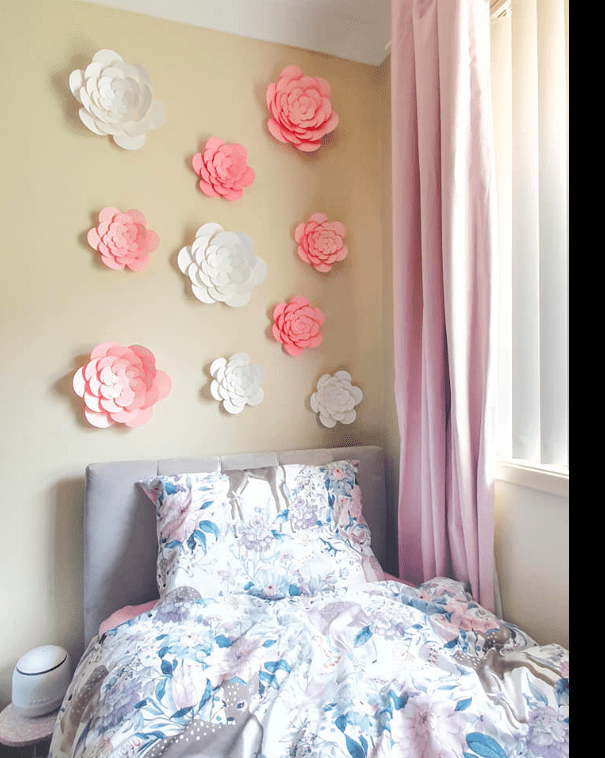 Whether it is decorating with a simple painting, photo, or DIY art, there are too many ways to decorate an empty wall. One simple way would be to stick a bunch of paper flowers in your children's room. There are even hacks online to make these flowers yourself!
8. Wall Hanging Unicorn Head
Other than that, parents can also decorate their child's room with this magnificent wall hanging unicorn head. Unicorns are one of the most popular animals amongst young girls so decorating their rooms with it would be perfect! We know they would love it!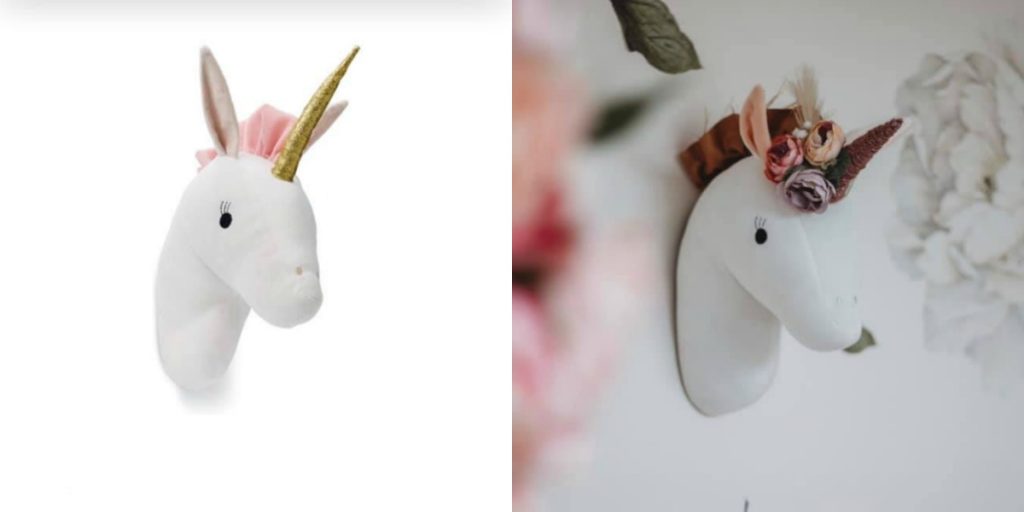 This mom gave a unicorn a makeover, and it looks even more beautiful after the makeover. She wrapped darker wool around the unicorn's horn, a cluster of artificial flowers was attached near the unicorn's horn, and a darker fabric was hand-stitched down the unicorn's mane.
9. Wall Art
Art is the easiest and quickest way to decorate a wall. However, professionally painted art is rather pricey, so there's always the option of hanging your own artwork, but this may be a problem if you're not much of an artist.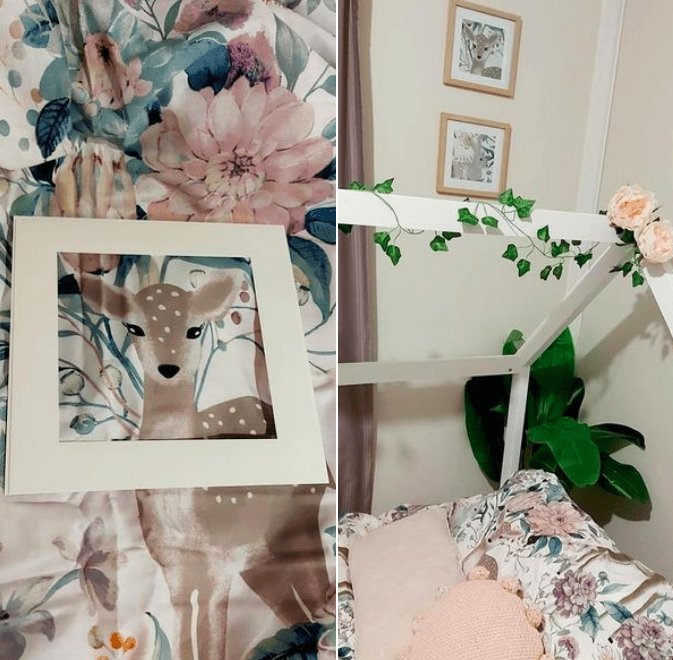 Fortunately, there's a simple solution to this. Purchase a quilt cover, and cut out a few pieces from the quilt cover. Put the images you cut in a frame. Then, hang the frames on the walls of your children's room. This will keep all of the art in the same style and color tone.
10. Grey and Gold Kitchen
A children's kitchen set is amongst the most common additions to a child's playroom; not only do they occupy your kids for quite some time, but they also help your children develop an interest in cooking at a young age.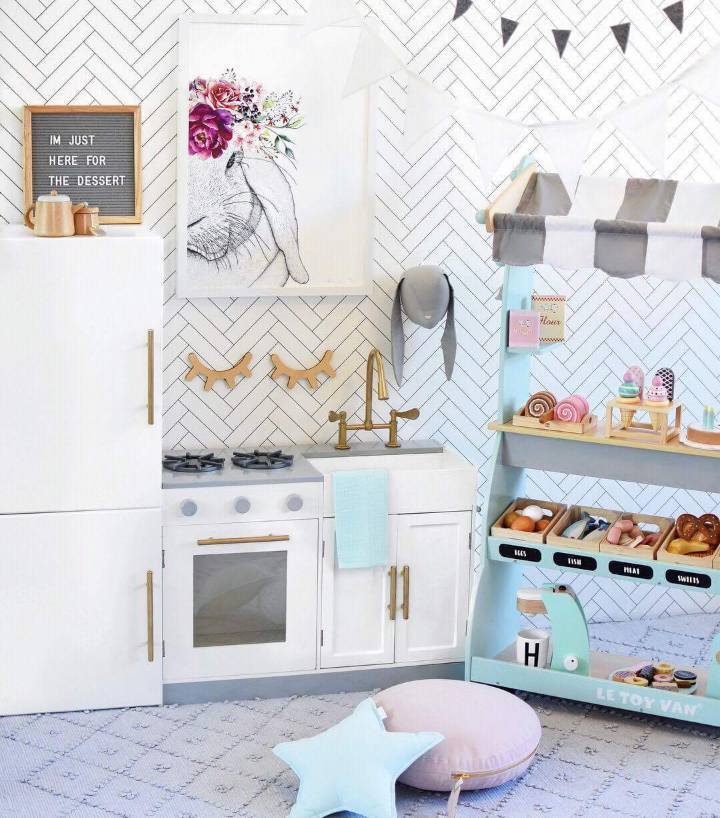 This kitchen set from Kmart is absolutely stunning, not to mention perfect for little kiddos playrooms. This parent DIYed the piece by painting grey and gold elements which brought the kitchen set to a whole new level. This is so elegant yet functional!
11. Play Kitchens
Speaking of play kitchens, they are rather popular amongst kids nowadays. We've seen so many designs that have blown us away; besides the one we mentioned above, the play kitchen makeover below gives out entirely different vibes from the original.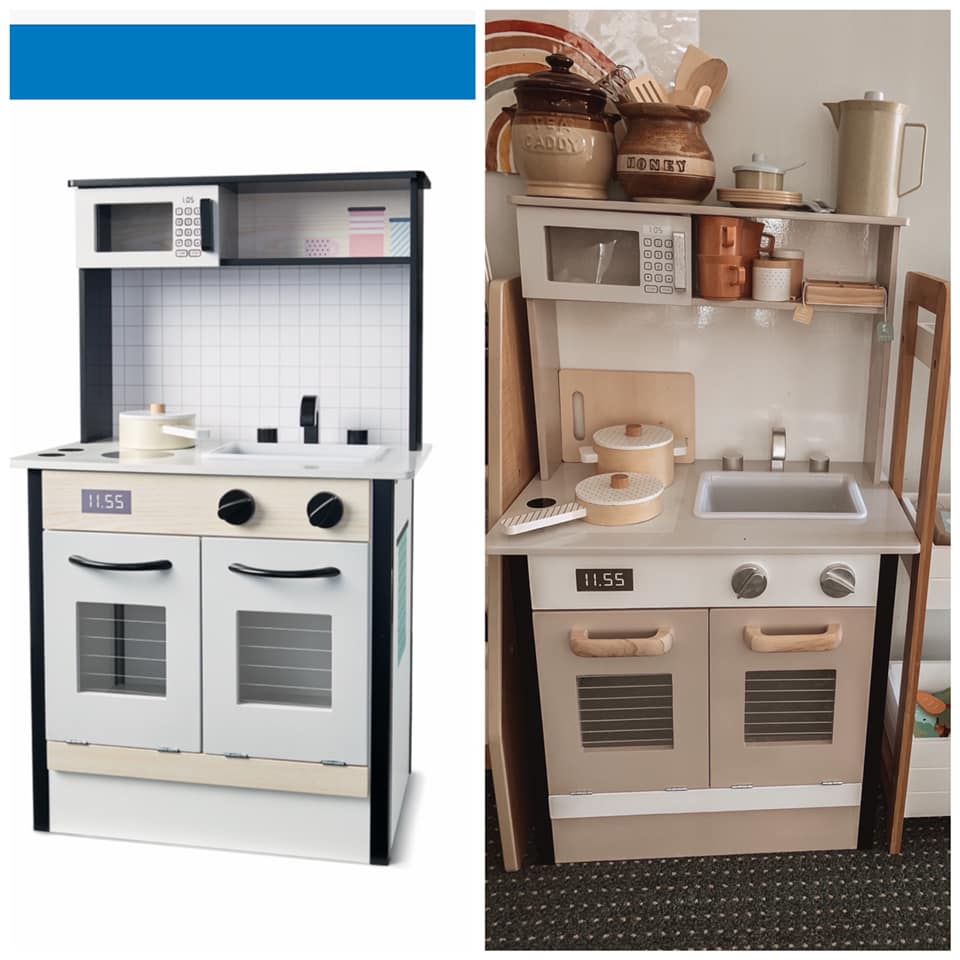 One tip for parents designing play kitchens for their children is to choose a tone and stick with that tone throughout the designing process. For example, if you decide to work with earthy tones, play around with colors like beige, brown, oak, and dusty rose.
12. Mud Kitchen
Instead of a relatively sophisticated play kitchen like the one shown above, you can build an outdoor mud kitchen for your children! With this kitchen, your children wouldn't be limited to playing with toy foods but actually with mud, sand, and water too.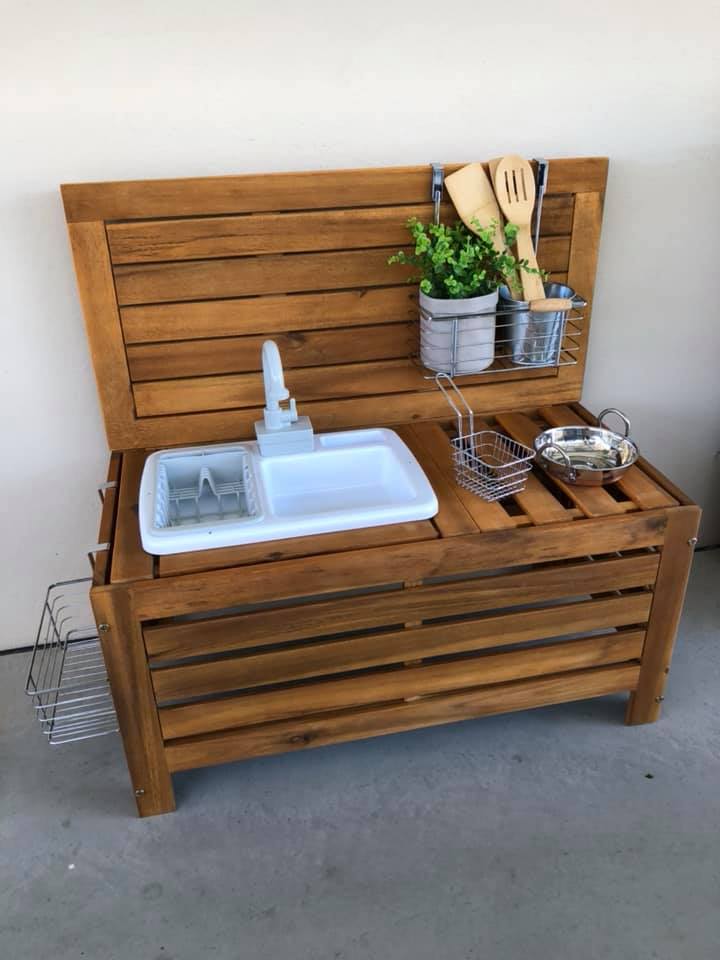 This mud kitchen is made from a bunch of materials from your local department store; the main component of this kitchen is a timber storage bench. The kitchen sink is made from a roasting tray. You can also add lots of other fun accessories to complete the kitchen.
13. Shoe Rack Grocery Store
Apart from a play kitchen, a grocery store is the next most popular playset for children. Sadly, they cost quite a fortune; if you're looking for an affordable grocery store playset, you can easily make one out of shoe racks from Kmart.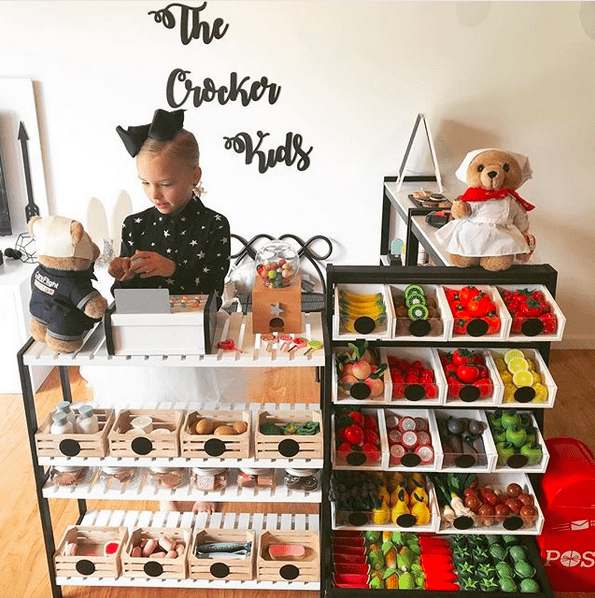 Of course, you'd need one or more shoe racks, depending on the foods and accessories you have, from Kmart. Then, purchase small containers and fit them on the shoe rack. After that, fill the containers with toy foods and accessories. If you can craft a cash register, it would make the experience all the more realistic.
14. Personalized Instrument Set
Parents can add an instrument set to their playrooms for children who love making noise. Giving the kids specific times to play with these instruments will allow you to contain the fun (and the noise) to certain times of the day.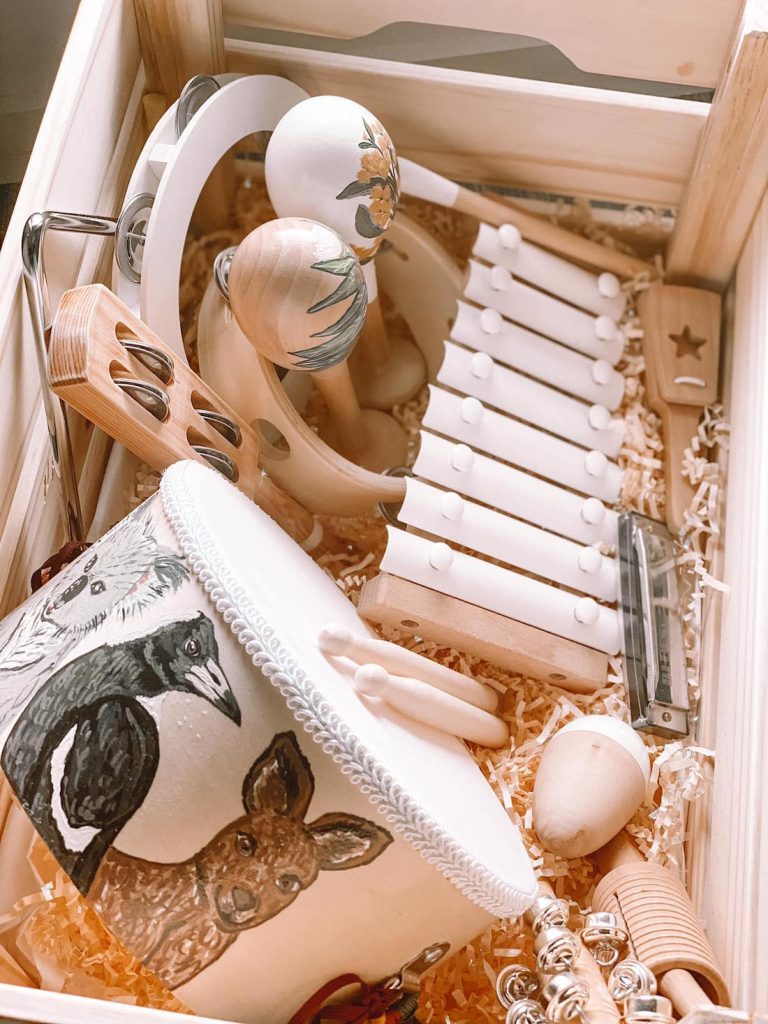 Instrument sets are often brightly colored, not to mention that they all look similar. So, parents can personalize their children's instrument sets by painting them in their children's favorite colors or unique patterns. This gorgeous set was painted white with some animals and plants. We love the gold and green highlights.
15. Toned Down Pastel Rainbow
As mentioned above, children's instrument sets look similar, but they aren't the only toys that look the same; basically, all children's toys look the same. For some reason, they are all jarringly bright. To make your children's toys stand out from the others, simply paint them!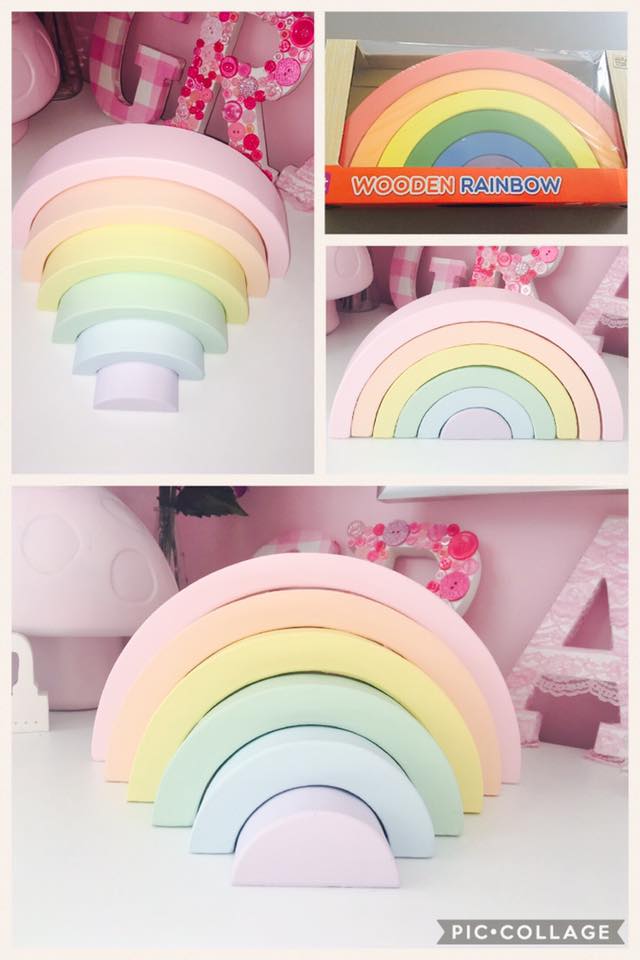 Here, we have a perfect wooden rainbow set for nurseries, but the only problem is that the colors can be overwhelming or perhaps not fit your bedroom decor. So, this dad repainted the rainbow in pastel colors. Alternatively, you could paint in ombre shades.
16. Wooden Toy Camera
There is a range of children's toys that look ordinary and boring to play with; again, parents can give the boring toys a makeover and turn them into something that looks more fun to play with so that they can grab the kids' attention.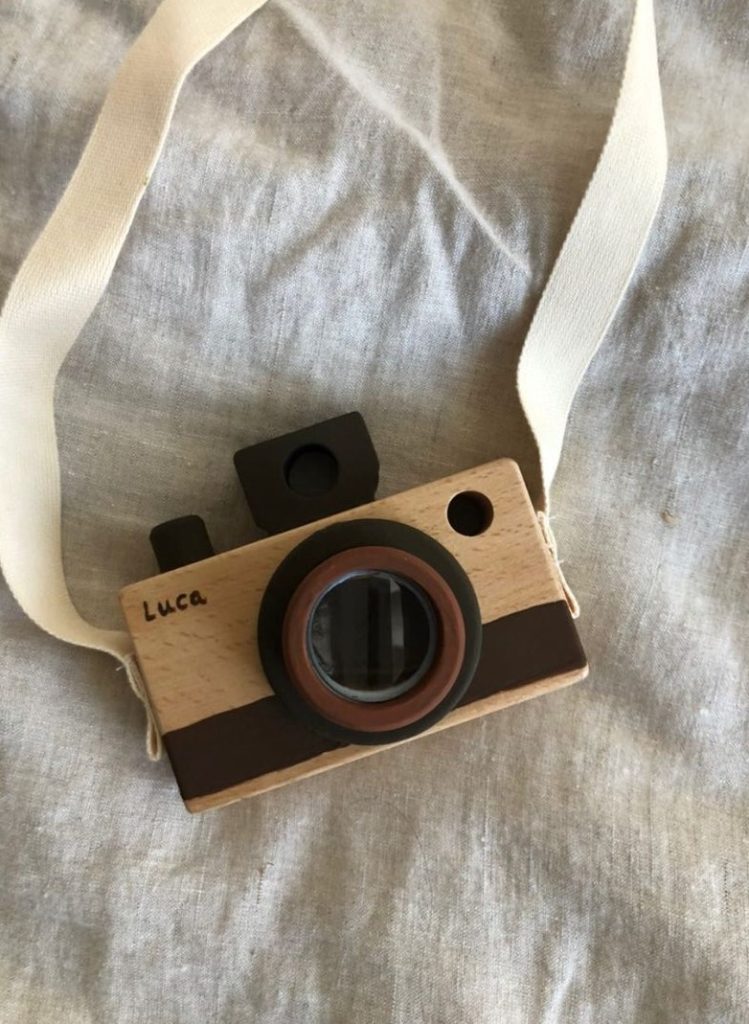 Take this wooden toy camera, for example. It looks incredibly boring before the makeover, but it seems so much better and more inviting after the makeover. The artist mainly incorporated neutral boho tones, which worked well with the toy camera's wooden element. We love that the child's name is on the camera!
17. Glam Doll Mansion
One thing that little kids love more than their dolls is a dollhouse for their precious dolls. However, dollhouses are expensive to buy. Luckily, Kmart sells them at a low price; you could even combine two dollhouses to make a doll mansion!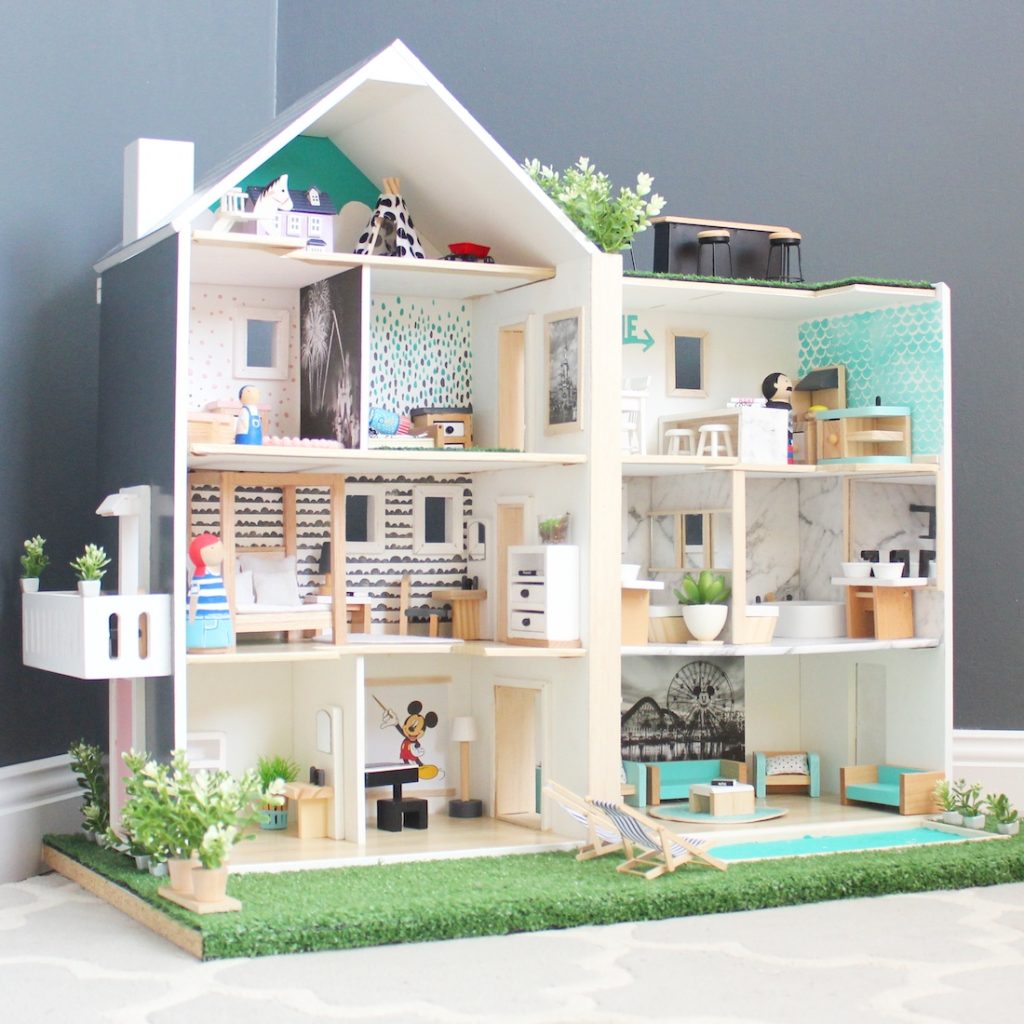 Simply combine two dollhouses and jazz them up with doll furniture and contact paper as wallpaper. Don't think that dollhouses are only for girls; you can also transform them into something for the boys; by simply adding dinosaurs, plants, and pebbles to create a dinosaur world!
18. Boho Dollhouse
Instead of the doll mansion, you can have regular dollhouses that you can buy at a relatively low price from a big-box shop; however, the choices and design of the dollhouses may be limited, so you'll need to spice it up with a makeover.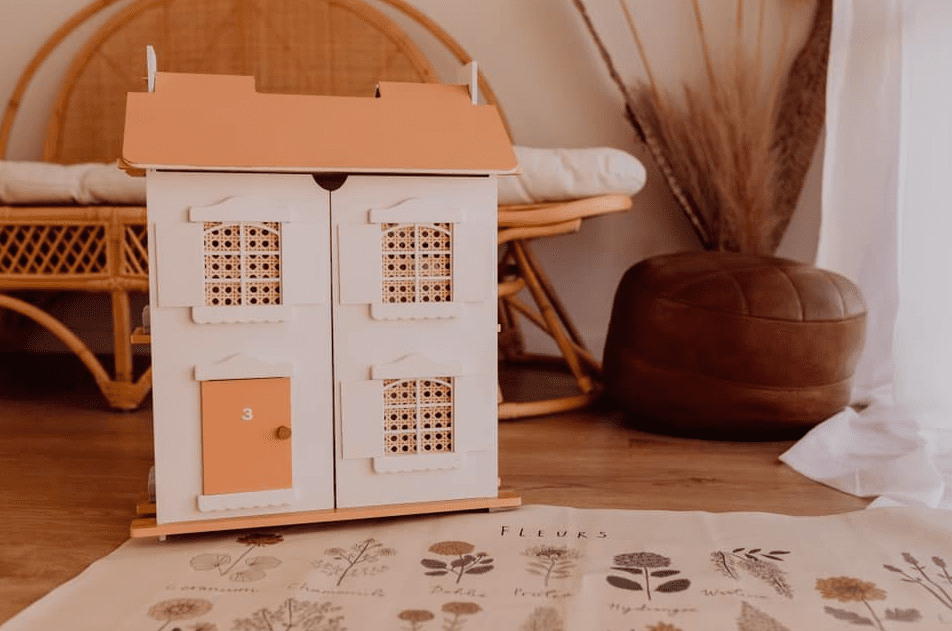 The original dollhouse was a bright blue with pink and white detailing. This creator favored boho vibes, so they repainted the entire dollhouse in white with brown and orange detailing instead. It matches really nicely with the aesthetic of the room.
19. Boho Stool
Besides playing with dollhouses, little kids absolutely love hosting tea parties for their doll friends. In order to hold tea parties, they'd need cute chairs and tables and a tea party set. Unfortunately, chairs and tables often cost a fortune.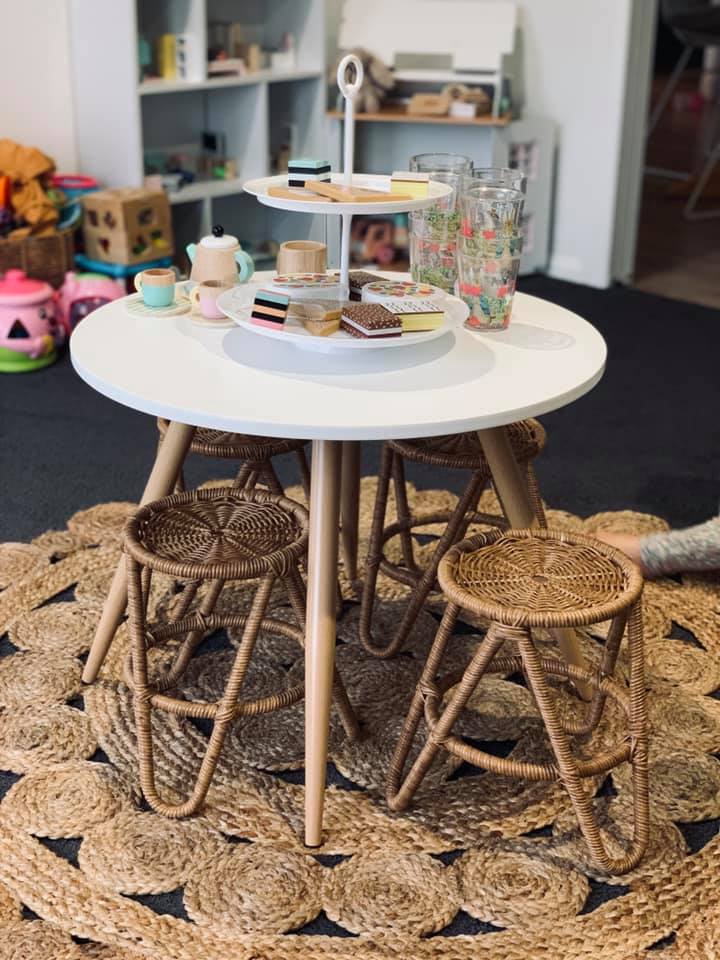 An affordable alternative to expensive chairs is this rattan pot plant stand from Kmart; it's sturdy enough to bear your child's weight. It is so beautiful, and it fits almost any home design. Most importantly, it saves bucks on your children's room makeover!
20. Doll's Bed
Since you already have a place for your kiddo's dolls or animals to live in and even a spot for your child to host tea parties, it'd only make sense for these dolls to also have a place to sleep.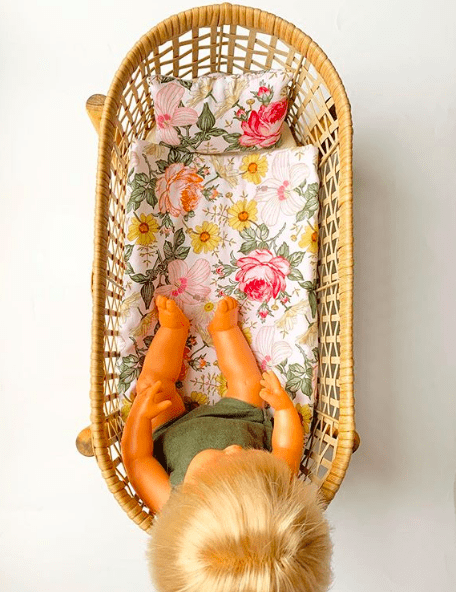 To make a bed for your child's dolls, all you have to do is purchase rattan planters from Kmart. Be sure to add some tiny blankets and pillows to the planter, and you'll get yourself a boho doll's bed that is absolutely beautiful.
21. Play Tables
For younger kids, it's essential to build a space dedicated to sensory activities. These activities are crucial for young kids because they encourage learning through exploration, curiosity, and creativity. This play table is perfect for an easy sensory activity.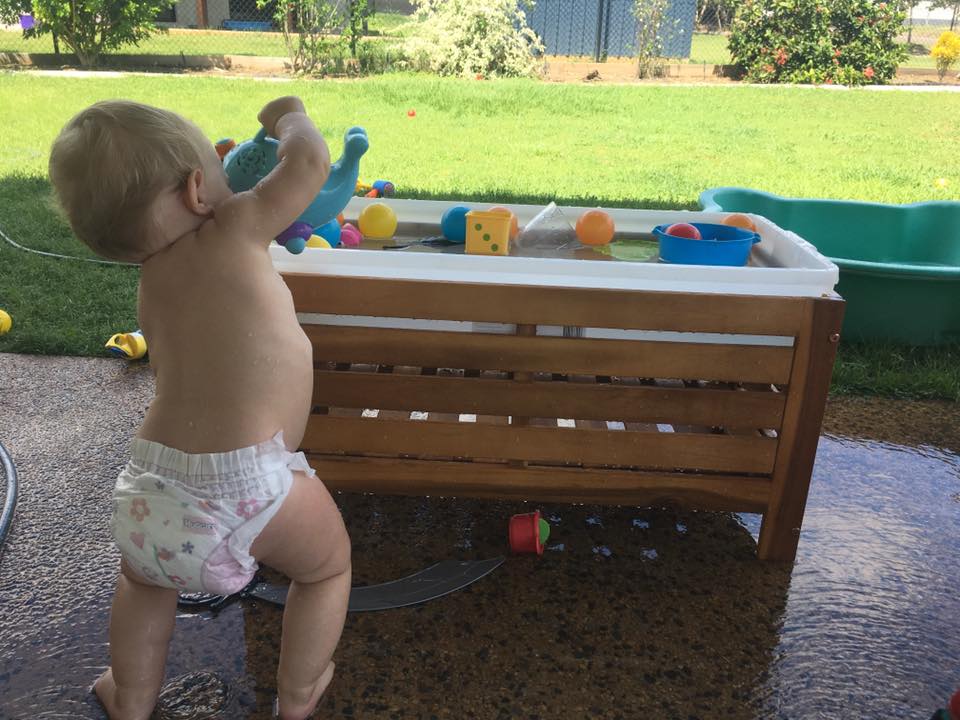 Go ahead and purchase a timber storage bench and an under-bed storage container. Then, place the storage container into the timber storage bench and fill the container with either sand or water. Finally, throw some of your children's toys in it.
22. Peg Board Play Wall
Children's playroom can get rather messy sometimes because there are so many toys and so little storage space. Getting rid of the mess in the playroom is every parent's nightmare. Luckily for you, we have an easy and unconventional solution!
Simply build this vertical play wall out of pegboards. This unique piece has shelves that you can use to store toys and other things in your children's playroom that contribute to the clutter in the room. We love the concept of bringing the outdoors in and having the kids play with nature in their room.
23. Moon Shaped Shelf
Other than that, you can create this moon-shaped shelf for additional storage space out of a simple and most importantly, affordable round shelf from Kmart. All you have to do is attach a ply timber moon cutout to the face of the round shelf.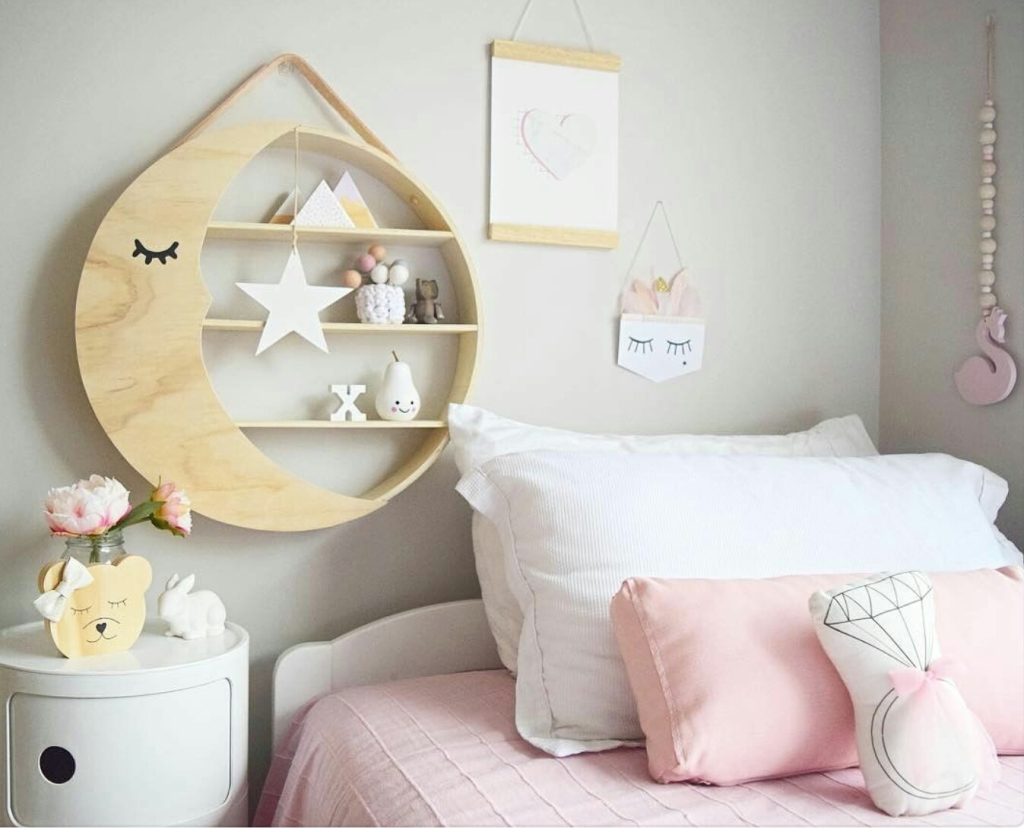 Alternatively, you can attach ratan to the face of the round shelf for a more boho-styled shelf; this way, you'd be able to showcase the original beauty of the frame. Additionally, this would go perfectly with the rattan pot plant stand as stools idea mentioned above.
24. Planter Book Storage
Books in children's rooms are pretty common, but keeping them neat and tidy can be quite the challenge. Some bookshelves are too tall for the children to reach, so they wouldn't be able to put the books back onto the shelves.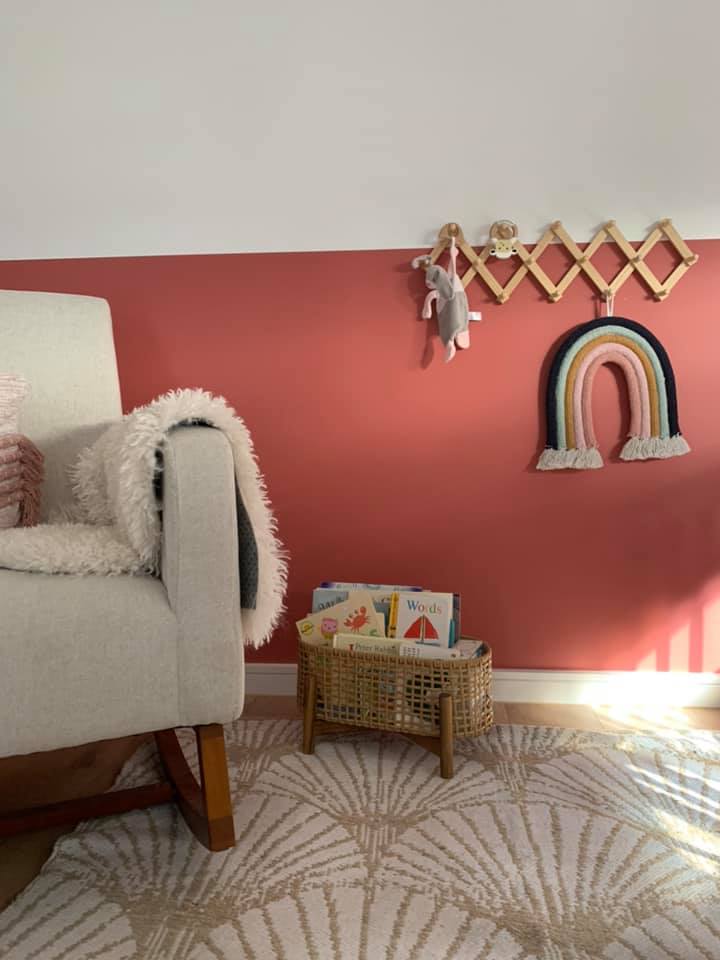 This rattan planter is an affordable alternative to ordinary and tall bookshelves, which you can use as book storage. Simply leave the planter on the floor near your kid's favorite reading chair and drop the books in the planter.
25. Rattan Wall Pocket
Apart from that, parents can also DIY wall pockets to store their children's favorite books; regular bookshelves take up too much space in the room, so pocket walls are a better alternative if you have limited spacing in the bedroom.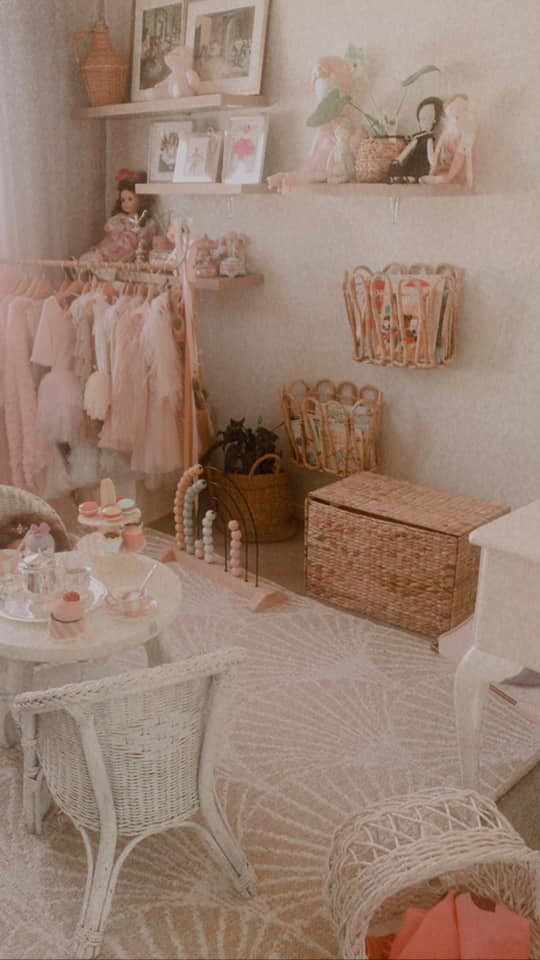 Wall pockets like these can actually be made from rattan-look magazine holders from Kmart; the rattan look is very in style right now, not to mention that it goes well with boho stool and rattan round shelf idea mentioned above.
26. Circular Figurine Display
One thing that little boys' playrooms are full of is tiny figurines; amongst all children's toys, these are the hardest to store because we want to display them instead of keeping them in a box hidden in the back of the cupboard.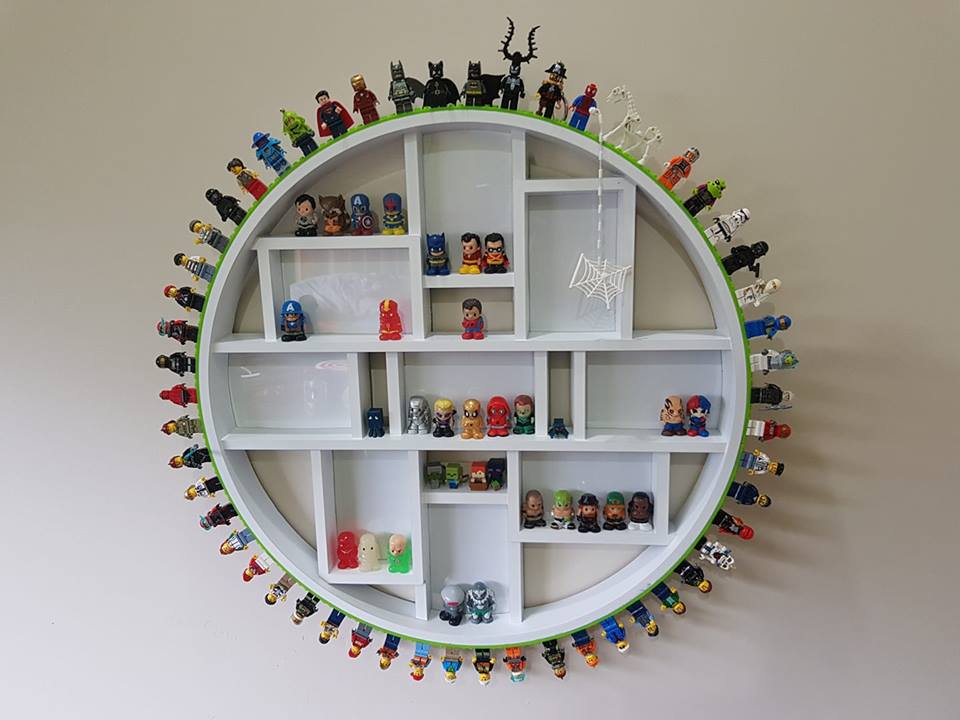 You can repurpose a circular photo frame into a figurine display. Simply attach the figurines to the edges of the circular photo frame with Lego tape. Then, scatter the remaining figurines in the empty spaces of the photo frame.
27. Lego Storage Table
Another popular toy among little ones is Lego; they're fun to play with, but they get literally everywhere around the house. Not only does this make your home messy but it may potentially hurt you if you accidentally step on one of the pieces.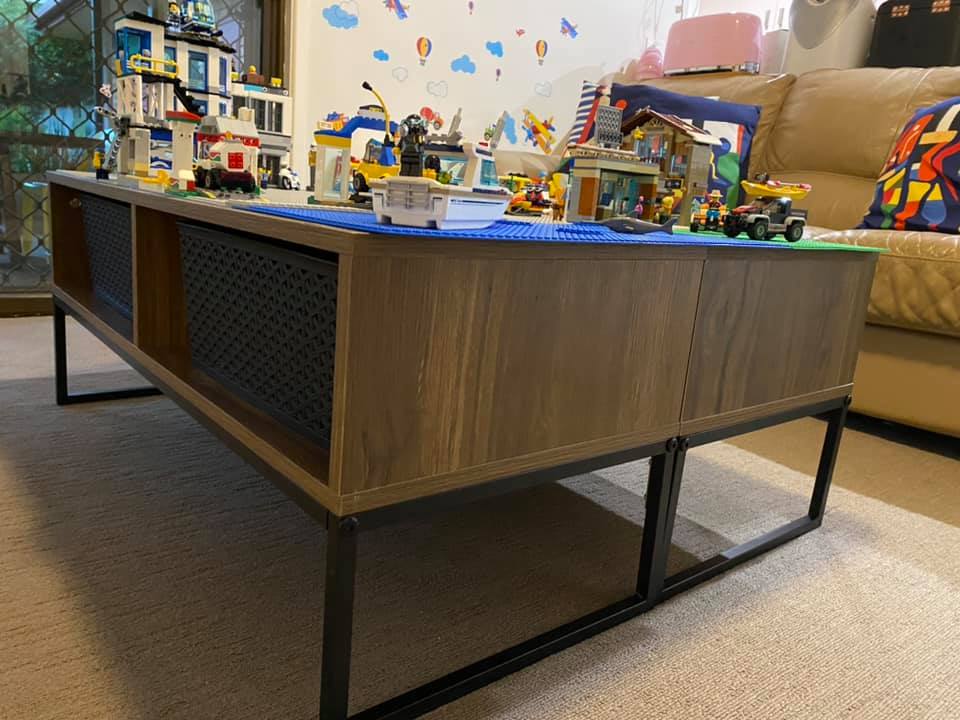 One simple way to store Lego is adding Lego bases to entertainment units and adding storage baskets underneath. This way, your kids would be able to build Lego on top of the table and store other pieces in the storage baskets.
28. Hanging Clothing Rail
Princess dresses are little girls' wardrobe essentials because wearing these dresses allows them to fulfill their dream of becoming a princess or queen; princess dresses are often too stunning to be kept in a closet for most of its life.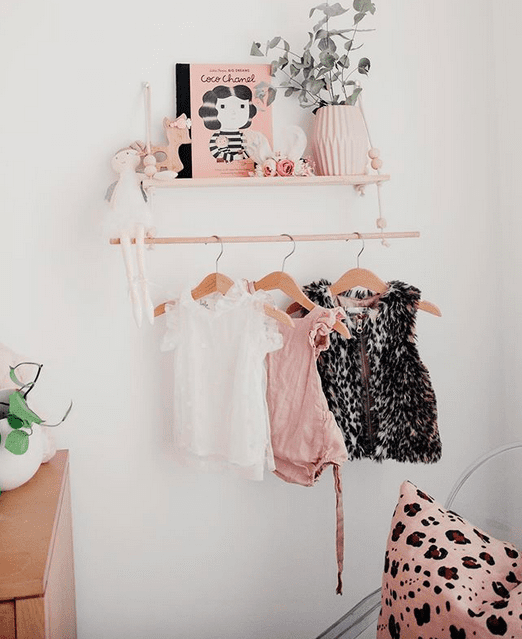 Therefore, build a hanging clothing rail out of a hanging shelf, macrame string, timber beads, and a piece of dowel to display all your daughter's beautiful princess dresses in her bedroom. This is a stylish and clever way to organize clothes.
29. Toy Box Upgrade
The simplest way to store toys and other things in a children's room is with storage boxes or toy boxes, but these often look boring and lack personality. So, one way to personalize these boxes is to give them a makeover.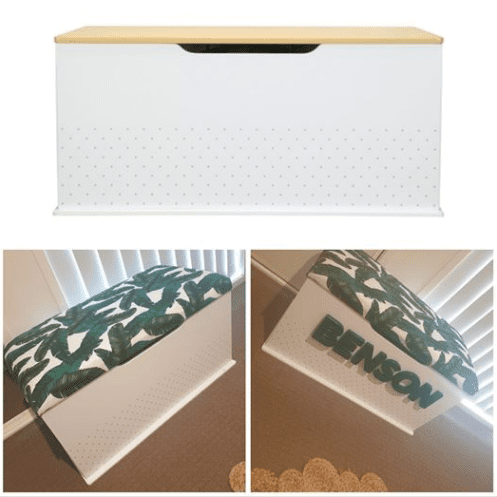 This simple toy box from Kmart already looks beautiful on its own, but you can personalize it by giving it a makeover. For example, you could add soft padding on top of the box and glue on letters that spell out your child's name on the sides of the box.
30. Bench Seat Toy Box
Of course, instead of using a toy box from Kmart to store your children's toys, you could also use an outdoor bench seat from a department store as a toy box; bench seats like these have much more storage space than an ordinary toy box.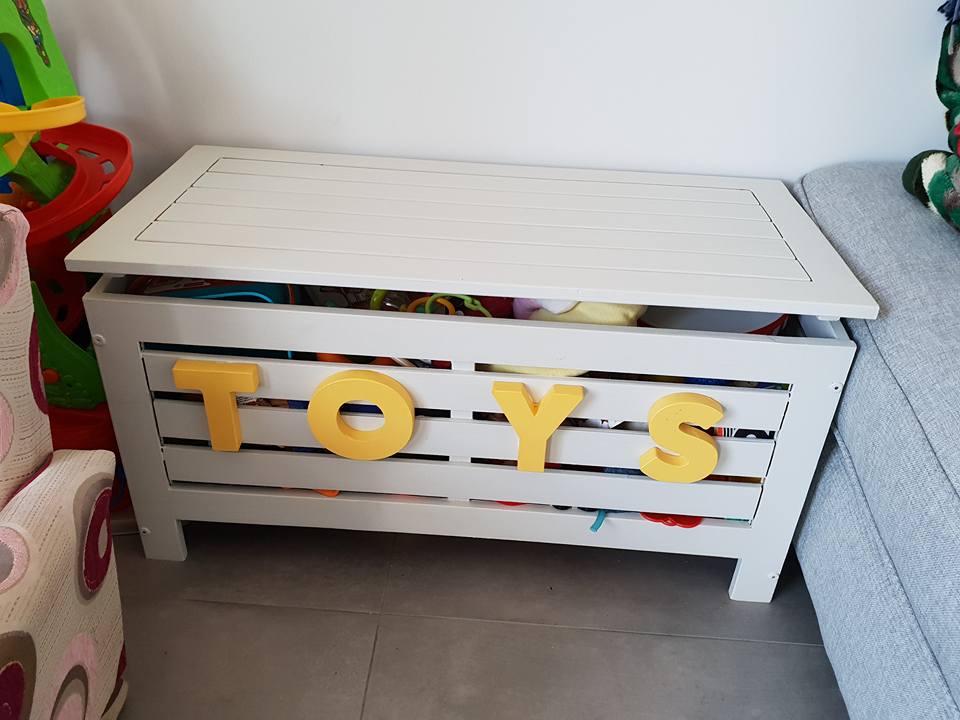 However, the original bench seat may be too boring, so you'd definitely need to give it a huge makeover to make it more appealing. This one was painted white and added the letters "TOYS" to the sides of the seat.
31. School Bag Station
If your children are old enough to go to school, they'll definitely have school bags, but where do they usually store them? Do they leave them on the floor in the living room or their bedroom, or do they leave them on one of the chairs?
Simply build this school bag station, and you won't ever have to worry about your children simply leaving their school bags around the house! This parent built this station by making minor tweaks to an 8-cube storage shelf from Kmart.
32. Dinosaur Drawer Pulls
Speaking of storage space, ordinary drawer pulls and knobs in children's rooms may be too dull or don't fit in well with the rest of the room, so parents often buy fun new ones to substitute the ordinary originals. Unfortunately, these can be rather expensive.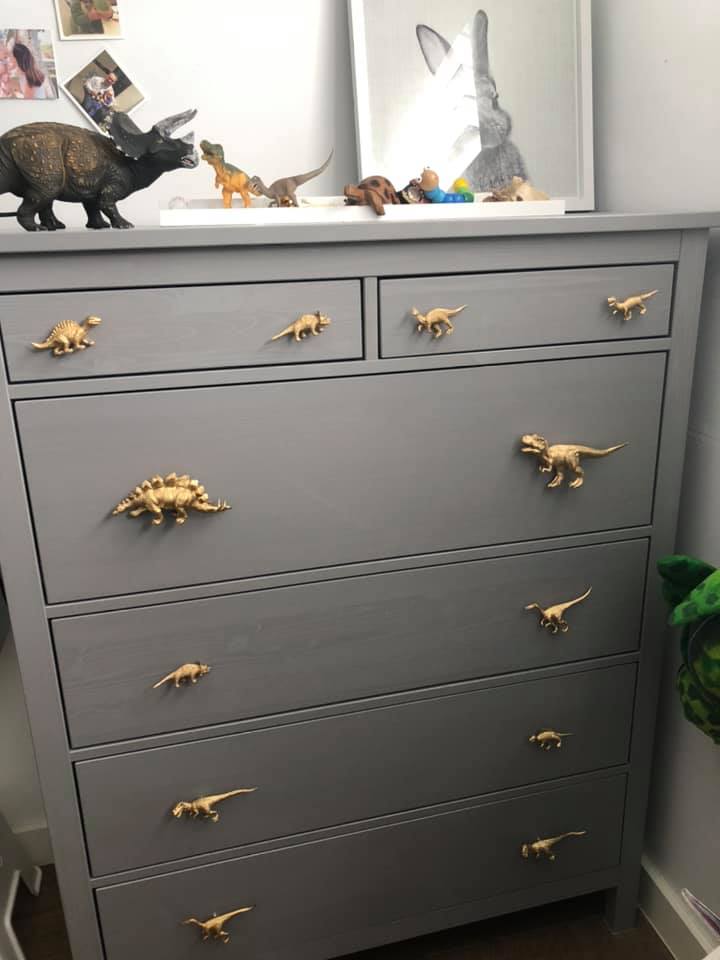 Fortunately, department stores sell these cute dinosaur figurines, which you can use to make your own fun draw pulls. Start by spray painting the figurines and attach them firmly onto the ordinary drawer pulls; your drawers will look roarsome after this!
33. Ride-On Fire Truck
If your children love firetrucks, this is a hack you'll definitely need. As we all know toy firetrucks are often really expensive, especially those children can ride on, so you may need to build one for your child to save some bucks.
Building one is definitely cheaper than buying one, especially if you're building one from an outdoor bench from Kmart. The best thing about making this particular fire truck is that your children can help you with the process, making the experience all the more enjoyable.
34. Custom Cubby House
We wouldn't dare to leave out the most popular kid's hack of all time – customized cubby houses. Kmart really outdid itself with this cubby house that parents can go crazy over decorating. Whether it is the cubby house's interior or exterior, there's so much room for creativity!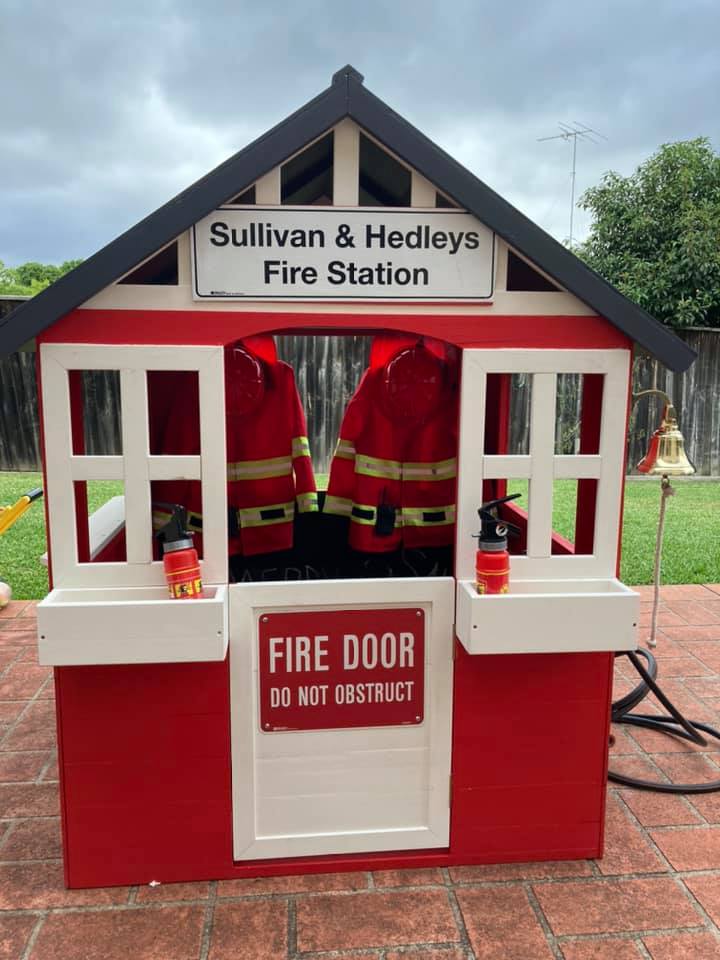 The cubby house can be transformed into literally anything. This one was transformed into a perfect fire station for kids who dream of being firefighters. Alternatively, you could turn yours into a horse stable with country vibes or a modern flower shop.
35. Baby Play Gym
Finally, we have a hack for babies, and that's to build a baby play gym. Play gyms are an absolute lifesaver in the early months because they can tire out your children easily and allow you to have some moments of peace.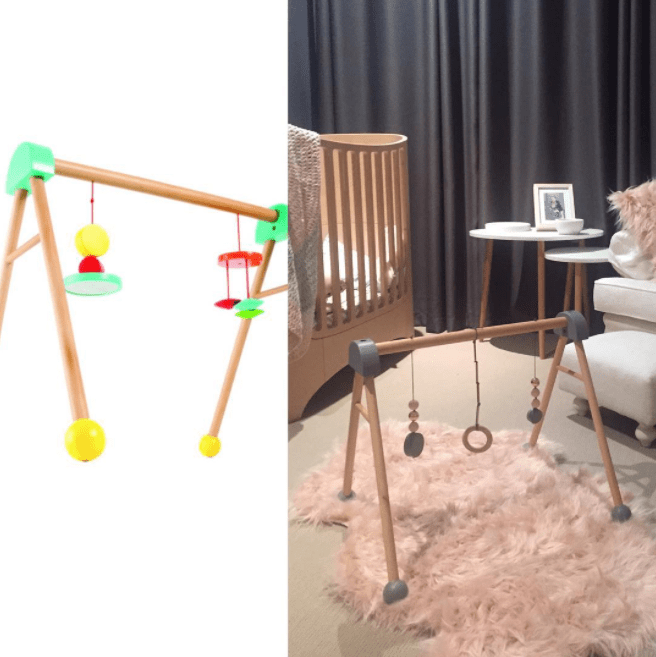 Lucky for you, Kmart sells play gym components at a relatively affordable price, but most of the items sold are brightly colored, so if you don't favor the colors, you will need to give the play gym a simple paint job.