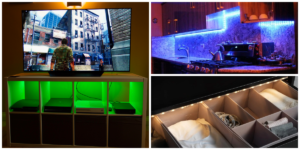 40+ Simple Yet Affordable Lighting Solutions Using LED Lights
By Israel O
---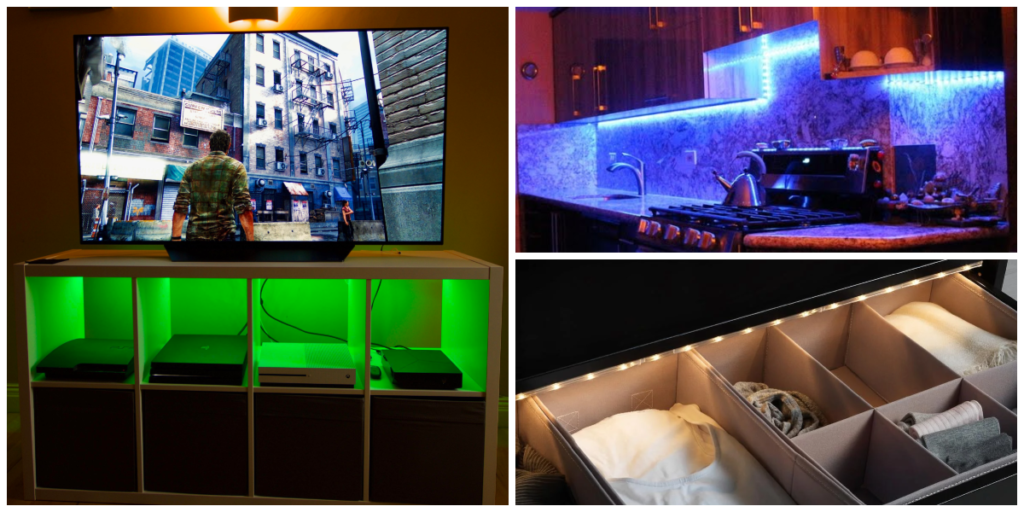 Over the years, we have witnessed firsthand the sheer power of modernization. From how we communicate to our entertainment; everything today isn't as it used to be. The same applies to lights and the way we prefer them in our homes and offices.
A lot of people are now opting for LED lights because of their flexibility and manner of illumination. The days of fluorescents and incandescents are a distant memory now. They say, "change is constant," and we have indeed changed.
Luxury homes, restaurants, and even stores are now defined by their creativity and a keen eye for lighting. Such is the power that lighting holds in today's world. And that is why we've taken the liberty of sharing with you some of the most ingenious DIY ways you can set up an LED light.
Reflect ownership
Homeowners are known to have their pictures, family names, and even favorite quotes on display. With LED lights, not only can you still have your quotes and names on the wall, but you can have everyone's attention as well.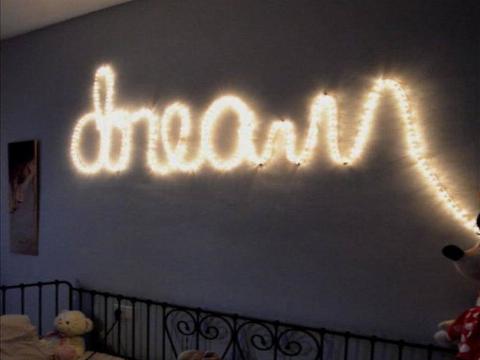 Just take the fact that you're staring at this image now. The eyes are said to be the first point of contact for every human. With LED lights wrapped and lighting up your favorite words, no one will forget about them anytime soon.
Brighten up your Walls
One of the best reasons why lighting strips are so loved today is their flexibility. You can light up any house feature in any way you want. This user here decided to make a cool design with hexagons out of his lights.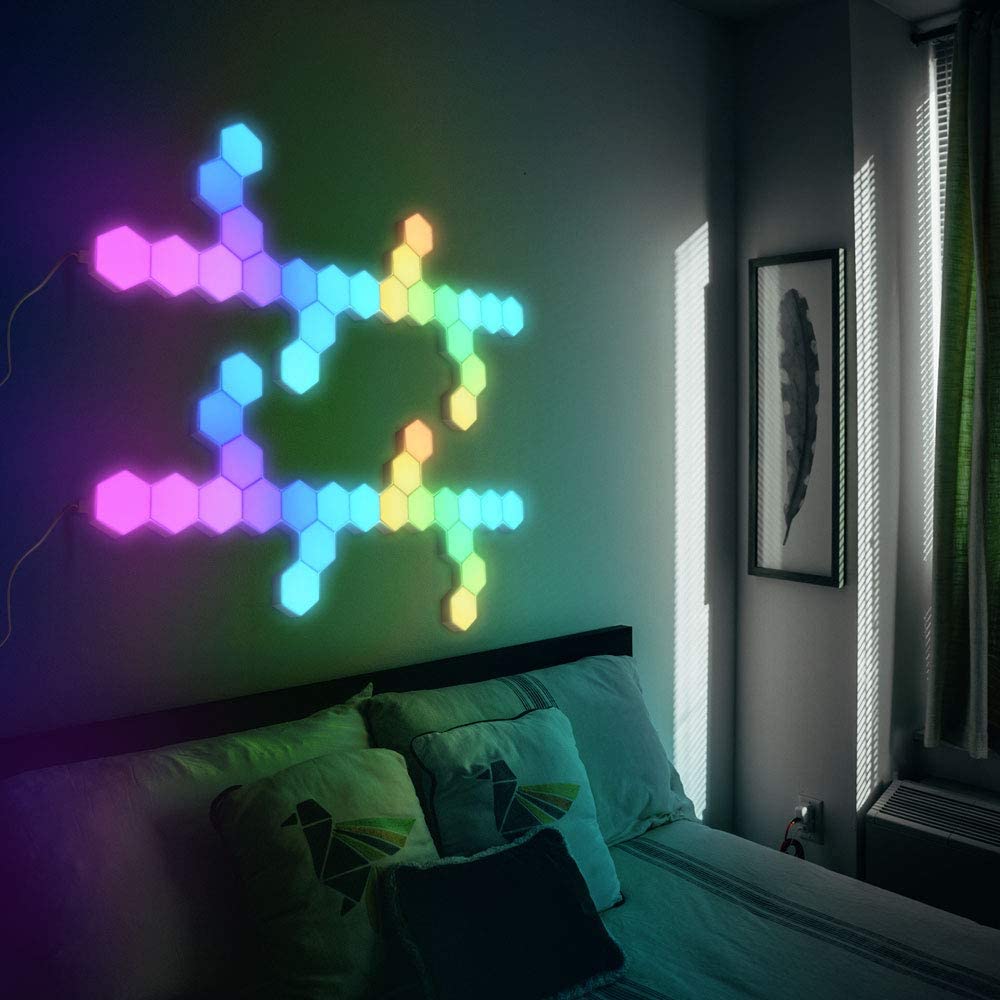 Even if you don't have the hexagon-shaped lights or want to repurpose the lights you plan to get, you can always get string lights and wrap them around shapes you make out of nails, etc. The opportunities are endless!
Shine Bright like a Diamond
Even our body sometimes demands a little extra light to shine and an LED light is everything you need. Since they can be tiny and mobile, you can take them on you and go to your favorite festivals and parties glowing.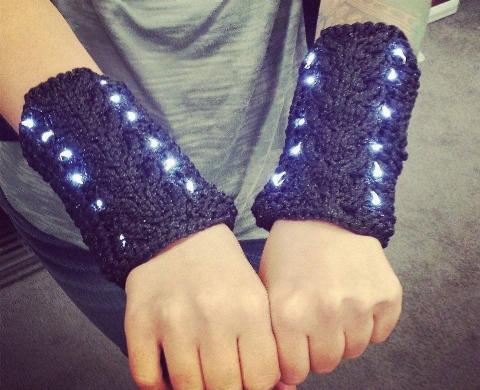 However, It does have its risks and you should be careful not to get it too close to your skin. A safer way is to put on LED shirts, wrist watches, and shoes. You'll find them on Amazon and eBay.
Feel like a Star
Even with the cheapest vanity money can buy, you can still feel like that celebrity you love as long as you have an LED light wrapped around it. After all, Albert Einstein said, "Imagination is more important than knowledge." And he had fabulous hair.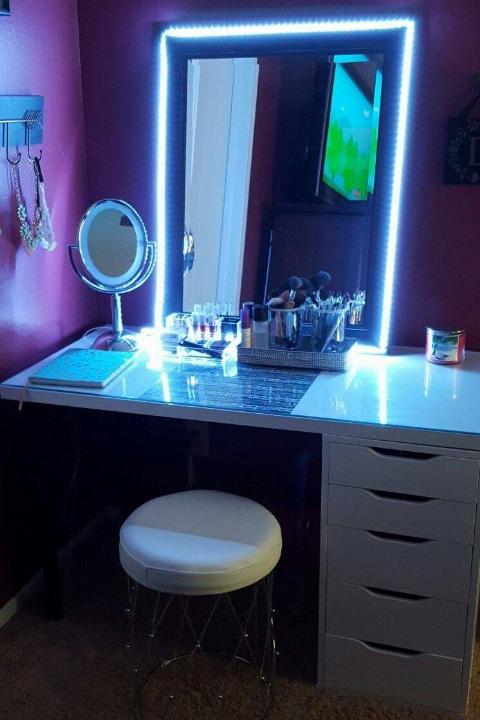 Now you can apply makeup, scream, and do everything you wouldn't do in public in front of your LED vanity. You can either purchase vanities with an inbuilt LED or get a plain vanity and put up the lights yourself.
Create your Lair
Fictional superheroes like Superman and Batman are known to have lairs with bright colors and ambiance. Just like this user recreated a Star Wars room, you can do the same for your superheroes. Especially if you have collectibles of them.
Also, for people who work as curators or buy and sell ancient artifacts and antiques, a room with LED lights is almost necessary because you will store priceless items worth millions. You want the display to look lavish as well.
Watching TV in Higher Definition
Even without the lights, this TV is big enough to make anyone in front of it stay focused. But adding the LED lights under the TV stand set the tone of the room. It's almost like he's in the cinema.
This user loves his gadgets and decorates the TV stand with LED lights to show off his PlayStation collection. It's a rather simple setup with the same color of lights but different game editions arranged in succession. We think it's perfect.
Shed light on your Fishbowl
There is almost no limit to what you can use LED lights for; you can shed light on just about anything. It doesn't matter if it's an aquarium or a fishbowl. This is possible because these are waterproof LED lights.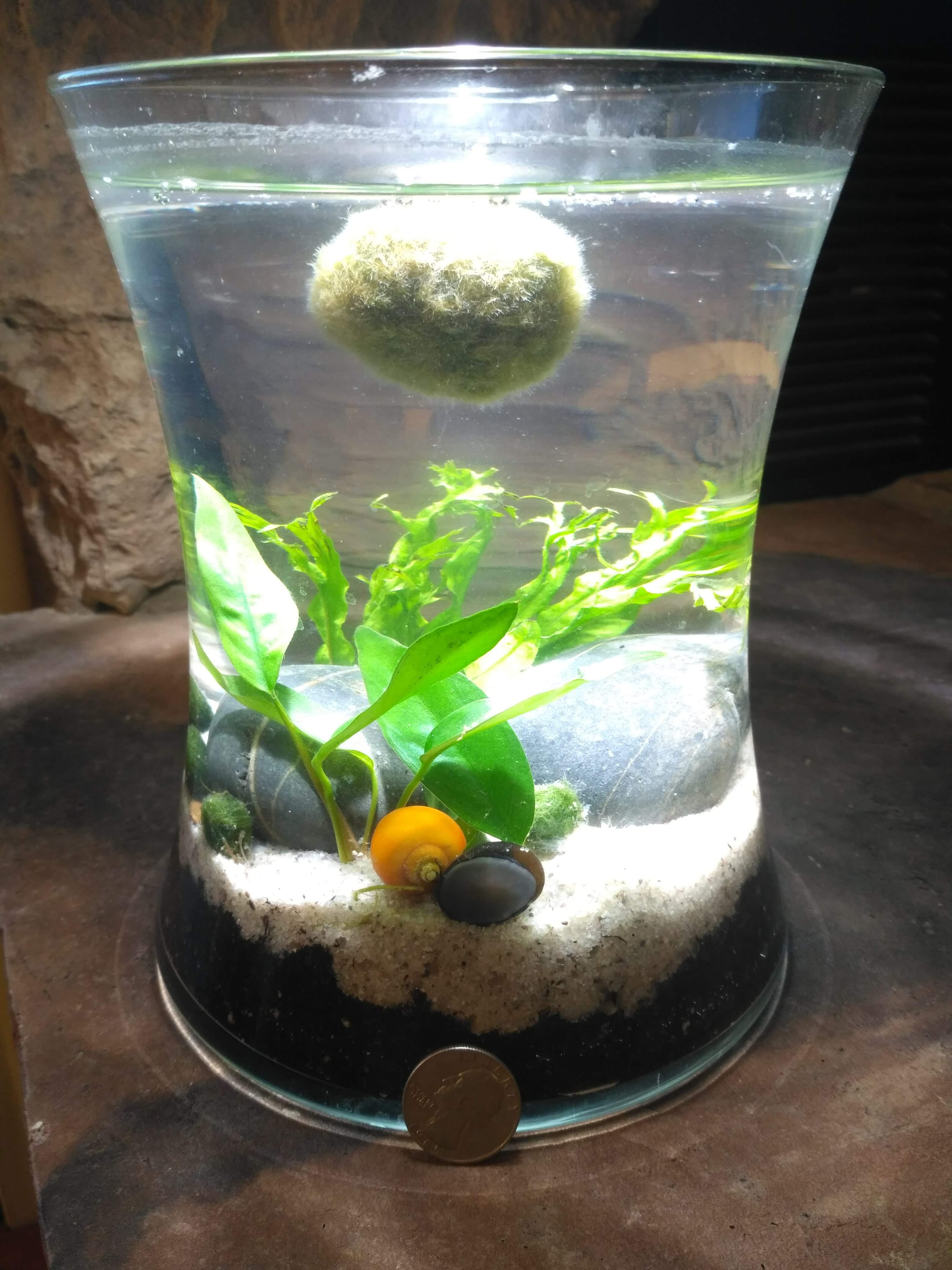 Whether it's an aquarium or a fishbowl, you can have an LED light installed somewhere in it. This user had it installed just above the opening of his fishbowl so the lights can shine facing the water and his fish.
Light up your Ceiling
The feeling of waking up and seeing colorful LED lights in the morning can be lovely, especially if your tray ceiling is customized to show the night sky or butterflies. There's no better way to start the day if you ask us.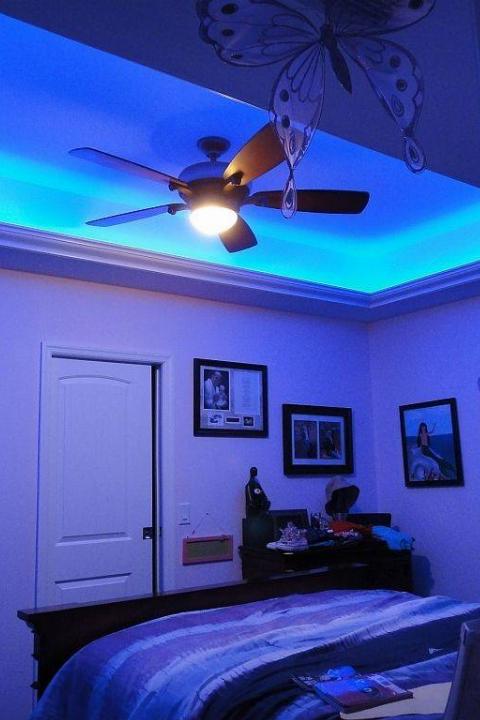 Indeed, tray ceilings are beautifully made to suit your home, but it is the LED lights that make them really stand out. However, the color of light you choose could make or break the overall appeal of your room, so be aware.
Brighten up your Kitchen
You might not share the same enthusiasm for your kitchen as a chef or baker would, but there's no denying that LED lights in the kitchen make everything better: the appeal, the tone of your kitchen at night, and the walls.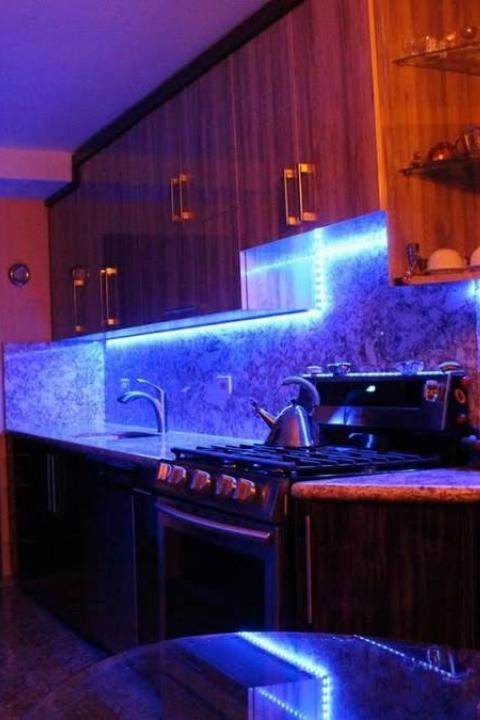 Don't stop at putting up LED lights in your room. Enhance the overall ambiance of your kitchen, too, by having the lights reflect the design of your backsplash. Backsplashes are great, but they're even better with LED lights illuminating them.
Lighting up for House Parties
Whether you're an aspiring DJ or just a teenager breaking the rules because your peeps are away, the feeling of partying under LED lights is the same. Music playing, hot environment, and people with their hands up in the air.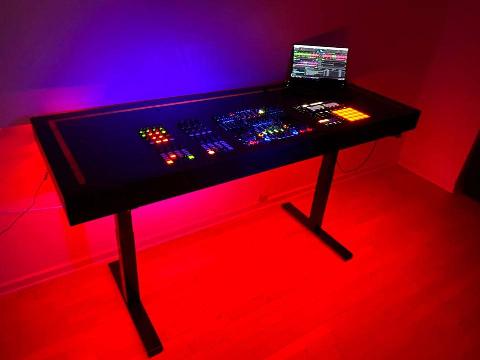 It's common party knowledge to go for colors that aren't too bright but at the same time are clear enough for you to see who you're dancing with. Better still, get all the colors and have them come on in intervals.
Pimp your Ride
Pimping your ride doesn't always have to mean changing your engines, mirrors, or even repainting your car. Sometimes, it's about installing a few (or a lot) of top-quality car accessories with built-in LED lights to change your car's ambiance and overall feel.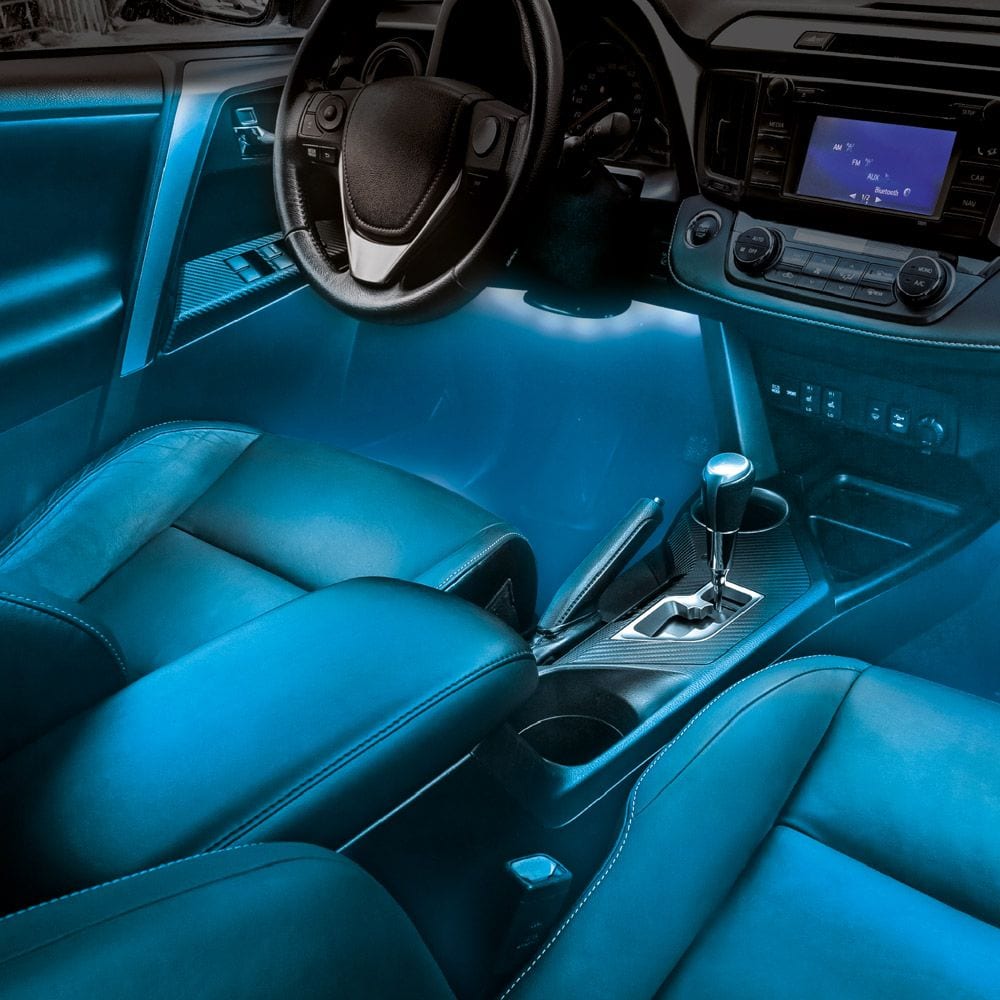 What you see here is an LED light installed under the dashboard to give the car a cool feel via illumination. You could get LED gear knobs or LED logo lights to display the brand of your car at night.
Decorate a Stage
A stage cannot exist without lights; that's probably the first rule in the book of stage decoration and setup. It doesn't matter if it's a movie, a play, or even an announcement. And LED lights are preferable for their versatility.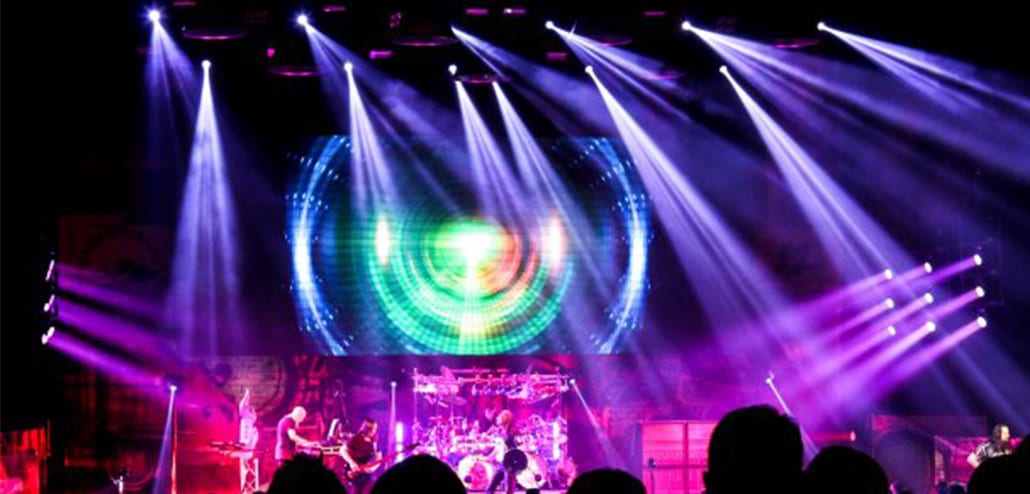 You need LED lights because of their flexibility and many options of design. Stages come in every size, small to huge, so you need to know the length of lights you need to pass through the stage if you're to decorate it.
Walking on the Rainbow
Talk about being a genius. The owner of this home is clearly an artist. The idea itself is brilliant, but you have to give him credit for the execution. He carefully placed different colors of lighting strips under each stair.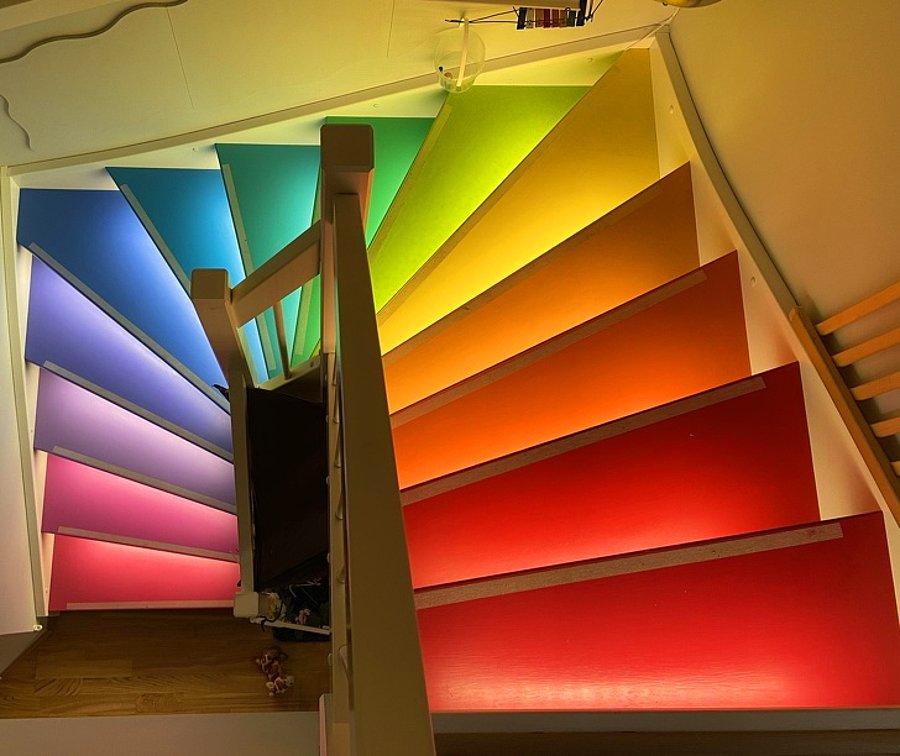 He didn't just set it up to look like a rainbow; he made sure the colors reflected the position of his staircase. You'll see the light colors if you're going down and the deep ones if you're going up.
Give your terrace good lighting
First impressions matter; if you want to make a good first impression, you're going to have to start with your house. Whether it's a girl or your boss, the look of your home could help you make a good first impression.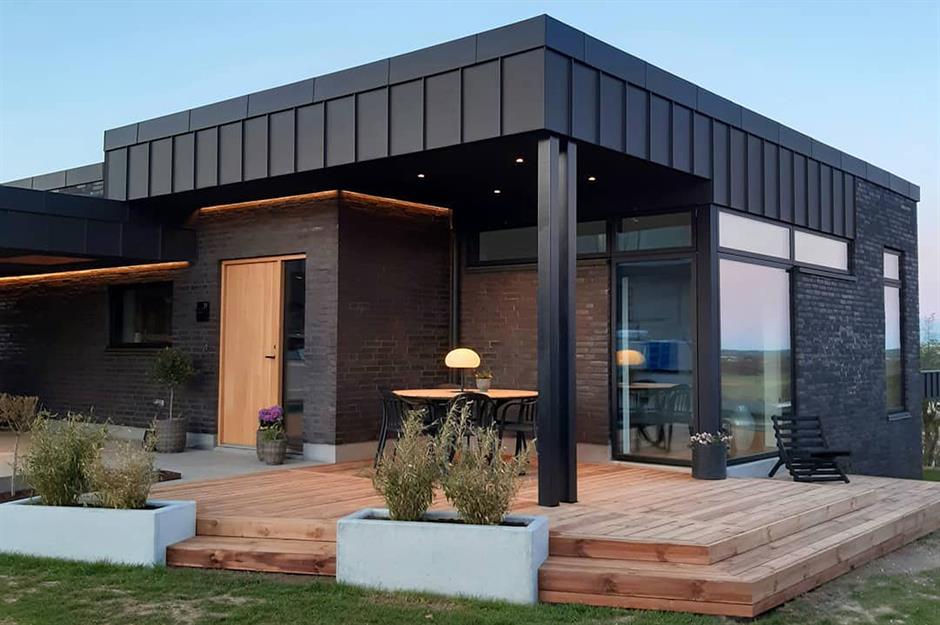 There's no better way to spice up your home than decorating your terrace with LED lights. They just have a way of connecting with people, especially when you use the right colors that resonate with the eyes. It speaks volumes.
Work in a Colorful Environment
Having LED lights around your desk helps to create a calm and lovely environment to work. Especially if you're working late, it can help reduce the stress in your eyes and give you something to look at when you're thinking.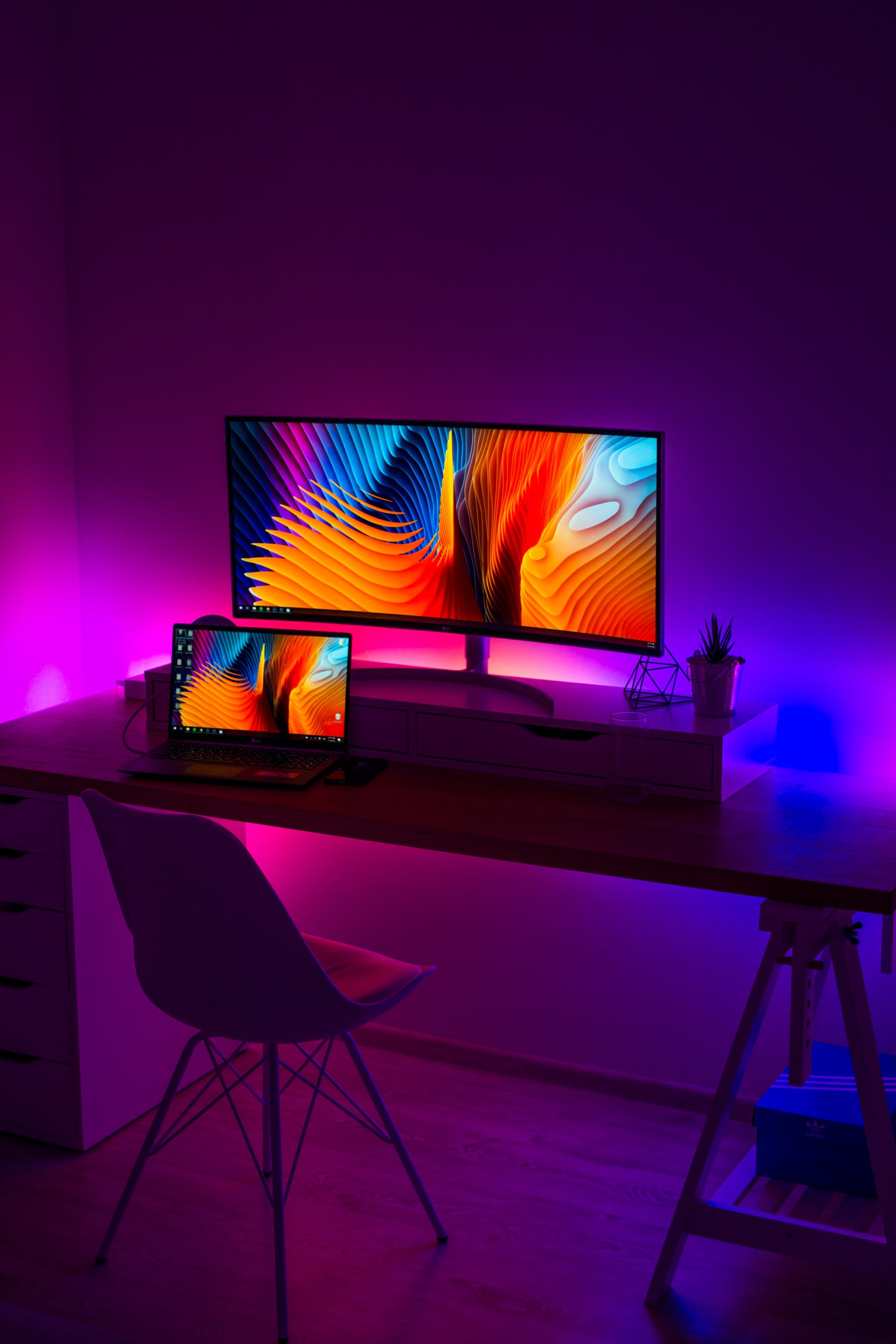 It can get lonely working late in the night, but you won't feel like you're alone with LED lights. Moreover, working in a colorful environment help hastens your work. You'll be done before you even realize it.
Make your house colorful
We don't know how the ocean looks at night underwater, but if it's anything like Disney and Pixar have portrayed in their cartoons, we believe it'll look like this house. Blue, calm, and beautiful. Who wouldn't want to live in such a house?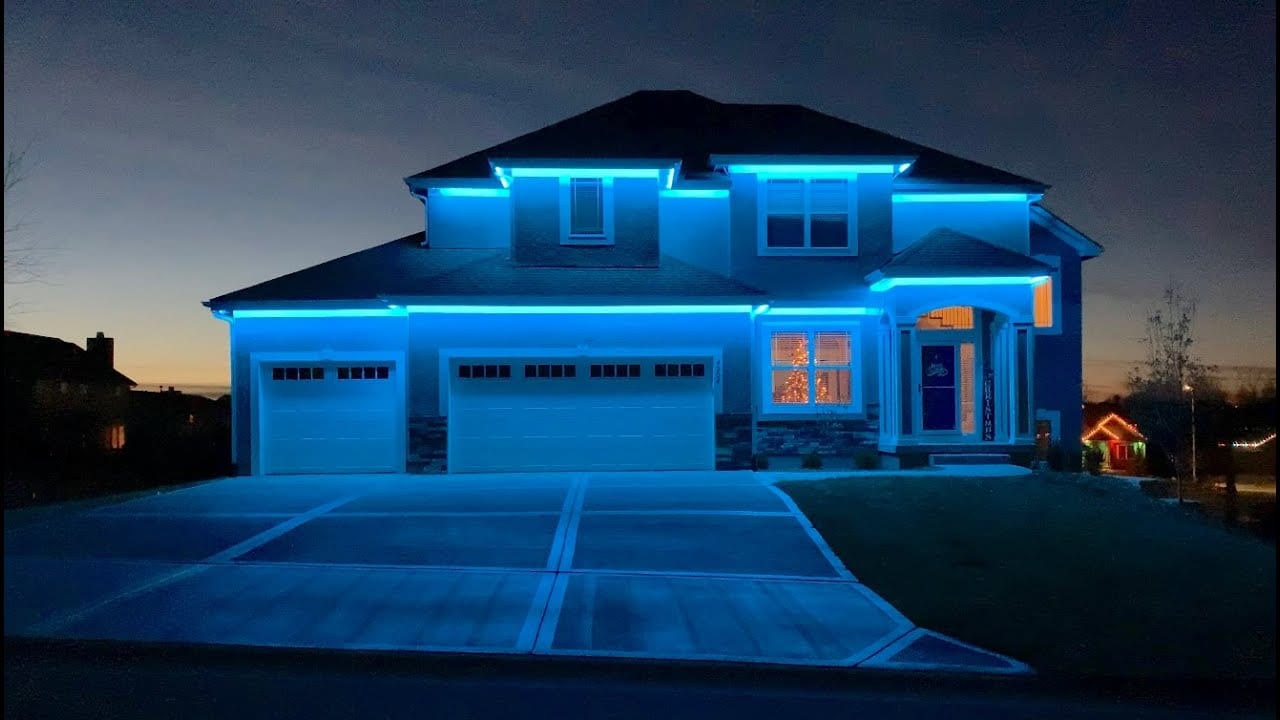 LED lights are beautiful when you use them freely. They have no restrictions, and you can use them in any part of your home, even outside. It looks like a lot of work on the outside, but it's quite simple.
Illuminate your bedroom
The bedroom is where you rest at night after a hard day's work. It's where we have our temporary moments of peace. Having cool colors from LED lights in your room can actually help you relax and unwind before turning them off (if you want) and sleeping.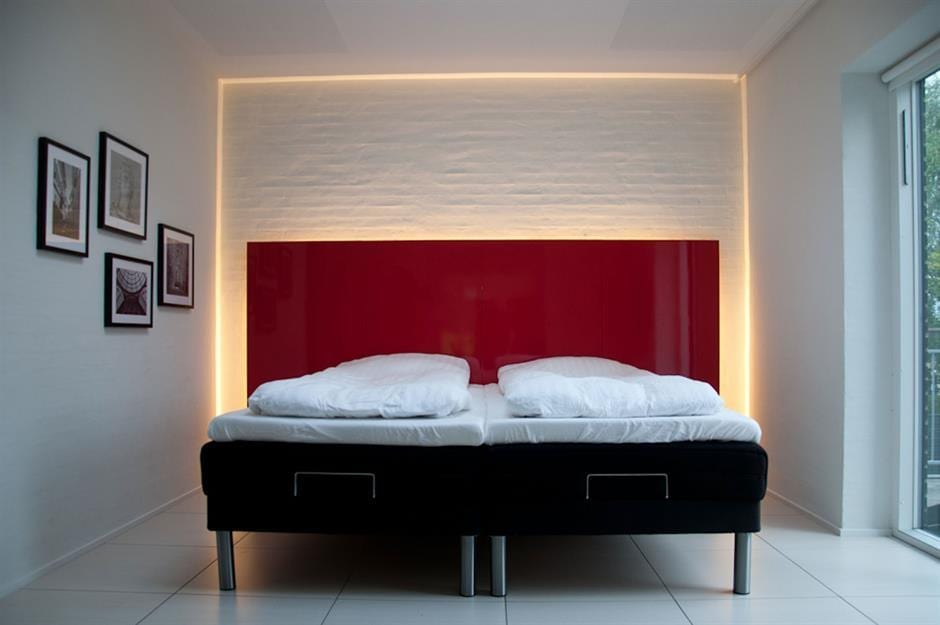 LED lights brighten up your bedroom and give it the color you want, depending on your mood. Since they do not overheat, you don't need to worry about your room getting too hot. That's why it's preferred to incandescent lights.
Illuminate Cabinet Handles
Since the introduction of LED lights, we've seen more ways of illuminating our spaces than ever before. Decorating your cabinet handles is a great way of making your bedroom stand out. Top hotels around the world decorate their cabinets with LED lights.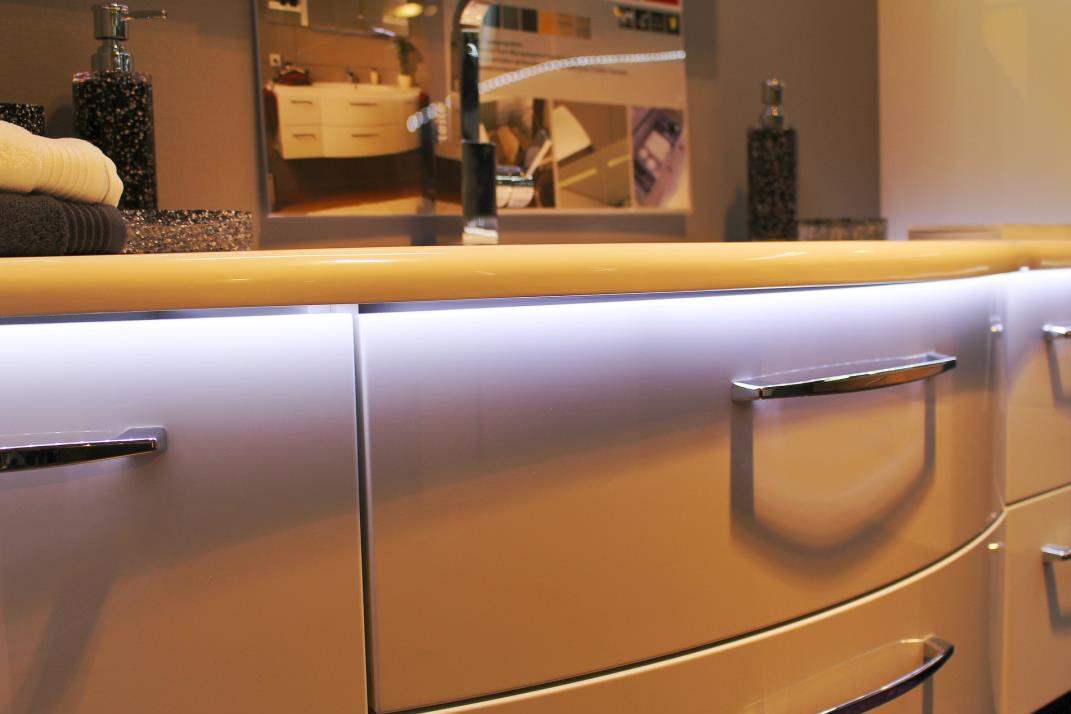 It's a form of decoration that makes its environment look luxurious and charming. Even when it's dark, you can find items easily with your cabinet LED lights on. It's all in the colors, and choosing the right color is very important.
Brighten up your Hallway
Even if it takes only 4 seconds to walk past it, the hallway is still an integral part of your home, and it needs its own light. Walking in the hallway without lights at night could be very dangerous and frightening for some of us.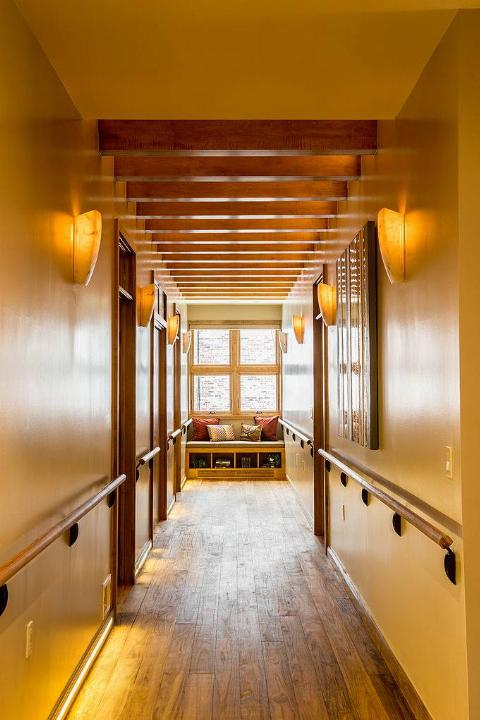 Moreover, decorating the walls or baseboards of your hallway with LED lights at every turn will give your house a classic and refined look. It is also effortless to install once you have your LED lights. You only need wall bulbs.
Illuminate the Bookshelf
Everyone is used to seeing a boring pile of books every time they walk by the bookshelf. But all of that can change with colorful LED lights to brighten it up. Even the most uninterested person might pick up a book.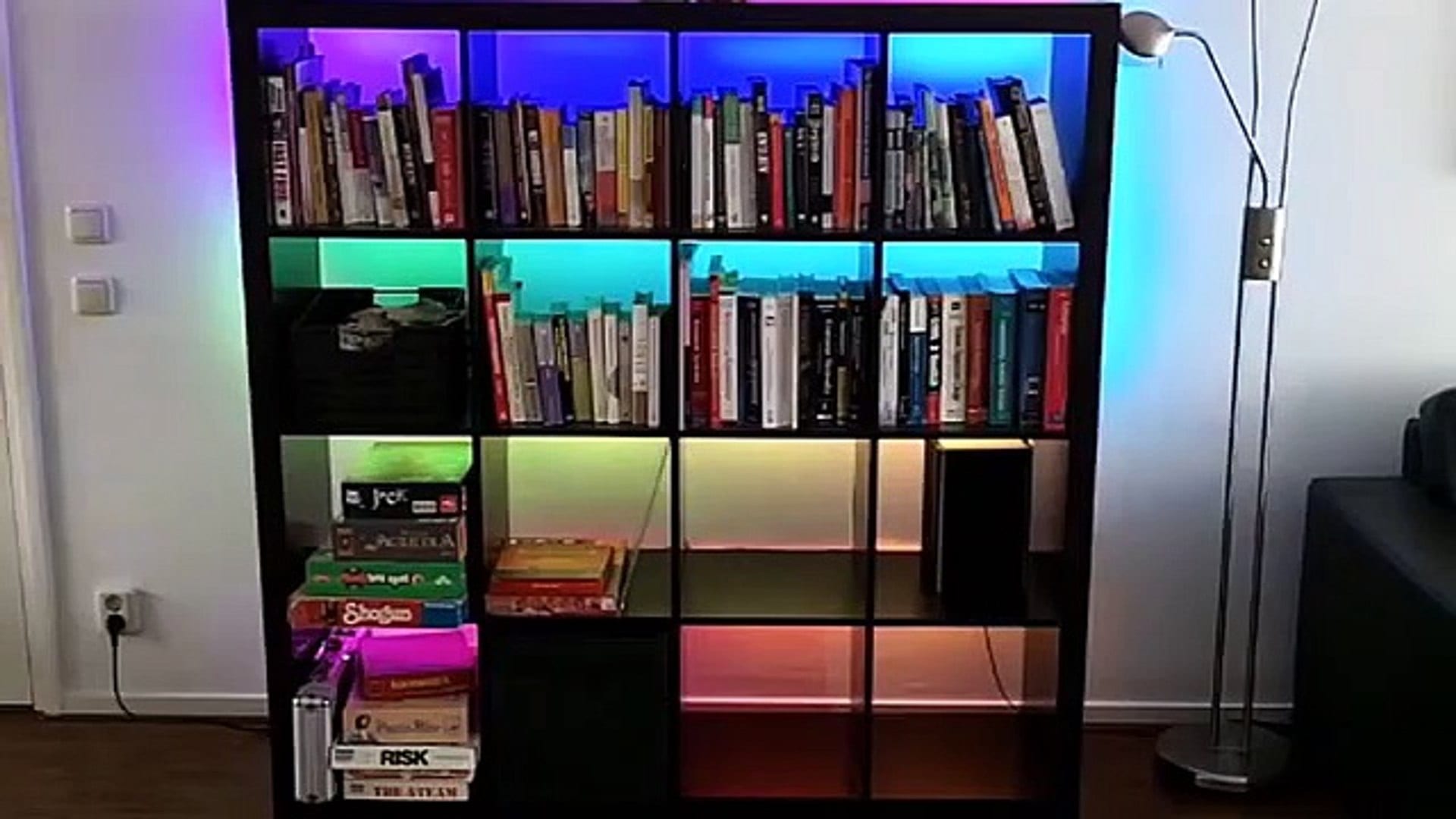 This user didn't just use the lights to make the books look more appealing; he also used them to demarcate the book section from the games section using different light colors. This will make finding anything easier, even at night.
Decorate your Kitchen
Spaces above the kitchen cabinets are also a perfect place to put your LED lights as it helps to brighten up the whole environment and give it a perfect friendly color. You might also find it more beautiful at night.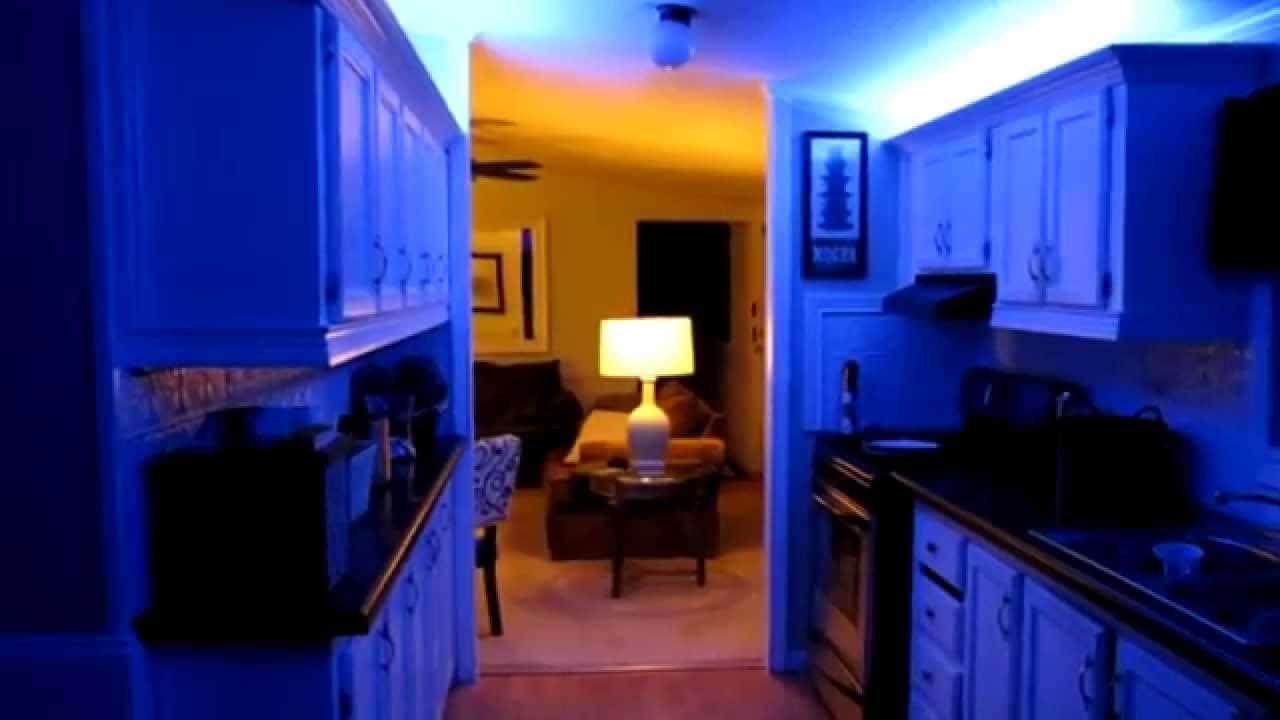 We advise you to place the lights facing the ceiling because it's the only way to get the light to spread out in the most pleasant way. Plus, visibly placing LED lights in the kitchen will only shine the lights directly on your face.
Illuminate your Bed
This might seem a little extra, considering no exact benefits are derived from decorating beneath your bed, especially since you sleep on the bed and not beneath. However, there is no harm in having more colorful lights in your room.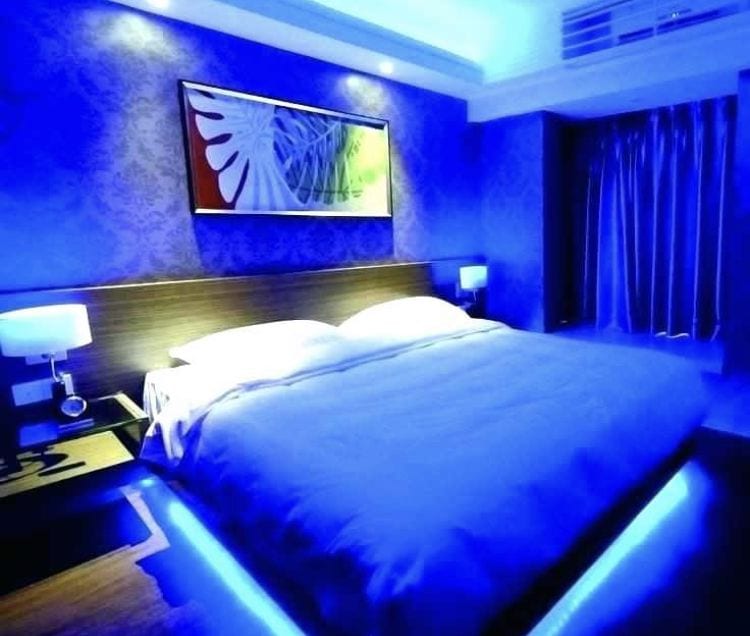 If you like to sleep with the lights off, but you're also afraid of the dark, an LED light would be ideal for you. Just get colors not bright enough to wake you up but also bright enough to scare the monsters away.
Create a reading light
The primary purpose of a traditional bed is to give you comfort while you sleep. But an LED bed is meant for a lot more than sleeping. You can choose to read your favorite novels with ease before going to bed.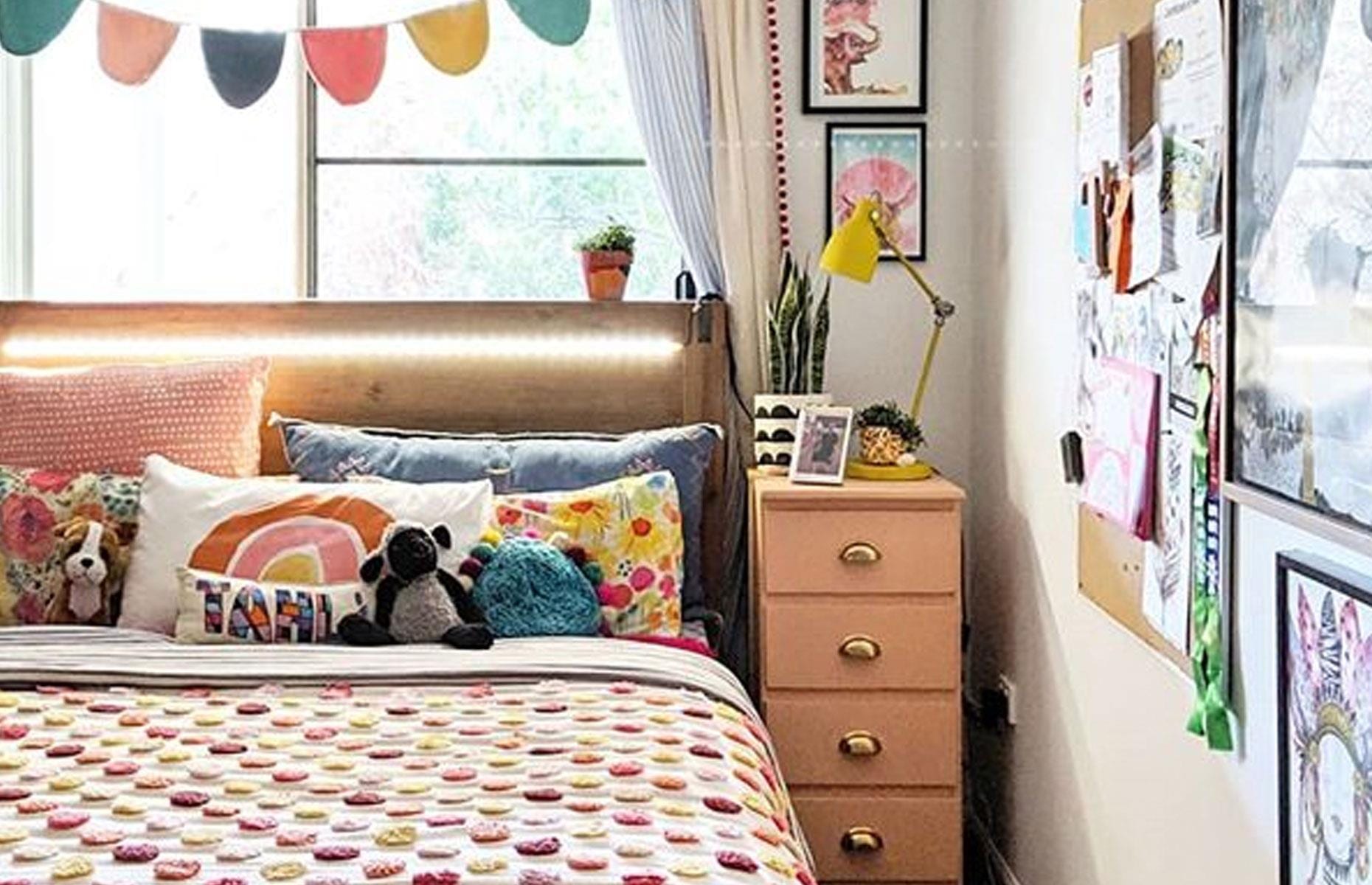 The dynamism of LED lights has made it possible to do your everyday tasks while you're in bed and relaxing. With its bright lights, you can use your laptop in bed at night without straining your eyes to see the keyboard.
Lighten up Advert Displays
Every billboard and poster aim to make an impression good enough to get people's attention. With LED lights, you can make more than just an impression. Heck, you can even make a whole block filled with people notice you and your product.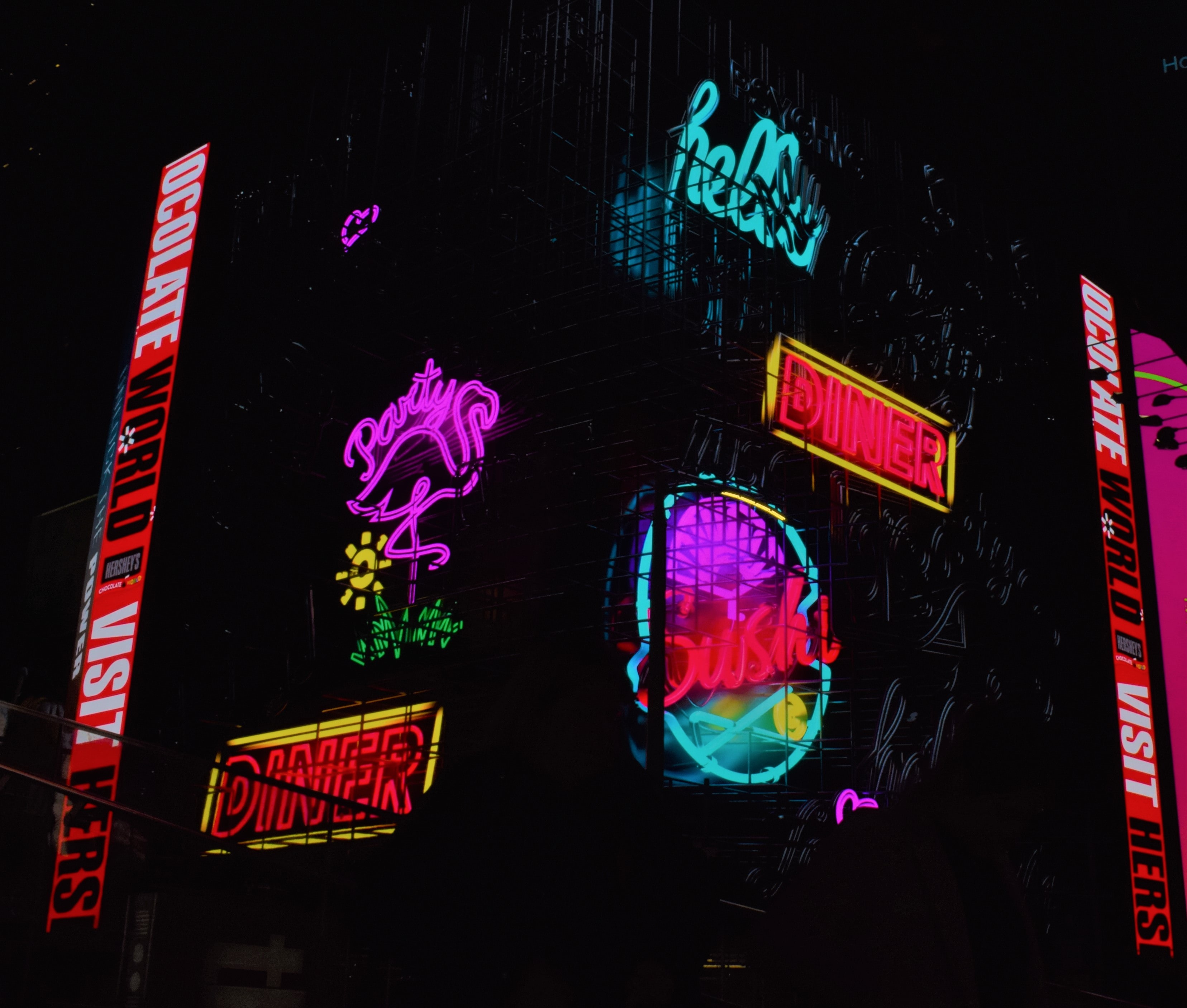 The same applies if you're a shop owner and you need customers. You can make your shop seem like a beacon at night with enough LED lights to pique people's curiosity. Casinos in Las Vegas use a similar approach, and it clearly works.
Decorate your bike
Just because it's a bicycle and not a motorbike doesn't mean you're not allowed to decorate and show it off. There is nothing more beautiful to see at night than a bike with colorful wheels. A trial will convince you.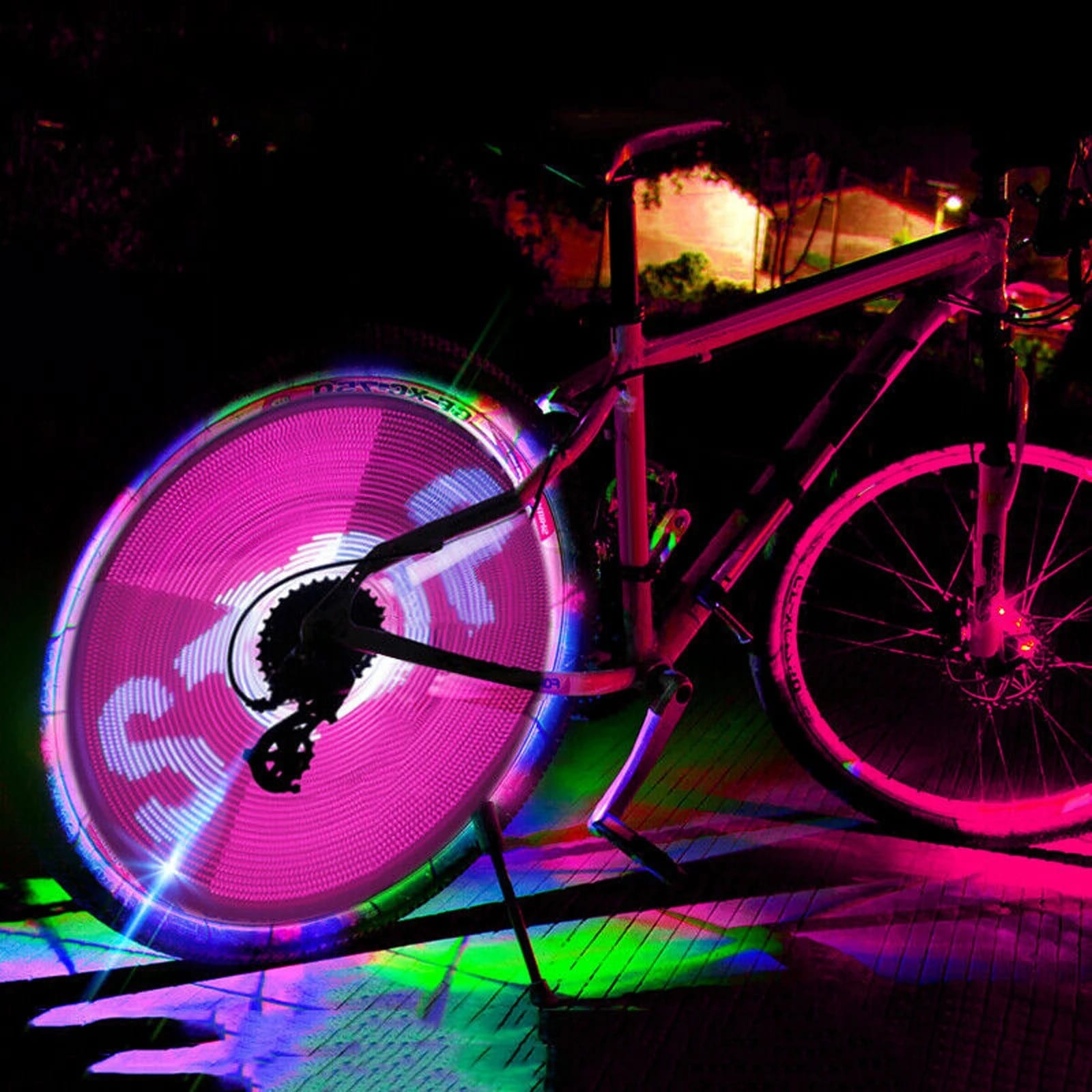 Using LED lights is the perfect way to design a bike. The flexible LED lights strips can easily go round the wheel of the bike and can also be used as a safety measure if the bike lights aren't working.
Illuminate your costume
Whether it's Halloween, a birthday party, or a dance party, decorating your outfit with LED lights is a creative way to have fun. We've seen it before in movies like"Step Up: Revolution. Colorful outfits laced with LED are always appealing.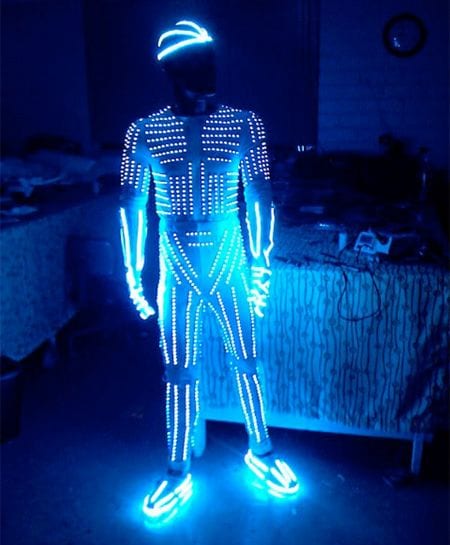 There are no dangers associated with having LED lights close to your body. They are safe to use and can even be configured to work with a remote control. That way, you can change the color of your outfit at intervals.
Brighten up Photography scenes
You don't need to be a professional to know that lighting is an important aspect of photography and filming. You need a good angle to take the best pictures and record the best scenes. With LED lights, you get all of that.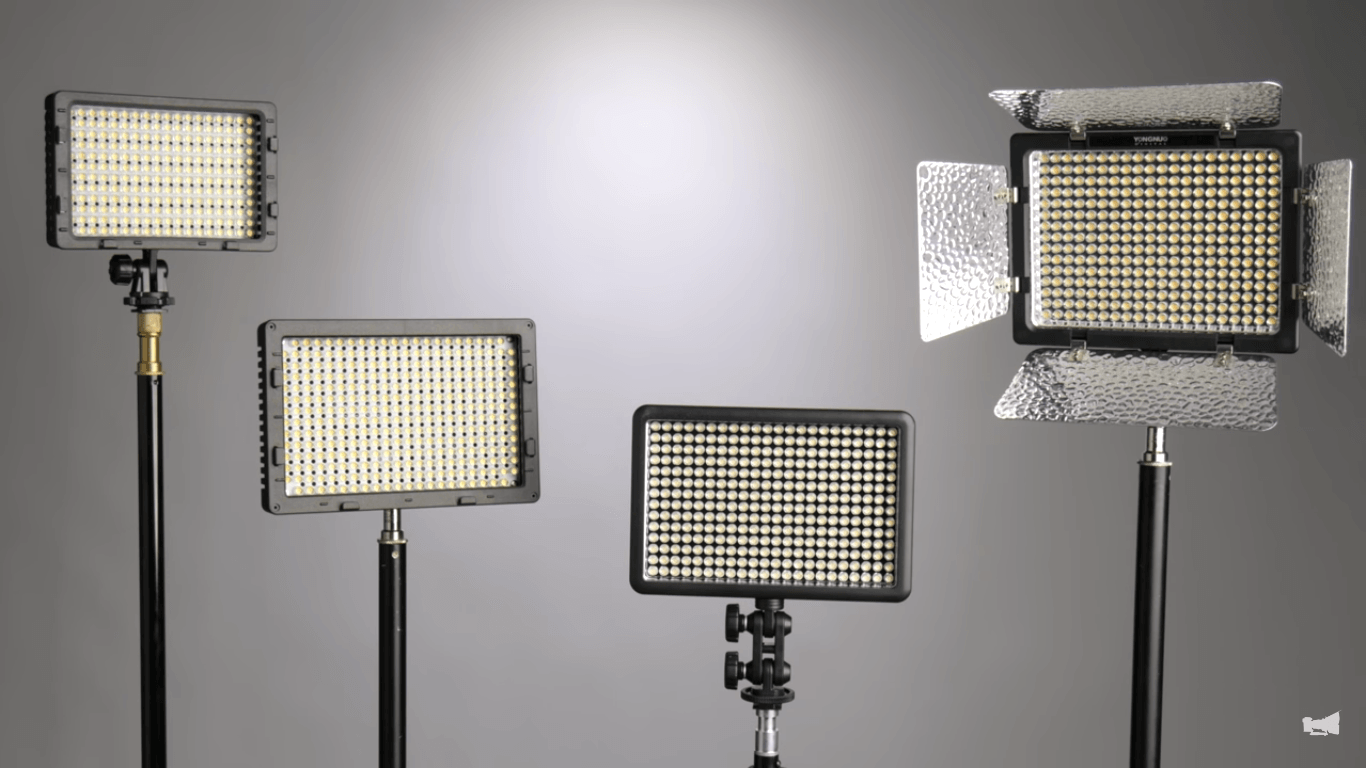 There are certain scenes you can't shoot without using the quality and versatility of LED lights. They are especially useful in night scenes where you need to do a lot of manipulation. LED lights are also lightweight and can be carried around anywhere
Mood lighting in Bars
Putting up LED lights in a bar lightens up the mood by making it more colorful. Bars are naturally a place people go to have fun or drown their sorrows. You need colorful lights to make it as fun an environment as you can.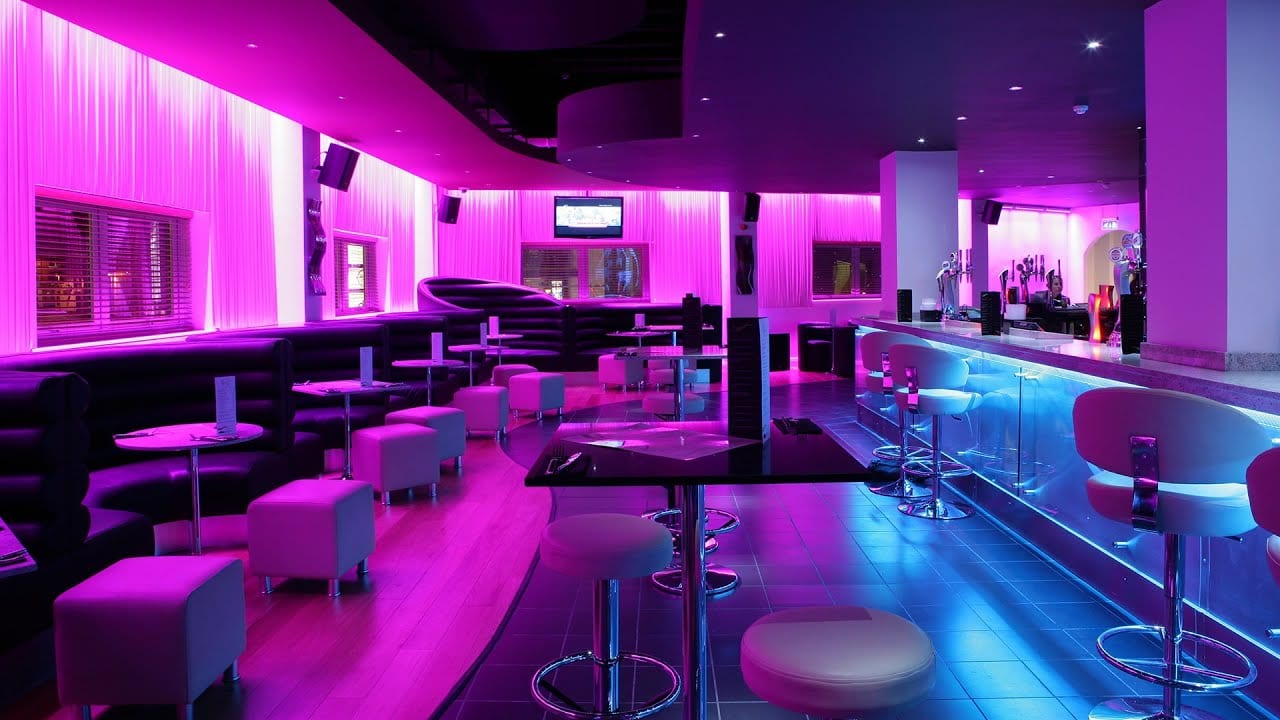 The drinks only go down well when there are lights around to liven up the mood. Well, it at least makes it a more pleasant experience. You can also see the brand of liquors they have in stock from a distance because of LED lights.
Dark corners illumination
Get rid of dark corners in your home, as these places can be the hideout of unwanted rodents and bugs in the house. You should also light up these dark places for security reasons, either inside or outside the house.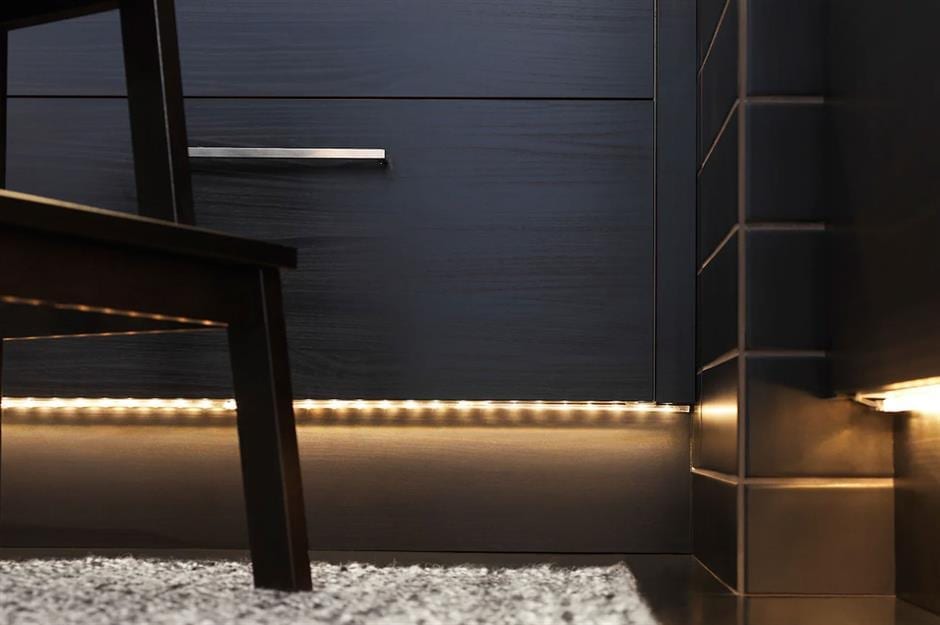 Owing to their versatility, LED lights can light up the unlikeliest of places and can even come in different sizes. The most amazing thing is, regardless of how far out they are, a remote control is enough to turn them on and off.
Brighten up your children's bedroom
If there's any place in the house that needs more lights, it's the kid's bedroom. Asides from the fact that kids love colors, they're usually afraid of the dark. LED lights provide the perfect lighting contrast and conditions to accommodate both reasons.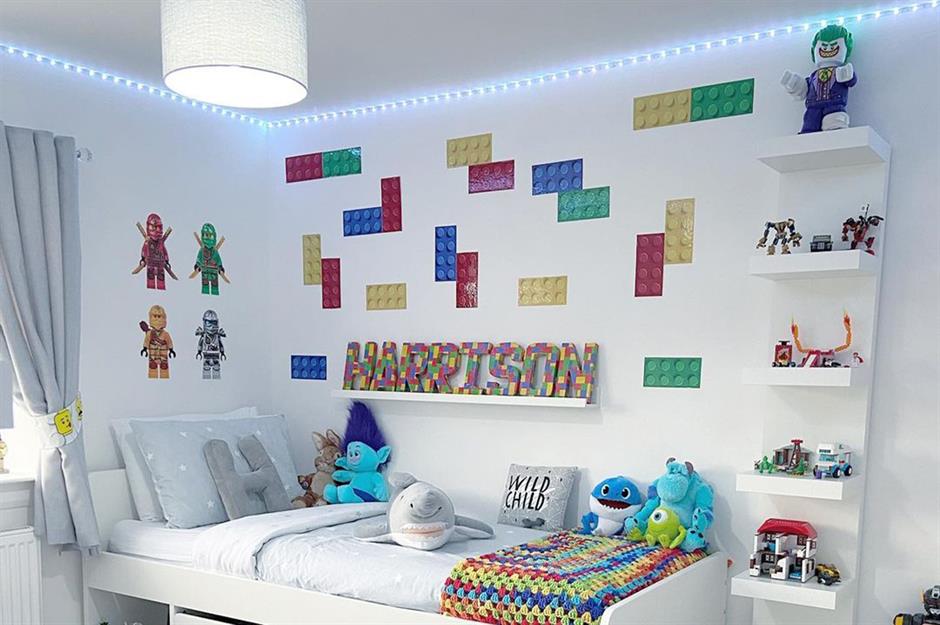 Using LED lights in children's bedrooms is important for their mental health. Having colorful lights in their room at such an age will give them a warm feeling and make them feel safe and protected when being in the dark is still scary.
Illuminate outdoor steps
Houses with attractive lights and beautiful adornments tend to go for a higher price in the real estate business. If you want to raise the value of your home, you must make it look as attractive as possible. This doesn't have to cost a fortune.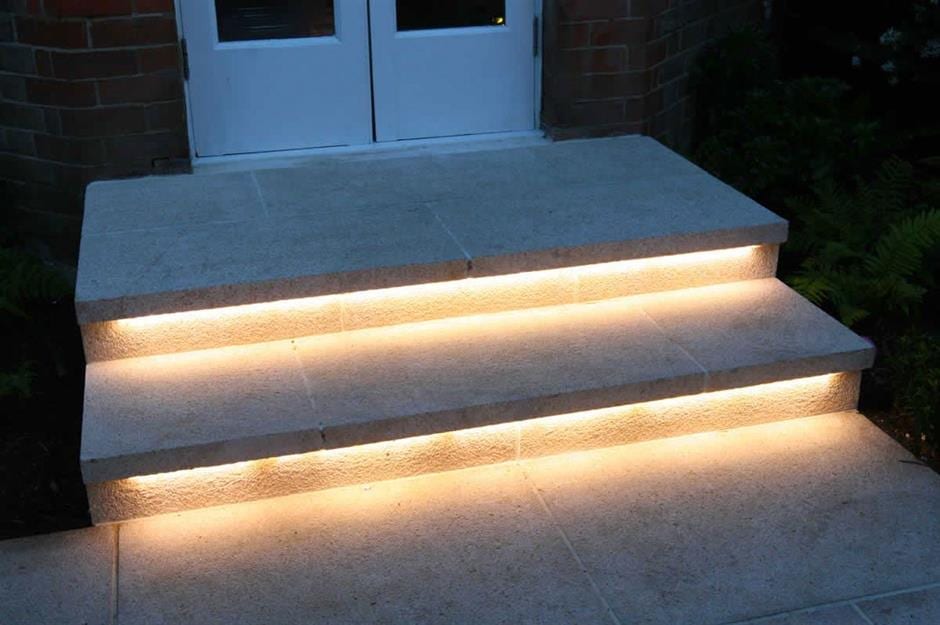 Under the staircase is a good place to place a couple of strings of LED lights. People's legs will never reach there, so there's no fear of damage. Plus, they can make your home look stylish, inviting, and super beautiful.
Brighten up your garage space
For security reasons, you must light up your garage space to expose any intruder trying to get into your home. While that may well be the function of the CCTV, it still needs lights to catch the face of the intruder.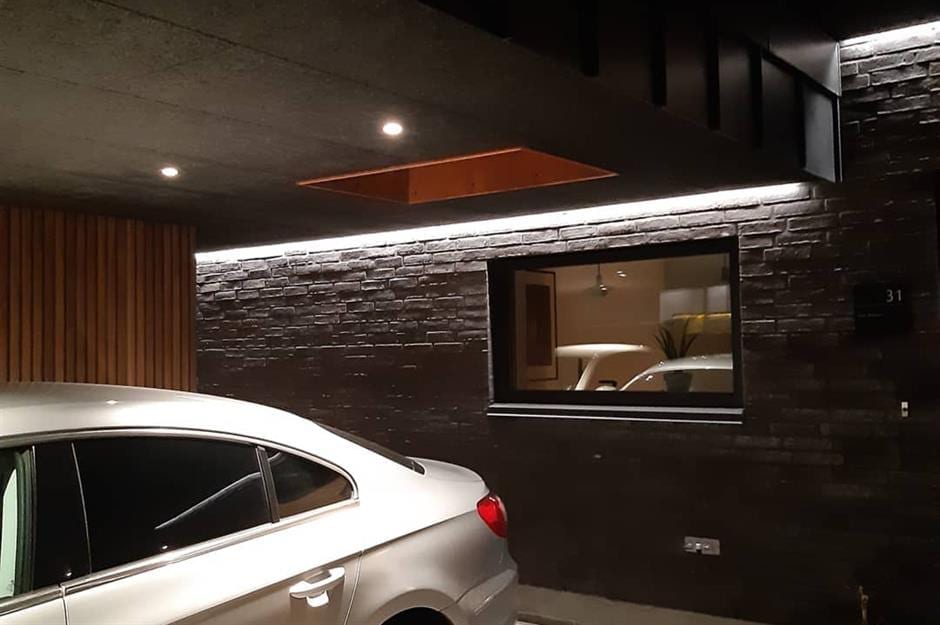 A garage without lights provides the perfect opportunity for thieves to hide out before trying to steal your car. To avoid giving them a shot at stealing any of your stuff, you need a couple of LED lights installed in your garage.
Lighting up Dark Drawers
LED lights in your drawer have to do with more style than function. Not every home has a wristwatch or tie drawer. But if you have one, you'll definitely fancy having some lights on it. You've got nothing to lose.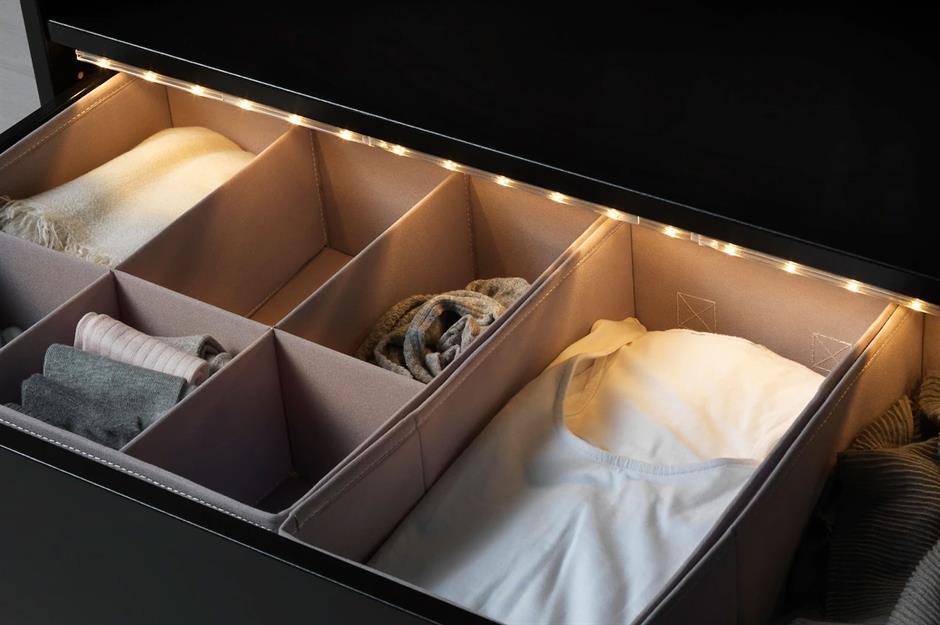 LED lights can be installed and positioned on the edges of your drawer, making it possible and convenient to take whatever you want in the drawer at any time you want to. Even at night, it's bright enough for you.
Showcase your garden furniture
The garden is a part of the house that needs to be taken care of. And taking care of your garden goes beyond watering and mowing. With just a few LED lights, you can transform your garden into a relaxation spot.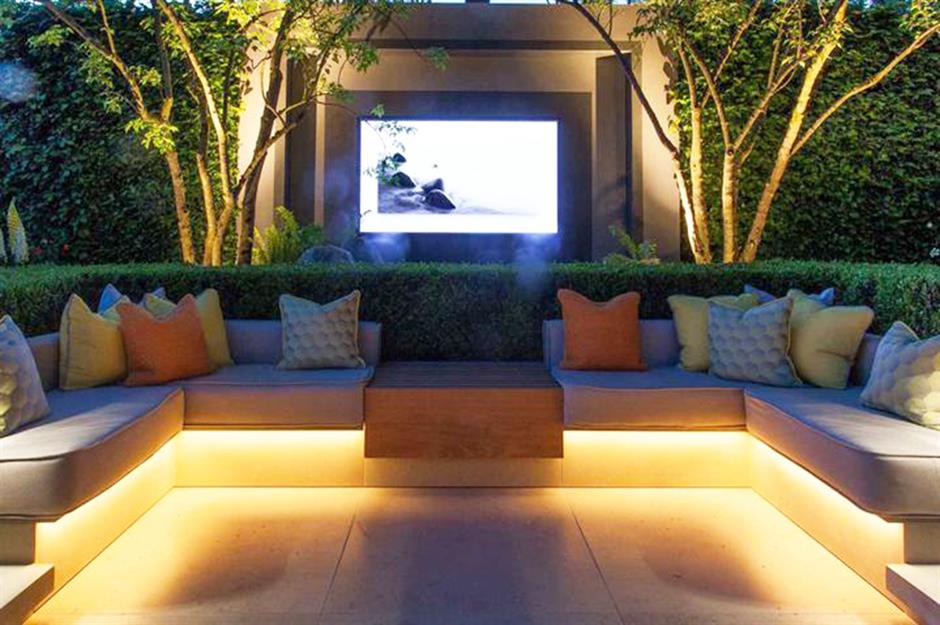 Gardens are natural beauty enhancers. They make the house look beautiful by giving it a feeling of nurturance and love. Adding LED lights in the garden would be like combining nature with an amazing ambiance. The result is what you're seeing.
Decorate bunk beds
Sometimes making an attractive environment for our children might be exactly what they need to have a good night's rest. It's important you ensure their childhood is as colorful as possible; that way they can have beautiful memories growing up.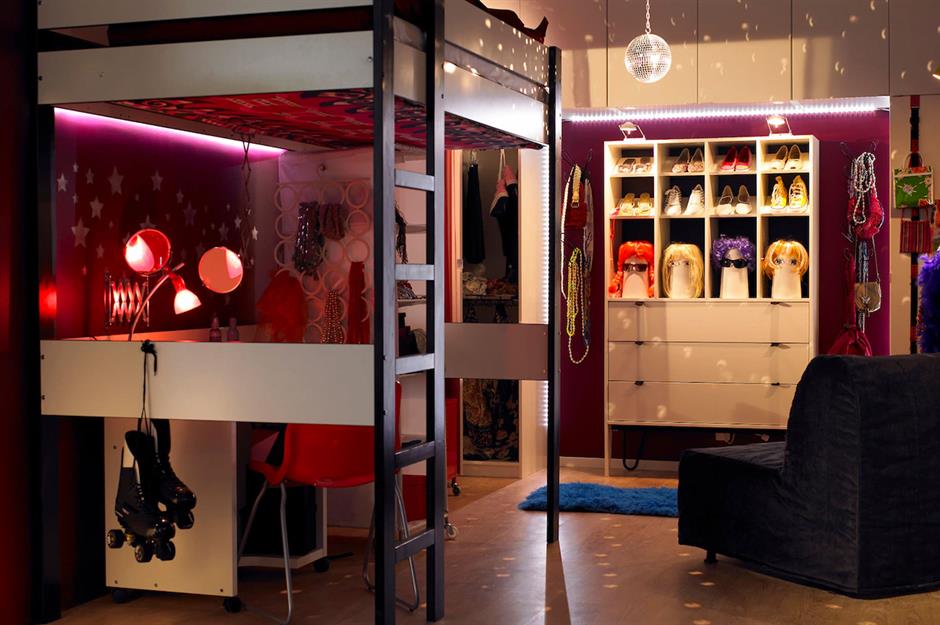 Having LED lights around your children's bunk beds is a lovely thing to do for them as their parents. It will make their room glow and provide enough lighting for them to play or feel safe at night in the room.
Light up the shower
The good thing about LED lights is there are no right or wrong places to put them; they can be anywhere. While bathing without lights in broad daylight may not pose any problems, doing so at night could be very dangerous.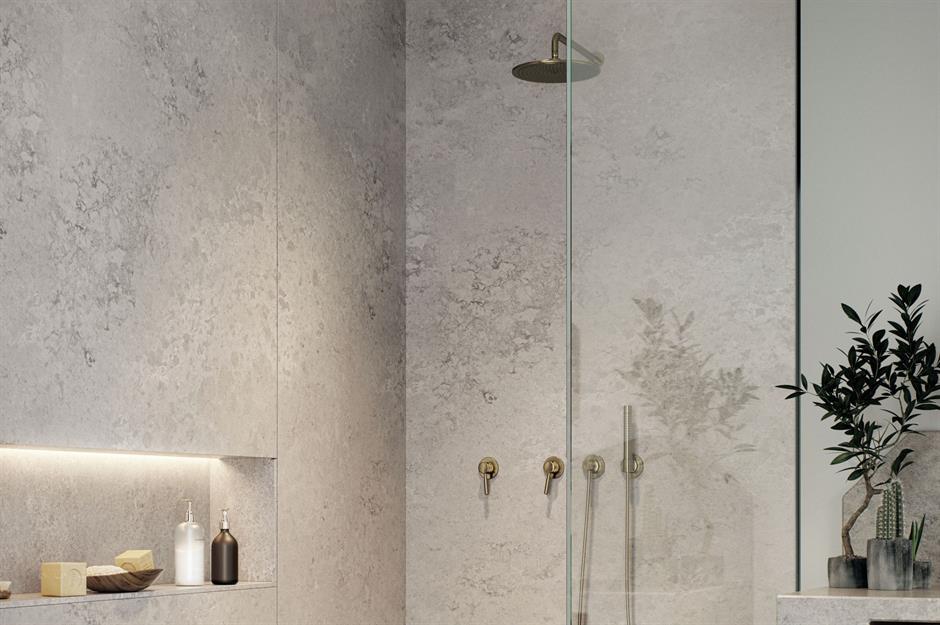 If you want to make your bathroom look like a hotel bathroom, LED lights can make it possible for you. Just try to get waterproof LED lights so it doesn't get damaged by water splashes. You can play around with it and create your perfect spa environment.
Illuminate the wine cellar
Owning an expensive wine cellar indicates that you're wealthy because no one builds a wine cellar to stock up on just cheap wine. Illuminating your wine cellar will make your house look beautiful and give it a touch of class.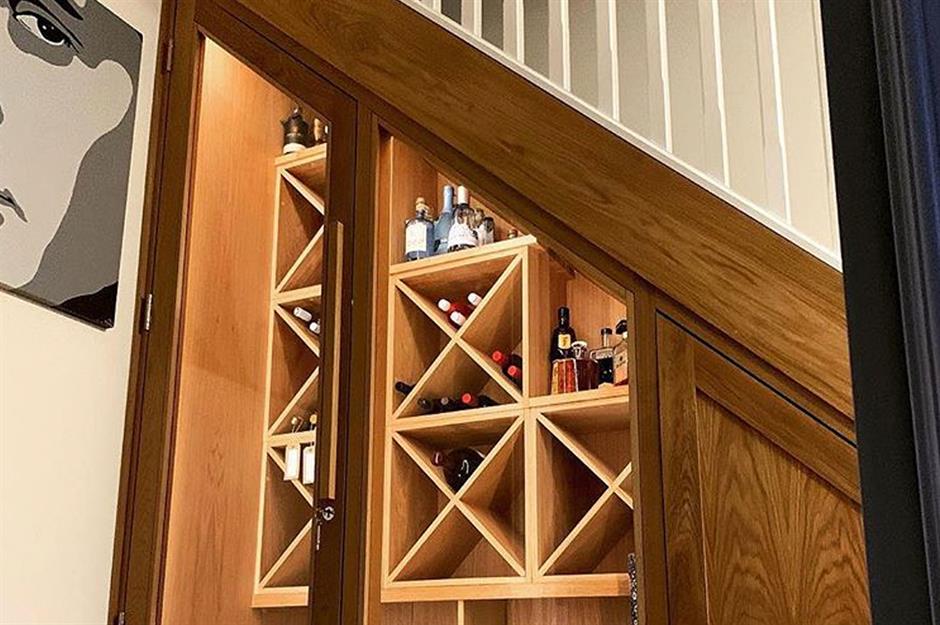 You must have LED lights in your wine cellar to avoid any accidents, especially at night. LED lights in your wine cellar will provide you with enough illumination to locate any wine you're looking for. It also makes it looks simply fabulous.
Showcase the deck
The exterior look of your house is equally as important as the interior. No one would even think of entering your house if it looks bad on the outside. Installing LED lights around your deck can help make your house look more attractive.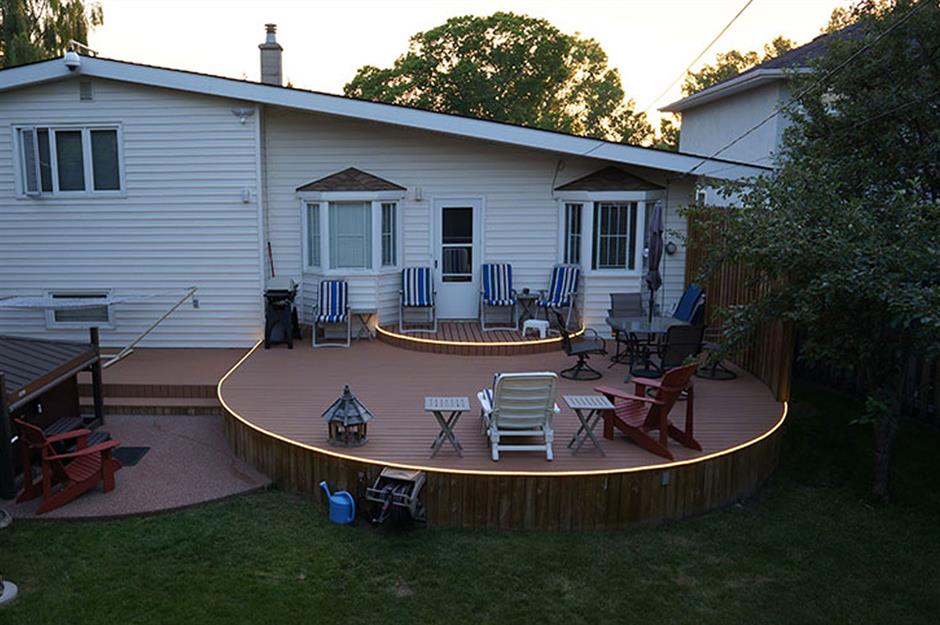 You'll find your home more appealing at sundown when the true color of your LED lights comes out. With your house looking this good, you should have enough confidence to invite guests and friends over for a well-lit late-night hangout.
Illuminate Artworks
Artwork on its own is a thing of beauty. But not everyone can relate to it. However, with LED illumination behind every piece of art in your house, the meaning won't matter, just the beauty of the art. And they will shine!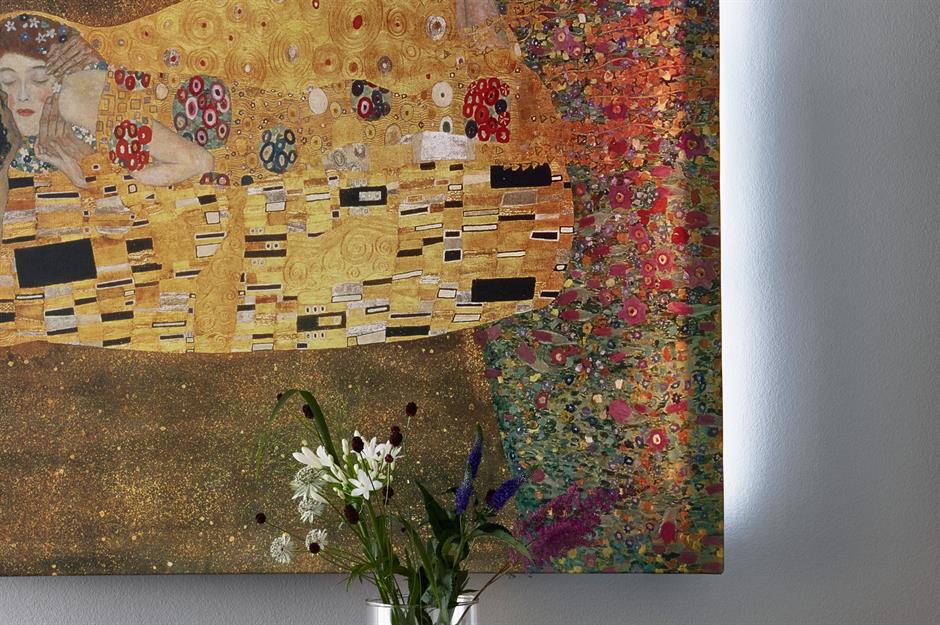 Whether it's a drawing of you or a classic painting or sculpture, LED lights can make the artwork in your home stand out even more. Whatever price you got it for will be nothing compared to how much you'll love looking at it.
Decorate Camp Tents
Camping can be even more fun when you have your tents decorated with LED lights. Whatever games you're planning to play out in the wild, it'll help you to know that you have lights bright enough to see clearly inside the woods.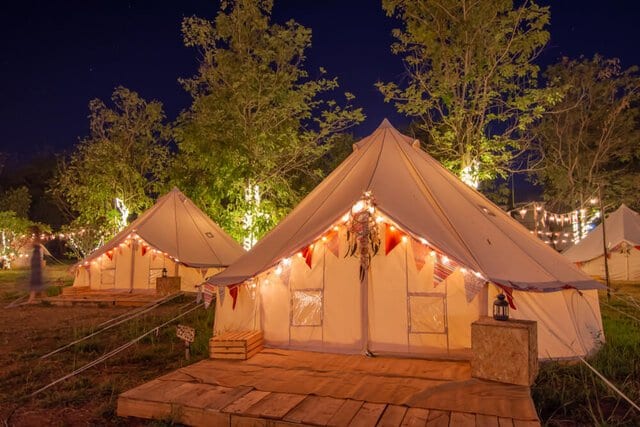 Waterproof LED lights are the best for occasions like camping, just in case there's rainfall. You don't want your lights going off in the middle of the night. Especially since you're out in the middle of the woods and not at home.
Brighten up Large Space
Having good lighting in open spaces like quality control rooms, practical laboratories, and hospitals is necessary. The quality of work happening in those areas are so important that you can't afford to see the lights go off, or even flicker.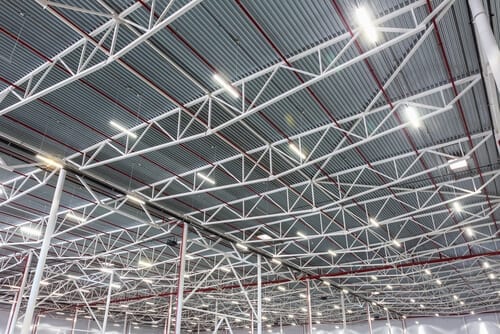 LED lights are the perfect choice of lights in those large areas. You can have as many as you want on the roof, walls, rails, and even the pillars. Every bit of light helps in such environments, especially in hospitals.
Lighting the banister
Placing LED lights on the banisters will help light up your path as you make your way down the stairs. You might not need an LED banister to walk down the stairs, but you can't say the same for your kids.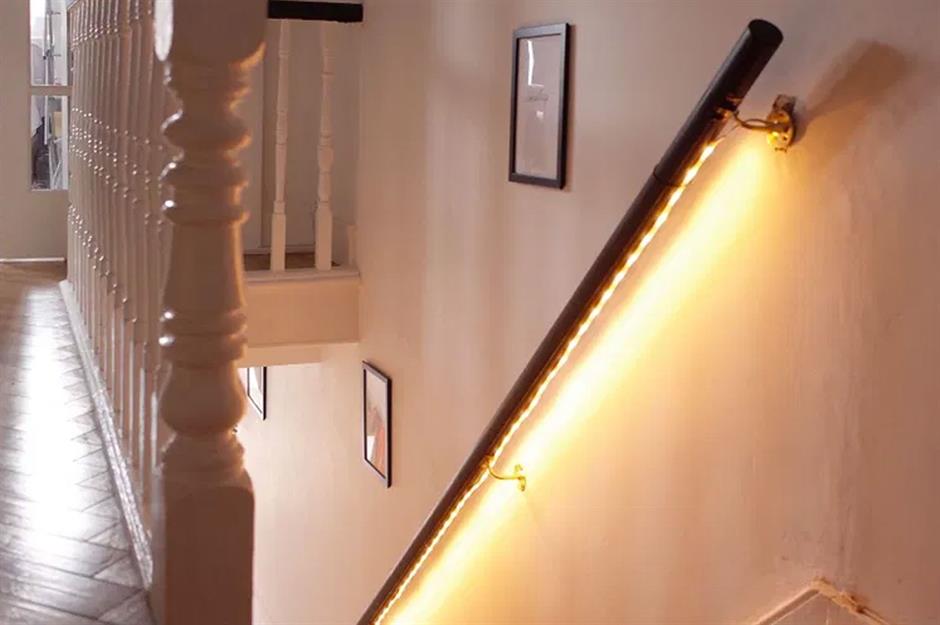 The importance of having lights on every part of your home when you have kids around cannot be overemphasized. Just to ensure they don't trip just because they don't feel like turning on the light, you can utilize the versatility of LED lights.
Make flowerbeds beautiful
Some plant flowers to reap fruits, while some do it to give their home a beautiful appeal and a lovely place to relax. Whichever reason you choose, attaching an LED light to a bunch of well-planted flowers will transform the exterior of your home.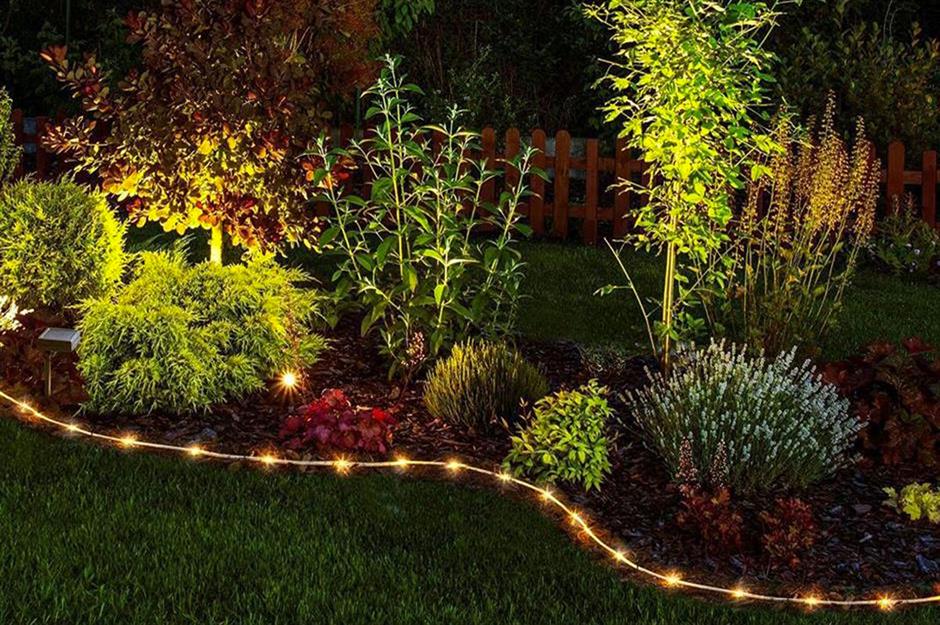 Your home can go from beautiful to perfect in a matter of minutes with the addition of LED lights. Flowers on their own are already beautiful, but you can't always see that beauty at night. Adding LED lights is the icing on the cake.
Illuminate your wardrobe
The wardrobe in your bedroom could use a pair of LED lights if you think it is painted in dull colors. There's no better way to liven up the atmosphere of an environment or an object than decorating it with LED lights.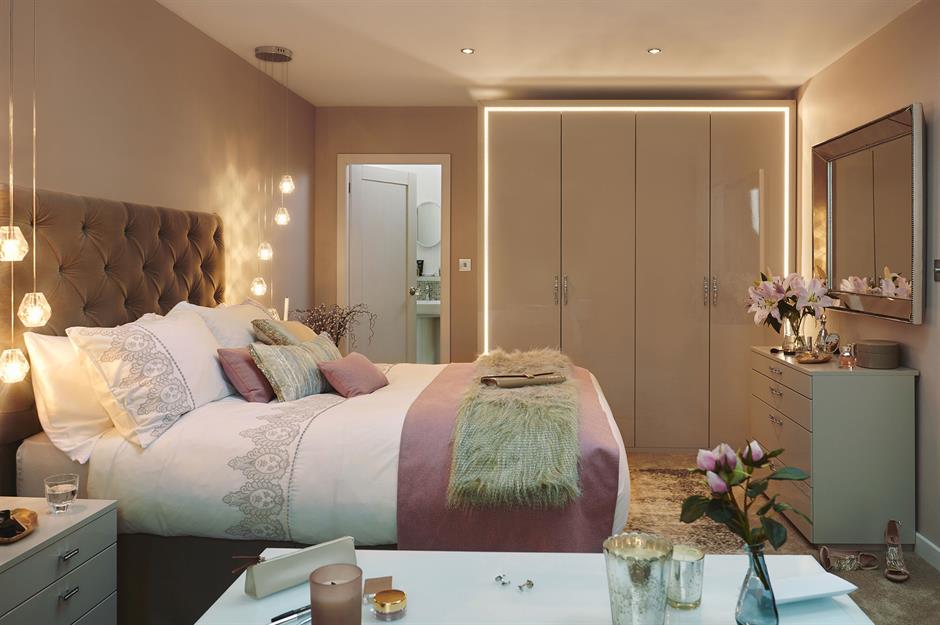 The transition from dull and dim colors to bright and beautiful is seamless and immediate. With LED lights installed on your wardrobe, you won't necessarily need to put on the main light to pick out an outfit. This is great if you don't want to wake your spouse with the light.
Decorate your chairs
Nothing beats sitting on a glowing chair with your loved ones after a hard day's work. It feels like a throne in a way. The warm feeling of illumination right under you is enough to brighten up your mood and make you feel relaxed and comfortable.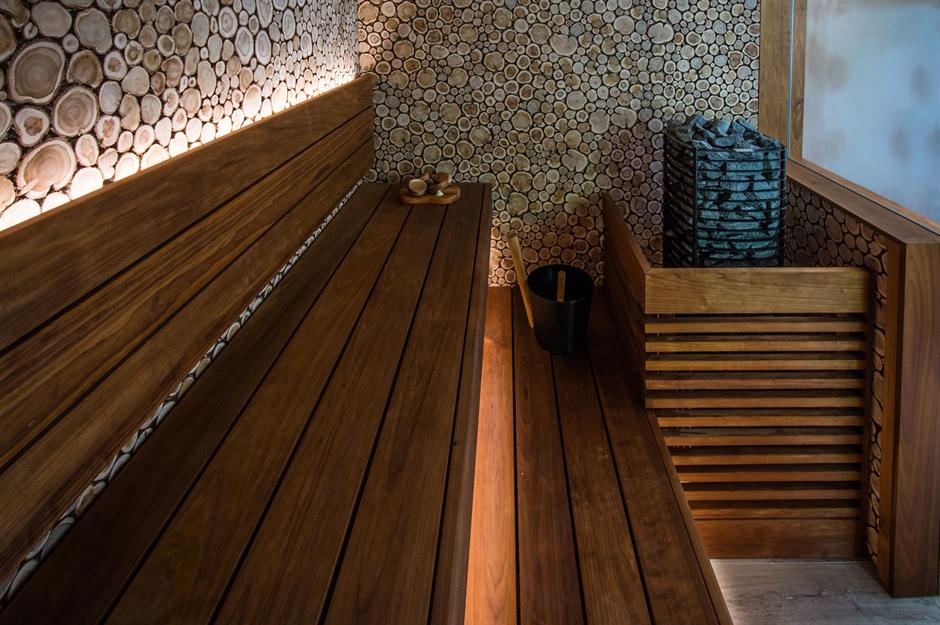 LED lights provide a good environment for relaxation when installed behind the chair. You can install them behind any chair, even the ones in the garden. Again, just ensure they're waterproof LED lights, so they don't get spoilt by the rain.