40 Clever Reasons To Save Empty Toilet Paper Rolls
By Harpreet K April 3, 2022
---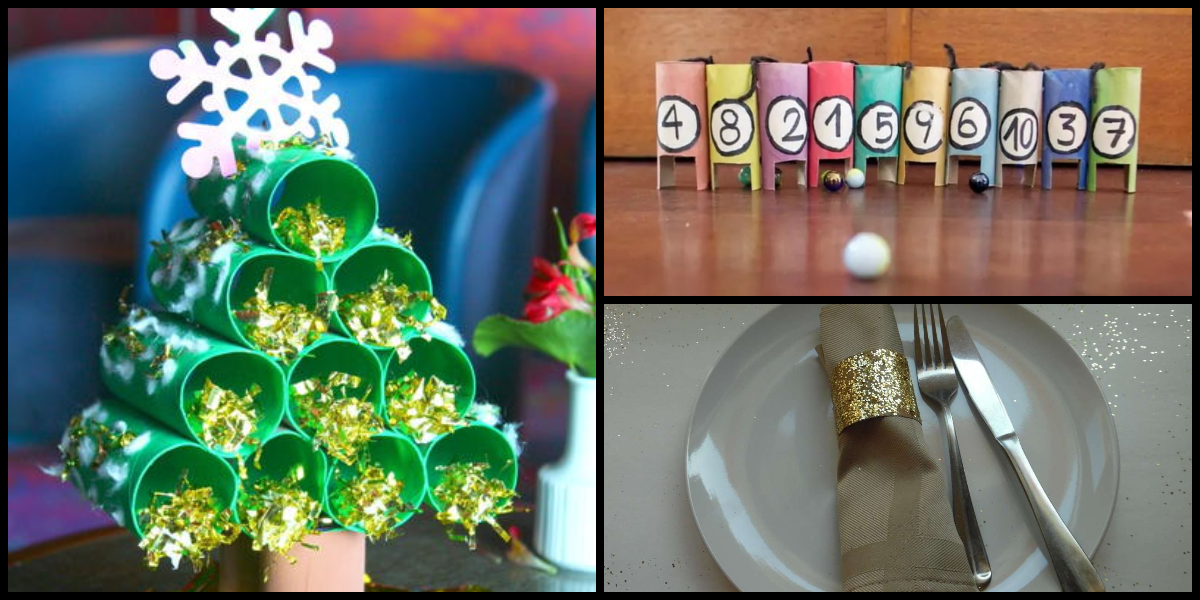 After finishing a toilet paper roll, you may be too quick to throw the cardboard roll into the garbage. Empty toilet paper rolls are often dismissed and trashed without a second thought. And depending on your house size, you might go through these more than once a week. If you feel bad about tossing them out, you're in luck. Fortunately, there are many interesting and diverse ways to repurpose these tubes.
Did you know that you can use empty toilet paper rolls for storage, as craft materials, or even as toys? All you need are DIY skills, patience…and some ideas. And that's what we're here for. Read on to discover more than 40 ways you can upcycle those old cardboard rolls.
Calming butterfly sanctuary
Have you ever wanted to watch butterflies closely but failed? You can make your backyard an oasis for butterflies. Use toilet rolls to make them their visiting space. Moreover, you can use this as an opportunity to get some nice pictures.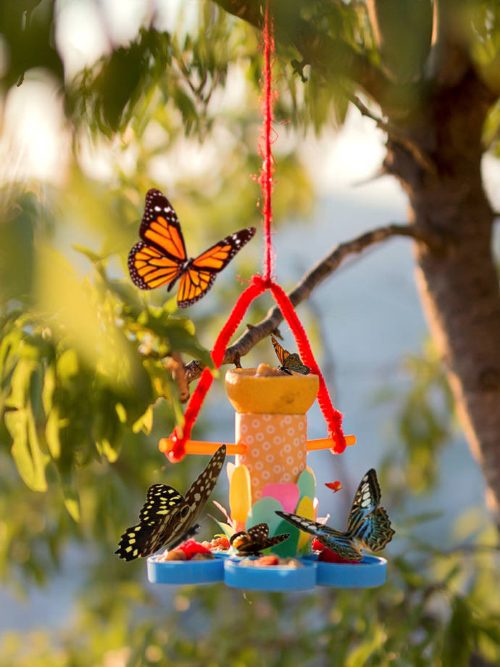 With pipe cleaners, yarn, and dried fruit in bottle caps, they'll have their own little piece of heaven to call home. You may also add some flowers to make it look more pretty. As a result, you'll have something soothing to watch.
Purr-fect cat toy
Your cat might be a unique creature who likes to play with random things instead of store-bought toys. Here is how you may make a cat toy using an old toilet paper roll. It is the perfect way to get your cat to play with something that won't hurt them.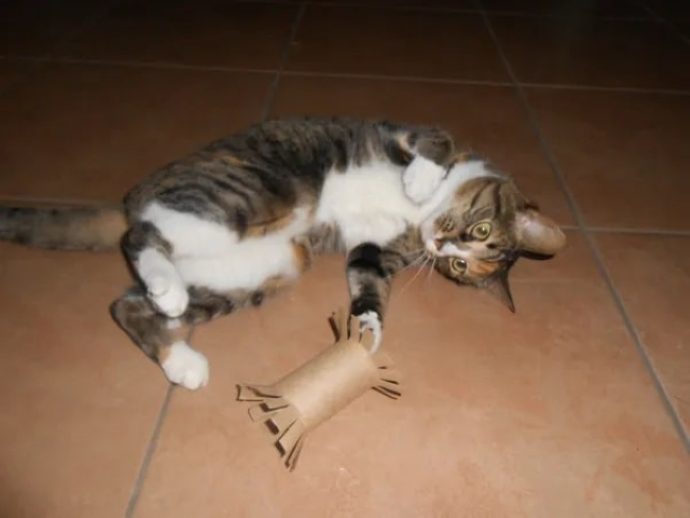 To make this, just cut the ends of the paper tube into fringes with the help of scissors. This will create fun paper ribbons at the end of the tube. Your cat will have fun playing with this toy. Just have a few handy as they will get destroyed quickly.
Portable fire starters
We spend a lot of time washing and drying our clothes. You may have a habit of throwing the lint away like everyone normally does as they cause fires. However, you probably did not know that you can use it for your benefit in the winter.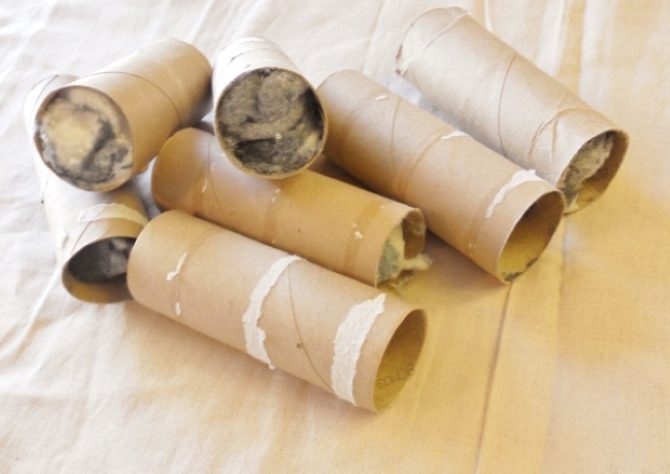 Create an instant fire starter out of lint. Collect the lint from anywhere around your house, including your washing machine. Add the lint you find into an empty toilet paper roll, then set it aside. You may use it in a fireplace or carry it with you for camping; just pop the entire roll right into the fire to get it started.
Air freshener for your bathroom or closet
Keep your home smelling fresh and clean with this easy-to-make air freshener. Place some cotton balls inside an empty toilet paper roll. Add a few drops of fragrant essential oils such as lavender, citronella, and lime to create the perfect scent for any room in need.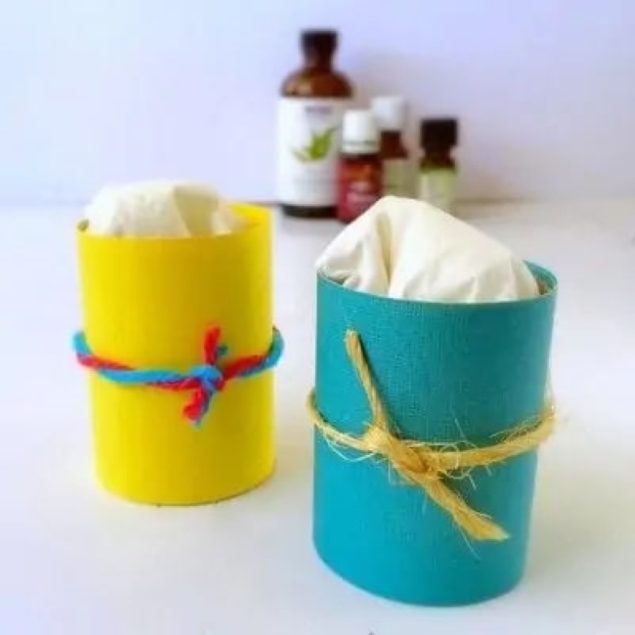 Cover the top carefully with a breathable cloth and then decorate as desired. You'll be surprised at how much more interesting it looks when you paint or draw on top of the tubes. Besides, you may choose to match them to the décor or use contrasting shades.
DIY desk organizer
Have you ever had too many pens and pencils? If so, then this is the perfect DIY for your needs. All that's required are a few simple supplies: spray paint, toilet paper rolls, and cardboard pieces. The cardboard pieces can be anything you have lying around the house, from large boxes to small tissue box tops.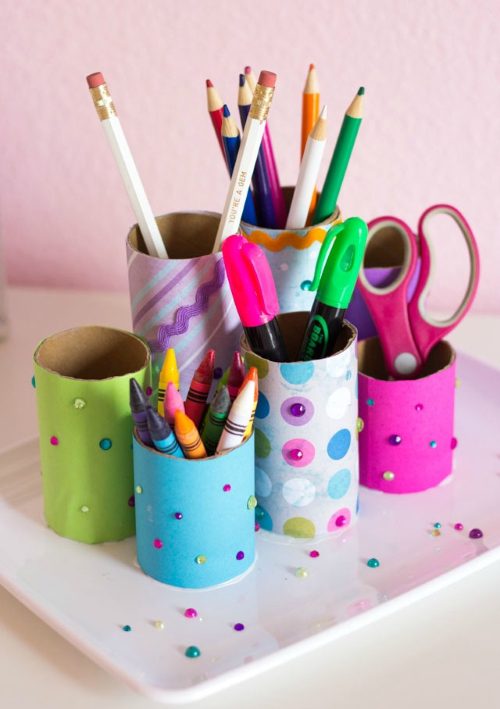 First, paint or decorate the roll with stickers. Then affix each individual roll to a scrap of cardboard to close off one side. This way, they are easily accessible for you when you need them. The outcome will be an organized desk clutter in minutes without breaking out into hives trying to find anything.
Keep your wrapping paper in rolls
Wrapping paper is hard to store on its own, and it may develop wrinkles if not kept well. As a result, it may not be of use anymore. You can save your wrapping papers with a few toilet rolls and prevent them from unraveling.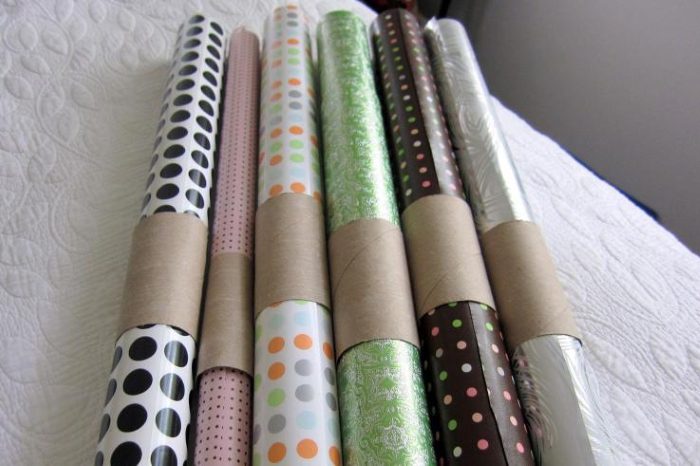 Roll the wrapping paper and use the empty roll as a rubber band to secure the roll. The larger area of the toilet roll will hold the gift paper in position. And you can store all the leftover wrapping paper in one area together.
DIY decorative art mirror
Instead of spending a lot on a metallic mirror frame, create your own using toilet rolls and a small mirror. You only need a few toilet rolls, hot glue, and a mirror. Cut the rolls in different sizes and fold them into your desired shape.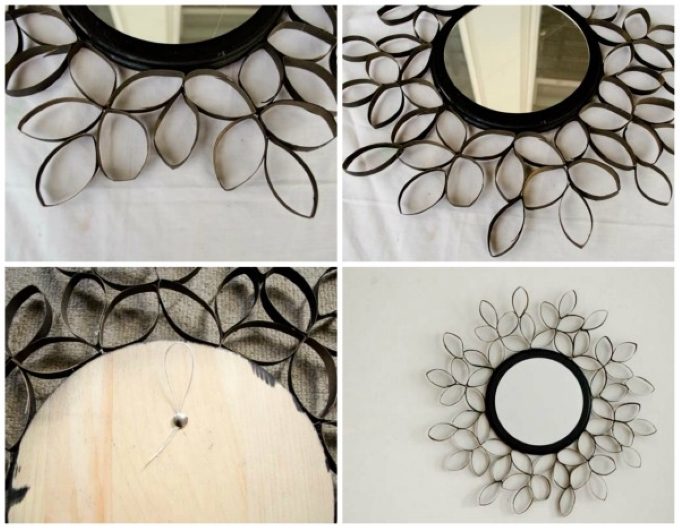 Place these shapes around the mirror. If needed, you can find some inspiration online. Let your new craft dry well and hang them on the wall. You may create a few different designs and hang them together to make them look more appealing.
Seed starters
Cardboard is an excellent material for seed starters because the cardboard will deteriorate and decompose over time. This allows your plants to grow larger than they would if grown in soil or a potting mix outside in cold weather conditions.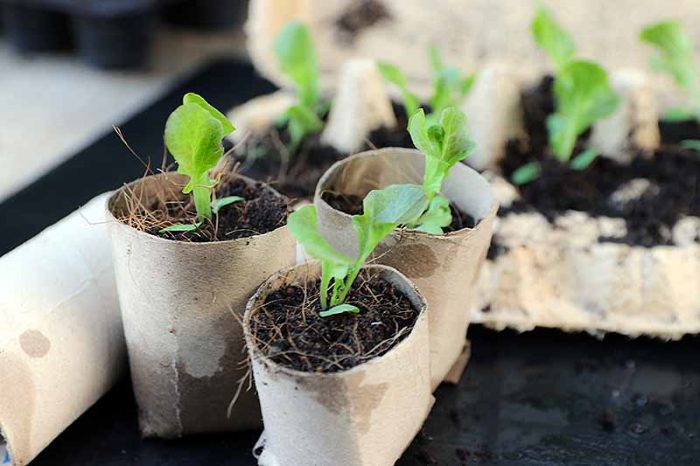 Arrange the toilet rolls over a tray and add the seed starter mixture along with the seeds inside the rolls. Keep these in favorable seed budding conditions. In a few weeks, your seeds will germinate and will be ready for planting outside.
Colorful sidewalk chalk
There's something satisfying about making your own sidewalk chalk. All you require are a few toilet paper rolls, water-based paint, cornstarch, or plaster of Paris. You may follow this easy recipe from Red Ted Art to make your own sidewalk chalk.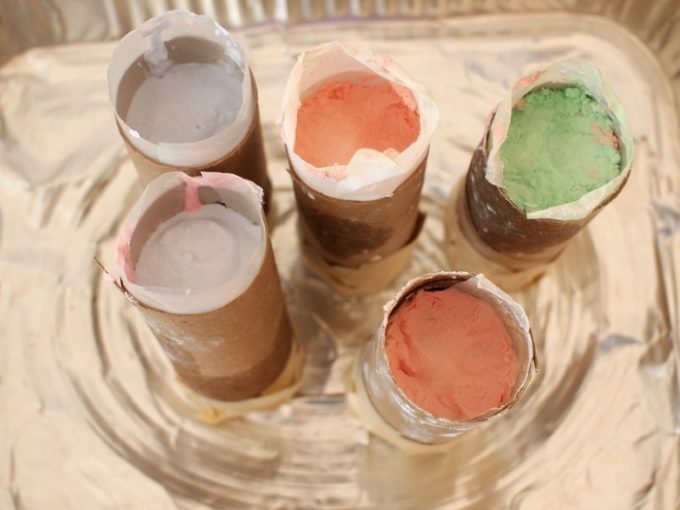 It's safe for both kids and pets, plus you can mold the perfect size toilet paper rolls so you will have something unique. You can make these chalks in any color and let the kids draw and play with them to create their masterpieces on the sidewalk.
Twin pencil holder
If you don't want to buy expensive pencil holders, take inspiration from nature and use some twigs, glue, and toilet rolls. These holders will look great when stacked together. You may also use them to keep art or makeup brushes.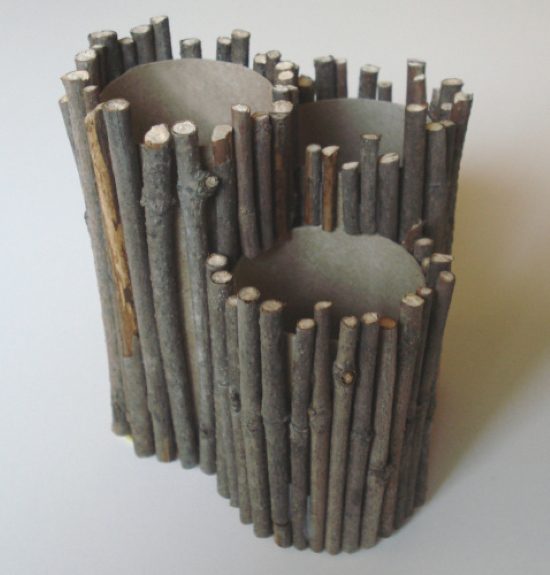 Bring the outdoors in with this awesome pencil holder. Glue twigs onto your toilet paper rolls to make a beautiful, natural design. It's great if you want a more interesting piece on your desk or when you live in a dorm at a college.
DIY faux metal frame
The faux metal frame is so easy and inexpensive to make! You can turn an empty toilet paper roll into a beautiful masterpiece that looks like forged iron. You may use them as decoration or just place your favorite photos inside and hang up the completed DIY art piece anywhere in your home.
The best part? You don't have to spend $30 on any tools or materials for this project either— everything needed will be around your house already. Just get scissors, glue, and empty toilet paper rolls for crafting your faux wrought iron frames.
Simple yet elegant gift container
Do you know how impactful a DIY gifting container can be for your loved ones? They may like it even more than the gift. It'll show them that you care a lot about them. Besides, it is better than using plastic wrapping sheets.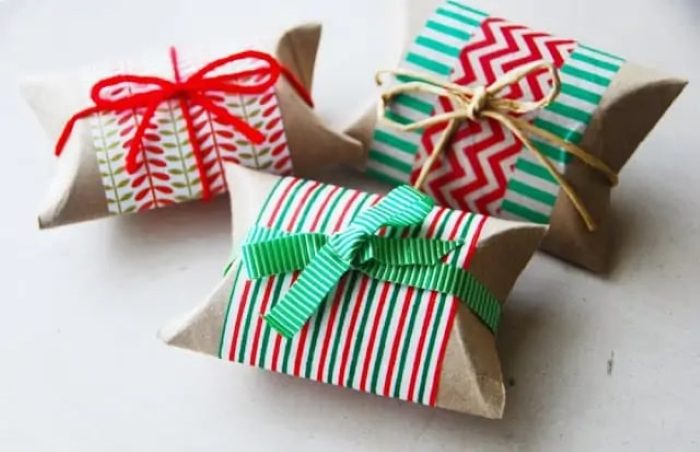 These are effortless to make and can be decorated in any color. Moreover, you may add personal touches to them. Just add some paints or colored tape on the roll, and close it from both ends after putting in the gift. You may use twine or a ribbon to decorate it.
Bright party lanterns from toilet paper rolls
You can create a fun and festive atmosphere for your next party by using empty toilet paper rolls as lanterns. Just paint them with any color of your choice, then attach wires from small light fixtures and hook them on the wall.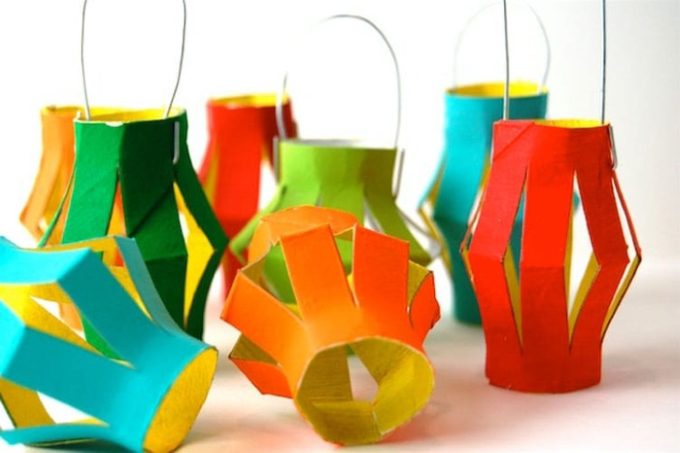 Try hanging some under-string lights if you want an extra special touch. Everyone who walks into your room will give rave reviews to all their friends about how cool your lights were. You can do this DIY in a few minutes and be set for the party.
Marble games for kids
Collect five or six toilet paper rolls and write any number on them. Make a small hole for the marbles to pass through the rolls. Your kids and their friends can roll marbles into the rolls and play for points.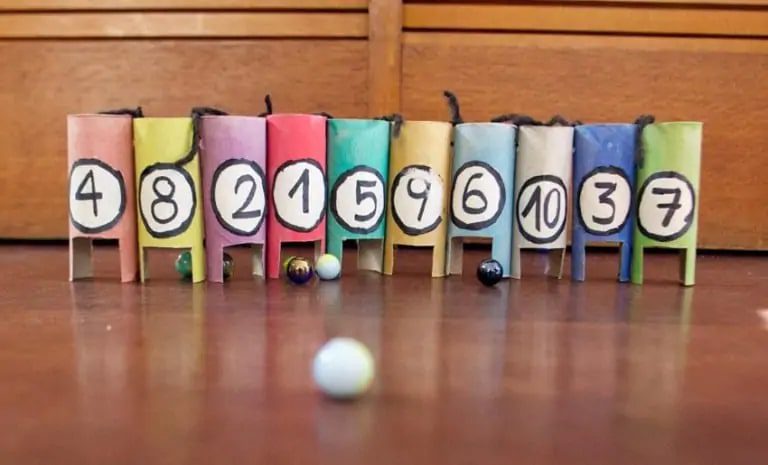 This game will encourage them to ditch the screens for some time. Besides, it will improve their hand-eye coordination. To make the rolls look even more fun, you can decorate them with bright acrylic paints. A cleaner version would be to stick construction paper to them to spruce them up.
Organize your scarves
If you have a lot of scarves tangled up in a drawer, this may be ideal for you. Just use some cut toilet rolls to create space for each scarf. This way, they won't get intertwined together. You'll also be able to find the one you may be looking for in a hurry.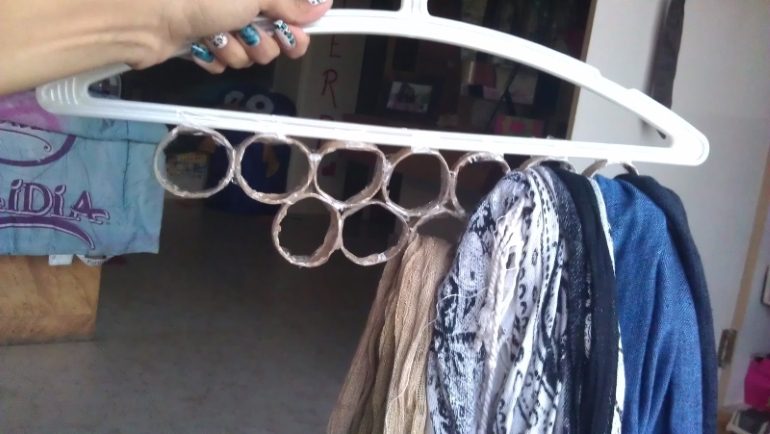 The easiest way to store your scarves is by rolling them up and fitting them into a toilet paper roll. Take the scarves and arrange them vertically in the drawer. You may also do this with a hanger by using hot glue to attach them to a hanger. It's so easy, and you'll wonder why everyone doesn't do this sooner.
Simple cord organization
If you've ever found yourself tangled up in your cords, this is the perfect solution. Simply wrap them up and stick them inside a toilet paper roll, and they will stay neat! By writing the name of the cable on the front, you won't ever have to spend time finding what you need.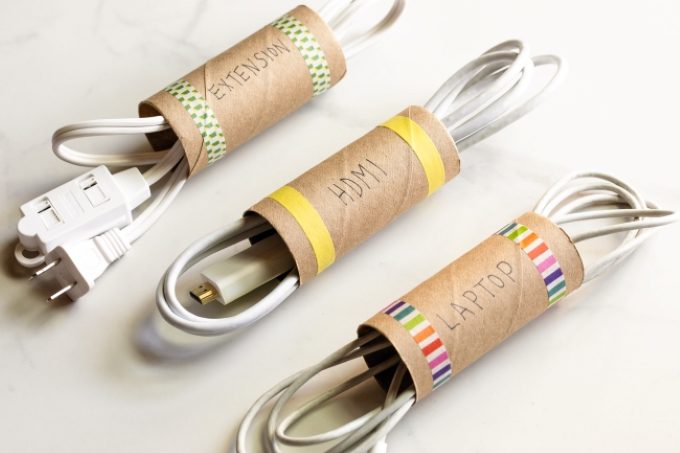 Now you know there are lots more creative ways to store these cables than just keeping it simple with some regular old black garbage bags or boring organizers to keep the cords. You may also paint these rolls as per your room decor to add more style.
Super-fun gift poppers
Give the gift of fun with these toilet paper rolls filled to the brim and wrapped in colorful paper. What's more fun than opening a tiny package that promises sweet treats? Not only for youngsters, but they're also excellent for grown-ups, too!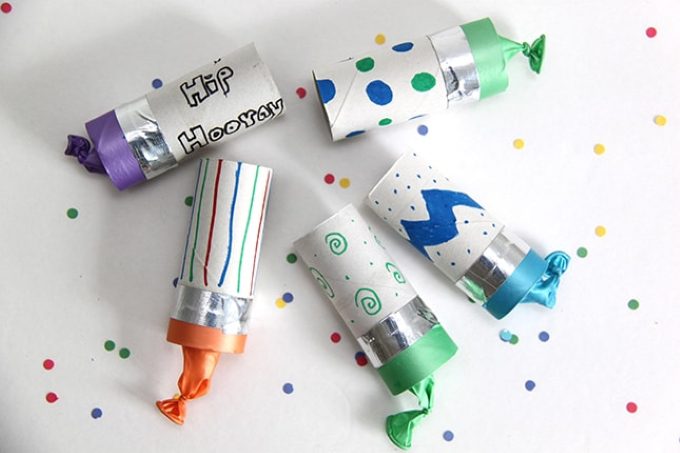 Make your own by filling empty toilet paper rolls with sweets and other little gifts. Wrap them in a colorful paper for an extra surprise ending. These "gift poppers" make great presents to hand to people after the party as a fun party favor.
Simple floral party favors
Cutesy and sweet, these floral party favors will be a hit at your next get-together! They're perfect for kids or grownups who want something different than the usual cookies, chips, or something very predictable. Fill them with yummy candy treats and chocolates to sweeten things up even more.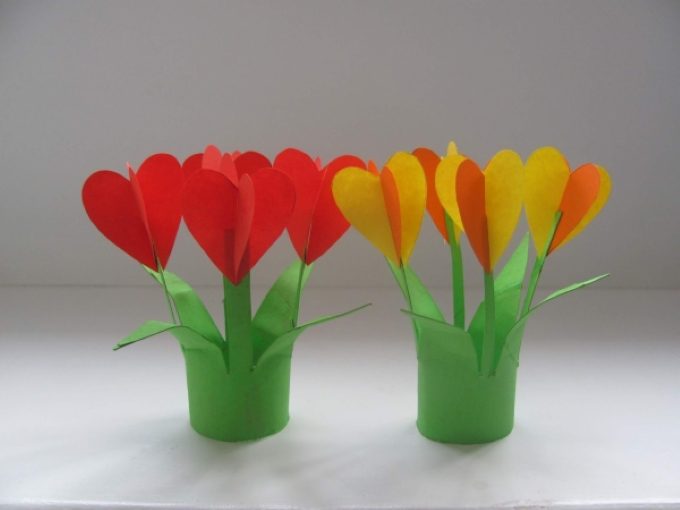 They're also inexpensive, which means you can make a bunch for all of the people coming to the party and some extras to keep for yourself! You can decorate them with markers, ribbons, and embellishments from the dollar store to jazz them up a little bit.
Simple homemade eyeglass case
What if you find yourself without an eyeglass case for whatever reason or just want to try out some new DIY ideas on your own time? Here is a simple solution to design a case yourself. All it takes are some fabric and toilet paper rolls!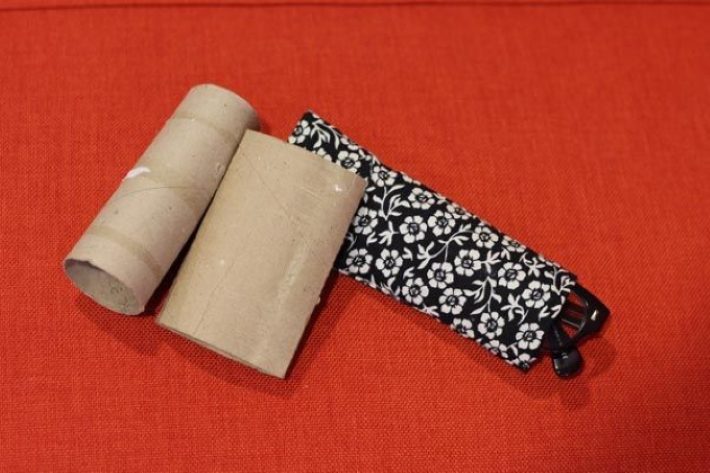 To create this eye-catching and handy case, cut a piece of fabric to the size of the toilet paper roll. Cover the toilet paper roll with this fabric and hold it together using hot glue. You don't have to sew the fabric. The cardboard from the roll will help protect your glasses.
Funky custom pin cushion
Michele Made Me has the perfect solution for all your needlework needs. This fun DIY craft will take just a little bit of creativeness and some time, but it's worth every second! You can use this idea as an organizer in sewing circles or at home.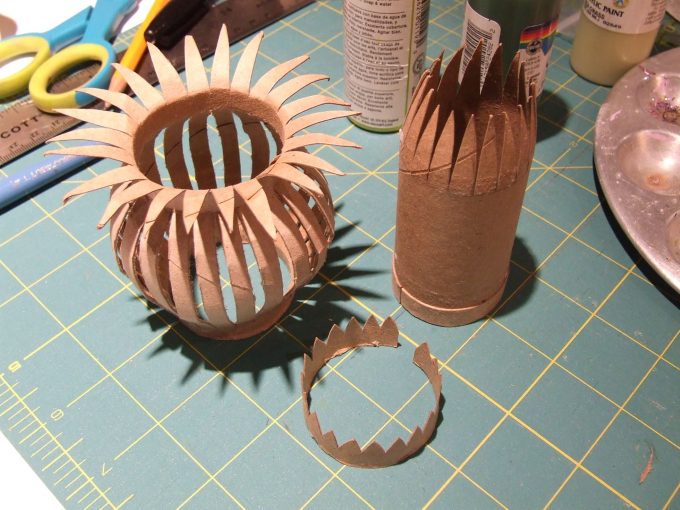 This will make crafting, embroidering, and sewing so much fun, and you'll have no cleanups after making something new each time. Besides, this pincushion looks so fun and is not at all boring like the ones available in the stores.
Confetti rockets for the 4th of July
The 4th of July comes around every summer, and you know what that means! It's time to set off some fireworks. But if your little ones are too excited about all the bright lights and crashing sounds from outside, you can create these safe confetti popper toys.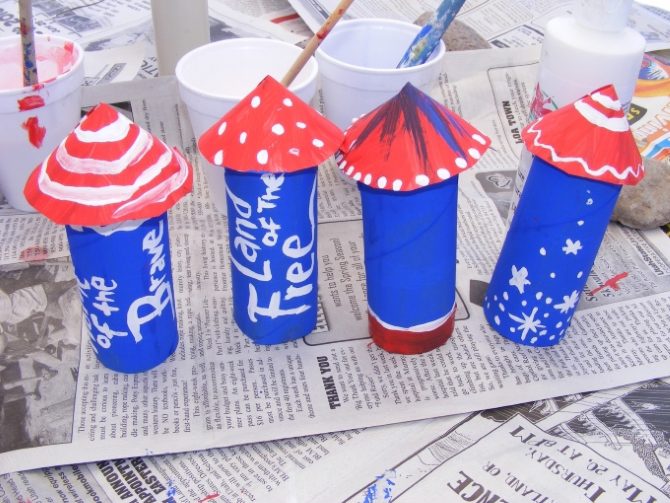 These will keep them happy without any risk at all. On a side note, have a vacuum cleaner handy after using these poppers to clean up quickly. You can make many of these and hand them to the kids to have a fantastic time like everyone else.
Easy heart stamp
What's more perfect than a heart-shaped stamp? This craft is so easy and fun to make! All you need are some toilet paper rolls, red paint or ink. Take the roll and bend it from one side to make it a heart shape.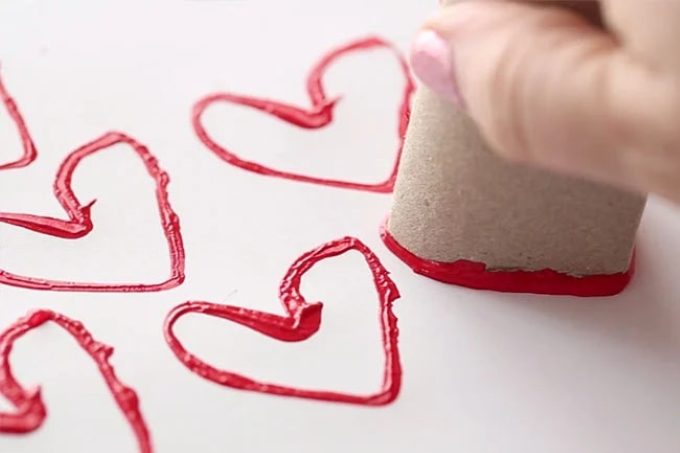 Now dip it into red paint or ink and let it dry. You can create several of these for kids to have as a stamp on their stationary. Besides, you may paint them in different colors for more fun while crafting. Feel free to create different shapes as well.
DIY cardboard earrings
What a fantastic way to save cash and make something personalized! This project uses simple materials that you probably already have. It's perfect for beginners who want their own handmade jewelry without spending too much money on the first try.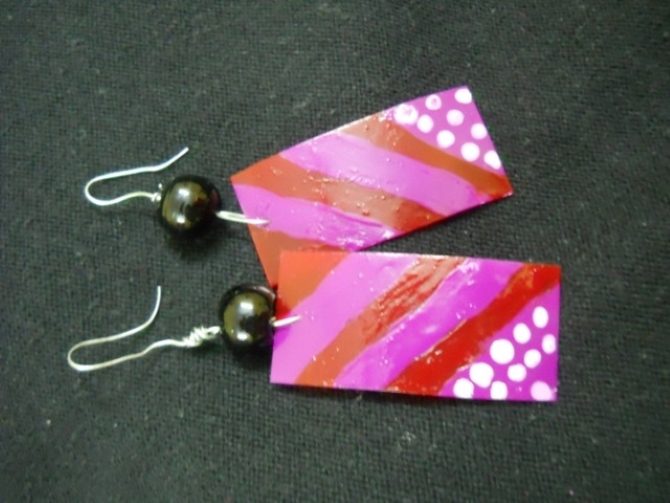 This can also work as a DIY gift item for your loved ones. You may find a simple guide to making cardboard earrings with toilet paper rolls on Fave Crafts. Make these in as many shades and sizes as you'd like to go with all your outfits.
Fancy candle holder
Whether you're looking for a way to cover your LED or other faux candles, this is the perfect project. There are many ways to make these holders look gorgeous on any surface with some creative folding and painting, such as wood tables and cabinets.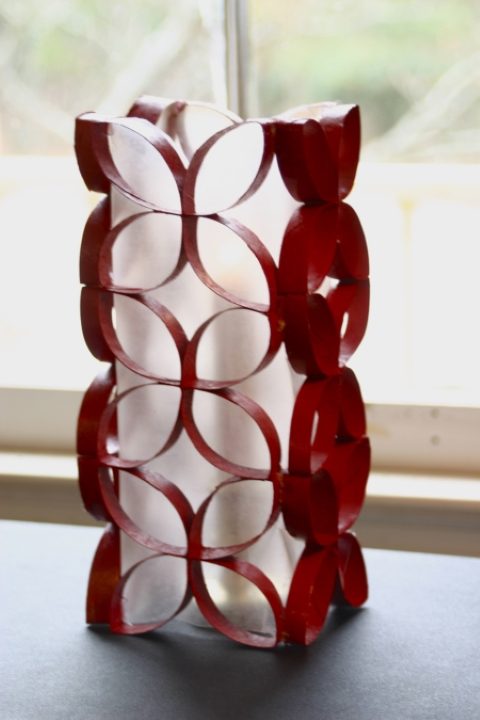 Use strong glue to stick the holder frame together before adding it to the LED candle. This will take your LED candle from blah to gorgeous in no time. Do not attempt this with a real candle for obvious reasons to not make a fire hazard.
Make pixel boy for wall art
There's no better way to make your home feel like a video game zone than this DIY piece of wall art. With toilet paper rolls used in place of frames, you get an incredible graphic pixel boy perfect for any gamer.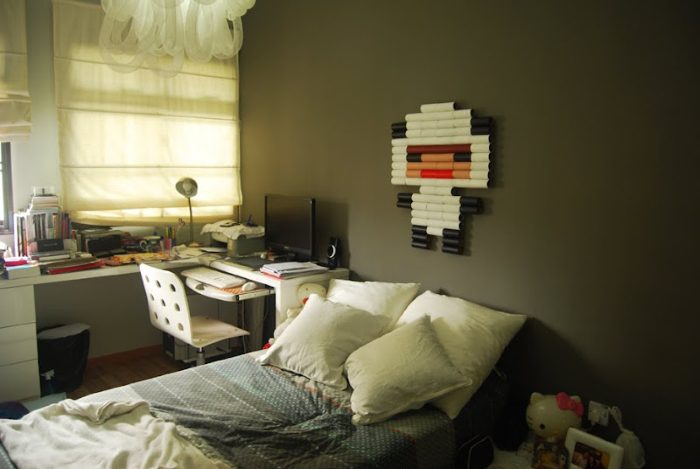 You only require some paints, several toilet paper rolls, and glue for this. Besides, find an easy online tutorial to use as a draft for the pixel boy. You can find different designs for your kids' rooms or playroom in the house.
Tiny koinobori windsocks
Put a little bit of Japanese culture in your home with this unique craft. You will need toilet paper rolls, streamers (colored strings), and stringing tools like wire cutters or scissors. The koinobori is created to represent Boy's day, and each carp represents a boy in the family.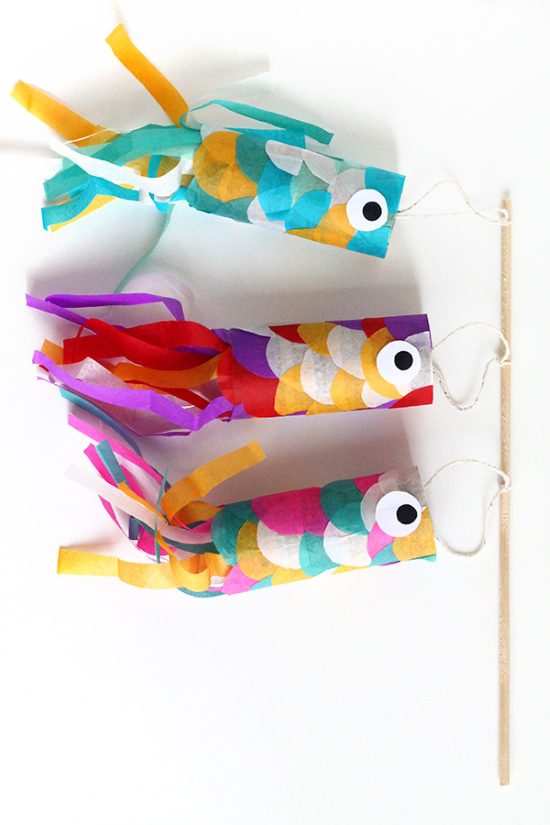 These carp were created by cutting many circles and layering them with glue on the toilet paper roll. This makes the design of the scales. Extra pieces of tissue paper are hung as the tale to fly in the wind. They created their eyes with paper and a marker, but googly eyes would work too.
Useful iPhone holder
Do you know how much of a pain it is when your phone falls in water or gets wet? Well, now all you have to do is find some empty toilet paper rolls and use washi tape to make a cute iPhone holder.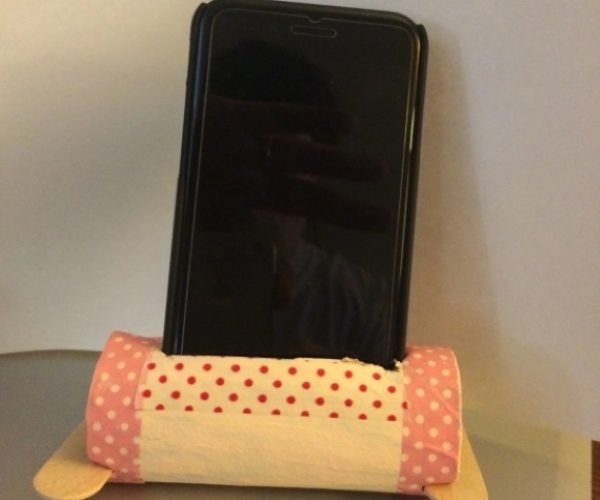 Then stick popsicle sticks into push pins to hold onto their own weight and stabilize the phone. Who knew we could make a phone holder for less than $10 and have something useful from things that otherwise would go into the trash.
Advent calendar or fun countdown
Is your family preparing for a big day? Make sure they don't miss out on any of it by making a homemade countdown calendar! Simply collect all those empty toilet paper rolls and use them to create an advent-style window display.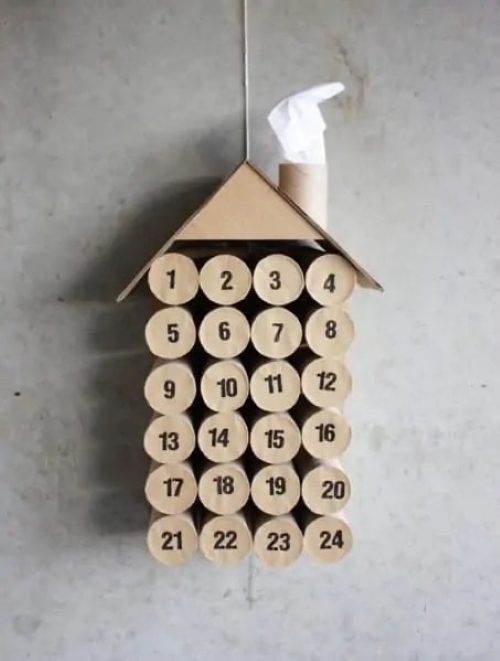 You could put small trinkets or candy inside, depending on what you want. This can also be used to create a fun calendar for the kids leading to their birthday. They will be excited to open each little surprise every day.
Earring and jewelry holder
Want to add some personality and style to your wardrobe? Take up this easy DIY project over the weekend. You'll need paint, washi tape, plus a few other common craft supplies. It only takes about ten minutes, even for a beginner crafter.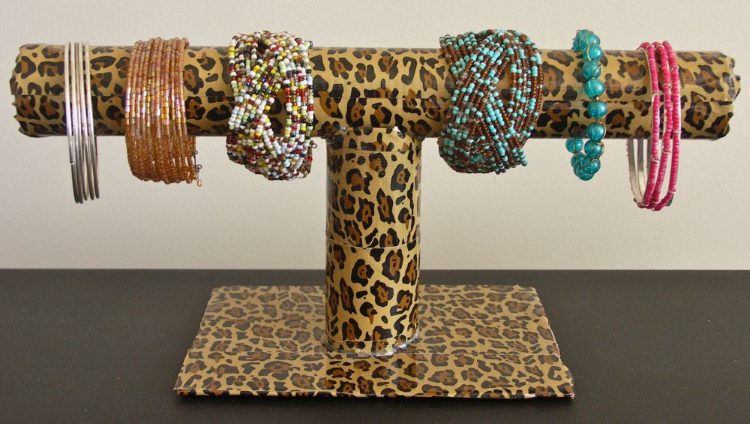 With this jewelry holder, your vanity will not have too much clutter. You'll be able to organize your earring, rings, and chains in this. Moreover, you can give this jewelry holder to your loved ones as a gift for them to cherish something handmade.
Make a storage container for kids' cars
We all know that kids' rooms can get super messy every day, and you may not have the time to clean up all the time. Instead of letting their toy cars clutter up every room in the house, create a little private garage for them.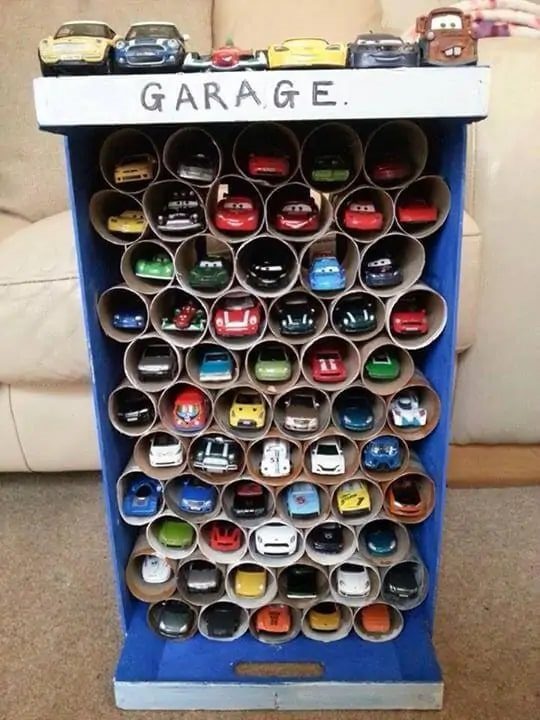 Collect enough toilet rolls to store all the toy cars. Use hot glue or any other strong glue to stick them together and assemble them inside a cardboard box to give a rectangular shape. You may also paint the rolls beforehand. It's small and neat for the kids' room.
TP coasters
Toilet paper coasters are a simple way to protect your coffee table from the annoying rings on the wood. They only take 5 or 6 empty toilet paper rolls, and the coaster stays in place because of the thickness of the cardboard.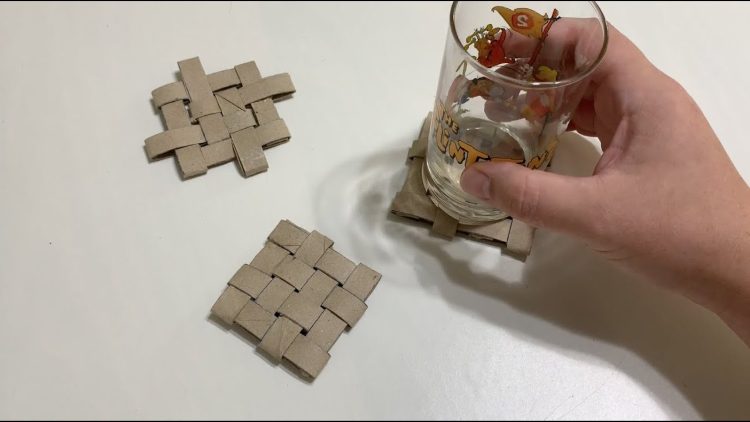 You can make these by cutting the toilet paper rolls into thin strips and weaving them together. They are great to keep cups and glasses from sliding around while drinking a beverage. You just need some scissors and glue to make these long-lasting custom coasters.
Create a bird feeder
Hang a DIY bird feeder from your balcony with some string or hook it onto a branch, and watch the feathered friends eat peanut butter-covered seeds. It's always fun to see how adorable these birds look when the feeding time rolls around!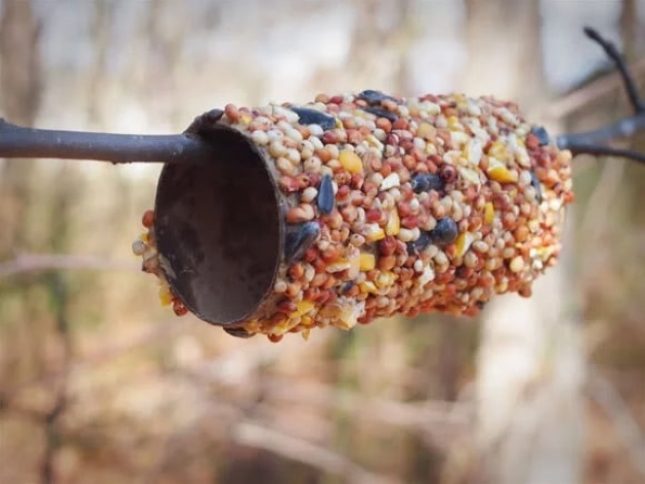 Grab a toilet roll, spread some peanut butter on it, and then stick the bird seeds to the peanut butter. The birds will thank you with their sweet voice, and you will get to watch nature so closely. This is an effortless craft to make with children, and they will love birdwatching every morning to see which visitors show up at their door.
Organize tangled yarn
If you use yarn, you know it can get tangled when it is about to finish. This may halt your knitting time as you'll be busy untangling it. To save time and headaches, we have a great toilet paper hack.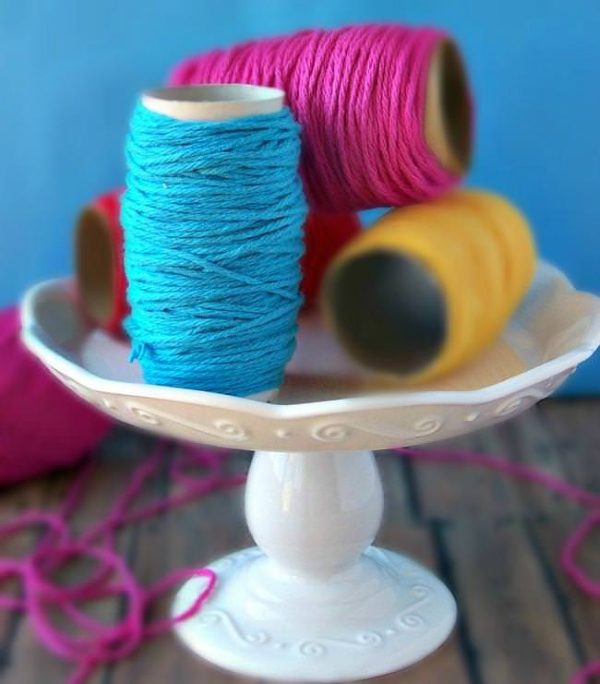 Take an empty roll and wrap the yard around the roll. Do this gently so that the yarn stays soft for knitting. This will keep your yarn in one place. You may do this with all the yarns you own to organize them nicely and keep track of them all.
Artistic lampshade
Homeowners can now create their very own trendy lampshades by using old and unwanted items. All that is required for this DIY project are 35 empty toilet paper rolls and other materials like a stapler or scissors with other necessary tools needed to assemble it correctly.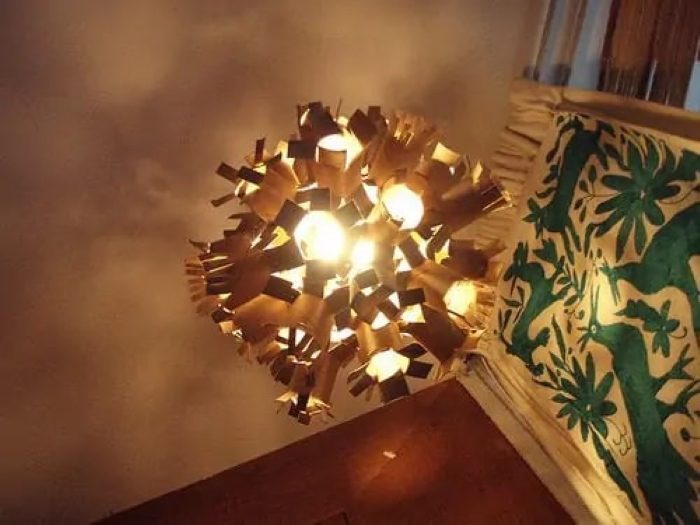 This will make an even colored and modern art-themed lampshade for your room. You can do this around any working lightbulb with a lamp-type electric installation. You do not need to spend too much on high-end lamps with some creativity.
Party crowns for kids
How cute are these kiddie party crowns? They will be a hit at any kid's birthday or just for some fun imaginative play. This is a great way to celebrate your little one's next big event and make it memorable.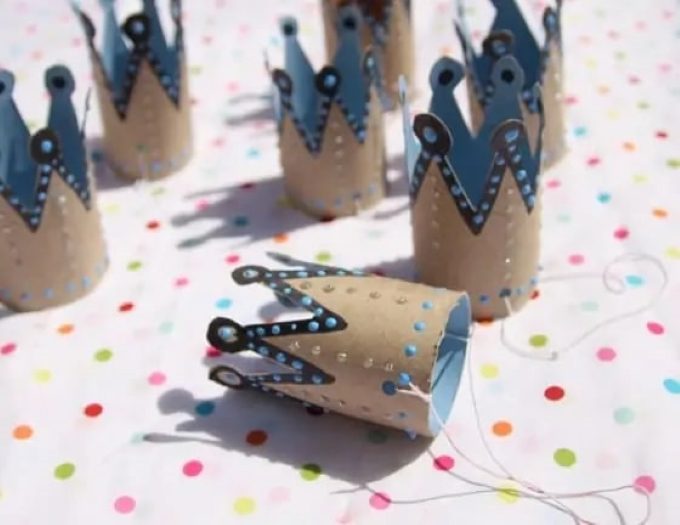 Made simply out of toilet paper rolls and string, you can make them in whatever color or shape suits you. Apart from this, get markers, glitter pens, and scissors to cut the crown shape. When you're done, add the elastic string to the crown.
Napkin holders for parties
Give your home the perfect Thanksgiving feel with these beautiful and straightforward napkin holders. Use an empty toilet paper roll, some burlap cloths, and a ribbon cut into two to three-inch pieces to to wrap around the toilet paper roll napkin holder.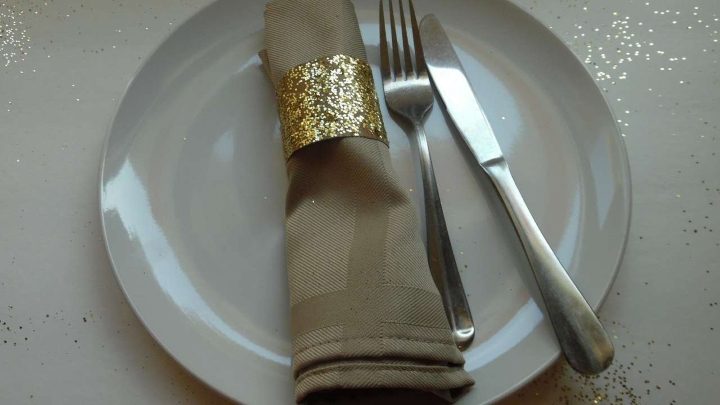 Add glue to ensure the ribbon doesn't detach from the tp roll. You may also add something special on top with glue, like gems or acorns for extra flair. Don't forget about this fun idea to customize these napkin holders for birthdays, Christmas, and anniversaries.
Chic floral wall decor
Need a DIY decoration? Toilet paper rolls are a great way to get creative and make your home look more appealing. The best part about this project? You can get as creative and spend as much time on each flower as you'd like.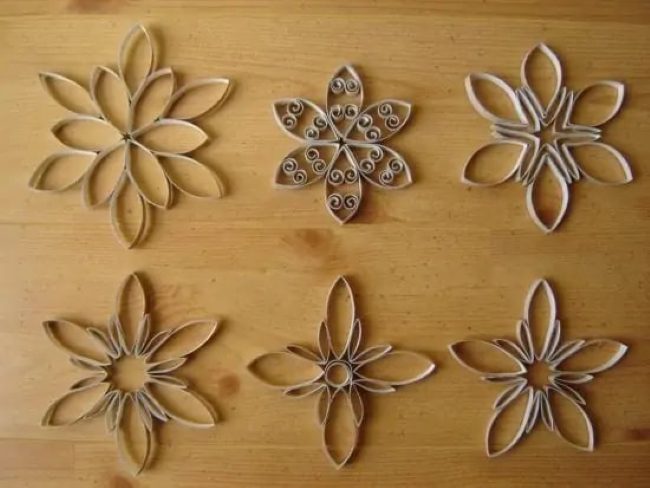 Make a paper flower for your wall by folding and bending an empty toilet paper roll. Glue the petals together with some hot glue or tape to create beautiful, customizable flowers that you can paint in any color! Making a few and putting them up together will make a really beautiful decor.
Play teacup set for kids
Do you remember having a teacup set to play pretend tea parties as a kid? If yes, then this DIY teacup set is ideal for your child. All you need is some creativity to put these together, and your kids will use their imagination to play tea parties with these cups.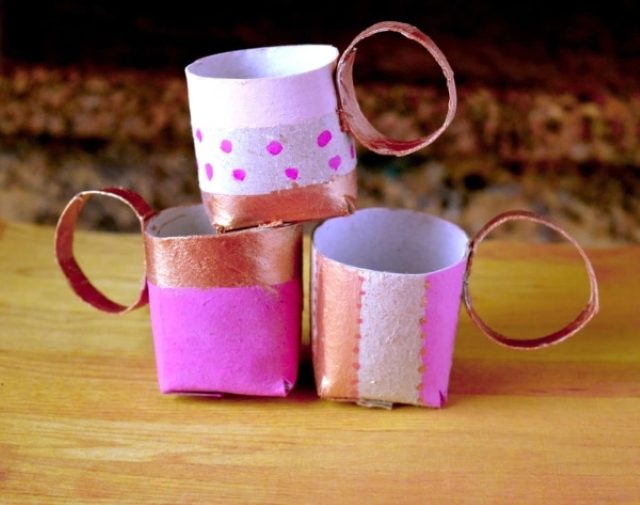 Use toilet paper rolls to make cups and their handles with scissors. Glue them together and paint them in fun colors and patterns. It will make a non-toxic playing item for your children and their buddies. You can also make small matching plates. The kids will love decorating the set to their liking.
DIY wristband bracelets for costumes
Wear your favorite colors proudly with these creative wristband bracelets! You can create them by painting, duct-taping, or gluing pieces of paper on toilet paper rolls. Also, add colored tapes, rhinestones, and jewels to the painted toilet paper rolls to match your costumes.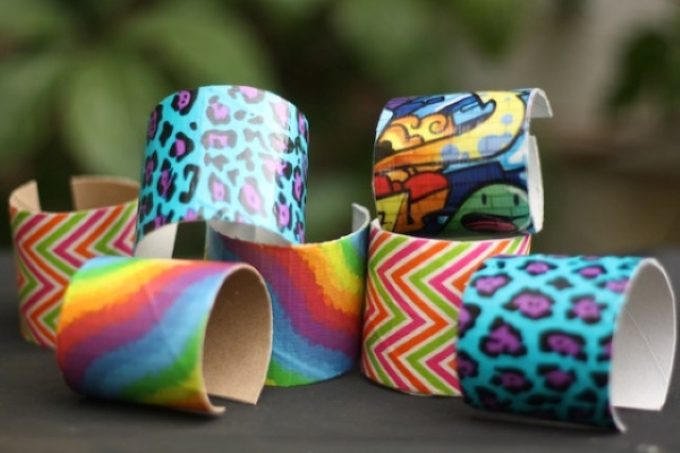 This is a fun project for all ages – especially if you're looking to dress up in costume at any future events this year! Moreover, this idea can be a hit for Halloween parties or if you are interested in attending cosplay comic cons.
Easy holiday decor for Christmas
Cute and creative, this paper tube Christmas tree is a wonderful way to bring holiday joy into your house. With simple instructions that even kids can follow and have a fun time putting together before the big day to celebrate.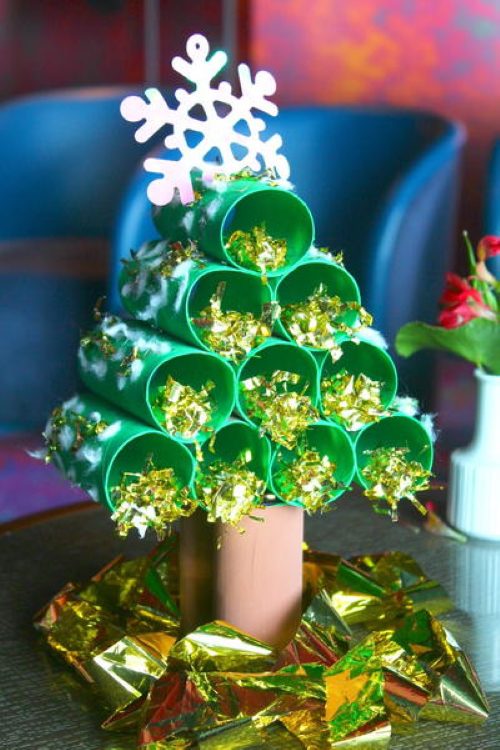 The great thing about this craft is that it's easy to make and only requires very few art supplies. Grab some green paint, empty toilet paper rolls, and glue. Arrange these tubes in a Christmas tree shape. You may also add sparkles and other trinkets to the tree.