Get Packing: 40 Stress-Reducing Moving Hacks That Will Make The Transition Easier
By Iulia P November 23, 2021
---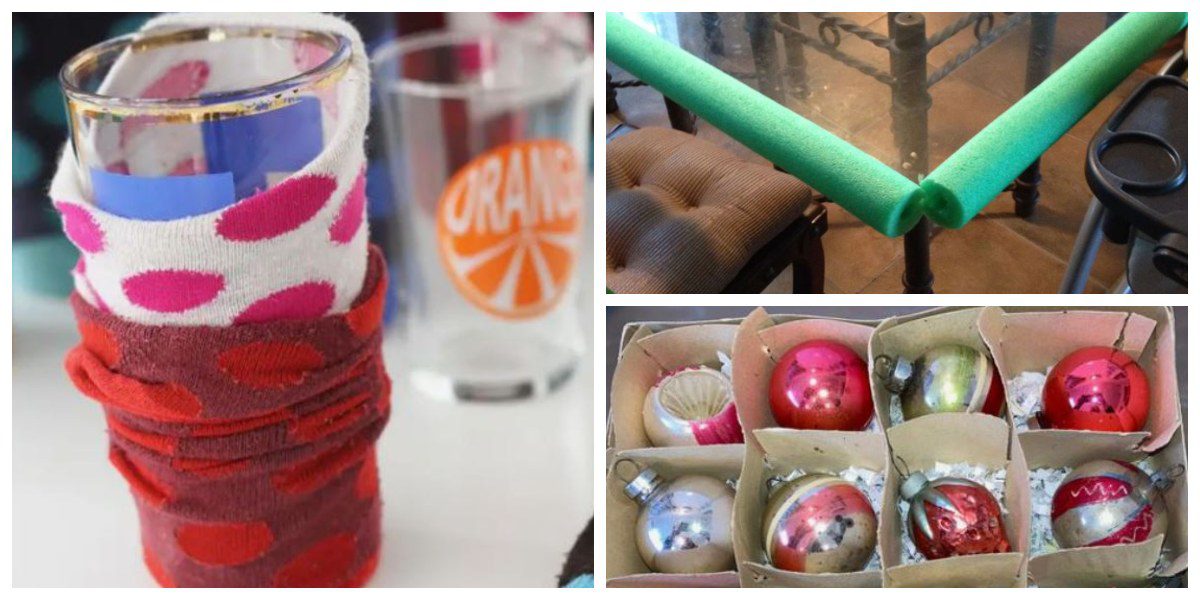 No matter how organized a person you are, moving day will always be a mission. It usually requires a lot of boxes, several rolls of packing paper, and a ton of patience. Moving is not easy, to say the least. This is even the case when you hire a company to help you pack and move your belongings because you still have to organize everything the way you want. Not to mention the times you don't have this privilege, and you have to do it all by yourself. Moving houses or flats is stressful, period! But, it turns out that there are little hacks that are meant to make moving less daunting and more practical and quick. Here are some ideas that will make moving day much easier for you!
Garbage bags
Garbage bags can be used in many ways when you're packing your whole house in order to move. But did you know you can make moving your wardrobe to a new pace effortless with a good ol' roll of garbage bags?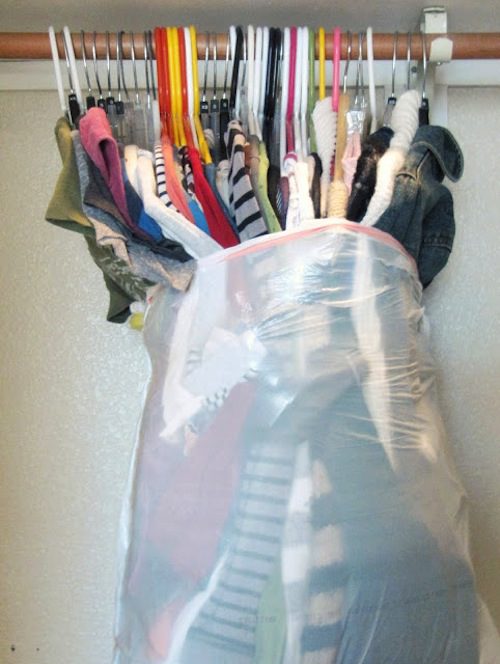 All you need to do is grab the handy roll and get to work. Make a hole on the bottom of the bag and put the hanger with your clothes through it. Voila! Now you have some reusable clothing bags that cost you close to nothing.
Drawers
When moving, you often tend to take everything inside the drawers out and put them in cardboard boxes. And it makes sense why they do it. Who would want to carry that colossal furniture piece that has 100 drawers in it only to reorganize again?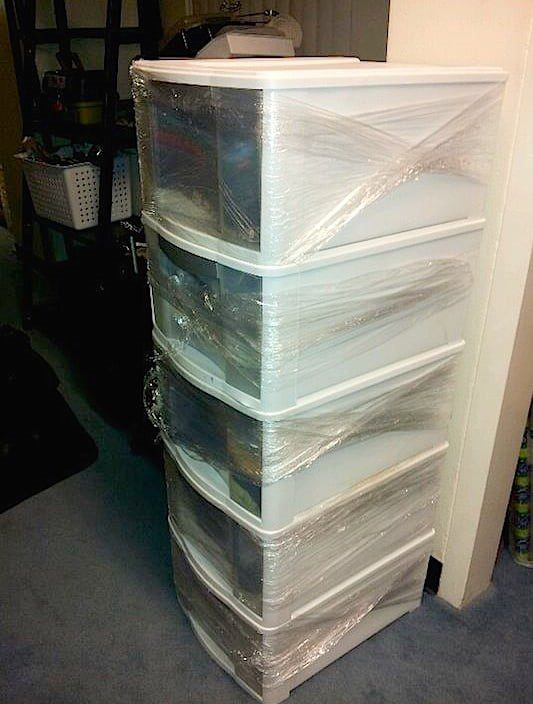 Instead of taking out what's inside the drawers, take the whole drawer out and wrap it in plastic. This way, you reduce the number of cardboard boxes needed for the move and, all in all, make things easier for you and the moving team, too.
Ziploc
There are so many things that Ziploc bags can help us with on a daily basis. So this hack below does not shock us. There is no safe space to keep your cables in other than a Ziploc bag, and we are sure not the first ones to know this.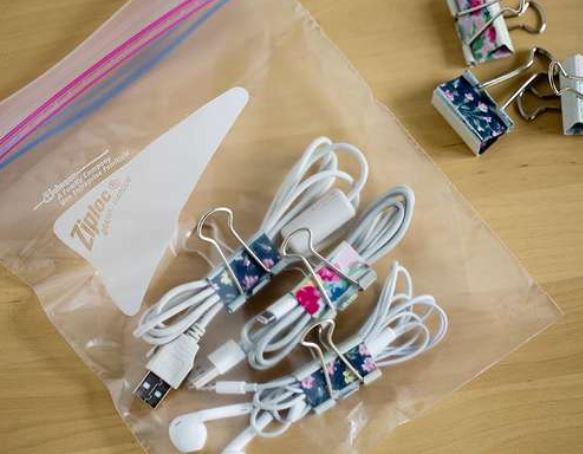 You can put all the cables and electronics in Ziploc bags and place them all in the same box. This way, you will make sure that your things will be protected from water, scratches, and rips. If you pack them strategically, then you will avoid knots as well.
Stop the leaking
Packing liquids always turns out the same. Even if you think you put the bottles in the proper position, then go to open the cardboard box, you realize they changed position during the move, and the liquid inside leaked.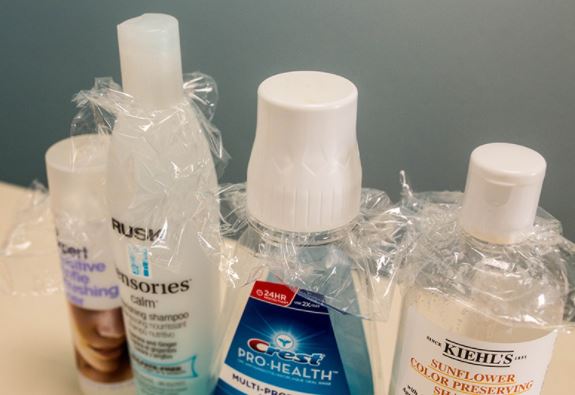 There is nothing worse than having your things stained or sticky, and let's not talk about a wet cardboard box. In order to avoid this, just place some plastic wrap over the neck of the bottle that you will pack.
Egg carton
There is nothing worse and more annoying than a beautiful gold chain all tangled up from being deposited. Chances are that when you pack, you won't pay attention to how you pack your jewelry, and they will all get tangled up.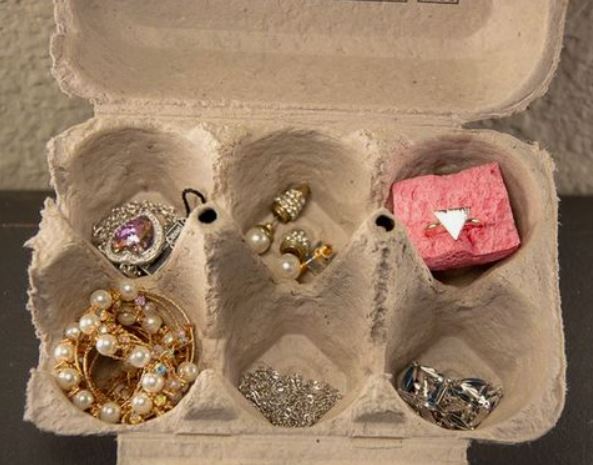 In order to avoid this, you might want to start saving up those egg cartons that you've been throwing away because it turns out that they are great for packing jewelry—no more trying to untangle chains and bracelets anymore!
Sheets
It's time to head out the door, but you just realized that you forgot to go to the shop to buy a plastic cover for your mattress? Worry less. We have a little trick that will help you get through this moving day with no hassle: two elastic bed sheets.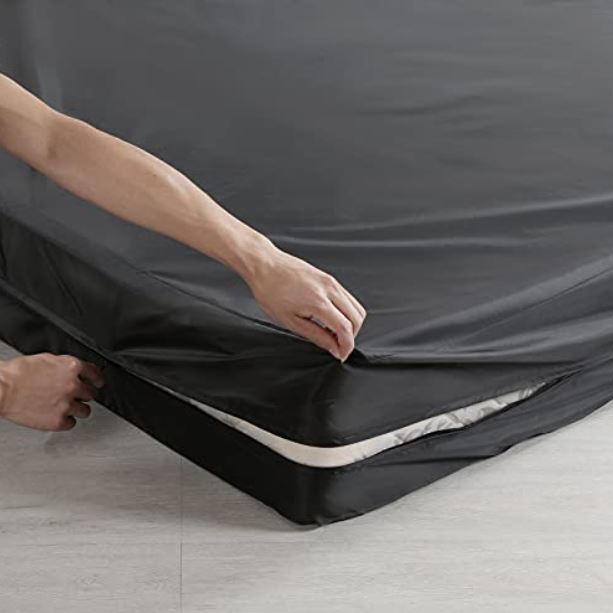 In order to protect your mattress from the dirty process of moving houses, you need to put a bed sheet on each side of your mattress. Sure this will most likely destroy your sheets, but at least your mattress will not be damaged.
Suitcase
The stress that comes with moving houses has probably made you forget about those suitcases you used on your last vacay. Well, it's time to pull them out and put them to work because guess what? You can use them to move your clothes, too.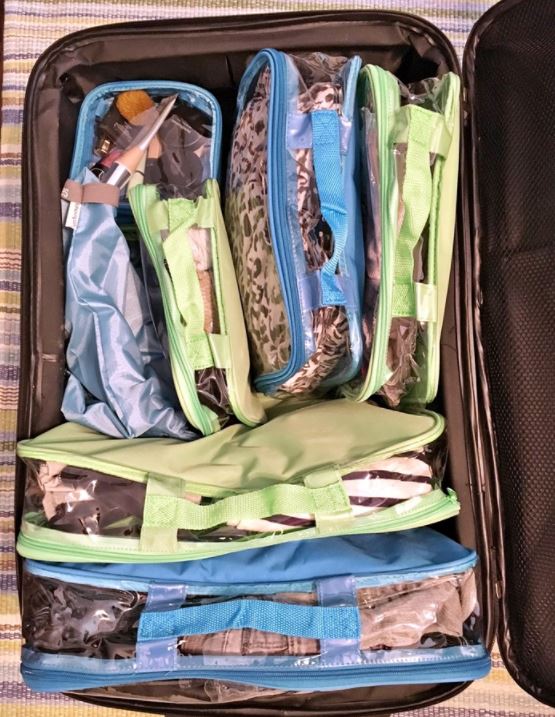 And if you find the right technique for packing, you would be impressed by the number of clothes that can fit into a regular traveling suitcase. There are many hacks for packing, and if you want to know the most efficient one, you might want to scroll down.
Rolling clothes
As we were saying, there are several ways of packing a suitcase in order to fit as many clothes as you can in it. Folding them is not an option, and throwing them in there like it was a last-minute thing does not work either.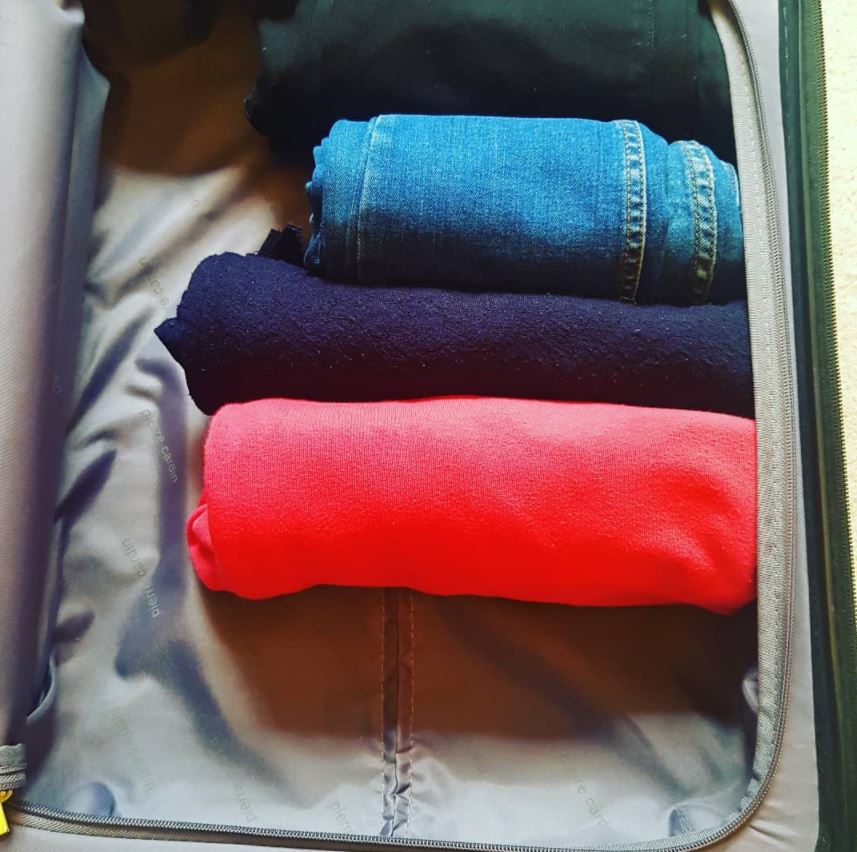 What you want to do is to roll each piece of clothing and stalk them inside your luggage. You will be surprised to see how many clothes fit in that luggage that you thought it was too small while you were packing for that vacay last summer.
Scarves, pillowcases…
Do you have too many clothes but not enough boxes and bags? Scarves, pillowcases, and even the clothes that can not fit in your suitcases and boxes can be used to wrap fragile objects, gadgets, and even big electronics.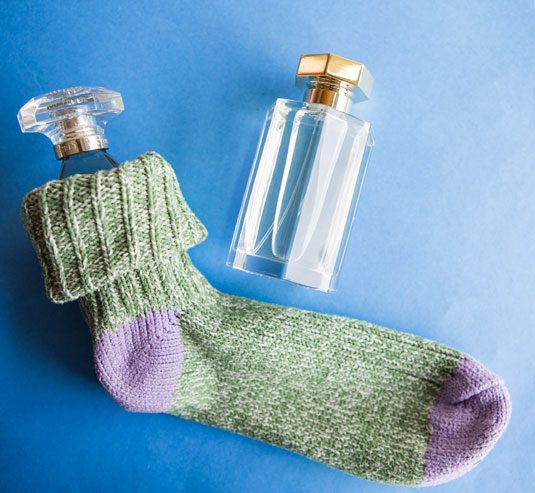 Wrap your TV in bedsheets and towels, your perfumes in socks, and your tablet in your scarves. This method is safer for both the environment and your objects, too. Plastic wrap is not exactly the safest way to protect your belongings.
Books
Book lovers, this one is for you! If you have loads of shelves full of books, you might want to consider taking those rolled clothes out of the suitcase and putting the books inside it instead. The clothes can go in a box.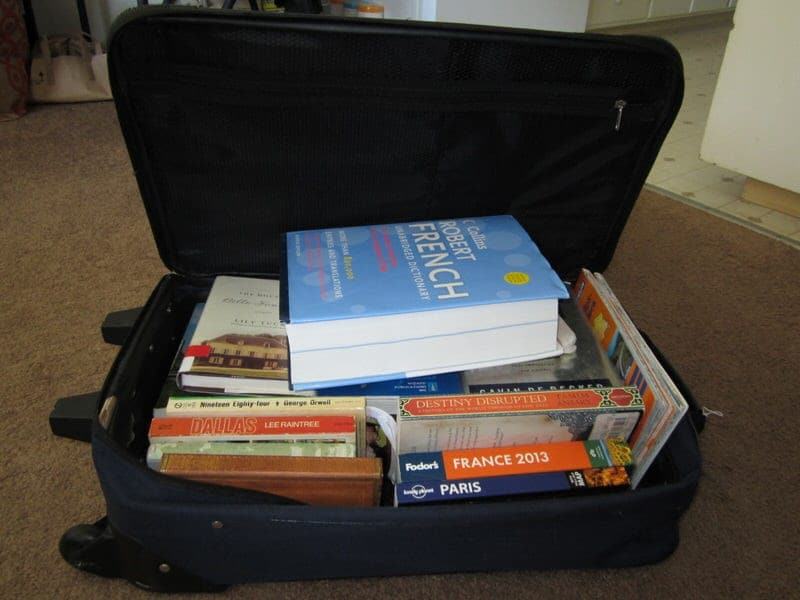 Sure, the box of clothes will be heavy, but it won't be as heavy as it would if the books were packed in there. This hack might not be that practical but, trust us, your back and the backs of the moving team will thank you for it.
Pots
As we said before, when you pack, every little space matters. We can fairly say that pots take up a lot of space. But, this is not a problem in our eyes. It is only rational to use the area inside. You can put anything you need inside your pots.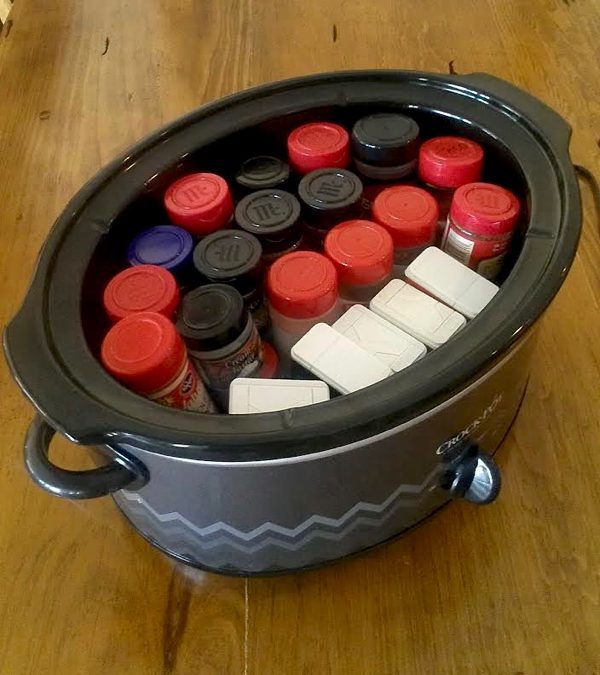 Pots, plates, cups, and bowls can fit in a big pot, but what we find practical to pack in a pot is all of the seasonings. Put all the seasoning you have in a big pot. This way, you'll know where to find the seasoning when you unpack.
Packing glasses
Packing fragile stuff is a lot of work, but packing glasses takes more effort and time. It implies a lot of wrapping paper, strategy when arranging the glasses, and choosing the correct box, which needs to be either plastic or a very sturdy cardboard box.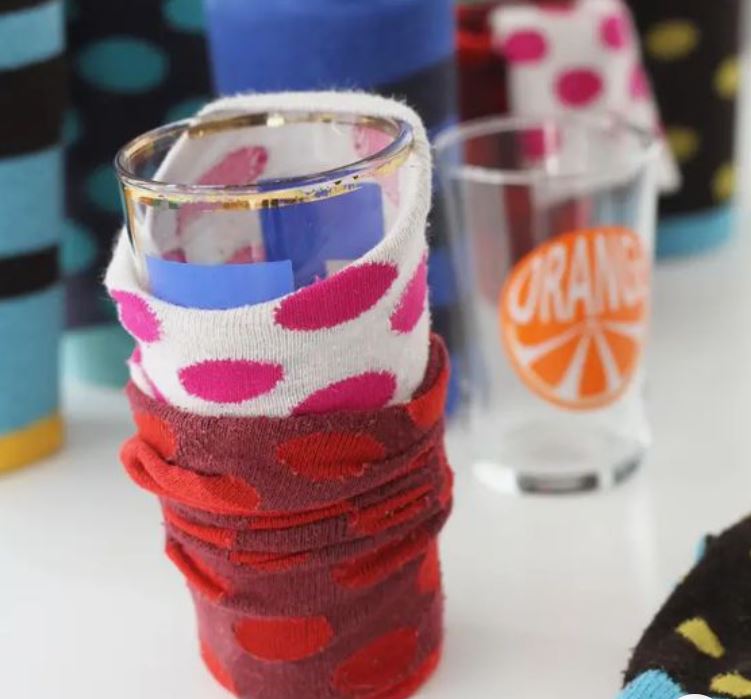 If you forgot to get yourself some wrapping paper because of all the moving stress, the chances are that you're feeling lost. Well, those socks you just packed might be able to do the wrapping paper's job just as efficiently. Just make sure they are clean before using them.
Packing plates
Now that the glasses are covered with socks and are all packed, it's time to pack the plates, too. All you need is a roll of paper towels, but if you do not have one, just add some T-shirts in between each plate to protect them.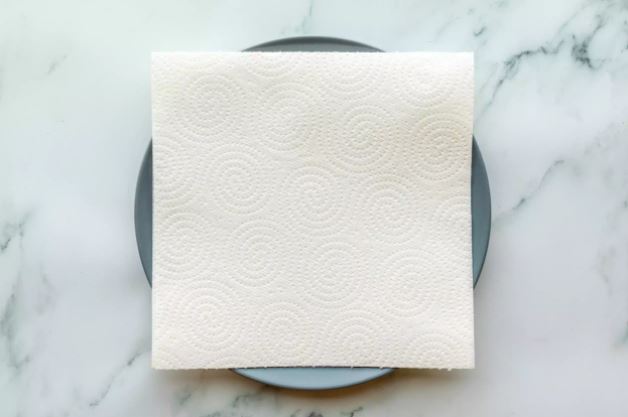 No T-shirts left after packing your clothes? No worries. You can use place mates and even tea towels instead. You can use anything that will protect your plates. All you need is a little bit of imagination and creativity.
Utensil organizer
Before you want to take the utensils out of the cupboard drawer's organize, you might want to reconsider because it turns out that this little hack will simplify your packing and unpacking greatly. The only thing you need is plastic wrap.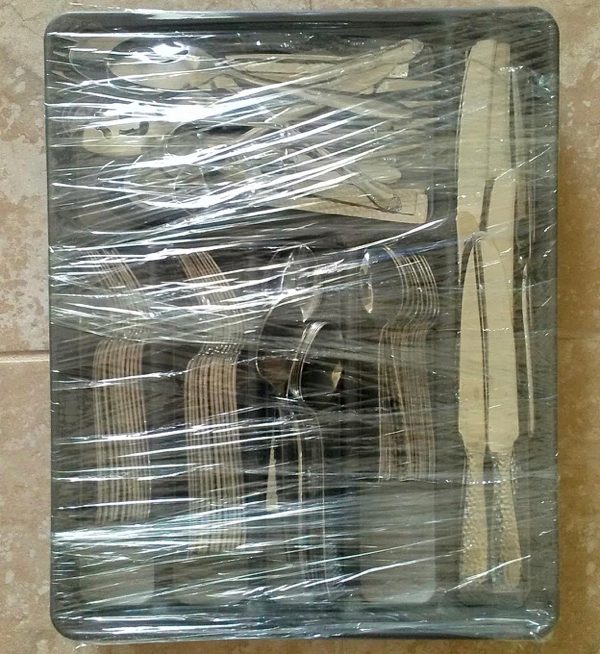 Leave the utensils where they are, take the organizer out of the drawer, and wrap it up several times in plastic wrap. This way, everything will be in place and ready to be put in the new kitchen when you unpack.
Knives
To pack knives, you need a sturdy strategy because if you don't wrap them correctly or place them in the right spot, you run the risk of cutting through the cardboard box, and even worse, injuring someone during the move.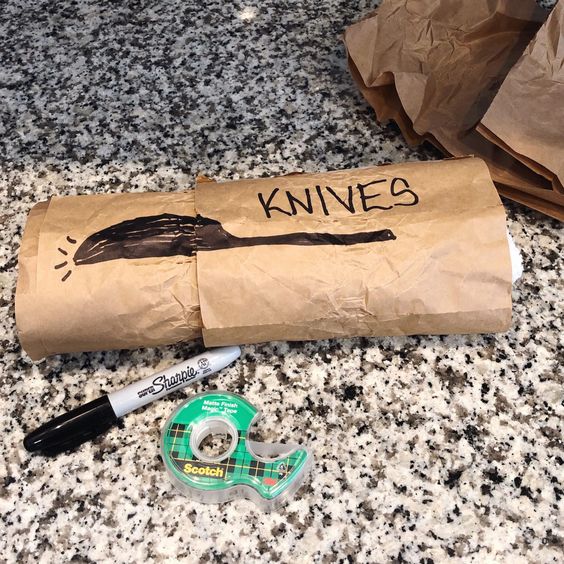 Nobody wants to hurt the hands that help them carry the heavy boxes, so here is a trick for your knives: place them in the oven mittens and wrap them in either plastic wrap, paper and tape, or rubber bands.
Packing the bathroom
Packing the bathroom is easy when you are a man and a total headache when you are a woman because we all know how many products women usually have. You are probably looking for a box to put your things in, but here is a hack to save you.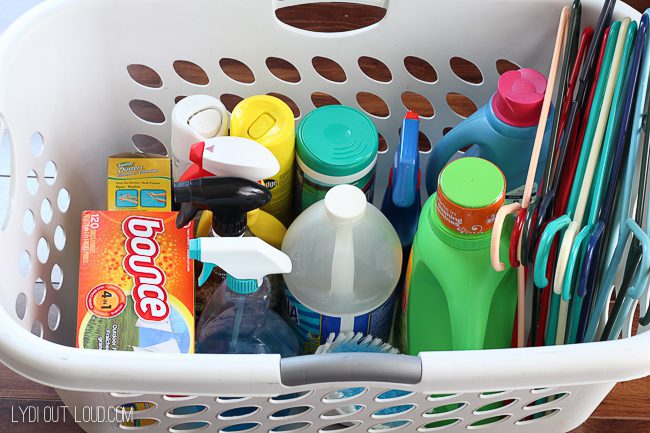 Wash those dirty clothes, empty the laundry basket, and voila! Now you have a lot of space to pack your products. On top of this, if your laundry basket is big enough, you can pack your hairdryer, flat iron, and curling iron too.
Pad your boxes
For extra protection, you would want to make sure the boxes you use are either padded with tissue, toilet paper, newspaper, or even clothes. This way, you make sure the plates, glasses, and other fragile things will remain intact.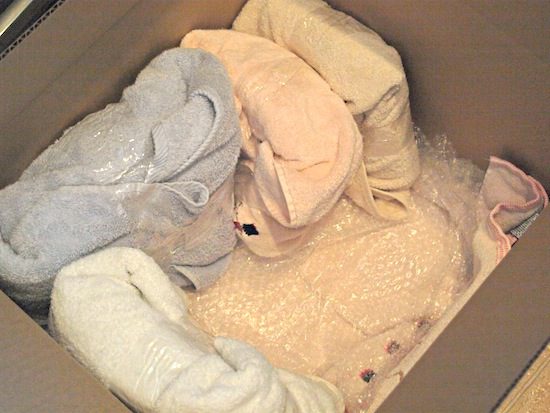 Make sure you add the padding on the bottom of the box but also on the sides, in between the objects that you pack in that box, and also on top of them right before you close the box. This significantly reduces the risk of your things breaking.
Packing food
It's moving day, and you still have some food in your fridge. It always happens like this, but there is a solution for every situation, and here is the one for this: the reusable canvas grocery bags that are collecting dust need to take action.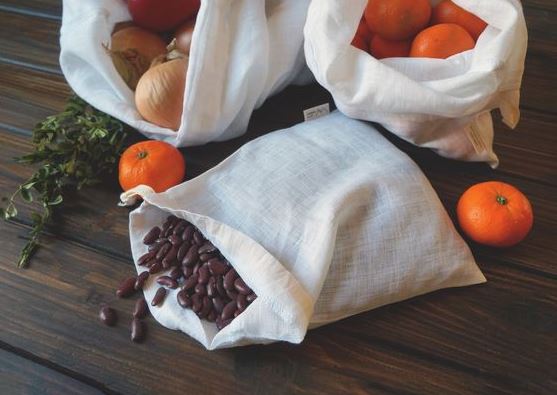 If you don't have a canvas grocery bag, the sturdy plastic one will work just as well. The only con about a plastic bag is that the food in there can sweat from the humidity, and if you leave it for too long, the food can get moldy faster.
Cooler and insulated bags
Now that the food from the fridge is all packed, it's time to attack the freezer and take everything out. This should be done several hours before the moving team arrives at your door because the fridge needs some time to defrost.
It's preferable that you equip yourself with a cooler or some insulated bags, especially if the move takes place in the summer. Keep in mind that once the meat is fully defrosted, it is not healthy to re-frost it again.
Reduce the food
It is recommended that at least one week before the move, you should try to cook and eat as much food as you can in order to empty your fridge and freezer. Try to eat more at home this time instead of eating out.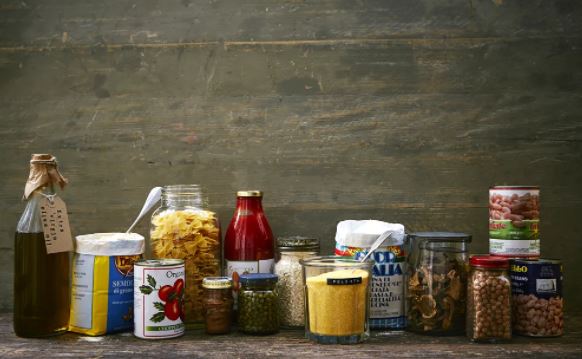 Eating the food at home will help you reduce the aliments that you will have to bring along to the new place. On top of this, your wallet will be happy, too, because we all know that eating out can be expensive sometimes.
Photos
If you have a lot of photos in frames around your house when packing, you need to make sure that all of the frames are placed vertically in the box. This way, it will take less space, and there won't be any weight on them.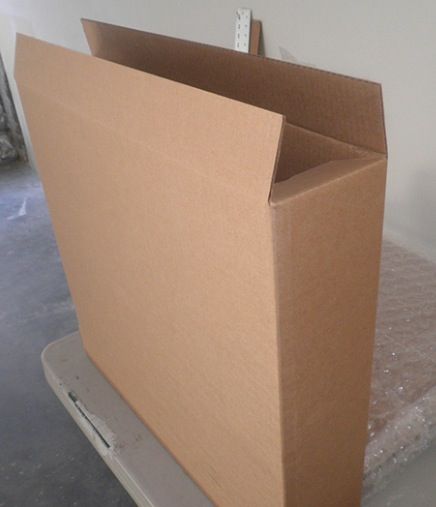 Also, you might want to consider wrapping them in cloth or plastic wrap and putting different materials in between each frame, under them, and on top of them in order to reduce movement that could potentially crack and shatter them.
Protect your mirror
This is a hack that not many know about, but we consider it to be essential when packing and moving. It turns out that if you put tape on your mirror in an X shape, it will protect it from cracking.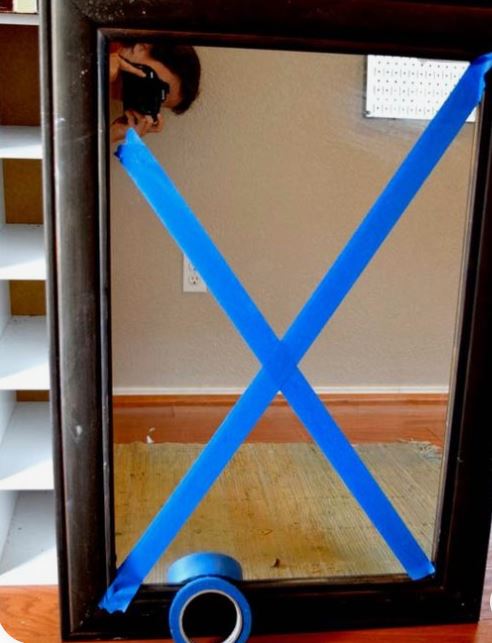 We don't know what the science behind this is, but it turns out that a lot of people do this, and it actually works as a protection shield for the mirror for them. We learn a new hack every single day.
The Christmas box
When you buy new Christmas decorations, make sure you keep the box because it turns out that it can come in handy when it comes time to move. Also, there are numerous possibilities with a box likes this, and we can think of plenty of items to pack in it.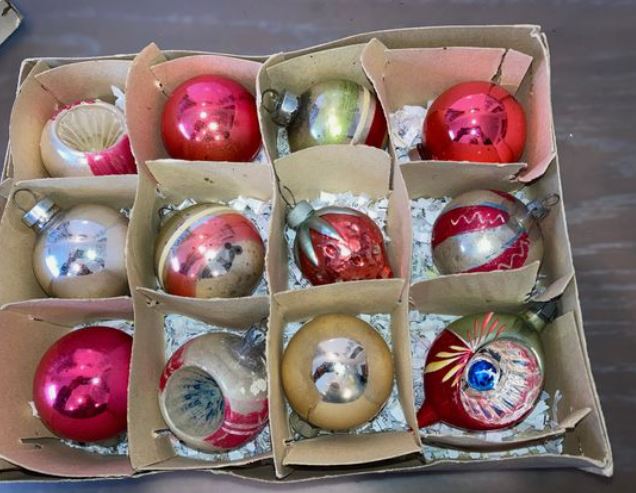 But probably the best thing to pack and the closest to Christmas ornaments are light bulbs. Pack your light bulbs in the Christmas box, and then put the box in the bottom of a bigger box so it will work as protection.
TV box
Now that your TV is all wrapped in plastic and different types of clothes, if you still have its original box, maybe you should add an extra layer of protection and place it back in it its old box to be extra safe.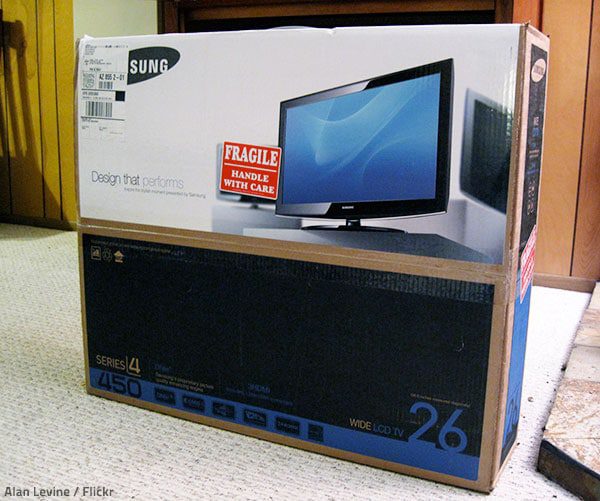 If you want everything to run smoothly, make sure to tape the box several times after putting your TV in. With all these layers of protection, we guarantee that your TV will arrive safe and sound in the new place.
Don't throw it away
If you know you are moving soon, make sure you start saving the toilet paper rolls and paper towel rolls because it turns out that they are an amazing way to store different kinds of cables. Have a look at the picture below!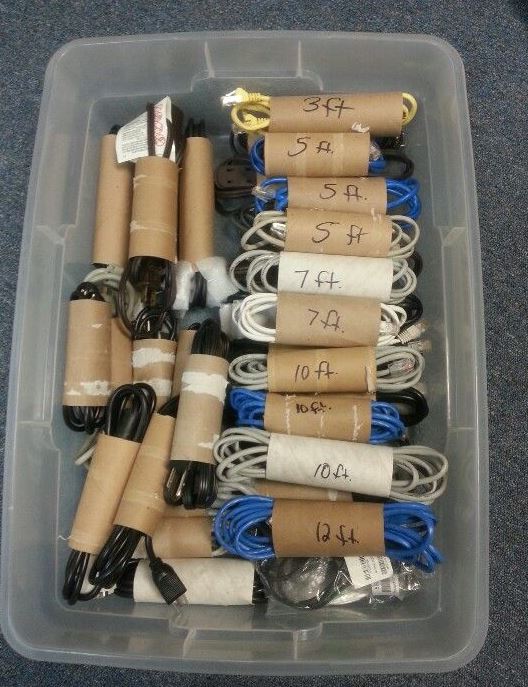 By using rolls when you pack your cables, you can make sure that the cables won't get tangled during transportation. On top of this, you can write different info on the rolls about the cables, like, for example, which one is for which purpose.
Heavy down, light up
There are many unwritten rules when it comes to packing, but one of the most important ones is: for a more effective job, the heavy objects should be placed at the bottom of the box and the light ones, such as towels, rags, and paper rolls on top.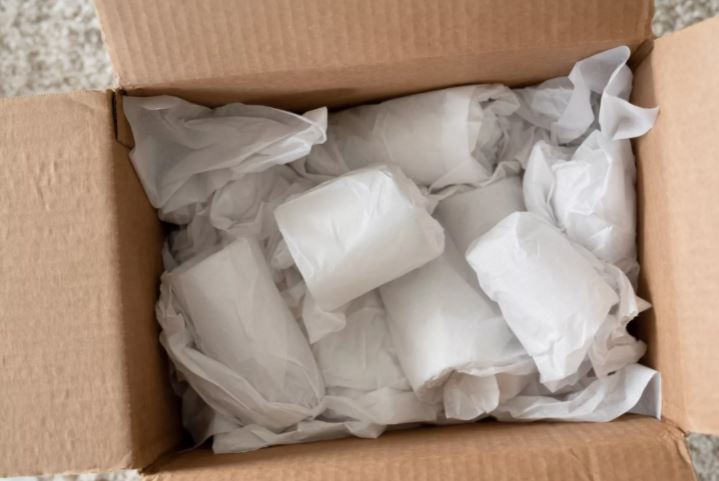 Packing your boxes like this will give them some stability while being transported and some extra protection on top of it. Moving does not only require a lot of patience but also physics too. This is exactly why moving from one house to another is stressful.
Pool noodles
Are you moving soon and trying to figure out how to protect your glass dining table? Those pool noodles your kid used last summer while learning how to swim will definitely come in handy for this one. Now, get a cutter and follow these three steps.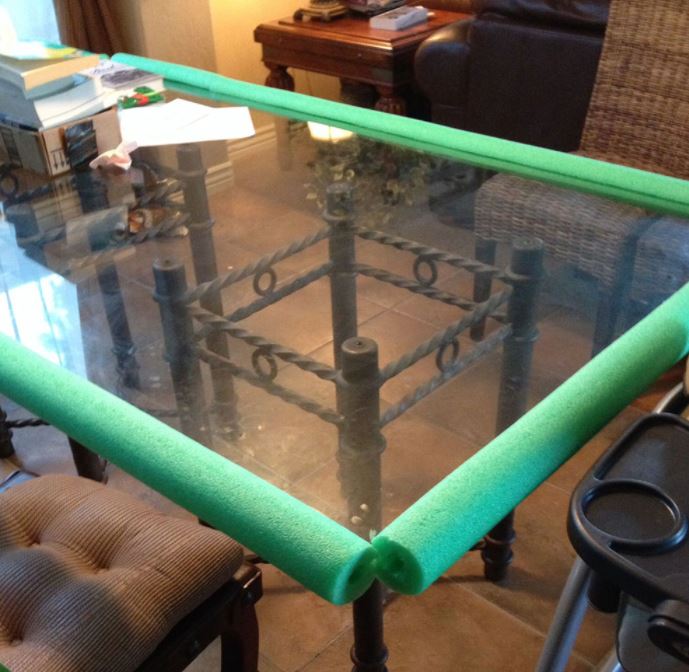 Step one: get the pool noodle. Step two: cut it. Step three: place it at the edge of your kitchen table. Now that you put all the noodles around it, your glass table is ready to safely "float" her way to the new house.
Vacuum seal bags
Whoever invented these bags was nothing but a genius, and there are not enough words to thank them for this game-changer. A vacuum bag can literally make a huge duvet shrink enough to fit in a regular size box.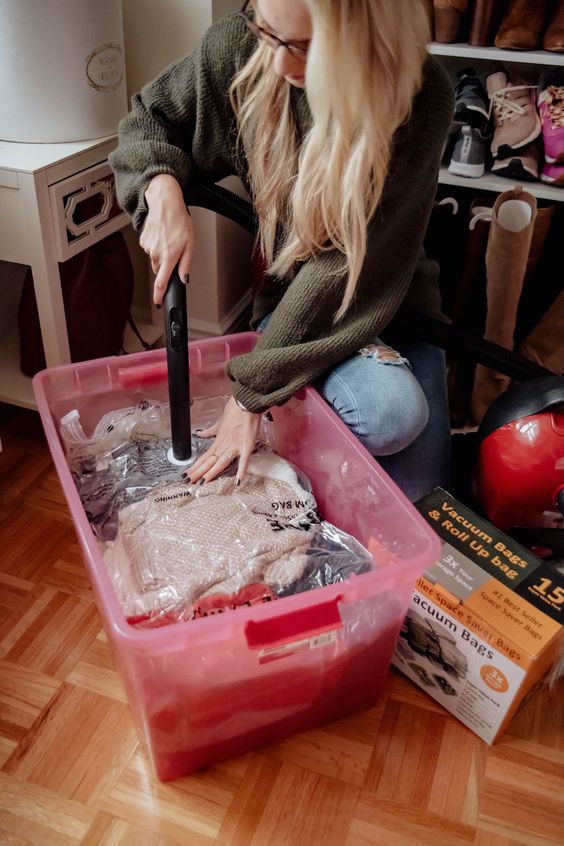 If you have a lot of pillows, blankets, bedsheets, and even duvets or clothes, you need to run to the shop and get yourself prepared for the move with some vacuum seal bags. You can thank us later!
Padded envelopes
We all have some pictures that didn't have any space in the photo album that was left out or perhaps put in frames. For this, we have a solution for moving day: padded envelopes. They are easy, cheap, and the best place to keep the photos.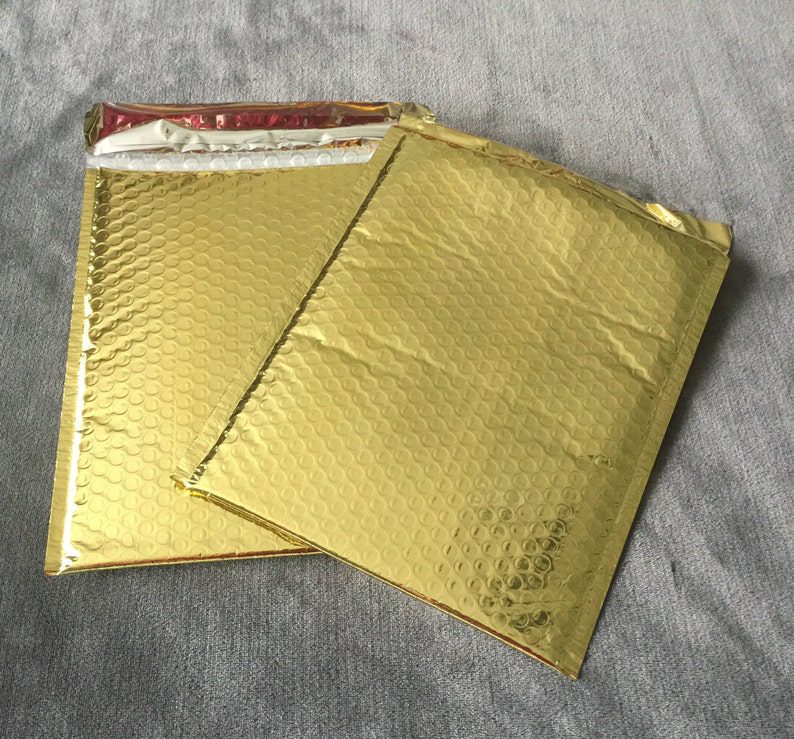 Pack your left-out photos by putting them into a padded envelope that you can find at any post office. These will help protect the photos from crinkling, bending, and any other eventual damage. We bet that's a hack you haven't thought about.
Moving the furniture
Moving heavy furniture is a difficult task. You want to make sure that when moving the given piece, you don't do any damage to both the furniture and the floors, too. Here is another hack to make your life easier on moving day.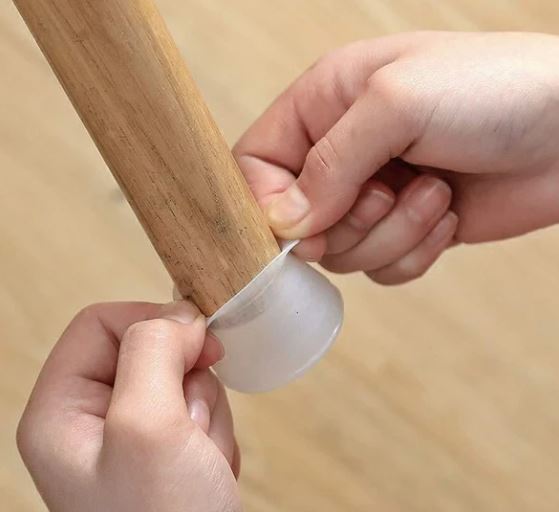 Place paper towels or pieces of cloth under the legs of the furniture. This way, you will protect your floors from scratches, and your furniture from eventual damage and make the process of moving the furniture around way easier and stress-free.
Labels and colors
Now that your whole house is packed, you will need to get some big labels or some markers of different colors and start writing and coloring in the same color the boxes that contain things from the same room.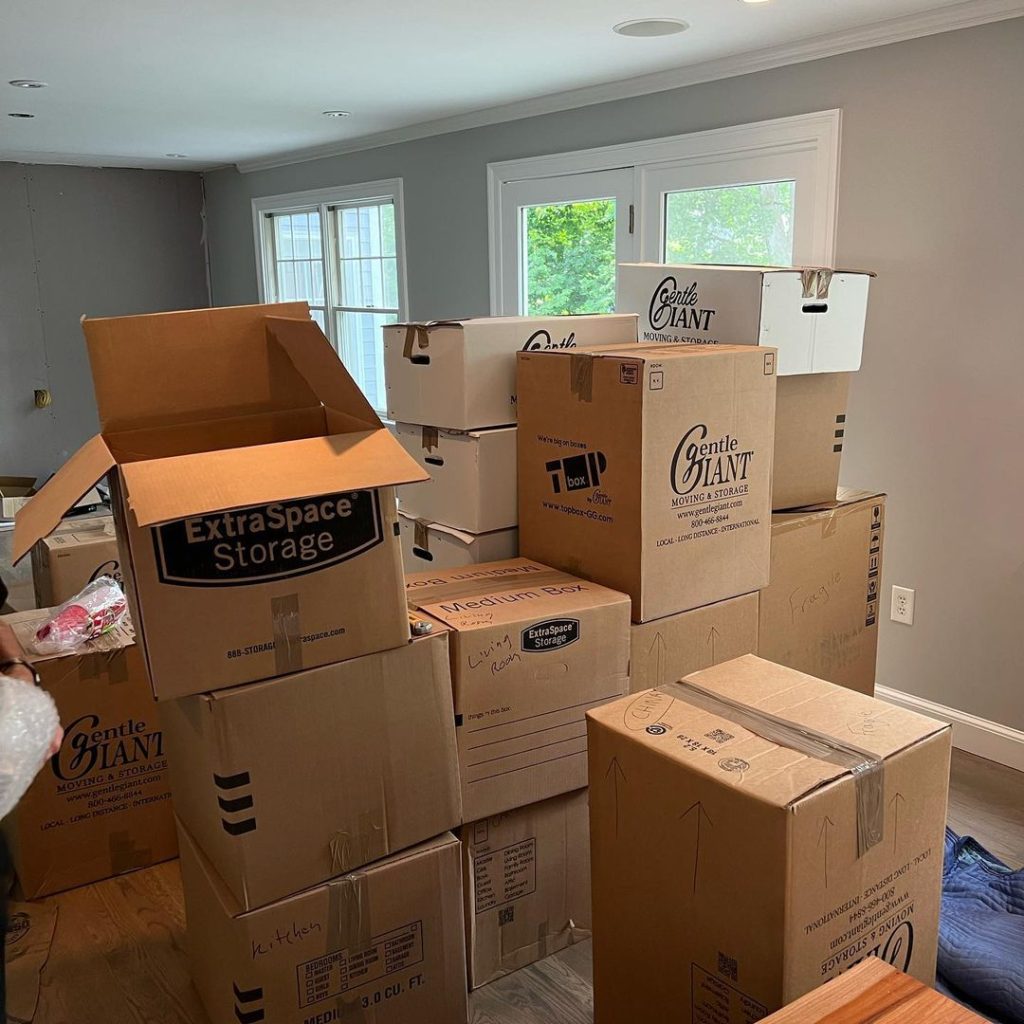 This way, you or the moving team will know where to place each box in the new place. This little hack will make your day a bit easier than it usually is. Trust us. This will save you so much time rather than guessing what's in them.
Labels
If you can not find the markers but your labels are right there, and you can use them, here is another task you might want to consider doing. Stick the labels on the side, preferably on the top corner of your boxes.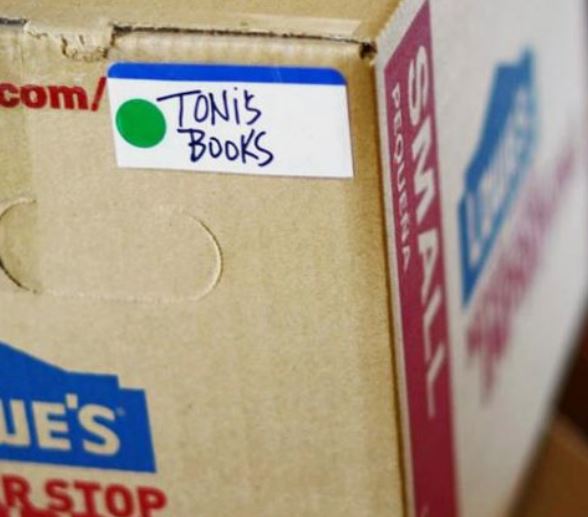 This way, the labels will be more visible when the boxes will all be stacked. Who knew a little trick like this could make a big difference when it comes to organizing and making your moving day easier. It's the little things that bring great changes, right?
Similar boxes
This one might not be accessible to many, but it is recommended that you get boxes that are the same size and preferably not that big, so moving them around will be easy. The bigger they are, the more pair of hands you will need to lift them.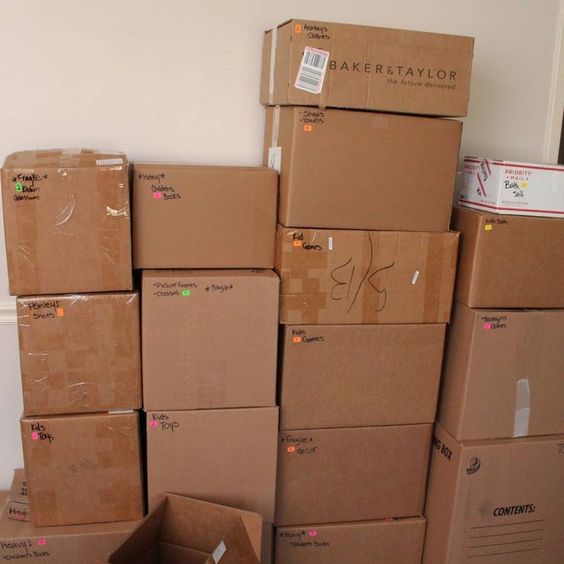 If they are small, they are more manageable and can be easily carried by the people who will help you move. On top of this, it is easier to stack small boxes on top of each other than it is to stack big ones.
Cut holes
Here is a hack that we consider vital for when you move to a new place. When you prepare the boxes for the move, make sure you cut two holes on the side of each box. The holes should be big enough for a hand to fit in.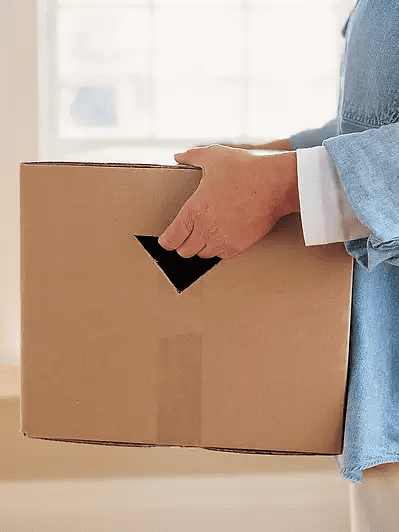 It may not seem like a big deal, but the two handles will make moving day way easier. Not to mention that if your boxes have handles, this reduces the chances of your boxes being dropped while being carried significantly.
Essential box
You will need an essential box containing all the things you will use on the day of the move. You can put clothes, bedsheets, toothbrushes, a hairdryer, towels, and even food in it. But make sure you wrap the food several times.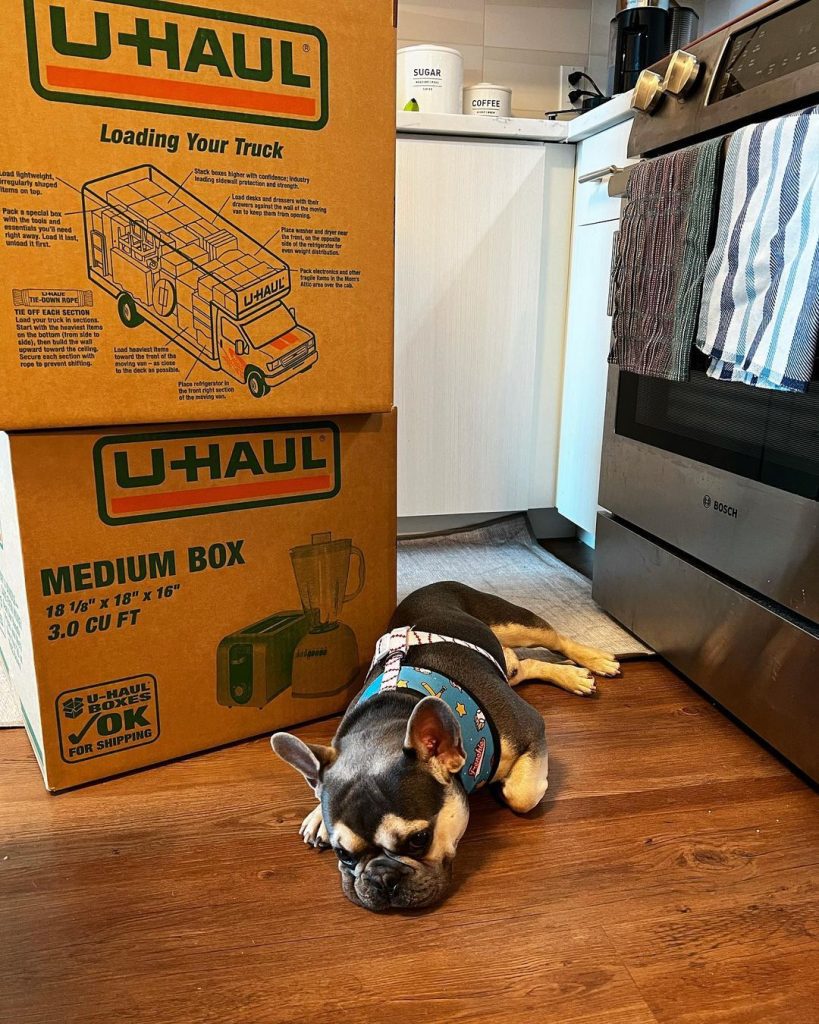 Normally a "first-night" box should not be big, but if you have kids, prepare yourself with a box big enough to fit everything needed by your family plus a couple of your kid's toys and books, too. Always think ahead.
Shoes
When moving, it is essential to pay attention to how you're packing your belongings. This also includes filling up every little space you have left in your boxes, furniture, and even all of your pairs of shoes. They can be great items for storage.
It sounds crazy, but if you think about it, a lot of space is wasted if you don't pack some of the small stuff in your shoes. And, if you don't know what could fit in there, here is an example: small trinkets, jewelry, or random small objects.
The weekend bag
After moving, on average, a person needs about a week to unpack the boxes and make a home out of the new place. You might have the essential box there with some clothes for the day, but you need one more thing.
You will need a weekend bag that contains clothes and shoes that you will wear during that week. The clothes should be comfortable because even if all the boxes are inside, you will still have to move them around the place.
Room by room
Now that all the boxes are in there and the moving team left, you will probably get overwhelmed by seeing all the boxes and all the untidiness of the new place. This is normal. Now, take a break and make a plan.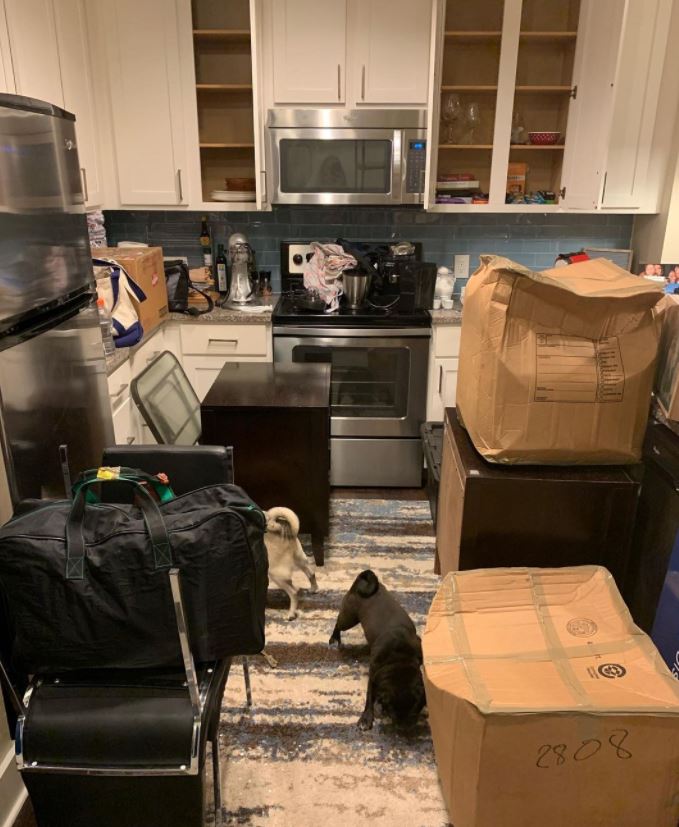 Some start with the bathroom and kitchen and end up with the bedroom and the living room. No matter the order, just make sure you unpack depending on your needs. For example, if it's already late, unpack the bedroom and the bathroom.
Inventory
Before the moving team arrives, make sure you write on a piece of paper the number of boxes that you have. This way, you will reduce the chances of your boxes being lost. Also, writing on them and numbering them is a great idea, too.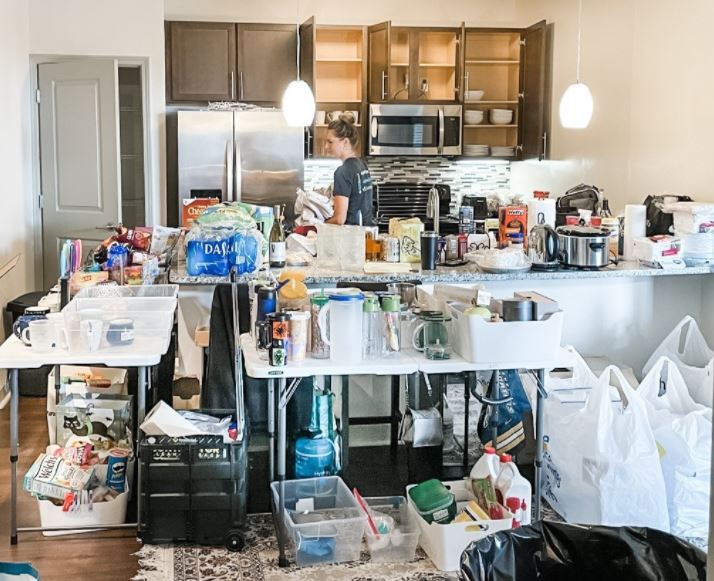 And for those who need to have everything under control, making an inventory paper of what each box contains is a good idea too. This will make unpacking easier. Just tape the inventory paper on top, inside of the box.
Safe
It's safe to admit that moving day is messy. There is a lot of dust, dirt, spills, and leakage involved. This gives you chills just thinking about how your important documents could seriously be damaged during this day, right?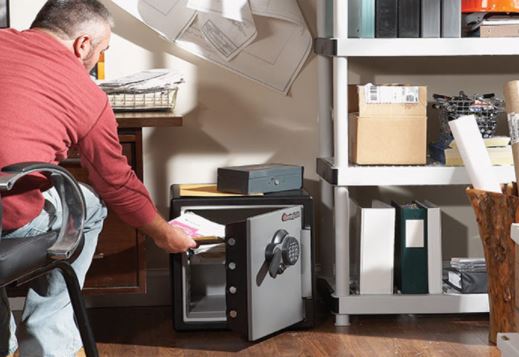 In order to avoid this, you might want to consider buying a safe big enough to stack all your important docs in it. If a safe is not on your list of things to buy, just buy a plastic box and make sure to wrap all your docs in plastic wrap.