Squeaky Clean: 40 Bathroom Hacks To Try During The Next Saturday Scrubdown
By Navkiran K October 4, 2022
---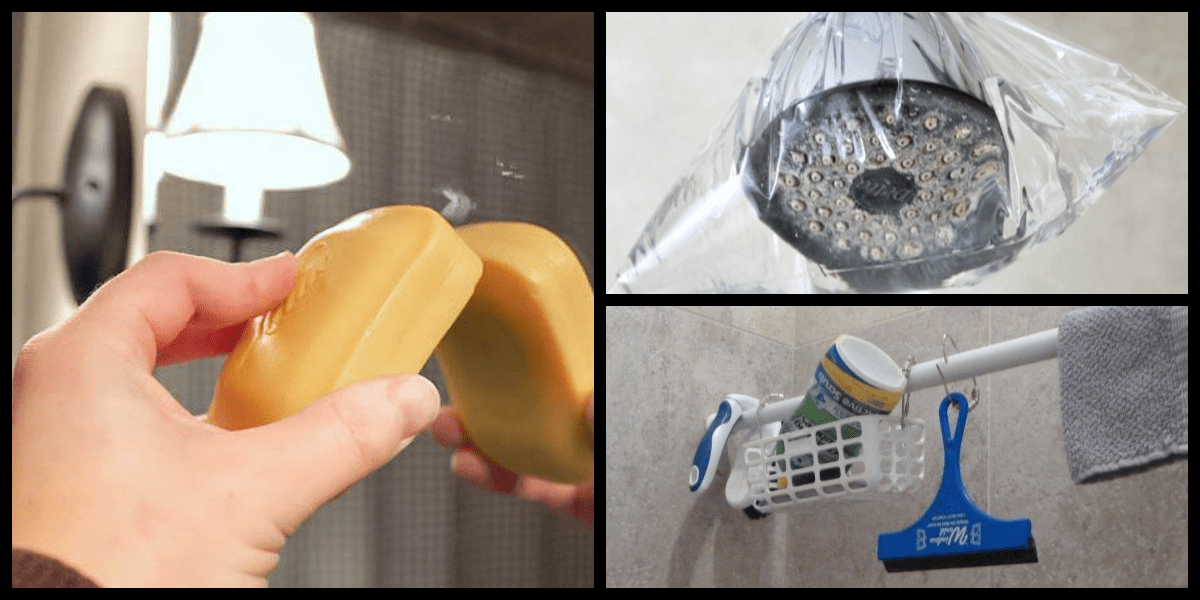 For most of us, the bathroom is usually the place we worry about keeping clean and organized in our homes. Much to our happiness, there are some uncomplicated strategies you may use to make it look its best.
We all know the feeling of constantly needing to keep our bathroom clean and smelling fresh. It can turn into an endless cycle unless you have some practical hacks. You may need to take control of your space, from decluttering the counters and adding fresh touches to keeping the toilet area clean.
There's no need to panic if your bathroom isn't sparkling clean all the time. That's pretty normal. But with these simple bathroom hacks, you can make it look neat and organized in no time!
1. Sharpen razor blades
You can sharpen your razor by cleaning it on an old pair of jeans. The denim will help remove any build-up or debris that might be causing the blade to become dull. Also, it's a great way to recycle those old jeans that you're no longer wearing.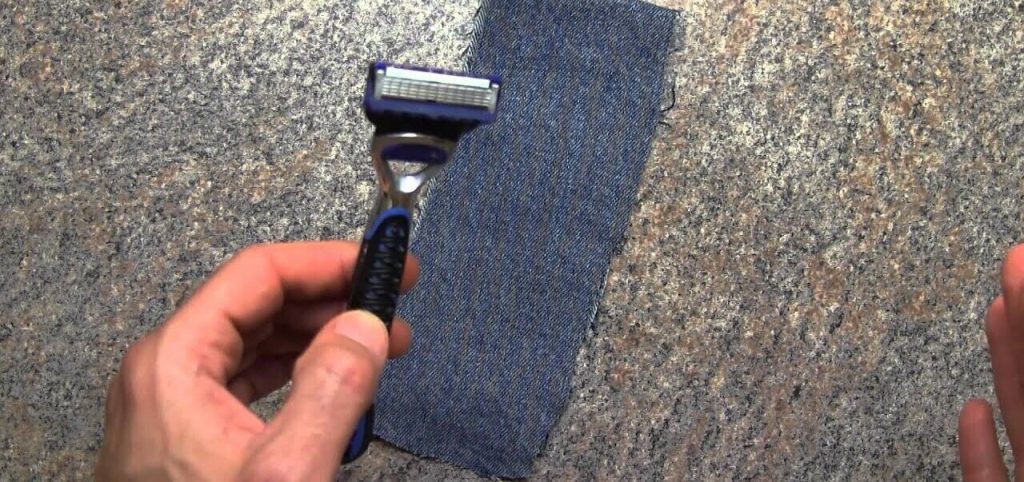 You may do some helpful things to make your razor sharper and appropriate for reuse. One is to make sure you're using sharp blades in the first place. Get new ones if your blades are starting to get dull. Finally, store your razor blades in a dry place and avoid exposing them to moisture.
2. DIY air freshener
There are a few options to make a DIY air freshener for your bathroom: baking soda and essential oil. Mix baking soda and your desired essential oil in a small bowl. Then, put the mixture into a spice jar or other container with a lid, and shake well before each use.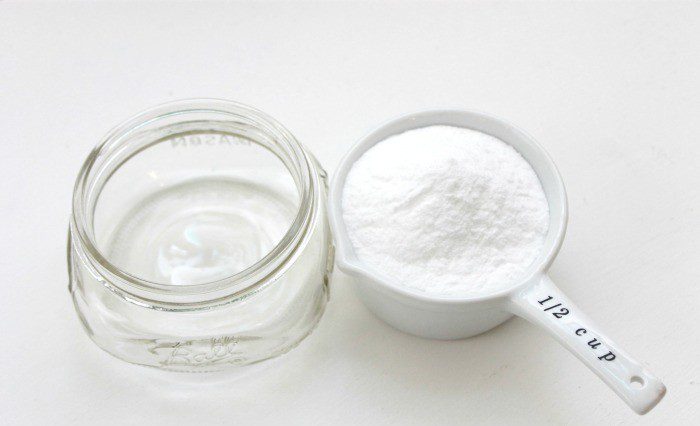 Another way is to mix a few drops of your chosen essential oil with a cup of baking soda, mix them, and store them in an airtight container. Sprinkle some of the mixtures onto your toilet brush and scrub around the bowl before flushing. Neutralize any unpleasant smells.
3. Towel to the bathmat
It's not a bad idea to use a bathmat in the bathroom. Not only does it help keep your floor clean, but it can also provide some extra cushioning if you slip and fall. Towels are typically thicker and more absorbent than bathmats, which makes them better at trapping moisture and preventing accidents.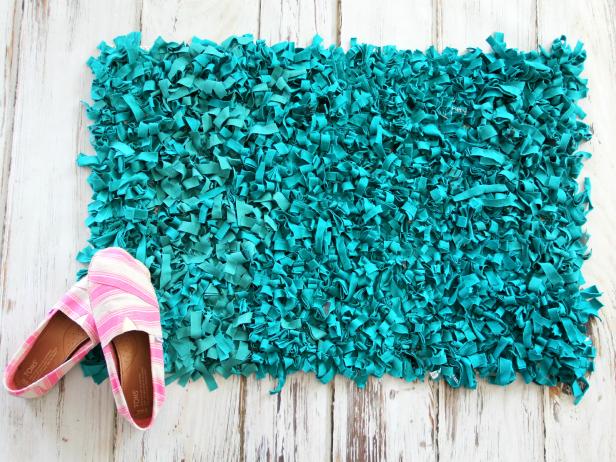 Cut the towel into strips and tie them to a bathmat-size mesh. Your DIY upcycled bathmat is ready. Also, they're cheaper and take up less space than bathmats do. So if you're looking for a cost-effective and space-saving option, go with a towel bathmat DIY instead.
4. Toothpaste dispensing hack
Toothpaste in a pump bottle is an excellent idea. It's so much easier to dispense, and there's no messy toothpaste residue on the side of the tube. Plus, it's great for traveling – no more worrying about bringing a tube of toothpaste and accidentally squeezing out too much in your luggage.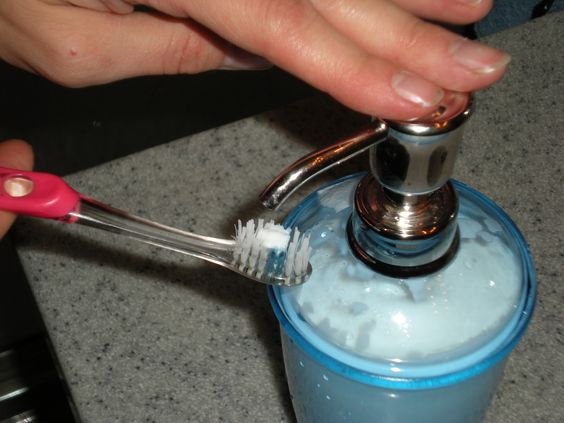 This hack also works well if you have kids who always leave toothpaste marks on the mirror or counters, leaving a sticky mess. Moreover, the pump quickly dispenses the toothpaste, a time saver when getting ready in a hurry in the morning.
5. Install a toothbrush holder
There's nothing worse than a cluttered bathroom, especially when it comes to the countertop. Toothbrush holders are a great way to declutter your washroom and keep things tidy. Also, they're available in various styles and colors so that you can find the perfect one for your décor. Installing a toothbrush holder is easy.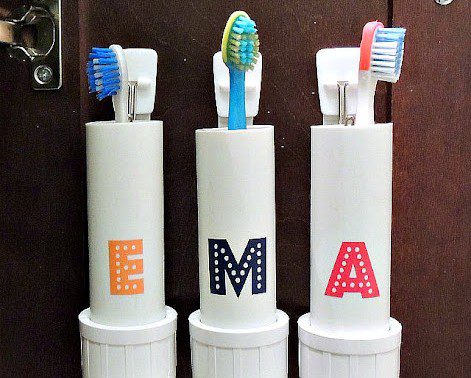 Find a spot on the counter that's easily accessible and fits the holder, then use the included screws or adhesive to attach it. Be sure to clean the wall before attaching the holder to make sure it sticks properly. And that's it – you're done! Now your bathroom is clutter free and looks great too.
6. Fun shower curtain
If you're on the hunt for a way to add personality to your bathroom, consider upgrading your shower curtain by painting a quirky quote. Not only will this add some fun character to the room, but it can also be a great conversation starter. Also, it'll make you smile every time you take a shower.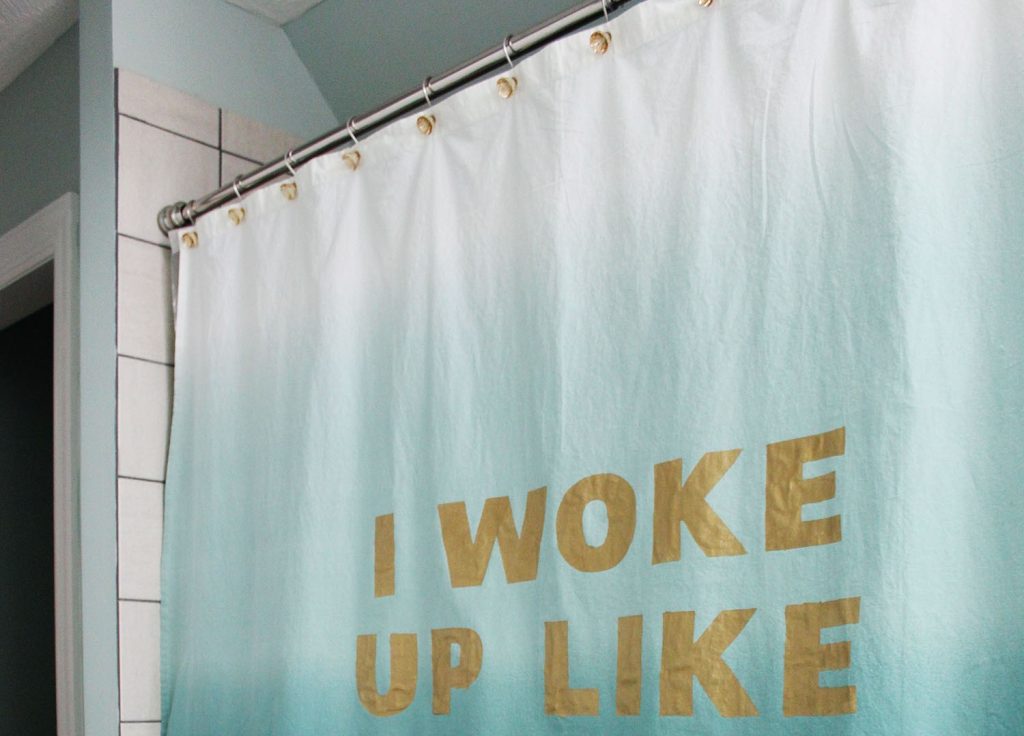 To start, choose a quote that speaks to you, and then use stencils or freehand painting to create the lettering. If you're unsure about your artistic skills, practice on paper or cloth first. And if you want to make a statement, go bold with bright colors or interesting patterns.
7. Wooden bathtub tray
This is a fantastic project if you're trying to find a way to upgrade your bathroom without disbursing a lot. It's incredibly useful, adds a touch of elegance, and can be customized to conform to your existing decoration. Grab a piece of wood at least 24″ x 36″ in size for the tray DIY.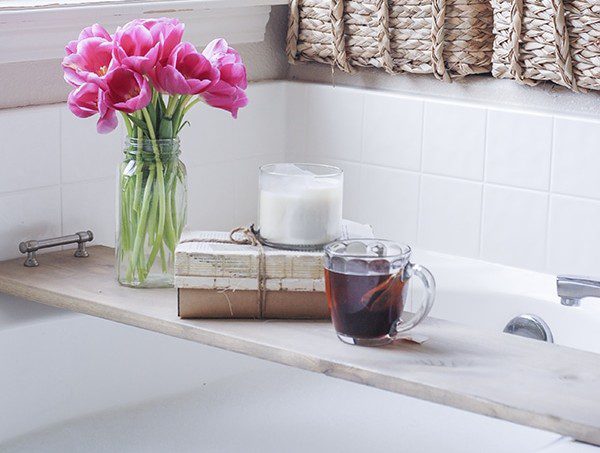 Grab a saw or carving tools (depending on the wood you choose, sandpaper, and stain or paint. The best element of this assignment is that it can be adapted to your exact requirements. You can choose the dimensions and design of your tray, and you can even add handles for extra functionality.
8. Storage bottles
Sprucing up your bathroom vanity with minimal effort by transferring your shampoo and conditioner to storage jars is a great option. Not only will it free up some much-needed counter space, but it'll also give your bathroom a sleek, modern look. You may repurpose old coffee bottles.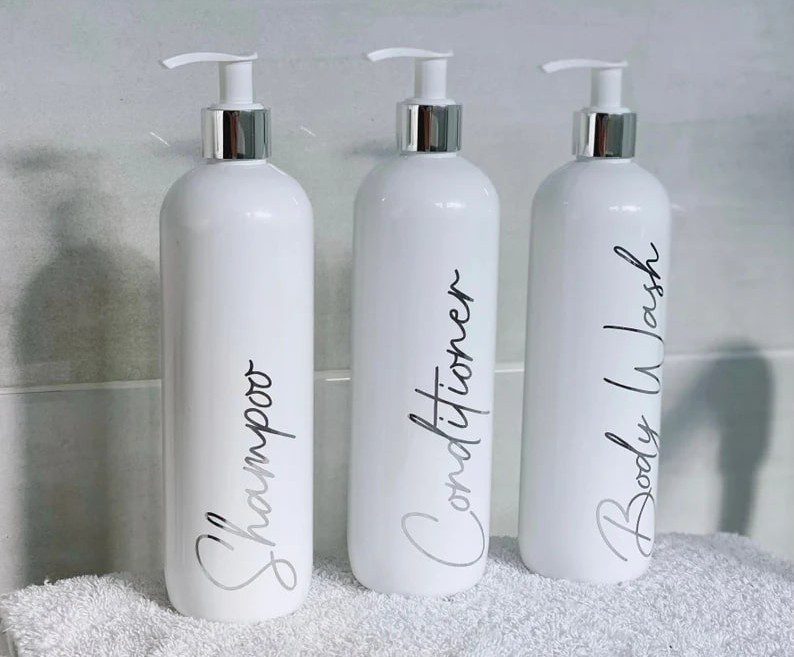 Besides, glass storage jars can be found at most stores or even online. So regardless if you have a lot of products or just a few, you'll find a jar that'll suit your needs. And if you're feeling crafty, you may even decorate the jars with stickers or paint to match your décor.
9. Easy jar organizer
If you're looking for an easy way to organize your bathroom and remove some of the clutter, try using a jar organizer. They're truly versatile and can be used to store everything from makeup to toiletries. Also, they're easy to install and take up very little counter space.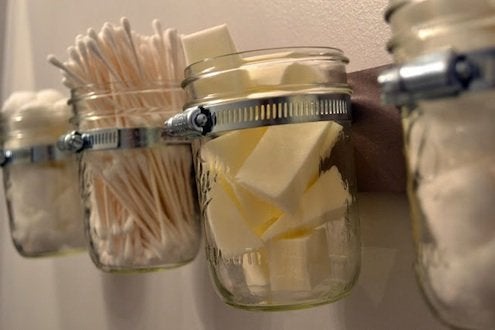 Accessible items will save you time every day. You may also install small mason jars on the wall if you have less counter space. Remember, organizing doesn't have to be complicated – with a bit of creativity, you can easily create storage solutions that work for you.
10. DIY window cabinet
There are a few ways to turn a window into a cabinet. Simply attach the window to the wall with brackets and then add a cabinet door on top. You could cut the window in half (or into multiple sections), hinge it open like a cabinet door, and then add a backsplash and shelves.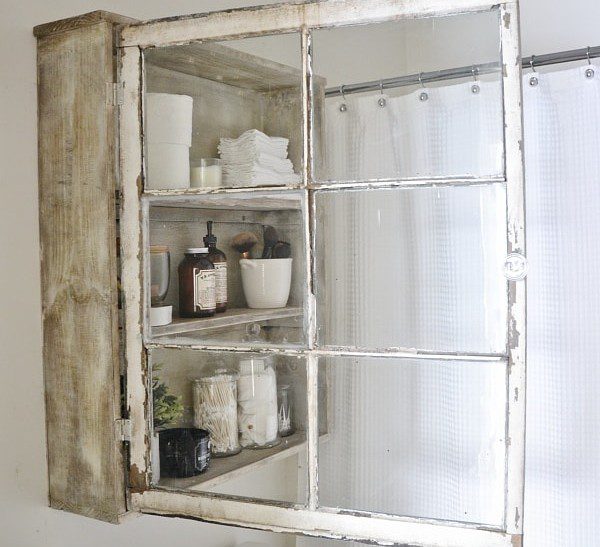 If you're comfortable using tools and have some carpentry skills, you could remove the window panes, frame the opening with new wood, and then add a cabinet that slides in from either side or the top. This would give you more storage space inside the cabinet.
11. Accessible glass top vanity
You likely have your reasons why you might want to get an accessible glass-top vanity. For one, it can be helpful to see what's inside your vanity without having to open the door. It'll be pretty easy to find what you want, right?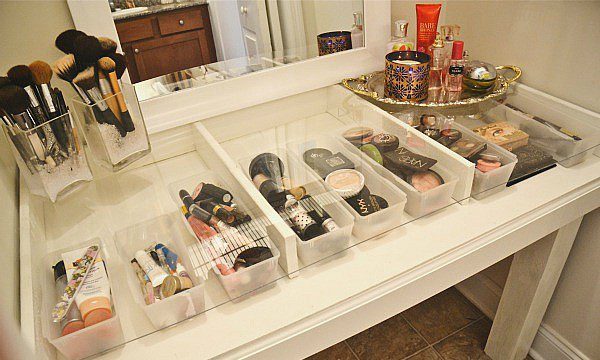 Moreover, it may help you track how much space you have left in your vanity. Another reason why an accessible glass top vanity can be helpful is if you have many items you like to keep organized. Finally, you can display your beauty products while staying organized.
12. Fog-free mirror
There's debate on this subject, but the consensus is that using soap to clean your bathroom mirror may help to prevent it from fogging up. The reason is that soap contains surfactants, that is, particles that both hate and love water at the same time.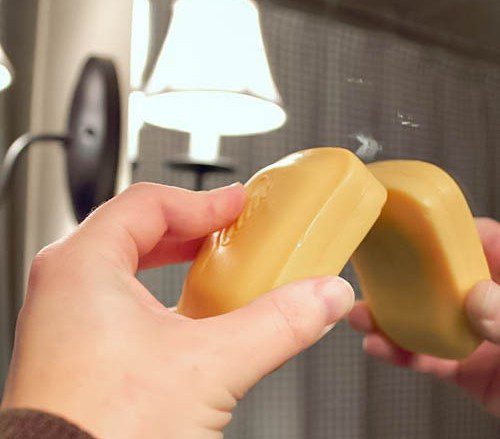 When you clean your mirror with soap, the surfactants attach to the dirt and grease on the mirror's surface and break them down into smaller molecules. This also prevents the water droplet from sticking to the mirror, leaving a streak-free and shiny surface. You'll have cleaner mirrors for longer.
13. Cover linoleum floors
Splash some fun paint designs on your old linoleum floors to add a bit of life and personality to your bathroom. Make your bathroom look more stylish while hiding any blemishes or imperfections in the flooring. If you're unsure how to start, learn how to prime and paint at home.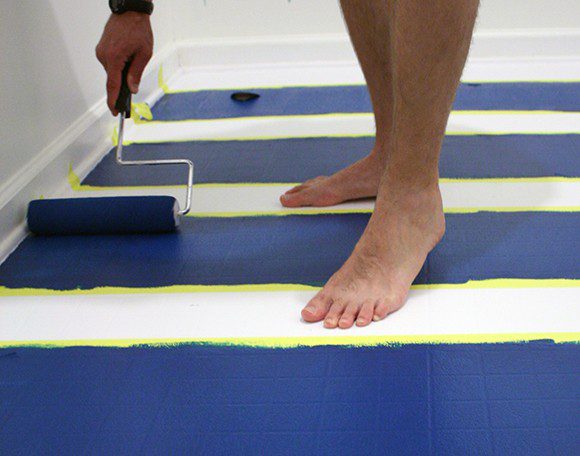 Choose a bold and bright color palette that will pop against the white walls of your bathroom. Try using contrasting colors to create geometric designs or patterns on the floor. For example, use dark blue against light yellow. If you wish to keep things simple, stick with one primary color and use different tones.
14. Hooded Towels
Hooded towels seem like the perfect way to maintain your infant warm and comfy after a bath. They're also great for keeping them cozy on chilly days. You can use any fabric you like – terry cloth is nice and absorbent, while cotton is lightweight and perfect for summer.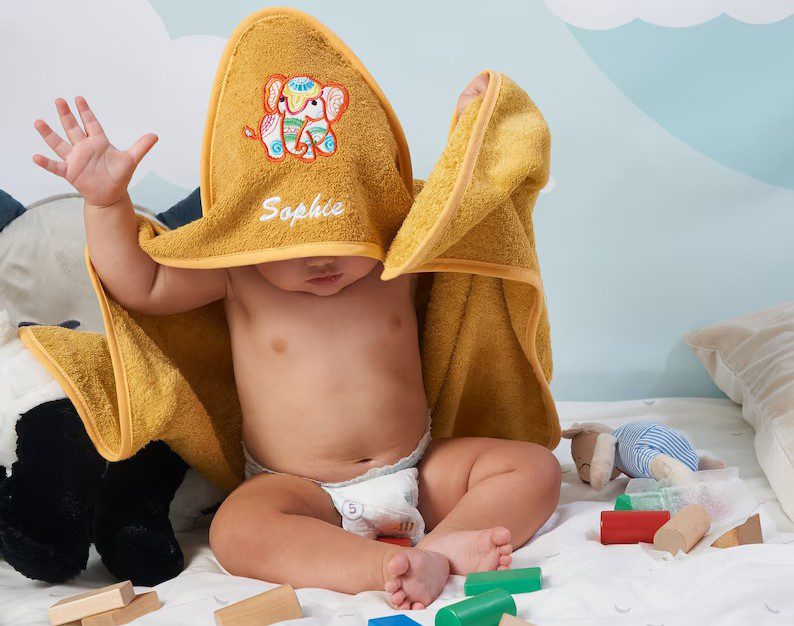 Cut a piece of cloth that's approximately two feet by four feet. Tuck the fabric in half so it is now 4ft x 2ft. Sew along the three openings, and don't forget to leave a hole large enough for your baby's head.
15. Cola toilet cleaner
You may use Coca-Cola as a toilet cleaner. It's a terrific way to clear challenging stains and leave your toilet looking shiny and new. Pour some Coke into the toilet bowl, wait about 15 minutes, and then flush. The liquid will break down the dirt, making it easy to wipe away.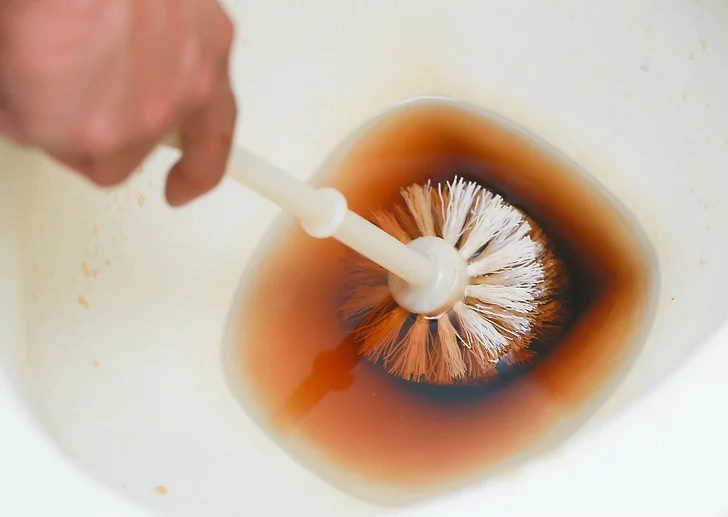 Moreover, it will remove the stains as the acid in the cola will break them down. Plus, the bubbles help to dislodge any built-up gunk. You may not always use this; however, it works like a charm in case you run out of chemical cleaners.
16. Clean the drains
Your drains may be full of hair and other grime. Baking soda and vinegar are two useful products that may be used to clean drains in the bathroom. Baking soda is an excellent degreaser; white vinegar is a powerful acid that can break down built-up grime and dirt.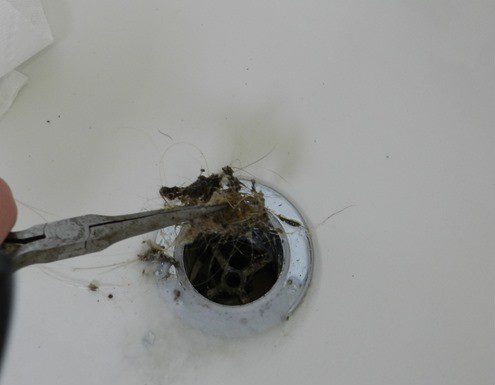 To clean the drains using these ingredients, pour half a cup of the powder down the drain and around one or two cups of the liquid. Cover the drain with a lid or plug it with a rag, and let the mixture work its magic for half an hour. Rinse with hot water afterward.
17. Mason jar soap dispenser
It's easy enough to make a mason jar soap dispenser. Remove the lid from a mason jar and drill a hole in it. Wash the mason jar and patch it totally. Apply a thin paste of silicone sealant around the mouth of the mason jar. This will create a waterproof seal and contain leaks.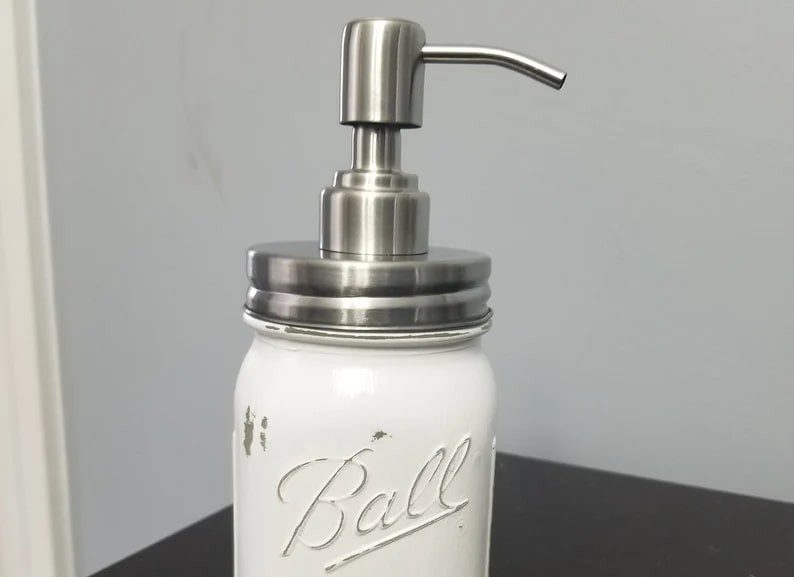 Cut a piece of plastic pipe to fit snugly inside the Mason jar. The pipe should be long enough to sit below the liquid level in the soap dispenser. Fit the tube through the opening in the top and use the pump dispenser over it.
18. Easy shower head cleaning
Clean your shower head without having to remove it from the wall! Grab a Ziploc bag and white vinegar. Fill up a Ziploc bag with white vinegar. Make sure it's sealed tight. Place the bag just like you see in the picture and wrap a rubber band or hair tie around it.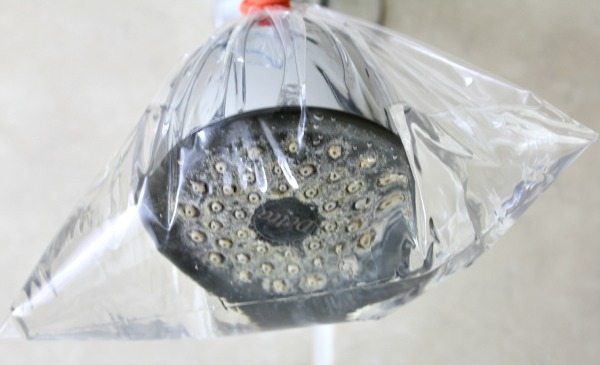 Let the vinegar stay for an hour or two (or longer if needed). Rinse off the shower head and enjoy the clean water. You can utilize a brush to get rid of any built-up gunk if the shower head is dirty. After cleaning, the water pressure will also improve.
19. Dresser vanity
Turning an old dresser into a valuable vanity for the bathroom is fun to recycle an old piece of furniture and give your bathroom a customized look. Gauge the area where you wish to set the vanity and determine the size. Remove all of the drawers and hardware from the dresser.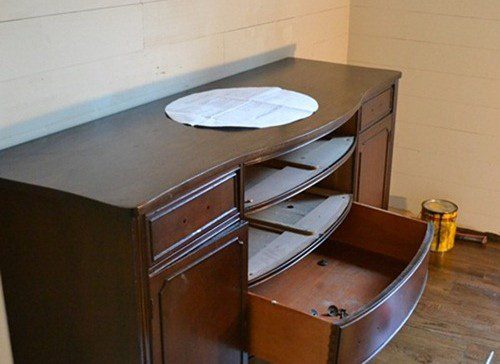 Sand down any rough edges or wood splinters. Paint or stain the dresser to go with the colors of your restroom. Replace the drawers with new vanity doors, available at most stores. Install a new sink and mirror on the top to make it functional.
20. Tin can towel storage
This is a fun, creative way to add some character and storage to your bathroom. You could use any type of can, from a small tuna may to a large coffee can. Just make sure the cans are clean and dry before you start painting.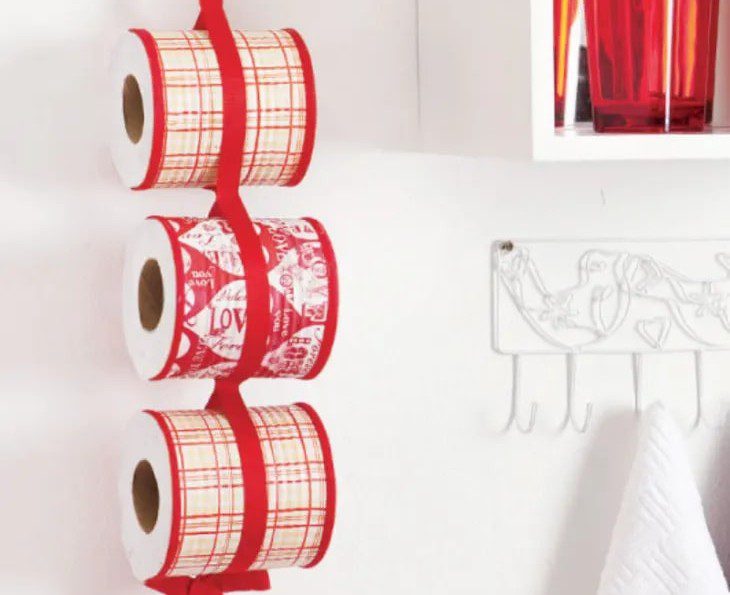 First, choose your design. You could use a simple stripe or checkerboard pattern or get more creative with designs like flowers or animals. Once you've decided on a design, use spray paint or acrylic paint to paint it on the cans, and let them dry before moving on to storing towels in them.
21. Spa-like shower floor
An excellent way to add a spa-like feel to your shower. Adding small pebbles to your shower floor creates a gentle massage as you step on them with your feet. It's a marvelous manner to unwind after a long day, but it's also easy to do.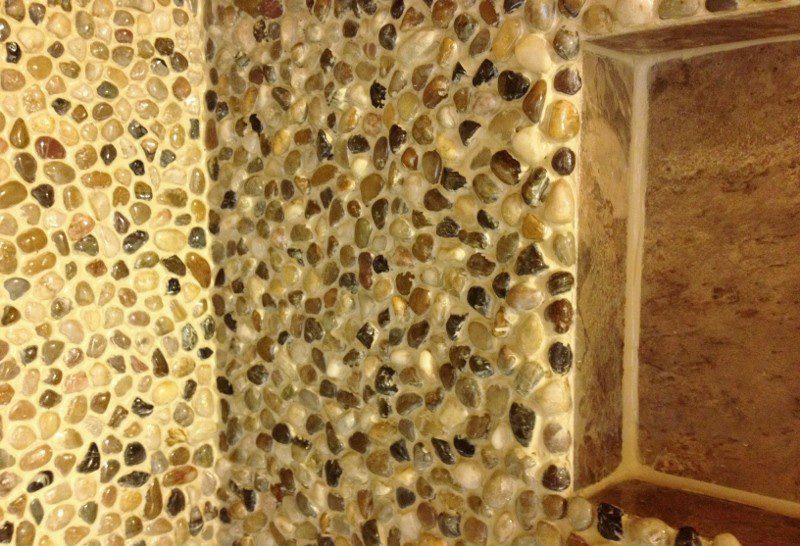 This is a simple upgrade without spending a lot of money. Small pebbles can be purchased relatively cheaply at any physical or online shop and are uncomplicated to install. Make sure you use a sealant or adhesive to keep them in place.
22. Eucalyptus aroma therapy
There are a few different ways to enjoy the benefits of eucalyptus oil. One method includes adding a couple of drops of the liquid into a hot bath. Another is to add it to a steam inhaler. You may hang eucalyptus leaves over the shower head to release the aroma and enjoy the therapeutic effects.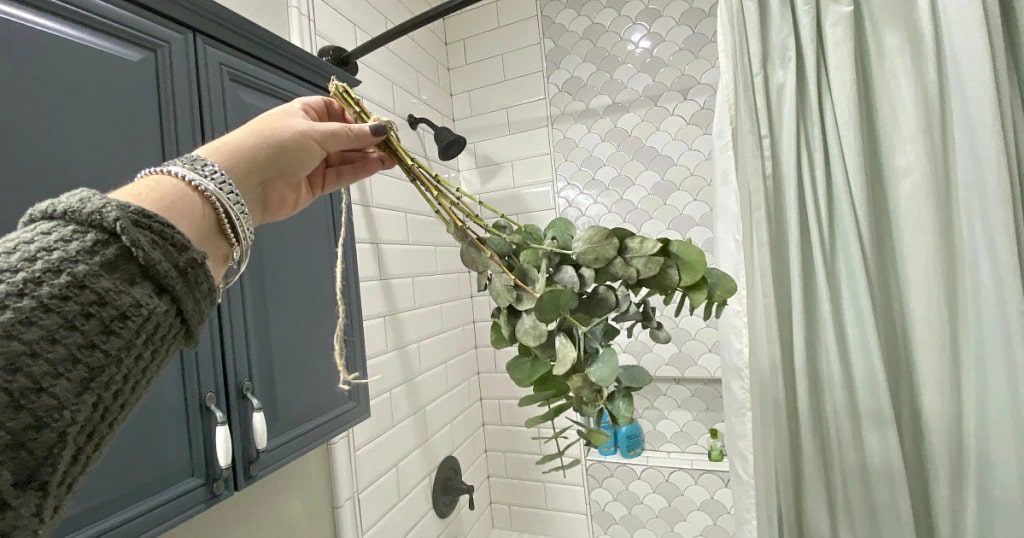 The refreshing smell of eucalyptus can help clear your head and relieve congestion, while the oil's therapeutic properties can help reduce pain and inflammation. So, give this aromatherapy treatment a try if you're feeling congested or have a headache. You'll have a spa experience at home.
23. Modern DIY vanity
When it's about vanities, there are a few things to consider. First, decide on the size of vanity that you want. There are a bunch of options, so take your time finding something that suits your needs and style. Once you've settled on size and shape, think about the materials.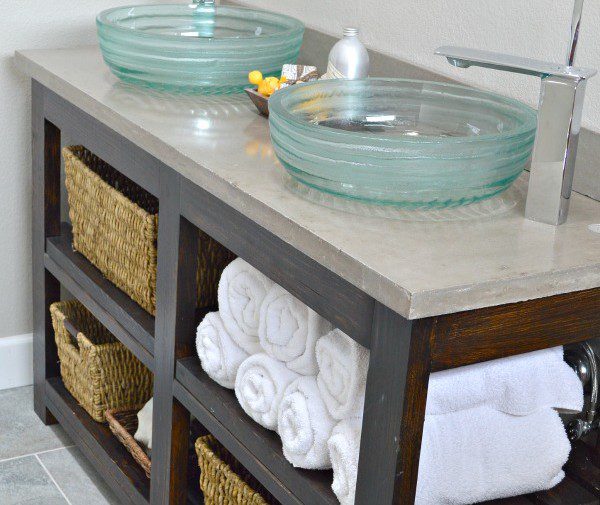 A wooden vanity can give your bathroom a traditional look, while a glass or metal vanity can create a more modern feel. Finally, don't forget about the details! Drawer pulls, cabinet knobs, and even the countertop can add personality to your vanity. Have fun with it, and enjoy creating the perfect space.
24. Additional shower rod for storage
This is for people who need more storage in their bathroom but don't want to clutter up the countertop with bottles of shampoo, soap, and other products. With an additional shower rod, you can hang up towels, robes, and other items that usually take up space on the floor or in the cabinet.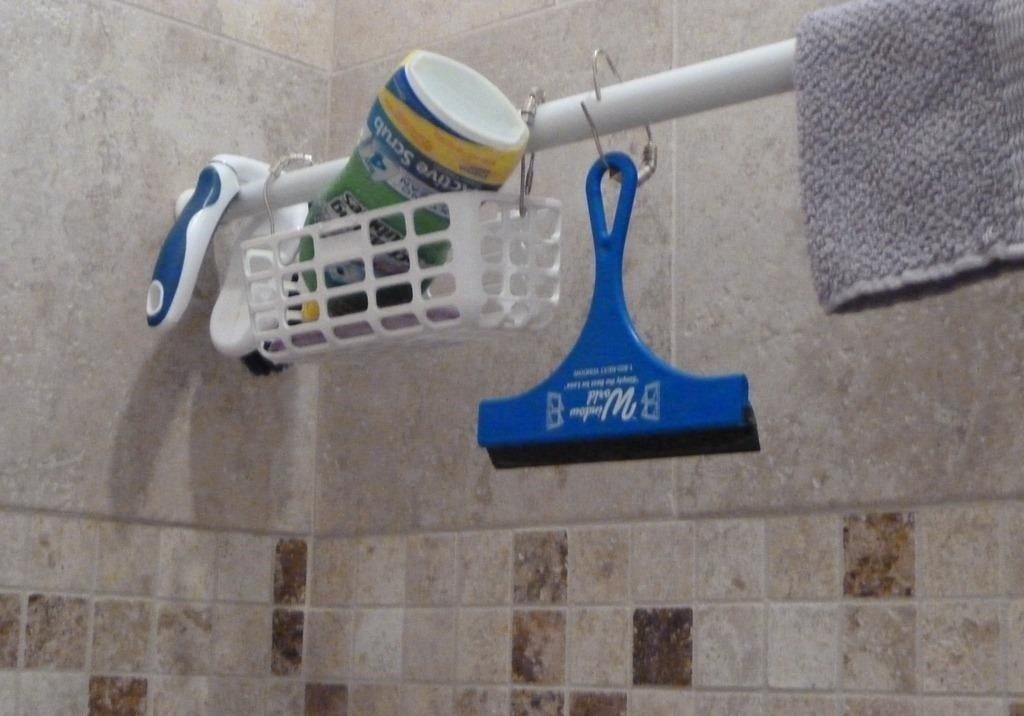 Although it may not be the most glamorous solution, installing an additional shower rod for storage is a practical way to maximize space. This is also a great way to store extra linens, such as sheets and blankets. Moreover, you may easily store toiletries by hanging baskets or shelves from the rod.
25. Faux marble effect
Faux marble effect paint can be a great way to upgrade your bathroom countertops without spending much money. There may be a few options to achieve this look, so you can choose the strategy that best serves your demands and likes.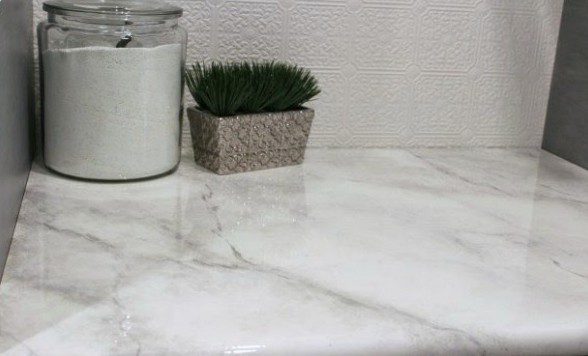 One option is to use faux marble contact paper on top of your existing countertops. This is a fairly easy and affordable option, and it can give you a pretty convincing marble look. Another option is to use faux marble paint on top of your existing countertops. This is long-lasting with a sealant.
26. Aesthetically pleasing mirror
There are a few reasons why adding frames to your bathroom mirror can make it more aesthetically pleasing. For one, it may help to define the mirror's shape and add visual interest. Also, frames can help accentuate the mirror's style and provide a bit of protection against moisture and humidity.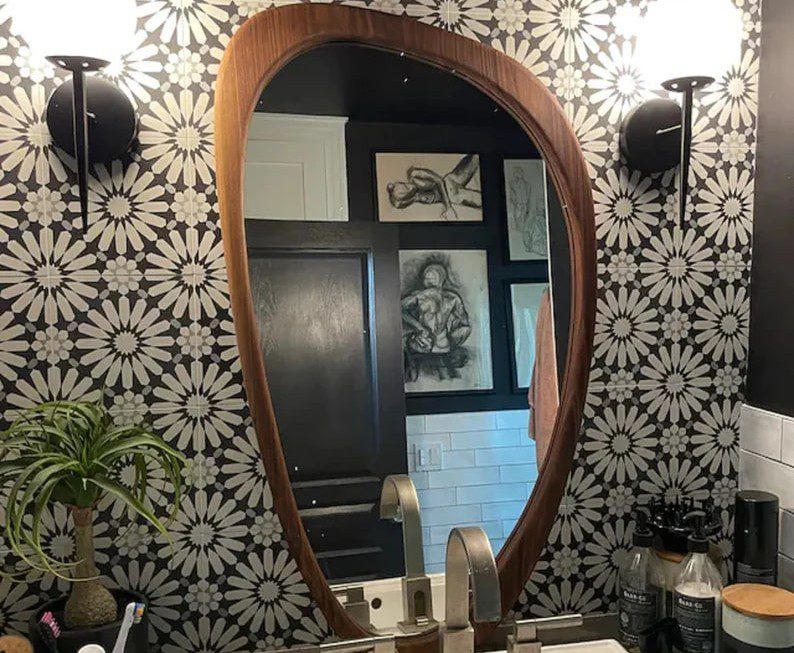 If you're looking for a convenient way to give your bathroom mirror a facelift, consider adding some simple wooden or metal frames. You may find these frames at most home improvement stores, which are usually very affordable. If you're feeling creative, you may even try making your frames out of recycled materials.
27. Easy grout cleaning
There are a few different ways to clean grout with hydrogen peroxide. You may make a paste of hydrogen peroxide and baking soda or use a spray bottle of 3% hydrogen peroxide. If you make a paste, mix a part hydrogen peroxide and two parts baking soda.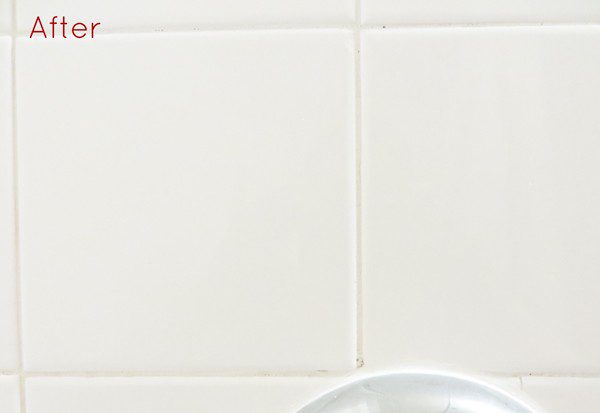 Stick the paste to the grout and let it sit for about ten minutes. Then, grab a brush to get rid of the grout. Rinse with water. If you're using a spray bottle, pour three percent hydrogen peroxide into the bottle. Spray the hydrogen peroxide on the grout and scrub with a brush.
28. Painted granite countertops
An awesome way to give your toilet a speedy and effortless upgrade without splurging! Granite painting kits are available at most physical and virtual shops and they're pretty straightforward to use. Just follow the kit instructions, and you'll have beautiful new countertops.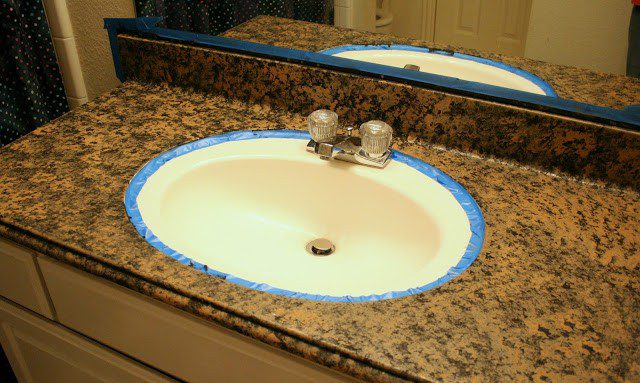 Granite is popular for bathroom countertops because it's durable and scratch-resistant. And with a granite painting kit, you can choose any color or pattern you want, creating a look that's ideal for your restroom. So why not give it a try? You may get shocked at how straightforward it is.
29. Stylish ladder storage
There are a few factors why you may want to make a stylish wooden ladder shelf for your bathroom. Maybe you don't have a lot of storage space, and you're looking for an attractive way to display your towels or toiletries. Perhaps you wish to remodel your bathroom and add some extra personality.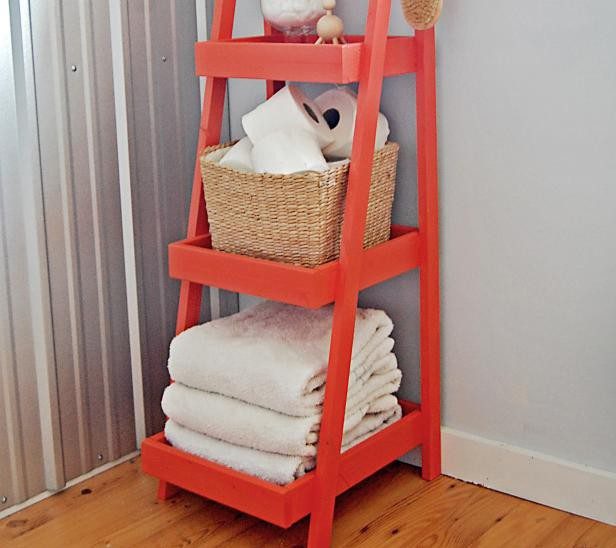 To make a ladder shelf, you'll need wooden planks and power tools. Build it like a regular ladder but add shelves instead of steps in the middle. You may make a stylish, versatile, affordable ladder shelf with some wood skills. It'll add a touch of personality to even the most boring bathrooms.
30. DIY jewelry hanger
If you have a wooden rod, use a drill to make holes in the center. You may also use a metal rod for a sturdy holder. Add the hooks or rings that will hold your jewelry. Finally, spray paint or stain the wood or metal to match your décor.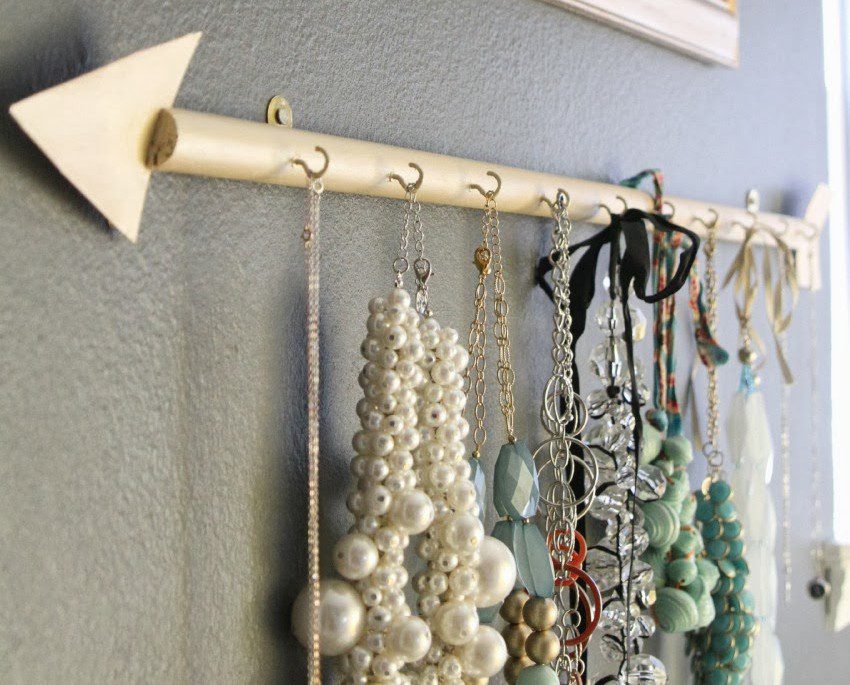 You may add a ribbon or twine to hang the jewelry holder on the wall. With this, you can display your gold and silver pies. Moreover, you'll be able to access your jewelry more easily with this hanger while it also stays organized. There you have an easy and stylish way to organize your jewelry!
31. Hairdryer holder
One of the great things about PVC piping is that it's so versatile and can be used for various purposes. For example, you can create a hair dryer holder from PVC pipe to keep your bathroom organized and tidy. It's a quick, easy, affordable project that anyone can do!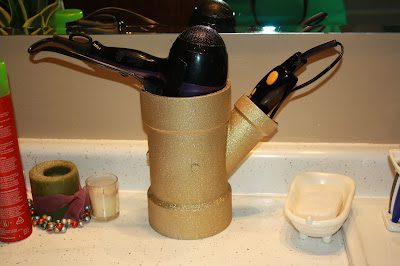 Grab a few pieces of PVC piping, some connectors, and a drill. Simply cut the pipes to the desired length, drill a hole in the bottom for the power cord to go through, and then connect them with the connectors. You have a functional hair dryer holder for your bathroom.
32. Make fancy bath salts
There are several factors why you may want to make your bath salts. Use a specific scent or ingredient in mind that may not be present in stores. Or maybe customize the salt mixture to their needs, depending on the therapeutic benefits you're looking for.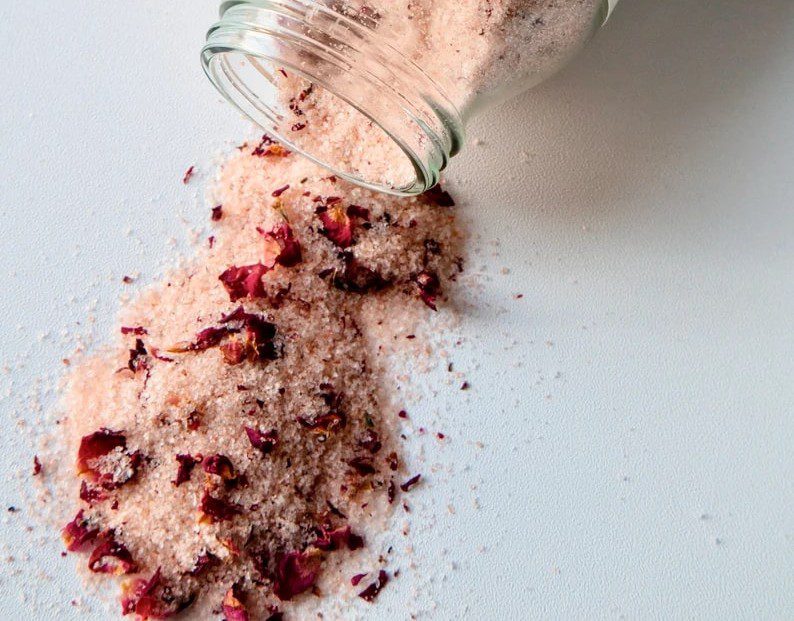 Making your bath salts is also a fun and easy way to pamper yourself, and it's a lot cheaper than buying them pre-made. All you need are some fragrant essential oils and Epsom salt. You may get creative with scents, colors, and textures. Homemade bath salts also make great gifts!
33. Exfoliating sugar scrub
Who doesn't love a good sugar scrub? It'll make your skin feel oh-so-smooth and also is easy to make at home with few things. Sugar scrub is an excellent recipe for a scrub that will help to exfoliate your skin and remove any dead skin cells.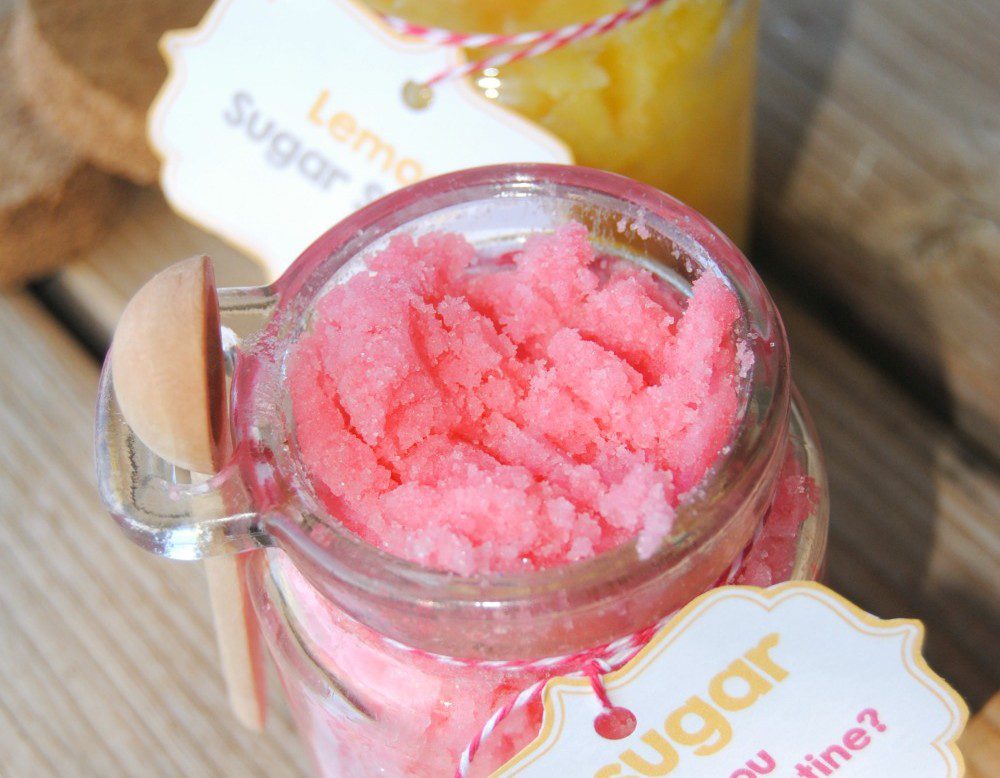 You'll need half a cup of sugar, a quarter cup of olive oil or coconut oil, and honey. Some optional ingredients are 1/4 tsp of essential oils such as lavender or rosemary. Combine all these in a bowl until the sugar is well coated. Store in an airtight container.
34. Stencil the ceiling
Adding stenciled detailing to your bathroom ceiling is a great way to give your space a quick and easy upgrade! By using a stencil, you can create a custom pattern or design that will add some personality and interest to the room. Choose a simple, geometric stencil pattern for the quickest and easiest look.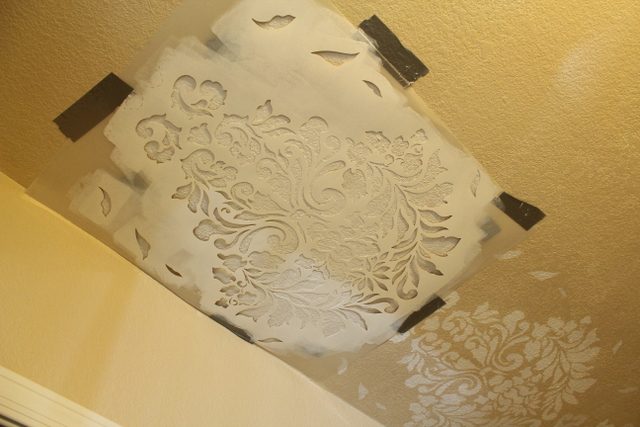 Use a floral or abstract stencil if you need something more decorative. Use bright or bold patterns to make your ceiling stand out. On the other hand, use light colors if you want your roof to blend in. Next, use a stencil brush or foam brush to apply the paint in careful, even strokes.
35. Construct a spacious cabinet
Build a cabinet that will help you maximize your bathroom storage space. You may consider a freestanding cabinet. Freestanding cabinets can be placed anywhere in the room, so they're a great option if you're tight on space. Plus, they may be designed in various styles and finishes to match your bathroom decor perfectly.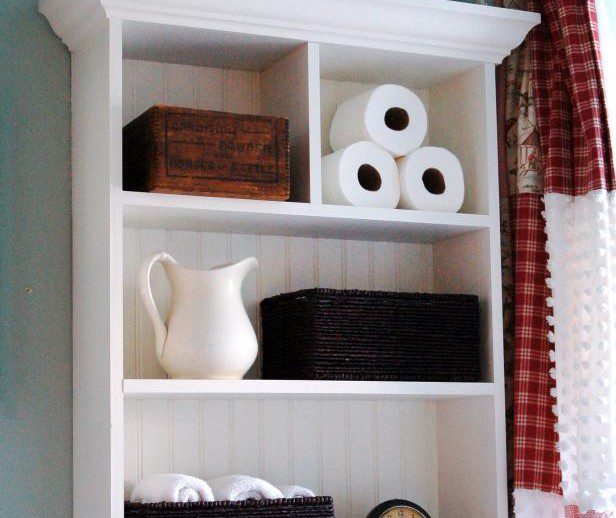 When making a freestanding cabinet, measure the available space and choose a model that's the right size. You may also want to consider what type of storage you need. Most models come with shelves and doors, but some offer specialized features like drawers or built-in towel racks.
36. Upgrade the old bathtub
Bathtubs may easily be updated with a fresh look by simply tiling over the existing surface. This is a great project for DIY and can be completed in just a few hours. Remove the old caulking around the bathtub using a sharp utility knife.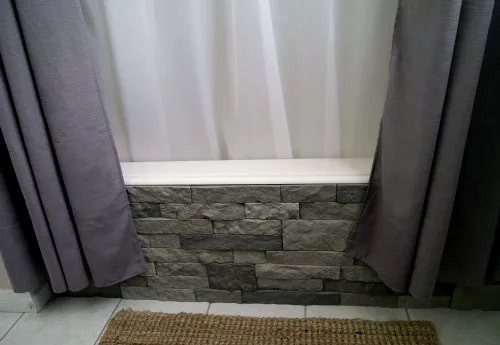 Make sure you put on protective eyewear and gloves while doing this. Wash down the entire tub surface with hot water and dish soap to remove any traces of dirt or grease. Allow drying completely. Measure and cut your tiles to fit the surface of the bathtub. Stick on the tiles and add matching curtains.
37. Circular windows for light
There's nothing like natural light to make you feel awake and refreshed in the morning, so if you're looking to upgrade your bathroom, consider installing circular windows that let in more light. They'll brighten up the area and make it more inviting. Also, they're great for saving energy costs.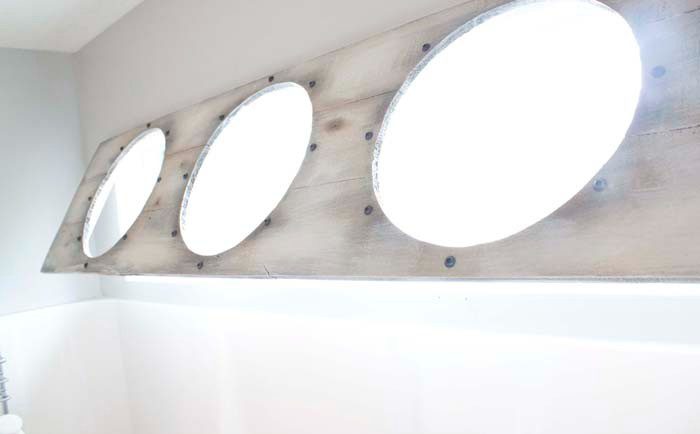 With plenty of skylights, you may take advantage of natural sunlight instead of relying on artificial lighting. If you're unsure where to commence or need some help getting the right look for your bathroom, a professional contractor can help you design and install the perfect windows for your needs.
38. Galvanized light
Adding galvanized light fixtures in your bathroom is a great way to achieve an industrial appearance. By adding these fixtures, you can give your bathroom a unique and stylish look. Plus, the galvanized finish will help to protect the light fixtures from corrosion and rust.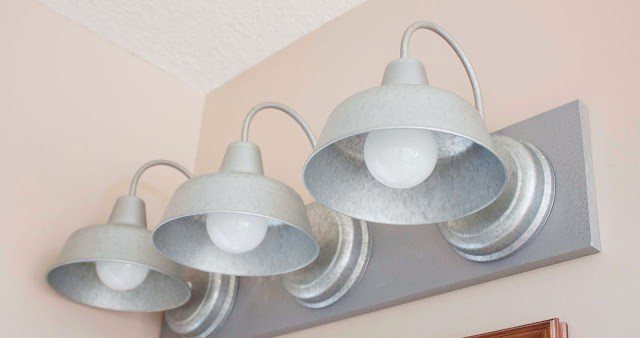 As a result, galvanized lighting is known for being durable and long-lasting, so you may be sure that it'll withstand the test of time. Besides, this type of lighting is also very energy-efficient, so you may save money on your electricity bill by using it in your bathroom.
39. Stone mat
A stone mat would be a great way to add texture and interest to your bathroom floor. Plus, it would be easy to keep clean – just sweep or mop it with water. If you're interested in making your stone mat, choose stones with a smooth texture. This helps keep your feet comfortable.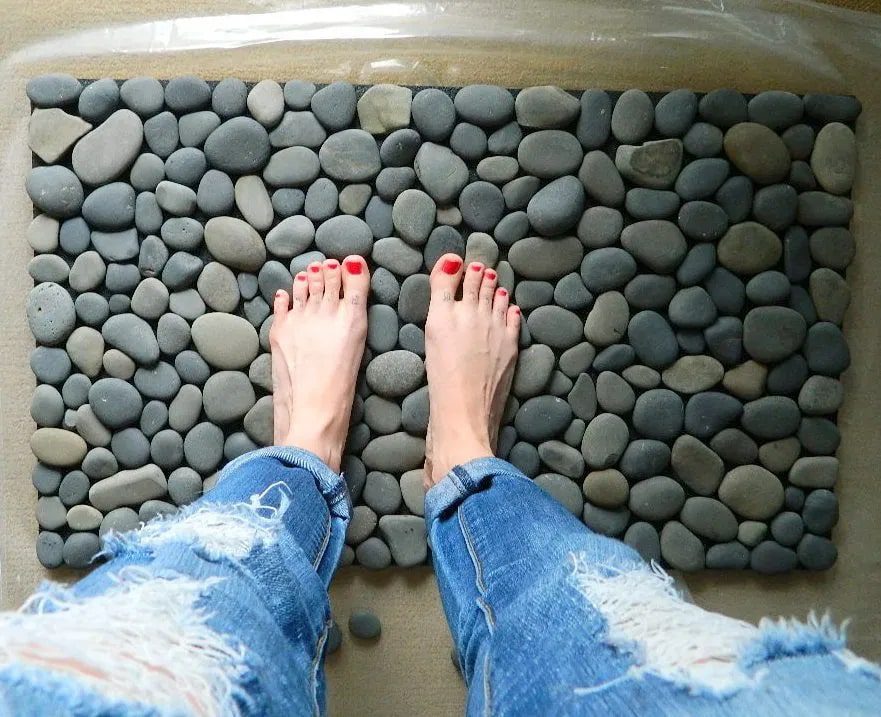 Use a potent adhesive to attach the stones to the mat. This will ensure that they stay in place. Make sure the rocks are completely dry before you apply the glue. Otherwise, the adhesive may not stick correctly. It's also a fantastic idea to plan the design ahead of time.
40. Magnetic storage strip
This is a fantastic solution for people who are constantly losing their bobby pins! Not only will it help you keep your bobby pins organized and easy to find, but it'll also keep them from getting lost or misplaced. Just make sure to stick the magnetic storage strip somewhere where it's easily accessible.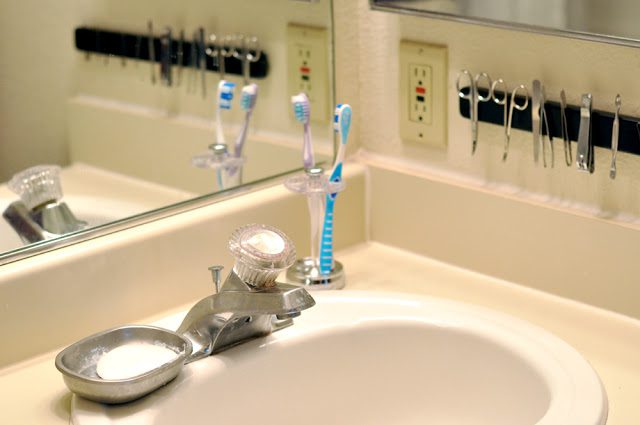 You may install it on the inside of your bathroom cabinet door. Plenty of online tutorials can show you how if you're unsure how to install a magnetic storage strip. And once you have it installed, stock up on bobby pins so you never run out again.