Don't Throw Those Wood Pallets Away Just Yet: 45 DIY Pallet Projects That Will Help Spice Up Any Home
By Navkiran K February 16, 2022
---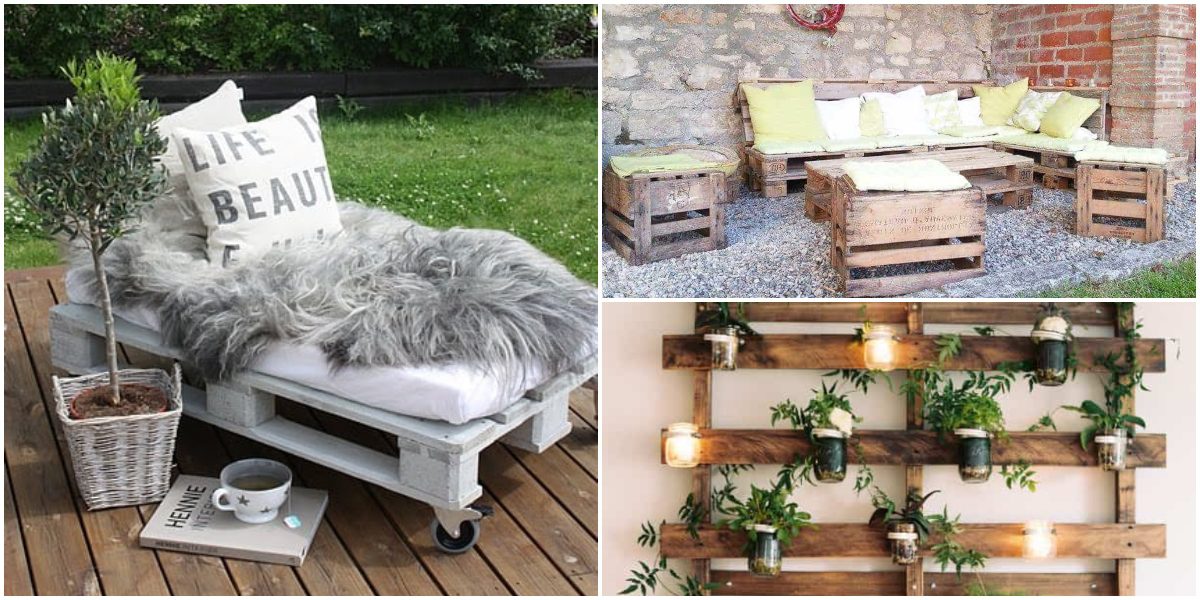 Pallets are not given as much credit as they deserve. They are a wonder when it comes to furnishing projects and can be used in many different ways. And we're not surprised due to their versatility and cheap, sometimes free price tag! Making a useful storage or decor piece is easier than you think when you can re-purpose pallets that someone doesn't need anymore! When we think of sustainable decor, pallets are typically what pops in our minds. They've been around for decades and continue to be a necessary tool in the construction world. Their flexibility is essential whether you're an entrepreneur trying out new ideas or just trying to remodel small parts of your kitchen. They're also perfect if you're looking to create some unique home decor items like wooden coffee tables or colorful wall decor pieces. There is literally something for everyone! We've put together 45 DIY wood pallet projects for anyone who wants to add a unique touch to their home!
Beautiful Wall Art Piece Using Pallet Scraps
The materials that are at our disposal are so versatile and can be transformed into something beautiful with just a little creativity! Take this heart-shaped wall art made from old wooden pallets as an example. It has been intricately carved into an elegant shape.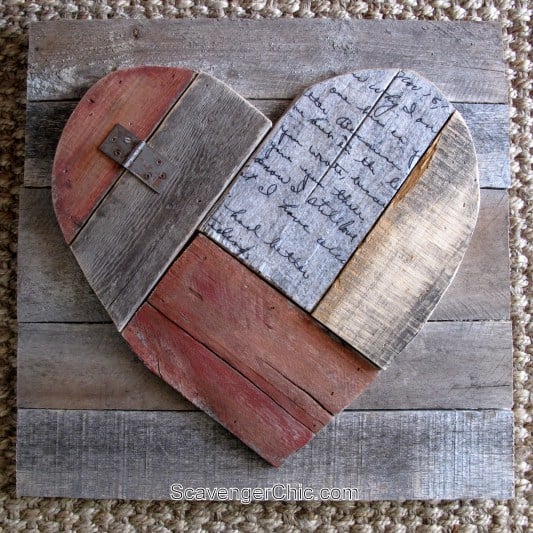 Moreover, it conceals a delicate hidden message inside its center. It's perfect for any room in your house or office space because it'll add a unique and one-of-a-kind touch to the decor. It'll also provide some extra storage solutions too!
Enjoy An Industrial Appeal With A Unique Chest Of Drawers
The great thing about a raw wooden piece made out of recycled pallets is not only its shade, texture, and beauty that many fancy. You can also place this in an all-white Scandinavian decor setting where it will blend nicely while also standing out.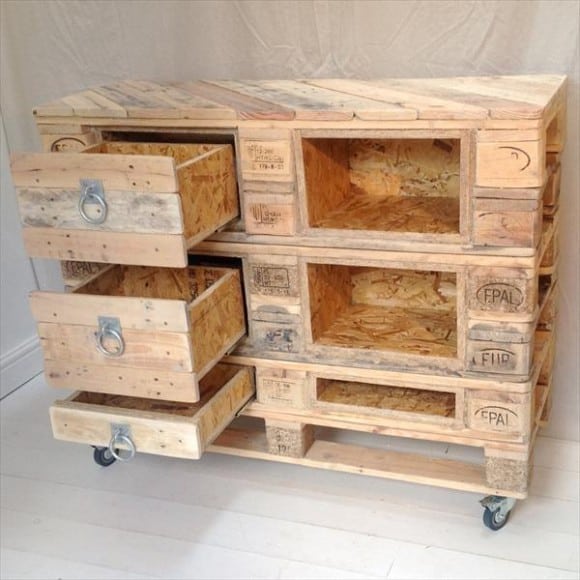 Modern apartments may use this to mix and match furniture pieces for a cozy ambiance. You may also use it for office space. The versatile nature of pallet furniture blends anywhere but is popular when trying to achieve an industrial vibe.
Custom Wooden Pallet Boards And Paper Decoupage
The process of creating a custom piece from scratch can be both time-consuming and challenging, but it is worth every second when you start to see your creation come together. Creating a piece made out of paper goods using the decoupage technique involves choosing the right paper for this project.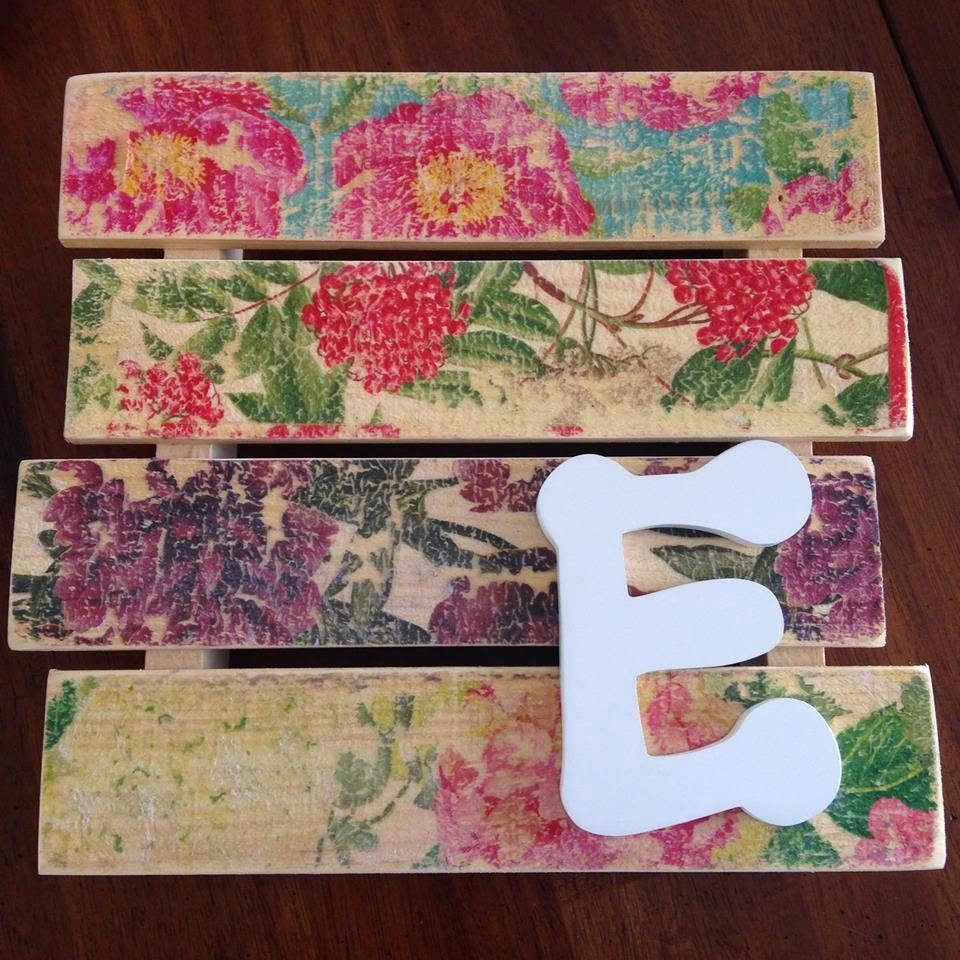 When you have all of your supplies, make sure everything goes smoothly during the process! Add depth when working with other elements for the desired worn-out effect and visible fray marks along borders between panels. This will add character to the design.
Make A Dining Room Table Box Centerpiece
If you have a dining room table, the centerpiece needs to be something that can transform easily with each passing season. A box filled with fruit and flowers would work well for fall festivities or a wintery snowfall outside.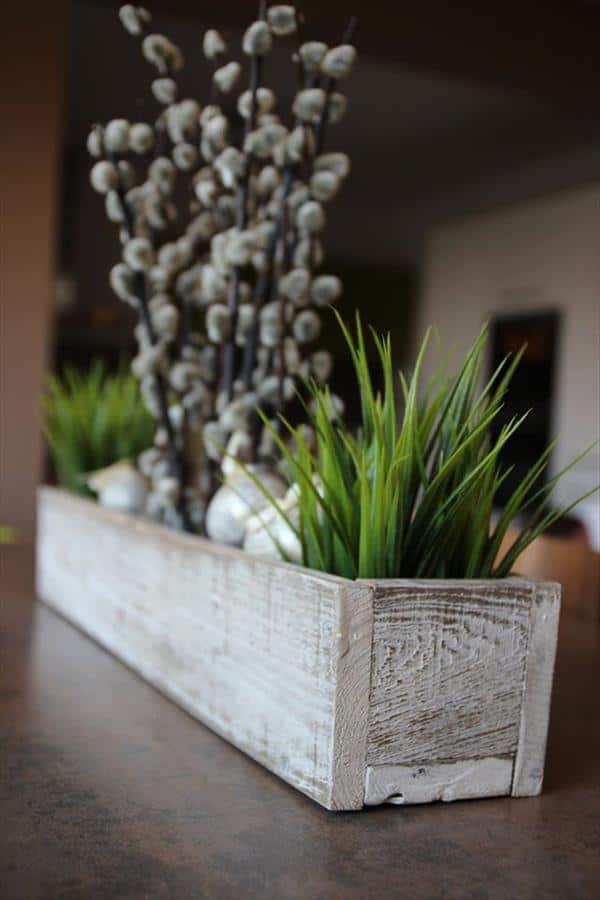 You can fill it with pine cones or foliage for Christmas time! Place this beautiful box center stage without overcrowding its surroundings. This DIY panel wooden box will speak volumes with the simple beauty and natural touch it adds to your home.
Crafty Bike Rack From Wooden Pallets
Wooden pallet bike racks are a classic design that can't be beaten if you're a simple and practical person. Someone solved the issue of storing bikes long ago, but we think they still hold up well compared to their metal counterparts.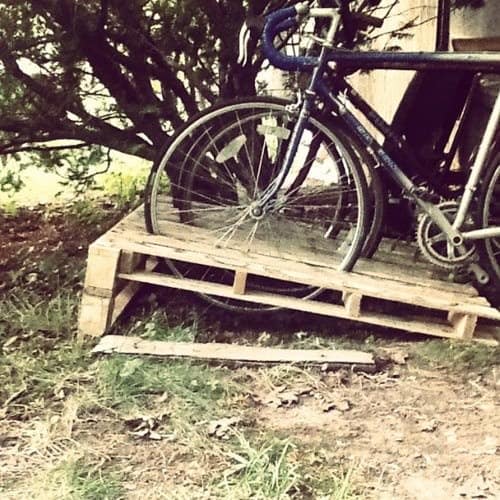 There's something so satisfying about this project, and it doesn't matter what type of bicycle you have or how much it weighs. We're not going to let you take our wooden pallet bike rack away! No matter how fancy many metal racks come along, they can't beat the beauty of wood.
Sturdy Breakfast Bed Tray Using Pallet And Rope
The straightforward design of this wooden tray looks great with its natural materials and breathtaking beauty. Besides, the simple combination of rope and wood creates a pretty design that you can use for breakfast in bed! We love the flowers on it as well.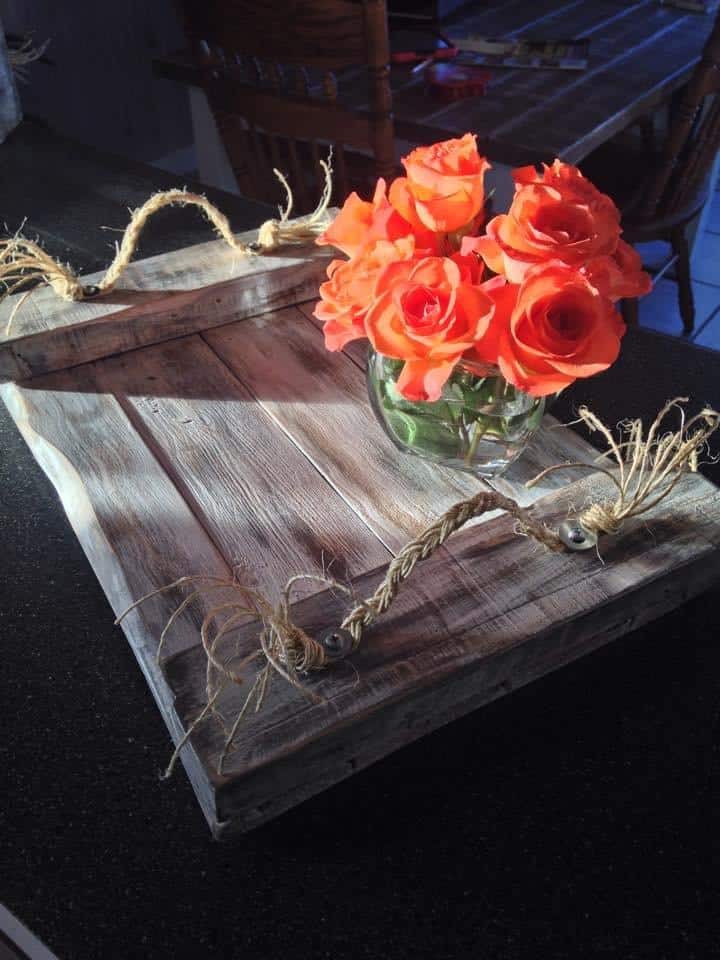 Make sure the rope handles are tied together at each end. This DIY project is accessible even for those who do not have many skills when it comes to building things out of wood since it doesn't require any major tools. You can complete this in less than an hour.
Make A Shelving Unit From Wooden Ladder And Pallet Wood
This DIY project is a creative and innovative way to use an otherwise mundane object – the wooden ladder. This versatile, unique piece can become an attractive focal point in any living room or hallway by decorating it properly.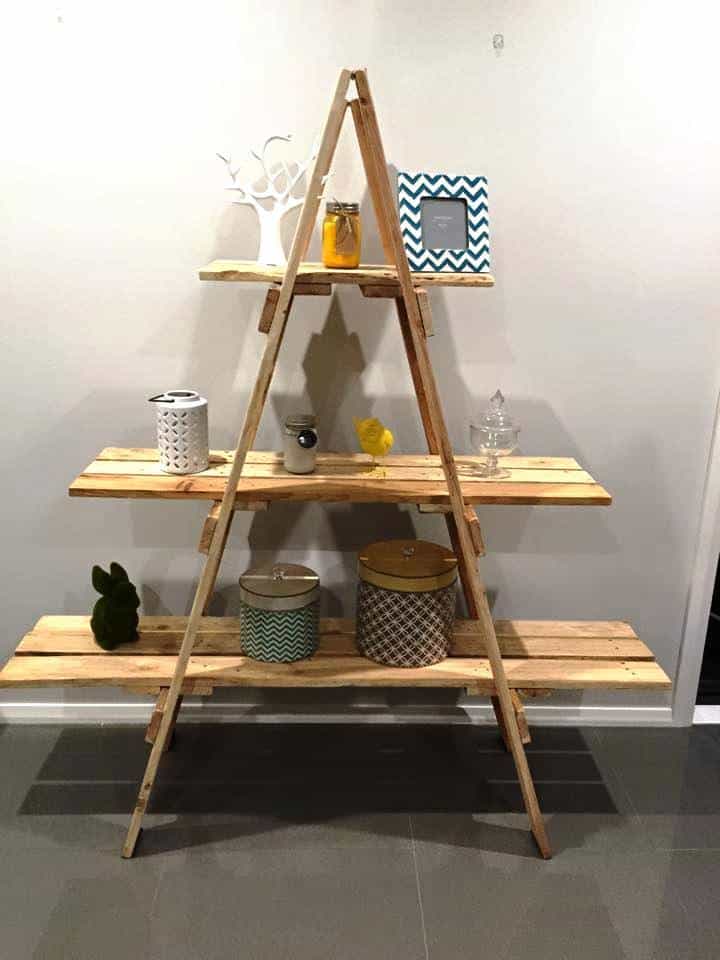 You could place candles or other decorations on top during the holiday seasons. It will look fabulous as well because you already know how versatile pallet boards are when you paint them with spray paint. Add some Christmas lights for special occasions.
DIY Pallet Spring Planter
The beauty of spring is just a few steps away! One way to help make this season a part of your home is by using old wooden pallets to create planters. Drill holes along their sides and fill them with soil before planting flowers.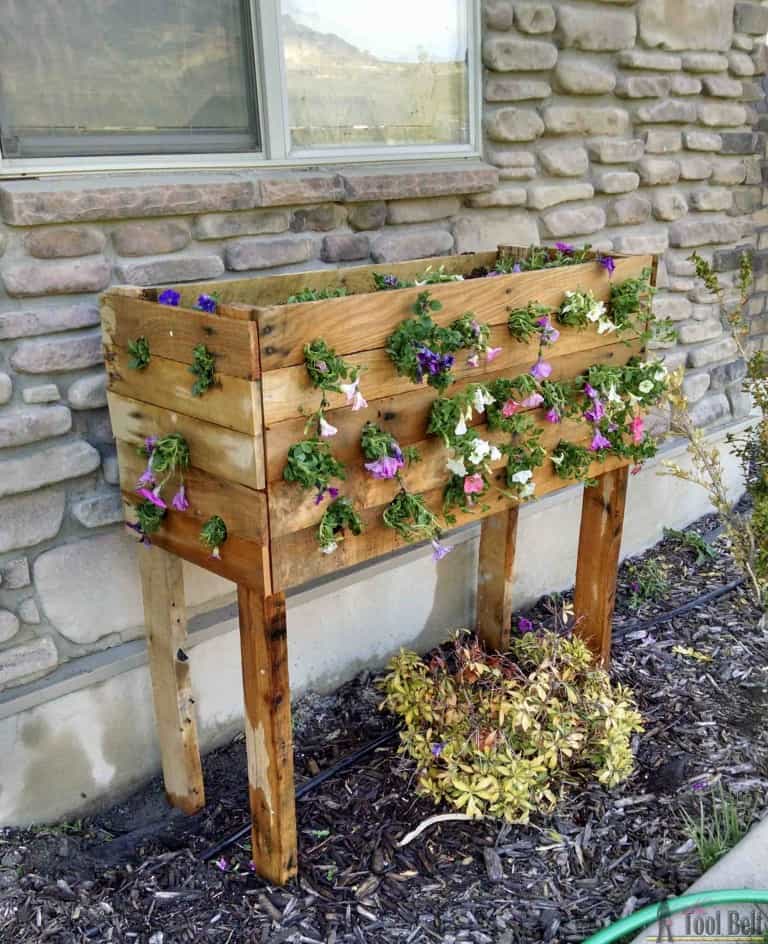 These will grow enough to cover up all the holes you made in the box. This is the perfect and stylish way to enjoy some fresh flowers wherever you need them. Moreover, the vibrant colors and beauty of the flowers will lift up your mood.
DIY Holiday Season Woodland Sign
There's something about decorating your home that brings people together during the colder months. This DIY project will help you express how much joy and excitement we can all feel when celebrating with family members who mean so much to us!
All it takes are some pallet boards cut to the length you want, rope or hemp string, a mask for painting, and spray paint colors in the desired background color. Then simply express yourself by creating elegant decorations like the one in the photo!
DIY Yarn Heart Wall Art Pallet
What's more perfect for your home than a wall art piece that will make it feel like you're walking through an oasis? The colors of this yarn are so vibrant and captivating they'll be impossible to resist. It's also perfect for Valentine's Day!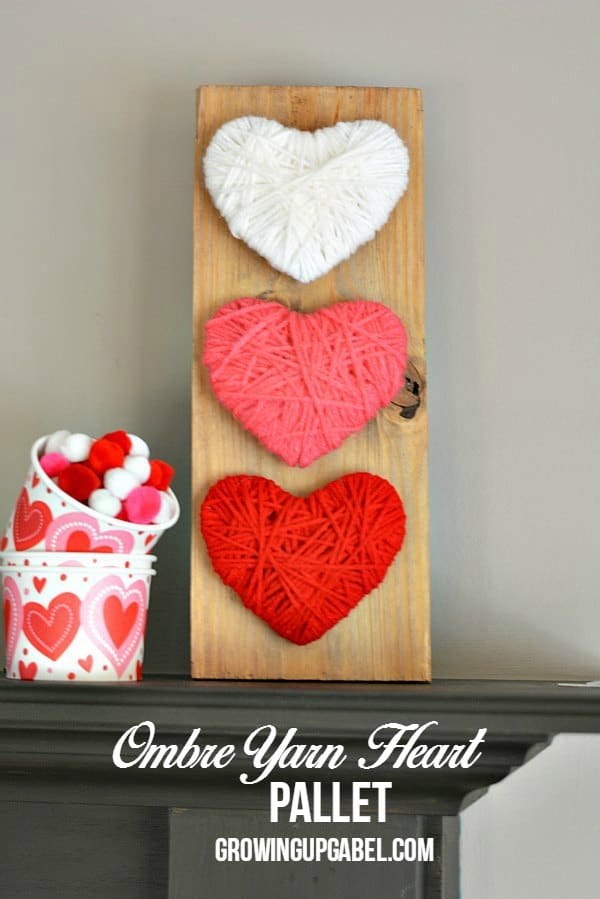 With different shapes made from all-natural materials such as wood or cotton balls, there is truly something here everyone can enjoy! The yarn shapes will create a bold statement in any room with its vibrant impression, filling an empty wall to perfection.
Outdoor Family Pallet Furniture Set
Outdoor pallet furniture is a perfect addition to any patio or garden. It will allow you to enjoy the fresh air in the company of loved ones! Depending on weather conditions, you can move the furniture quickly to a protected area when it's raining or in the sunshine on a hot day.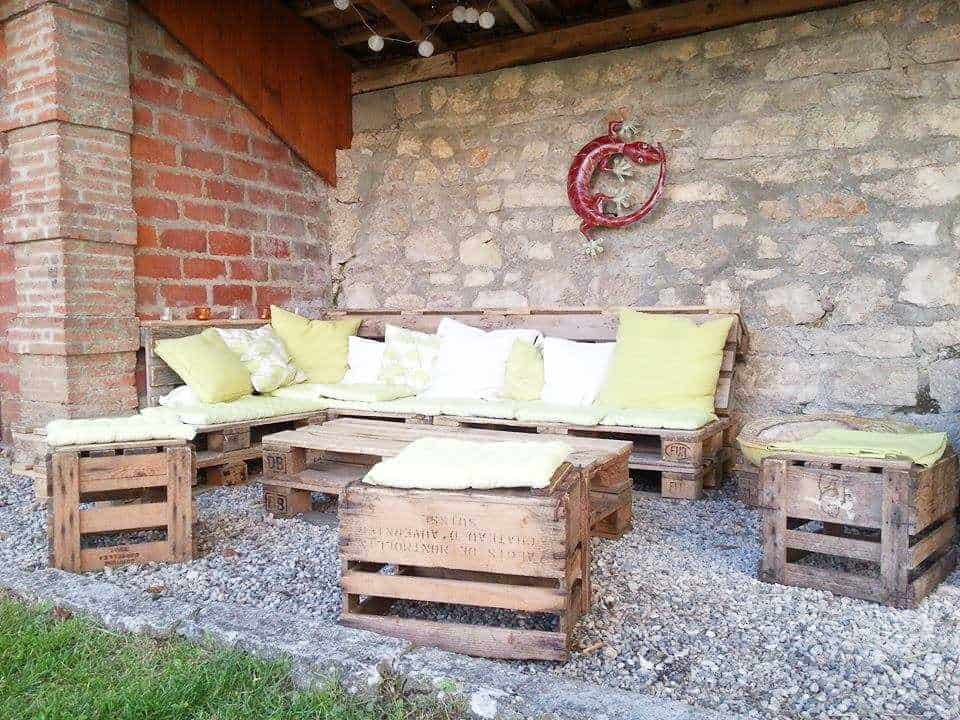 Furniture made out of recycled materials is stylish and environmentally friendly, so they'll last longer than ordinary wood products do! This stylish pallet furniture will definitely encourage all the family members to spend more time together outside.
Make A Vertical Garden Using A Wooden Pallet
Vertical gardens are trendy right now, and you might be surprised to know that it doesn't take much to make one. All you need is a wooden pallet and some gardening supplies like pots or even glass jars! Do you know what the best part about this project is?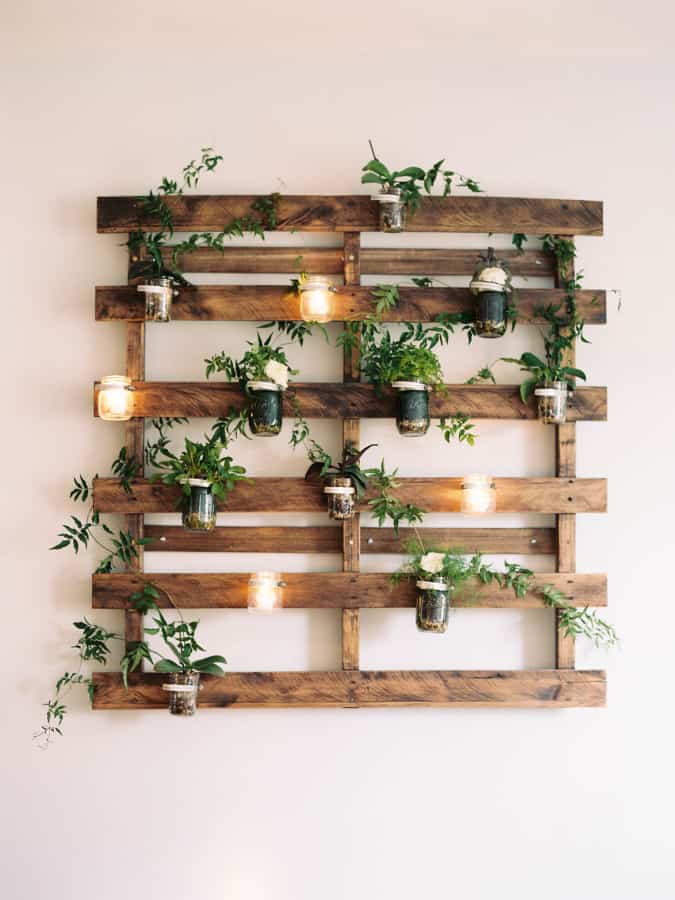 You can mix up its design by changing which plants go where once they grow! This will give any kitchen or living space an organic feel as well because we know how much people love seeing live plants and greenery indoors.
Scandinavian Inspired Wooden Pallet Couch
The versatility of the wooden pallet is truly a lifesaver. With cool furniture and a few accessories, you can create any design that matches your living area's aesthetic! A perfect place to start would be finding a cozy couch for all those winter nights ahead.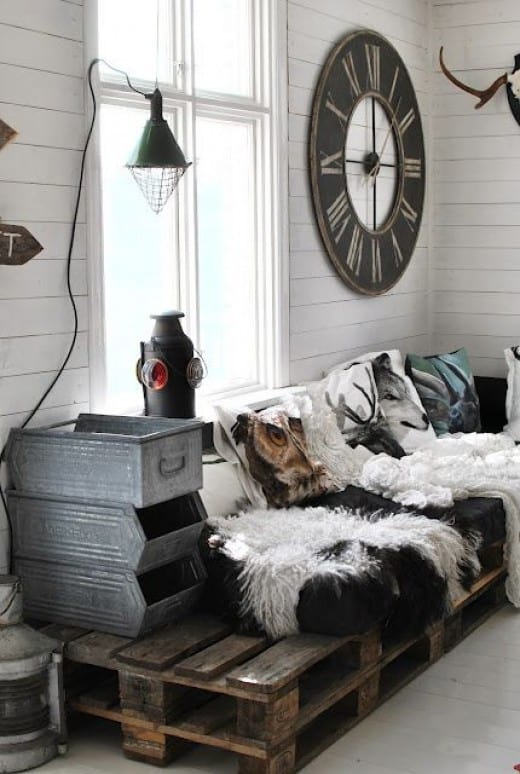 Fill your living room with the perfect couch by painting wooden pallets in white or black color and add some cozy pillows and fluffy blankets on top to create a Scandinavian-inspired look. The versatility of this piece is unparalleled, as you can use it for many different rooms in the house.
Wooden Planter From Pallets
Wood is a beautiful and natural material that has been used for centuries to create beautiful things. In this case, merging wood and plants together will make for an elegant planter regardless of whether you place it indoors or outdoors.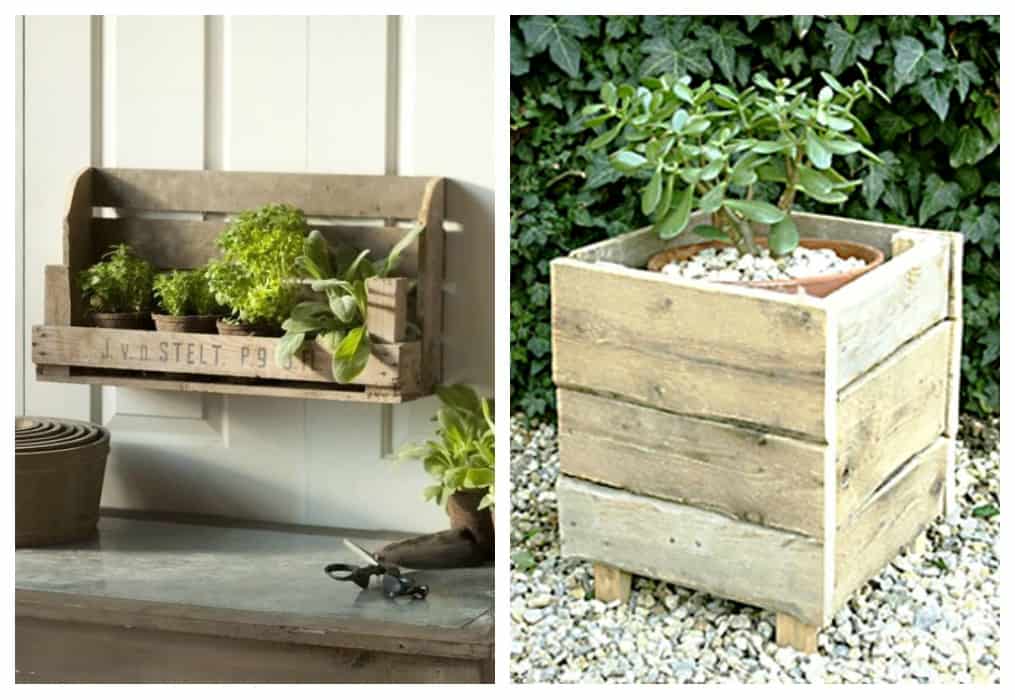 So, adding more pallet-made pieces only enhances any space even further! Whatever your reason may be for wanting such an item, there's no denying how beautiful the result of these items are when they are crafted from nothing more than recycled materials.
Compact Pallet Couch
You don't have to sleep on the ground with only your sleeping bag for much longer. This small but useful pallet couch is an excellent way for you to catch up on those much-needed hours of rest and relaxation! You can make this cute little couch out of two wooden pallets.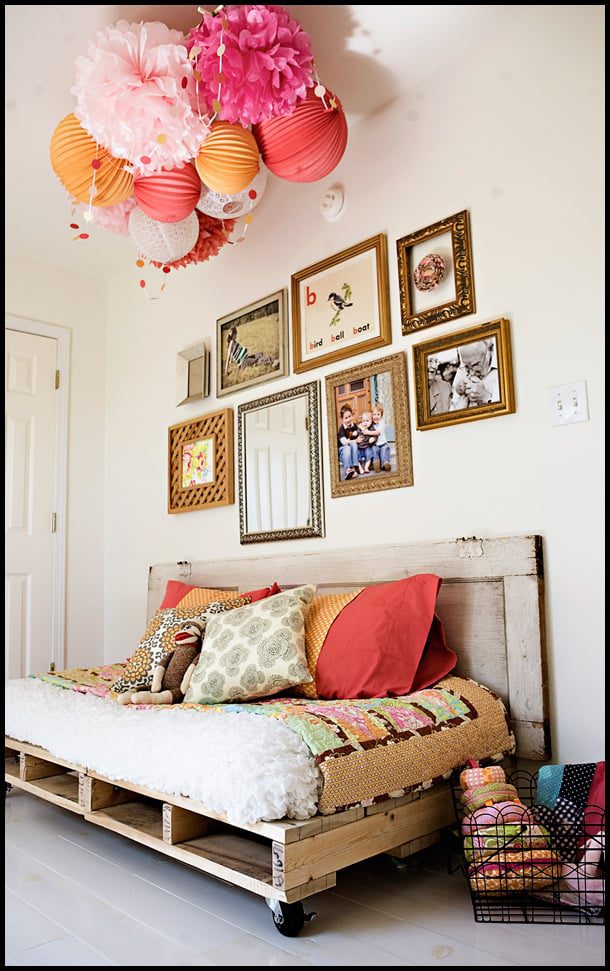 You may also find pallets from old doors or any other discarded material that's available at home improvement stores. In addition, these materials would make great headboards too. Add some soft pillows to make it more comfortable and fun!
Romantic Wooden Pallet Swing
You can't put a price tag on the memories that come with a romantic swing. Make sure you invest in one of these perfect wooden pallet swings for your backyard and hang it from an old thick trunk. It is the ideal addition to any backyard!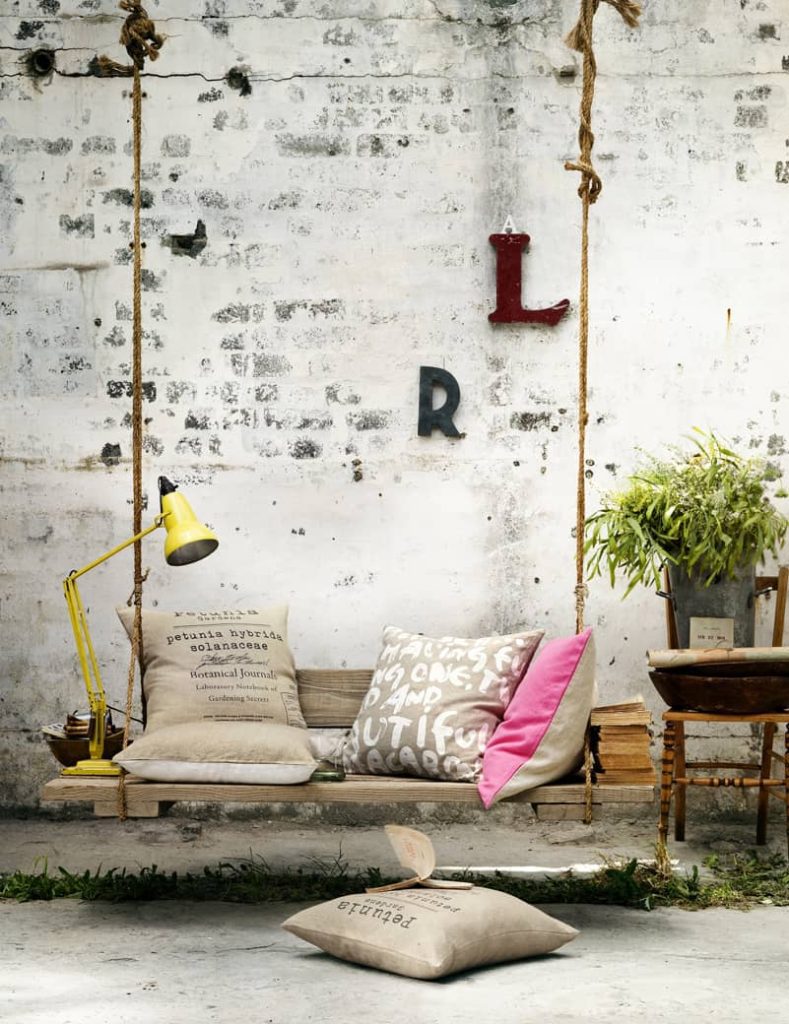 You may make it a bit more comfortable by adding some cushions on either side or keeping it plain and simple. In addition, you may add it close to an outdoor fireplace because everyone loves sitting near a warm flame when it's chilly outside.
Wooden Pallet Swing Set
A wooden swing set is a staple for any child's backyard. These memories are often filled with the image of hanging and swinging from an old tree. But what happens when you can't find one to buy? We have a DIY project for you to fulfill your child's dreams.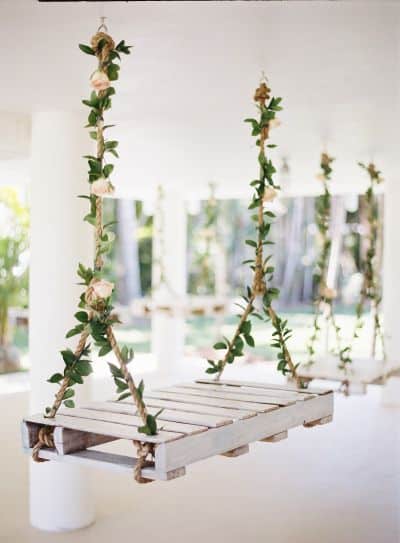 This simple piece has been dressed up in a coat of white paint and transformed into something beautiful – it can definitely serve as a front porch decoration! You may decorate the swing using vines or flowers to make it look pretty.
Have Your Next Garden Picnic On This Pallet Table
When it comes to an outdoorsy picnic, you can't beat the classic pallet table. This idea is easy and affordable for anyone who wants their own private dining experience outside! Your whole family will be able to enjoy this spot.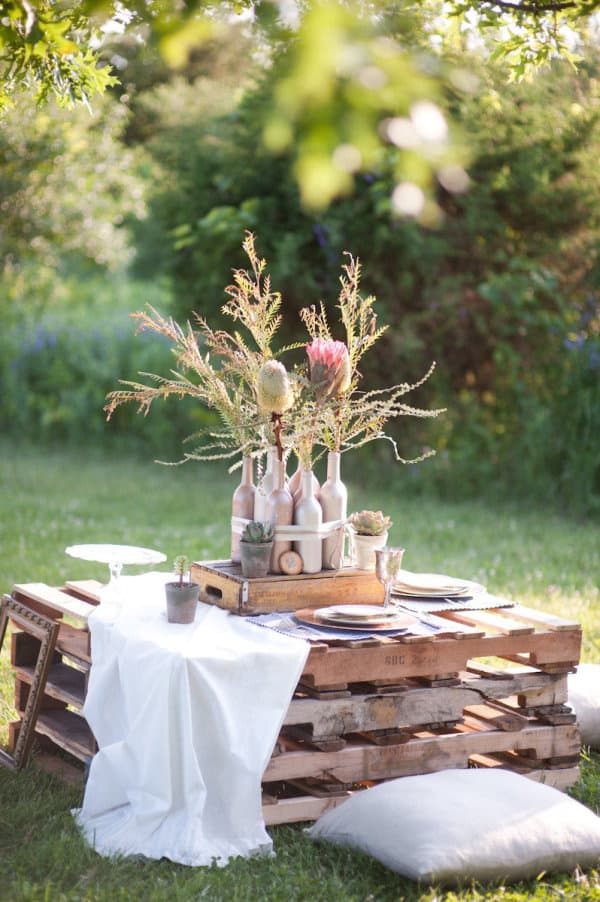 All you need are some extra materials like fluffy pillows or folded clothes, whatever makes them comfortable enough so that food tastes better than ever before! This outdoor picnic setting with fresh-cut flowers and music is everything you didn't know you needed!
Mason Jars And Wood Lighting Fixture
You can use the wooden pallet as a versatile and beautiful item with the help of a few mason jars. Fill them up with elegant white candles to create your own version of a romantic ambiance for any occasion!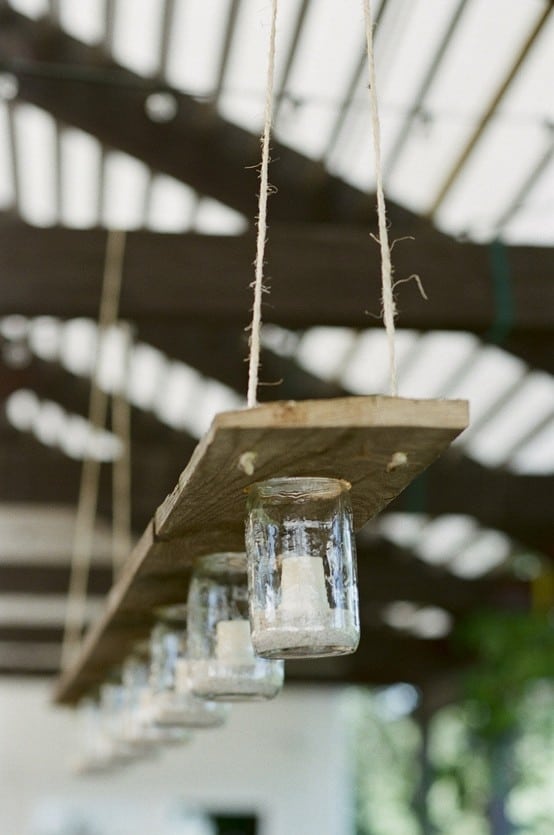 Hanging this fixture from the ceiling gives any room an extra touch that will not go unnoticed, especially when paired together seamlessly. If you're going for a rustic vibe, this will complete it perfectly. Don't forget those ropes! They complete the whole project.
Chic Industrial Coffee Table
A coffee table is an essential element of any living space, and this particular woods pallet brings the industrial-style vibe into your home with its simple design. It's made from two pieces: a base covered by old pallets.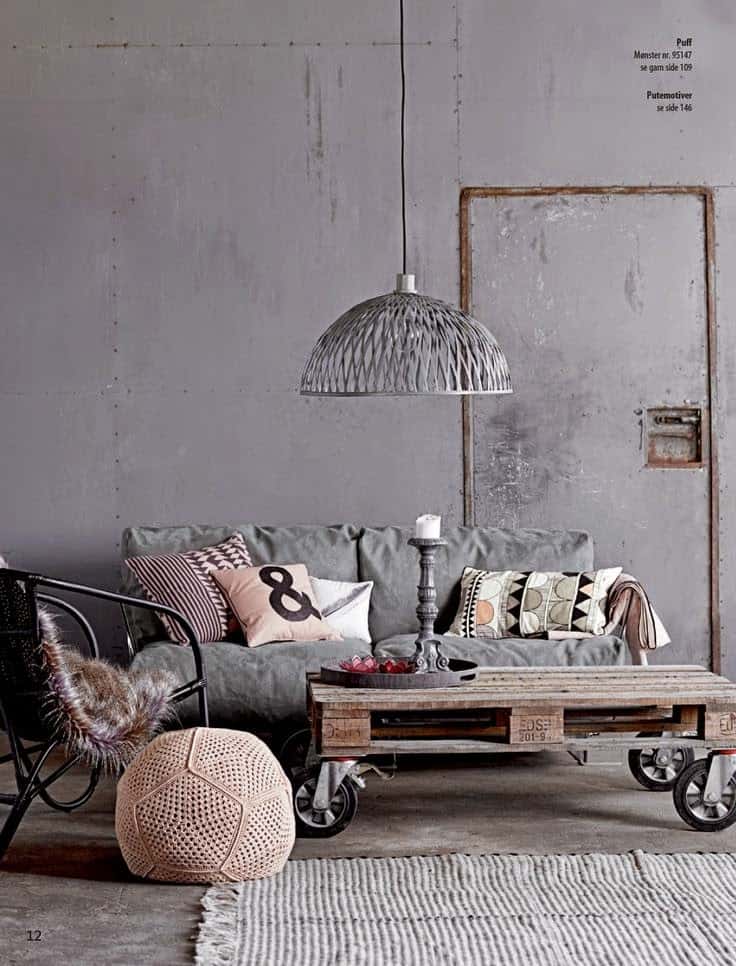 And, you need wheels, so it's easy to move! Pair this unique table alongside other fixtures like metal lamps or a metal serving tray for an aesthetic touch of chicness in any room in need of some DIY accessories.
Pallet Wood Backsplash For Kitchen
Wood is an excellent material for the kitchen because you can stain or paint it to look like different surfaces. One of our favorites is a french pallet wood backsplash! You could also use assorted colors or even something simple like white.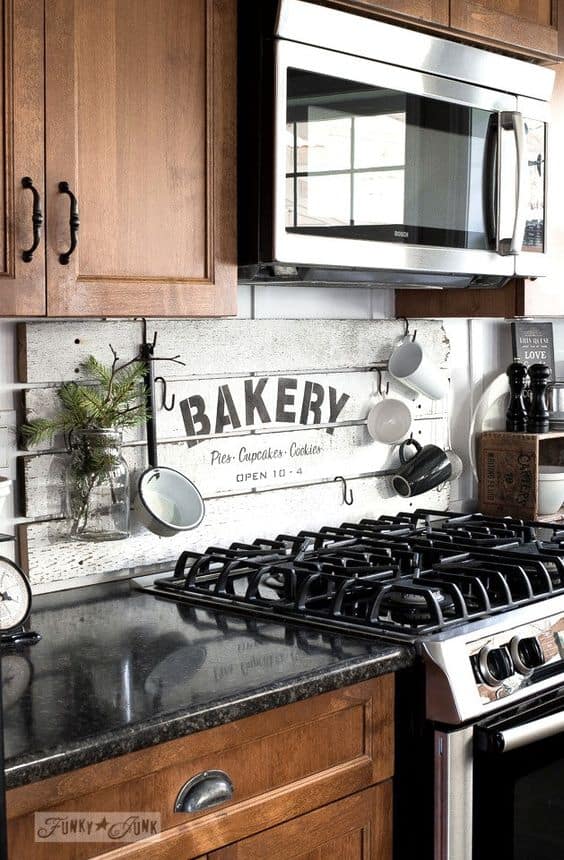 This will add an industrial and modern feel to your working area – just remember that these products will get dirty easily, so make sure they're cleaned regularly with soapy water or treat the pallets beforehand to prevent rotting over time.
Wooden Display Units
Wood is always an excellent choice for furniture because it matches basically anything, and there are so many types of wood stains. If you want something more modern and sleek, this wooden pallet display unit would be perfect. You can make it your own with personal touches.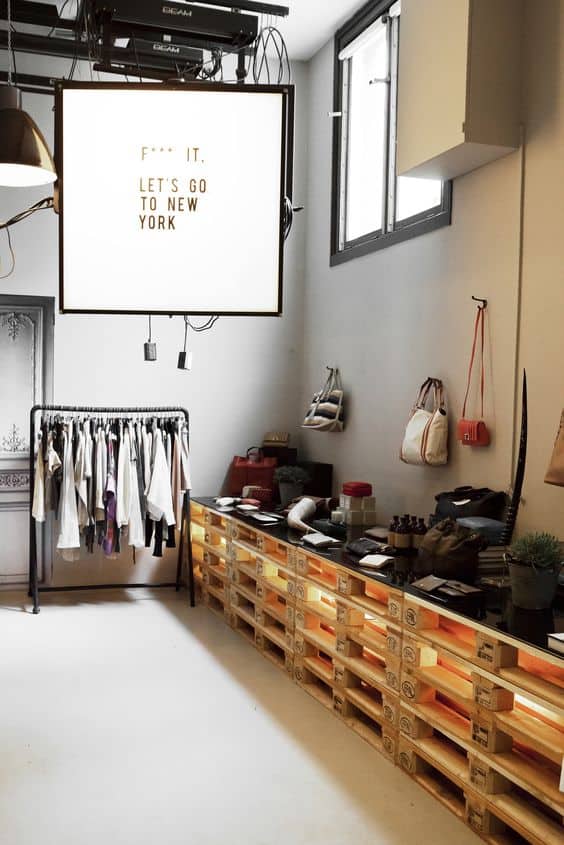 You can create a modern and hip atmosphere by stacking up new wooden pallets. If you look closely, there are lighting fixtures underneath the first layer of panels, so your store will have a fantastic effect no matter how many items go on each shelf!
Re-purposed Mirror From Pallet Wood
This mirror is a masterpiece. It's made from old pallets and landfill-bound wood, which gives it an authentic rustic charm we love! Don't try to paint over the layers of worn-out colors because they only add more beauty in their simplicity.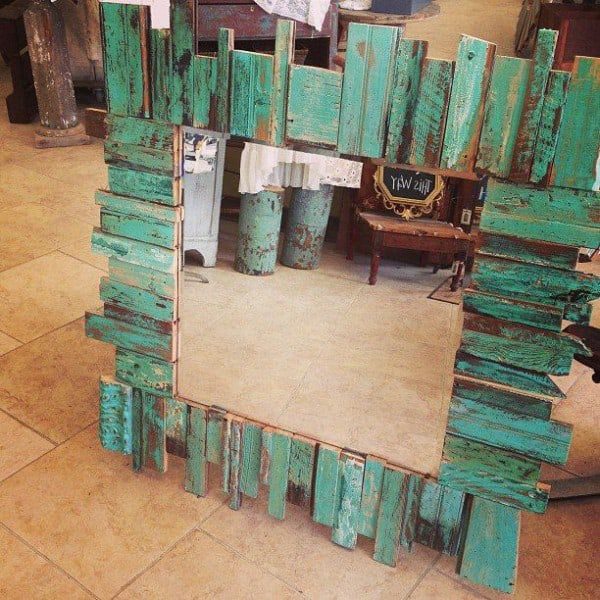 This is a wonderful piece that will bring life to any space with character and flair without breaking your budget. The rustic look of this mirror will give a chic look to the space and can be added to any wall.
Menu Display Using Pallet Boards
You can invite your family to a special dinner every day by presenting the menu ahead of time in an old-fashioned yet fun way. Create one of these boards using pallet wood and chalk for the menu so that you don't have to repeat what you're making every time someone asks.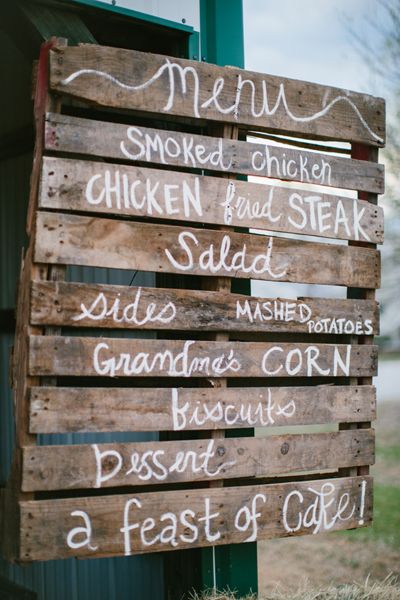 Make it even more impressive by using different colors and tones on each day of the week, or just write out what you're serving that evening! This will have your guests feeling excited about the get-together, and they will surely be impressed by your efforts!
Vintage Wood Vent Hood
Give your kitchen a unique and vintage feel with this beautiful wooden design. A French-style vent hood is ideal if you're looking for something different from the rest of the white cabinets in an otherwise minimalist space, especially when paired alongside some withered wood from old pallets.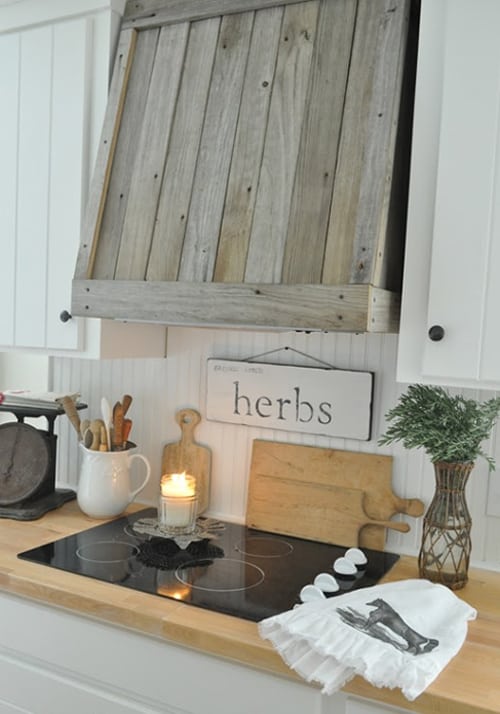 You may add some color by painting white cabinets on either side of this dark-hued piece for contrast and let its beauty shine through! This will provide it with just enough character while still blending seamlessly with other features.
Functional Coffee Table
The array of wooden panels on this next table is not only beautiful to look at but also functional. It may be used as a coffee table or even for storage! The different tones and textures add character, while the hairpin legs provide stability.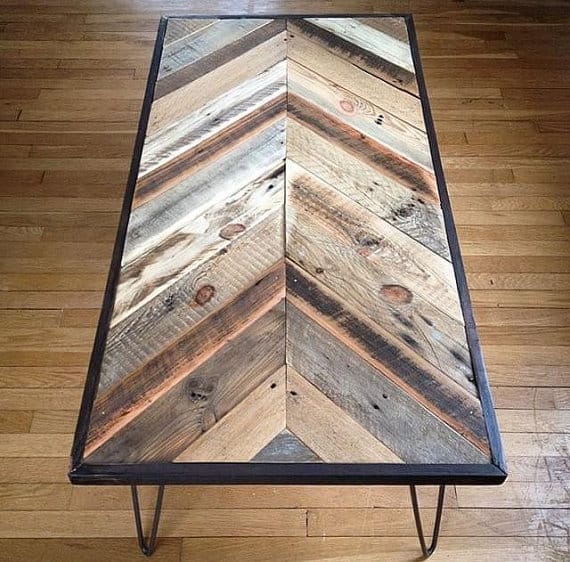 This piece will stand the test of time and bring you lots of joy to any room of the house. With hairpin legs, you can use your imagination and mix it with other kinds of furniture in the house. This will add a contemporary piece of furniture to your home.
Minimal Christmas Decor
Why not go the extra mile and save a tree from being cut this Christmas? With a wooden pallet light Christmas tree, you'll have an eco-friendly yet beautiful decoration that will last far longer than any other type of artificial tree.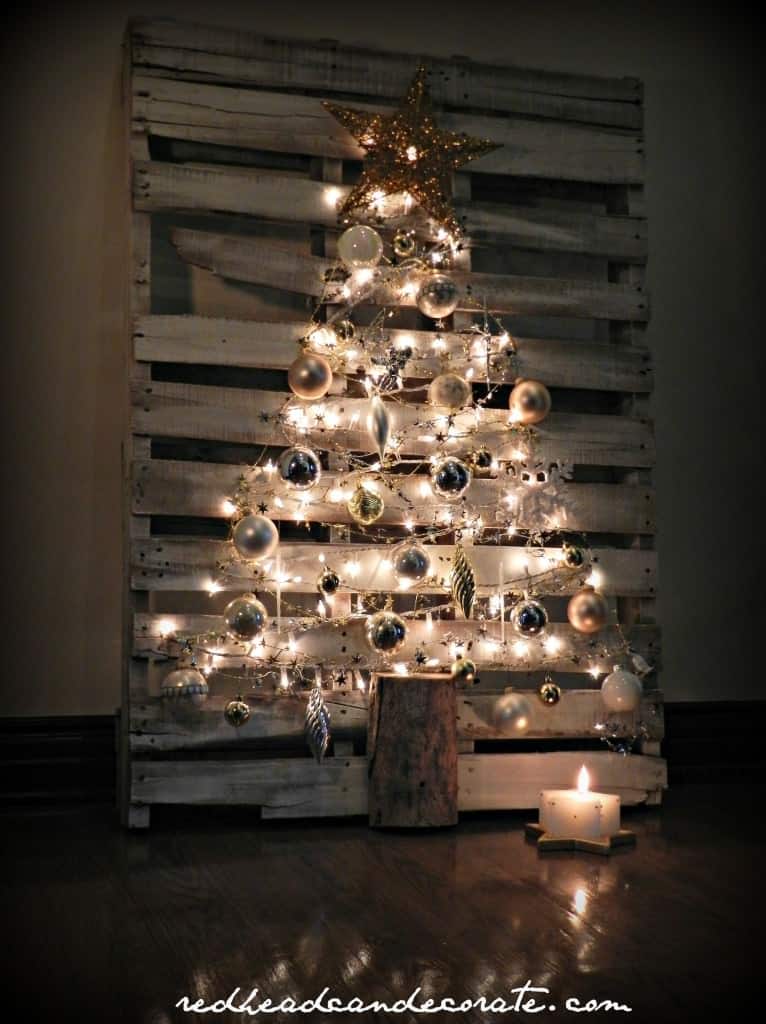 You can go the extra mile with your Christmas tree to keep it minimal. Use only white lights to create an atmosphere filled with delicate nostalgia! Besides, these trees are low on maintenance, so you don't have to worry.
Sun Bed For Lazy Time
Handmade sunbeds are the perfect way to enjoy nature outside in your beautiful yard. This particular one is made out of pallet boards, and it's covered with a glossy white paint finish for an interesting contrast against all that green.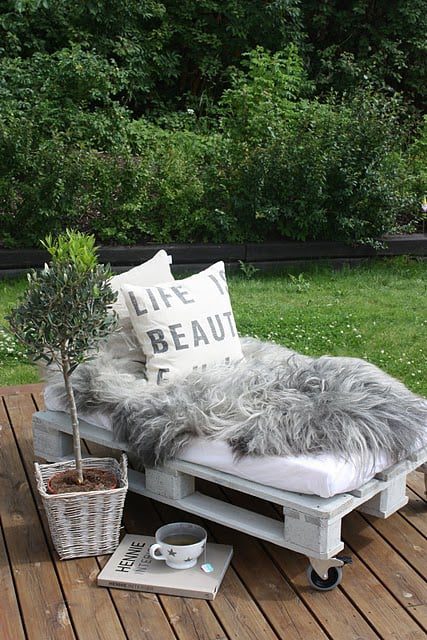 With this sunbed, you can enjoy your backyard space, even if it's just for an hour or two. This Scandinavian-inspired design will create a beautiful retreat. Adorn it with a few pillows and a fuzzy blanket, and you're good to go!
Rustic TV Background
You can make your own TV background with this cool DIY project. Using an aged, pallet-wood piece of furniture as the foundation for your new television set is both interesting and creative! All it takes are some essential tools like nails or glue guns, along with a bit of patience.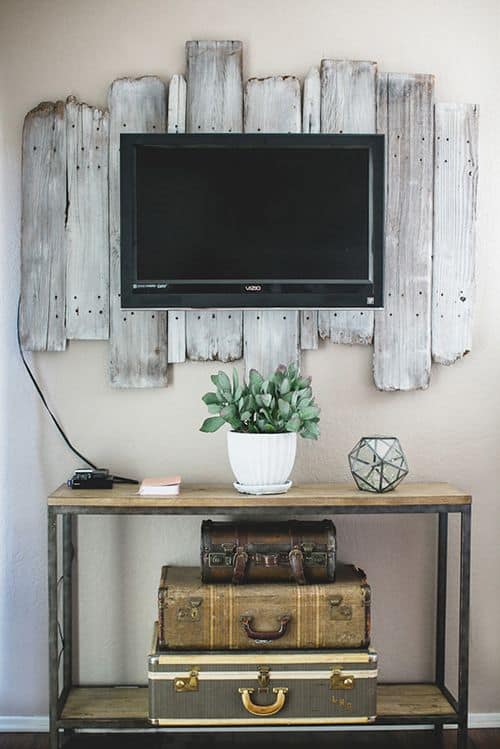 Not only will you be able to spruce up that boring old living room decor but also create something unique that people may not have seen before. At the end of the DIY, your TV background will look aesthetically pleasing!
Cozy Wood Luminaries
Elegant wood luminaries are the perfect way to add some warmth and character to your home. Made from vintage wood, you will love them in any part of the home or even give them away as gifts for special occasions all year round.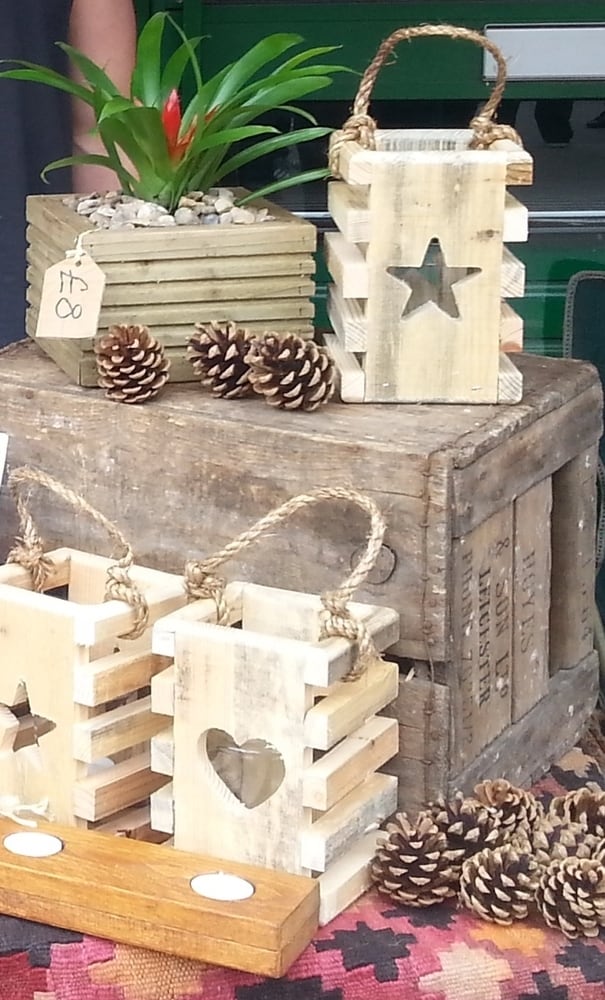 Choose an elegant design with intricate cuts that emit light in a delicate manner – just like the space you keep it in. These candleholders will transform any space when lit up at night by giving off a romantic ambiance.
Pallet Wood Star For Decoration
The stars are coming out every night now! Create your own version of this beautiful wooden decoration to add some elegance to your fireplace. Choose from various sizes and styles, such as a plain pallet or white wood with interesting textures.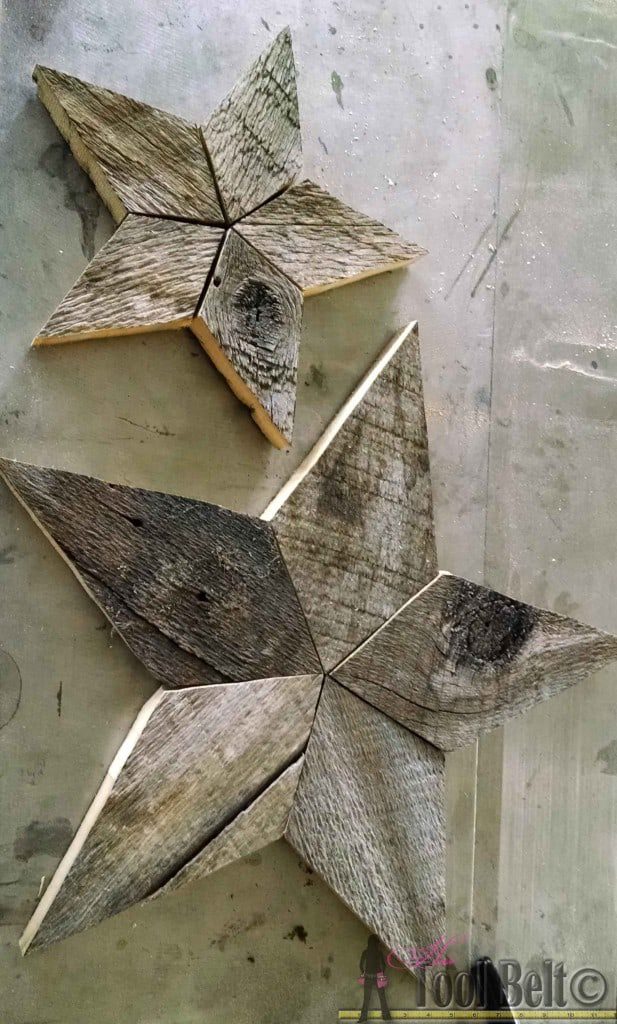 You may pick boards that have a pre-primed look that has been sanded down smooth but still maintains a grainy pattern underneath—perfect if you want a rustic look without any added color. It will surely add sparkle to the space.
Creative Photo Display
If you have a pallet that is waiting to be recycled, use it for more than just its original purpose! Cut the board into long pieces and paint them white. Attach some twigs, lights, and photos all over your newly created pallet photo display.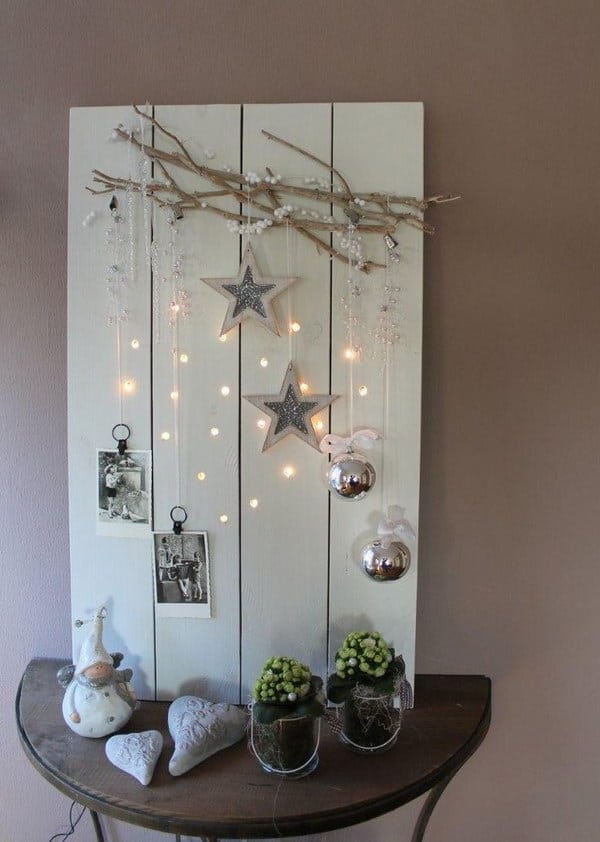 It will glow like stars at night time. This simple yet creative idea allows family and friends to look at your photos from different eras or places around the world to see the cool places you have visited and those who are closest to you.
A Magazine And Book Storage Wooden Box
You have plenty of pallets leftover from your last garden project, but they're just sitting there doing nothing. Create a wonderful wooden box for storing books and magazines out of them by cutting out different shapes. You may also paint it in a vibrant color.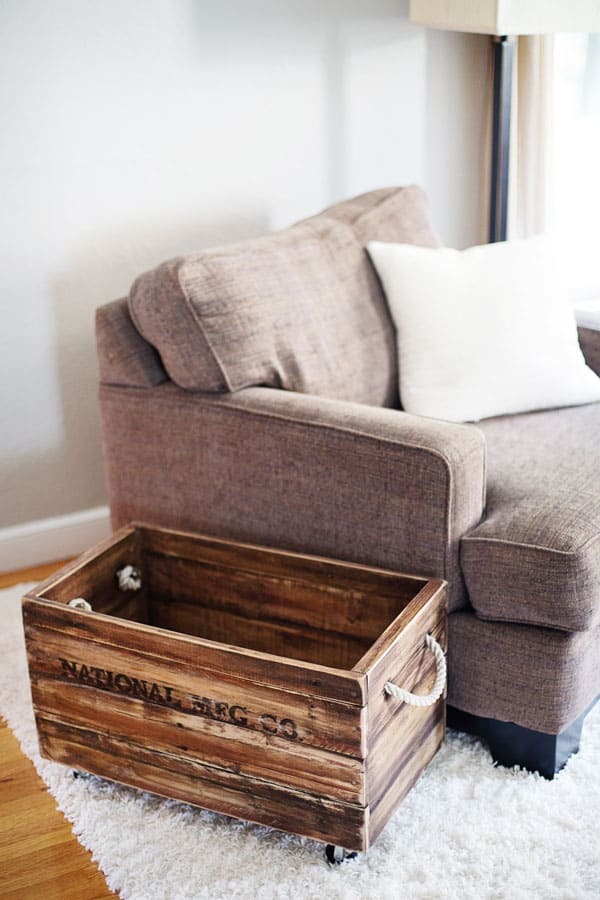 Place it next to the couch in the living room as an attractive alternative to a side table that you could easily find at Ikea. We guarantee these will be more spacious too. This box will keep all the clutter away.
Small Wooden Pallet Shelving
If you have a small corner that needs some extra storage, consider using wooden pallet shelving. This simple design is easy to put together and only requires a few pieces of wood per shelf! Moreover, this DIY project's end result will look like it's from a different era.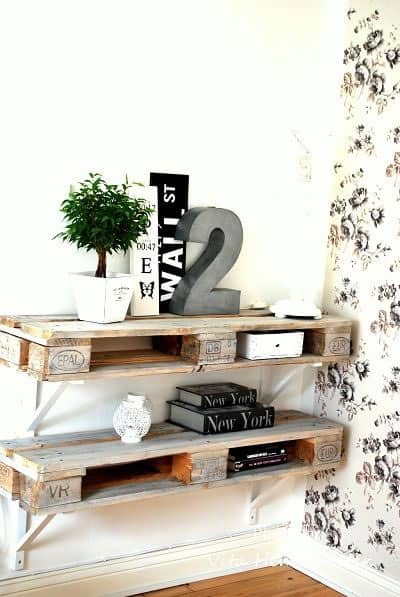 The benefits don't stop there, though – they also can be designed for different levels depending on your needs. So this shelf can be used both horizontally or vertically depending on what you plan to use it for and the space available at home.
Creative Pallet Wood Bookends
Bookends are the perfect way for you to display keep all those important books together in your home or office. With their simple volumetric design, they'll add an air of elegance without taking up too much space on the shelf.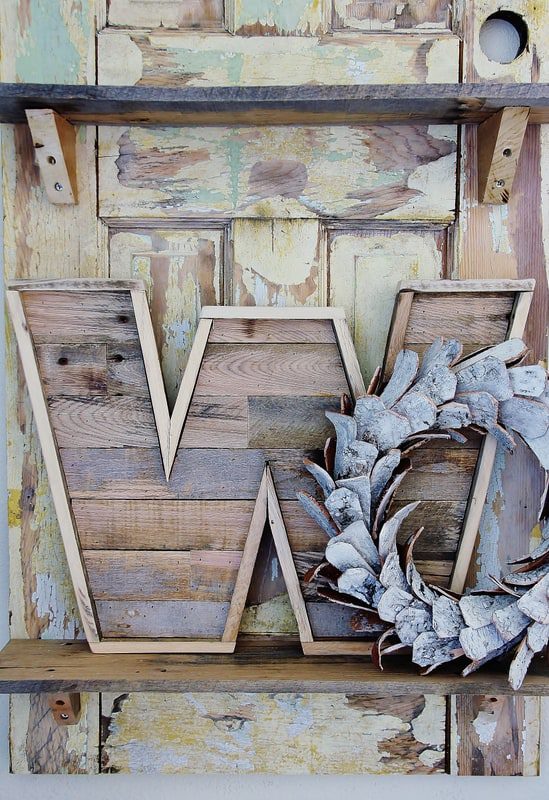 These palette bookends are the perfect way to add some negative space to your novels. They can be made in different shapes and sizes. This is the solution to your bookkeeping woes. Ultimately, these creative bookends will prevent your books from falling down.
Rustic Sliding Door From Pallet Wood
From old and worn-out to something new, these wood pallets were transformed into an incredible sliding door that can be easily placed in any home. You can construct them using many different styles, making your home stand out among others.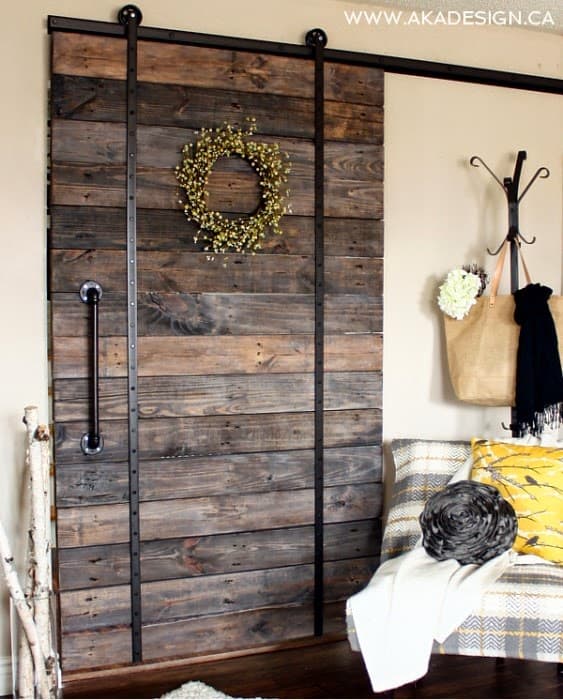 The design of this wood sliding door is based on pallet wood. As a result, its beauty lies in its age, texture, and tone that was beautifully preserved for years to come through transformation into an incredibly modern piece that you'll cherish forever.
Focus On Work With A Pallet Working Station
You don't have a working station? You're missing out! A wooden pallet is a perfect way for your child to get creative, read books, draw, or just play with some toys. All you need are some simple instructions on how to make one yourself.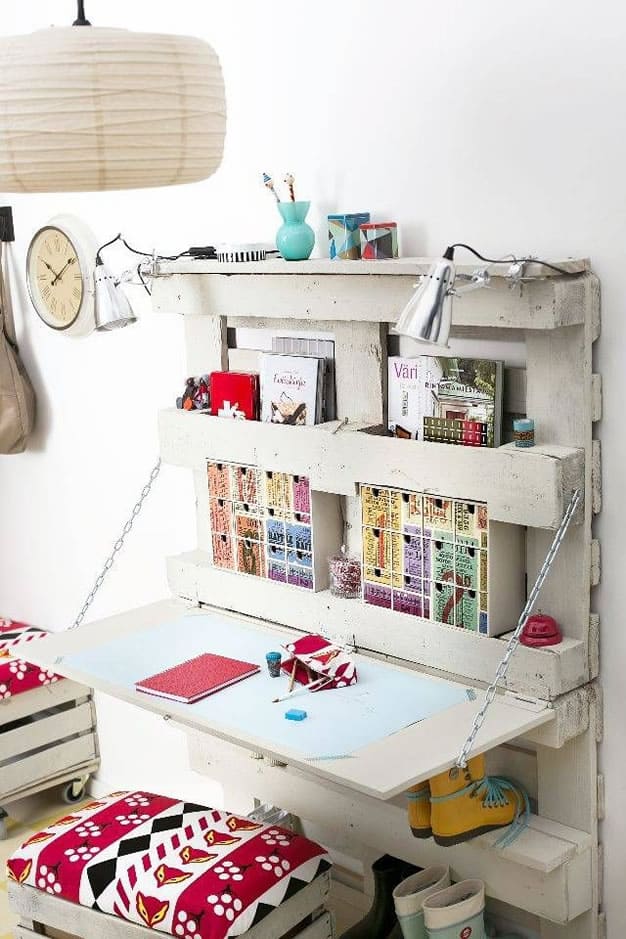 You can create this with easy-to-build plans! This project will provide your kids with endless hours of fun while learning the skills they need for life. You can make it more exciting and enjoyable by painting the pallets in glossy white color and cutting out small bits to create different storage spaces.
Love Photo Shelving Unit
You can DIY this impactful yet straightforward shelving unit for family photos. The uniqueness of this project is that you can create your own custom design by choosing which pallet wood pieces and pictures go where. The letter O will help center the most important photo!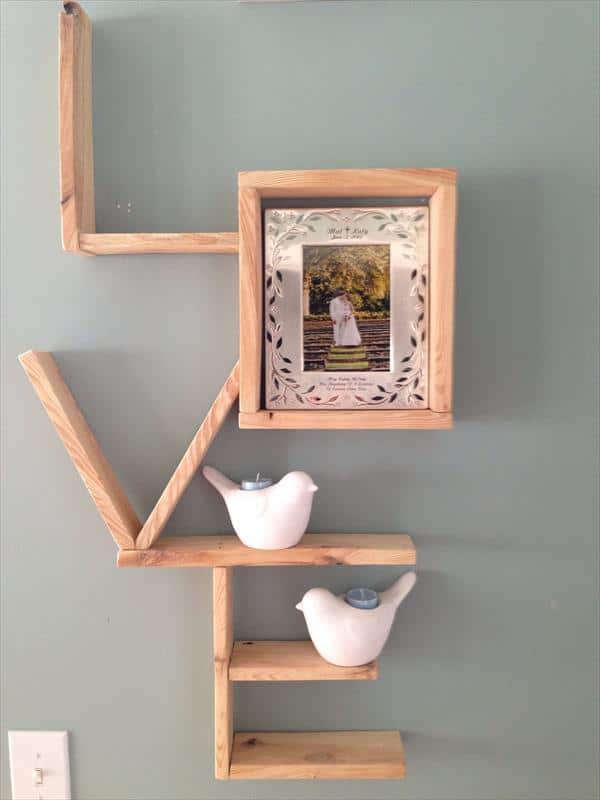 Choose a photo that is important to you and your family, then assemble an O (or square shape) in the center of this wooden pallet structure. Use it as leverage so you can easily hang up pictures or other items on display in any room!
DIY Metal Pipe And Pallet Laptop Table
You know that painful feeling when you're sitting in front of the computer all day, and your back and neck are sore? When you're sitting for hours on end, it's inevitable that back and neck pain will set in. It's enough to make anyone desperate for a fix.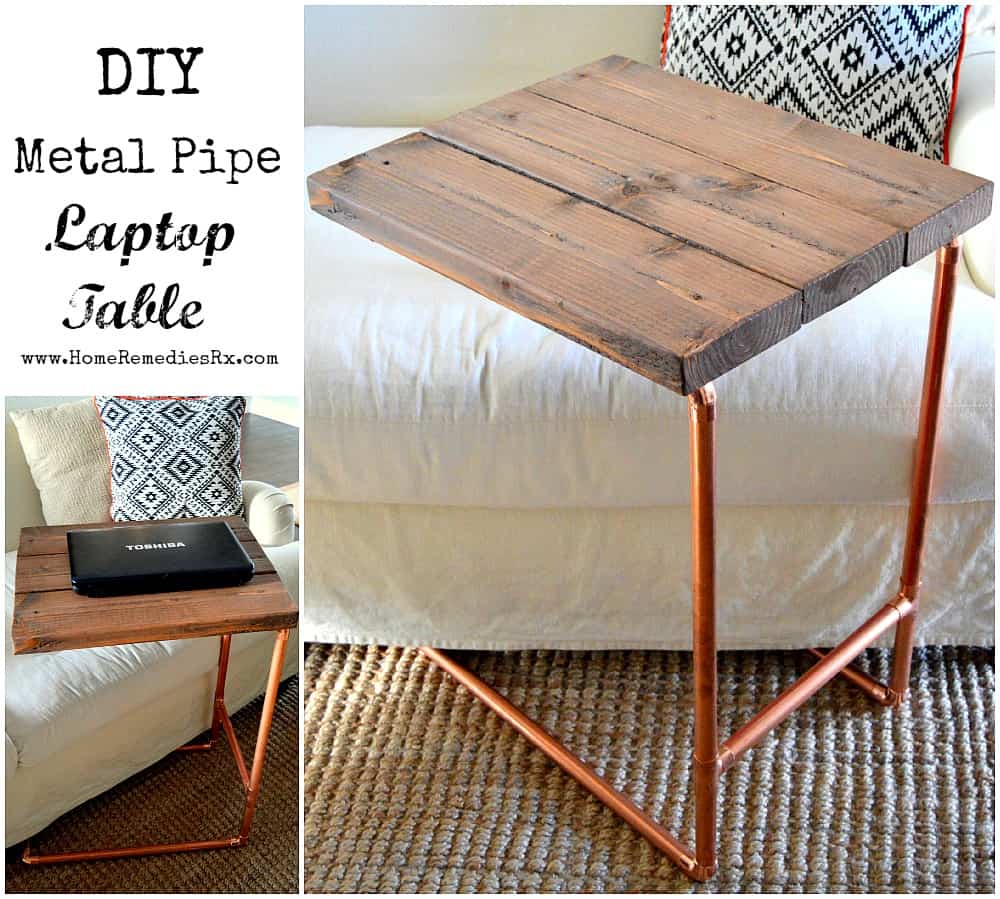 Create an affordable laptop table made out of pallet wood and metal pipes. If you're fond of using your comfortable couch as your working station, this DIY will save your neck and back. You'll be able to work without getting tired.
Garden Tunnel Perfection
Here is a quick and easy project for your backyard. Cut four wooden pallets to size, then adjust them, so they're all the same height (about 2 feet). Place two piles on top of each other in any shape you want—a tunnel would be perfect!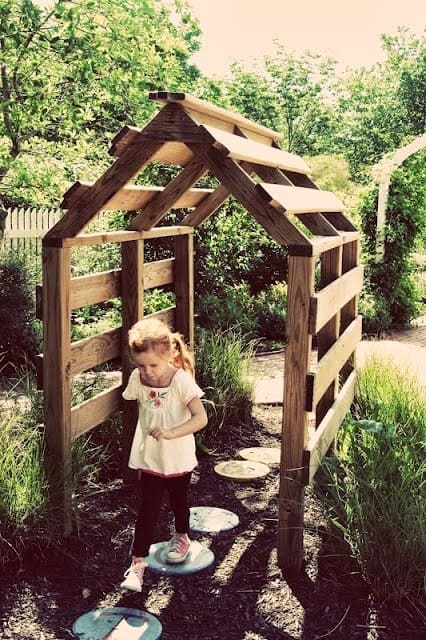 You can add climbing vines to these and let spring do its magic. Cover this homemade playspace with moist cloths or old sheets that you don't use anymore. These will help protect the kids against sun damage when it's hot outside.
DIY Wooden Headboard With A Message
A DIY wooden pallet project can replace your old, worn-out headboard. This wooden headboard is a clever, creative way to spice up your bedroom. All you need are some glue and rope for this project. You can finish it easily in just two days!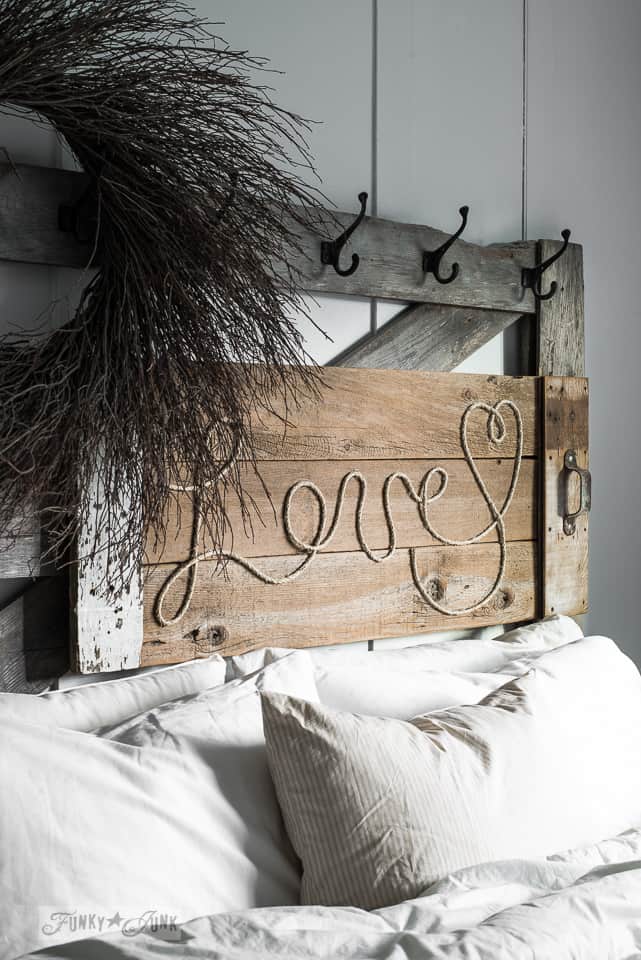 The classic design of the old headboard remains, but now there's an organic feel with its handcrafted pallet look. Since each piece will be made from scratch instead of buying manufactured wood headboards, this one will definitely have more character.
Transform A Wood Pallet Into A Gorgeous Chandelier
The transformation of a simple wooden pallet into something truly stunning is made ready by the manipulation of light. The soft glow empowers this otherwise humble piece, making it entirely unique in its beauty! We've never seen one like it before.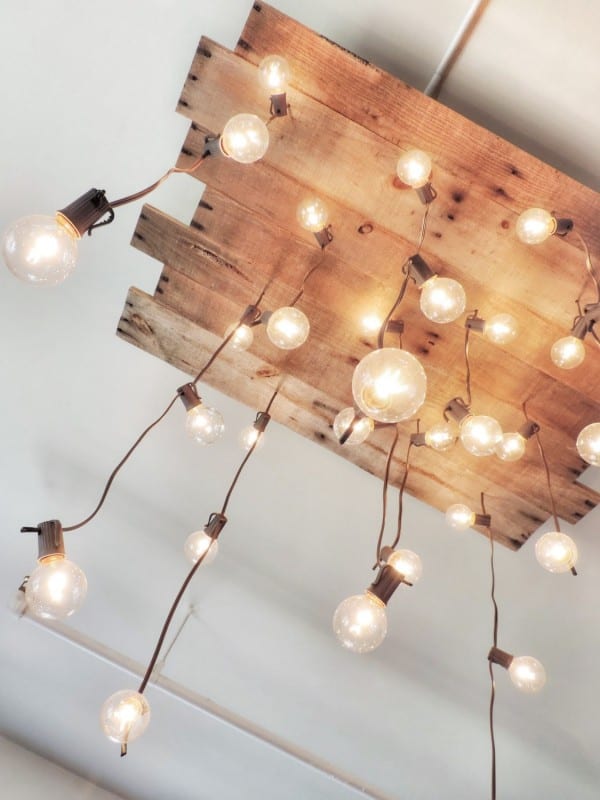 The addition of a light fixture to an otherwise dark room creates the perfect atmosphere for relaxation. Add the natural texture of pallet boards as bases to hang bulbs in various sizes, so they shine down on you like stars during nighttime.
Multi-functional Tool Organizer Using Wood Pallets
Organization and planning are key to success in most cases. Keeping an organized garage can be challenging, but by creating a tool wall out of wooden pallets, you will save time searching for misplaced tools when undertaking future projects!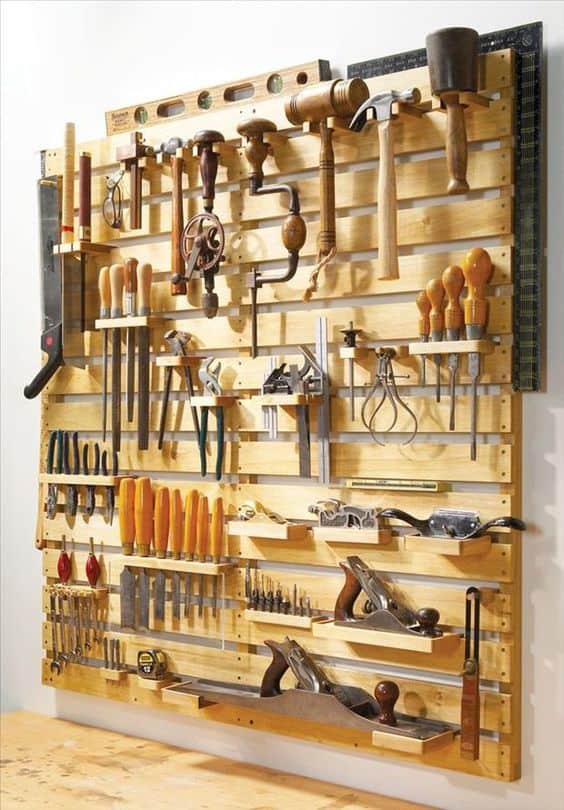 Simply attach these boards to an empty space on your garage wall so they're sturdy enough to hold all sorts of tools and materials, like power drills and nails. Also, you may add hooks from which all sorts of different-sized screws will dangle.
Scandinavian Coffee Table Using An Old Wooden Pallet
It's time to get cozy with your new pallet coffee table! This simple yet stylish piece is the perfect addition to any living space. With its wheels, you can easily move it around when needed and then roll it back into place afterward.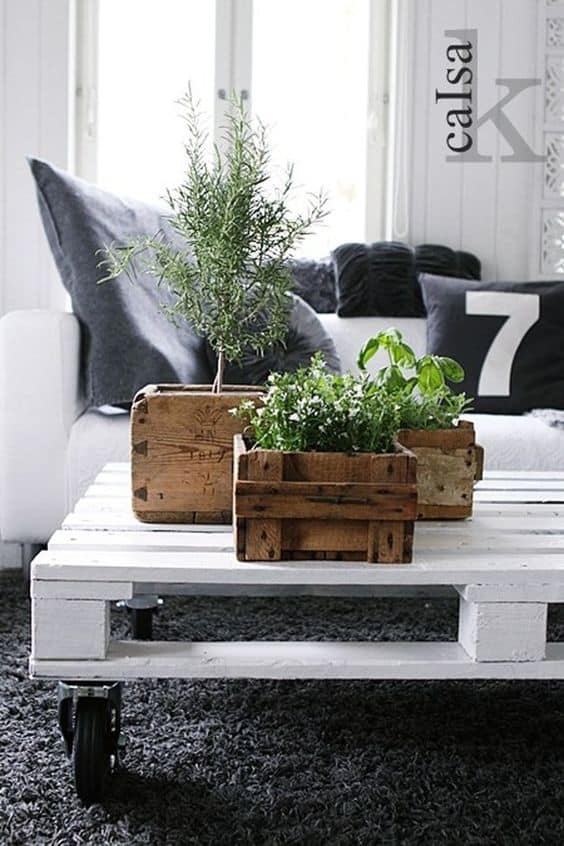 Apart from this, you may take advantage of some storage slots on each side if need be. The natural wood tones will blend seamlessly while also complementing all the other colors that you can find throughout your home – white being one notable exception.
French Vintage Vibes For Your Bathroom Cart
While this bathroom cart might seem like just another boring piece of furniture, the addition of a few simple vintage elements changes its entire aesthetic. The aged wood and candlelight combination gives off that perfect vibe one needs to relax.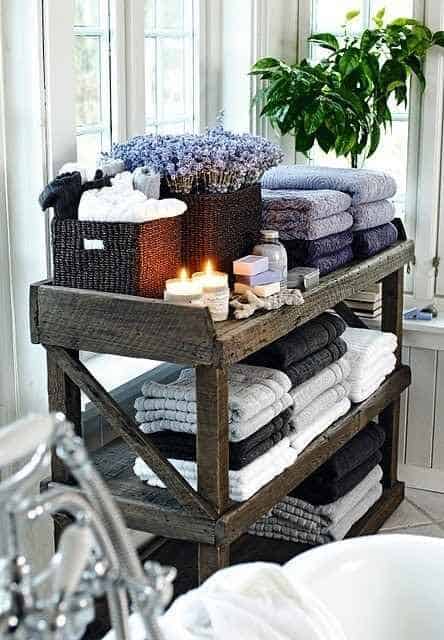 You can create French vibes by adding contemporary colors—which also contrast nicely against white walls without being overwhelming. Imagine sitting in a scented lavender bath as you listen to the calming sounds of water droplets. This will help you achieve that!