40 Funky, DIY Projects To Creatively Use Those Old Magazines And Newspapers
By Navkiran K January 10, 2022
---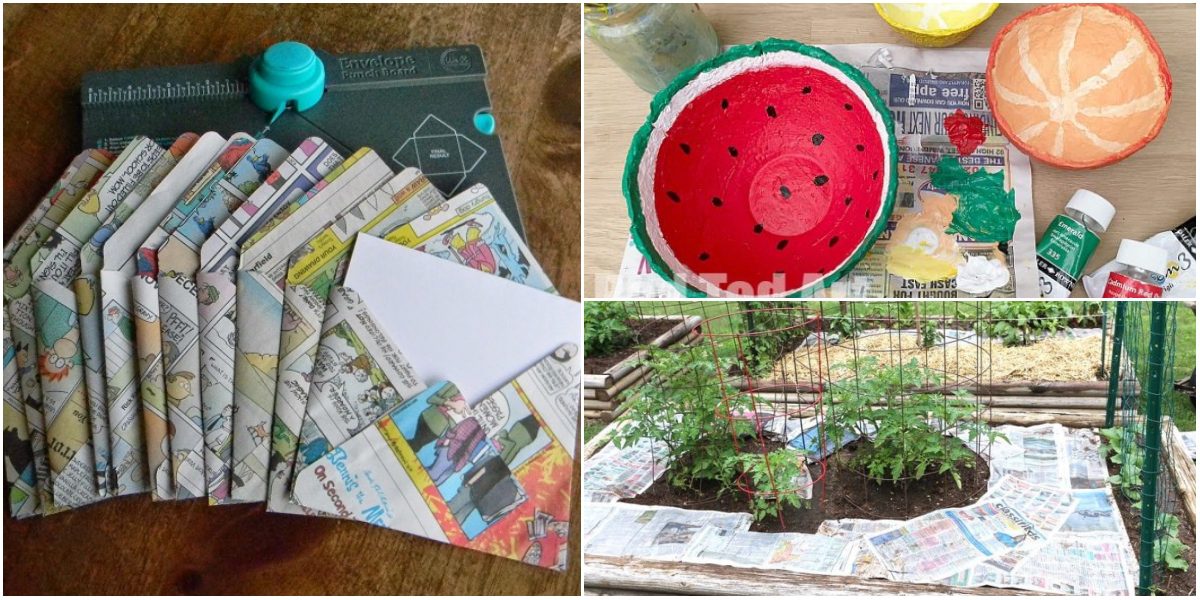 If you're like most people, your recycling bin is overflowing with old newspapers and magazines. And, it's inevitable. Magazines and newspapers always pile up, even if you only use them for a day or two. Instead of letting them sit there and take up space, why not use them in some fun and funky ways? It's also a good idea to repurpose and recycle things around the house. It's an easy way to be environmentally friendly. With the support of some everyday household items and a few supplies from your local craft store, you can create something truly unique. Whether you're looking for a little decorative touch to add extra pizzazz or are trying to organize old memorabilia, these 40 DIY projects will make the most out of those old magazines and newspapers.
De-Grease Oven Faster Than Ever Before
Washing your oven can be a pain, but it doesn't have to be with this trick. The most effortless way to clean your oven is by using newspaper. It's an excellent substitute for both sponges and clothes while keeping oil at bay.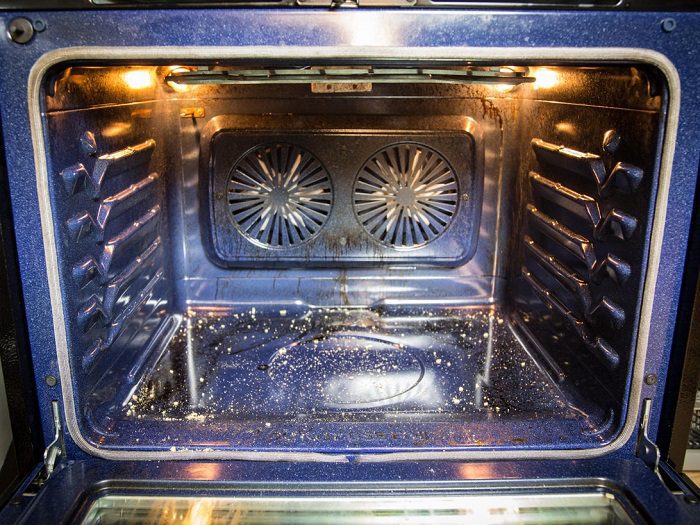 Not only will the newspaper help you get rid of grease and oil, but the paper also helps you save on costly cleaning materials. Scrunched-up pieces of newspaper work wonders at getting rid of what needs removing quickly without scrubbing too hard.
Wrap Your Presents Elegantly
Who doesn't love a good old-fashioned newspaper-wrapped gift? It's time to bring this tradition back in style with modern twists. With a bit of creativity, you can make your presents look very chic. For example, you could use pretty contrasting ribbons.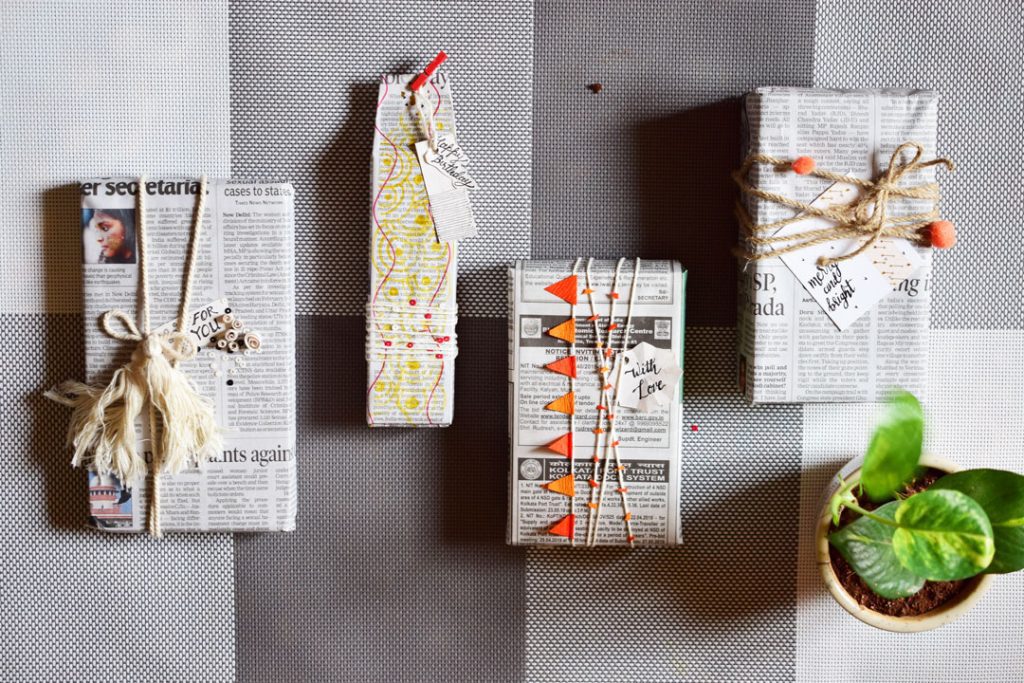 It's a great way to save on holiday gifts. Wrapping up your present in a newspaper instead of buying expensive wrapping paper will give it both style and class. Use exciting colors and patterns to make the presentation even better with a striking effect.
Make Your Own Christmas Tree With Newspapers
A Christmas tree is the perfect way to bring in the holiday season, but if you're feeling extra ambitious this year and want something unique that's not store-bought, there are plenty of ways you can make your own from scratch.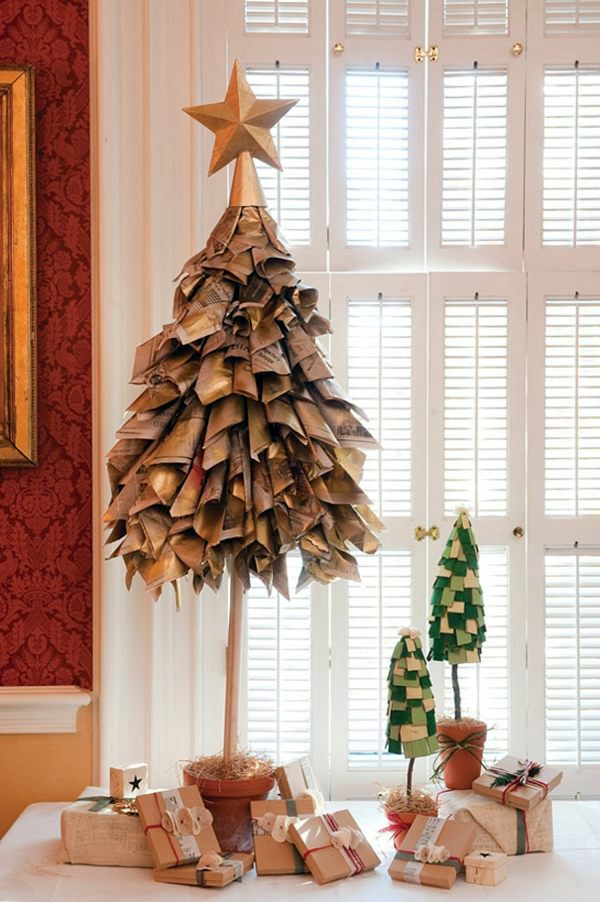 The most straightforward way to make your own Christmas tree is by using newspaper rolls. With a strong cardboard tube and some glue, you can stick them together for an eye-catching display. Plus, don't forget to embellish the tree.
Create a Feather Duster From Newspaper
Have you ever found yourself doubting how to clean those hard-to-reach areas in the house? Well, if so, then this trick is just what you need. You can get rid of dust bunnies in those unapproachable areas with a homemade feather duster.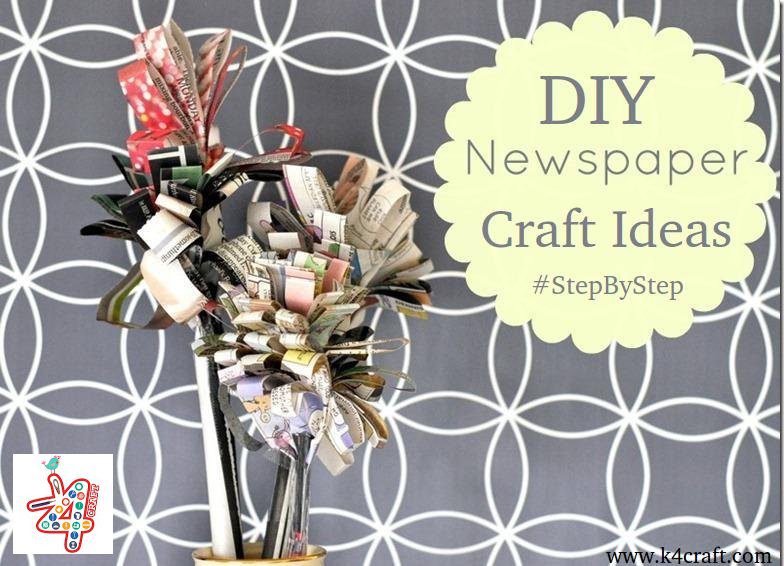 All it takes are some strips of newspaper rolled up tightly. Glue as many together as you want together, depending on how lengthy you want it. Cut the ends into tiny pieces, and voila! You'll have a feather duster that works very effectively.
Make Christmas Baubles
Have fun making your own DIY decorations for your Christmas tree using paper. Start by twisting together one layer of newspaper, then add an additional slightly smaller cone on top. Repeat this method until you have six layers in total.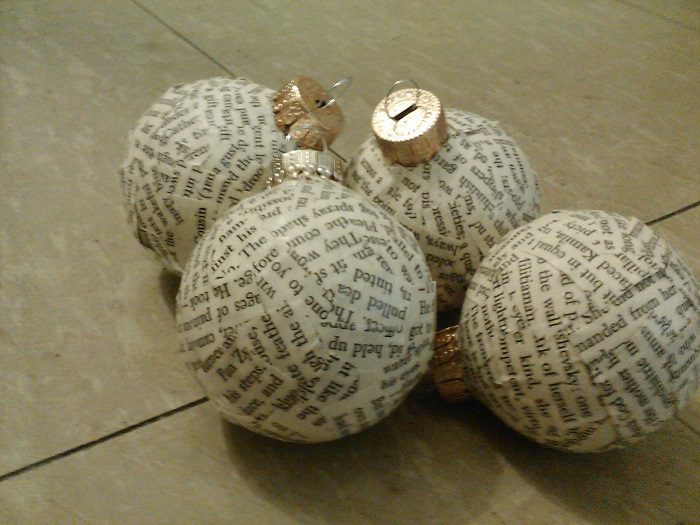 Now, take a pair of scissors and snip one-inch cuts into it. Then bend them up slightly so they stay in place. You can also decorate by adding silver or gold glitter before spraying some hairspray for extra durability.
Make Your Own Origami Bows By Folding Paper
While you're decorating, it's essential to consider how the final touches will make a gift stand out. A contrasting origami bow from colorful magazine pages is an excellent idea for adding some color and life to any present or DIY project.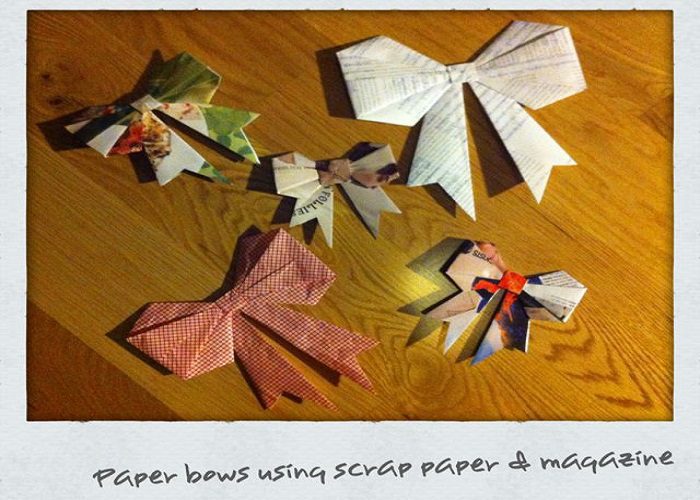 These will make the presentation much more interesting and eye-catching than just sticking on colorful stickers. You can also use the newspaper for unique details. Just be sure not to cover the package entirely, so recipients know who sent something special.
Design Your Own Wedding Bouquet
Make a beautiful statement with something unique and environmentally friendly. Instead of using expensive flowers, why not try newspapers? It's surprisingly easy to make, just remember not to get them wet, or they will become soggy in no time.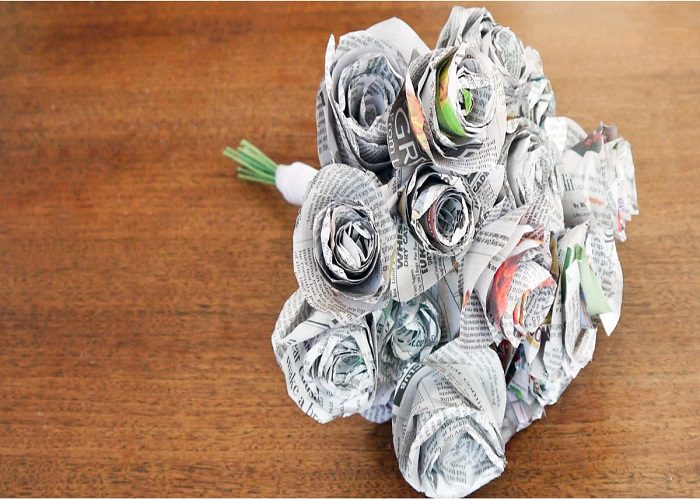 You could also create an elegant houseplant instead of artificial flowers that would work well with any decor style in your home. It's a great way to make something extraordinary with materials that usually are thrown away or forgotten about.
Best Summer Shoe Deodorizer
So you're looking for a way to keep those hard-working summer shoes smelling fresh as ever? Well, try sprinkling some baking powder onto pieces of newspaper and scrunching them into balls. Place those tiny balls in your shoes and let them sit overnight.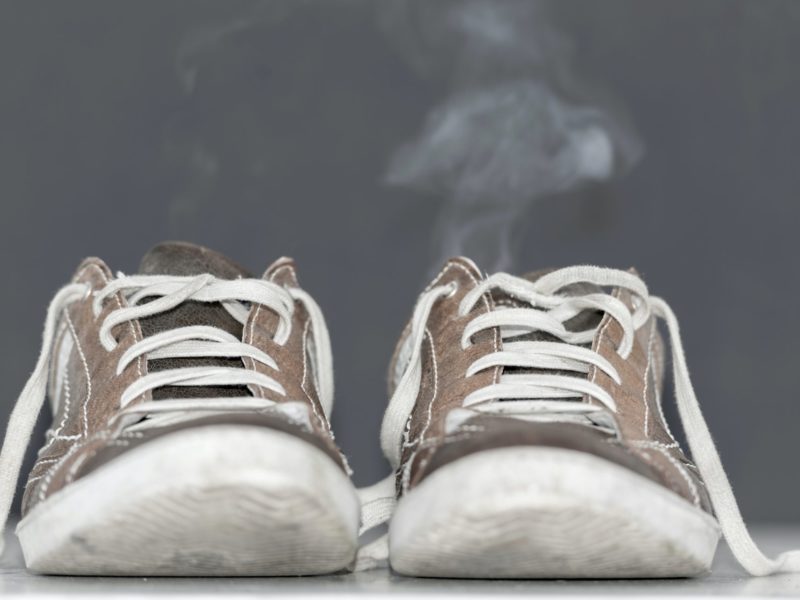 And by morning, they'll have soaked up any smelly odor or moisture. This is the perfect shoe deodorizer hack for the budget-minded shopper who wants to get rid of pesky smells without having to spend a lot of money on deodorizers.
To Prevent Frost, Cover Your Vehicle's Windscreen
In the winter, it's vital to protect your car from frost by covering the windshield with newspaper before going to bed. This is the greatest way to ensure that frozen precipitation doesn't deposit its crystals onto any susceptible surfaces of your car.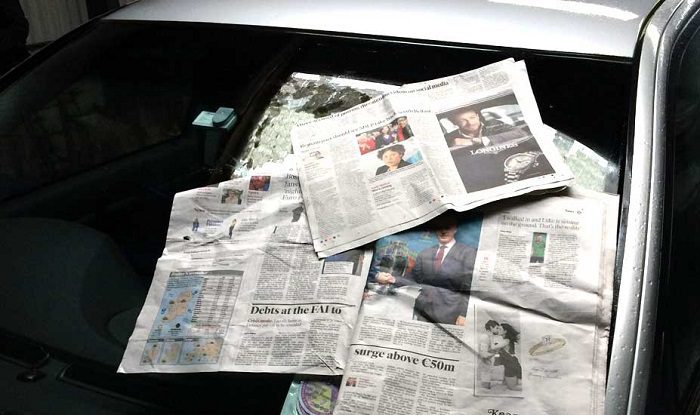 In addition, you can save time in the morning when you wake up because there won't be any cleaning necessary. Reuse old newspapers and spray them heavily with anti-freeze overnight so they will stay effective until the following day.
Make Your Own Cut-Out Art Designs
If you want to get innovative with your home décor, then this is the perfect project. All it takes are some simple supplies and some patience. Cut out strips from old papers and magazines and attach them to a wide piece of card.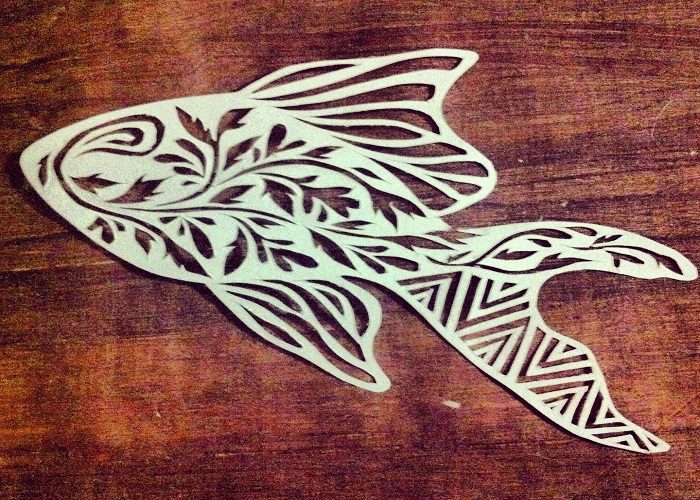 Now, take one more piece of card and draw your pictures or patterns on it using scissors safely. When you're satisfied with how it will look, carefully cut out the various parts and attach them to the magazine strips using a Stanley knife.
Construct a Little Basket By Yourself
Create your very own basket to keep all those trinkets in, or place it next to the front door to keep essential items like tissues, car keys, and sunglasses together. It's easy. You could use up a month's worth of newspapers for this fantastic DIY project.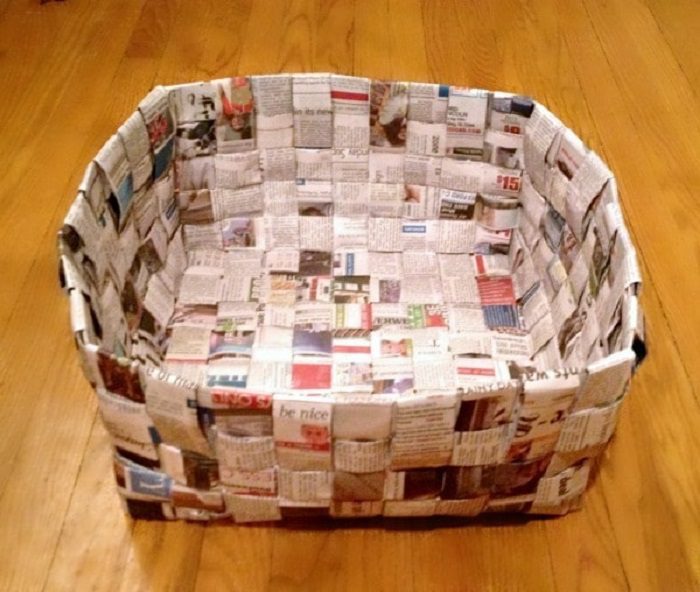 Also, you can create a super unique gift for friends and family just by weaving these adorable baskets. To achieve a contemporary style, cut the newspaper or magazines into 20 strips and then zig-zag them to create a modern weave effect.
Wind Your Newspapers Into Stunning Coasters
Coaster lovers rejoice! Here's a fun project for your next party: make these beautiful pinwheel coasters. You can make them by winding strips of gluey paper into wheels, and you won't believe how cool they look when you're done.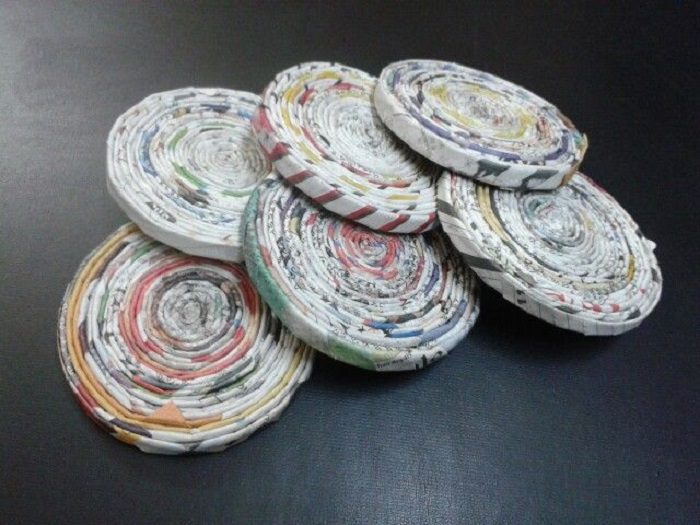 And don't forget, it's essential to make sure each coaster is even in size, so use any ruler that might come in handy for this task. You can easily customize them by using different colors or patterns of paper strips.
Fashion Your iPad Mini Cover
If you're feeling crafty, take a little time to make your own iPad case. It's an easy DIY project that only takes half an hour or so and is an excellent way of making something unique for yourself or as a gift for someone else.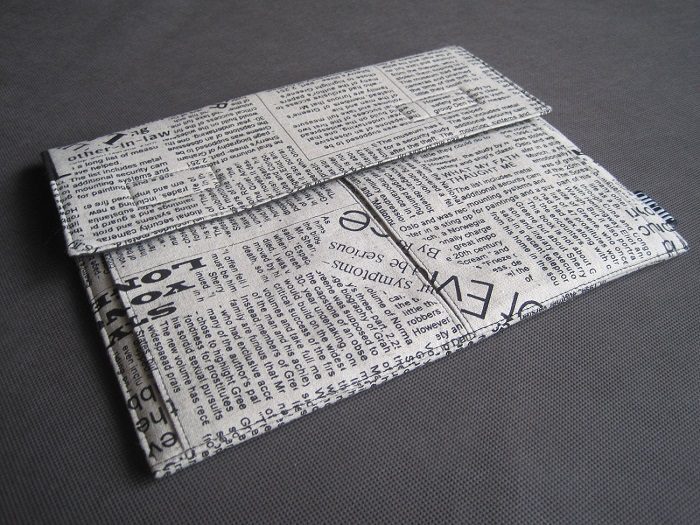 You need a padded envelope, newspaper, and velcro tape to make this case. Put newspaper on the envelope and then add some color to the flap. Place some clear packing tape all over it, and then add some more velcro tape, bingo!
Newspaper Nail Art
If you're looking for an affordable, fun alternative to expensive nail art that doesn't require any paints or dyes, then grab yourself some newspaper and rubbing alcohol (or drinking vodka). You can also use this method over already painted nails.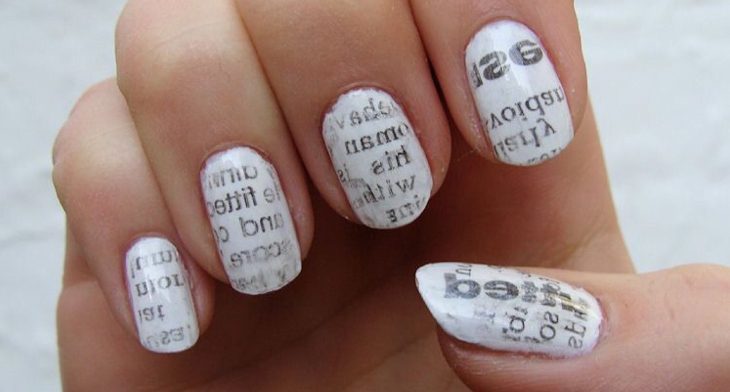 Color your nails. Let it dry. Put some alcohol in a cup, then dip your nail into it for 10-15 seconds. Take a small piece of newspaper and press it gently on your nails. You're all done once you apply a topcoat.
Wrap Your Most Valuable Things in Newspaper
A newspaper is an excellent alternative to bubble wrap. To pack a box of delicate things with newspaper, first, wrap each item individually. Place the items in the box, separated by crinkled paper, then stuff any empty gaps with a crumpled sheet of paper.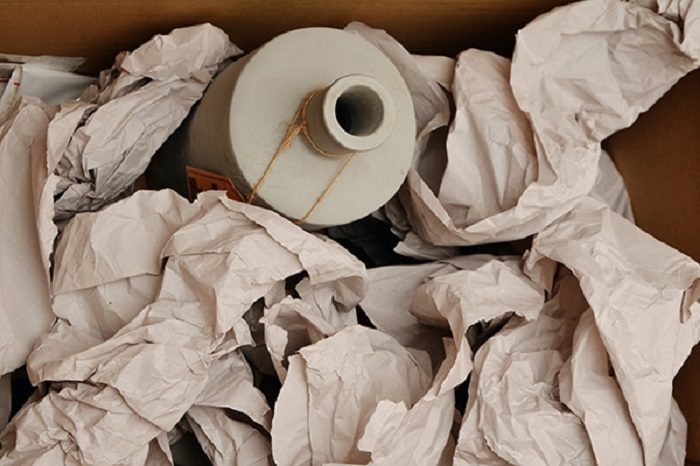 Use a paper shredder to form piles of old papers into packaging material that can be recycled. The person receiving your gift will avoid adding more items into the world's waste, making it easy to put it all straight in their home recycling bin.
Create Some Stylish Gift Bags
For all the people who've ever spent their money on wrapping paper, gift bags, and cards only to realize they could have bought something better, join us. Don't waste your hard-earned cash on these extra items. Instead, make your own gift bag.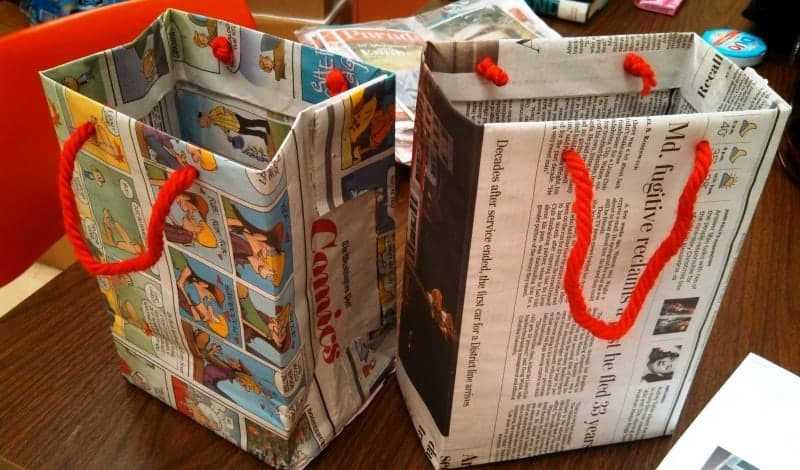 Use old newspapers to make a bag that is perfect for any occasion. These eco-friendly bags are not only stylish, but they also have a rustic charm that comes from the stunning pattern of miniature fonts and colorful images printed on newspapers.
Create Your Own Quirky Envelopes
Why use just any old white envelope when you can make your own with newspaper? It's not only eco-friendly, but it also has a fabulous vintage look that will make them even more stylish. Plus, designing your own envelopes can be a fun project.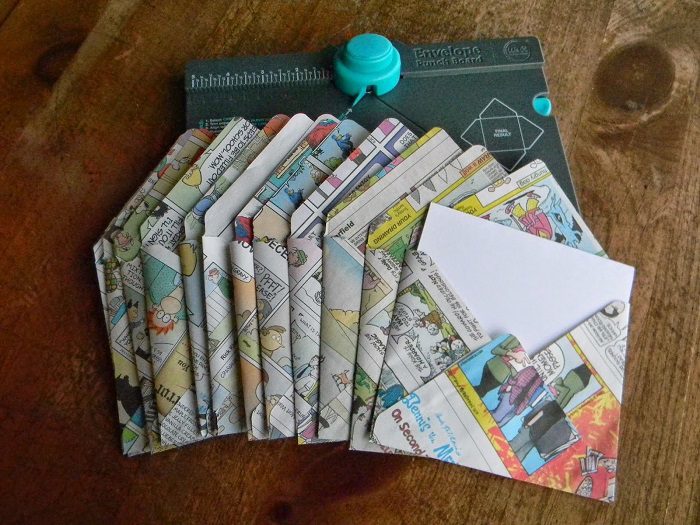 You can even use old magazines by cutting them into tiny pieces before sticking them on paper. They will make any mail look more attractive. This is also a great way to take advantage of what you've got sitting around the house.
Create a Feature Wall Using Newspapers
Do you have a few hours to spend on housekeeping? If so, why not make an interesting feature wall with newspapers. Cut old paper sheets in half lengthwise and then paste them together on the wall, creating a unique and vintage collage.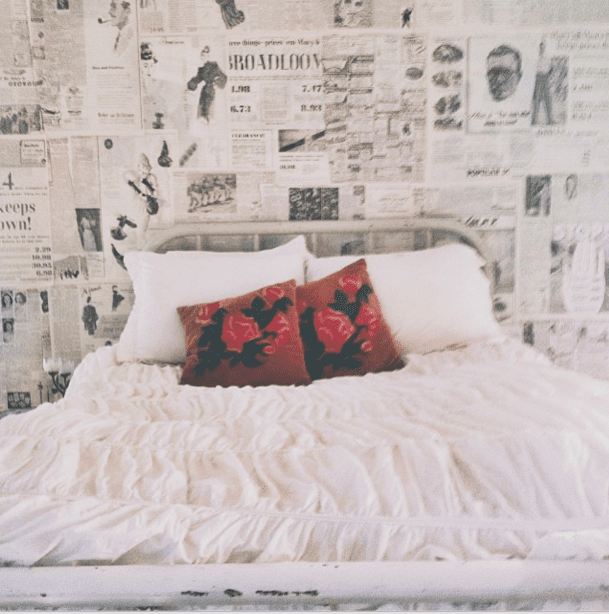 You could also use magazines. Just cut out pages that interest you. This simple project is an easy and affordable way to design your space. Black and white print newspapers look funky on walls, especially when using different patterns.
Make Some Handy Trivets
Homemade coasters are a fantastic idea for any home, but if you want to go one step further and make some DIY trivets as well, consider using smaller pinwheels. You can glue them in different designs, including squares and circles.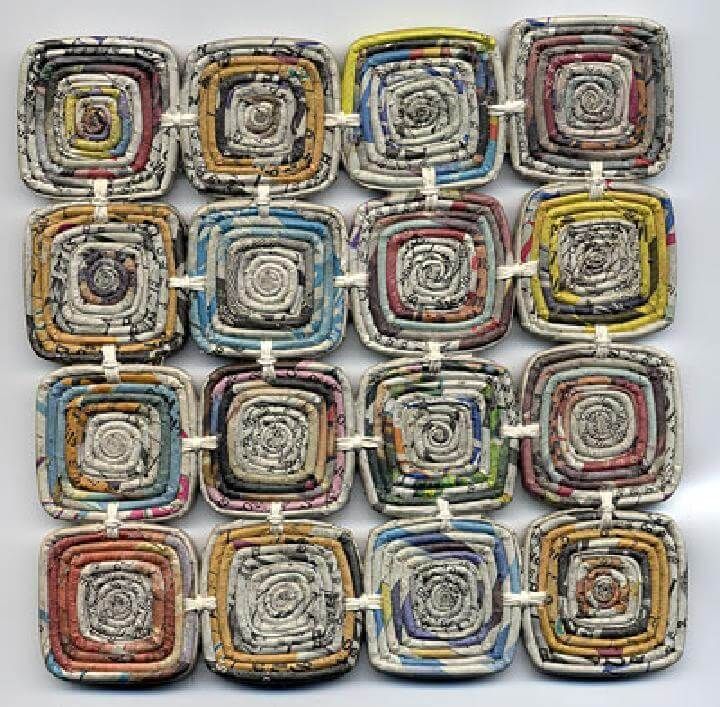 With this DIY, you can make super handy potholders that will be perfect for your home. This project can also be utilized as a coaster if you make your trivet big enough, and if you're feeling really imaginative, you could even make placemats.
Make a Hanging Garland
Make your next party a hit with these simple yet effective ideas for decorations. All you need are some newspapers and magazines. The best part about this DIY craft is that they cost absolutely nothing and provide an elegant touch to any occasion.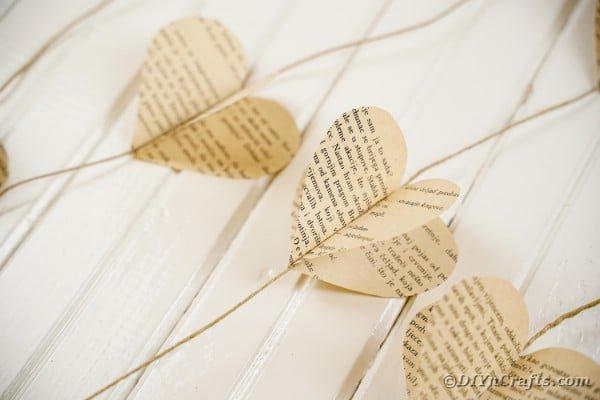 Just cut out the desired length and shape from a newspaper for your party decorations, then add some tape at the bottom for stability. You can either punch holes in each piece or staple them together with string if you want more security when hanging up.
Construct a Clock Out of Newspaper
Who said you couldn't make a paper fan into something more? Just take the same technique and glue your paper fans together. You'll end up with a giant circular pinwheel. Add in some clock mechanisms for an even better effect.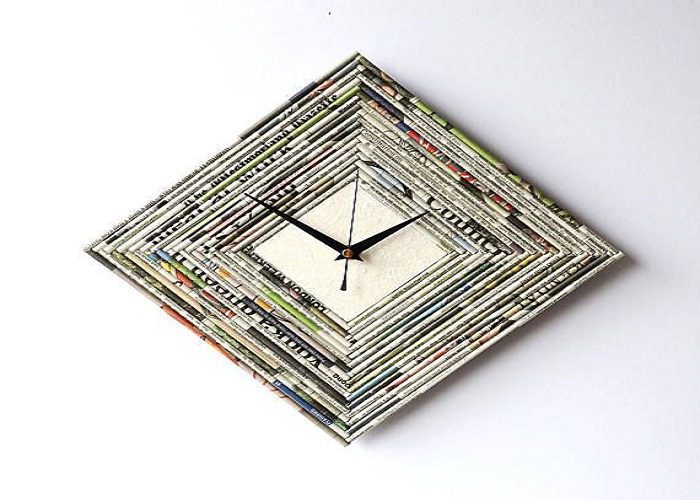 The clock mechanism is readily available online or at local craft stores. Making a clock is an exciting project. They may be used to decorate a room or as a prop. You can also use them to educate youngsters about time or as a fun DIY project with the kids.
Ripen Your Fruit and Vegetables
You can speed up the procedure of ripening your fruit by wrapping it in the newspaper. Believe it or not, this is literally a very handy tip for home chefs. You'll be able to enjoy your fruits and vegetables like avocados and tomatoes.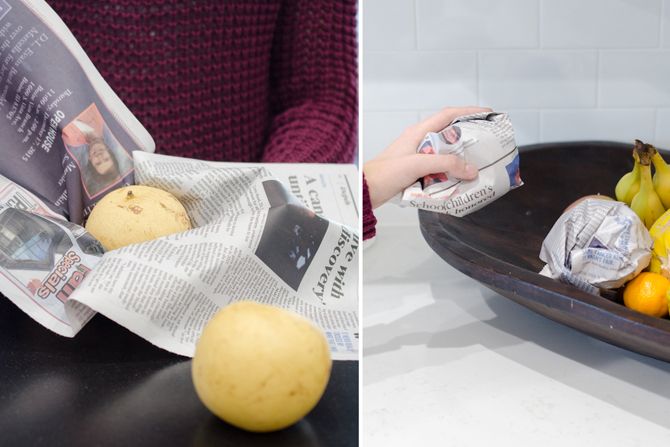 Wrap green tomatoes in layers of old newspaper and place them in a box with a lid; they will eventually ripen to a lovely crimson color. This method allows for more exposure on all sides, which means they'll be ready sooner.
Make Adorable Bunting From Newspaper
The choices are endless when it comes to patterns and colors for party decorations. Sometimes, the more bright or random they are, the better. Simply cut out your favorite shapes with scissors, then use twine in order to attach them all together.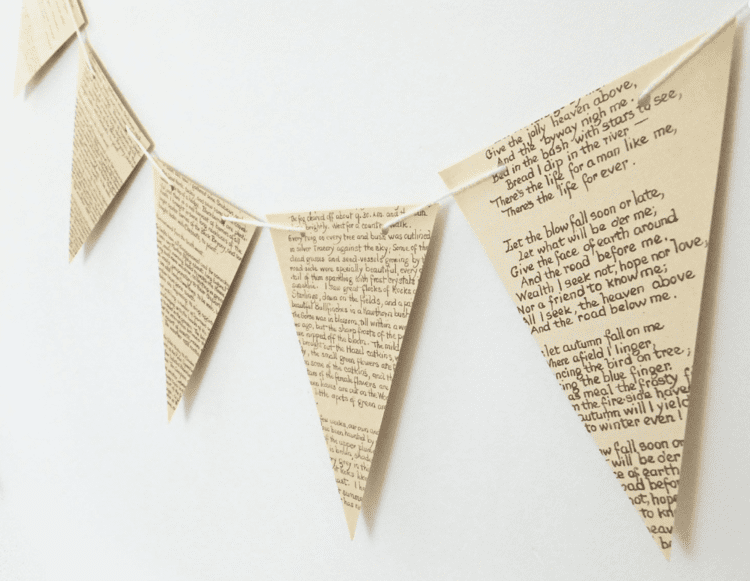 We find that using a hole puncher on each shape (if it's a simple pattern) works best when you need to weave them in-and-out with twisty ties like the design you see here. This will not allow any gaps between the pieces and will give an impressive-looking result.
Keep Your Vegetable Drawers Smelling Fresh
Keeping your refrigerator stocked with fresh food will ensure that you have better-tasting, healthier options for dinner. But if the vegetable drawers start to smell after a while, we have an easy enough to fix for you. Just line them using newspaper.
The paper keeps smells at bay and will absorb any mess from rotten produce as well as prevent odors from building up in there over time. Try to change it after every few days to ensure cleanliness so that nothing goes wasted.
Use Newspaper to Make Stunning Candle Votives
The best way to make your home feel like it's on an exquisite candle-worthy dwelling is by using newspaper. Make your own candle decorations with this simple and easy hack. All you need are some old newspapers, a pair of scissors, and glue.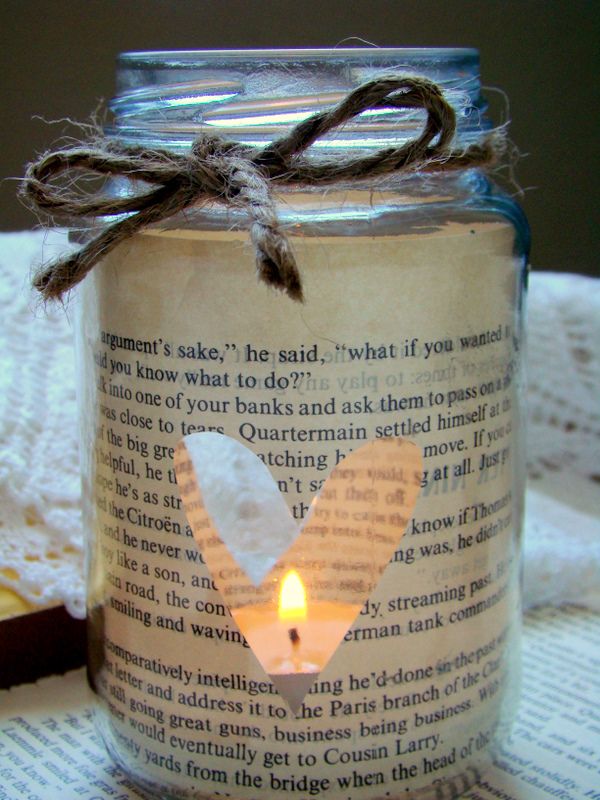 Cut shapes out of a sheet of newspaper, then roll it through an empty jam jar. Place blue tack where needed so that you can stick them onto glass jars as desired. Voila! Pretty votives for any occasion are ready.
Curl Your Hair With Newspaper
You can curl your hair with newspaper to create beautiful wavy curls that won't damage the health of your locks. If you're looking for an easy, low-cost way to get those perfect ringlets, then give this classic technique a try.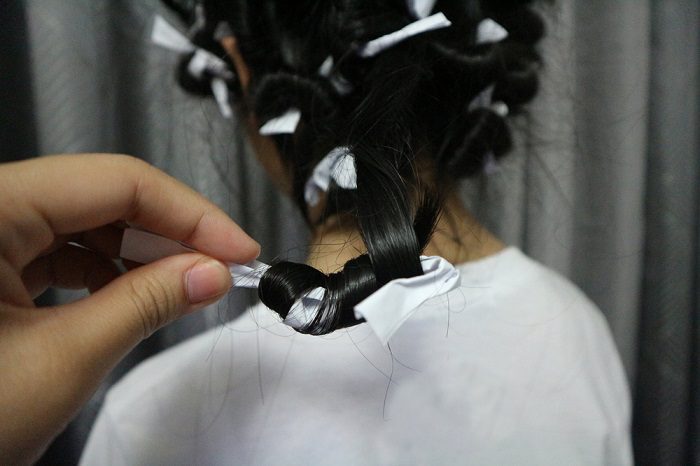 First, find a newspaper and cut it into strips in the desired size. Dampen your strands and roll your hair by taking a small section and wrapping them around the newspaper. Do this with all your hair, then untwist them revealing gentle curls after some hours.
Construct Your Own Seedling Pots
You never thought gardening could be this much fun. Making your own organic planting pots is a fantastic project for the green-thumbed person. The final product (i.e., pots) can house small plants and can be placed tightly together in one spot.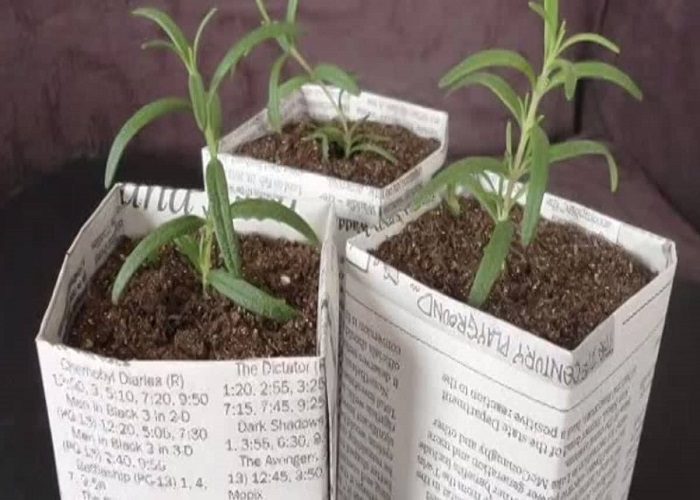 Place newspaper in and around the center of planting cups and fill them with fine dirt to plant your seeds. Once they're ready to move outside, carefully pull up the newspaper pots and place them directly into the ground where they will decompose over time.
Make Your Own Unique Side Table
Want to give your living room a renovation? Why not make an original side table out of old newspapers and magazines. You'll need a hefty stack of magazines or newspapers along with glue. Plus, any other furniture items like glass top tables or shelves.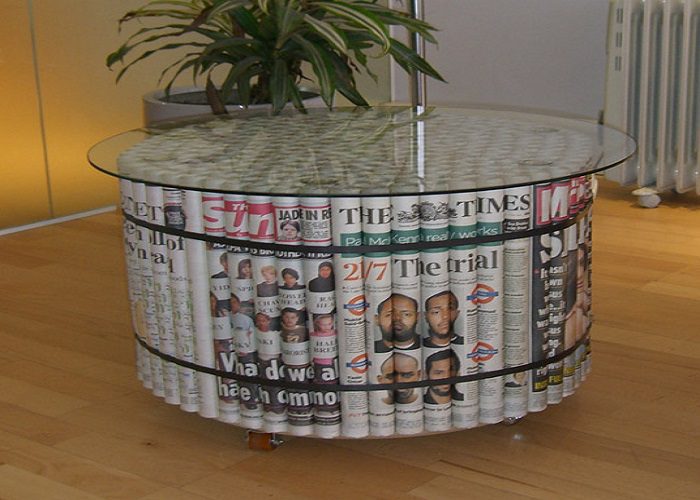 Making your own side table is a perfect way to start. Stack them up in an organized fashion so that they can stick together easily. Place a glass on top of the solid structure for an elegant look that's perfect in any room.
Make a Statement Necklace
Now you're a pro at pinwheels, so why not try this concept out for something more? You need some newspaper pinwheels and twine. It's a lot of joy to experiment with what materials may be reused into new, appealing objects.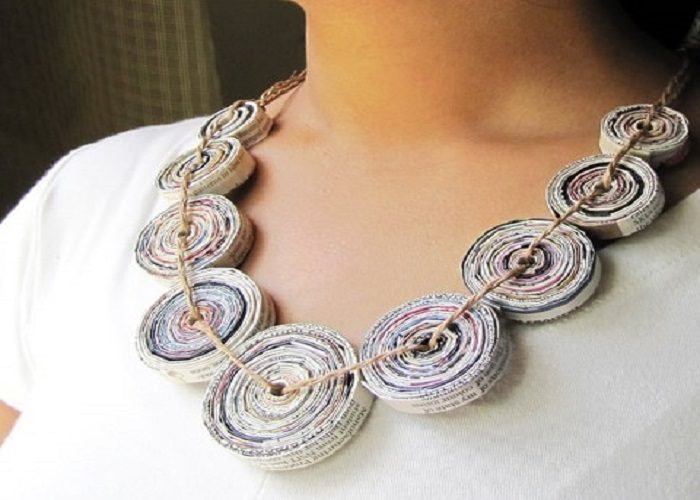 Wearing a statement necklace is all the rage right now. They're perfect for any outfit and make you feel like a million bucks. It can be worn anywhere from date night to work. There's no wrong time when wearing one of these pieces.
Paper Mache a Balloon to Make a Bowl
Paper mache is an excellent crafting project for both kids and adults, but it's also great if you want to get innovative with your party decorations. These paper bowls are shaped like half-balloons. And you can paint them any way you like.
And the best part? It saves on washing up. There are many easy-to-follow youtube tutorials online on how to make them, and you can paint the bowls with colors that suit you best. Once they're dry, it's just as fun to use them in games or other activities.
Homemade Gift Bows Using Newspaper
You can never go wrong with a handmade gift bow. All you need is some newspaper or magazine covers, and this easy crafting project will leave your friends and family feeling special. This is so easy and a great way to reuse materials.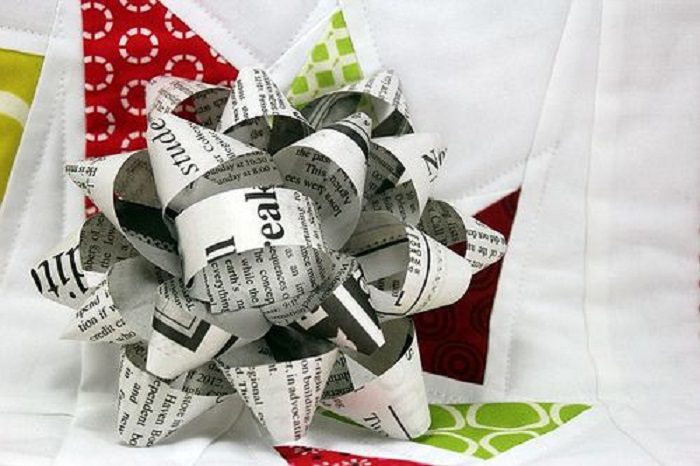 Start by cutting out strips, then fold each strip in half width-wise so that they are narrower than before but still long enough for them to wrap around one another and create thin smaller bows. You can use this bow all year round.
Put On Your Paper Hat and Start Creating 3D Stars
Cute, little 3D stars are easy to make with some basic origami techniques. You can use old magazines or newspapers for this project. Give them away as gifts, or use them in your decor. They'll look great hanging from the ceiling as a decoration.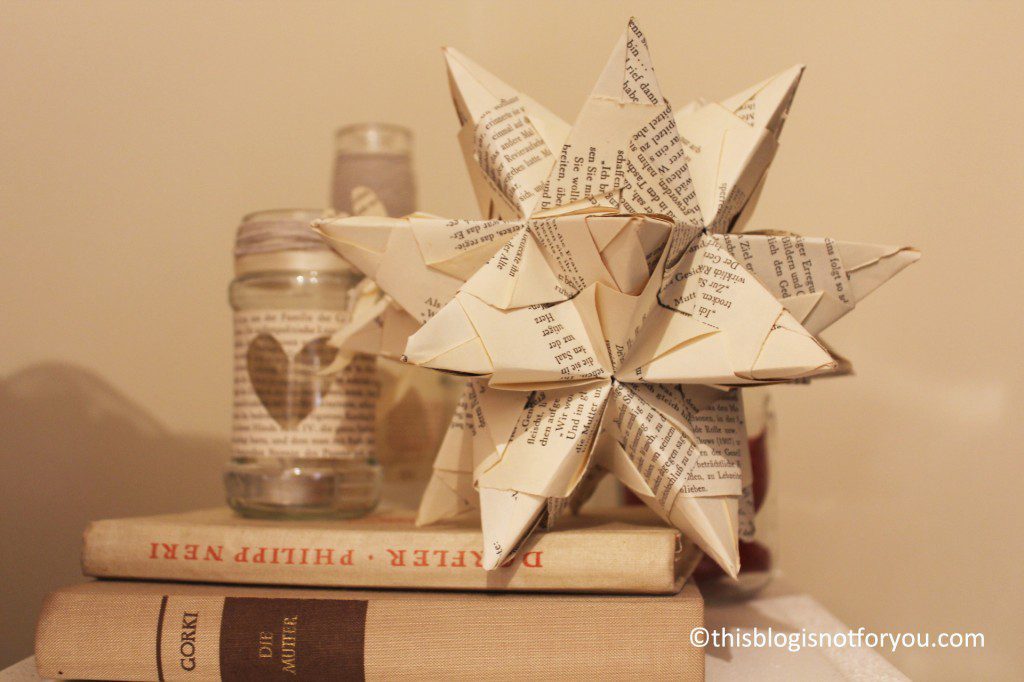 Fold your paper in half. Then take the bottom left corner and bring it across to meet up with creases on the right side. Flip the paper over so that both sides are facing forward before you cut out the stars.
Decorate Your Space With DIY Faux Feather Mobile
Step into the world of boho decor with this fun and creative DIY. You can make faux stained glass feathers, hang them in your window or use them to create a chandelier for an eclectic touch that will liven up any space.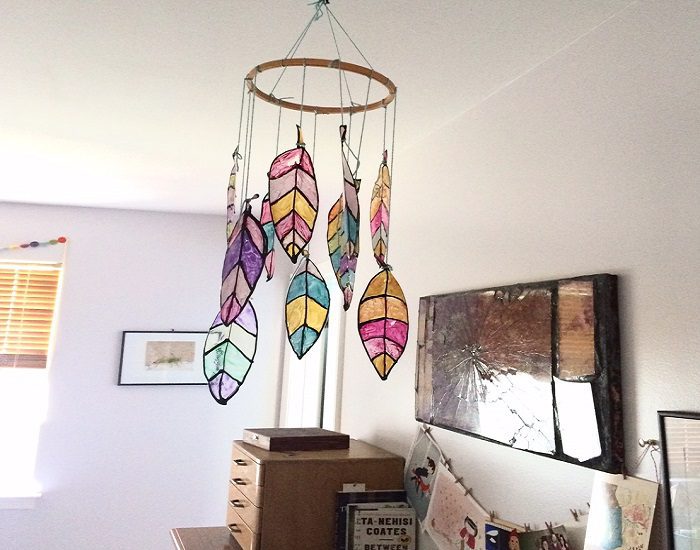 All you need is 3D gloss enamels, an embroidery hoop, and some yarn. Trace designs onto white paper before overlaying them with transparent plastic sheets so they can dry properly. Once traced, cut out feathers and hang them with pieces of yarn.
Create a Newspaper Bin
When you stop throwing away your food scraps, it's unnecessary to line anything in the bin. But if you want something that will make cleaning easier and keep things tidy when you are throwing them away, then DIY a bin out of newspaper.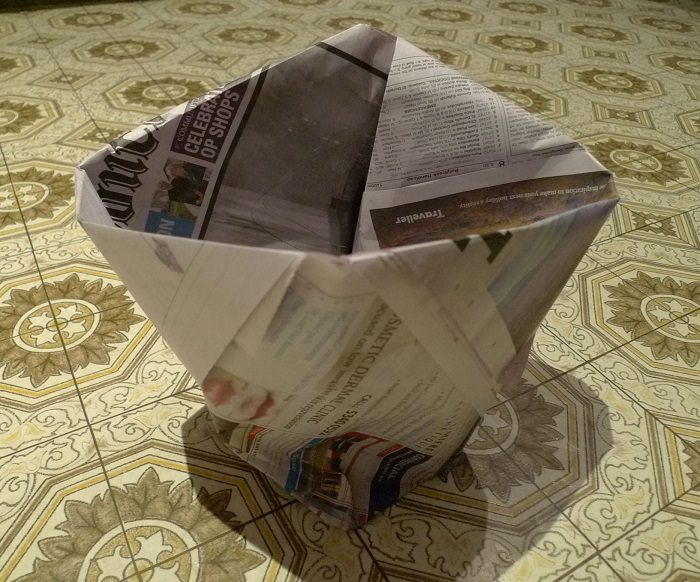 This is so easy. All you need to do is fold one corner in, then repeat for each of the other three corners. Find the last corner center and fold it. Turn it over and fold the next corner down. After that, the bin is ready.
Make a Christmas Wreath
Wreaths are for everyone. You can find them adorning the doors during autumn and winter, but they're not just a December thing. Wreaths are for decoration all year long, and there's no specific time to put them up. Make yours in whatever color or shape suits your taste.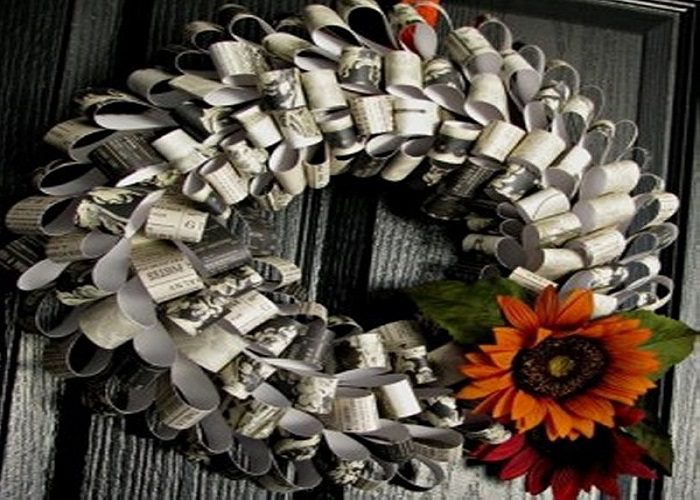 You don't need a lot to make this wreath. You'll just need glue, newspaper, and scissors. It may take some time, but the end result is well worth it if you're looking for something unique to decorate your front porch.
Hide Plant Pots With a Plant Paper Cover
Magazine covers are a great way to hide your plants when it's time for spring planting. While you can always just put something over them, the best idea is to use magazine pages that will protect those delicate green leaves.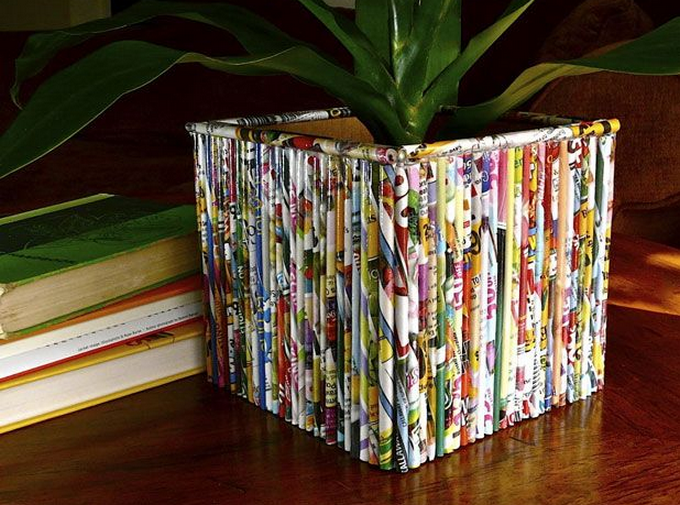 Start by rolling up the pages from magazines and gluing them together with PVA glue in any shape that suits you best for an easy cover. Then grab some gardening wire to tightly wrap them around each plant to keep bugs away.
Sew a Unique Newspaper Dress
The idea of making your dress from a newspaper might seem old-fashioned, but it's actually more exciting than you think. For those looking to spice up their costume for Halloween this year with a bold statement piece, this hack is for you.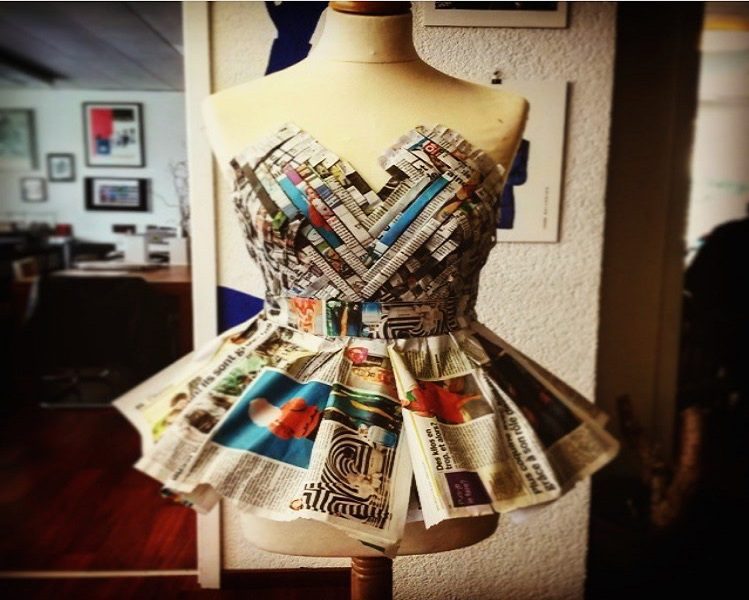 You need a basic knowledge of dress patterns. You will also need newspapers, some straight pins, velcro. With some work and patience, the most fashionable-looking outfit around will be yours in no time at all, thanks to this easy DIY project that only requires eight hours or so from start to finish.
Clean Your Grill Grates
Newspaper is a fantastic cleaning solution for your barbecue grill grates. Wait for the appliance to cool down after grilling. Then, while the grates are still warm, soak newspapers in water and spread the sheets over them to loosen up the mess.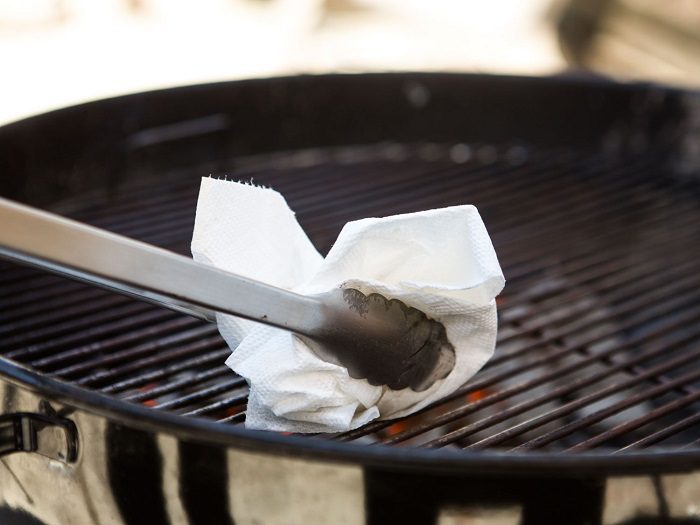 Then, take the newspaper off your grill grates and wipe them down to remove any residue that might be on them. You can also use this procedure for cleaning indoor oven racks, but be careful because they contain hot spots that could hurt.
Weeds in Your Garden? Get Rid of Them
Exclude weeds from your garden by using old newspapers as a natural weed killer. Cover the flower or vegetable beds with newspaper, thoroughly soak papers and cover them with compost or mulch to protect plants from direct sunlight exposure.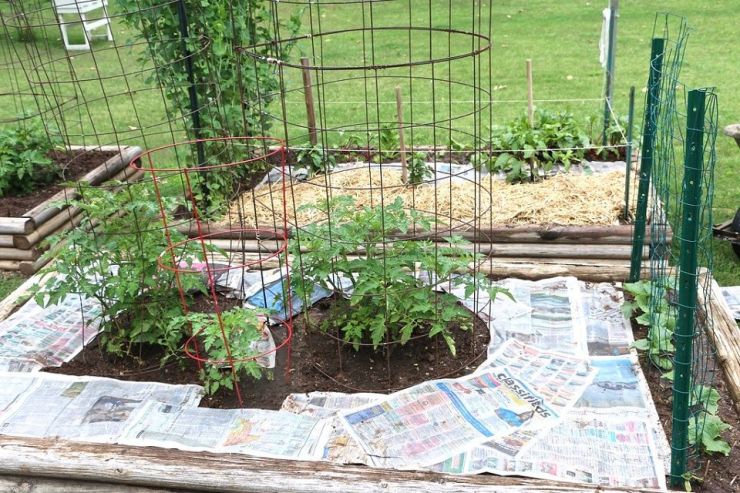 The newspaper will smother the soil, and you will easily be able to till it after the season is over. To offer earthworms a tasty treat, add some spattering of wet shredded newspaper to your compost pile while you're at it.
Shield Your Household Surfaces
Protect your furniture from spills and scratches with this clever hack. Restoring old newspapers as a budget-friendly shelf liner for cabinets, pantries, and dressers is an eco-friendly way to keep your home fresh while also providing protection.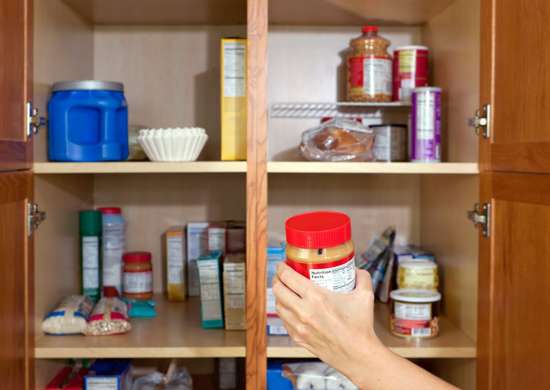 Layer old newspapers on shelves to absorb moisture. For best results, place numerous sheets beneath your kitchen tablecloth as well as the dining room table to shield the surface from spills and damage while you're cooking or enjoying delicious meals.