40+ Creative Ways To Reuse Pringles Cans…After We Get Our Hands Unstuck
By Apoorva P
---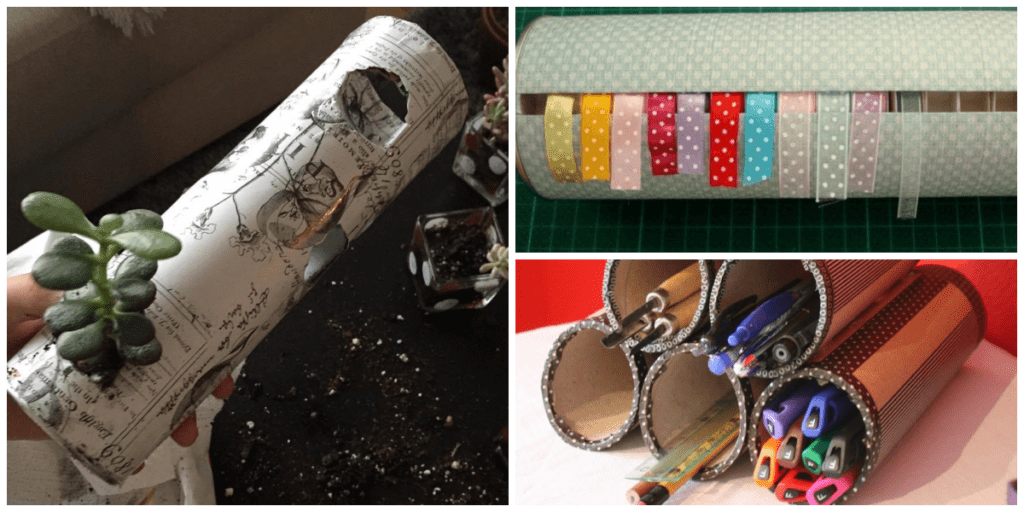 To a DIYer, anything and everything can be used for a crafting project — DIYers are the ulimate upcyclers! Ordinary objects become the source of inspiration to create something wonderful, and nothing is ever truly garbage. Even a plain Pringles can — after its contents have been eaten, of course — can be turned into a piece of quirky decor or handy organizer. All you need is a small spark of inspiration to get started.
If you don't know where to get started, we've got you covered. We compiled a list of cool hacks people have shared online, all using a simple Pringles can. And next time someone asks why you're buying Pringles, just tell them you're stocking up on crafting supplies.
Scrunchy stand
Keeping all your hair ties and scrunchies in one place is a big task. If you don't want to keep losing your scrunchies, or simply make them easier for you to find, then this hack is perfect for you. All you have to do is eat Pringles!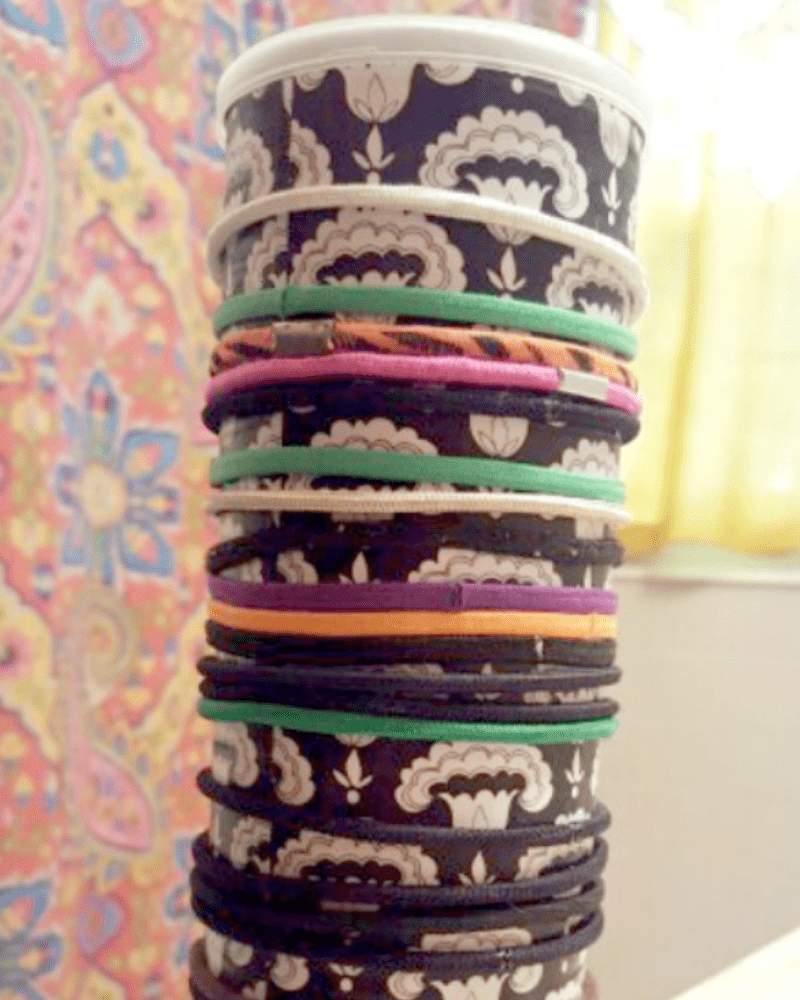 After finishing your snacks, you can clean the Pringles can and decorate it with beautiful design paper or fabric. You can also stick on some jewels too. Cover both the ends of the can with the same paper or use a different one. You can use any of these designs you like to make this your perfect scrunchy stand.
Bracelet organizer
If you love having lots of accessories, then you also need a way to organize them. If you are someone who loves to own a lot of bracelets, then you need to put this on your dresser. It's a simple bracelet organizing stand made out of a Pringles can. It is super easy to make and is functional for a lot of items.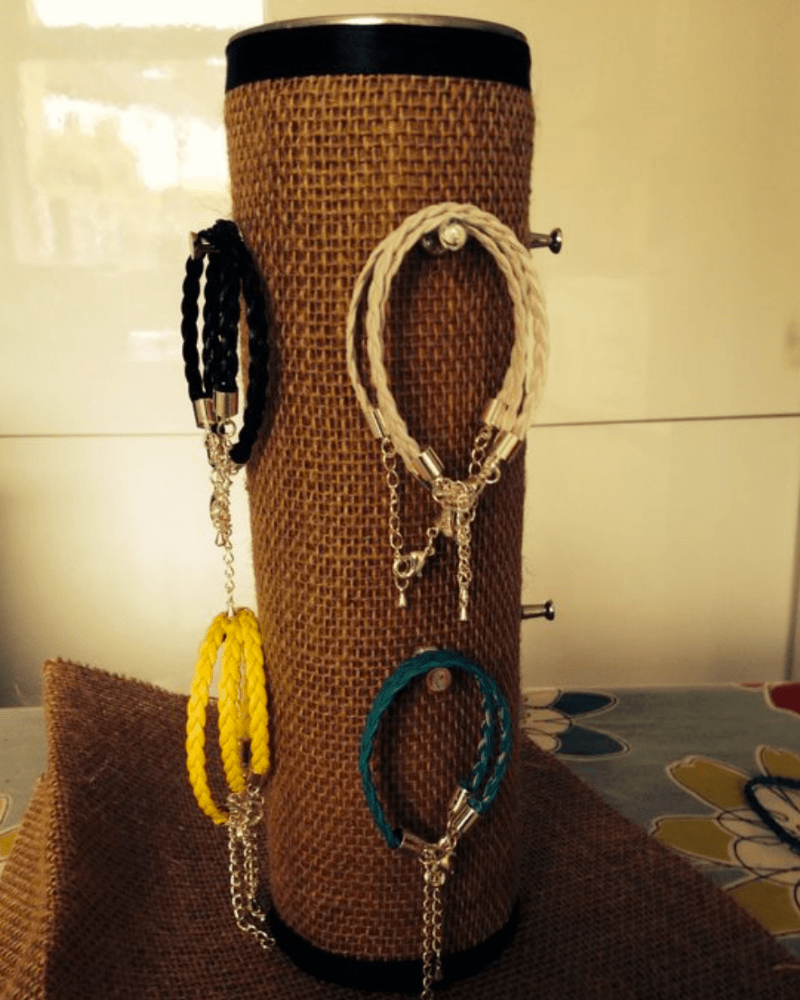 To make it a more 'boho' décor piece, you can use fabric like a jute handwoven sheet. You can wrap the sheet around the surface of a Pringles can and wrap the ends of the can with lace or any other fabric. Add screws or pushpins to the can so you can hang your bracelets, and your bracelet organizer is ready to use.
Handmade wind 'chime'
You can teach kids how to make paper wind 'chimes' with just a can of Pringles. This fun activity would be a great bonding experience with kids where they use colorful paper and crafts to make the wind 'chimes.' You will also have handmade articles around the house!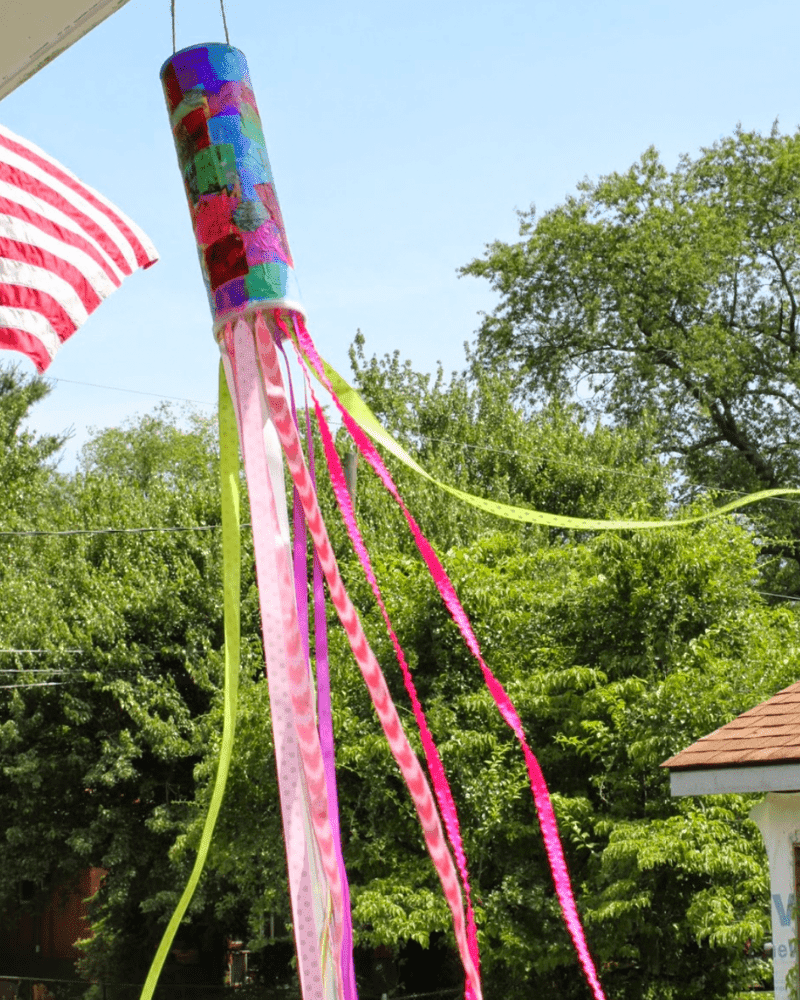 For this project, you would need various craft paper in different colors and paper ribbons. You can stick different kinds of paper in various cuts on the Pringles can. Make holes in one end of the can to put a string for hanging the wind 'chime.' Add long paper ribbons with different colors to the tail, and hang the handmade wind chime in your yard.
DIY cotton dispenser
You can make a DIY cotton dispenser to keep your bathroom cabinet clutter-free every time you need to do your skincare routine. You can either use a big Pringles can, or you can use small ones too, depending on your needs. One can is enough to make one dispenser at a time.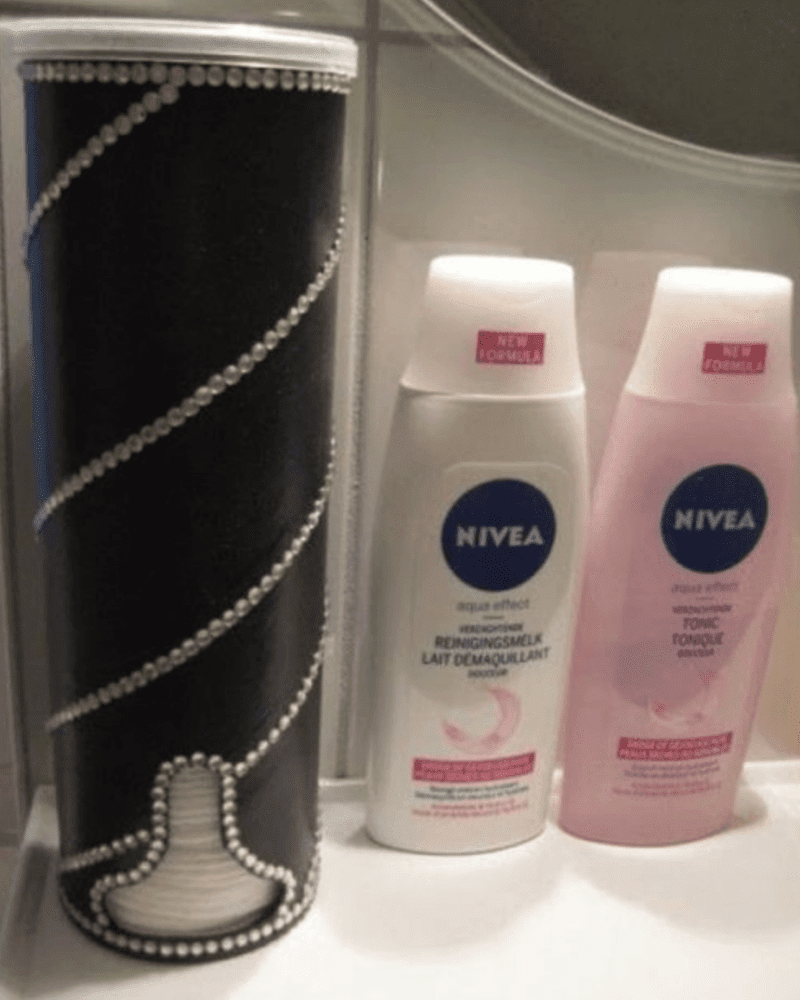 Take a clean Pringles can, and cut the surface on one end of the can. Make the cut as wide as you want, so that you can pull out the cotton pads easily. After the cut is made, cover the can with a decorative fabric or paper, and style it the way you want. Make sure to keep the cut open while decorating the can.
Curling iron stand
Instead of making a mess on your vanity with your beauty appliances and products, make a space for every device. Instead of a mess, you will be left with controlled chaos. Use a Pringles Can, customized with your own taste without splurging on expensive organizing units. Here is how you do it.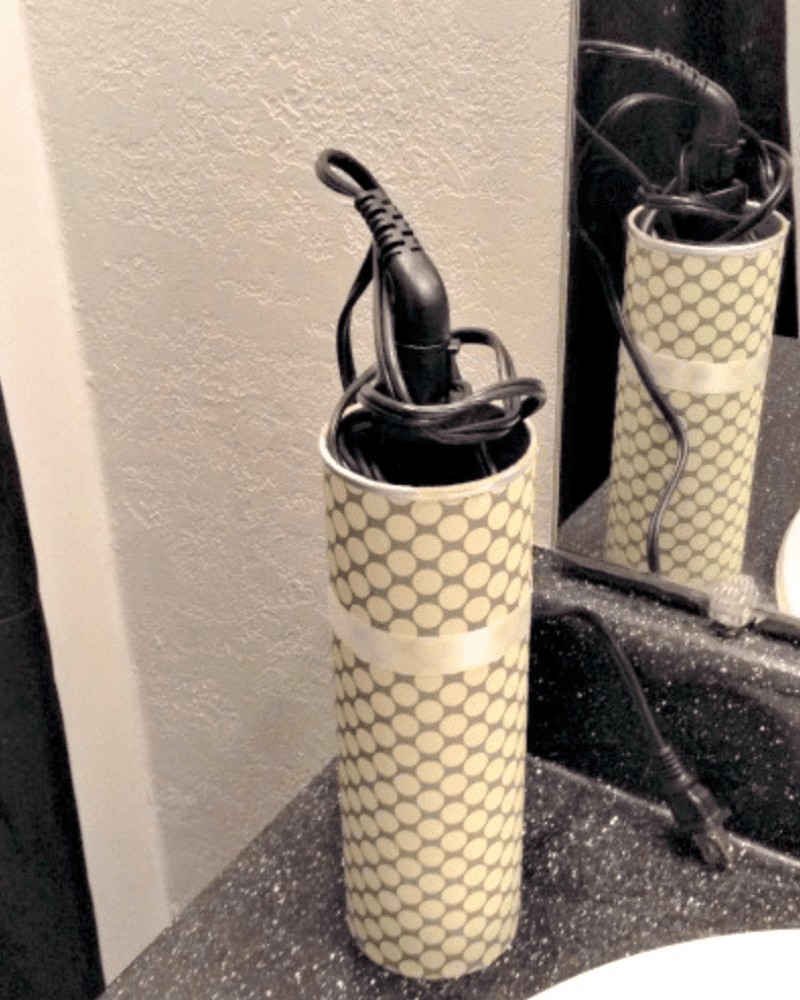 Take an empty Pringles can, and stick your favorite decorating paper, fabric, glitter paper, or craft paper on it. Make patterns, designs, and add stickers of your choice to make it beautiful. Cover one end of the can so that it can stand on its own, and keep one end open. After you've customized your can, place your cool curling iron in the can on your dresser.
Easy necklace hanging piece
You can never have a lot of jewelry. The importance of organizing your jewelry should never be underestimated. If all of your pieces were entangled in one another, what would be the use of having so many when your not able to wear them? Therefore, you need a device that can keep your jewelry organized.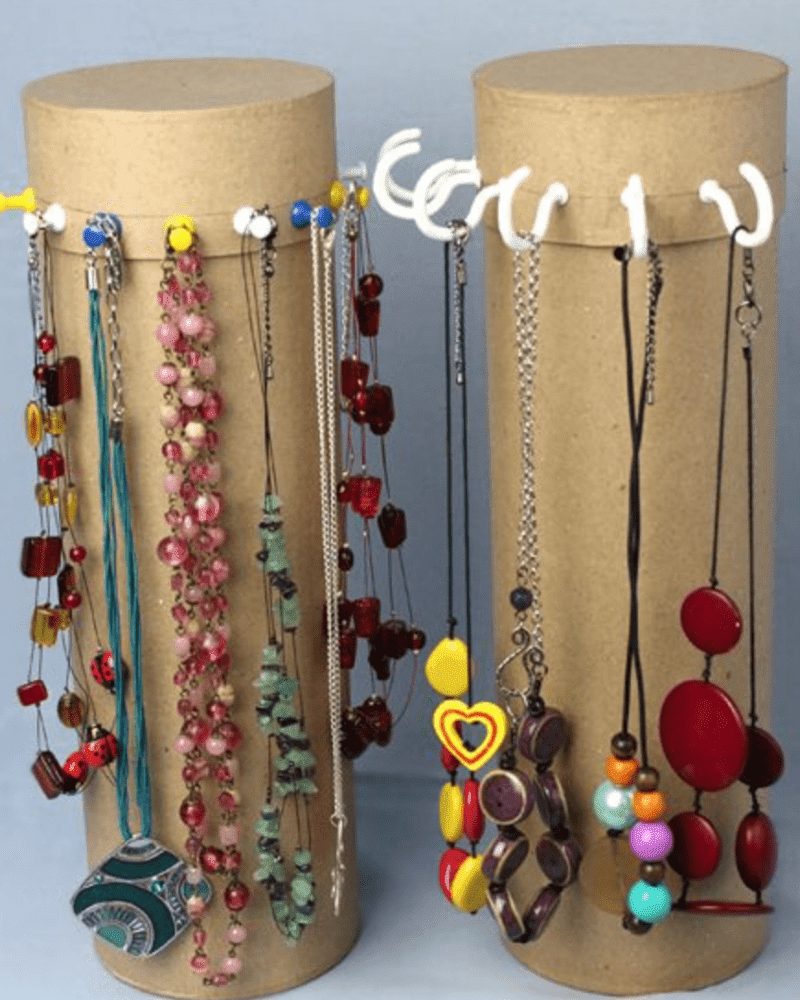 You can use a Pringles can for this very purpose. Decorate the can as you see fit, and add hooks or pins near one of the ends of the can. Add them in the circular fashion over the surface so that you cover enough space. Hang your necklaces on the DIY stand to keep them separated and organized.
Homemade candles
If you're ever wondering which heartfelt gifts you can give your loved ones without having to spend your bank account on them, then we have one for you. You can make candles at home with just 2 things: wax and a Pringles can!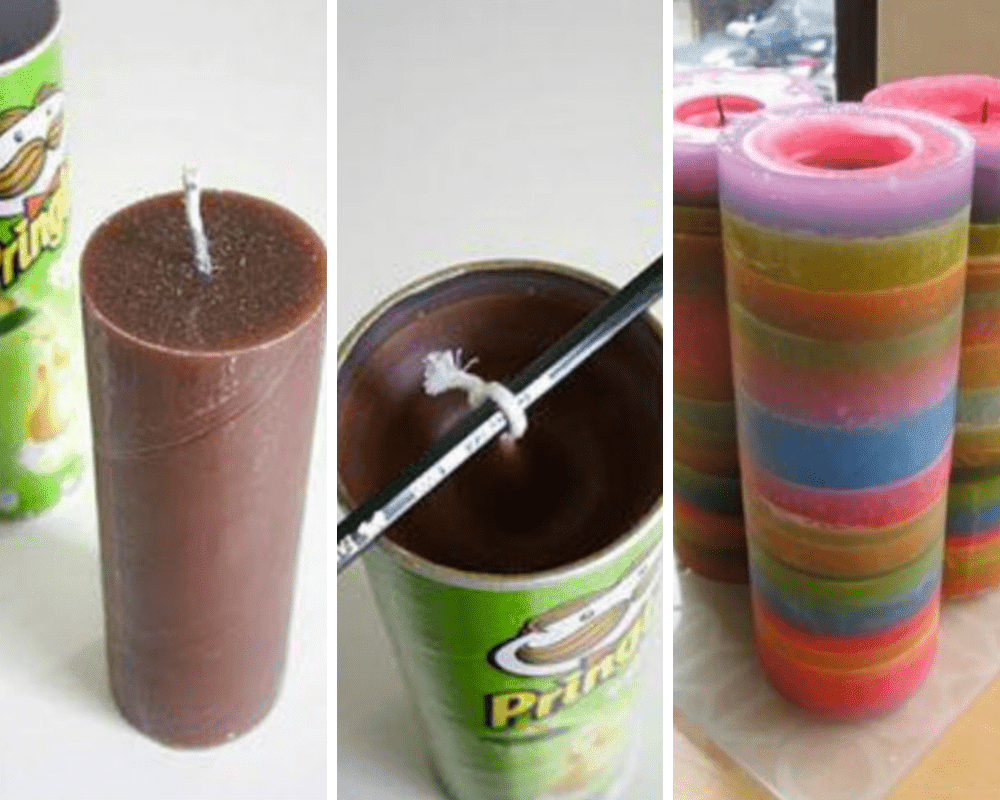 Get a clean Pringles can and add any wax of choice. You can add different colors and aromas of wax to make it a visual and aromatic experience. To add wick on the candles, tie one end of the wick to a pencil or pen, and put it on the can so that the other end of the wick is submerged in the wax. After the wax is set, you can take it out of the can, and your candle is ready to use.
DIY yummy science project
Use the Pringles can to make a DIY solar cooker that can cook hot dogs in the sun. You will need a Pringles can, glue gun, sharp knife, and adult supervision so that you don't hurt yourself. Make the Pringles solar cooker this Summer, and enjoy hot dogs all summer long.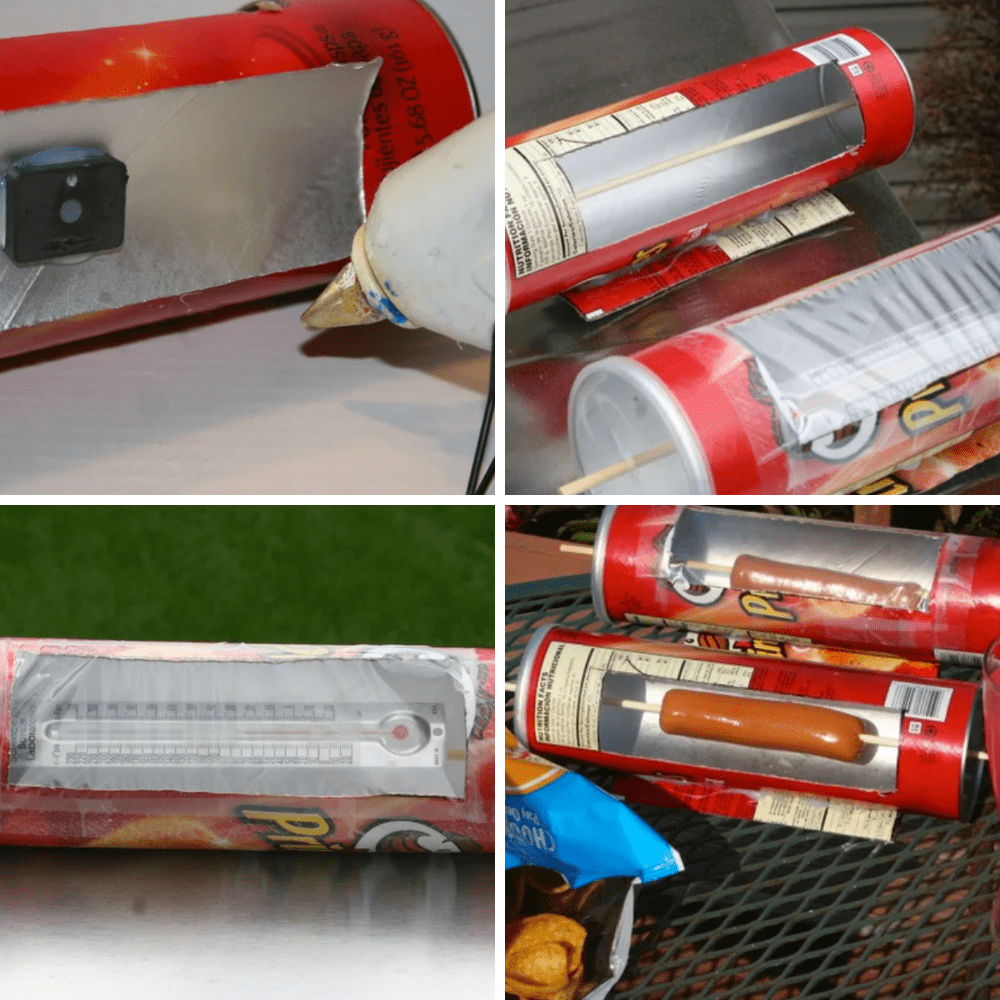 Cut the Pringles can with a sharp knife to make a rectangular window to reveal the inside of the can. Poke a hole on both ends of the can in a straight line. Use a skewer, and put it through both the ends. Wrap the can with plastic, and your oven is ready to be placed in the sun. Put a hot dog on the skewer, place it inside the can, and observe it cook!
Plastic storage can
It's time we started reusing plastic considering how much we use of it one a daily basis. The challenge here is how to store the plastic that we end up using. We have a trick just for you! Use a Pringles can to store all your plastic bags in one place.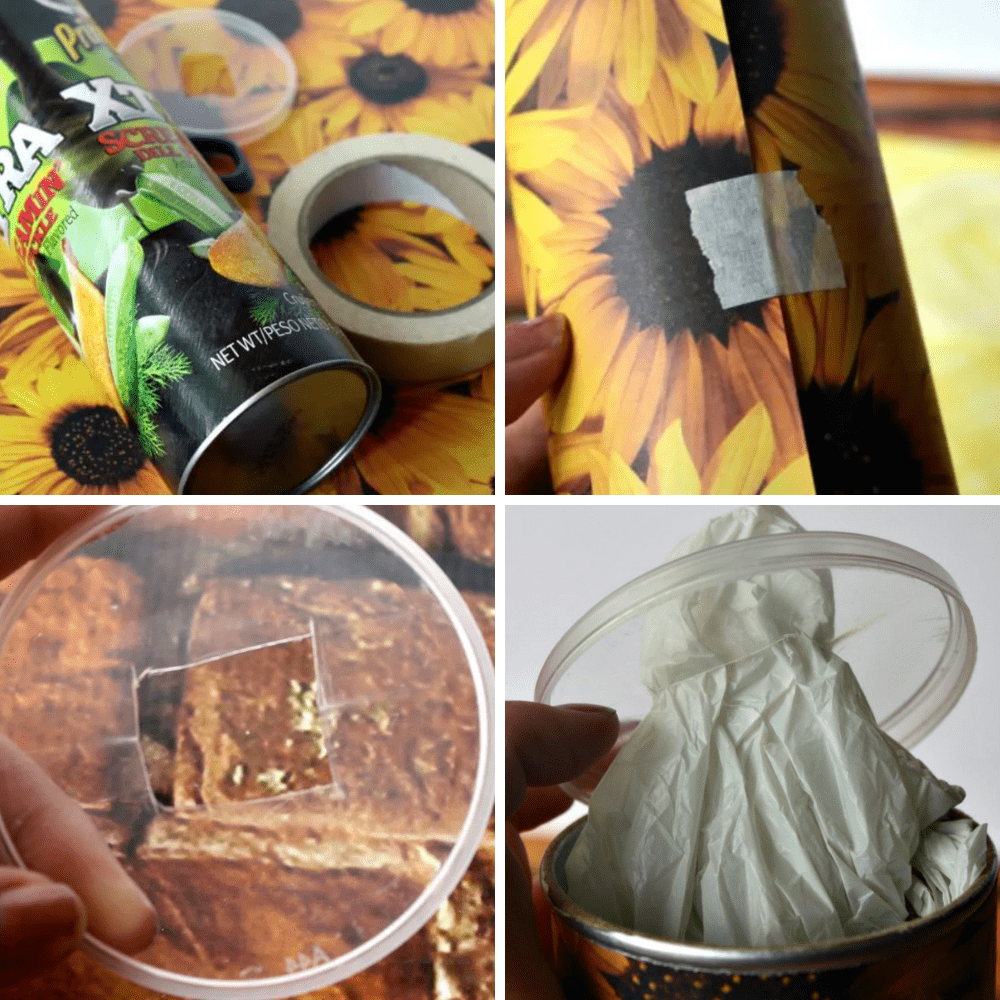 This is a one step project. You just have to make a big square-cut on one of the ends of the Pringles can, and you're literally done. Decorate the can as you like with wrapping paper, and put all your reusable plastic bags in the can. Close the lid of the can and pull the plastic bag from the open square-cut on the lid!
DIY coffee table
If you love to eat Pringles, then you probably have a lot of empty Pringle cans that can be used in any DIY project. We bet you didn't think about using these cans to build a table? We will tell you how, and you can use it in your home.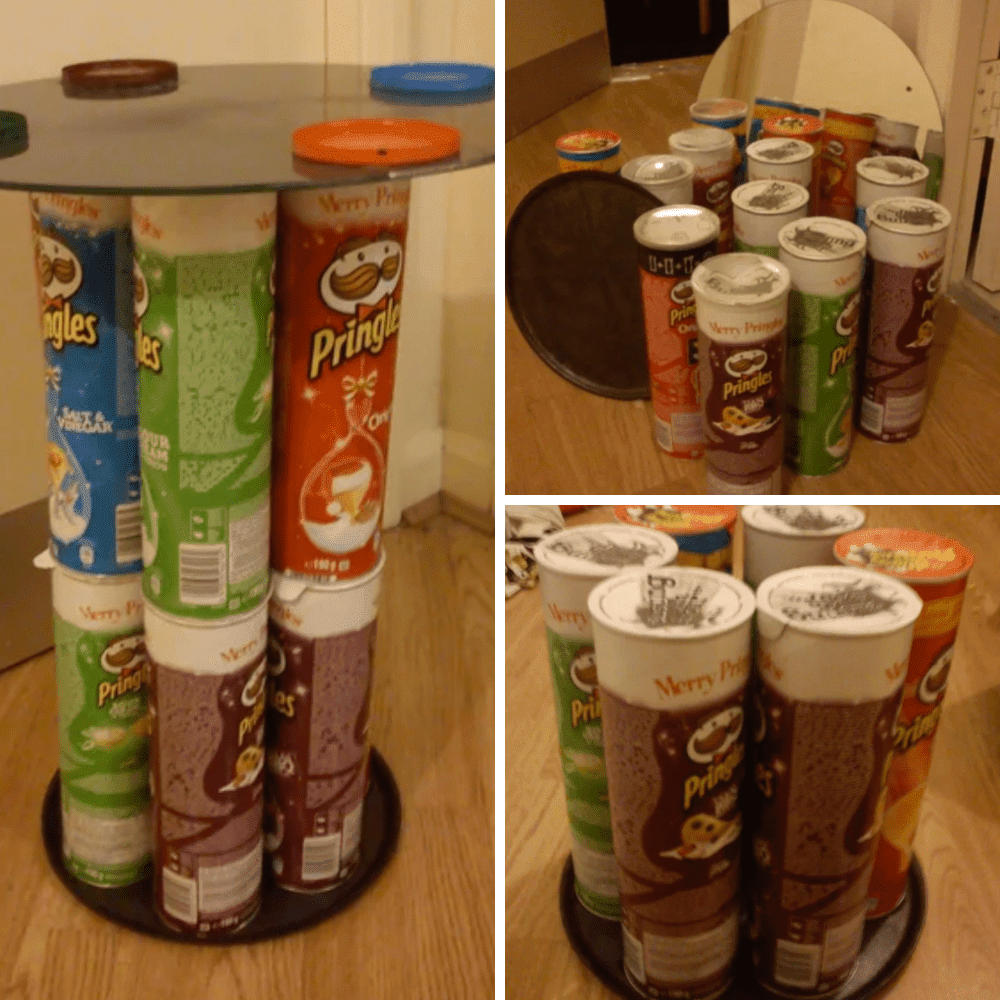 You will need 6-12 Pringle cans for this one. Take an old pizza base, and place 6 Pringles cans on it in circular fashion. Glue them to the base, and then glue another 6 cans on the top of the existing 6 cans. Place an old glass mirror on the top, and glue 4 lids on the surface of the mirror. You can paint the cans in any color you like.
Creative castle can
The castles that come from fairy tales are usually one of a kind and extremely detailed. However, buying those royal castle décor pieces could leave a big hole in your pocket. But you can easily make a castle of your own without spending extra dimes.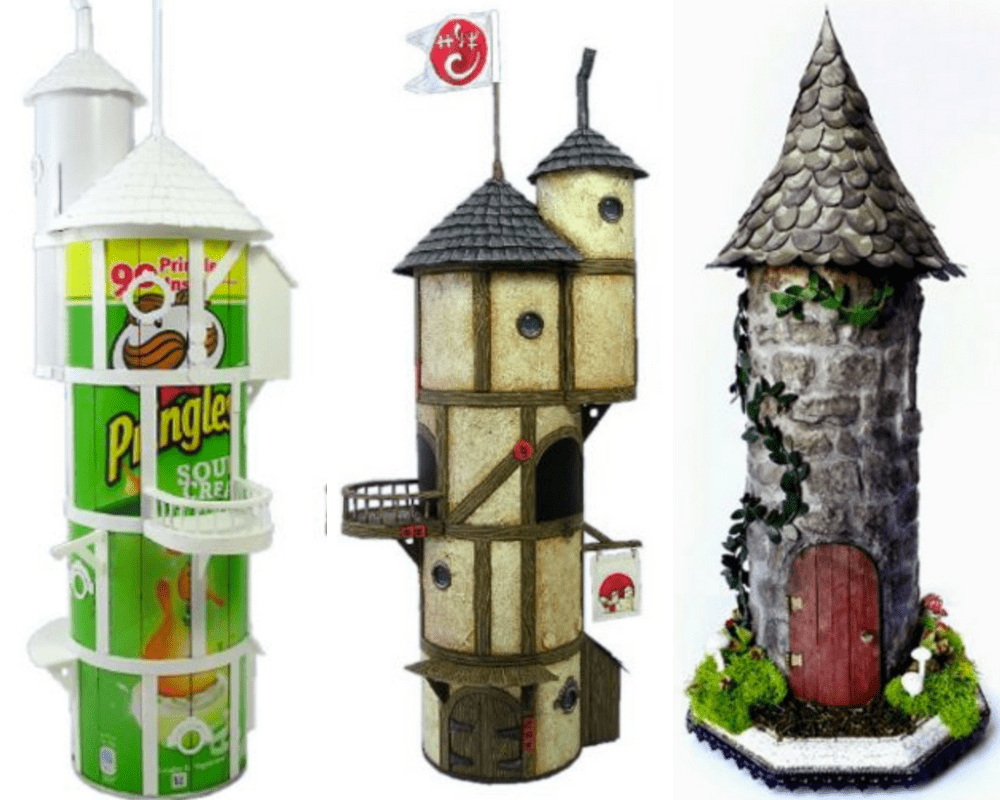 With a Pringles Can of course! You just need material that is easily available at your house. Like an empty can of Pringles and materials from an old doll house. Stick the old doll house accessories on your Pringles can, and paint it all with some oil paint. You'll have your very castle that did not cost you a fortune.
Christmas cards holder
You can turn the Christmas cards you receive every year into a sweet display for your loved ones. The cards won't remain lying around collecting dust, and will be displayed for all your guests to enjoy. How, you ask? With the humble Pringles can.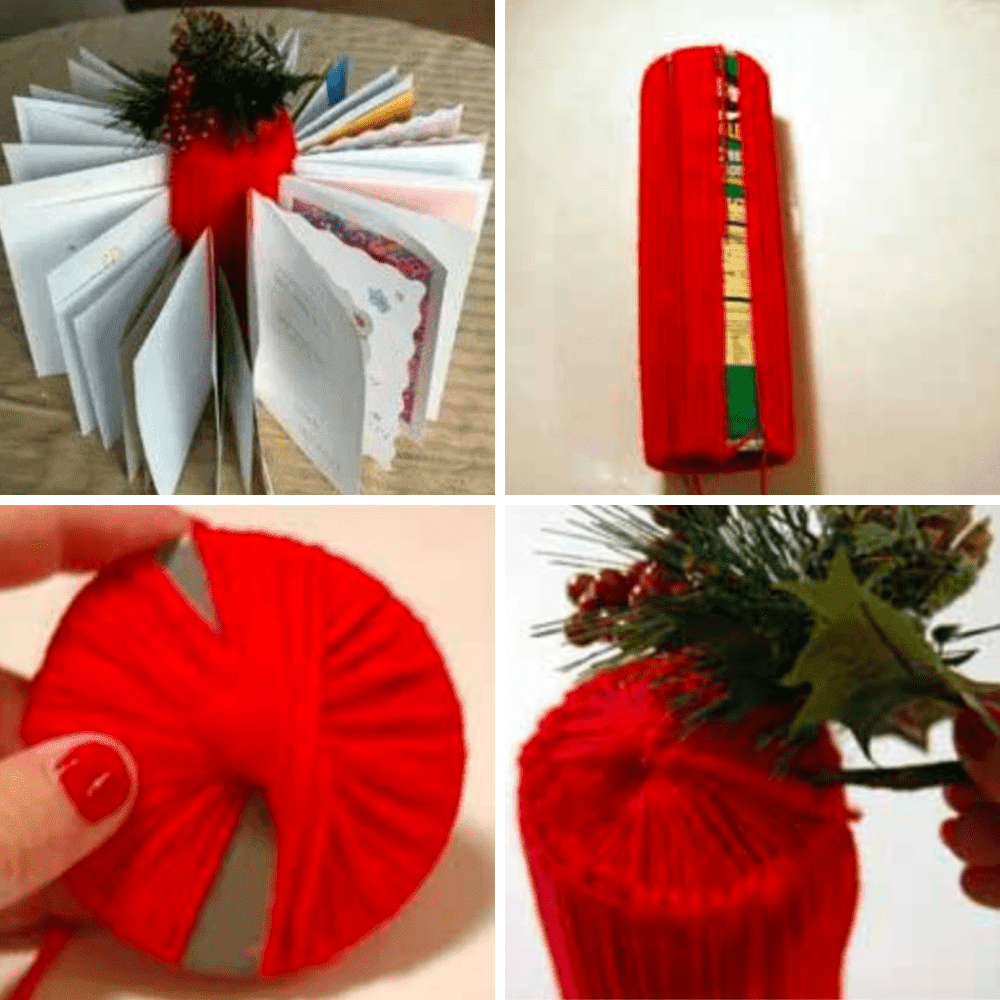 Take a clean and empty Pringles can and use some wool to wrap around the surface of the can. With each strand of wool parallel to the surface of the can, you can insert your cards between the strands, what you will end up with is a 360 degree display of cards.
Unique bird feeder
There are many ways to repurpose the things we use into something that is even more useful. We can us random things around the house to help the environment instead of throwing them away. Here is one such hack you can use on your Pringles can to turn it into a functional bird feeder.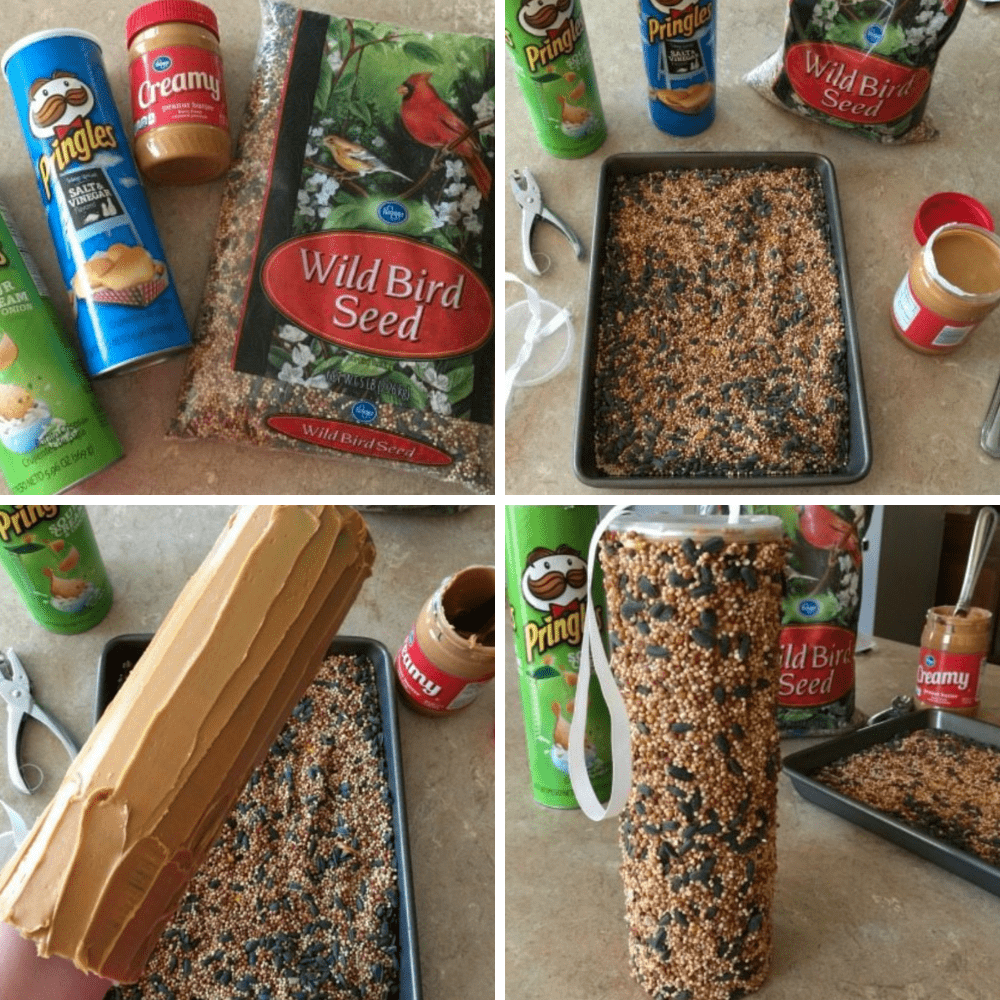 You need a Pringles can, peanut butter, and bird seed. Spread peanut butter on the outside surface of the Pringles can. Roll the can on the bird food so that the food sticks to the peanut butter. Add a ribbon on the lid to hang the can on a tree, and the bird feeder is ready to use.
Rolled up magazine stand
If you have lots of magazines in your home lying around and need a better organizational structure, then this one's for you. You can make an extremely modern, chic, and useful Magazine holder with simple day-to-day objects like a Pringles Can.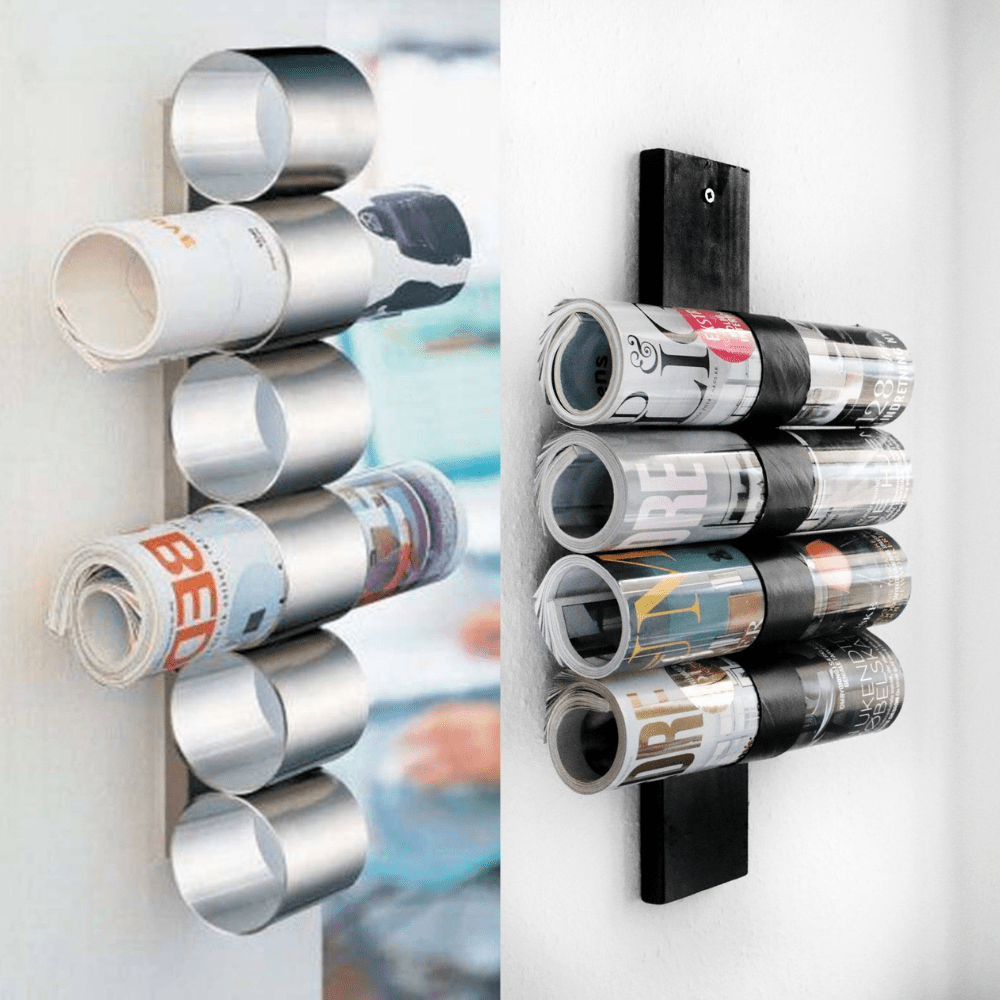 Take 2 Pringles cans and cut them into symmetrical pieces. Glue the cans on a wooden plank, and paint it in a nice color. Hang the magazine holder on the wall, or place it on the table to place magazines in an easy, organized and rolled-up style.
Knitting needles storage
Having a beautiful place to keep your knitting needles is every knitter's dream. You can get the knitting needles storage stand that is customized according to your taste and your budget too! You just have to make it from an old Pringles can!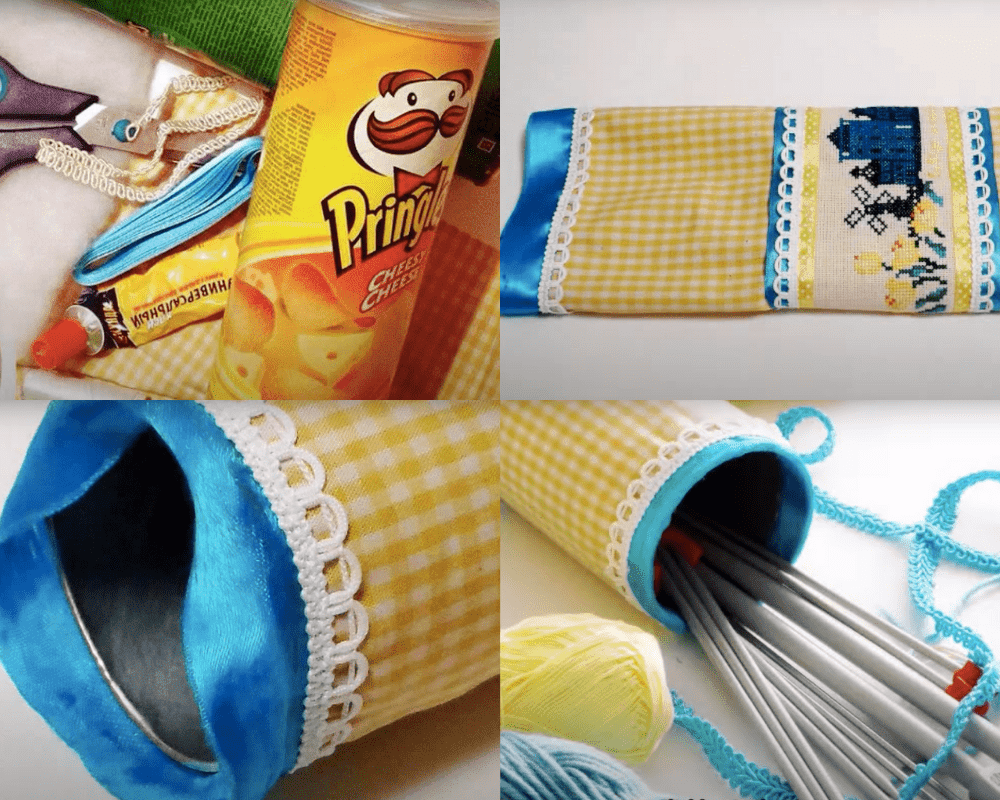 You can take any one of the old Pringles cans available in your home. You can customize it with fabric, lace, paper, ribbon of your choice, use it to store your knitting needles. Isn't it a lovely way to make something from our own hands and use it in our day-to-day life?
DIY paintbrush holder
Your creative supplies that you frequently use on various DIY project also need a creative space for storage. Wouldn't it be easier if all your paint brushes were in one place instead of missing one or two every time you use them? You can now use creative storage for your brushes with a Pringles can.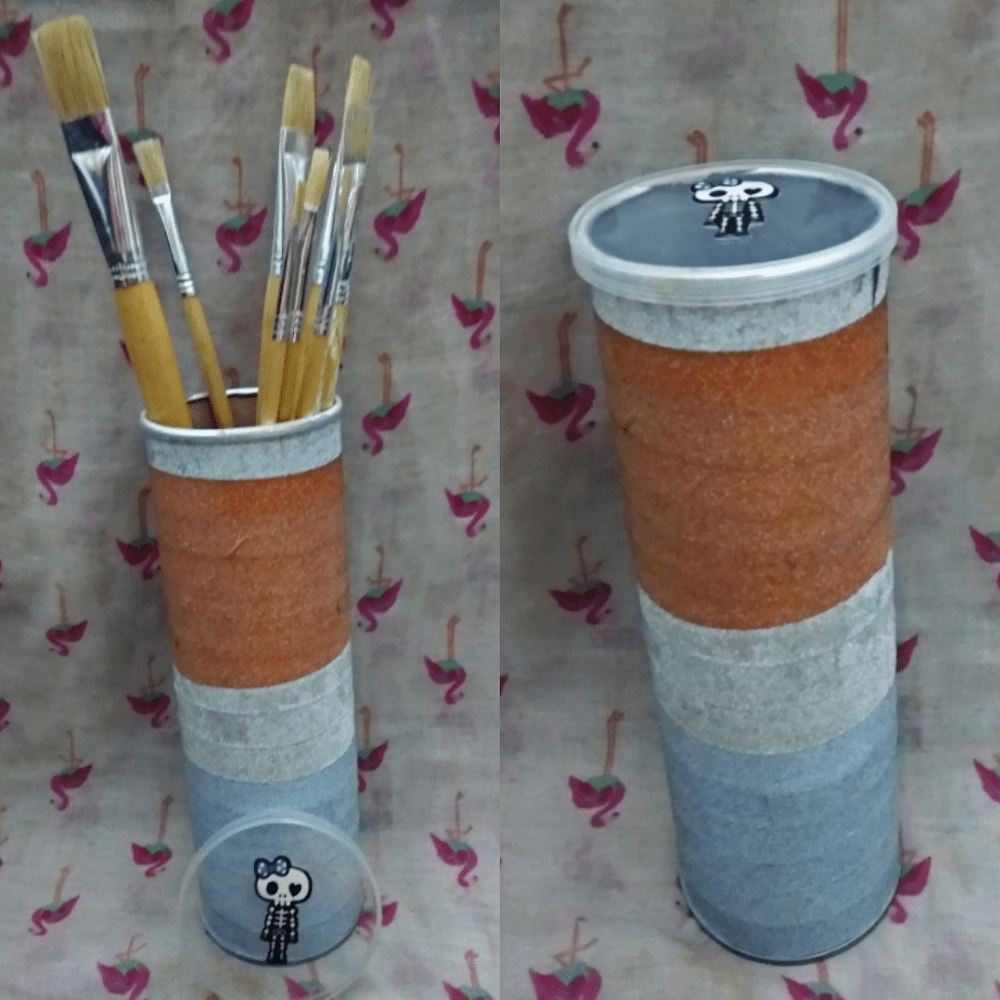 You will need an old Pringles can, washi tapes, and stickers for this project. You can cover the entire surface of the can with the washi tapes of your choice. Add stickers on the lid or on the body of the can. And ta-da! Your brand new paint brush holder is ready to be deployed.
Creative stationery station
You can have a station on your desk where all your markers, pens, and scissors are sorted and differentiated neatly. You can have a separate stand for every necessity. You are probably thinking how much it costs, but we can tell you that it's completely free.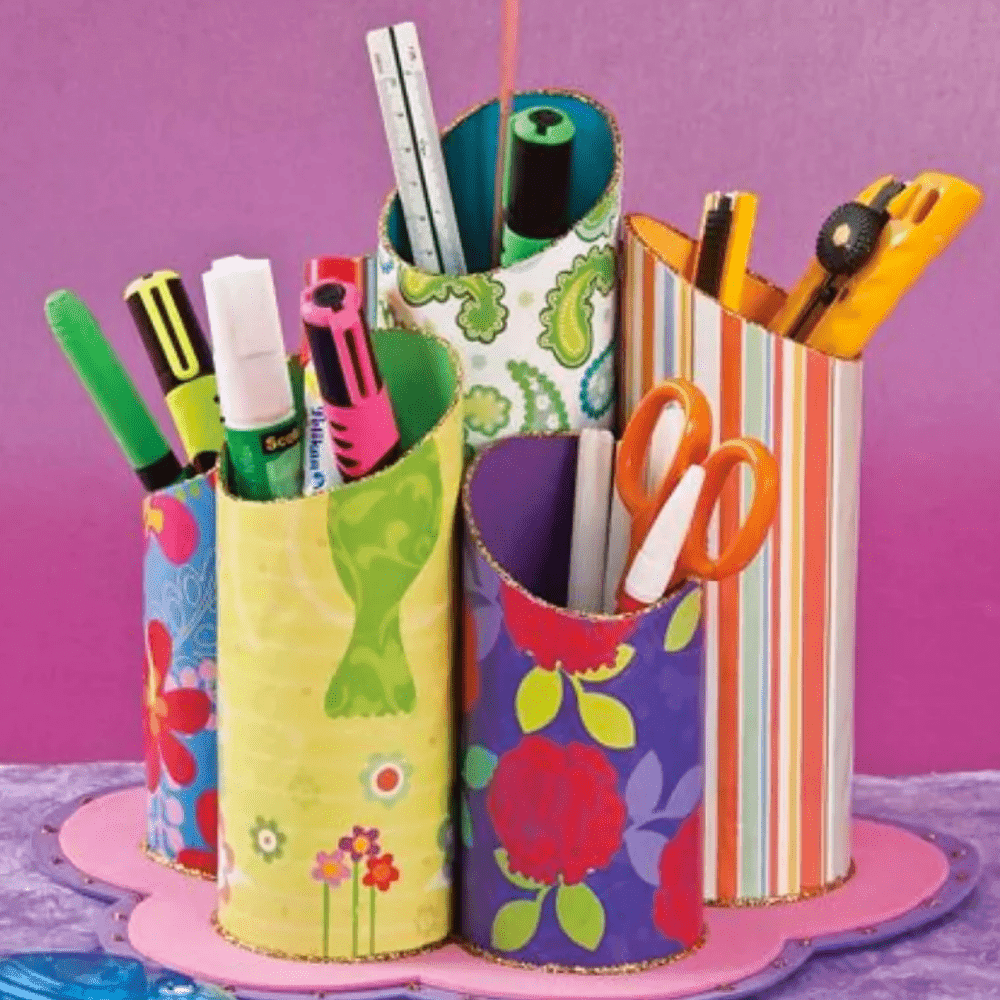 You have to take 3-5 Pringles cans, and cut them at a slanted angle so that the cut makes an elliptical shape. Take a cardboard base, and cut it in any shape you desire. Glue the cut cans with the straight ends on the bottom. Decorate the pieces of cans with your designs, and you'll have a beautiful stationary station.
Artistic pebble vase
A unique, completely made-by-hand, artistic vase for your home décor collection could cost up to thousands. But, it won't cost you a thing if you were the one who made it. So take notes, and gather all the materials needed for this one of a kind vase.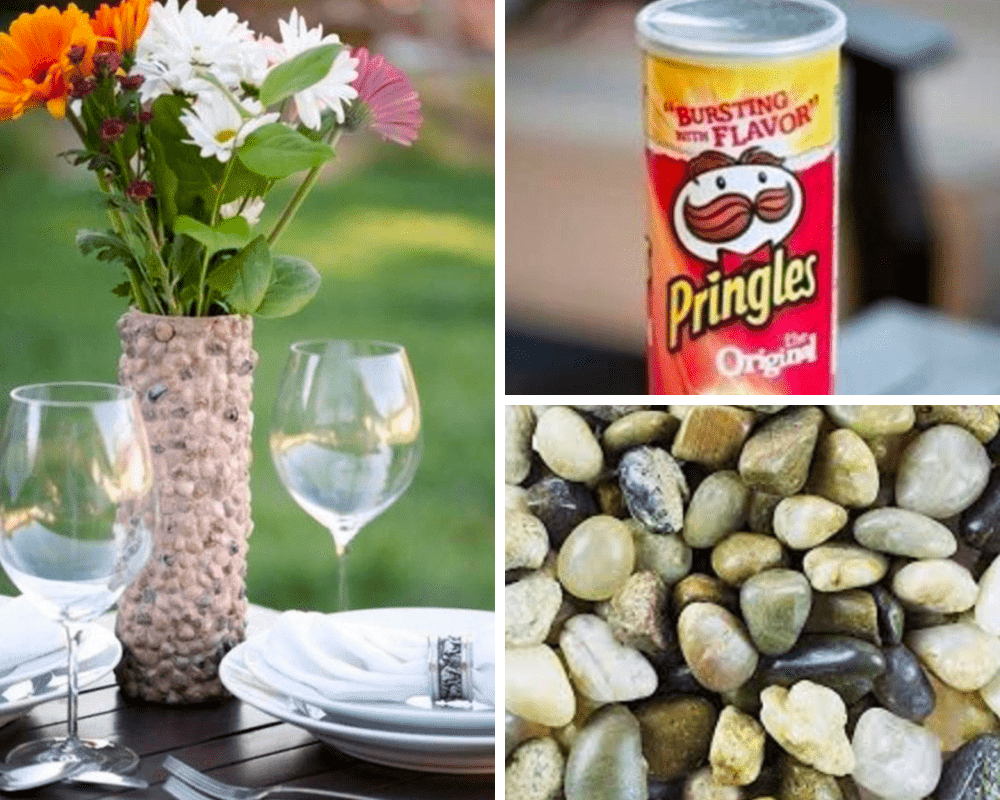 Take an old Pringles can, and put glue all over the surface. Stick craft stones or natural pebbles on the entire surface of the can. Let it dry and settle, then spray some rust free paint on the stones. You will be proud of your homemade piece of art, and want to show them off.
Memorable mementos
Do you like to throw parties that everyone talks about even weeks after the party has ended? Then you will love the idea we are about to share. You can create a display centerpiece at each table where your guests are sitting, and you can give it to them later as a gift from your party!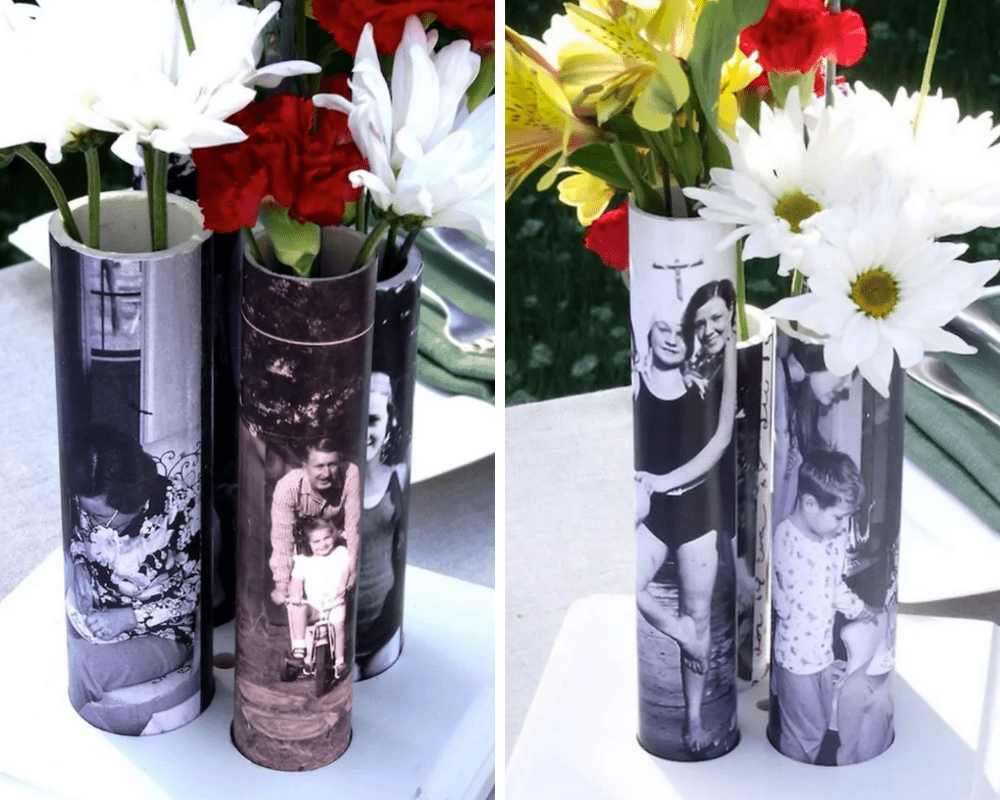 You just need empty and clean cans from Pringles, and some memorable photos printed out in black and white. Wrap the photos around the Pringles cans. You can keep one of the ends of the can open and put flowers in the photo display vases.
Beautiful jar decoration hacks
When you can turn everyday objects into something artistic with your hands, you won't find décor pieces at the shops so appealing. Every object has the potential for creative ideas and hacks. We sure seem to have found inspiration in Pringles cans.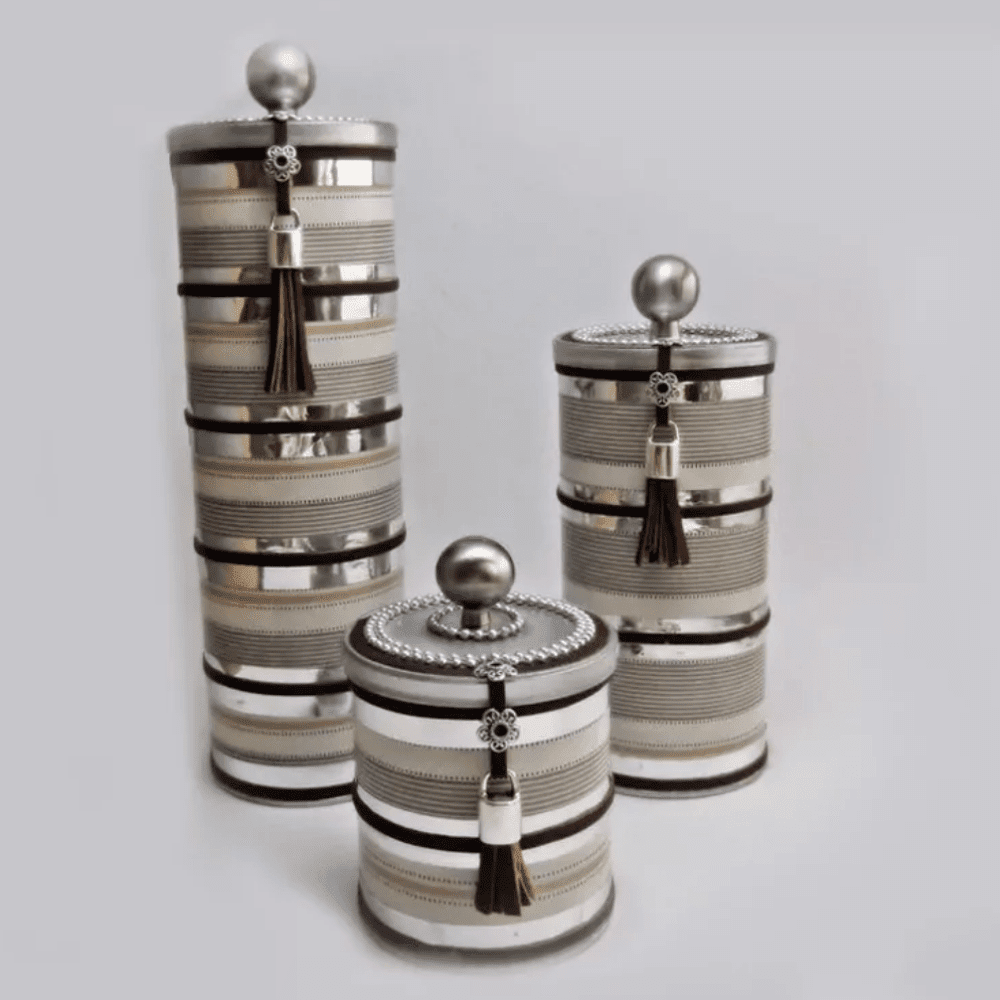 Take 2 – 3 old Pringles cans, and cut them based on your size requirements. You can keep them as they are if you want. Wrap the cans with decorative paper, and add embellishments like stone stickers, silver knobs, tassels etc. to complete the look you envision.
Handmade mobile speaker
Who would have thought you could make speakers for your phone out of cans. We kid you not, it's possible, because we have tried it. A simple DIY project that would only require 15 to 20 minutes of your time, leaving you with mobile speakers for your phone.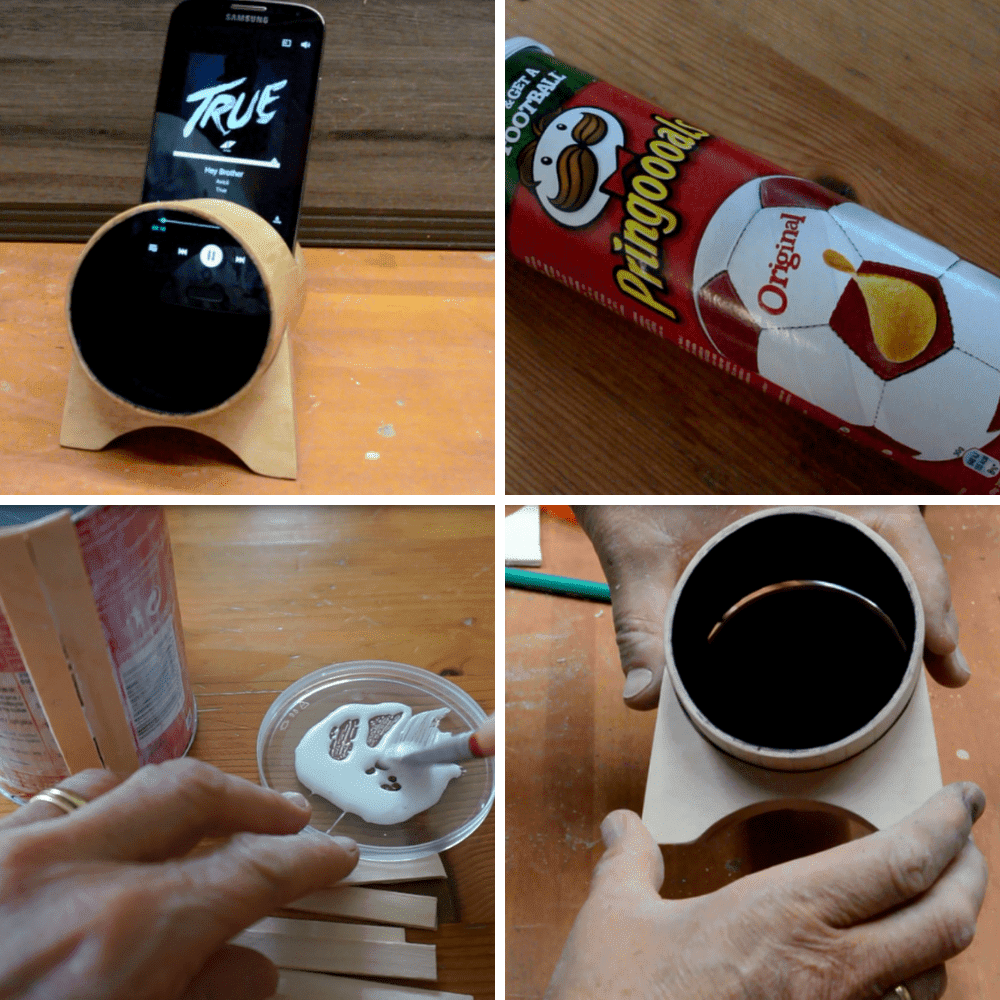 You will need a Pringles can, some popsicle sticks, and glue for this project. Cut the can with a saw or knife wide enough to place your mobile phone inside it. For the stand, you can use popsicle sticks by gluing them to the can with wood glue. Your acoustic speaker made of a Pringles can is ready to roll.
Makeup brush station
The make up products we buy are already costly enough for us to not spend money on organization units. You can simply make them from things available in your home without spending more money than you necessarily have to. Just buy Pringles!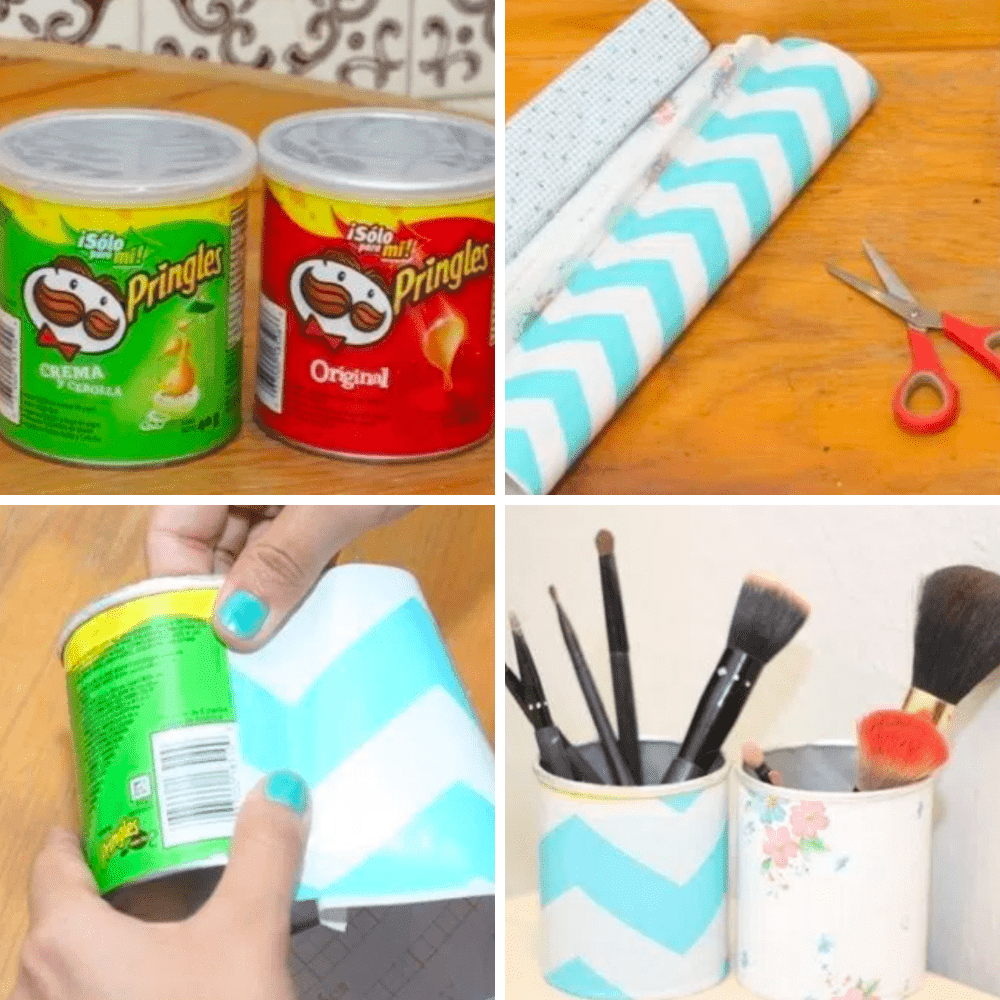 Empty the contents of Pringles can by eating them, then clean the inside. Wrap decorative paper on the outside of the can, and cover the base as well. You can use any design, style, or props to decorate your cans, and then use them to store your makeup brushes.
Old school card holder can
You can create an old school, romantic card or letter holder for the loved ones you always want to remember. You just need some craft supplies and a creative eye to decorate your card holder in a way that is only seen in a high priced décor shop.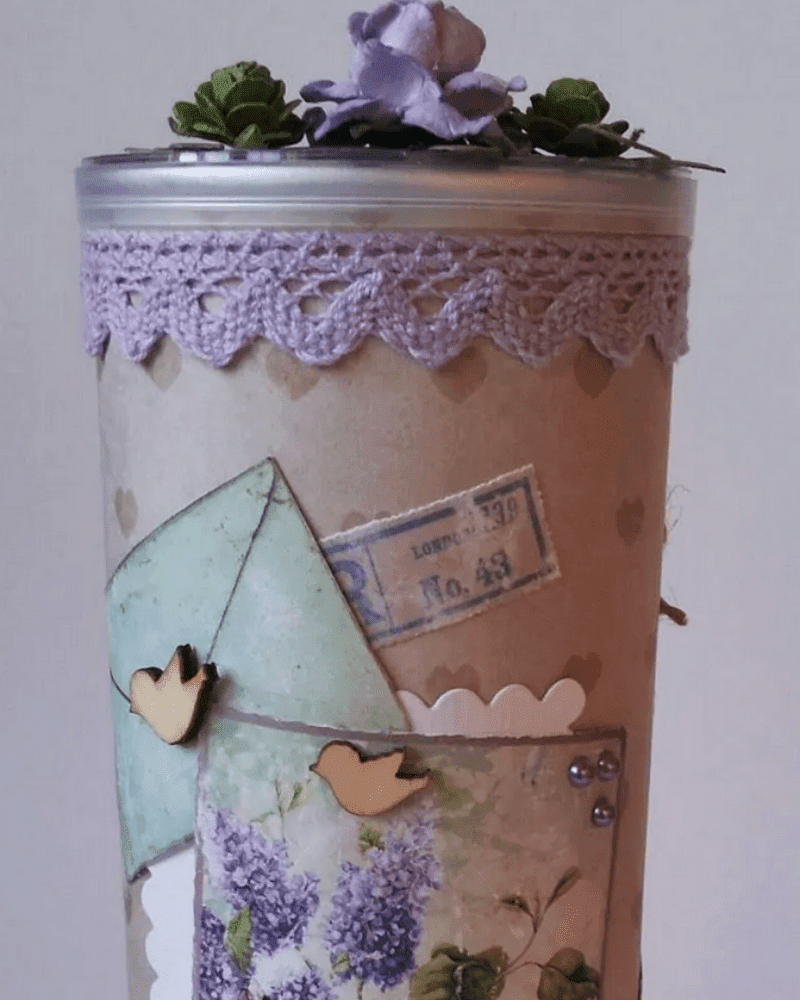 Take a Pringles can, and wrap some decorative craft paper on it. Add various stickers, lace, and décor items to the can, and stick them with glue. You can be as creative as you like. And your handmade card holder is ready to use.
Pasta storage cans
There are never enough storage units in the kitchen, we can all agree. To keep your food items separated, we've provided you a simple and cost effective DIY hack that can turn the chaos in your kitchen into an organized masterpiece.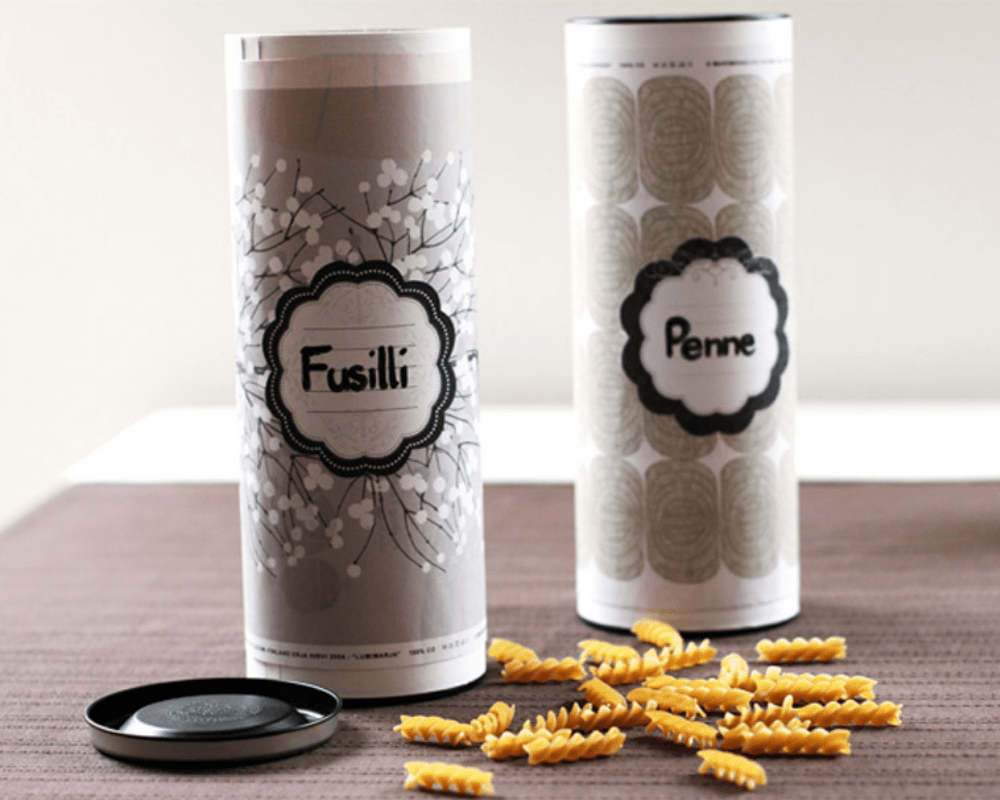 Take empty Pringles cans, and wrap them with similar decorating paper. Make sure that you have the same theme, then label the cans with the food items you want to store, like different kinds of pasta. These budget friendly cans will work wonders for your kitchen.
Customized return gifts
It's a fun party when you have loads of customizable gifts you can use to give all of your guests! It is a hassle when you are choosing takeaway gifts for your guests as party favors. But if you make them with your own hands, every gift will hold special value.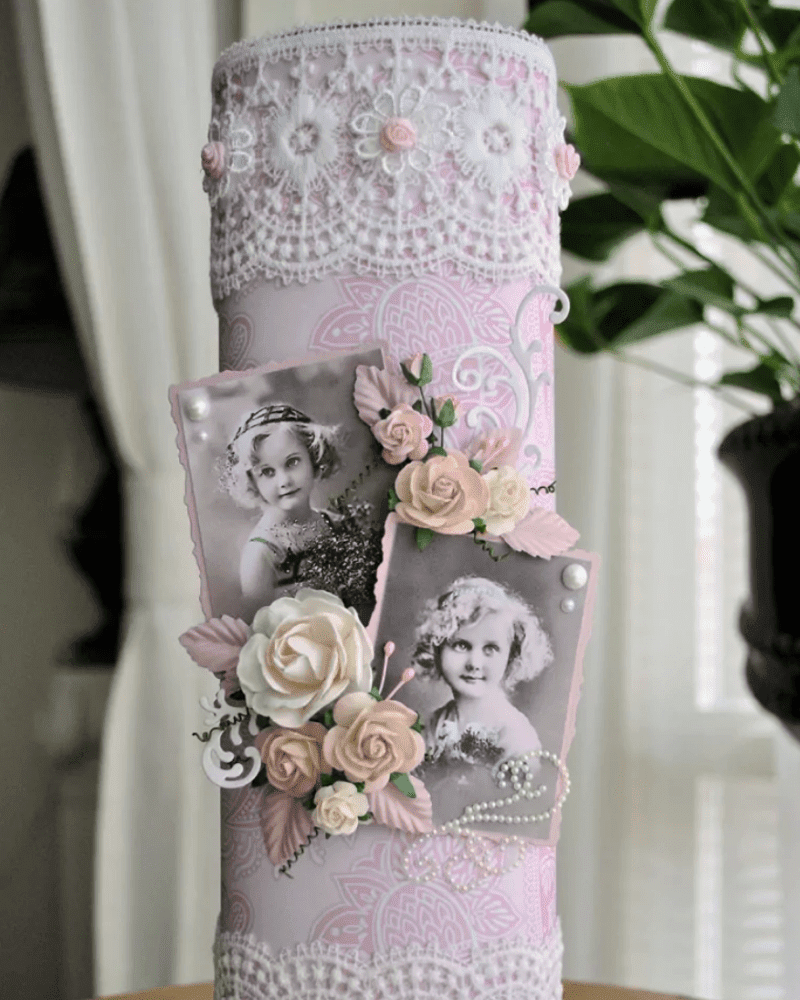 You can simply create great ornamental décor pieces with some Pringles cans and some creativity, decorative paper, and stick-ons. Add some lace and flowers and even some personal pictures, and your customized return gift is ready for your guests.
Yarn separator
If you love to make things from yarn, but have a hard time keeping it dis-entangled, then you will surely appreciate what we have in store for you. You can keep all of your yarn separated with this genius storage hack we have for you.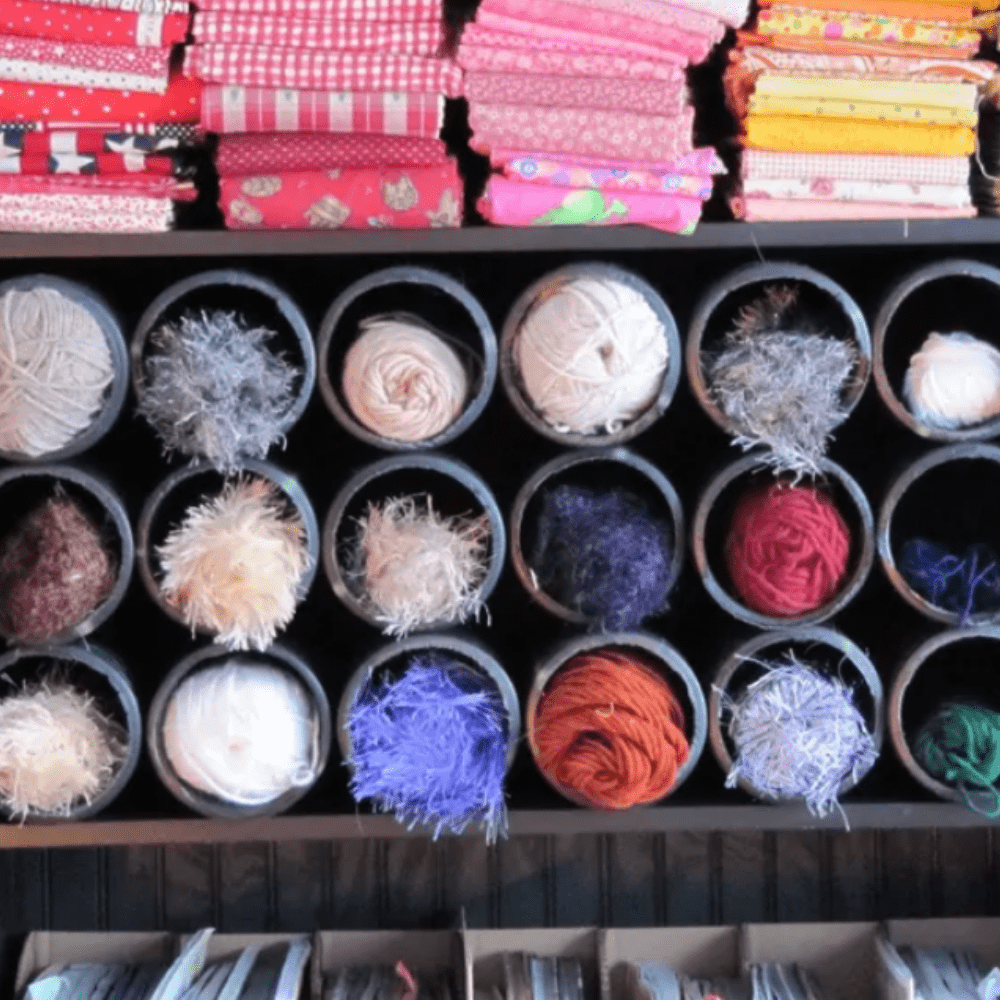 Just take some old Pringles cans and cut them into the size you need. Paint the cans in any color you think would work for you, and place them in your crafts cabinet along with all of the crafts supplies. You can now keep your yarn separated in each of the cans without it getting tangled.
Twine storage hack
You can make sure your twine is safely stored and ready to use with this simple hack. You don't even have to worry about the twine getting mixed up because they will stay separated after you start using this trick for storage.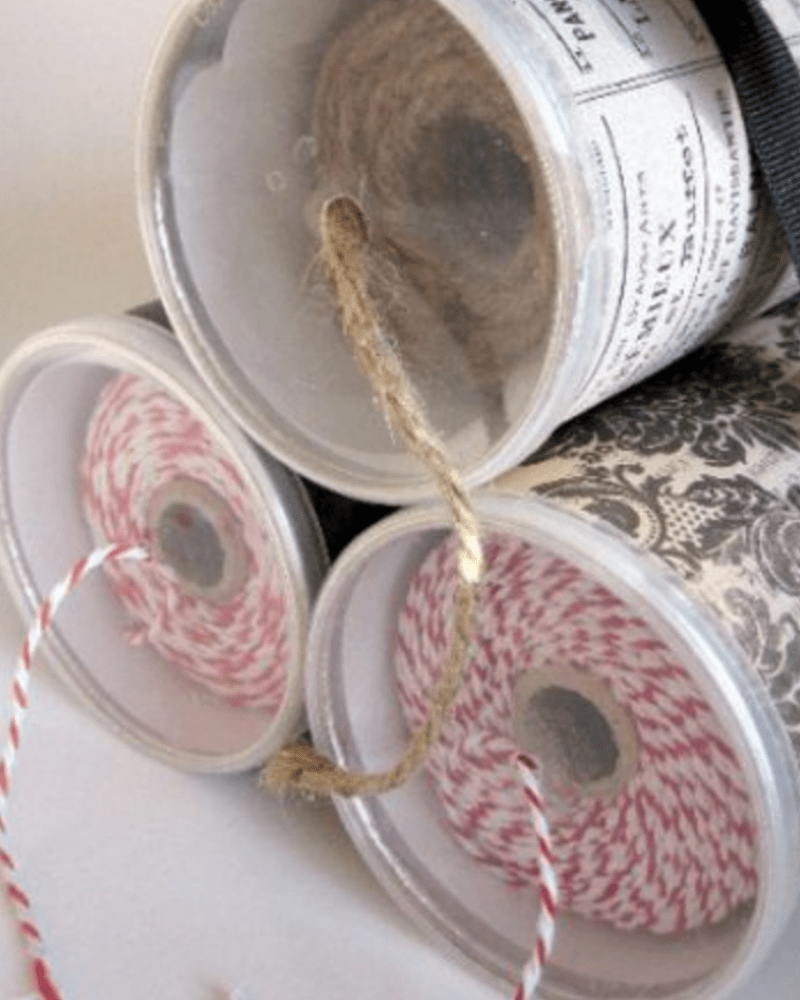 Just take some Pringles cans, and poke a hole through their lids. Place the twine inside the can, and let some of it out through the hole in the lid. This way, you can keep the twine separated and ready to use at all times. You can also decorate the cans in any way you want.
Paint roller holder
We have got an amazing idea that you can use to store your paint rollers. How do you store your paint rollers anyway? Just put them away in a storage shelf, right? But with this hack we found, you can create a customized space for your paint rollers without spending a penny.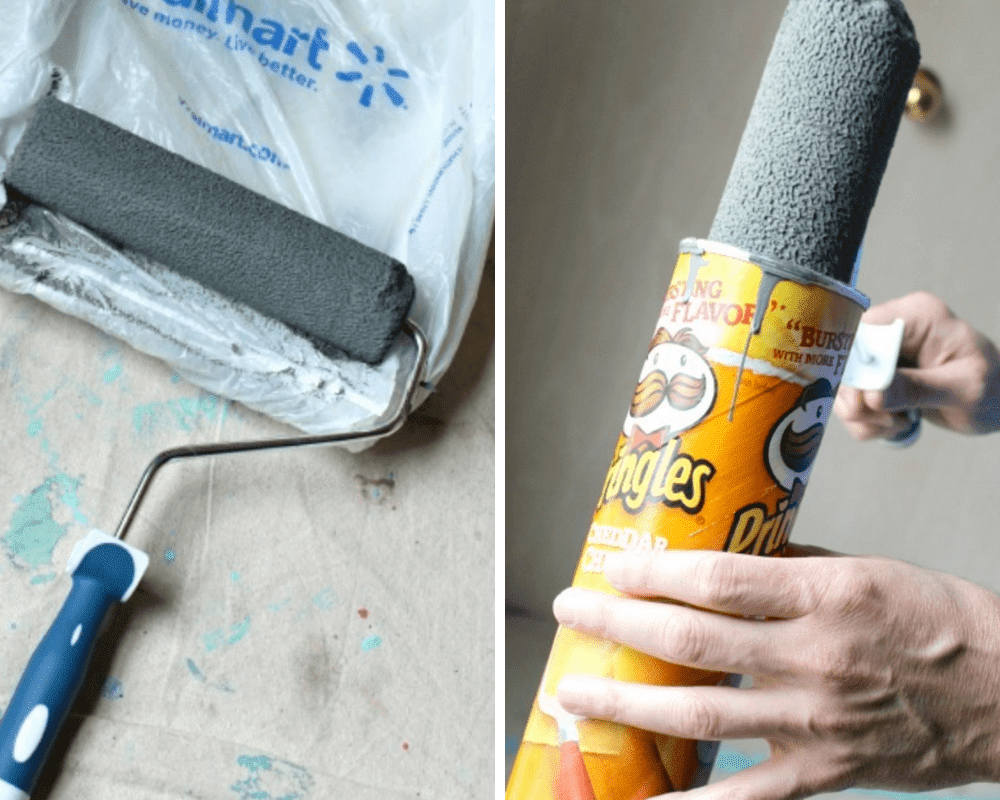 You will just need some old Pringles cans to store your paint rollers. You have to clean and dry out the paint rollers so that they do not stain the cans. You can also decorate your Pringles cans to store the paint rollers in them, even by color.
Reusable gift box
You can make a gift box for your presents that can be redecorated based on the occasion or theme. Like for Christmas, birthdays, or surprise parties You can decorate your box according to the event, and put your presents inside them.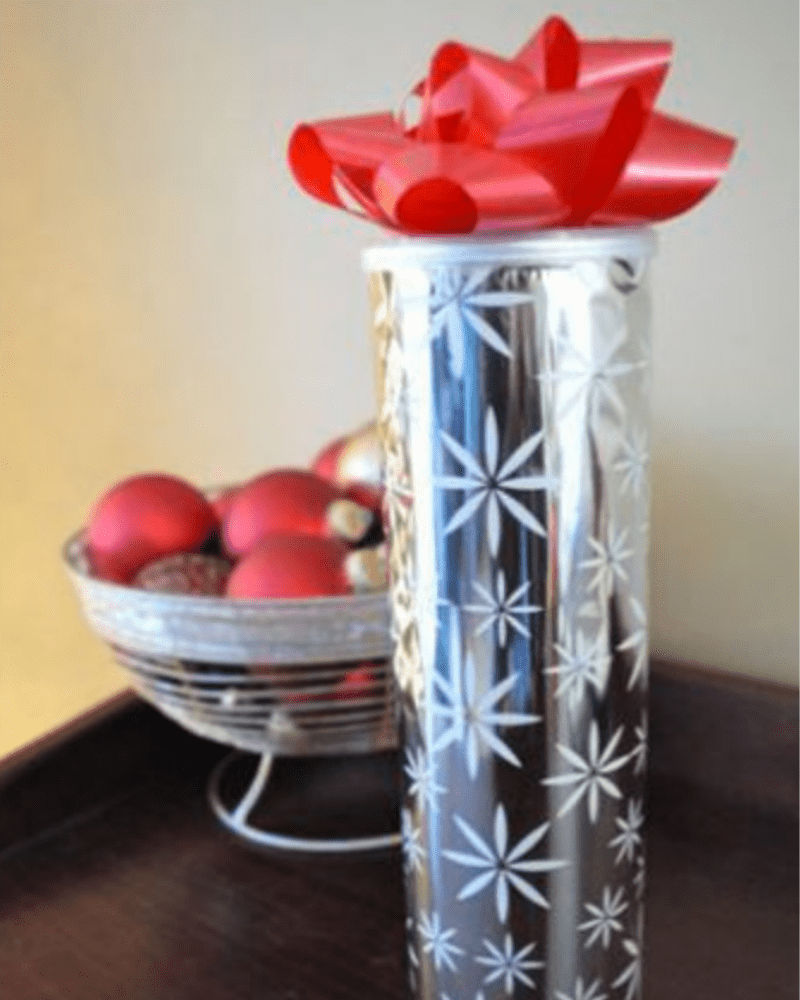 Just take a Pringles Can, and decorate it with any gift paper, fabric or craft paper you like. Cover the lid with a fancy ribbon bow to make it look like a present. Now, you can put your gift inside the handmade gift box, and it is ready to go.
Workstation organizer
You can easily manage the clutter on your desk with this next, easy-to-follow DIY project. This project will provide a functional storage unit that you can customize according to your style. And you will need just the basic equipment for it.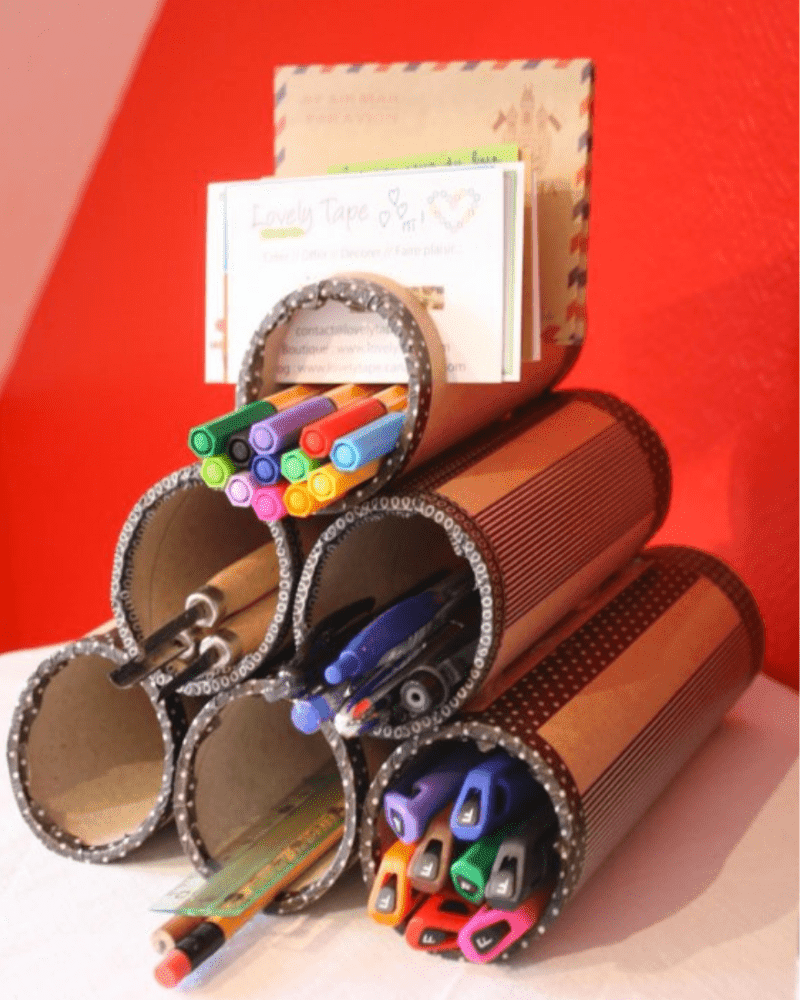 You can use as many Pringles cans as you like. Cut one of the ends of the can to form an elliptical opening, and stick the cans next to each other. Create a pyramid with the cans with one can on top. Make multiple cuts on the can so that it can store cards as well. Decorate or paint the cans with any color you like, and your storage unit is ready.
Creative shoe rack
You can make amazing footwear storage units with just da- to-day objects. All you need is one creative idea, and something wonderful can be made out of it. Your shoes will always have a proper storage with this amazing DIY project.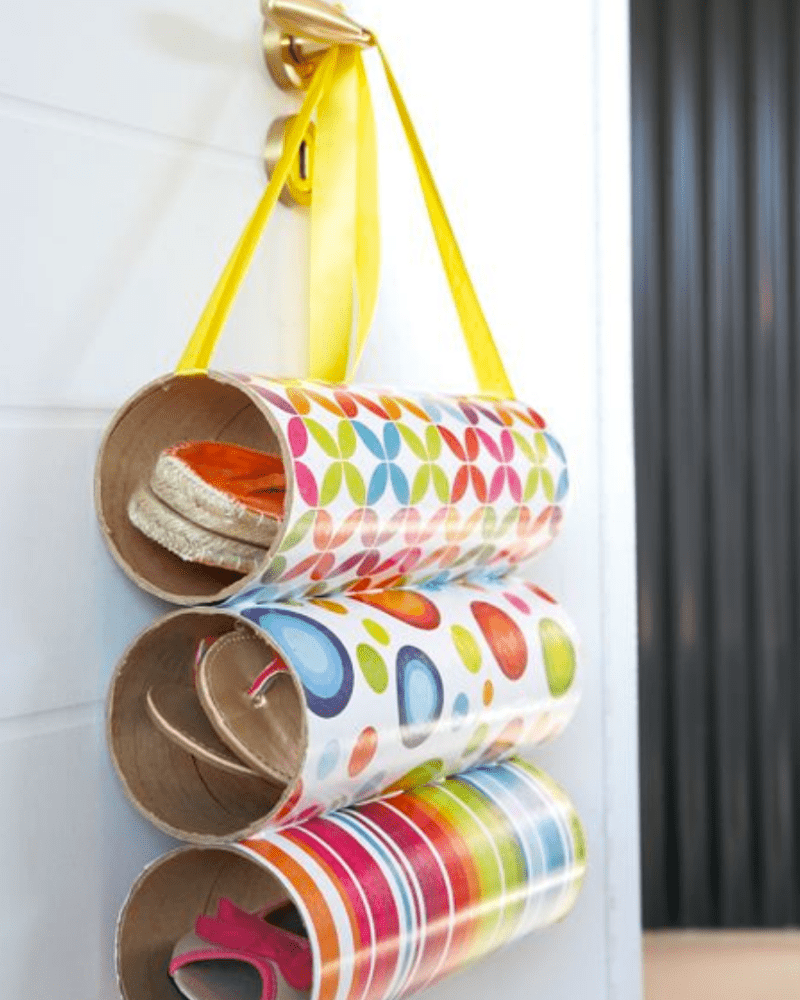 Just take 3-5 Pringles cans, and decorate them in any way you desire. After decorating the cans, glue them on top of each other and keep both the ends of cans open. Tie ribbon on the topmost can, and hang the unit anywhere in your house. You can easily keep your shoes in the cans, and add more cans for more shoes.
DIY storage for gift wrappers
You can keep your gift wrappers in one place with the unit we are about to show you. You can easily make a gift wrapper holder or separator for your wrapping supplies. This 5-minute project will show you the joy from making things with your hands.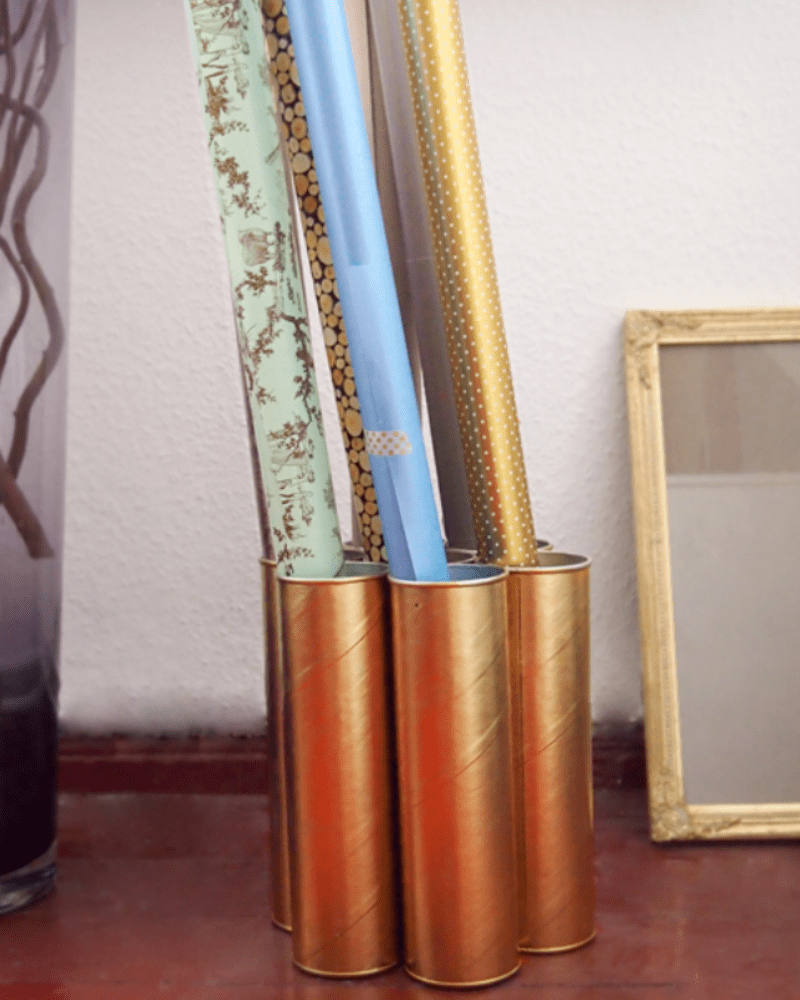 Just take some old cans of Pringles, and clean the inside and outside. Now paint them with the color of your choice, or wrap them in craft paper. Decorate the cans as you like, and glue them together in a circle. Close one end of the cans to make them stand on a plain surface.
Reusable kitchen storage cans
We have all used many types of cans in our kitchens that were meant for one product, but ended up storing different products. Like the box of chocolates or cookies which always contains sewing supplies like threads and needles.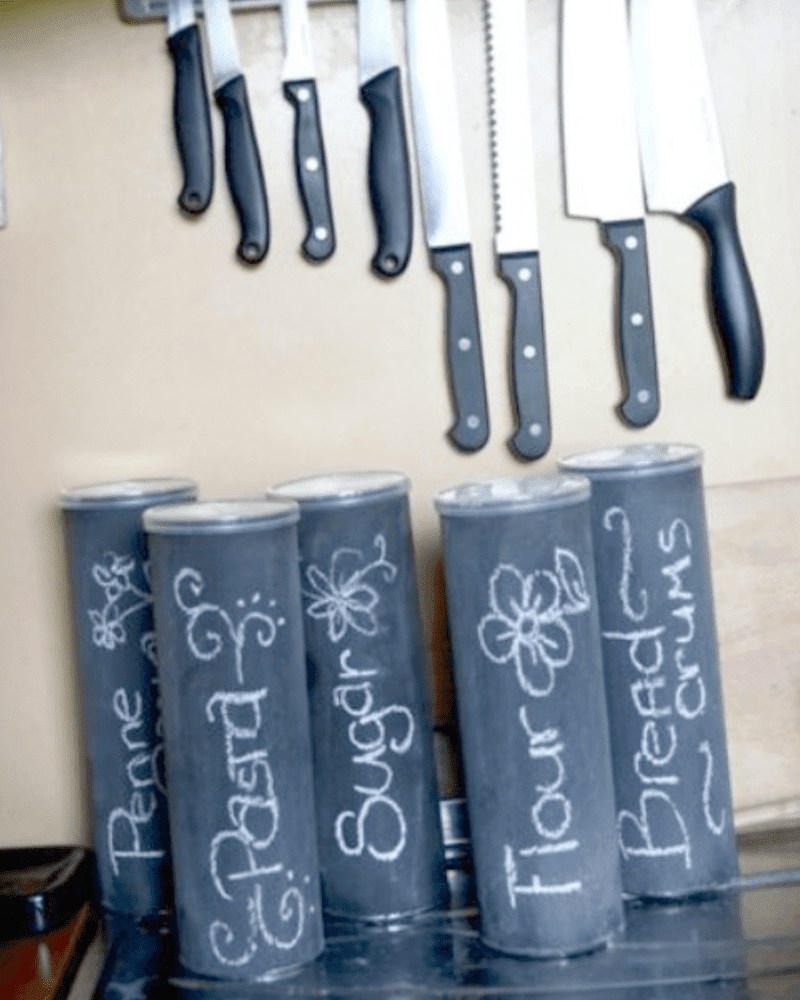 Not anymore. You can use empty cans of Pringles to store your kitchen supplies, and even change the names on the cans too. Simply paint some old Pringles cans with chalkboard paint, and use them to store things like sugar and flour. You can write the name of the item with chalk and change it up when you need.
Handmade advent calendar
Holidays are the time for fun and festivities. What better way to kickstart the holiday season than making an advent calendar for Christmas by hand? You won't need much, just 24 cans of Pringles that are clean from both the inside and outside.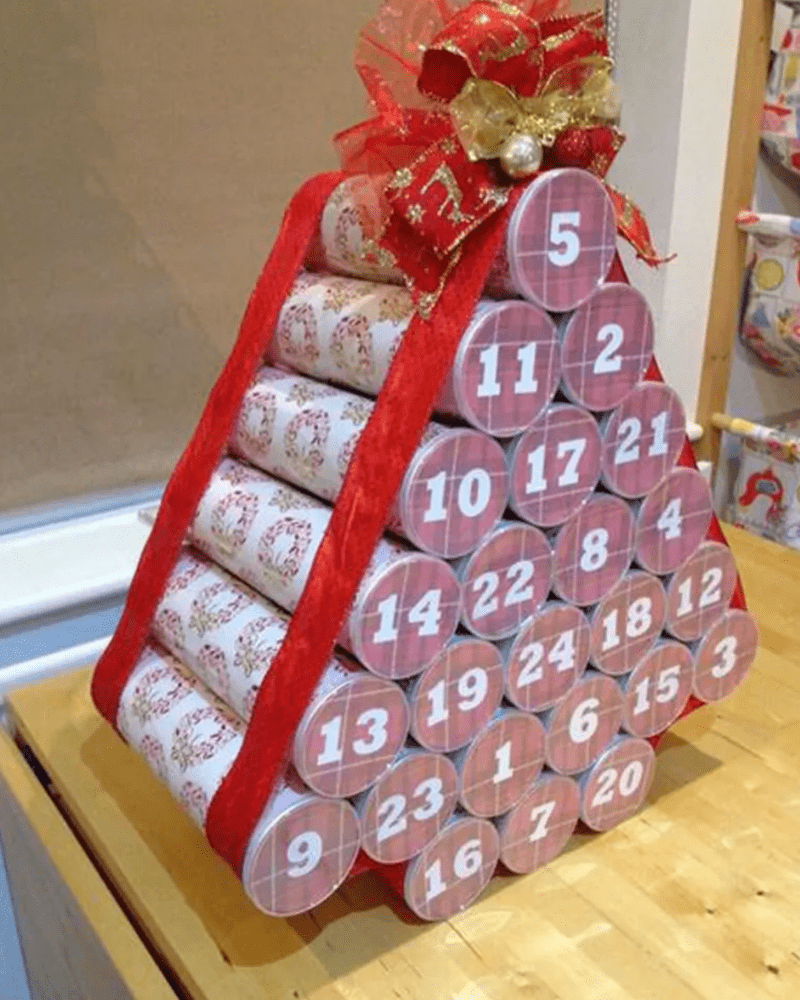 Decorate the cans in the theme of holidays or any theme you like. You can glue the cans together in the shape of a tree or any other shape you like. Number all of your cans, and decorate it as you choose. Your calendar is ready to be filled with treats or presents!
Holiday hanging cans
Everybody uses stockings to hang their presents for Christmas. You can be a little more creative than the rest, and use cans of Pringles along with stockings to complete your Christmas décor this year. With this simple DIY hack, you can transform the cans.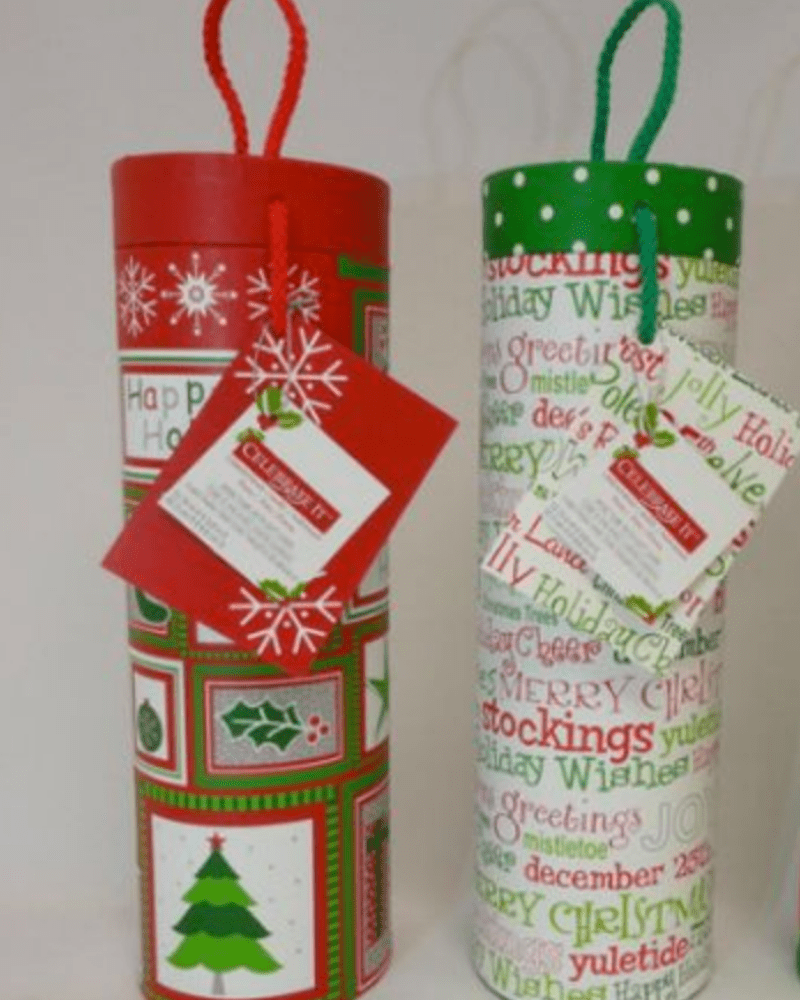 You can use as many cans of Pringles as you like for décor purposes. Clean the cans, wrap decorating paper on the surface of the cans, and poke holes through the lids. Hang the cans anywhere you like, and let the cans do the talking.
Creative ribbon dispenser
We have a very cute way of displaying your ribbon collection, and at the same time, it can act as a storage unit and dispenser. When you will be done making the unit yourself, you will love the end product as much as we do.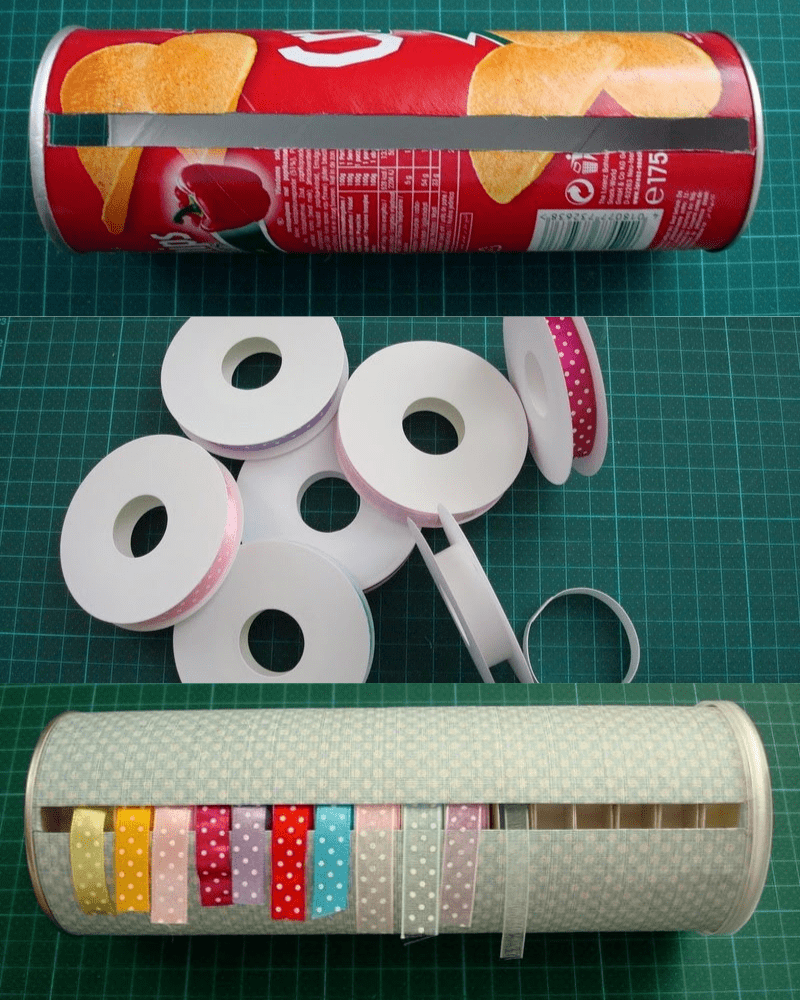 You need a Pringles can, scissors, and decorating paper. Take a clean and empty Pringles can, and cut a strip along the length of the can. Now wrap the decorating paper on both the sides of the cut strip, covering the entire surface. Put the ribbons inside the can, and display the ribbons by taking out some portion through the cut strip.
Vintage storage for kitchen
Have you always wanted the décor of your kitchen to be vintage? Do you love the Victorian-like pieces, jars, and containers they used to use in kitchens? You can easily make those pieces at home without having to shell out truckloads of money.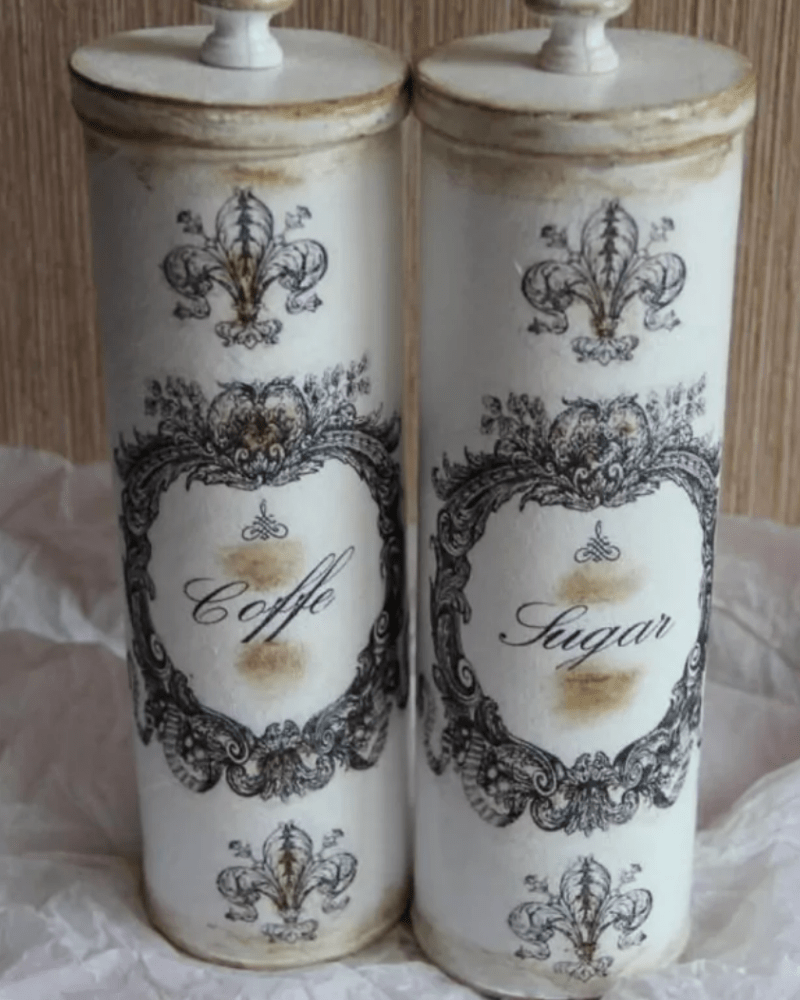 Just use some Pringles cans to make these storage units. Clean the cans, and paint them in any design you like. You can use a Victorian theme to paint the design on, and use a matching font to write the name of the food you want to store in the cans.
Bowling pins or cans?
There is more than one creative way to make something available to you if you don't already have it. If you love bowling, but don't always go to the bowling alley to play, then you will appreciate this next hack we have for you.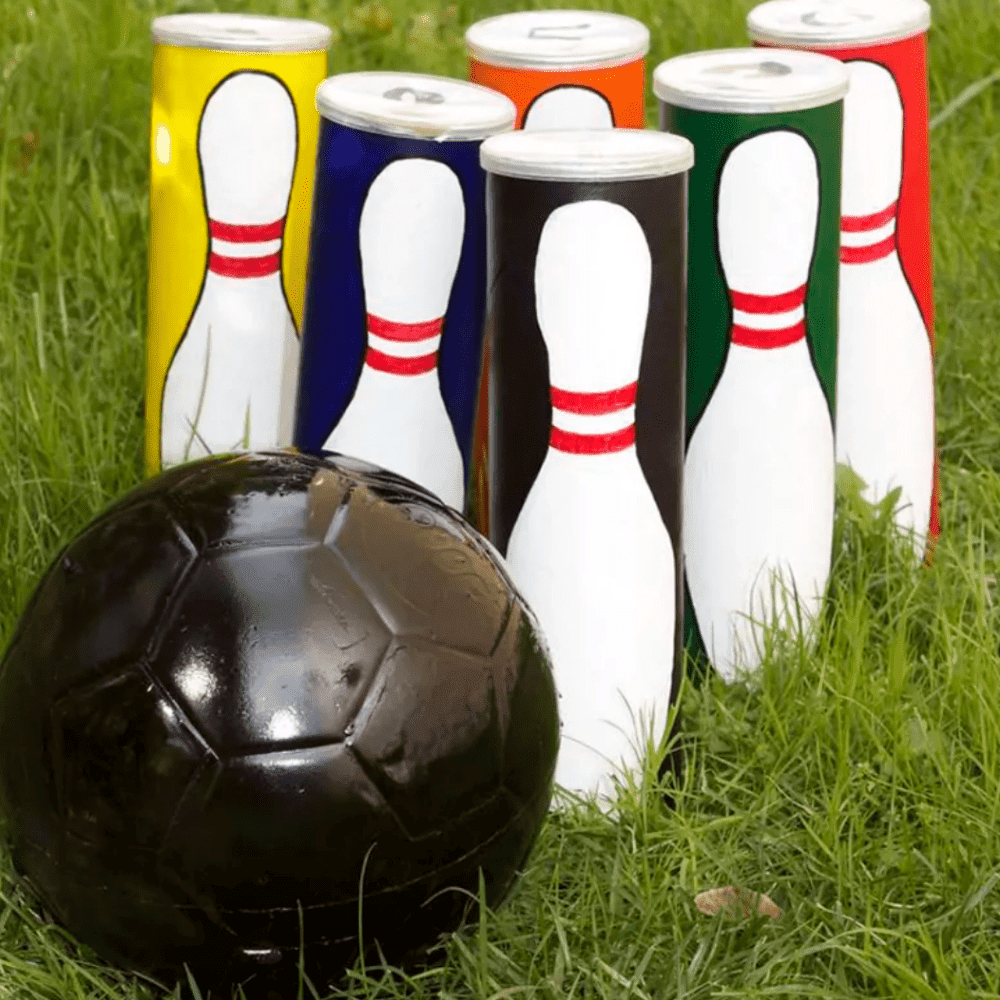 You can bowl anytime you want in your backyard with handmade pins made from Pringles cans. You will need 10 Pringles cans, wrapping paper, and coloring supplies. Wrap the cans with the paper and draw the pins on them. Your bowling can pins are ready for the game.
Cookie storage can
If you love to bake, then you probably always make cookies right? However, storing the freshly baked cookies in the refrigerator is not the way to go. You can make your own special can to store the cookies you baked so beautifully.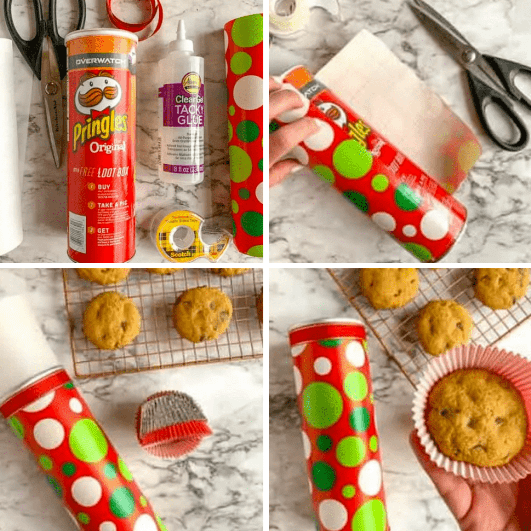 You will need old cans of Pringles to store the cookies. Take the can and wrap craft paper around it, or paint the can with the color of your choice. Once the can is decorated, you can use it to store the cookies. Just put a roll of parchment paper inside the can, and put the cookies inside, separated by cupcake liner.
Unique twine vase
When there is no shortage of ideas and tricks that help you make things instead of buying them, why waste your money on purchasing them? Just spend a little bit of your time making the item, and you will be satisfied with the result.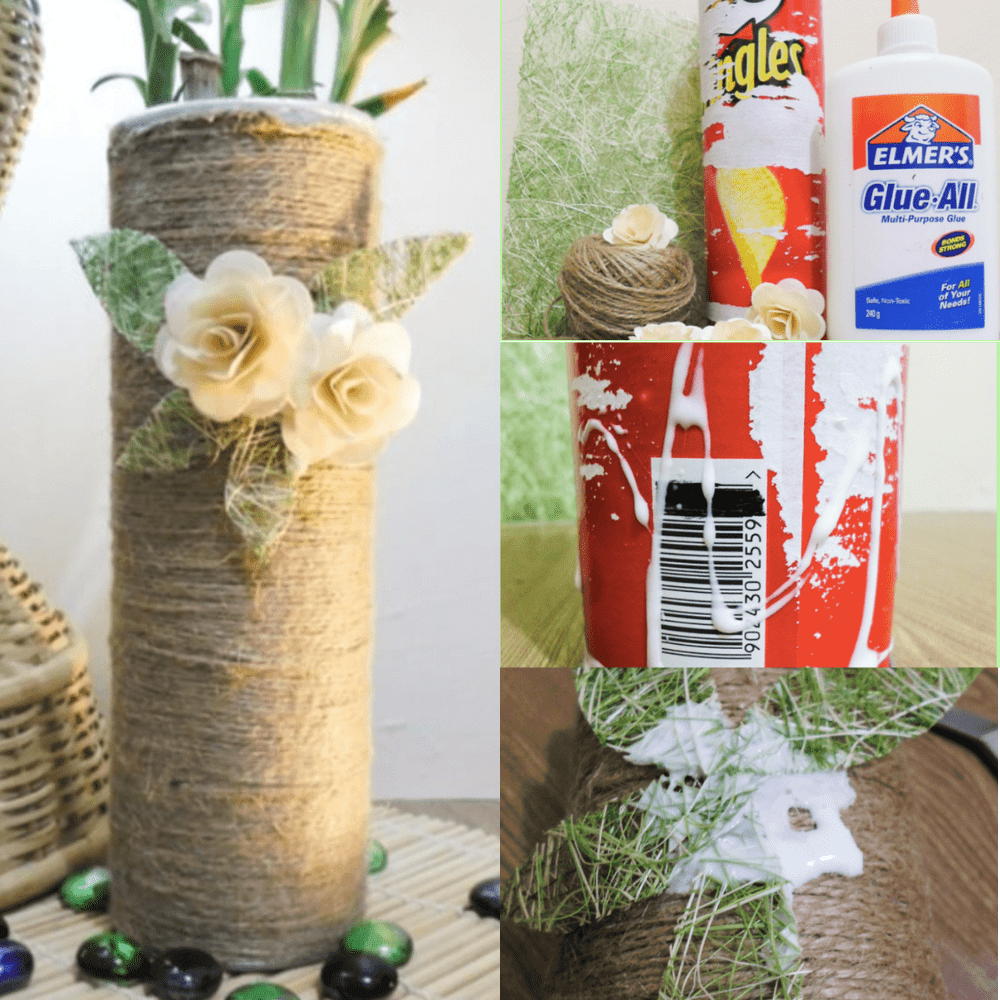 You can make a vase with simple materials like a Pringles can and some twine. Just put some glue on the surface of the can, and wrap the twine around the entire surface. You can also take leaves and flowers, and glue it on the twine. Your very own handmade vase is ready for display.
Wrinkle free boots
Are your boots always wrinkled up from the top? Not sure how to store them? Worry no more, because we have found an ingenious hack that can solve your problem within seconds. And it involves a can of Pringles!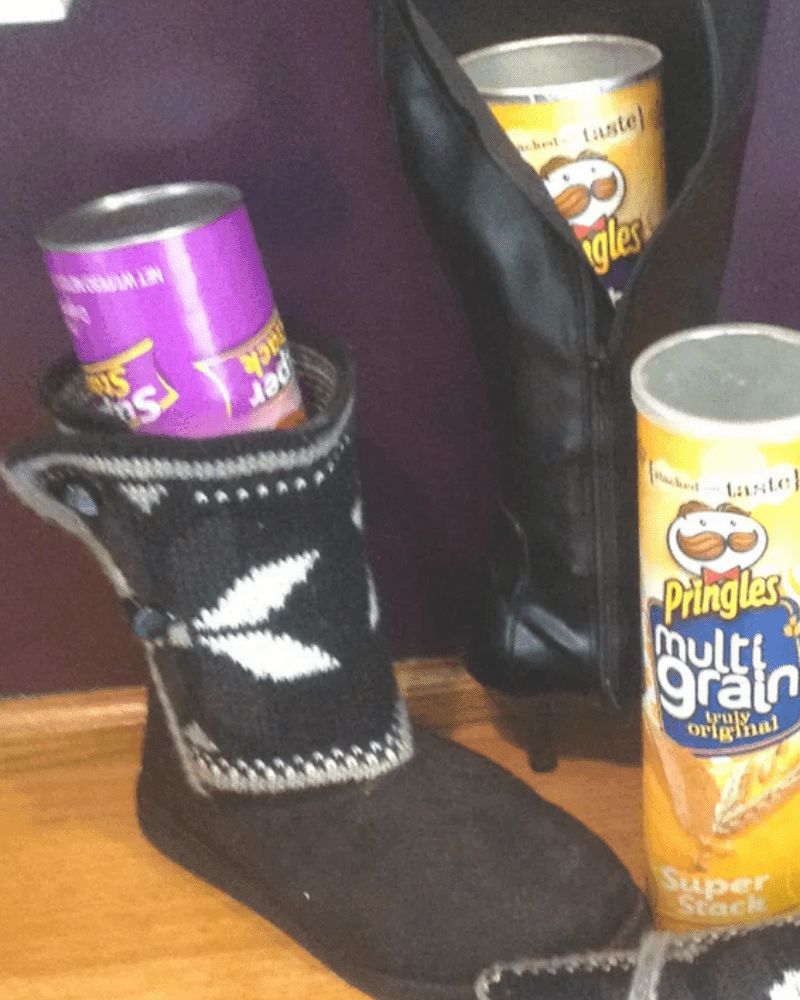 Just put the can of Pringles inside your boots, and the top will never wrinkle! You can use the small can or a large one, depending on the size of your boots. Keep the cans inside of them, and the shape of your boots will remain sturdy and not disfigure.
Ornate centerpieces
If you have a love for classics, then it doesn't get any better than this. For all the décor pieces that are available at high prices, you can be sure that many of them can be created simply at home. Don't believe us? You can test for yourself.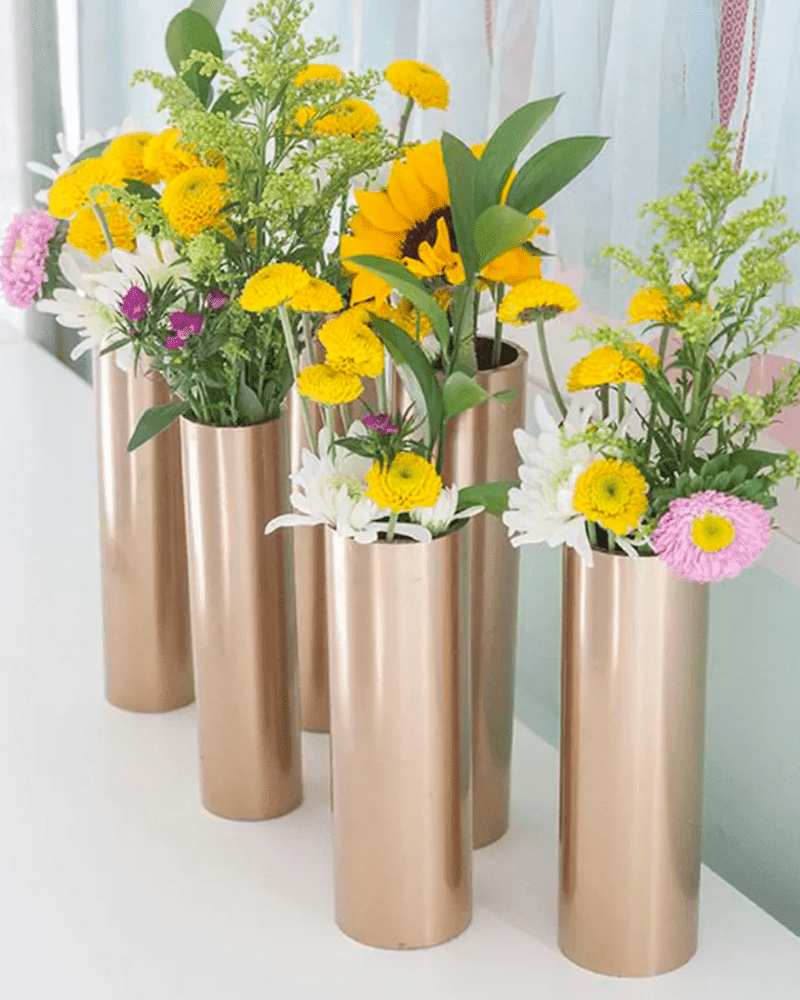 Image courtesy of nessaphilips / Pinterest
Take 4-5 cans of Pringles, and spray paint them with a rust proof golden color. You will be left with these chic vases that are available in stores for a few hundred bucks. And how much did it cost you to make? Nothing! Put some flowers in the vase, and display your creation with pride.
Fun project for kids
If your kids love to make things using craft supplies, then we have a fantastic project that will keep them busy for a while. You can teach your kids how to make a kaleidoscope with things that are easily found in your house.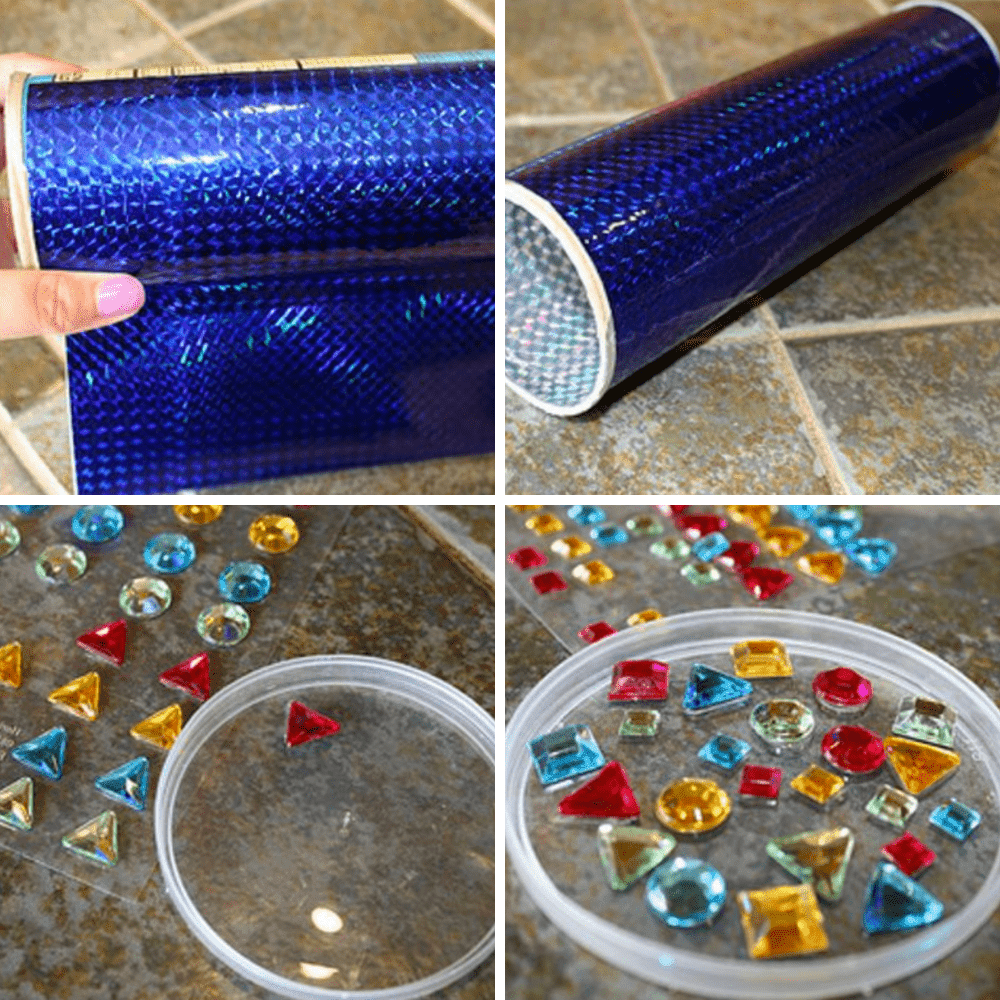 You will need a can of Pringles, obviously, wrapping paper, and some stone stickers or jewels. Spend time with your kids making this super easy kaleidoscope, and enjoy the wonderment and bonding time you receive with your kids this Summer.
Handy tissue storage and dispenser
You can now store tissues in a compact unit, and take it anywhere with you. With this handy trick, you will never be in shortage of tissues no matter where you go. This 5-minute hack will simply blow your mind since an empty Pringles can is needed.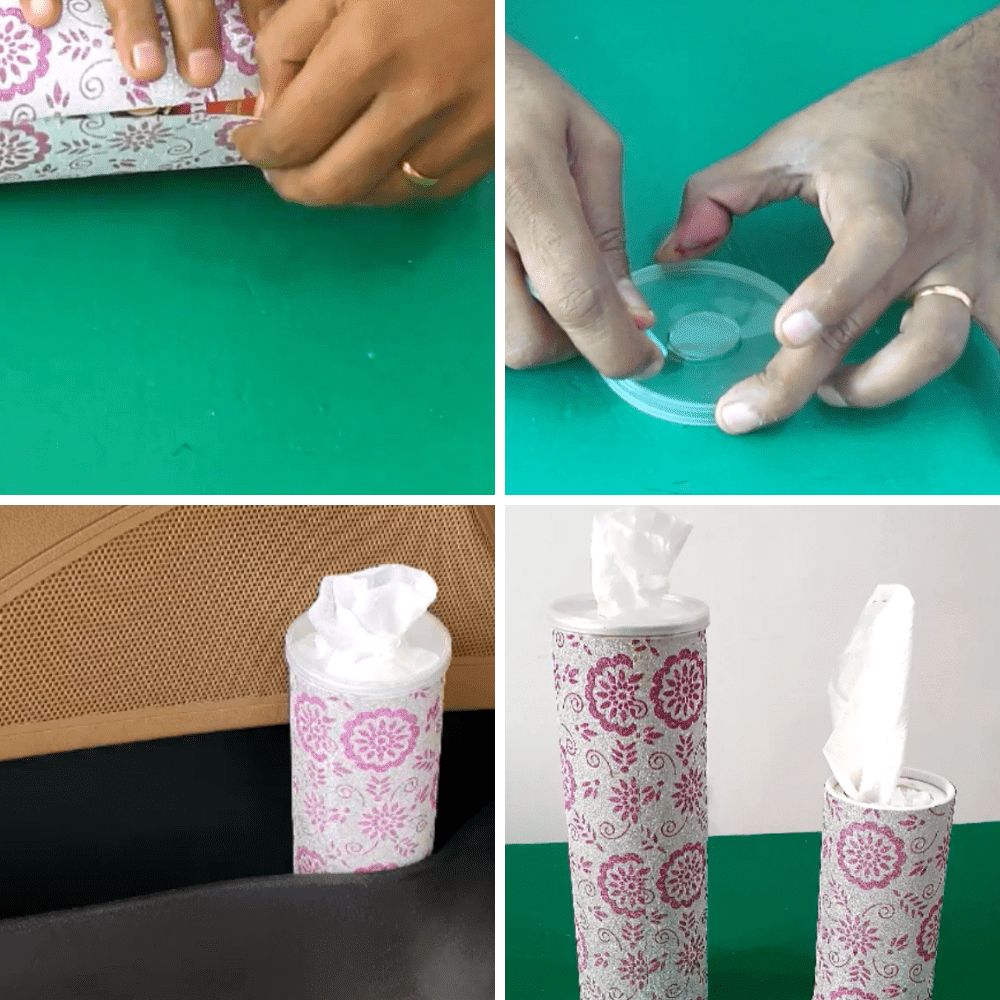 Just decorate a can of Pringles with craft paper or gift paper, and make a slit on the lid of the can. Put tissues inside the can, and leave one of the tissues slightly out of the can. Your ready to use the tissue dispenser, and it can be taken along anywhere you go.
Super easy DIY planter
You can make cute planters for your plants by using almost anything. You can use things that are easily found in your home, and turn them into great planters for your tiny or big plants. With this hack, you can make a plant tower with a single can of Pringles!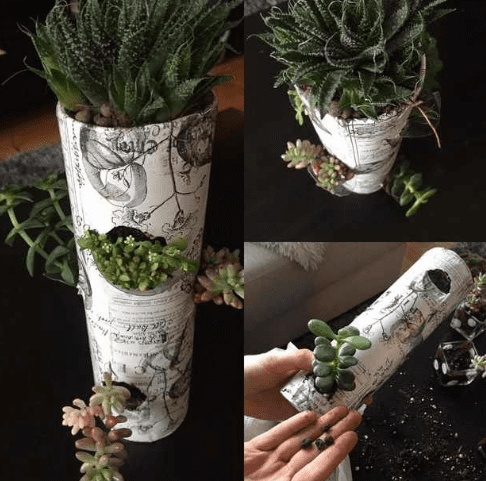 Take a can of Pringles, and make some slots for your plants to come out. Next, you can decorate the can with craft paper or paint of your choice. Once the decoration is done, put the soil and plants inside the can, and your plant tower is ready.