Sock Solver: Giving Abandoned Socks A New Life Purpose
By Jhoana C August 5, 2021
---
One of the most essential pieces of clothing is socks. They come in various designs and colors and they keep our feet comfy and warm. Imagine wearing shoes without socks and you'll know just how uncomfortable it can be. However, most of us lose socks. How many times have you taken out socks in the washer with missing pairs? Most of us have numerous old and lonely socks lying around the house. Instead of throwing them away, you should repurpose them. Not only will you be saving money, but you'll be making Mother Earth happy, too. Upcycling and repurposing are the way to go. You'll be making something new with your hands and letting your creativity shine through in the process. Don't worry if you have plenty of old socks, we have there 45 ways for how you can reuse them.
A sock for your dear doggie
Most of us have plenty of mismatched socks or lonely socks that have been abandoned by their counterparts. It's such a waste to throw them away when there are plenty of ways they can be reused and repurposed. The internet is chock-full of inspiration for lonely socks.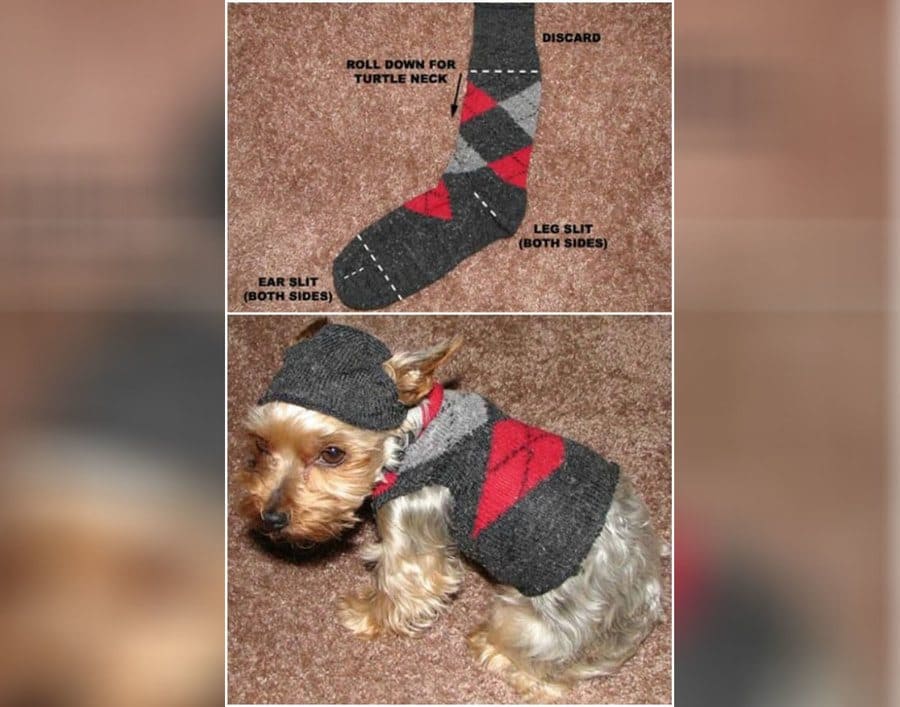 A good way to repurpose your sock is to make a sweater from it for your doggie. Trust us. Your fur baby will thank you for this and all you need is just a large tube sock. It will keep your baby warm and toasty during winter.
How about a rug made of socks?
If you have more than a dozen mismatched pairs of socks, you can use them to make a rug. No need to buy one. We know rugs don't cost that much, but if you have time on your hands, why not start this arts and crafts project?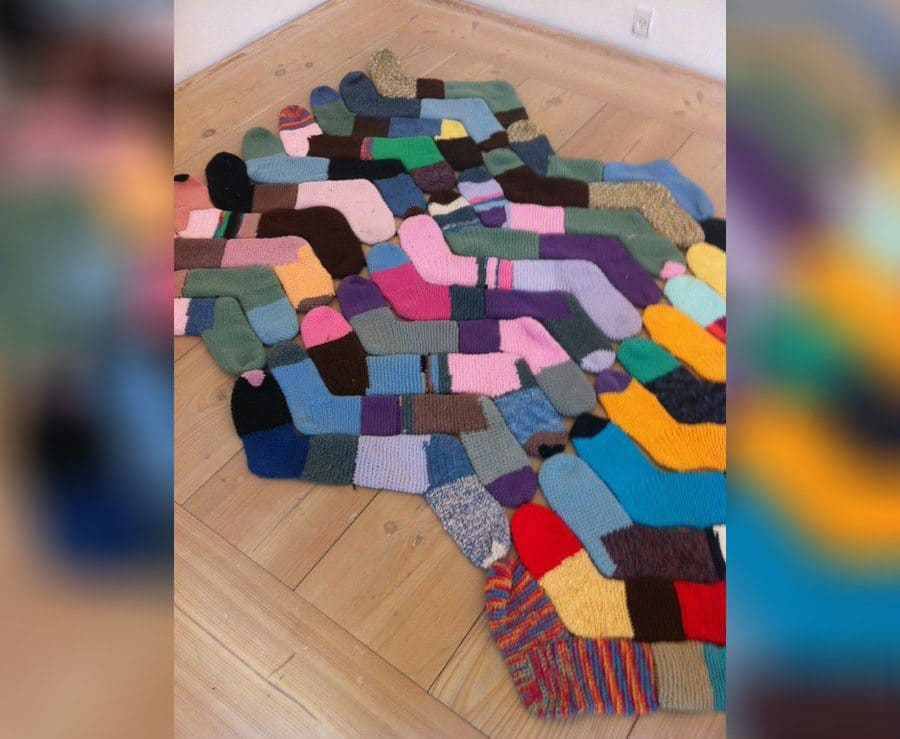 Sometimes, it's a good thing to make things on your own. With a little time, effort, lots of threads, some needles, and basic sewing skills, you can come up with an interesting rug that guests and friends will be talking about for awhile!
Just in time for Halloween
Halloween is the time to go all out on your decorations. You can dress up your home and you can also pretend to be anyone you want. It's like the grown-up version of dress-up. The good news is you don't have to spend so much on your Halloween decorations.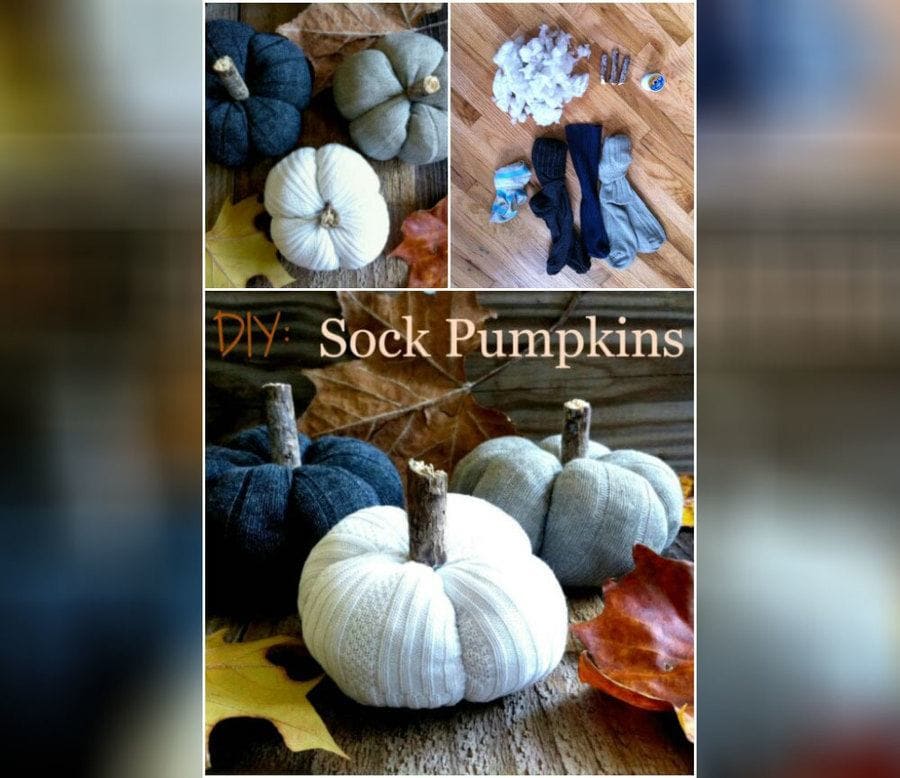 Sock pumpkins are pretty easy to make, and you can do this project with the kids too. Just stuff the socks with pillow stuffing and stitch them together. Glue them to a stick and voila, there you have it! Everyone will love them!
Ice pack cover
Putting ice packs directly on your skin can cause ice burns. When you have a bruise or a headache, the last thing you need is additional injury. Socks come in handy in these moments because you can repurpose them as an ice pack cover.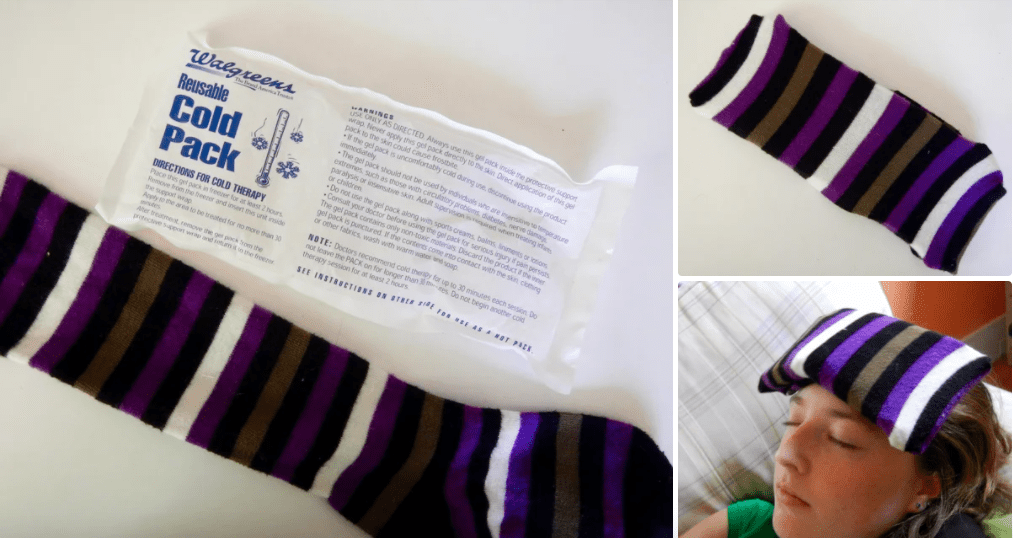 Use the sock to cover the ice pack, and you'll be much more comfortable putting it on your head or other areas of your body. If you have only ice cubes, you can also put them in a bag, then wrap a sock around it.
Sock shoe freshener
Regardless of how clean or careful you are, there's always the possibility of your shoes becoming smelly after a few months of use. Thankfully, there is something you can do to remedy the situation. And you guessed it: a sock!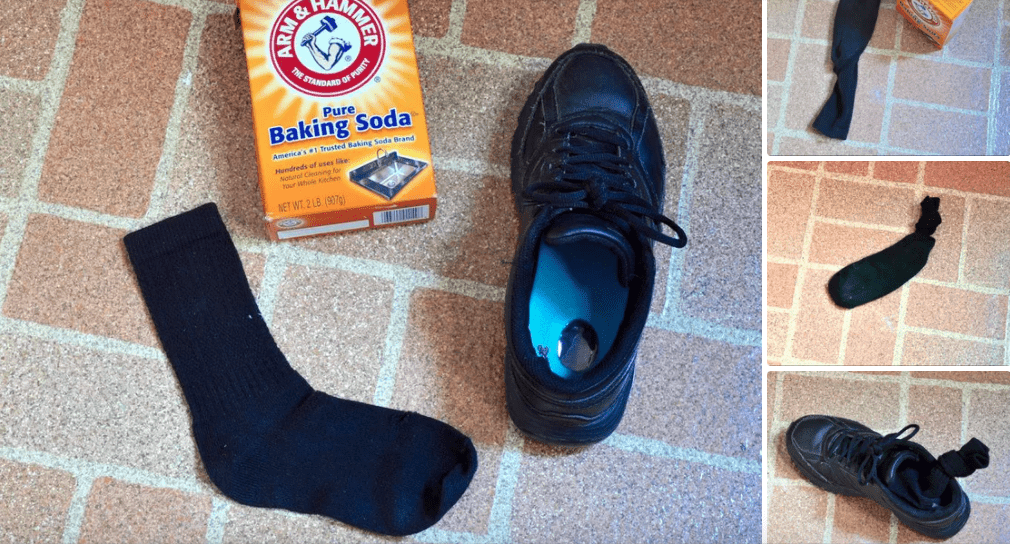 You don't have to live with smelly feet forever. Just fill a sock's foot with baking soda, and tie it off or sew it closed. Leave them inside your smelly shoes when you're not wearing them. and you'll soon be saying bye-bye to your foot odor.
Christmas socks
Christmas is another holiday that people can't wait for. It's a time to get together with family members, celebrate the birth of Jesus, whip up delicious meals, and decorate with glee. One of the most essential decorations for Christmas is the classic Christmas sock.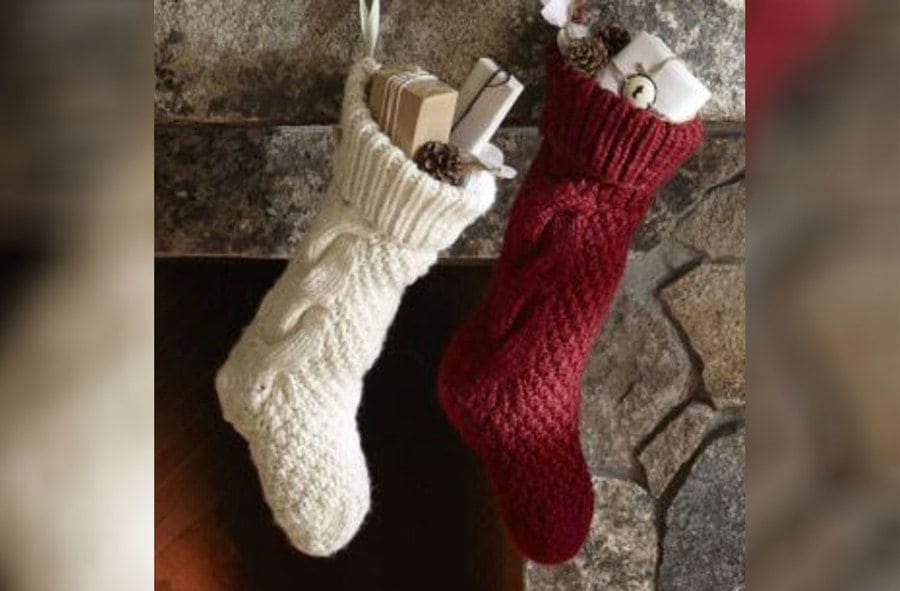 They are usually placed over the fireplace. You don't need to buy one if you don't have any. You can turn old socks into pretty Christmas ornaments. A few stuffing, stitching, and a few decors such as buttons and the socks will fit right in with your holiday décor.
How about a sock armband?
Are you the type who jogs daily for fitness and needs your music, phone, and a podcast? If so, then you might struggle to keep your hands fully free without a care in the world. Have you ever tried jogging while holding your phone? Annoying, right?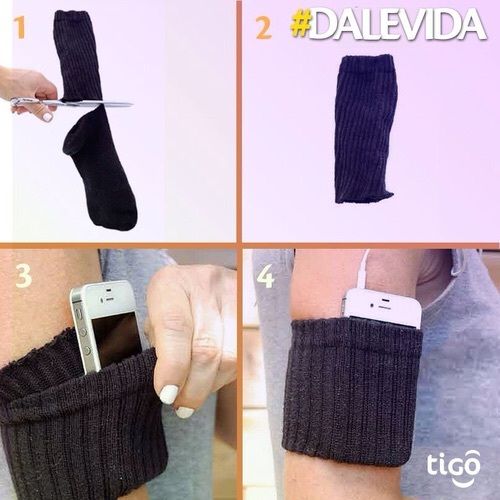 Well, why not get an armband? Better yet, make one from a stray sock. Not only will you save money, but you'll also be able to repurpose your old socks. There's plenty of inspiration online, such as this creative one above. It's quick and simple!
Sock monkeys for the kiddos
Think of all the toys that get thrown away yearly. Buying toys makes sense if you aim to pass them on to other kids, but if not, then they're pretty much a waste of money. If you are looking to entertain your kids without spending so much on toys, you can try your hand at sock monkeys!

They may look intimidating, but they're quite easy to make as long as you know basic sewing skills. You need stuffing, some socks, and a few accessories such as buttons. Sock monkeys are suitable for younger kids, and it's a keepsake they will treasure.
How about a draft stopper made from socks?
If you have problems keeping your home warm during winter, you might want to look into using a draft stopper. They work well if you want to save on energy costs too. You can make your own draft stopper by sewing together old or mismatched socks.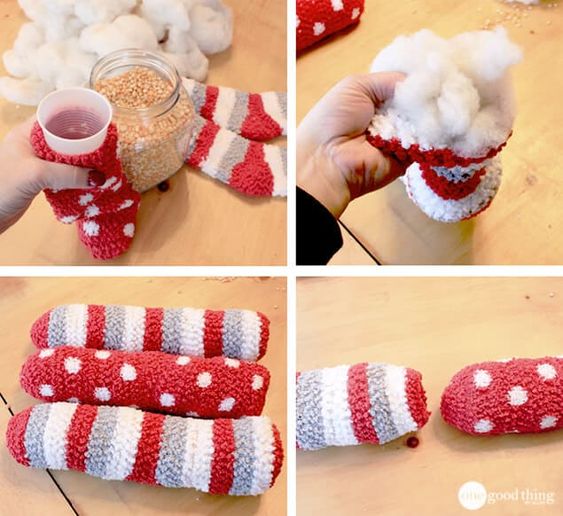 You can fill the socks with beans, rice, sand, cat litter, popcorn kernels, or buckwheat hulls. Then fill the stop with some cotton. They will keep your home warm and they will also keep your energy bills low. After filling the socks are full you can sew them shut and start using them.
DIY coin purse
If you always find yourself with plenty of coins that won't fit in your wallet, it might be a good idea to get yourself a coin purse. If you're into DIY, you can even use baby socks and you're simply going to love this adorable project.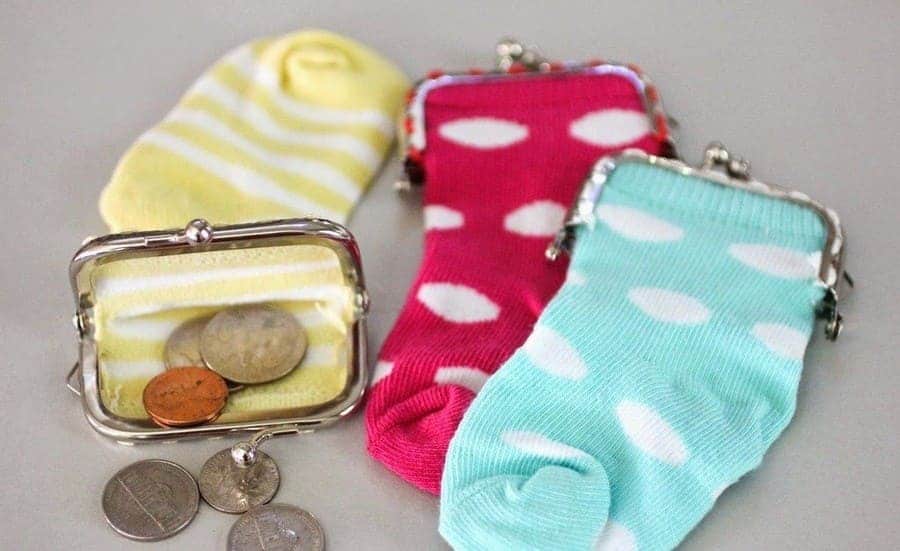 All you need to do is stitch a clasp to the little sock, and you're basically done. It doesn't get any easier than that. Keep in mind to use baby socks as adult socks are quite big. Baby socks might be small, but they are stretchy and have more than enough room for your coins.
Arm and leg warmers for the cold weather
If you don't like cold weather very much and find yourself looking for warmth at every moment, inside or outside, you might need arm and leg warmers. No, you don't need to spend money on them. You can make them.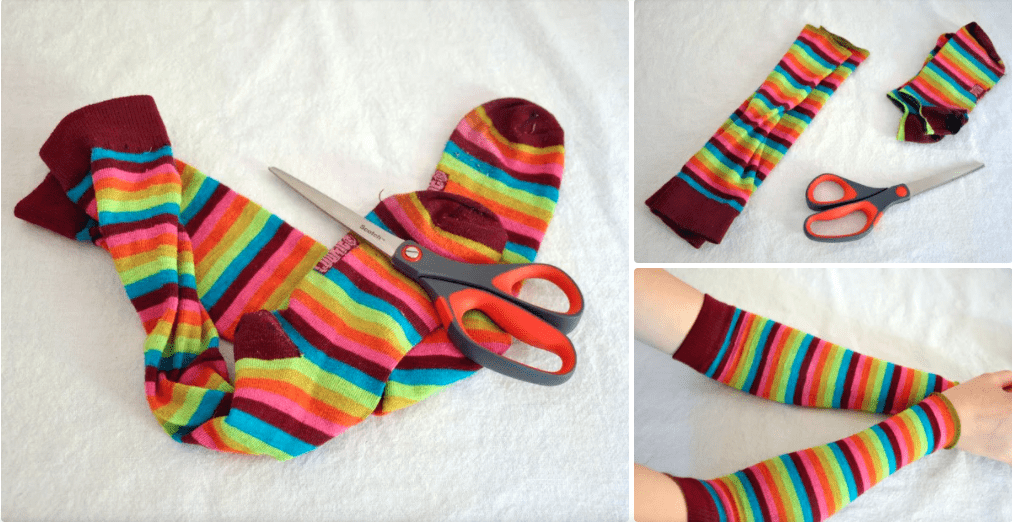 Take some old and long socks, and cut off the bottom, or the foot portion, and that's it!. It doesn't take so much effort and time. Knee highs work best for this, but if the only thing you have at home are shorter socks, you might need to sew them together.
Scarf for a chilly day
A chilly day calls for a scarf if you want to keep yourself toasty and warm. If you live in a particularly cold place, you should get a thicker scarf. This is another great, wearable sock project. All you need to do is get a few socks and tie them together.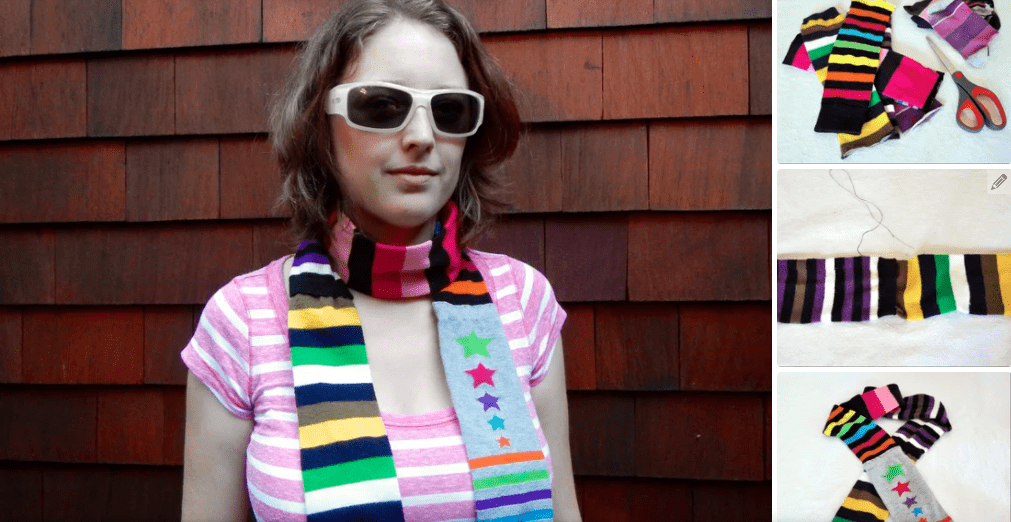 But, if you have the time and the skill, you can sew them together to get the length you want. Start by simply tucking the end of the scarf into the top of the next one in the pattern that you desire. Five to six knee-high socks will be enough.
Cover your golf club
People who love golf typically play from March to October as the weather is friendlier. While it is difficult to pinpoint golf season, it's best to play when there are no harsh conditions outside. For most golfers, the freezing season is not an optimal time.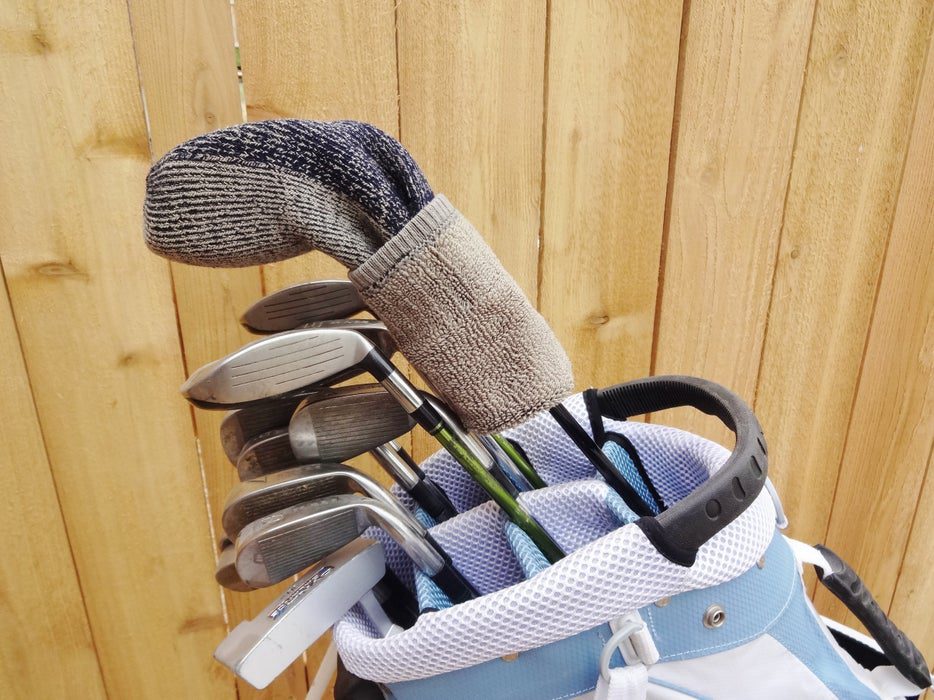 If you want to keep your golf clubs safe, you can use old socks to cover them with. Just use them as you would normally. Additionally, you can write on the foot the type of club and what it's used for so you won't have a difficult time identifying your clubs when covered.
Protect your sunglasses
Once your sunglasses are scratched, they stay this way. You can minimize it, but you can't remove them completely. Some sunglasses scratch easily while others don't. As they say, an ounce of prevention is better than a pound of cure.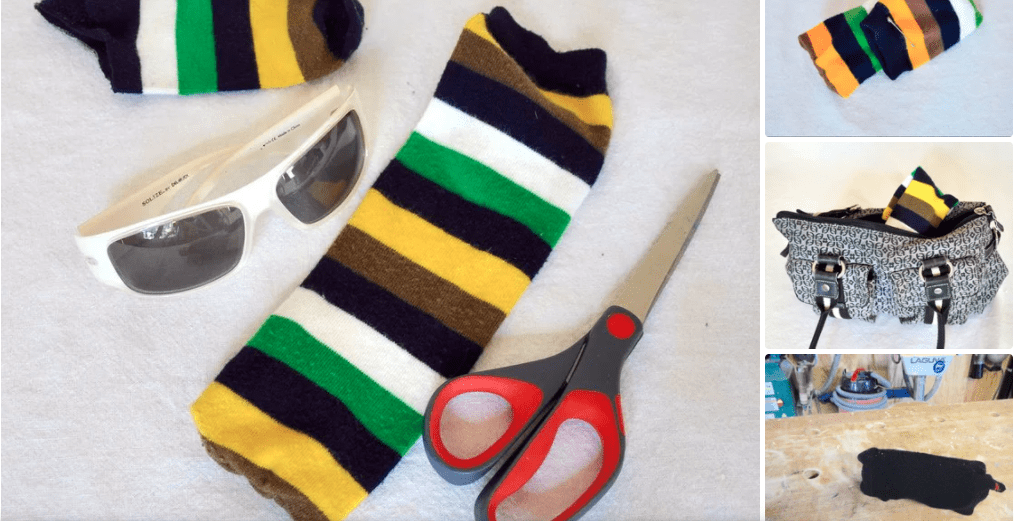 Always keep them in their cases and if they don't have cases, you can make one by using old socks. Cut off the foot of the sock and sew it shut. It can then be used as a pouch for your sunglasses. It doesn't cost much and it will protect your expensive glasses.
Make a pin cushion
One of the most valuable things for someone who likes to sew, whether as a hobby or as a livelihood, is the pincushion. The last thing you want to have lying around the house are pins because they can be the cause of serious accidents.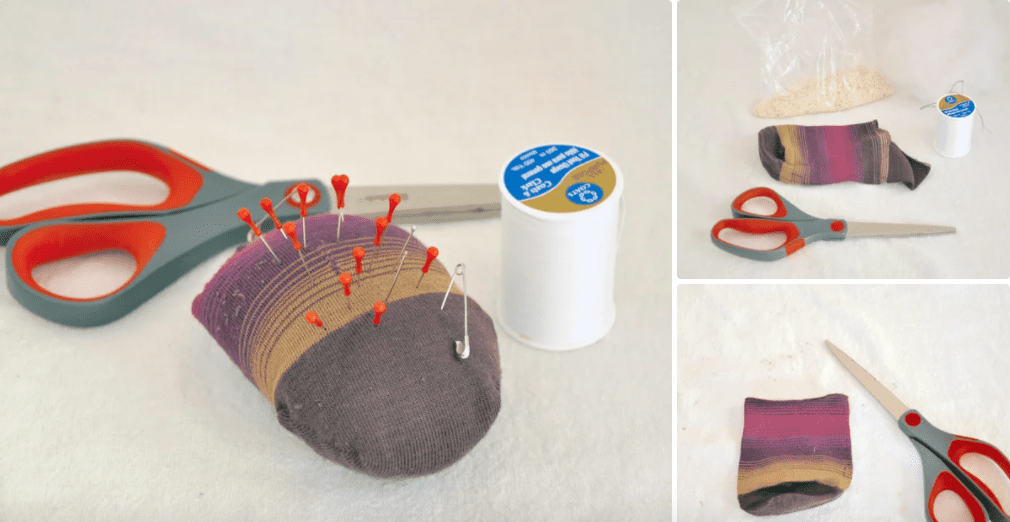 A pin cushion is easy to make. Just fill old socks with rice and stuffing. Keep in mind to put the rice in the bottom of the pincushion and put the stuffing on top. Close the sock and sew it shut and it's ready to use.
Create a dryer ball
If you want to keep your clothes soft in the wash without using fabric softener or dryer sheets, you should get a dryer ball or make one with old socks. You don't need to go to the store to look for special dryer products.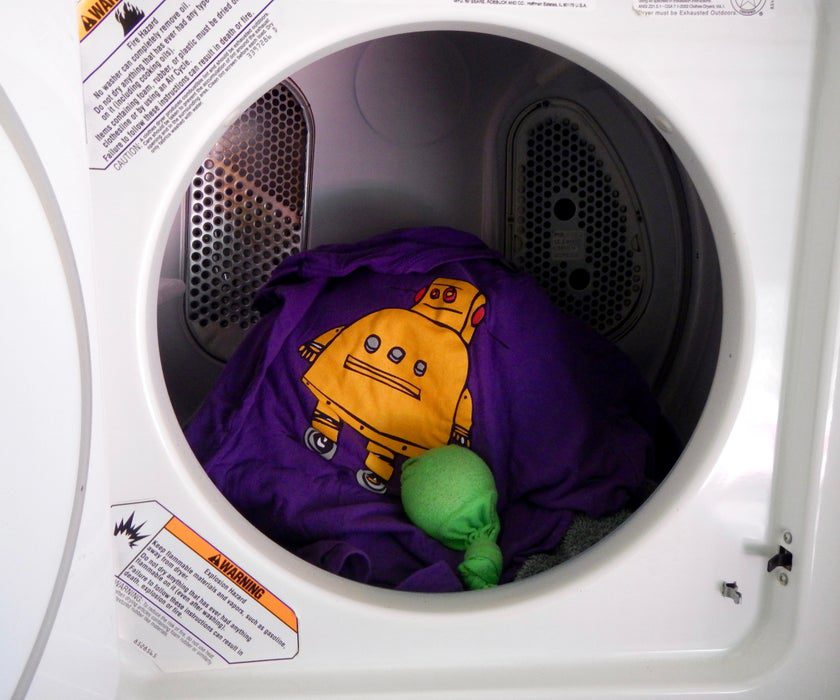 If you have a tennis ball, you can also use it. Of course, you need to prevent the tennis ball from getting in contact with your clothes, especially if it's a used tennis ball. Put it in a sock, then tie it securely. You'll be left with softer and freshly washed clothes.
Use old socks when packing stuff
Moving from one place to another can be a headache, especially if you have a lot of valuables and fragile items. There's always the possibility of things getting lost or getting broken while in transit. You have to know how to pack to protect your things.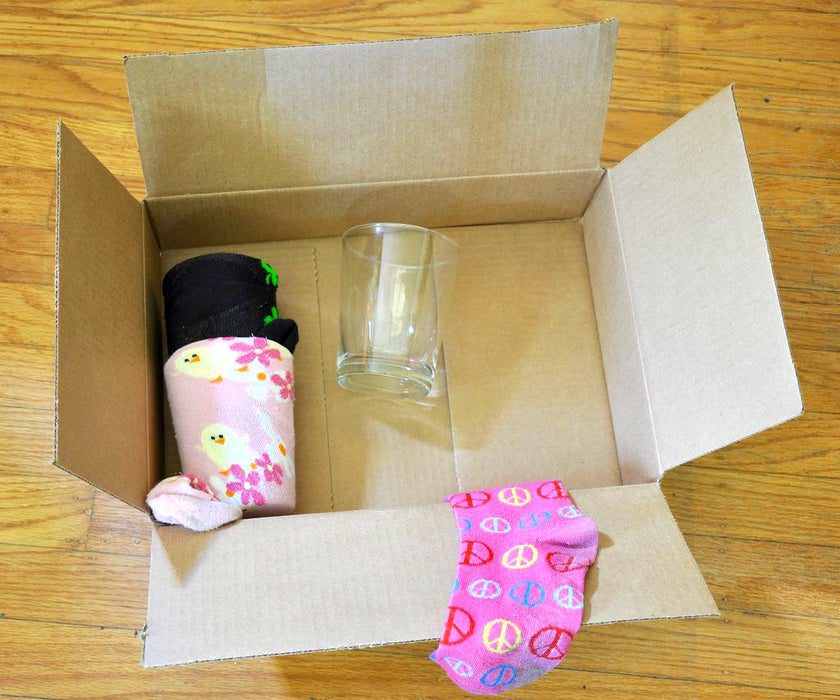 A good tip to keep in mind is to use old but clean socks when packing glasses and other fragile items. By using them as covers, socks can help protect a variety of items. There is no need to fret about opening boxes and finding out that all your glasses are broken with this tip!
Polish your shoes with socks
Polishing shoes with socks? Yes, that works. Socks are not only for your feet; they are versatile and can be used for a variety of things as you've already seen. And another one is for polishing your shoes. You don't even need to wash them.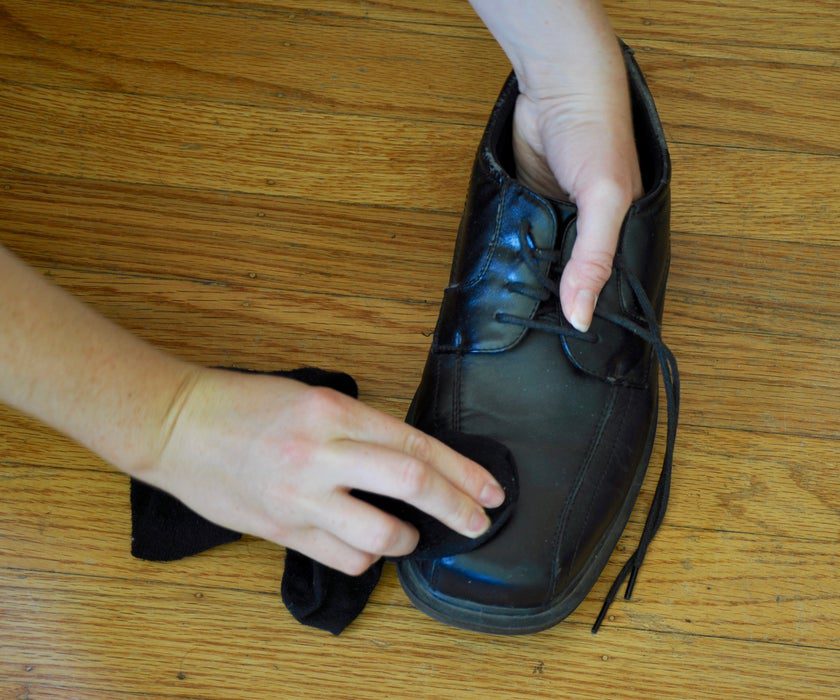 Old and unused socks can then be tossed directly into the trash after using them to apply polish on your shoes. You'll have shiny shoes and you will look polished all the time, whether you are going out for formal events or casual parties.
Fingerless gloves
Fingerless gloves are a breeze to make when you use old socks. Not only will you help the world through recycling, but you'll be keeping your hands warm and toasty too. It's a win-win situation. And if you have nothing to do, it's the perfect way to pass the time.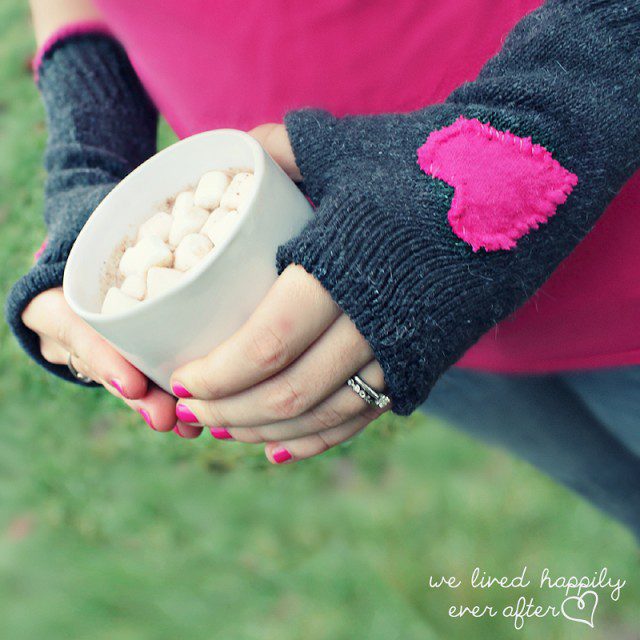 No, you don't need mad crocheting or knitting skills, and you also don't need to purchase additional items like yarn. You just need scissors, an old pair of socks, some thread, and needles. We're sure you have all these items lying around the house.
Make your boots more stylish
Worn-out socks should not be tossed in the garbage right away. There are still various uses for them, and if you love Mother Earth and want to save some money, you should repurpose them! They can easily be turned into boot cuffs.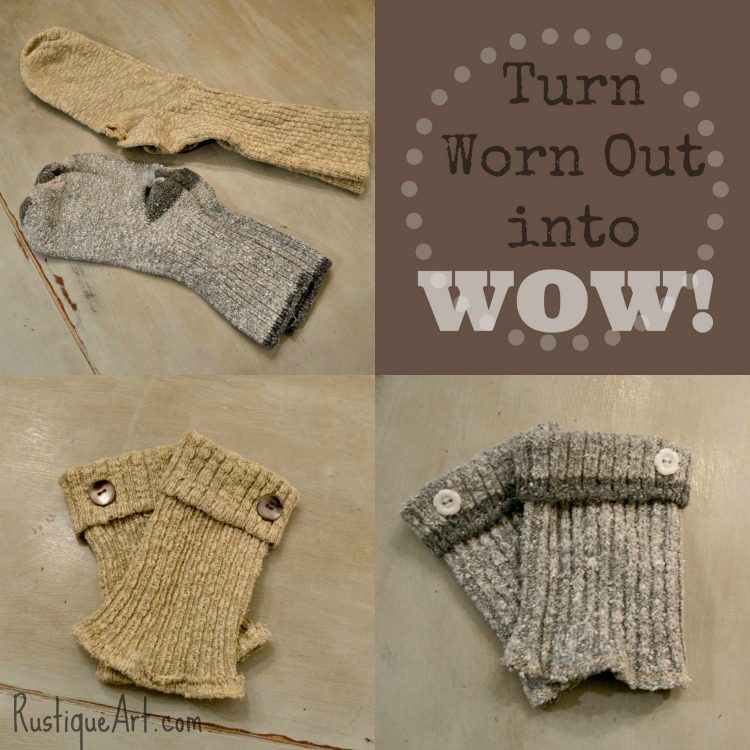 Not only will you look more stylish, but you'll feel warmer too. You can express your creativity and style by adding a few buttons of your choice and sew up the bottom edge. You'll have fabulous boot cuffs that your friends will be asking you about.
Say hello to Sockey the Snake
Kids grow up quickly, and once-beloved toys can be easily forgotten once they come of age. That's why it makes sense to pass them down, or better yet, make your own. No need to spend hundreds of dollars on toys that will only entertain kids for a short while.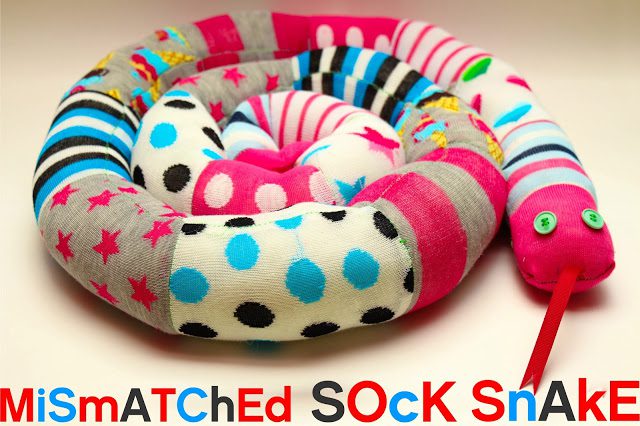 Just like the sock monkey, if you have even a bit of sewing skills, some stuffing, and a few old socks you have no use for, you can create this mismatched sock snake. It's unique, and it makes for a good toy that tiny tots will love. It even makes a good Christmas gift.
Stick hobby horse
Giving children tablets nowadays and having them spend a lot of time in front of the screen is not always a great tool. It can affect their eyes, as well as their development. There's nothing better than good old toys to entertain and educate children.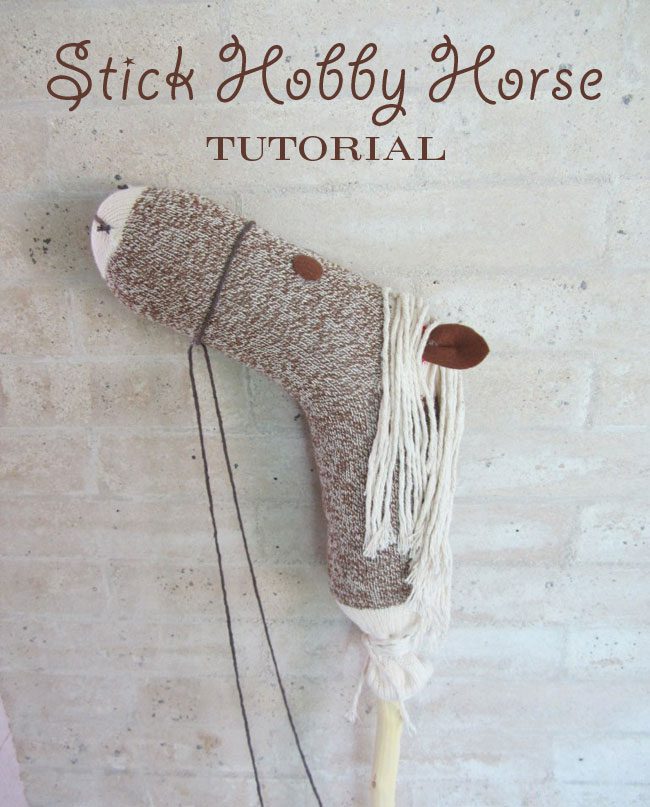 Throwback to the good old days when children loved horsing around with their hobby horse. This cute homemade toy can be made easily by using the things you already have at home. You don't even need a sewing machine for this project.
Have a DIY puppet show at home
Are the children at home bored? Have they had enough of all the cartoon shows on television? Time to think of something new in that case! And even project that they can help you with at the same time. Why not put on a puppet show?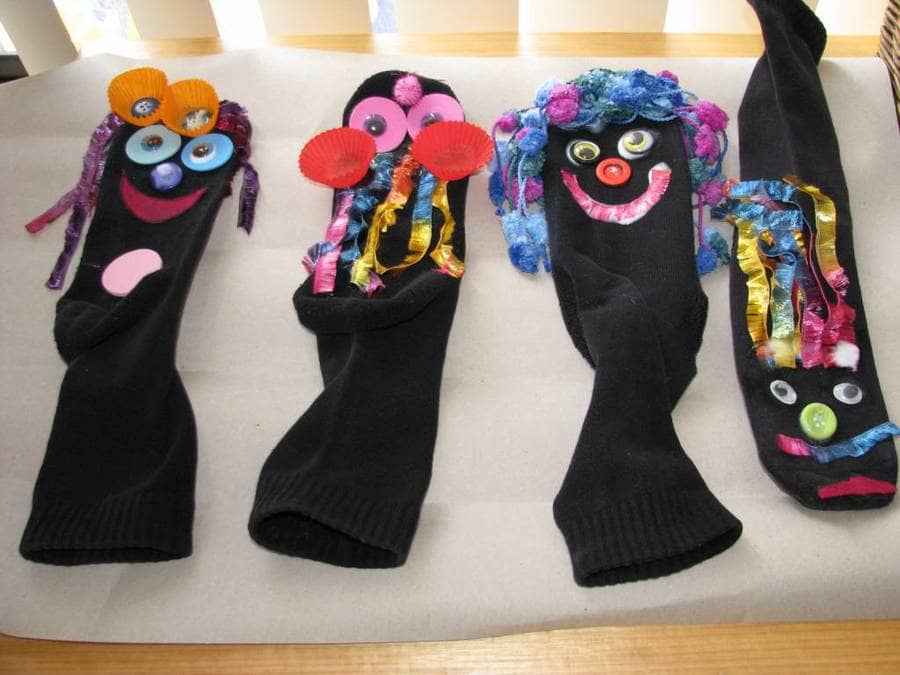 We don't mean just any puppet show. We mean one that involves the children in making the puppets too. You need old socks and a few accessories. Let your imagination run wild and personalize your sock puppets. Glue a few eyeballs and put some fake hair on them. You'll need a glue gun, some thread, and needles for this, too.
Potpourri holder
One of the easiest ways to ensure that home smells good is to get a mixture of dried petals and spices and place them in a bowl. You'll notice that they'll soon fill your home with pleasant smells. Aside from putting them in a bowl, you can also store potpourri in socks.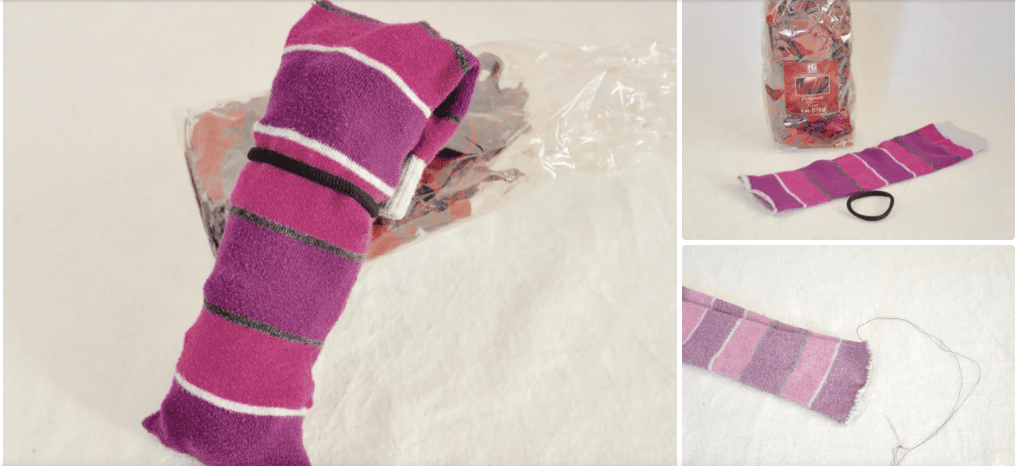 Socks make great potpourri holders because all you need to do is cut off the foot, sew the end closed, and you have yourself a perfect pouch. You can also put a hair binder to the opening so you can fold over the sock and hold it close.
Wash your cars with old socks
Why buy rags to wash your car with when you can repurpose old socks and save some money in the process. Nowadays, you should cut expenses in all possible areas and save whenever you can. Don't throw away your old socks.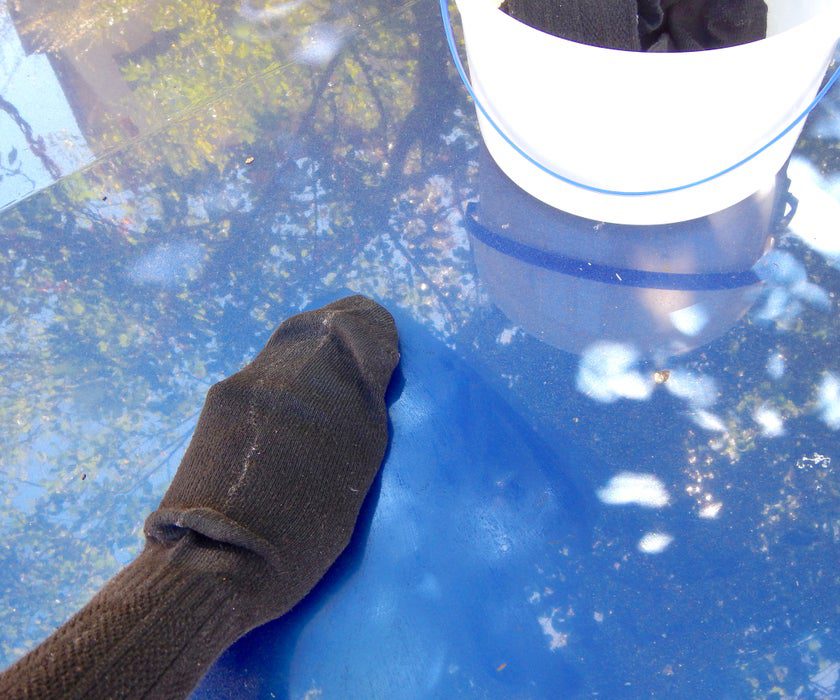 Use them to clean and wash your car like you see above. Once you're done, you can easily throw them away. You don't need to worry about washing them clean and drying them because you're not going to be using them again.
Keep your whiteboard clean
There are times when a chalkboard or whiteboard eraser just goes missing. No matter where we look, there's just no way of finding them, but if you have old socks, you don't need to worry too much. They will help keep your boards clean.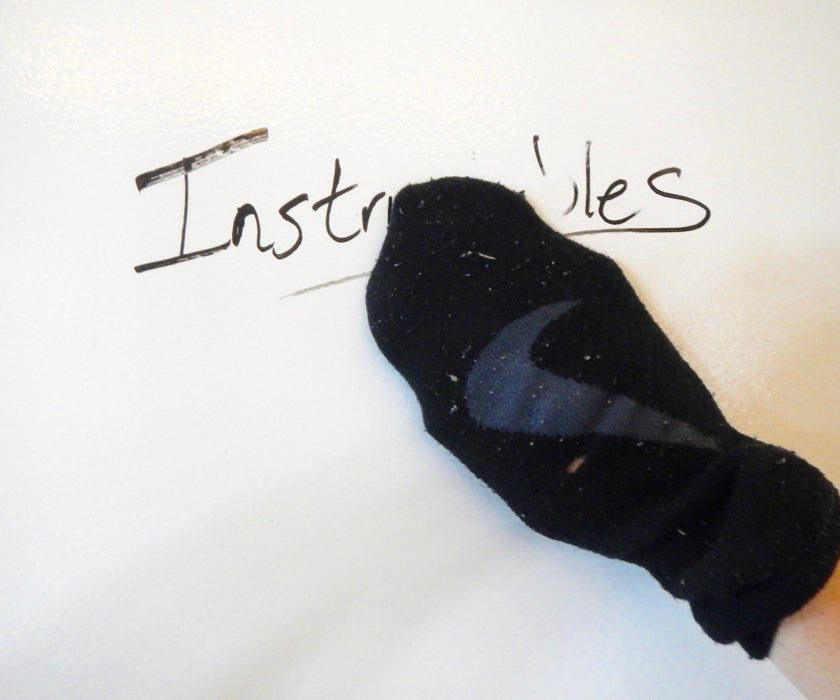 We know they are not the best option, but if you're caught in a bind and you need an eraser quickly, they're better than using your sleeve. Or, yikes, your fingers. You can always throw the sock away once you're done.
Give your foot a well-deserved massage
If you have been walking or working on your feet all day, you should rest your legs and feet the first opportunity you get once you are home. Put your feet up or give yourself a foot massage with the help of a foot roller. Don't worry if you don't have one. You just need a sock!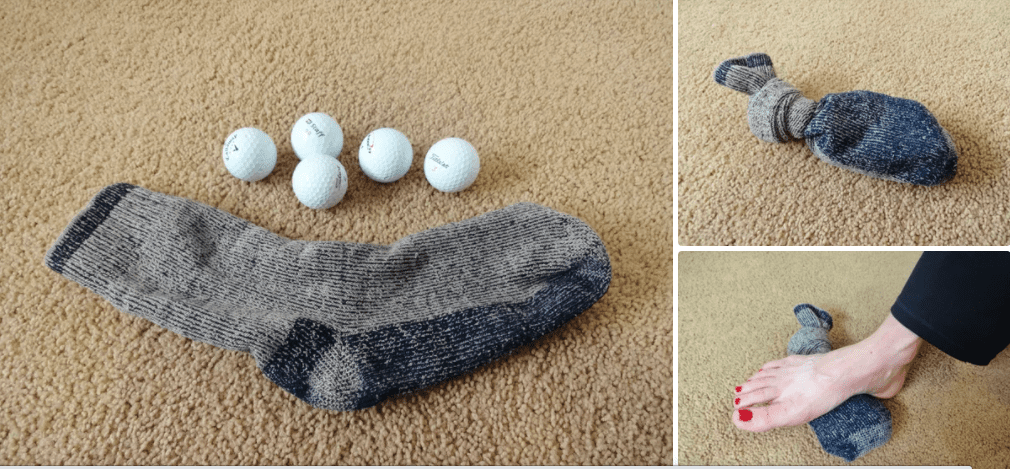 As long as you have some golf balls lying around the house and unused socks, you can quickly come up with a DIY version. Put 5 or more balls in a sock, and tie the sock closed with a rubber band. You can use this for your foot or even your back.
Use socks to absorb humidity
A car with excess moisture will have foggy windows, damp-feeling carpets and seats, a musty smell, mildew, or mold forming on seats and carpets. Let's not mention electronic issues, rust, and corrosion on metal components. Want to avoid these mishaps?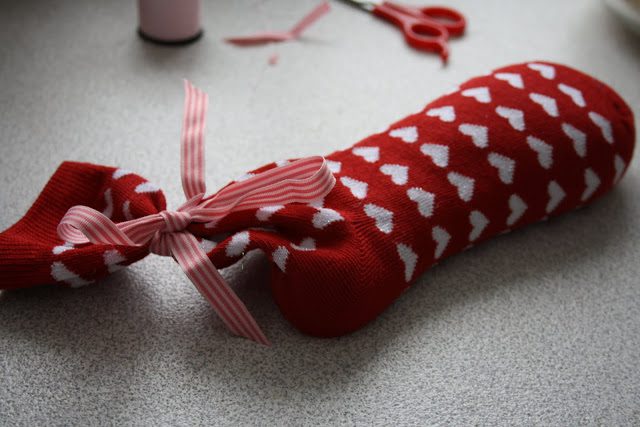 A helpful tip in keeping humidity at bay is to use socks. Fill socks with silica gels and tie them up to close them. The next time you have extra silica gels and old socks, don't throw them away. They're valuable!
Sock rock paperweight
If you work from home, you probably need a paperweight to keep your stack of papers from blowing away. If not paper, perhaps a stack of napkins. No need to spend money on a paperweight because you can make one with things you already have in the house.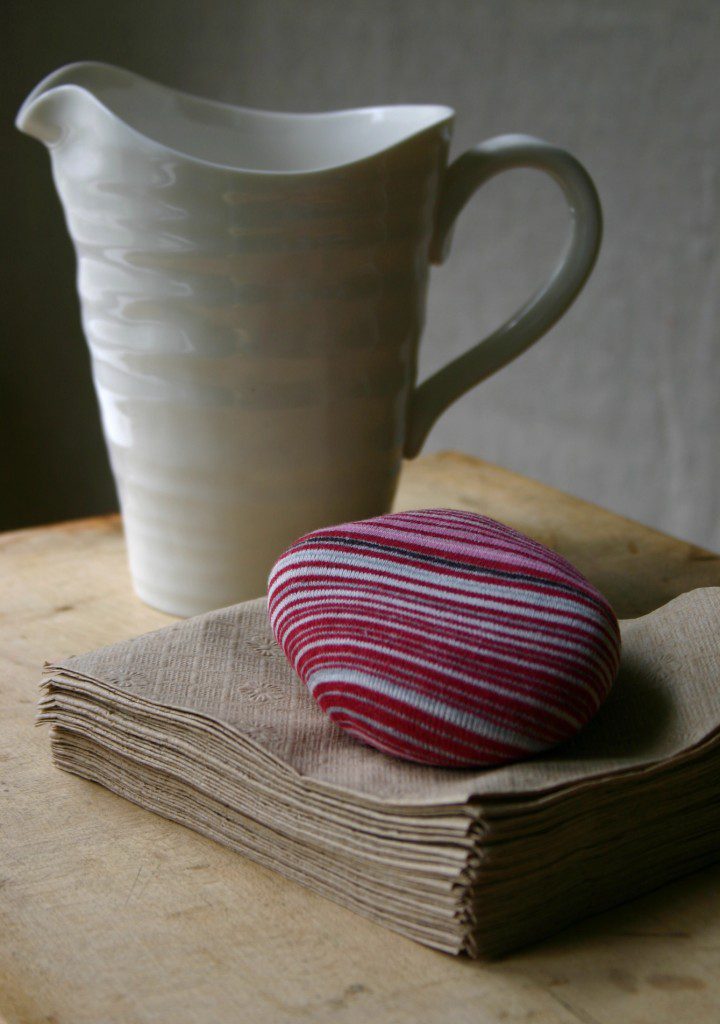 Just grab a sizeable stone, wash it clean, pat it dry, and put it in an abandoned sock. Sew the sock shut, and there you have it; a paperweight that doesn't cost a single cent. Make sure to use a colorful and eye-catching sock for added style and design.
Protect your shoes with old socks
Old socks can be reused in a myriad of ways so don't think that they are useless. If you want to protect your shoes, put a sock on them, especially when you travel since socks keep shoes compact in your suitcase so they don't roll around and make your clothes dirty.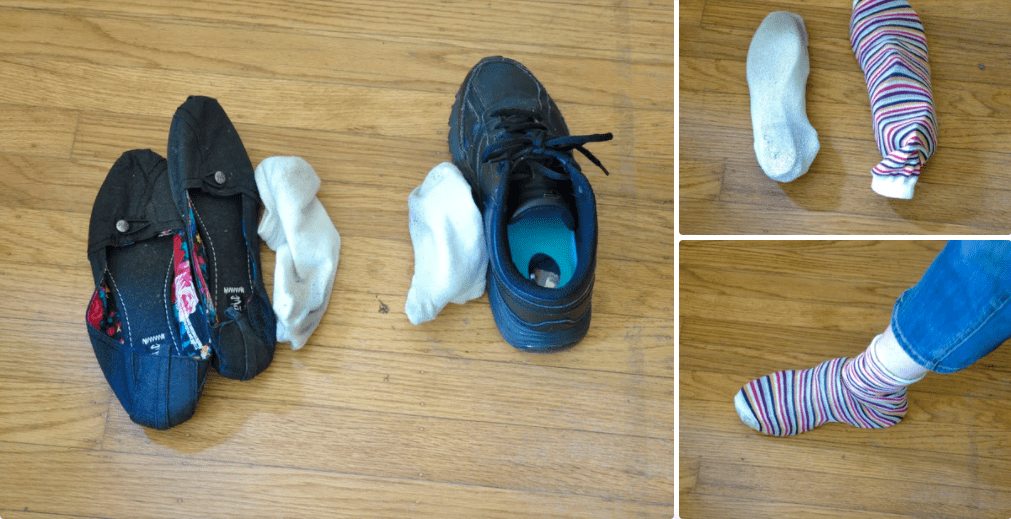 Smaller shoes can be contained in one single sock, but bigger shoes might need one sock per shoe. If you're going outside and it's particularly gritty, you can cover your shoe with a sock. You can throw the socks in the wash afterward or throw them away.
Make a handy soap pouch
The importance of handwashing has not been stressed enough in the past year. We should wash our hands the moment we enter your home and an old sock can help by being used as a soap pouch. Keeping your soap in a pouch will keep it clean, especially when you need to wash gritty hands.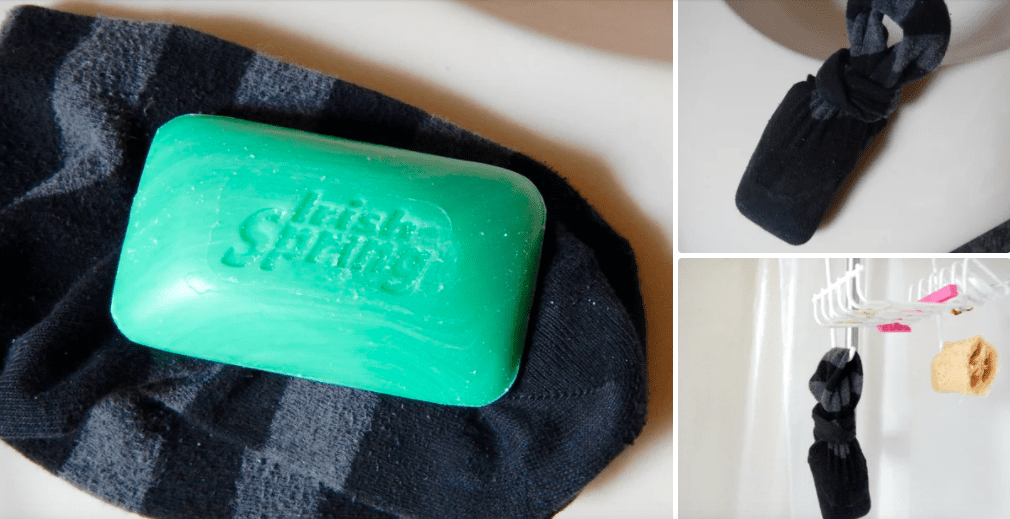 The pouch will also help in scrubbing the dirt off your hands. Just put the bar of soap in a pouch and tie it off. Small soap leftovers will also be given a new life with this neat trick. Most people don't know what to do with them, now they can be used for washing hands.
Protect your phone
We all have coins, wallets, keys, and other things in our bags and pockets. When they get in contact with your phone, they can easily scratch the phone screen, or worse, cause cracks. This is especially unfortunate if you have an expensive phone.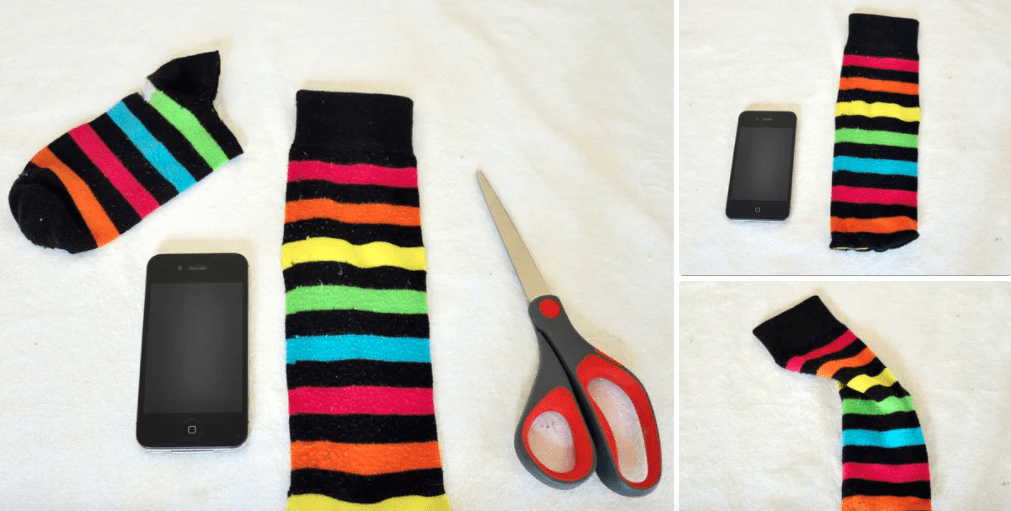 A good way to protect your phone when in your bag or pocket is to make a DIY phone cover by using old socks. Just cut off the foot and sew the sock shut. This will give you a nice pouch that will do a great job of protecting not just the screen but the entire phone.
Cover your car wipers during winter
Visibility is important for safe driving – especially as about 20% of road accidents are caused by poor visibility. That is why lights and interior ventilation are necessary for safe driving, along with windscreen wipers.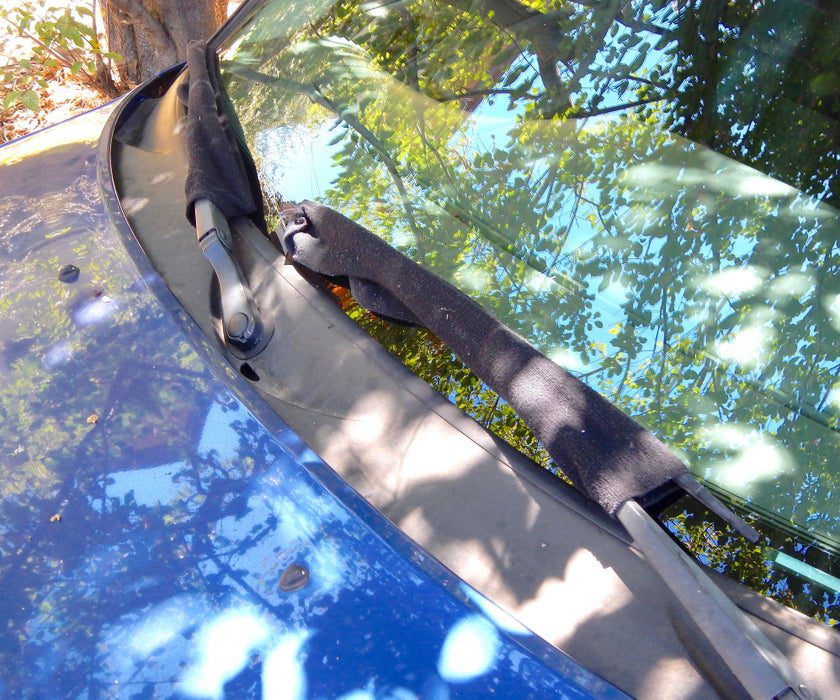 You need to protect your wipers from getting covered in ice and you also want to protect them from debris that may harden. You can use old used socks to cover your windshield wipers. Nothing fancy needed is here, just plain old socks.
Organize your game pieces with socks
If you're like us who love board games more than mobile or PC games, you probably have chess pieces, Scrabble, and a multitude of other games in the household. We only have one problem with them. We can never keep them all together!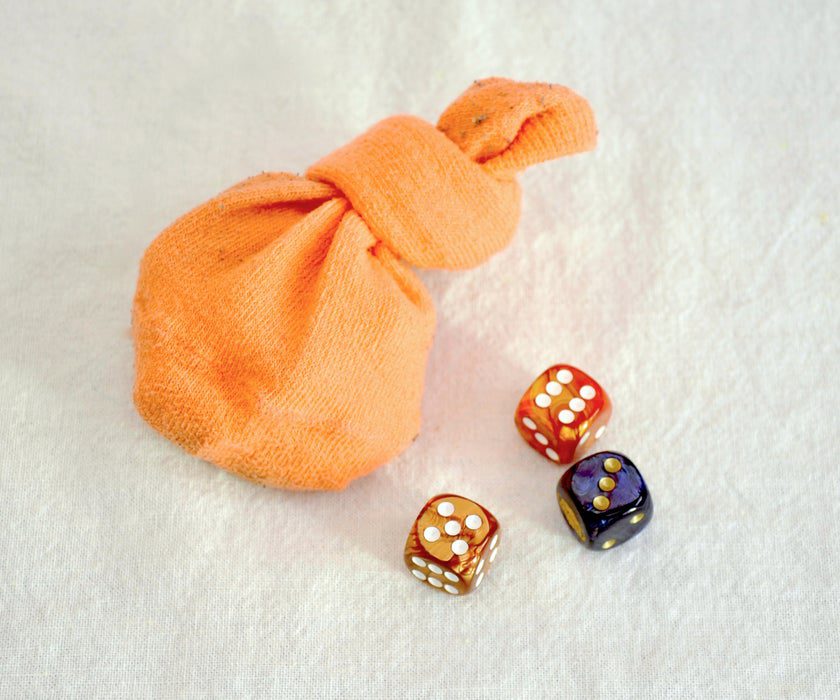 We always seem to lose game tiles, dice, and other things. Because they're quite small, it's easy to get them scrambled and lost. The solution? Old socks. Put game pieces that belong together in a single sock before putting them in boxes.
Prevent scratches and scruffs
Hardwood floors need attention and care. To maintain their excellent condition, spills need to be cleaned immediately and wood floor cleaner must be used applied monthly. Hardwood floors also need to be refinished every 3 to 5 years.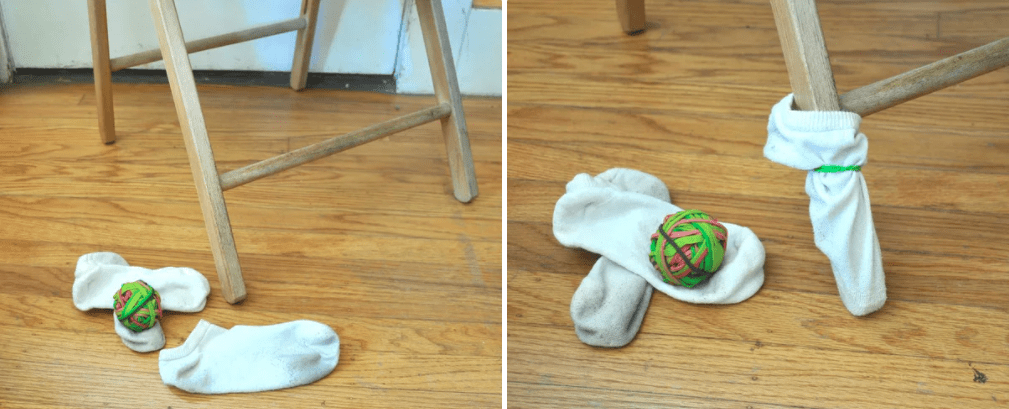 One of the worst enemies of hardwood floors is scratches and scuffs. These can be prevented by covering your furniture legs with old socks. You can use rubber bands to keep them in place, and if you have the time, you can also sew a sock into multiple covers.
Hot or warm packs
We have demonstrated how nifty socks can be used to cover ice packs to avoid ice burns. Now, we're letting you know that you can also use old socks to make hot or warm packs. Put about a cup or two of rice in old socks.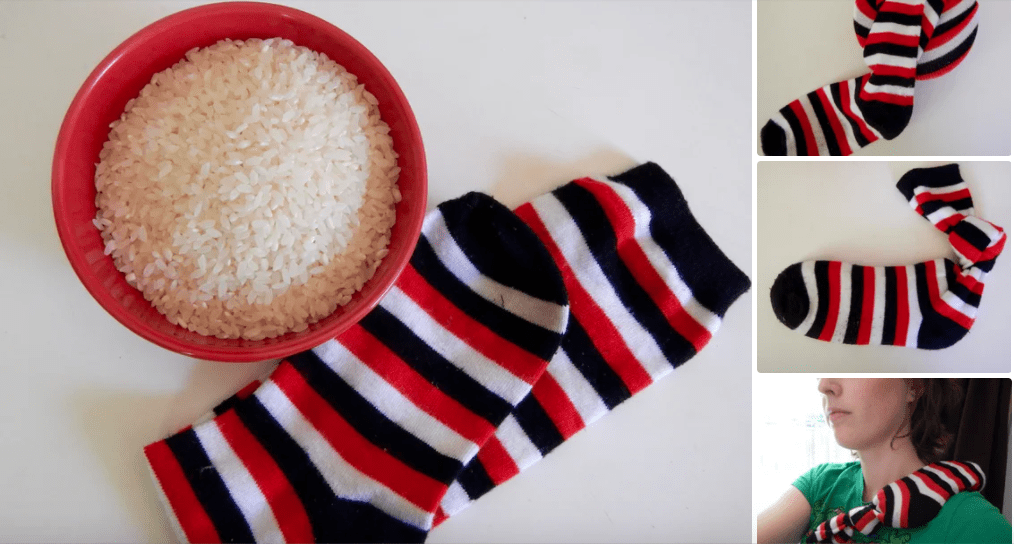 Cut the excess sock and sew it close. For those who don't like or don't know how to sew, you can always tie the sock shut to hold the rice in. Put the sock in the microwave for 30 seconds so it's nice and warm. You have a homemade hot pack.
Sock jump rope
Lost your jump rope or want to buy one but can't do so at the moment. You can easily make one if you have plenty of old socks in the house. This is also a fun project that you can do with children. Who knows, it might even peak their interest in repurposing things.
Just take all the socks you can find! The more colors, the better. Just weave them together, and that's it. You'll have a jump rope that's not only extremely soft, but it's also unique a tailored to your taste. People won't find it in stores, that's for sure.
Swiffer pads made of socks
If you want a clean house, Swiffer pads are necessary. But what do you do if you run out? Do you rush to the store to buy more? They can be ridiculously expensive if you add all the costs up. Why not use your old socks in place of Swiffer pads?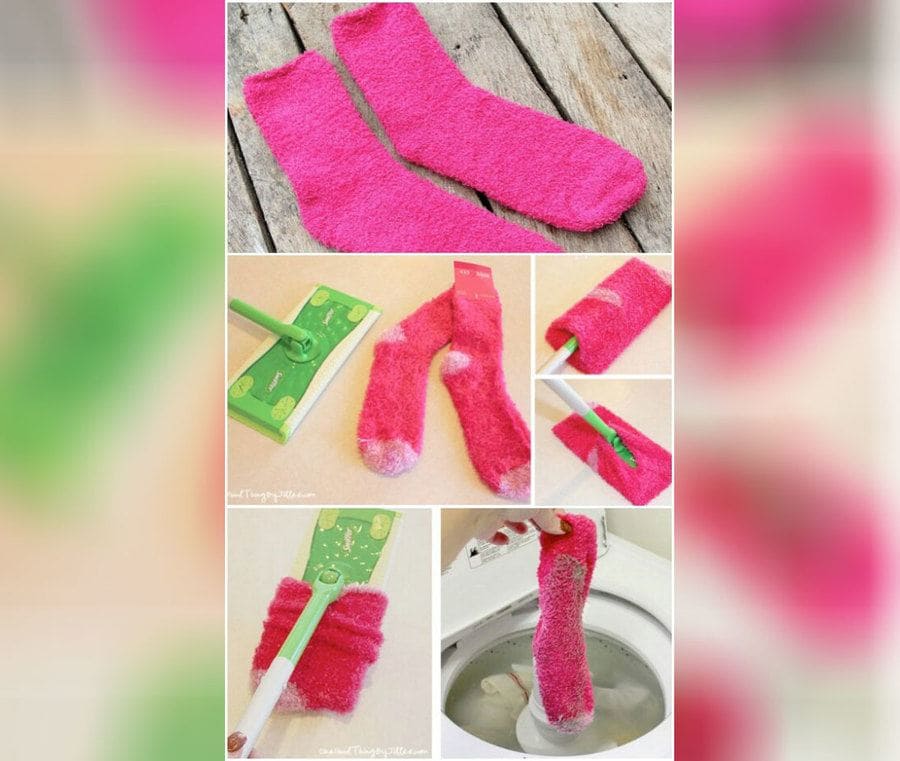 Just cut off the toes and slip the sock over your Swiffer so you can mop dry. You'll never have to buy Swiffer pads again until you run out of old socks. But we don't think that's going to happen. Many people just can't throw away those lonely old socks.
Cozy candles for interiors
A good way to add some design and warmth to your home's interior is to use old socks to make candle cozies. They look particularly good during Christmas time when it's chilly outside. This is a project that won't take so much of your time, either.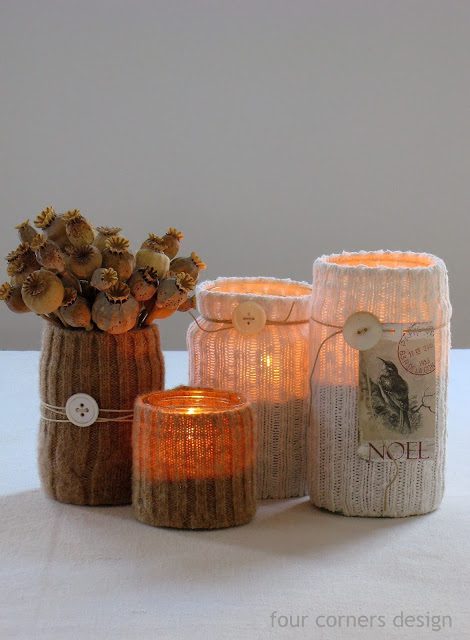 All you need to do is cut the foot off the sock, yes we know we've been saying this countless times, but it needs to be done. Slide the sock over the candle holder, and that's it! Yes, we said it's not going to take a lot of time and effort, and we sure mean it!
Cup cozies
If you like candle cozies, you'll love cup cozies. The idea for this project is pretty much the same as candle cozies. Cup cozies are not only adorable, but they're also very easy to make. Just cut off the foot of the socks, and pair them with a latte or coffee cup.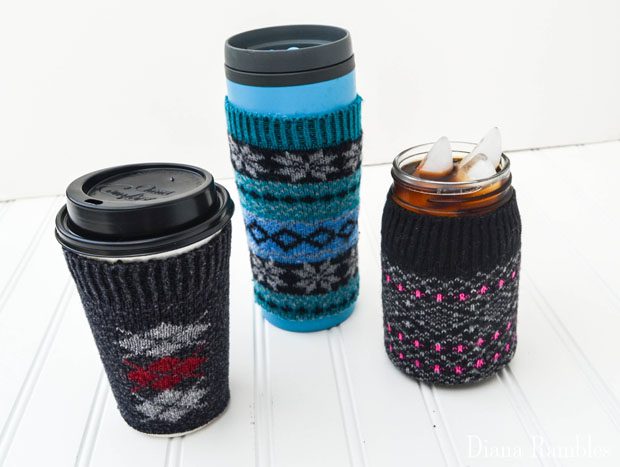 It's perfect for any coffee container, and it works well with hot and cold drinks. Wool-blend socks with cute designs work best for this crafty projects because they can protect you from the cold or warmth of the coffee cup.
Make a Totoro bear plushie
Have you looked at the prices of plushies lately? They cost a lot of money. But if you're a parent with a small child, you have no choice but to fork out some money for at least one or two. You'll be glad to know that you don't have to anymore.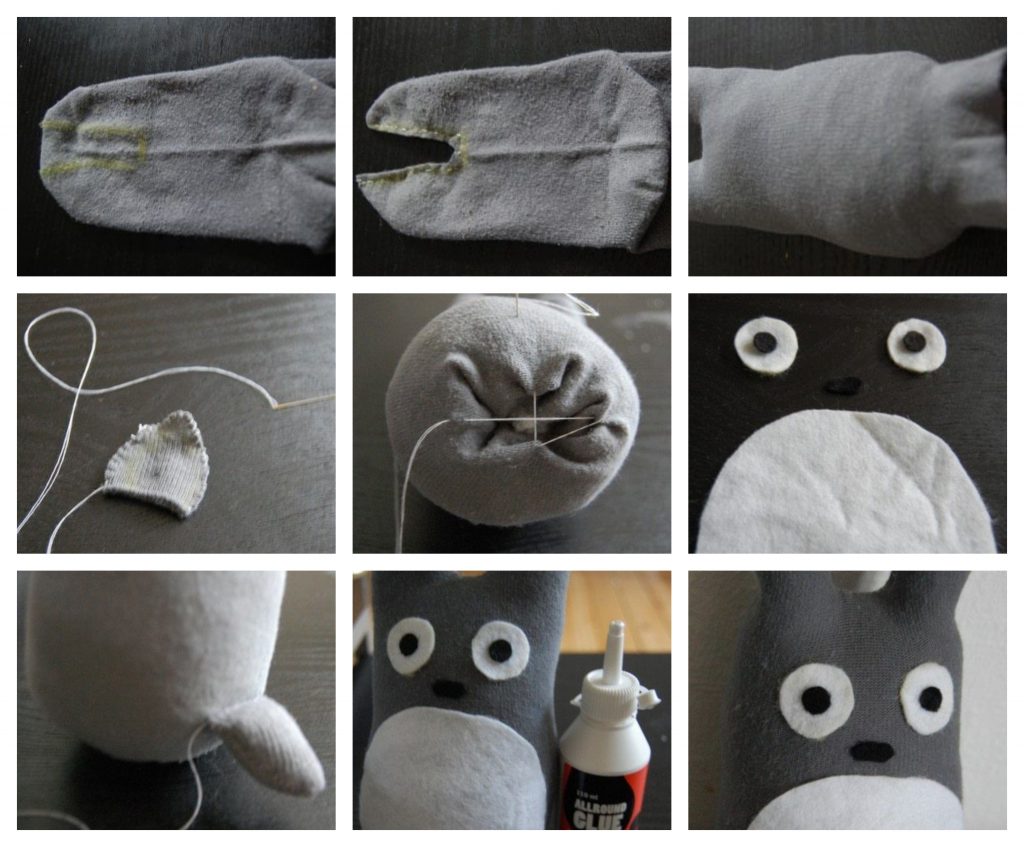 You can easily make a Totoro bear plushie by using old socks and stuffing. Stuff the sock and leave some fabric at the bottom. Cut the excess fabric at the top, but remember to spare a little seam allowance. Make a tail from the space piece of fabric cut earlier, stuff it, attach it to the back. Glue on eyes and a nose.
Dress up your Barbie
One of the toys which are a must-have for little girls is Barbie. Little girls love dressing them up, but Barbie dresses can be costly. Thankfully, socks can help you out in that department. Little girls' socks with laces and frills work best for this project.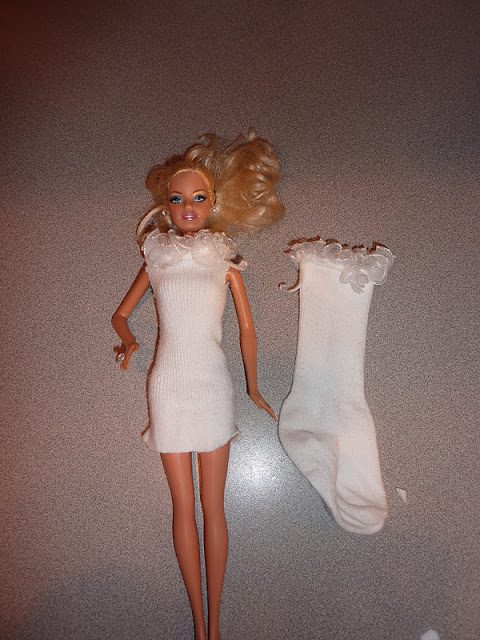 Just cut the foot of the sock, and cut put holes where the arms of the doll are supposed to go in, and there you have it. A simple, no-sew dress for Barbie which your little girl will love. You get to reuse old socks and save money at the same time.
Stress balls
Did losing the other pair of your socks give you stress? Now, you can use the remaining one to get rid of stress. Use the lonely sock to create a stress ball. Just put some split peas, rice, pot barley, and other expired foods to cut back on waste.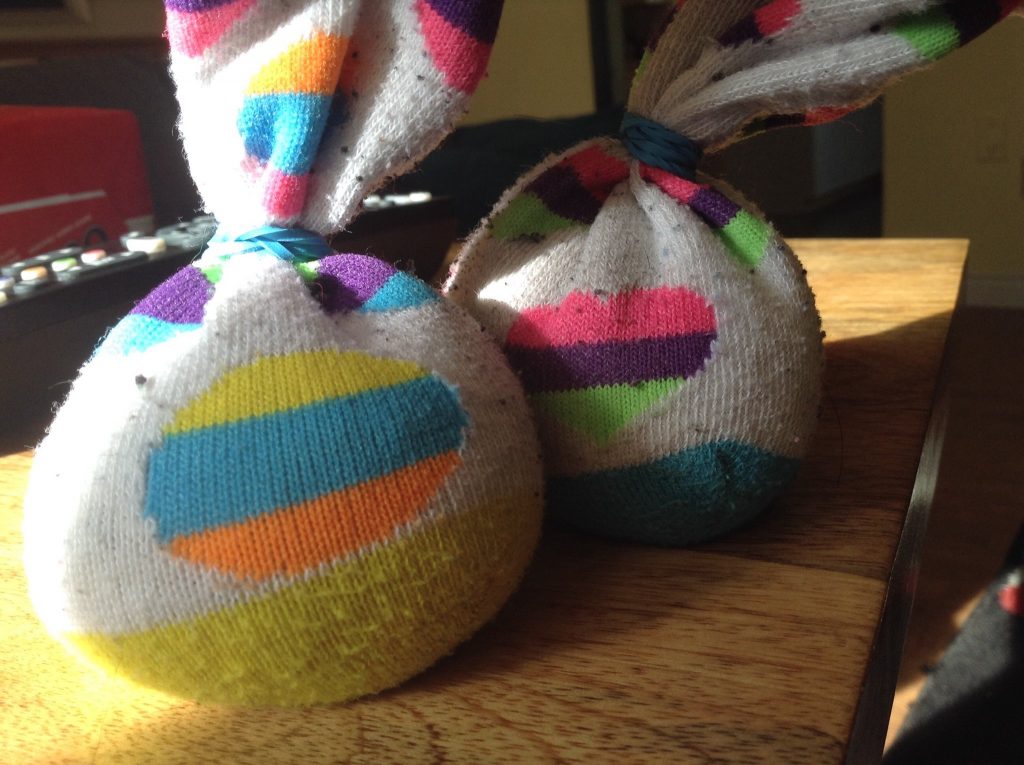 Tie the sock closed, and you can start squishing away to get rid of your stress. Not only will you be reusing the old sock, but you'll also be helping the environment because you won't be creating as much food waste.
Make a headband
If you need a handy and quick headband, all you need is an old sock. You don't even have to know how to sew to make a headband from an old sock. If you have a knee-high sock, you only need one, but if you have a shorter sock, you'll need more than one.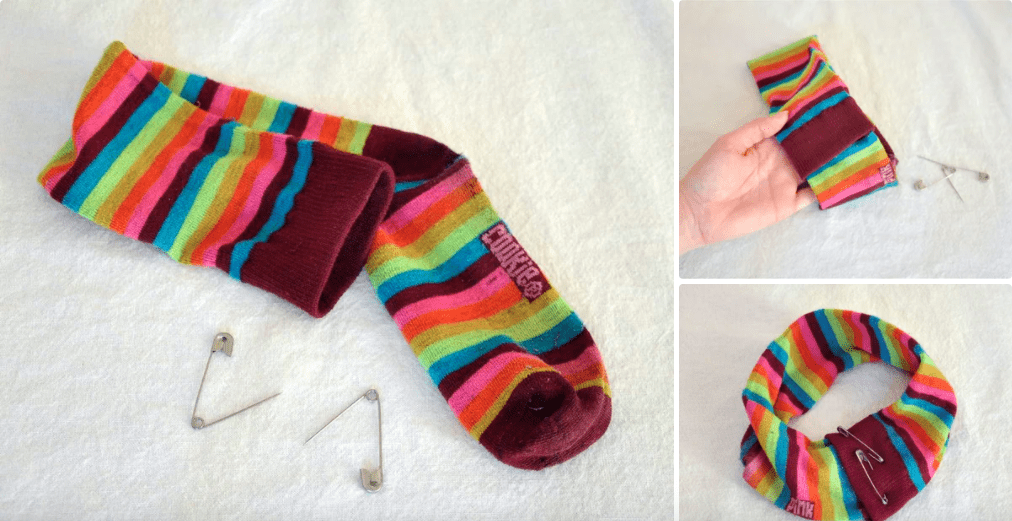 If you want a permanent headband, be ready to do a little sewing. Cut off the foot of the sock and sew as many tubes as you need for a headband that can fit your head. Remember to make it slightly tight so it stays in place.
Make vacuuming easier
Picking up tiny items off the floor can be a big headache. We've all been there, and we all know just how challenging it is. You can use a vacuum to do the job, but you can make it extra easy by putting a sock on the end of the vacuum hose.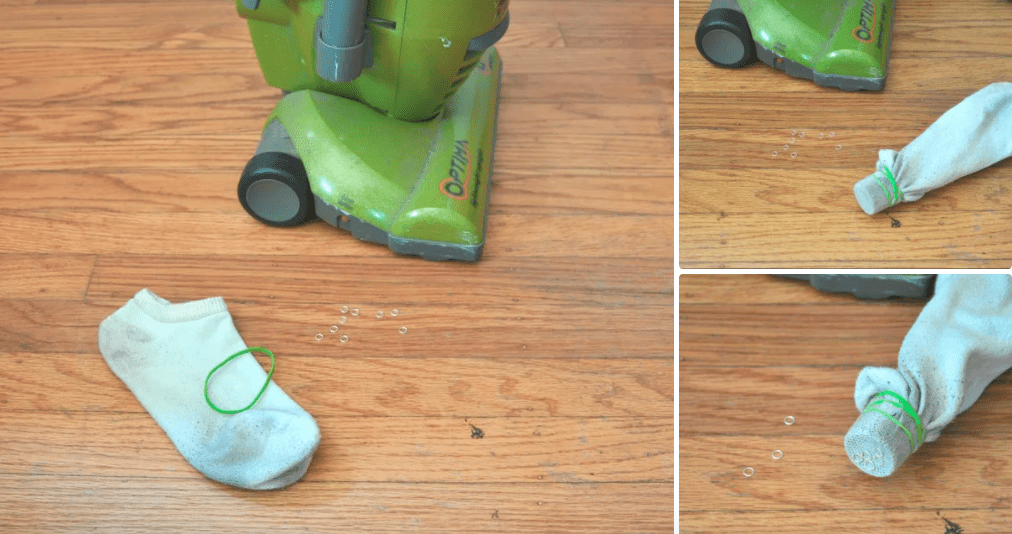 Make sure that you use a rubber band to hold the sock in place. This will make vacuuming small pieces easy and you won't lose them inside the vacuum. Just make sure that the sock is tight so you get the best results.