Game Set Match: Things To Do With Tennis Balls That Have Seen Better Days
By Ruby M November 11, 2021
---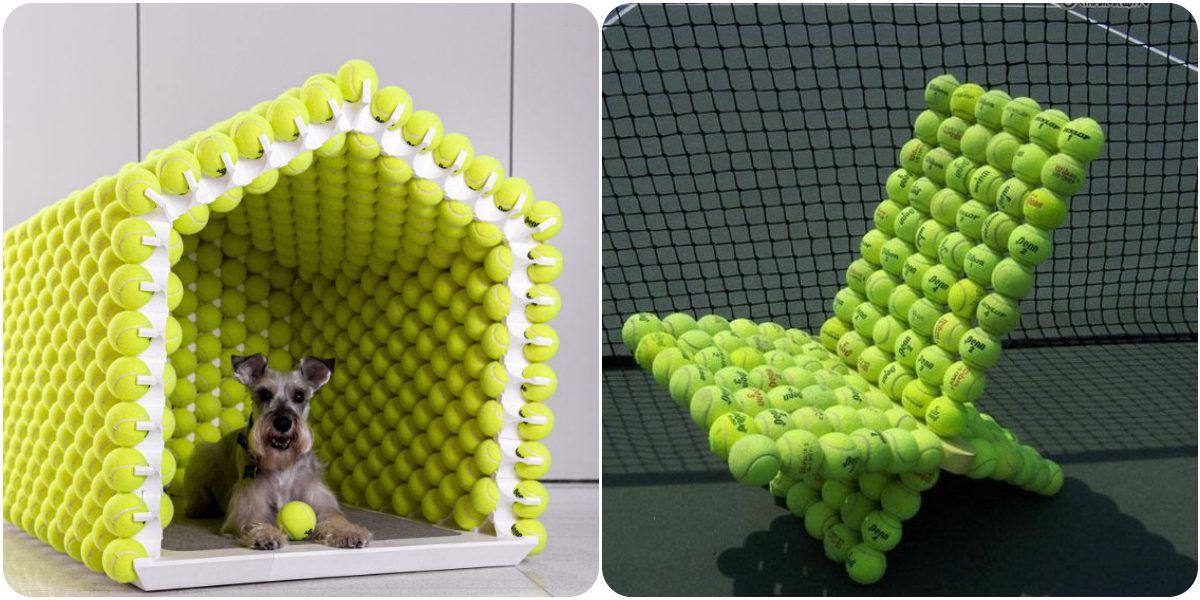 Did you know that tennis balls have way more uses than simply just for sport or for your energetic dog to chew on? This is especially true for those balls that you can't play with anymore because they have lost their bounce. They are actually pretty nifty and oh so full of potential. They have the ability to be repurposed into tons of unique and fun DIY projects that can really help with day-to-day life and make certain tasks like parking your car easier – and there are even some doggo-friendly items on the list, too, just in case Fido was feeling left out of the fun. So, instead of throwing away those old tennis balls, check out this "ace" list of seemingly odd yet surprisingly useful ways to recycle your old tennis balls!
Rest Those Weary Arms
Why spend money on a smartphone stand to give your arms a break when you can make one yourself using the inside of a tennis ball? Simply cut away the furry green material that encloses the ball, make a cut in the middle that's not too deep, and slide your phone into the slit.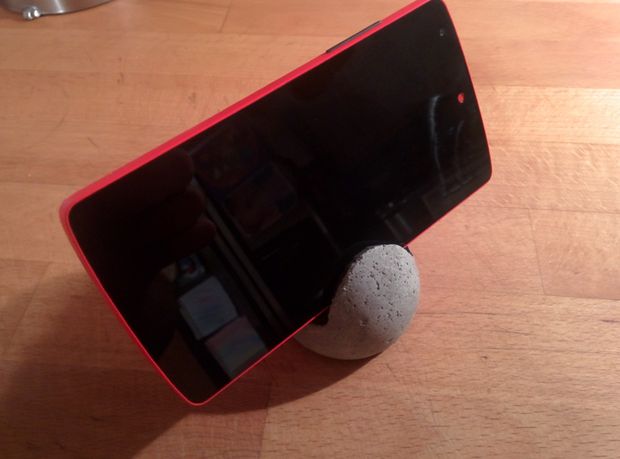 No more having to hold your phone while you're watching Netflix on the go or when you are in a long video chat with your mom from across the globe with this tennis ball hack! You can even paint the ball if you aren't sold on the gray interior.
Hanging Around
Need something to hang your keys, pens, and mail on? Then look no further because this next hack is perfect for you! All you need to do for this one is choose the spot where you wish to hang your items and grab yourself a tennis ball.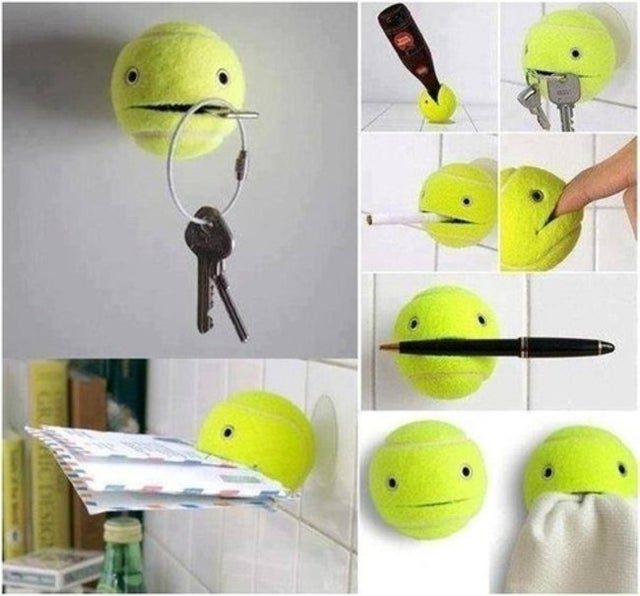 Slice a thin slit into the ball, just big enough for your item to fit, and glue the back of the ball to your chosen spot on the wall. Then, you can go ahead and hang your keys, stick in your napkins, or use them for your mail. Add some googly eyes for a cute, custom little face.
For the Flower Lovers
If you are a plant lover and enjoy filling your home with flowers, then you're going to love this one! You can use tennis balls as nifty little vases for your fresh flowers, and they can add a bit of color to your plant collection, too.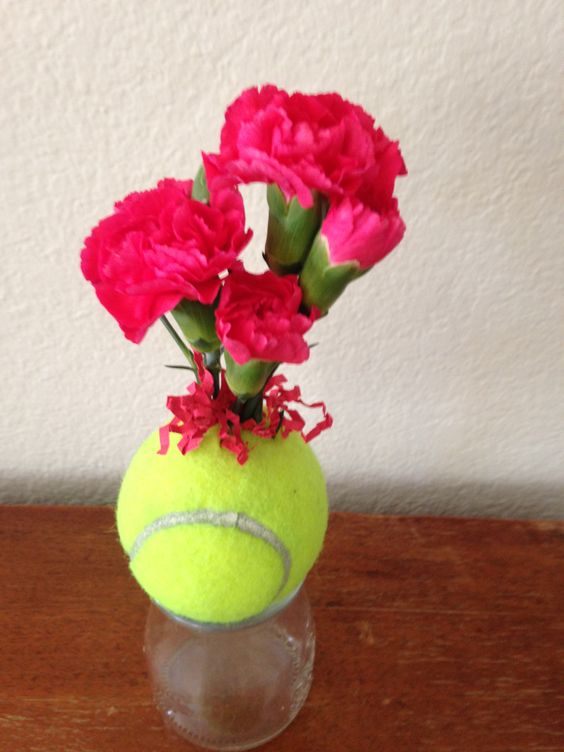 Simply cut a little bit of the tennis ball away and fill it with water or soil, depending on what you'd like to plant. Next, plant your flowers, succulents, or even herbs in the tennis ball and add it to your new vase. Place it on your windowsill, dining room table, or kitchen counter!
Tennis Tunnel, Anyone?
Are your kitties bored? Have they resorted to destroying the house with their adorable yet devilish playful 'cattitude?' Perhaps they need their very own tunnel, ledge, or tennis ball cat trees to play on! It's a great way to keep them entertained and away from the couch.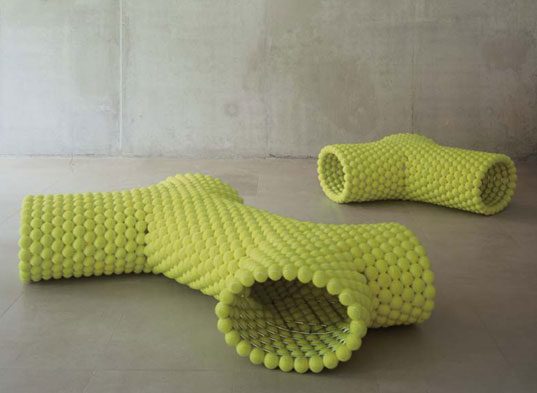 The material on the balls is also great for kitties to sharpen their little claws on, so instead of buying a scratching post, they're most likely to pick a cardboard box over that instead. So why not build them their very own tennis ball heaven!
Door Won't Stay Put? Knot Mine!
This nifty trick is great for stopping those heavy doors from slamming closed when you actually want them to stay open to catch a fresh breeze! Simply use a tennis ball and some rope to create a sailor's knot door stopper!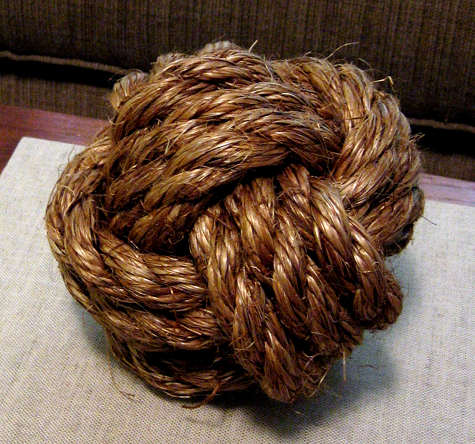 The sailor's knot tennis ball is also great to use as a paperweight or to keep helium balloons at bay. What are you waiting for? Give this hack a try because you won't be sorry! The worst-case scenario? You can give it to your dog to play with!
Luscious Lips Forever
If you've got dry lips but always seem to lose your chapstick in your gym bag, handbag, or car, then you'll love us for this next trick. You'll never have to ruffle through your belongings again with a key ring made to hold your precious lip balm!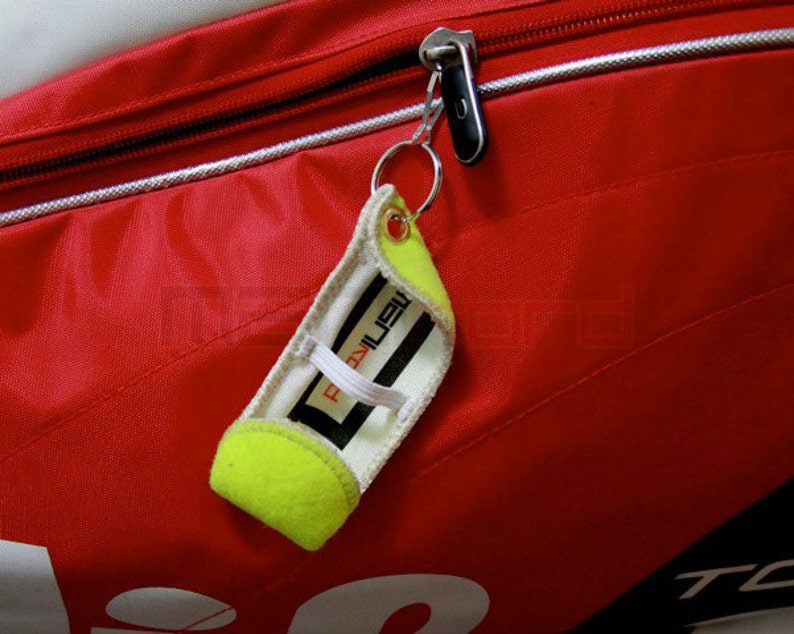 This is a fun DIY activity that you can simply make with an old tennis ball and some elastic to keep your chapstick in place. Or, you can always order it from a creative online store, small business, or ask someone who's great at sewing!
Happy Dog House
You've heard of giving your dog a ball to play with, but with this cool idea, you can give your dog a whole mess of tennis balls to sleep with! It's literally doggy heaven! Tennis balls are great for creating all sorts of wacky yet surprisingly comfortable furniture.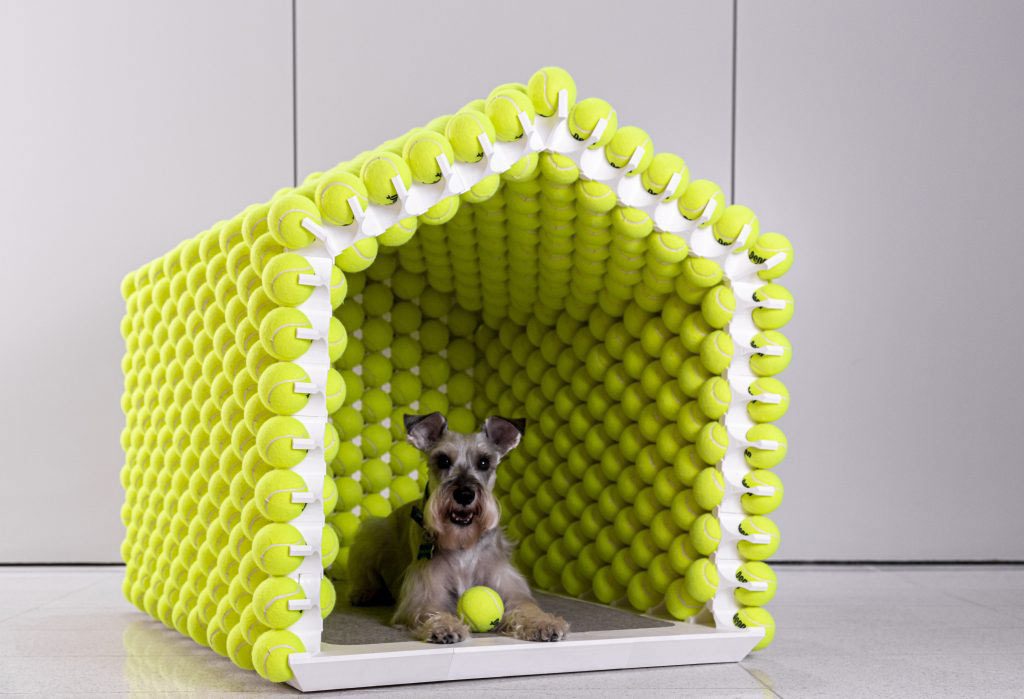 Some of that furniture is for people. But, you can also construct something for the pet friends, too! This hack is the perfect idea for a great little doggy house for your fur babies to enjoy. Just add a blanket to keep them nice and warm, too!
An "Ace" Case
One of the best parts about starting a new year of school or university, or even work, is that you get to refresh all of your stationery, and what better thing to start with other than a brand new, funky, and one-of-a-kind pencil case?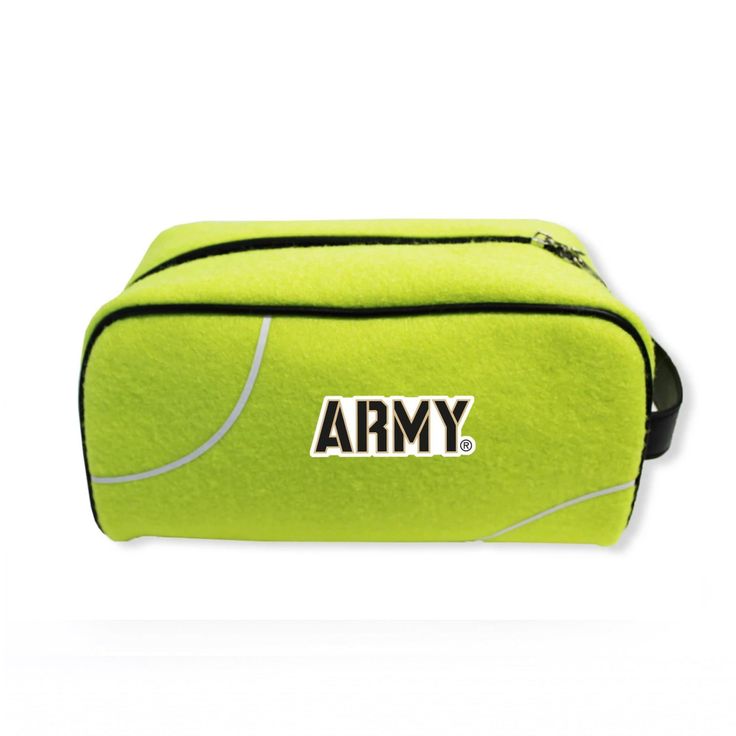 Thanks to the wonders of the internet, online shopping, and creativity, almost anything can be made out of tennis balls and their soft material these days! That includes this funky, up-cycled pencil case that will make your desk scream fun!
Playtime
Here's a great gift idea for a friend who loves their dogs, or even a great present for your own furball. Grab a tennis ball and permanent marker or wood burner if you're feeling fancy, and custom write the names of your pets on them. That way, you'll never lose your ball at the park again.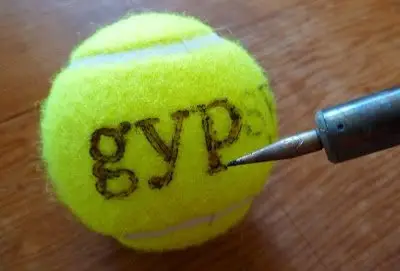 This is a great idea for stocking stuffers around Christmas time, especially if you know someone who's just adopted a puppy. Cut a small hole in the ball and add a bell inside, seal it back up, and you have a toy for your cat, too!
Christmas Time
The festive season is around the corner, so if your family is into sports. This is an excellent idea for affordable Christmas decor ideas. Get yourself some spray paint and some funky pens, and go wild with decorating your very own Christmas baubles.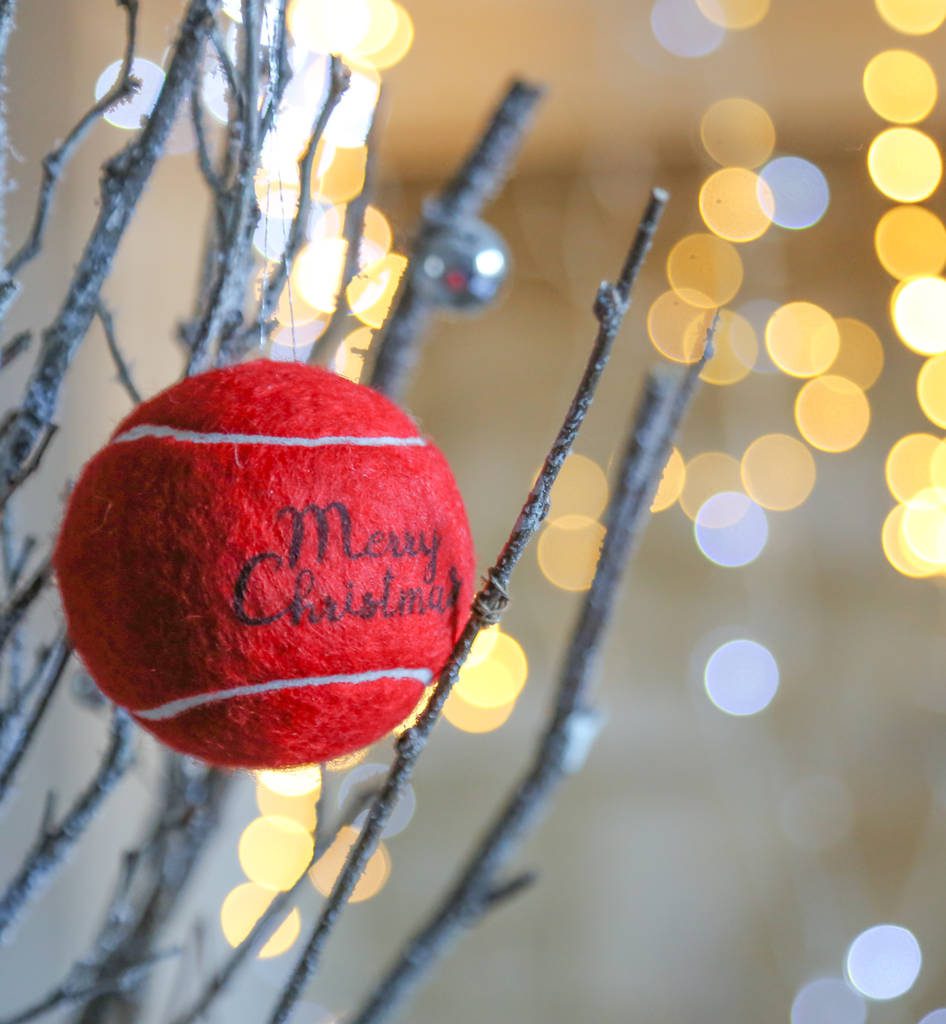 You simply need to create a small hole in the tennis ball to allow for some string to fit in it, then tie it up and hang it on your tree. Paint names, blessings, or even pour some glitter on them for some fun and personal Christmas tree decorations.
The Ball-in-a-Sock Thing
Got no one at home to massage those weary bones? Well, you don't need anyone except yourself, a sock, and some tennis balls for this do-it-yourself massage made out of those old tennis balls you have piling up in your closet.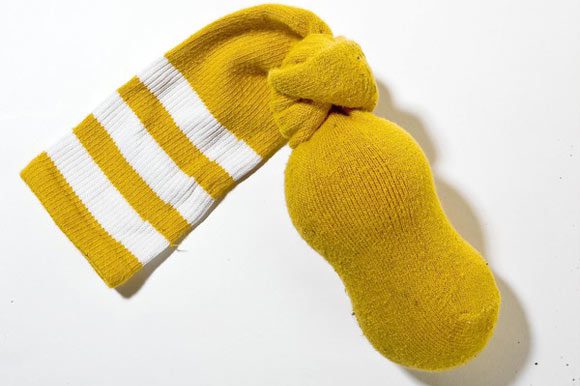 Simply take an old sock (not a stinky one, though!) and pop in a few balls, and voila! You have your very own personal massager, and you didn't even need to ask a relative to help you out with that kink in your neck.
No More Screechy Chairs
This one is for all the teachers out there who hate the sound of chairs scratching against the tiles of a classroom. We don't know about you, but that screeching sound makes our teeth hurt! This hack is genius and also inexpensive too.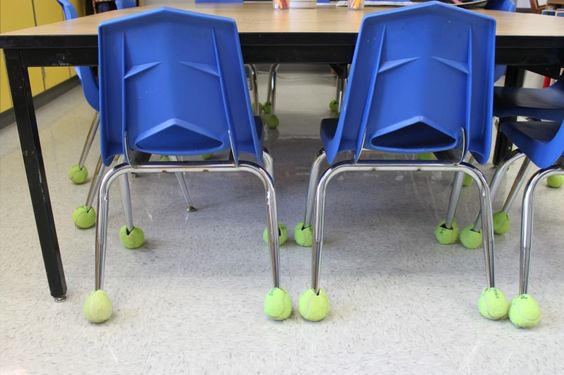 Here's to no more scratched tiles and awful sounds. Simply place a tennis ball on each foot of the chairs, and you'll be freed from those terrible noises. Plus, sports or tennis is a pretty cute theme if you teach younger students.
The Ball-on-a-Stick Thing
Use a tennis ball on a stick to remove those pesky scuff marks from wooden floors or any type of flooring that looks a bit "roughed up.' The material around the ball makes it easy for the dirt to catch on to, making your floors look shiny and new.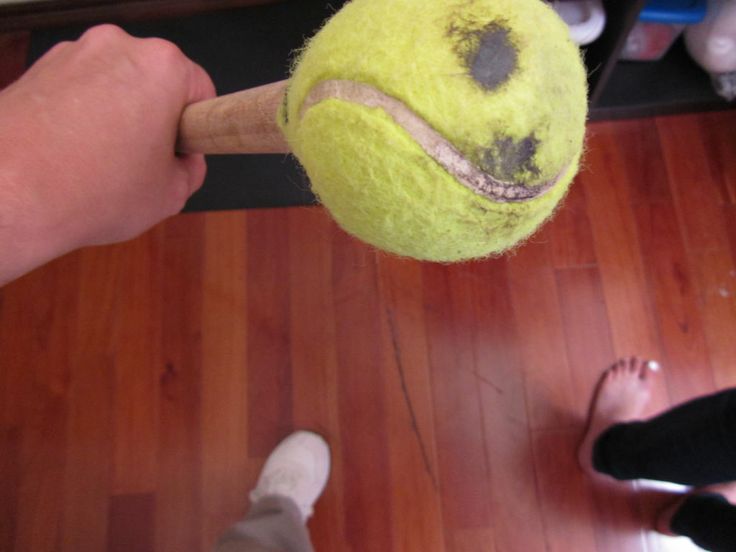 The most efficient way to do this is to place the tennis ball on the end of a mop, broom, random stick if you have one lying around. Use some elbow grease to 'scrub' the places with annoying marks, and there you have it. A nice and shiny floor.
Bed Time
As we have said before, tennis balls aren't only useful for human furniture, but they're great for your pets, too! Their soft material and sturdy texture are great for a base for cat and doggy beds. Just add a soft cushion for the center.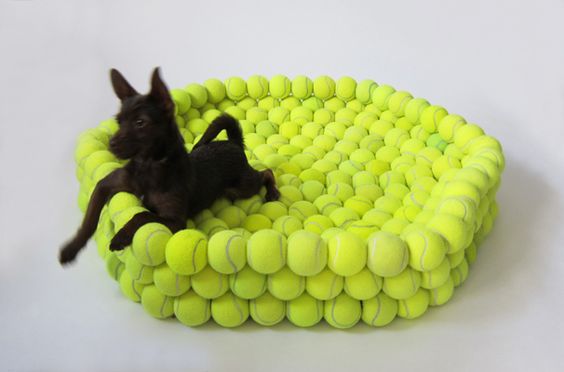 Instead of giving them to your dog to munch on, collect your old tennis balls, then secure them together in the formation of your choice with glue. Or, grab some help from someone who's good with their hands to help you put together your own unique pet bed.
No More Ironing!
Here's one for all of you who hate ironing, and let's face it. That's all of us. Adding tennis balls to the dryer will keep your clothing circulating, which will help prevent creases since there won't be a chance for the creases to set in.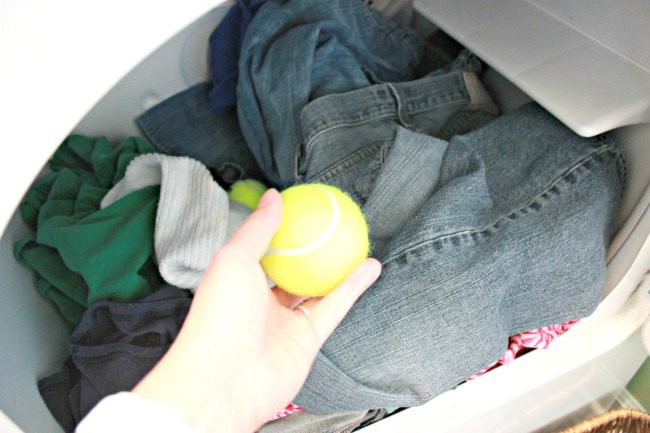 Just remember to remove your clothes from the machine as soon as it's done. Otherwise, your clothes will begin to wrinkle as soon as they begin to cool. You can also add a nice smelling softener to the ball to make your clothes smell nice.
Hide That Bread
Are you going away on vacation and want to make sure your cash is safe but don't have a proper safe? Try hiding your hard-earned money inside a tennis ball. Place the ball somewhere no one would think to look like a drawer full of random objects.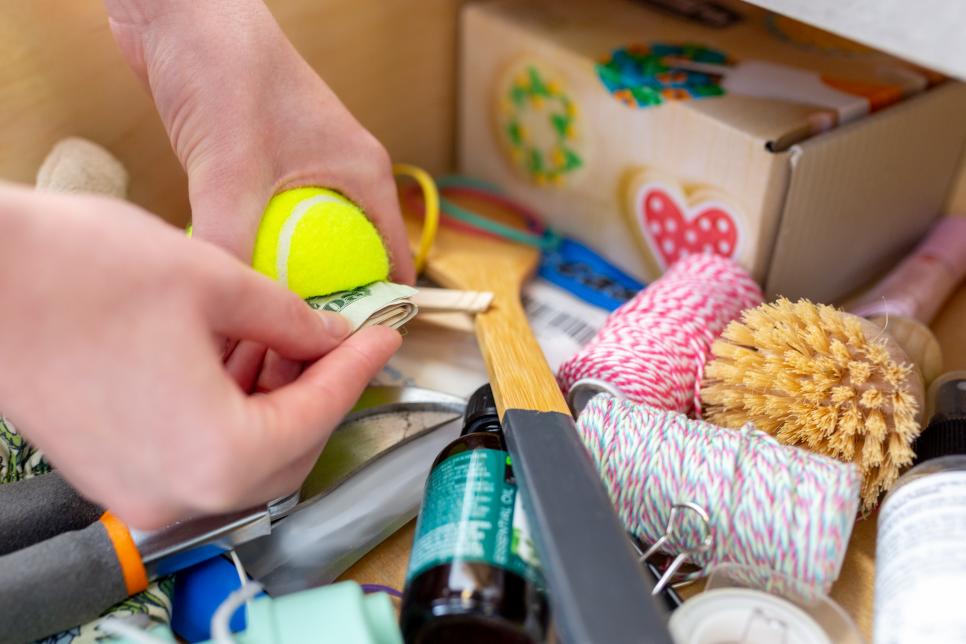 Because the ball has a hollow center, all you need to do is simply slice it deep enough so that you can push the cash inside with ease. Be careful, though. You don't want to forget where you stashed those dollar bills!
DIY Cable Stoppers
Are you tired of your cables falling behind your desk or bed every time you unplug them? Well, then this is a tennis ball trick just for you. Simply cut a hole on two sides of the ball, and thread your cable through.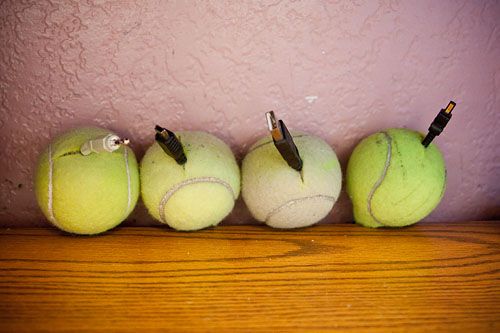 Place the balls against the wall on your desk, and there you go! You have a foolproof way to stop those cables of yours from falling to the floor. Stick a few together, so you create a row of fall-proof cables!
Hidey Hole
Create an adorable little nest for little critters in your garden by cutting a small hole in the tennis ball and leaving it in a tree for them to find. It's an adorable little hidey-hole for them to keep warm, especially on cold winter nights.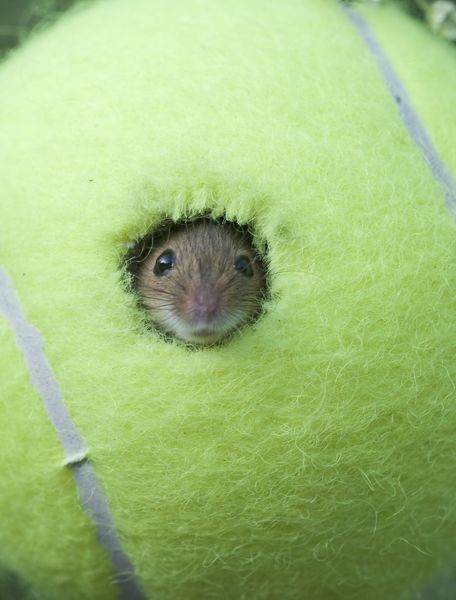 Add some sawdust or soft material to the inside of the ball to make their new home nice and comfy. You can also add some seeds as well if you're expecting birdies. You might even be lucky enough to meet one of your new guests!
Coin Ball
Are you searching for a unique and new coin purse? Then look no further because your wish is our command. Check out this adorable tennis ball that's been converted to a coin purse by simply adding a zipper to the center!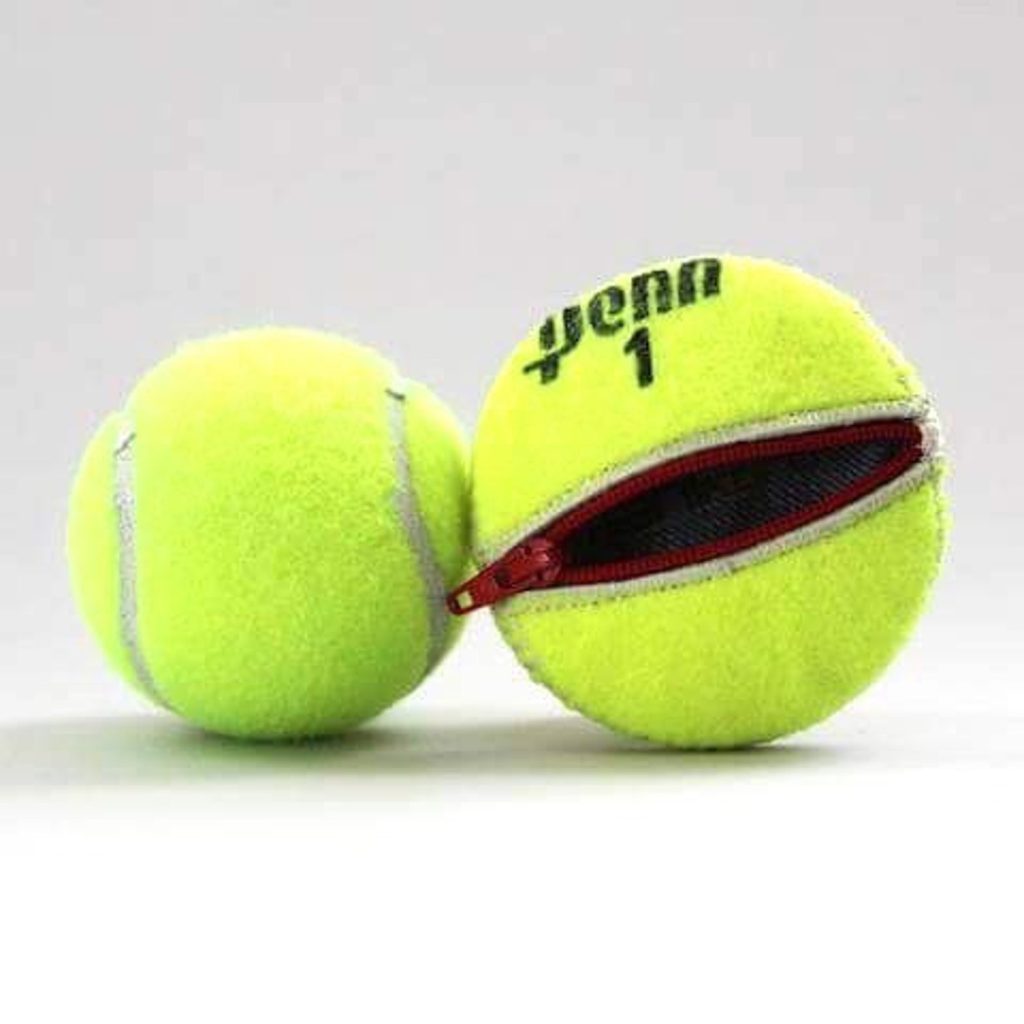 All you need is a zipper and sewing kit – and your ball, of course! Thanks to online tutorials, it's not so hard to do yourself, but you could always order one from an online store or commission somebody talented to make one for you.
DIY Home Decor
Use tennis balls as ends for your curtaining rods by tying some yarn or rope onto the ball to decorate it, and make sure it compliments your curtains and rod. All you need is suitable glue for the ends.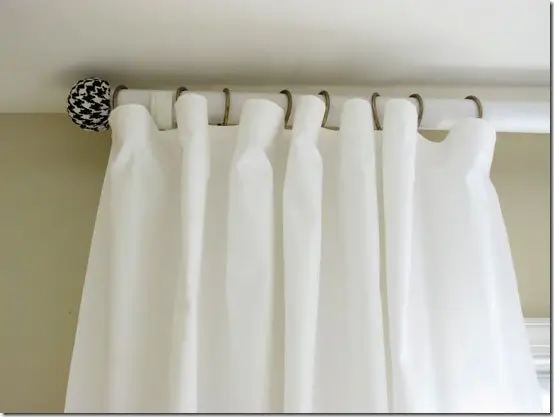 If your rod is made of glue, use wood glue. If it's steel, ensure your glue is made to stick to that. Adding this to your home decor will really change the mood in the room and make your curtains look fabulous!
Treat Time!
Create a fun and entertaining game for your dogs using a tennis ball, their favorite toy, and their favorite doggy treats! Simply slice a hole just big enough to squeeze the treats into, and play catch with your furry friend.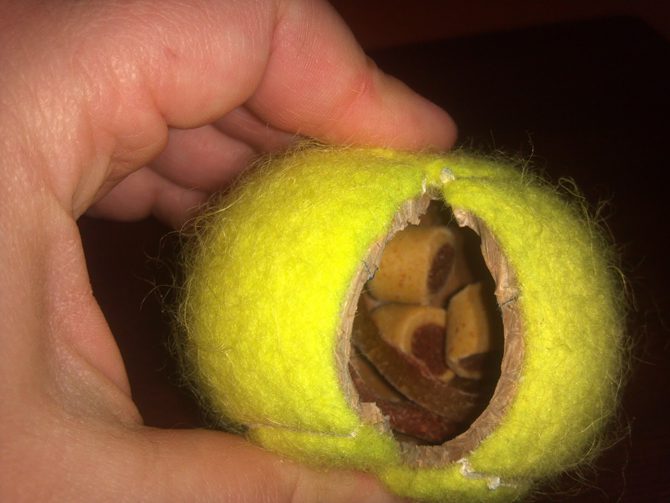 Once your doggo discovers the treats inside the ball, he'll be preoccupied for a good few hours trying to break them out! This is a great trick for all you folks who work from home with puppers who constantly want to play!
Glam It Up
Glam it up with some funky tennis ball bracelets! No, we don't mean tennis bracelets (those are much more expensive). Thanks to the creative imaginations of the world selling their unique DIY projects online, it won't be hard to get your hand on this funky new accessory.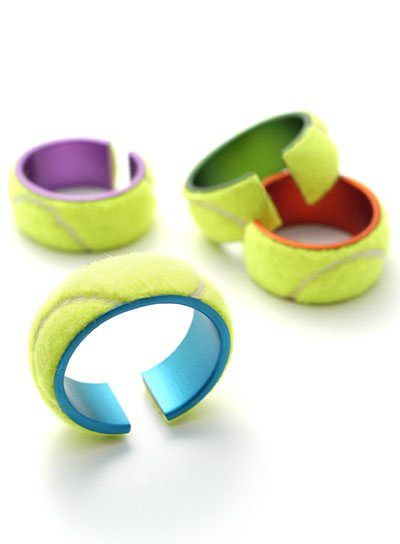 There are rings, bracelets, and even handbags made from tennis balls are all the rave and are really great for making a statement. You can even make your own by following one of the countless YouTube tutorials available online.
Spot The Car
You've finally decided to do yourself a favor and decided to upgrade. You purchased a new car because your old one was pretty much falling apart, and just your luck! You chose the one make and model that seems to be the most popular of the year.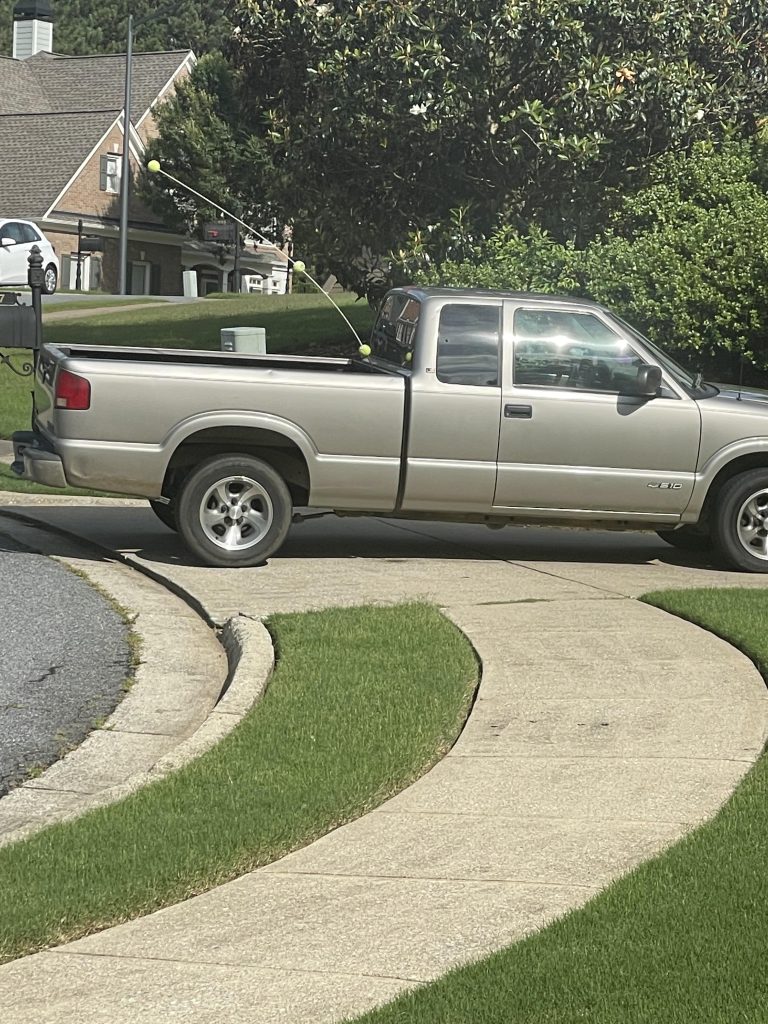 Now, every time you go to the mall, you find yourself walking around the parking lot trying to find your car beside all the clones is now much more doable. Simply stick a couple of tennis balls on your antenna to differentiate between your car and others that look like it.
Hang In There!
If you don't have a car that beeps when you're close to hitting something, then this is a great trick for you, especially if you don't have great depth perception or simply want an extra confirmation before closing the garage door.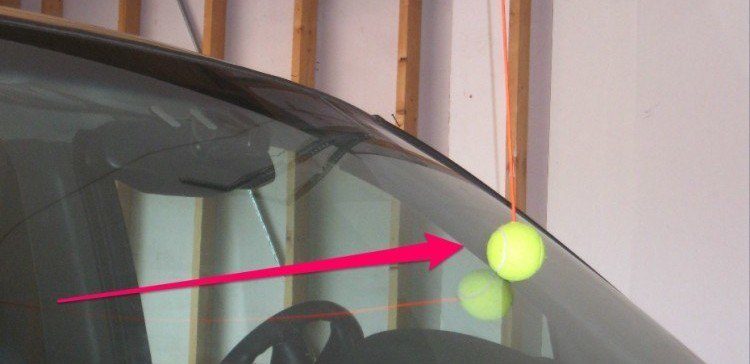 Just hang a tennis ball from the ceiling of your garage so that it touches your windscreen slightly when your car is fully inside. That way, you'll have a nifty benchmark to tell you that your car is in and so that you won't hit anything!
Adorable, Right?
Create some adorable little festive ornaments to accompany your gingerbread house by adding faces to your tennis balls. Give them hats, beards, decorations, and tiny braids of hair using paper and yarn with glue. We are sure your guest will say "awww" when they lay their eyes on what you've created.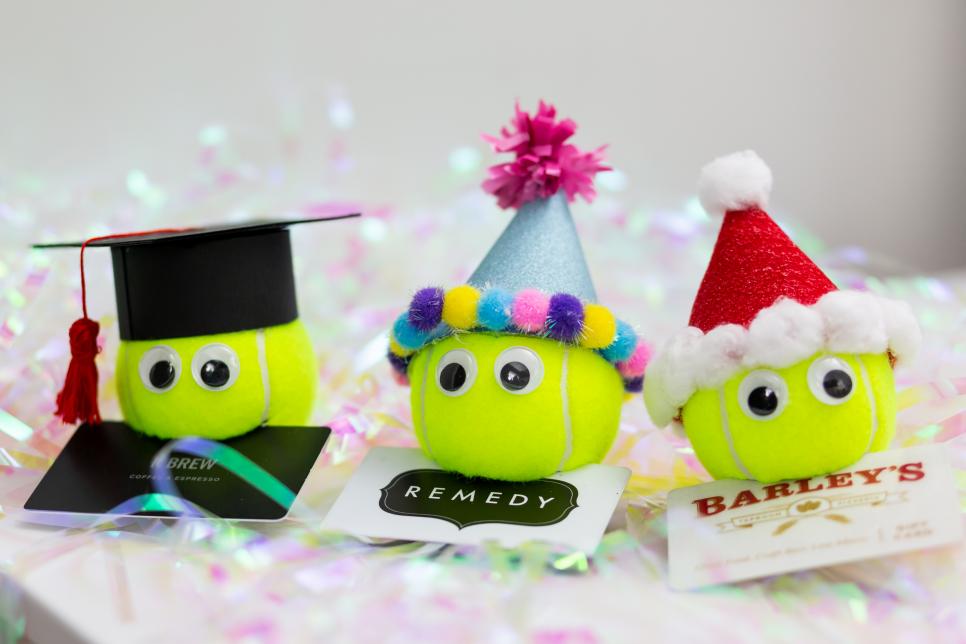 It's also a great activity to give the kids to keep them occupied and out of your hair for a little while so that you can focus on your long list of things to do to prepare for your Christmas feast. PS: Don't forget to make a Santa tennis ball, too!
The Cutest Accessory
If you don't like anything dull, then accessorizing your outfit with a cute DIY tennis ball bow might be exactly what you didn't know you needed until now! Using the material from the ball and a clip, it's not too hard to create.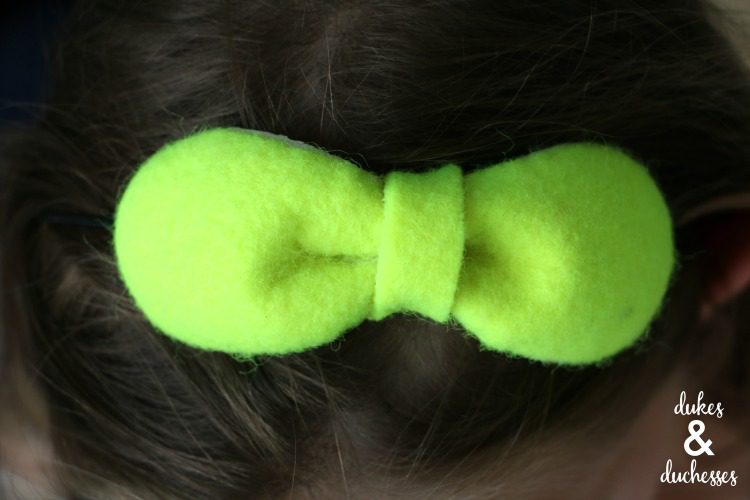 Just grab yourself some scissors, glue, a plain clip, and the ball. Peel off the material and cut it so that you can create the bow. Then, glue it to the clip, and you're ready to go! You've got a fab, unique little clip.
A Nifty Display
You can use your tennis ball as a postcard holder or display small prints of art as long as they're on cardboard and not paper thin. It's a unique way to showcase your art or posters, and you don't need to put any holes in the wall.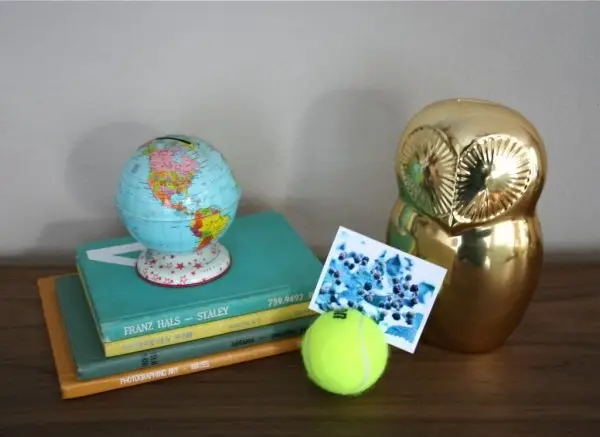 You just need to slice a thin line into your ball that's just big enough for the cardboard to fit snug. That's all it takes, and your masterpiece is ready for display. Use a few tennis balls for more significant artworks if you need some more balance.
Swing, Swing
If you have a strong enough tree in your backyard, then a creative idea is to build a swing out of tennis balls and rope. The balls can be used for the seat, as you see in the picture below. Or, you can get creative with it and incorporate some wood for the seat, too.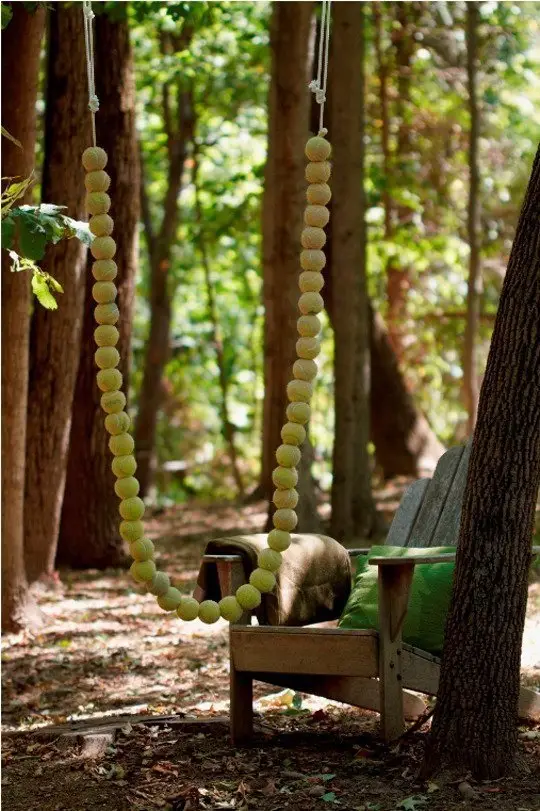 Put a one-of-a-kind swing in your garden for guests, use it for reading in the sun, or for the kids to play on. Depending on your DIY skills, you can even create a swing for two – just be sure that your rope is strong and your tree is sturdy.
It's The Bomb!
For all you Instagram and Etsy businesses who sell handmade bath bombs, we know how hard you work on finding innovative and fun packaging ideas for your beloved customers, and we bet that this idea has never crossed your mind!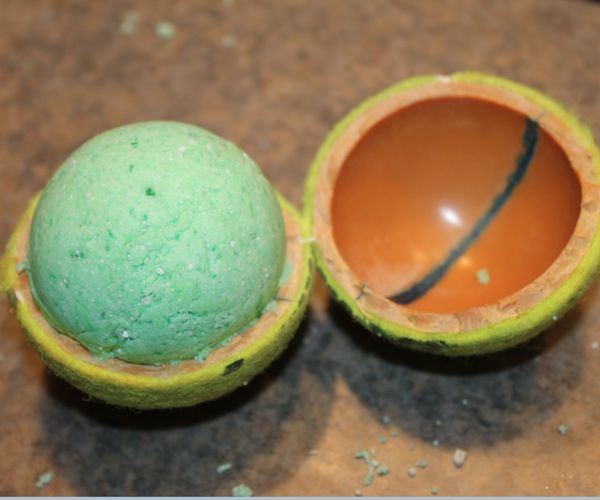 Create a bath bomb surprise by slicing a tennis ball in half and placing your handmade creation in the center. Close the tennis ball and mail it to your clients. They'll love and appreciate the creativity, especially if they like tennis!
How Many Tennis Balls Does It Take To Change A Lightbulb?
You were in the middle of reading your favorite romance novel when suddenly the lights started to flicker. It's a good thing you weren't reading a horror novel! But now, you're sitting in the dark because the bulb is too hot, and you're never going to know what happens at the end of your romance novel.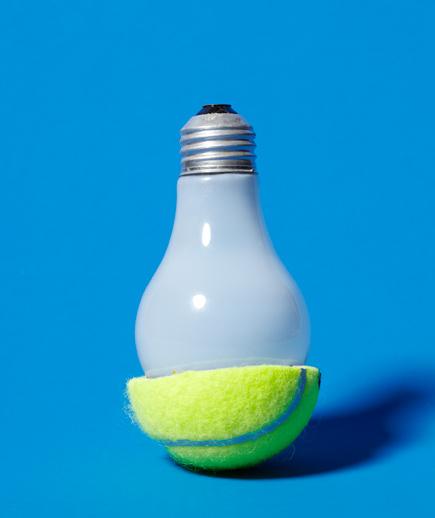 Not to fear, dears! We have the perfect hack for you. Simply slice a tennis ball in half and use it to remove that burnt bulb from its socket without burning your fingers. You'll be able to get back to your dreamy book in no time.
Put a Pin In It!
Are you into sewing but always seem to accidentally stab yourself with a pin from your collection of pins that are all not-so-neatly placed in a tin or box? If that sounds like you, then perhaps it's time to get yourself a pincushion.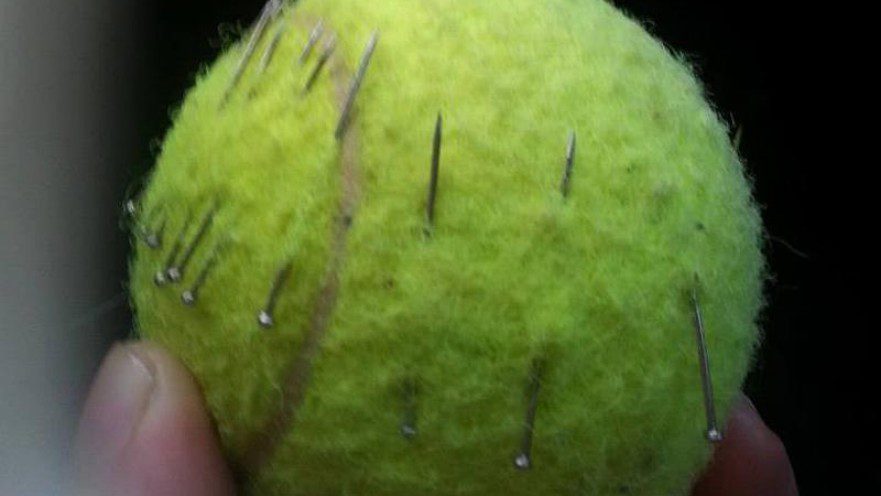 Don't worry about spending your hard-earned cash on one. Simply grab one of those old tennis balls because it'll do the same job, and it's a great way to recycle a tennis ball. No more accidentally stabbing your fingers next time you sew. Just make sure to secure it to your sewing table, so it doesn't roll off!
Hammer Heads
Here's a great one for keeping the head of your hammer protected, clean, and safe from falling over and hurting anybody accidentally when it's not in use. The first step, of course, is to grab yourself a tennis ball.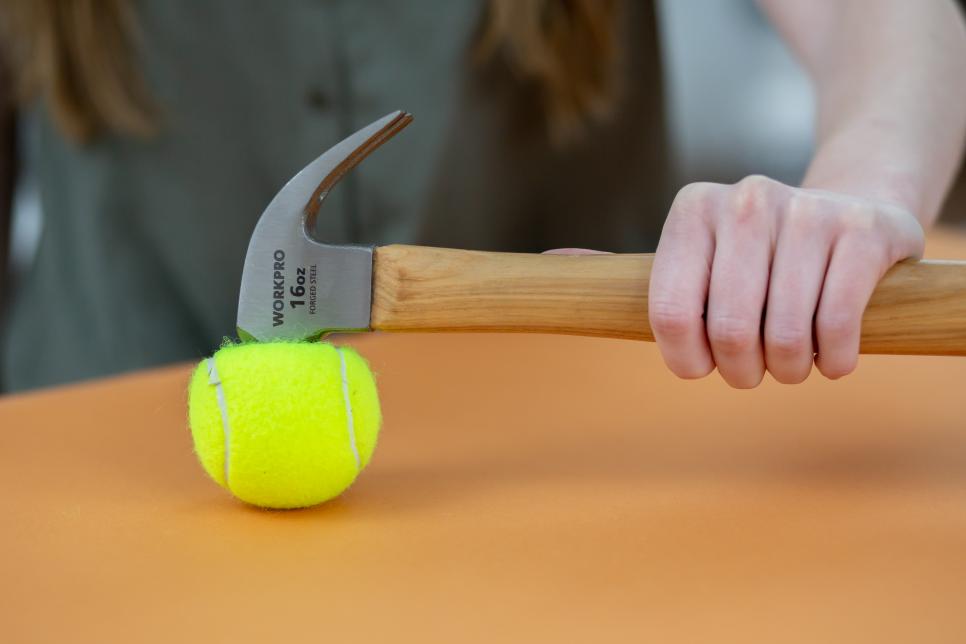 Next, cut a hole just big enough to cover the head of your hammer. Then you're just about done. All you need to do now is make sure you have a safe space to store your hammer, and you're sorted!
Let's Decorate
Another nice idea for recycling your unusable tennis balls is to grab your old tennis rackets and create yourself a unique display piece above the fireplace or in the man-cave (if your home has such a thing)! Grab all the tennis balls you can find!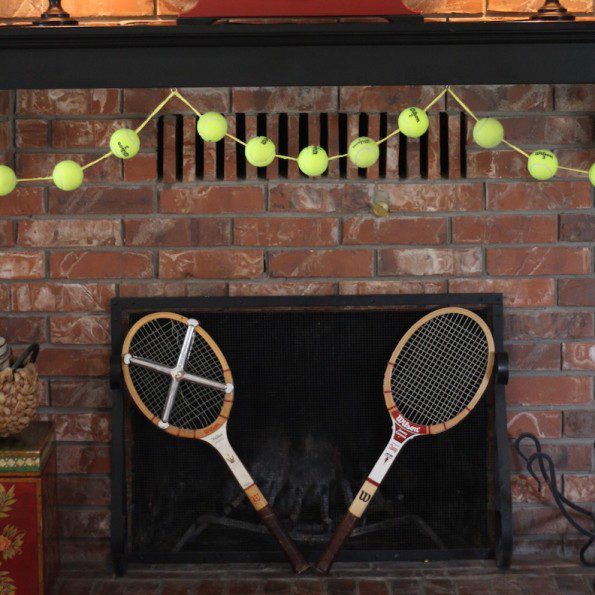 Simply hammer some pins into the wall to hold your tennis rackets in the desired position. String your tennis balls and glue or hammer them over the tennis rackets. There you have it! It's a DIY decor to show all your guests how much you love the sport.
For The Plant Lovers
Transform those old tennis balls into stunning garden planters for your favorite succulents with this nifty trick. It's a great decorative piece that you can hang from a tree, ceiling, or even from the wall. People won't be able to guess that you made them from tennis balls.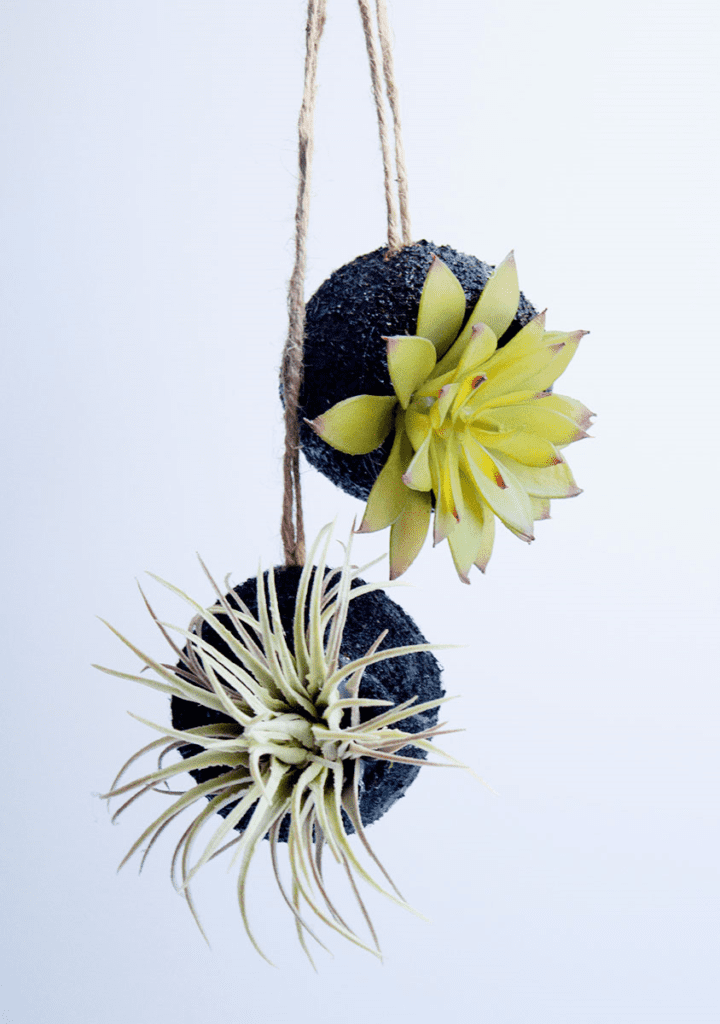 If you're into DIY activities and also love your garden, then this is a great one for you. All you'll need is some black paint and string. Grab some scissors, string, and superglue to make these changes to your tennis balls.
Monster's Tennis Ball
Remember that cute little one-eyed green guy from Monsters Inc.? The one whose best friends with Sully? We do. His name is Mike Wazowski, and he's exactly the same color as a tennis ball! Is it a coincidence? We think not.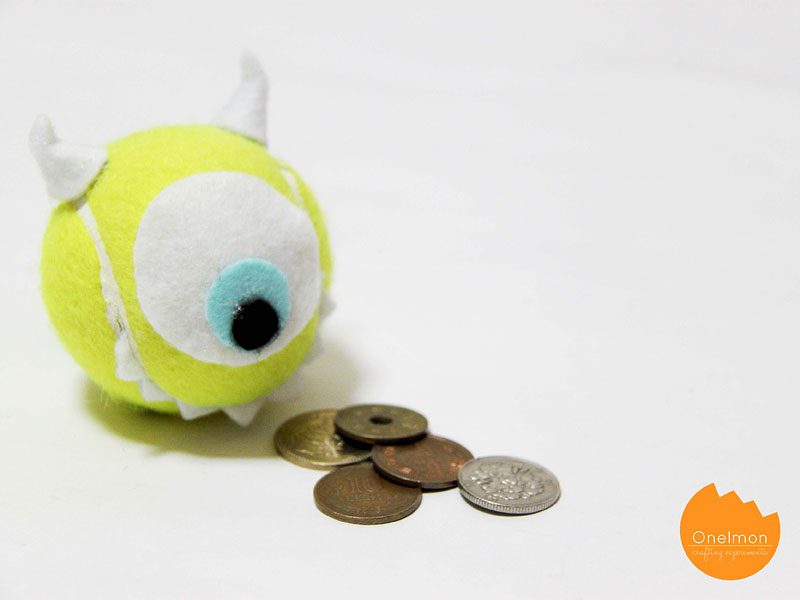 Well, not when it comes to this list, anyway. Make yourself or a Monsters lover a cute little Mike Wazowski that's handmade with love. You simply need some white felt material, glue, and a big blue eye to create this little monster!
Name Card Holders
Having a little at-home function or planning something bigger? Then you'll probably utilize some place cards to ensure that Grandpa Mo isn't sitting anywhere near his ex-wife, your grandmother, and her new bae. Don't worry because we've got you covered.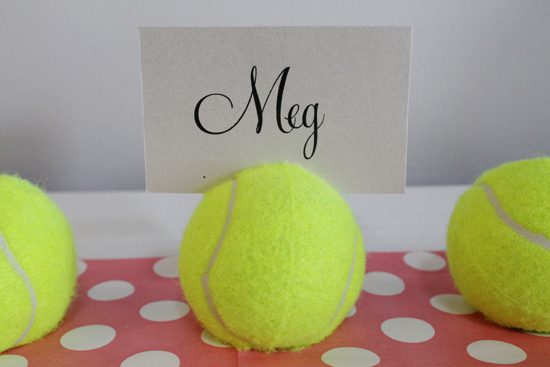 We have the perfect idea for you! Slice your tennis ball so that you can fit a piece of cardboard inside, and use it to hold your name cards in a neat, visible, yet really fun way. Don't forget to spell your Aunty Emmie's name right!
The Oddest Slippers
If you're tired of stepping in those random puddles of water in the bathroom only to drench your fluffy slippers right before you're about to go to be, then you might want to try this strange-looking yet really useful hack.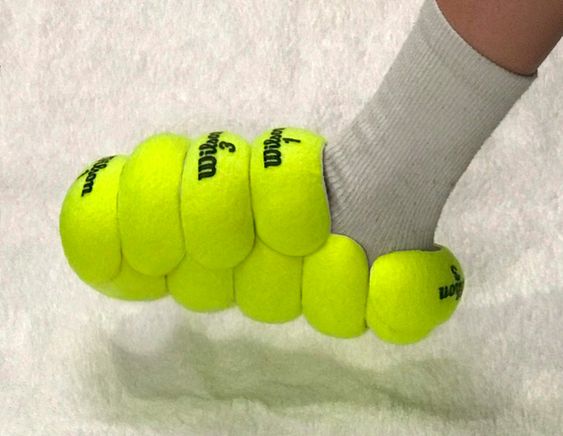 Turn your old tennis balls into slippers – we say slippers because even we wouldn't wear these out on the street. The inside of the ball is water-resistant, so even if the material gets wet, your feet should stay super dry!
Sit On It!
A unique way to up-cycle those old tennis balls is to create – yes you're reading this correctly – furniture out of them. If you're creative enough, you can do this on your own, or you can hire the job out to someone who's good at this sort of thing.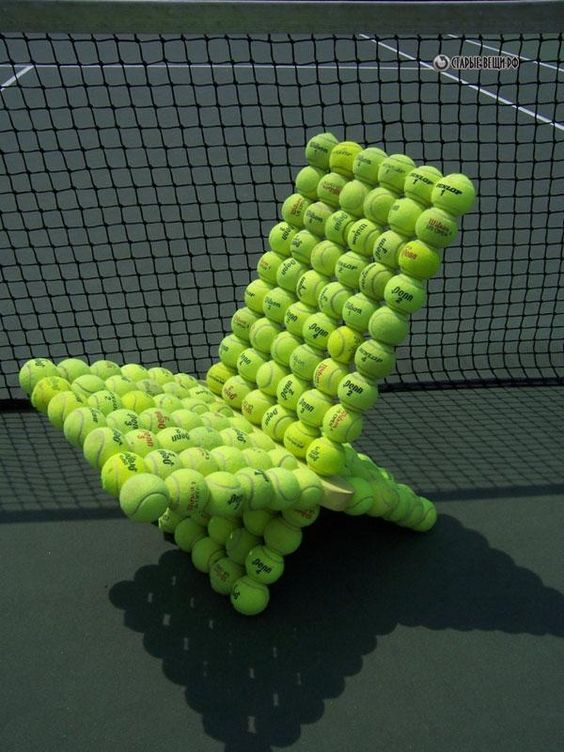 By sticking together a bunch of old or new tennis balls, you can create a surprisingly comfortable chair, table, or even bench to lounge about on when you're feeling like enjoying a lazy day or reading a magazine and sipping your favorite beverage.
Hang Around
If you have limited closet space, then this one is definitely just for you! Grab yourself those old tennis balls and some glue, and stick them in pairs to the door of your closet. Now, you have ample space for all your shoes!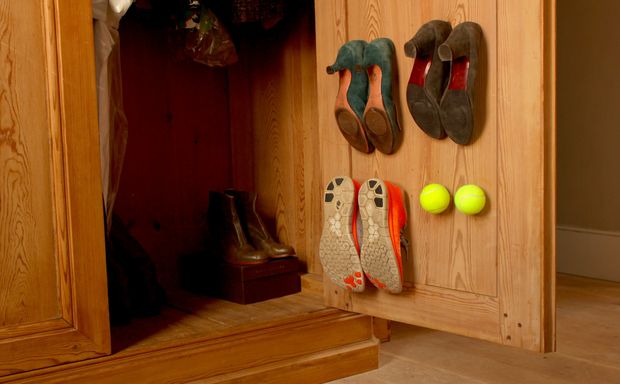 This is great for anyone who loves to collect shoes but doesn't have anywhere to put them. This is also a nifty trick for letting your shoes drip dry after getting caught in the rain! Plus, it's a fun little DIY activity, too!
Ring Thing
If you like all things funky, then this is one item you need to purchase for yourself, along with the funky bracelets. This is a unique tennis ball ring, and like the other items on this list, it's pretty simple to make with some glue and scissors.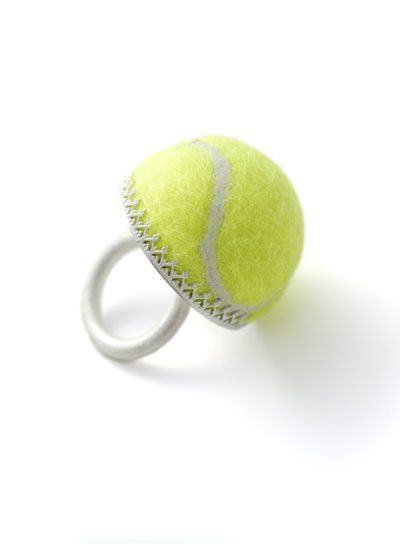 Even if you aren't the most creative human out there, just get yourself a ring with no stud from a jewelry-making store and some glue. Cut some a small place out of the ball, and there you have it. You can always pay someone to make it for you as well!
Hold My Pen
Another helpful way to recycle your tennis balls is to use them to store day-to-day items. We all know that pens often seem to disappear into a drawer or the bottom of a bag, but they are super easy to grab when they're all in one place.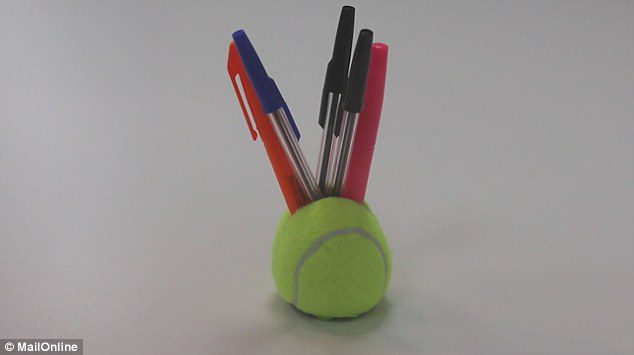 Try using a tennis ball to store your pens and pencils by slicing off the top of the tennis ball so you have a commonplace to keep all of your pens and pencils. It's also a cute accessory for your desk or workspace, and it hardly takes up any room at all.
Let's Get the "Ball" Rolling
With the festive season approaching fast, it's good to get the "ball" rolling (pun intended) with ideas for decorating your home for the jolly season. One great idea is to create a wreath out of tennis balls. It will stand out among all the others.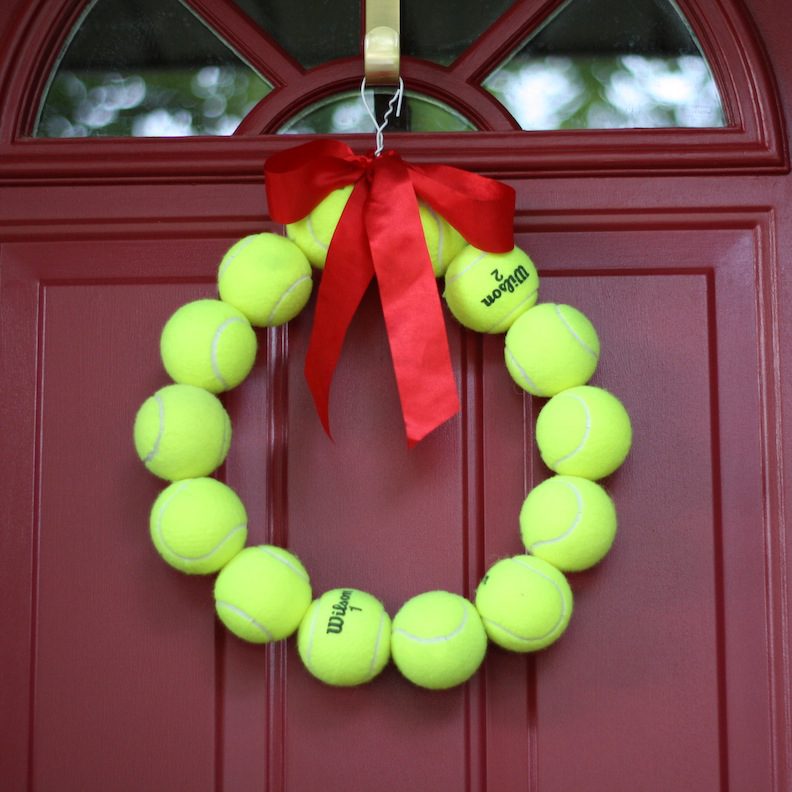 It's as simple as it looks! Just get yourself some string and make small incisions on two sides of each ball, and then thread them together. Tie it off with a pretty red ribbon, and your Christmas wreath is ready!
DIY Heads
Looking for some fun ways to pass the time with the kids while they're on a break from school, but want to keep things budget-friendly because you're saving up for that vacation you've been dreaming about? Then looks no further!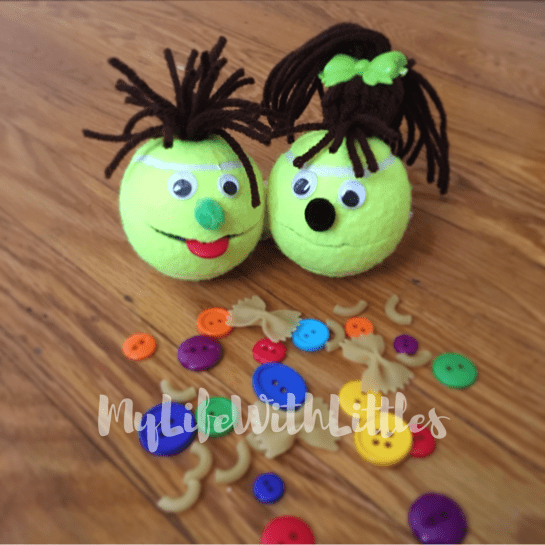 Plan an arts and crafts day with some simple items. All you need are tennis balls, pipe cleaners and googly eyes. Spend some time with the kids while you help them make their very own DIY tennis ball heads.
Fetch!
This is probably the one on the list that will come as the least weird or shocking. But still, it's pretty useful if you have a pup that likes to chew. Instead of throwing away your old tennis balls, give your dog something to play with!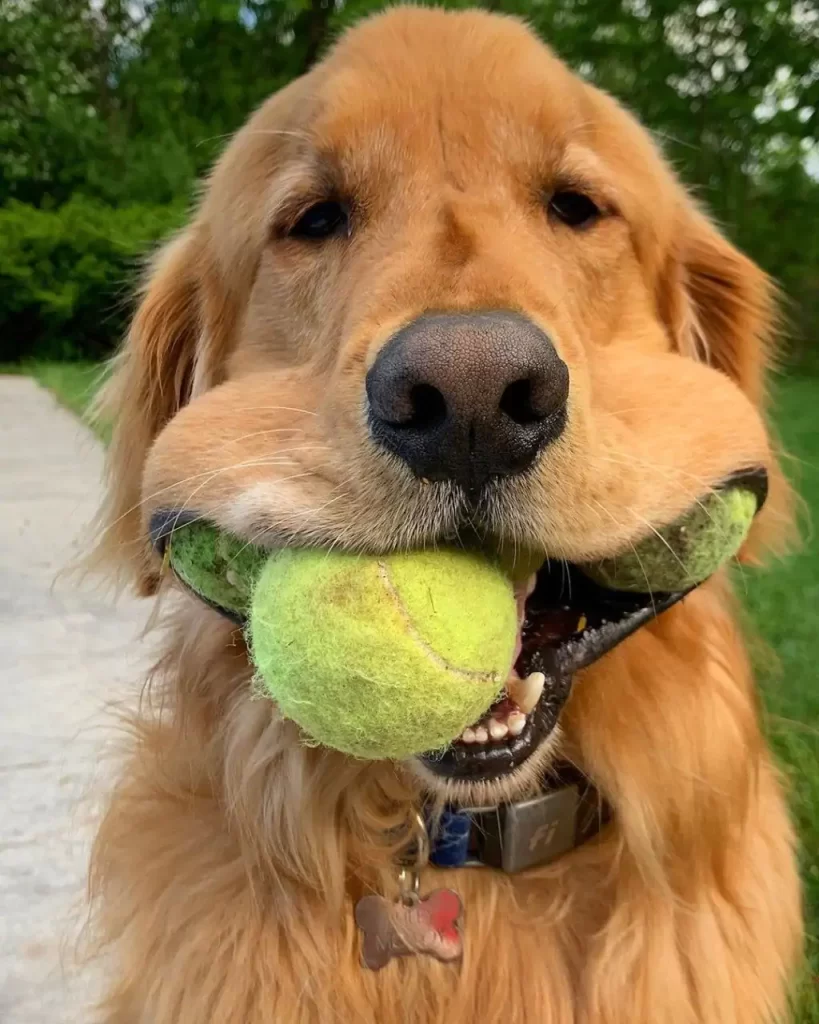 The best part is that it doesn't matter if your doggo destroys the balls because at least it's not your slippers or the newspaper you didn't get around to reading yet. You can also use the balls to teach your dog "fetch!"