40+ DIY Projects To Keep Old Tires Rolling
By Jo A September 20, 2021
---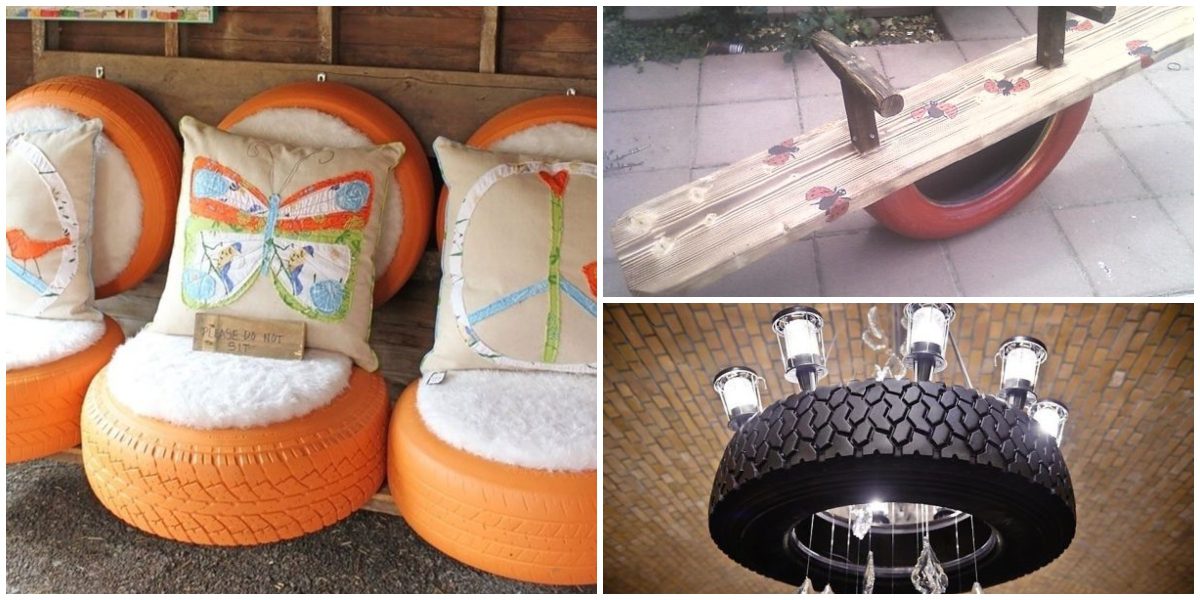 All car owners can attest to the fact that they've had a bunch of spare tires lying in their garage. Sometimes, you end up with so many that you are basically at sea on what to do with the bulky old things. The old way of disposing of tires was to set them on fire, but this method, now that we know the dangers of it, is not advisable in the age of climate change. The other way to dispose of them is to take them to a tire recycling facility, and if there's none in your vicinity, then you're stuck with them. As luck would have it, this set of DIY projects we're about to unveil will give those worn-out and forgotten tires a new lease on life. Without further ado, let's dive in.
Tire Bed for Dogs
This particular tire hack will get the excitement of all dogs and dog lovers flowing. So if your fur child loves to cuddle or wrap themselves up in a ball, then you can't go wrong with the tire dog bed.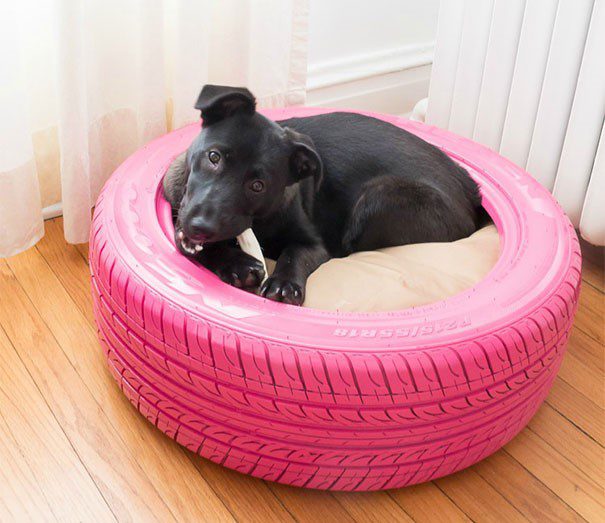 To make it more appealing, you can add some creative touches. Just like in the picture above, you can paint the tire with bright colors and ensure you add a comfortable pillow to enhance the comfort of your pet. Also, don't forget to thoroughly clean the tire before giving it to your dog!
Yarn Ottoman
Does your living room need a makeover, or are you tired of having the same old contemporary IKEA furniture everywhere? To infuse life into the room, all you need to do is add this beautiful and intricately woven ottoman for that refreshing new look.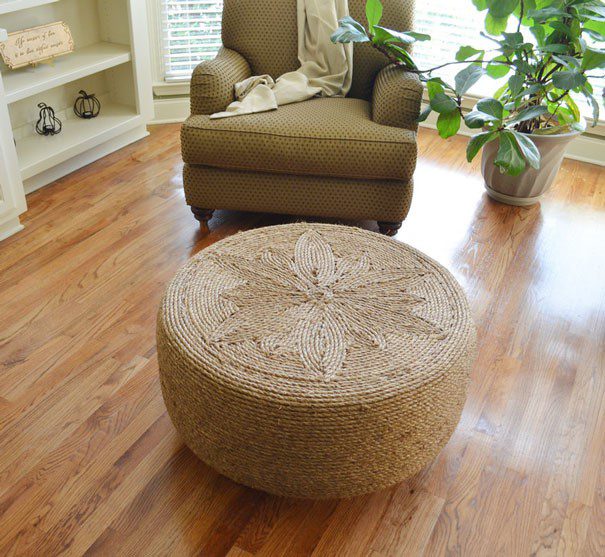 What makes it stand out is the fact that it's made from used tires that would have been lying without use in your garage. You can get your creative hat on by using sisal if yarn is not your thing.
Intricate Tire Lamps
Light up your rooms in a completely different manner with tire lamps. These lamps will have your room buzzing with life. Now you can have something to wow your guests whenever they visit because we know they can't take their eyes off it.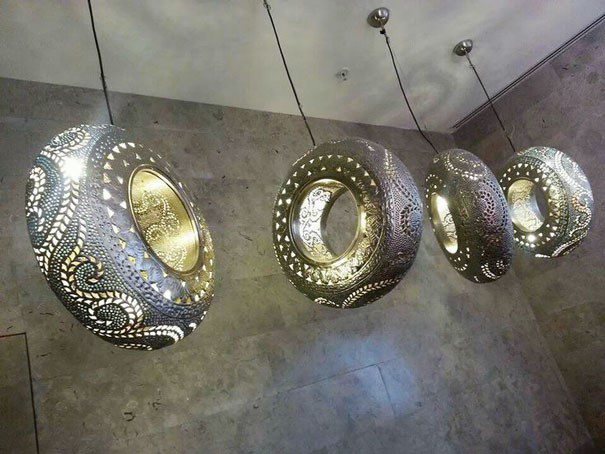 The beauty of these intricately designed tire lamps is that you have many design options at your disposal – your options are only as limited as your imagination. You can also play with different types of colors, and you'll be sure that the outcome will be wonderful.
Mirror Frame
There are times when you might have run out of design ideas to use for mundane things in your room, like your mirror. So why go for the ordinary when you can stand out with this beautiful DIY tire mirror?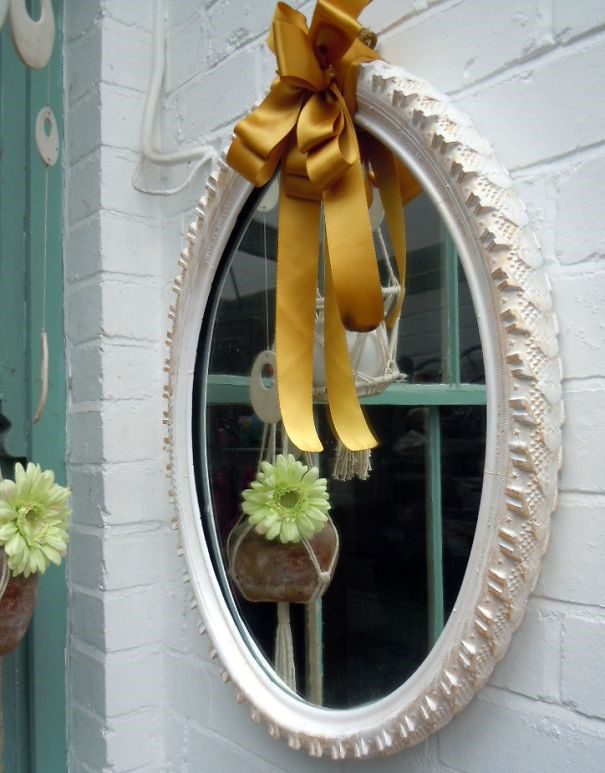 Not only is it a clever way to make this everyday item pop, but it will also give your room the elegance it deserves. This mirror will have you looking like a million bucks, while at the same time putting that old tire to good use.
Yarn Planter
All the plant lovers or people with green thumbs should get in here as this hack is what they have been waiting for. Now your garden and flowers can look like royalty with this tire yarn planter. Does this even look like an old tire to you?!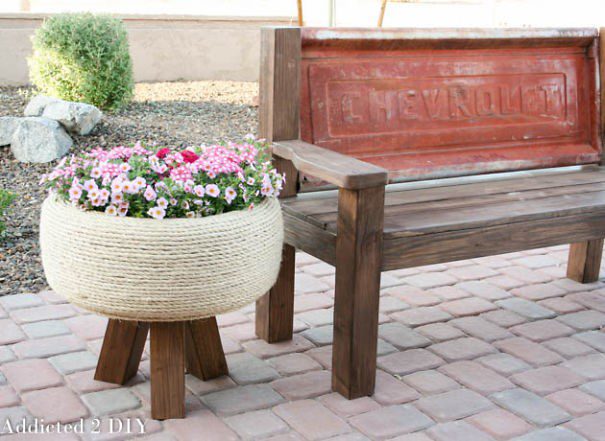 Some people often prefer to use the tire alone. In some cases, they add a few tweaks here and there, but you can do better. To make your plant babies look beautiful, wrap the tire in twine or yarn for maximum aesthetics.
Garden Tire Table
There is nothing as relaxing as sitting in your garden with your family and loved ones and enjoying the cool evening breeze while you tell them about your day. During this conversation, a drink or two could come in handy.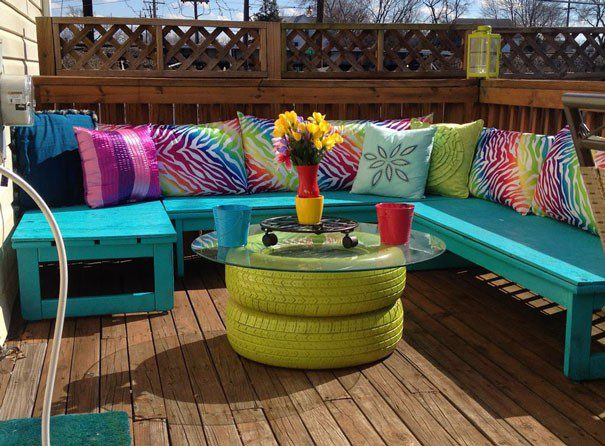 With this in mind, you need the perfect table, and you don't have to spend a fortune on that thanks to our good old tires. Just stack two painted tires atop each other and top it all with a wooden or glass top, and you're good to go.
Tire Subwoofer
Are you a music lover that prefers your music played loud and proud? Without hesitation, we think you should try this fantastic tire subwoofer. This is one DIY project you won't regret embarking on this year, and it's, of course, inexpensive.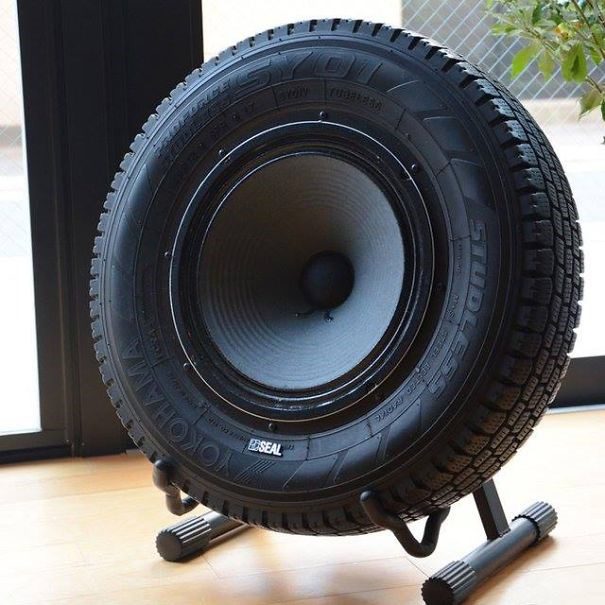 We say it's inexpensive because compared to the regular branded subwoofers out there, you'll realize you're getting more than your money's worth. Another note is that the vibration is softened, so you don't have to worry about excessive reverberations.
Tire Swings
We've been giving out hacks for adults; now we think it's time we give out something for the kids too; after all, they deserve it. So now you can have your mini playground in your garden to keep your children busy.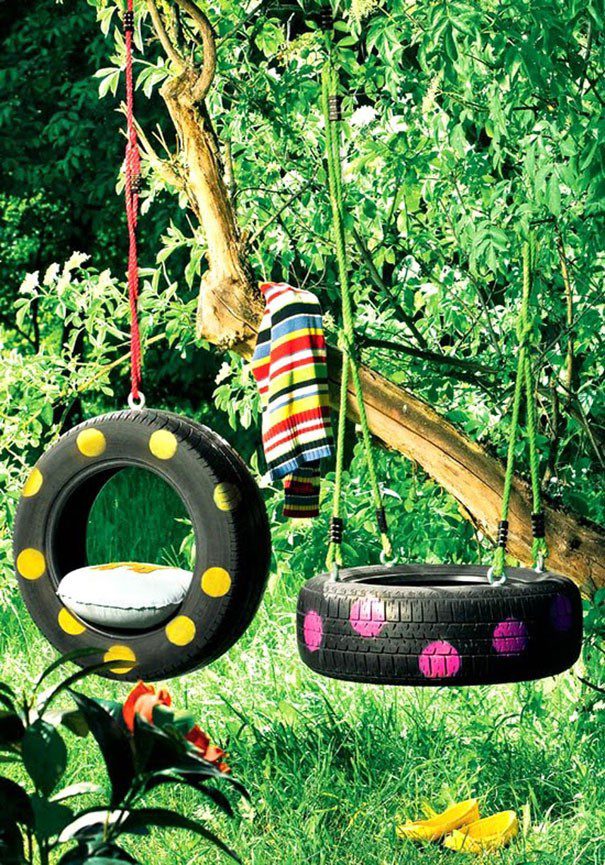 Of course, this hack is not new, and most parents probably had one or used one growing up, but there's no harm in reminding you how awesome it is. You can create your swing set with old tires, but don't forget to give it a splash of color this time.
Half Tire Hammocks
Thought we were done? Nope! We are still in the business of giving amazing hacks that will have your kids screaming with joy and excitement. This time, it's a hammock that you can create by cutting an old tire in half.
There is room for improvisation if you don't have a tree you can fasten the hammock to. However, this particular hack works best for kids below seven years, as older kids may find it challenging to fit in the hammocks.
Garden Stairs
Just like Jack and Jill, would you like to go up the hill to fetch a pail of water? Do you live up a mountain or hill and find it challenging to climb up because of how steep the terrain is without stairs?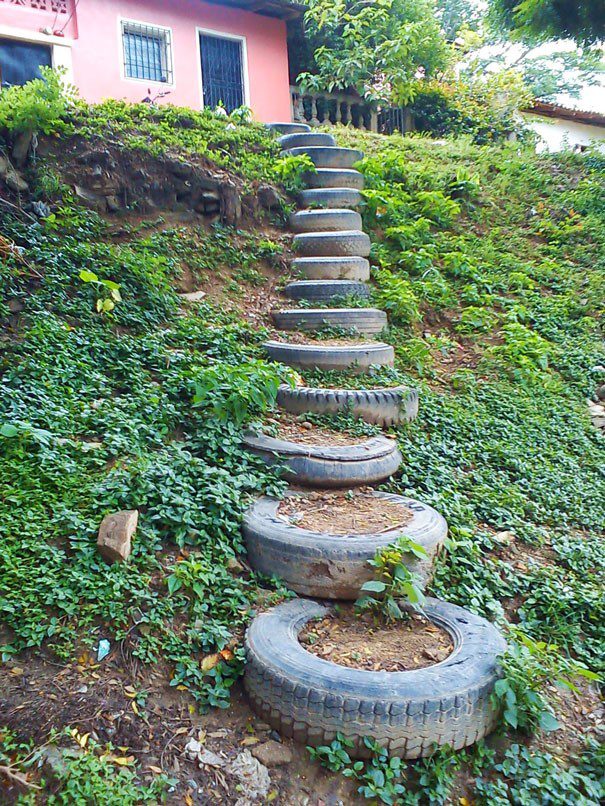 If the answer is yes, you don't have to worry about spending a fortune making concrete steps when there's a cheaper alternative. Instead, fill up old tires with earth and stack them to create sturdy steps. You can also paint them to look more appealing.
Tire Armchair
It may come to you as a surprise that the uses for old tires are pretty numerous. Without a doubt, there is every chance you didn't think it had so many uses. A good example is this beautiful tire armchair.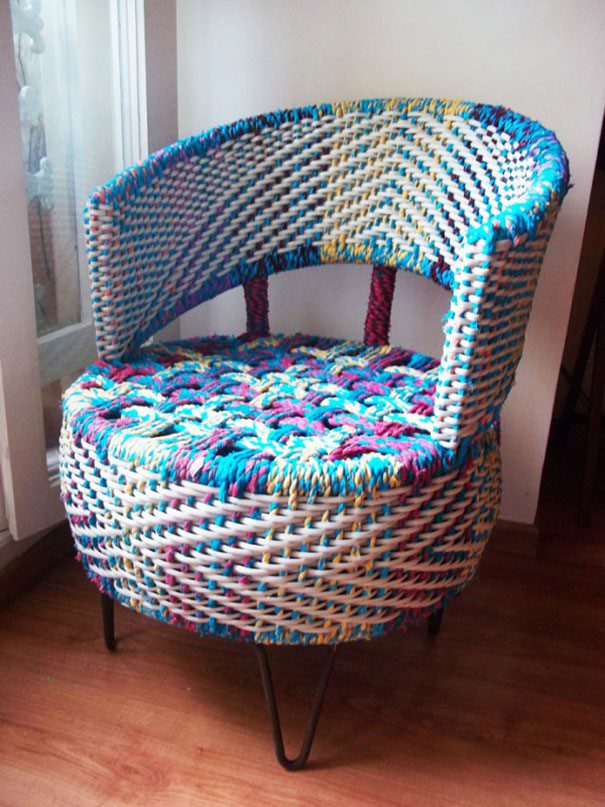 This is one gift your grandma or grandpa would love. Don't be deceived by the chair's beauty as it is as sturdy as it comes. This tire armchair seems like a perfect spot to reminisce or plan out your day.
Tea Cup Planters
Take a look at these beautiful teacup planters. Are they not a sight to behold? These are the kind of DIY projects that make you proud and fulfilled when you are done. Of course, you can't just help but to stare at it for hours when you're done.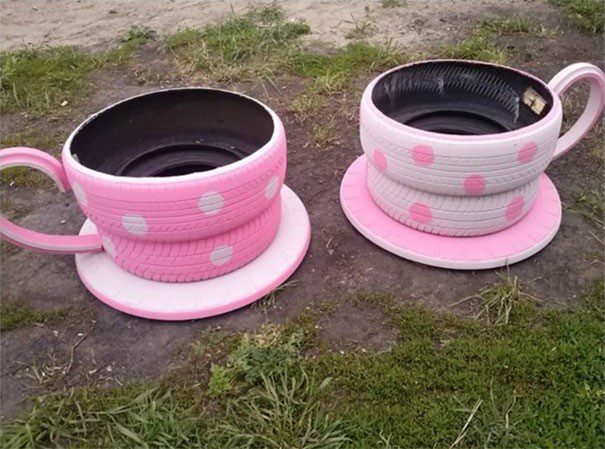 Although we have to admit that it's a bit complex to create, unlike the others – some people found it a little challenging to fit the handles – it's definitely doable! You can also add Plexiglas to the top if you wish.
Sand Box
If you don't want your kids playing in the dirt in your yard and tracking in mud, how about giving them a sandbox? The difference this time is that you will have to use a giant tire, and you are good to go.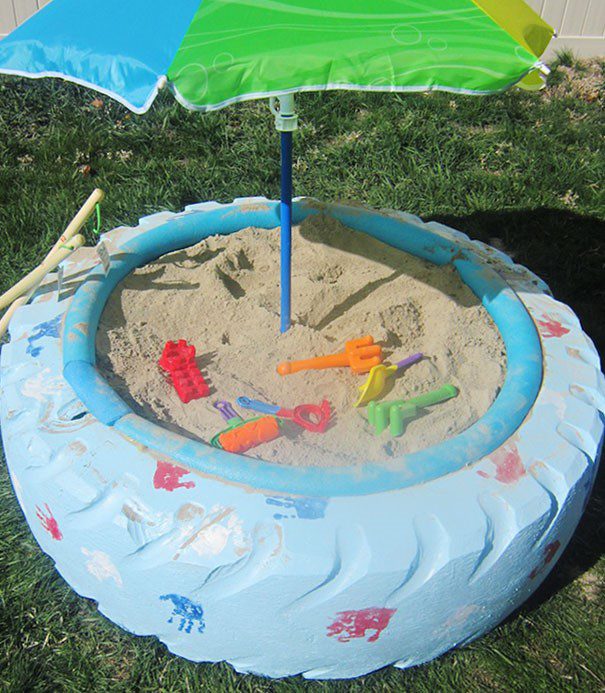 Kids love bright colors and pretty things, so you can engage them while painting the tire. This is a perfect time to bond with your kids. Also, they will be proud of their creation at the end of the day.
Minion Scarecrow
Since time immemorial, farmers have been using scarecrows to scare birds away so they don't destroy their crops. However, scarecrows don't have to look scary to achieve their goal. You can take the unconventional approach, and get the same results.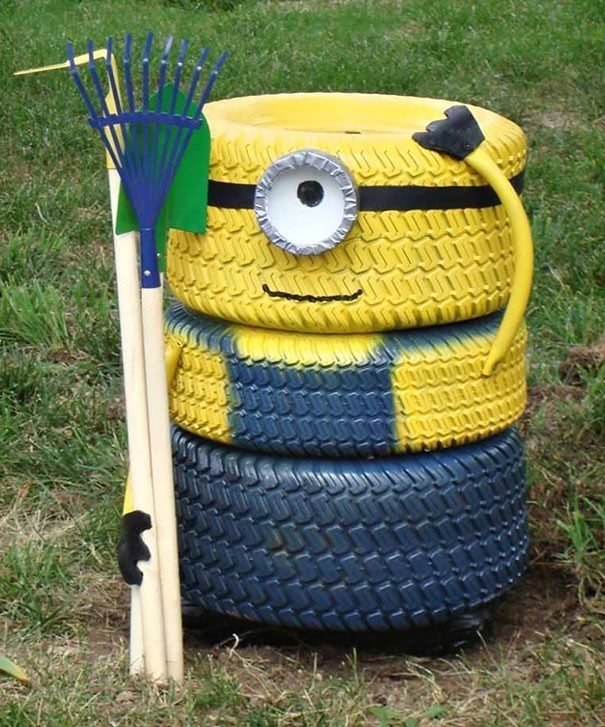 Rather than create scarecrows that will scare both birds and kids, you can opt for the minion scarecrow that kids will love. It's straightforward, easy, and fast to make, and it'll also make your farm a fun place to be.
Golden Coffee Table
Your early morning coffee ritual is about to get a golden facelift with this beautiful coffee table. The beauty of this table is that it will have you feeling like a king with its royal colors without having to spend as much.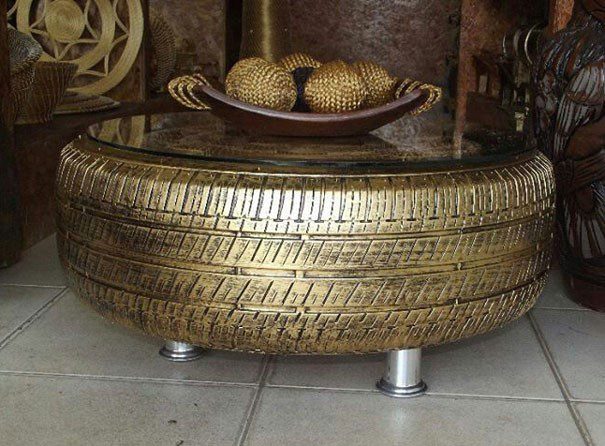 If you don't like the height of the table, you can always add an extra tire to give it a lift. Of course, you can opt for other colors if you wish, but the outcome is assured – it will always come out beautiful.
Tire Planter
We have had several tire planters, but this has a little twist that makes it different from the others we've listed. The picture below shows two different ways you can plant with tires, and whichever one you choose will work perfectly.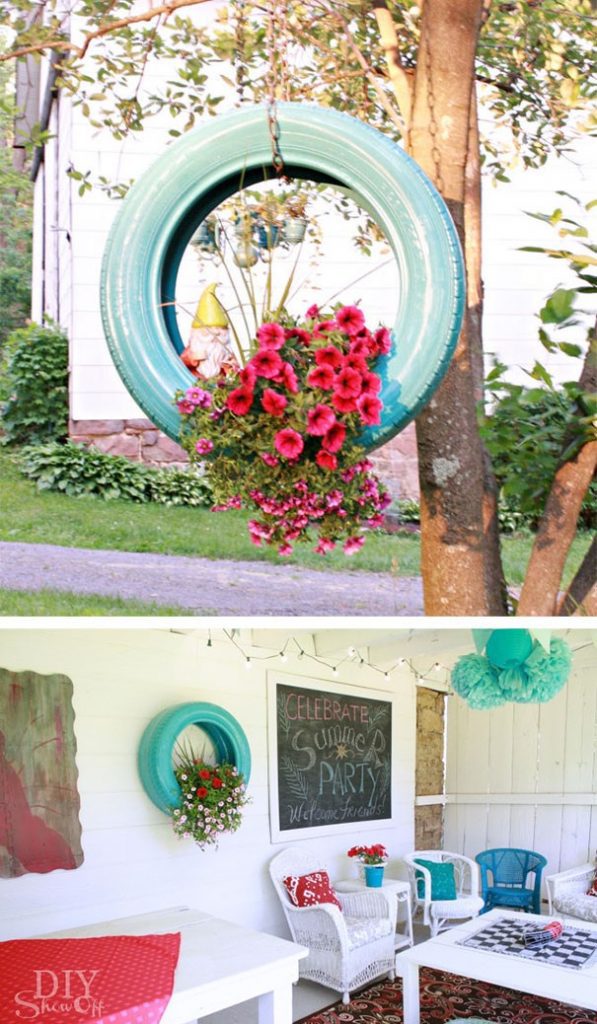 The fantastic thing about this tire planting method is that they both hold water quite well, so you don't have to worry about that. Also, both the plant and the tire add a dash of much-needed color to the patio and garden.
Tire Armor
If you are a Game of Thrones fan, you must know and admire characters like Brien of Tarth, Arya Stark, and several other strong women in the show. Now, thanks to our favorite old tires, you can make yourself some solid armor.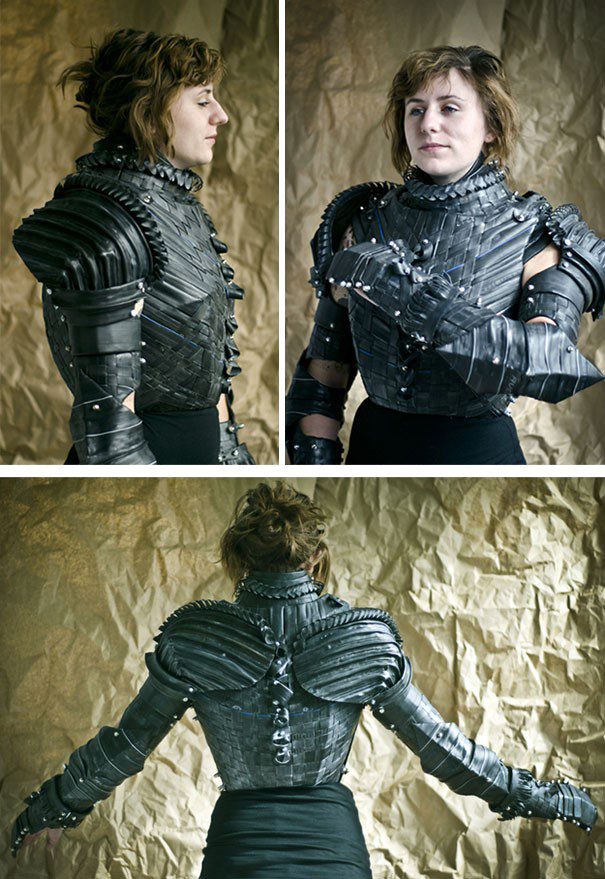 Not only is this armor beautiful, but they also make you a heroine of some sort, and you'll also look fabulous with it. With this beautiful armor, you can now face your battles with the courage of a thousand soldiers.
Umbrella Stand
Get yourself a tire umbrella stand, and you'll realize that you can fit all your umbrellas in one place. We all know misplacing or forgetting your umbrella is so easy, but that's a thing of the past thanks to this handy creation.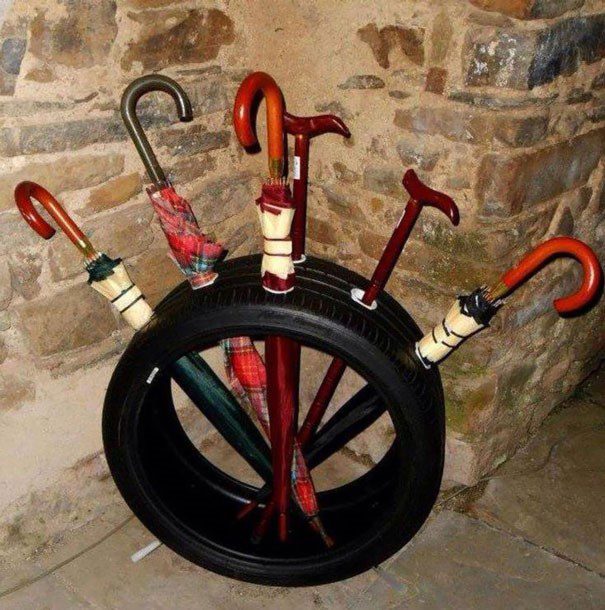 Thanks to this new method of storing umbrellas, not only will they last longer, but you don't have to worry about misplacing them anymore. Besides, it is very colorful and cool. Also, your guests will give you kudos for being creative.
Tire Playground
There is no denying kids love to play, so you have to ensure they do it in a safe and secure environment. Besides, getting the equipment to play with on the playground shouldn't cost an arm and leg, but we all know it does.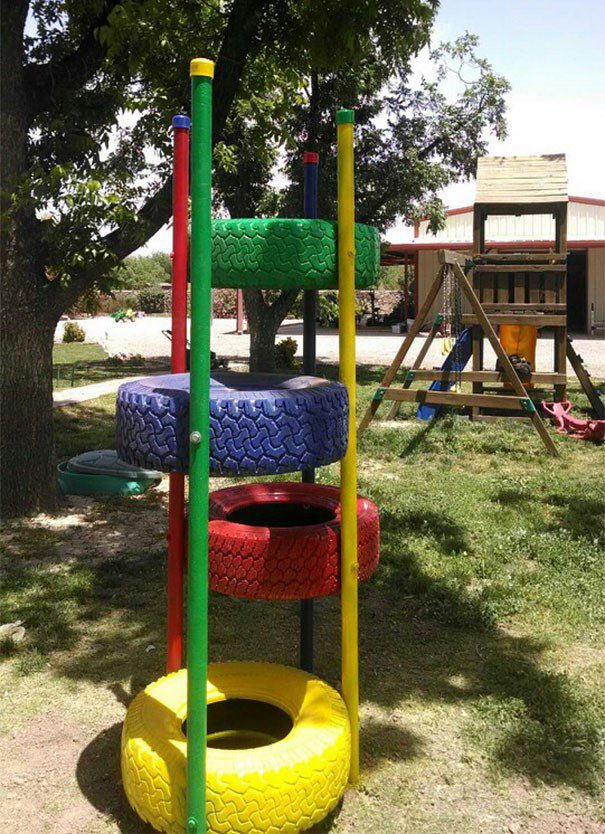 If you are a keen observer, you'll notice that almost every piece of equipment in an elementary playground can be made of tires. It is so interesting that you can create dragon sculptures that kids could climb on and have the time of their lives.
Tire Chairs
Just when you think you can't get more creative with tires, you're hit with another beautiful DIY project that is sure to wow you. One thing that makes this particular project stand out is how easy it is to create.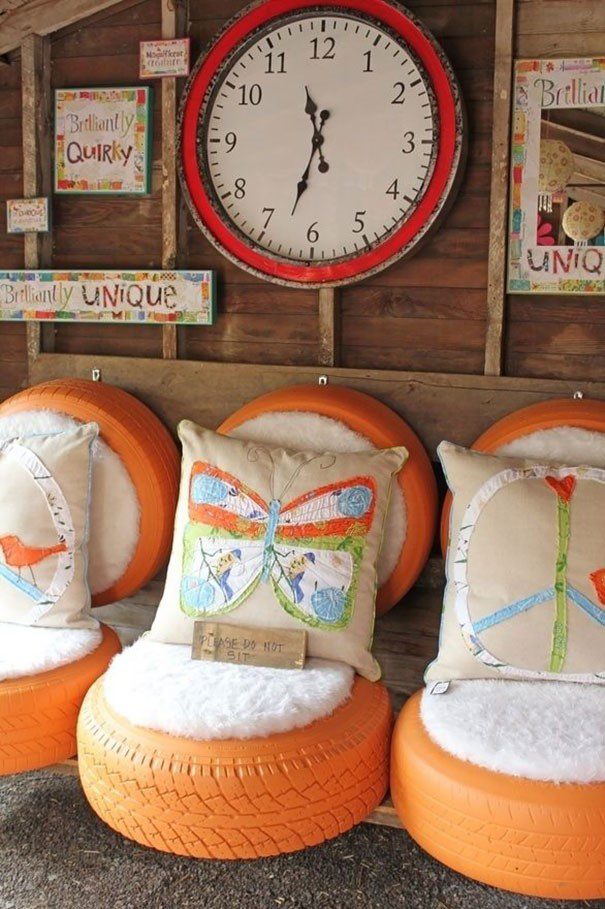 These chairs are stunning, easy to make, and are very comfortable. The only things missing here are the arms, and we could do without them in this case. The butterfly throw pillows also add to the allure of this tire chair.
Tire Trash Cans
Honestly, tires are fantastic, and not just because they are an essential part of a car, but because of how versatile they are, new or old. Take these upcycled recycling and trash cans made entirely from old and unused tires.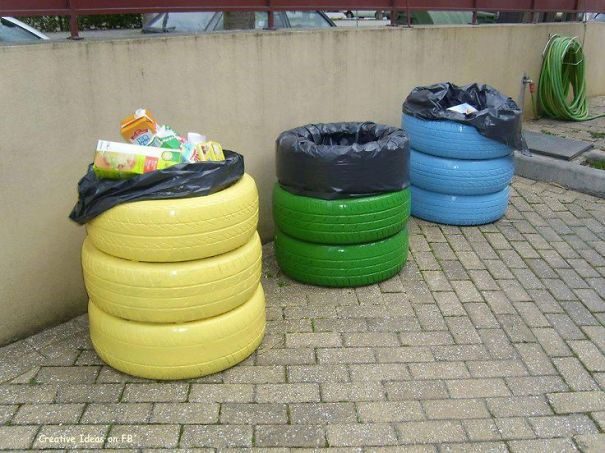 Now, you get to use one stone to kill two birds. You're simultaneously ensuring the aesthetics of your yard are well preserved. To ensure no flies or rodents have access to the bins, you can DIY a lid to cover them.
Tire Garden Planter
From the look of things, it seems the most popular use for old tires is for planting. This shows how good and efficient it is to use tires for your leafy babies. The best part is how cost-efficient it is.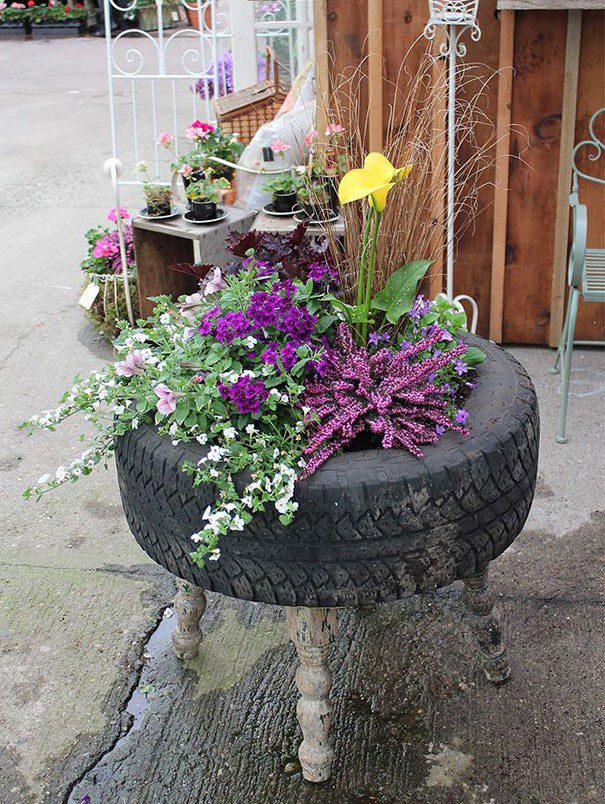 To ensure you don't overwater your plants, you need to know the water retention capacity of the plant. Next, ensure it's on the elevated ground so excess water can drain out to have a vibrant and healthy plant.
Green city
For several years now, what had been at the forefront of political discussions has been climate change. It's been a significant concern for world leaders, and some efforts have been made to switch to a more sustainable lifestyle, especially in cities.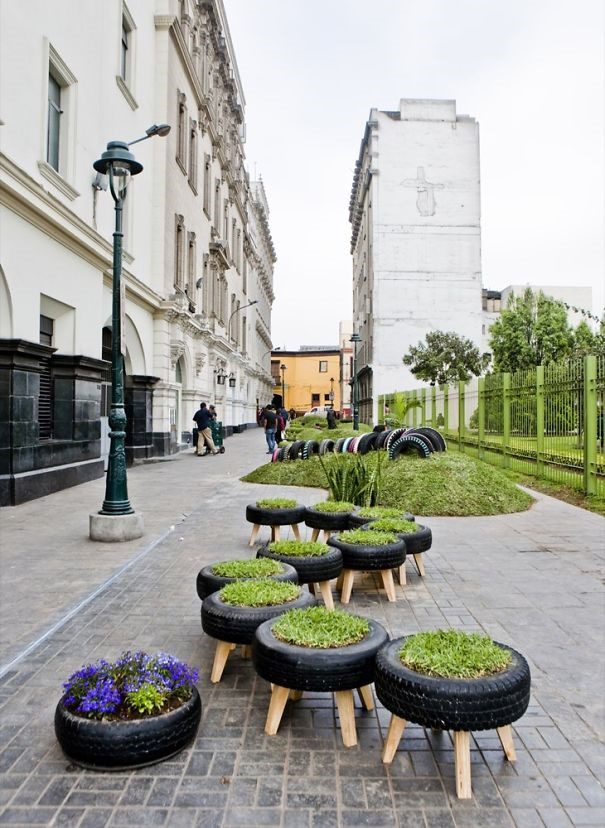 In that regard, most cities are making every effort to go green and reduce waste as much as possible. Thanks to old tires and some creativity, we can reuse and upcycle by achieving our green city aim and meeting our recycling needs.
Tire See Saw
There's no part of the world where kids don't love old tires. The reason is not farfetched. It's because it's a major part of their playground equipment, just like this tire see-saw made with reclaimed wood below. We would totally let out our inner child on this!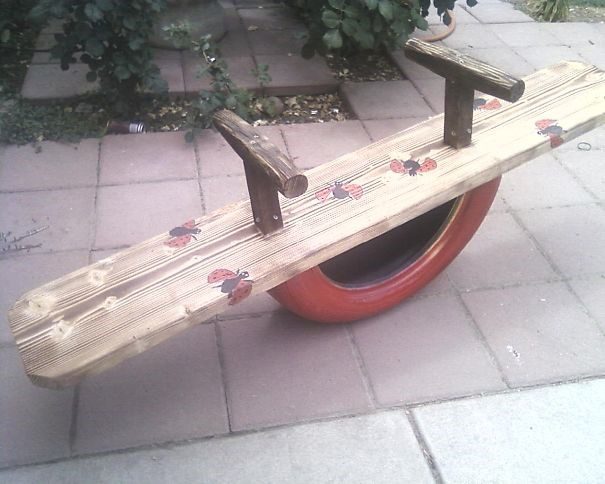 Take a look at the above photo. You can get your kids' creative juices flowing by telling them to join you in painting it, which they'll love. They'll also cherish it and use the heck out of it for that reason.
Tire Garden Stools
There is a general notion that if you want to get something good and classy, you would have to pay a fortune for it. Although it's true in some cases, these tire stools debunk this myth entirely. Cute, classy, and upcycled!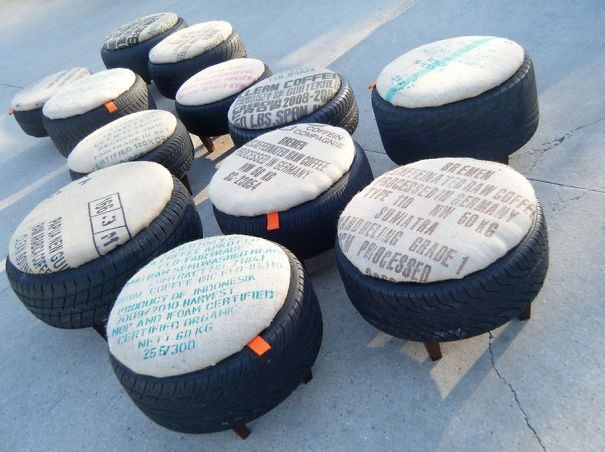 At first glance, you would think they're from one of the top furniture houses in the country. Surprisingly, upon closer inspection, you will realize they're made from old tires, yet they are as classy as they come. We could use these!
Tire Sofa
When you're living under your parent's roof, there are so many things you take for granted and you won't value. However, the moment you move out, you'll realize a life of independence is not a bed of roses after all.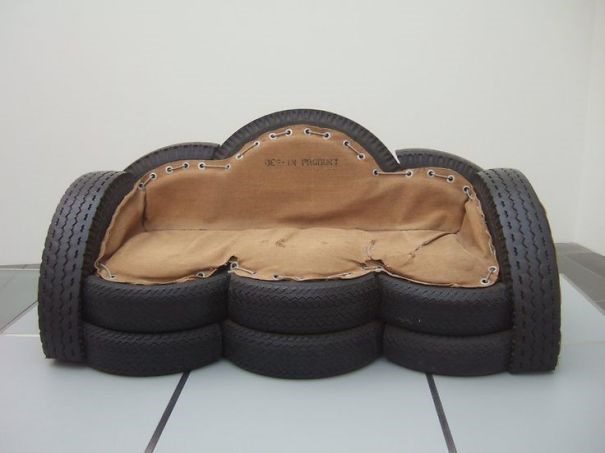 The first thing that shocks newly independent people is how expensive furniture is. However, your living room shouldn't be empty anymore as you can get this beautiful tire sofa which will serve the same purpose without running your finances aground.
Tire Outdoor Furniture
No matter the size of the tire – be it a truck, car, bike, bicycle, etc. – there is always a critical use for it. These large tires (truck tires) are the perfect example of what we are talking about.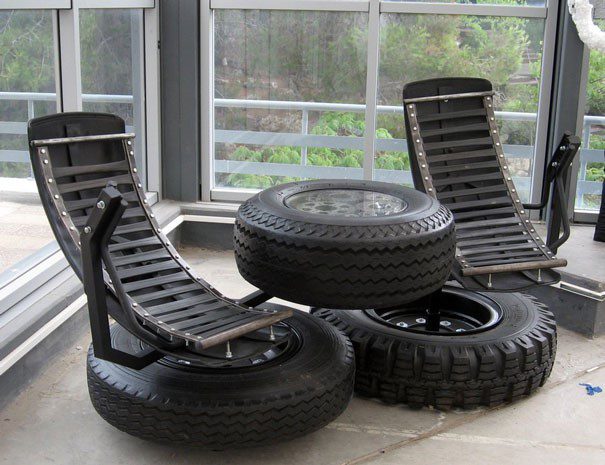 It's sturdy, aesthetically pleasing, and it also gives the room a different appeal than what you would get in most common outdoor spaces. What's more, you even get a center table that allows you to enjoy drinks with your friends.
Tire Wreath
Did you know that you can use a tire as a base for a wreath? If you didn't know, now you can't feign ignorance anymore. The best part is that the result is as beautiful as you could imagine any wreath to be.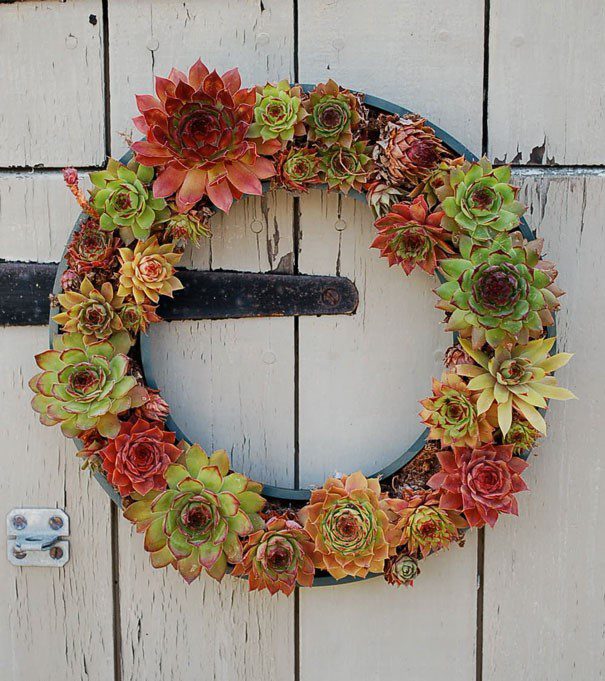 The above wreath more than confirms it, and it's another way you can beautify the entrance of your home. Note that the kind of tire you'll use for the wreath are the light ones – bicycle or a motorbike tire – as any other one may be too heavy for the door.
Tire Chairs
Geeks, gamers, and developers know the importance of a good chair. However, there are times when you need a small chair to watch a movie or sit and have a chat with a friend. These can be any style, color, etc.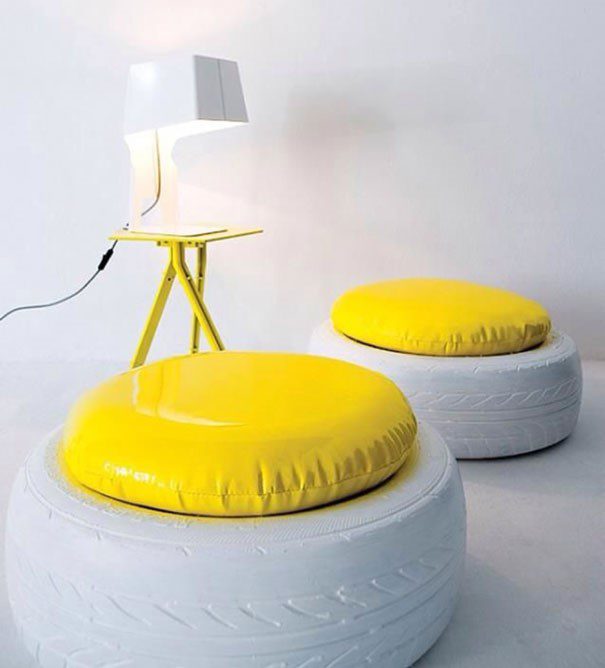 This is where the tire chair comes in. It's perfect for people that want to hang out leisurely, play games, or grab a quick bite. It's an ideal substitute for the conventional bean bag, but the difference is that the tire chair is more beautiful and sustainable.
Hanging Tire Planters
Some plants are best adored from afar. The perfect example of such a plant is the cactus plant. They are beautiful to have in your house, but you should keep them from reach due to how dangerous they can be.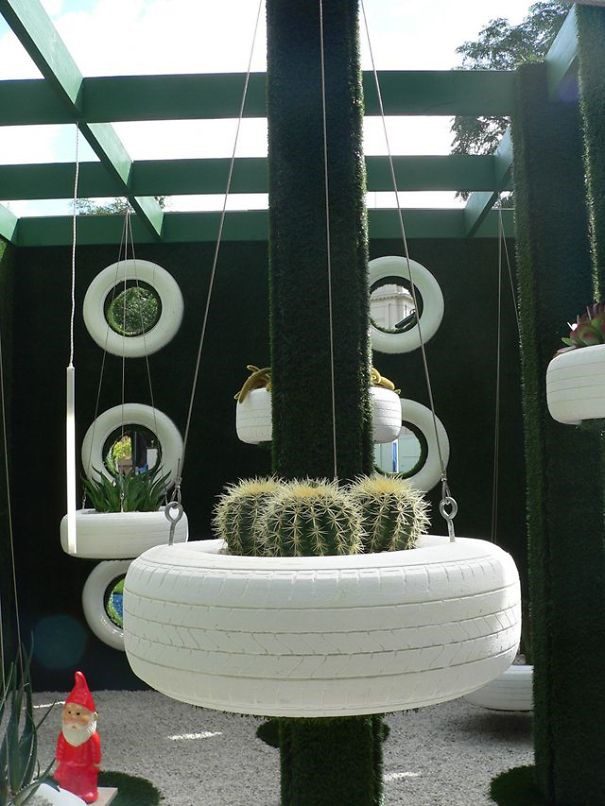 So what do you do? First, get a tire, paint it to any color of your choosing, but it's best if it's a bright color to make it more beautiful. Then use ropes to suspend it above ground. You can also do this for other plants if you wish.
Tire Houses
Like we stated earlier, the world is trying to become more eco-friendly in our everyday ways of life. For several years, we've been building houses without considering their impact on the environment. Luckily, we're adopting more sustainable practices now.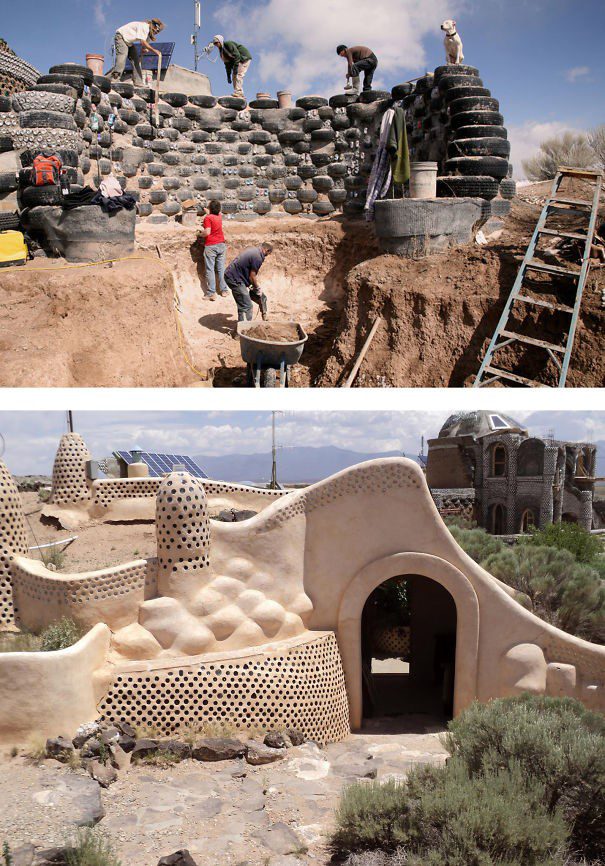 By using tires as part of the materials we use for building, we're upcycling while reducing our carbon footprint. The best part is that homes like these are often more affordable than the traditional homes entirely built with brick and mortar.
Coffee Table
The versatility of old tires cannot be understated. From tables to chairs to tire planters, it comes in handy, and you can improve its use by adding other kinds of materials to it like yarn to create the perfect yarn-covered coffee table.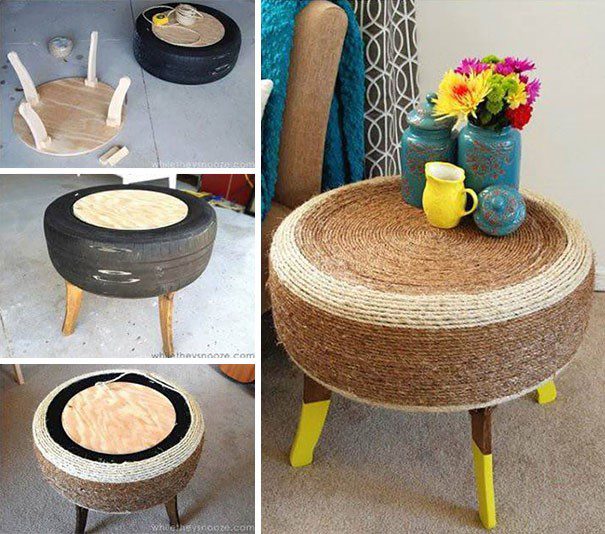 That's not all; you can also use a slew of other materials if you are not a fan of yarn. The difference is that it's time-consuming and requires skilled hands to get the best results. However, the end product is worth it, and you'd be proud of yourself.
Tire Patio
As a creative person with skilled hands, your patio shouldn't be drab or regular because it should reflect your creativity. If you don't paint the tires, you can still add a splash of colors that will bring it to life.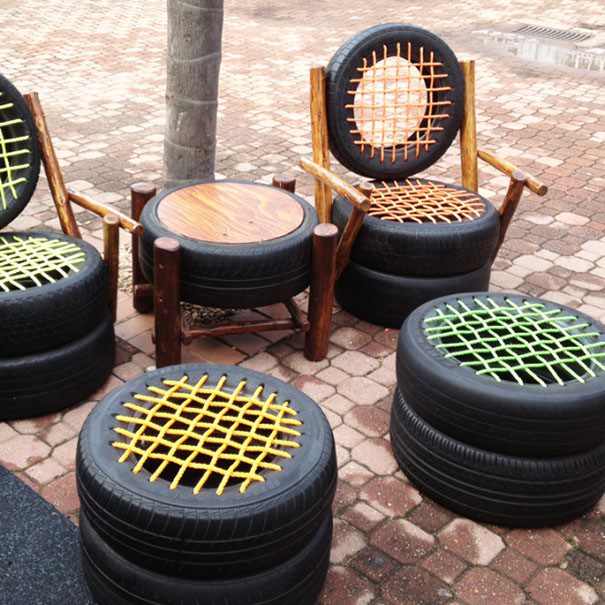 To make a set of furniture for your patio, you'll need several tires – a minimum of 10. You'll also need plywood and a bunch of wood for the arms and backrest. The end product is a set of bungee chairs and a beautiful outdoor center table.
Tire Christmas Wreath
The Yuletide season is something we all look forward to every year. It is a time when we create unforgettable memories with our families. We often look forward to exchanging gifts; then, we get to relax together and maybe enjoy some hot chocolate.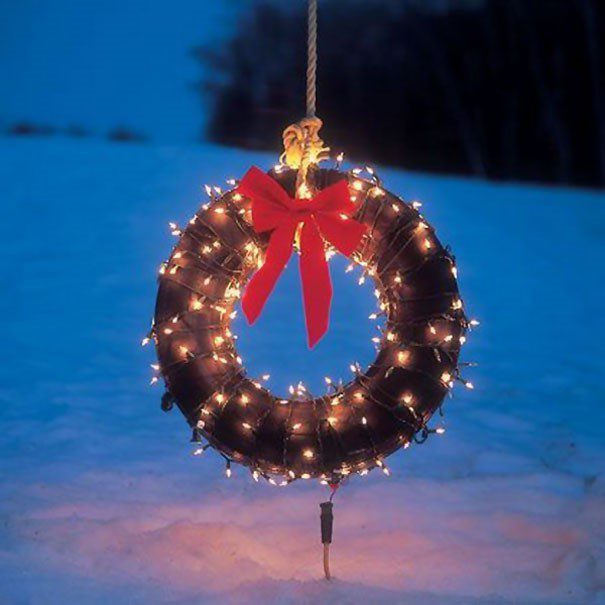 Even though the entire house will be filled with bright lights and music, you can take it a notch further with a tire wreath. First, you'll stand out, and second, it is a good conversation starter with your distant family members.
Tire Chandelier
There's a song that has to do with swinging from a chandelier. Even though we don't encourage such, it's almost impossible because not only are they high up, they are very delicate and won't support the weight of an adult.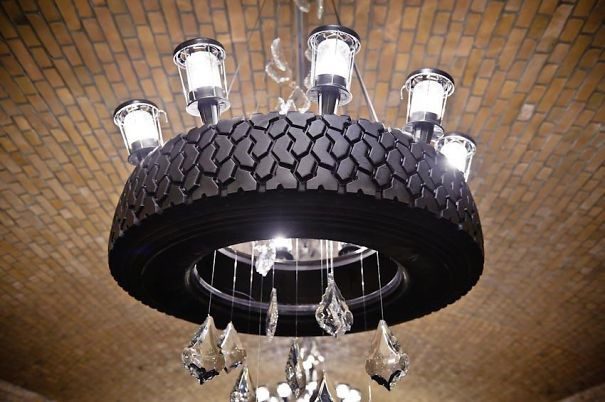 However, there's every chance most people were thinking of the traditional chandelier and not something as funky and sturdy as a tire chandelier. This type of chandelier gives a room a different allure which is a mix of solid and rustic.
Tire Doughnuts
It would be a severe crime if we don't mention tire doughnuts. Of course, we don't mean the regular spare tire, which is sometimes called a tire doughnut. Like all drivers know, this tire is so good that it will take you to your destination without any problems in any emergency.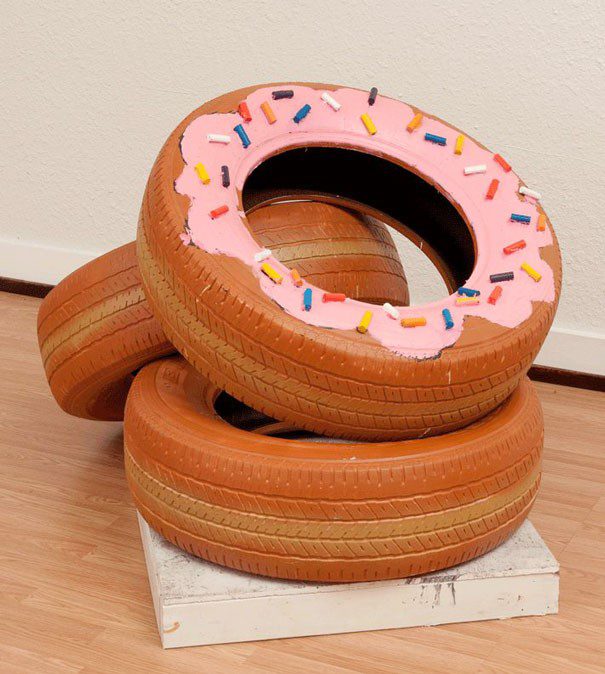 However, this tire doughnut is for decorative purposes, and it's a beautiful sight to behold. Like the others, you can get your kids engaged by painting the tires different colors as there are several donut types you can get inspiration from.
Car Tire Wall
Another beautiful use of tires is to create a solid wall like the one below. This wall was built in an Earthship home. These homes are of and in the earth, for those who don't know what an Earthship home is.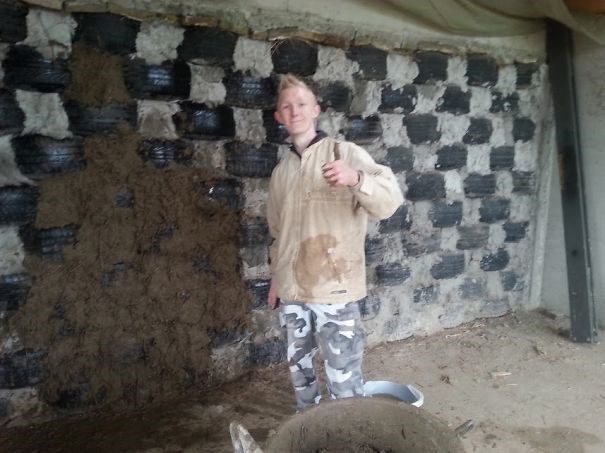 They are made entirely and responsibly from materials from the earth and are built in the ground. Earthship homes are often constructed independently from all forms of outside help, like the general power grid. These homes are also made from recycled cans and old tires.
Tire Swan
We have fully established that there's always a use for your old tires, no matter how big or small they are. So if you have any lying around in your garden, then follow this DIY project to change that old tire into a stunning swan.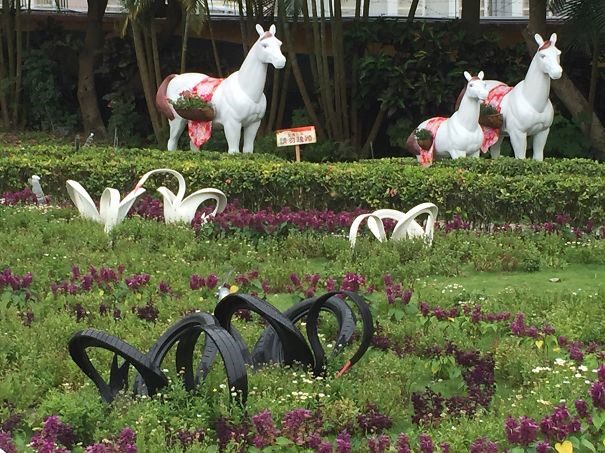 Using the right tire is very important. The regular car tire comes with steel belting, making it very difficult to cut and it has very sharp edges. The best tire for swans is scooter tires, as they are textile belted.
Tires Coffee Table Storage
We have mentioned using old tires to create coffee tables, but it doesn't end there. You can take it a notch further, and make storage for the coffee table which is a much-needed function. Who doesn't need more hidden-away storage?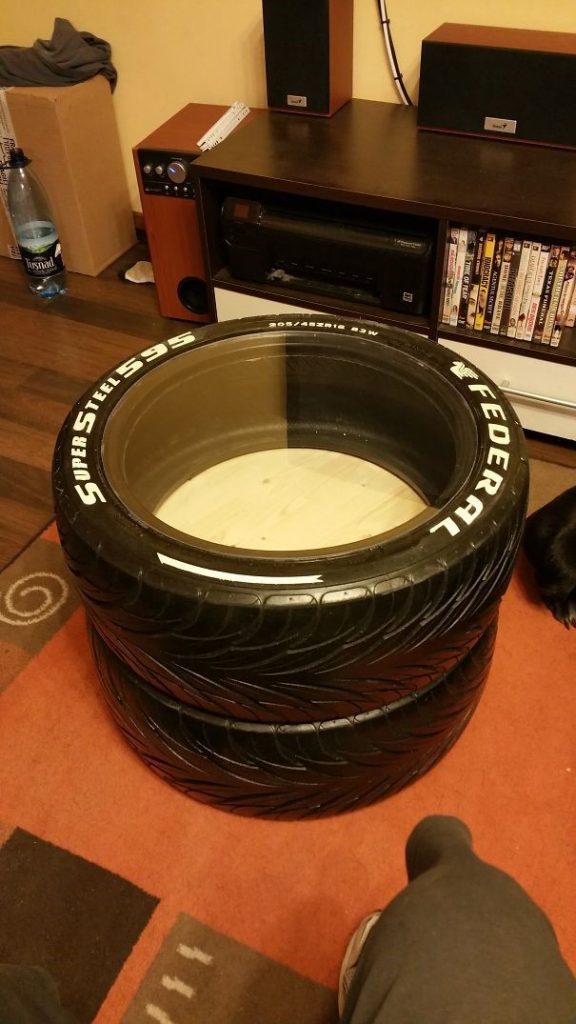 This is an eco-friendly and ultra-creative DIY project you'll enjoy creating. Before starting work, make sure you give the tire a thorough scrub-down with a stiff brush and soapy water. This is to get rid of brake dust or road-kill remnants in them.
Colorful Seats
The saying that two is company and three is a crowd does not apply when you have old tires at your disposal. This is because it caters to all kinds of people regardless of their number. However, there's a huge difference in these chairs.
These tire seats come with a backrest and an armrest, so you are as comfortable as possible. Now, whether you are a couple looking to spend time alone or dine in each other's company or a crowd that want's to have fun, there's a tire seat for you.
Chairs With Wheels
There is no end to the things you can come up with when you have different types of old tires just sitting around. Looking at this tire chair, you already know you'll come out refreshed even if you sit back for a few minutes.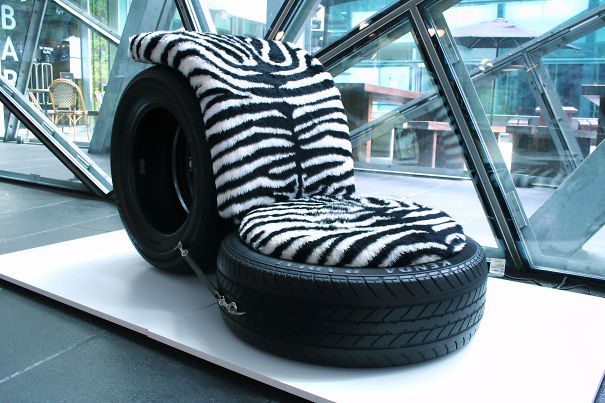 In addition, this chair is not like the regular chair because this one comes with wheels that are fastened to the second tire. The zebra print on the sofa also adds to an exotic look that makes it beautiful to look at.