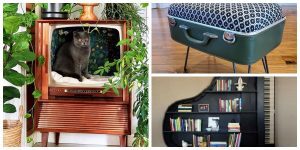 Unique DIY Ideas To Transform Old Furniture Into Something New
By Navkiran K
---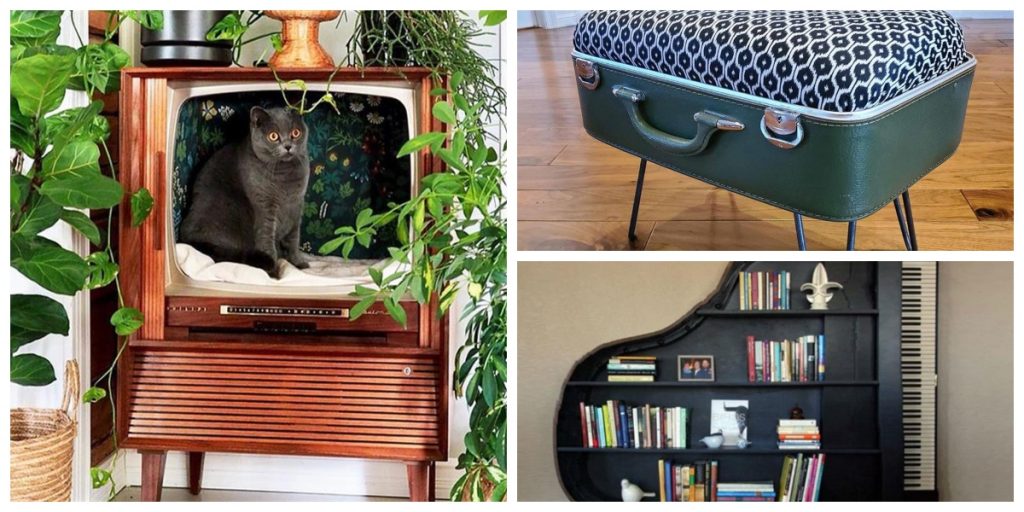 What's your decorating style? Eclectic and eclectic-chic, vintage glamour, or modern minimalism? Upcycling is a time-honored tradition that has been used for centuries to create new items from old. What are you currently using as furniture in your home? Why not take a piece with personality flaws and upgrade it into something beautiful! Imagine your old furniture as being reborn in a new form. Reclaimed wood pieces can become beautiful tables, chairs, or lamps with some creative thinking and skills that you already have! Upcycling is budget-friendly and great for the environment. Please don't get rid of your old junk because all you need are a few DIY skills combined with creativity to turn them into something amazing again! Budget-friendly upcycling projects will help give any room an update while looking good and helping the planet simultaneously. Read and learn from these unique ideas to add fun decor to your home. 
Cane cabinet upgrade
You could be a visionary by creating your own upcycling project with cane webbing! This cabinet is stunning; upcycling never looked so good! The designer removed the inner door sections and replaced them with woven cane sheets to make something unique.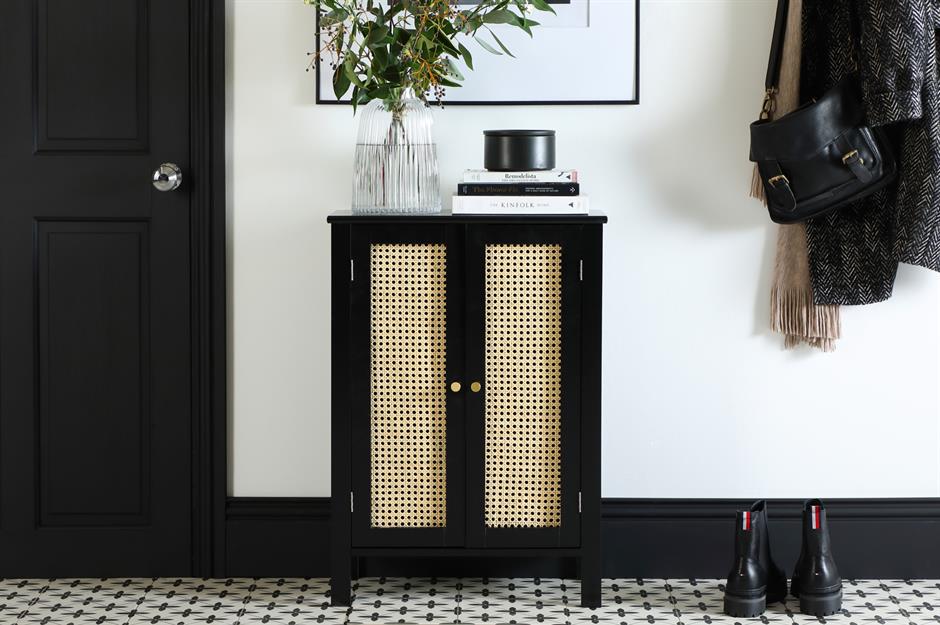 This technique creates a beautiful contrast of black paint against colorful weaving- resulting in an eye-catching piece that would be perfect for any home decor project. Besides, the contrasting paint finish makes it really special for any room in the home that needs some designer appeal.
Outdoor privacy shutter screen
A creative way to repurpose salvaged shutters and add privacy, texture, and style is with a splash of color. Salvaging old wood provides the perfect opportunity for a DIY craftsman to get their hands dirty with some colorful creativity.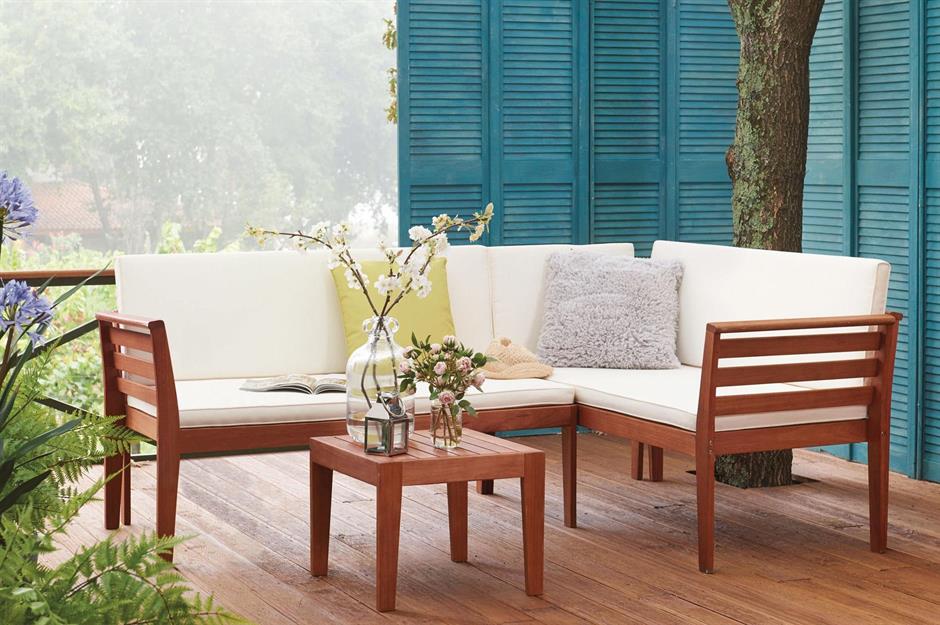 This will help you save both money and space in your home while adding more depth to the space. Besides, you may pick a bright paint for an easy Mediterranean-style scheme you can enjoy all year long!
Have fun with suitcase drawers
This is a fun way to update your old, boring dresser. Paint it with pastel chalk paint in different shades for an adorable luggage-themed finish. This will also create visual interest by adding a variety of colors and details.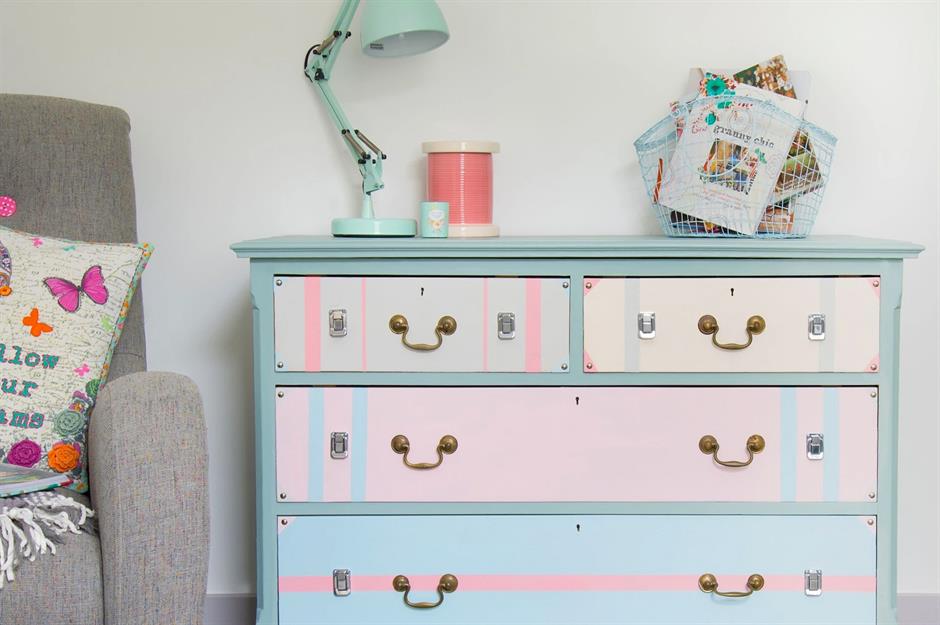 You may pick from ideas like suitcase clips or other decorative accents representing the theme you're going for! Besides, you can easily hot glue on luggage clips and decorative details for an eclectic look that will stand out. 
Vintage key rack 
The ancient keys that once opened your front door can become a lovely decoration. You'll be surprised how easy it is to transform them into beautiful, heartfelt gifts for all of the people you love without spending too much time or money!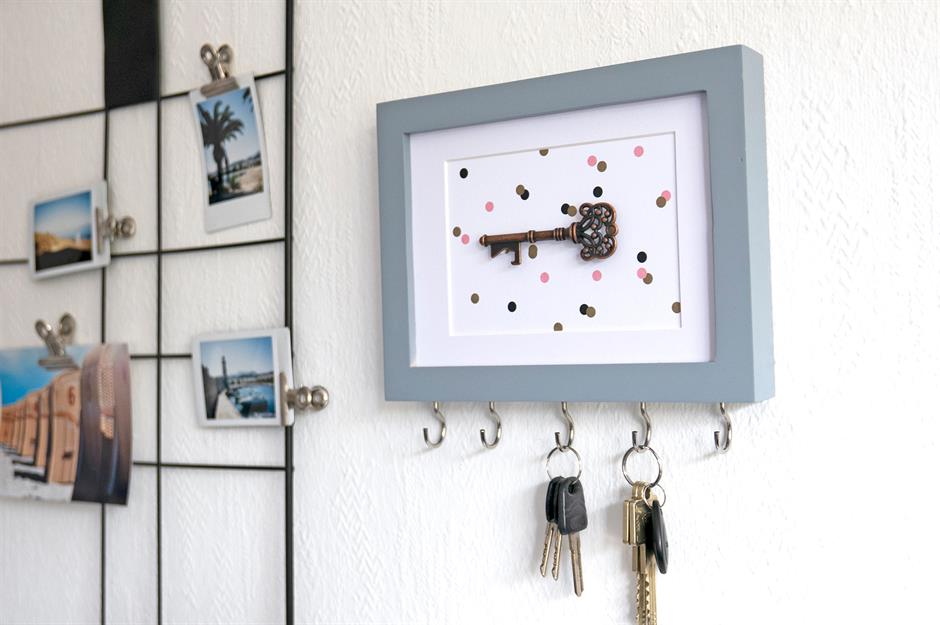 A deep picture frame makes an excellent holder for these cherished items, and screws make attaching hooks on top quick and simple. Find some paper with pretty designs and attach one key at each corner using adhesive tape or gluing pieces from both sides. 
Guitar storage shelf
Have you ever wanted to solve the dilemma of what to do with your old guitar? The answer is simple: turn it into a stylish and functional shelving unit. All that's required are a few tools, some time, and two or three wooden shelves.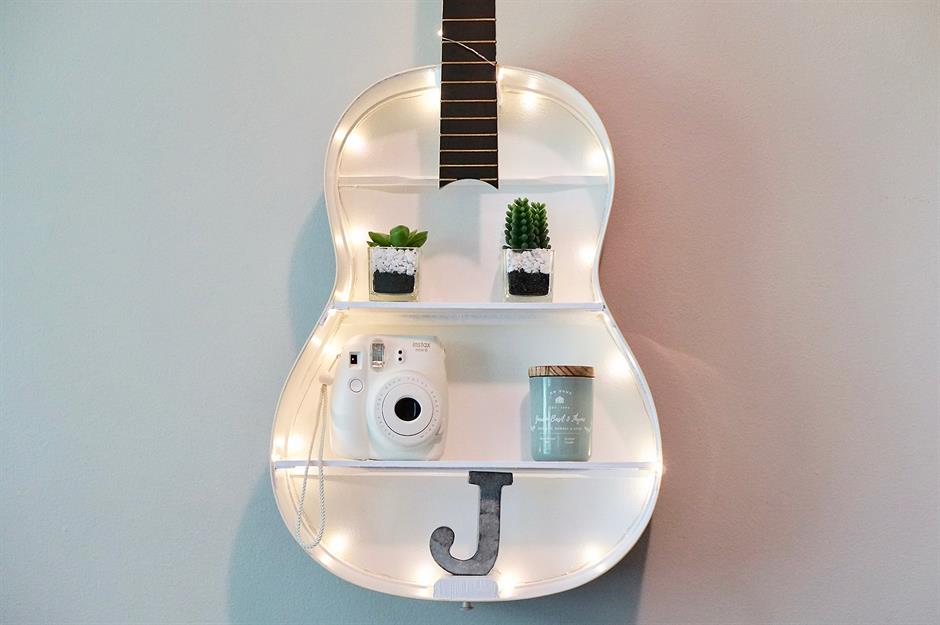 Artists and music lovers alike will love this creative project that transforms a battered old guitar into an elegant shelving unit. This turns your rustic, wood guitar carcass into a statement piece for any room in its original design. 
Give your fridge a makeover
Transform your tired, old refrigerator with a new look by using DIY clouds stencils and blue spray paint. Clean the outside of the fridge first to get it ready for the paint, and cover any parts you want to leave unpainted.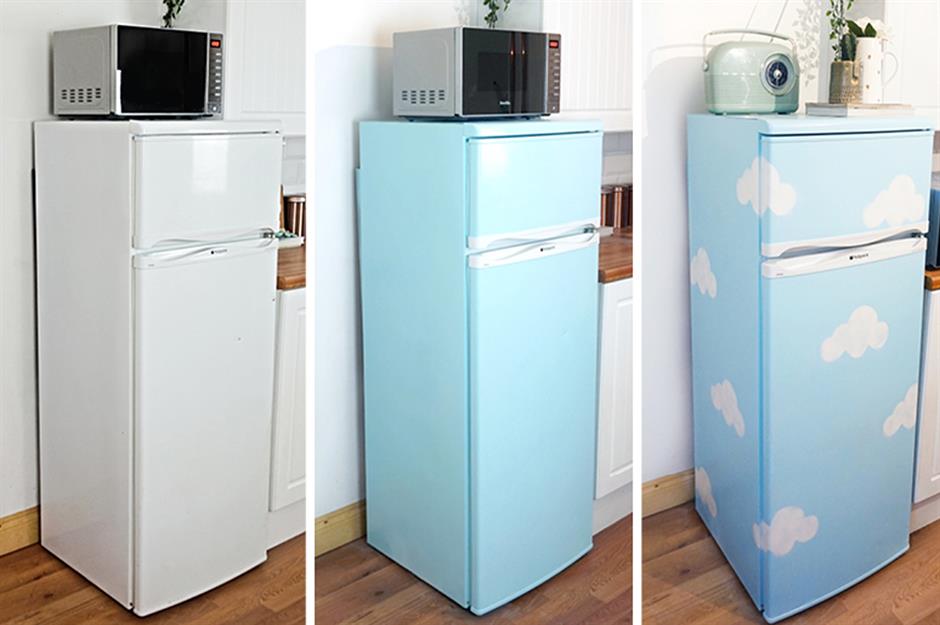 Prime the surface before applying two coats of bright sky-blue color. Add some finishing touches like cloud detailing, snowflakes, or wave patterns with white metalizing liquid until there's no more room on your fridge! You will have a beautiful statement piece in the end.
DIY wooden bowl lamp 
Give your old wooden salad bowl a second chance by turning it into an excellent chunky pendant light. Use an electric drill to add a hole in the base of the bowl and sand the entire surface until you can't tell where one grain starts and another ends.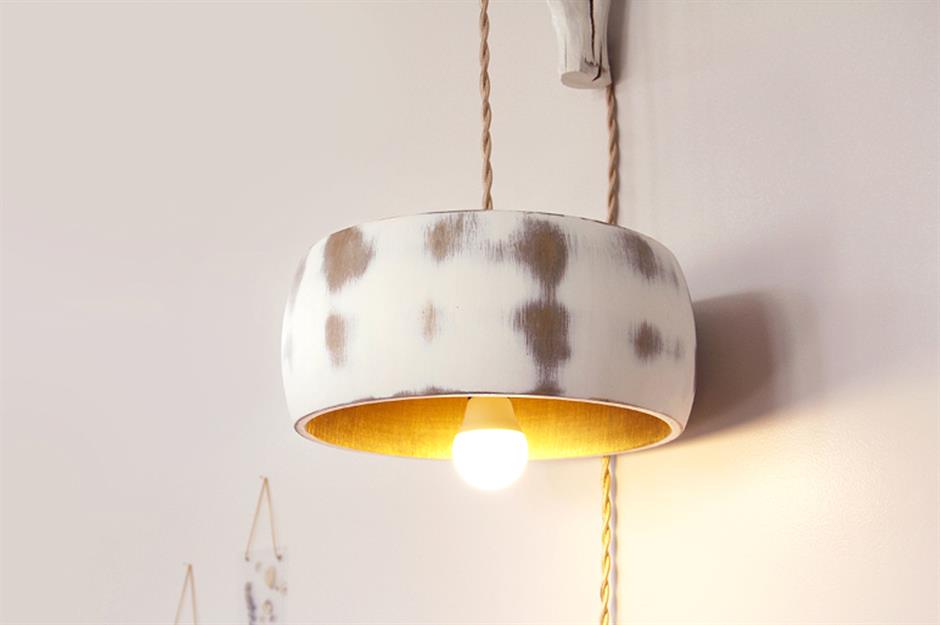 Paint it with metallic furniture paint for that perfect shine! Once dry, add white chalk paint to really distress this piece's look. Install electrical wire and a bulb. No time is wasted when setting up – hang it indoors or out depending on what suits you best!
Bright kid's room furniture
You can brighten up a child's bedroom with this idea. You'll need to choose your favorite sunny color or any bright color your kid enjoys and paint their chest of drawers! For an even better-coordinated look, try matching their wallpaper to this.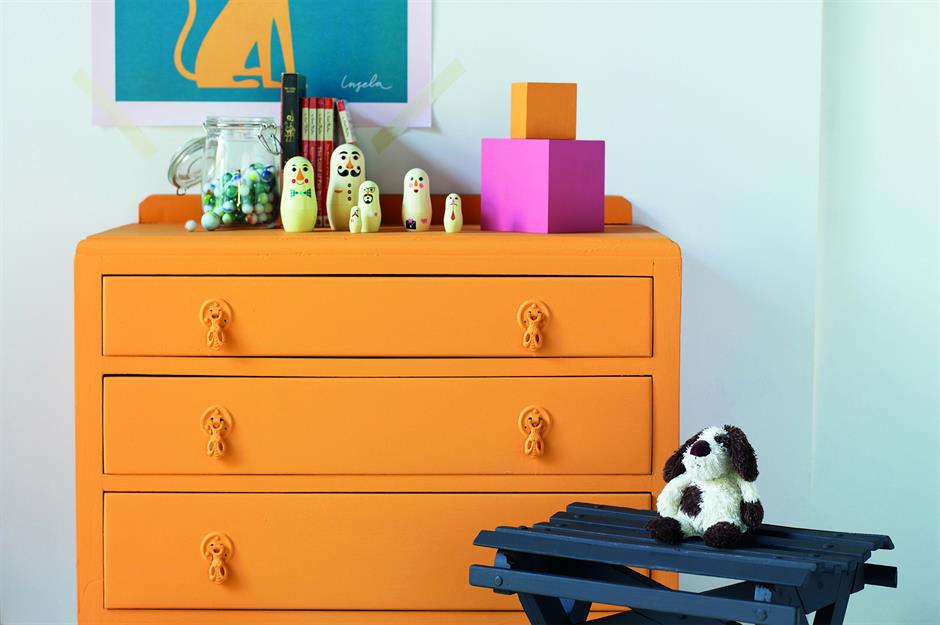 Pick a similar design as well in either colors or patterns for that colorful pop that will surely make them smile. And, don't forget about those handle knobs to upgrade as well; they're painted too so that the kids will love the brightness. 
Vintage teacup candles 
If you're trying to find an affordable option to spruce up your home, try buying old teacups and saucers from second-hand stores. You can make anything with them: cake stands, bird feeders, makeup holders, or even jewelry holders! The options are endless.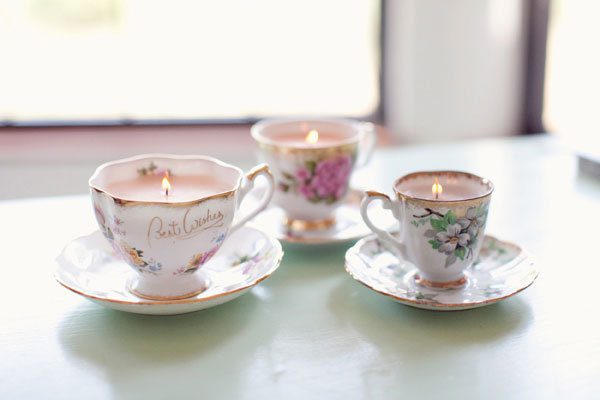 And, if that's not enough fun, then how about making some cute vintage-inspired candles. You can create cute candles by filling the teacups with wax, essential oil of your choice, and adding a wick; you even have different colors to choose from!
Mason jar soap dispenser
Why not use ceramic pots as dispensers and tumblers for your toothbrush, soaps, etc.? Everyone loves this mason jar trend for several DIYs. The jar craze has taken over our kitchens, and now we have another way to display your toothbrush.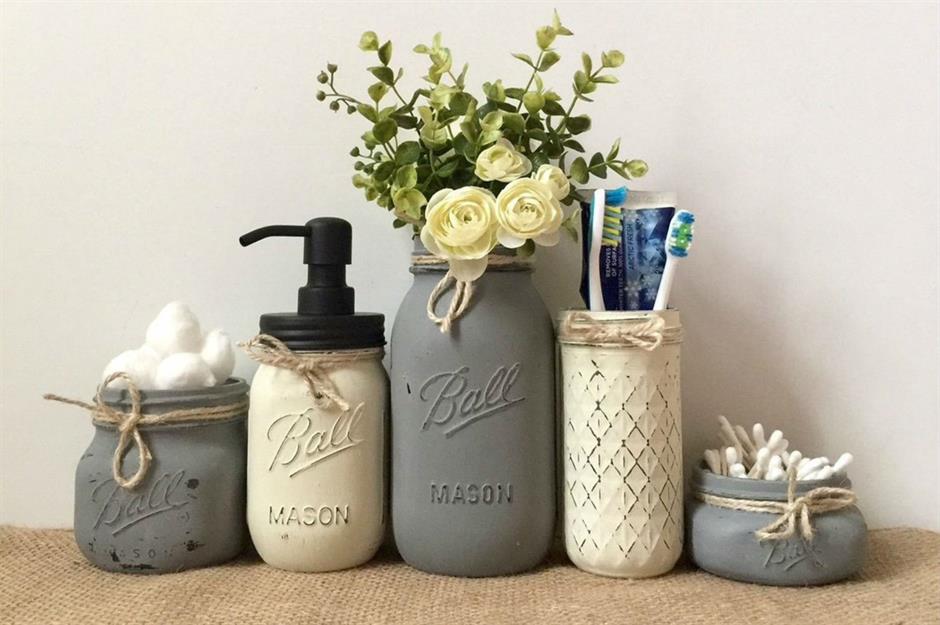 Buy ceramic pots or mason jars, paint them with gentle grey or soft cream hues, and then lightly age them with sandpaper for that vintage look! It's the perfect touch on any budget. You can also label them for different items. 
Glam and luxurious bedside tables
Adding gold leaf cabinets to your bedroom will give it a subtle yet lavish touch. The best way is by painting the cabinet in minty green and then applying imitation gold over the top, leaving paint exposed for a vintage appearance.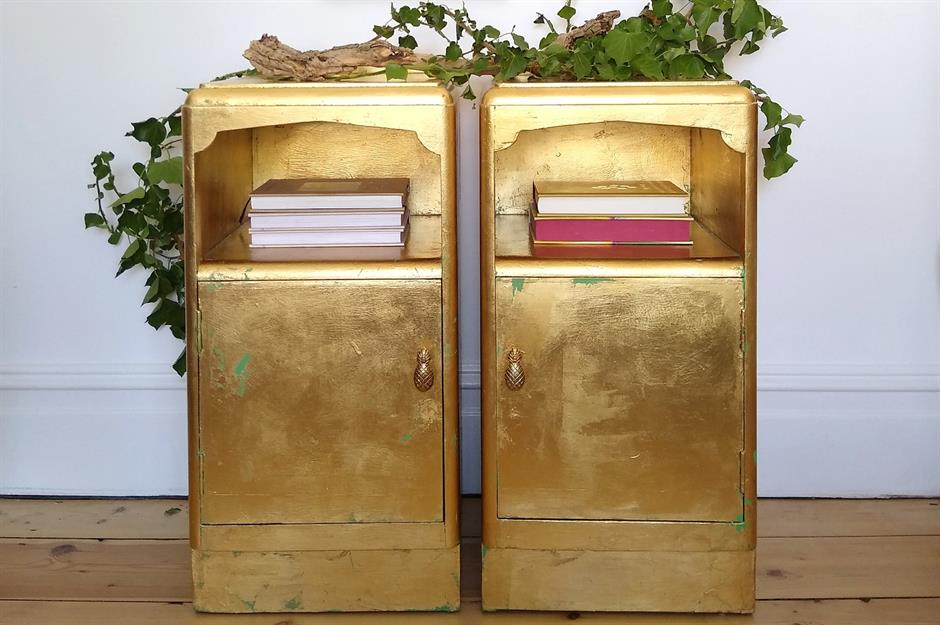 Seal with a satin varnish for a gold appearance, and find similar gold knobs to finish the special look! With these bedside tables, you can feel like a royal and sleep in a vintage-style bedroom every night by adding this small DIY project to your space. 
Tin cans into planters 
Wouldn't it be fantastic to have fresh herbs in your kitchen year-round? To do this, all you need is a few empty cans and some imagination. Start by thoroughly washing the tins and removing any labels before placing them on sunny windowsills.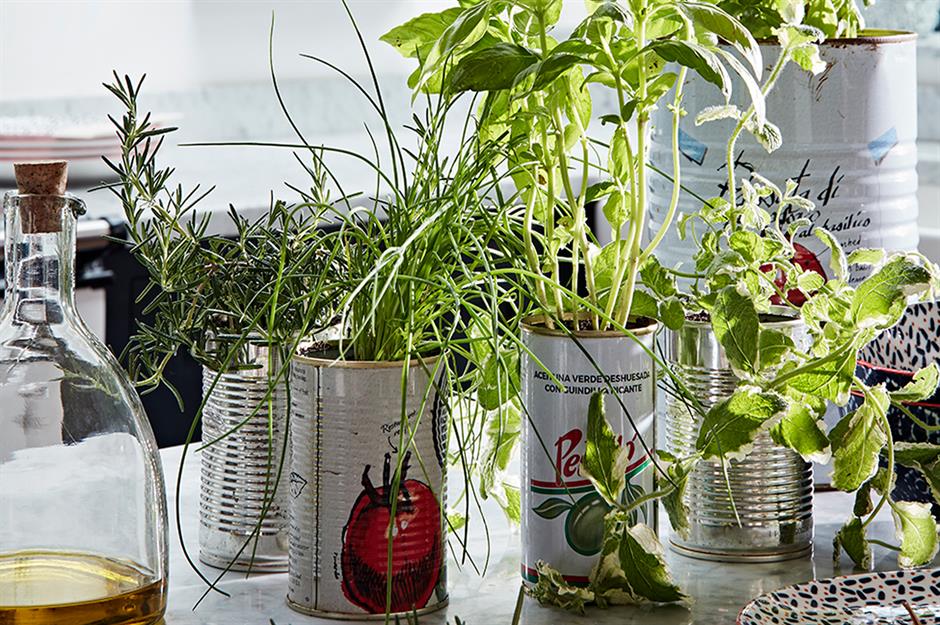 Next, fill each can with compost – make sure they're about half full so that there's enough room for plenty of healthy plants! Finally, plant one variety of herbs per tinpot and be careful not to overfill. Then cover seeds with soil and some water!
Pastel Ombre sideboard 
You may use whatever colors you like as long as they are shades of the same color, then follow an ombre fade from dark to light. Remove the doors, then mask equal sections on both sides with painter's tape.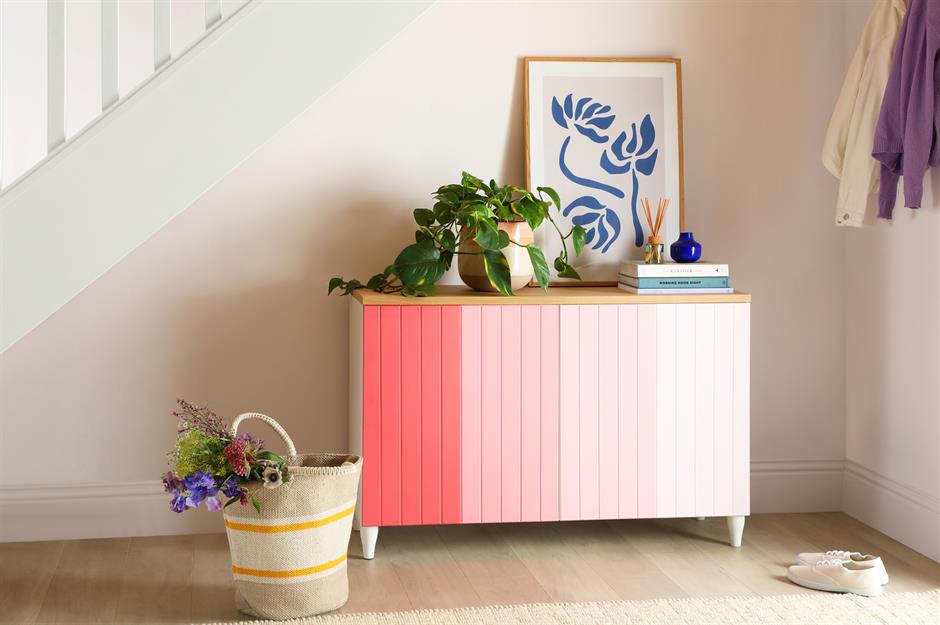 Now, assign different paint shades over each section using your favorite technique. You may choose from acrylics, chalk colors, or watercolors. Different shades of one color will add a gradient look to the sideboard to add some vibrance to dull corners.
Turn shirts into cushions
What if you could make a memory of your own by making shirt cushions out of loved ones' favorite clothes? There are tutorials online for this, including styles with button-fronts, cardigans, blouses, and collars. You can use any shirt you desire.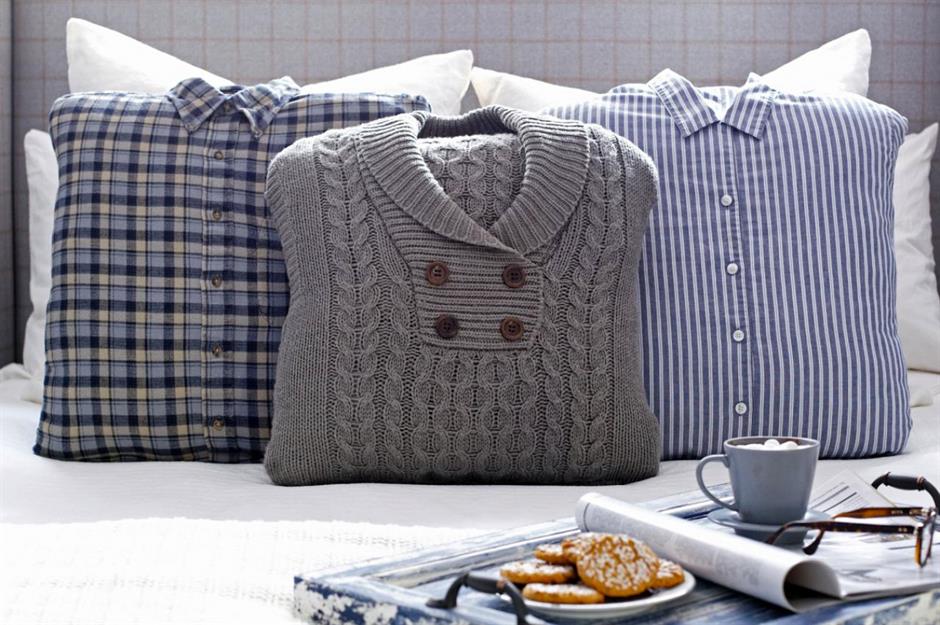 Why not cut the pattern so that it includes their old pocket from an undershirt. You can use these pockets as storage space or even place them on top where they'll add some extra warmth while also being easily accessible!
Geometric sideboard for mid-century vibes
With a touch of color and some daring patterns, you can breathe new life into your old pieces with the smallest amount of splash. These vintage mid-century sideboards are often found at second-hand shops or garage sales for very affordable prices.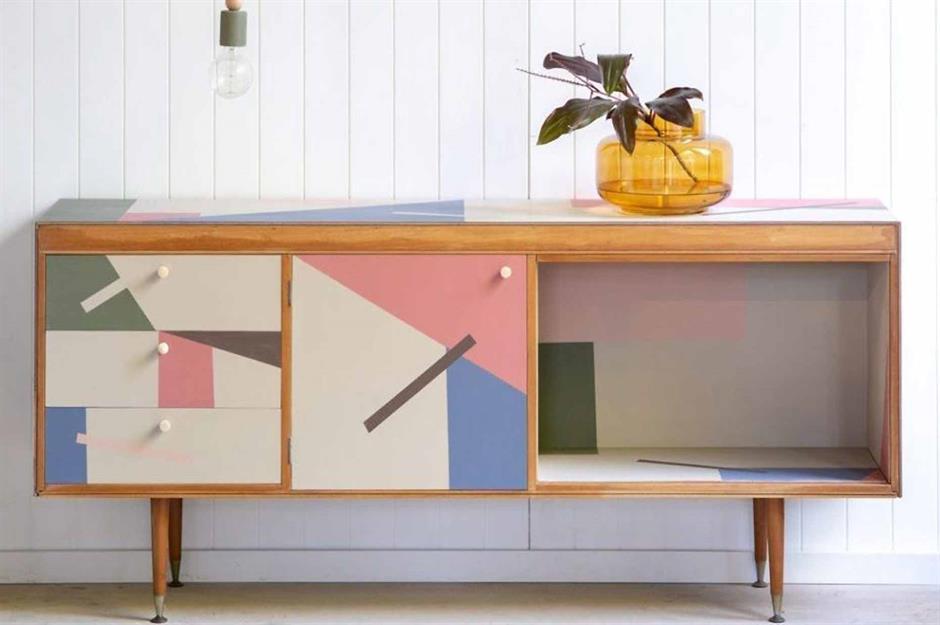 All these options make it easy to upgrade any room in an instant! Masking tape is great for creating shapes before filling them with chalk paint and then sealing everything using wax. Use different colors or create a monochrome look.
Color splash crockery upgrade
Step into your kitchen and dare to be creative with the plates and cups you have lying around. Start by diluting ceramic paint, which is available in a variety of colors, with water. Mix it until you get the desired color intensity.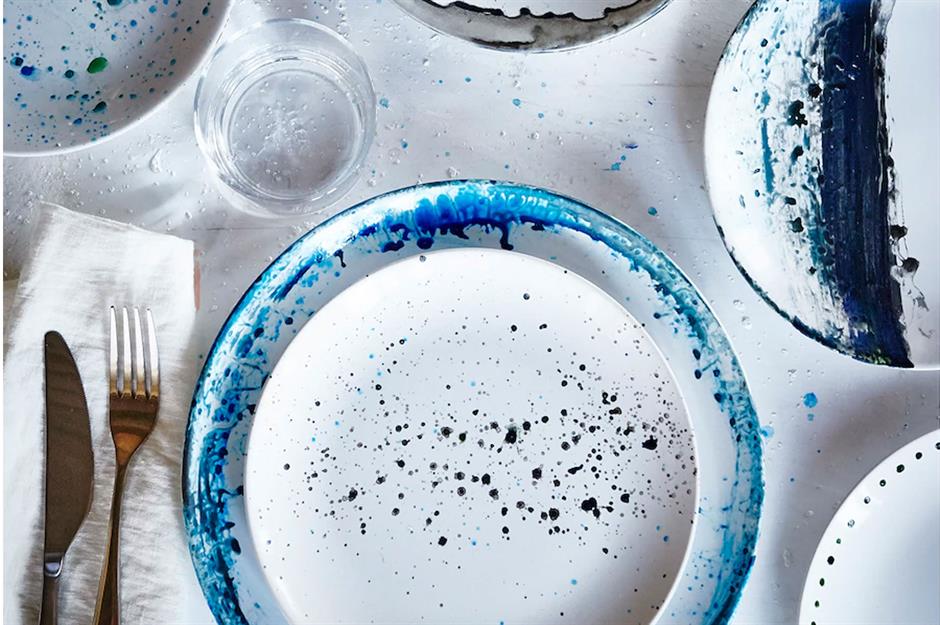 You may use different techniques like dip dyeing, straw splattering, or brushstrokes. Once satisfied with how they look, turn them upside down on baking paper for 20 minutes to drain excess liquid from underneath them, then place them inside an oven. 
Relaxing flowery bath area
When you want to make your bathroom a little more cheerful, one easy way is by transforming the space into an uplifting spring meadow scene. Start with wrapping your walls and bath panel in rich blue paint for that calming vibe.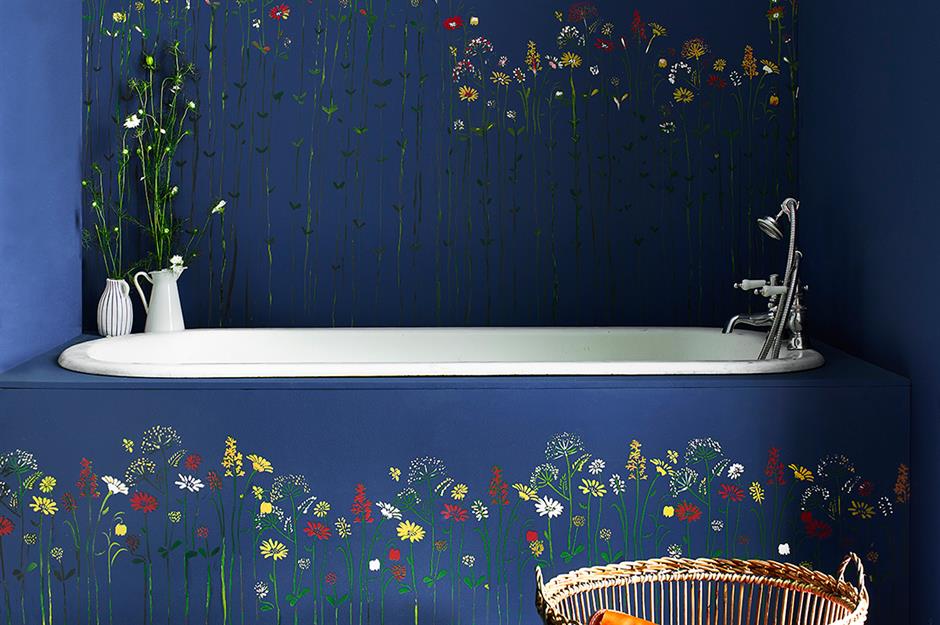 Do this before adding color using The Meadow Flowers Stencil from Annie Sloan Designs. These stencils are perfect for bathrooms since they're designed specifically for moist environments! Protect finished artwork with a top-coat sealant when it's all done. You will have a beautiful flower garden in your bathroom.
Shelf out of cheesebox
The old cheese box that's been sitting in your kitchen for ages can finally be put to good use as a stylish shelving unit. Cut an appropriately-sized piece of wood for the shelf and affix it inside with a glue gun on the opposite side.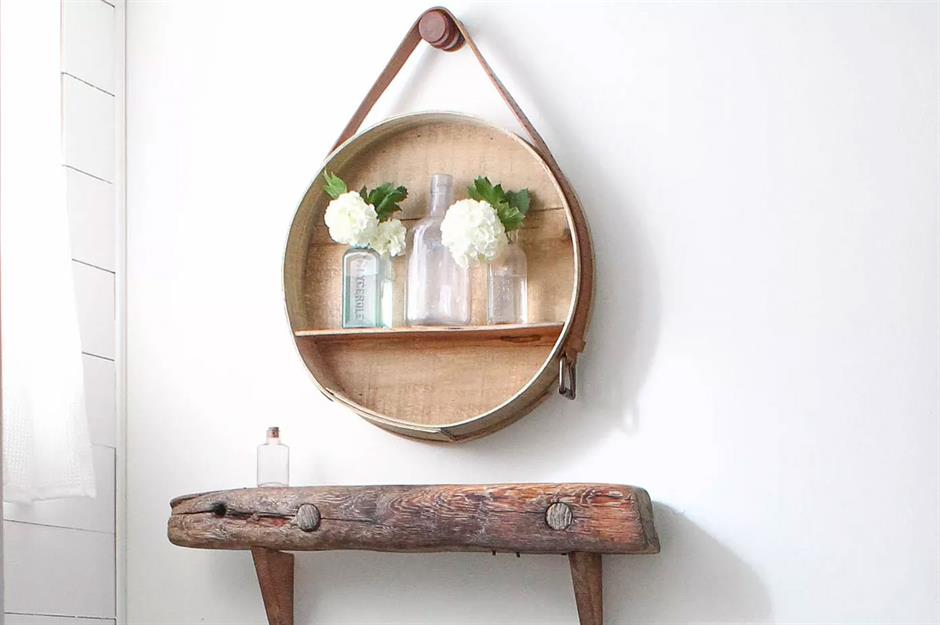 Now, use some leather worn-out rustic belts and place them around the top edge once or twice, depending on how long you want them. Leave enough slack so that when hung up against any wall space, the belt will be noticeable. This creates great-looking shelves you never thought were possible!
Pallet bar on the wall
You don't have to be a carpenter or the next HGTV star in order to create beautiful pieces for your home. One of the coolest and most popular DIY projects is upcycling old wood pallets into an item that is functional, like a spice rack.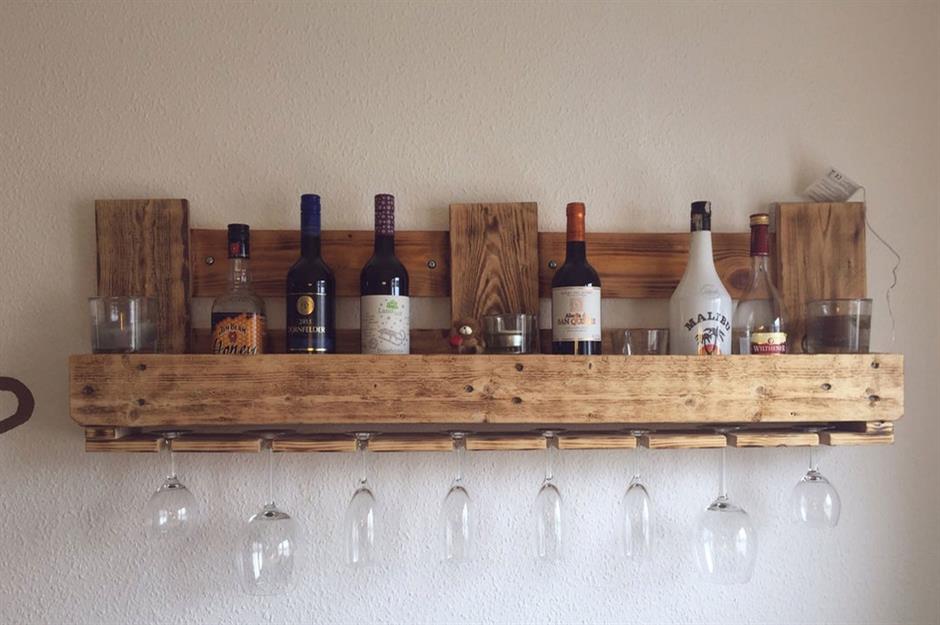 The possibilities are endless when you use these sturdy slats as shelves for all sorts of things. Think about using one as storage space in this barren room where nothing's been unpacked yet, or add bottles to create a small bar area.
Fancy suitcase ottoman
If you have tired old luggage gathering dust in the attic, why not transform it into a quirky statement seat or ottoman? Remove the top of the suitcase, add plywood to the base, and fill the seat with foam and upholster.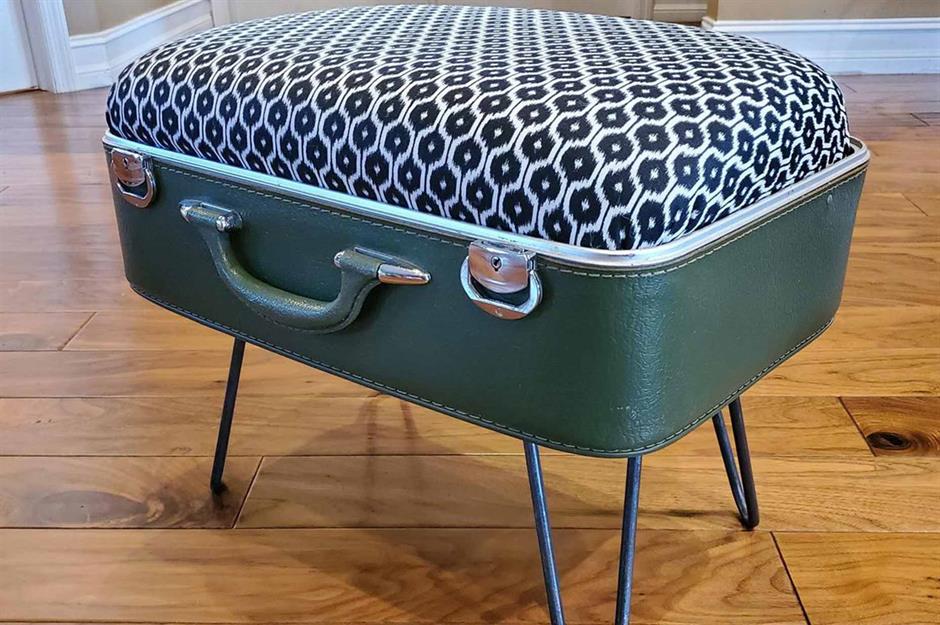 You may choose a colorful heavyweight fabric or an earthy shade that can withstand daily wear and tear. For an industrial feel, you could even add hairpin legs. It simple and a good idea to take inspiration from other designs online. 
DIY drawer kitchen island
Transform a chest of drawers into your own island in the kitchen. After you give it some fresh paint, affix an off-cut piece of painted wood or granite to create a space for everything from cooking utensils to pots to dishes.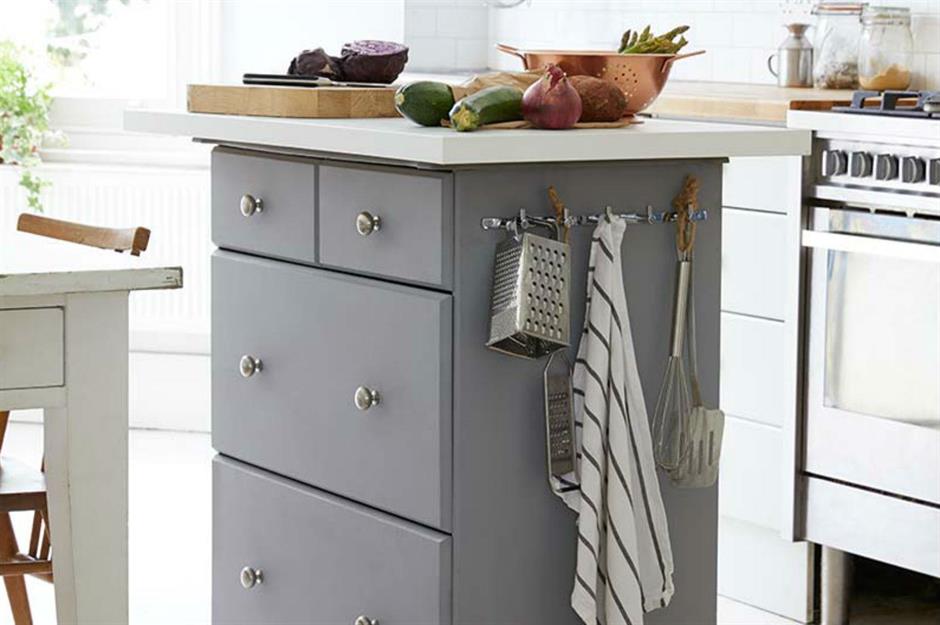 You can store these neatly inside while not being used. When you're ready for company or just want more room around the dinner table at night time, wheeling out this convenient spot will make preparing a meal much easier!
Bright window shutter planter
Window shutters that are often discarded can be turned into a beautiful planter in just an hour. To create this design, first, you must cut the window shutter down to size and then use small pieces of wood as dividers for plant pots.
After adding small pieces of plywood for the support, you may add hooks too. These will become perfect for little plant pots that can be hung on your garden wall or used as an entryway decor piece. You can even hang it outside on your front porch.
Denim bench cushion 
Ready to ditch your jeans? Don't! It's easy and inexpensive to use the fabric for upholstery projects. Use denim as a way of recovering a boring hallway bench, so it looks less like furniture and more like art for everyone to enjoy.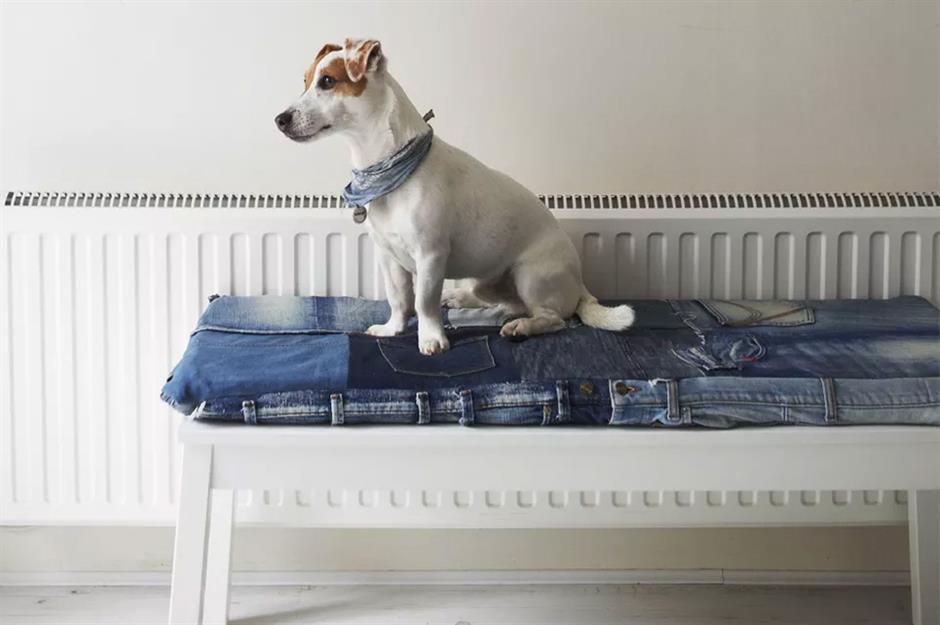 The mismatched colors will create an ultra-fresh look with white surroundings. You do not even need to sew these with perfection. You can make it look rustic. The different colors and finishes in denim will add more texture to the bench cushion. 
Hanging glass planters
Try upcycling some of these simple household items that you would otherwise throw away to make your home more interesting. These glass food jars below have been transformed into pretty mini macramé hanging planters by tying some twine together to hold them in place.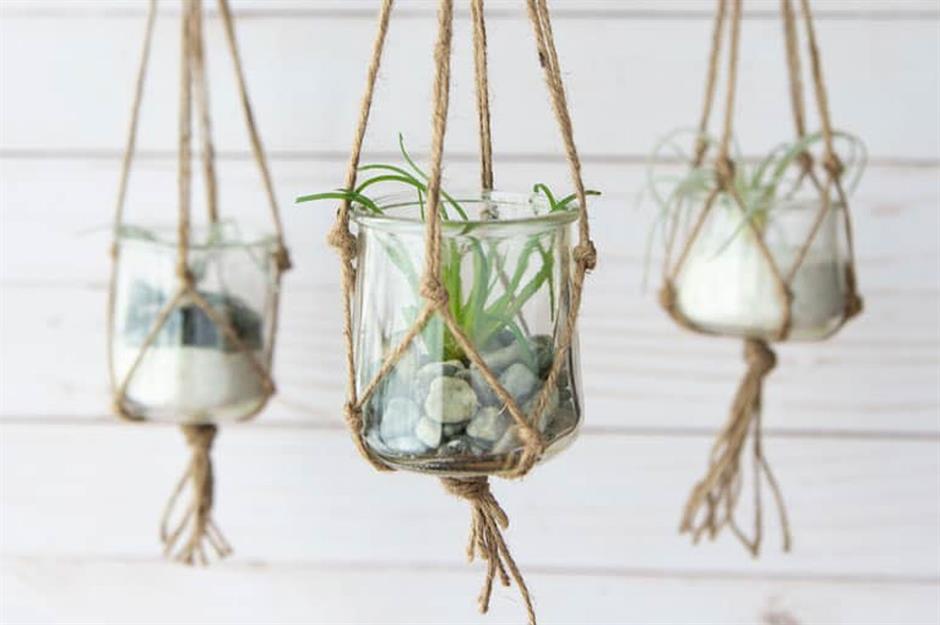 Now, start by filling them with pebbles for drainage and soil of your choice. Then, add tiny houseplants or succulent plugs. You may also plant new seeds if you desire. The twine holding them will help you display these on the walls or from the ceiling.
Quirky vintage radio wall shelf
Furniture Revival has found a way to recycle old radios by repurposing them into storage spaces for your house! This is an excellent example of thinking outside the box. It's always worth keeping an eye out at flea markets and junk sales for vintage wooden radios.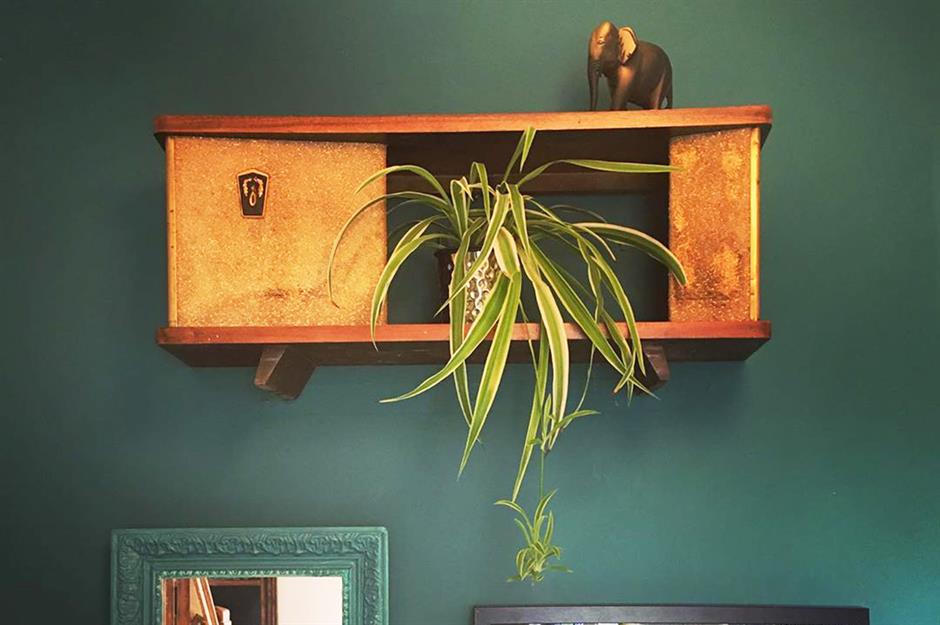 These could definitely work as storage units in your entryway. You never know what treasures we might find. The vintage vibes of these old radios and some splash of creativity will give more life to a dull corner of your home. 
Old shutter into notice boards
Imagine walking by your garden and it being completely organized and decorated to your delight. You have a to-do list, seed packets for every type of plant you want to grow, and paperwork is stored neatly on an old shutter board!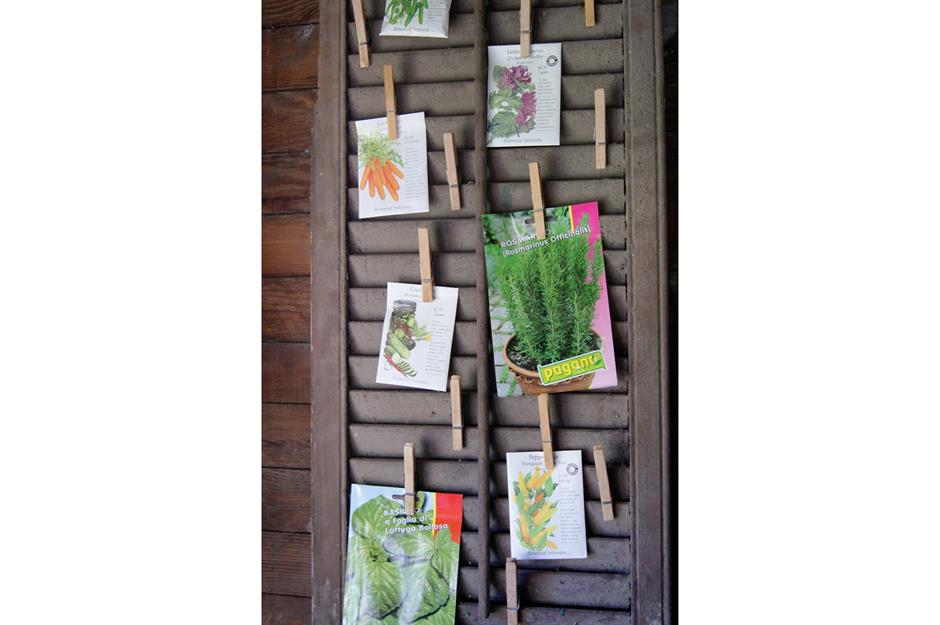 Here's a great idea for recycling old shutters – make your own personalized noticeboard to plan and organize all of your seeds and garden tasks. Simply use large wooden pegs or clothespins to attach pre-made lists, seed packets, and other paperwork in one neat place!
Wall-mounted kitchen storage
This home remodeling project is a quick, easy way to organize your kitchen. All you need is a metal cheese grater in the corner of the countertop, and you'll be able to store all sorts of cooking utensils and some spice jars in it.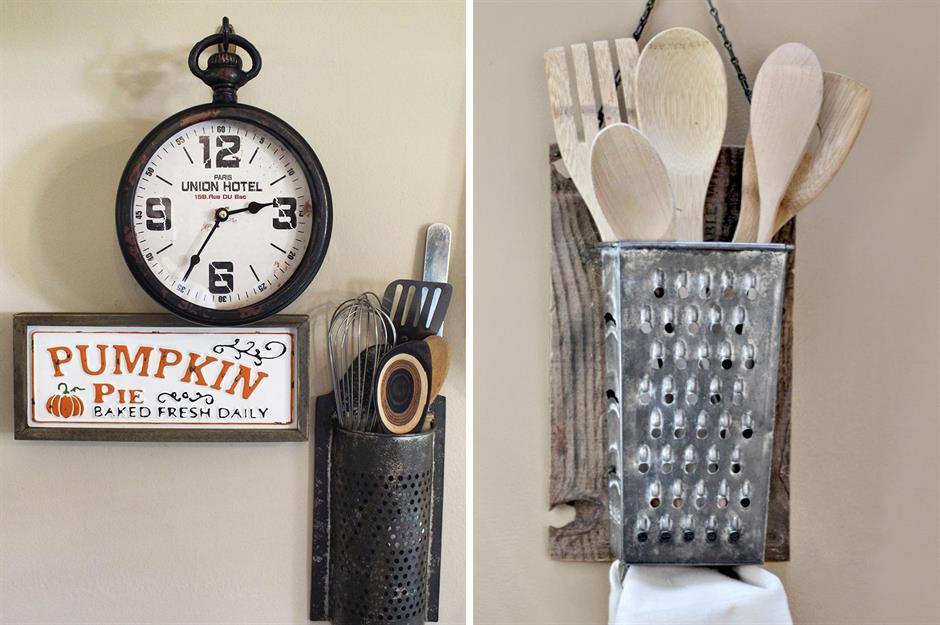 This amazing idea from Bachman's was designed for creating a storage solution! Use an old-fashioned metal cheese grater as a makeshift holder – with a built-in towel hook. This statement piece is perfect for keeping things tidy in your kitchen. 
DIY wooden crate shelves
You may have a lot of junk that needs to be organized, but you have no idea what to do with it. You could go with the boring, plastic shelves, or you could get crafty and make these cool chic storage units out of wooden crates! Painting them will add a bright touch.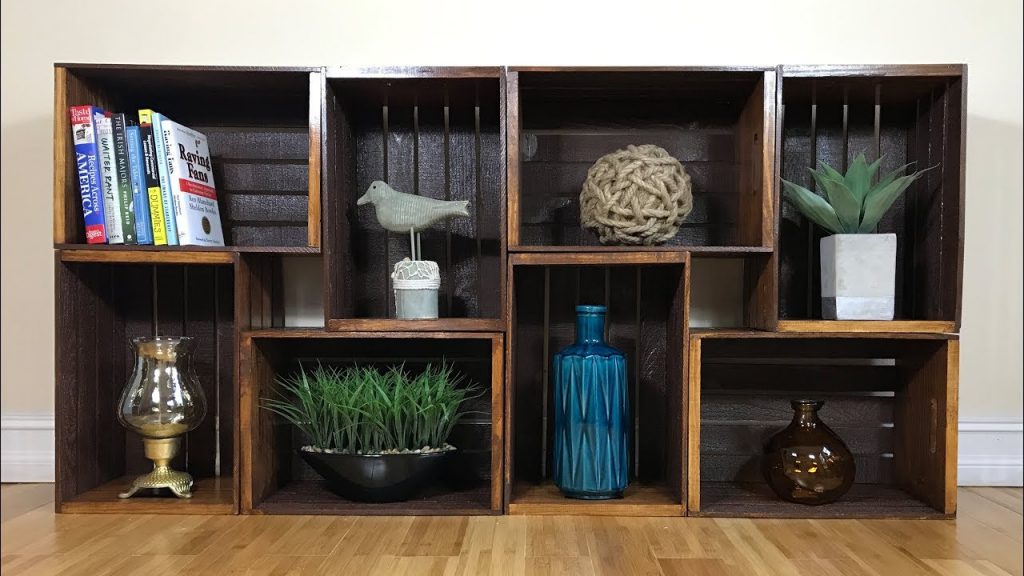 Also, securely attaching more than one together makes for an interesting setup for your trinkets. All these are easily available in just about any hardware store or flea market to add an element of shabby chic charm into your home décor.
Upcycled boat bed
Transform your guest bedroom into a nautical-themed space with an upcycled boat bed. This ingenious hack uses an old, retired boat cut in two and flipped to create the perfect headboard for this ship-themed room! It is definitely a novel piece.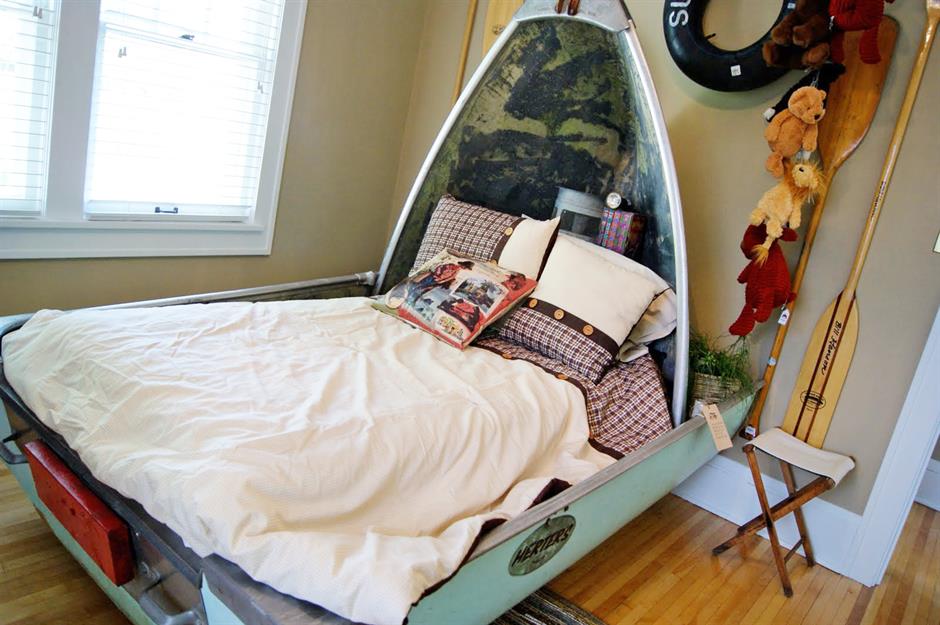 You'll need to do research on this and help from professionals and help from someone who is experienced with cutting fiberglass boats like those seen online. This makeover will surely seem inviting for your guests. It will surely impress them, too.  
DIY surfboard towel rack
Who said bathroom storage has to be dull and boring? You can use old skateboards to create trendy storage for your bathroom. These hooks are mounted on an antique-style wooden surfboard, but you could also try this with one of your skateboards as well!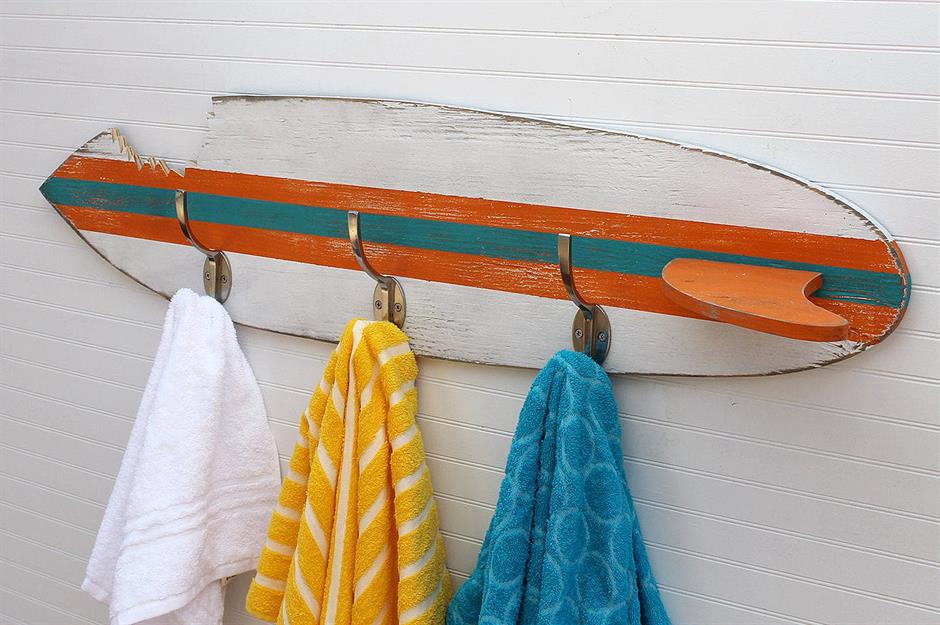 This design is perfect if you're looking for something coastal and playful; the hand-cut shark bite definitely adds some character too! You may find more inspiration online or use your creative skills and a few bright colors for this easy DIY project.
Guitar bar at home
Here is an idea to give new life to old guitars by transforming them into bourbon bars. Craftsmen carefully take apart the guitar, leaving as much of the original fretboard and details intact as possible to use as a base for the bar.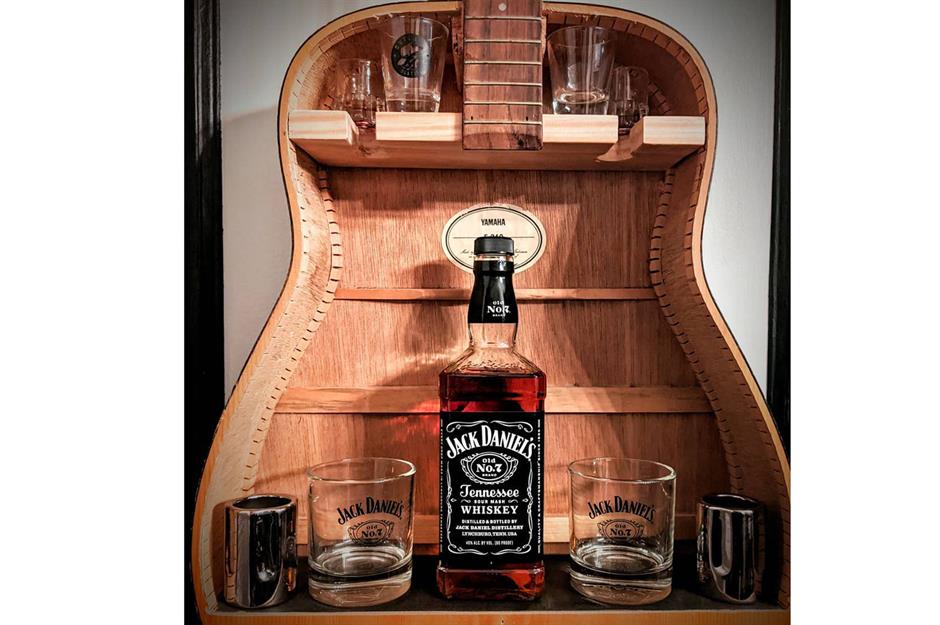 You may do it yourself if you have the skills or get it done by a professional. As long as you communicate the idea right, your home will have a cozy bar nook from the dreams of every music lover. People will wonder where you got it, for sure! 
Floral coffee table
If you're feeling bored with your old standard coffee table, try adding some artistic flair with a bit of paint. Sketch on the design in pencil before committing to it, or use an art stencil that'll give your furniture new life and style without breaking the bank!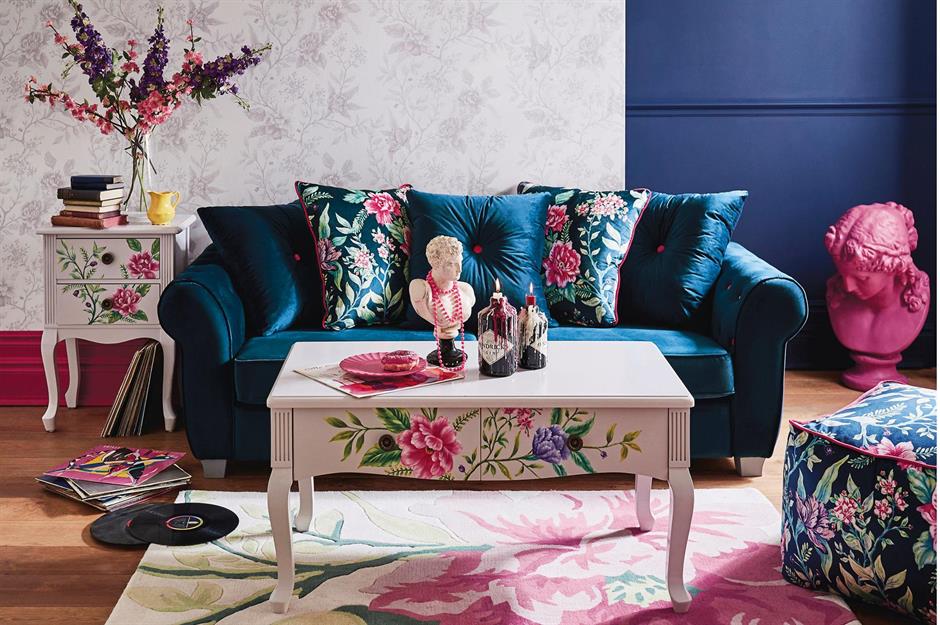 Use oil-based paints for durable, long-lasting wear that will stand up against time's harsh tests without any chipping and fading. You may choose floral designs to match your sofa covers or create a complimenting pattern with the furniture you already have in your living room. 
Pet bed using old TV
We found a simple way to upgrade old furniture for the pet owners who want their fur babies to sleep in a cozy and stylish corner. Blogger Pauliina found this retro-chic solution: she took out all of the inner parts of the television to create space inside.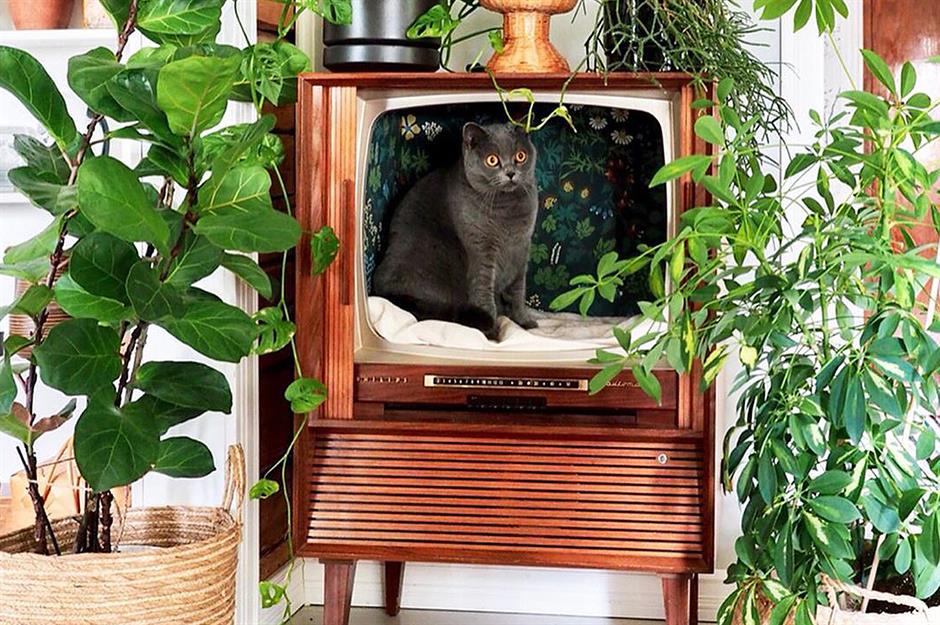 After this, she lined the antique television unit with sturdy wallpaper on its interior walls. With some cushions and throws inside for comfort, your cat or dog will feel like they're living lavishly inside their own custom home theater!
Convert old bathtub into a sofa
Designers are usually coming up with new ways to make the most of their leftover materials, and this creative sofa is just one example. The designer carefully cut out a side panel from an old bathtub to look like a sofa.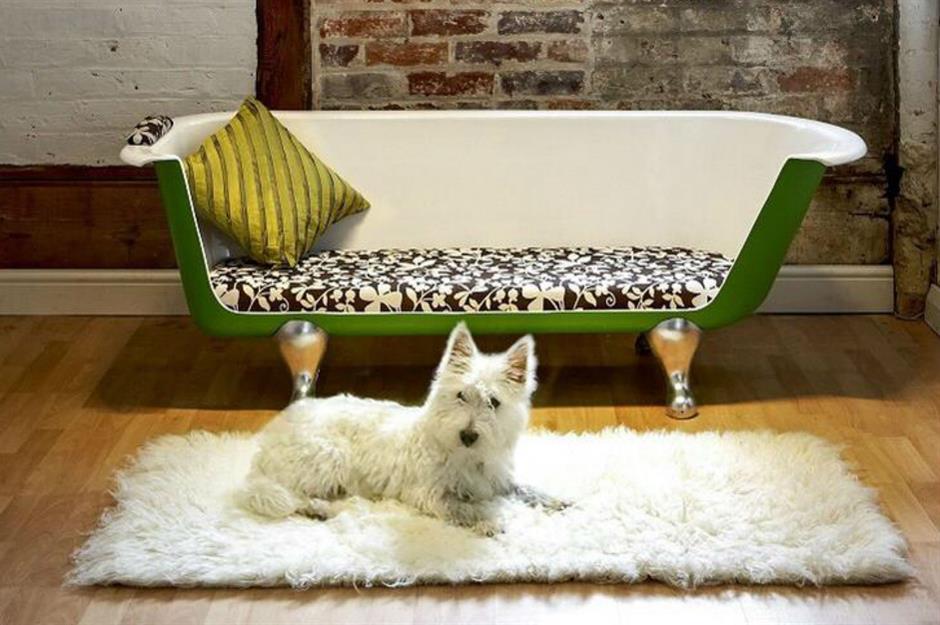 And then, carefully add a comfortable seat cushion and upholster the back before painting it in the desired color. You may add decorative pillows and throw blankets on top for all the finishing touches for ultimate comfort! We have honestly never seen anything like this before, and we love it!
Record label wine holders
There are so many creative ways you can store wine bottles in your kitchen and living room. However, this record label wine holder idea is one of the best upgrade hacks. If you have some of these in your house that you don't use, then this hack is or you.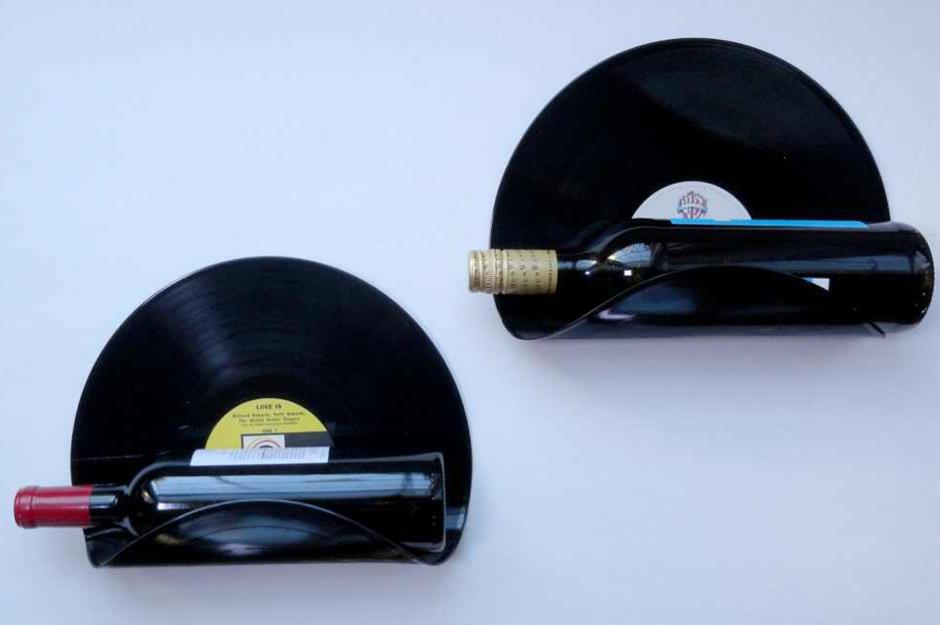 These vinyl discs are malleable and can be shaped into holders and hung on the wall to keep the wine bottles in place. You can finally put dusty old records to use now while giving your home a makeover.
Vintage door bench 
The transformation of an old door into a bench is an exciting and fun project to do, even if it's just for your own home. Start by sawing the door in half, then cut those halves in half, creating four equal pieces that will form one long piece.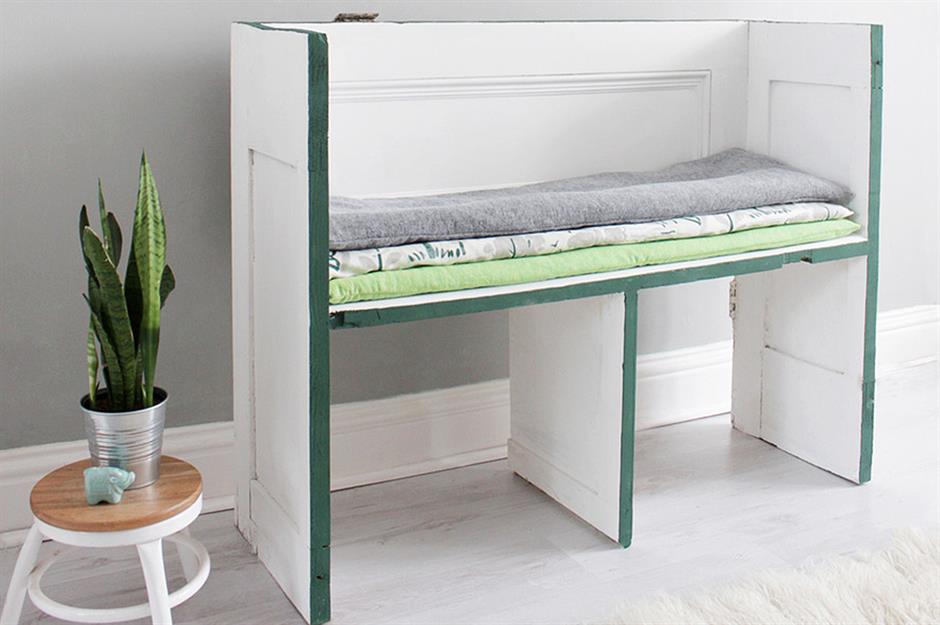 These will form the base and top when put together again with screws. After sanding them thoroughly, paint each section white or any other color you like and add some green accents or any color you desire on the edges for an interesting look! 
DIY globe wall clock 
One of the best things about upcycling is that it does not require an excessive amount of time, money, or expertise. This globe clock project will only take some old-school globes and a clock mechanism as seen on Etsy.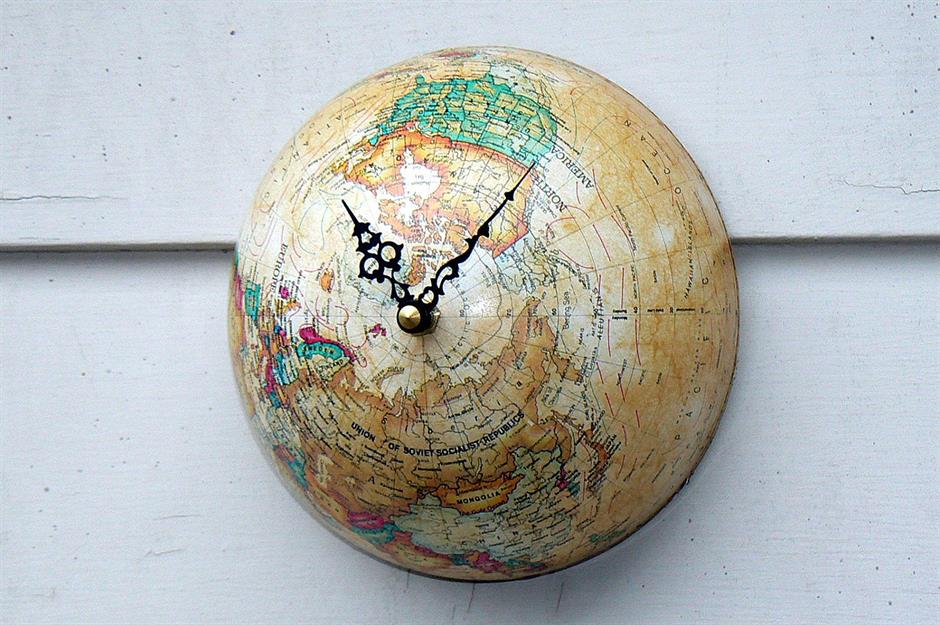 This will add a quirky wall accessory to your space that you won't find anywhere else. Also, it'll be an ideal gift for someone who travels a lot. All the necessary items are available at your local hardware store – get them today!
Old side table for plant display
This creator transformed a disused side table into an indoor-outdoor plant display thanks to a splash of yellow paint. If you're trying to find an excellent way to spruce up your indoor or outdoor space, this idea could do the trick!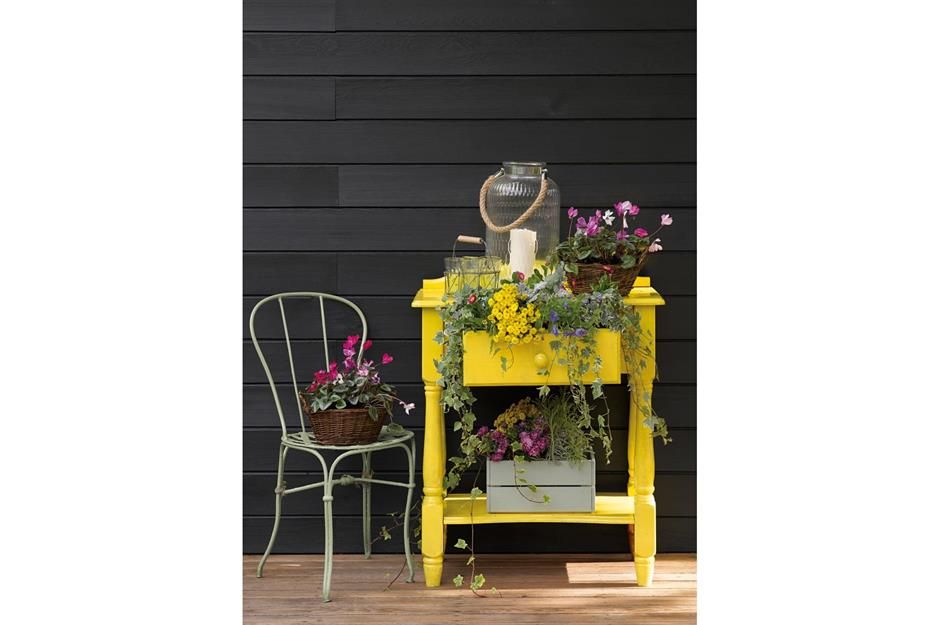 This is the perfect time for home improvement projects because you can be creative and have fun with them! If you want your garden furniture or outdoor space to stand out, try using waterproof paints in different colors or patterns.
Wooden box storage on the wall
Old wooden boxes are a great and cheap way to add storage space. This is especially true if you have limited room in your attic bedroom – the square shelves will provide more horizontal surface area for displaying small items and plants.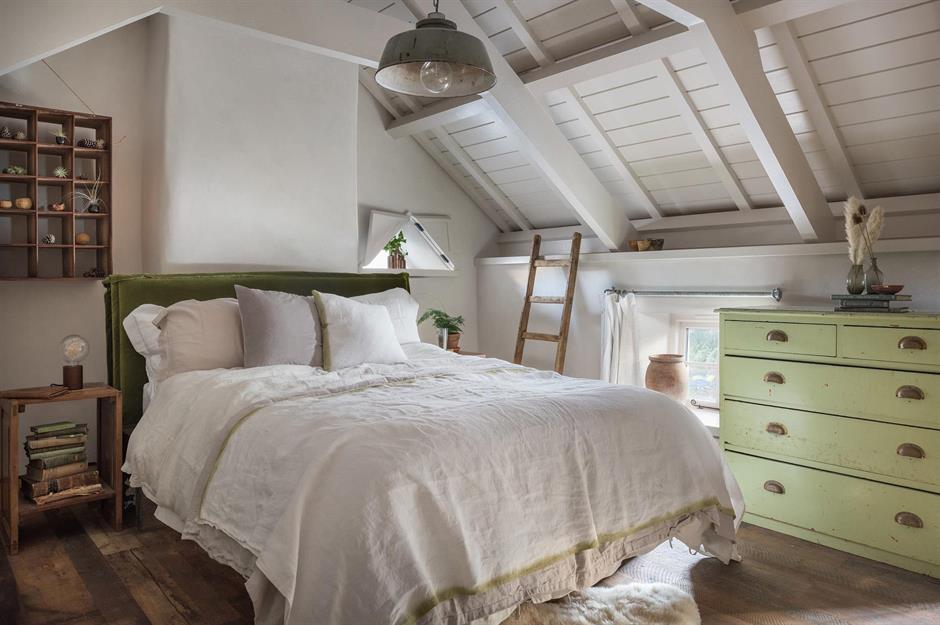 These will effectively take up valuable vertical space and adding more dimension! The old-fashioned look of these pieces also makes them an excellent addition to any vintage-inspired scheme since they can be painted white or an old wood color for that classic vernacular style.
Suitcase storage shelves
Suitcases are a great way to store things and can be transformed into so many more items. When the old suitcases have served their purpose, cut away the front without destroying them and hang them up on your wall as shelves!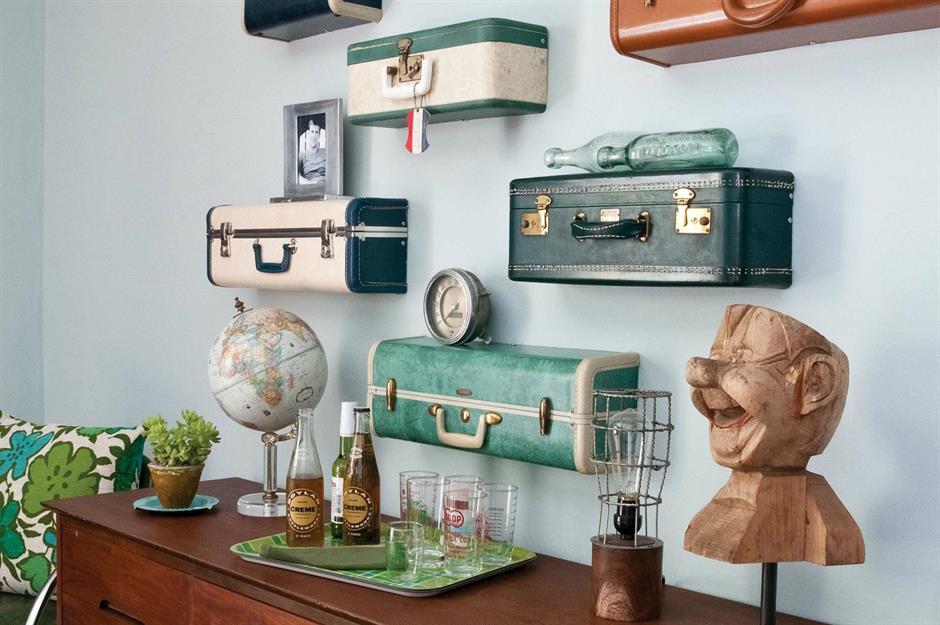 With these flexible pieces of furniture, you'll never run out of space for anything again. These are great to store things on top. You may group more than three suitcases to create a decor highlight in your living room.
Yardstick as coat hook base
It's hard to find a trusty yardstick in schools nowadays to upgrade old furniture. But, it is easy enough to track them down at local antique markets and charity shops if you look closely enough for one of these versatile tools.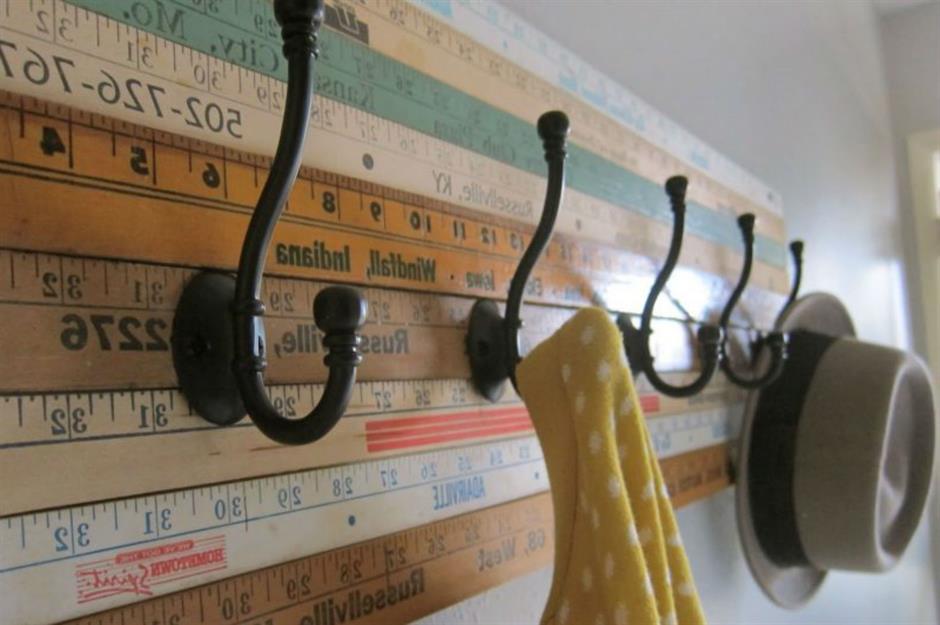 These can create an original coat rack. Simply super glue each ruler on top of the other. Then, attach some hooks onto the backside and then hang your new creation up by drilling into another board or wall studs – people are bound to be impressed!
Ladder shelves
With the help of an old ladder, you can create a unique piece for your home that doubles as additional storage. You may use these to store decor pieces or add toiletries and towels in the bathroom. It would also be a nice place to store fine China.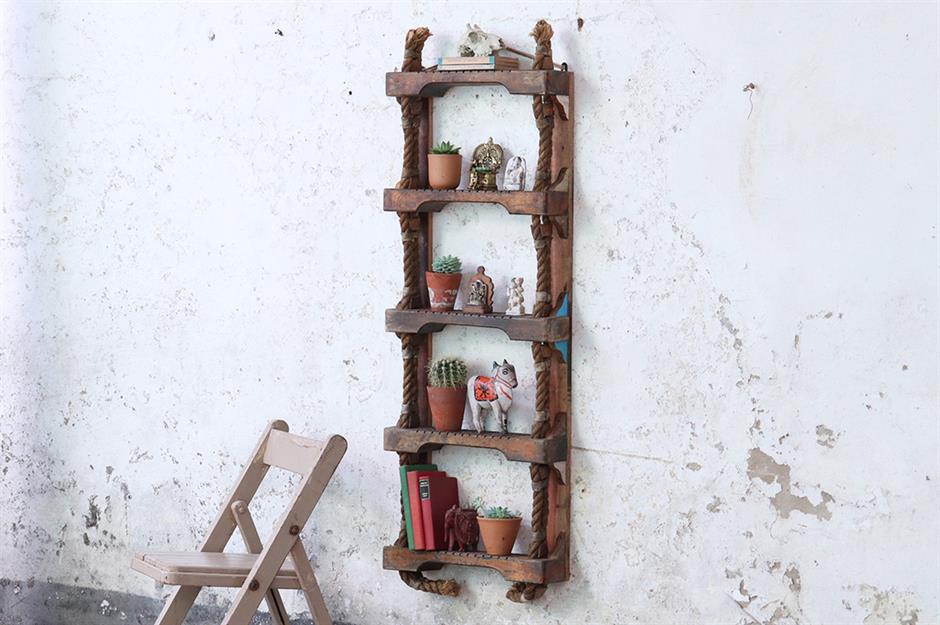 Cut between each rung to fit it with shelving and then attach small lengths of rope from the top, so its contents are easily accessible by simply pulling down on the corner without needing to climb or movie furniture around!
Turn truck front into a bar
As unconventional as it may seem, you can transform the front of an old heavy goods vehicle into a trendy bar. Weathered trucks are relatively cheap to pick up in scrapyards. You just need a professional to transform this piece.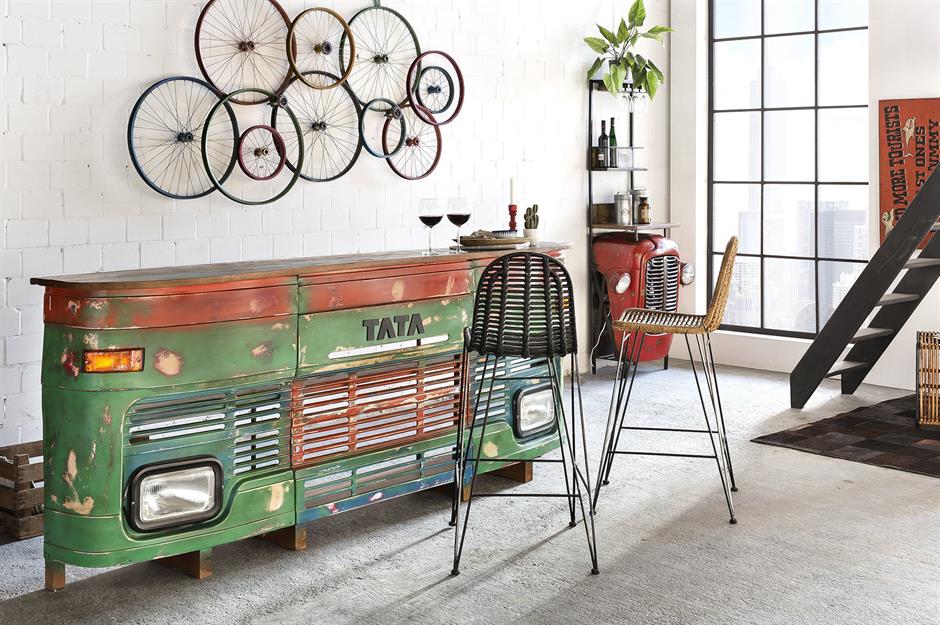 With help from a blacksmith, you can transform the front of an old heavy goods vehicle into a bar or whatever else you can imagine – add a wooden counter and embellish with metal spray paint for a vintage finish and stock your bar.
Jeep work desk
To make a desk from an old car bonnet, clean the surface so that it is shiny and ready to be used and painted if you wish. With your new shining desk top, you can now attach some feet with a few screws for stability.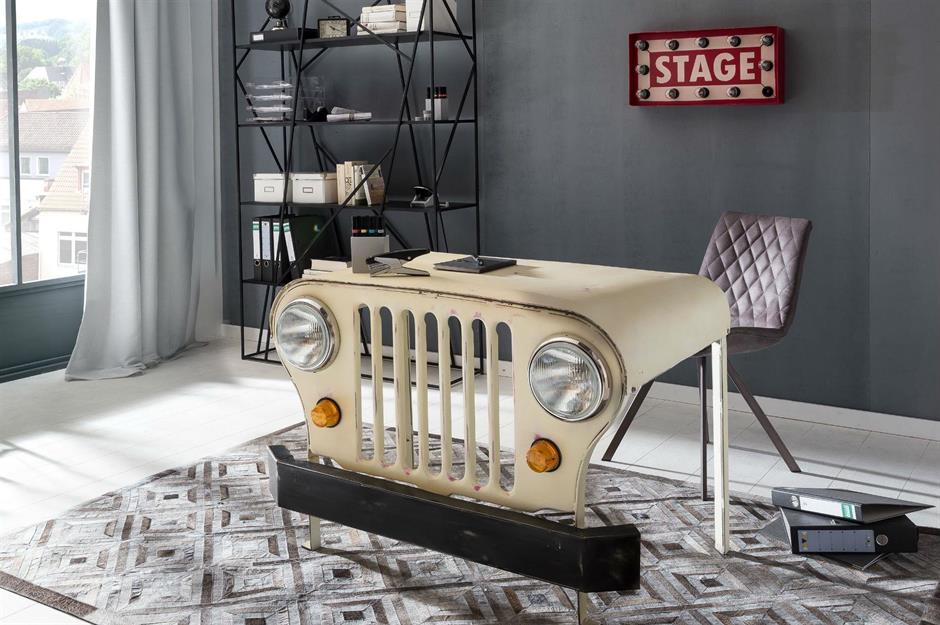 Be sure not to forget any necessary tools like pliers or screwdrivers before beginning this project! Once completed, enjoy using your one-of-a-kind furniture piece as much as possible while admiring its contemporary look and practicality each day while working.
Piano bookcase
Imagine the astonishmenton your guests faces when they see your old grand piano transformed into a stunning display unit for all of your prized possessions in the living room. You may need a professional, however, to work on this bookcase.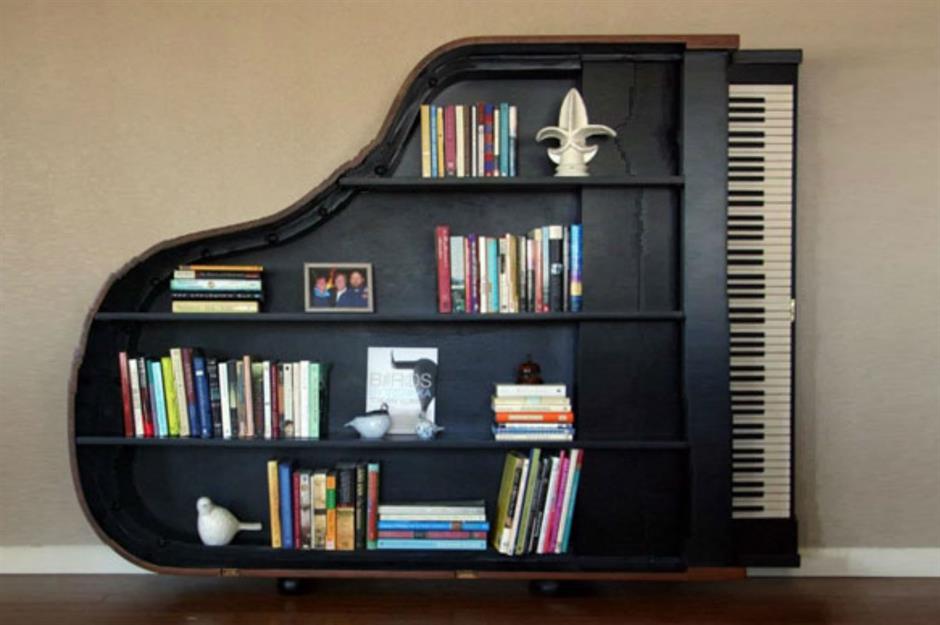 Just get the top internal pieces removed to add shelves to upgrade old furniture. For those lucky enough to have an unused, abandoned instrument at their disposal, then this is the perfect opportunity to take advantage of it in a new way!