All We Want For Christmas Is…Food! 35+ Christmas Food Ideas To Make This Year's Celebrations Even Better
By Harpreet K September 18, 2022
---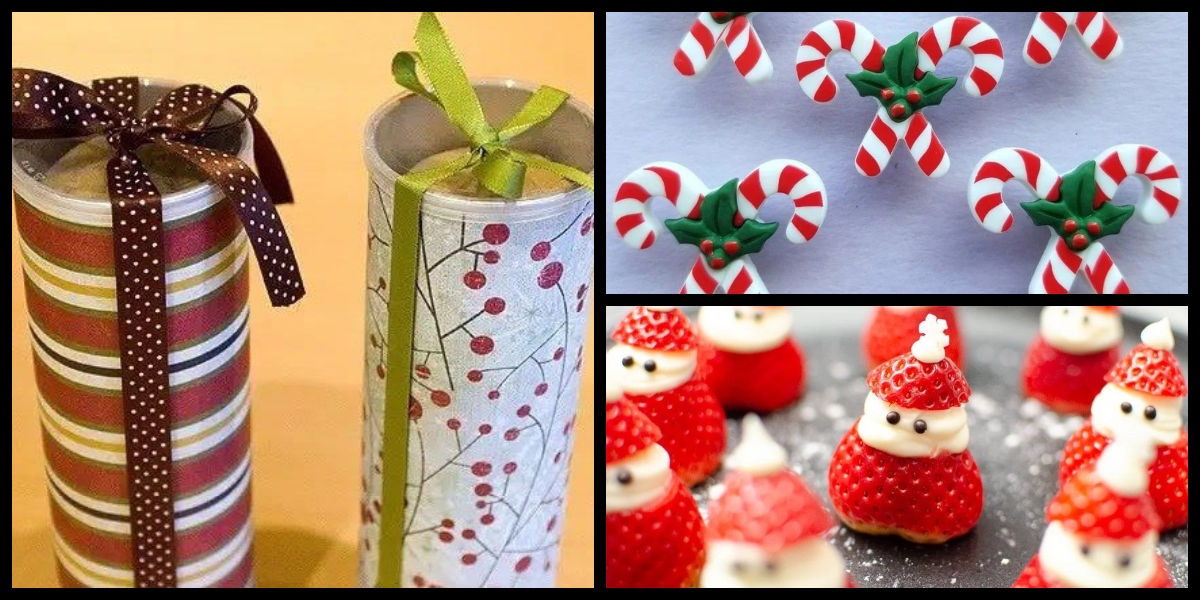 No matter how you celebrate Christmas, you can't deny that food is an important aspect of the holiday. Food is always central to the merriment, from traditional family dinners to festive parties with friends.
But if you're the one responsible for preparing all that holiday cheer, it may also be a source of stress. Coming up with creative and tasty Christmas food ideas doesn't have to be difficult, though. With a little creative planning and imagination, you can easily create a feast your loved ones will remember for years to come.
One way to take the stress out of holiday meal planning is to focus on make-ahead dishes that can be prepared in advance. Keep reading to learn about more creative Christmas food ideas.
1. Cheerio elf cookies
For a festive holiday treat the whole family can enjoy, try making Elf Cookies using Cheerios! The recipe doesn't need a lot of ingredients, plus it's perfect for getting the kids involved in the kitchen. Plus, who doesn't love a tasty cookie adorned with colorful sprinkles? Here's what you'll need: cheerios, sprinkles, and peanut butter.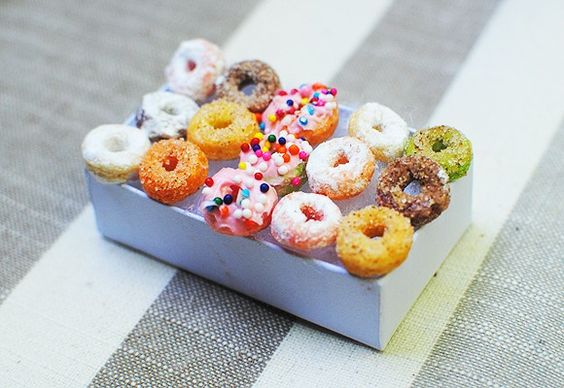 Line the baking tray with parchment paper. Dip the cheerios in peanut butter and then in sprinkles to coat evenly. Let them set. Your kids and guests will love this treat. So much ooey-gooey goodness jammed into one perfect bite-sized morsel of elf deliciousness.
2. Dental floss garland
This DIY food hack needs dental floss, cherries, and popcorn. First, string the dental floss through the cherries. Next, tie a knot and then thread the cord through the popcorn. Make sure to leave a long piece on the other end.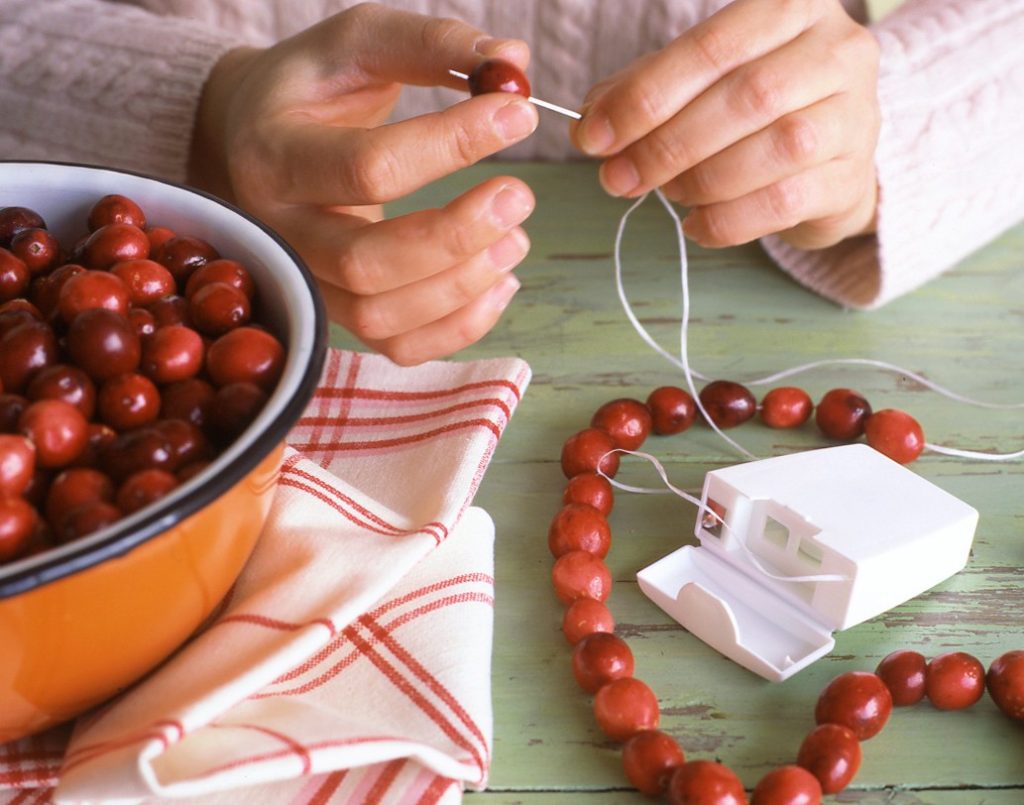 This will ensure you can tie it off when you're finished. Repeat until the garland is as long as you want it to be. You may mix some popcorn and cherries in one garland for an exciting combination. Hang it on your mantel or Christmas tree.
3. Oven eggs
Making eggs in the oven in bulk is a great way to feed the whole family without standing over the stove and cooking them. You can make bulk hard-boiled eggs in the oven for the entire family—preheat the oven to 350°F, line a baking sheet then set a wire rack.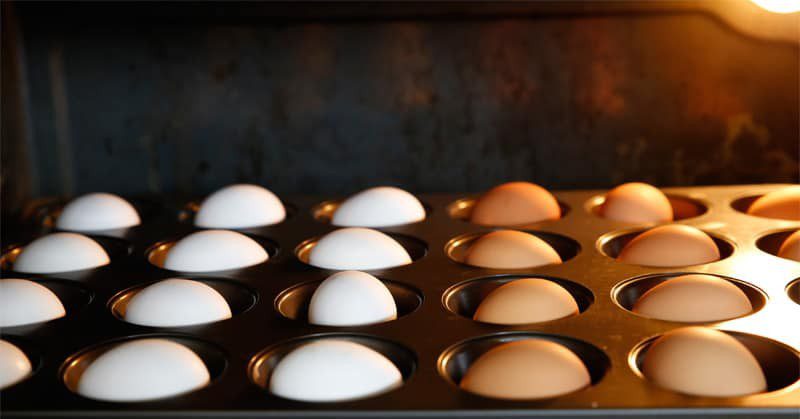 Spray the wire rack with cooking spray. Place the eggs on the rack and put everything in the oven. Bake for 30 minutes, remove from the oven and place in an ice water bowl for 3-5 minutes to stop them from cooking. Peel the eggs when they've cooled off.
4. Frozen whipped cream
If you're looking to include a little something extra to your hot chocolate bar, why not try freezing whipped cream dollops? This will create a unique and decadent topping for your guests to enjoy. Plus, it's super easy to do! You'll just need a piping bag.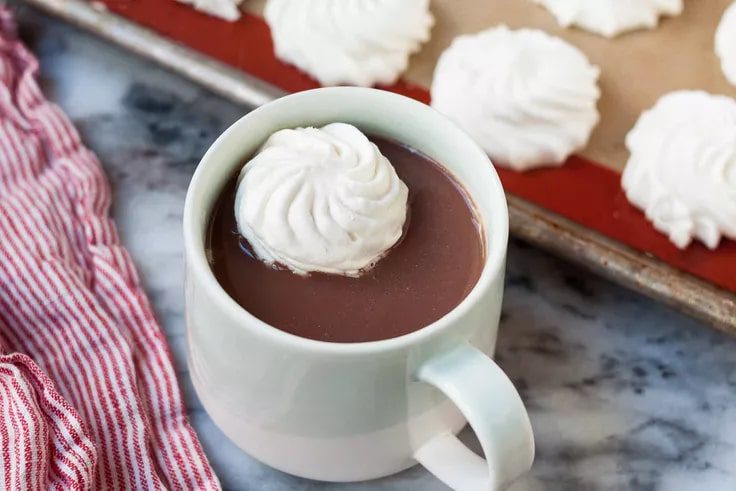 Pipe small dollops onto a parchment-lined baking sheet. Freeze for about 30 minutes, then transfer to an airtight container and store in the freezer until ready to use. Cover each cup of hot chocolate with a frozen dollop of whipping cream when it's about to be served. Your guests will love this hack.
5. Pulverized candy cane
If you're looking to include a little extra holiday cheer in your Christmas spread, why not try pulverizing candy canes and adding them to your food? This simple yet effective method will add a delightful minty flavor to your dishes and get everyone in the festive spirit.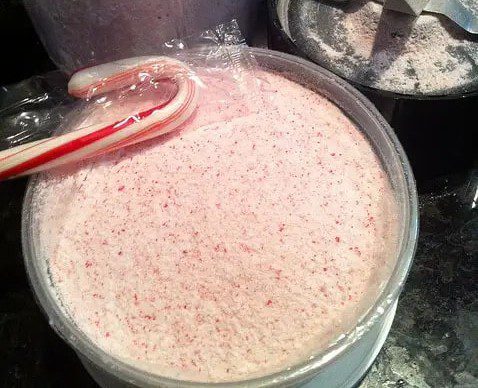 Pop some candy canes into a food processor or blender, and give them a whizz until they're reduced to dust. Then, sprinkle liberally over whatever Christmas foods you're serving – from cookies and cakes to stuffing and gravy. You could even use it as a decoration for your Christmas table!
6. Lattice-pie topper
Looking for a fun and festive way to top off your mulled cider this holiday season? Why not try making some easy lattice-pie mug toppers? Not only will they add a touch of whimsy to your drink, but they'll also help cover the drinks using something consumable. Start by gathering up all the supplies.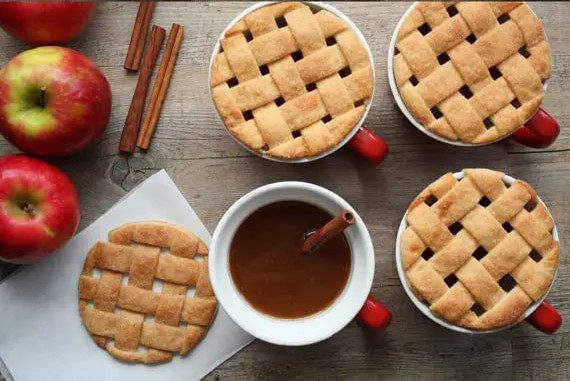 You may require a few thin strips of pie crust, some icing or frosting, a pastry bag fitted with a star tip, and a mug. Next, roll out your pie crust strips until they're thin and even. Use a sharp knife to make them into thin strips to make a crisscross pattern.
7. Chocolate Christmas trees
Start by melting your chocolate pieces in a glass/steel double boiler or microwave. Melt the chocolate in a microwave and don't forget the stirring part to avoid scorching. Once it has melted, put it in a bag with a small round tip.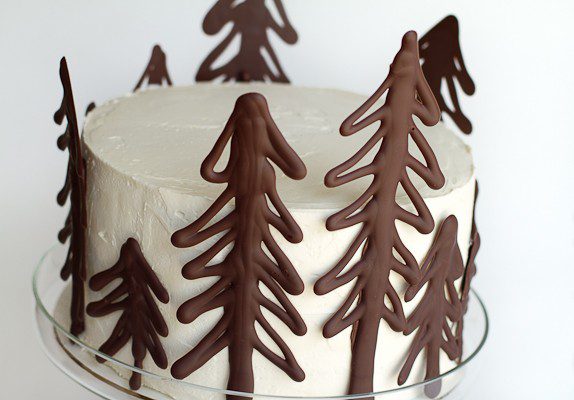 You'll need parchment paper for this. Begin drawing your Christmas tree by piping a vertical line of chocolate from the bottom to the top of your parchment paper. Pipe diagonal lines on the sides of the vertical line to create branches.
8. Easy cookie decoration
When decorating cookies, there are a few different ways you may go about it. You may use a piping bag, pipe the icing on in a spiral motion, or use a spatula to spread the icing. But if you want to get creative with your cookie decorating, use condiment bottles filled with icing.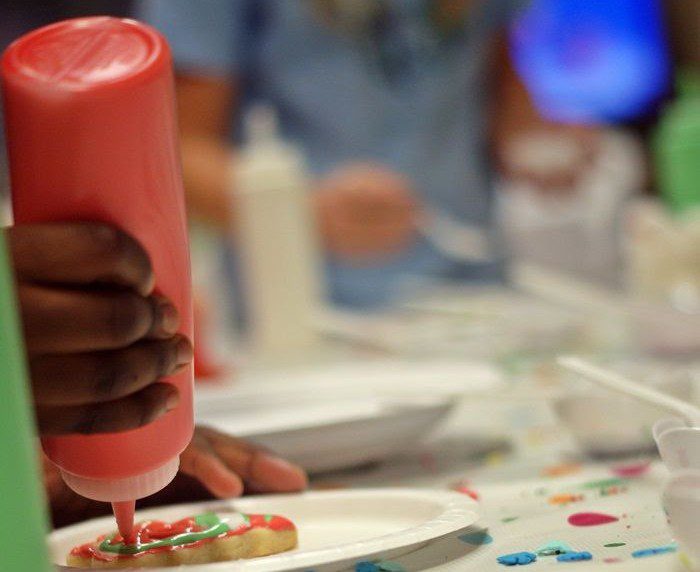 It'll save you time and give your cookies a unique look that will impress. Simply fill each bottle with your desired color of icing and then snip off the tip. You may use the bottles to write names or messages on the cookies or create patterns.
9. Snowman pizza
It's the Christmas season, so why not have a little bit of fun and make a pizza in the shape of a snowman? Preheat the oven to 350° F. Roll the dough on a lightly floured surface. Make sure that it's about 1/4 inch thick.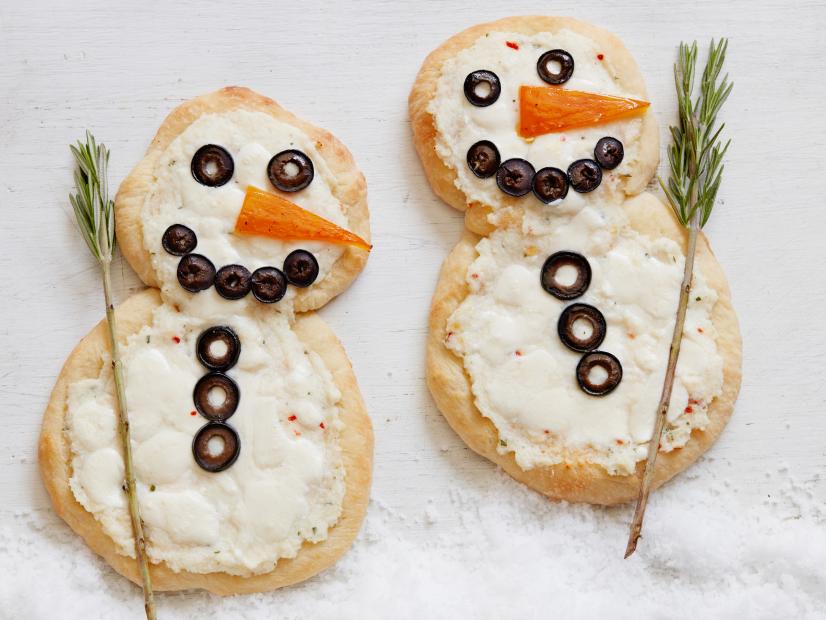 Use a sharp pizza cutter to cut out two circles for the body and head of your snowman. You can also use any other shapes you'd like for the body and head, but circles work well. Place the two dough circles on an ungreased baking sheet, spread tomato sauce and cheese, and bake.
10. Cookie cutter hack
Flouring the cookie cutter is a crucial step in making sugar cookies. By dipping the cutter in flour, you create a blocked between the dough and the cutter. This ensures that the cookie dough won't stick to the cutter and will retain its shape when baked.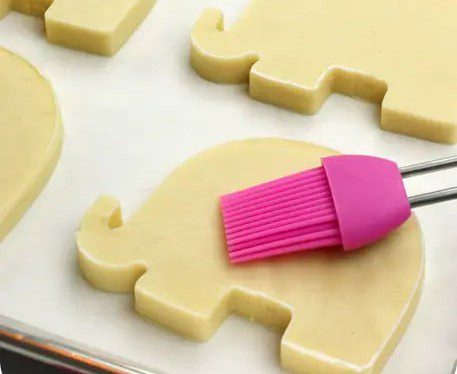 You risk having your cookies malformed if you don't flour the cutter. Nobody wants a deformed sugar cookie! Baking poorly shaped cookies may not have the desired result. So make sure to flour your cutters before cutting out those cookies. Your friends and family will be delighted.
11. Crock-Pot hot chocolate
One of the best things about Crock-Pots is that they're perfect for making hot chocolate. Just put all of your ingredients in the pot before bed, set it to low, and wake up to a delicious mug of hot chocolate. If you make a large batch in the Crock-Pot, you can save some for later.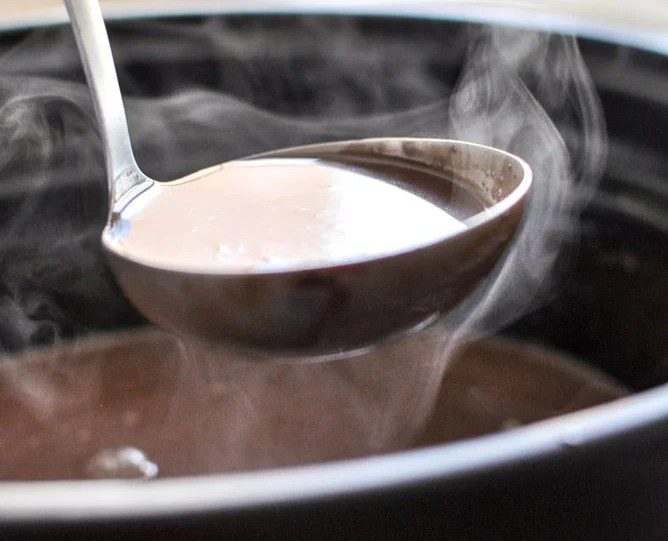 Simply store your hot chocolate in a thermos or airtight container, and it will stay warm for hours. Whether you're taking it to work or school or enjoying it at home on a cold winter day, Crock-Pot hot chocolate is sure to keep you warm and cozy.
12. Ice cream in a zip lock bag
Who doesn't love ice cream? It's the ideal treat to appreciate on a hot day. Unfortunately, it can sometimes get a little too hard when you leave it in the freezer. If you have put ice cream in a regular container, you've experienced how challenging it is to scoop it.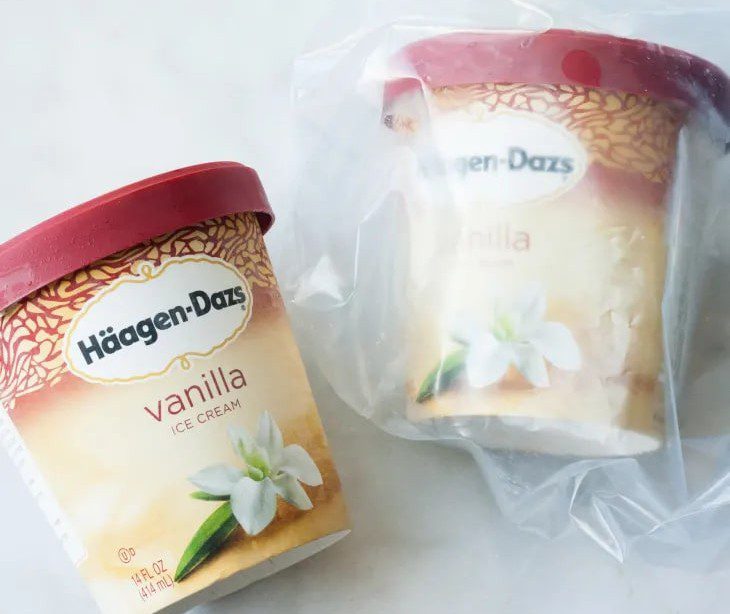 However, storing your ice cream in a Ziploc bag may prevent this from happening. The bags are great at sealing in cold air and preventing freezer burn, which can dry out the ice cream and make it harder. Plus, they're easy to reseal if you need to grab a quick scoop later.
13. Hot chocolate rice Krispies
'Tis the season for getting cozy with a big mug of hot chocolate and a bowl of Christmas Rice Krispies treats! These festive little bites are perfect for satisfying your sweet tooth while you deck the halls. What could be more Christmassy than hot chocolate and Rice Krispies?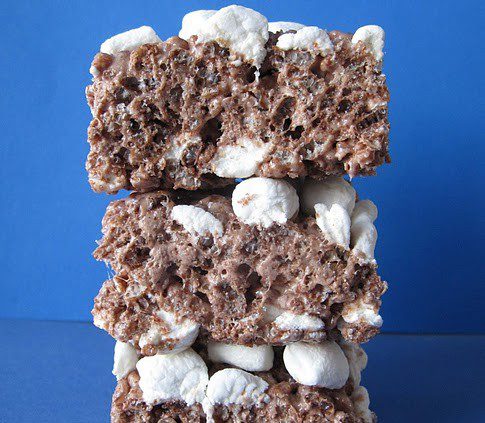 Whether you prefer your hot chocolate on the sweeter side or with a hint of peppermint, these Krispie Treats will hit the spot. And they're so easy to make! All you need is a batch of marshmallows, cocoa powder, Rice Krispies, and a little Christmas spirit.
14. Easy chocolate peels
A potato peeler is a fantastic way to make chocolate peels for garnishes. Just be sure to use good quality chocolate, as the cheaper brands can be a little too waxy and challenging to work with. Chop the chocolate into tiny pieces so it will be easier to work with.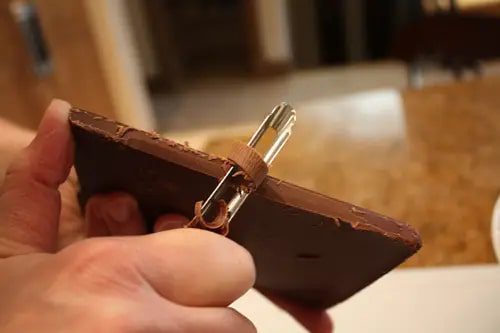 Then, using a potato peeler, start shaving thin strips of chocolate from the block. You may want to hold the chocolate block against a cutting board or marble slab, so it's more stable while peeling it. When you have a few strips of chocolate and place them on top of your dessert or drink.
15. Egg carton storage
Try using leftover egg cartons for a fun and festive way to store your Christmas ornaments. Simply punch a few holes in the bottom of each egg cup and string some ribbon or twine through them. Then hang your egg-carted ornaments on the tree and enjoy!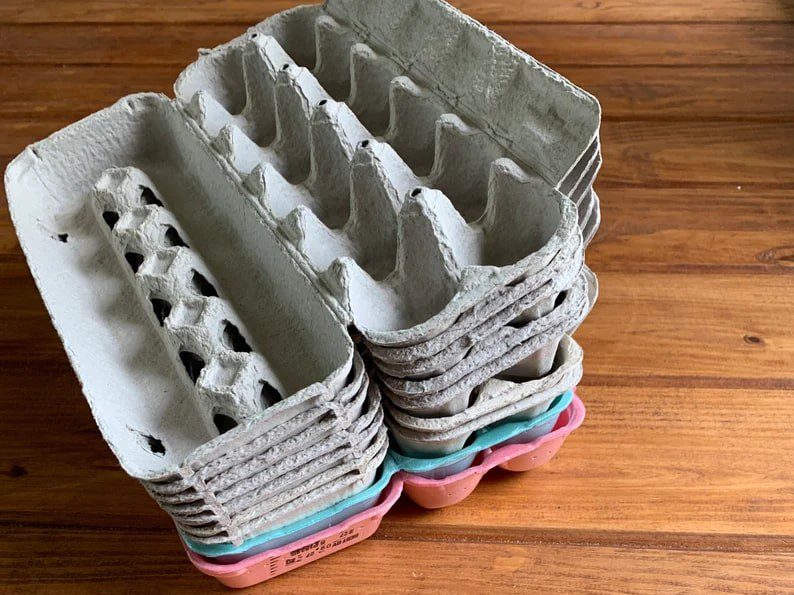 It's an excellent way to upcycle those leftover egg cartons, but it also adds a charming touch to your decor. Plus, they add a bit of whimsy to your holiday decor. You may also add cartons to create different organizers for the ornaments in a large box.
16. Oven French toast
You may not have considered this, but you can make a large delicious batch of French toast in the oven. This method is perfect for feeding a large crowd on Christmas morning or any other busy breakfast occasion.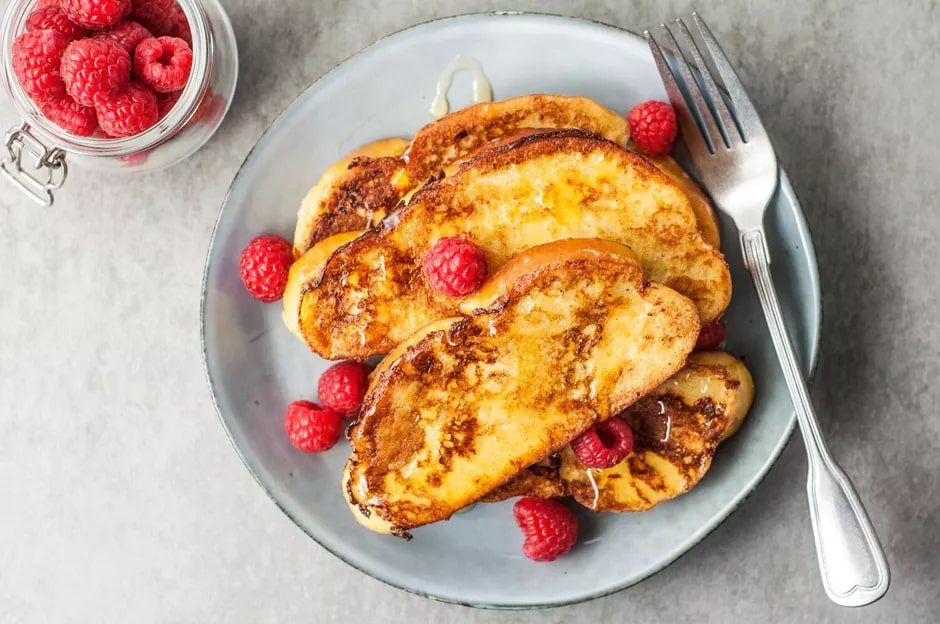 Making French toast in the oven is easier and leaves you with perfectly crispy and caramelized edges. You'll need one loaf of bread (sliced into 1-inch pieces), butter, eight eggs, 1 cup milk, one teaspoon vanilla extract, 1/4 teaspoon ground cinnamon, and a dash of salt. Mix the ingredients and pour over the bread.
17. Make candle smores
Why not bring the outdoors in for your Christmas party this year with a festive s'mores bar? Set out some small candles, graham crackers, chocolate, and marshmallows, and let your guests enjoy a classic camping treat indoors. Add some holiday flair to your s'mores by using peppermint chocolate or candy canes as toppings.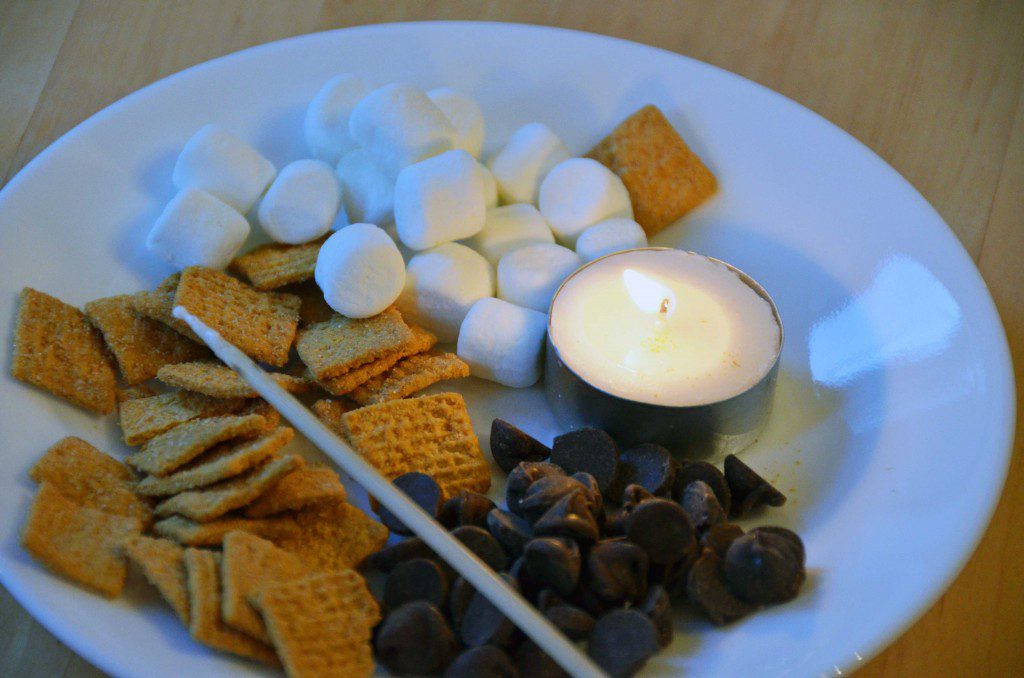 Your guests will love getting cozy by the fire with their very own s'mores in hand. This not only creates a festive atmosphere but also allows your guests to enjoy a classic holiday treat. Plus, what's not to love about tiny candles? They're just so warm and cute!
18. Graham Crackers house
This Christmas, forgo the tedious and often frustrating process of constructing a gingerbread house from scratch – use graham crackers instead! Not only is this approach much simpler, but it also yields an equally festive end product. To get started, simply purchase a few packages of graham crackers and break them into smaller squares.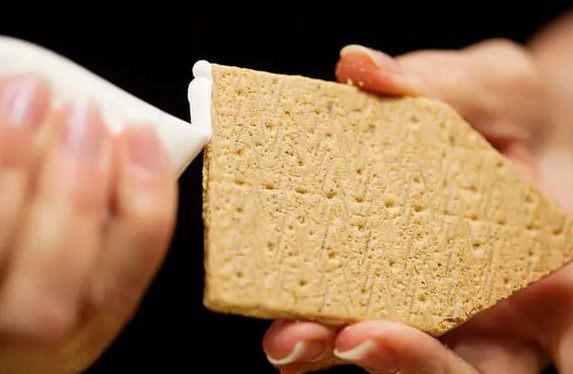 Next, assemble the walls and roof of your gingerbread house by placing the crackers side-by-side in designated patterns. Then, using melted chocolate or icing as glue, stick candies and treats to the exterior of your structure. You now have an adorable gingerbread house to enjoy.
19. Hot chocolate stirrers
Are you looking for a quick and easy holiday-themed treat? These candy cane and marshmallow hot chocolate stirrers are perfect! And they're so simple to make – just dip marshmallows into melted chocolate, and let them cool. Attach the marshmallows to candy canes to make the stirrers.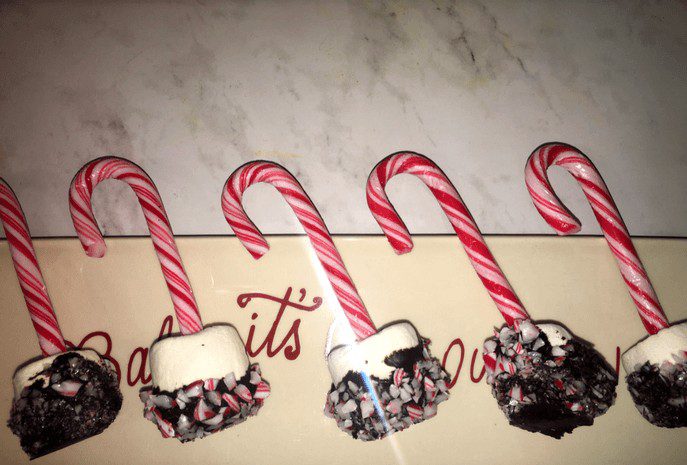 To get festive, you can even sprinkle crushed peppermint or cinnamon on top of the chocolate before it sets. These make great gifts, too—just package them up in a cute cellophane bag and tie them with a bow. They'll surely bring a smile to any hot chocolate lover's face!
20. Candy cane card holders
Making your candy cane card holders is a snap! It requires some candy canes, some ribbon, and a hot glue gun. Attach the candy canes to make a cross using hot glue. Make sure that the hooks are pointing upwards.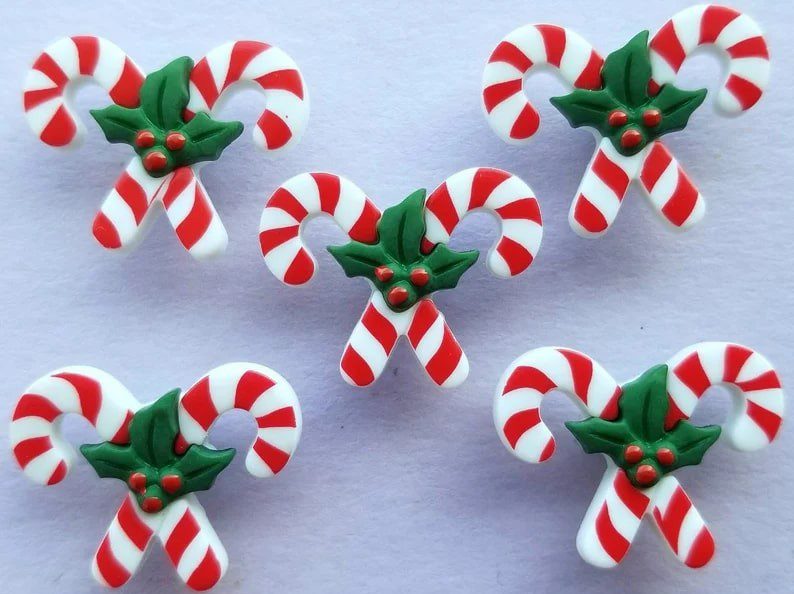 Then tie a bow around candy canes at the glue joint to cover it up. Place the cards over these holders to use for guests and food items. That's it – your candy cane card holders are finished! Considering your dinner prep, these simple yet festive decorations will surely delight your guests.
21. Candy Christmas lights
A creative and resourceful individual may string candy into Christmas lights for decorating cakes. It will add a one-of-a-kind vibe to any holiday cake! Candy Christmas lights on a white cake will brighten it up without too much work. Take some candies and string them together to look like multi-color lights.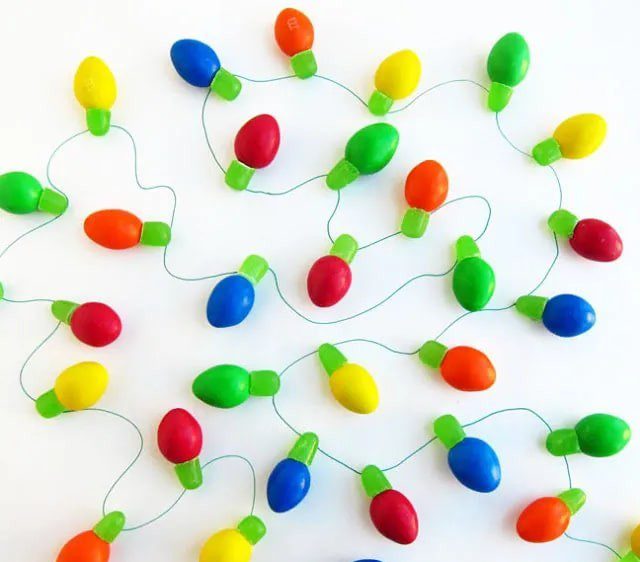 Grab a lighter to heat the knife for cleanly cutting the candy as per the desired shape. Use any candy that's flavored, colorful, and festive. You may use these to decorate cupcakes or top them on a cake for additional flair. This edible string light will look and taste great with any dessert.
22. Elf napkin hats
Grab some green napkins and red ribbons. First, you'll need to cut out a large triangle from the center of your napkin. This will be the hat's brim. Next, cut out a long, thin triangle from the remaining napkin fabric. This will be the hat's pointed top.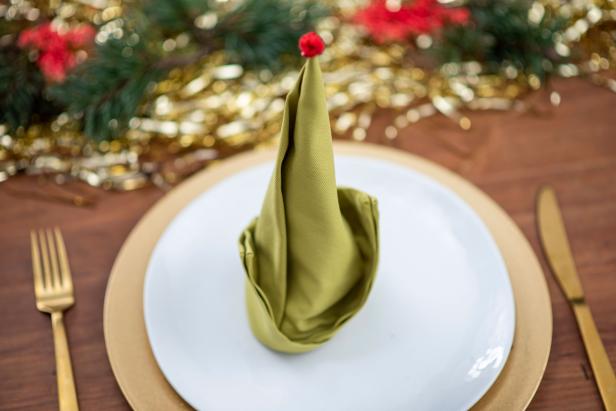 Fold the long edges of the brim upwards to create a point, and then use a hot glue gun to secure it in place. Finally, hot glue the pointed top of the triangle onto the center of the brim. Curl up the red ribbon to place on top of the hat.
23. Fun-shaped brownies
You may try to make fun-shaped brownies using cookie cutters. Just make sure to grease the cookie cutter well so the brownie doesn't stick, then press it firmly into the batter and lift it straight up. You should be able to release the brownie quickly.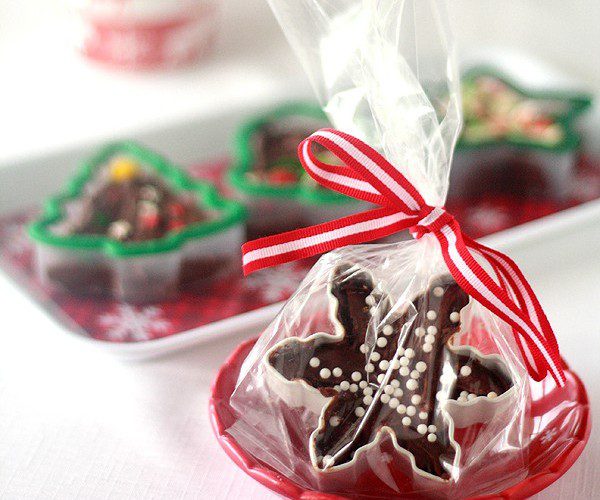 If you can't, wait some more until the brownie has cooled slightly before trying again. Do whatever you wish with shapes and sizes – no rules for this! Don't forget to adjust the baking period accordingly if your cutter is larger or smaller than average. You may add sprinkles over the brownies.
24. Snow cone ice cream
It's easy to make snow cone ice cream from a fresh snowfall. First, find a fresh snowfall that hasn't been infected by pollutants. Gather a few cups of fresh snow, mix in a teaspoon of vanilla essence, and then add enough condensed milk to create the desired consistency.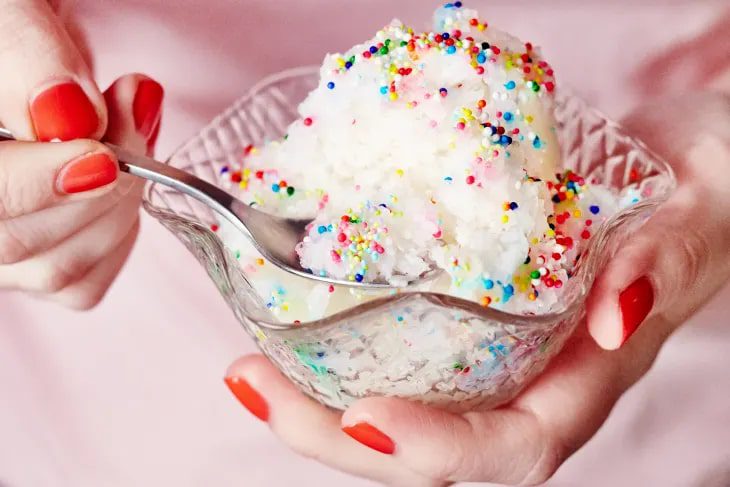 If the mixture is too thick, add a little more condensed milk. You may add sprinkles and food coloring to make it more appealing to the kids. Enjoy your homemade snow cone ice cream immediately! It's the ideal treat for a chilly winter day. You may sit by the fireplace and enjoy this delicacy.
25. DIY cookie holders
Make your cookie holders out of Pringles cans. It's an excellent way to recycle those empty cans, and you can make them as simple or elaborate as you like. Grab some empty Pringles cans (washed and dried), decorative paper or wrapping paper, ribbons, clear tape, and scissors.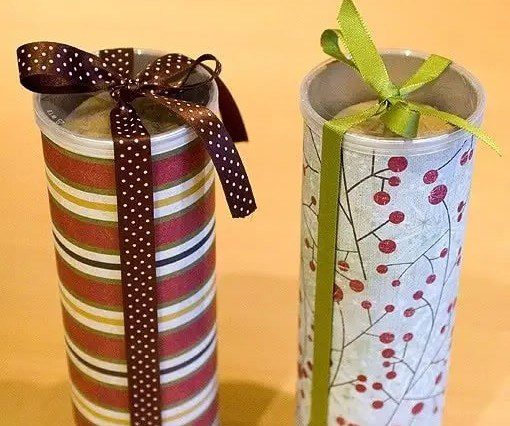 Remove the label and decorate the can with festive wrapping paper, ribbon, or paint. Then fill it with your favorite cookies. It's an excellent project for children, too – they will love getting creative with the decorating. You may gift these filled with homemade cookies to loved ones.
26. No bake cake
With Christmas nearby, here's a straightforward, no-bake cake that will save you time in the kitchen. This recipe is perfect for the individuals who don't possess a lot of experience baking or for those who want to make something festive without spending hours on it.
Get a box of graham crackers, candy cherries, pineapple, condensed milk, and dry fruits. Mix the ingredients and shift them to a greased loaf pan. Freeze the mixture overnight, and your no-bake cake is ready. Remove from the pan after inverting it over a plate to serve.
27. Designer shortbread cookies
Add a little extra design to your shortbread cookies using the design on your glassware bottom. Press the bottom of the glass onto your cookie dough and bake as usual. You'll be left with beautiful imprints that are sure to impress.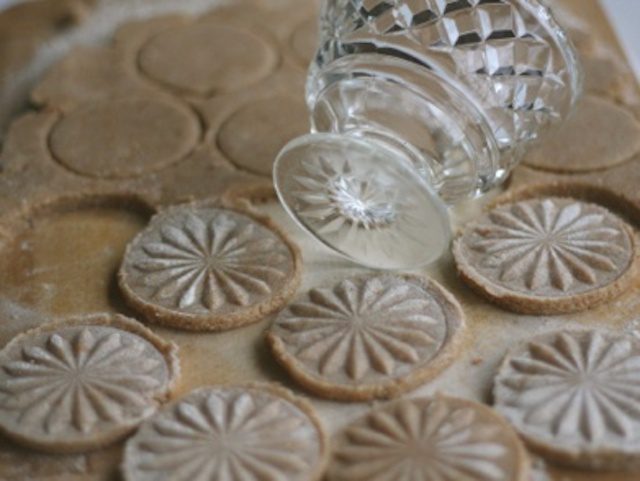 The designs will look beautiful even after baking. Add powdered sugar when the cookies are cool. You may try different designs to make cookies. These also make a good gift for everyone during Christmas. Such handmade gifts right from your kitchen show that you appreciate someone.
28. Cinnamon roll waffles
You may make cinnamon roll waffles using a pre-made cinnamon roll mix. Use a waffle maker instead of an oven. While cinnamon rolls are traditionally baked in an oven, a waffle maker will give them a crispy exterior and soft, fluffy interior.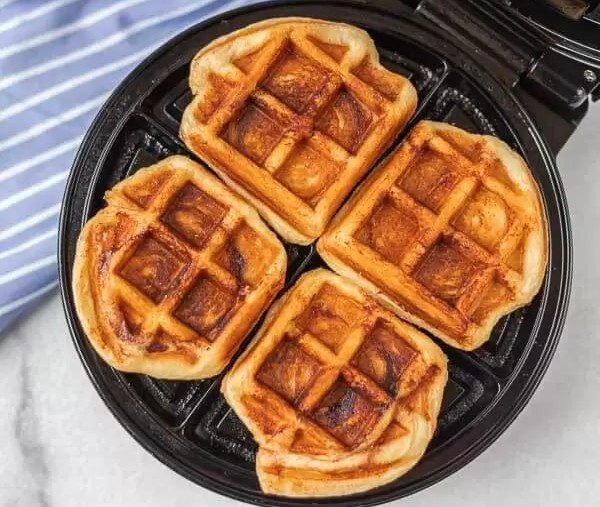 Be sure to generously grease your waffle maker with butter or cooking spray before adding the batter to enjoy your delicious cinnamon roll waffles. Cook the waffles following the waffle maker's instructions until it looks golden and crispy. Serve with maple syrup, whipped cream, or whatever else you like on your waffles!
29. Cookies for all
Making a large batch of cookie dough and splitting it into different flavor cookies is a great way to save time and effort in the kitchen. This technique is perfect if you want to bake a variety of flavored cookies. By making one large batch of dough, you can easily split it.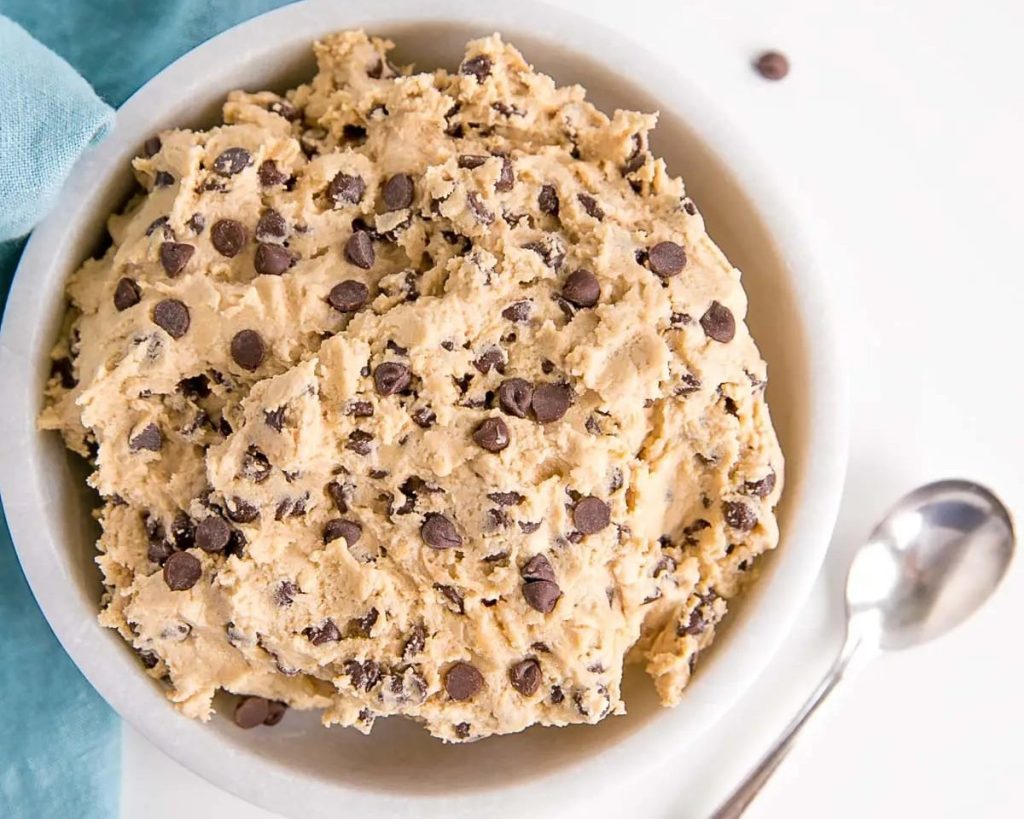 Keep some factors in mind when using this technique. First, thoroughly mix the dough before splitting it into smaller batches. This will ensure that the flavors evenly distribute throughout the cookie dough. Second, be mindful of how much flavoring you add to each smaller batch.
30. Cereal box gift pack
Skip the store-bought wrapping paper this year and get a little more creative with your holiday gift packaging. Upcycle those old cereal boxes lying around into cute and festive gift boxes. With a little bit of crafting, you can turn a boring box into something special that will make your friends and family smile.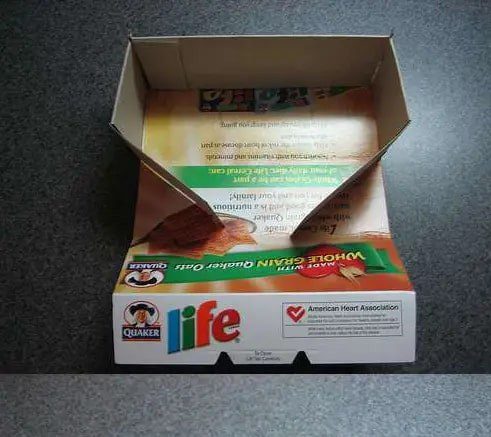 Cut out the classic cereal box carton and glue it on the front of another box to make a box. Turn your box into a work of modern art by painting it white and adorning it with gold leaf details. Go minimalist chic by hot gluing some jute twine around before packing in your gift.
31. Crock-pot French toast
Making French toast in a crock-pot is a great way to have an easy and delicious breakfast. Cut your bread into 1-inch pieces and place them in the crock-pot. Whisk together your eggs, milk, sugar, vanilla extract, and cinnamon until well combined.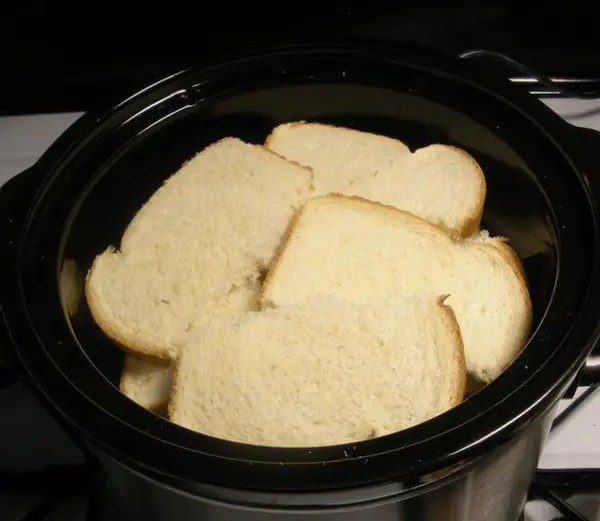 Pour this mixture over the bread in the crock pot, making sure to coat all of the pieces evenly. Set your crock pot to low heat and cook for 2 to 3 hours until the French toast is golden brown and cooked through.
32. Gingerbread Jell-O
Making Jell-O shots is always fun, but adding a little gingerbread flavor to them takes things to a whole new level of deliciousness. Combine equal parts chilled water and vodka in a bowl. Add your favorite gingerbread frosting to the mixture and stir until combined.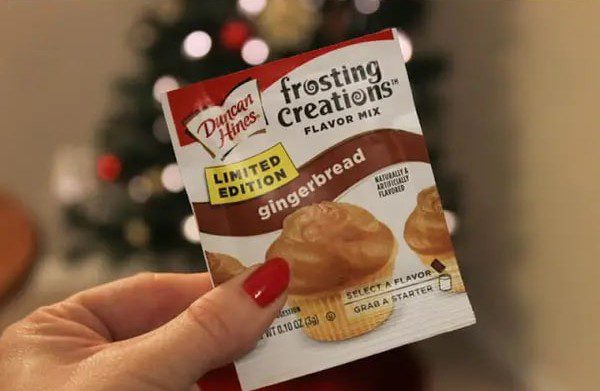 Pour the mix carefully into a baking tray and refrigerate for at least two hours or until set. Take a snowman cookie cutter to cut the jello into shapes. You may decorate with cherries on top of each piece. Serve chilled, and enjoy with the family and guests.
33. Cookie cutter pancakes
Make pancakes in different shapes – using cookie cutters! All you need is a bit of batter and your favorite cookie cutters. Preheat your pancake griddle or pan over medium heat. Lightly grease the surface with cooking spray or oil. Next, place the cookie cutter on the griddle or pan and fill it with batter.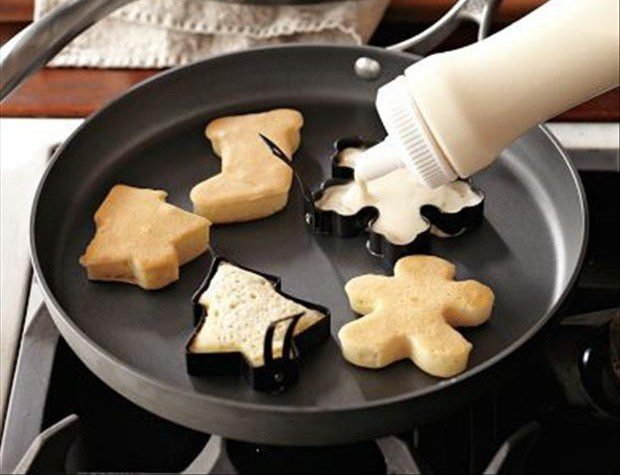 Be sure to use enough batter to make the pancake thick and fluffy. Cook for one to three minutes until bubbles start to form and the edges look cooked. Then carefully remove the cookie cutter (it will be hot!) and flip the pancake to cook for another minute.
34. Snowman doughnuts
With Christmas coming up, what better way to celebrate than with some festive snowman doughnuts? This recipe is perfect for kids of all ages and a great way to get into the Christmas spirit. Best of all, these snowman doughnuts are easy to make. Make doughnuts or buy pre-made ones.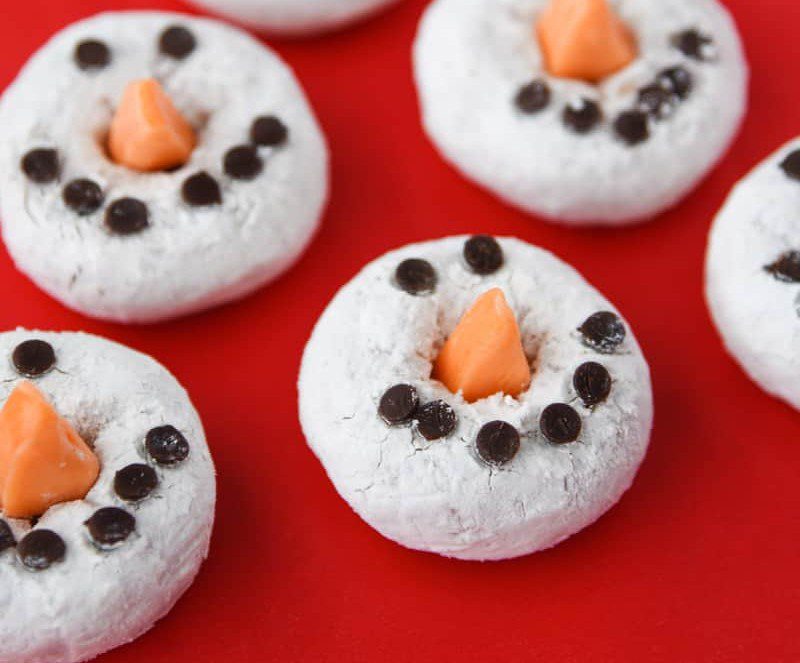 Get some white icing, mini chocolate chips, and black and red writing icing. Start by covering the doughnut with white icing. Add a small red icing dot onto each doughnut hole's top. This will be the snowman's nose. Add two mini chocolate chips for the eyes and one for the mouth.
35. Peppermint centerpiece
Centerpieces are often one of the last things people think about when hosting a party or get-together, but they can make or break the look of your event. Candles and peppermint candies are a cute and easy way to put together a festive centerpiece that will impress your guests.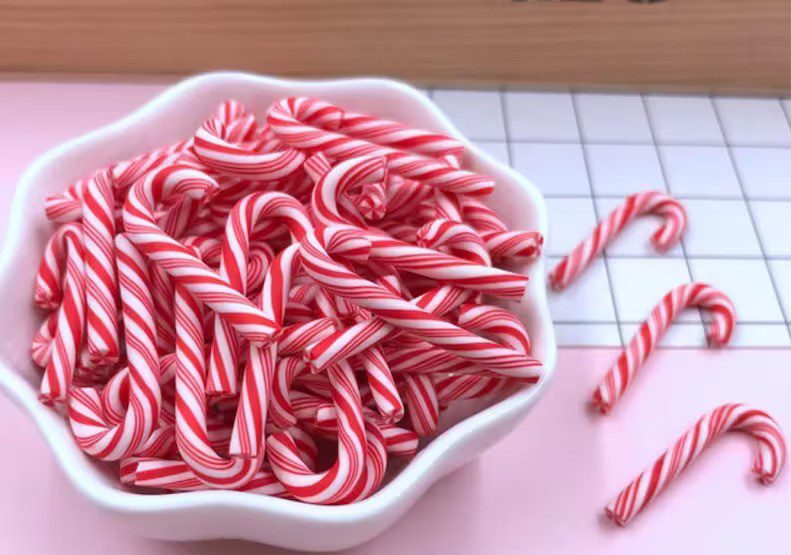 To start, gather some candles and peppermint candies in a tray. Arrange the candles on the table or in the center of the tray, and surround them with peppermint candies. If you wish to get creative, you may even arrange the candies in little piles around the candles to create a peppermint forest effect.
36. Christmas-themed wreath
There's no need to buy a Christmas-themed wreath when you can make one yourself! All you need is some leftover berries, artificial Christmas tree branches, a hot glue gun, and a few minutes of your time. Glue the branches together in a circular shape using a metal frame.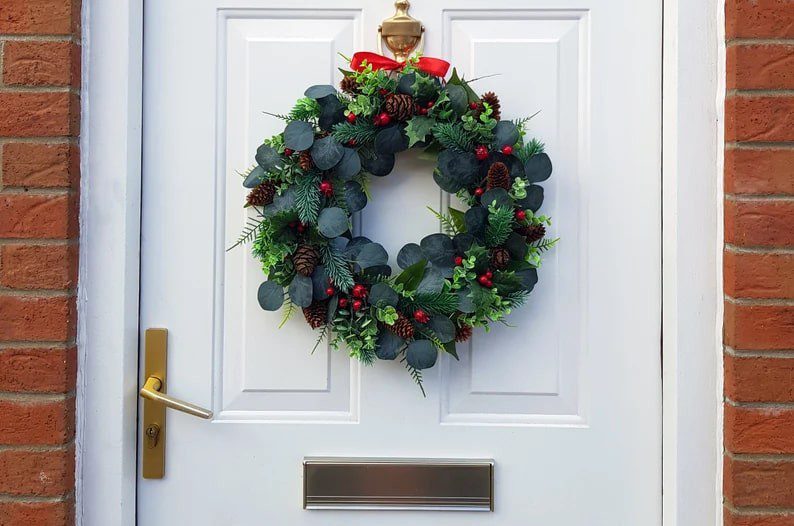 Make sure that the tips of the branches are pointing outwards. You may either leave the wreath as is or add some festive bows or ornaments to dress it up. Hang it on your front door and enjoy the holiday spirit. Your guests will be sure to love the sweet treat.
37. Waffle Christmas trees
An awesome way to add a festive touch to your dessert table! All you need are some upside-down waffle cones and melted chocolate or candy melts. Melt the chocolate or candy melts, then dip the top of each waffle cone into the chocolate. Place them on a baking sheet lined with parchment paper.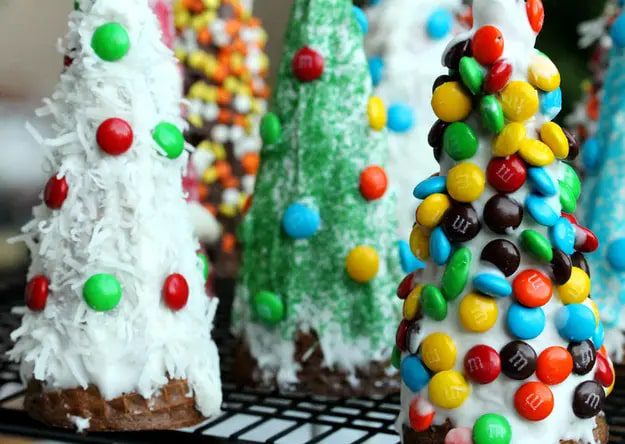 Refrigerate for about 10 minutes until the chocolate has hardened. Once the chocolate has hardened, use green food coloring to tint some icing or frosting. Pipe the icing or frosting onto the cones in a tree-like pattern, then top with sprinkles, edible glitter, or other festive decorations.
38. Drizzling warm chocolate
This is a fun little trick to make your chocolate decorations look professional! All you need is a bottle of condiment, like ketchup or mustard, and some warm water. You may also use this for different syrups to drizzle over pancakes and waffles for a quick dressing.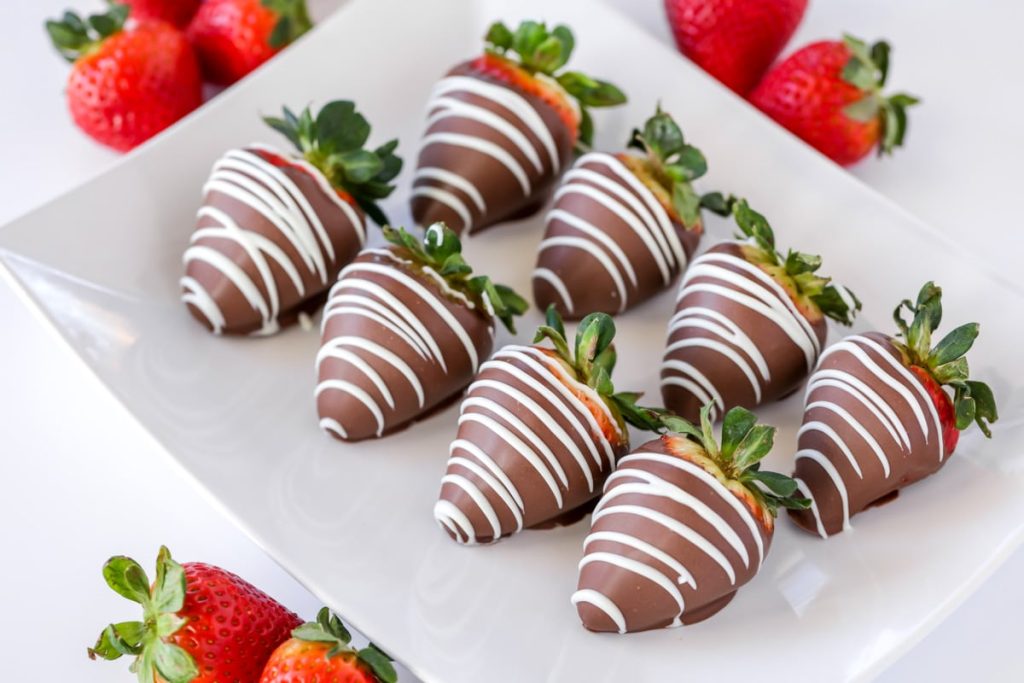 Just set the bottle in the warm water for a few minutes until it's nice and warm, then drizzle away on top of your cakes, desserts, or even fruit! The chocolate will drip off the bottle in a neat way that looks like a real pro did it.
39. Santa strawberries
What a fun way to include Santa-themed food around Christmas with strawberries! This dessert snack is super easy to make. Remove the tops of the strawberries, then cut a small slit on the side of each strawberry. In a small bowl, combine some heavy cream and sugar.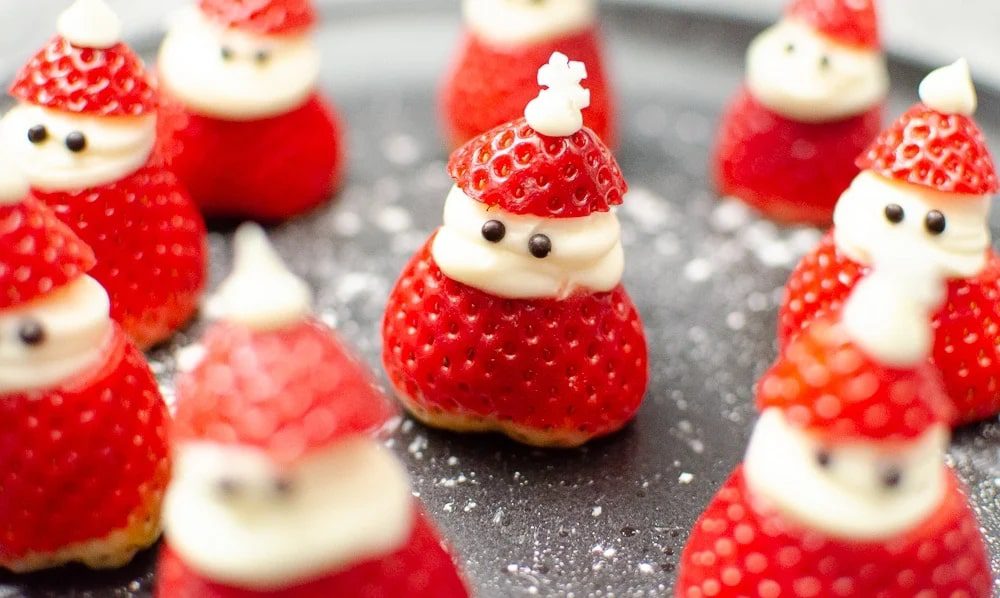 Using a pastry bag or zip-top bag with the corner snipped off, pipe the whipped cream into the slits in the strawberries. Place strawberries on a plate or platter, then sprinkle with shredded coconut. Also, pipe creamy stars onto each strawberry hat. You may freeze these to consume later.