It's Gift-Giving Time: 45 DIY Christmas Gift-Wrapping Ideas That Don't Demand A Lot Of Time And Resources
By Harpreet K November 21, 2022
---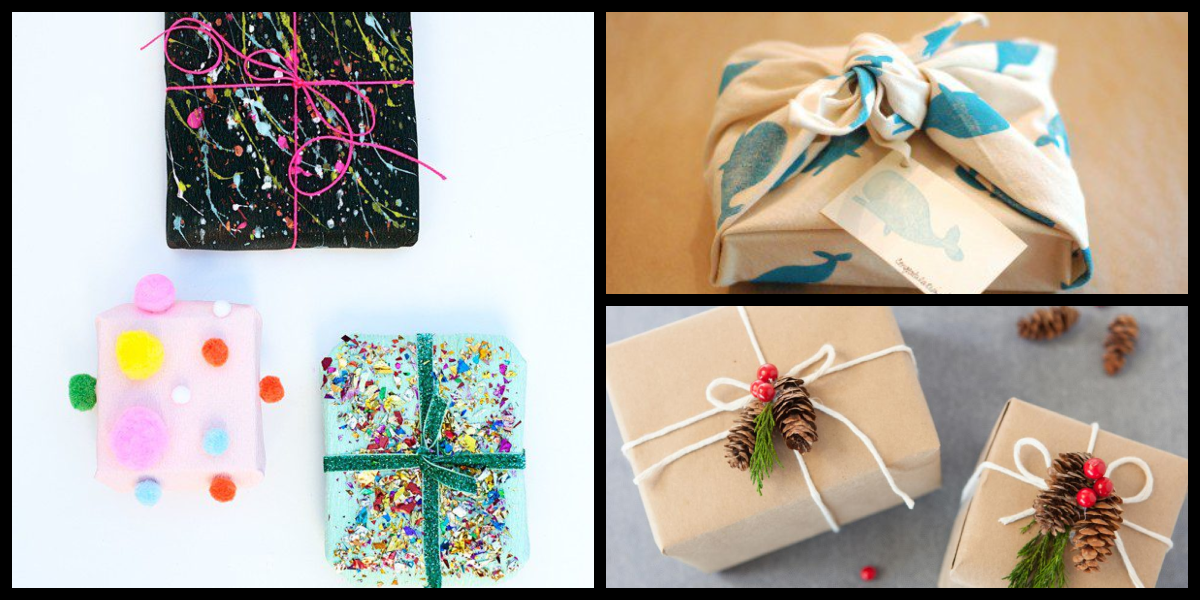 There are so many fun Christmas gift-wrapping ideas to try this year that you may ditch the old shiny gift-wrap paper. Whether a novice or an expert, these tips will help you create cute, festive packages that will be loved by anyone who's on the receiving end of your gifts.
Some great ideas include using buttons and stamps to jazz up basic wrapping paper, fun print fabrics for a unique look, and festive ribbons and bows to add extra pizzazz. You may make an origami gift bag. Another beautiful way to wrap a gift is to use a tissue box.
The possibilities are unlimited, so get creative and have some fun with your presents this holiday season! Here are some of these Christmas gift-wrapping ideas to get you started.
1. Gift bag from scratch
You can make your own gift bag from scratch using paper and a few simple supplies. Fold the paper halfway so that it forms a rectangle. The rectangle has to be about two times the width of the bag you want to create.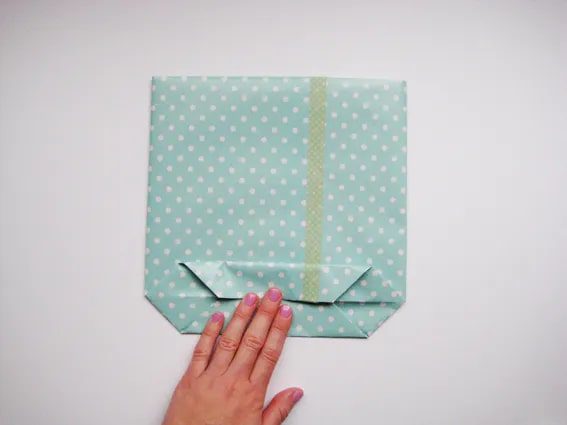 Cut out the rectangle with scissors, keeping the fold lines intact. Don't fret if it doesn't look perfect – mistakes will be covered and hidden away once you start decorating! Try adding some festive accents like colorful stickers or glitter to decorate your bag.
2. Colored tape gift paper
Regarding gift packaging, most people prefer the traditional and classic look of plain wrapping paper. In case you're on the look for something extra to set your gift apart from the rest, try using colored tape instead! You may use different colors.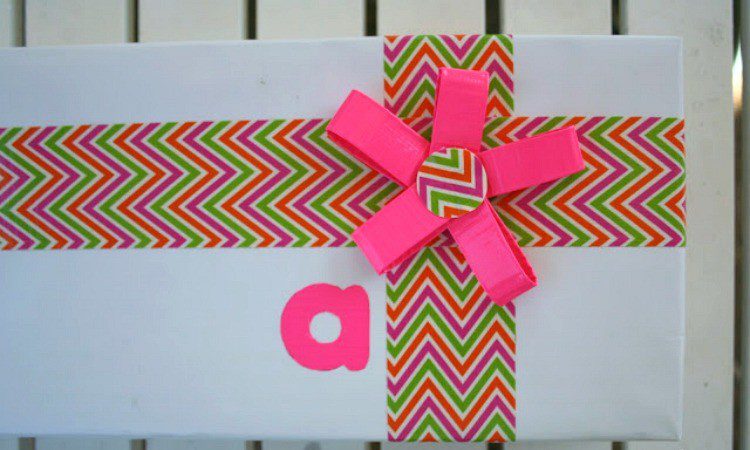 It creates an intriguing visual effect, and it also helps your gift seem more special. So don't be afraid to add a bit of color to your holiday decor this year – just make sure you use colored tape in moderation!
3. Paper butterflies and bows
Paper butterflies and bows are the perfect addition to any Christmas gift packaging. They're easy to make, and your recipient will love having a unique gift that shows they care. To make this, you'll need some colored paper, glue, and sharp scissors.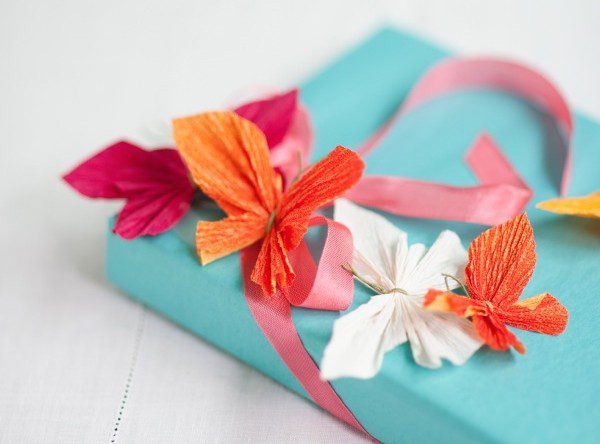 Draw butterfly shapes on paper and cut them. For bows, cut strips of paper to turn into bow shapes with the help of glue or tape. Use the butterfly cutouts to cover one side of the gift box. Add bows to another gift.
4. Fabric gift pouch
These fabric gift pouches are so much fun and easy to make that anyone can pull them off! To get started, gather your supplies: some sturdy fabric (width varies depending on how wide your pouch is), a sewing machine, thread, scissors, and measuring tape.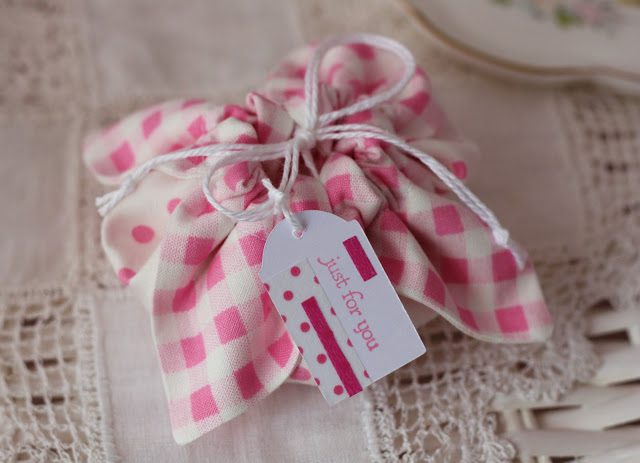 Make sure they're all the same size, so they'll fit perfectly into your pouch once sewn together. Sew each of your fabric squares together but leave enough space at the top and bottom of each pouch to turn it right-side out.
5. Paper cup gift cup
Do you have a few extra cups lying around? Why not turn them into festive gift packaging this holiday season? You can use them to package small gifts like jewelry, candies, or small toy sets. Simply cut a small hole in the top of each cup, and then tie on some pretty ribbon or twine.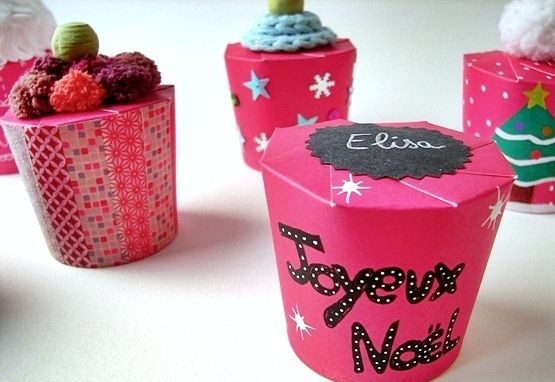 If you're feeling creative, you could add a festive tag or sticker. You could try painting them in bright colors or using joyful designs. Now everyone will know what's inside! These cups are quirky and unique and can also be used as excellent holiday packaging for your gift items.
6. Suit up the gift in a bow and tie
Consider using some fabric or paper to make a bow and tie. This simple decoration can add a touch of class to any gift basket or package, and it's easy enough to make that you can do it in just a few minutes.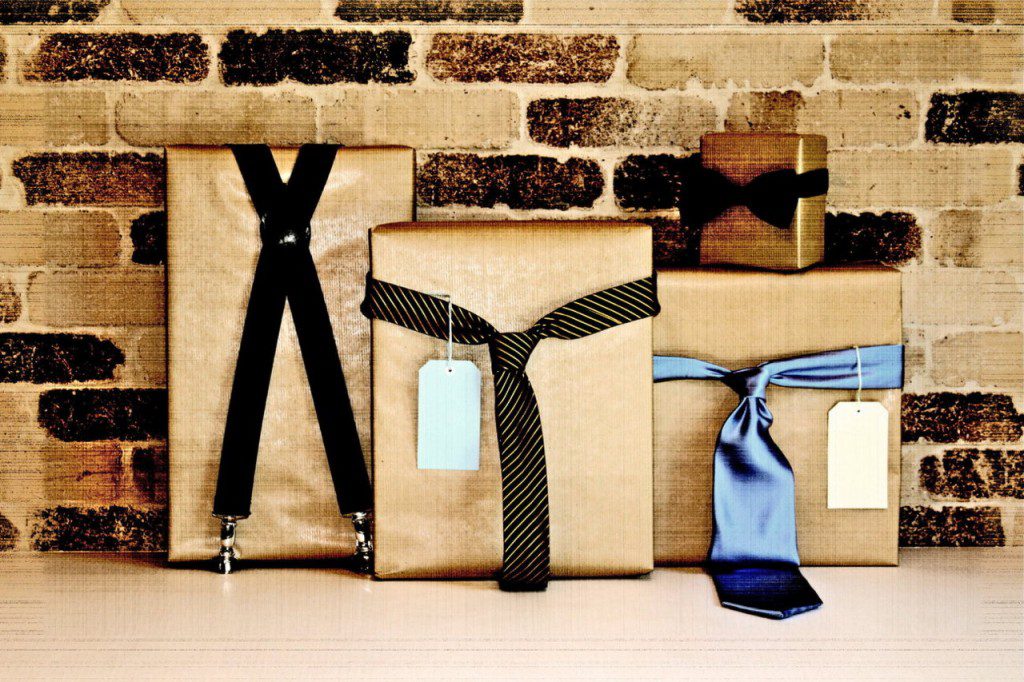 Start by cutting out fabric or paper about the size of a dinner plate. Then, cut a piece of ribbon about one foot long and attach one end to one circle of fabric or paper. Use hot glue to attach these pretty holiday bows and tie tags to the gifts.
7. DIY stamped wrapping paper
This easy project can be completed with just a few simple supplies, and it'll look great on your Christmas gifts. You'll need a stamp, some wrapping paper, and an ink pad. Next, position the stamp so the ink will hit the center of the paper.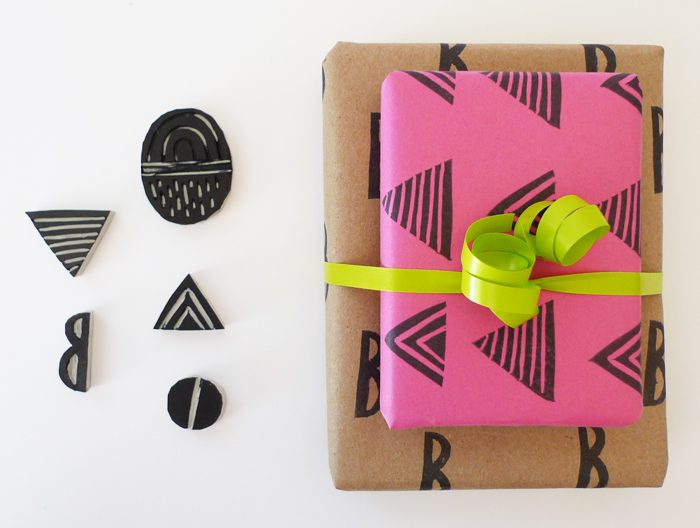 Carefully lower the wrapped item onto the stamp and press down firmly. The pigment will automatically spread out across the entire surface of the paper. Once you've stamped all your papers, it's time to put them together into a gift package. Fold each sheet in half so that it forms an accordion-style wrap.
8. Washi tape decorations
Washi tape has become a popular decoration for many gift packages, and it's easy to see why. The tape is inexpensive, easy to use, and versatile. Using washi tape as a Christmas gift packaging decoration is convenient and equally fascinating.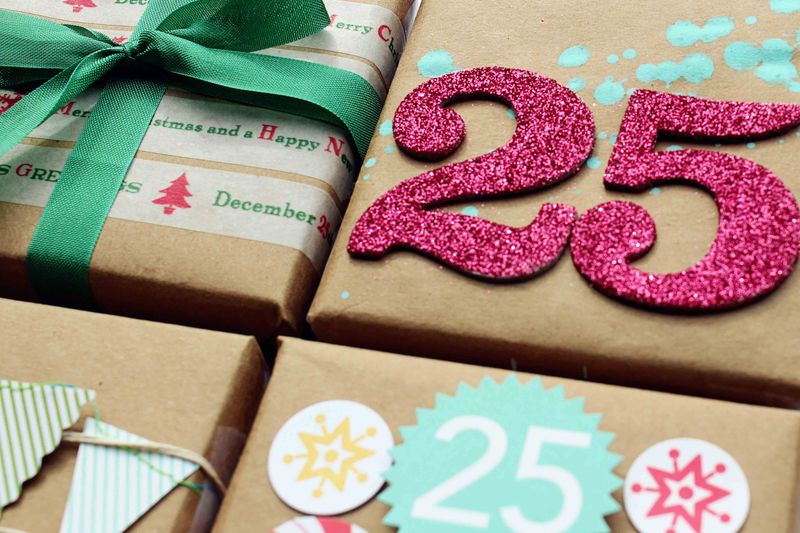 Decorate your gift with a fun pattern or design made from washi tape. Use washi tape to create an attractive border around the gift box. Make festive bows using washi tape and some colorful ribbon. Add a layer of washi tape to the top of the box to add extra texture and style.
9. Origami gift boxes
If you're feeling creative, why not give origami a try for your next project? Not only is it an exciting and unique craft, but it can also be used to create some beautiful gift boxes. Make a simple yet elegant origami gift box with a red ribbon bow.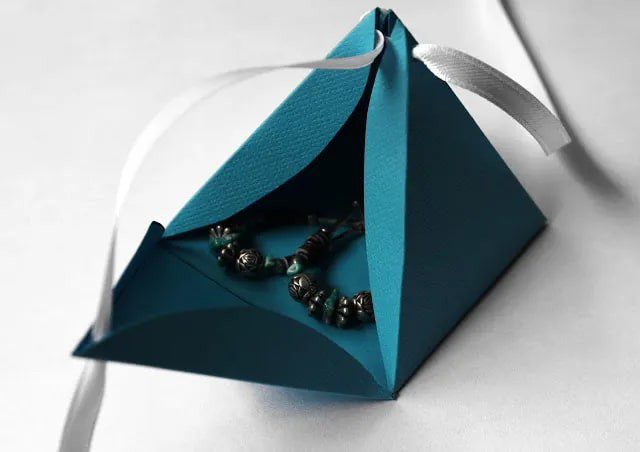 You may also make a festive origami gift box with colorful paper stars and snowflakes. Create a cute origami gift box by cutting it into four sections and punching a hole in all corners. Use twine to close the box. You may also decorate the box with glitter.
10. Rainbow yarn ties
Christmas is a time to spend with family members and friends, and it's also a time of giving. Want to gift the perfect gift? Why not use yarn ties in rainbow patterns for packaging your gifts? This is an exciting and creative way to show that you care.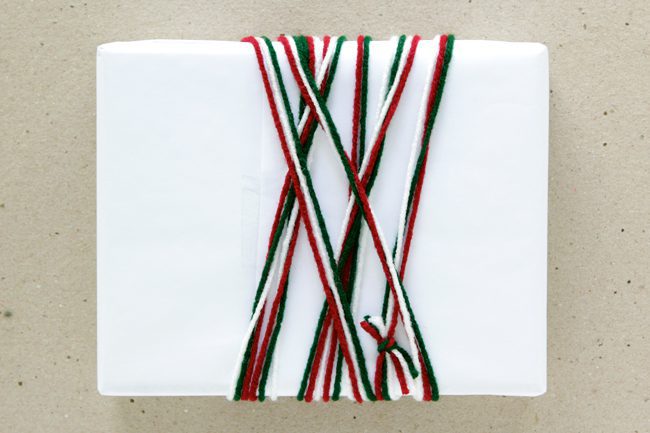 Anyone receiving the gift will be impressed with the packaging. They'll know you took the time to make something special for them. Make this idea even better by using different colors of ribbons ties to create a more colorful look.
11. Button and twine on paper
How about adding a touch of class with a button and twine-wrapped wrapping paper decoration? This is a perfect way to add personality to any present, and it's also super easy to do! All you need are some buttons and some twine, and you're ready to go!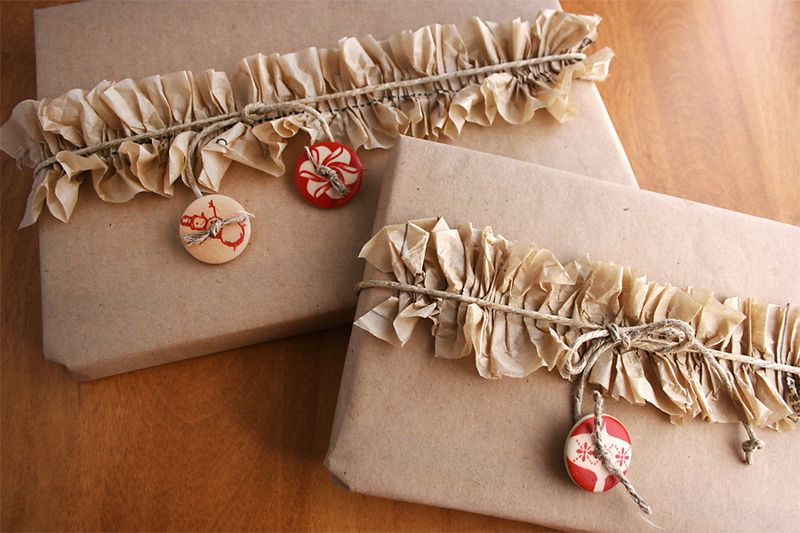 Simply tie the twine around the buttons in different patterns, or use them all together in a single big bow. Try this technique to make unique Christmas gift packagings. So get creative this holiday season and add some extra zing to your wrapping paper decorations.
12. Cute reindeer bag
This is ideal for those searching for a cute and festive way to package Christmas gifts this year. Turn a brown paper bag into a reindeer bag. It's easy to do, and it looks charming on display. First, cut a hole in one end of the paper bag.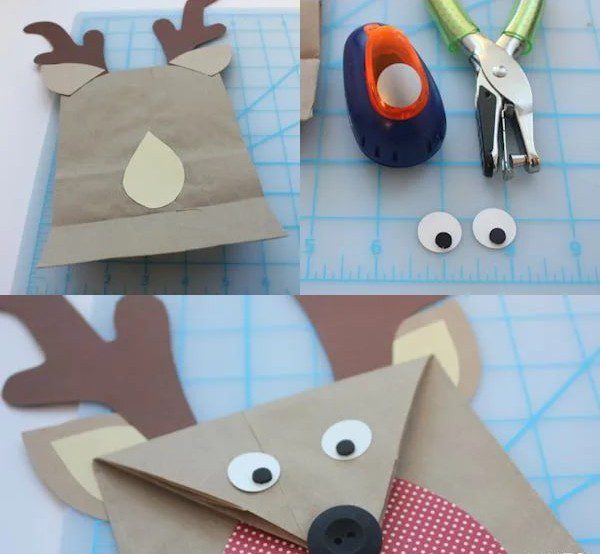 Then, fold the bottom edge up so that the hole is covered. Next, fold up the top edge to cover the hole completely. Finally, iron down the folds so that they're securely glued together. Now, you have to make some cute decorations and attach them to the reindeer bag.
13. 3D Christmas tree
What better way to decorate the gifts than by making a 3-D Christmas tree for gift wrapping paper? It's easy to do, and it'll add a touch of festive fun to your gift packaging. First, rip some craft paper into strips about 6 inches wide and long.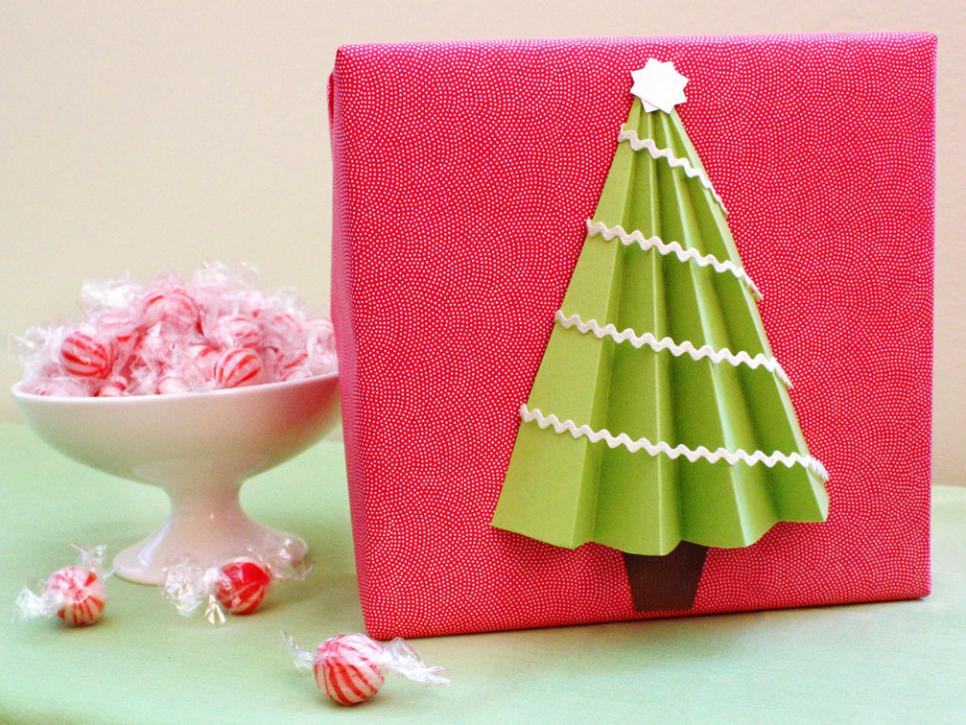 Next, use a ruler and a cutting mat to create triangular pieces. Make sure the angles are precise—you want your tree to look realistic. Once you have your triangles cut, lay them out on a flat surface. You may use anything from holiday stickers to glitter spray paint to make your tree look its best.
14. Paper snowflake gift topper
Make a paper snowflake topper with cardstock, scissors, and a glue stick. First, decide on the size of your snowflake. Next, cut out your star using scissors. Make sure the points are all facing in the same direction so that the snowflake looks symmetrical once it's done. Start gluing on the pieces.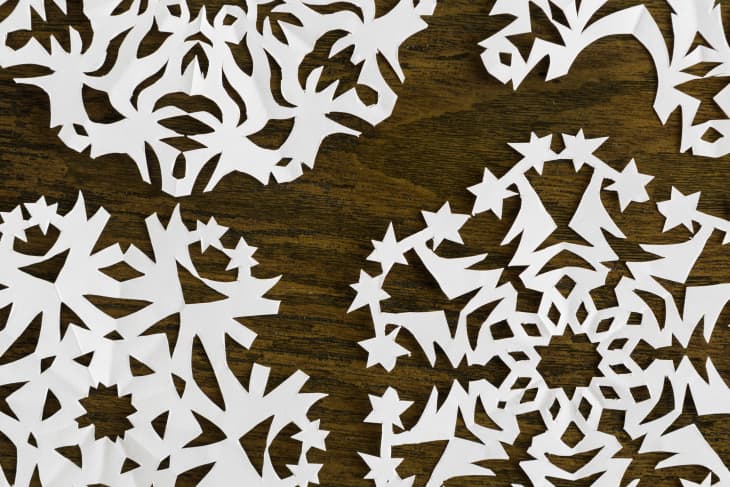 Use a glue stick to attach each point of my star to one corner of a piece of cardstock. Once it's dry, gently trim away any excess cardstock around the edges of the star. Your finished snowflake is now ready to use as an ornament or as part of your gift packaging.
15. Personalized newspaper cutouts
Use newspaper-cut letters to add a touch of charm and extra personalization to the gift. Simply cut out each letter of the alphabet of the names of your friends and family members. Once you've cut out all the letters, wrap your gift with white, black, or brown paper.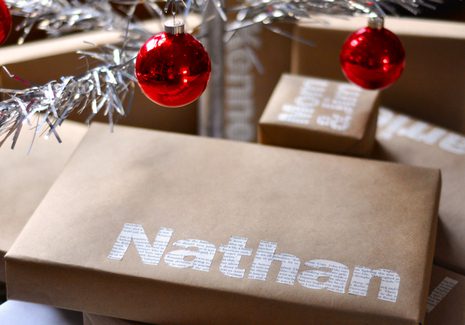 Stick the letters on the package. You may also add a personal message using the letters. This simple decoration will make your gift stand out and make recipients feel special. Plus, it's a great way to get creative with your holiday decorating.
16. Nature-inspired toppers
During the loveliest time of year, gift freshness with some pinecone and leaf-wrapped gifts! Add personality and uniqueness to any gift with wrapping paper. Using natural materials like pine cones and leaves will show that you care about the recipient's environment.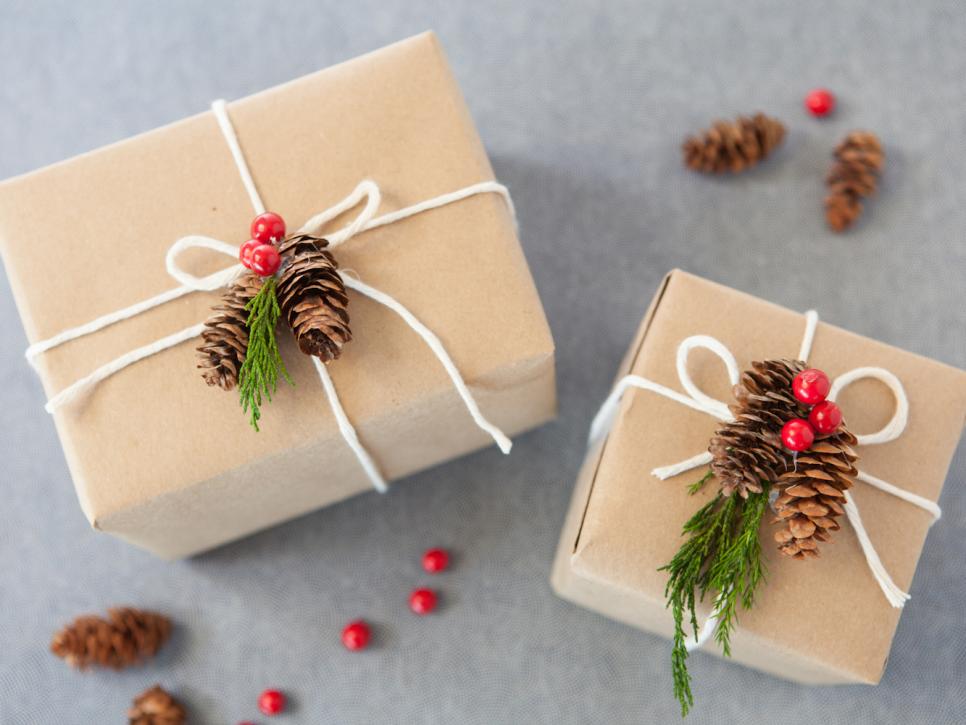 Plus, they'll love getting something special they may use immediately. When adding the cones and leaves, ensure they're both approximately the same size so they'll blend together seamlessly when wrapping your gifts. Once you've got your designs sorted, start wrapping. Layer leaves around the outside of the cone.
17. Candy cane wrappers
If you're on the hunt for an exciting way to spruce up your Christmas gift packaging this year, consider adding a few candy cane toppers to the mix. Not only will they make the gifts look festive and exciting, but they'll also add an extra layer of sweetness to the proceedings.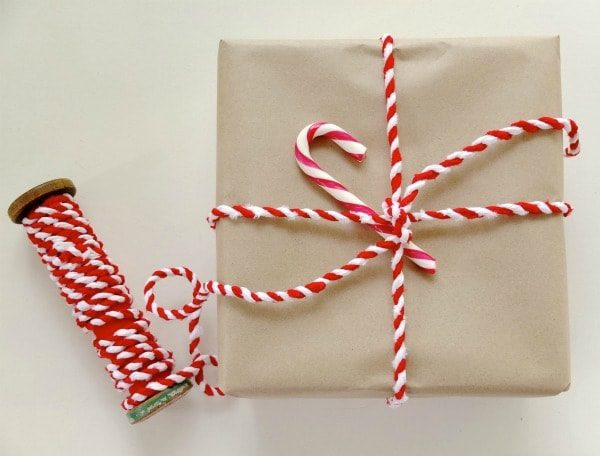 Whether you go with traditional accessories like candy canes or something more whimsical like licorice bows, there's sure to be a topper that suits your needs and personality. Give this idea a thought. It might just make the gift that much more special.
18. Basketweave packaging
By trying this method, you will be adding a touch of luxury to your Christmas gifts with basketweave packaging. Using ribbons on the gift wrappers, you can create a unique and elegant look that will stand out among all the other gifts.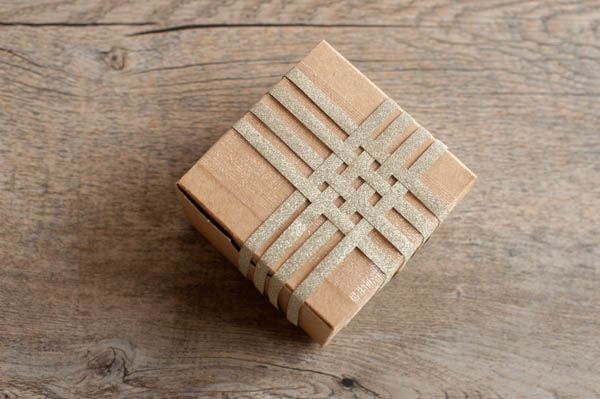 Just be sure to use a coordinating ribbon color to match your gift. Begin by cutting 20-inch strips of ribbon. Start by folding the ribbon in half to align the long sides. Take the top edge of the ribbon and fold it over the folded side, pressing down so that the two edges coincide.
19. Easy chalkboard gift tags
Everyone uses basic cardboard gift tags decorated with glitter and ribbons. However, you may skip this with sober gift tags spruced up with chalkboard paint. You may use old cardboard boxes to cut out the tags or reuse your old whiteboard to make the tags.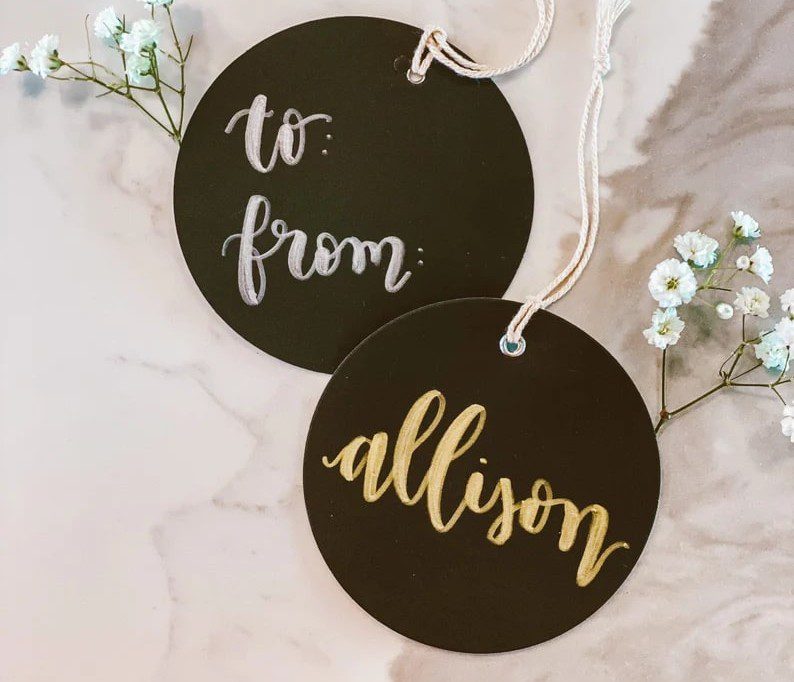 Grab some chalkboard paint in white or green and paint the tags. Leave them to dry and use a marker for writing and adding designs to the tags. You may use gray or white markers to add some details. These tags will look unique with a matte appearance.
20. Play with colors and textures
Looking to add a little extra Christmas cheer to your gift packaging this year? Why not use pom poms, paint splatters, or colored stones? Pom poms make incredible decorations for gift wrapping and can be quickly filled with glitter or other Christmas embellishments.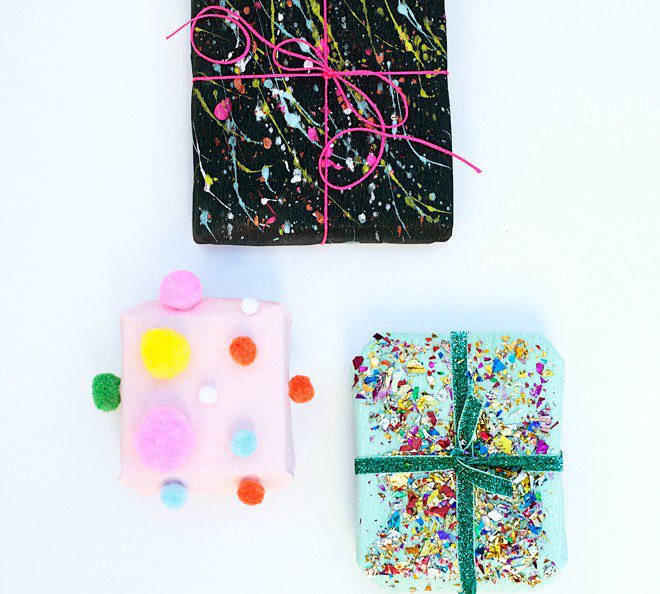 Paint splatters make a festive addition to gift packaging. Use different colors or patterns to create visually appealing packages. You may also use colorful stones like turquoise and coral to make perfect decorations for gift wrapping. Add a few to the top of the pom poms, and paint splatters for an extra touch of color.
21. Artistic monochrome paper
Do you love the look of monochrome paper but don't want to break the bank? Painting your white and black monochrome paper is a great way to save money while still getting the desired look. You'll need white paint, black paint, a brush, and some paper towel or a cloth.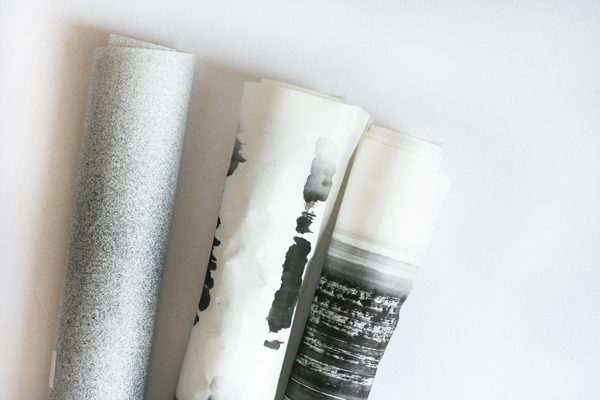 Next, take your white paint and start dabbing it onto the back of your paper towel or cloth. Don't forget to cover the surface. Once you have a good amount of white paint on your surface, take your black paint and start dabbing it onto the white paint.
22. Reusable fabric wrapper
If you find some extra fabric left over from your holiday decorating, don't just throw it away. You can use it to create gift packaging for your gifts this year. You can even use old fabric to wrap presents or create a festive wrapper for a gift.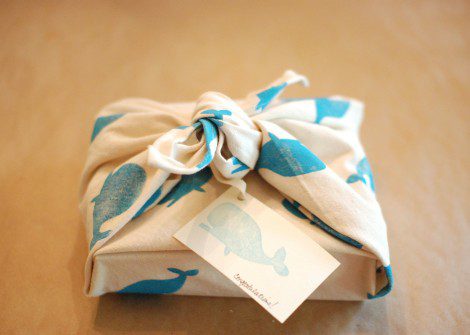 Using old fabric to wrap presents is the simplest and most traditional way to use recycled fabric as gift packaging. Just cut a piece of fabric to size, fold it over the top of the present, and sew it down. This will keep the package tidy and secure while adding a rustic look.
23. Wrapped plant
Wrap a potted plant in the colorful gift-wrapping paper. This is fantastic for showing your holiday spirit and making someone's day. You may find all the supplies you need to make this gift at most stores that sell gift wrap. Select a pot that is the right size for the plant you are wrapping.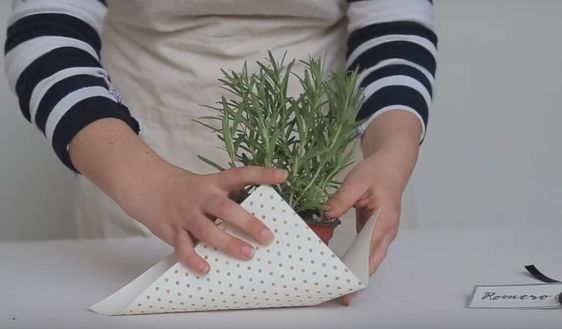 Be sure to select a pot that is not too small or too large to make it easy to carry. Gather gift wrap paper, scissors, tape, and a pen. Starting at one end of the pot, roll up the paper around the pot tightly. Secure the edges with tape.
24. Make fabric ribbons
Make some fabric ribbons if you're looking for a fun and festive way to dress up your gift packaging this holiday season. They are easy to make and can be used for various purposes, such as wrapping presents, attaching bows, or decorating Christmas trees.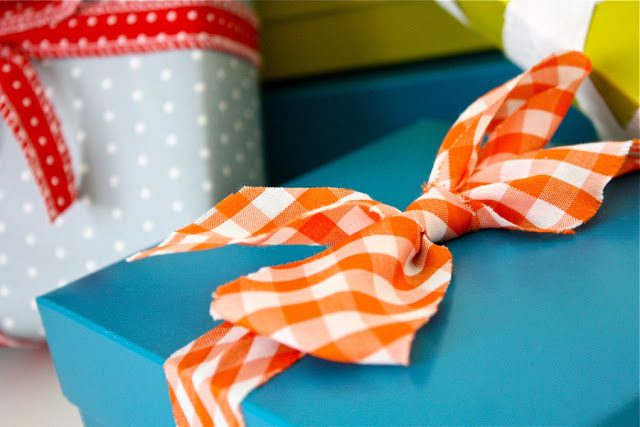 To make your fabric ribbons, start by cutting lengths of fabric about 18 inches long. You will need two different colors of material, each approximately 12 inches wide. Measure the width and cut the strips accordingly. Now it's time to start tying the ribbons together.
25. Greeting with a chalkboard marker
Use black paper as the wrapping material and chalkboard markers to decorate it. Chalkboard wrapping is a fun and creative way to add some extra personality to your holiday gifts. Not only will they look cool, but they'll also be a convenient place for you to write down gift tags or notes for the recipient.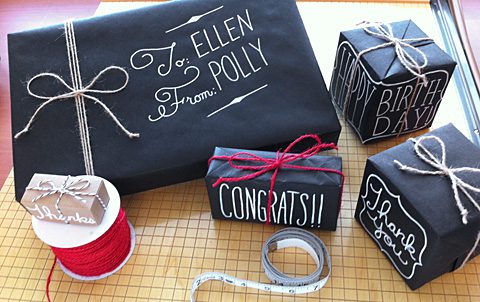 To get started, gather some black paper and some chalkboard markers. You can find both items at most stores. Next, start wrapping your gifts in black paper. Once you've wrapped all of your gifts, take a moment to write down any notes using the chalkboard markers.
26. Printed gift cards
Print out gift cards and wrap your presents using them. There are a variety of printable gift card options available on the internet, and you can choose to have the cards printed on either paper or plastic. You can also personalize the cards with a message or photo.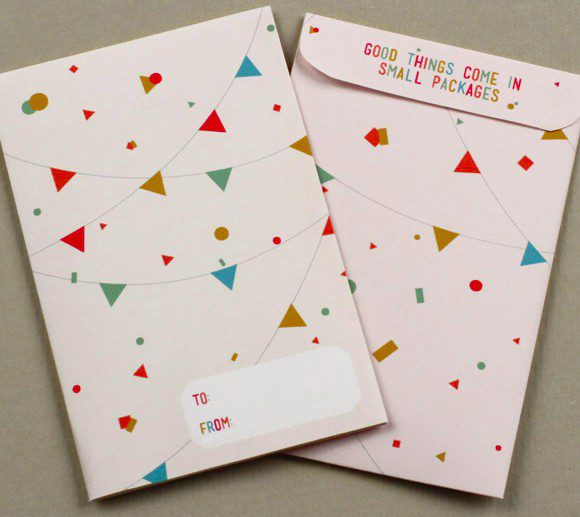 Attach them to a festive ribbon or wire frame. Besides, if you're not sure what kind of present to make for someone, this one gift is a foolproof option. You may also print on different pallet shades or use one to have a monochromatic theme.
27. Checkered shirt wrapper
When you're looking for a creative way to wrap your Christmas gifts, consider wrapping them in an old check shirt. This technique is simple and can be done quickly. To do this, cut a check shirt into a length that will fit around the gift.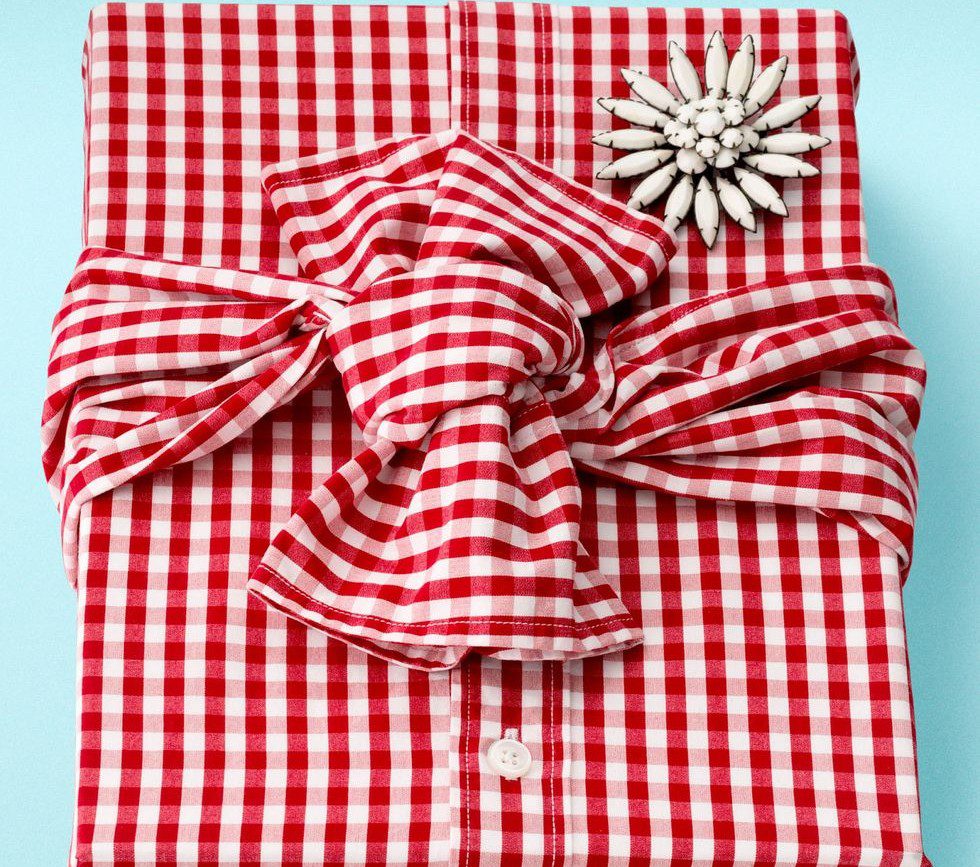 Then, fold the shirt in half so the folded edge is on the inside. Next, roll up the shirt so that there is a tight wrap. Finally, tie a knot in one end of the gift and pull through the other end of the shirt. This will create tight wrapping for your gift.
28. Design with washi tape
For this, use washi tape and your imagination. Go wild and craft with the tape in different colors. Washi tape! It's a versatile material that may be used in various ways to create beautiful decorations. Use washi tape to create a festive border around the edge of the gift wrap.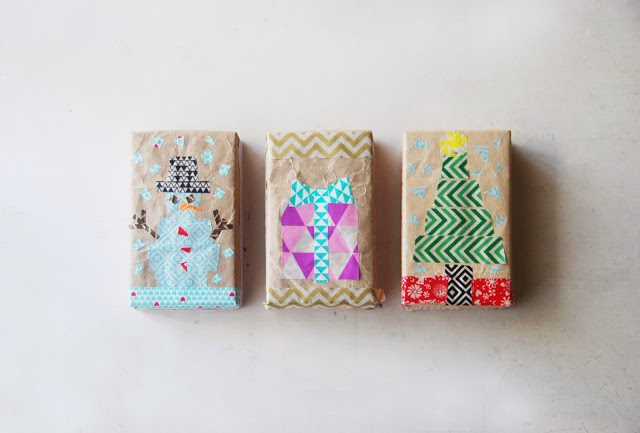 Create a checkered pattern by alternating red and green washi tape down the middle of the gift wrap. Try creating an intricate pattern with contrasting colors by overlapping different colors of washi tape together. Googly eyes can be made by cutting out circles of colorful washi tape and then securing them to the gift wrap.
29. Design pretty felt roses
These flowers are simple to make and can be dressed up or down depending on your mood. Braid the stems together before you start cutting them. This will help keep the petals looking symmetrical. Start by cutting five circles out of the felt using a cookie cutter or an oval shape cutter.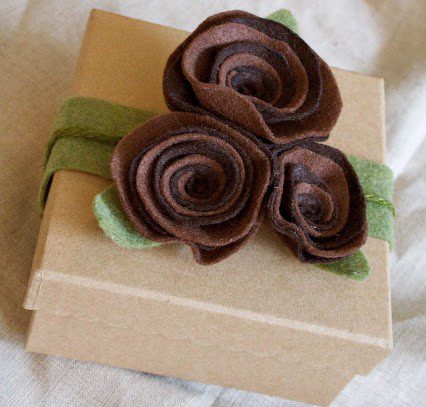 Try to make them slightly smaller than the stem, so they don't droop down. Take one of the circles and adhere it to the top of the stem by pressing it into place with your fingers. Do this for all of the roses, and make a few to decorate the gifts.
30. Upcycle old envelopes
When you have some old colorful envelopes lying around that are just begging to be used for something besides mailing, then you can upcycle them into a festive Christmas gift wrapper. Print out a festive design or photo on a sheet of paper large enough to fit your envelope and cut it out.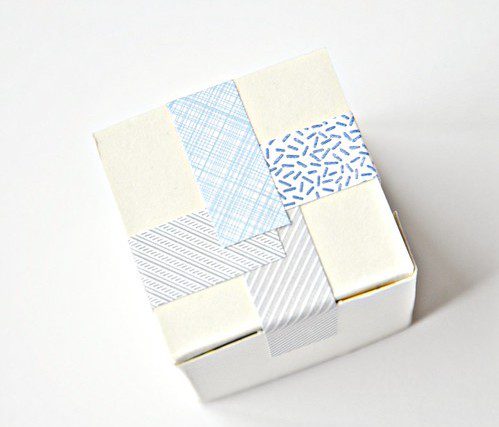 Then, use a glue stick to adhere the design to the front of the envelope. Once it's dried, peel off the glued-on design, and you're ready to go. You may also use colored envelopes as it is if you wish to keep the packaging simpler.
31. Add crepe paper fringes
Adding a little bit of whimsy to your Christmas presents this year can be done with simple crepe paper fringes. By attaching the strips of paper to a presentation using a glue gun, you can add an extra element of fun and decoration. Experiment with different ways to attach the fringes.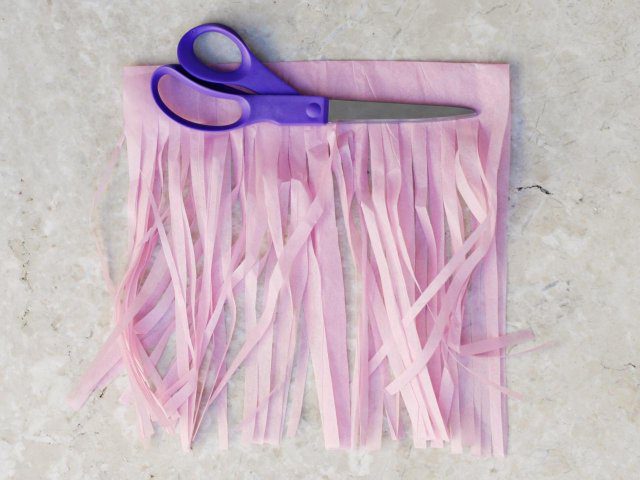 You could also use crepe paper in other holiday decorating schemes, like hanging ornaments on tree branches or wrapping presents with it. Whatever way you choose to use crepe paper fringes, make sure they add an extra touch of charm and personality to your presents this season.
32. Tissue paper floral bows
Use tissue paper floral bows as gift toppers. Not only are these decorations easy to make, but they also require minimal supplies. Gather some tissue paper, flower designs, ribbon, and scissors, and you're ready to go. To create the bows, start by cutting the tissue paper into 1-inch wide strips.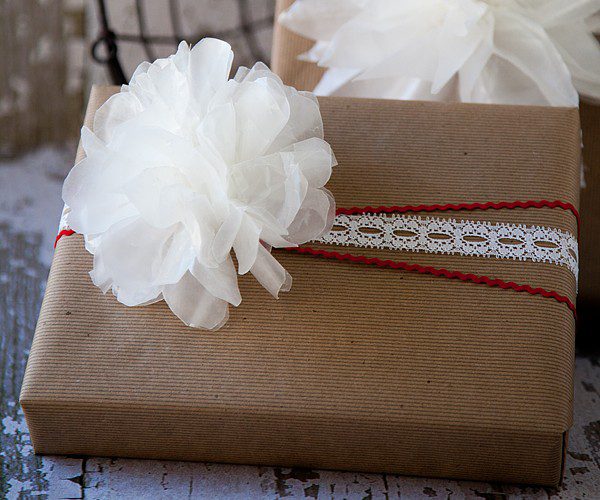 Tie each strip together in a knot at one end. Finally, cut off the extra ends of the ribbon and attach them to the knots on either side of the flower strip. Wrap the tissue around the cardboard piece a few times to make the flower petals. Tie it and stick it on the gift.
33. Price tag sticker designs
Wrapping presents can be fun with some quirky additions. One way to make this process even more fun is by using price tags as Christmas decorations. They are cute and come in bright colors such as neon green, orange, and pink.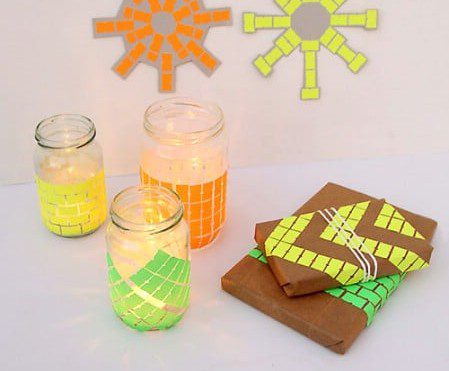 Moreover, you do not need to use glue as the price tag stickers come with adhesive on the back. You may make any designs with these stickers or monogram the presents with the stickers. Use these tags to stick on boring candle jars to spruce them up.
34. Use stencils on paper
Add some extra festive flair to your Christmas gift wrapping. Stencil your paper using simple designs. Start by outlining the design on paper. Remember to keep the stencil as small as possible so it doesn't overpower the rest of your wrapping paper.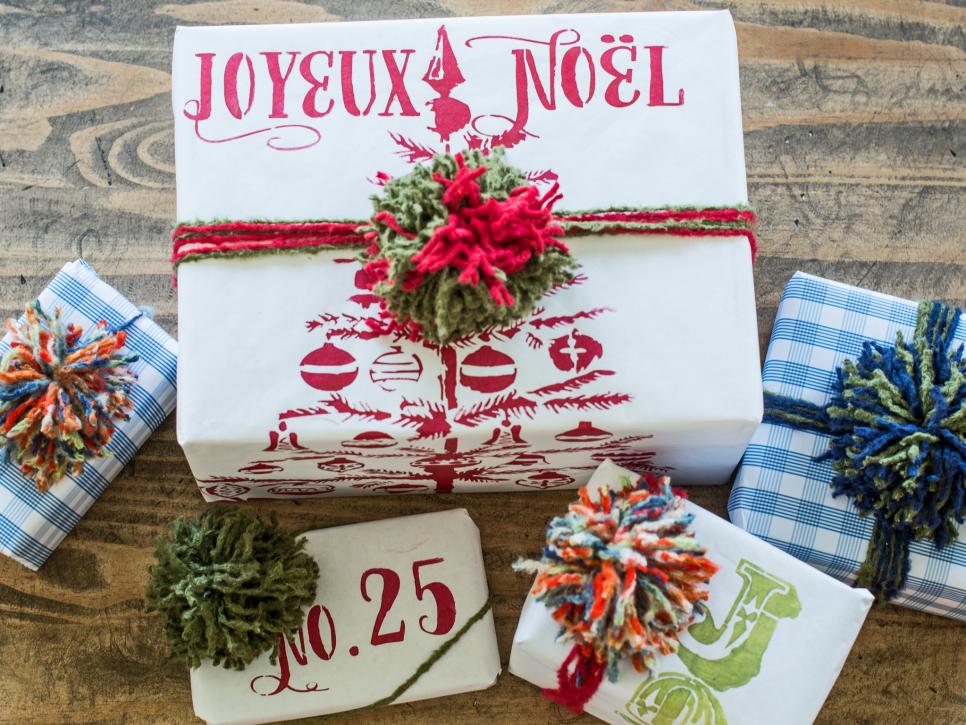 Once you have the design outline drawn, start filling in the details. Use a light hand when applying the stencil since you don't want it to pull too heavily on the paper. If necessary, use a piece of clean white paper as a guide to help you get accurate placement.
35. Stringed wood rustic trees
For a rustic way to decorate your Christmas tree, consider making it with wooden sticks and wool. You can use these materials to create various ornaments, such as ornaments for the top of the tree, bows, and wreaths. To make your own wooden stick Christmas tree ornaments, start by gathering wood pieces.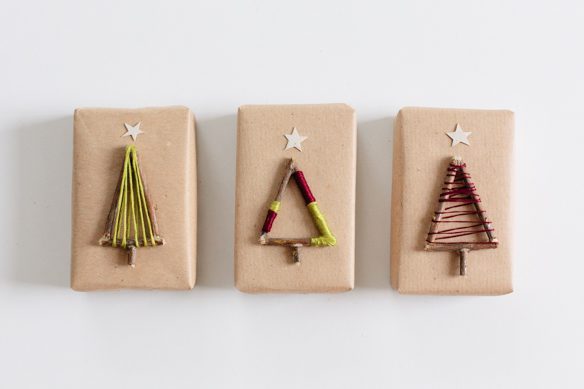 Cut the wood into equal lengths and then sand them down so that they are smooth. Paint each piece of wood black, if desired. Next, thread several pieces of wool through each end of the wood sticks. Make sure that the yarn is tightly wound around the sticks to form an ornament shape.
36. Quirky tissue paper wrap
If you're looking to up the Christmas cheer factor a bit, there's no better way than by wrapping presents in tissue paper decorations. Not only will your recipients be surprised and excited, but they'll also get to keep the pretty paper decoration as a keepsake.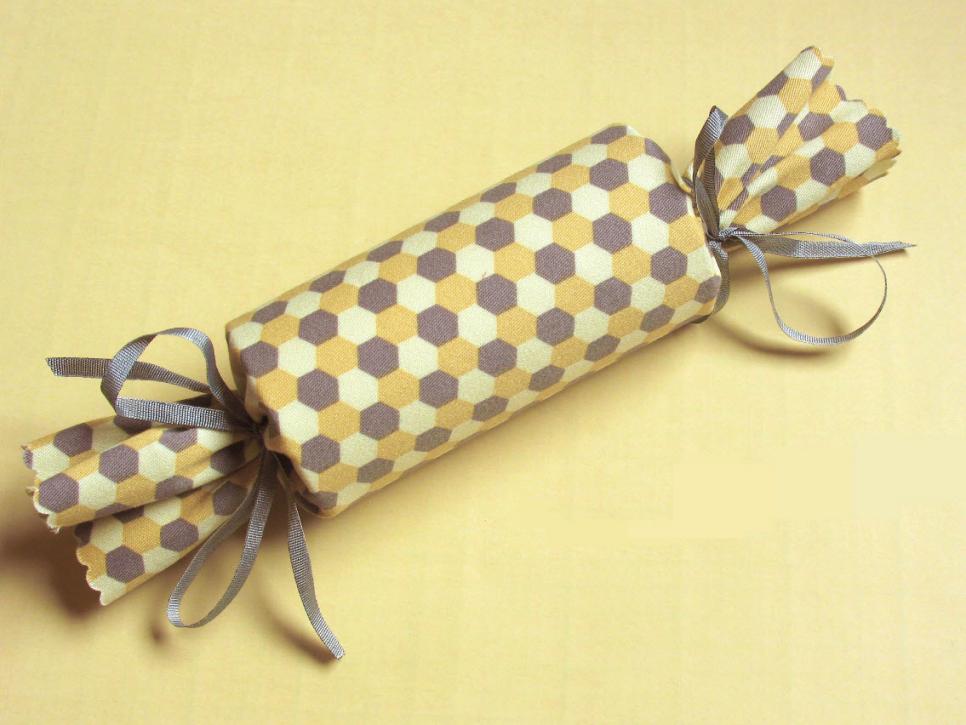 Pick a festive pattern or design. Start with a small gift and work your way up. Use coordinating colors and patterns to create an attractive ensemble. You may also wrap bottles in tissue paper and tie a matching ribbon on the top.
37. Skip the red and green
Skip the red and green for Christmas gift wrapping paper. Use purple and golden wrapping paper. This festive color combo will add a touch of luxury to your gifts, making them feel extra special. Purple is a classic color for weddings and celebrations, so it's perfect for festive gift wrapping.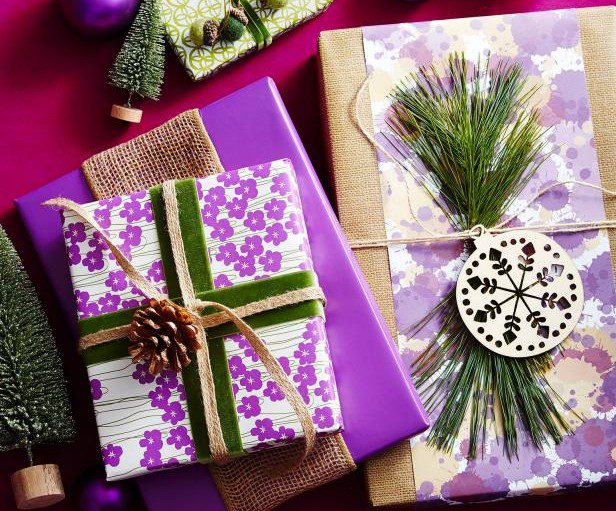 It also makes a great contrast with golden wrapping paper, which can make any present look luxurious. Add some sparkle to your presents with this beautiful color combo. Moreover, pick a color theme for all your presents and wrap them in one color for a chic look.
38. Natural leaf wrap
If you're on the hunt for a festive way to wrap your Christmas presents, try wrapping them in leaves. This looks amazing and will also make the gifts more durable and easier to carry around. Start by cutting several large leaves into thin strips using a sharp knife.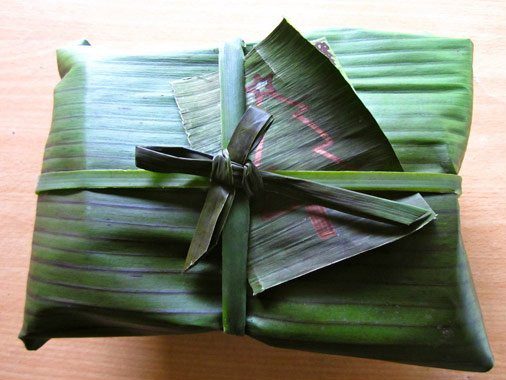 Next, take each strip and fold it in half, then in half again. Finally, roll the strip into a tight cylinder. Repeat this process with the remaining leaves and presents. Once you're done wrapping, add some festive ribbon or twine to tie everything together.
39. DIY yarn pom-pom
Making your yarn pom-poms is fantastic to use as a gift topper. This project is effortless to do and only requires a few basic supplies. To start, you will need some yarn, a small crochet hook, and some stuffing. You can use any type of yarn that you like.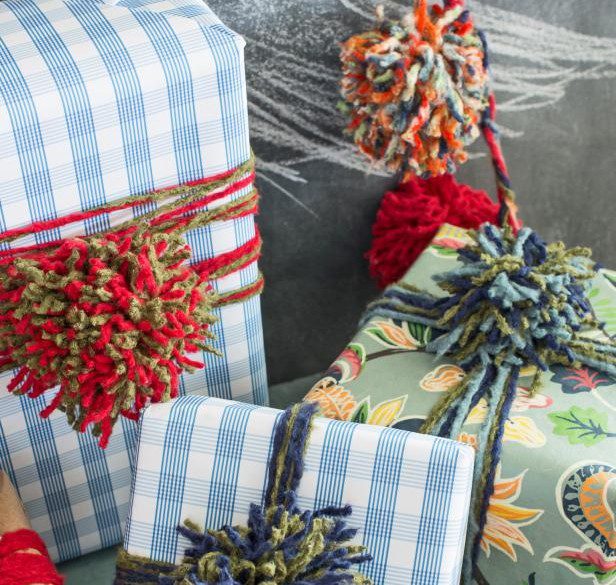 Wool is especially recommended because it'll stay soft after being decorated with pom-poms. Next, tie one end of the yarn into a knot and insert the crochet hook into the loop. Pull up on the hook until you have created a small loop. Cut to reveal over the pom pom and top on the gift.
40. White paper and crayon wrap
Kids love getting wrapped presents, but sometimes they don't want to deal with the wrapping paper. This year, make their Christmas a little more special by wrapping the presents in white paper and adding some colorful crayons on top. In addition, add glitter pens or markers along with crayons.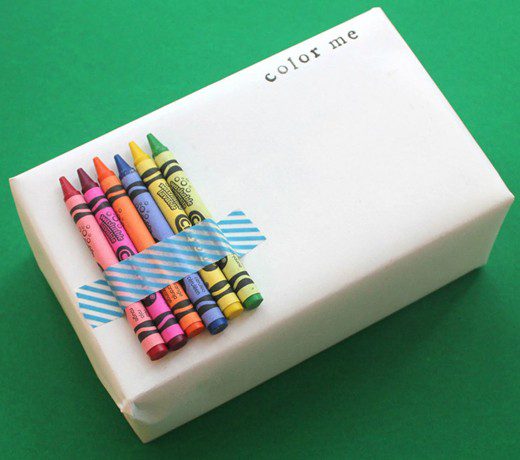 A white paper gift wrap is perfect for keeping the focus on the present instead of all the extra colorful packaging. Giving a gift to a child is a great way to show them that you care and take extra time to make their present special.
41. Paper lily tags
Making tags for paper lilies as Christmas gifts is the perfect way to show your loved people how much you care. Not only are they beautiful, but they're also practical and easy to put together. Gather paper, a tag maker, and adhesive dots (or any other type of stamp).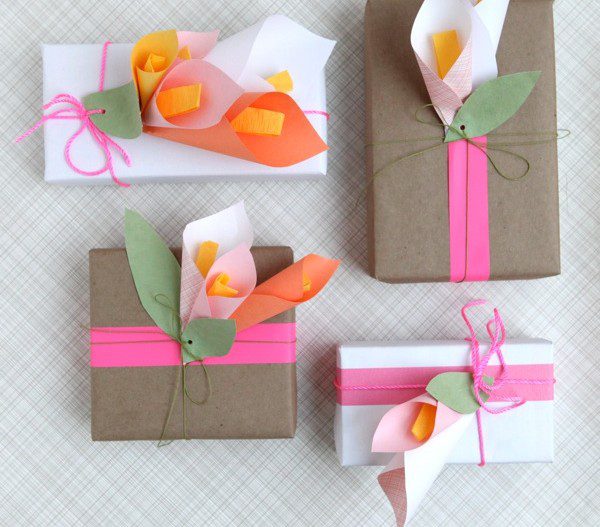 Next, choose your paper color to make the lilies. Cut the paper and glue it to shape into a lily. Take your tag maker and press it onto one side of the rose. Be sure to leave a 1/2-inch border all around the tag. Now use your adhesive dots to adhere the tag.
42. Ornament topper
You can use ornaments as decorations on your gift wrap, or you can even make your own using colorful paper and ribbon. Use ornaments to add color and personality to your gift wrap. Add an ornament to the center of a wrapped present for a special touch.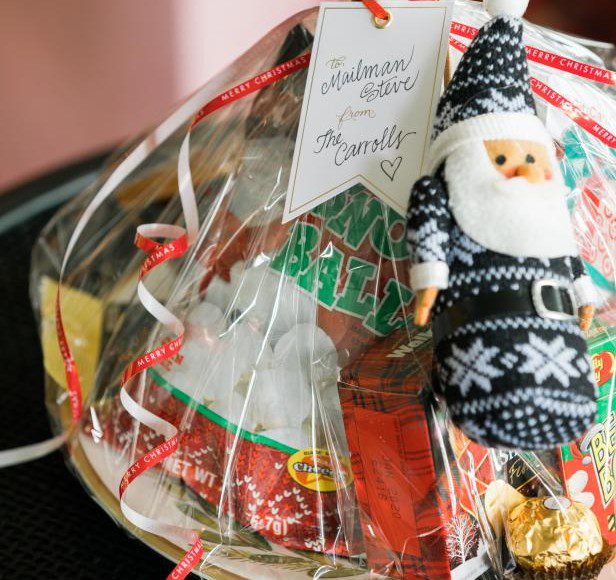 Make adorable snowmen out of small ornaments and place them on top of gifts for added sweetness. Add snowmen and some ornament balls to the gifts. These gifts will look great under the tree on Christmas eve before you give them to loved ones.
43. Family photo gift tag
This holiday season, give the gift of memories with a family photo gift tag. Print out your favorite photo and use it as the template for your tag. Cut out the photo, write a personal message, and attach it to a sturdy string or cord.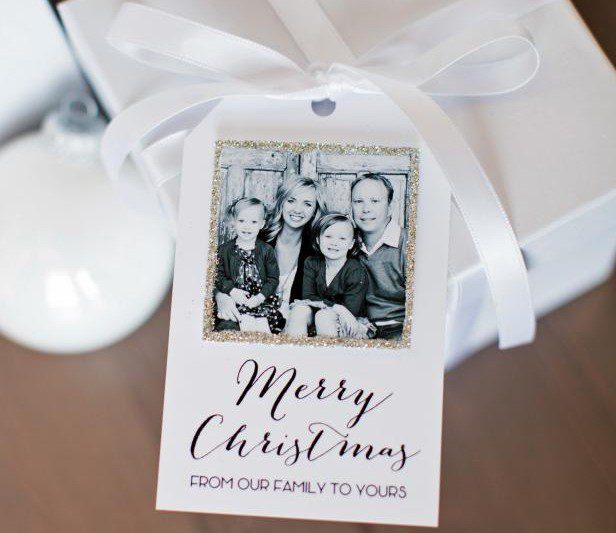 Use a simple white or brown paper to wrap the gift and let the photo be the center of attention. This photo tag will look thoughtful, and the receiver will save it. Give someone special a keepsake that will remind them of all the good times spent together this year.
44. Custom food gift labels
If you're gifting food items for Christmas, it's a good idea to print custom food labels to help your recipients know what's inside the package. You can create labels in minutes using a free online label maker or design your prints. To create a label, select the template that best suits your needs.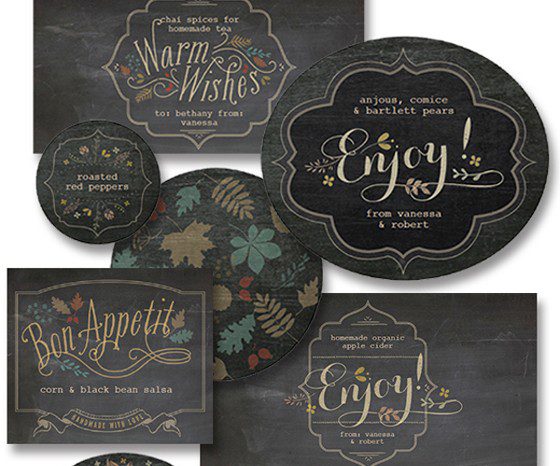 You can choose from various designs and font options, or you can create your own. Then, fill in the text that you want to appear on the label. Once you've completed your label, click "print." Download your finished product to paste on the gift jars and boxes.
45. Floral newspaper topper
Searching for the perfect way to show your holiday spirit? Why not make a floral newspaper topper for your gift packaging? This festive craft is simple enough for even the youngest crafters and may be completed in just a few hours. To begin, gather a few pieces of newspaper.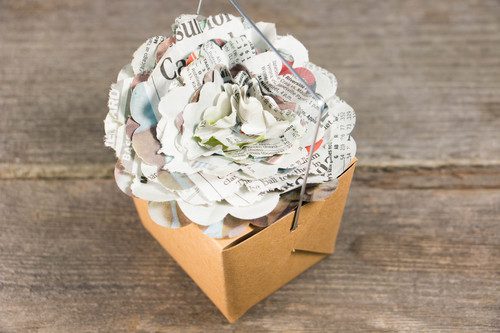 Next, cut out circles from the newspapers using a small circle cutter or ruler. Once you have cut out all of your circles, use a punch to create flower centers out of the Newspaper circles. Finally, add extra touches like ribbons and leaves to finish your project.